My previous quest for the ultimate bread in Greater Vancouver was so much fun that I thought I would do it again for another one of my favourite treats. Almond croissants have long been my go-to at cafes and bakeries. Sure, they are not as pure as a classic croissant but the almond variant is my preference. This hyper-local list is no casual walkthrough of the prettiest photos on Instagram. I actually ate and ranked every almond croissant that appears. Nothing was prepared especially for me.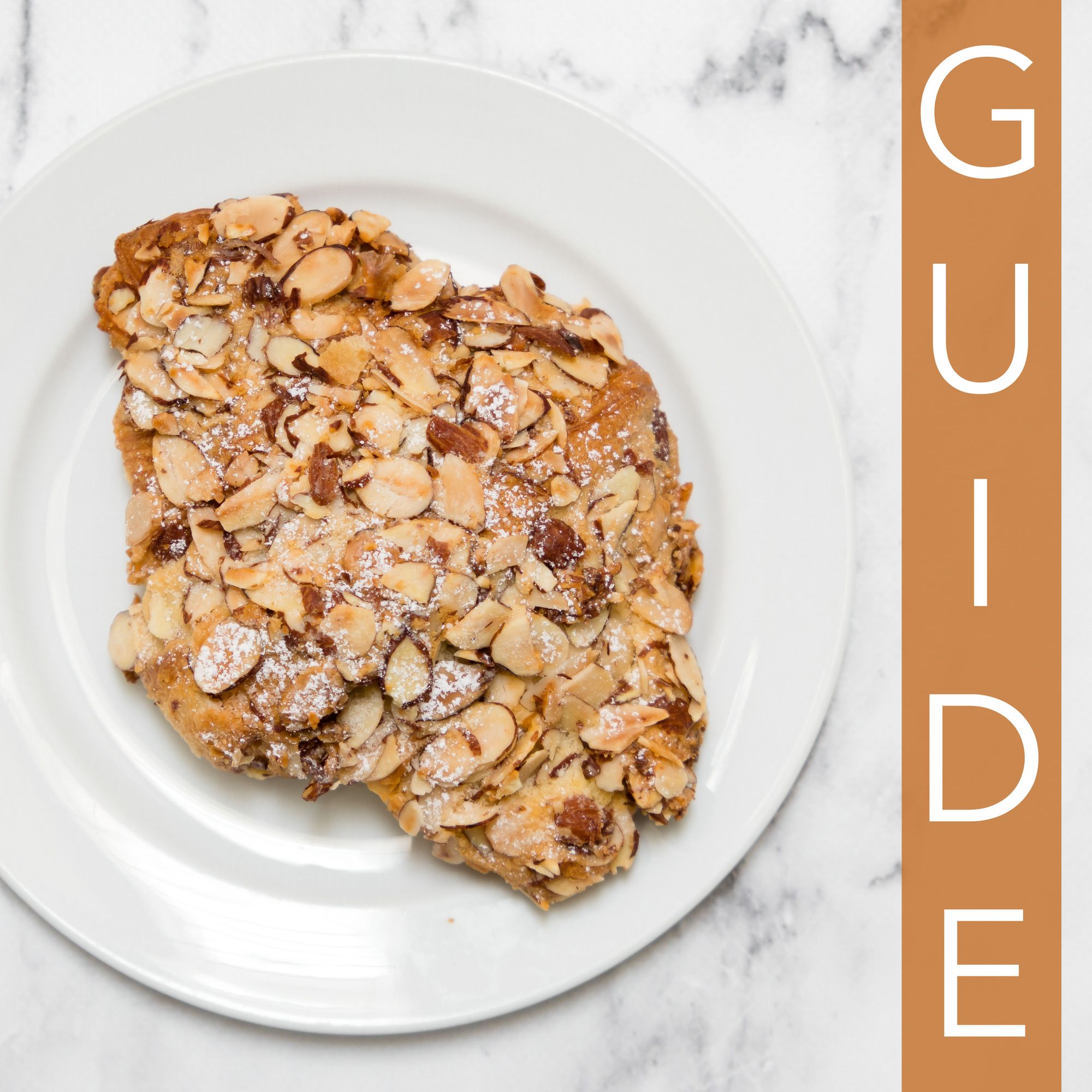 The Criteria:
I am on a constant search for the best almond croissant amongst the plethora of bakeries in Greater Vancouver. This is a ranked list of my own tasting preferences. There will be a winner, two runner-ups, a cutoff for the ones I'd recommend, and many losers. To start off, here is my criteria for a good almond croissant:
Must have a good rise
Must have enough almond on top and within. I'm not here for a sprinkling of nuts
Must have a good balance of sweetness, nuttiness, and buttery croissant-ness
Must break into satisfying flakes on impact with my teeth
The Roster:
Ranked from best to worst, here are the almond croissants in Vancouver that I have personally eaten myself:
Nemesis Dope Bakehouse
Beaucoup Bakery
FDL (Fior Di Latte) Cafe
The Bench Bakehouse
Thierry
L'atelier Patisserie
Elmo Baking Co.
Temper Chocolate & Pastry
Thomas Haas
Chez Christophe
La Forêt
Melo Patisserie
Le Marché St. George
Cadeaux Bakery
Small Victory
Little Fox Bakehouse
JJ Bean
Purebread
Faubourg
Ganache
Sweet Obsession
Starbucks
Stuart's Bakery
Trafiq
Caffe Artigiano
Alternative – Elmo Baking Co. Black Sesame Croissant
Alternative – BjornBar Bakery Tiramisu Double Bake
Unranked – Angus T
Unranked – A Bread Affair
Winner: Nemesis Dope Bakehouse ($5.75)
Bless the soul who thought that Vancouver's most hipster cafe needed a bakery unit in its North Vancouver location. This hub is the bakery hub for Nemesis and the giant window between the entrance door and the baking area is reinforced just enough for me to reconsider smashing through the glass. The rise was superb with just a tiny gap above the almond paste. Almond-wise, the entire croissant was laced with almond paste inside, there is almond glaze painted onto the shell, and a meticulous dusting of shaved almonds was layered on top. The first bite was an almond-gasm and the last was regret because I wanted another croissant. It's expensive relative to the average almond croissant in Vancouver but it's also the best. Get this in your mouth if you haven't.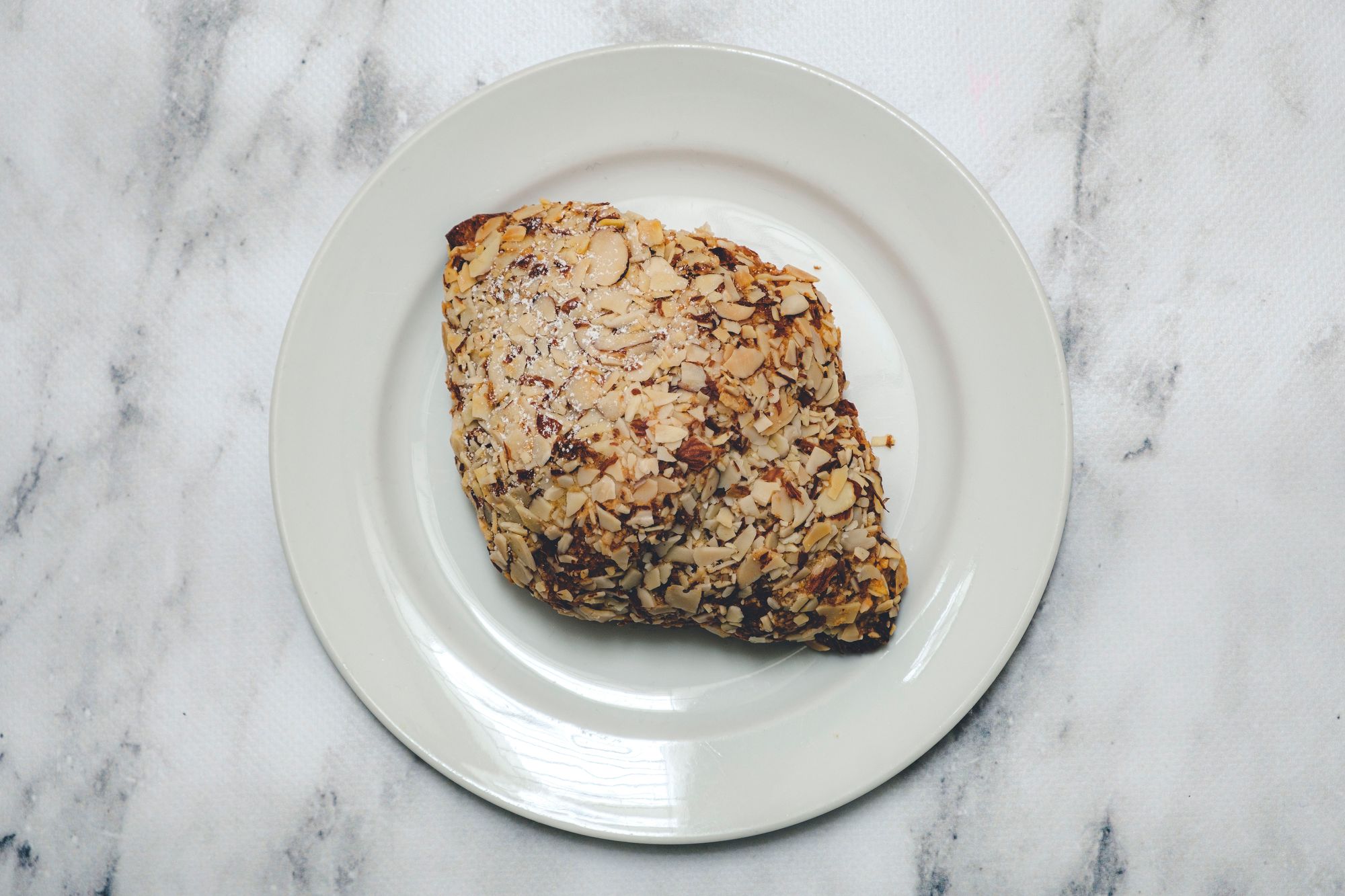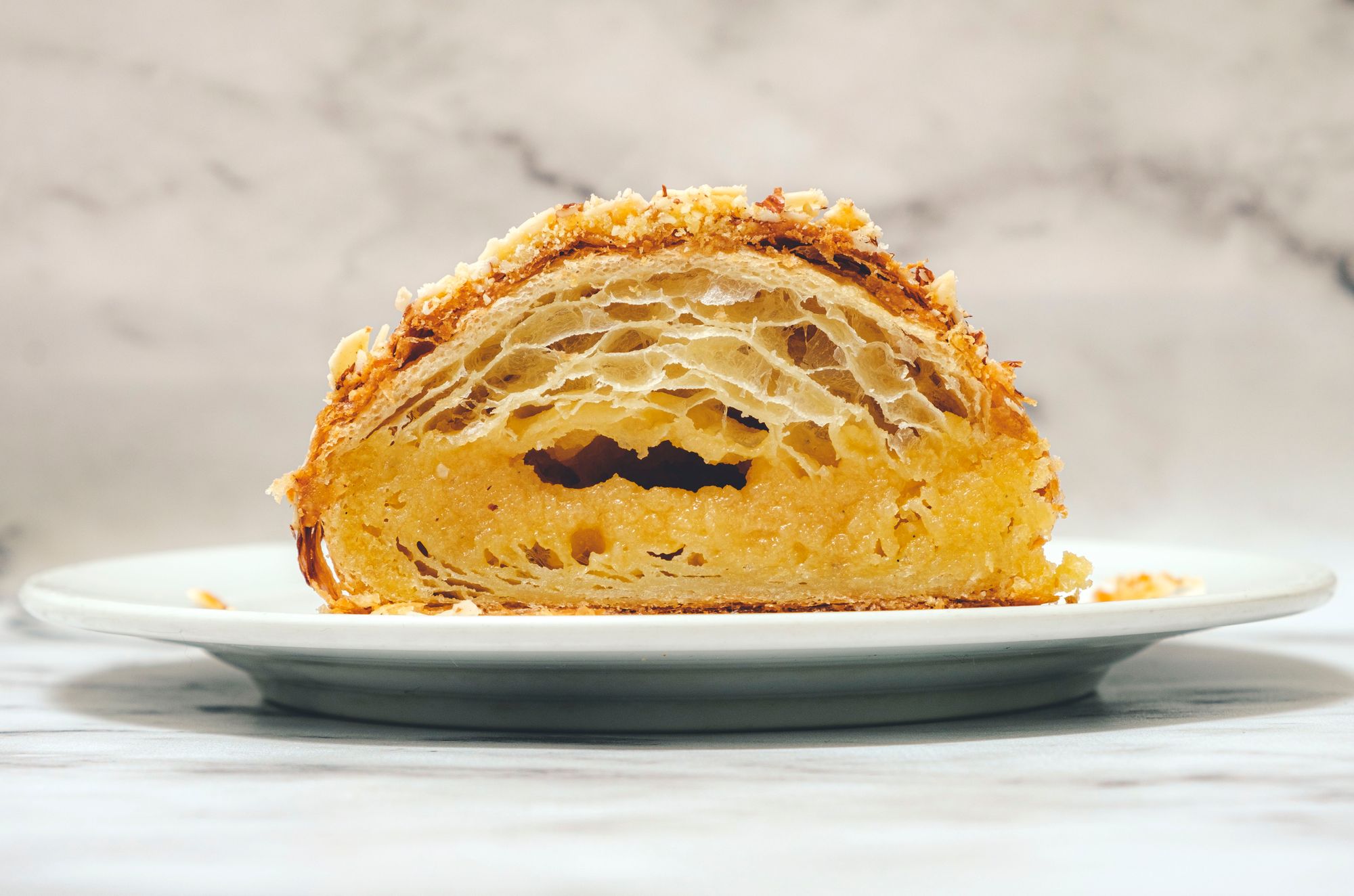 First Runner-Up: Beaucoup Bakery ($5.95)
Another easy recommendation comes from Beaucoup Bakery. Though this lacks the thorough layer of almonds on top, it does feature an intentional almond bake layer that's quite pleasant to look at versus the usual topping. Rise was also fantastic here. The criss-crossing of folds inside is the best out of all croissants and each bite has a satisfying flakiness (see the concentration of crispy croissant along the crust, particularly in the center). This is an easy recommendation especially if you're in the area.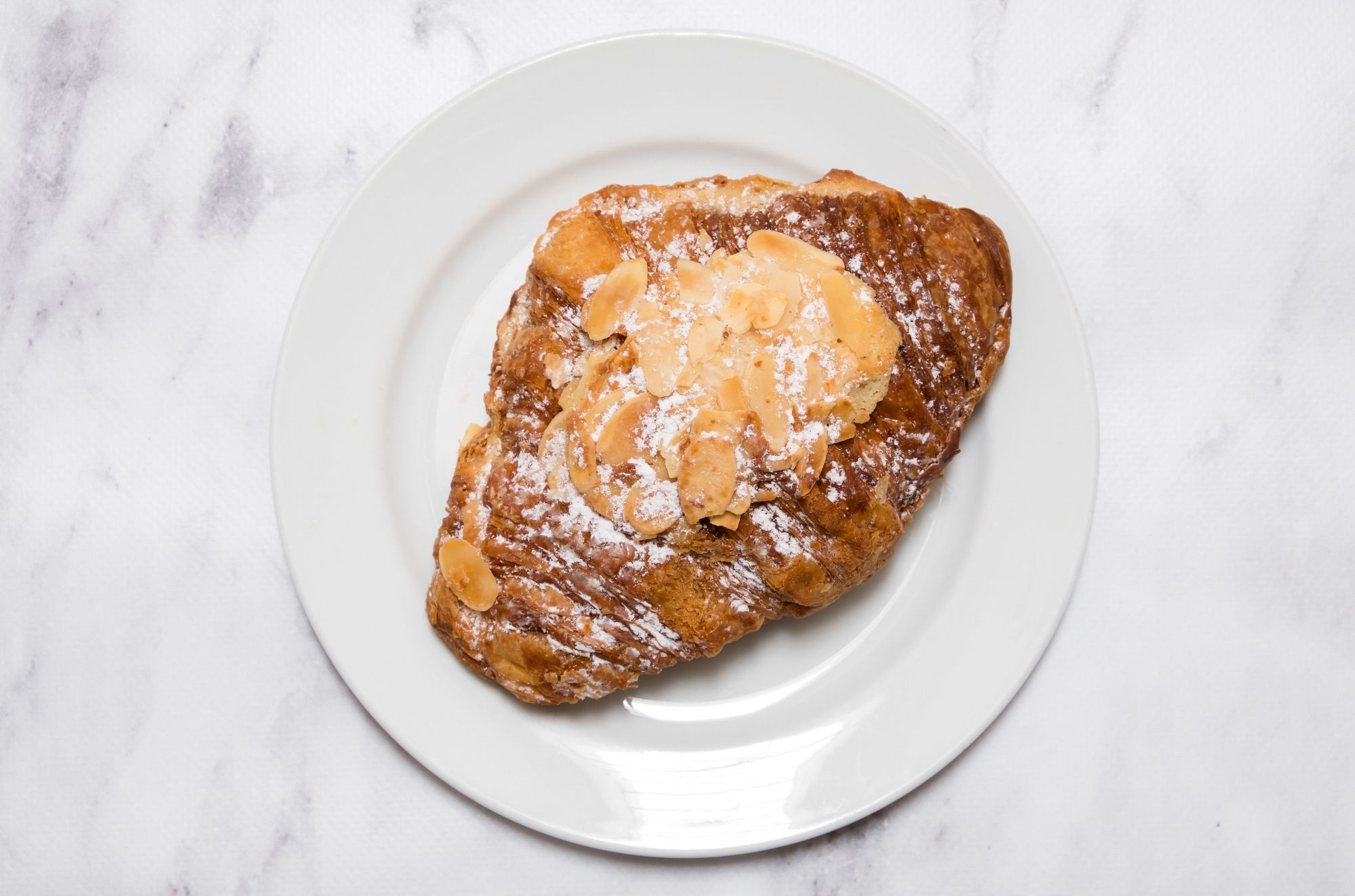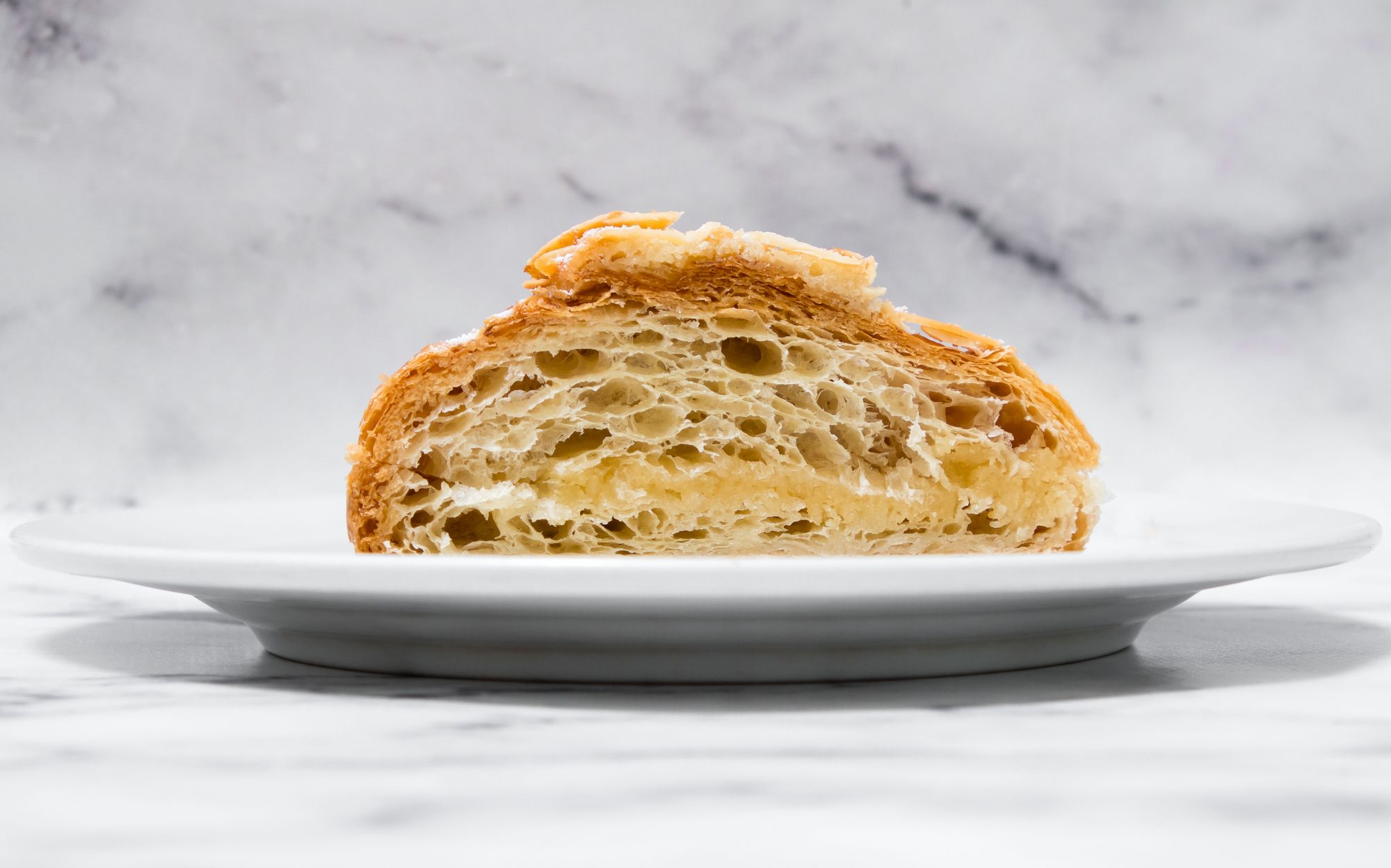 FDL (Fior Di Latte) Cafe ($5.95)
I know it's another higher-priced croissant, but please take a look. The folds are immaculate as they are intricate, and there's a beautiful gradient from the outside in. And on top you have a very generous glob of almond cookie caked over the top as this is a double baked croissant. Burnaby comes out strong in the artisanal almond croissant game.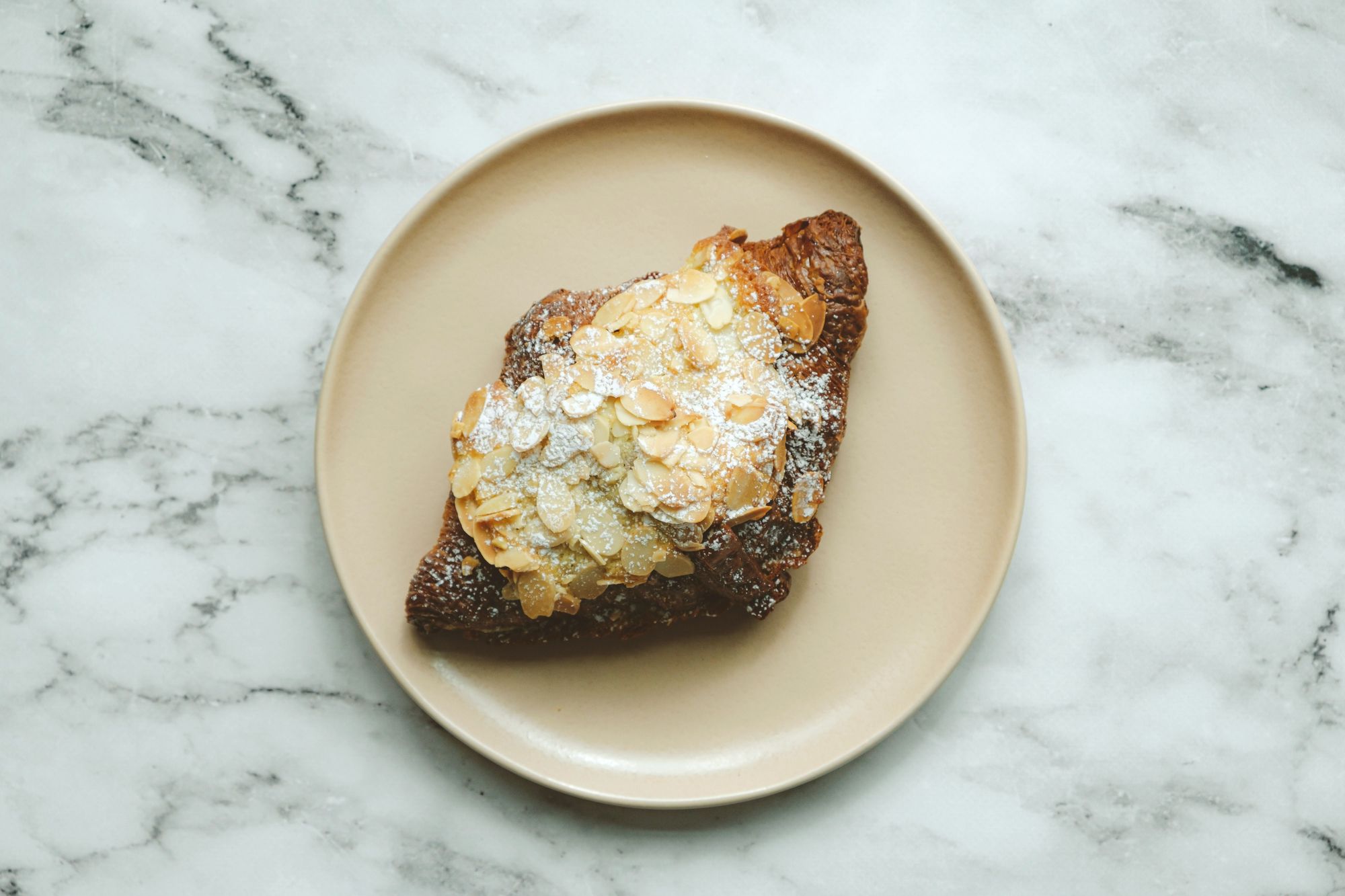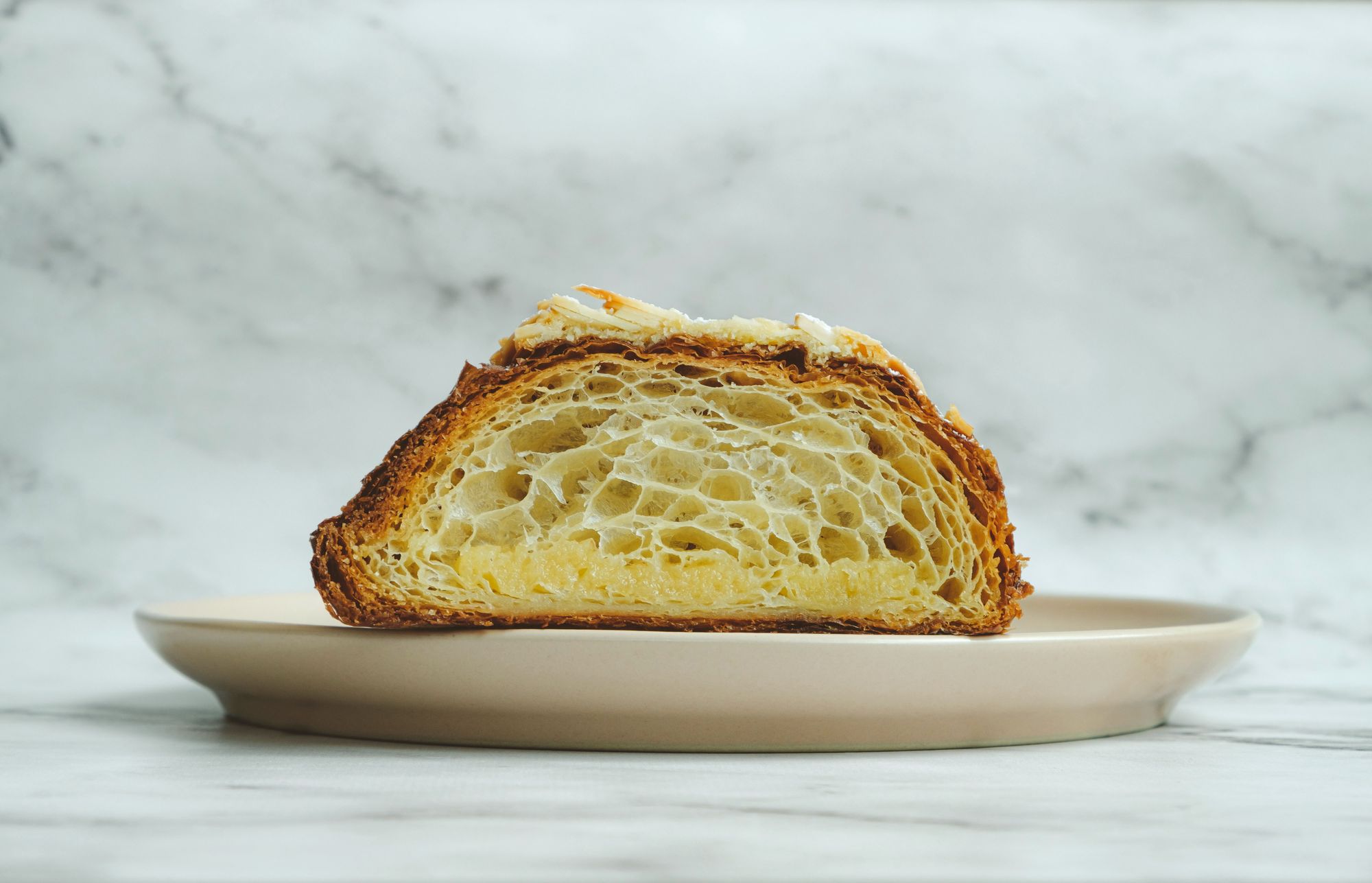 The Bench Bakehouse ($4.50)
Everyone talks about the double bake from Thomas Haas, but what if I told you there was a cheaper double bake option, and at least in a case-by-case comparison in my analysis, that came from a newer entrant in the Vancouver almond croissant scene?
While the almond paste was a little on the short side, it feels like the intention here was to showcase the mastery in flakiness and overall croissant mastery. The folds here were immaculate to say the least and the rise was off the charts relative to everything else on this list. I was given the second-last almond croissant at the time of ordering, suggesting that maybe the neighbourhood (Commercial Drive) already knows this the secret of the street. Another huge plus was the pleasant gradient from the exterior shell to the internals progressing from a dark chocolate to a light caramel. Following my criteria above (see focus on loving almond paste and toppings), this lands outside of the top 2, but this was one tasty croissant that should insert near the top of most lists for those who require less almond paste than me. This is an easy recommendation especially if you're in the area.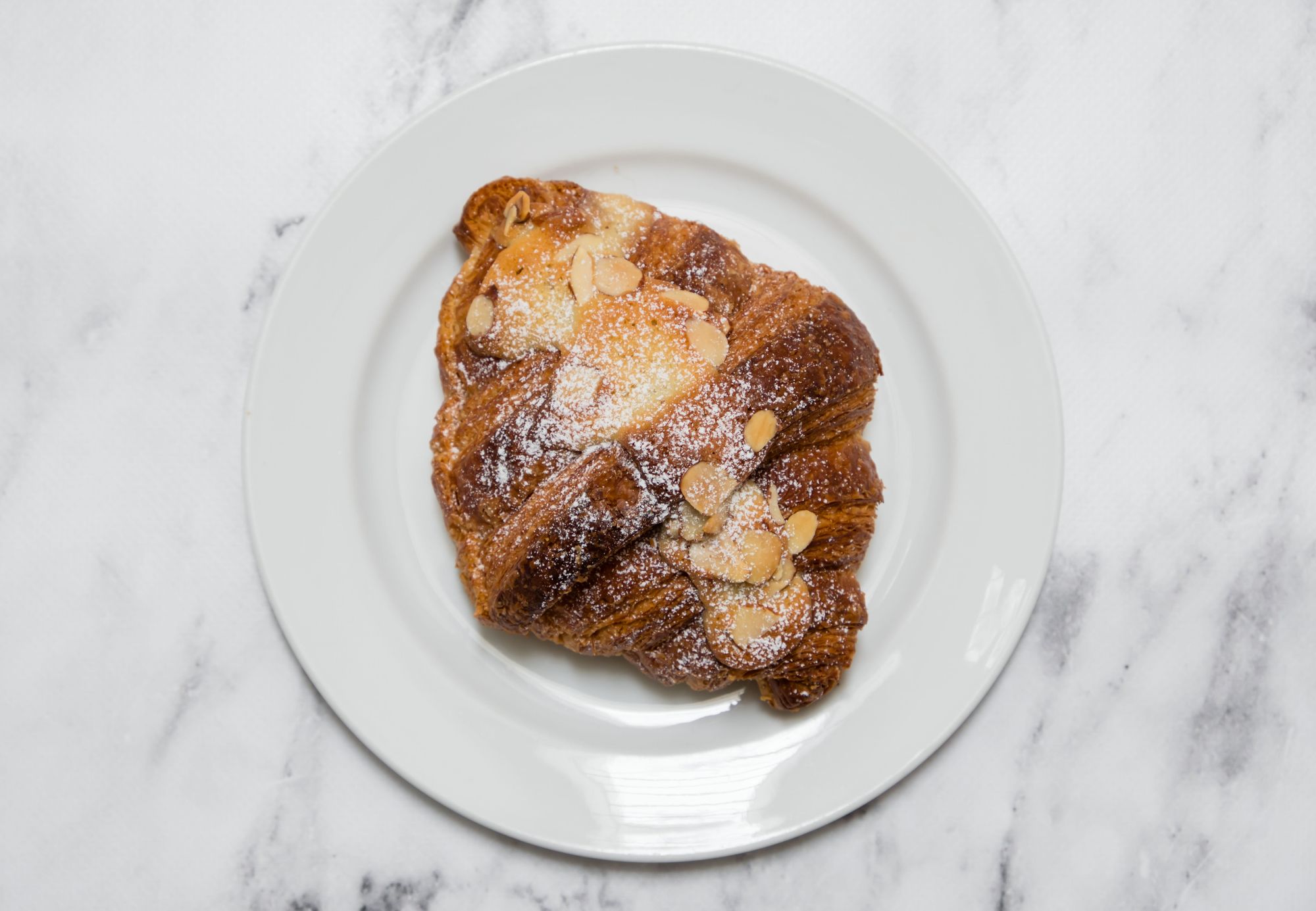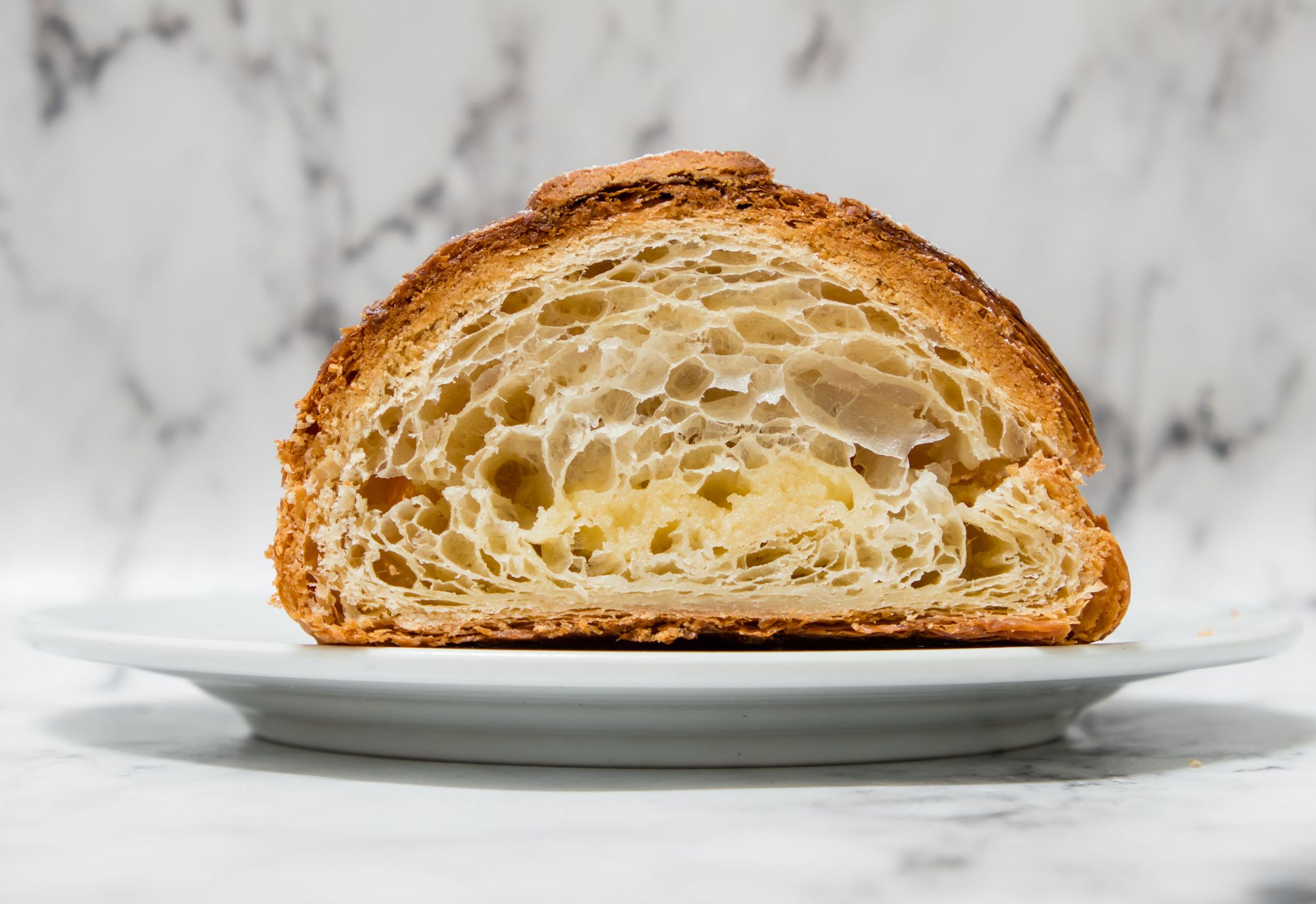 Batard Bakery ($5.50)
Batard Bakery is a newer bakery but man do they have a cool shop. They sell light groceries and small hot foods in addition to their bakery menu. The double baked almond croissant here has a terrific crust and crispiness to it, incredible rise, and many criss-crossing folds which you love to see at a fairly reasonable price point. The almond paste wasn't super consistently spread across the bun nor did its flavour permeate too deeply beyond the paste, but this was a light affair that I didn't have much to moan about.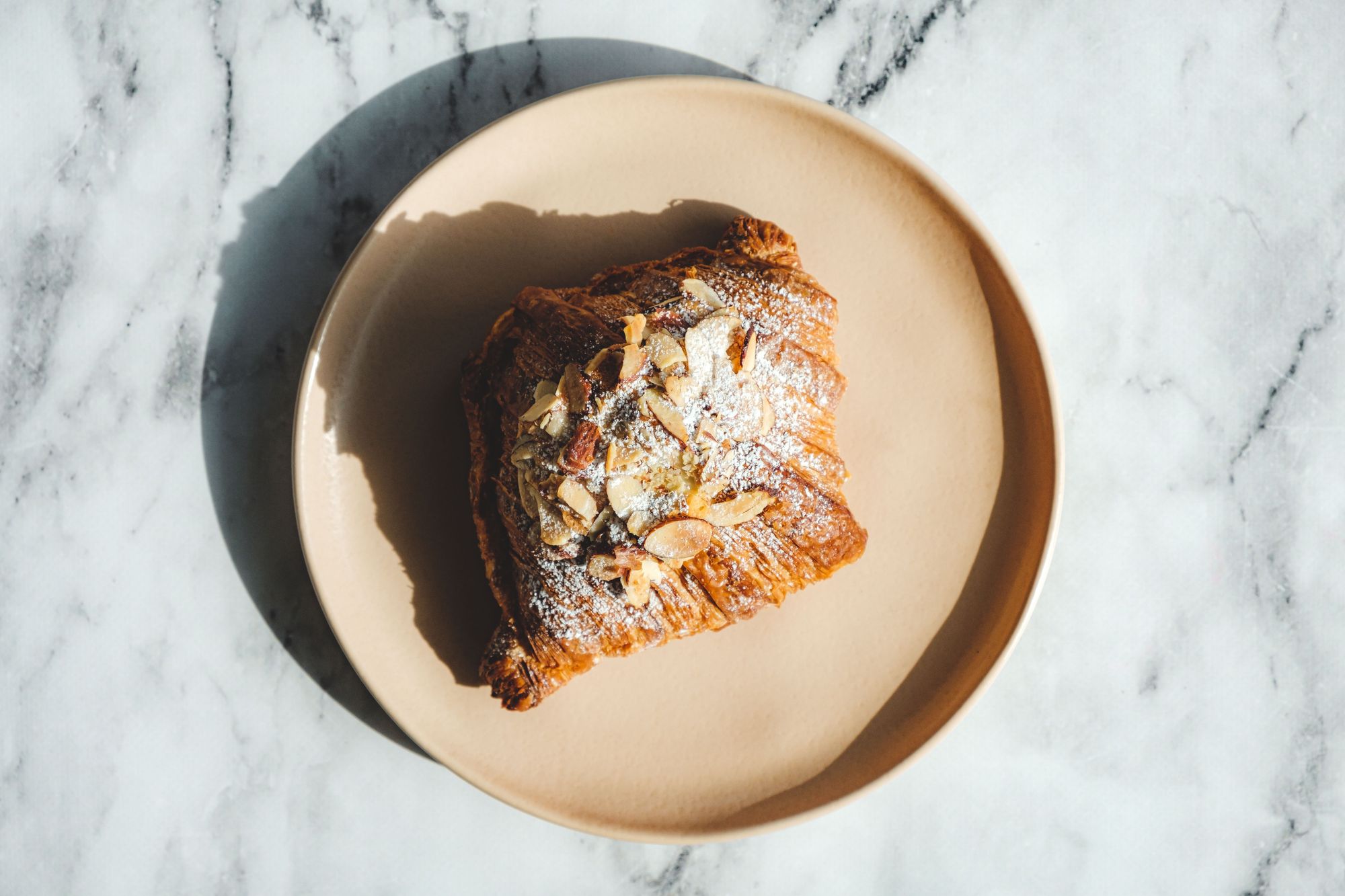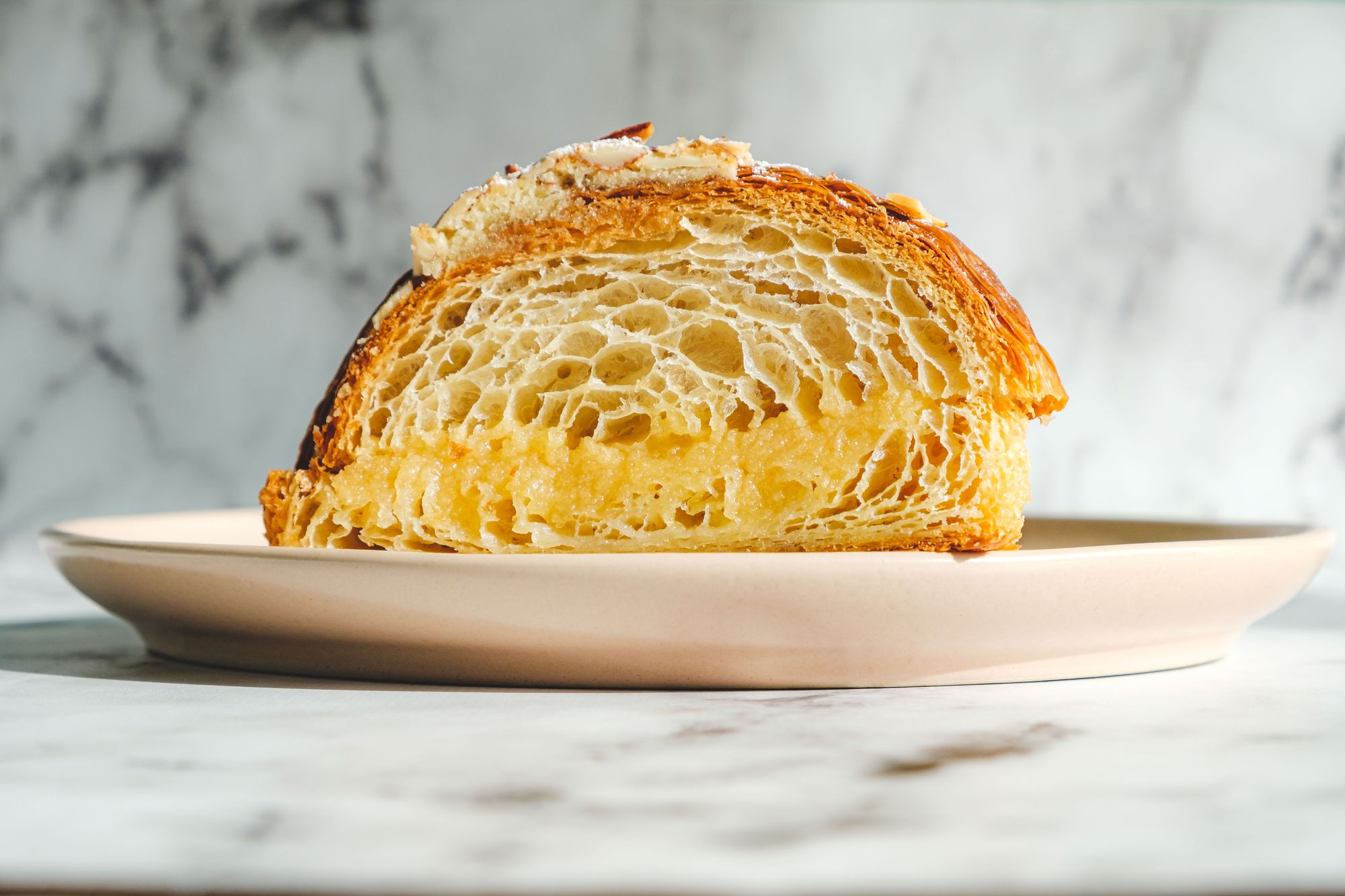 Thierry ($4.45)
This was a hefty almond croissant. Looking inside, you can see there are actually two almond sections: one tube-like almond bar and a generous amount of almond paste buried under a number of layers and folds. Content-wise, this had the second highest almond proportion. Its shell didn't have the same flakiness as the two above but made up for it with a great rise. This is an easy recommendation especially if you're in the area.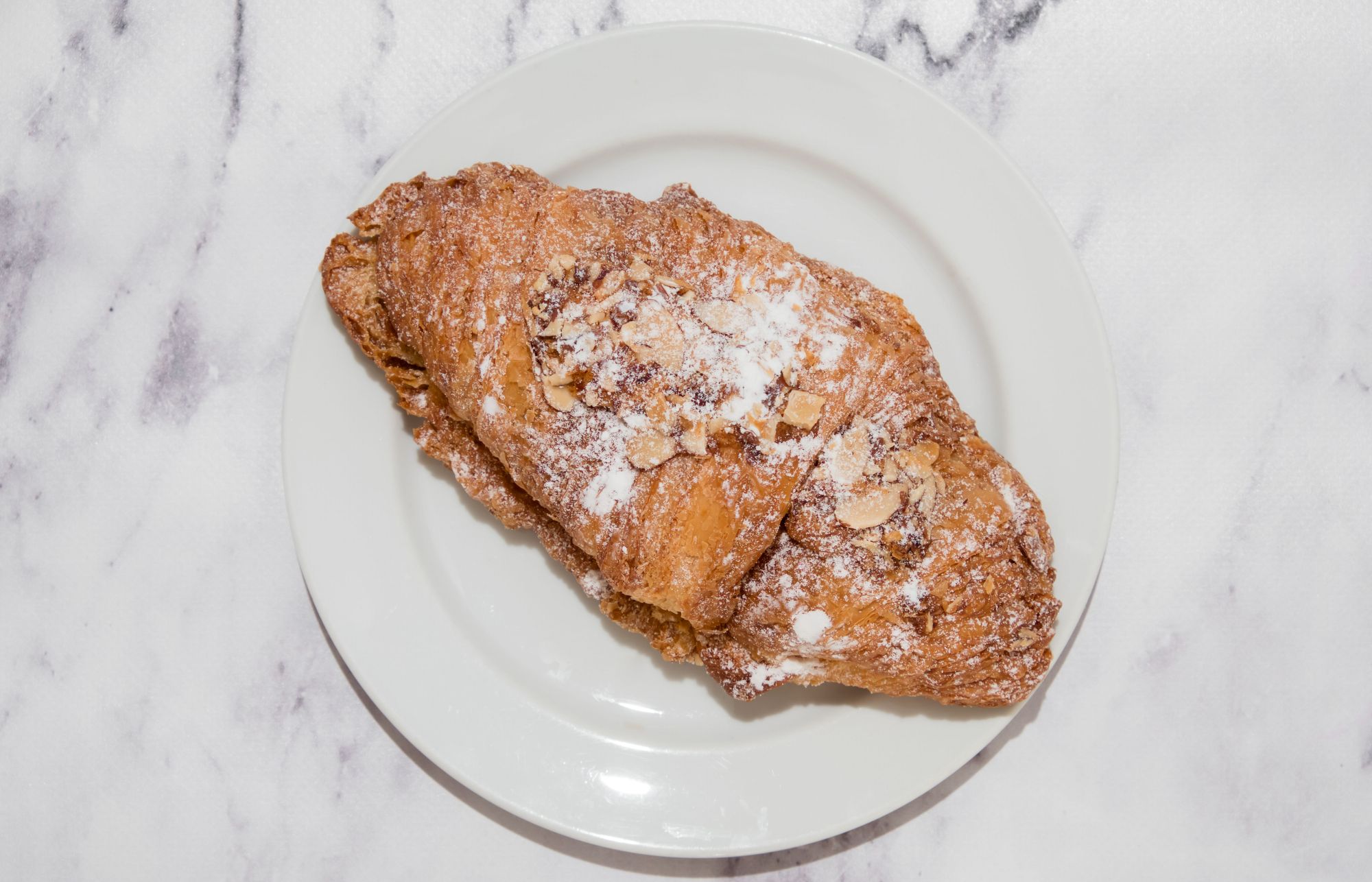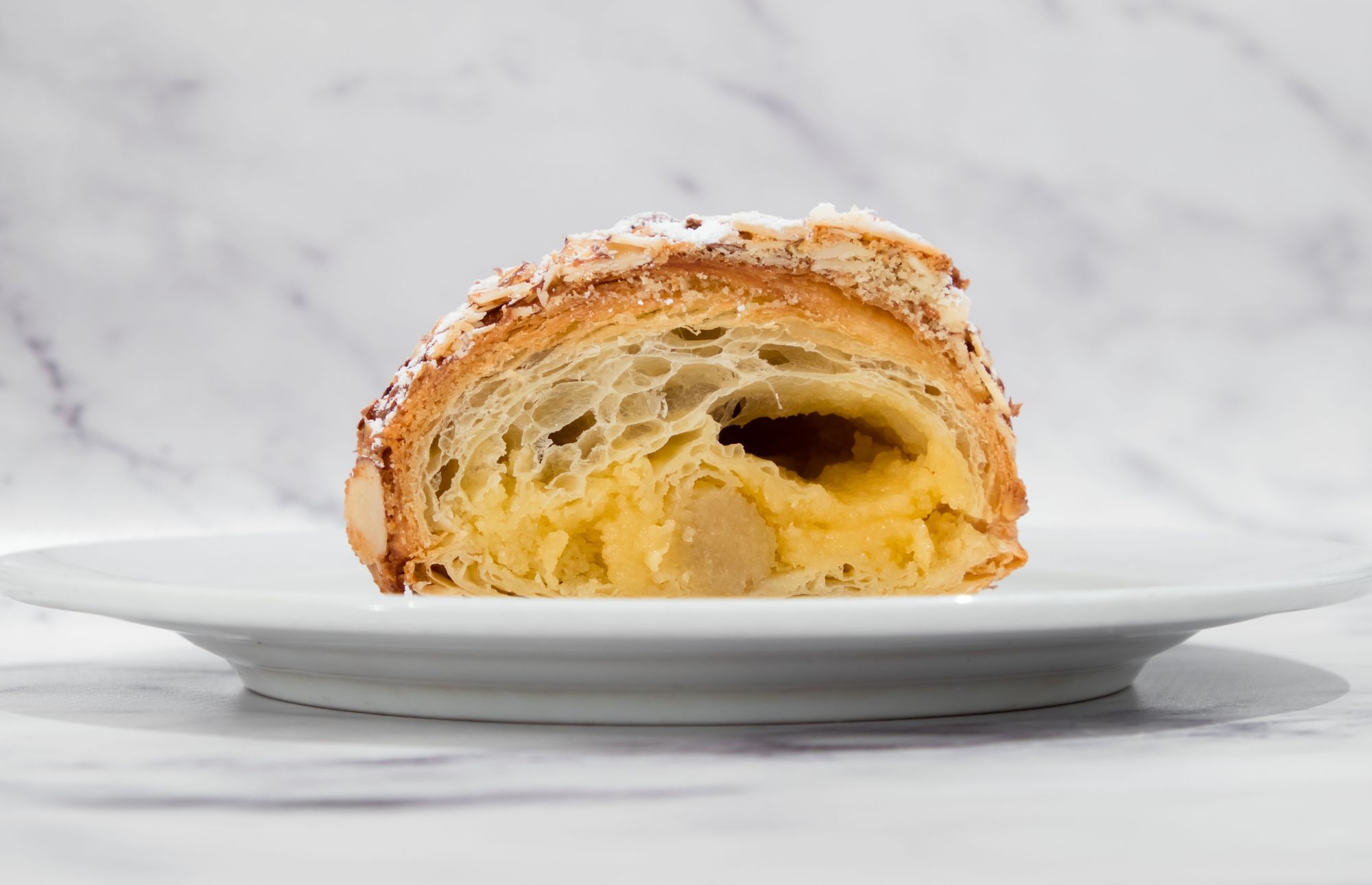 L'atelier Patisserie ($4.30)
The value of a $4.30 croissant can't be denied at L'atelier Patisserie. This almond croissant was very buttery and flaky and I could feel the flakes shattering under my knife for the cross section. Sadly though, the rise isn't that great, leaving a small air gap between the croissant and the almond. The almond paste is slicker than a typical paste making the bottom of the croissant a little oily on the lips, but the almond flavour intensity was very pronounced. It's a little smaller than other shops but perhaps priced appropriately in case you don't want a whole meal of a croissant.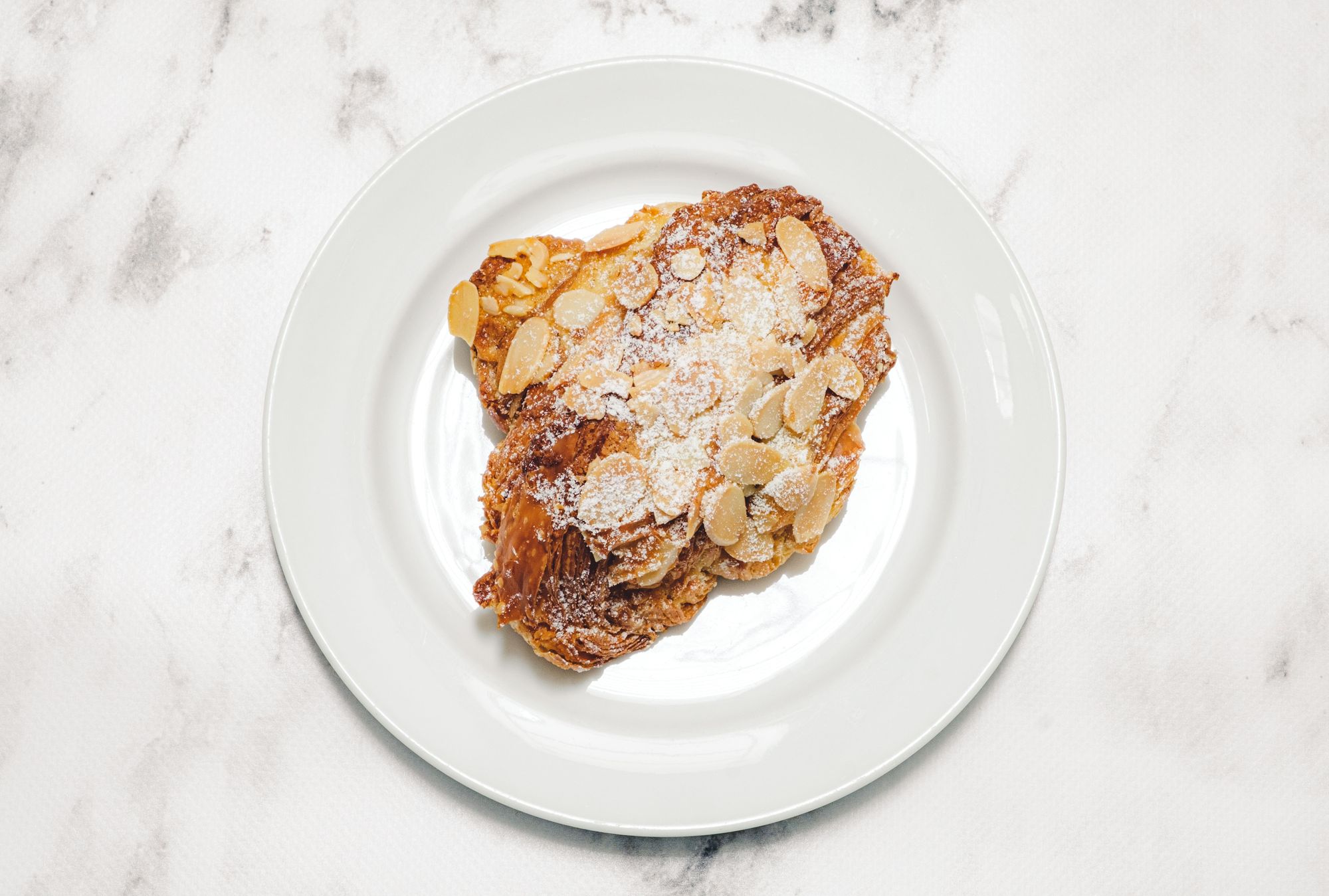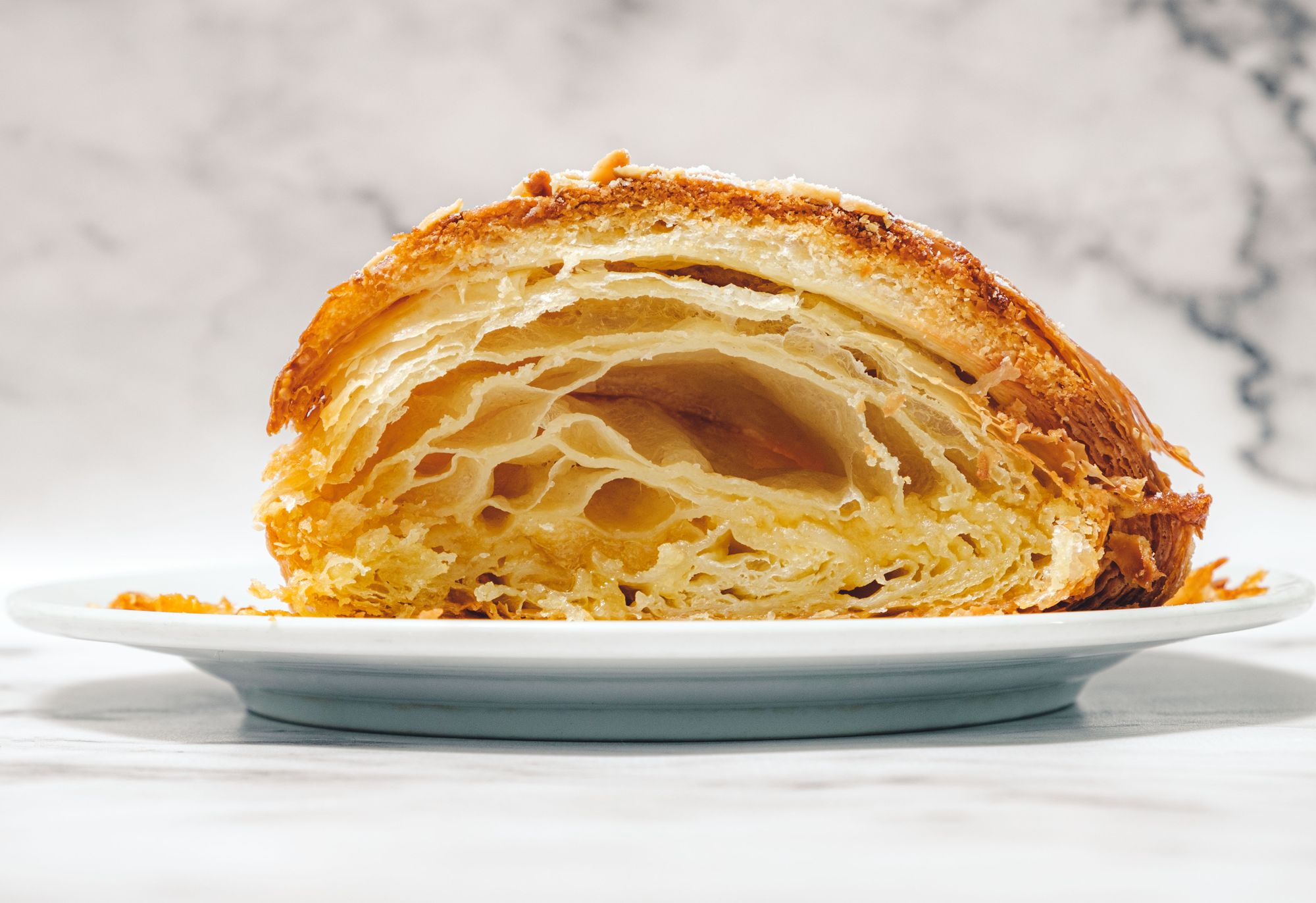 Elmo Baking Co. ($5.30)
My first visit to Elmo didn't yield any almond croissants, but my most recent visit got me an Almond Vanilla Croissant. While the interior left a few air gaps here and there, the hearty amount of almond paste and profound flakiness propels this almond croissant to a pretty loft spot. It is a little expensive relative to the other croissants and I would have liked to see a little more baked almond paste on the top.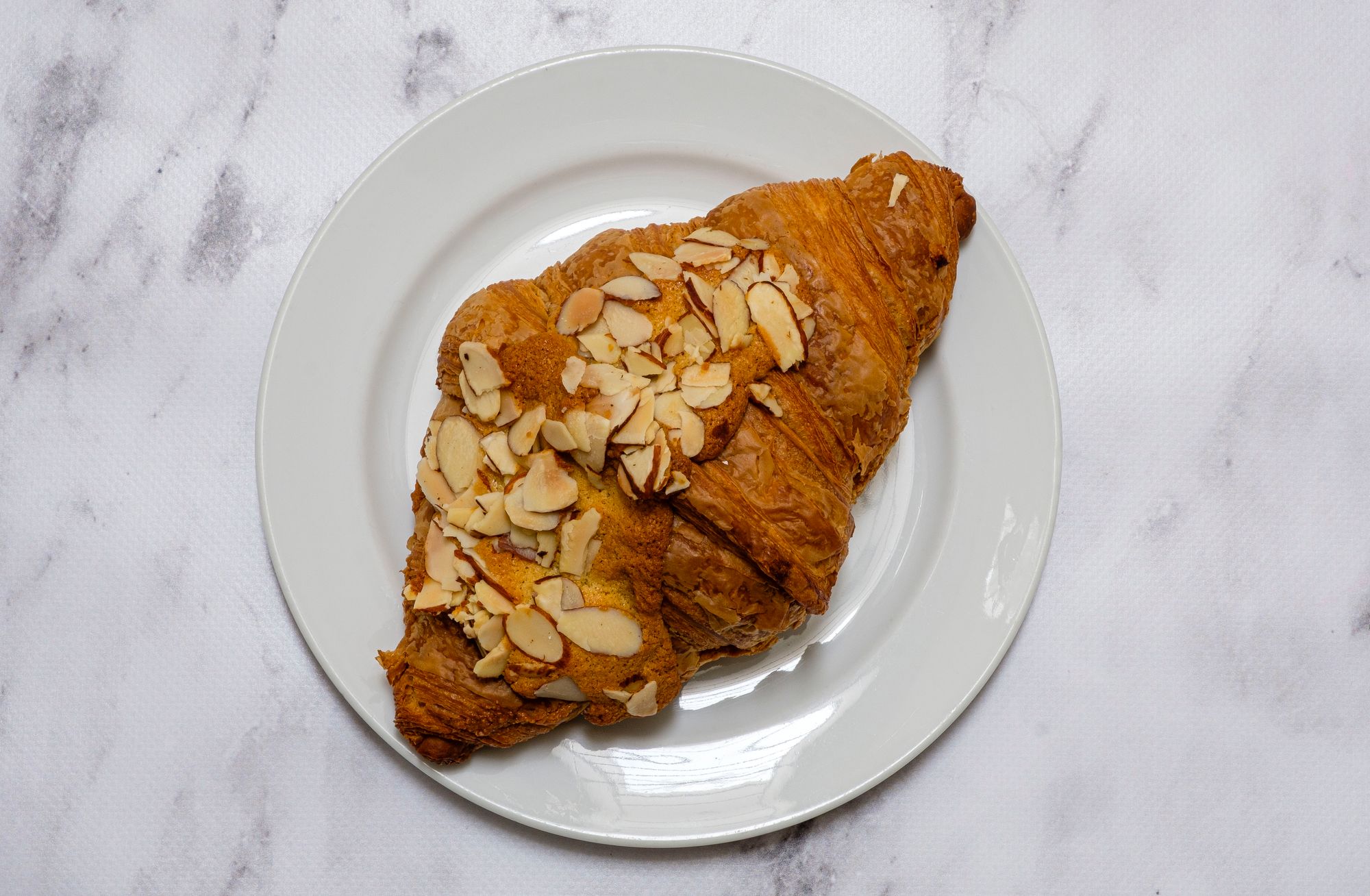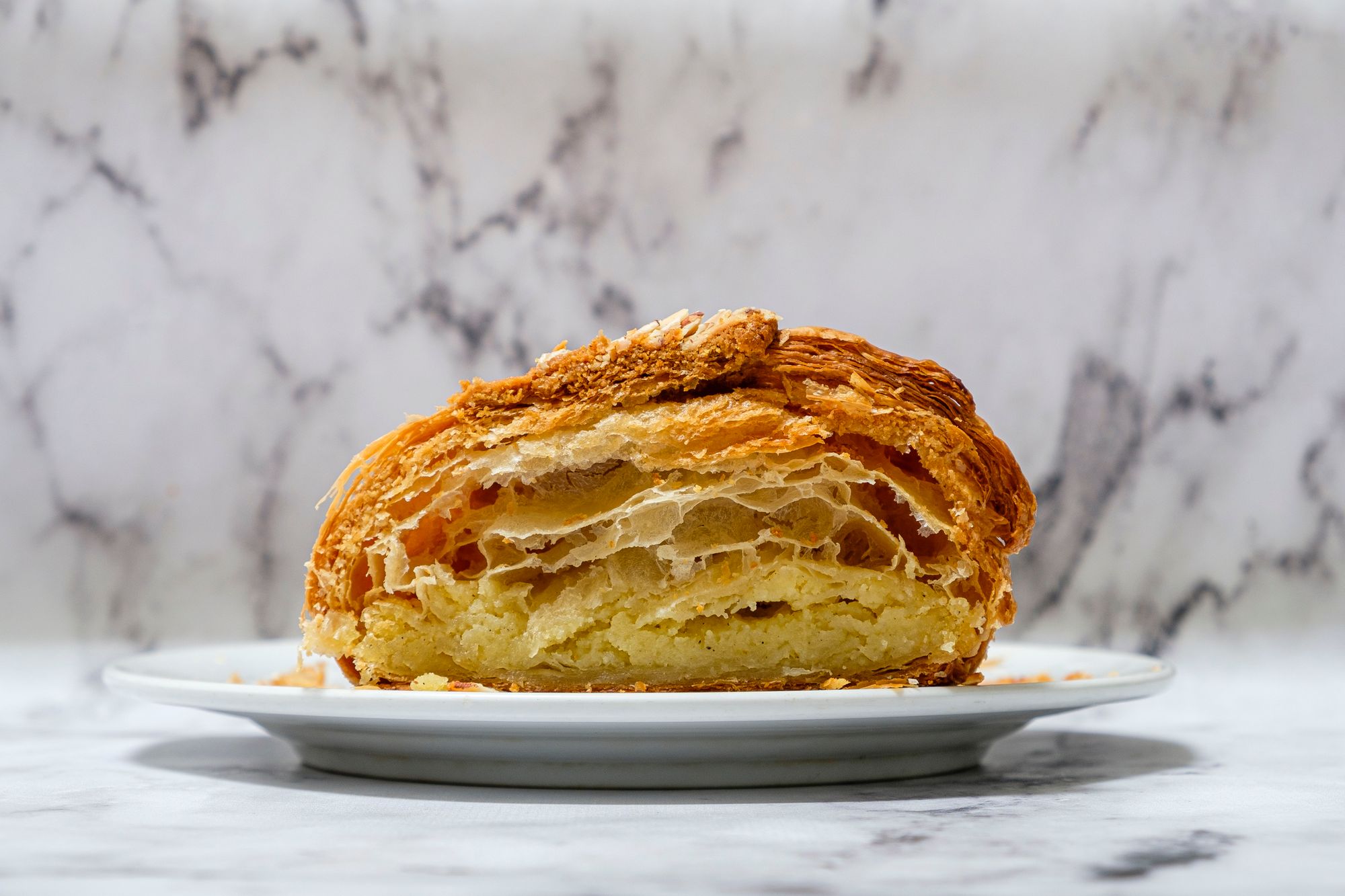 Temper Chocolate & Pastry ($5.50)
Those in the know will recall that the founder of Temper, Steve Hodge, worked alongside Thomas Haas so it's fitting their almond croissants end up in similar spots on this ranking. I was lucky and got this croissant fresh off the cooling rack. It was immediately purchased and stuffed into a paper bag which it proceeded to soak through. In actuality, this was a very buttery/oily almond croissant and you could taste it in every bite. The saving grace was that the exterior look was jaw-dropping. Who doesn't like to see so much almond paste stuffed into a croissant that it's spilling over the side?
Once we got inside though, it was apparent that the air gap between croissant layering and almond paste was quite wide. The sheer volume of almond paste convinced me to rank it higher than the double bake from Thomas Haas.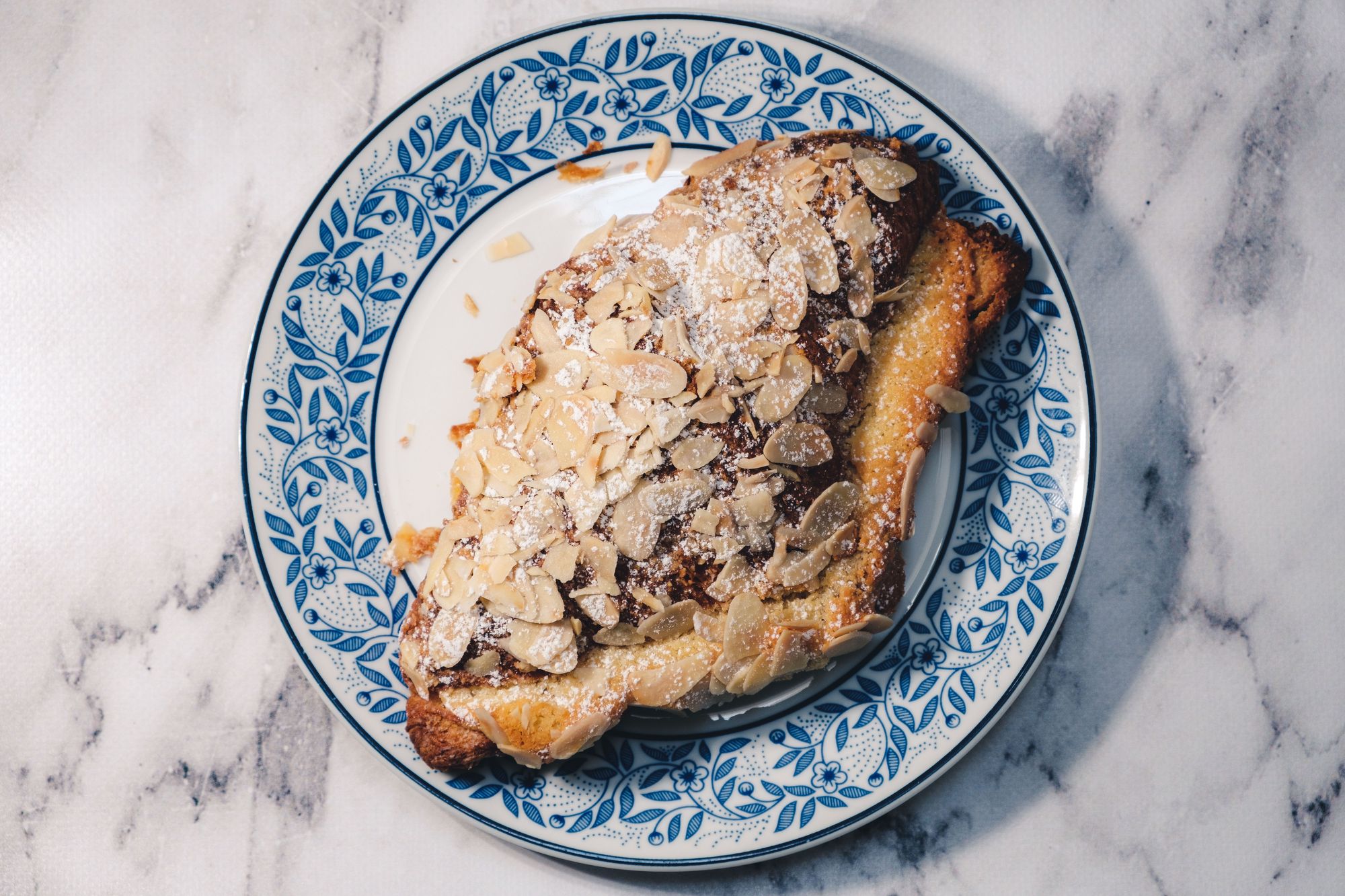 Thomas Haas ($5.50)
I think it's kind of shocking Thomas Haas ended up this low on this list after so many people recommended that I check out Thomas Haas. Maybe I was unlucky with my croissant but by the time I got it, the croissant was quite flat and that caused the layers to look less than exceptional when compared to the entrants above.
The low rise was mostly cancelled out with the good points. This was labelled as a double-bake and the top layer of almond actually included a second layer of baked almond paste that was unlike any other entrant. Despite the lack of rise, it still had a  ton of flakiness to go with the thick shell. This almond croissant certainly has enough going on to justify the $5.50 price tag, but it just so happened that during my anonymous visit to the North Vancouver location that this almond croissant did not nail the rise or layering criteria as well as the bakeries above. I'd still recommend this one.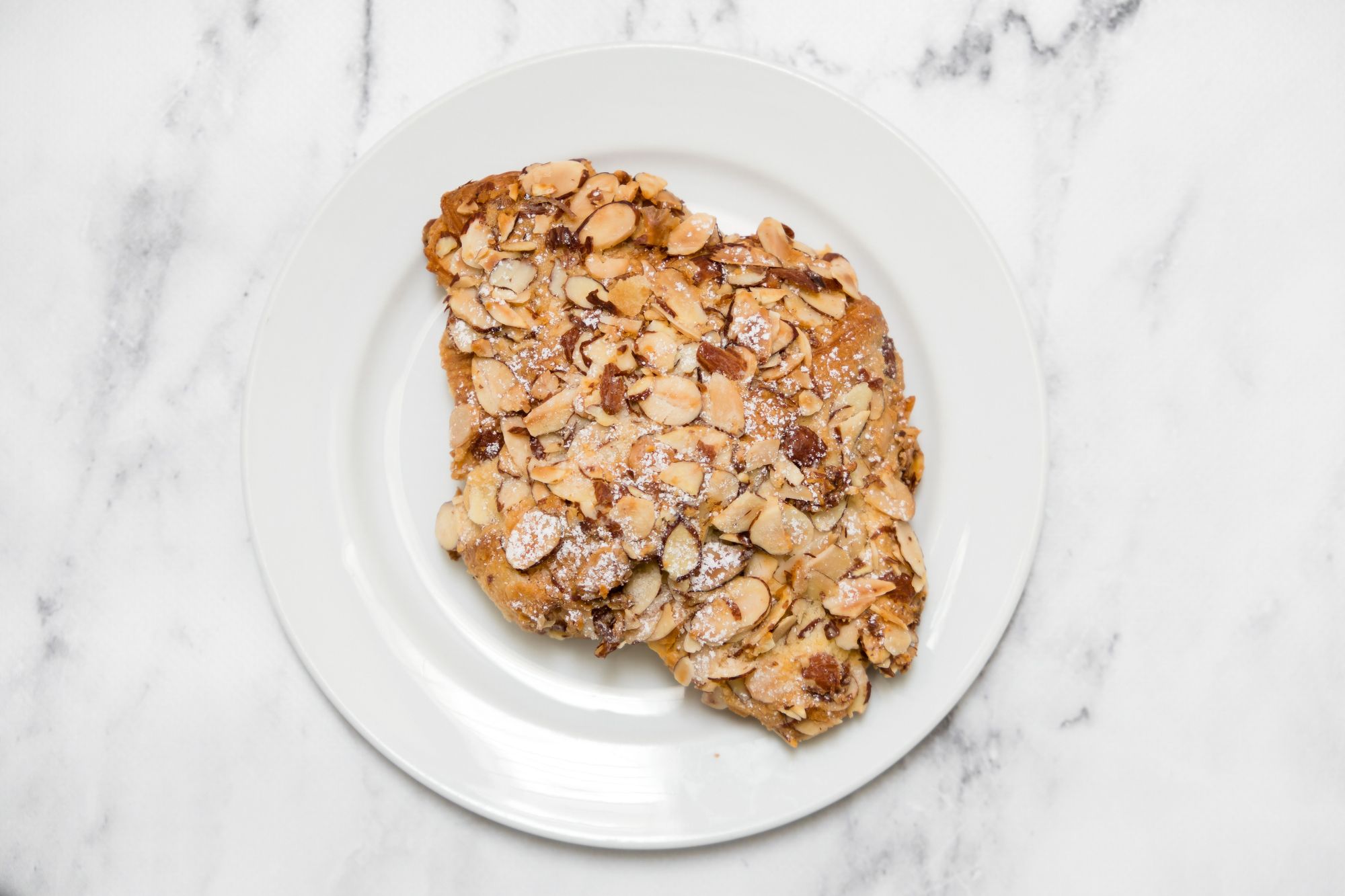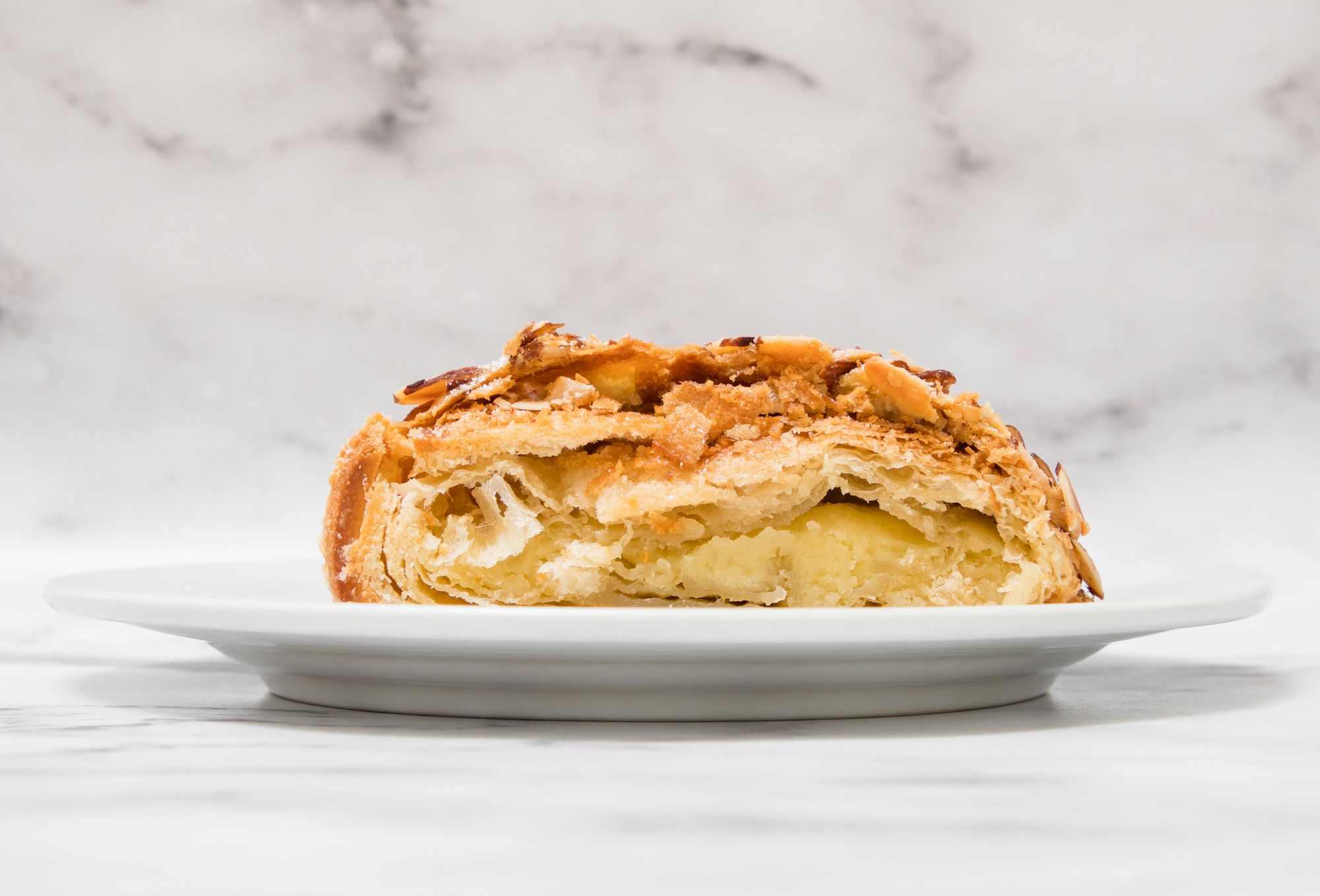 Chez Christophe ($5.45)
Chez Christophe is a French-style bakery and their almond croissant sings a dense love song of almond appreciation. Every bite of this guy is an undeniable smash of buttery almond in your mouth, and the only thing I wish for was a higher rise. Similar to Thomas Haas, this double baked almond croissant came out quite short but the gradient from the inside out was beautiful enough to land it this high on the rankings.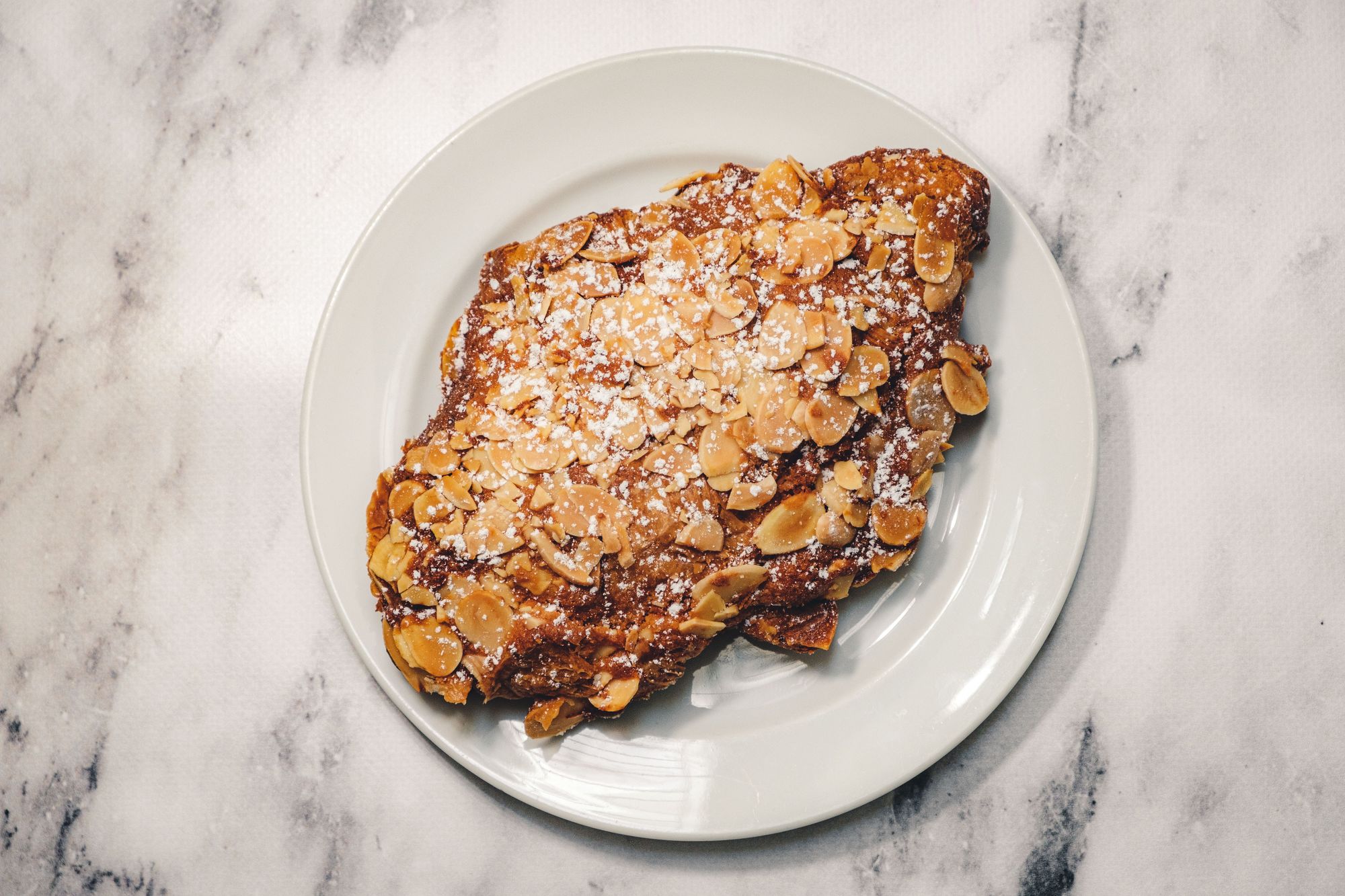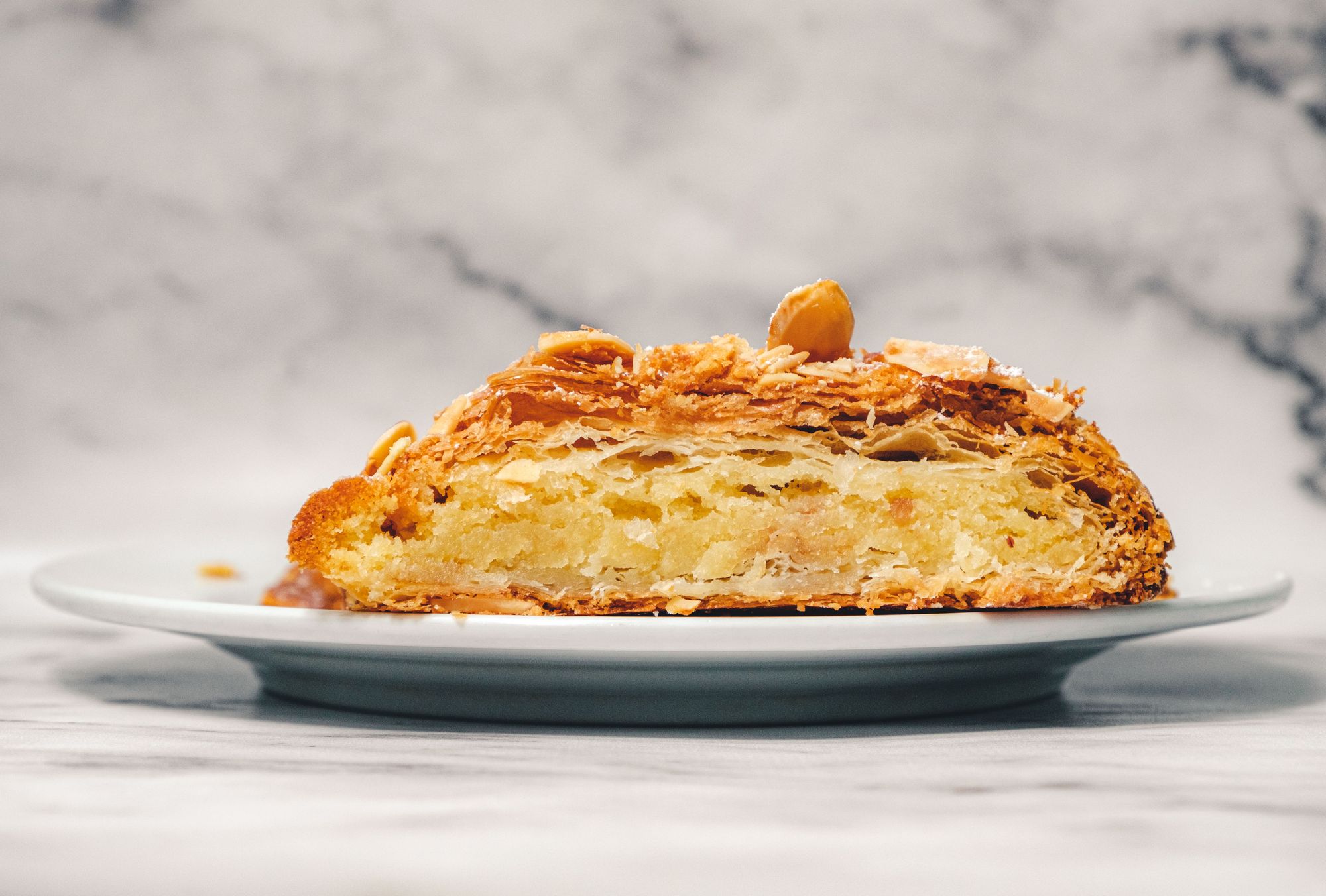 La Forêt ($4.75)
La Forêt is a bistro that serves up coffee, bakery, and all-day food menus, so it's not your typical patisserie. It's also located inside a warehouse which gives it some real hipster vibes. The almond croissant here could use a little more rise (similar feedback as Thomas Haas) but the almond flavour is there and the icing sugar is less than overpowering. It's also priced lower than most entries on this list giving it a leg up.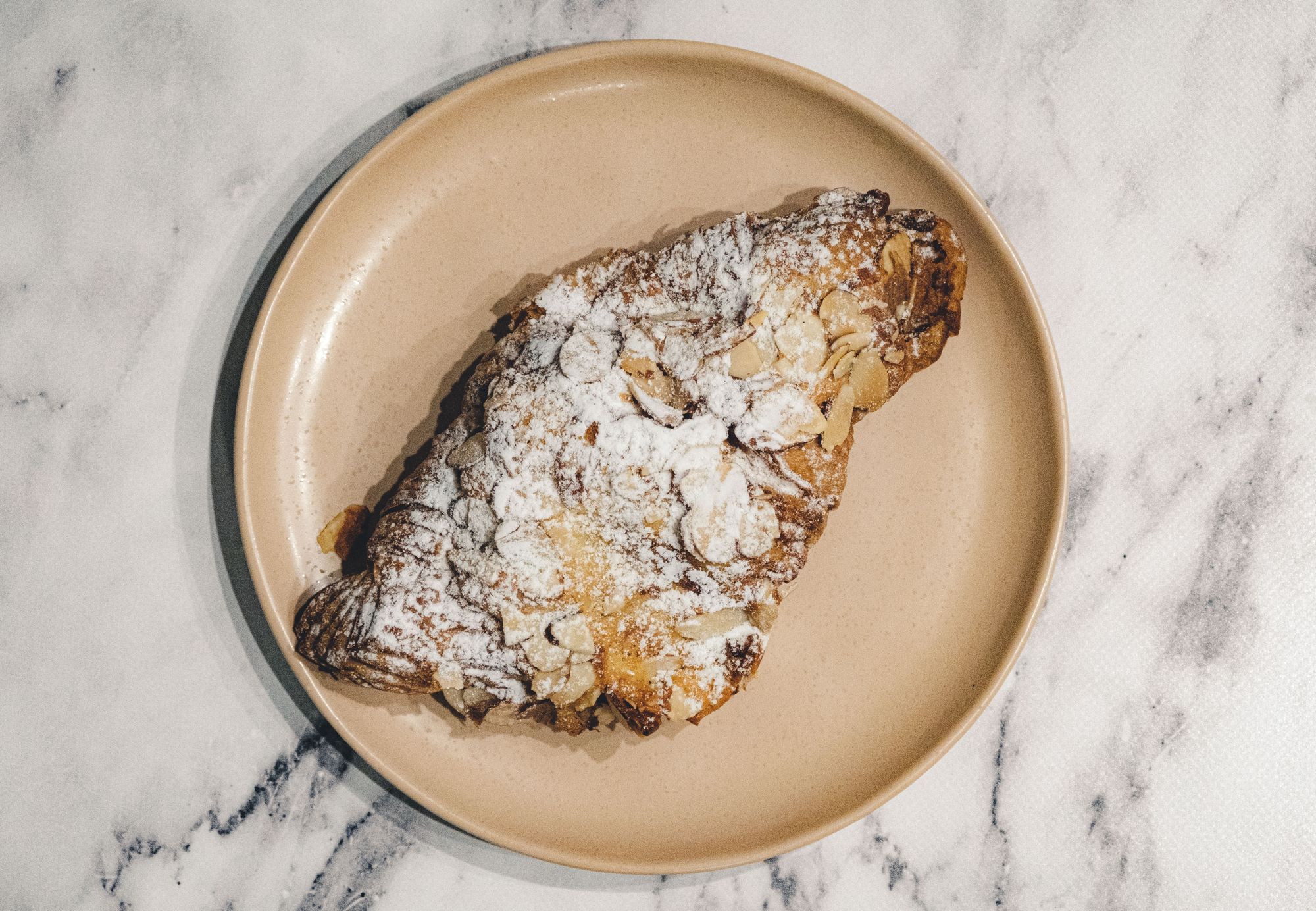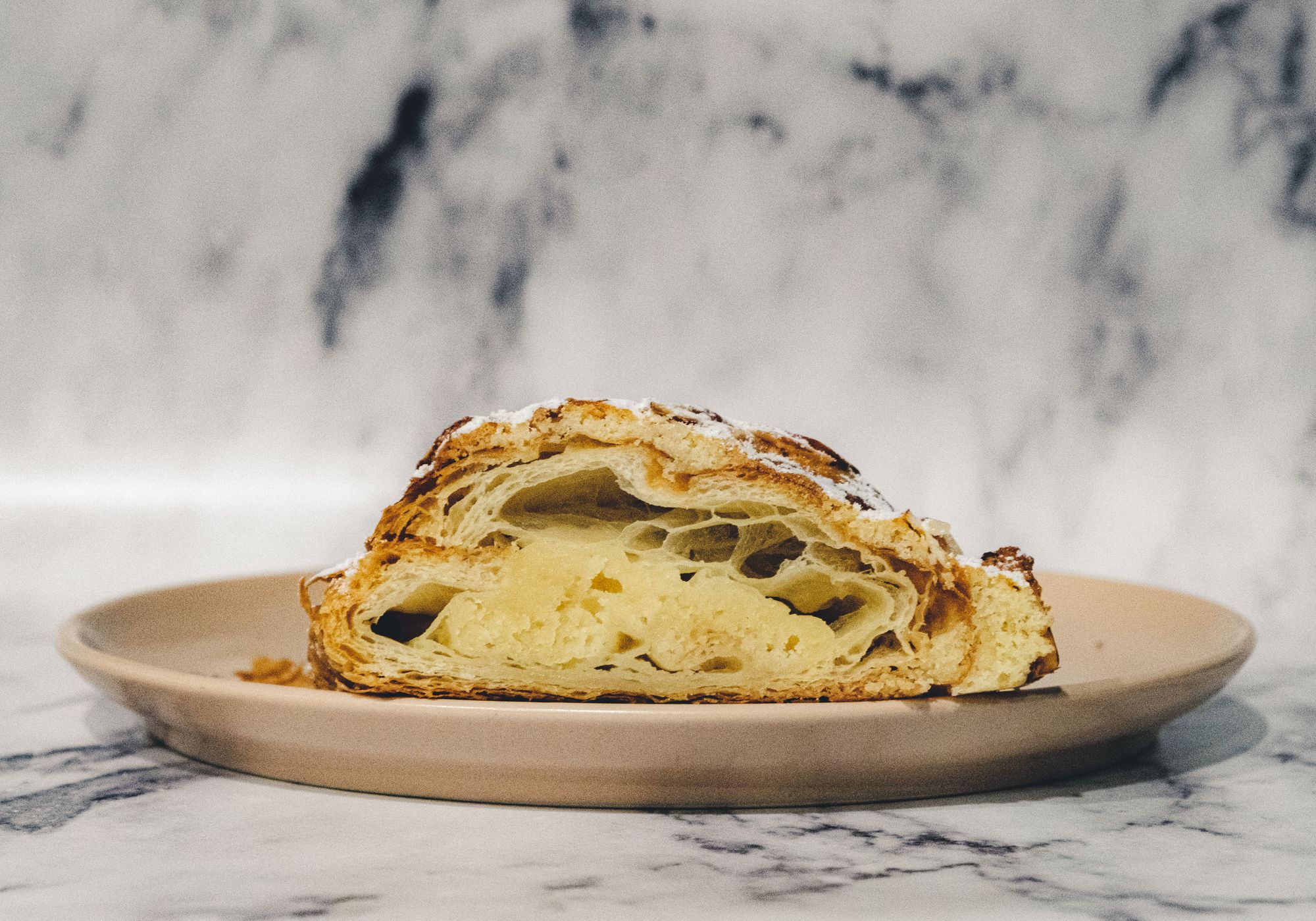 Melo Patisserie ($5.70)
Melo is a newer entry on this list but they've sprung up as a viable option in the Mount Pleasant neighbourhood. This almond croissant features a good rise and a slight candied crunch to the top almond layer. The inside leaves much to be desired with only a smidgen of almond paste within. It's not as highly ranked for this reason.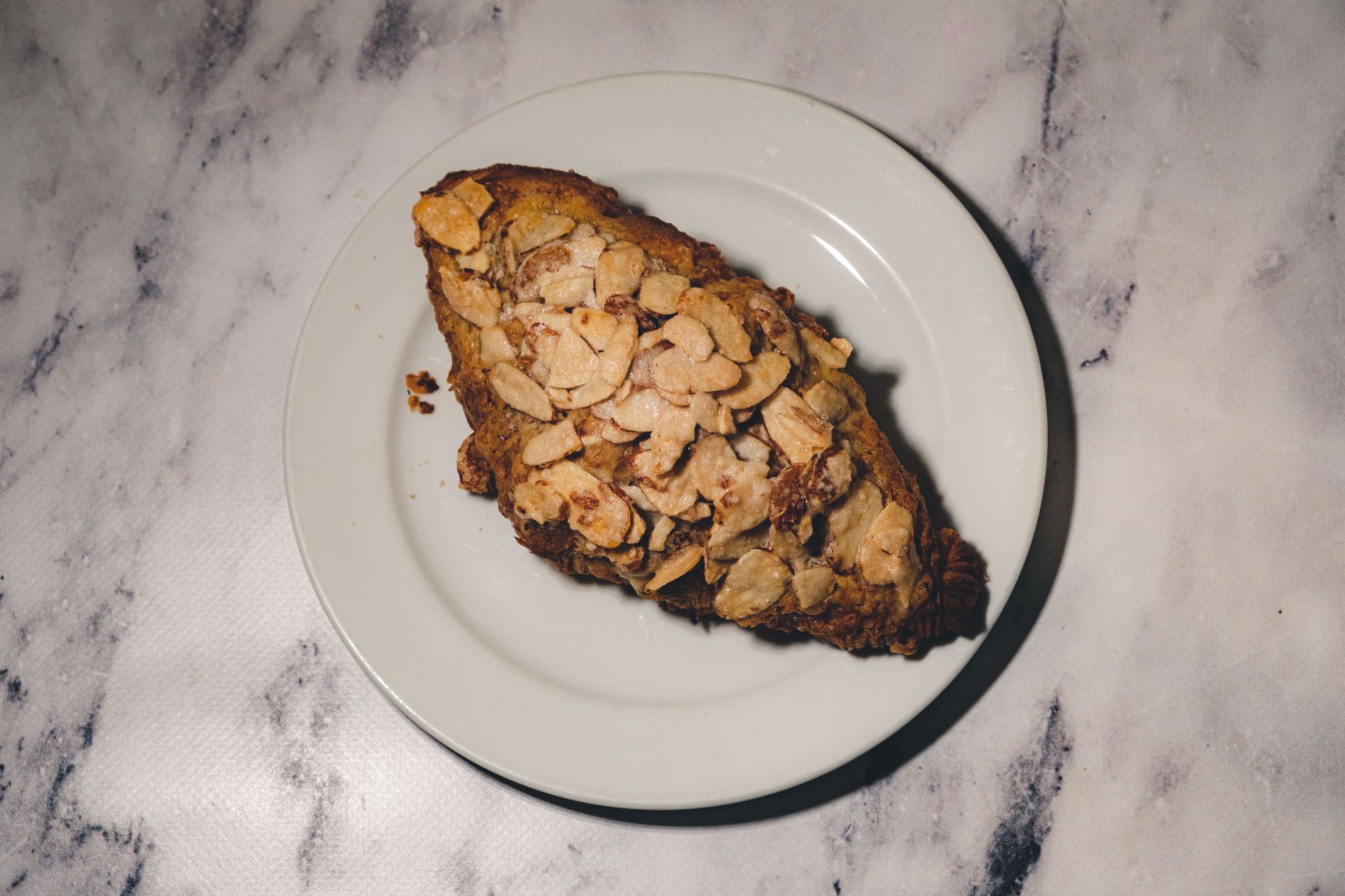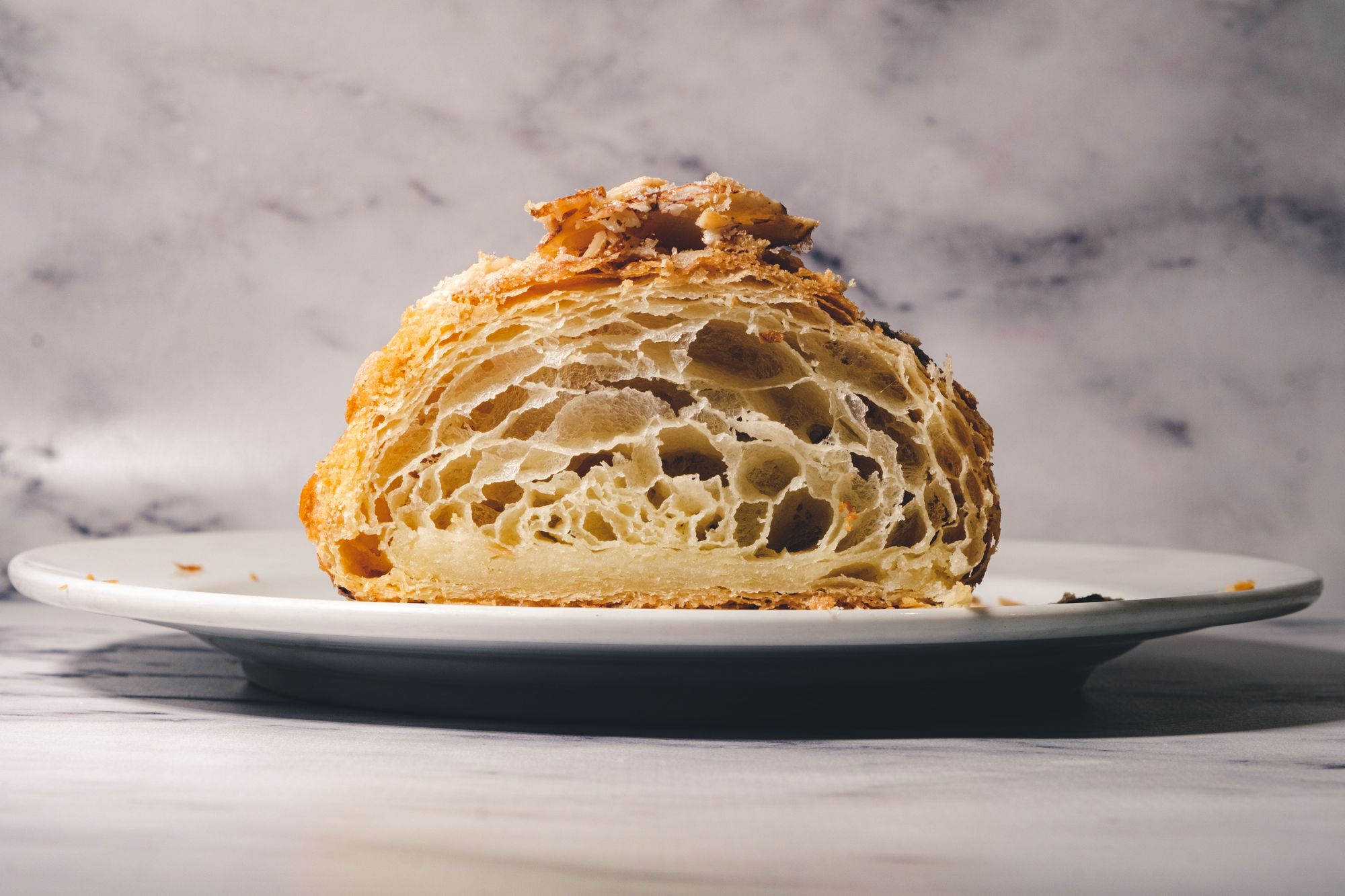 Le Marché St. George ($4.50)
Le Marché St. George stands out as an entry because they make everything from scratch – including their almond croissants! While their almond croissants look more like danishes, it's a fairly priced treat in 2023 and doesn't have an offending amount of rise. That being said, its almond croissant ranking won't stop you from visiting. The vibes inside are immaculately cozy and cottage-core.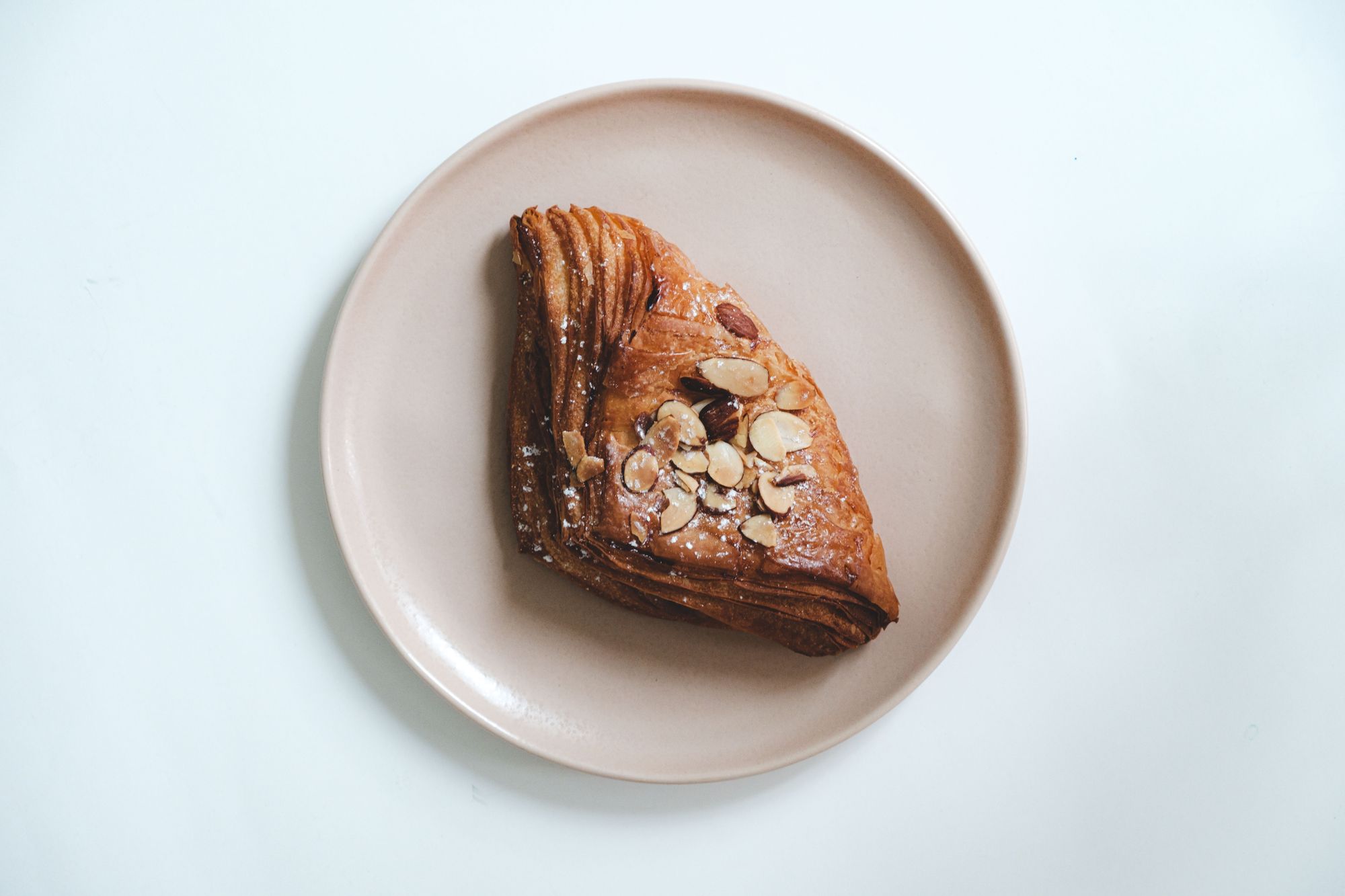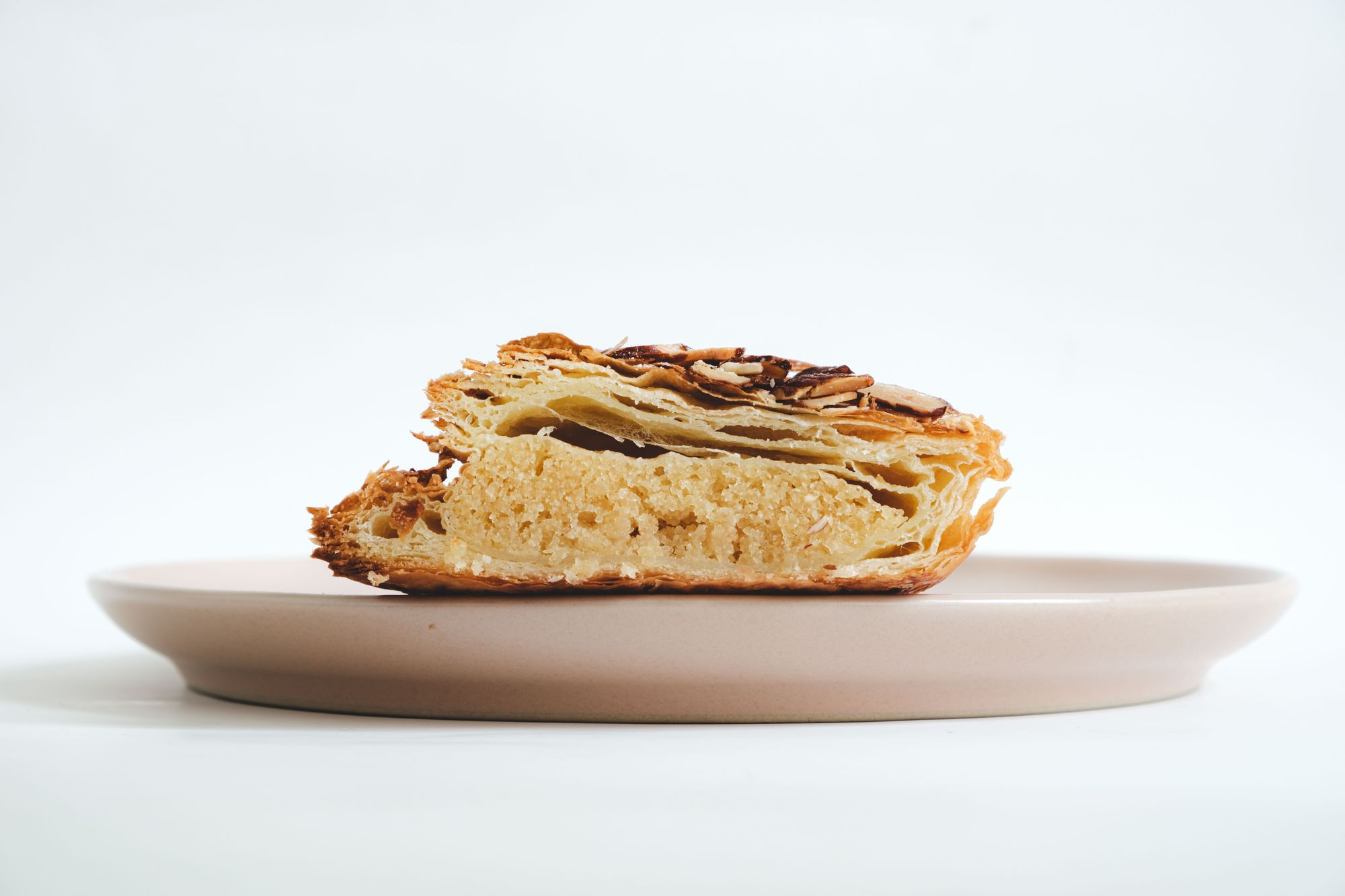 Cadeaux Bakery ($4.05)
Cadeaux Bakery lands at this spot on this list because of its interesting shape, a mildly satisfying crispiness, an above-average amount of criss-crossing layers and almond paste, a balanced sweetness, and a welcoming price tag. You could do a lot worse for $4.05 especially compared to some of the other almond croissants on this list. I'd recommend this one.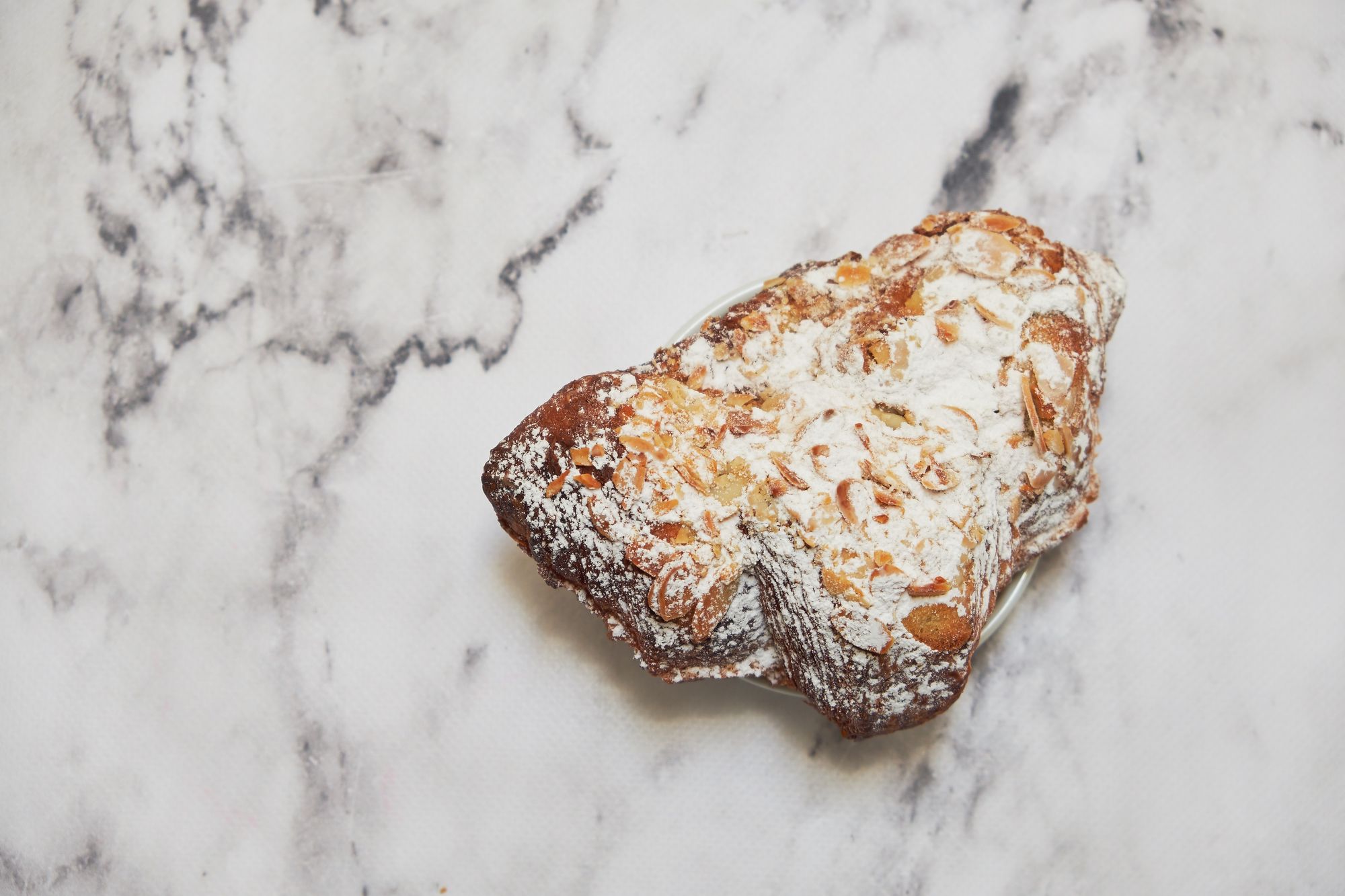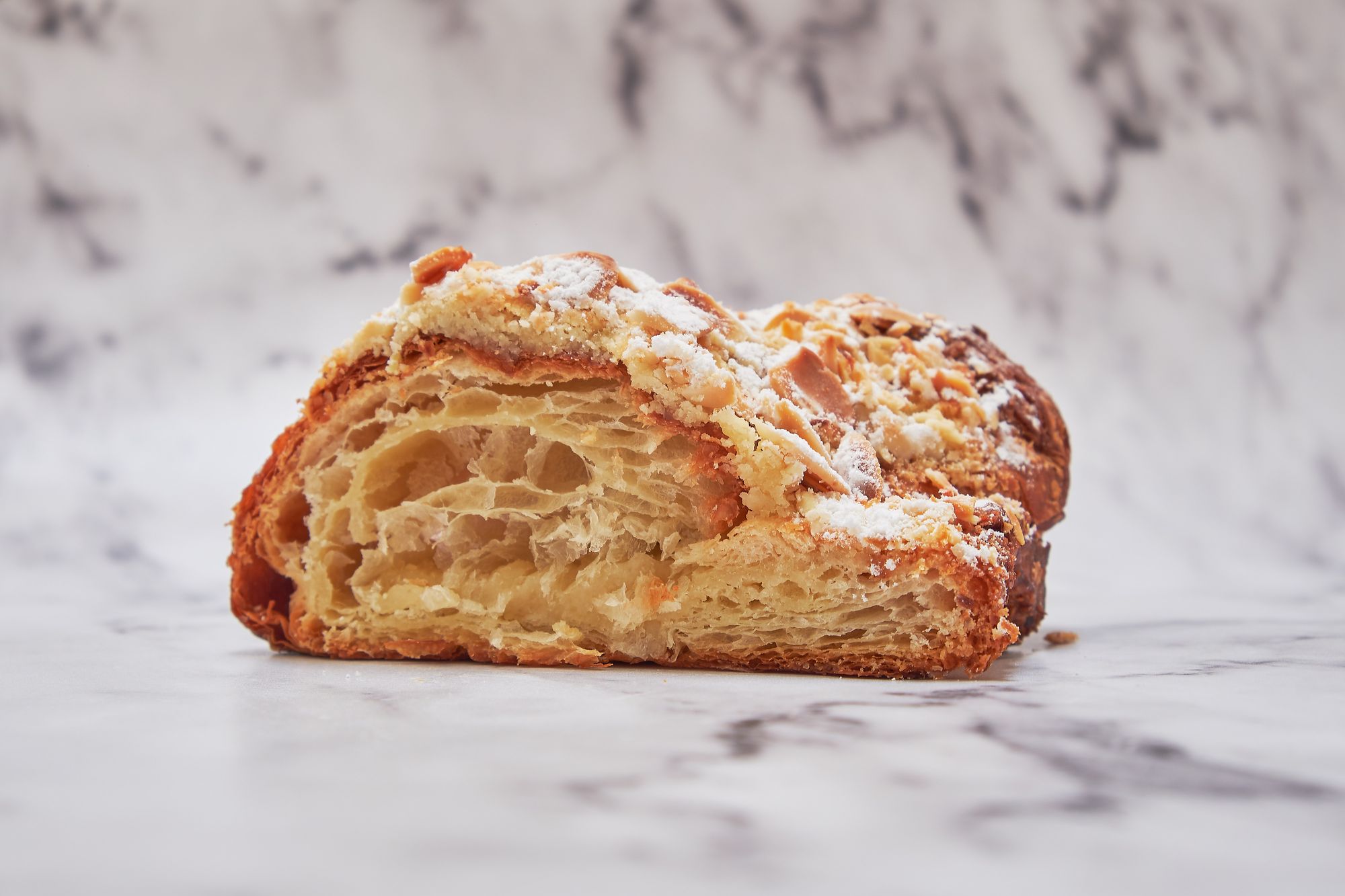 Small Victory ($6.25)
Flakiness is king at Small Victory. Every bite was basically an explosion of flakes crunching off the shell of the croissant. However, the almond paste felt quite thin and the inside of the croissant revealed a number of questionably gaping holes. For a $5 croissant and I'd say this one just makes the cut as far as being able to recommend.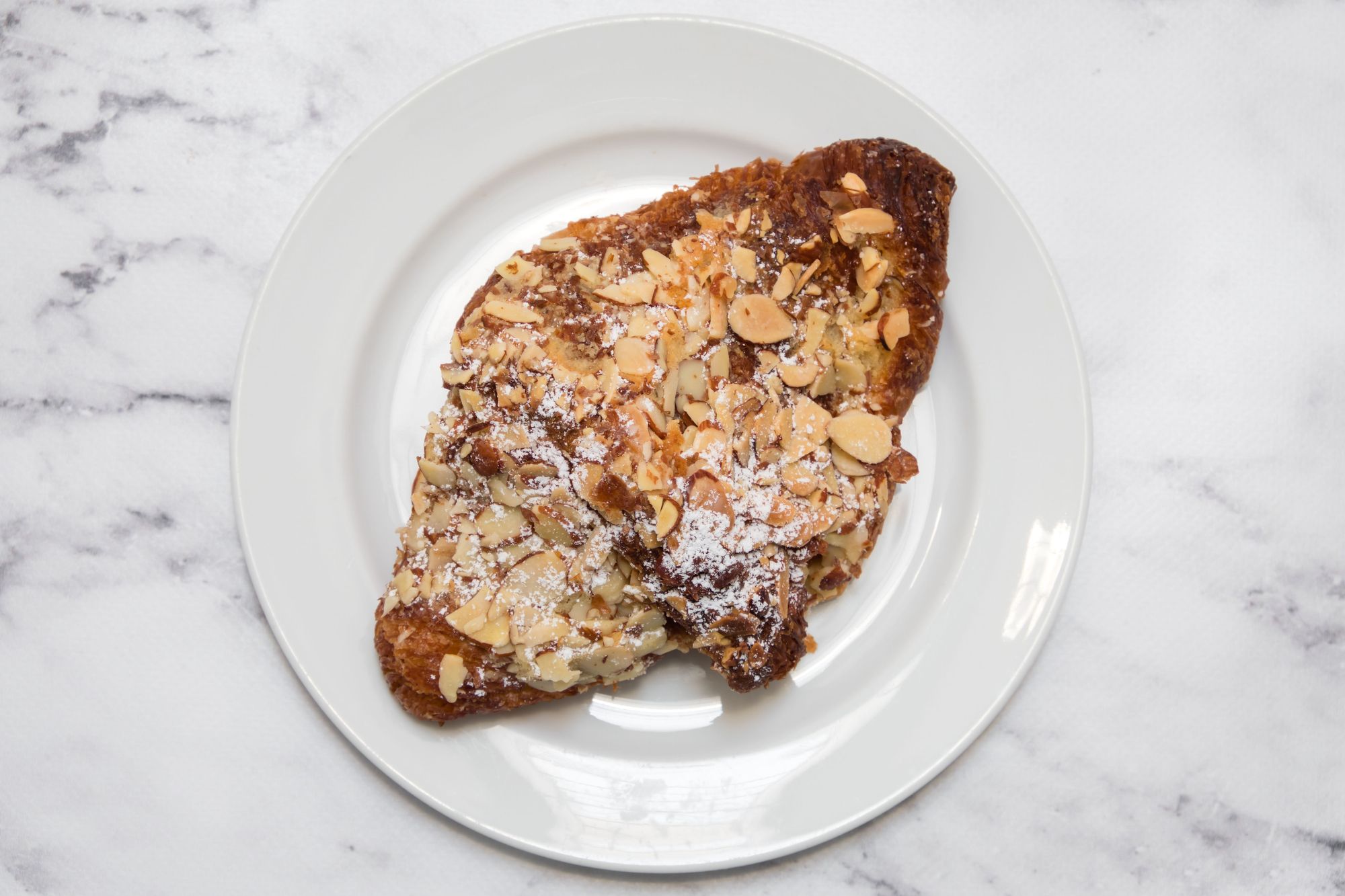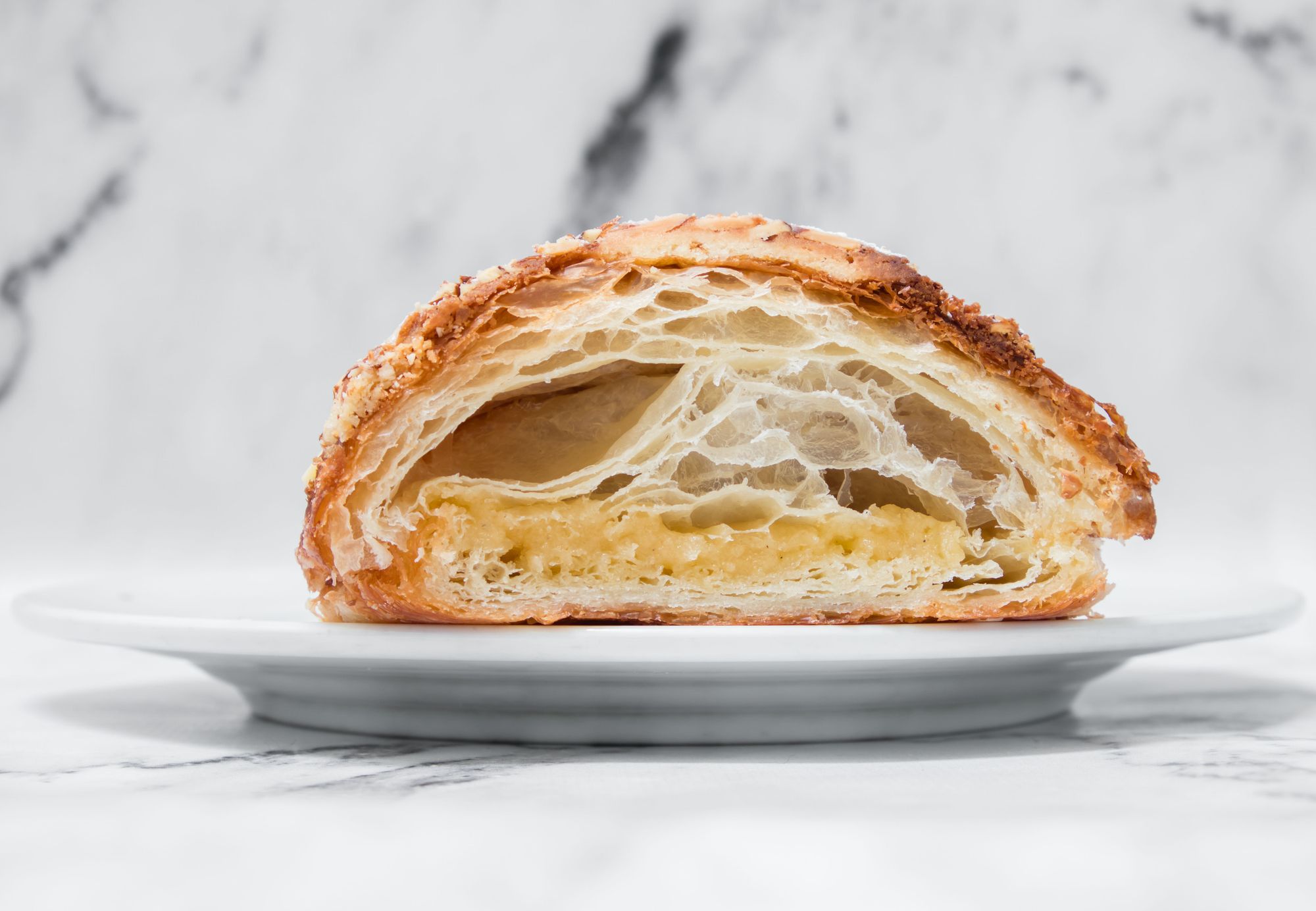 Little Fox Bakehouse ($3.75)
For a hyped up bakehouse, you're probably thinking I'm crazy for ranking this croissant so low. Truth is, this is a good almond croissant, but it's for someone who wants the least amount of sugar in a croissant. Now I'm all for keeping sugar intake in check, but I'm of the mindset that when I'm digging into an almond croissant, I'm in for a sweet experience. The rise is a little airy on this one so don't be fooled by the huge volume this takes up. The amount of almond paste is also quite paltry. This is a great value but only for someone on a low-butter and low-sugar diet for almond croissants and I think that's a minority of people.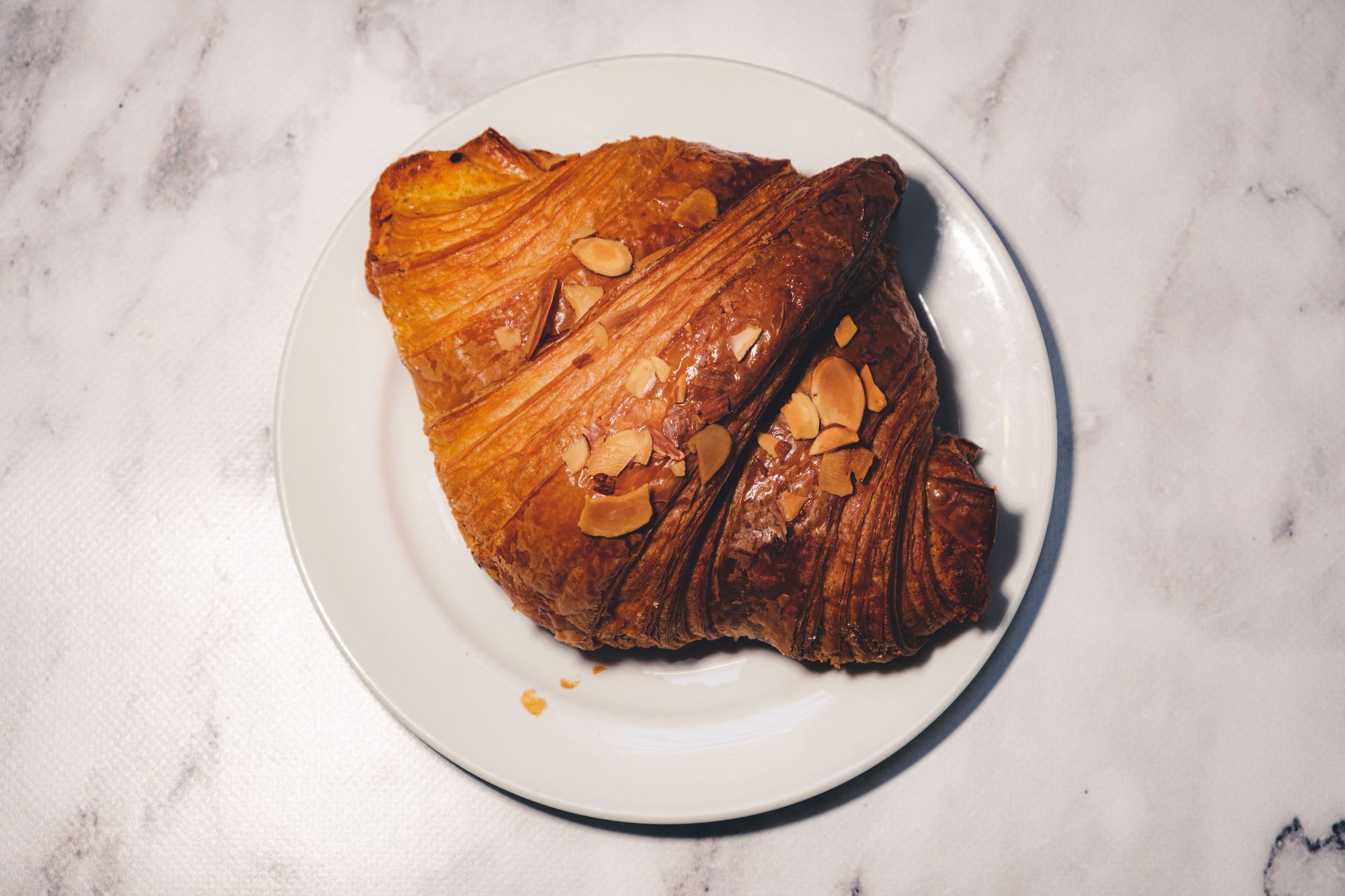 JJ Bean ($4.25)
Small Victory being the last one I could recommend means unfortunately JJ Bean is the start of the bottom of my list for the best almond croissants. While I love a good amount of moist of butter in my croissant, this croissant went too hard on the butter. The dough was extra moist inside but as a result this croissant lacked rise, flakiness, and each bite was more of a buttery pull than a crispy chomp. The buttery finish also left a discernible layer of oil on my lips after consumption which is great if you're looking for calories and terrible if you want an enjoyable treat. The good parts were the amount of almond (this was caked in almond flavour) and the criss-crossing layers inside. Still can't recommend this one.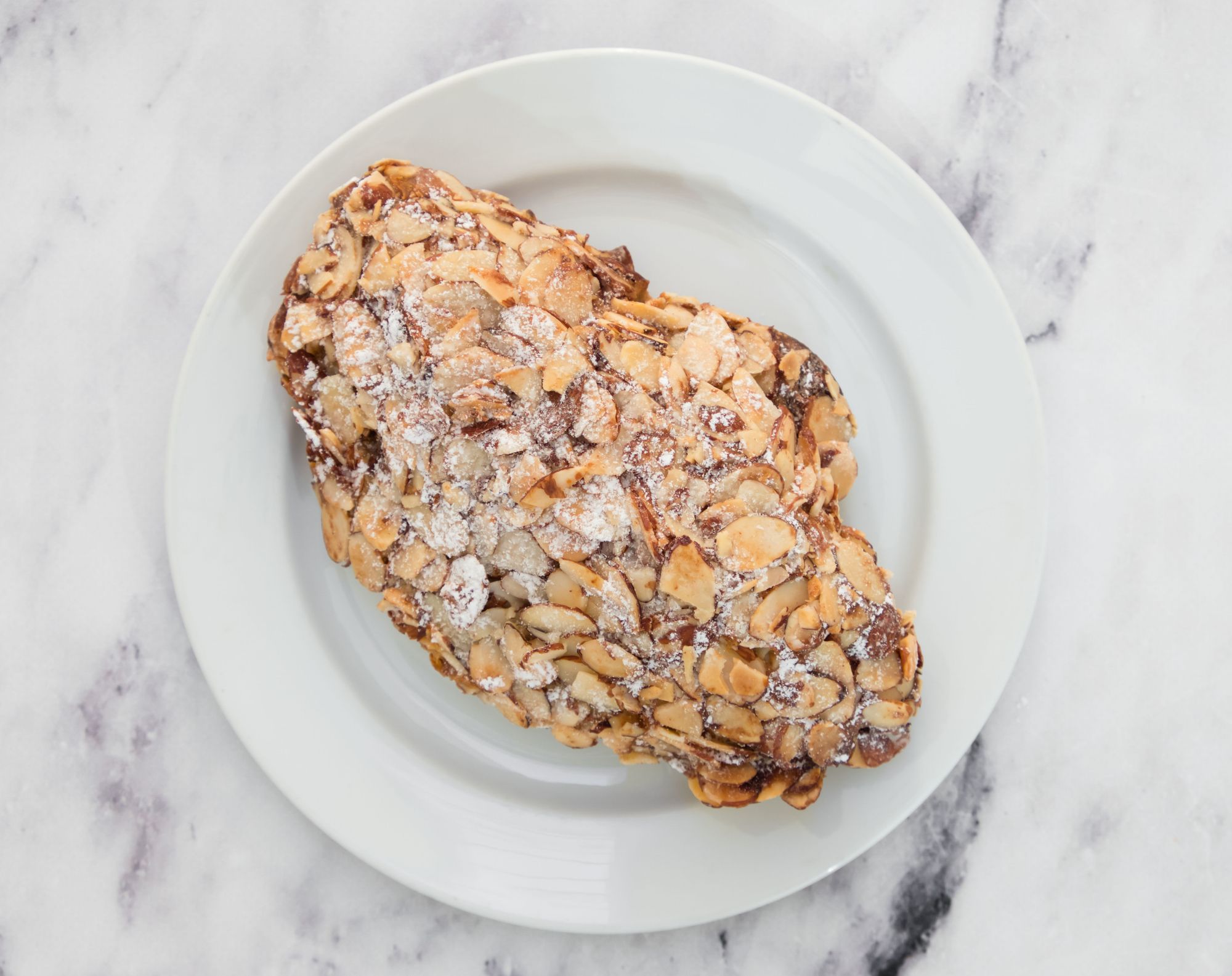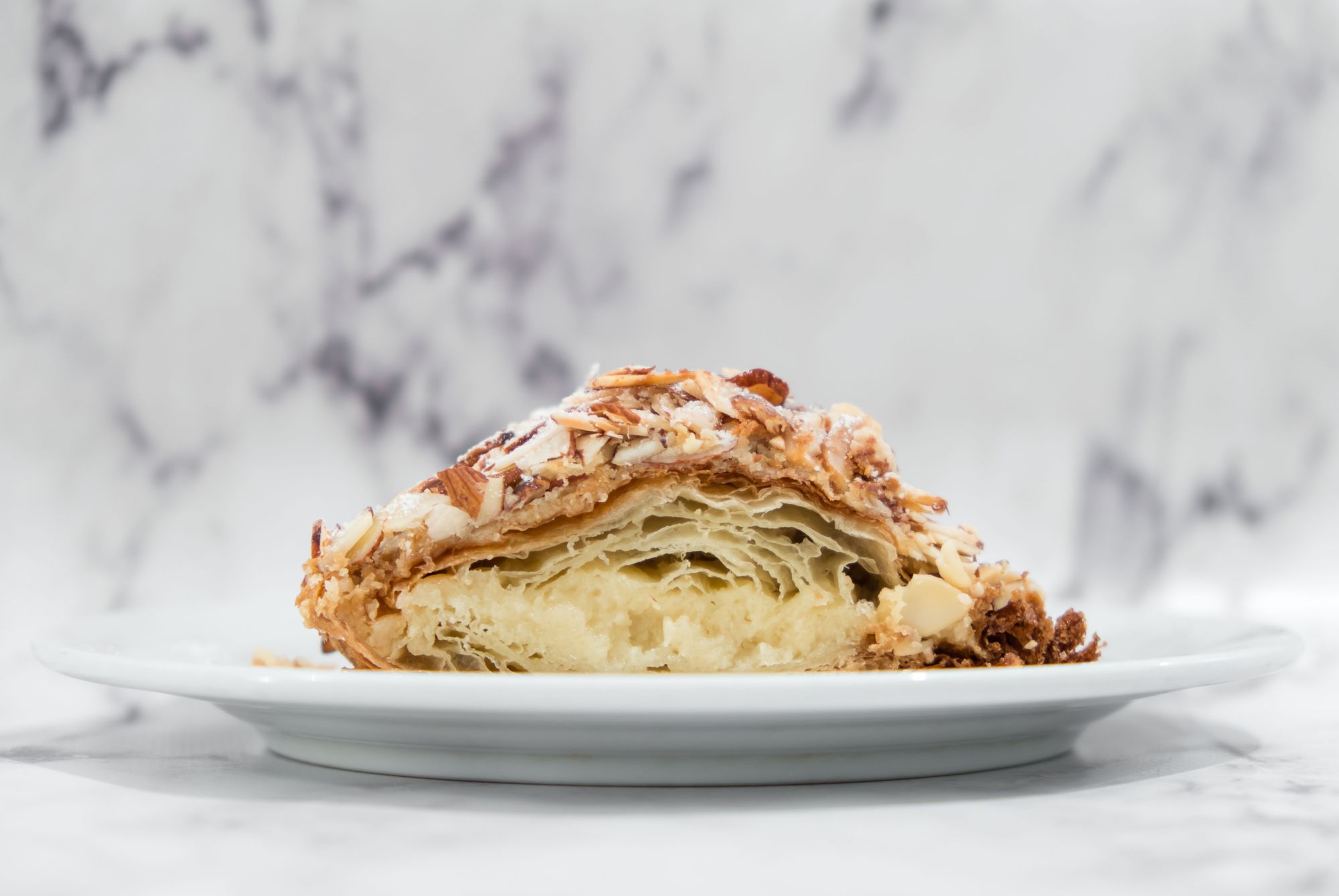 Purebread ($4.75)
Purebread is an everyday casual kind of bakery, which is reflected in the price. The almond croissant here was caked over in powdered sugar which was not the best level of sweetness for me and made the entire thing sticky to hold in my sweaty fingers. There was almost no rise here and just a hint of folding effect within. The skin looked really thin which mean eat bite was quite doughy rather than flaky. Can't recommend this one.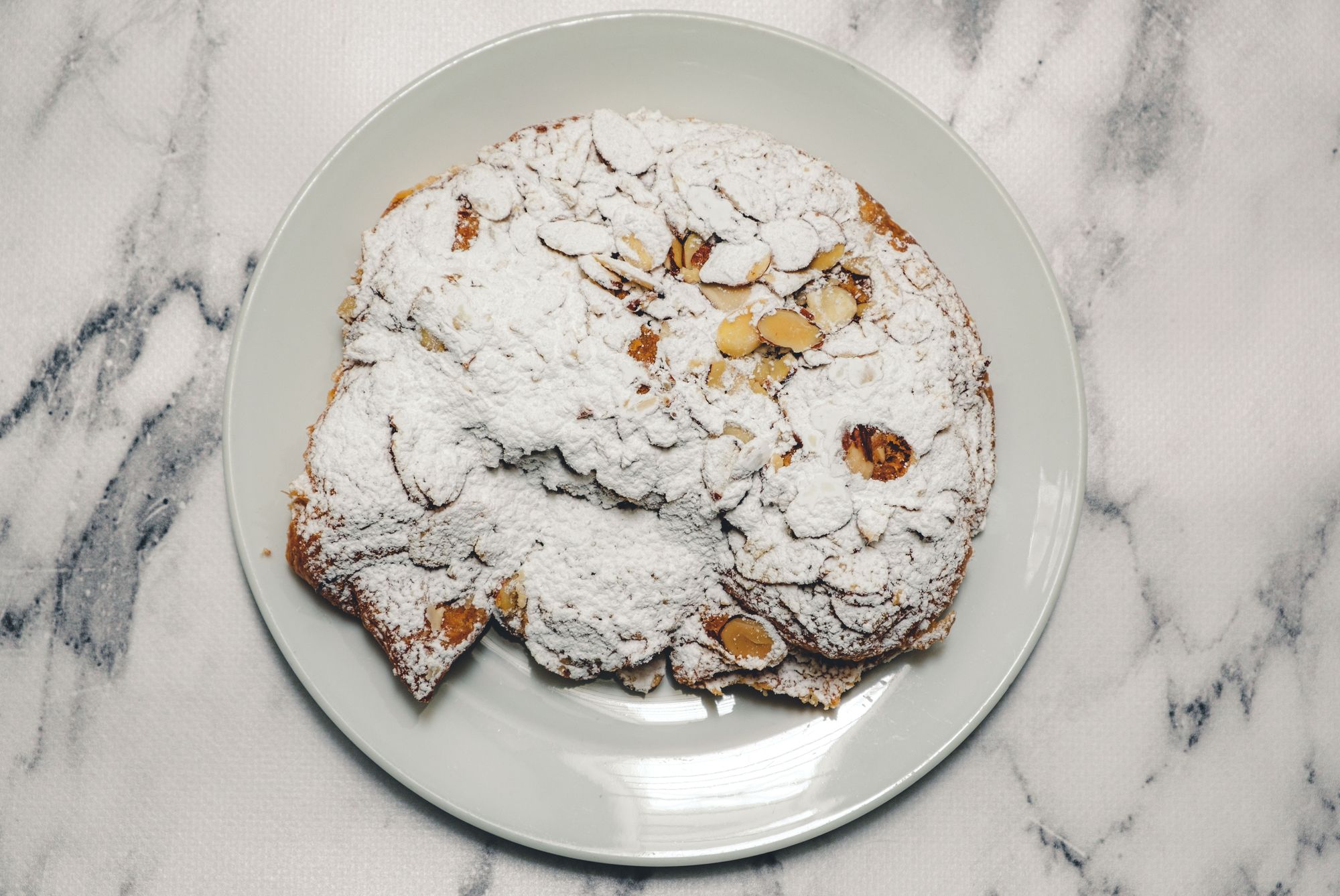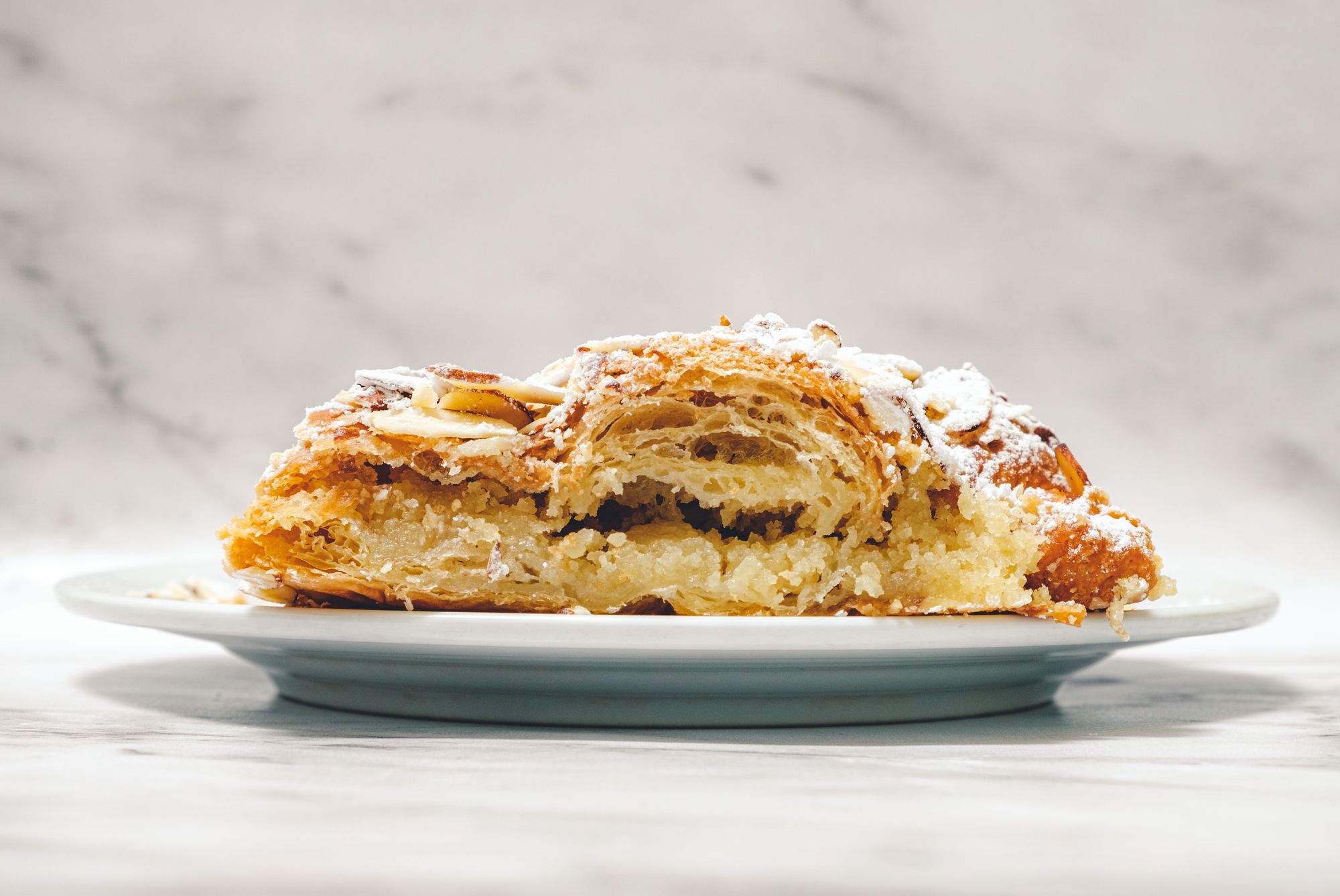 Faubourg ($4.95)
The cool part about Faubourg's almond croissant is the almond paste appears baked right in unlike most of the entrants which have the croissant sliced open to have the almond paste lathered on. The top layer in this almond croissant was sparse, and though the rise was great, the shell thinned out quickly leading to little flakiness. For $5, this looked pretty small and left a lot to be desired relative to other places on this list. Can't recommend this one.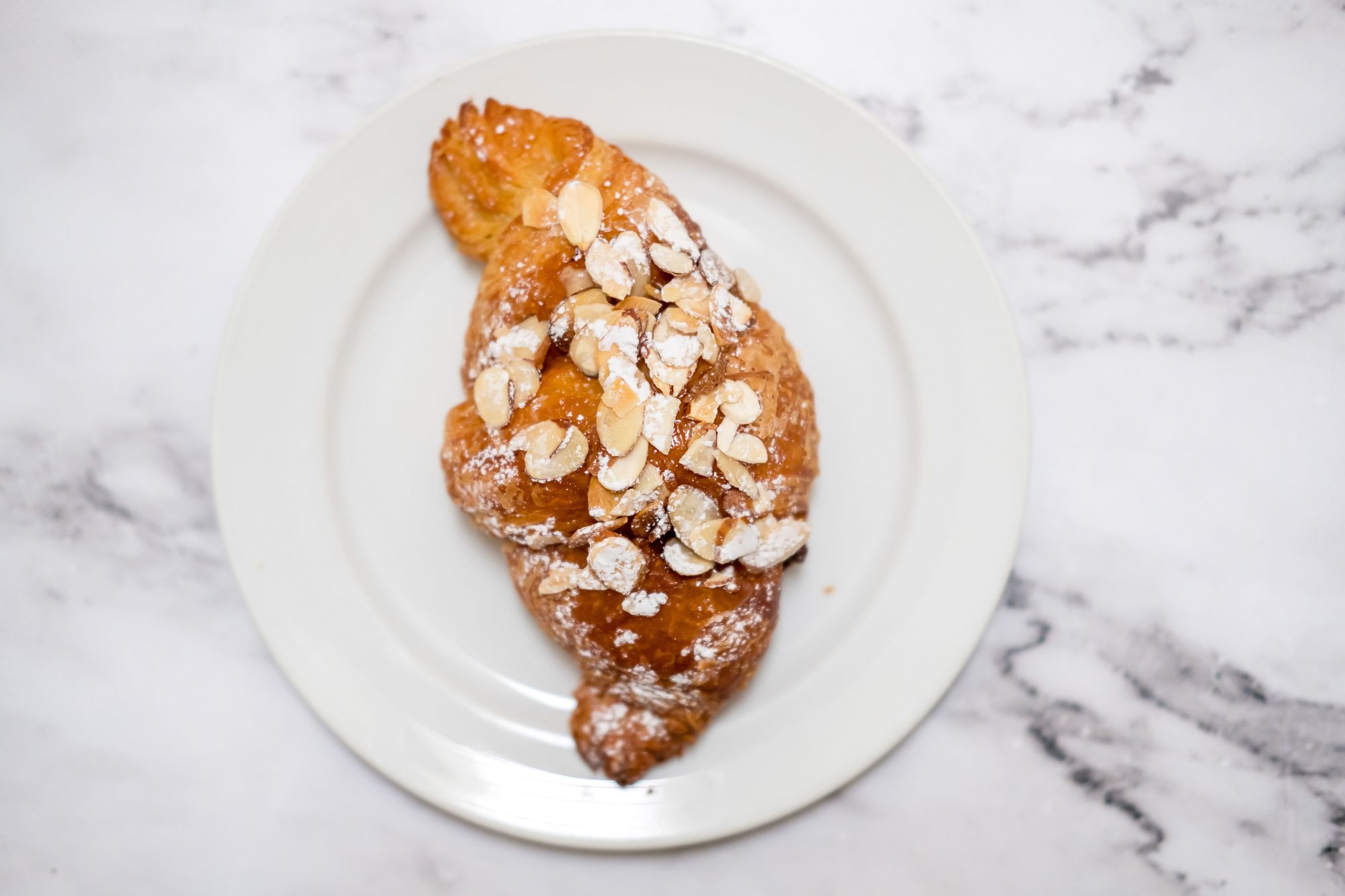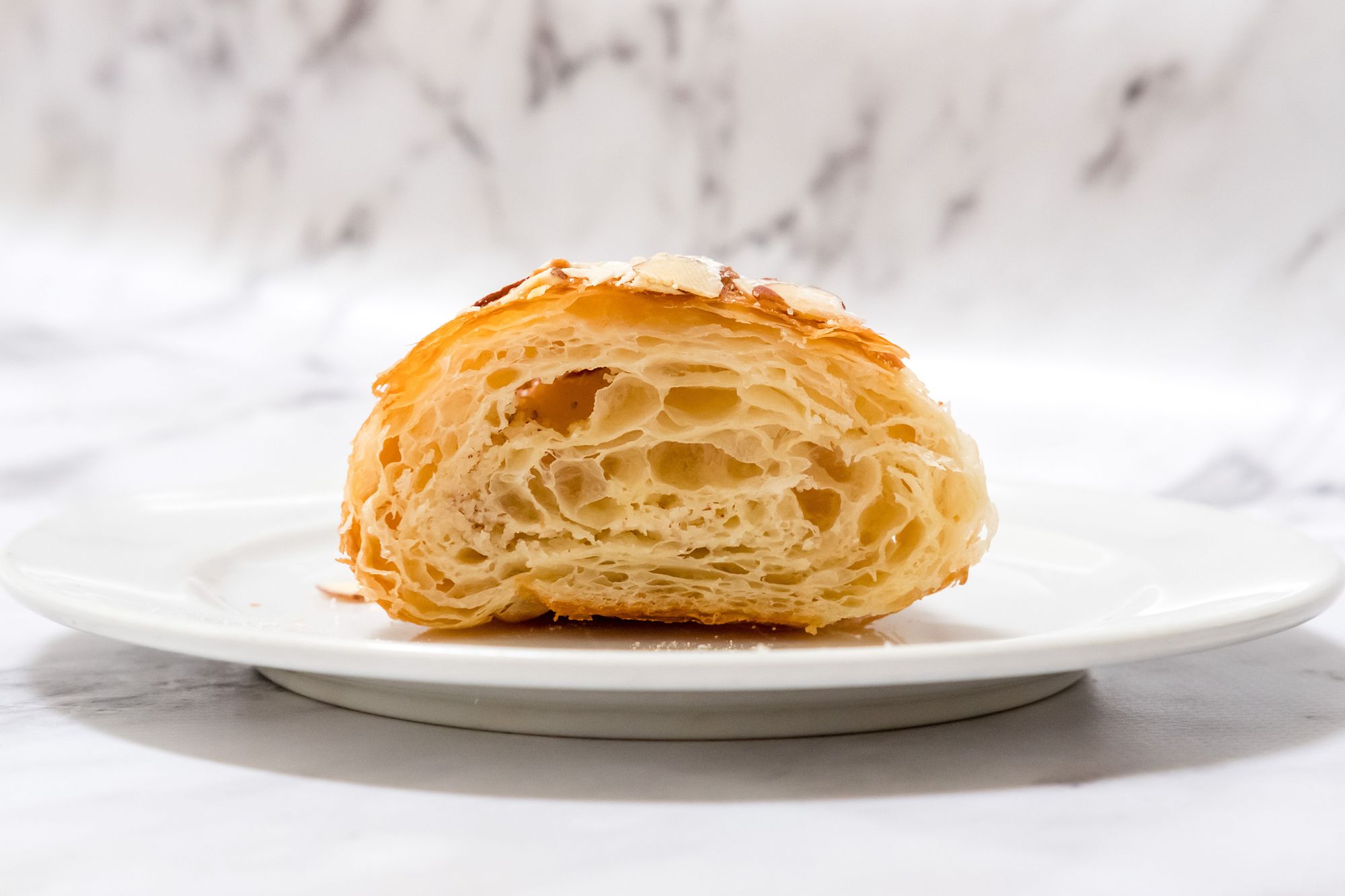 Ganache Patisserie ($4.95)
Similar to my complaints about JJ Bean's croissant being too buttery, the almond croissant at Ganache was too sweet for me. The almond paste was extra moist and each bite felt more doughy than flaky. Almost no rise to speak of here, either, which is too many red flags for $5. Can't recommend this one.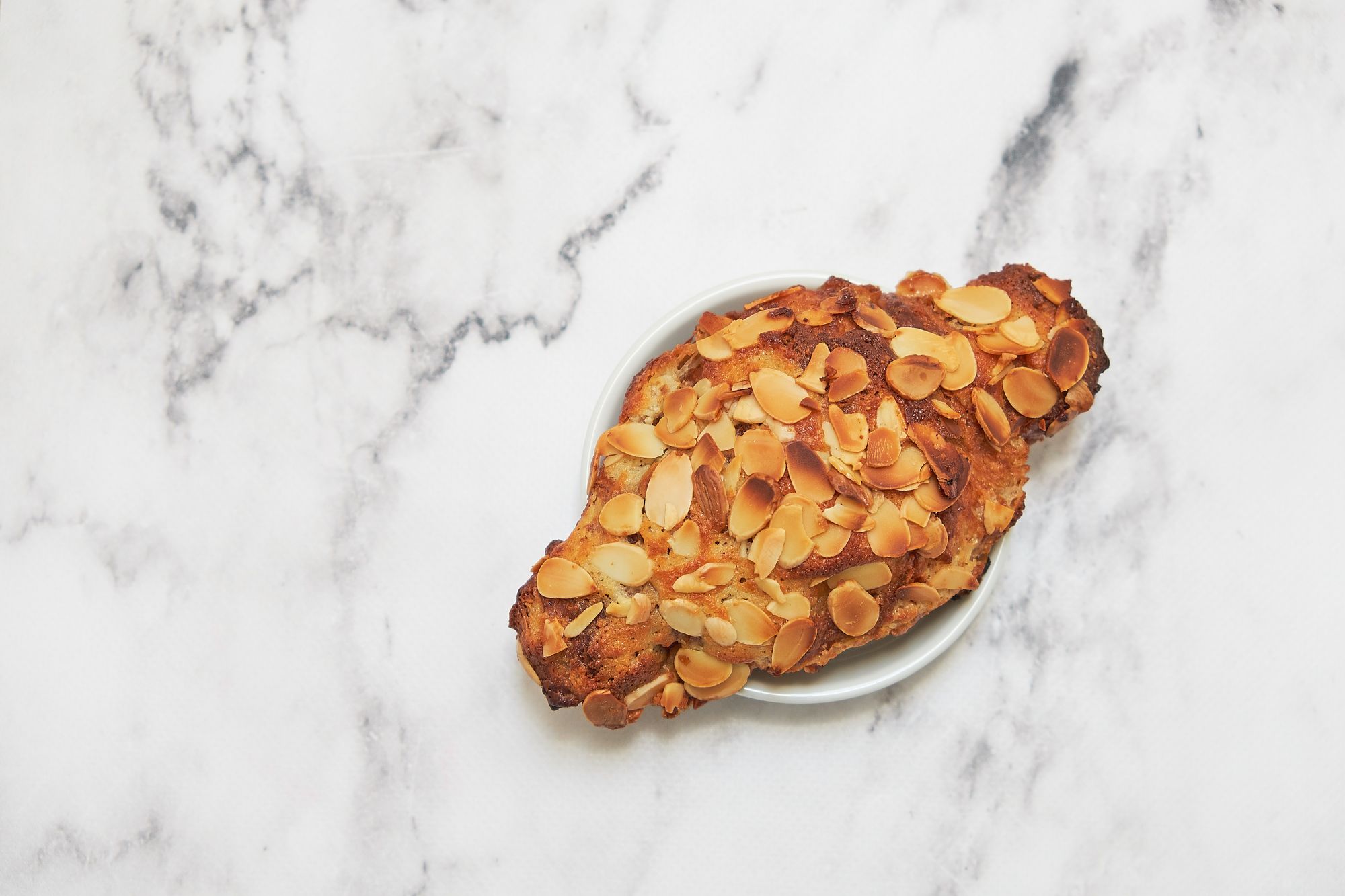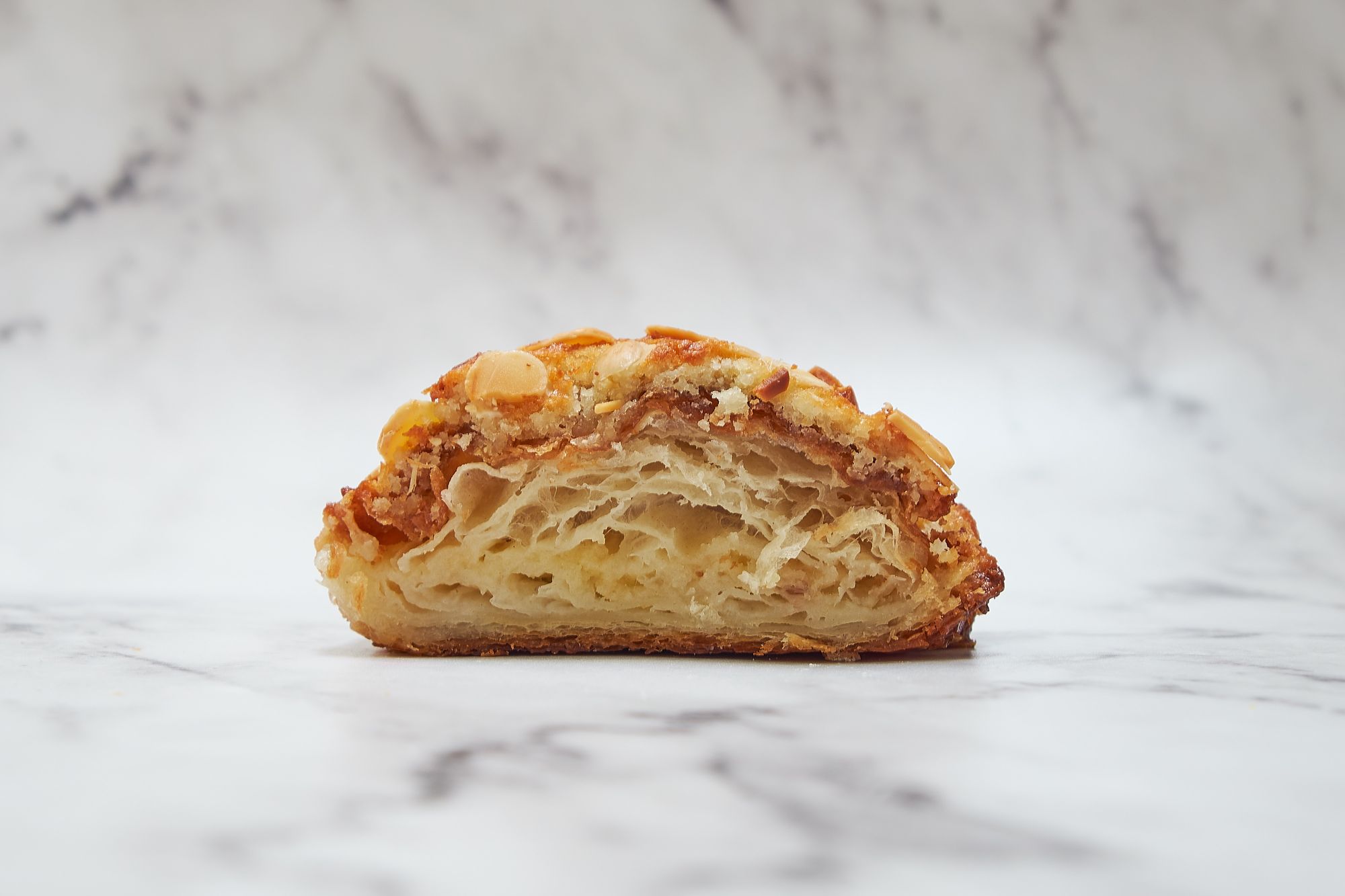 Sweet Obsession ($3.90)
Venturing out to the west side of Vancouver, this almond croissant was the cheapest non-Starbucks variant, but it came at a price. Rise was probably the best point of this croissant with just a few gaps in layering. Look closely though, and notice the lack of almond paste either on top or within the croissant. If you want something closer to a regular croissant, this is the almond croissant for you. This was not the almond croissant for me. Can't recommend this one.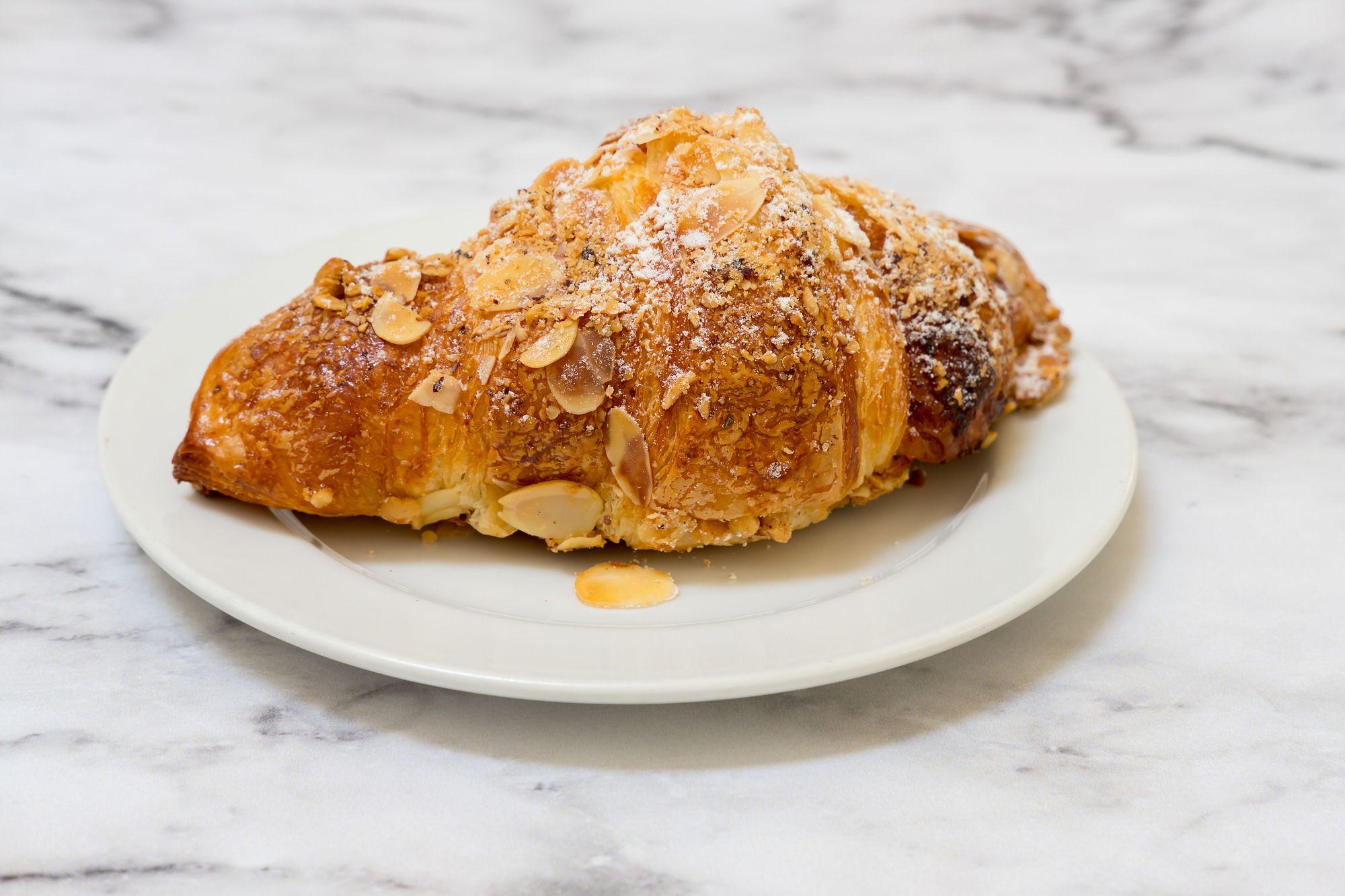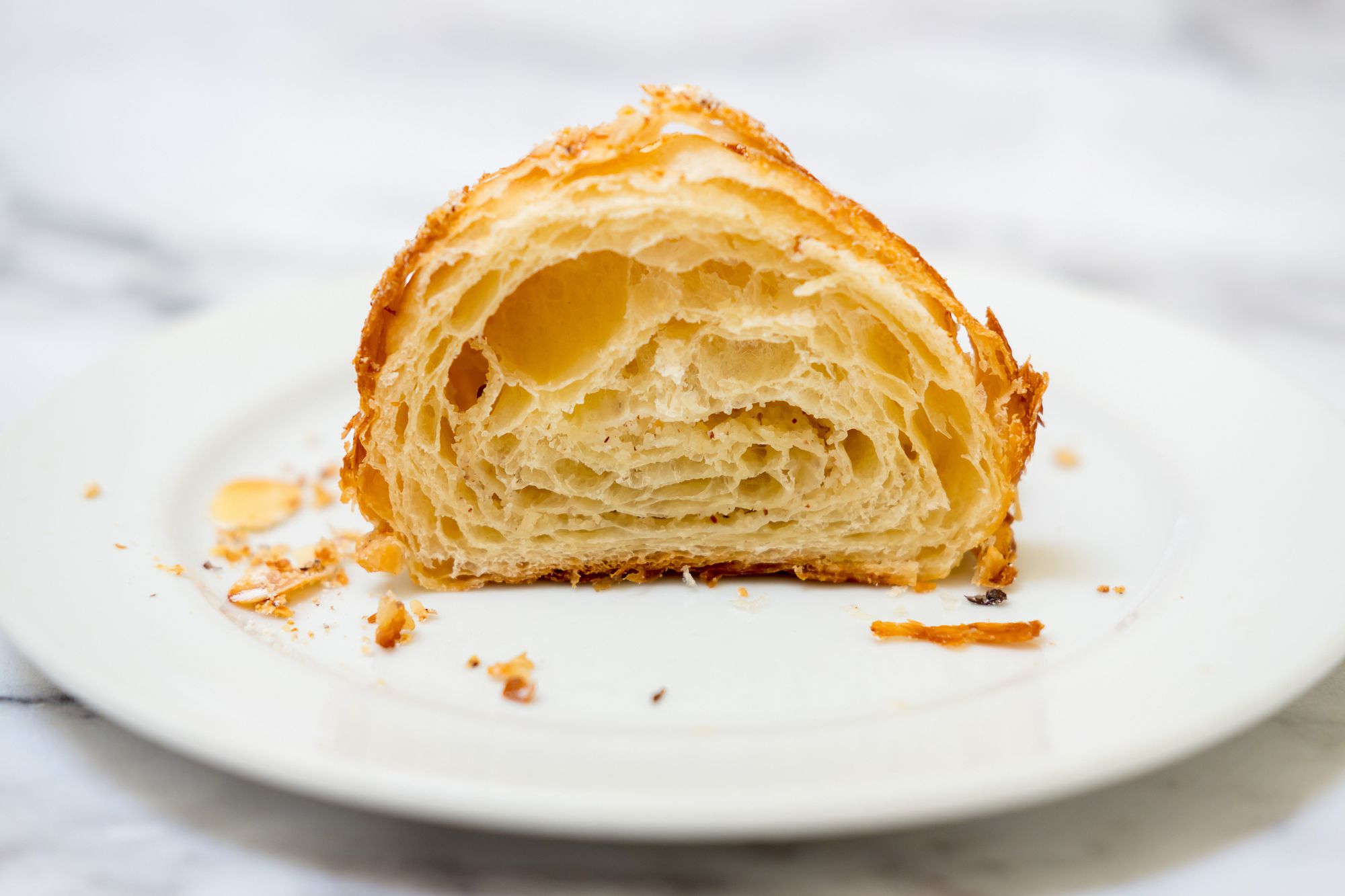 Starbucks ($3.25)
It wouldn't be a ranking unless I got an almond croissant from likely the most popular cafe company in Vancouver. This was the smallest bun to go with the cheapest price. Layering was also alright as was rise. Starbucks' croissant was also the cheapest croissant but this tasted more like a bun than an actual croissant. Is it the French way to reduce the butter on a croissant? I don't think so. Can't recommend this one.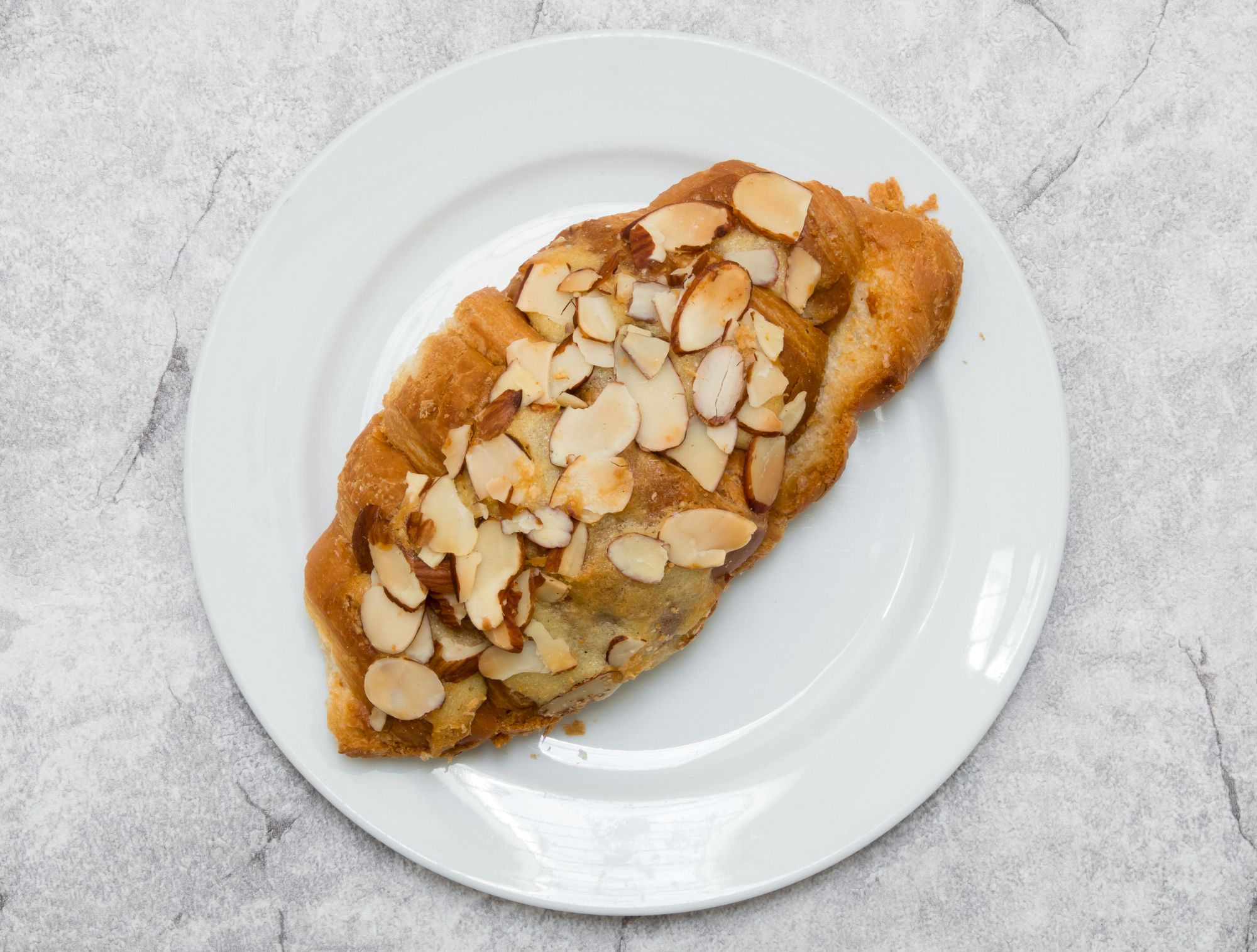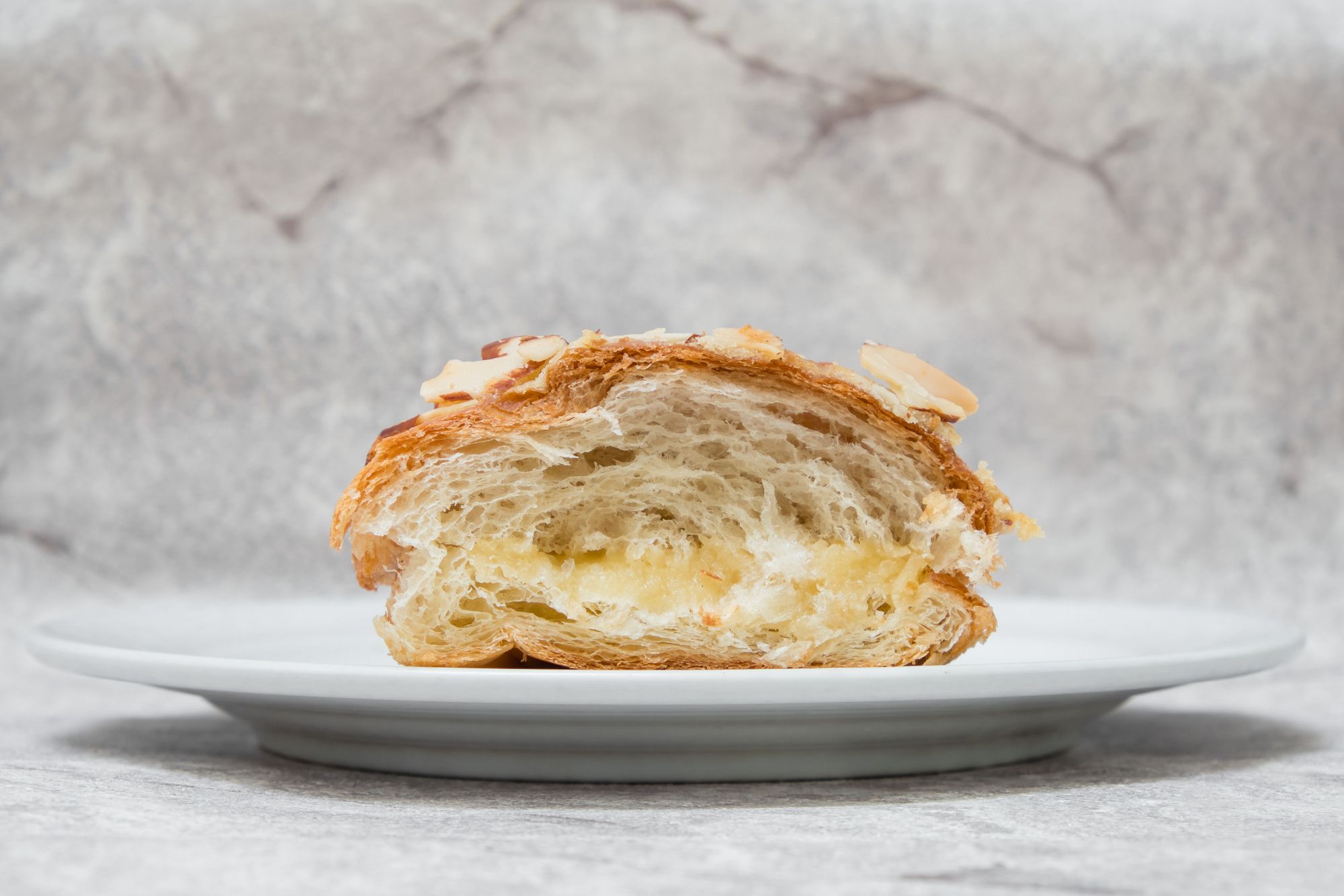 Stuart's Bakery ($4.95)
The cross-section looks like a croissant, and the thing is priced like a good croissant, but this is no artisanal croissant. Copious amounts of powdered sugar make this sweeter than it needs to be, the breadiness leaves much butter to be desired for, and the runny filling tastes more like run-of-the-mill marzipan than almond paste. Among the breadiness is maybe one croissant-like fold, but there are too many things wrong with this overpriced piece of circular candied bread to recommend.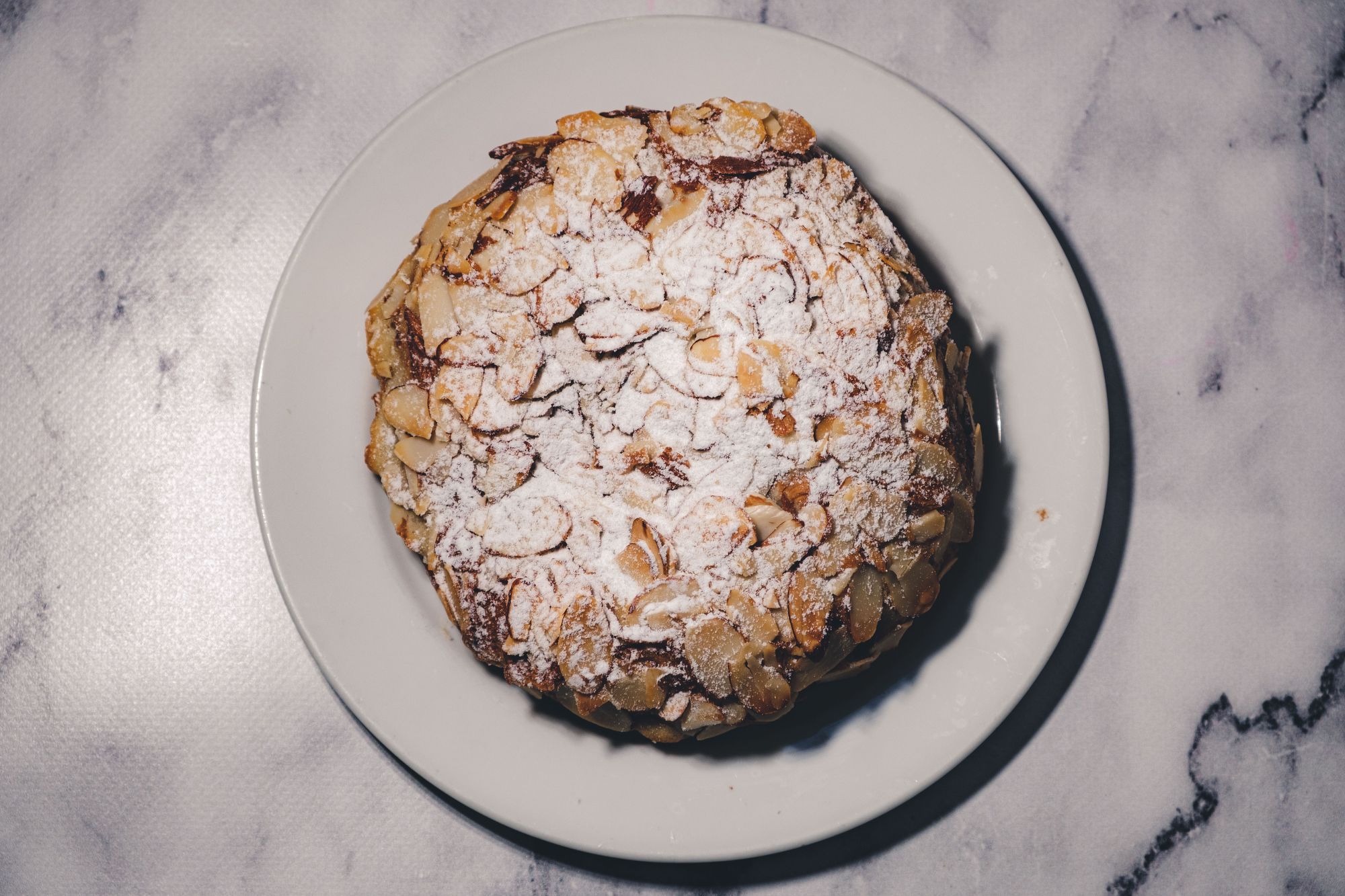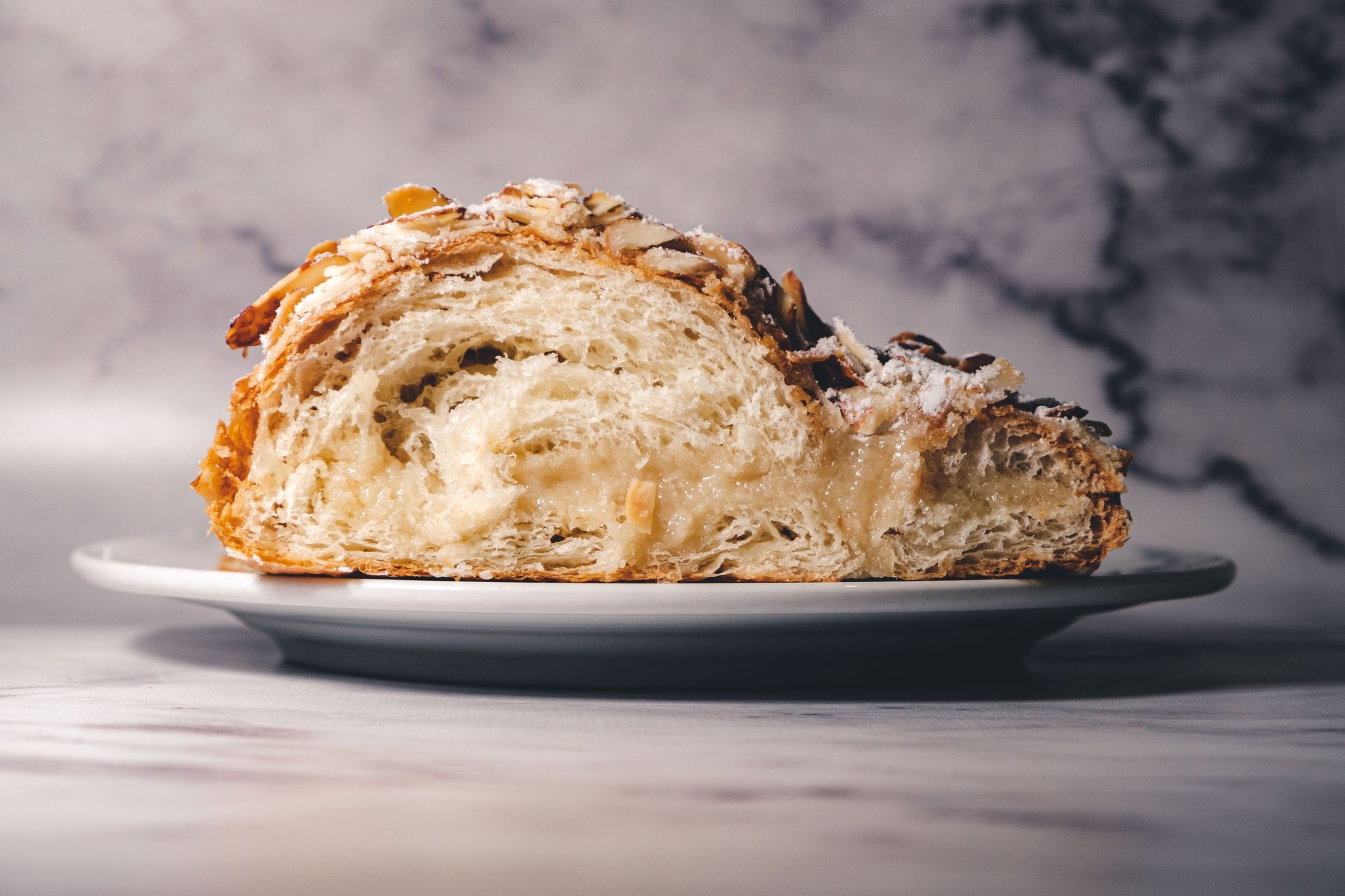 Trafiq ($4.00)
When you hear about Trafiq, it's not about their almond croissants, that's for sure. The almond croissant here was more of a foldover and the saddest part was the upper shell of the croissant I bought fell off the rest of the croissant when I opened my takeout box. I had to place it back carefully to take my photo. There is hardly any almond inside and you'll spend more time wondering why there are so many gaps of air inside than you will munching on this tiny pastry.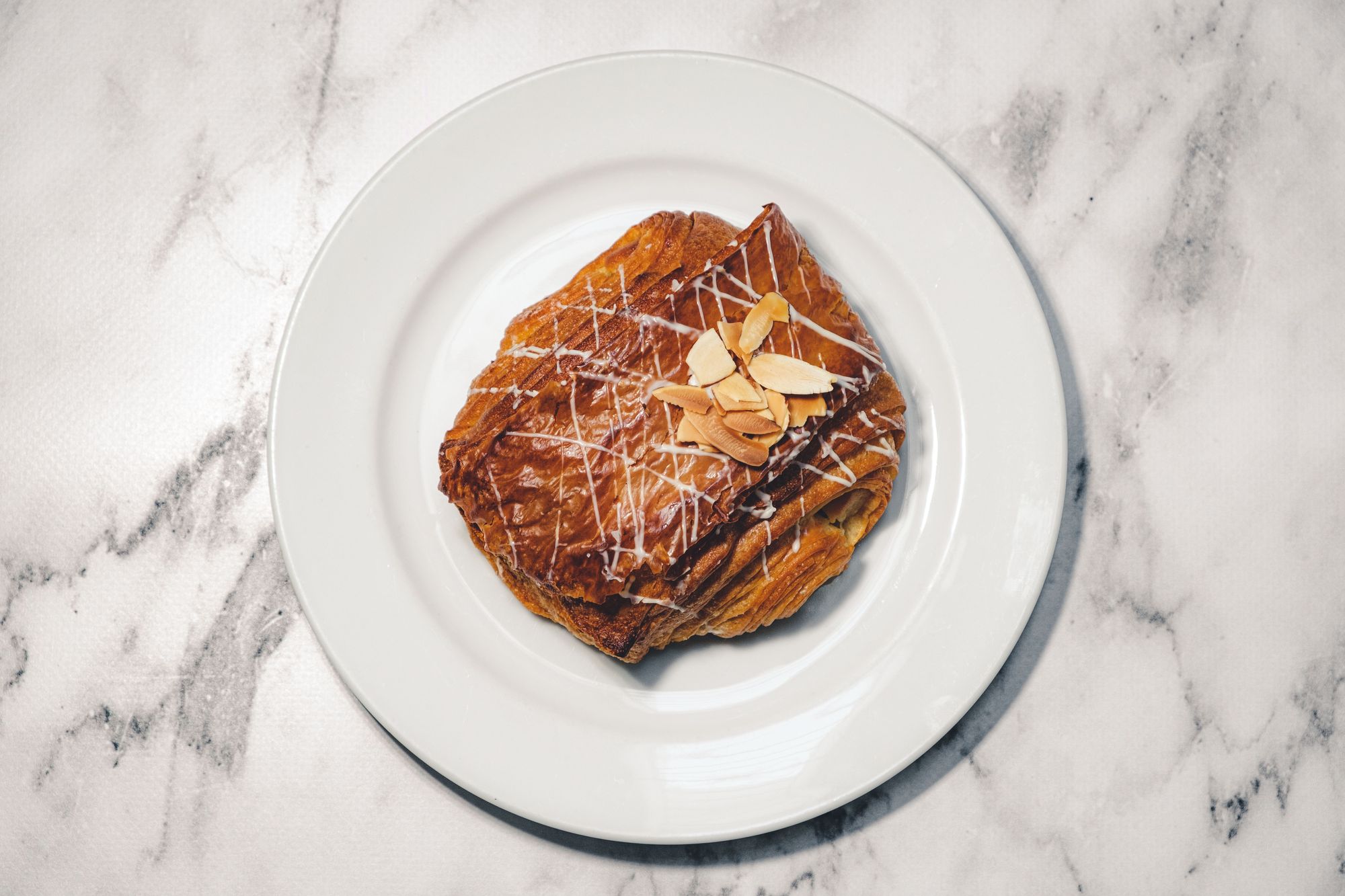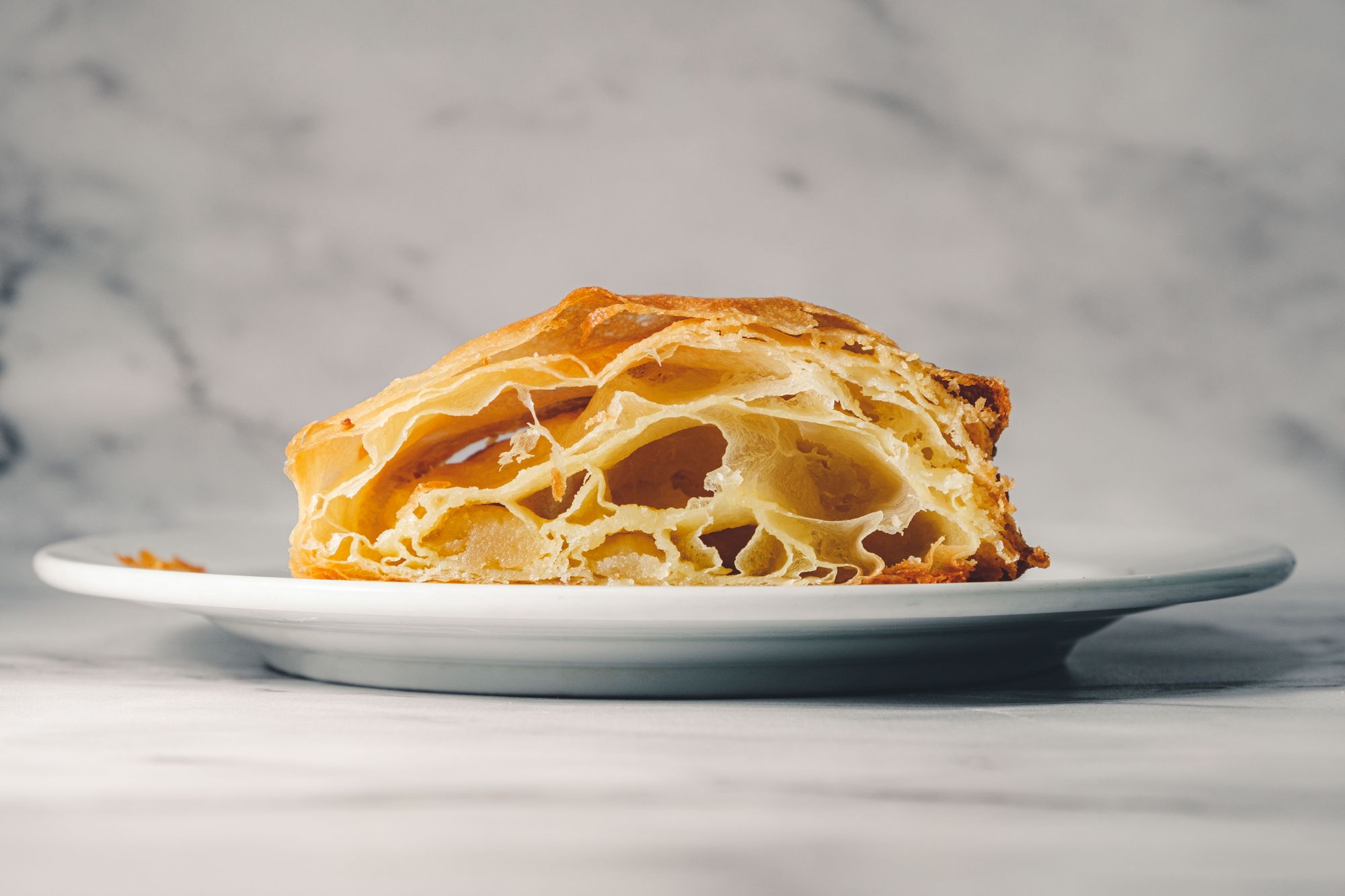 Caffe Artigiano ($4.50)
Man this almond croissant was sad. Literally 4 slivers of almonds on the outside, an underbaked interior, and absolutely zero almond paste. It looks more like a bun than a croissant. Save your money for something better.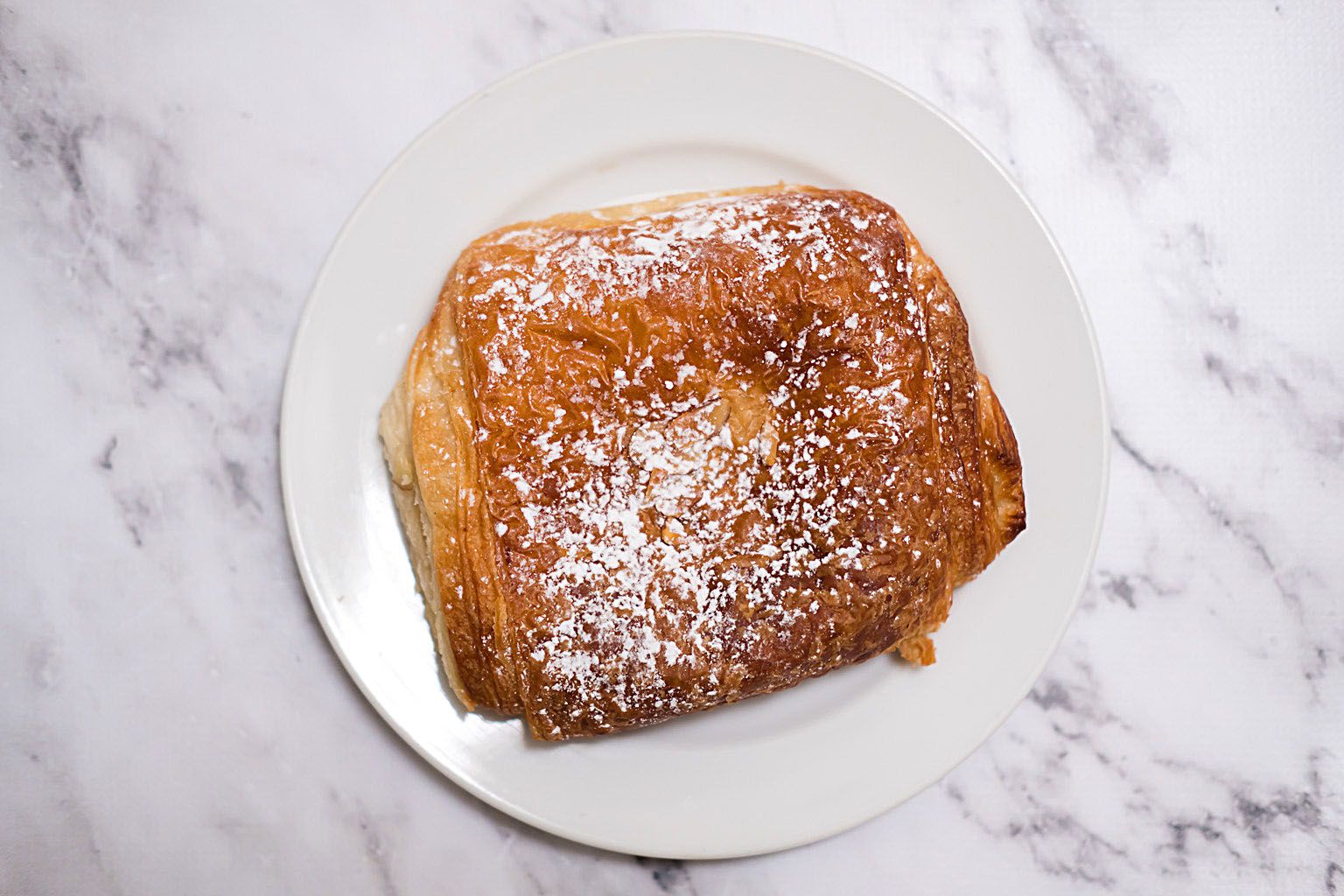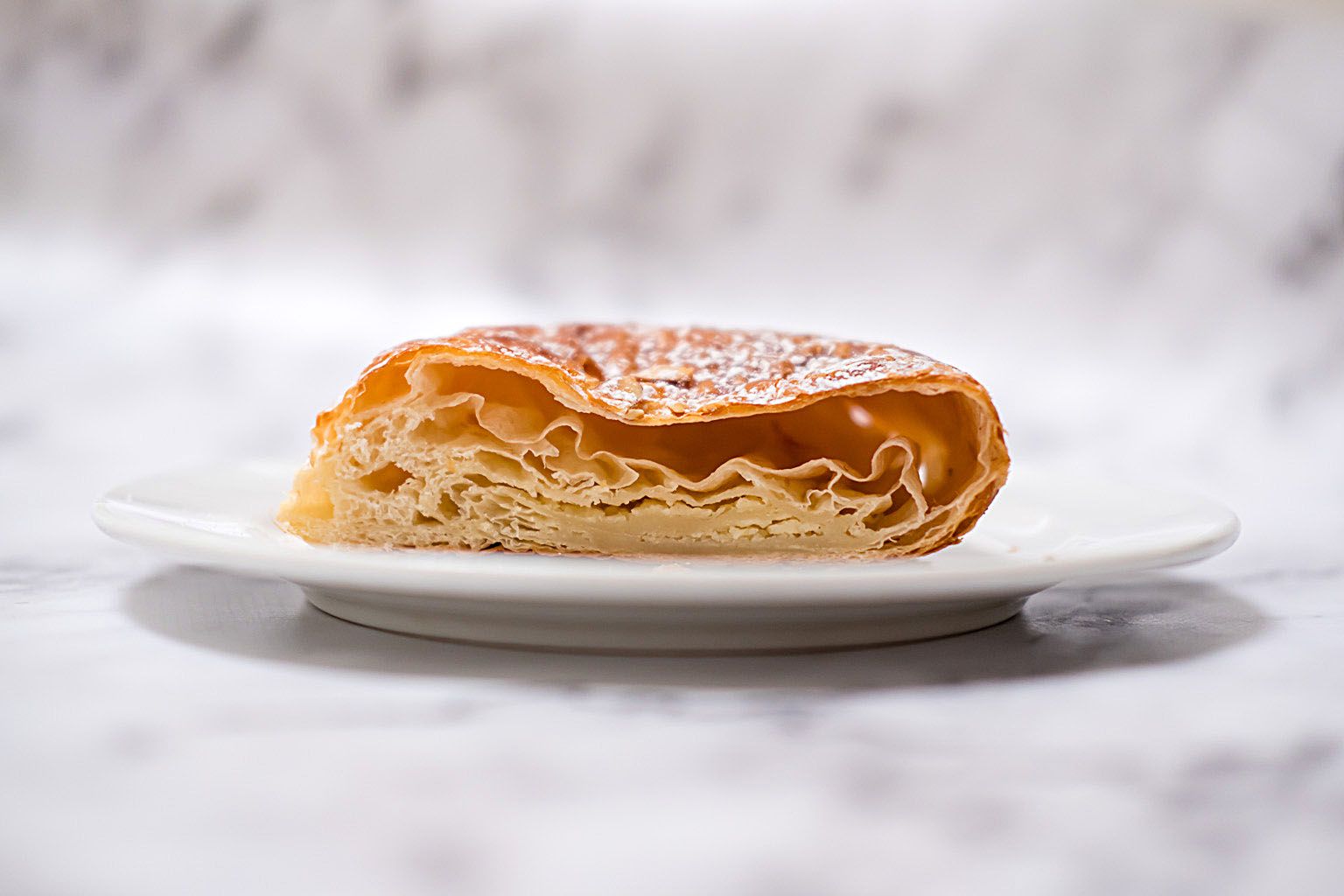 Alternative: Elmo Baking Co. (~$5)
Here's a croissant that doesn't actually have almond, but I thought it was worth mentioning. Elmo Baking Co. (as far as I know) only sell their goods out of Smokehouse Sandwich Co. in Richmond. Their Black Sesame Charcoal Croissant was both amazing to look at and to enjoy. The black sesame paste inside was deliciously nutty and naturally coloured black to increase excitement.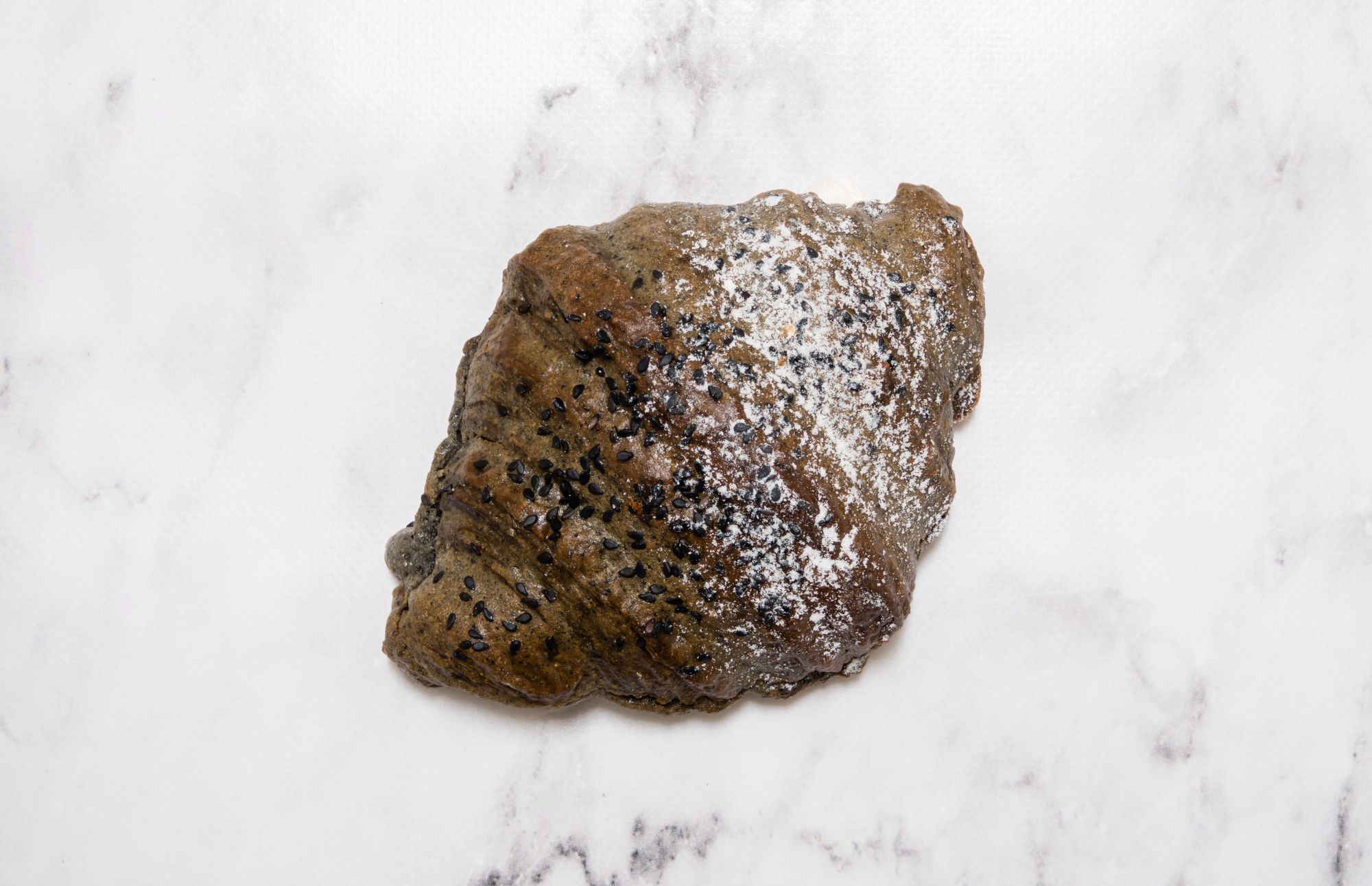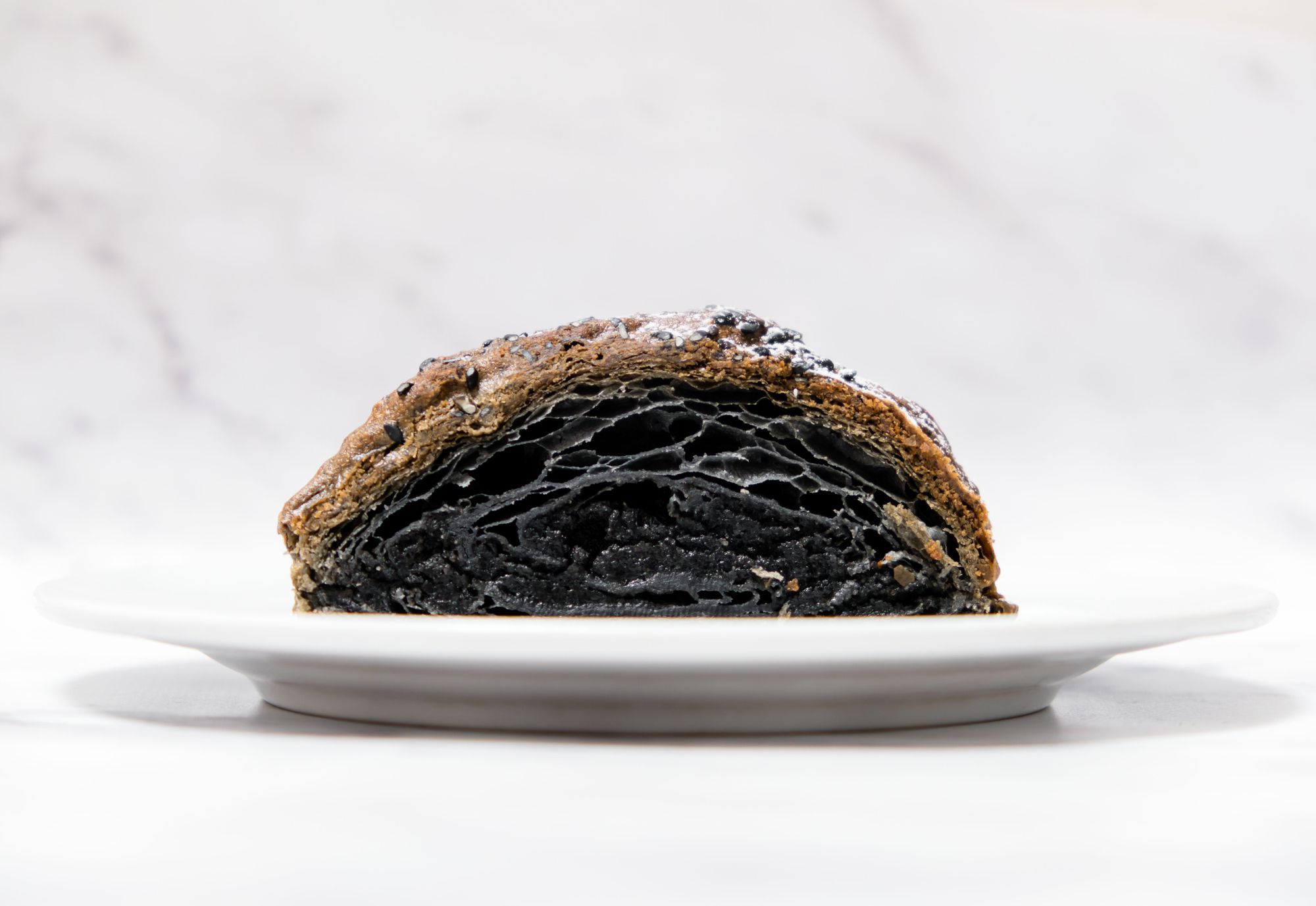 Alternative: BjornBar Bakery ($5.75)
From the friendly neighbourhood of Edgemont Village in North Vancouver comes BjornBar Bakery. While almonds are present in many of their croissants, they didn't have a base almond croissant, and it felt wrong to rank their tiramisu double bake croissant against the traditional almond croissants in this list. However, take a look. Within this croissant, you'll find the core elements of a tiramisu inside the croissant and it's pretty stuffed to the gills. Cakey dough subs in for ladyfingers but there is some clear espresso and cocoa which provided a lot of assurance that there's something special being baked at BjornBar Bakery.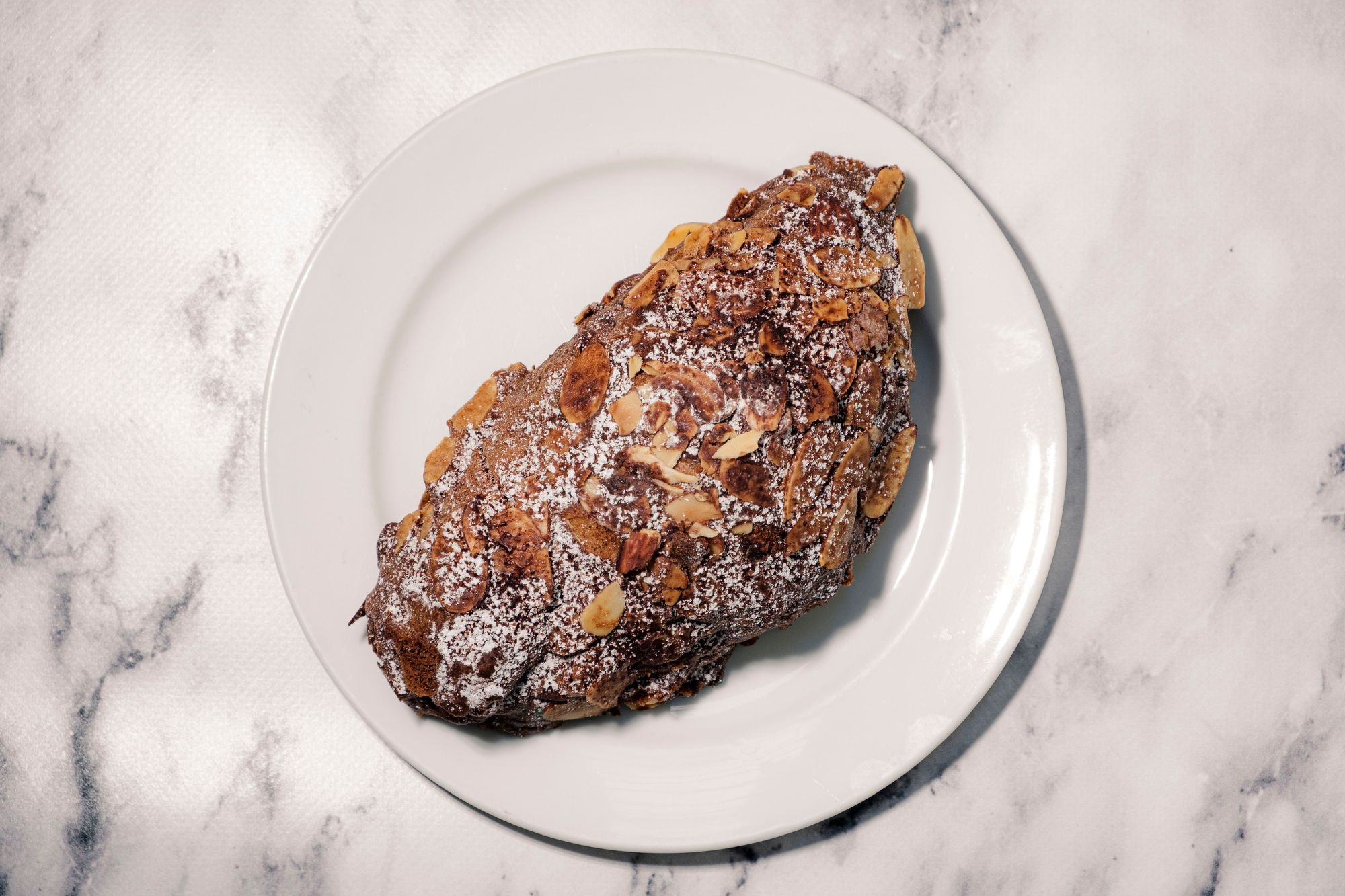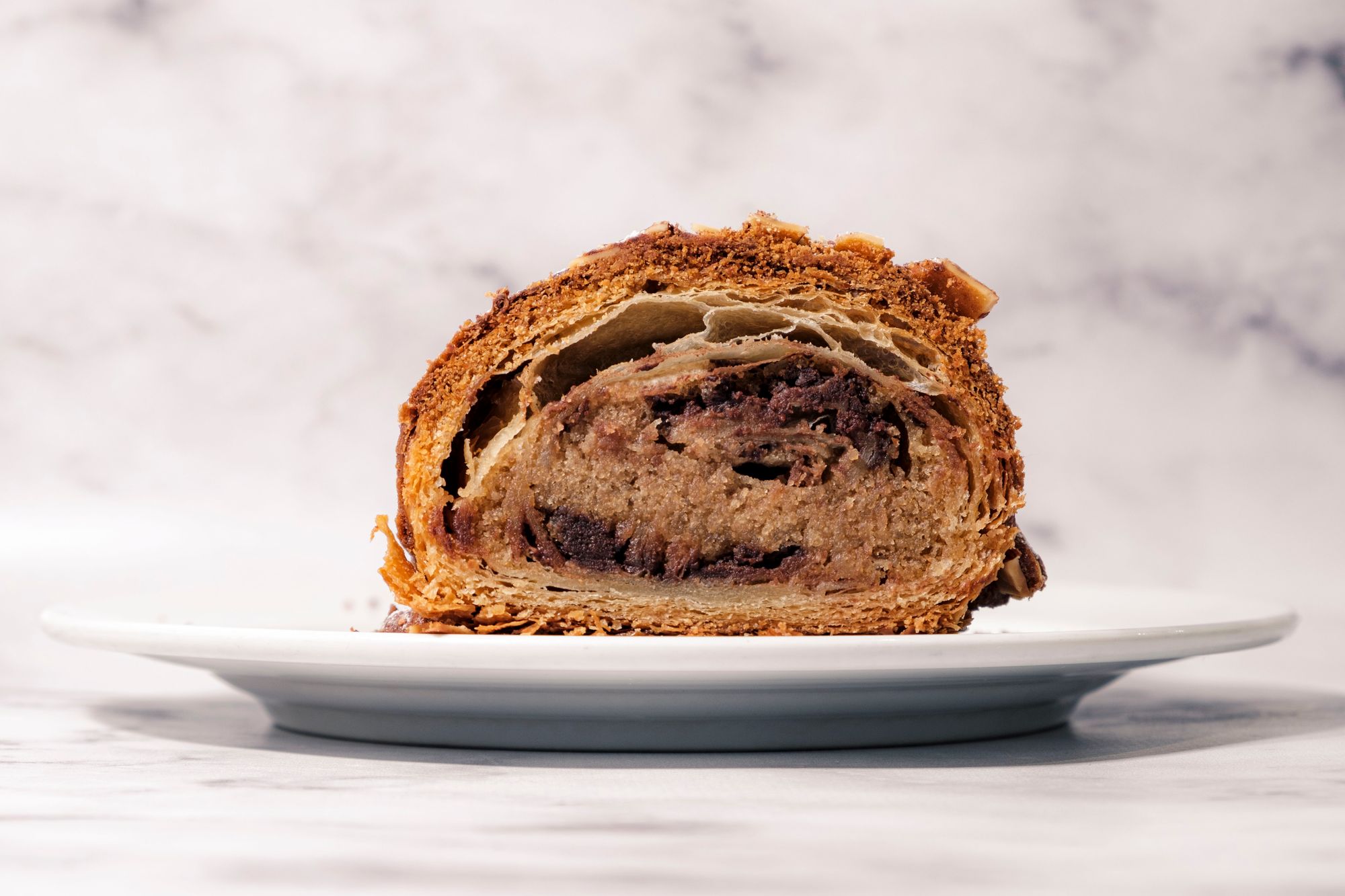 Unranked: Angus T ($5.95)
Okay so here's the story. At Angus T, this is labelled as an Almond Double Bake but obviously it has chocolate inside and all over the croissant. I felt that this was sort of cheating and didn't feel it should be ranked with almond croissants that actually only had almond inside. A few more notes though: this was not very croissant-shaped (similar to Caffe Artigiano), it was hella sweet with all the chocolate on top, and the almond bar inserted inside felt a little lazy versus actually lathering an almond paste within. It's the most expensive croissant on this list but it's not the most amazing.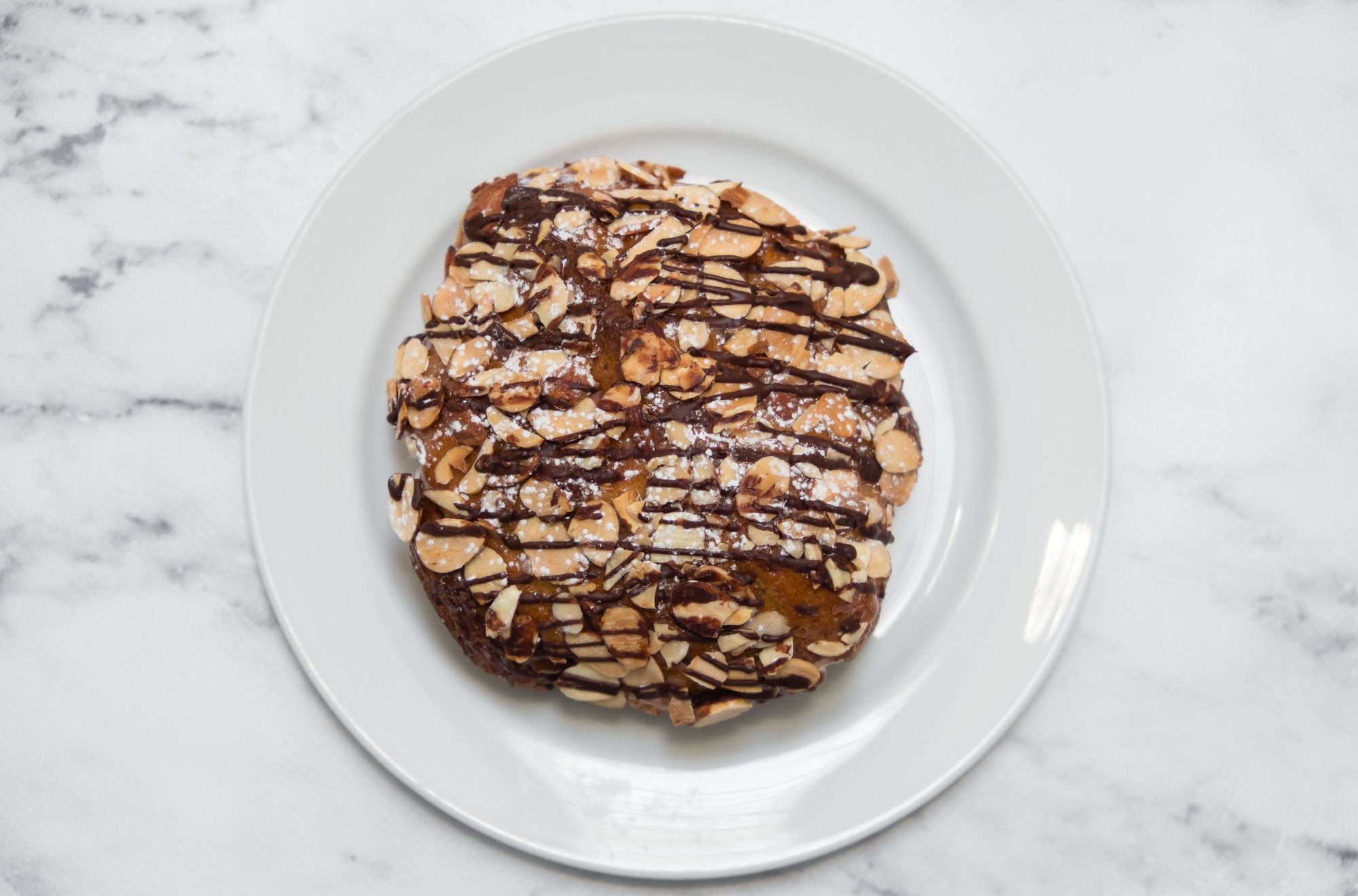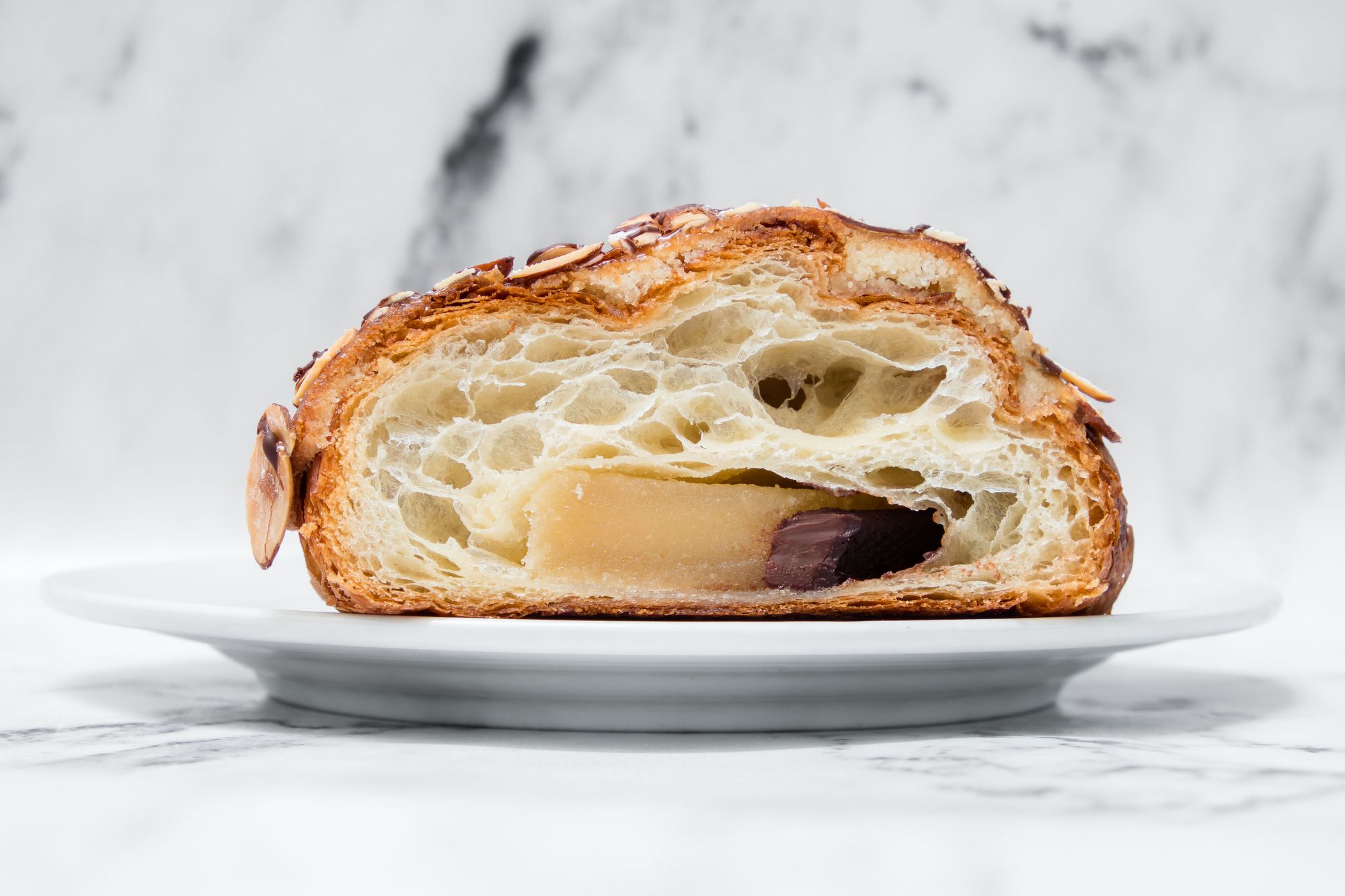 Unranked: A Bread Affair ($5.25)
I was hoping to get an almond double bake croissant but they only had chocolate almond croissants left by the time I arrived. Alas, I thought it was worth mentioning here since it's almost an almond croissant.
The rise here was almost as non-existent as JJ Bean but there were at least some folds criss-crossing. The fold-over style opened to a good spread of almond paste inside but there was a glaze lathered over the entire croissant making it quite sweet. As a result, biting into the croissant did not produce flakiness. It was more of a shattering due to the sugary glaze holding pieces of the crust together. This did have a bit of breadiness in its chew which sounds fitting for a business named "A Bread Affair". A little butter would be appreciated.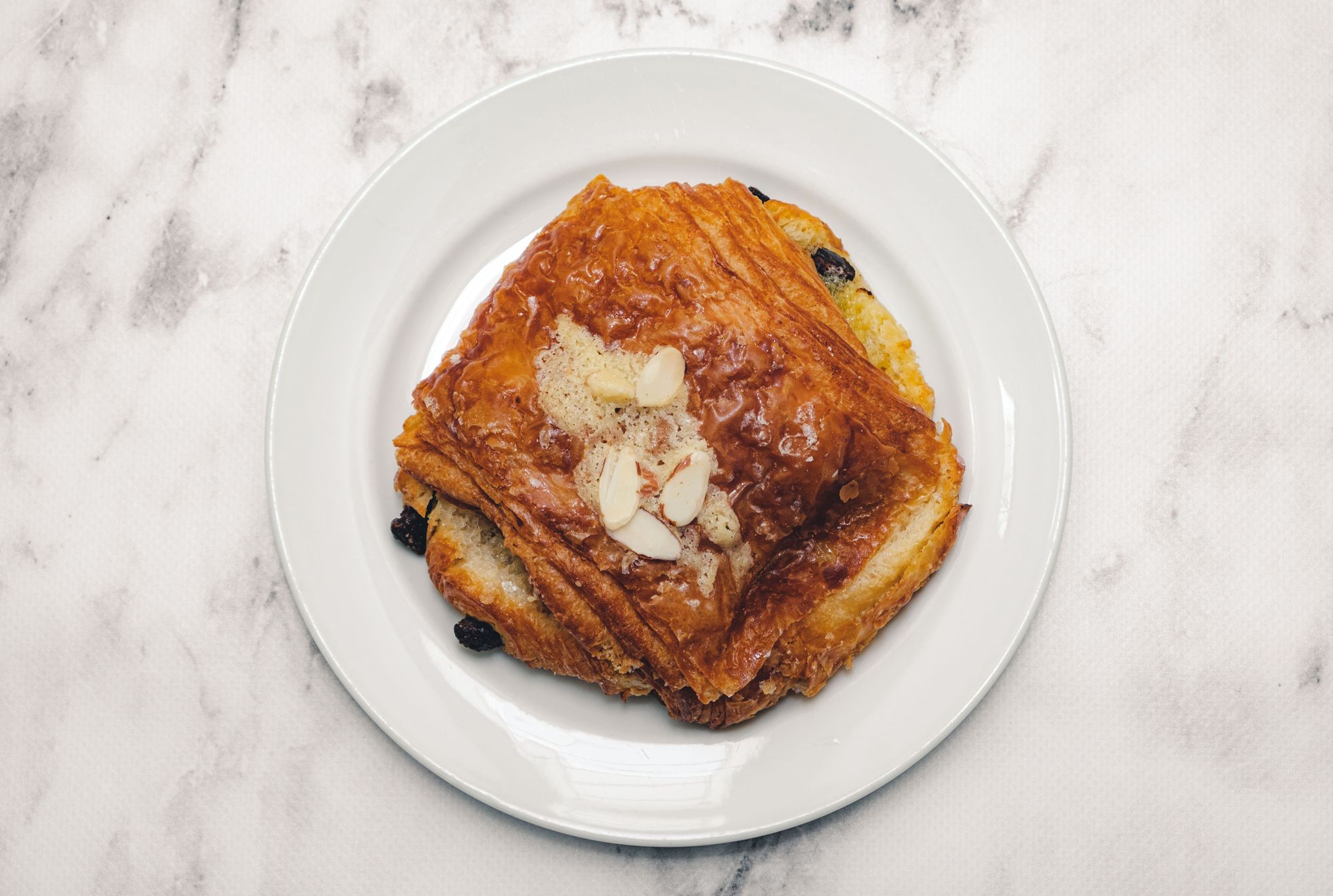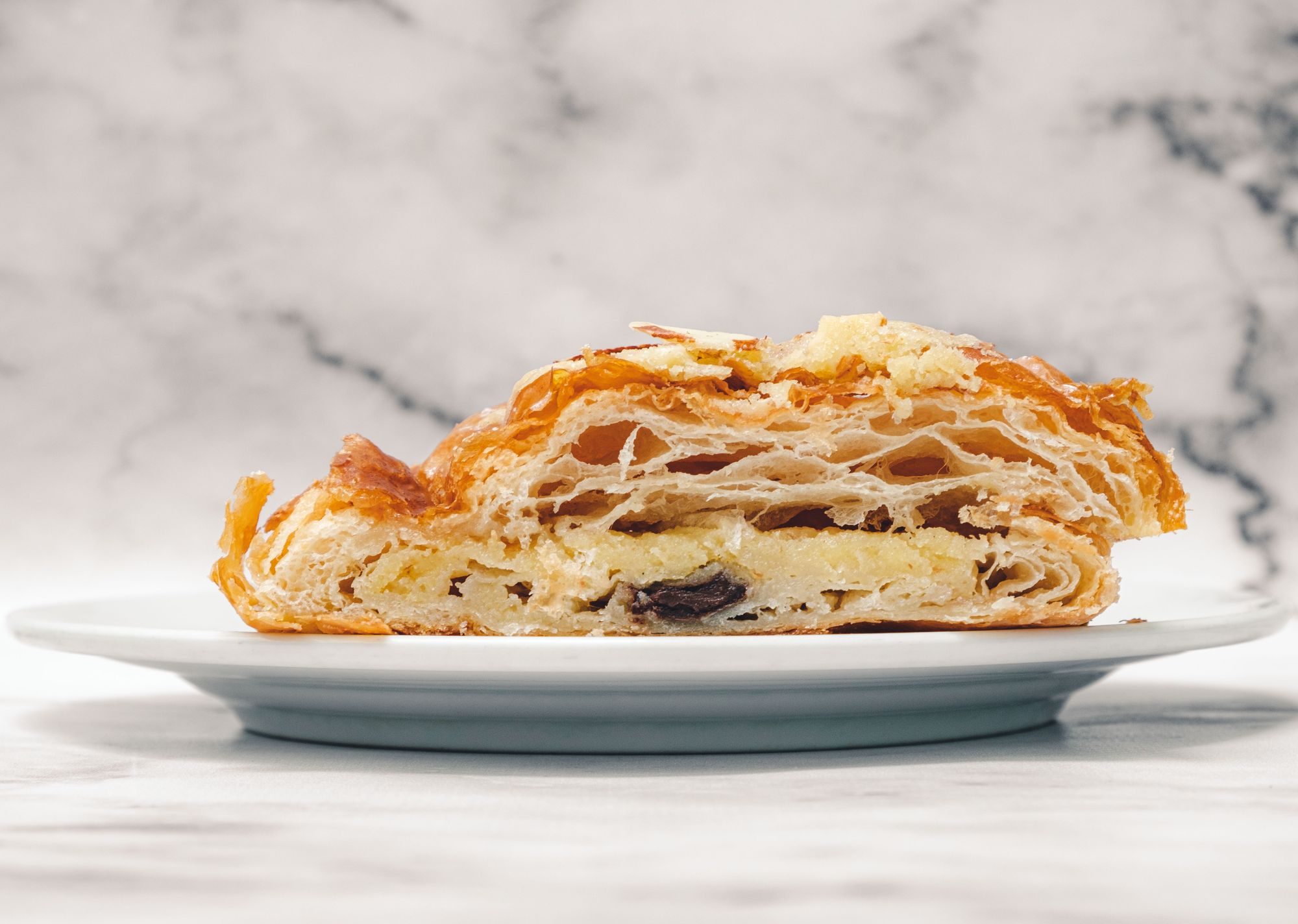 Final Thoughts:
One-liner: All the almond croissants I've been documenting in Metro Vancouver, ranked
Highlight: Nemesis Dope Bakehouse's Almond Croissant
Price per croissant: $4-$6 (don't waste your time with the Starbucks cheapo version)
Changelog:
2023-07-04: Added in an entry for Le Marché St. George, slotting it in at #13
2023-07-03: Removed Best Kind Bakeshop as the business shut down
2022-03-20: Updated price for Small Victory
2022-03-07: Added in an entry for Batard Bakery, slotting it in at #5, and removing Seasons Bakery which has closed
2021-06-13: Added in an entry for FDL (Fior Di Latte) Cafe, slotting it in at #3
2021-03-13: Added in an entry for La Forêt, slotting it in at #10
2020-12-13: Added in an entry for Melo Patisserie and Little Fox Bakehouse, slotting it in at #11 and #14, respectively
2020-11-21: Added in an entry for Stuart's Bakery, slotting it in at #19
2020-10-24: Added in alternative mention for Best Kind Bakeshop
2020-08-23: Added in entries for Chez Christophe and Trafiq
2020-08-20: Removed Giovane Cafe which has closed
2020-08-01: Added in an entry for Purebread, slotting it in at #14
2020-07-19: Added in an entry for L'atelier Patisserie, slotting it in at #8
2020-07-06: Added in an entry for Bakery Sate, slotting it in at #5
2020-07-01: Added in an unranked entry for A Bread Affair
2020-01-15: Added in an entry for Nemesis Dope Bakehouse, slotting it in at #1
2019-12-25: Added in an entry for Temper, slotting it in at #6
2019-11-17: Added in an alternative mention for BjornBar Bakery
2019-06-29: Added in an entry for Elmo Baking Co., slotting it in at #4
2019-03-24: Added in an entry for The Bench Bakehouse, slotting it in at #3