Ice cream as a craze will probably never die in Vancouver. East Vancouver doesn't have much in the way of local ice cream shops other than Earnest or Rooster so when I heard 720 Sweets had taken residence along the Kingsway corridor, I thought to take a gander and see how it compared to the Kitsilano location. Here's my review.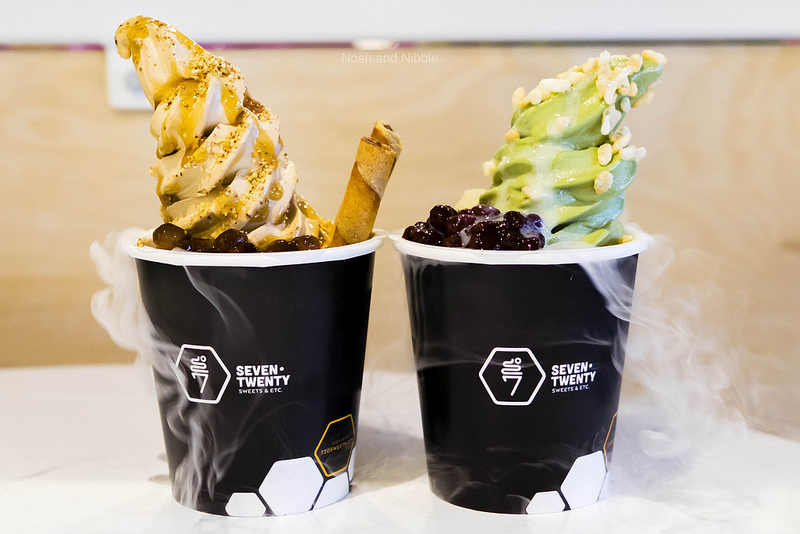 Dessert:
Team Tastic came here after an early evening nap and I had myself a great taste of the following:
Milky Way ($6)
Matcha Madness ($6)
I think it's important to note that despite all the early success since 2015, the prices have not yet risen for this new business, and the soft serve has stayed at a cool $5.95 since opening.
The Milky Way is a milk tea flavoured ice cream with nuts, honey, sweet jelly, and a chocolate wafer stick. I find it hard these days to justify paying $6 for something as plain as vanilla soft serve (non-organic, so Soft Peaks is an exception) so milk tea was a must for me. The ice cream had a mild tea flavour but nothing that took away from the sweetness of the ice cream or toppings. The jelly was quite interesting and was not as chewy as tapioca pearls. Presentation-wise, this was almost coiled up straight, but it was a much better job than the next one.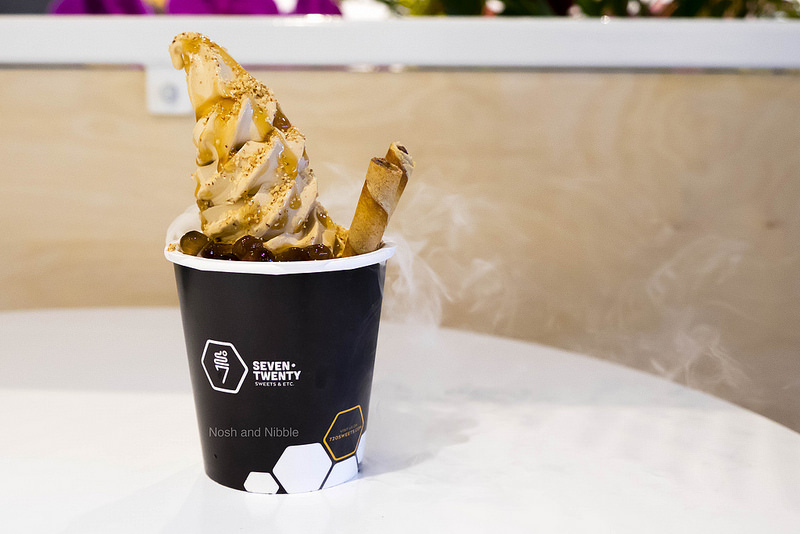 The Matcha Madness might as well be the Leaning Tower of Matcha because it was clear this ice cream was not going to hold its shape for many photos. Toppings here included mochi, red bean, condensed milk, and rice krispies. Now you might be wondering why cereal on top, but I gotta say that sometimes simple crunches are the most efficient, and these rice krispies got the job done. The green tea flavour of the ice cream was more intense than the milk tea flavour of the Milky Way so I'd recommend going for the Matcha Madness if it's your first visit and you can pray for a straight swirl.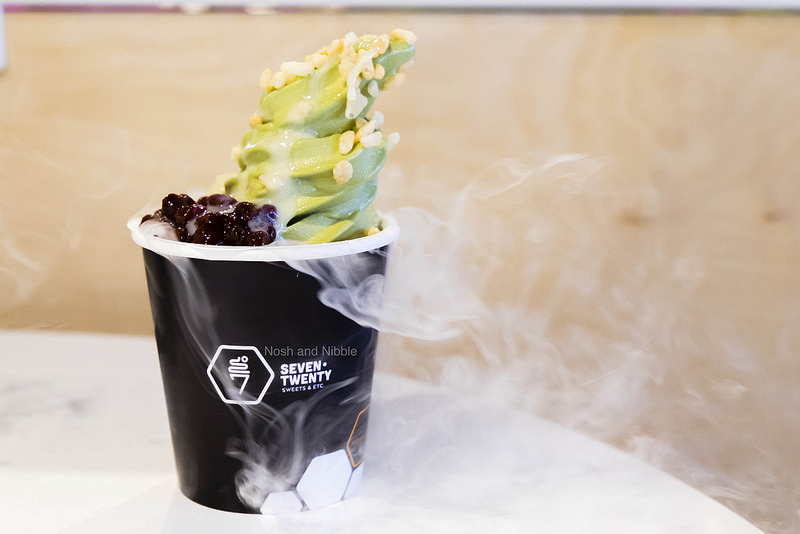 Now there are some caveats to the ice cream here in general. That mist you see in all the photos is purely for aesthetic appeal. It serves zero value for taste and you certainly should not ingest the dry ice that creates the mist. Because there is a lump of dry ice at the bottom, these cups are not actually full of ice cream, and there is a gap separating the bottom of the container and the dry ice.
Speaking of gaps, another struggle I see with soft serve in general is this mysterious gap you get in the middle of the soft serve. I get that a soft serve machine can only fill so much of a cup nicely but I believe there needs to be a better solution to address this wasted space within a container that is already suspended above the bottom of the cup.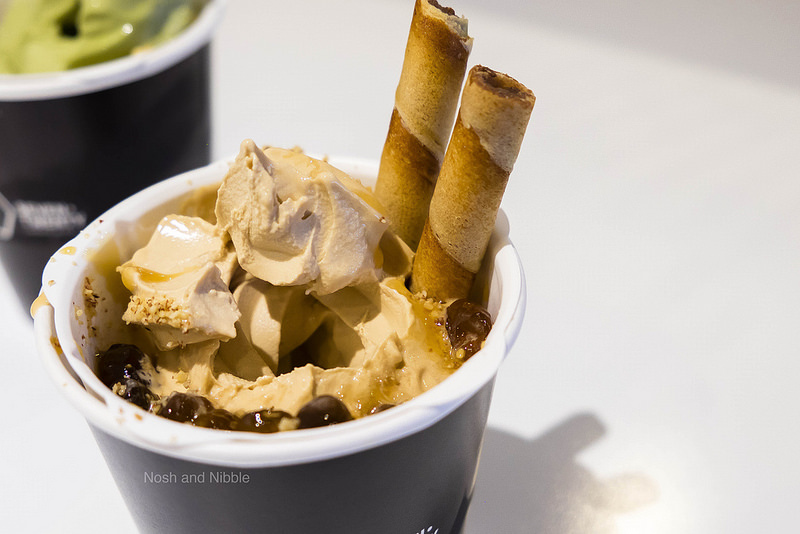 Rant is over. The ice cream is tasty, and the non-vanilla choices deliver on flavour for the most part, but I have so many pet peeves with soft serve that every review I write on soft serve, I'm reminded of these pet peeves.
Features:
720 Sweets' location on Kingsway is its newest location in Vancouver. Inside is a larger space compared to the Kitsilano location but there's still a piece of cool wall art as seen here.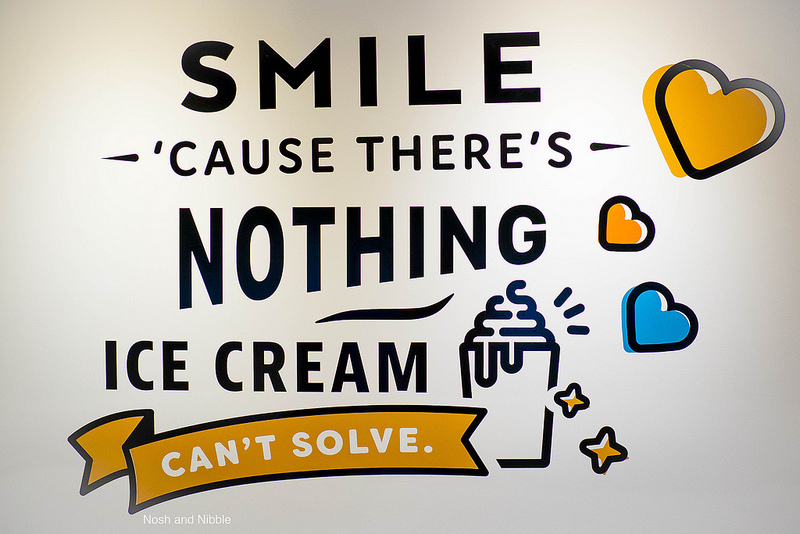 The main counter is larger and there's actual seating (with chairs instead of stools!) for about 12 guests with room to grow. The feeling inside is also similar to the Kits location with white lights, light woods, and white furnishings.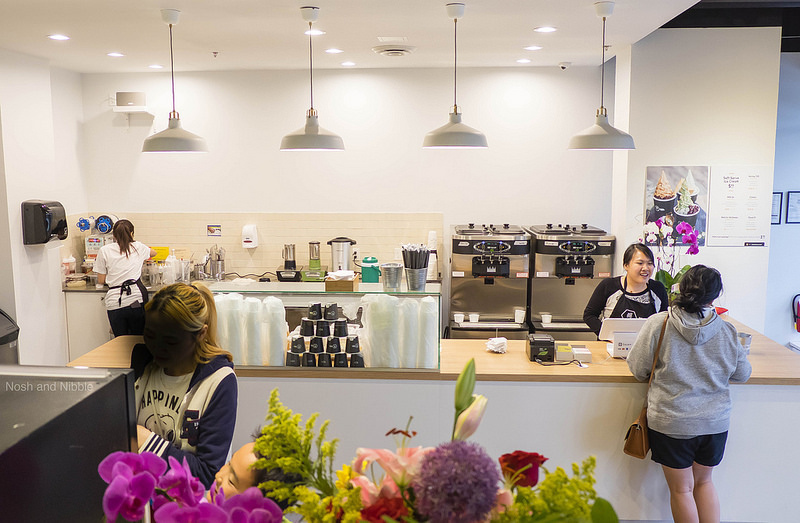 Service:
Here you'll place and pay for your order prior to picking it up. The staff will call out your name and you can pick it up from the main counter. We received our ice cream one at a time within minutes of ordering so thankfully it's all very prompt. On a weekday evening there was lots of room inside but it looks like the neighbourhood is catching on to 720's expanded existence.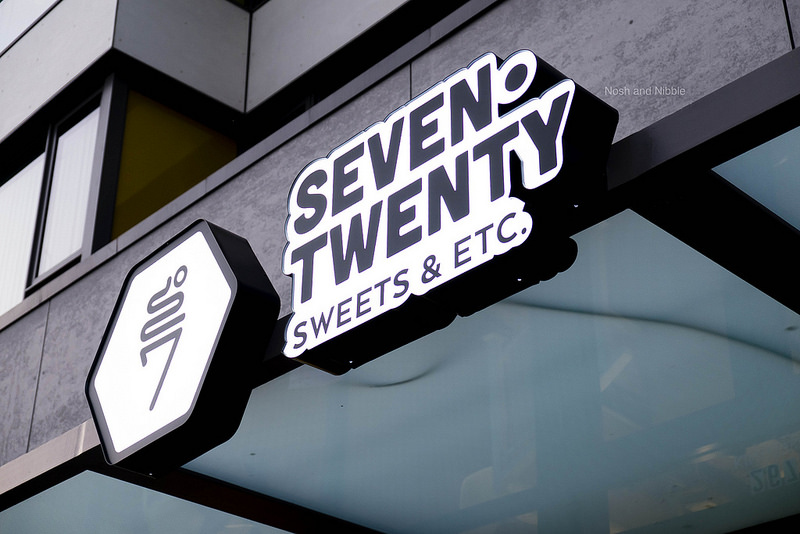 Final Thoughts:
One-liner: The flavoured ice cream has more flavour than the plain ones but it's still a pretty picture in a space that's more spacious than the original
Highlight: Matcha Madness
Price per person: $6
Would I go back? Yes.