There are caesar cocktails, and then there are the caesars at Score on Davie in Vancouver. Holy moly. Fans of Canada's famous cocktail ought to stop by this West End bar because there appears to be a decked out caesar for all budgets. I came by to try the mighty Checkmate Caesar.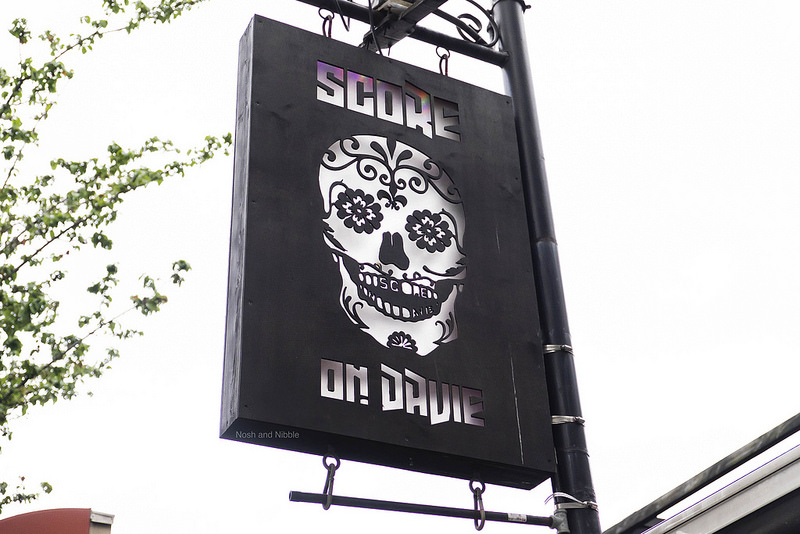 Food and Drink:
Team GlueCrew came here for a midweek watering hole session and I had a great taste of the following:
Checkmate Caesar ($60)
Chorizo Calamari ($12)
The Checkmate Caesar may be $60, but the caveat is that this must be shared by at least 2 diners, so bring a friend.
This cocktail is massive. It's a traditional caesar in the sense that it's about 2 doubles' worth of alcohol, contains Clamato, and has a salt rim. The rest of the show starts with a whole roast chicken, then proceeds with a hot dog, pulled pork slider, cheeseburger, hot dog, chicken wings, onion rings, and finally topped off with a pickle and Nanaimo Bar.
Here's one view.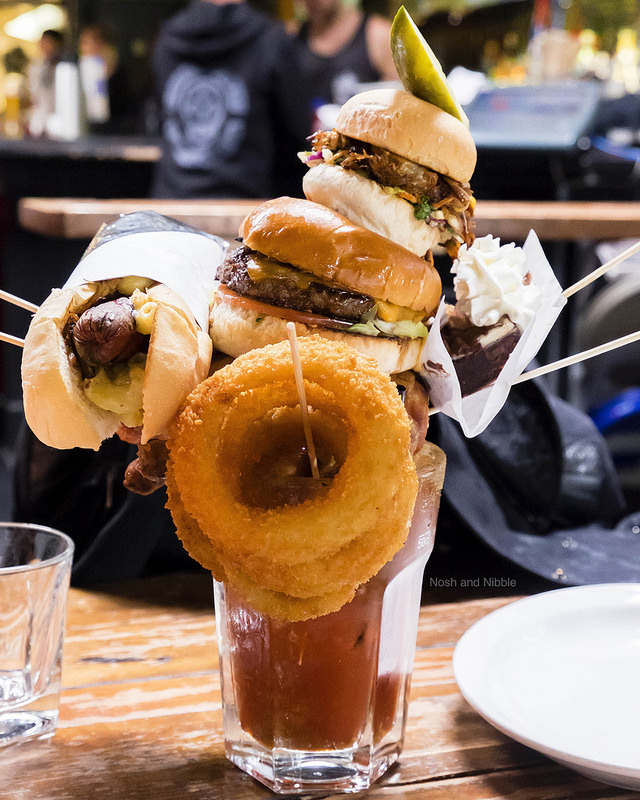 Here's another.
There's a whole fanfare that goes along with this cocktail. An entourage from the kitchen came marching out to cheer for our group as they served us the caesar.
Presentation-wise, there's no beating this caesar. Taste-wise, the onion rings were satisfying and crisp, and I'm told the pulled pork slider was quite juicy. The cheeseburger was a little too dry on the patty, but thankfully it had some cheese to compensate. The hot dog was a pretty substantial sausage even if the bun felt like it was from a generic grocery store.
The Nanaimo Bar deserves special mention as it's the sweetest thing and doesn't get overtaken by any other ingredient.
The chicken wings were hella spicy and delivered on the heat level though nothing as crazy as a Bobby Wing from Wings.
Way at the bottom is a roast chicken. The two wings were definitely juicy with the breast getting a little drier. There's not much sauce or marinade to go with the chicken so it's really there just to fill you up on protein.
Splitting this Checkmate Caesar between 3 people made things difficult and servings paltry. there are 4 onion rings and splitting burger things into three is not ideal. The roast chicken we ended up splitting into the two wings and the rest going to the one willing to put more work in picking off the meat. I'd recommend splitting with one other person, and chances are you'll be full afterwards.
Whether or not this is worth $60 will be whether you are okay paying for a novel experience. Some of these items I would not order individually again, but there's still something special about fitting so many things on top of a whole roast chicken, on a giant glass.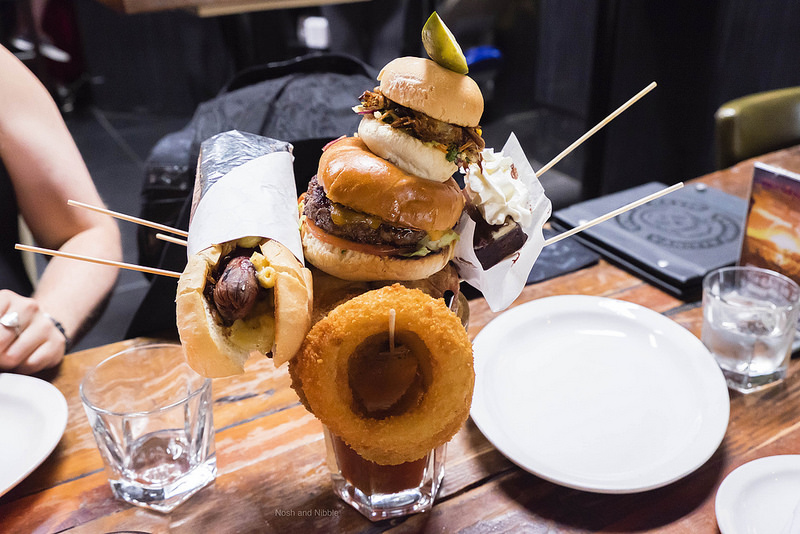 Since I was still hungry after my 1/3 share of the Checkmate Caesar, I got a Chorizo Calamari. You normally don't see sausage mixed in with cajun-spiced calamari, papaya pico, and spicy dip. Despite all the claims of heat, my calamari lacked much of any heat and I found the chorizo to be spicier. The chorizo though was pretty tough and I wish it were juicier. Overall, it's not the tastiest calamari in the world, but I give it points for trying to be different.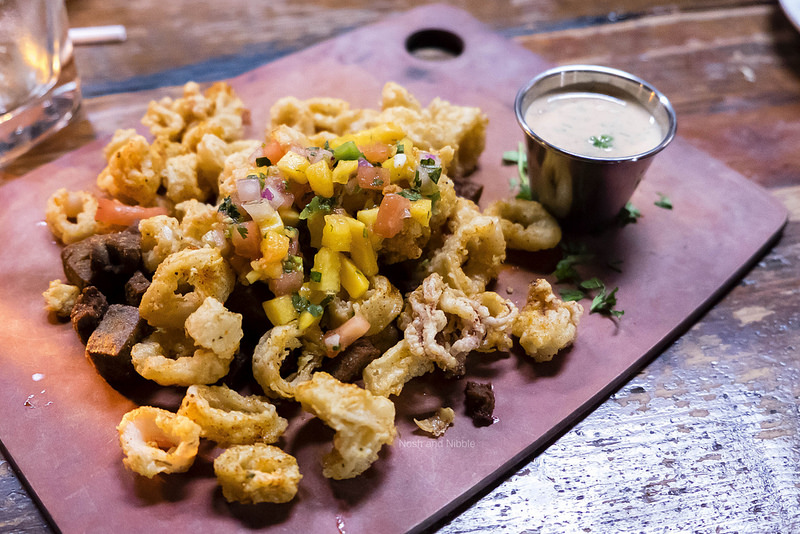 Features:
Score on Davie is a large bar space in Vancouver. There's a large patio, main dining room with long tables, an actual bar, and a side room full of local art and booths. With skylights streaming in from the ceiling, it's also not the darkest bar around when there's light outside. Amongst the seating for about a hundred, there's even a shelf with some (potentially) greasy old board games you can pull out.
The vibe is quite bumpin' with lots of energy and fun people having a good time. The average price of the menu (sans the glorious caesars) would also make this a neighbourhood favourite.

Service:
The service was actually quite superb. Given our party was in by 5:30pm, our server found time to keep our waters topped up and by the time we were finished, staff were efficient in slowly removing our empty glasses of water from our table to usher us out. I thought that was a very reasonable heads up.
Our Checkmate Caesar took 20-25 minutes to come out which is a bit long but I understand there's a lot going on in that drink. The calamari was much faster at around 15 minutes which I believe is good pacing.
It gets busy pretty quickly after 6pm so I'd recommend coming with a group no larger than 4 or arriving before 6pm if you want a table without waiting.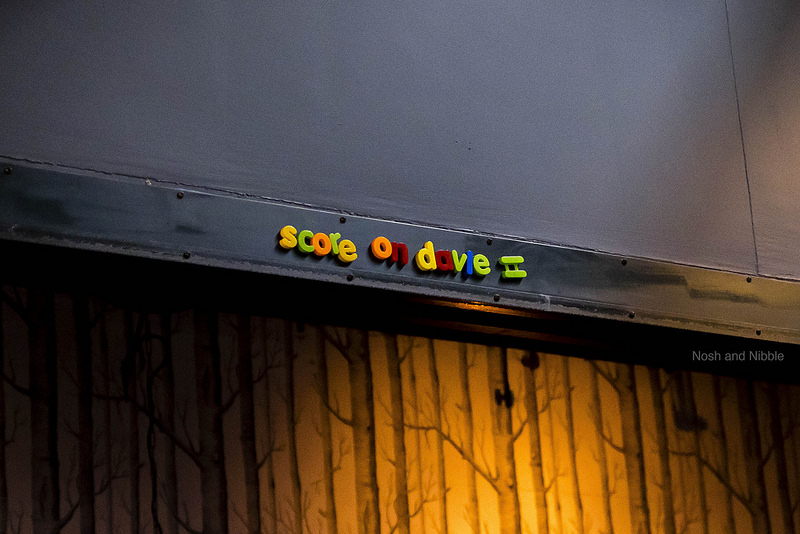 Final Thoughts:
One-liner: The only place you'll pay $60 for a Caesar that's worth the experience with your crew
Highlight: Checkmate Caesar
Price per person: $20-$35
Would I go back? No, but my memory of the Checkmate Caesar is one that I will cherish forever.