I love visiting Kitsilano. In particular, the West 4th strip is a space of good eats, lifestyle shops, and a beach, all in close proximity. I was recently here for an unrelated media tasting but on my way home I walked by Kahve. I knew I was going to have to try out their latte, and with the encouragement of food bloggers Foodgressing and Picky Diner, we proceeded in.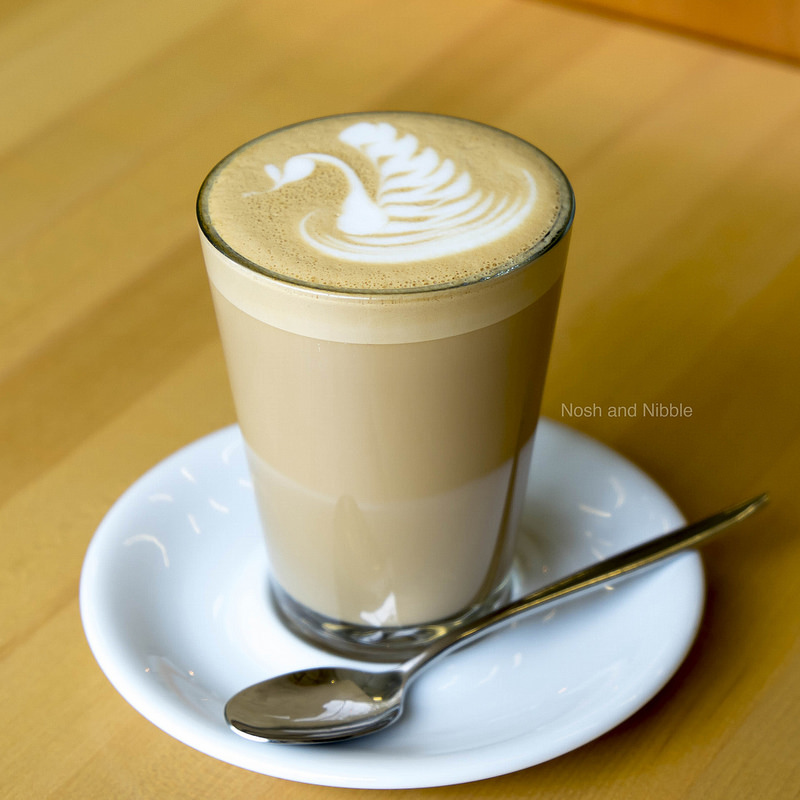 Food and Drink:
For myself, I had the following:
Latte ($4.50)
Chocolate Chip Cookie ($2.10)
Cheese Scone (free -- see below)
Let's confirm what we already know from the featured image of this blog post. This latte was gorgeous. The strong microfoam left few large bubbles and the design of a swan was simply stunning. Top it all off with the clean glass with a visible head of foam and I'm telling you right now this latte must be in the top 5 of latte art in Metro Vancouver -- and I've had a lot of lattes.
Taste-wise this latte was also well balanced with smooth, foamy milk. Some volume drinkers may want to double shot this as the glass is quite large at around 12oz. For the rest of us, the looks of the art are enough to kill. Feast with your eyes first, then enjoy.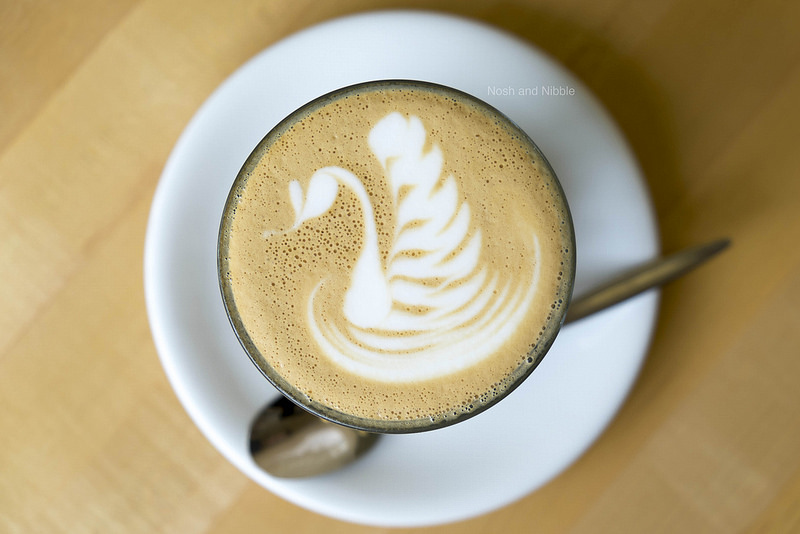 To up my energy high, I also had a chocolate chip cookie. This wasn't anything stupendous. It did have a very melty texture and not much chewing was needed. I'll put it on the better half of sub-$2 cookies (though nothing will ever top the chain sugary value of Tim Horton's $1 cookies).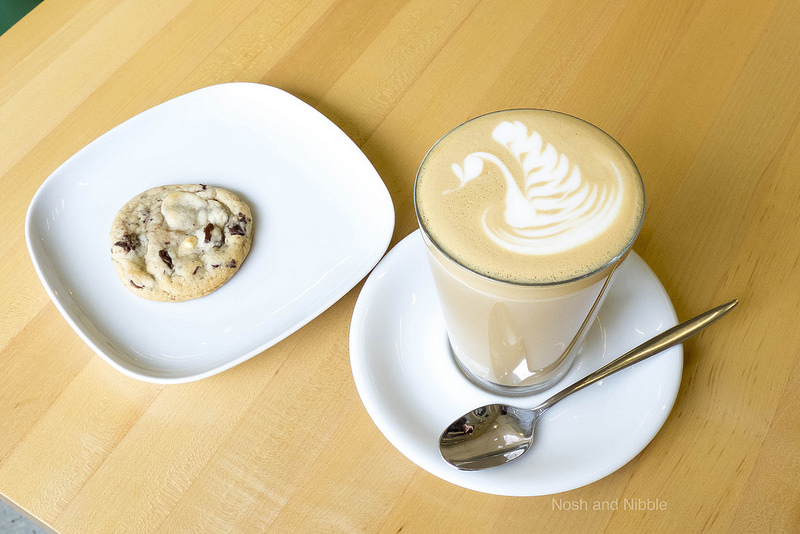 As for the cheese scone, I'm pretty sure the average customer does not get a plate of these for free. However, I was in the presence of none other than rapidly rising blogger Areta of Foodgressing. Naturally, she'd already been to Kahve and was on speaking terms with an owner who spotted us and doggedly had us stay longer so she could serve us a plate of fresh scones.
There's no better way to have scones than fresh, so I'm probably spoiled in the sense mine was as fresh as it could be. It pulled apart easily leading to a cheesy aroma and a puff of steam upon tearing. Fluffy, buttery scones are generally satisfying and this one was no different.
Features:
Kahve, as described on their website, takes European design cues when it comes to their Vancouver hovel. Apart from being a cafe, they also sell a ton of coffee/home goods which are displayed in a neat glass and wood shelving unit that fills one side of the cafe. The cafe space is tall, features lots of soft whites and woods, and has seating for about 16 amongst high counters and high tables. I'd recommend sitting by the front window for a constant dose of dog walkers and baby mommas with strollers strolling by.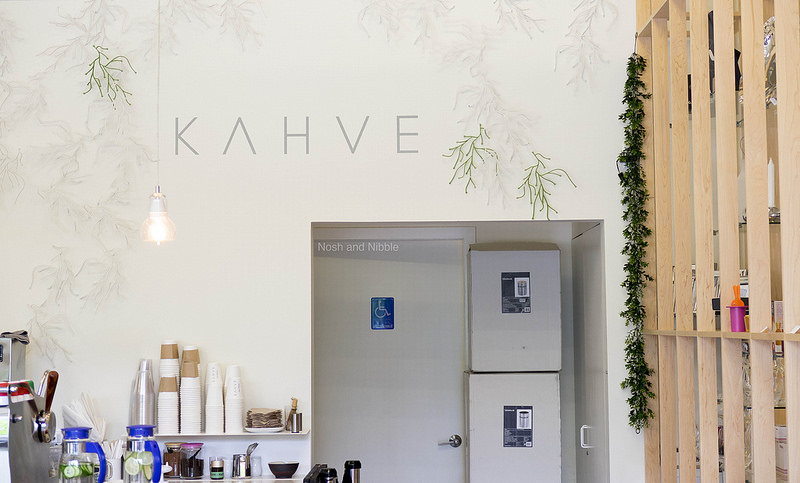 It looks like they use Phil & Sebastian Coffee Roaster beans here. Judging from the taste of the latte, I can totally get behind this Canadian roaster. The only espresso beans were Juan Manuel Sanchez Espresso which had a nutty flavour.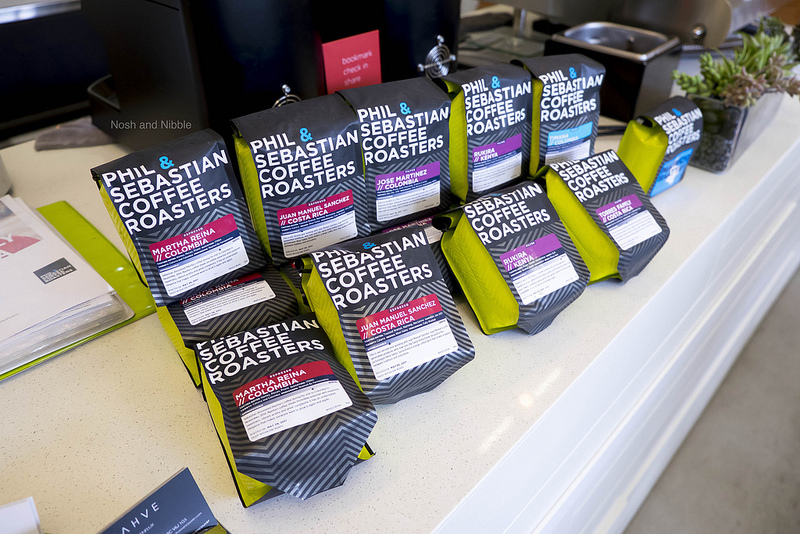 Service:
As with any coffee shop, you'll place and pay for your order prior to picking it up. It wasn't too busy on a Saturday morning before noon so feel free to get some work done in this relaxing space.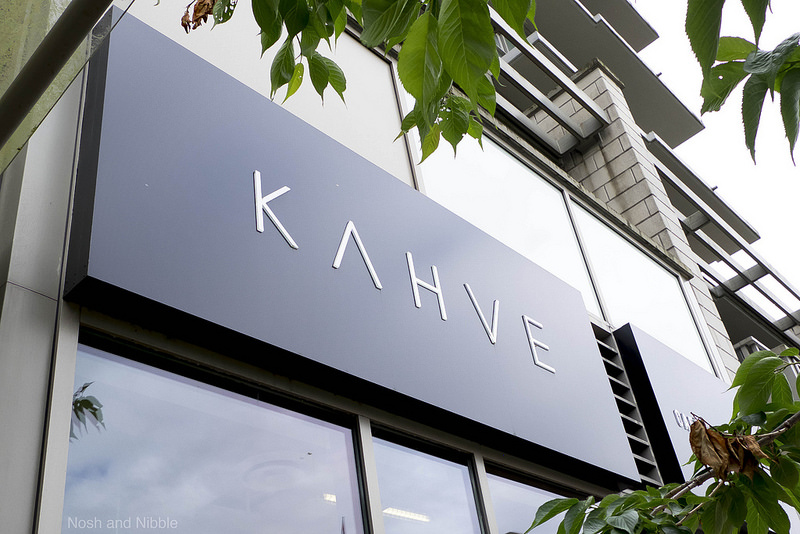 The man brewing my latte was all smiles as he probably saw my face light up upon seeing the beautiful swan art. Deservedly so! Apparently he had previously worked at Timbertrain Coffee Roasters in Gastown before landing at Kahve and boy are these folks lucky to have him brewing espresso art!
Final Thoughts:
One-liner: Seriously the best latte art if not in the upper upper echelons of Vancouver coffee
Highlight: Latte
Price per person: $5-15
Would I go back? Yes.