Road tripping around the Lower Mainland is one of my favourite summer activities. The only problem I run into is the fact I lack a highway-legal vehicle, so I was super stoked that I was able to take a 2018 Acura MDX (Technology Package) for a spin a few weeks ago as I made my way to Harrison Hot Springs and Abbotsford to tour through a few stops of the Circle Farm Tour (a self-guided tour of the 604's countryside. If there's a bell or a whistle for a driving experience, chances are it's included in this midsize crossover.
Disclosure: This was a media-provided vehicle provided in exchange for an honest overview and no monetary compensation.
2018 Acura MDX Technology:
The Acura MDX Technology (7-seater) received mostly under-the-hood changes for 2018 with the exterior left mostly unchanged. The following are what we'll note in today's overview:
Exterior
Interior
Driving Experience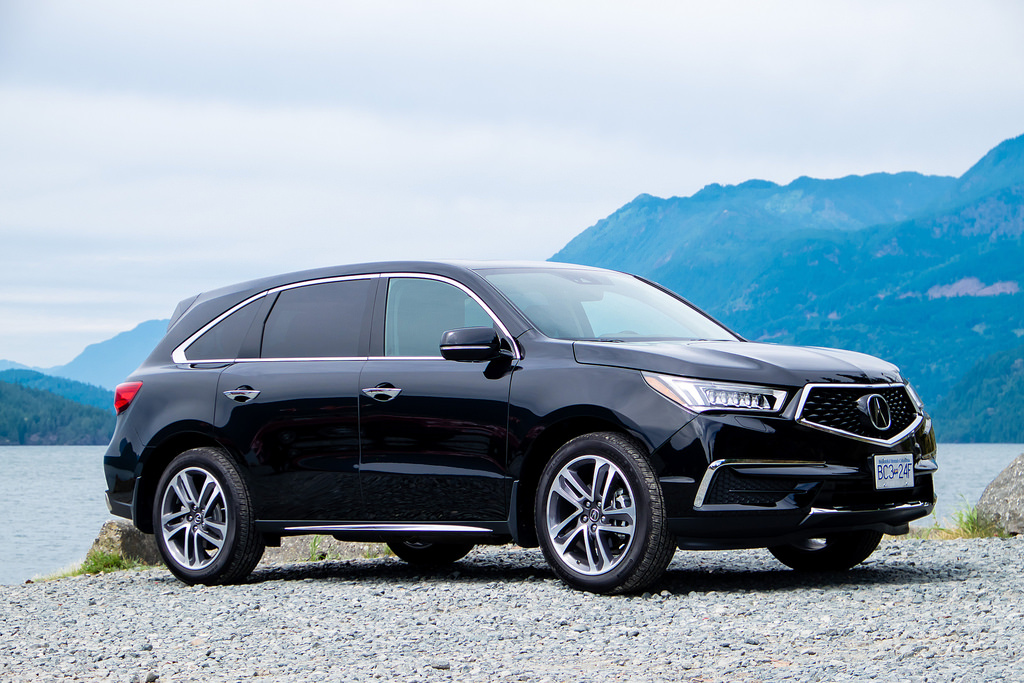 Side View
Exterior:
The exterior of the Acura MDX looks sleek in black (specifically, "Crystal Black Pearl" for me) and exudes style if you're pulling up into a parking lot or hotel entrance. It's not quite as boxy as a full-size SUV so if you're in the market for a crossover this will seat you quite nicely amongst the other luxury crossovers. The LED lights in the front add attitude to the headlights which thankfully still point towards the ground. The extra tinted glass is great for privacy and the powered tailgate are welcome additions.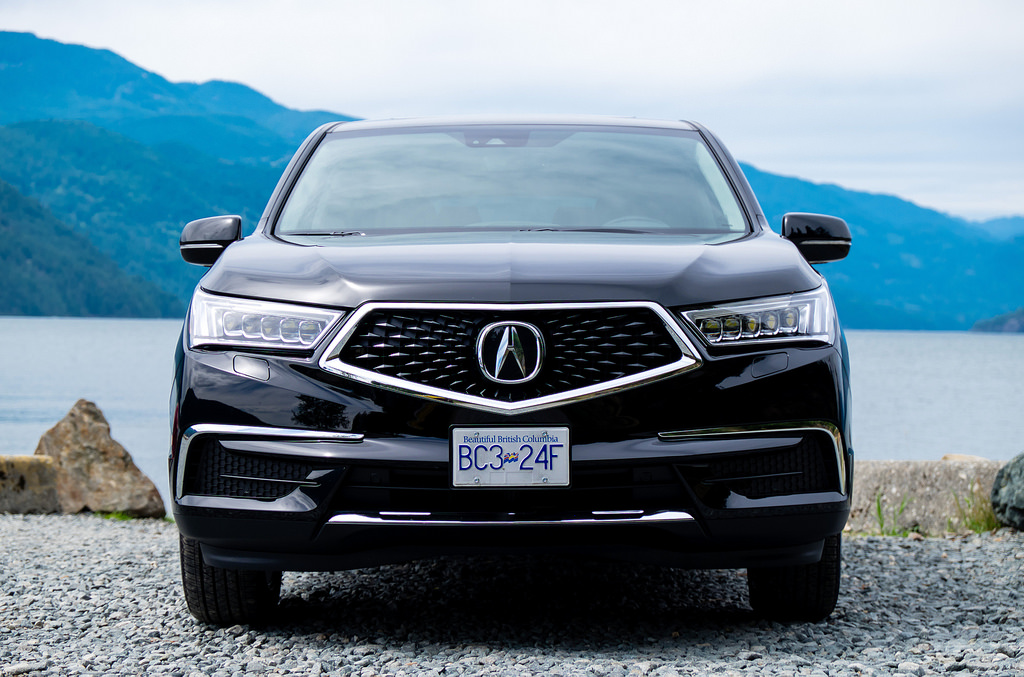 Front View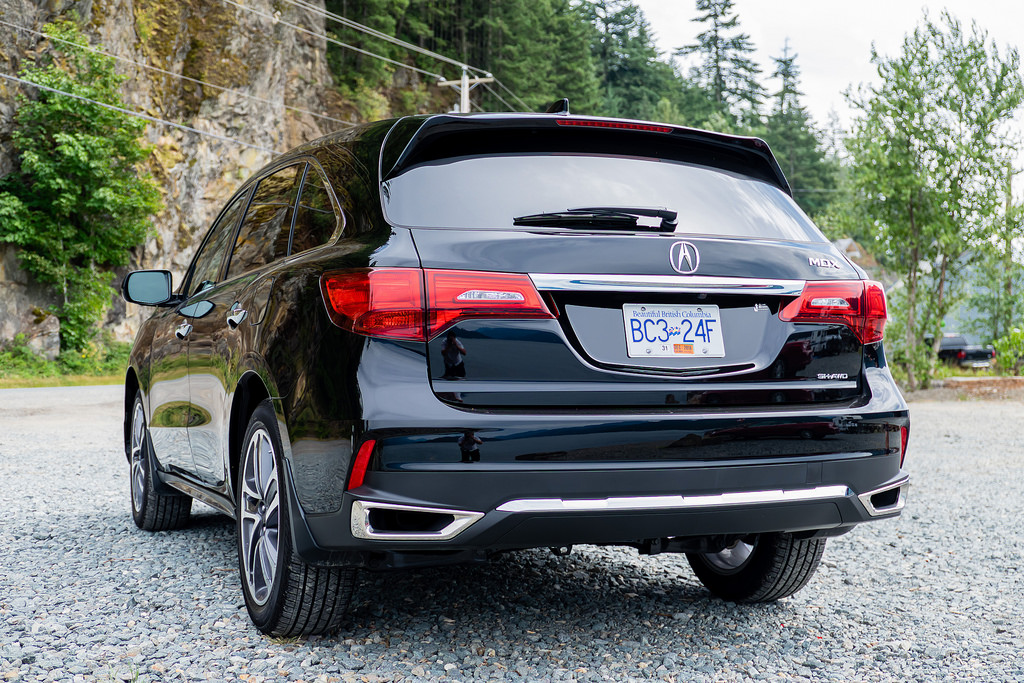 Rear View
Interior:
The inside of the Acura MDX is just as classy as the front. Ebony Milano Leather comes standard across all trims and the leather is soft to the touch. The steering wheel has a satisfying heft to it, and the wood accents add an air of classiness for passengers to enjoy. The dashboard features a two-screen ensemble, one of which serves as controls, and the other for auxiliary information like navigation. The ability to view navigation on one screen whilst controlling climate on the other was more invaluable than anticipated. I've been in a top-trim Ford Escape SUV and even that suffers the inconvenience of needing to switch between screens to go from navigation to climate control.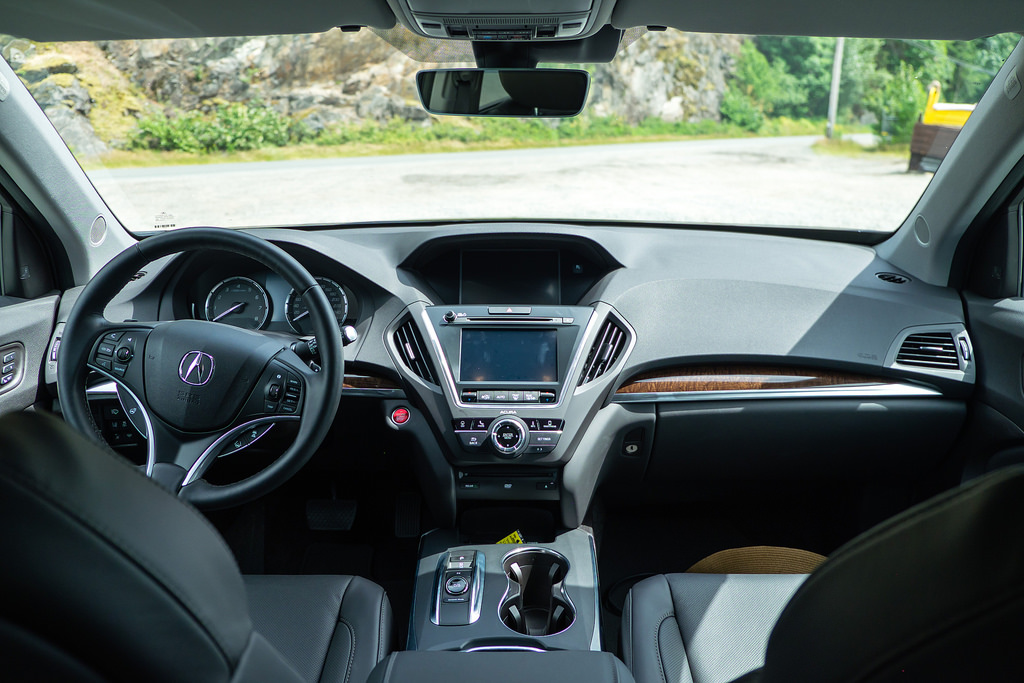 Dashboard View
Another cool feature is the gear shifter which instead of a knob you move back and forth, is a series of levers and buttons you push and pull to get the car moving. If you've ever driven a Mercedes-Benz CLA, it's a similar transition, but not something you won't get used to. For the sportier types, you can switch into Sport mode and paddle shifters which you lets you rev the engine more easily and push the 9-speeds this SUV offers.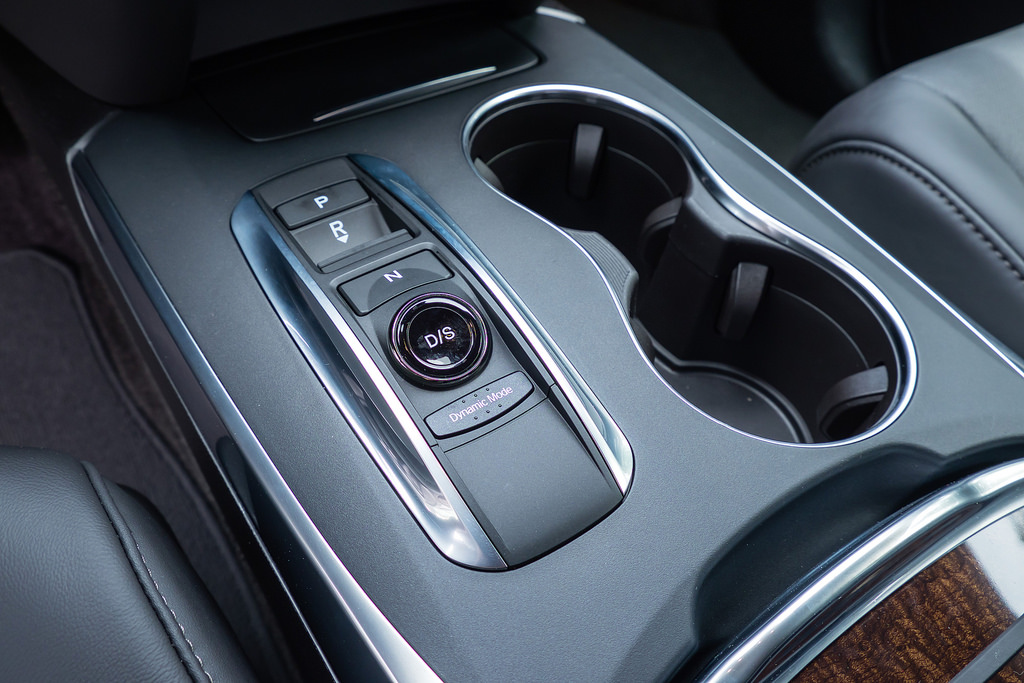 Acura MDX Gear "Shifter"
For passengers in the rear, a DVD player is available for use, as are climate controls and a 3rd row. This might be a good solution for keeping kids entertained, but I am personally at a point in my life where watching physical DVDs is never on my agenda. I'm keeping my fingers crossed for Android Auto and Apple Carplay to start introducing wireless video play from smartphones.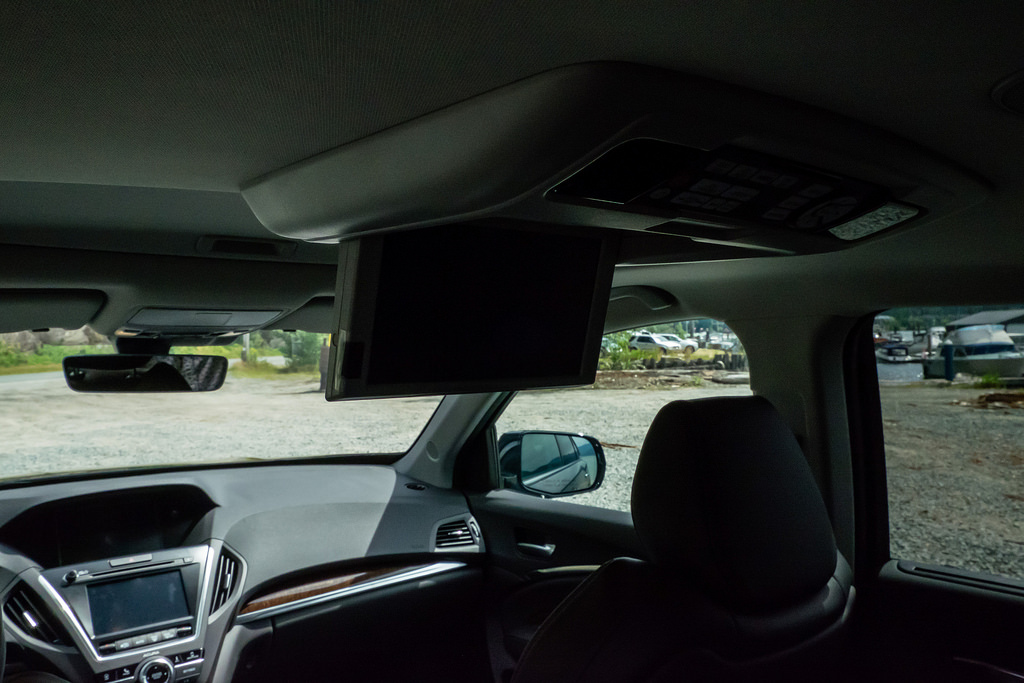 DVD Player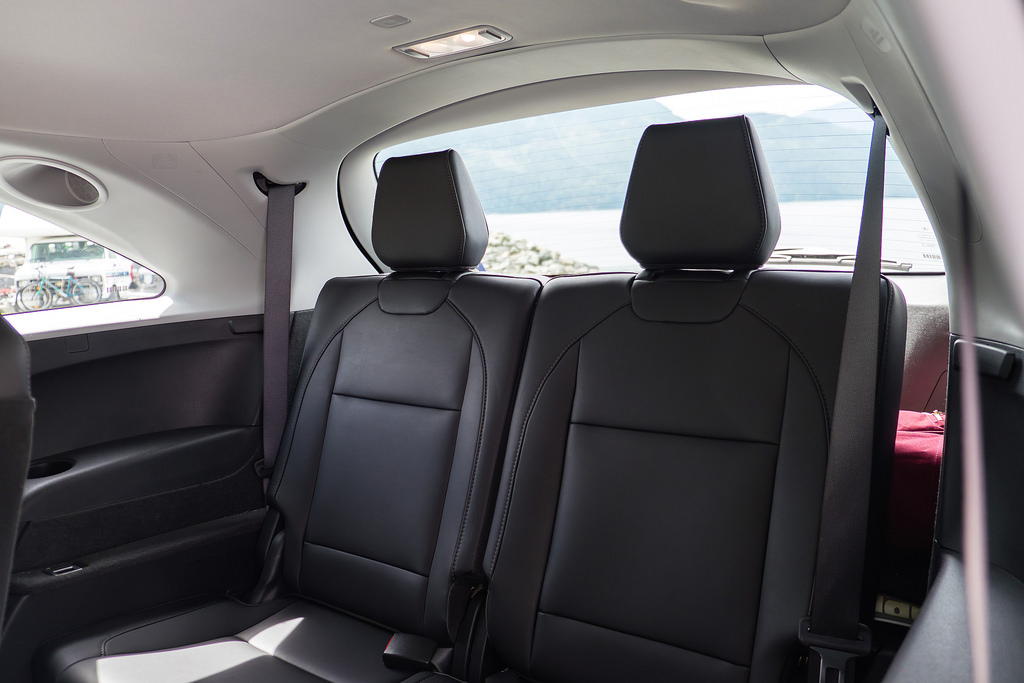 Third Row
Driving Experience:
Driving the Acura MDX was something out of a commercial. With 290 horsepower and an AWD drivetrain, highway and city driving was a breeze for this vehicle and I didn't really need to test it. With the windows rolled up, the cabin is nearly silent while coasting on the highway. I also loved that the blind-spot sensors were located on the inside of the car as opposed to the side rearview mirror (less glare, in my opinion). Connectivity with smartphones is pretty seamless and there are tons of controls on the steering wheel that mitigate the need to touch the main dashboard while driving.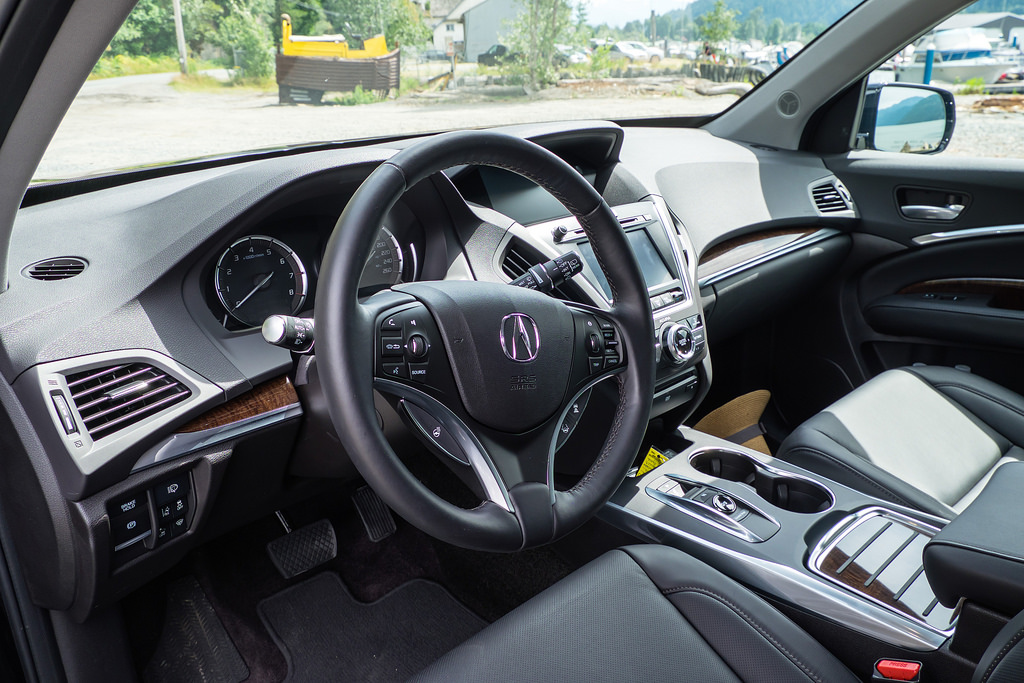 Front Row
One detail I'm not sure gets noticed enough is that when you put the car into reverse, the side rearview mirrors automatically tilt downwards. This is a huge timesaver because it means most drivers can more easily see the parking lines when backing into a parking spot.
The feeling of the steering wheel is supreme. Turns are smooth with fluid feedback as the wheel reverses after a turn. Cruise control is also pretty smart as it allows you to specify how close or far you'd like to keep from the car in front of you. If you have to step in, the dashboard will remember your previously set cruise speed if you ever get the opportunity to slip back in.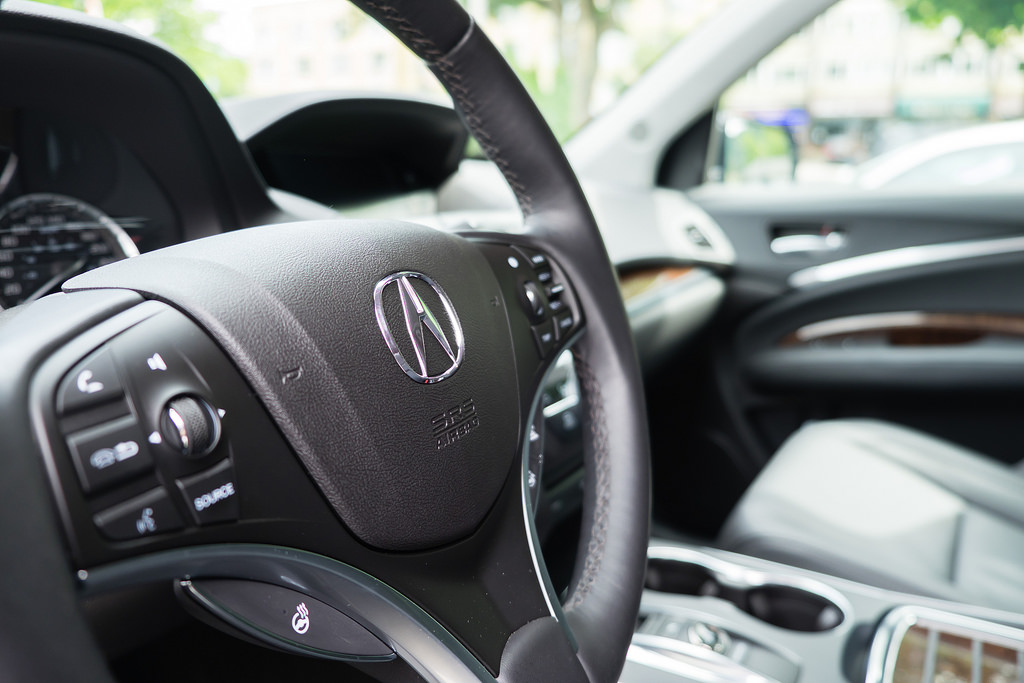 Wheel
Final Thoughts:
One-liner: A smooth crossover SUV ride that makes driving feel relaxing and features enough bells and whistles to make any road trip and comfortable success
Highlight: Automatic downward-tilting side rearview mirrors when backing up
Price: Starting at $52,260+.
Visit https://www.acura.ca for more information and trim options for the 2018 Acura MDX.