For over five years, I had been eagerly anticipating a visit to AJ's Brooklyn Pizza Joint, a renowned pizzeria located in Mount Pleasant. With each passing year, the buzz surrounding this place seemed to grow, and the sight of the bustling restaurant through its windows only heightened my curiosity. Finally, on a recent Friday night, after a hard week of work, I had the opportunity to indulge in AJ's delectable offerings. From their famous "Detroit Red Top" to the energetic atmosphere, my experience left me convinced that AJ's is here to stay in the Vancouver pizza scene.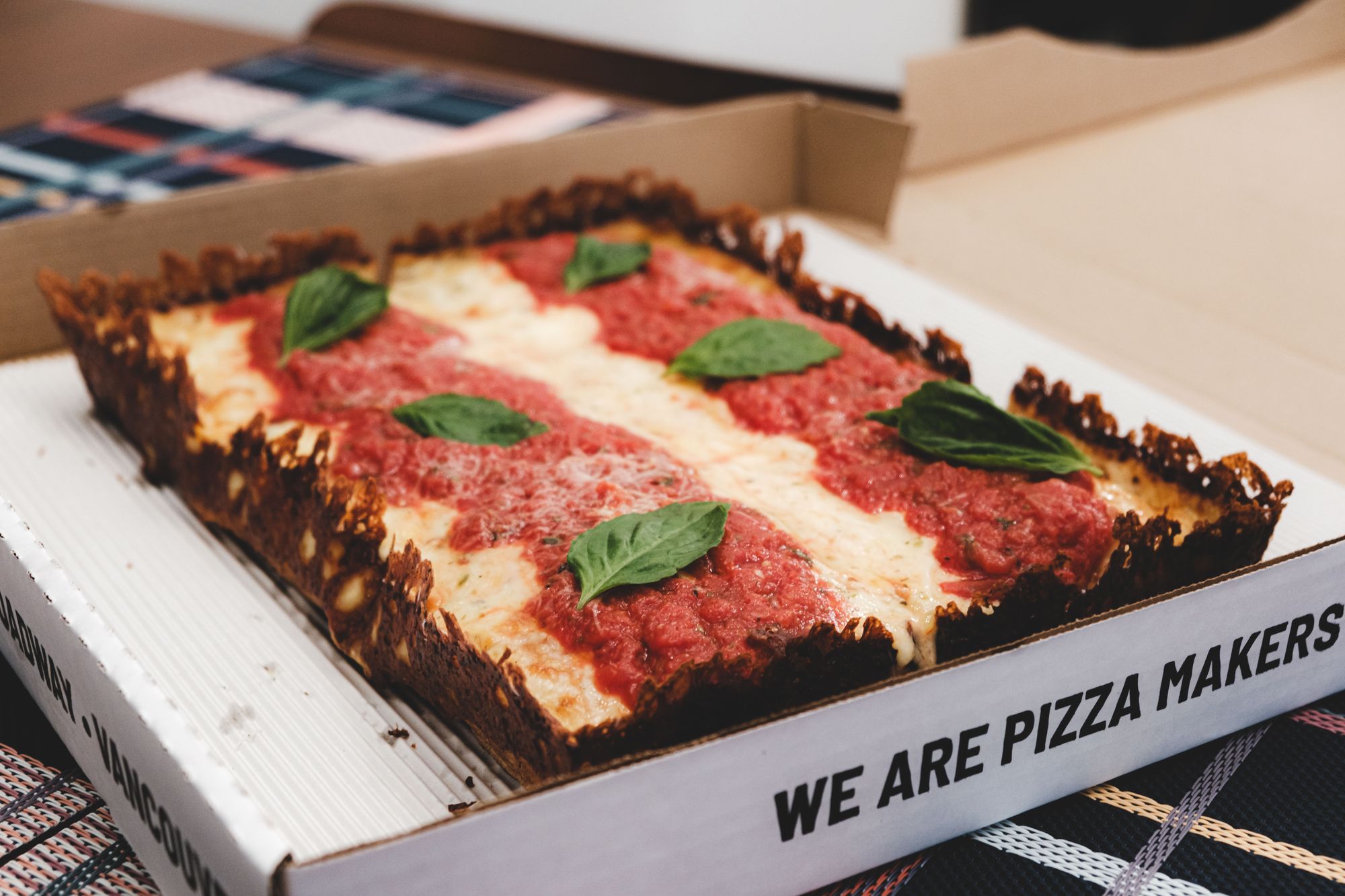 Food:
Team Tastic came here for a Friday pizza and I had a great taste of the AJ's Detroit Red Top ($34). I had the pleasure of savoring AJ's signature dish, the "Detroit Red Top" ($34). This masterpiece consisted of a harmonious blend of white cheddar brick cheese, buttered corners, grana padano, and fresh basil. The moment the pizza arrived, it was evident that it was a substantial slab of bread, cheese, and tomato. The weight of the takeout box itself hinted at the indulgence that this was no ordinary circle of pie.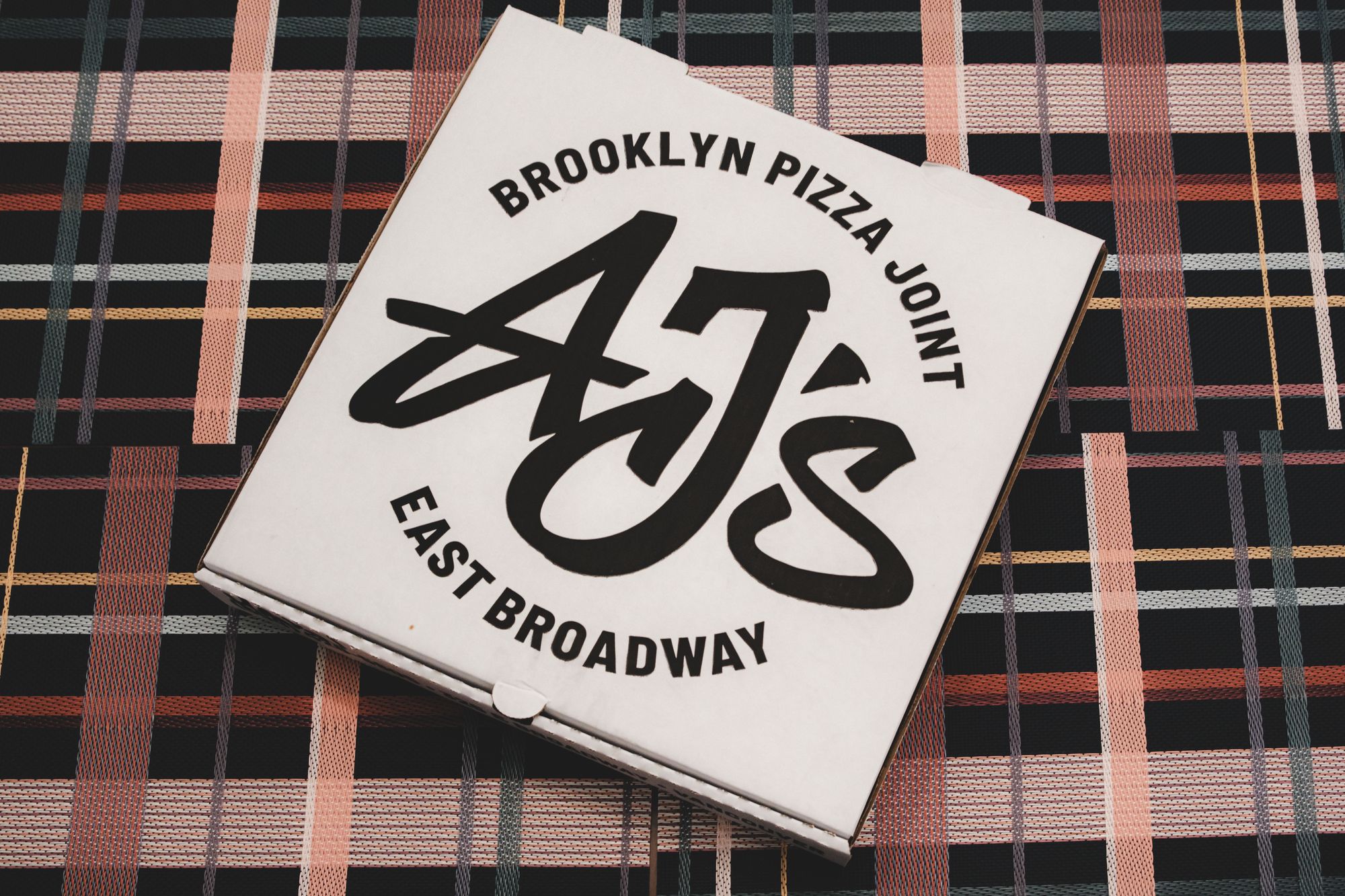 The first bite of the Detroit Red Top was a revelation. The bread, reminiscent of fresh focaccia, boasted a delightful crunch along the cheese-crusted edges, while the gooey cheese on top melted in savoury harmony. The six slices, pulled apart with just the right amount of cheese elasticity, offered a blissful combination of flavors. While not a traditional Chicago deep dish, this rectangular creation held its own with an ideal balance between the traditional ingredients of pizza.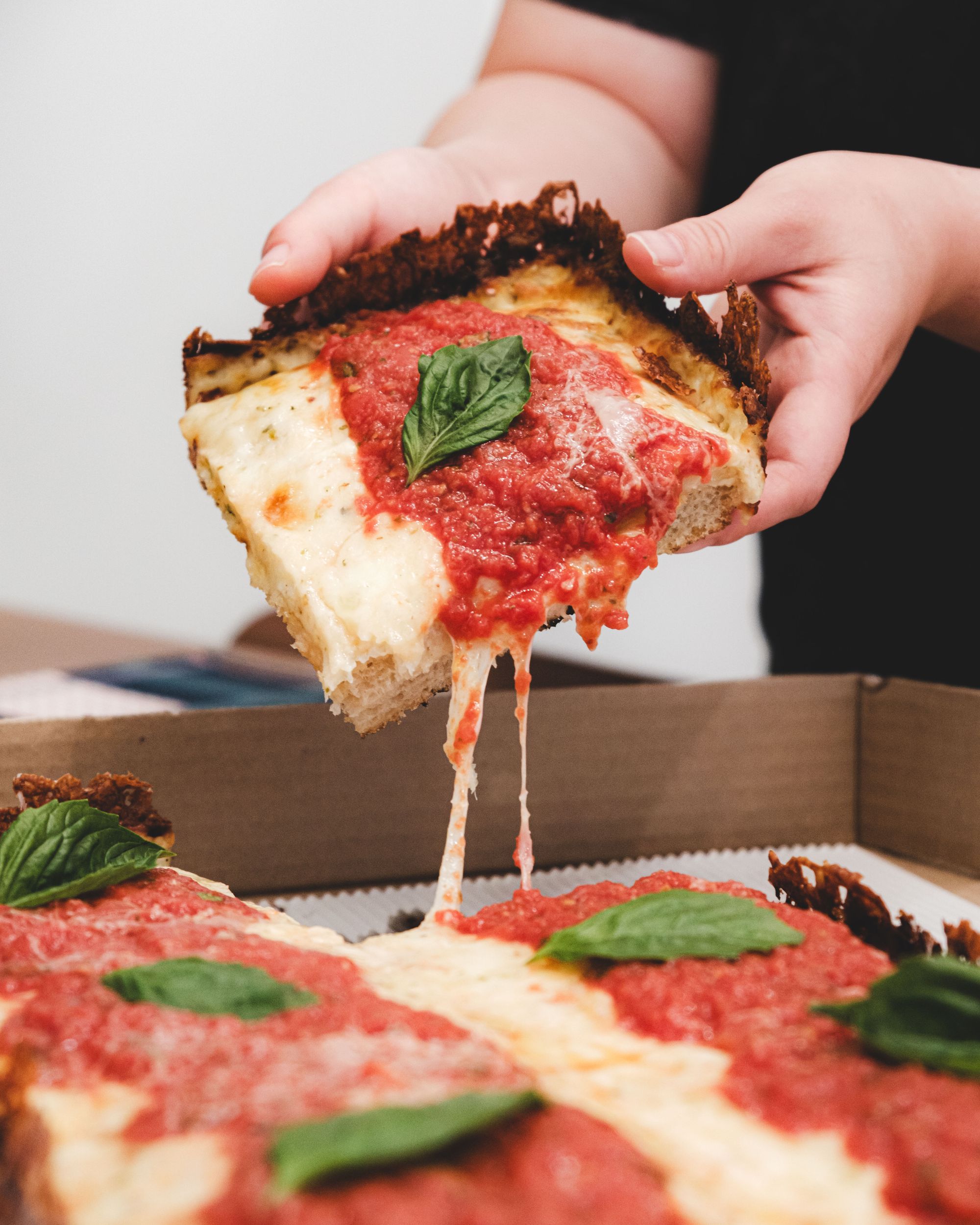 Vibes:
Although my visit was brief, the atmosphere at AJ's left a lasting impression. It reminded me of the lively ambiance of Pizzeria Farina when it still resided on Main Street. The energy inside AJ's was palpable, and whether you choose to perch on a stool or cozy up in the lone booth at the front, you can expect to rub elbows with your neighbors. It's a place where the love for pizza brings people together, but they also sprinkle in a couple of TVs to give people a sporting reason to come for a slice of pie.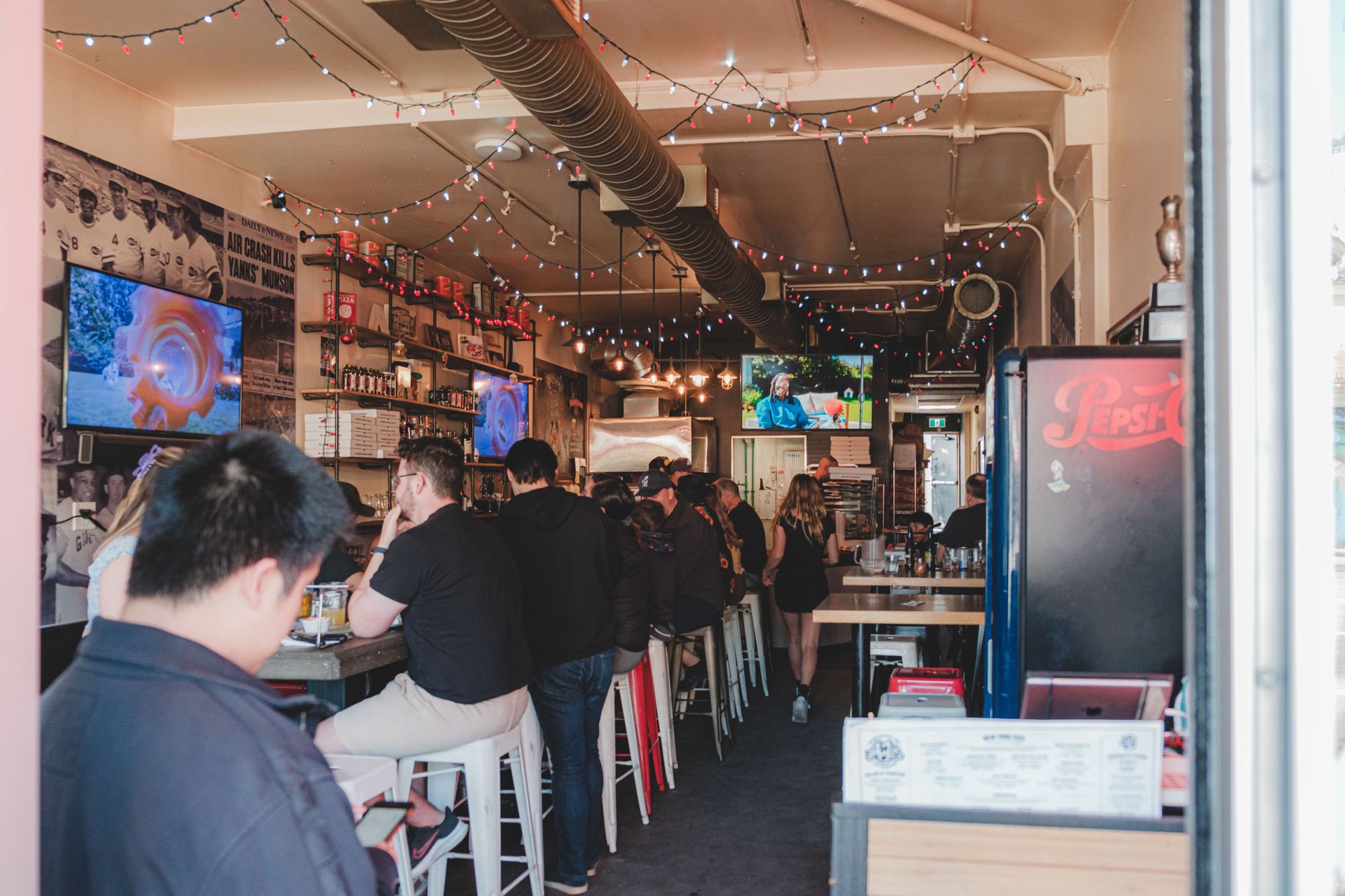 Service:
While I didn't have the chance to dine in, I had a taste of the wait times at AJ's. On a bustling Friday evening at 6:30 pm, securing a seat took approximately 30 minutes (and a pizza another 30), while a takeout order required around 40 minutes. However, if you're not keen on waiting, fret not. AJ's caters to those seeking a quick slice, allowing you to satisfy your pizza craving without the wait.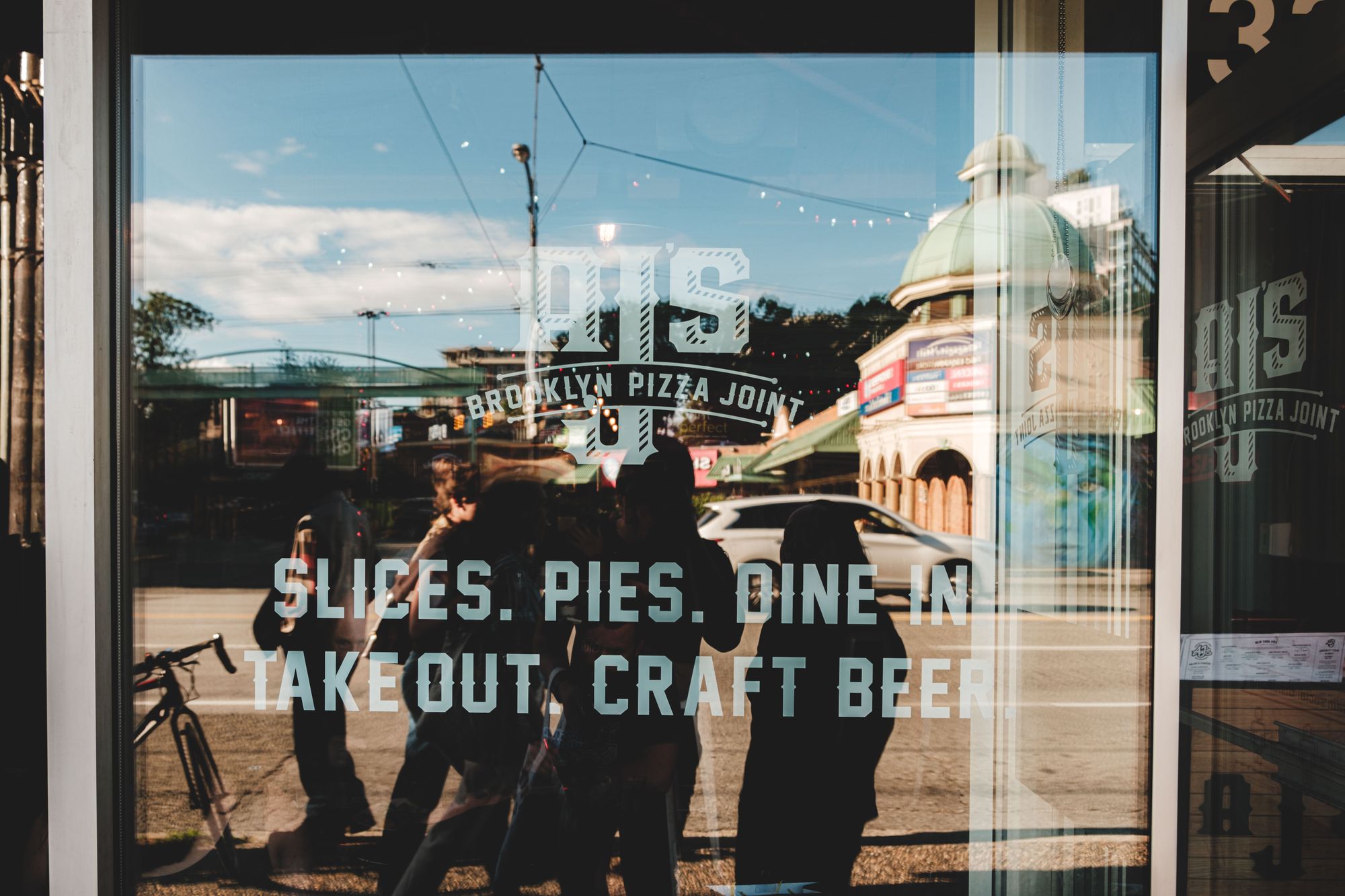 Final Thoughts:
One-liner: Pizza that's worth the wait and a take on Detroit-pizza that to my knowledge isn't found anywhere else in Vancouver
Highlight: Detroit Red Top
Price per person: $20-$40
Would I go back? Yes, but I'd arrive earlier.