When it comes to exploring diverse culinary experiences, Vancouver's Yaletown neighbourhood never fails to impress. Tucked away amidst the trendy streets of this very walkable community is Mapo Pancake House, a unique gem that brings a unique twist to the traditional Korean seafood pancake, or "jeon." Offering a modern ambiance, delectable dishes, and attentive service, Mapo Korean Pancake is a must-visit for anyone seeking an unforgettable pancake experience.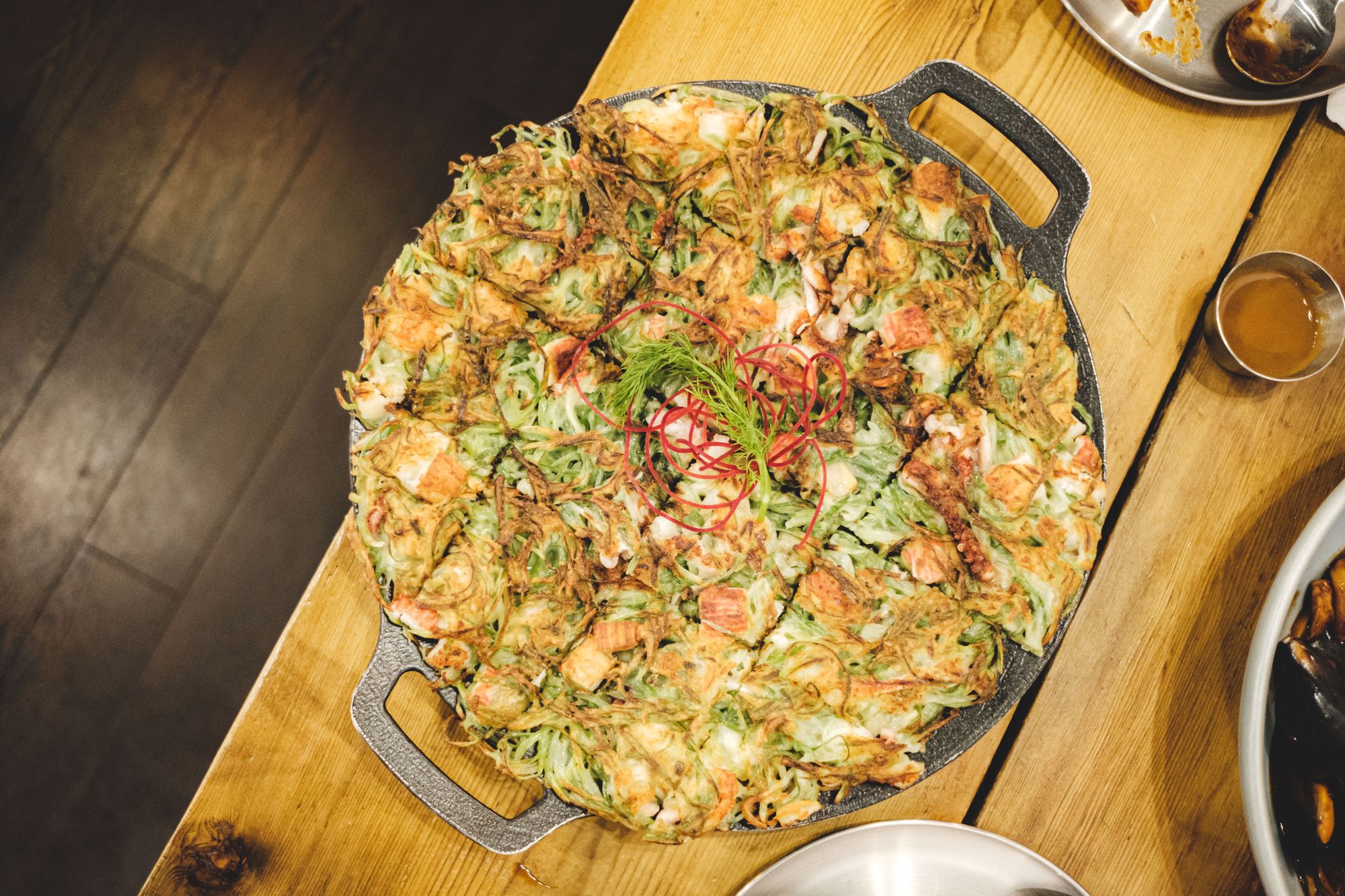 Food:
Team Lido came here for lunch and I had a great taste of the following:
Deluxe Jeon Tray ($60)
Seafood Tteok-bokki ($28)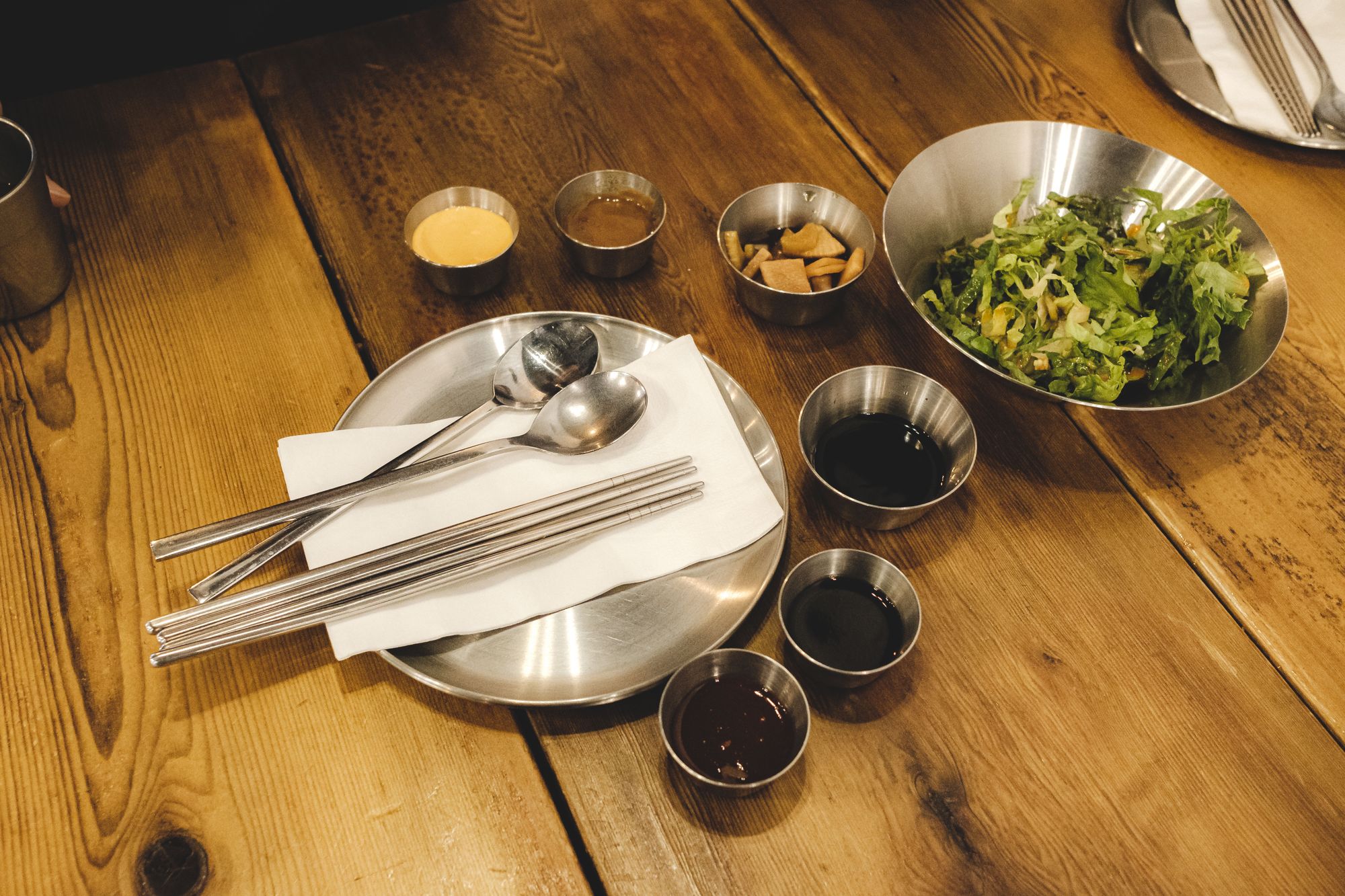 The Deluxe Jeon Tray came with our choice of large seafood pancake and we chose the seafood green onion, otherwise known as the traditional. This was great for our family as the parents were with us and they prefer the more classic dishes. This pancake was superb. The staff are not kidding when they say it's large – the pancake was spilling over the edge of the plate. Each piece was loaded with seafood onion and came with a variety of sauces to dip into.
The Deluxe Jeon Tray also featured a chef's choice of medium-sized pancakes. From mung bean and mixed vegetable to corn cheese and kimchi pancakes, these delectable creations were perfect for sharing and allowed us to explore different flavors. Additionally, the tray included "small jeon," tempura-fried vegetables prepared in the Korean pancake style, adding a delightful crunch to the meal.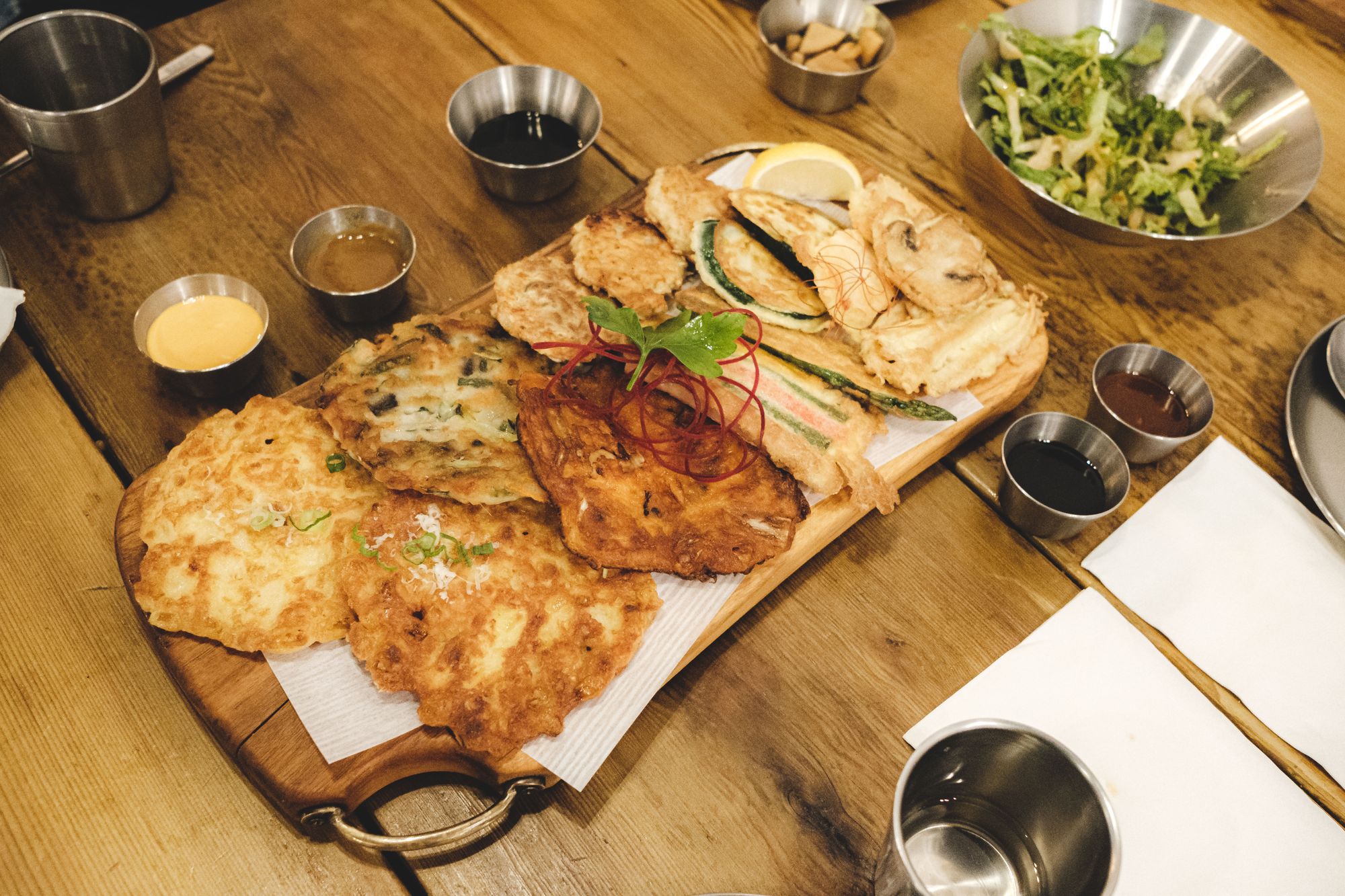 To complete our culinary adventure, we couldn't resist ordering the Seafood Tteok-bokki priced at $28. This substantial dish featured a generous serving of rice cakes accompanied by prawns, squid, mussels, fish, and cakes. The mung bean-like soy dressing coated the udon noodles and enhanced the flavors of the seafood, providing a satisfying and well-rounded meal. The presence of the Special section on the menu demonstrated Mapo's commitment to offering diverse options beyond Korean pancakes, and probably a little awareness that people want something other than fried food on the menu.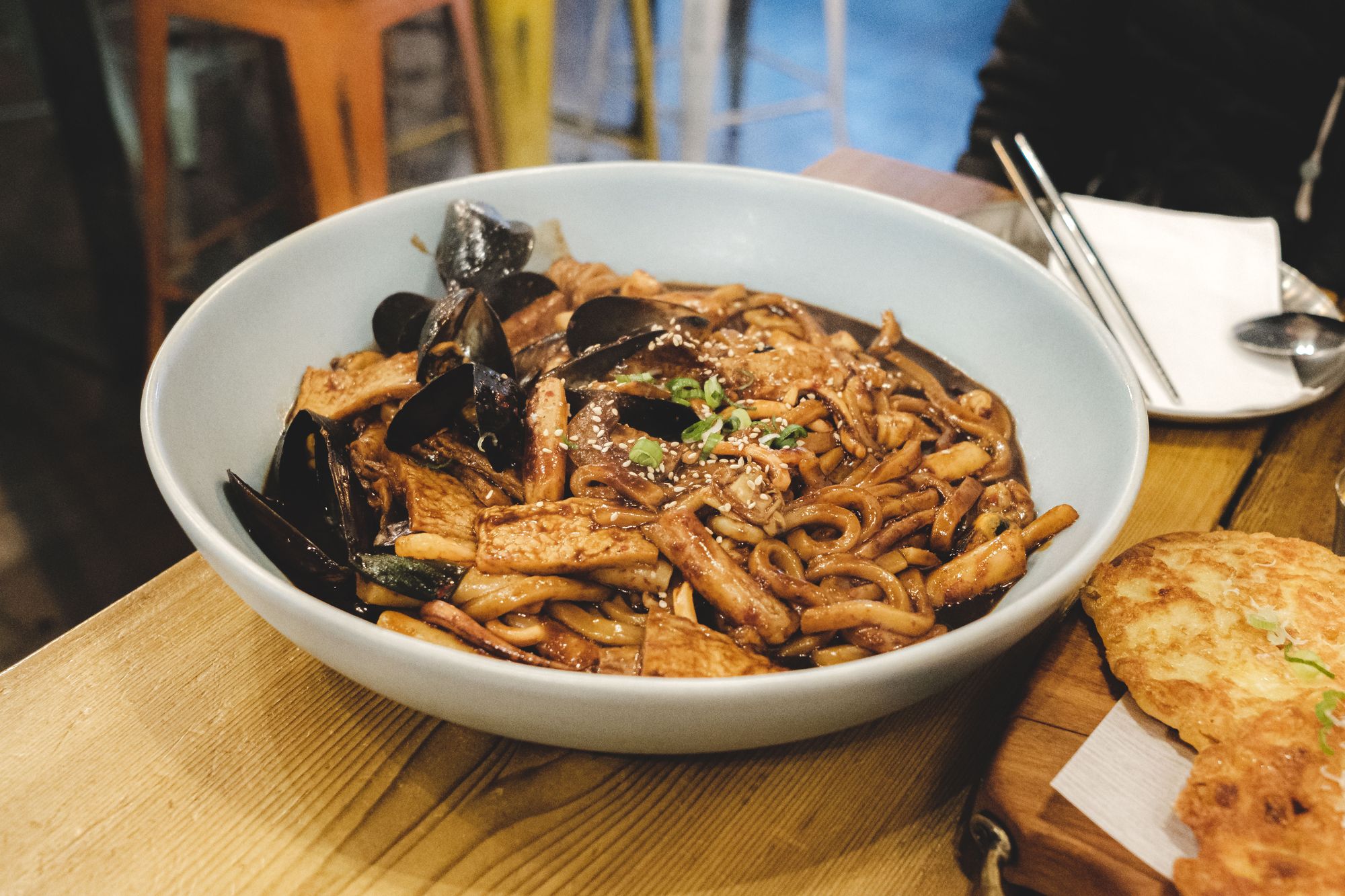 Vibes:
What sets Mapo Korean Pancake apart is its stylish and contemporary ambiance. Unlike many traditional Korean eateries, Mapo has embraced the modern chic aesthetic of Yaletown. With seating for approximately 60 guests spread across long communal tables and regular-sized tables, the restaurant offers a comfortable and inviting space for diners. For an added touch of warmth, try securing a seat near the cozy fireplace near the front.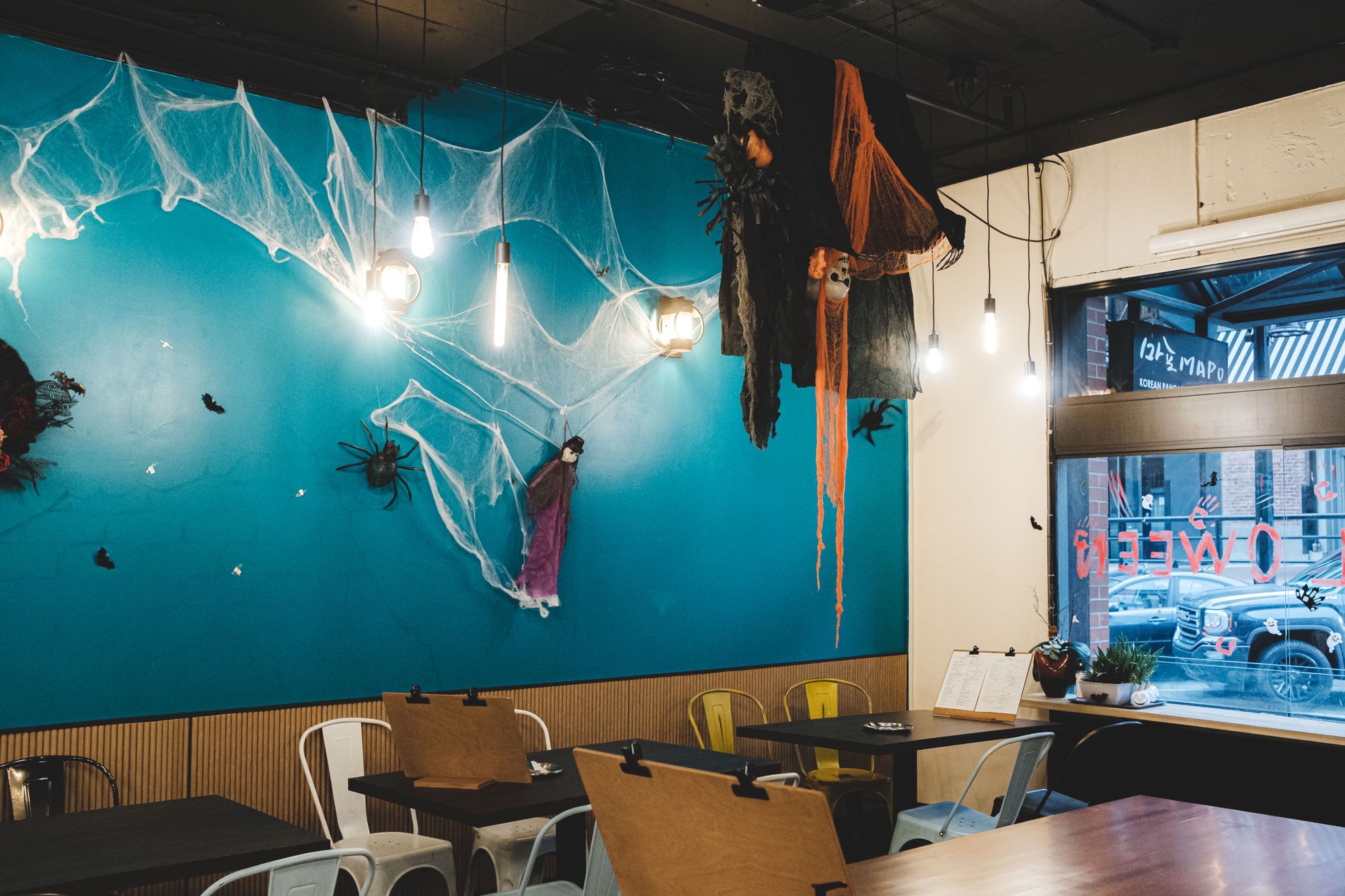 Service:
Visiting Mapo Korean Pancake during lunch on a Saturday, we found the restaurant to be pleasantly calm and uncrowded. While Yaletown typically comes alive in the evening, this presented an advantage for lunch-goers, as reservations were not necessary. We were impressed with the prompt service, as the first banchan (side dishes) arrived within minutes of ordering, followed by the main courses approximately 15 minutes later. The attentive server regularly replenished our water carafe, ensuring a smooth lunch experience.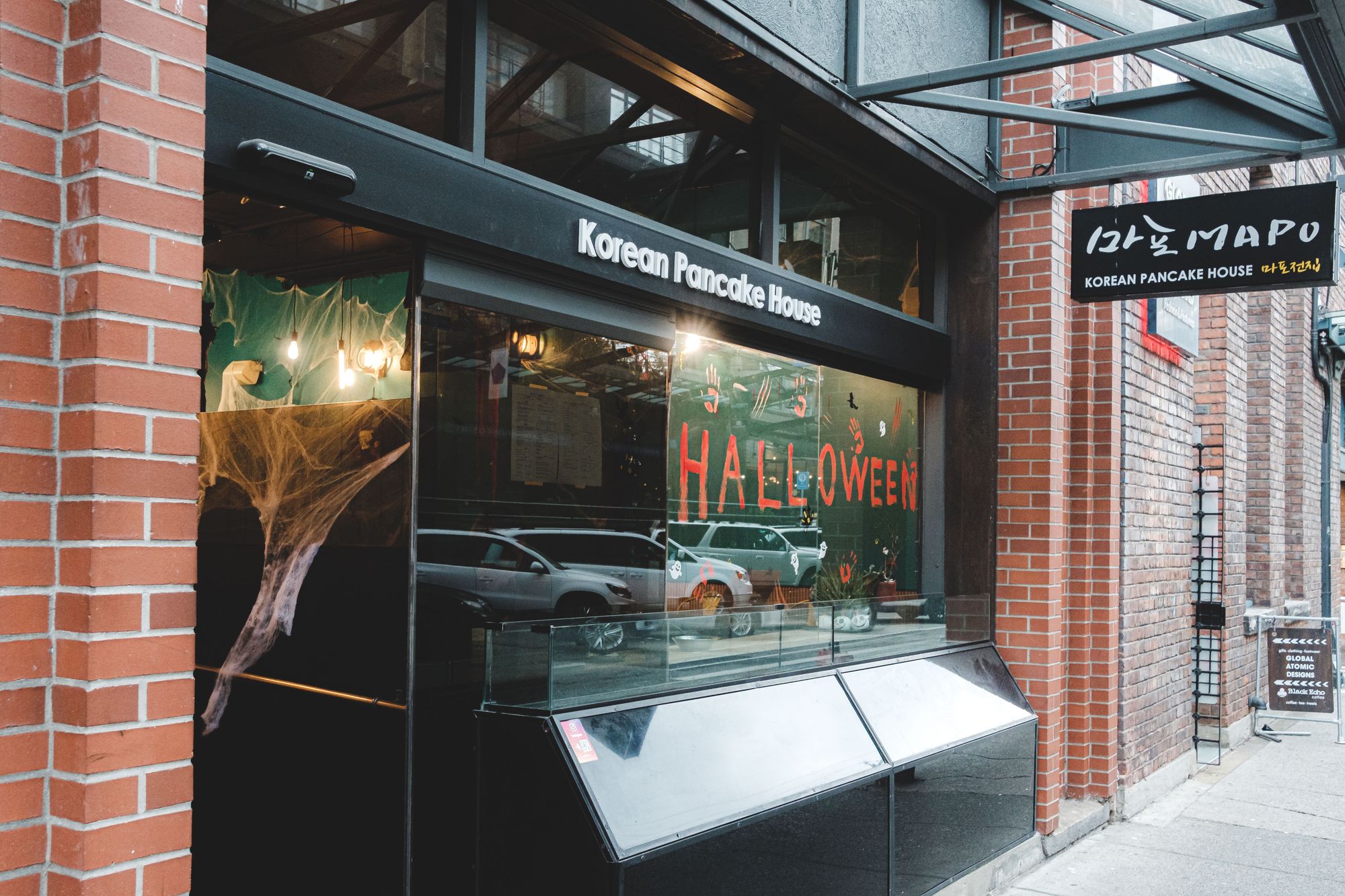 Final Thoughts:
One-liner: Yaletown (and probably Vancouver)'s only Korean restaurant focusing on pancakes rather than just providing the traditional family standards
Highlight: Deluxe Jeon Tray
Price per person: $25-$45
Would I go back? Yes.