Most ramen restaurants these days operate as a single stop for a classic bowl of Japanese noodles and a side of gyoza, and that's okay. For a little more variety though, Asaka Ramen in Richmond combines the best of Japanese worker dinner and dessert in a new restaurant concept. Absorbing the Vancouver-based TMix Tea into the menu means this eatery is no longer your average ramen stop. Last week, I had a chance to experience the new menu for myself.
Disclosure: This was a complimentary tasting provided in exchange for an honest overview and no monetary compensation.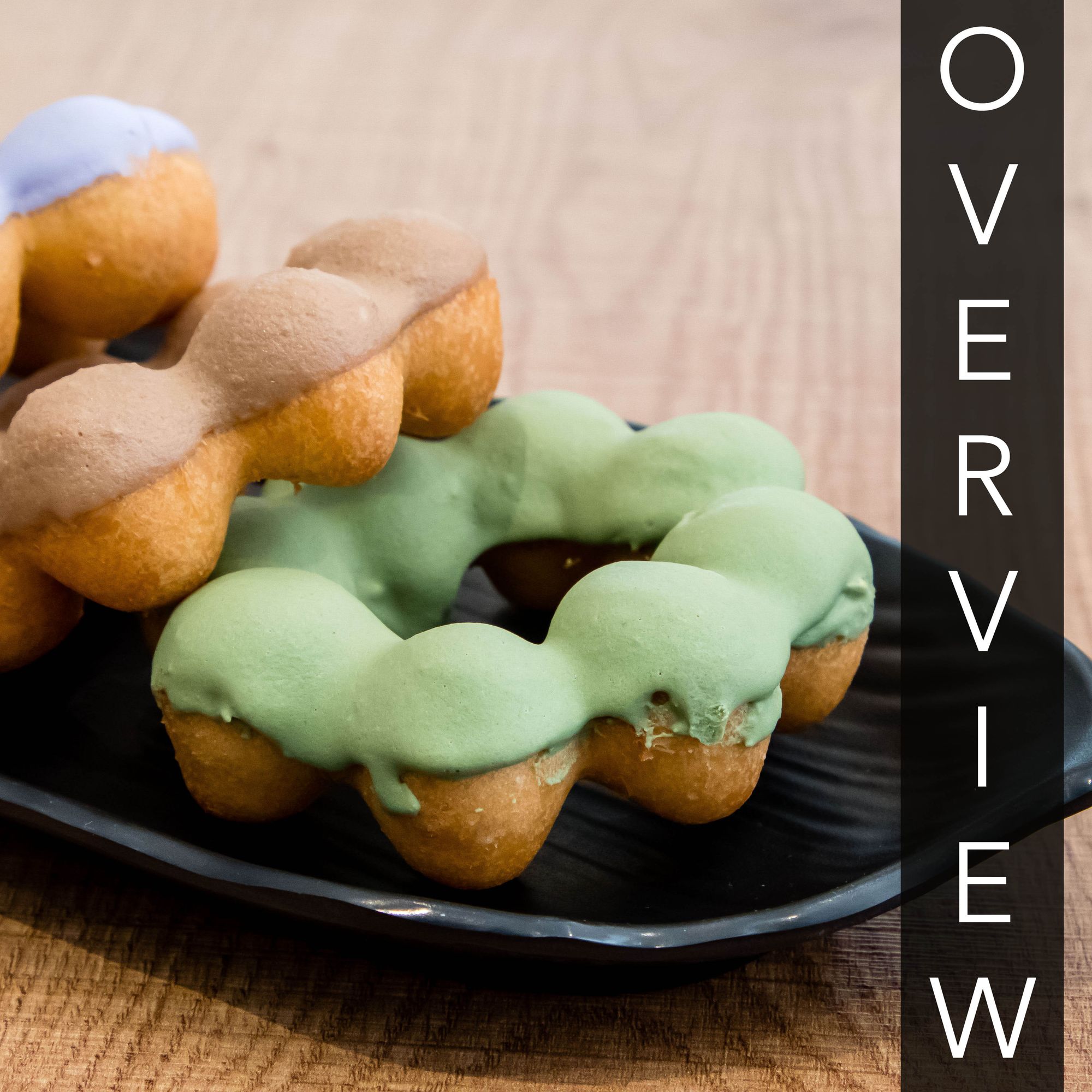 Food and Drink:
Team GlueCrew came here for a weekday dinner and I had a great taste of the following:
4-Course Meal w/ Cucumber Sunomono, Korokke, Vegetarian Ramen, and Ice Cream ($20.88)
Veggie Gyoza ($7.50)
Pork Chashu Don ($11)
Ultimate Mango Frappe (w/ Egg Pudding and Mango Cubes) ($8)
Mochi Donuts ($2.80 each)
The newest addition to the menu is a 4-course option which is a great deal for anyone that comes extra hungry. I added up the 4 items we ordered and the a la carte pricing would have been $30.20.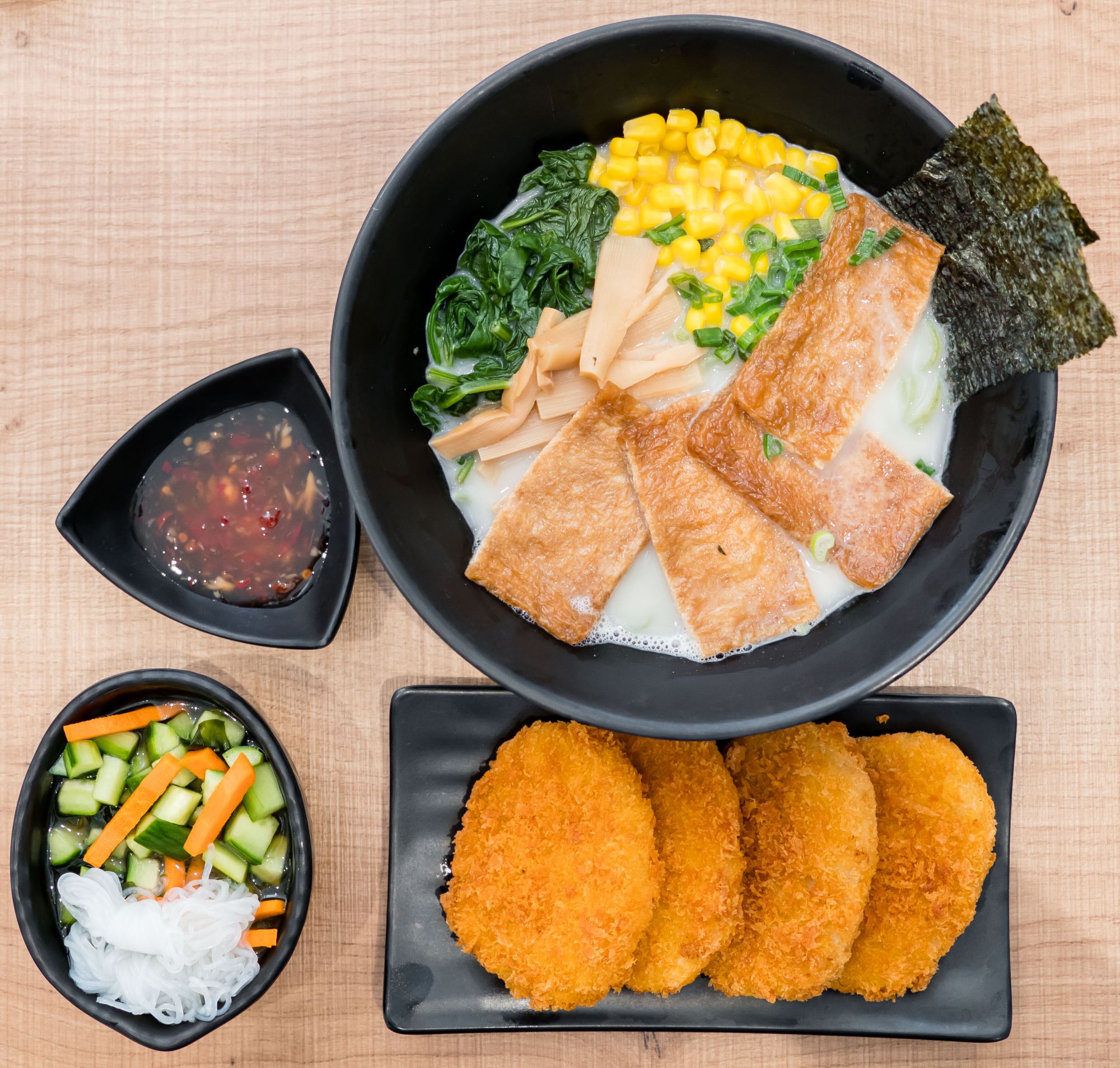 The cucumber sunomono was our small dish in the 4-course meal. Featuring a yuzu vinaigrette, cold noodles, and chopped cucumber, this was a refreshing start to the meal. The noodles were chewy which only added to my delight. My only gripe with this bowl was the cucumber bites which were hard to extra out in groups using my chopsticks. Having a spoon or having sliced cucumber would have made it easier to grab more than one piece at a time.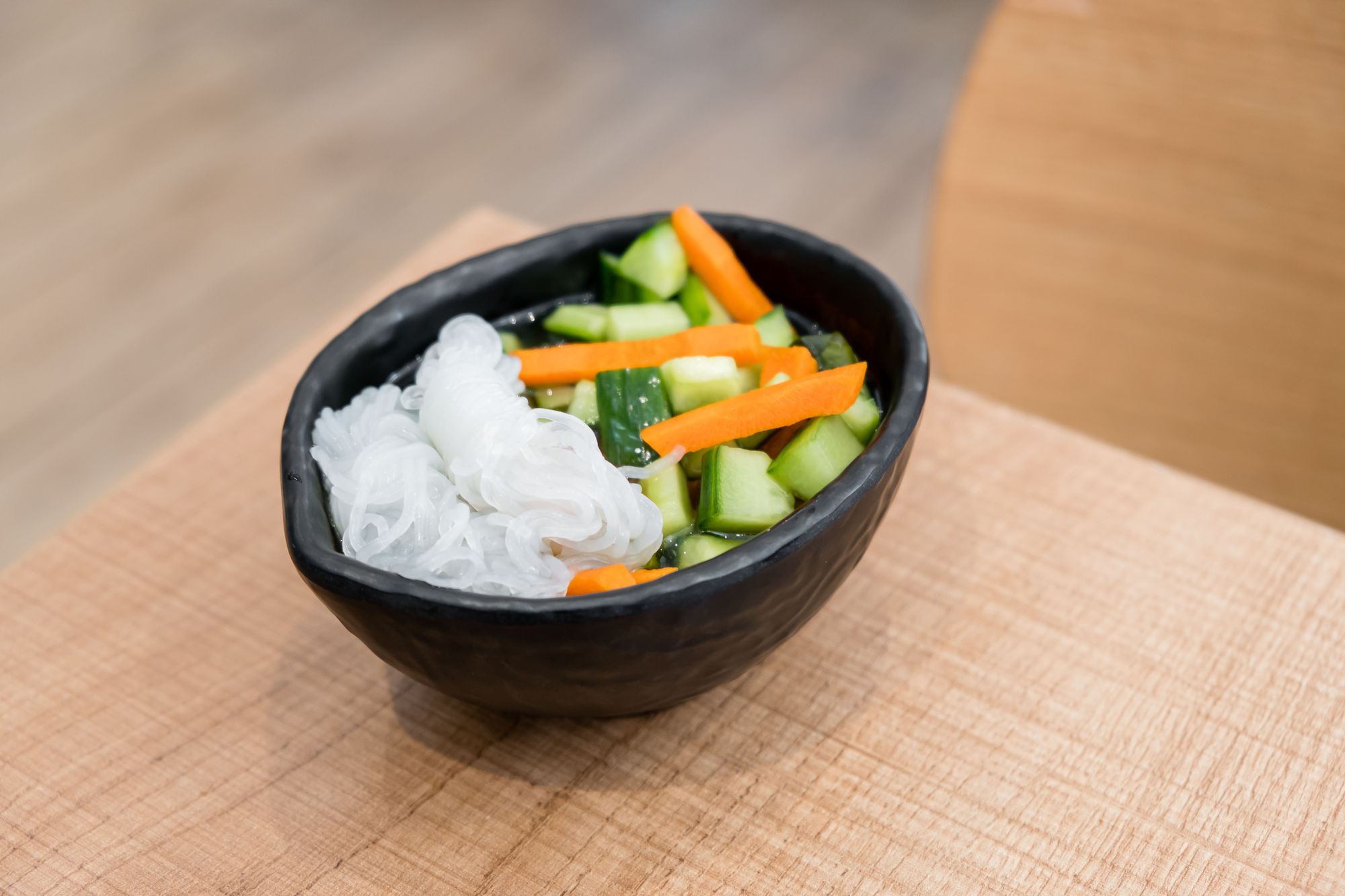 The korokke, which served as our 4-course meal's large side dish, was a solid offering. The picture on the menu does this korokke a small disservice because this was massive. Featuring 4 pieces in today, this Japanese potato croquette had a crisp breading and sweet plum sauce to dip with. The sweet potato within was fluffy and retained a ton of heat within the shell. To boot, the croquettes each held strong as I grabbed each one with my chopsticks. I was quite happy with this.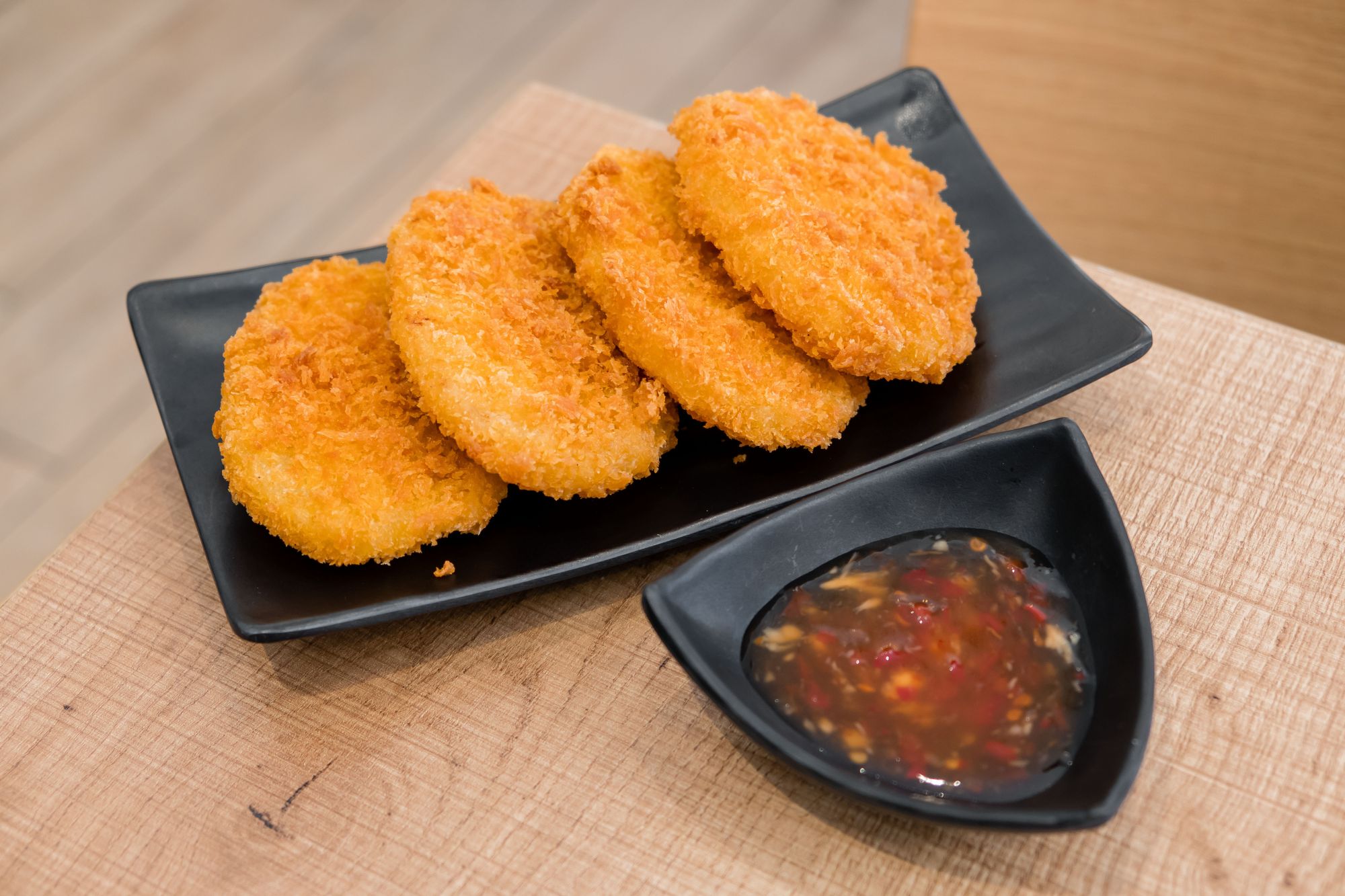 The main entree of this 4-course meal was the vegetarian ramen. Featuring spinach noodles, sweet inari, corn, bamboo shoots, spinach, green onions, seaweed, and a creamy broth, this was a solid vegetarian ramen. In particular, the corn and bamboo shoots featured a satisfying bunch to go along with the creamy broth. This was on the sweeter side of ramen so if you prefer a savourier taste, you might want to add an egg or fried onions into the mix.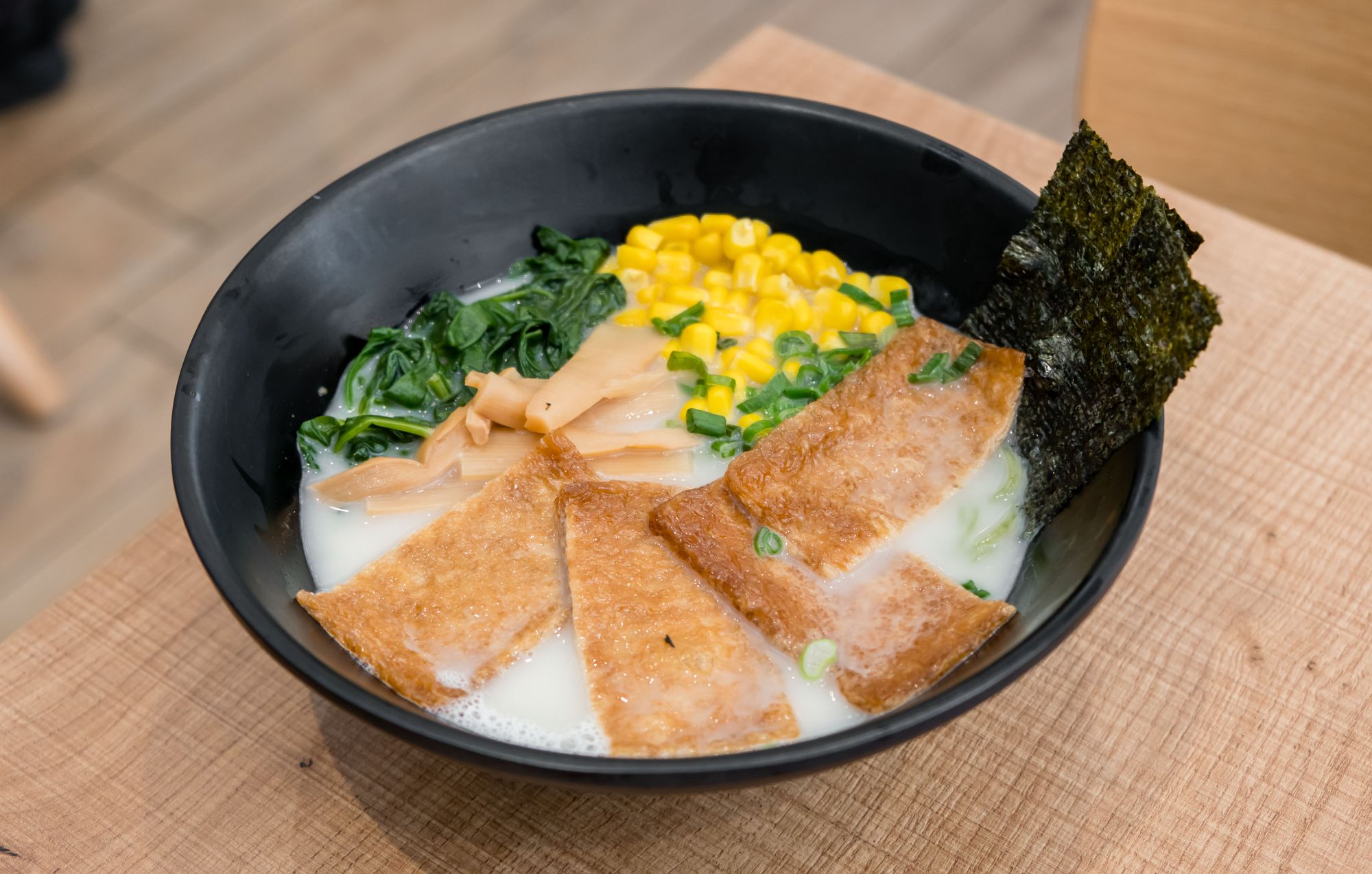 Here's a close-up of the spinach noodles which did have a spinach flavour to them: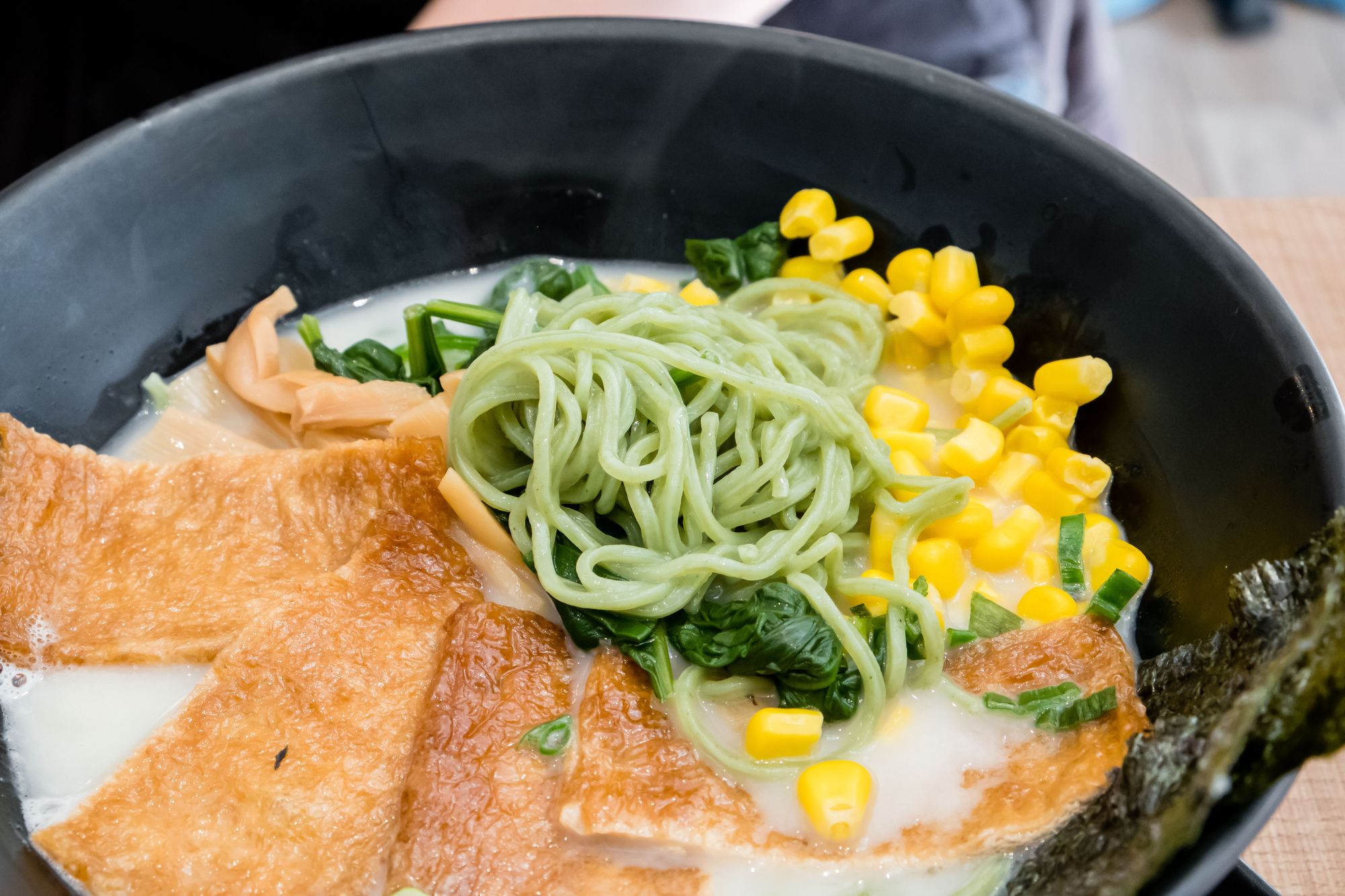 The ice cream was a great way to finish off the meal. To give you time to finish your meal, the ice cream comes when you're ready for it. Though there are many exciting sweet options on the Asaka Ramen menu (hello, donuts and bubble waffle), ice cream is a solid choice and makes the most sense given the $20.88 price tag. The black sesame flavour we had offered a nutty sweet profile and a nice change from the usual suspects in ice cream flavours.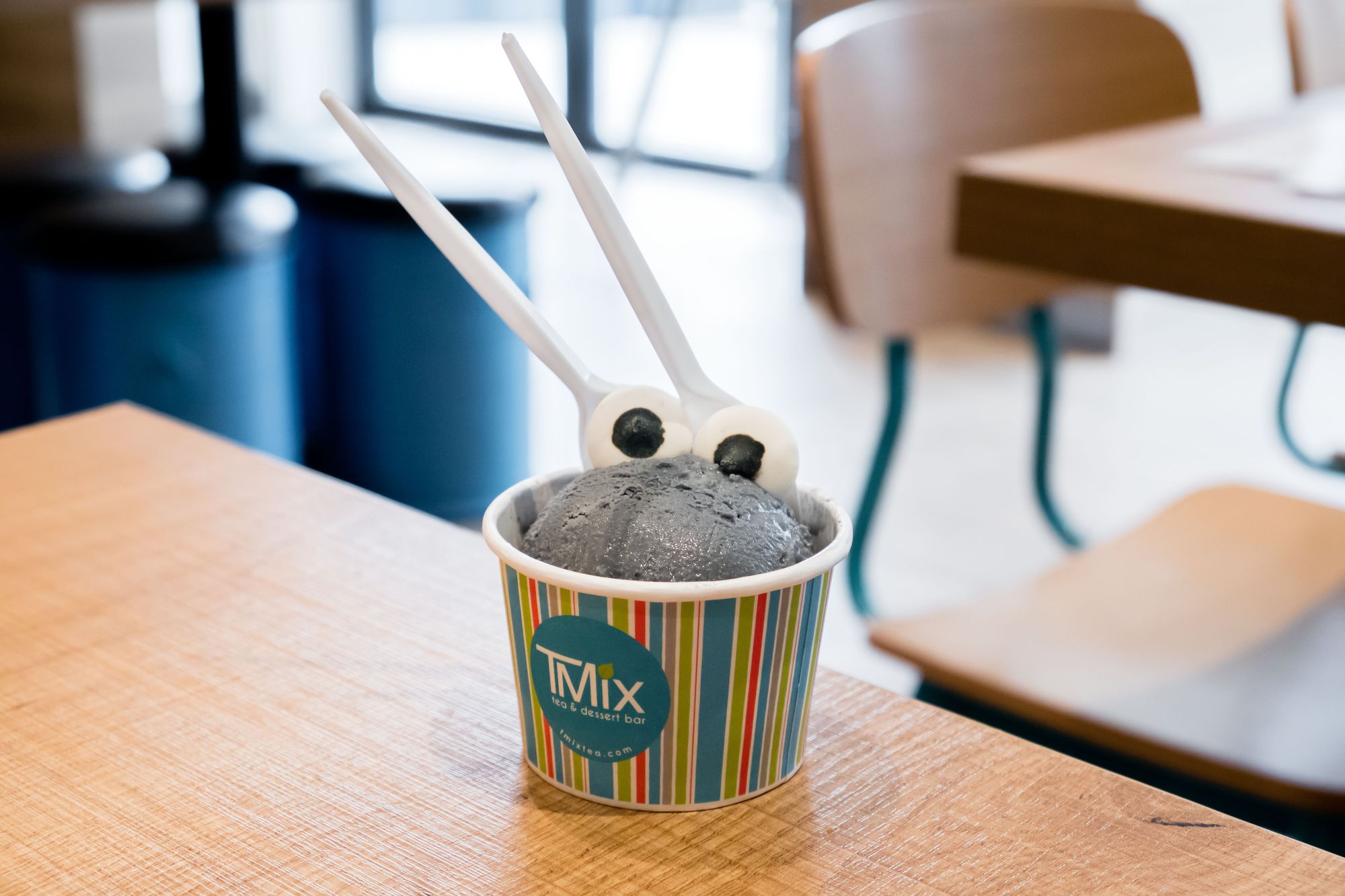 To accompany the 4-course meal above, I thought it best to try the veggie gyoza. Featuring a hearty mash of cabbage, tofu, and soft searing on the skin, this was a solid choice of side dish that completed the vegetarian ramen experience. I didn't have my mind blown but did appreciate the satisfactory chewiness of the skin which is a must at this price point.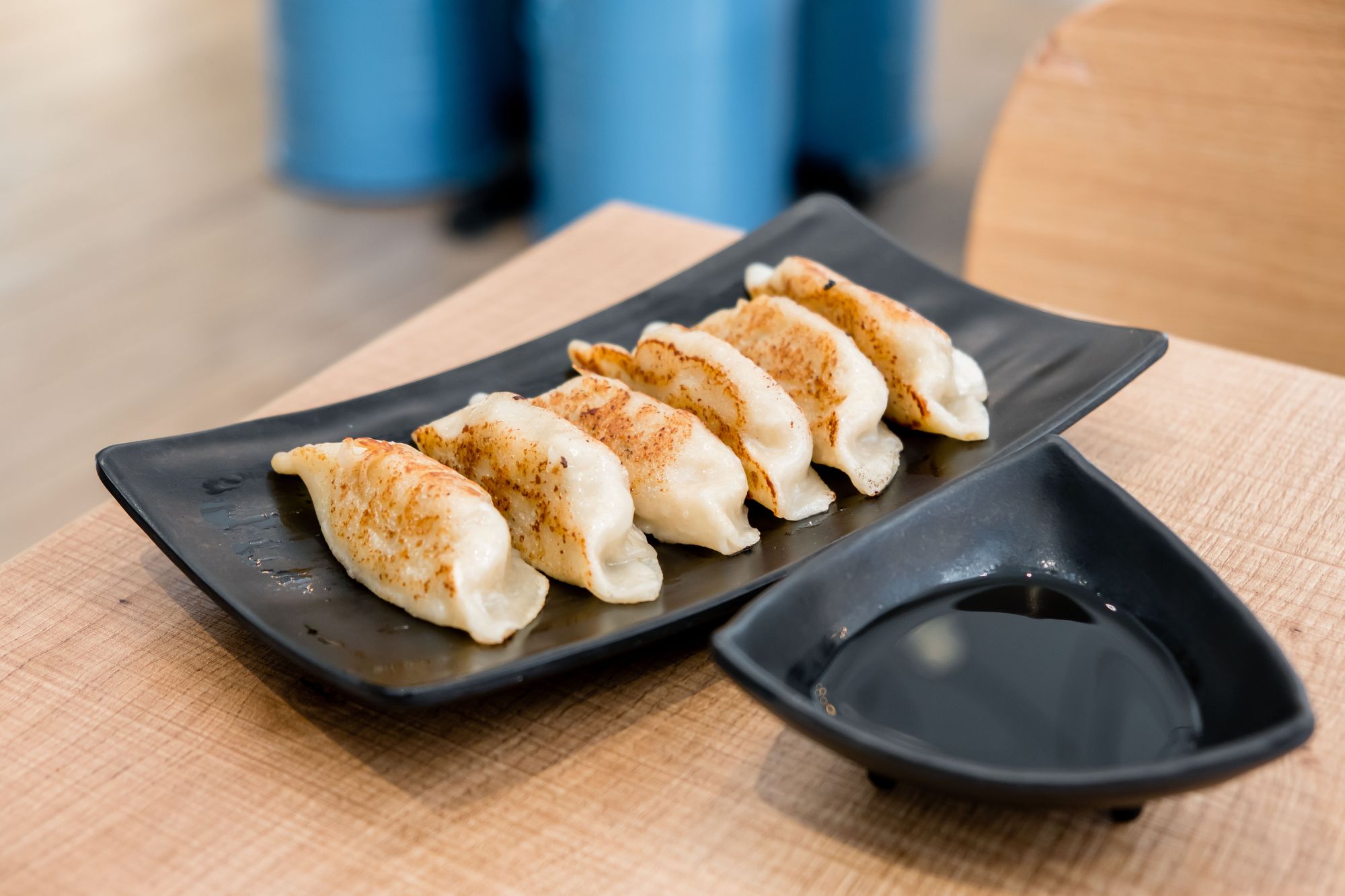 Moving onto other parts of the menu, the pork chashu don was another item we ordered. Featuring a generous blanket of chashu and egg atop a bed of rice, this was the ultimate value when it came to calories-per-dollar on the menu. The chashu had a mix of lean and fatty bits and was a sure way to fill me up. Much like the entire concept of Asaka Ramen, there are options everywhere. You can't take a ramen-hater to a ramen place and expect them to have something else. More often than not, ramen will be the only carb item available at ramen restaurants. I ended up taking some of this don home (we tried a lot of things this evening) and I'm confident the average person could eat this alone and be full.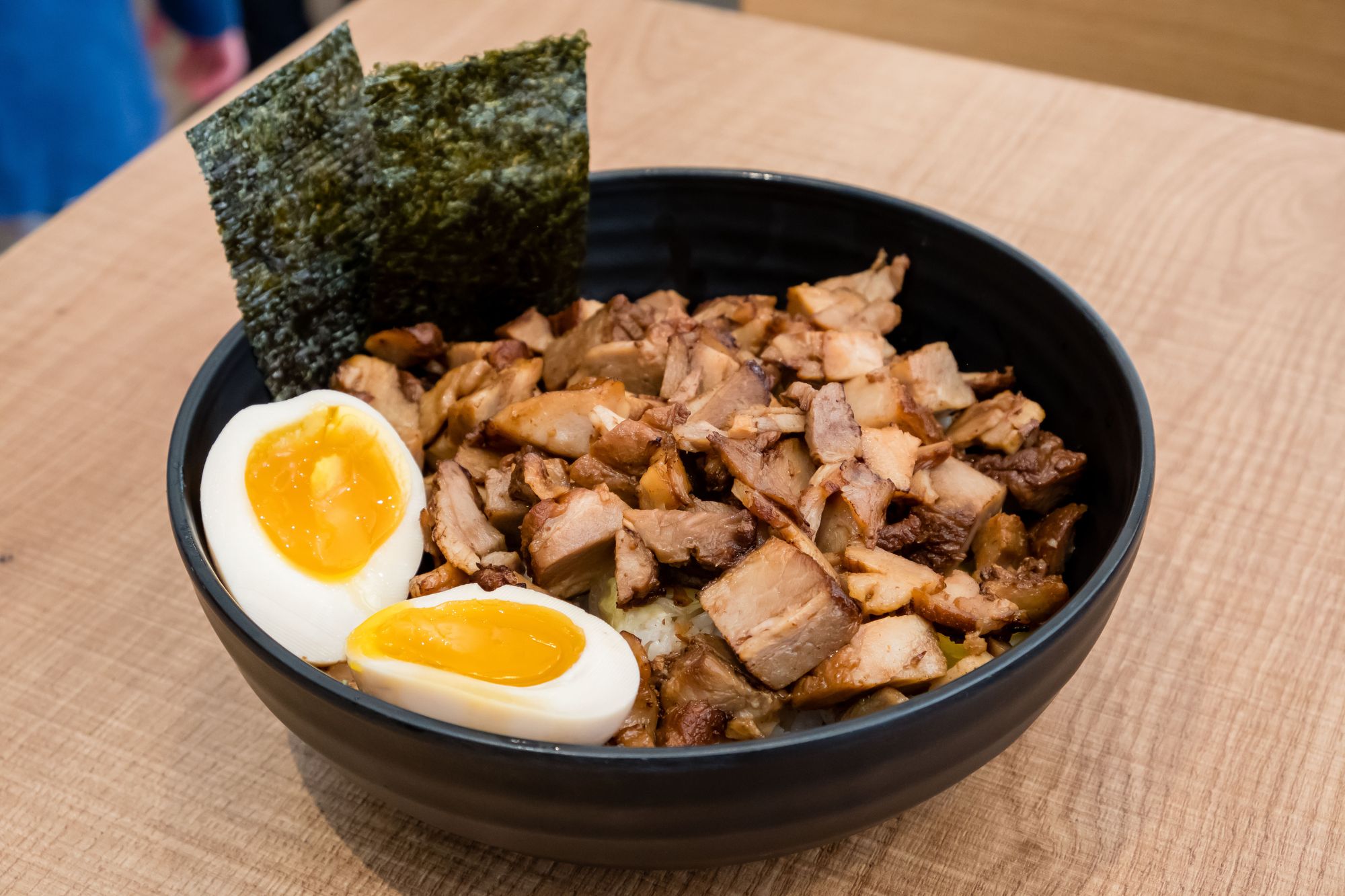 For drinks, I had the ultimate mango frappe which was a mango fruit slush with black pearls, egg pudding, and mango cubes, all of which come standard. The mango flavour here was pretty intense which was right up my alley. The pearls had a neutral flavour (none of that brown sugar accelerant) which was perfect for this drink which is naturally sweet. Egg pudding and mango cubes added into the mix are what turn this drink into the "ultimate" version of a mango frappe.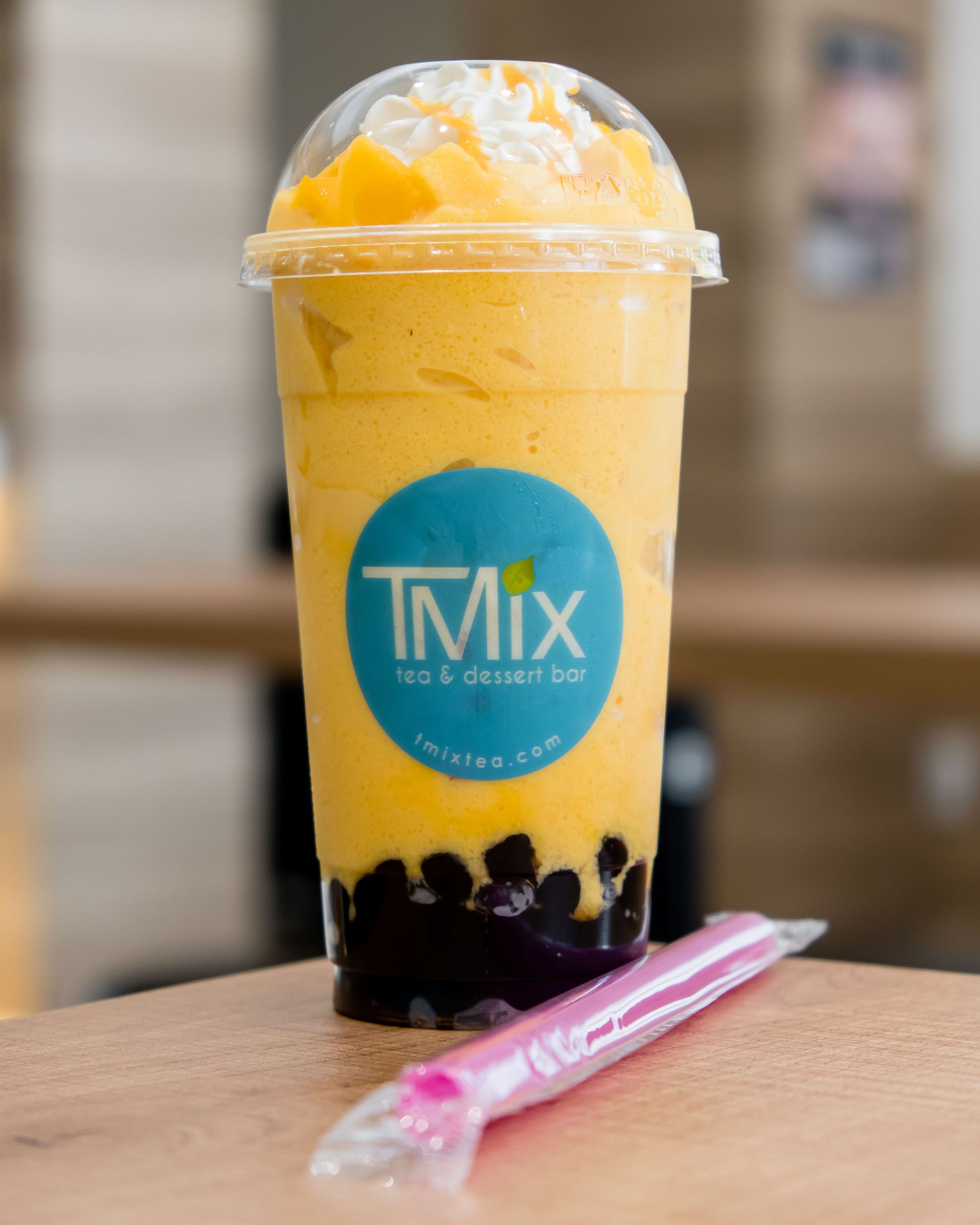 For dessert, we got to indulge in the mochi donuts, a signature of Asaka Ramen. Featuring a bracelet design with bulbous links, these were each slathered with a layer of flavoured icing sugar. For our 4-pack, we opted for matcha, lavender, coffee, and rose tea. If you've ever seen Mister Donut from Japan, you'll be right at home with these donuts. Each donut had a satisfying chew to it which I attributed to the mochi-like texture (could be mochiko flour) and my favourite icing sugar flavour was the matcha. The lavender tasted a bit like soap to me but that's probably an acquired taste. The coffee had a light coffee flavour, so if you drink coffee as often as me, you'll wish it was more intense. The rose tea had a pleasant floral taste. If you're just coming in for donuts, you can get a half dozen for $14 which is normally the price of 5.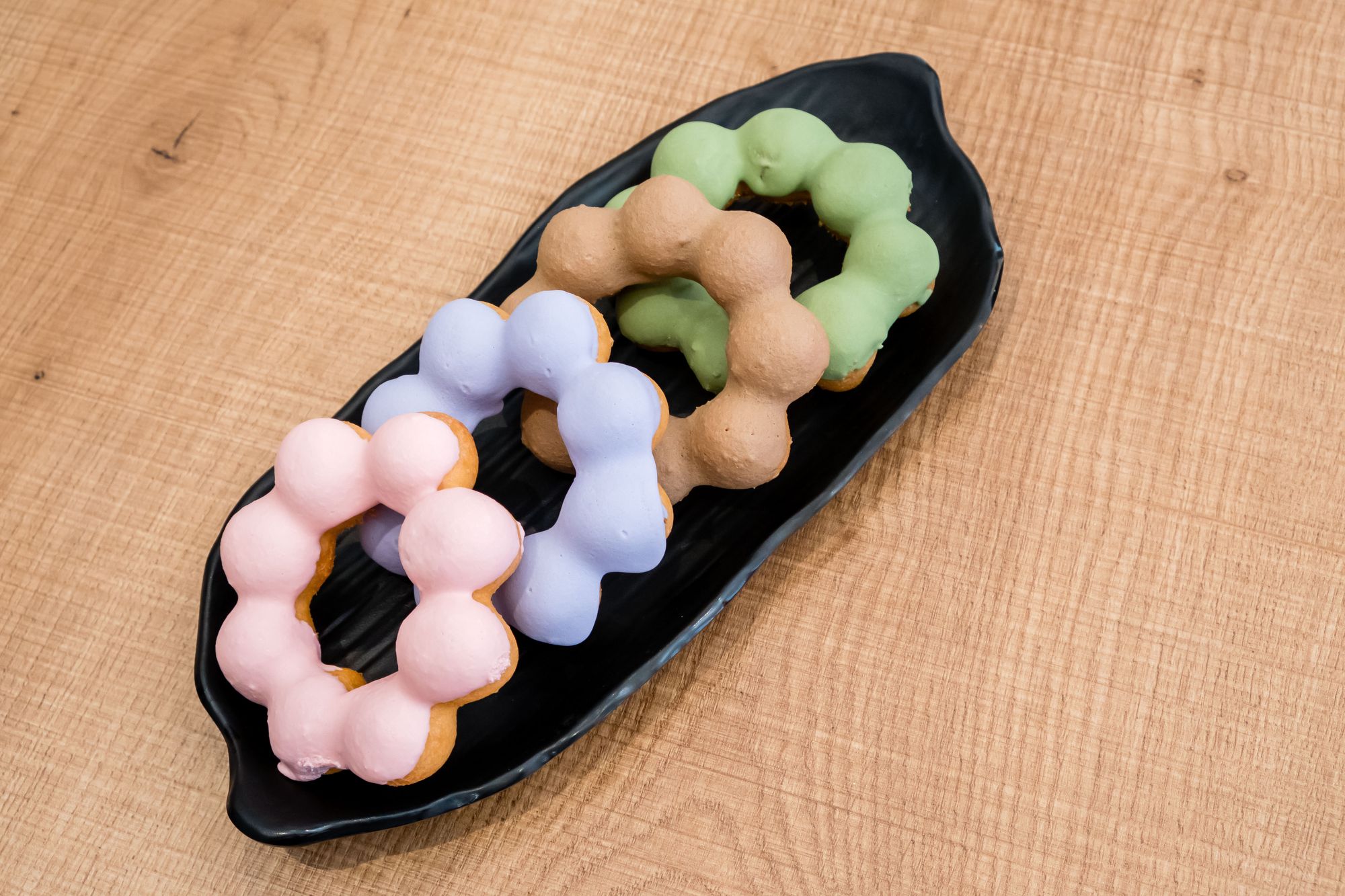 Features:
Asaka Ramen is a medium-sized restaurant in Richmond, BC, close to Bridgeport Station (I walked from the station to Asaka Ramen in about 9 minutes). Inside is a brightly-lit interior with tables, booth seat walls, and long tables in the middle, totally about 50 seats. It appears to be quite takeout friendly (the bubble tea is all served in to-go cups) and accommodating for ramen outings and dessert dates. The full menu is available all day so you won't have any surprises if you're coming for one or the other. There is also an outdoor patio in front of the restaurant but this did not look like it was in use during my visit in early May.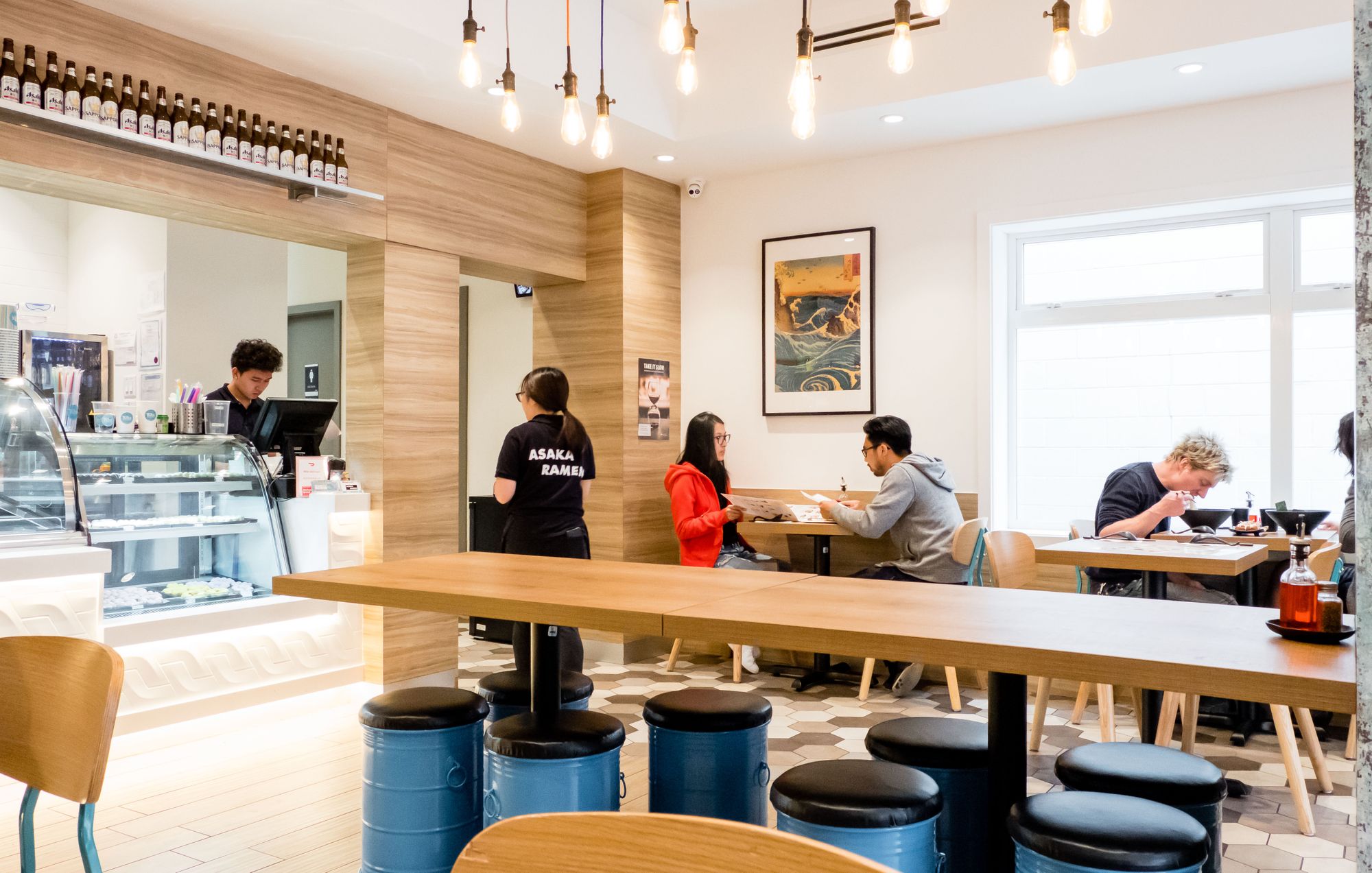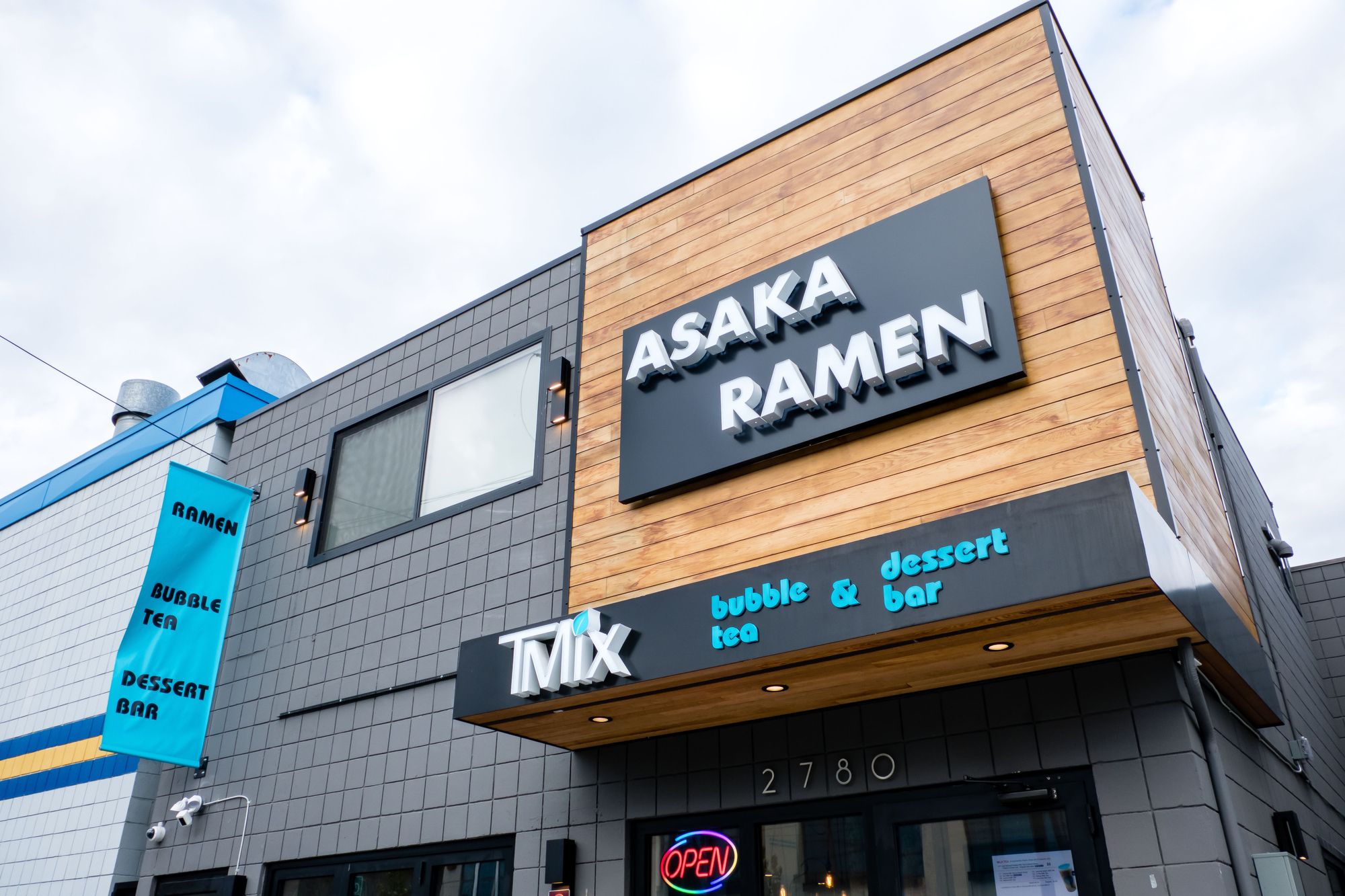 Final Thoughts:
One-liner: A ramen-first restaurant that accommodates both a sweet tooth and carb cravings in a high-value 4-course meal set
Highlight: Vegetarian Ramen + Mochi Donuts
Price per person: $15-$25
Would I go back? Yes.