I don't know about you but I'm a big fan of Moroccan cuisine. I can imagine a vacation where the Mediterranean winds howl through the souks (marketplaces) of Marrakesh and I'm just trying to find a place where I won't get ripped off on the couscous. Thankfully in Vancouver, there's a place where you can whet your Moroccan taste buds in case a trip to Marrakesh isn't in the cards. Moltaqa, a Moroccan restaurant on the edge of Gastown, offers up as much as it can in local and imported ingredients in a cozy environment. Last week I got to experience this 1-year old restaurant for a second time.
Disclosure: This was a complimentary tasting provided in exchange for an honest overview and no monetary compensation.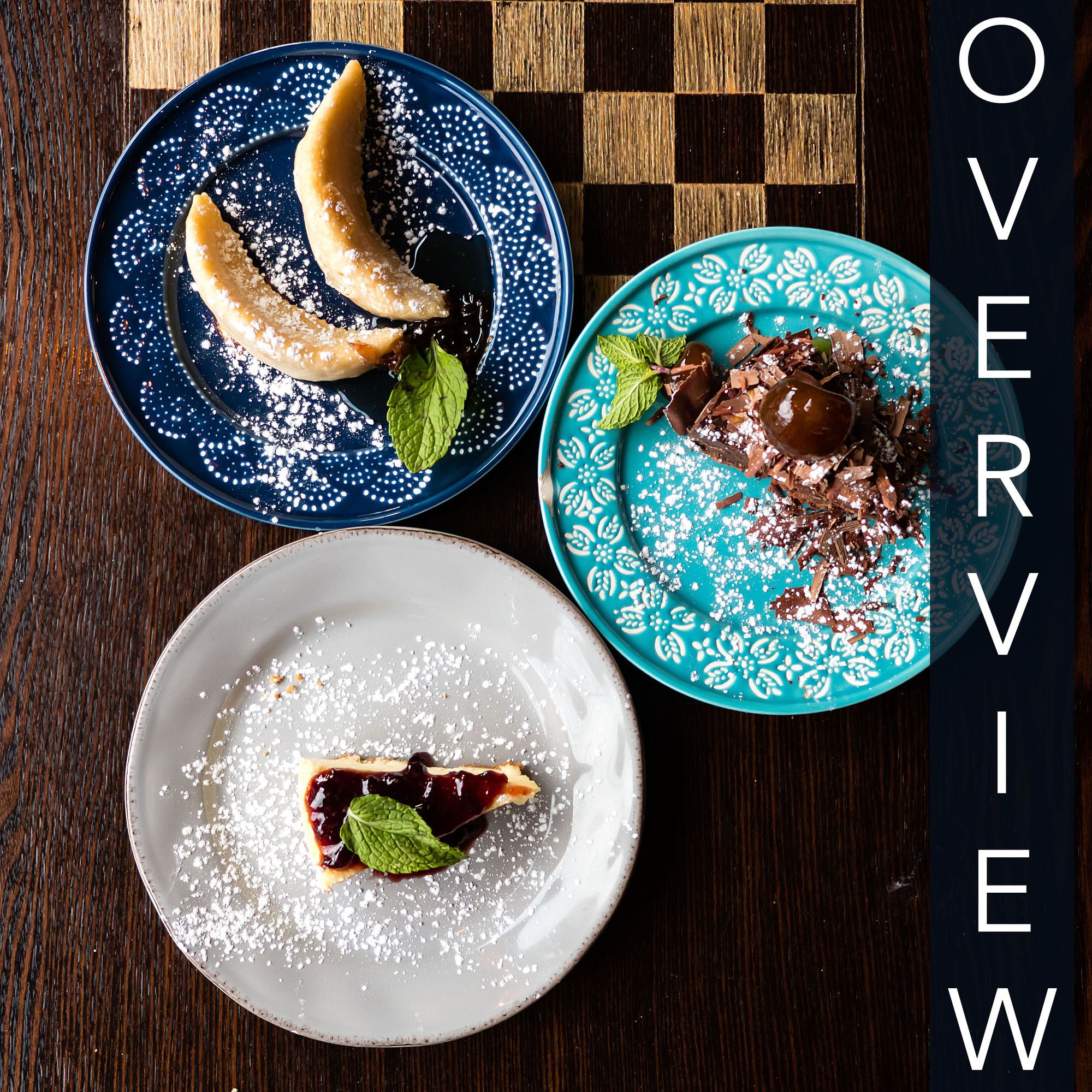 Food and Drink:
My last visit to Moltaqa was for lunch, so this time the GlueCrew came for dinner and I had a great taste of the following:
Coffee Pistachio Old Fashioned Cocktail ($14)
Dream of Marrakech Cocktail ($15)
Vegetable Pastilla Appetizer ($15.75)
Stuffed Aubergine ($9.25)
Bessara Soup ($6.50)
Loubia Stew ($6.75)
Seafood Tagine ($27.75)
Couscous Royale ($26.75)
Moroccan Mint Tea
Chocolate Ganache Cake ($9.75)
Orange Cheesecake ($9.75)
Gazelle Cookies (~$8)
For drinks, the coffee pistachio old fashioned was a cool take on the stiff classic. With Bulleit Bourbon, cold espresso, and pistachio syrup, this cocktail packed a ton of flavour as you would expect from an old fashioned but where the classic cocktail would leave me gagging afterwards, this Moltaqa rendition had a pleasant nutty finish that ended with the sharp notes of espresso. I enjoyed this cocktail the most out of the two we had.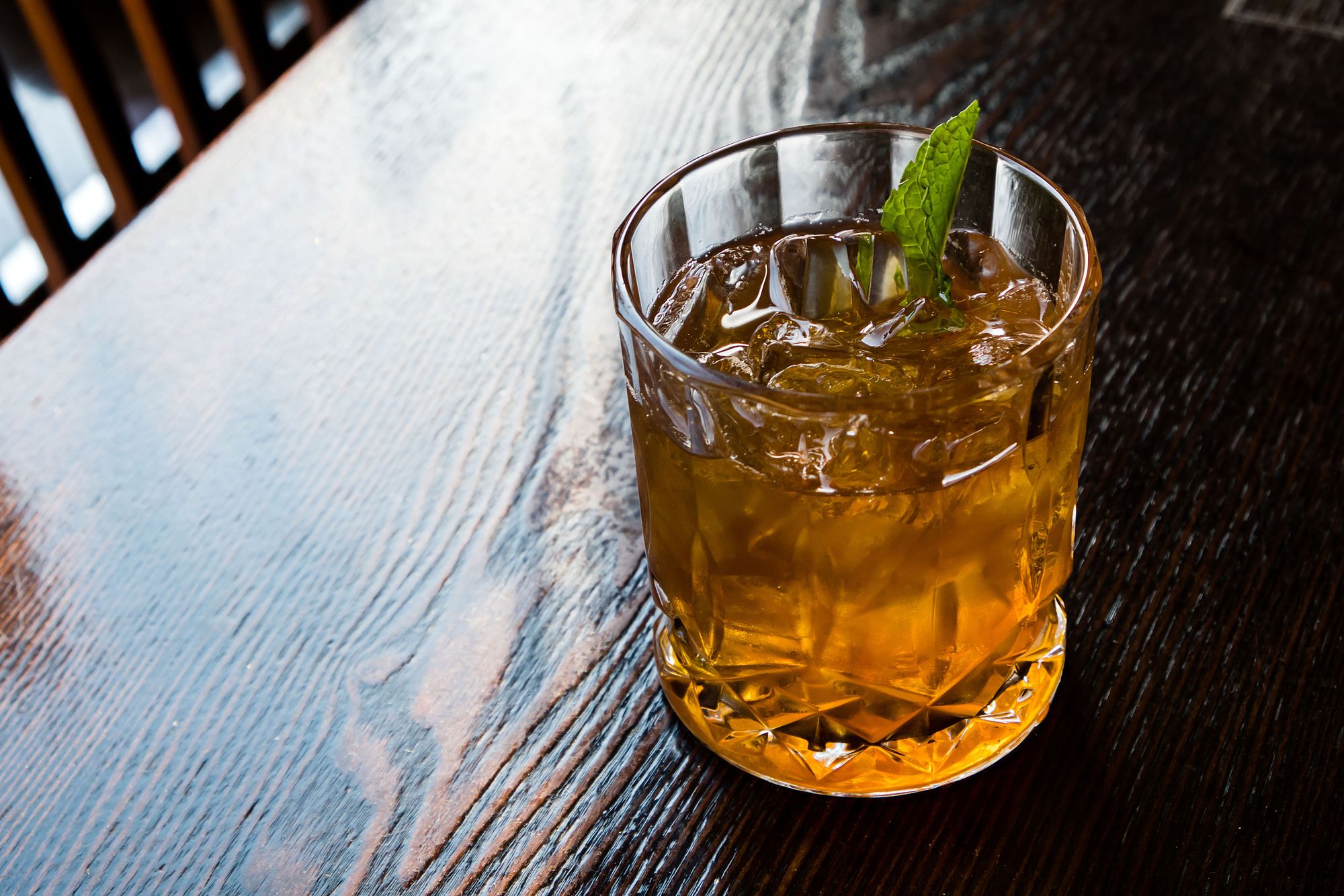 On the dream of Marrakech, this was a drink with saffron-infused Ketel One vodka, tangerine juice, coriander syrup, and cinnamon bitters. This drink was equal parts floral and zesty with lots of bite on each sip. Where the old fashioned I could drink swiftly, this cocktail demanded a slower sip. I'm pretty new to the scene where a cocktail includes coriander so I'd only recommend this for cocktail lovers who can handle the taste of this herb.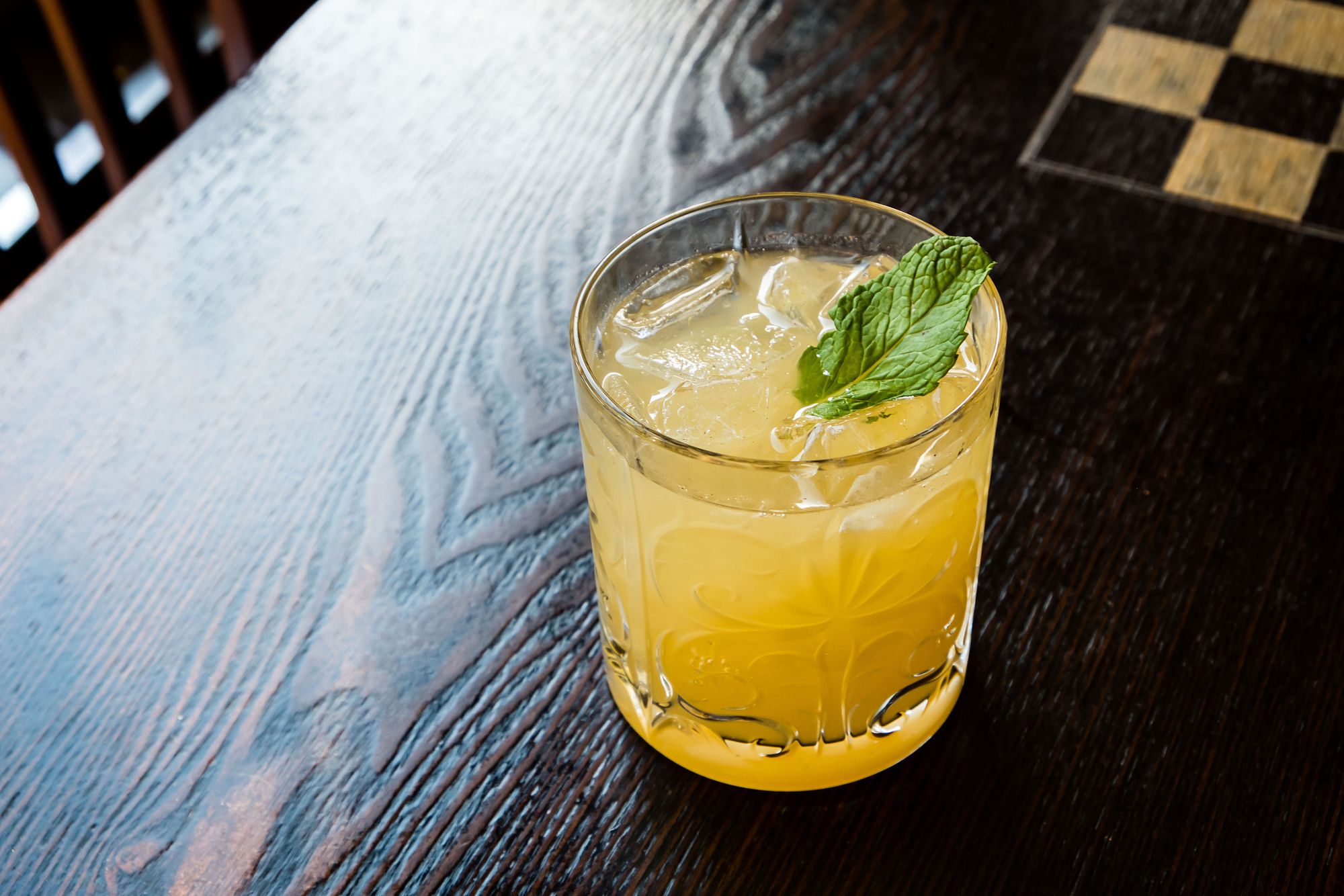 We actually started the meal with a loaf of house-made bread and sides of dates and olives. The dates and olives were juicy and fun to nibble on while we waited for our food order. The bread was fluffy and tasted fresh as if it were made the same day. The enjoyment of the bread outweighed the olive oil which was pretty run-of-the-mill.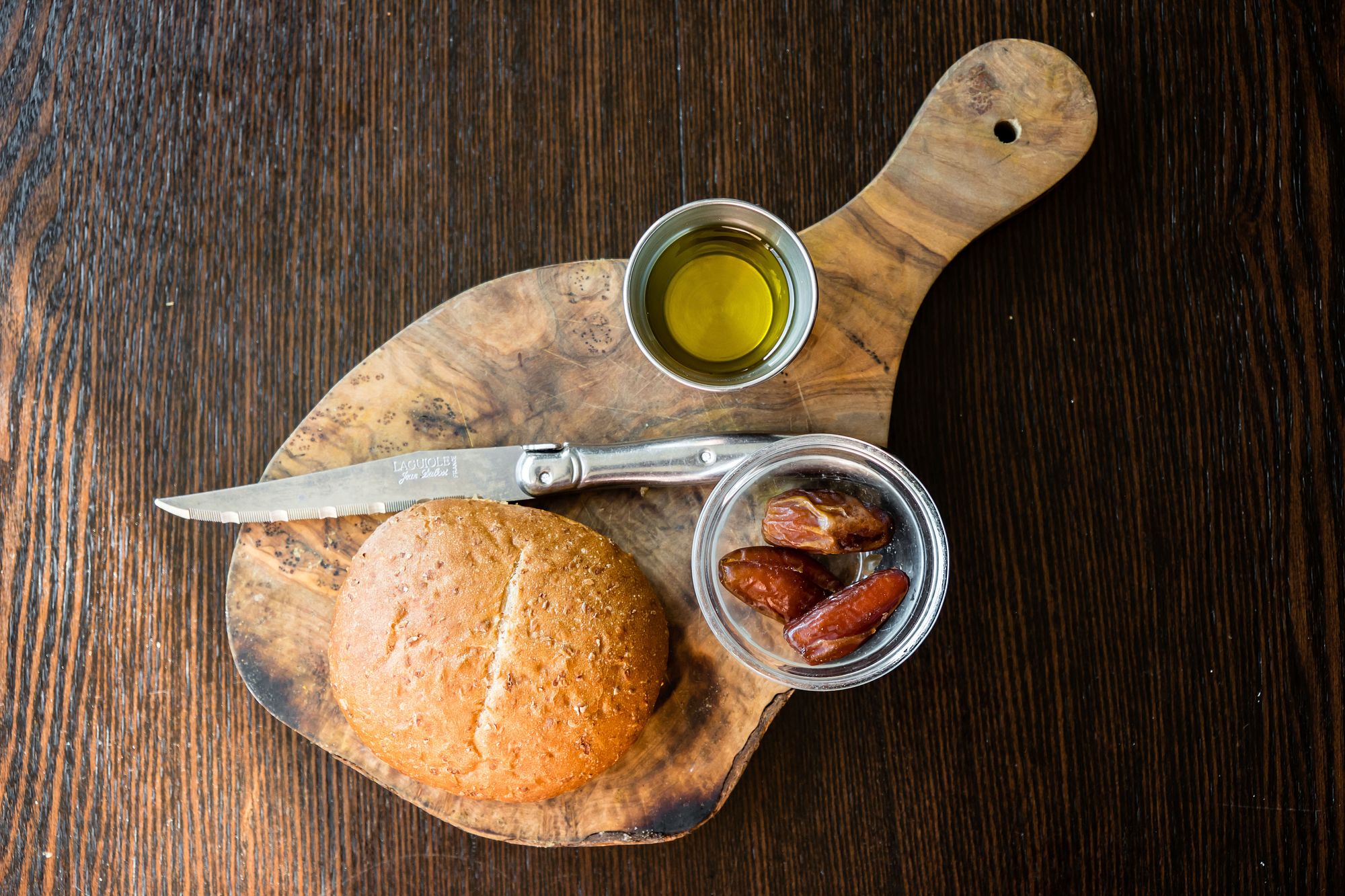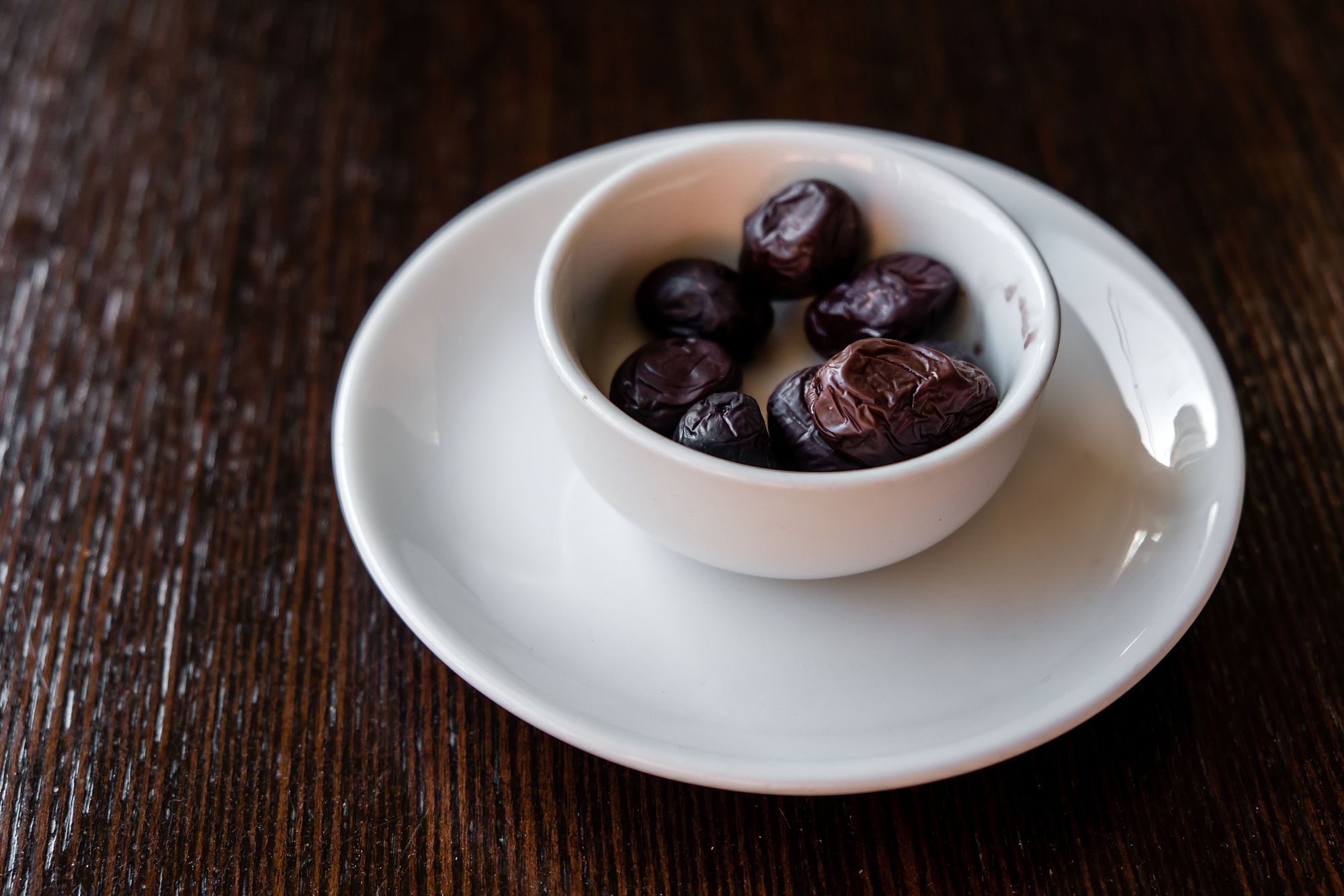 First up was a vegetable pastilla appetizer. This was one of the coolest new dishes on the menu. Made by kitchen staff who are actually from Morocco, this was as authentic as it gets in Vancouver. The crepe-meets-filo dough (filo dough) was equal parts savoury and sweet with the mashed vegetables inside and a solid dusting of icing sugar on top.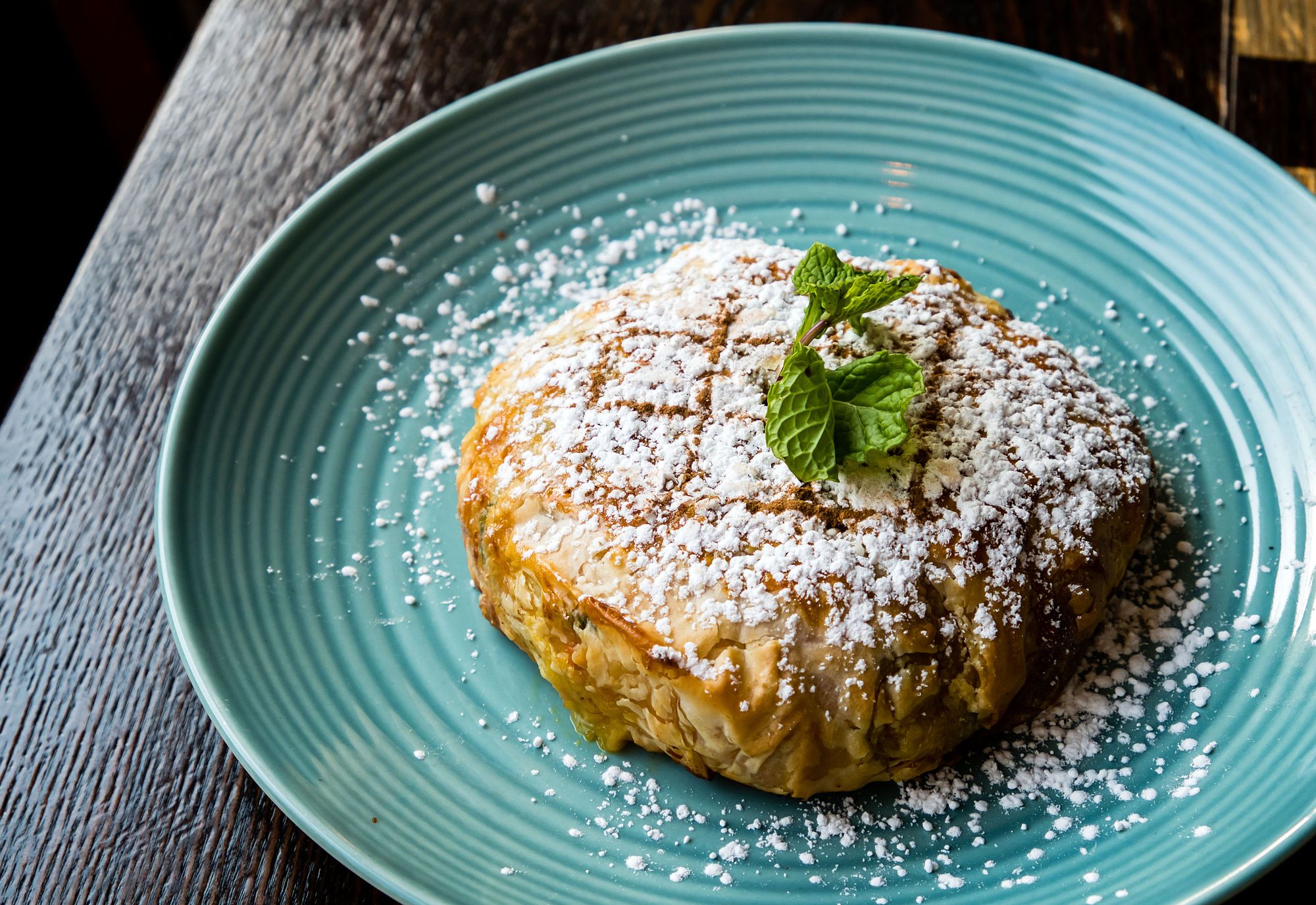 As I cleaved in, I was happy to feel the pastilla part ways with my knife as opposed to completely falling apart. The pastilla crust made for a fun, doughy chew while the spiced vegetables warmed my soul like it was being seated next to a fire. The pastillas are definitely something to order if it's your first time at Moltaqa.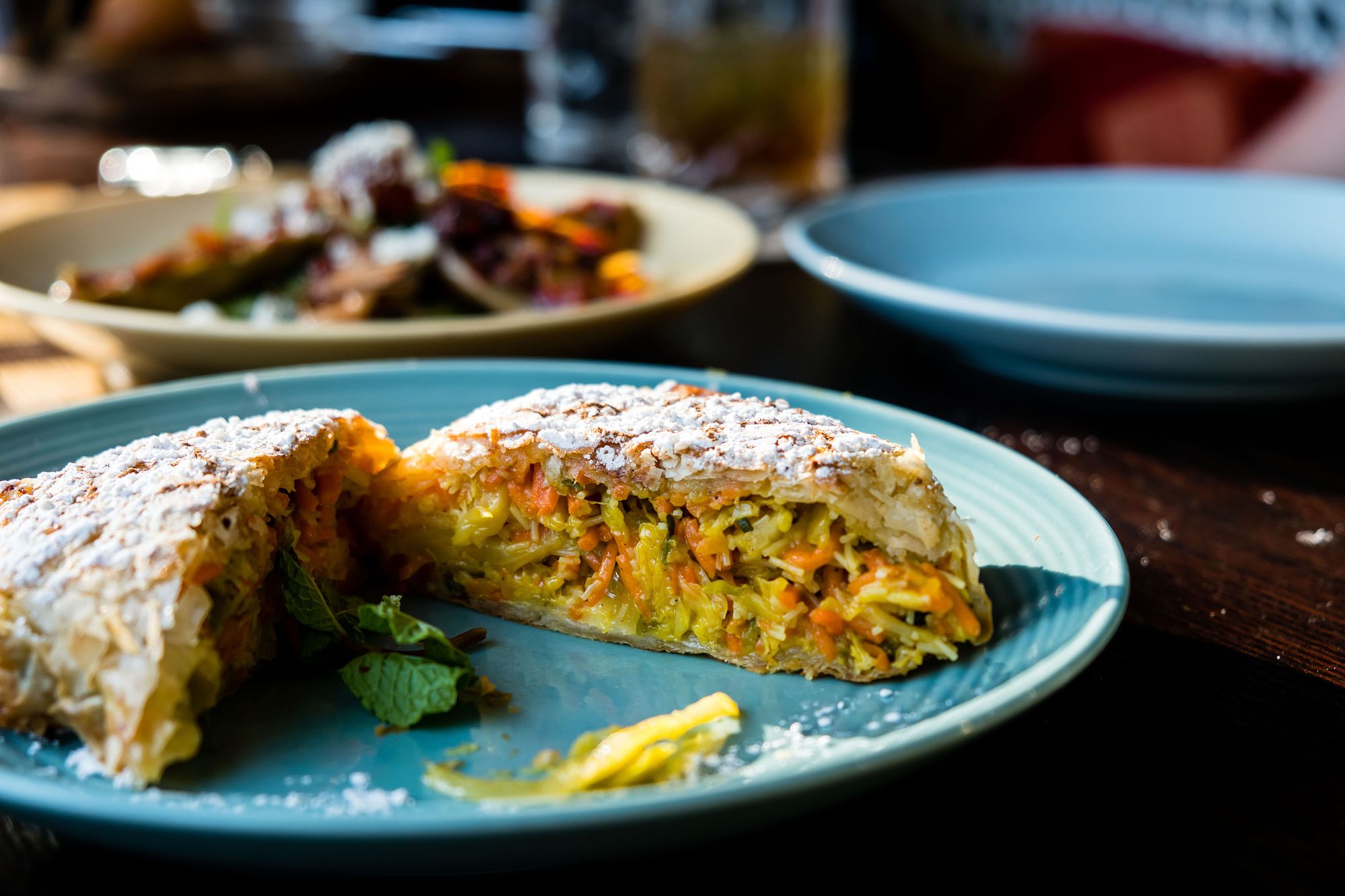 Another appetizer we had were the stuffed aubergines. These were laden with walnuts, red pepper, arugula, pomegranate molasses, apricot confiture, and feta to make for another sweet and savoury start to a meal. Because of the pickled flavour of the aubergine and the viscous pomegranate molasses, this was a pretty intense flavour profile. I would order this if I were dining with 4 or 5 other friends so we could all enjoy one aubergine each to jumpstart our taste buds.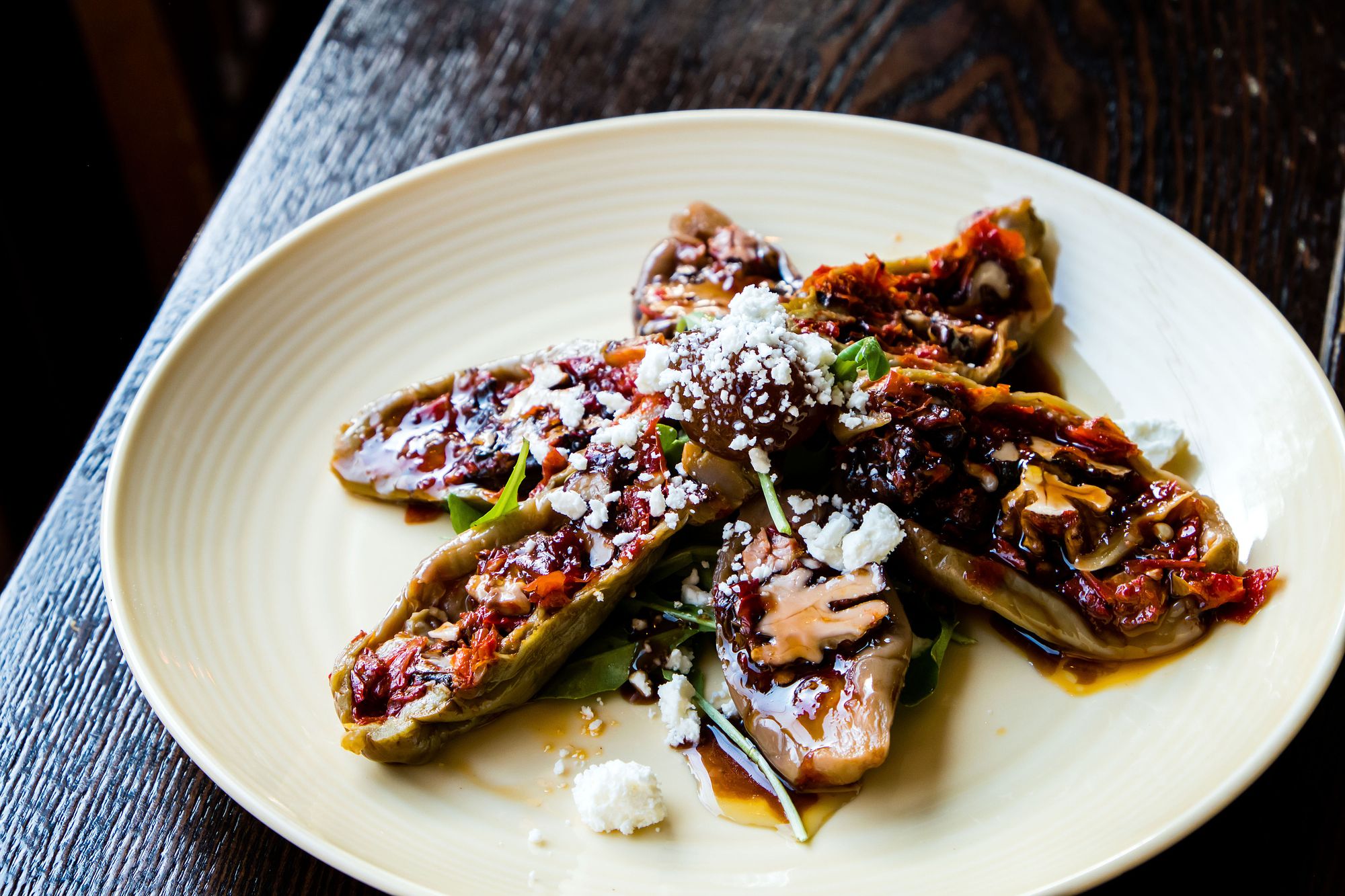 Onto the soups, first up was the bessara soup, a bowl of traditional green pea soup with cumin. Despite being billed as a soup, this was quite viscous like a stew (or maybe I have my priorities all wrong). There was no shortage of cumin in this bowl so if you've been a victim of watery soups, this spice might be right up your alley. This was served in a cute little single-serving soup pot.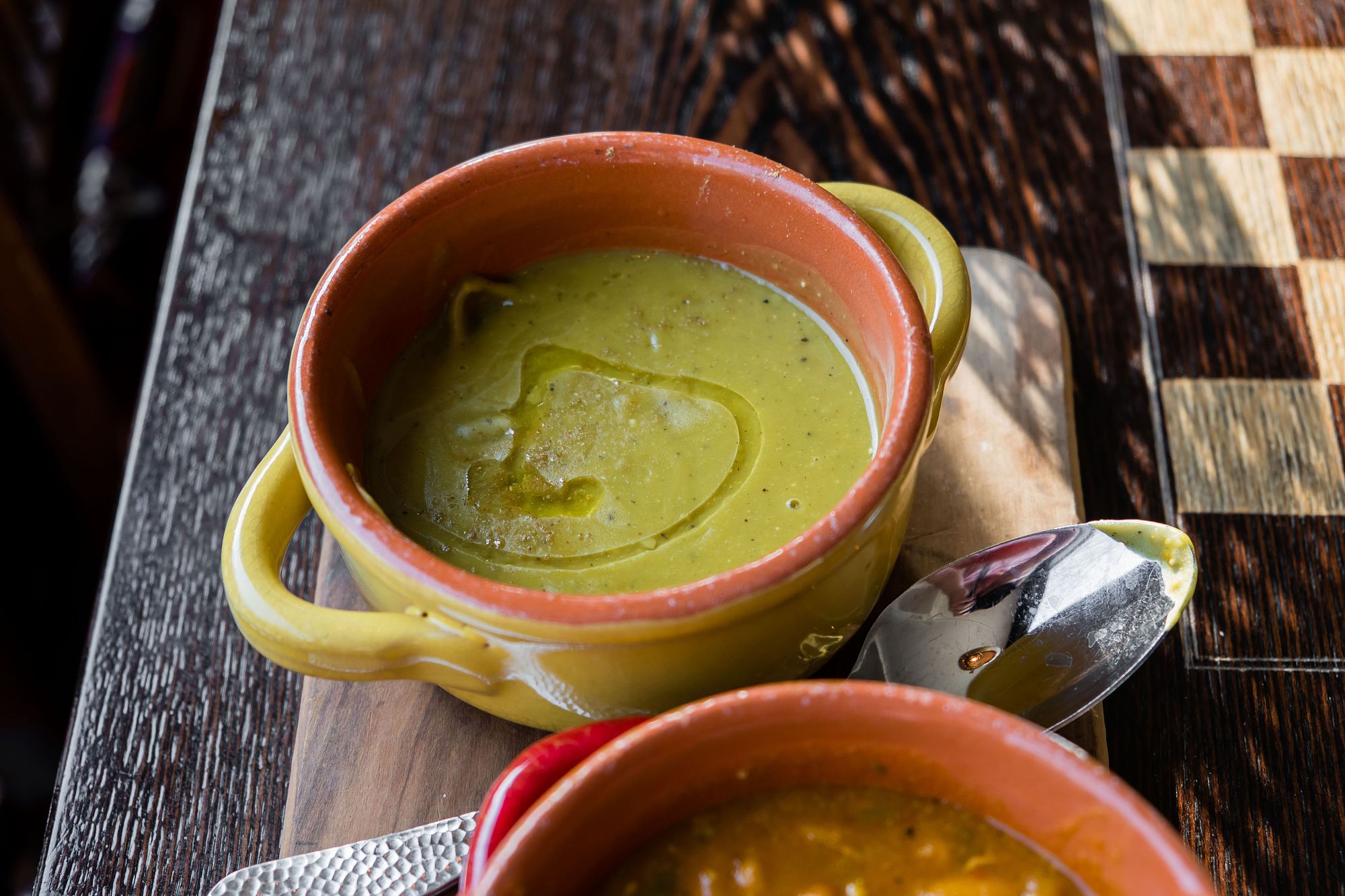 Our other soup was a loubia stew, a traditional Moroccan white bean stew with tomato, ginger, and cilantro. Personally, I think it's quite cool that an ingredient like cilantro even lives in Moroccan cuisine – I'm mostly used to it being present in Vietnamese pho. This stew was hearty with properly cooked white beans in a tomato-based stew. This soup actually packed a little bit of heat because ginger is quite a flavour enhancer. Like the bessara this was served in a cute little pot.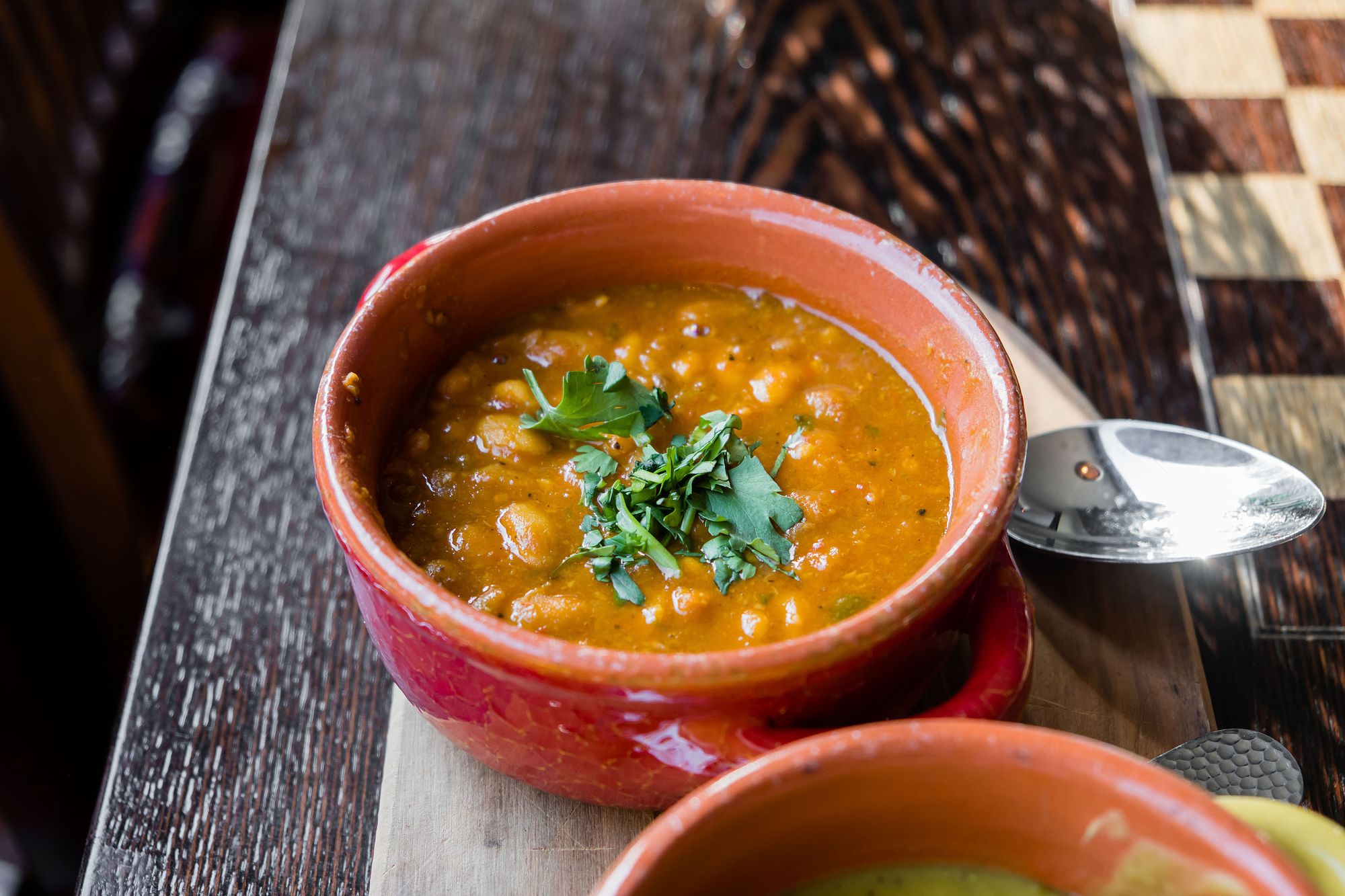 Onto the main courses, first up was the seafood tagine, another new item on the menu. Here, salmon and prawns came braised in a chermoula sauce and enclosed in a tagine. For those who haven't had food served in a tagine, the tagine has a single-pot style of cookware featuring a narrow spout for steam. The design here is that as water condenses on the top of the lid, the diagonal sloping loops the flavoured condensation back into the tagine base which produces an intense, heartier flavour for everything inside. The tagine was served with a side of couscous.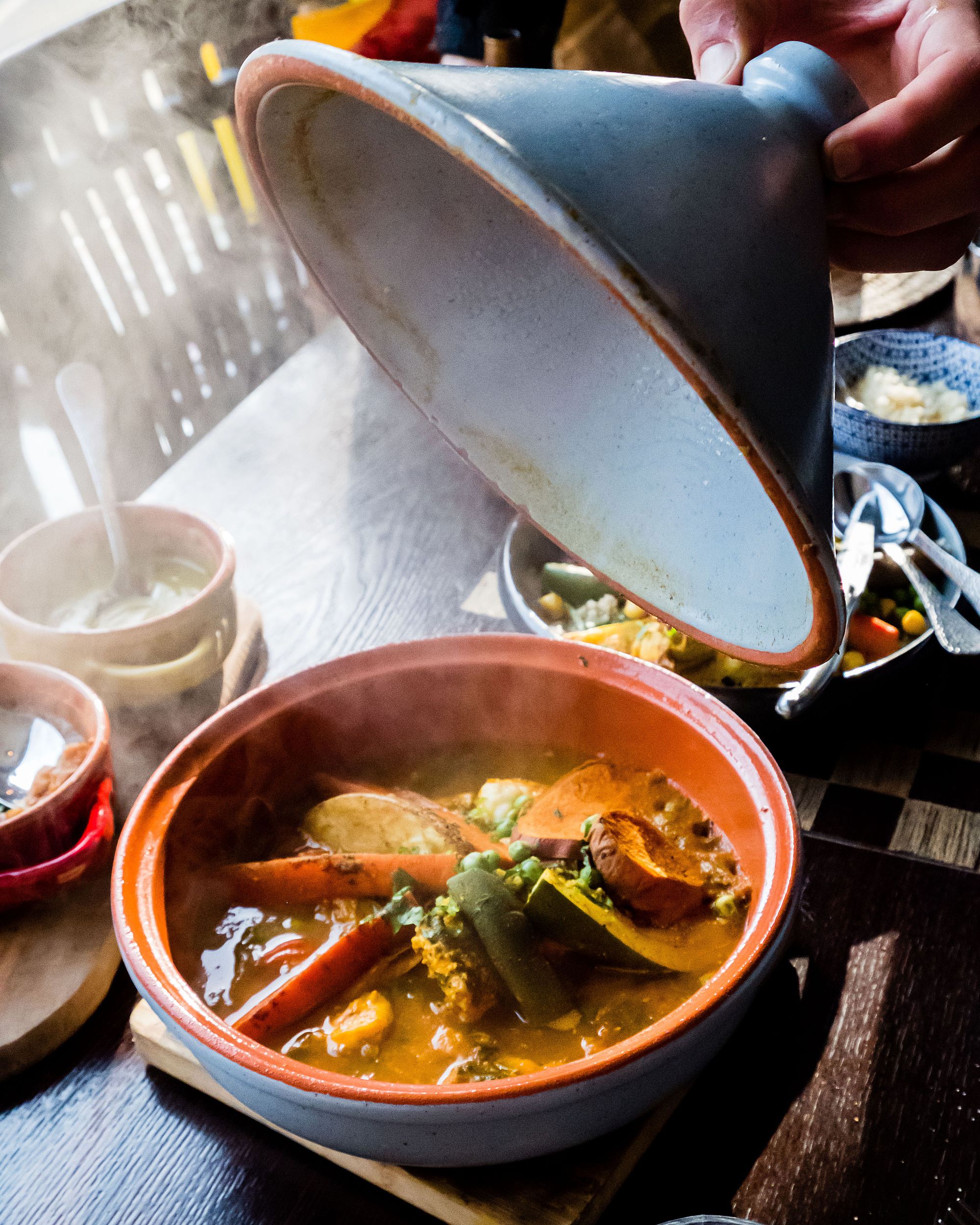 For this tagine, the fish was superb. It was a juicy, cooked-just-right texture and paired wonderfully with the chermoula base. For good measure, the vegetables included carrot, yam, zucchini, peas, and tomato which all contributed to a hearty stew that demanded spooning up. The prawns were cooked a little too much for my liking, so I'd recommend on your visit to ask for slightly translucent prawns. I imagine getting steamed in a tagine makes for an easy way of overcooking prawns.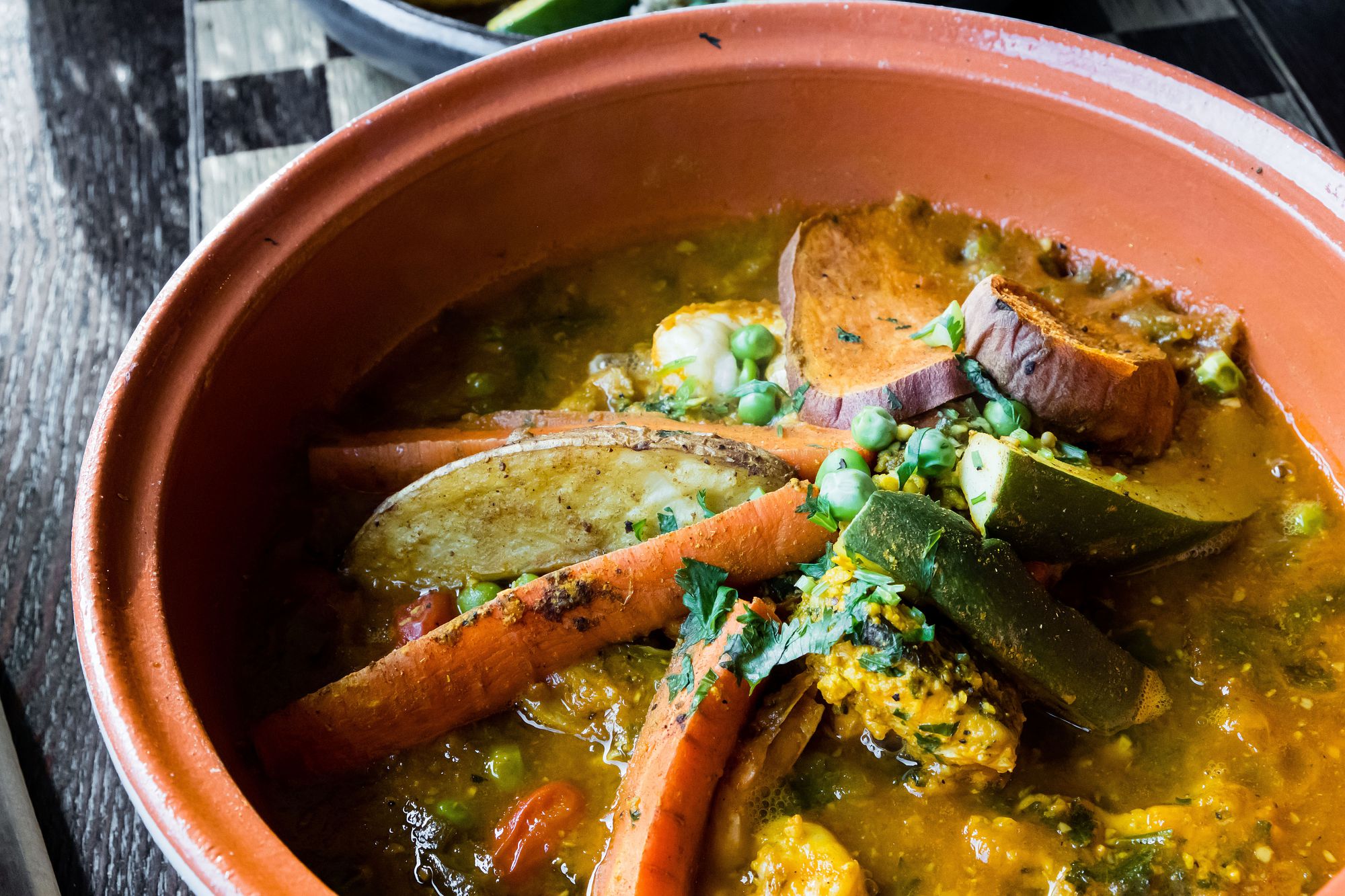 Our other entree was the couscous royale. Featuring chicken leg, chicken sausage, pulled lamb, lamb merguez sausage, and vegetables, this was a meat medley atop a huge bed of couscous (imported from Morocco). The fresh, daily-made couscous was on an extreme level of fluffiness. Too many times you get a couscous that has clumped together after sitting on a counter for too long but that was not a problem in this dish. Both sausages were quite juicy and the other meats were of the "no-knife-needed" tenderness. The green peas and chickpeas added some extra oomph to this well-plated dish.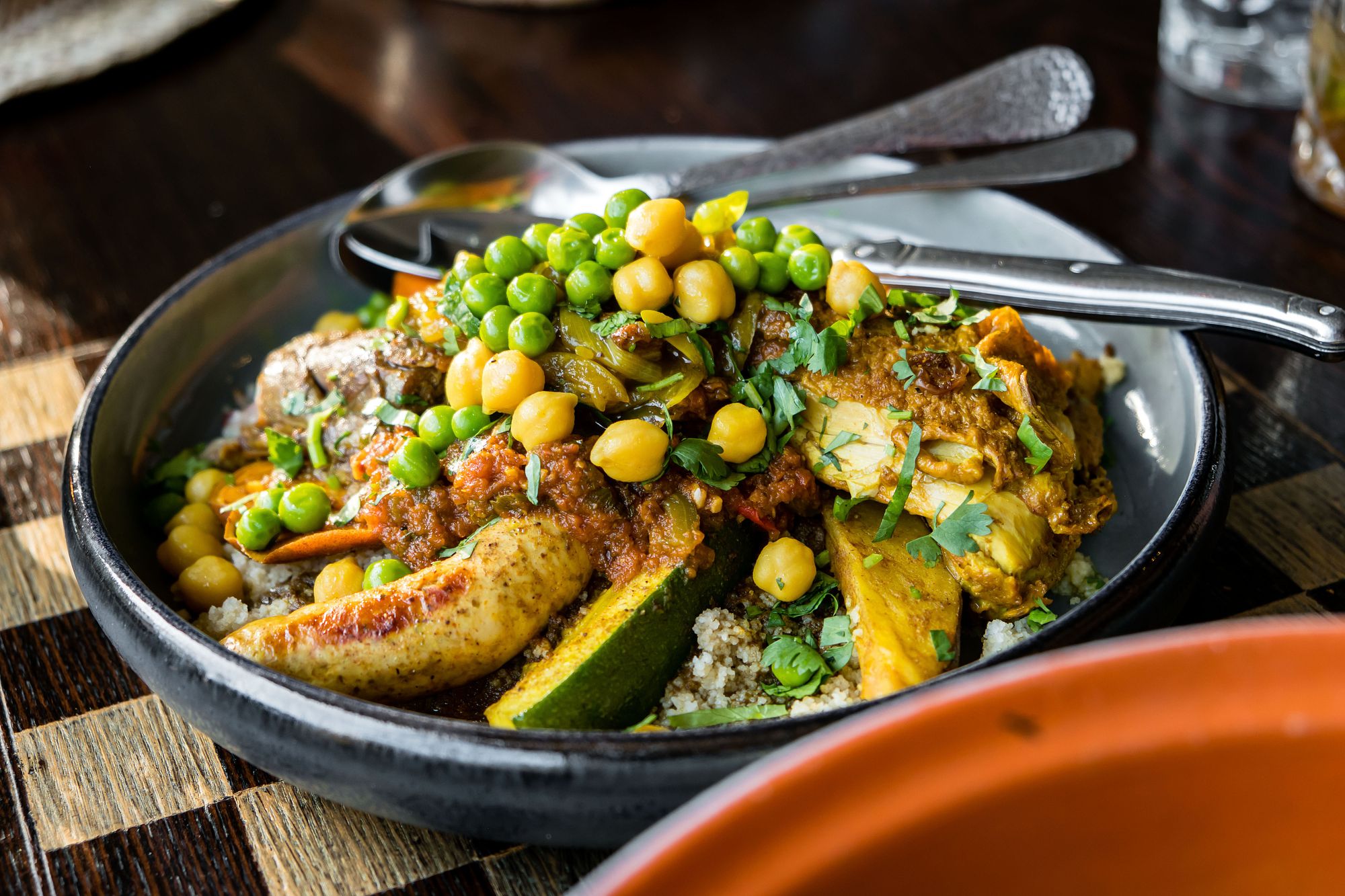 To segue into dessert, we stopped for some Moroccan mint tea, served in a traditional teapot. This teapot is actually heated up with the mint leaves inside so that the boiling water can release the herbal properties from the mint leaves. As a result, the teapot is hot to the touch and must be held using a towel to pour out the tea. This was a very refreshing break between our entrees and dessert. The herbal mint flavour lingered long on the tongue.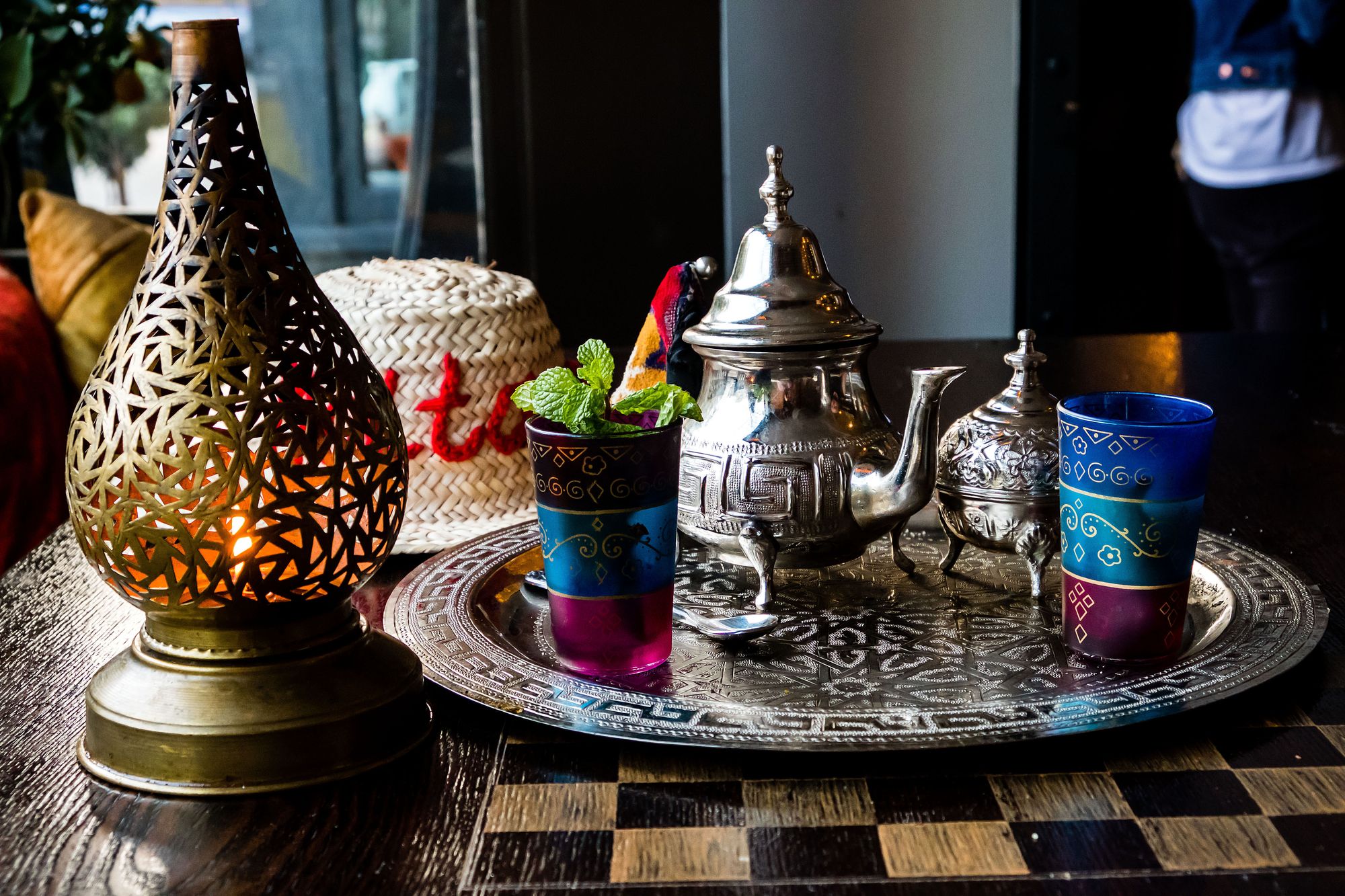 For dessert, the chocolate ganache cake was quite a punch of chocolate. On top was an imported preserved fig to add some sweetness but for the chocolate lovers, you can rest easy knowing this ganache was more cacao than sugar, so dig in.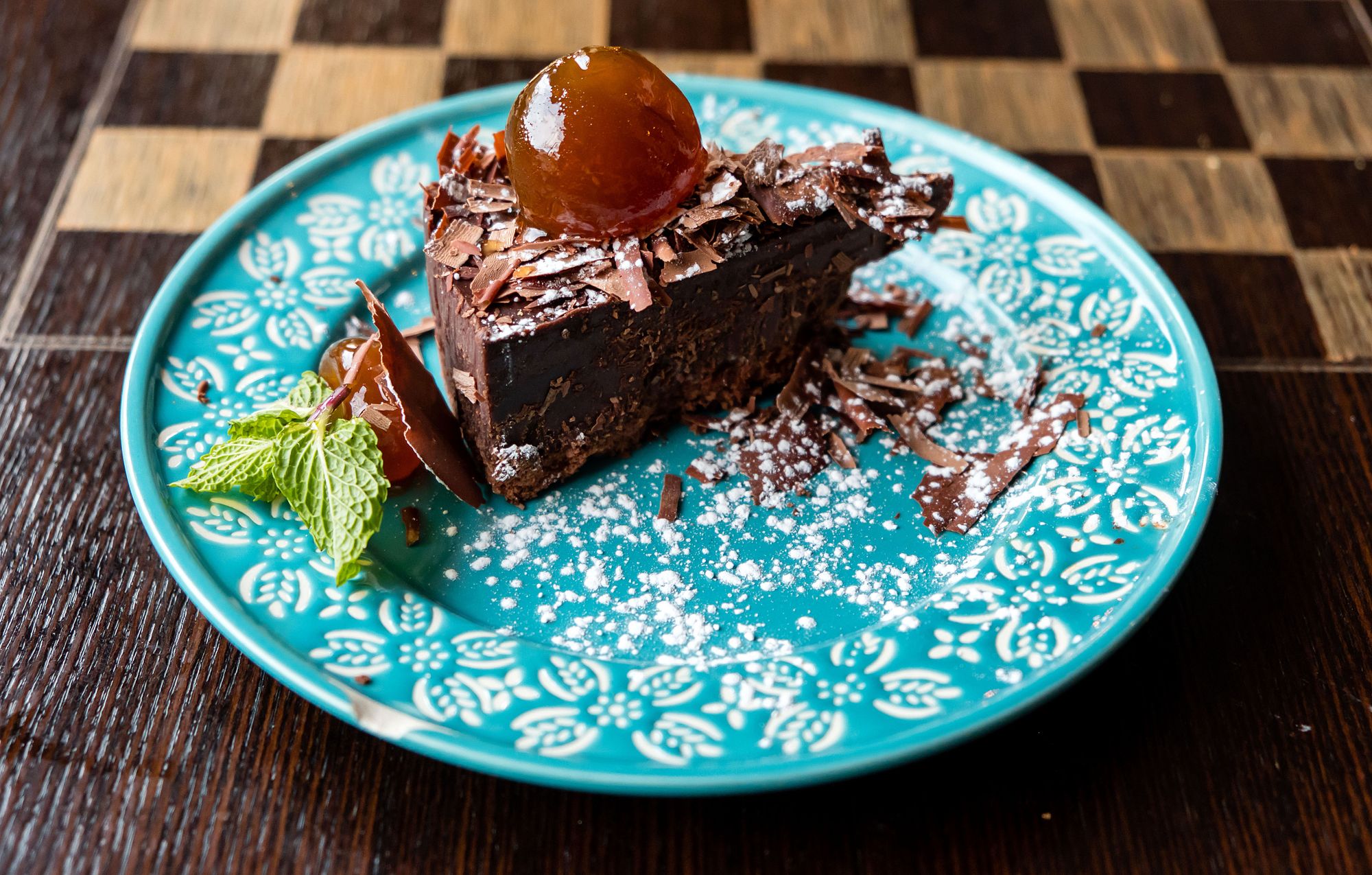 The orange cheesecake was fantastic. The cheesecake was dense, the crust chewy, and the orange was preserved in a way that made it a deep orange compote that lathered gently over the cheesecake. It's the worst feeling when your cheesecake is full of airy holes but thankfully the only holes were the cause of a knife slicing through. This was also a nice throwback to the days of Acme Cafe which was known for its pastry section.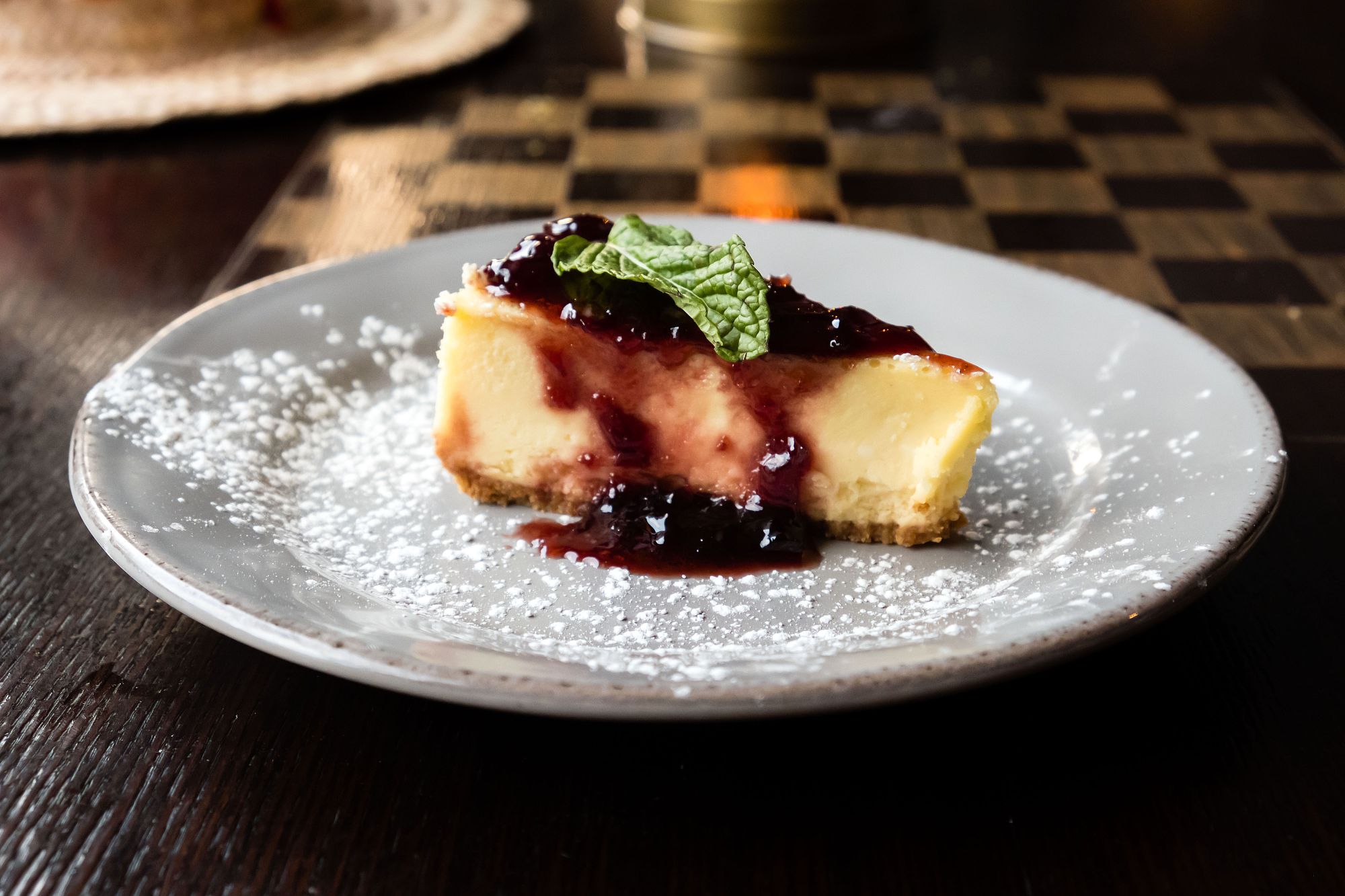 Finally, the final dessert was a plate of traditional Moroccan gazelle cookies, coming soon to the regular dessert menu. For our sneak peek, we had a couple to try out and I can confirm these looked like gazelle horns. The shell was a firm flour-based crust and inside was an almond paste lifted with orange notes. This was my first time having such a dessert and I think it will be great adding yet another traditional flair to the menu. If you're a fan of almond croissants like I am, you'll find the almond paste a familiar taste here.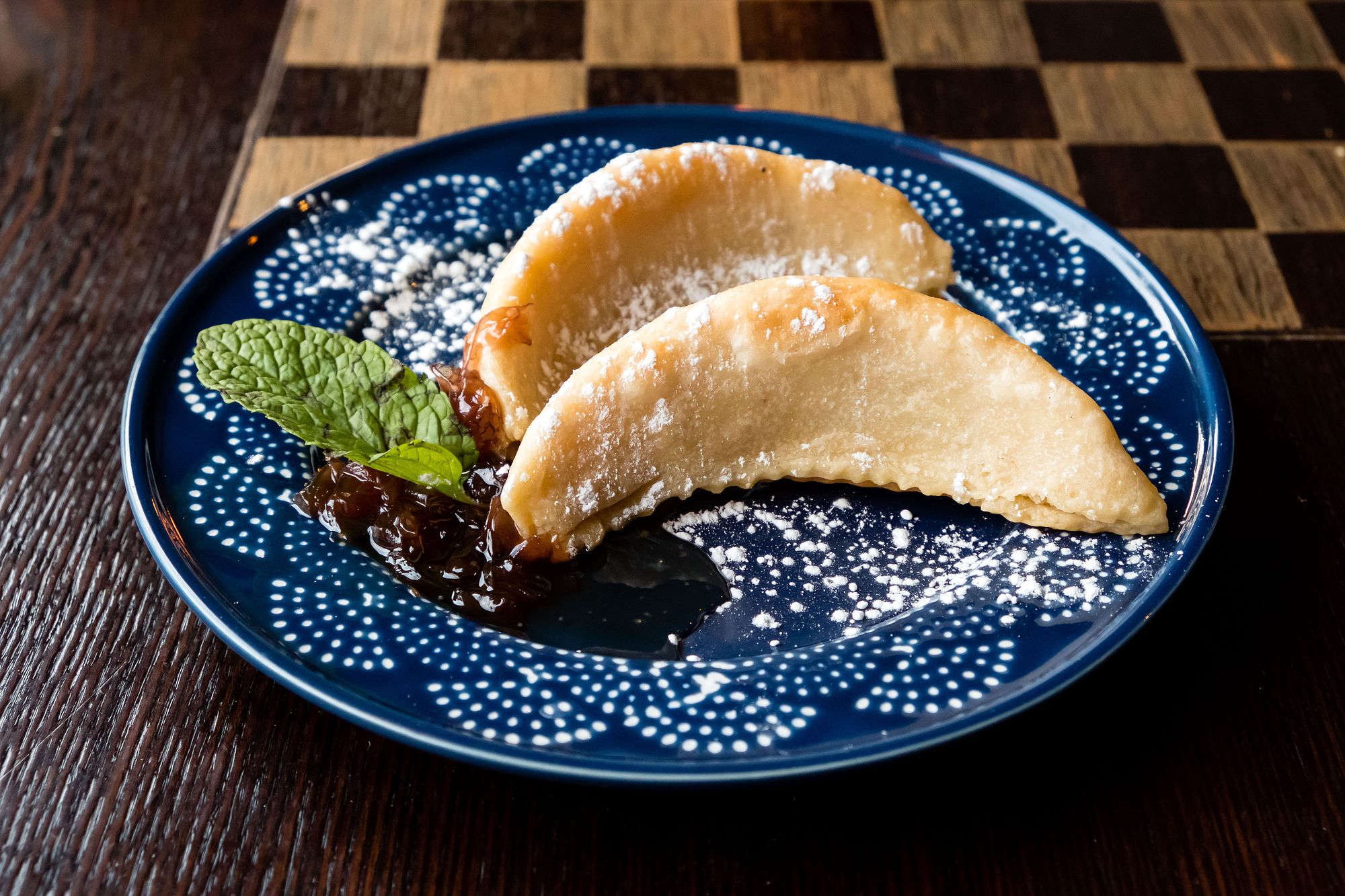 Features:
"Moltaqa" means "meeting place" in Arabic. This restaurant takes up residence in the former Acme Cafe space and has completely re-done the furnishings. Out went the diner lights and plastic seats and in came traditional vases, cushions, and other furnishings. In the kitchen you'll spot a number of pendant lamps with holes in them, letting the light peek through. I'm sure there is a better name for these lamps but take a look for yourself. They were all beautiful.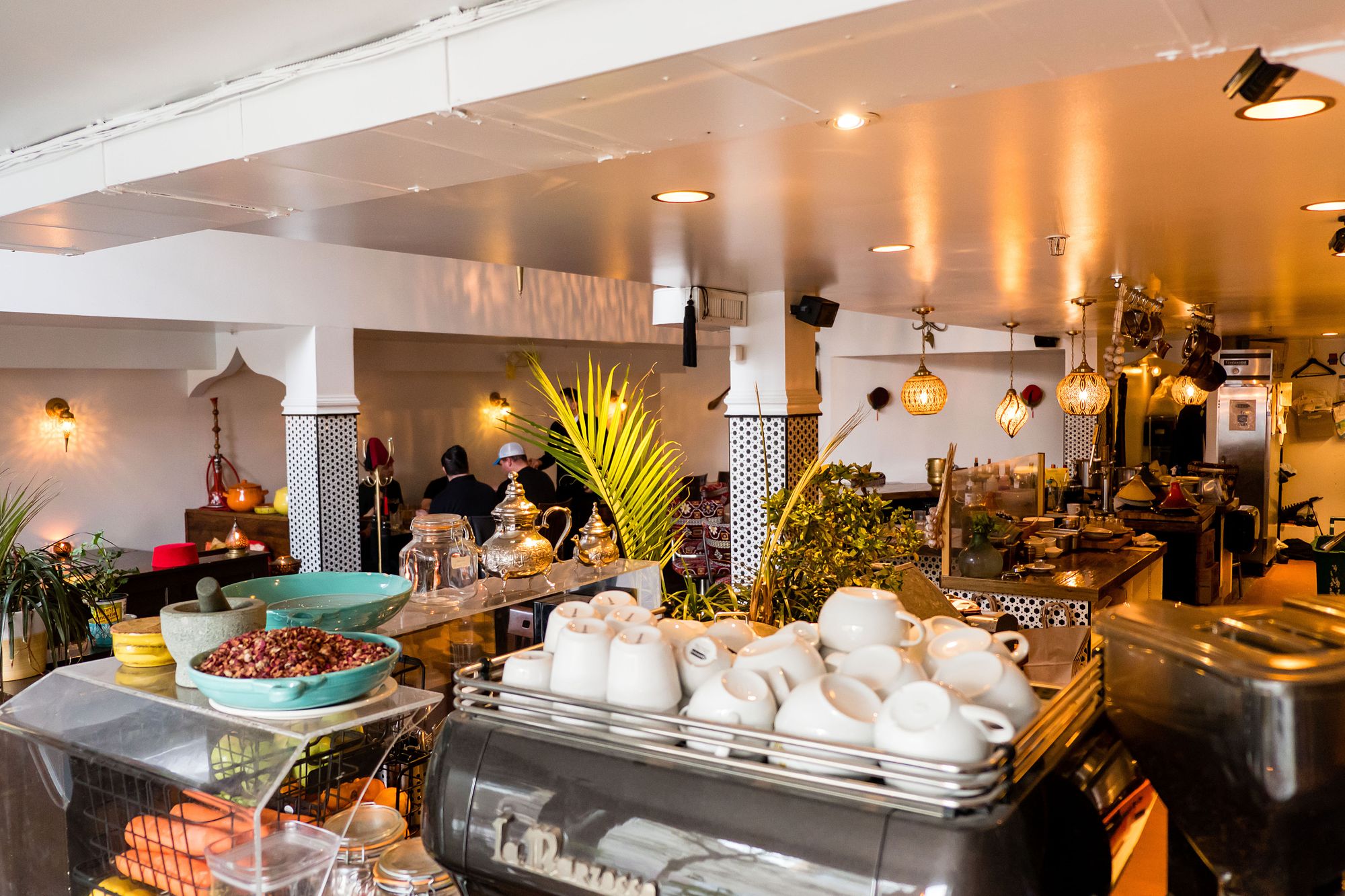 The inside of Moltaqa seats about 50 guests amongst a round bar, booths, and a couple of front window seats.