One of my favourite things to do on a weekend is visiting a cafe, grabbing a latte, and doing some people-watching by a counter. This is not always easy to do as it seems most cafes in Vancouver have that somebody perched at the window with their laptop all day long. Last week's cafe-venture took me to West Vancouver where Backyard Eatery has recently opened up. Featuring a laid-back vibe with a menu that caters to a variety of palates, the owners of Backyard gave me an opportunity to taste and engage with their vision.
Disclosure: This was a complimentary tasting provided in exchange for an honest overview and no monetary compensation.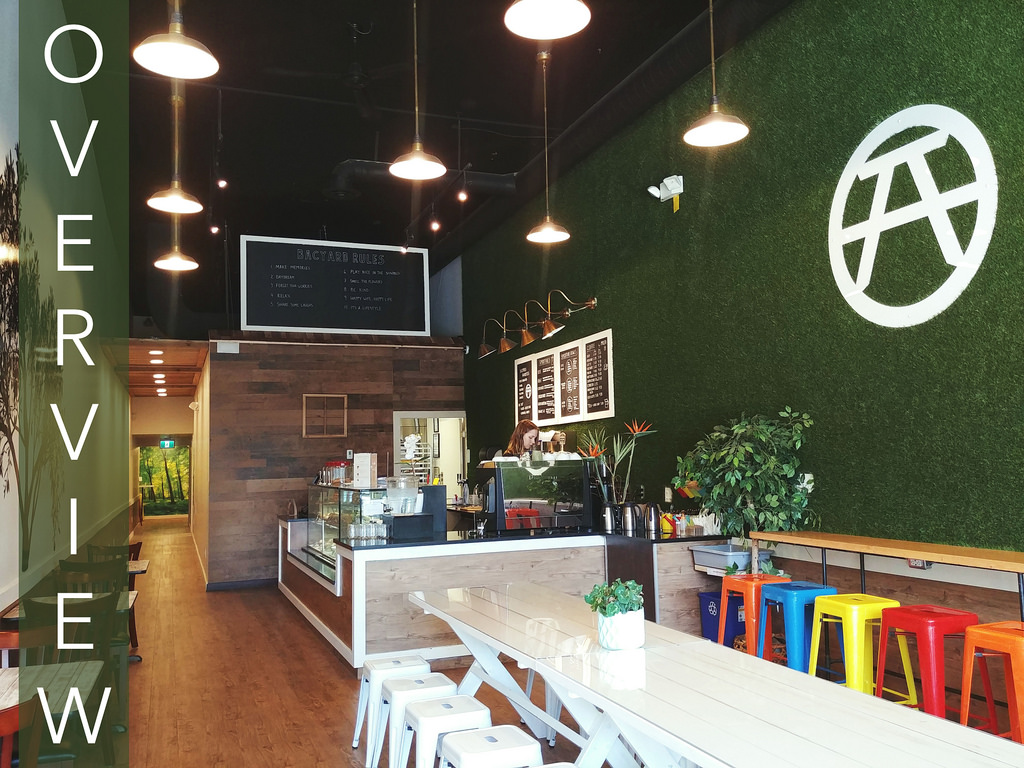 Food and Drink:
Team Tastic came here for a Sunday morning meal and I had a great taste of the following:
Latte ($3.60)
Breakfast Sandwich ($4.75)
B.Y.E Smoothie Bowl ($10.50)
The latte was made with North Vancouver's Moja Coffee Roaster beans and featured some tasteful latte art. This art looked like a stalk of wheat with polka dots in the corner which worked well for me. At $3.60, this was great value for a latte considering places like Prado will start you at $4.50 for a latte and you might only get a leaf art.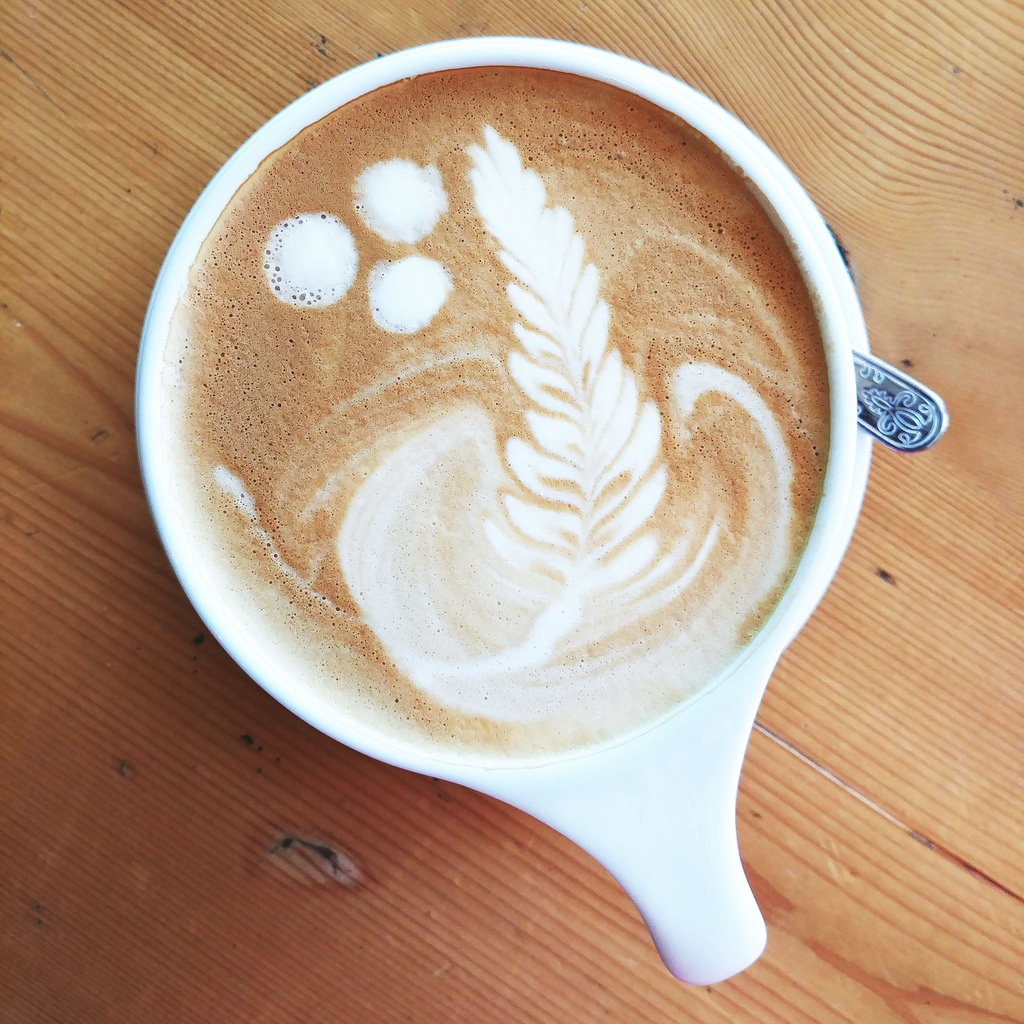 Latte
Next up was the breakfast sandwich. Featuring an avocado pesto, white cheddar cheese, greens, fresh tomato, bacon, and rounded ham, this was a cute handheld package. This came fresh off the panini grill so it also had some charred lines which provided extra grip when chomping into the sandwich.

Breakfast Sandwich
The big feature today was the B.Y.E smoothie bowl. This was a bowl with a ton of blended açai, banana, blueberries, strawberries, and organic apple juice. Up top was homemade granola, banana, strawberry, chia seed, and local raspberry honey. Apart from the fantastic taste, I was happy to hear zero sugars were added on top of the naturally occurring sugars. It was also a joy to scoop through the smoothie bowl which had a denser body than what I was expecting from something lacking a thickener like ice cream.
The folks exclaimed that their smoothie bowls were their signature dish and I'm totally on board with that statement. After finishing the smoothie bowl, I felt refreshed and ready to take on the rest of my day (namely, a walk through Ambleside Park to Park Royal).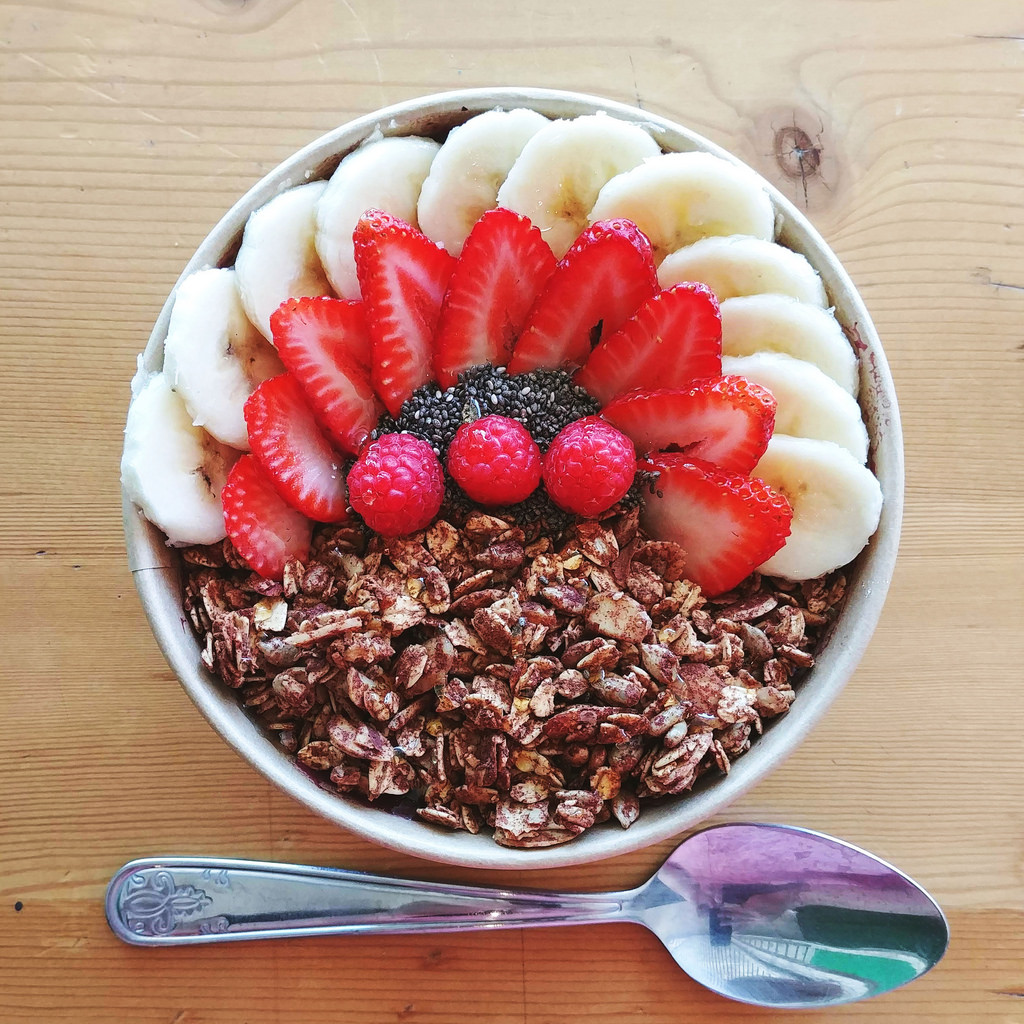 B.Y.E Smoothie Bowl
Features:
I felt the need to remark on a wall in this post. Backyard Eatery has a calming atmosphere with a lush green turf along one entire wall with their logo (a picnic table) emblazoned in the center. Personally, the green grass look evoked a relaxed feel for me. I've been to cafes with rickety woods or ultra-modern marbles, but those never had as much a tranquil feeling as the wall at Backyard Eatery.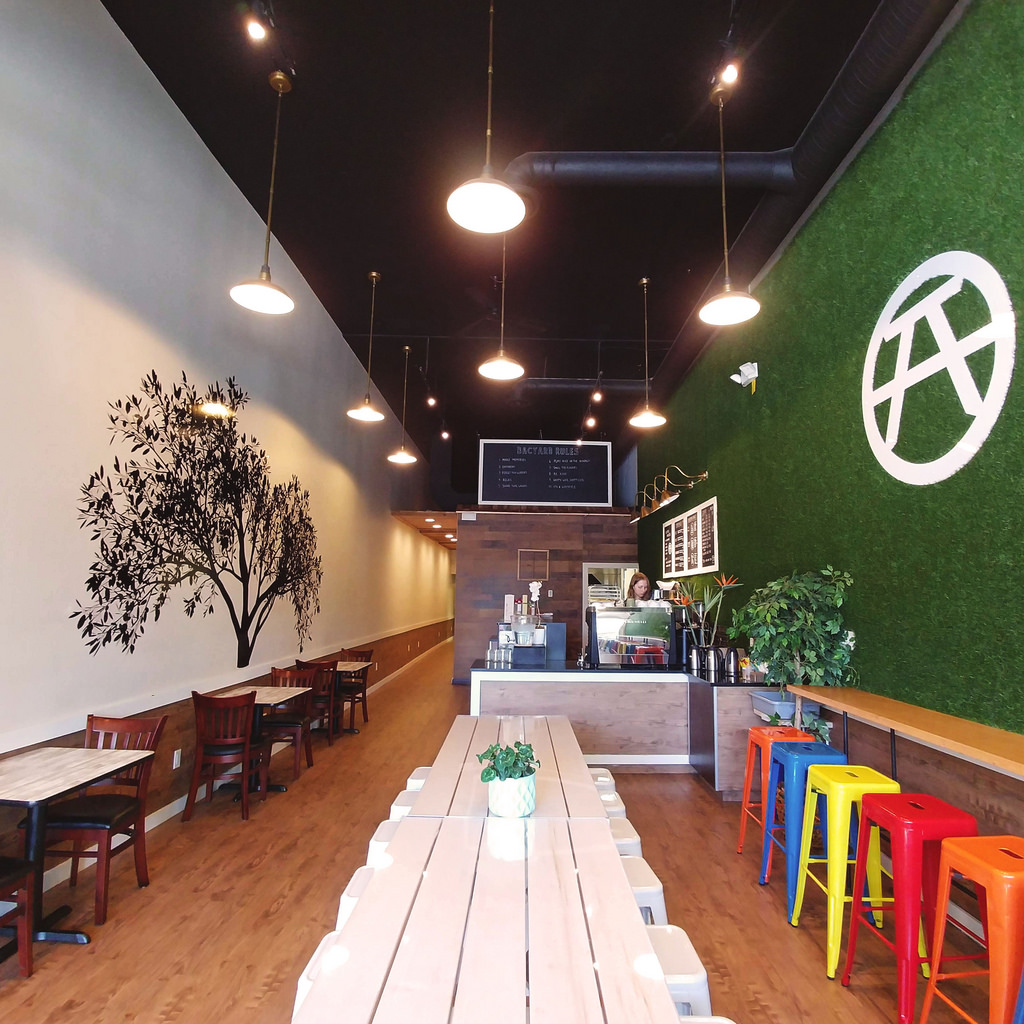 Inside Backyard Eatery
Seating in Backyard Eatery is provided through a couple of glass-top picnic tables, multi-coloured stools, some smaller tables, and a thin patio. The space has an airy feel with high ceilings and has the atmosphere of – you guessed it, a person's backyard.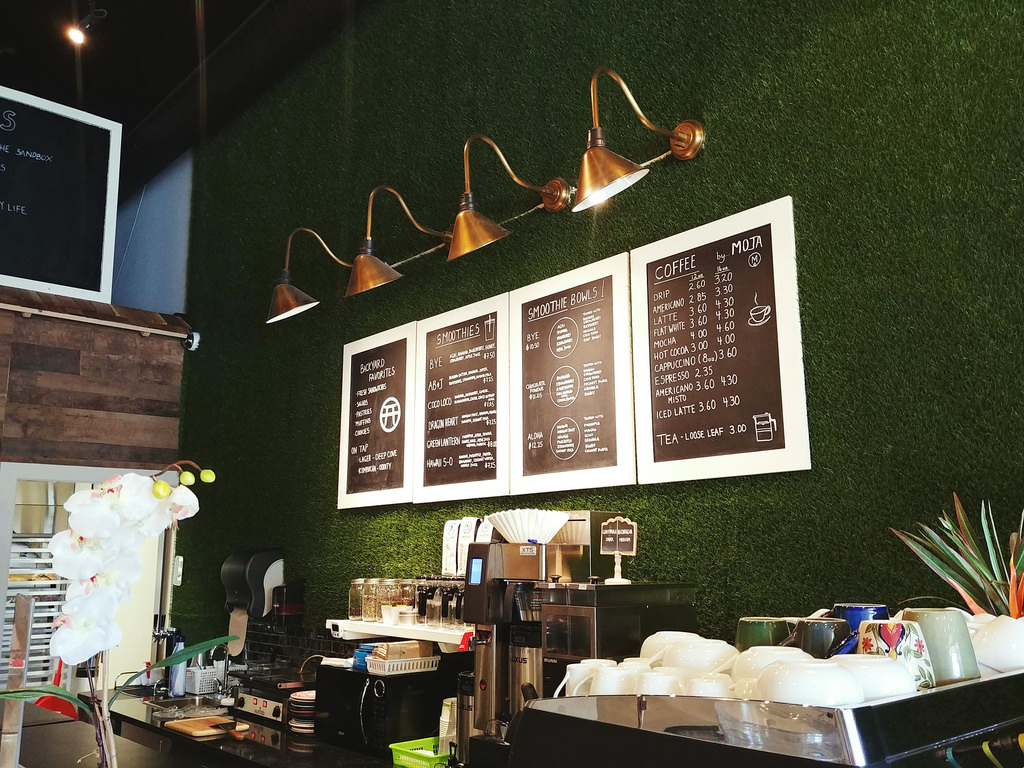 Backyard Eatery Menu
Backyard Eatery is a new cafe in West Vancouver but is actually the passion project of longtime former Browns Social House business partners. To go from the non-stop atmosphere of the casual fine dining industry to a homey cafe has allowed these owners to flex their creative chops more often, face against bureaucracy less often, and spend more time refining their business and family lives. This sort of mental release is the type of backstory I love to hear when I'm visiting a cafe!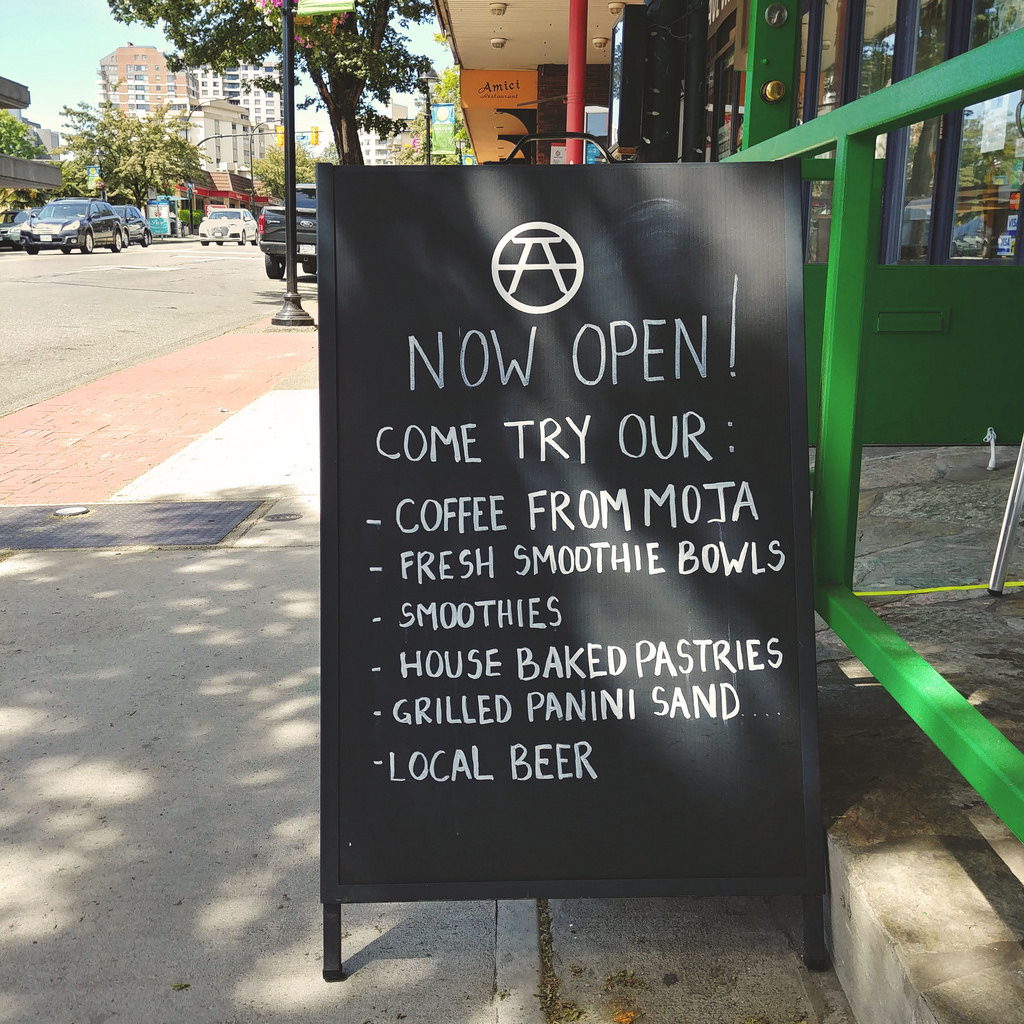 Outside Backyard Eatery
Final Thoughts:
One-liner: A fantastic concept that exemplifies the type of food parents want to serve their kids and deliver with their signature smoothie bowls
Highlight: B.Y.E Smoothie Bowl
Price per person: $8-$15
Would I go back? Yes.