I've been to 5 poke (pronounced "poe-kay") shops in Vancouver and not one of them offers kale noodles as a base. At any of Pokerrito, Poke Time, Pokeman, Poke Guy, or Poke Shop, rice is normally the main base with burrito an option at some venues. If you're looking for a reason to visit Pokéworks, kale noodles and the unlimited toppings are the best reasons why.
Disclosure: This was a complimentary tasting provided in exchange for an honest overview and no monetary compensation.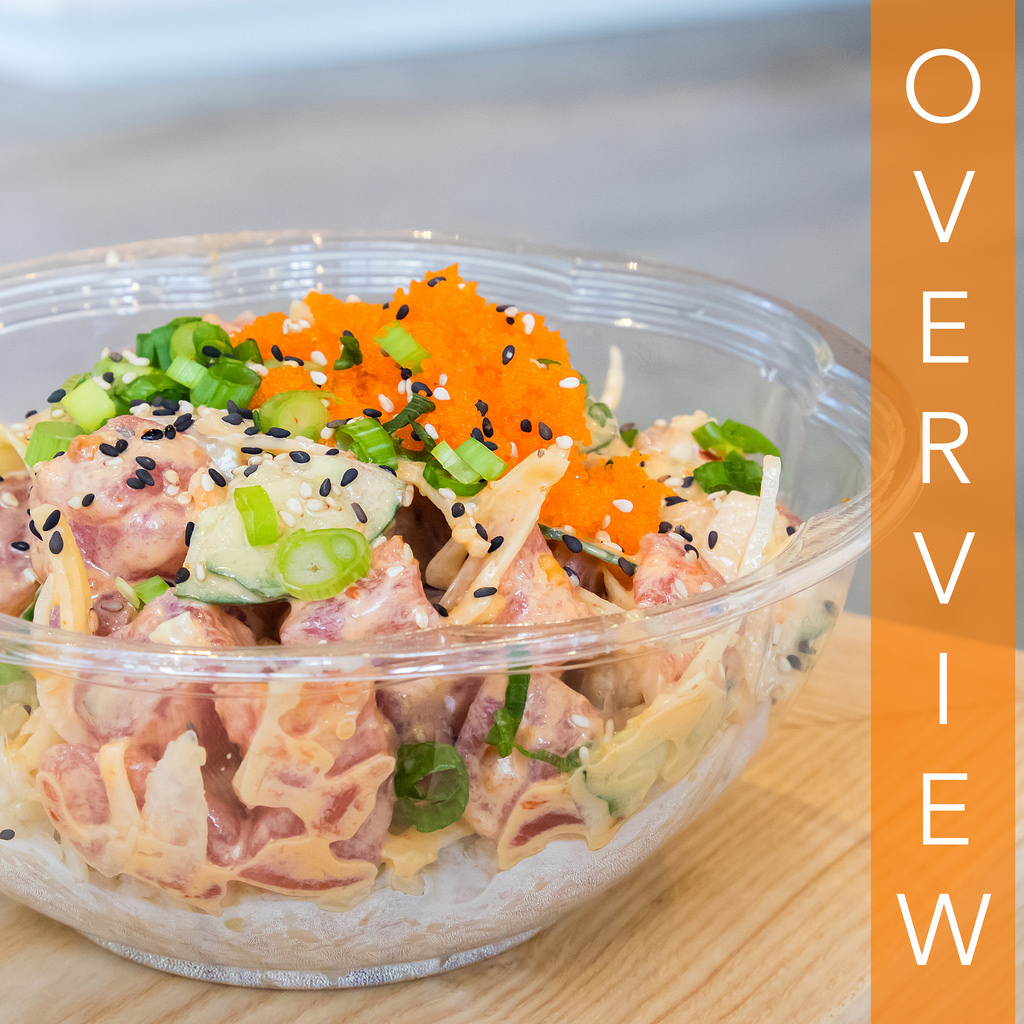 Food and Drink:
Team Tastic came here for a Wednesday dinner stop and I had a great taste of the following:
Umami Classic ($11.95 + $1.50) - brown rice, ahi tuna, green and sweet onion, hijiki seaweed, cucumber, sesame seeds, umami shoyu sauce
Spicy Ahi ($11.95 + $1.50) - brown rice, ahi tuna, green and sweet onion, cucumber, masago, sesame seeds, sriracha aioli
Spring Tea ($3)
Miso Soup ($2.50)
Custom Poke Bowl ($11.95) - kale noodles, spicy salmon (1 scoop), albacore tuna (1 scoop), green and sweet onions, hijiki seaweed, cilantro, cucumber, blanched kale, diced mango, edamame, chopped shiso, orange slice, ogo seaweed, jalapeño, sriracha aioli sauce, masago, seaweed salad, green onion, and onion crisps
Custom Poke Bowl ($11.95) - kale noodles, albacore tuna (2 scoops), green and sweet onions, hijiki seaweed, cilantro, cucumber, blanched kale, diced mango, edamame, chopped shiso, orange slice, ogo seaweed, jalapeño, Pokéworks Classic Sauce (ginger sesame vinaigrette), sweet chili gochujang, crab salad, seaweed salad, sesame seeds, garlic crisps, lotus chips, toasted rice puffs, shredded nori
For the uninitiated, choosing one of the signature works gets you a pretty classic poke bowl that focuses on key ingredients from the menu. The umami classic had bold umami from the shoyu sauce and featured the boost of ahi tuna. I was pretty happy with how fresh and chewy the ahi tuna turned out despite us visiting at 5:30 pm. Kudos to Pokéworks to managing their fish supply well.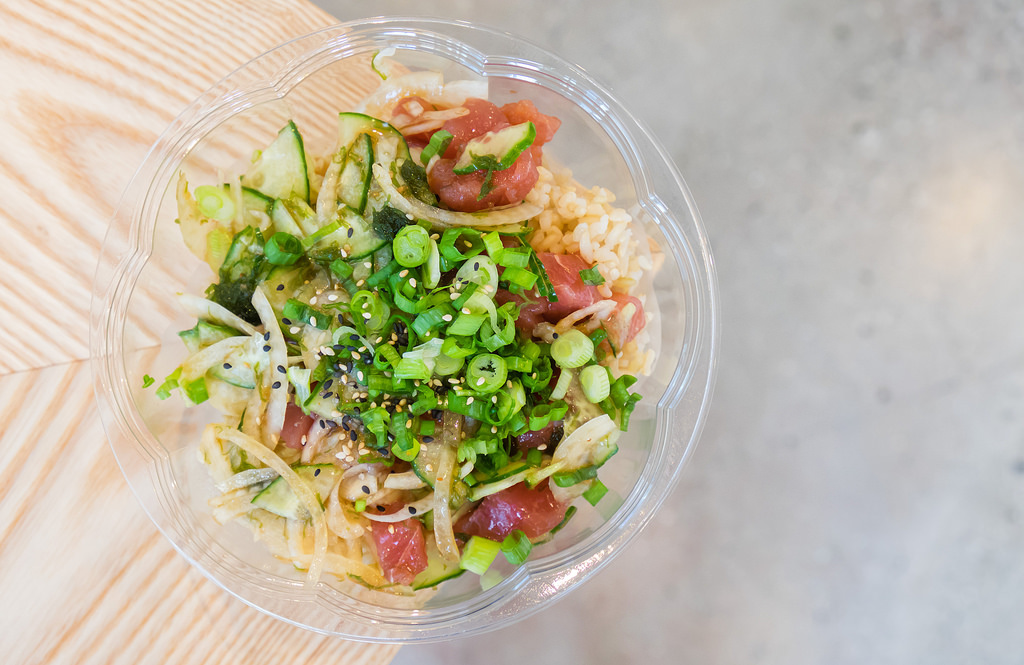 Umami Classic
The Spicy Ahi was my favourite out of the two signature works we tried. The combination of sriracha aioli and masago made every scoop a textured and joyful mouthful.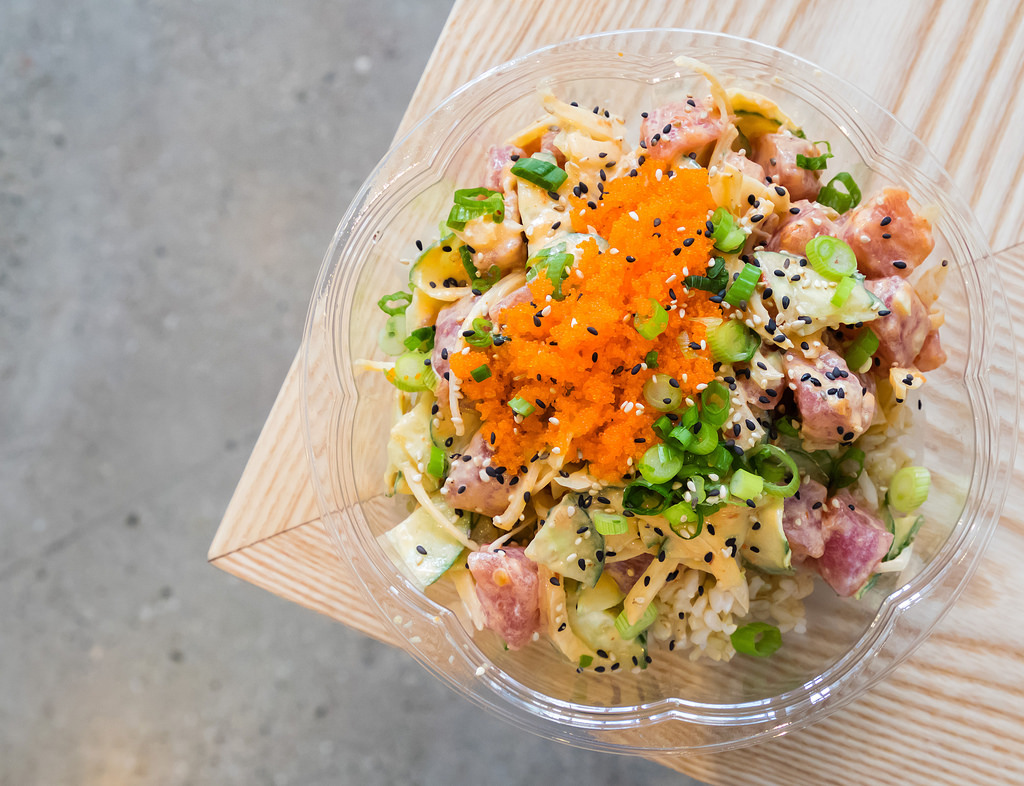 Spicy Ahi
I'll add a small note that the brown rice was as good as it gets. Textured enough so you can feel each grain on your teeth, but not so hard that you're spending most of your energy chewing for what feels like ages.
Moving onto some sides, we enjoyed the spring tea and miso soup. The spring tea had a hibiscus taste and was pretty refreshing. I was given the option of adding ice or skipping the ice.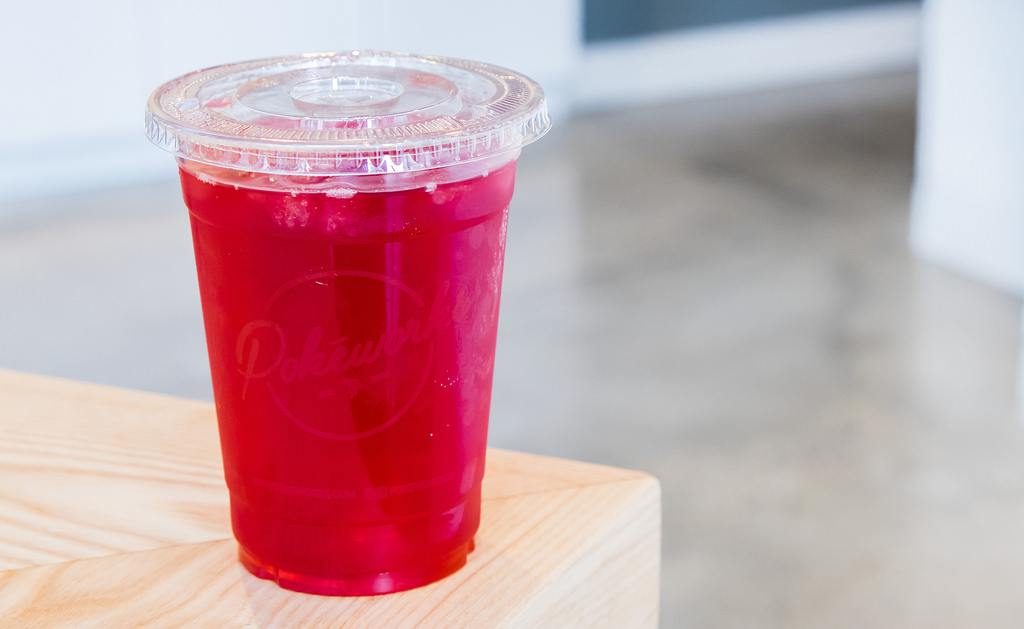 Spring Tea
I'm a poor judge of miso soup but this tasted like most other decent miso soups in the city. The classics in wakame seaweed and tofu were present.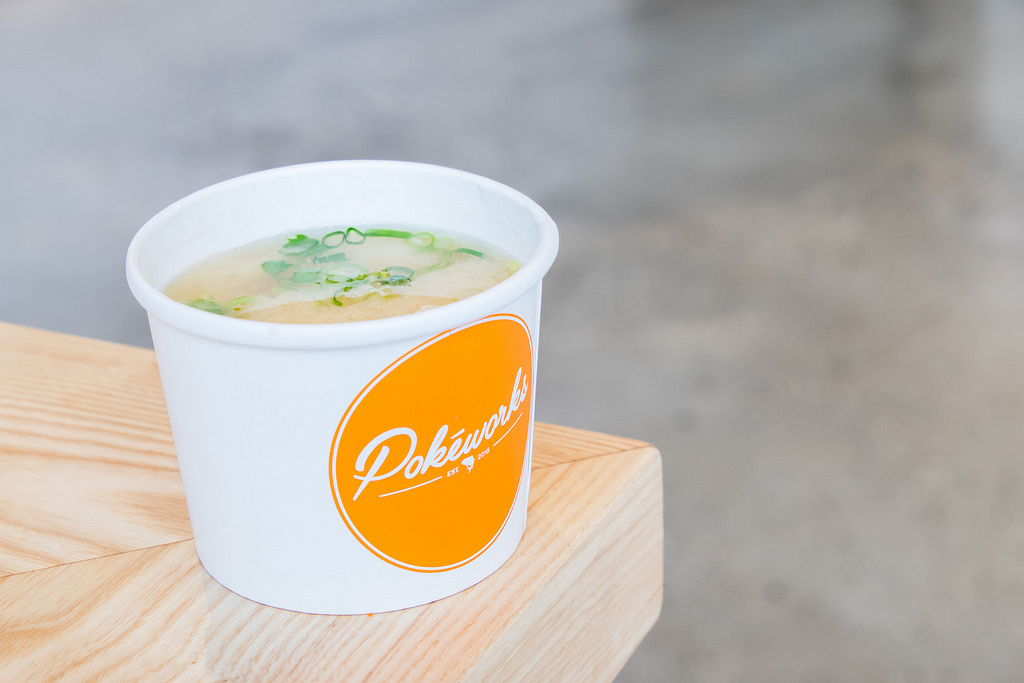 Miso Soup
Custom Poke Bowls:
Moving on from the signature works, we went pretty custom for the "Poké Your Way" menu where we directed our own custom bowls of poké. For both bowls, we opted for all the mix-ins, electing to choose our sauces, toppings, mix-ins, and crunches. Staff didn't bat an eye when I asked for nearly everything for my poke.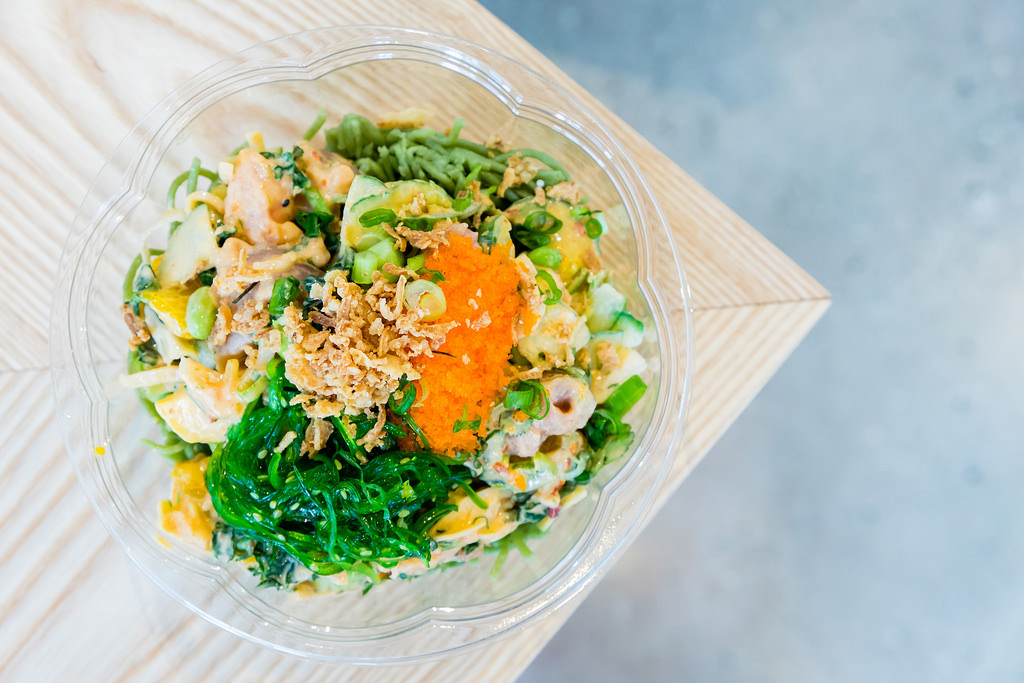 Custom Poke Bowl
I think customizing your own poké bowl is the right way to go if you like to be in control of what you like. Unlike Pokerrito, you can choose an unlimited number of toppings for your poke and the variety is fantastic (we only noted the absence of corn). Most poke places don't even have crunch options (seen in step 6 below).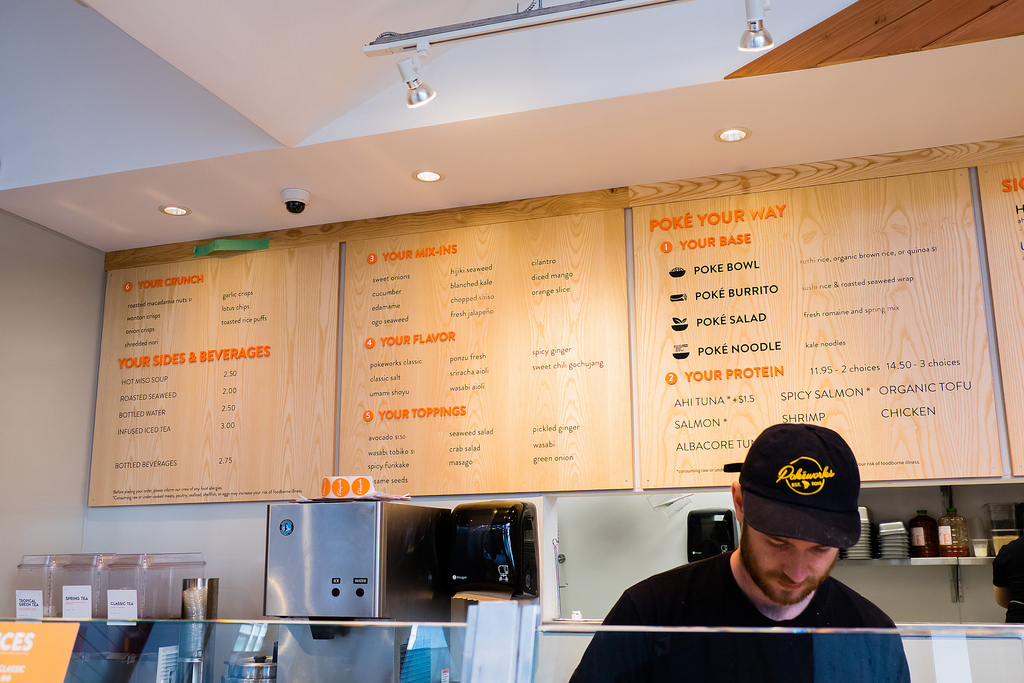 Poké Your Way Menu
A quick word on the kale noodles. On the menu, they are known as the Poké Noodle base. These are a wheat-based noodle infused with kale so they have a slight vegetable taste to them. The noodles had a good chew and reminded me of cold ramen dishes I've had in the summertime. It seems that out of all the poké bases you can get in Vancouver, Pokéworks has them all for the same standard price. With that in mind, it was a no-brainer for me to base my bowl with poké noodle and finish it off with lotus chips. To my knowledge, nobody else in Vancouver offers kale noodles as a base.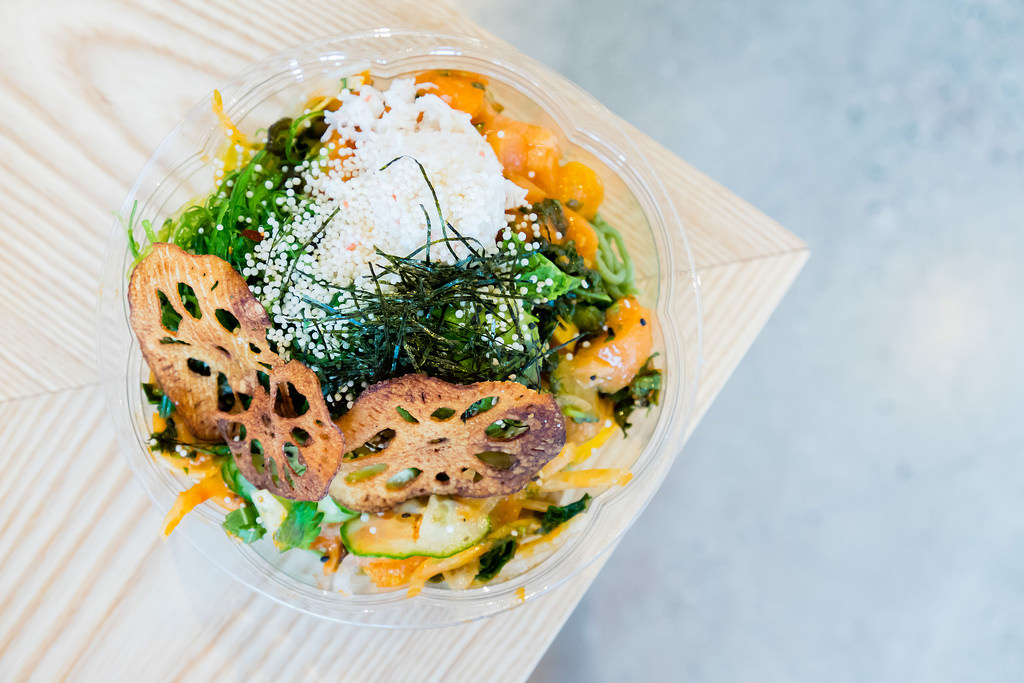 Custom Poke Bowl
Features:
Pokéworks is located in the MNP Tower (addressed on Hastings Street) but is actually closer to the Cordova Street side. Inside is a clean interior with a mixed white-wood décor. The Pokéworks sign in neon is a cool throwback to the early 20th century.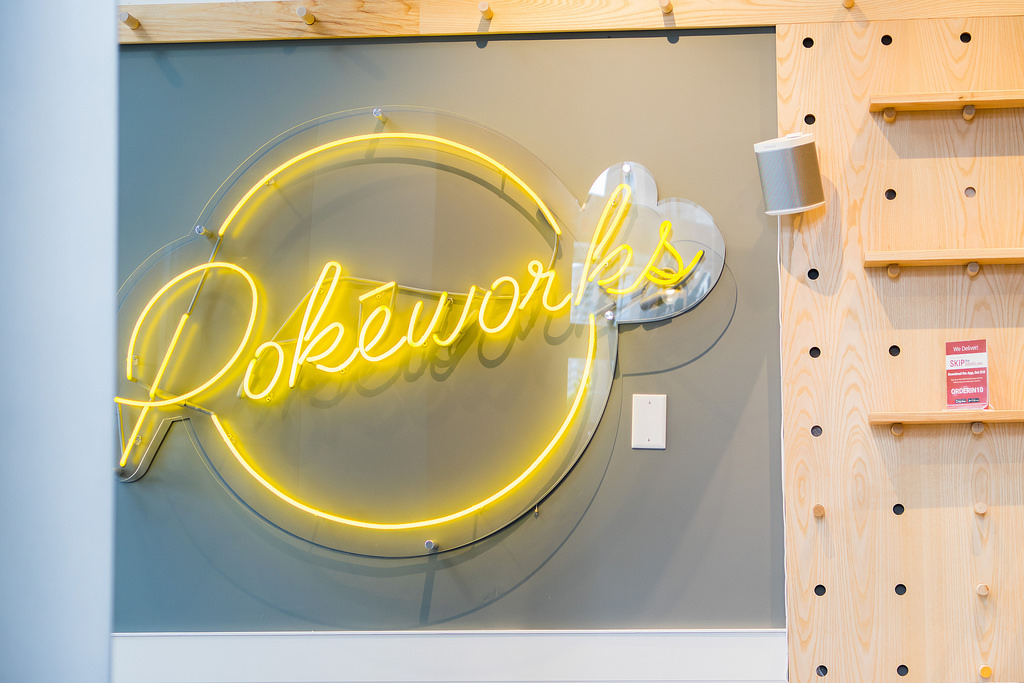 Inside Pokéworks
The flow of ordering your poke starts from the right end and finishes at the left where you'll pay for your meal. The conveyor style preparation is pretty fast and I noticed staff were very accommodating to other customers asking for "more of this" or "an extra pinch of that". It's a refreshing environment to dine in even if it feels a little corporate-y out the main entrance.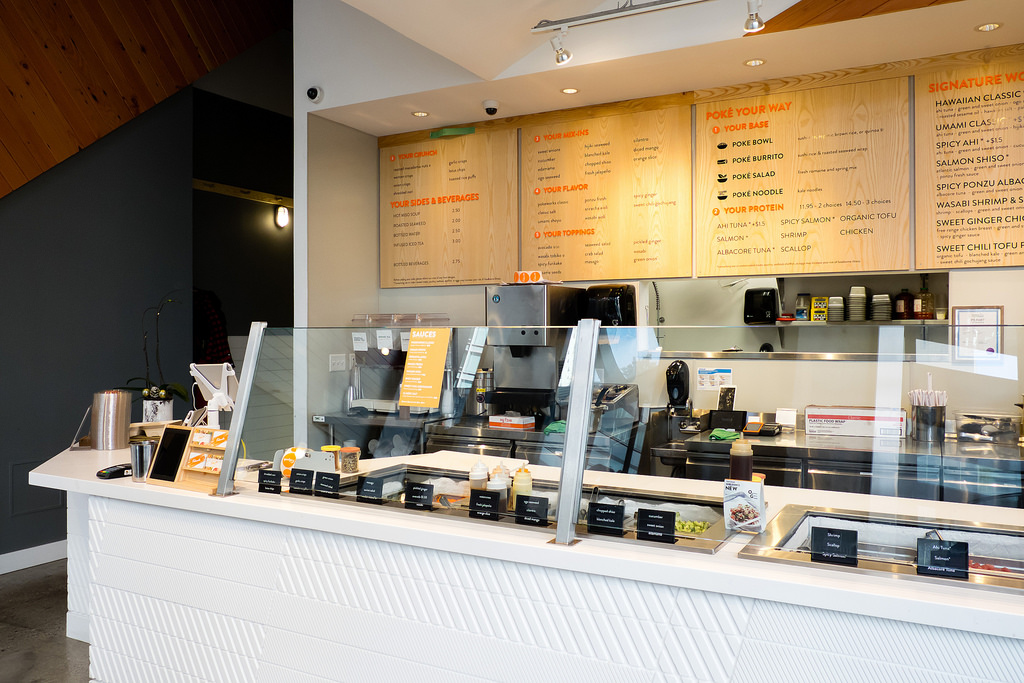 Inside Pokéworks
There's only seating for about 6 guests inside with an extra table outside for about 10 more so most people grab their poke to go (the area in front of the tower has a lot of space to eat).

Outside Pokéworks
Final Thoughts:
One-liner: Fresh tasting poké with all the bases and options you're used to and a refreshing take on kale noodles
Highlight: Custom "Poké Your Way" with unlimited toppings, sauces, mix-ins, and crunches
Price per person: $12-$20
Would I go back? Yes.