It's uncommon for Nosh and Nibble to adventure in Langley Township, but I was given a special opportunity last week to celebrate BC Veggie Days at a longtable dinner featuring a number of BC Agricultural Council members, local greenhouse farmers, and other food media peeps. If you've yet to know what's available in the backyard of the 604, read on for how greenhouses help shape our diets, our economy, and our communities.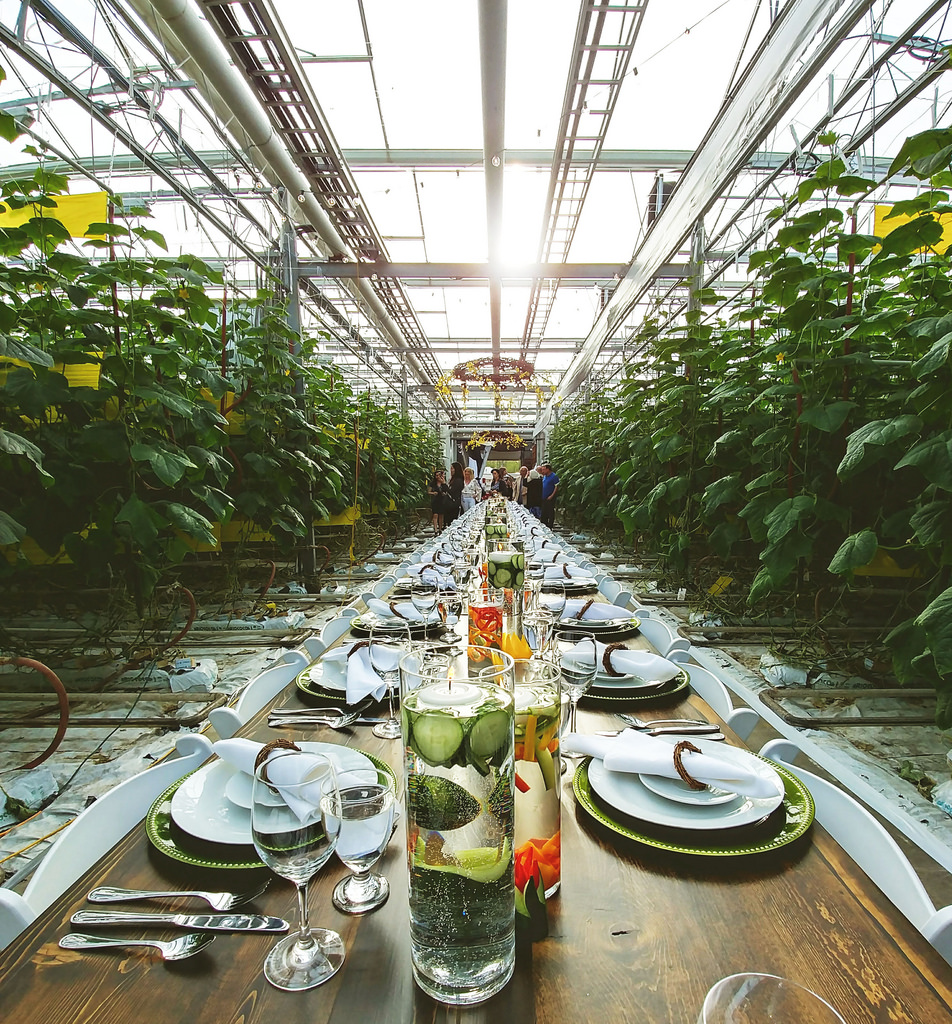 Linda Delli Santi, Executive Director of the BC Greenhouse Growers' Association, welcomed the evening with a short introduction on the variety of crops available in BC and especially those within an hour's drive in Greater Vancouver. As I learned, the yield from our local greenhouses includes various bell peppers, serrano peppers, English cucumbers, tomatoes, and more.
Herb Schlacht, owner of Glenwood Valley Farms, spoke on how the greenhouse society of BC has continued to grow. His farm, the location of tonight's dinner, stood out to me as one side was employing the use of Philips LEDs to experiment whether LED lighting had an effect on improving crop yield of his English cucumbers. Just goes to show that greenhouse farmers are also scientists!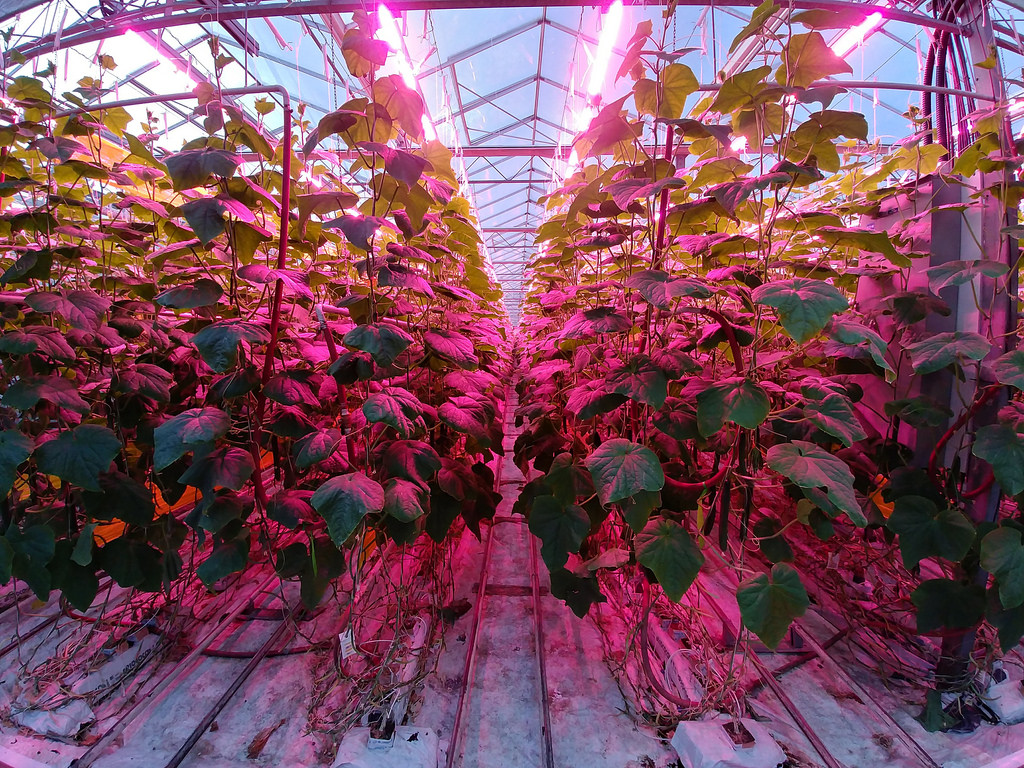 LEDs on English Cucumbers
Greenhouse farmers can't just to get the word out to produce shoppers though. At least this year, BC Agriculture in the Classroom Foundation has also been hosting tours and site visits to help the public understand the role greenhouses play year-round.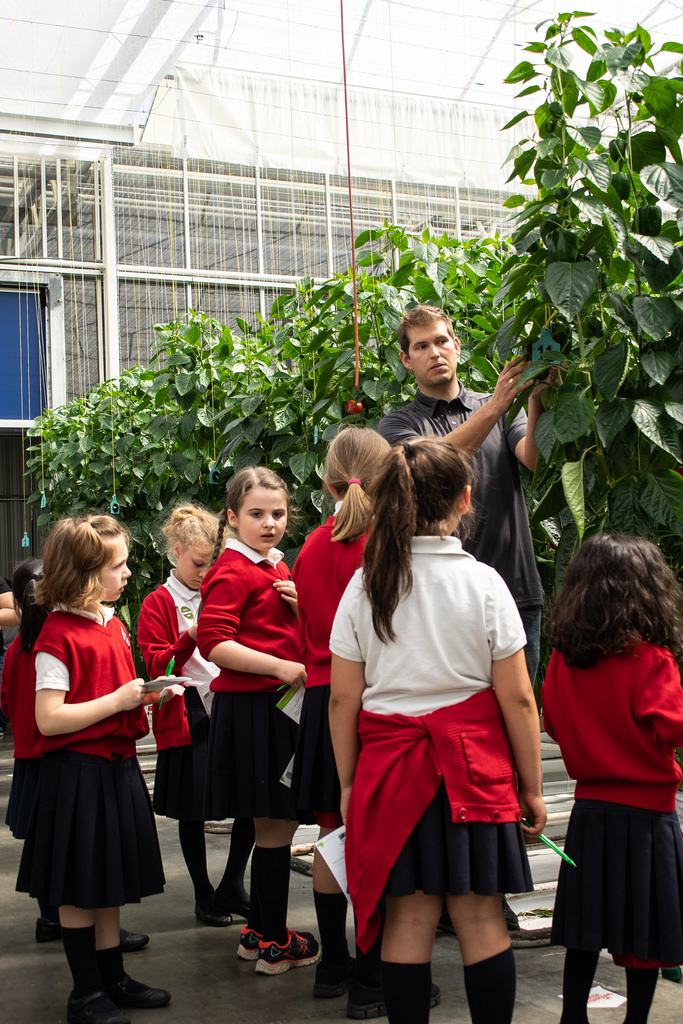 Greenhouse Tours - Photo Credit: BC Greenhouse Growers' Association
Tonight's dinner featured the following:
Tomato Salad w/ mini cucumbers, pickled sweet peppers, whipper mozzarella, olive oil, and sea salt
Roasted Red Pepper Bisque with Fraser Valley pork belly
Zucchini, Tomato, and Sweet Pepper Ratatouille w/ roasted whole Maple Hill Farms Chicken
Grilled Pepper and New Potato Salad with Braised Beef
Zucchini and Bell Pepper Fritters
Lemon-Scented Custard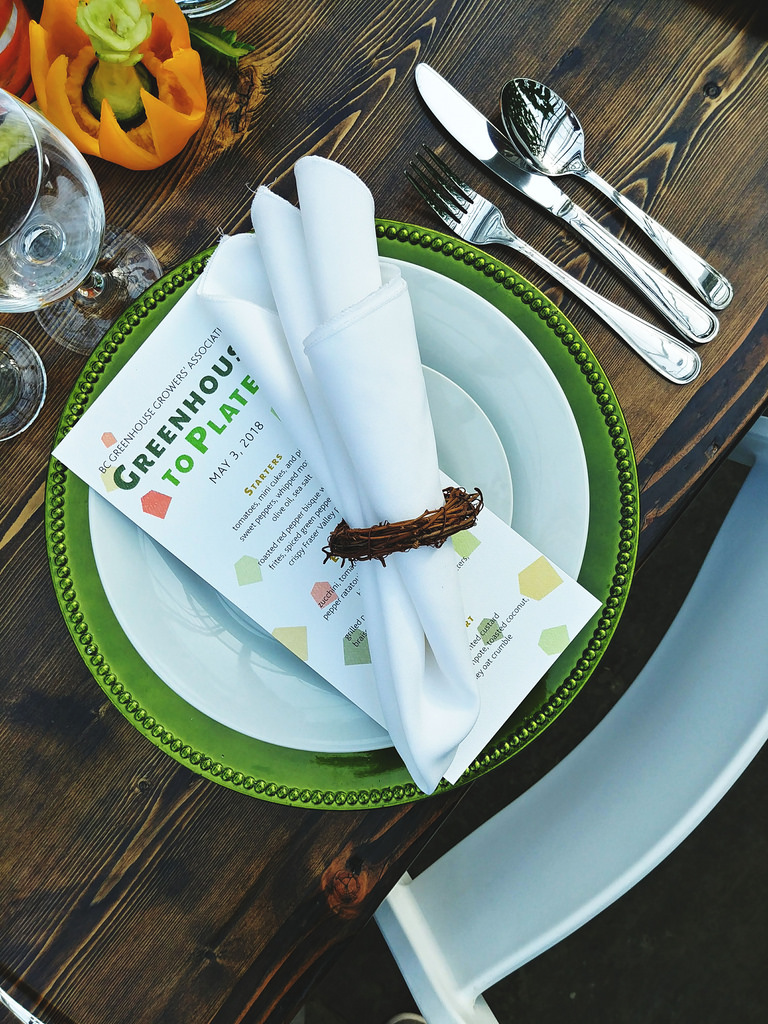 Table Setting
As you can imagine, everything was sourced as locally as possible in a menu put together by Chef Jeff Massey (of Restaurant 62 fame, the most talked-about farm-to-table restaurant in Abbotsford).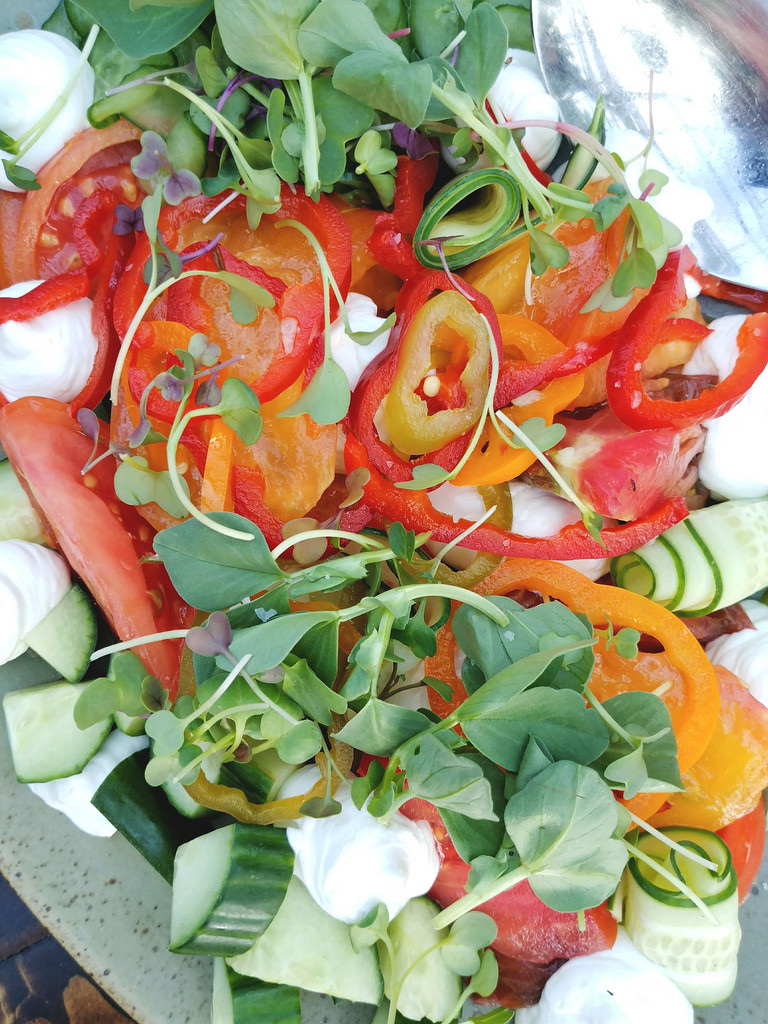 Tomato Salad
Roasting is one of my favourite words to hear on a menu, and the pork belly here was oh-so-gooey in the thickened bisque.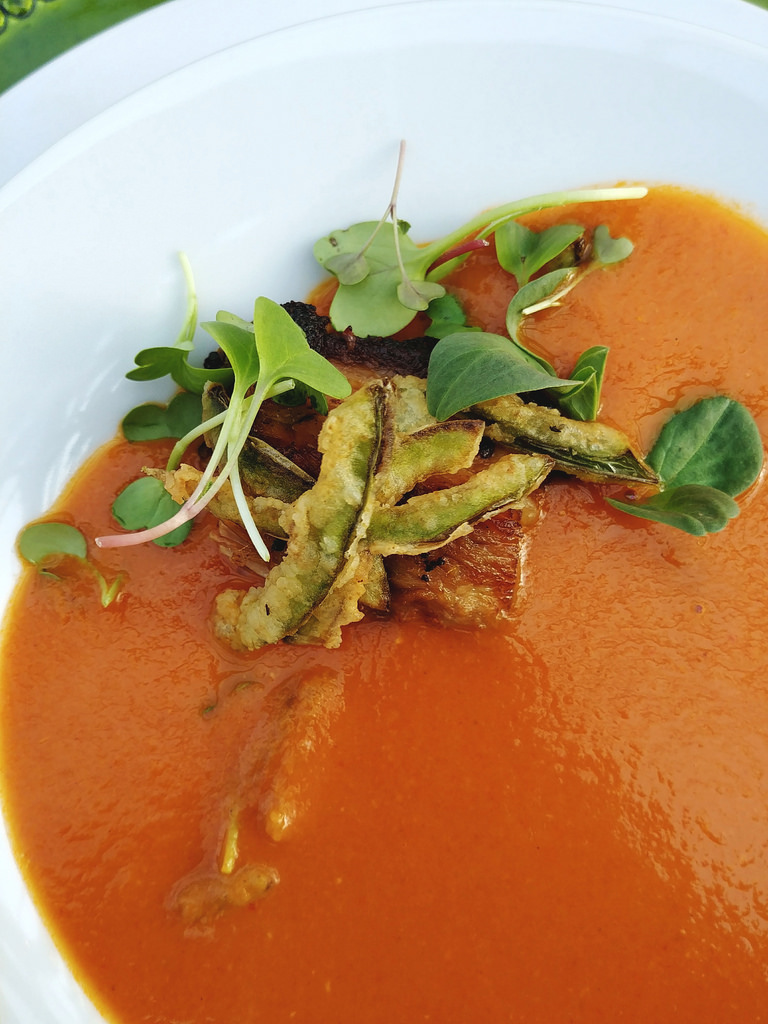 Roasted Red Pepper Bisque
This was some of the juiciest chicken I've ever had – even for chicken breast! It would have been so easy to overcook this whole roast but the cuts were spot-on.

Ratatouille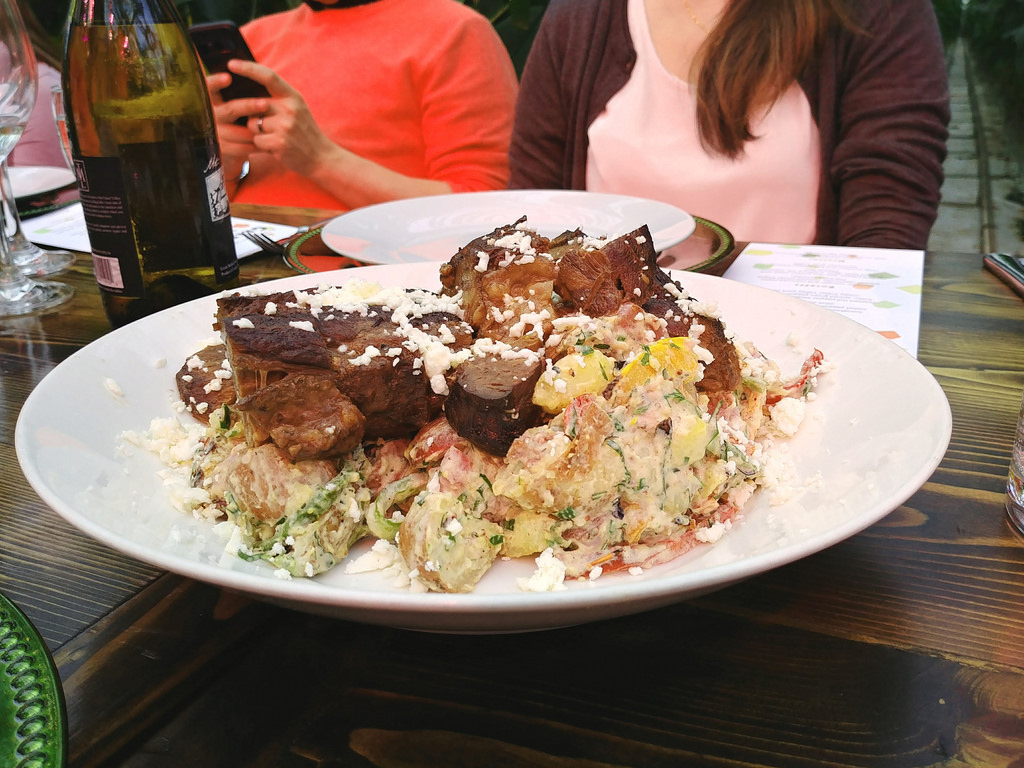 Grilled Pepper and New Potato Salad
Having ingested a lot of fried foods over the years, I was pleasantly surprised with how good having zucchini and bell peppers in fritters can be. Not to mention how hard it must be to keep the wetness of the zucchini in check.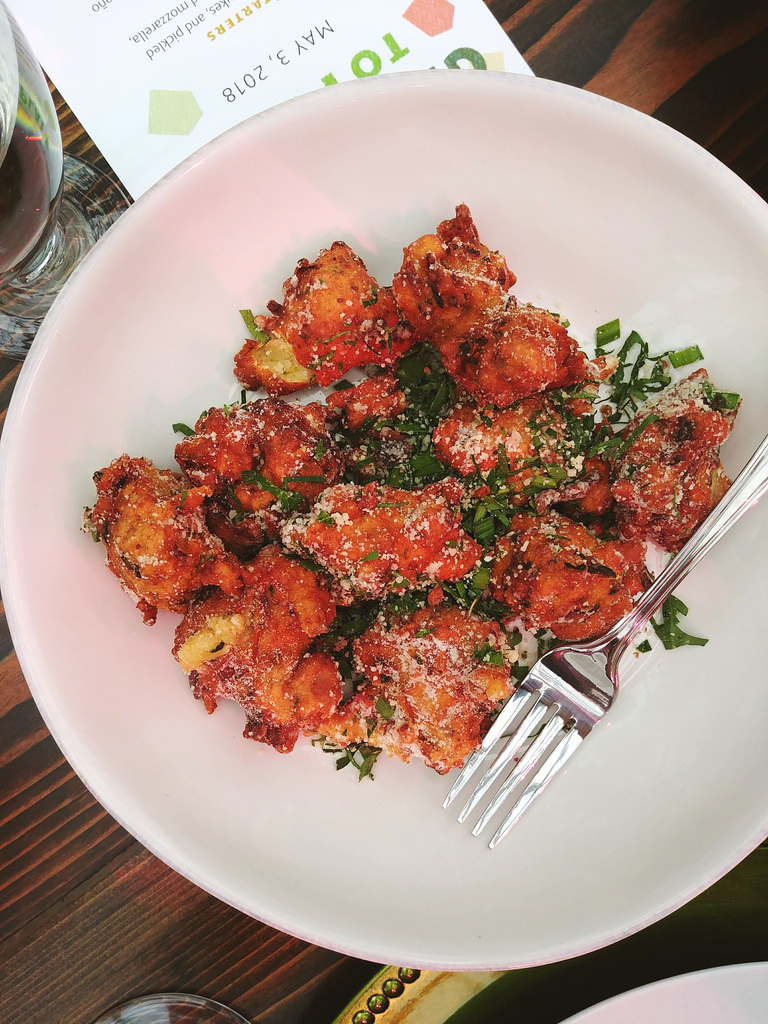 Zucchini and Bell Pepper Fritter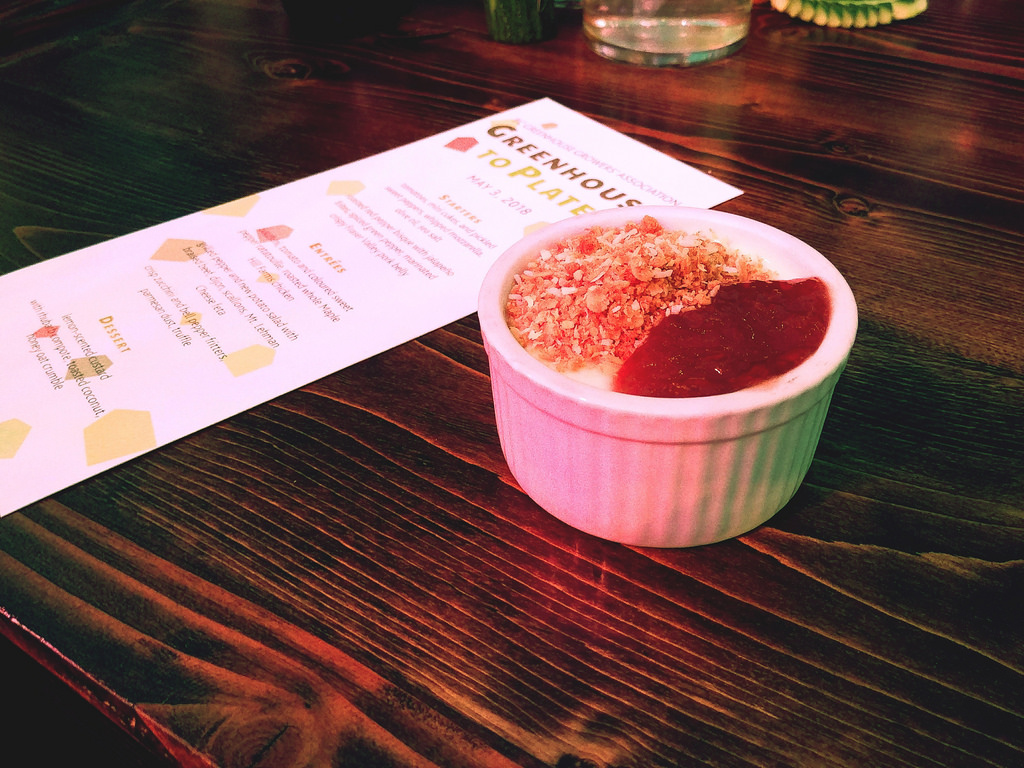 Lemon-Scented Custard
While this year's greenhouse longtable dinner was just a media event, the good word is that in 2019, the public will be invited to partake in a similar experience. Pair such a dinner up with flowing wines and ambient acoustic music in the background, and I felt super relaxed during this dining session. If there's another way to dine inside a greenhouse, let me know, but otherwise, I can't wait to follow along with the festivities greenhouse farmers have in stores for regular diners come the new year.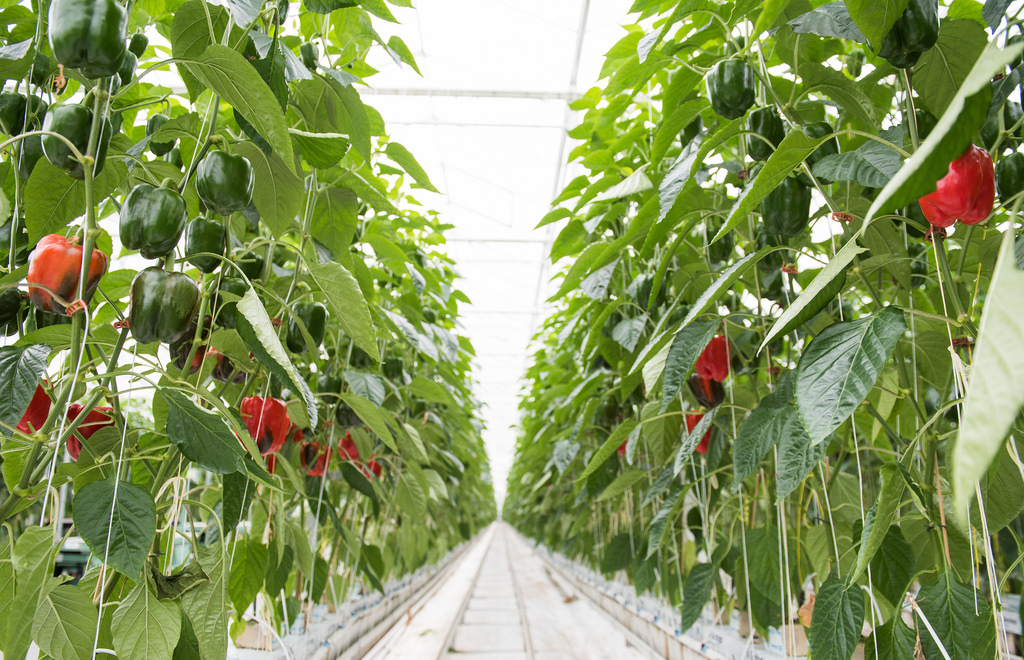 Growing Bell Peppers
All in all, there's a lot more than we think in Vancouver's backyard.
Greenhouses produce food year-round, but must keep pests and other hungry bugs in control
Farmers are constantly pushing BC agriculture a step forward with innovative growing techniques (hello, Philips!)
Supporting a local farmer helps your local economy grow (you can still enjoy your foreign avocados from Mexico though – those don't grow here).
If you're looking to experience the products of these farmers, many can be found at weekend farmers markets around Vancouver. Check out eatlocal.org/ to find your closest farmers market.
Final Thoughts:
One-liner: BC Greenhouses are cool and produce scrumptious fruits and vegetables that support the local economy and health-conscious foodie
Highlight: Walking through the rows and rows of cucumber plants
Would I go back? Count me in for 2019!