Ever since Argan Bistro shut down, Downtown Vancouver has had a dining void (shocking, I know) in Moroccan-style cuisine. In early 2018, Moltaqa opened in place of the departed ACME Cafe and looks to share their vision of Moroccan food and extensive use of traditional earthenware pots (known as "tagines") for serving. Last week I had the chance to experience their brunch menu.
Disclosure: This was a complimentary tasting provided in exchange for an honest overview and no monetary compensation.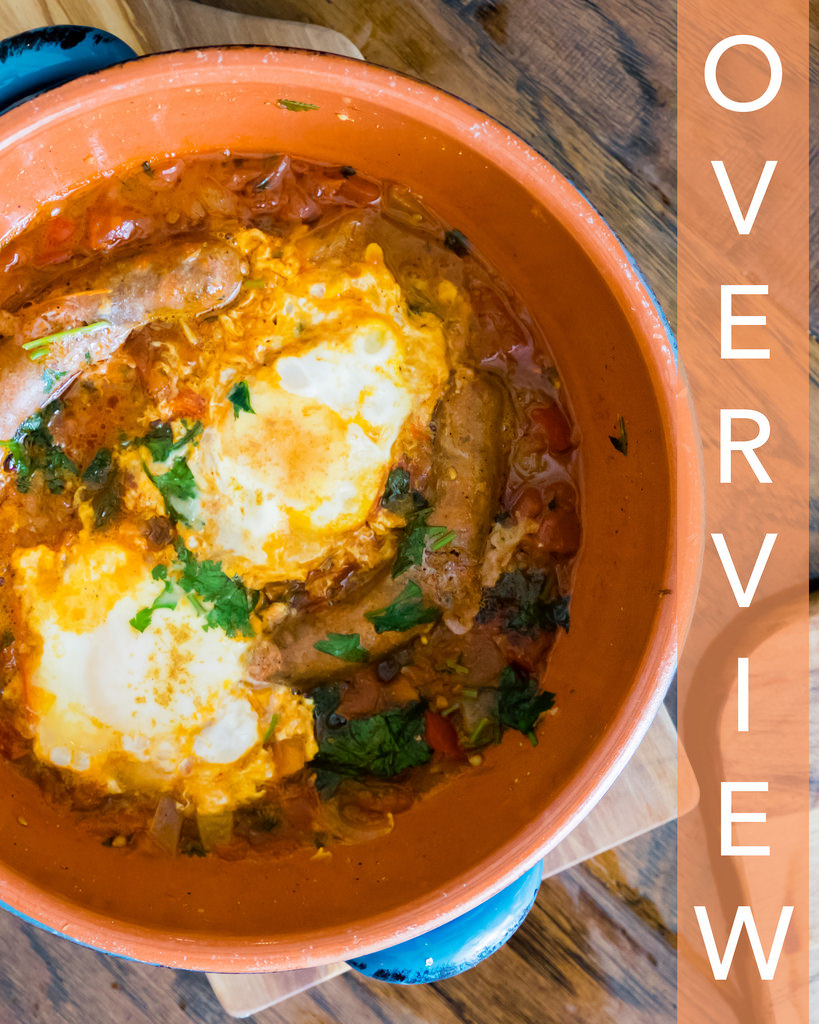 Food and Drink:
Team Tastic came here for a Saturday brunch and I had a great taste of the following:
Apple Arugula Salad ($9.25)
Lamb Sausage Merguez ($12)
Lamb Merguez Shakshouka and Eggs ($13.75)
Cumin Lamb and Roasted Vegetables Sandwich ($10.75)
Lamb Shank Tagine ($17.75)
I was also given a glass of Aveleda Vinho Verde 2016 to enjoy with the meal. This budget wine (~$15 CAD) is unavailable at the BC Liquor Store so you get to have something different with the drink list at Moltaqa. This wine had light bubbles and a mild sweetness which worked great with the salad described below. It was served in a very elegant glass.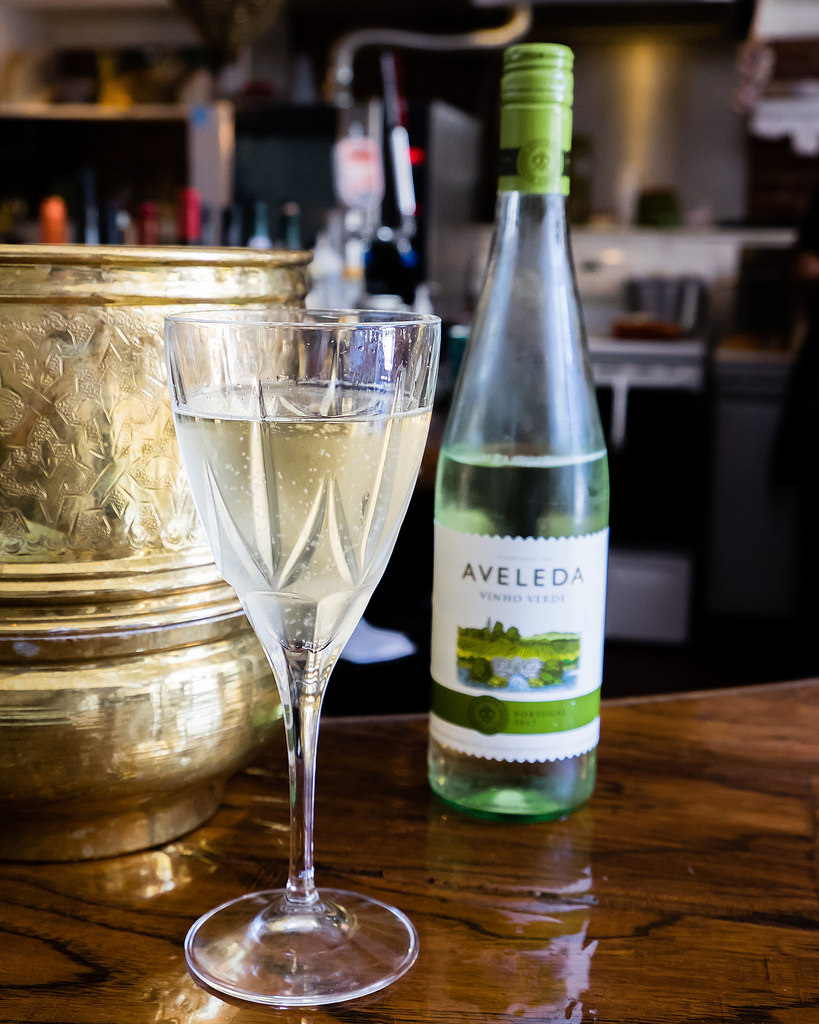 Aveleda Vinho Verde 2016
The apple arugula salad was as described, and tossed in an olive oil, Moroccan spices, and finished with a pomegranate dressing. As such, each bite had a fruity refreshing feeling, and way different from the traditional garden or caesar salads found on Western menus.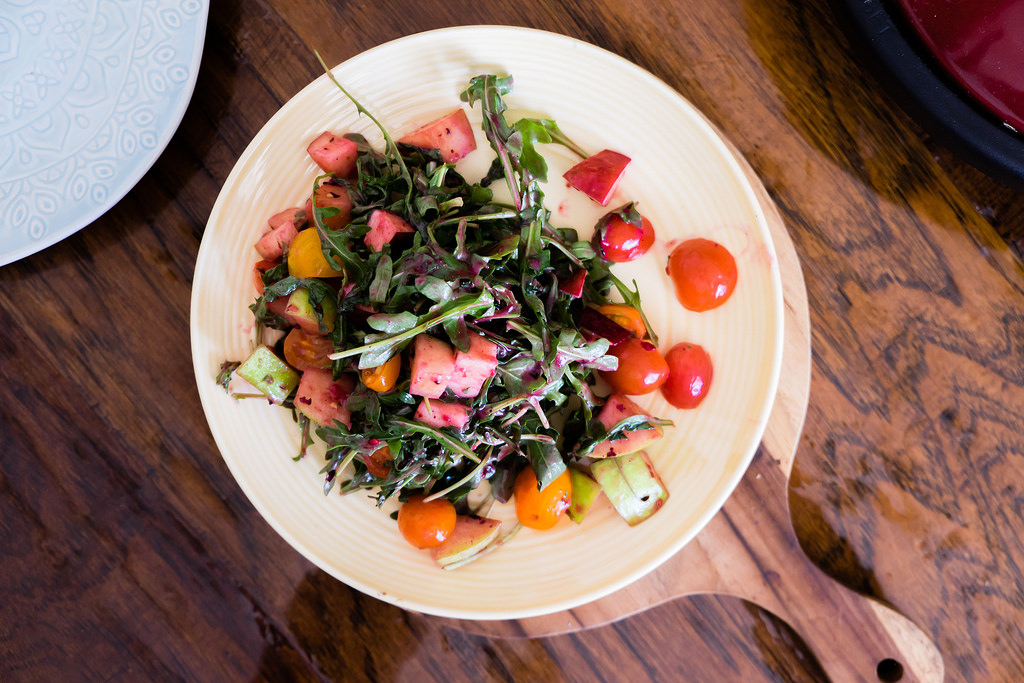 Apple Arugula Salad
The first of our lamb dishes was the lamb sausage merguez. These were served in a small tagine that I was informed helps enhance the flavour of the food by forcing flavoured condensation to drip back into the bowl. As such, these sausages were extra juicy and the stew extra flavourful.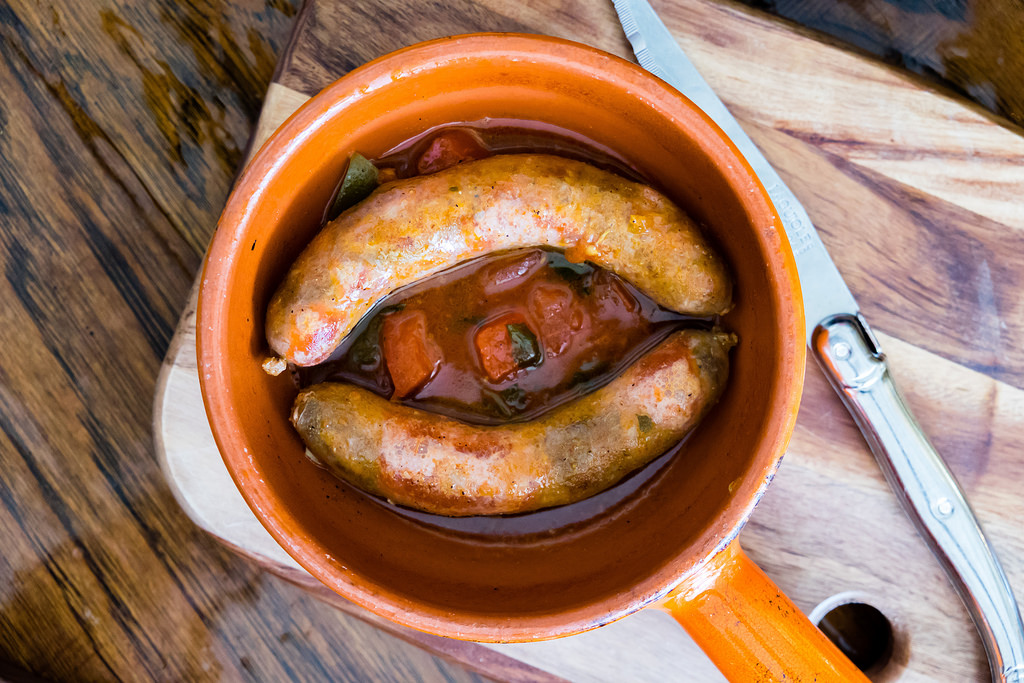 Lamb Sausage Merguez
We were also given loaves of bread to sop up the stew with.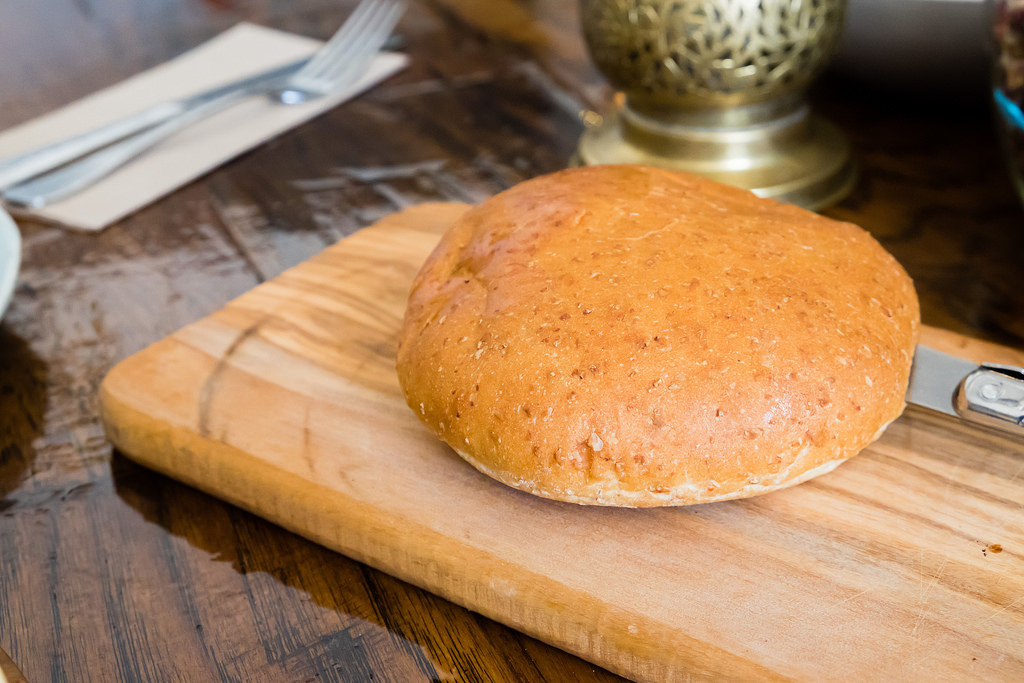 Bread
Moving on, the lamb merguez shakshouka and eggs was up next. This dish (also served in a tagine) would be as close as you can get to a Western-style brunch dish. The poached eggs had a medium tendency (you can ask for this to be modified to soft) and again, the sausage and stew were extra juicy and flavourful. The lamb shakshouka and lamb merguez are pretty similar dishes so between the two I'd recommend getting the shakshouka so you can enjoy more stew and a couple of eggs.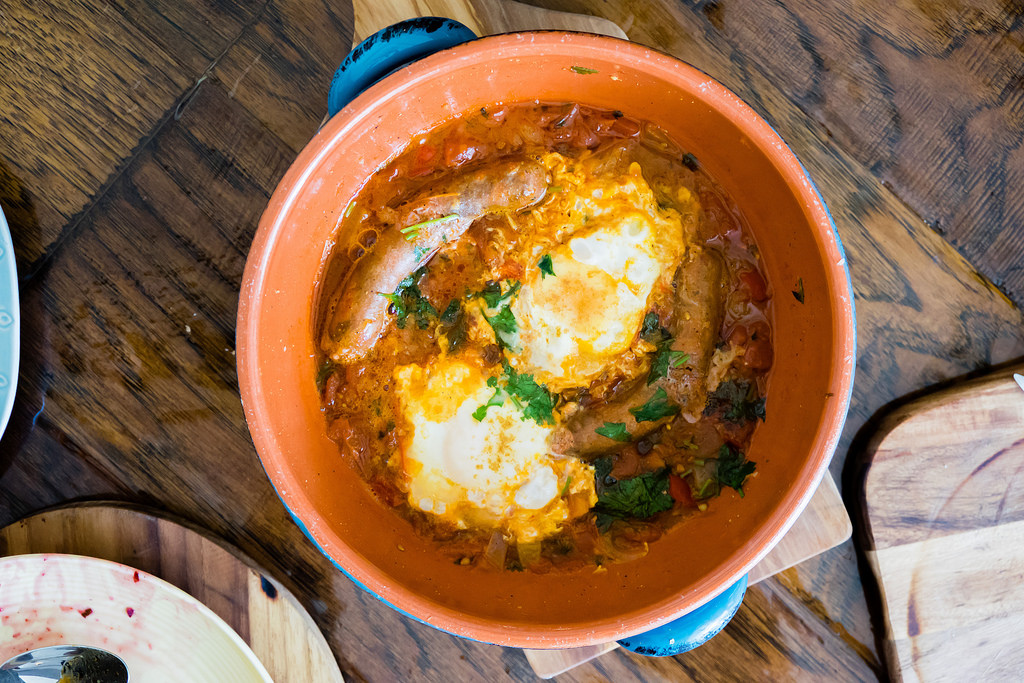 Lamb Merguez Shakshouka and Eggs
By now, you're probably seeing that flavourful stews are the name of the game when it comes to tagines. We took a small segway to the sandwich menu in the cumin lamb and roasted vegetable sandwich which came with a side of zucchini chermoula (Moroccan cumin sauce) salad. **The lamb here was extra savoury and a nice break from all the lamb sausage we were seeing. **
The sandwich bread used here is the same bread served as an accompaniment to the other tagines, which without the tagines nearby, would have made for a slightly dry experience. In our scenario though, we had some extra stew from our tagines which enhanced the flavour of the sandwich halves as we dipped them in.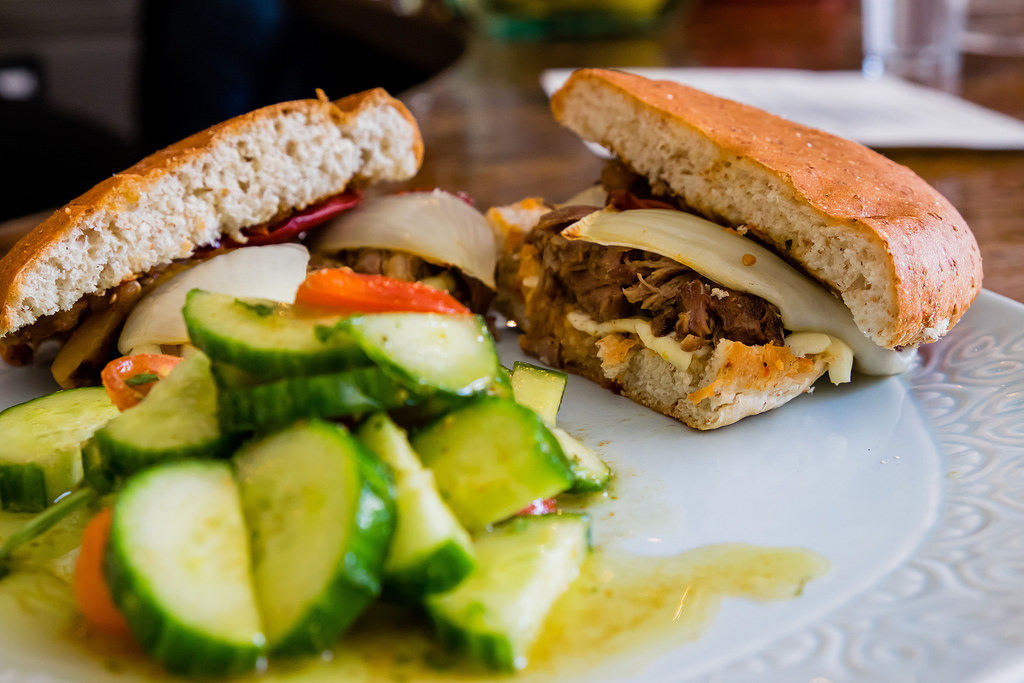 Cumin Lamb and Roasted Vegetable Sandwich
Last, but not least, the mack daddy of lamb was the lamb shank tagine. Enhanced with ras el hanout (literally "top-shelf") Moroccan spices, this lamb shank packed a punch in flavour and needed no knife to pull the meat off the bone because it was that tender. This tagine would be enough to fill up the average person as it also comes with a number of roasted vegetables and potatoes. For our meal, we had to tap out and take most of this delicious shank to go. Save room for this tagine if you plan on enjoying some extra tender lamb.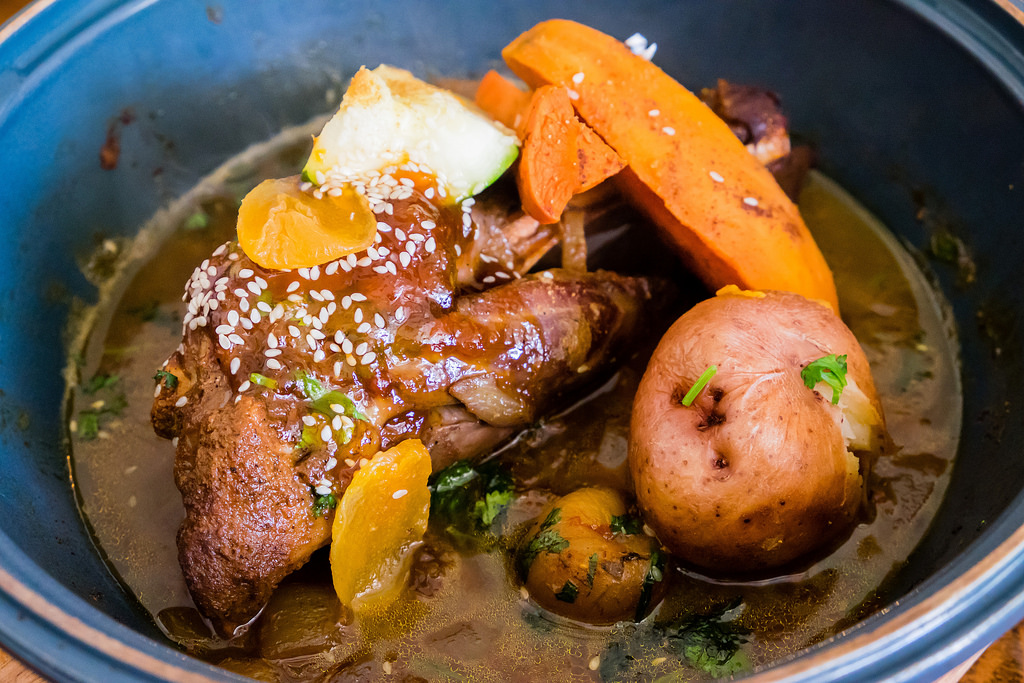 Lamb Shank Tagine
And as a side note, we were having a lamb kind of day on this visit, but Moltaqa does offer chicken, beef, and vegetarian options on their brunch menu. All meats are Halal.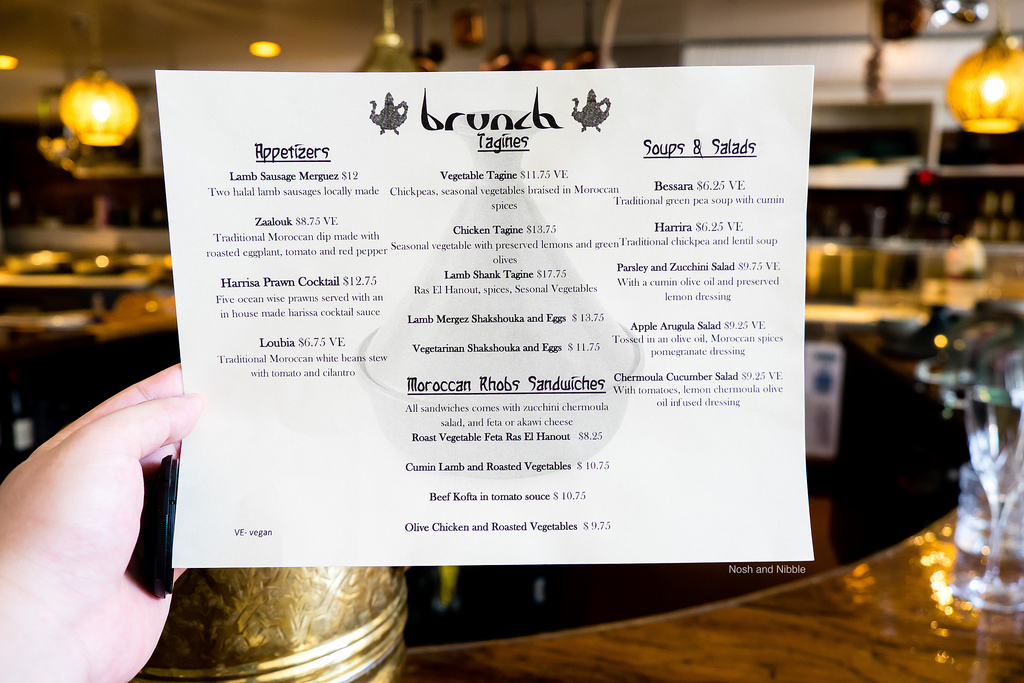 Menu
Features:
Moltaqa takes over the former space of ACME Cafe in Vancouver's Gastown neighbourhood. The interior has been re-styled, meaning the classic diner seats have been fitted with a Mediterranean-inspired decor and the semi-circle bar stools are fitted with Moroccan coloured quilts. The kitchen is still there and now features a real stove-top (former visitors of ACME Cafe would always get a speech on how ACME's egg benedicts needed to be baked rather than poached over a stove). There's seating for about 50 guests in the re-fitted venue.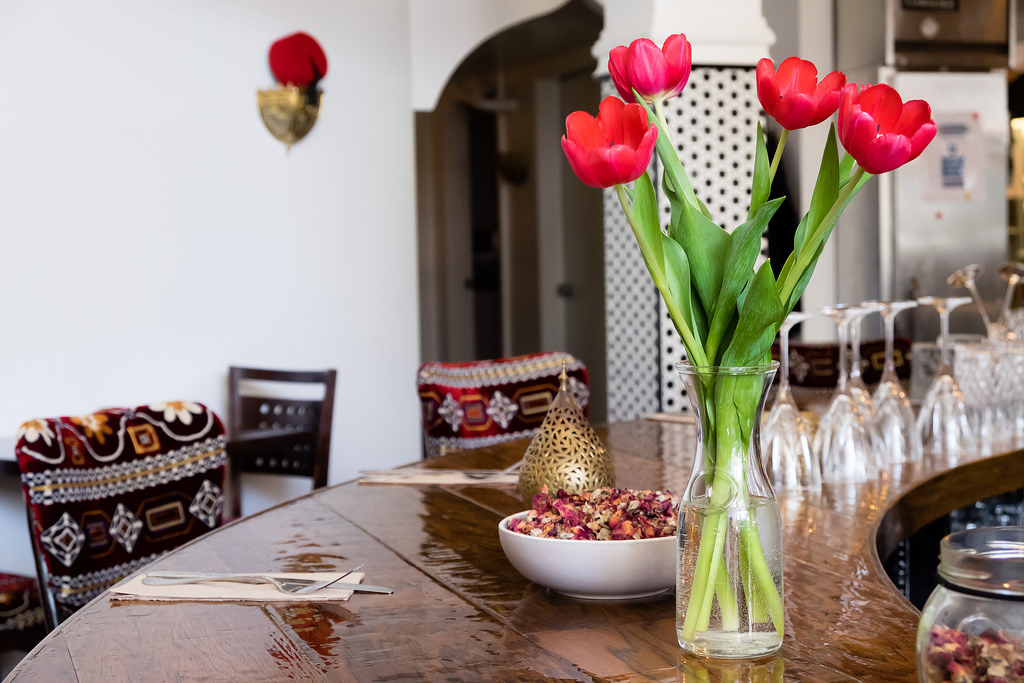 Inside Moltaqa
Again, most of the magic comes in the tagines. You'll need to see for yourself the impact of these earthenware pots provide. Lift up the lid of your tagine and waft in the alluring scent of the lamb shank or shakshouka.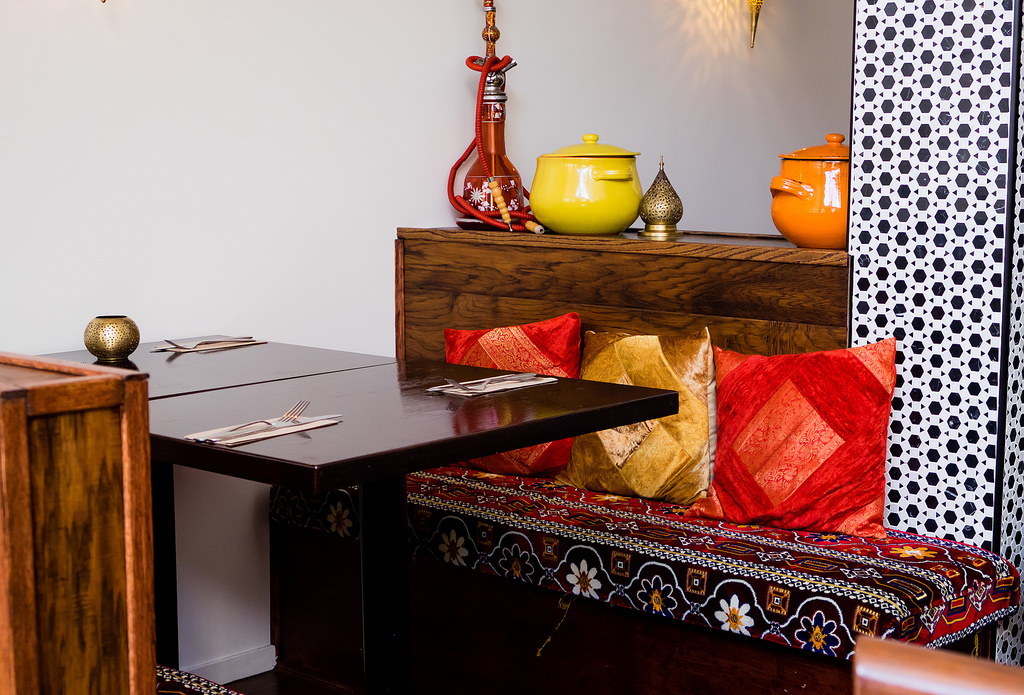 Inside Moltaqa
Final Thoughts:
One-liner: A new Moroccan eatery that fills a needed void and offers some of the most aromatic food served in tagines
Highlight: Lamb Shank Tagine
Price per person: $12-$25
Would I go back? Yes.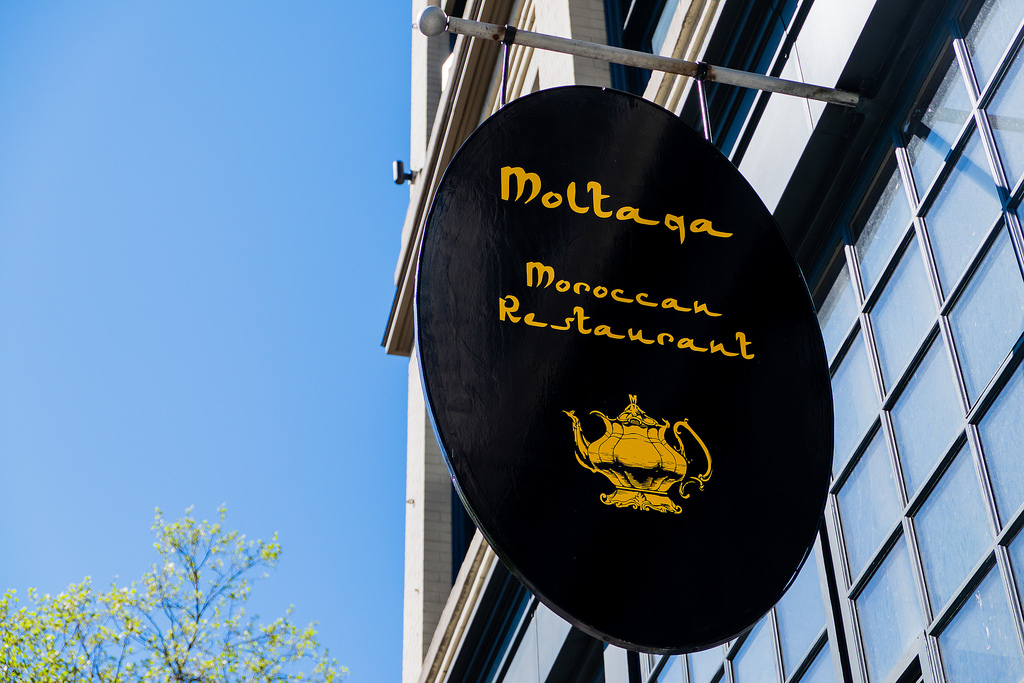 Outside Moltaqa