I hate the phrase "hidden gem" because I think it's misused for restaurants in obviously urban addresses (please, you CANNOT tell me OEB, in Yaletown, is a hidden gem of Vancouver that only locals know about). However, like so many others, I think I've found a true gem and its name is Land & Sea, a neighbourhood joint nestled in a very small commercial plaza on the corner of West 57th and East Boulevard. As this intersection isn't home for many other businesses, I think it qualifies as a hidden gem. This is not just another fancy menu offering you their take on lamb shank. It's a delicate blend of different cuisines that leave you asking how can people be so creative in this day and age, and for me, left me wondering the next time I can spend more money at Land & Sea.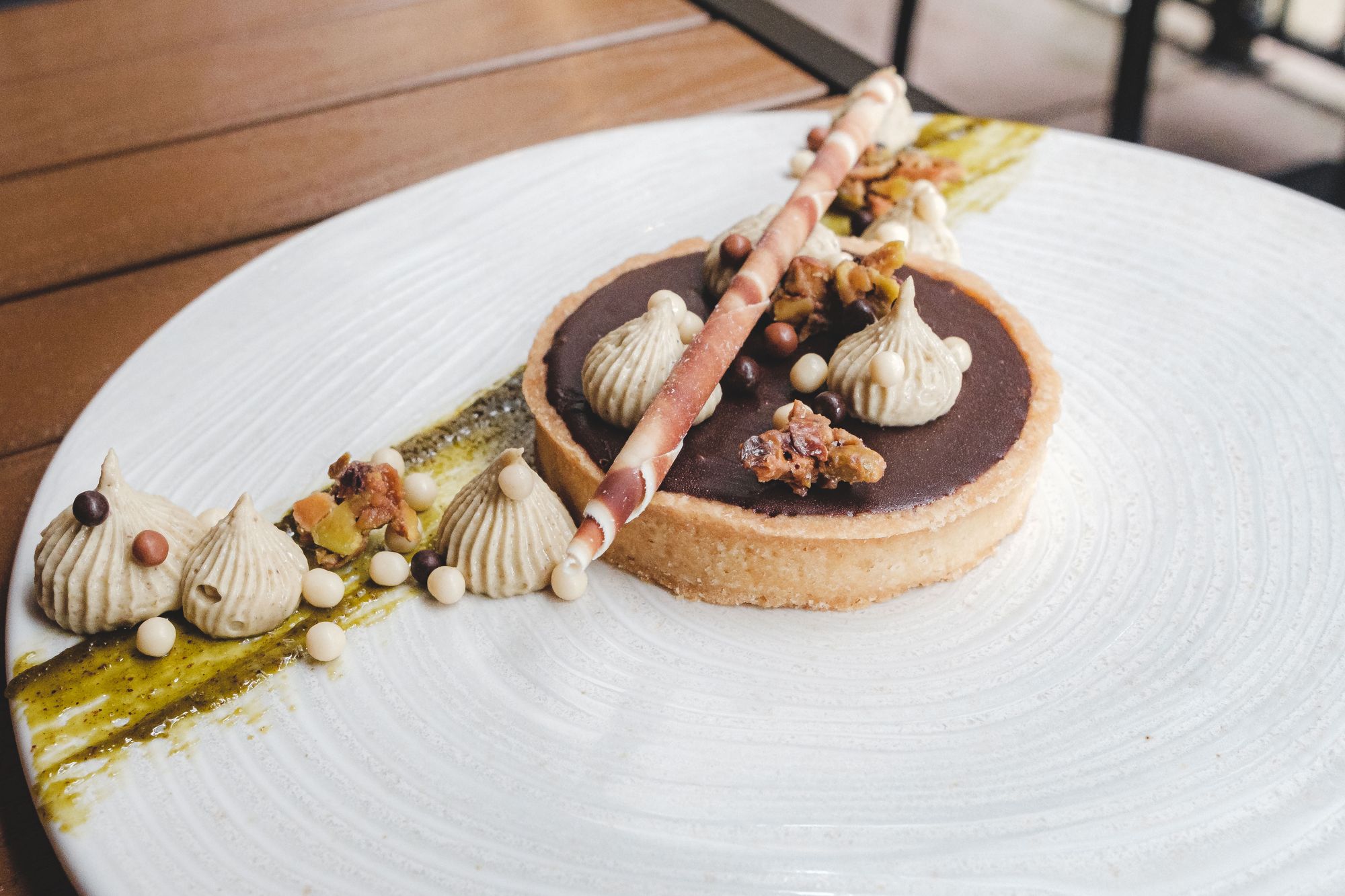 Food and Drink:
Team Tastic came here for an anniversary dinner and I had a great taste of the following:
Welcome Champagne (complimentary)
Ora King Salmon Soba ($31)
Chili Crab ($46)
Grilled Pork Tomahawk ($42)
Gelato (complimentary)
Dark Chocolate Tart ($16)
You read that right, we got complimentary champagne. Land & Sea saw on our reservation (not mine – my wife's!) that we were celebrating our anniversary and briskly presented us with 2 glasses of champagne minutes after we got seated. This was a really nice gesture.
Our first hit of the night, the 'sea', was the ora king salmon soba. Every blogger I follow who's been here has gotten this dish and they were right – this dish hits all the right notes and is a must-try from Land & Sea. I repeat. You do not want to share this. The flame-finished ora king salmon cleaves easily into a pristine sesame ponzu which you can then wrap around your fork in a cloak of green tea soba and the combination is divine. A bit of yuzu tobiko and ikura seal the orgasmic mouthfeel. This is nothing I've ever seen before in Vancouver and I don't know when I'll be so impressed next.
Next up was the chili crab. Featuring hits from Japan, Thailand, and China, the ideal bite of this masterpiece blends together a dungeness crab & snow crab ravioli, quail egg drop, sweet tomato chili sauce, and soft shell crab tempura topped with tobiko. The mix of textures was most prominent in this dish with crisp tempura, vibrant tomato chili sauce, and a savoury ravioli filling. Overall, a very balanced dish and one I haven't seen anywhere else in Vancouver.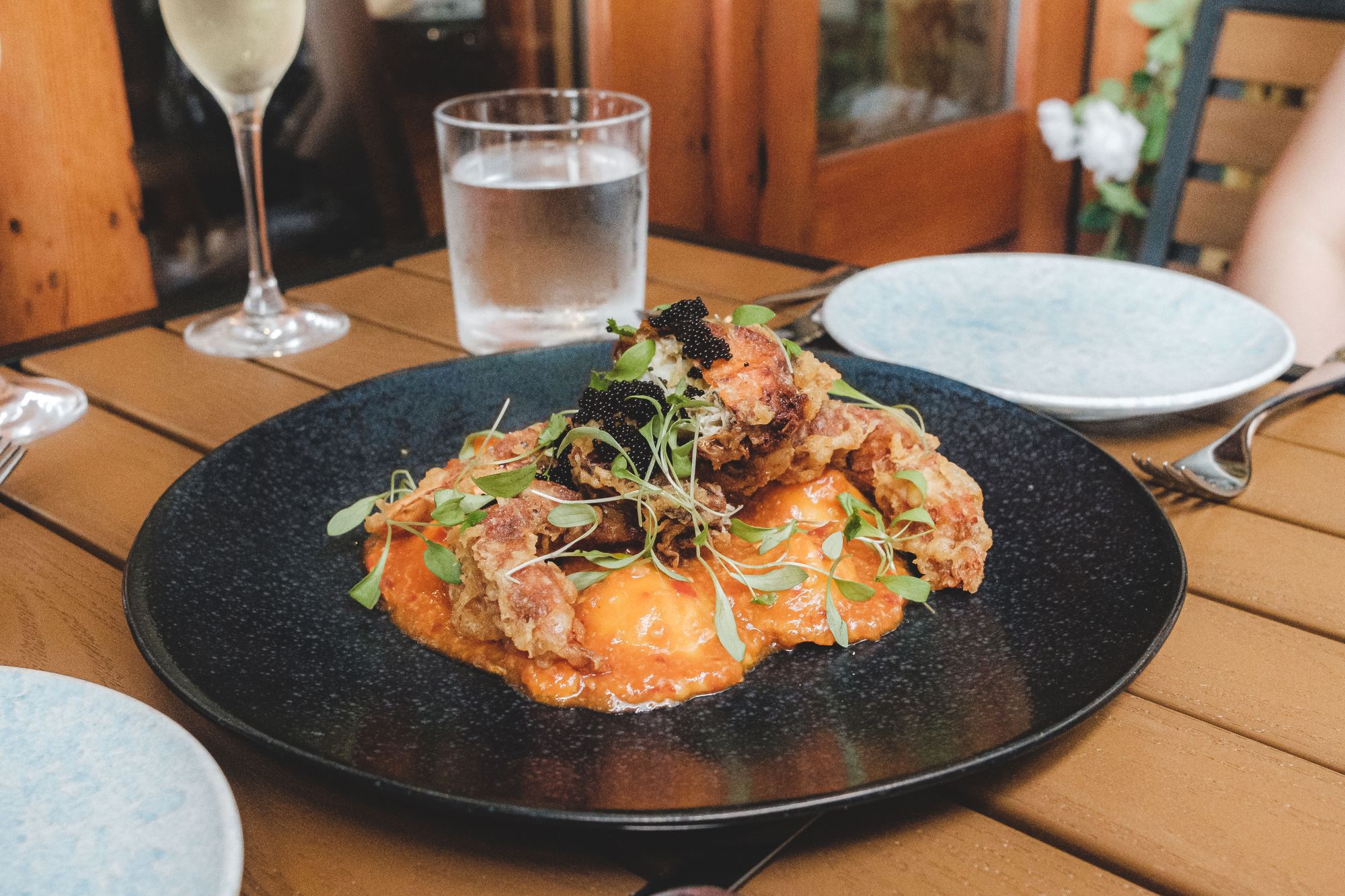 On the land side of things, we opted for a grilled pork tomahawk. Immaculate presentation on this one with pristine cuts of pork lined up along a beautiful bone. The true star was the mix of karashi mustard peppercorn (Japanese) and pepperonata (Italian). Japanese and Italian flavours here combined to make a fantastic mouthfeel that was further complemented by how good the pork was. This was for the most part, lean pork, and I don't think it could have been cooked any better. I'm sure there are other places in Vancouver that serve a mean pork dish, but I've never seen anything plated like Land and Sea's.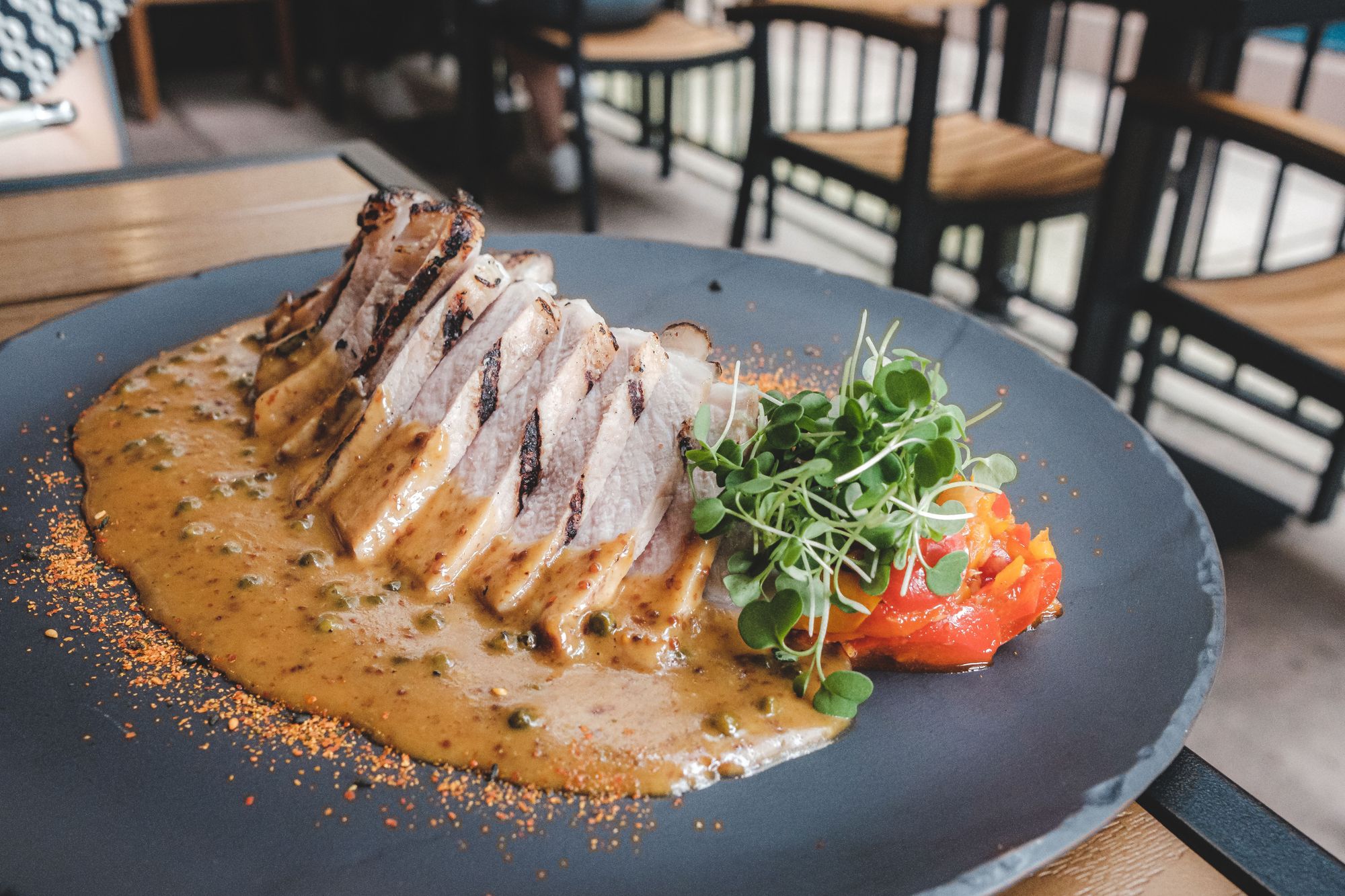 Moving onto dessert, we were first greeted with a complimentary gelato, again to celebrate our anniversary. This was again a nice gesture by the restaurant and it came as a total surprise. Usually when plates are cleared at a restaurant, you get asked if you want to look at the dessert menu. For us, our plates were cleared with no mention of dessert, meaning they already knew they were going to give us this dessert and planned for it to be a total surprise.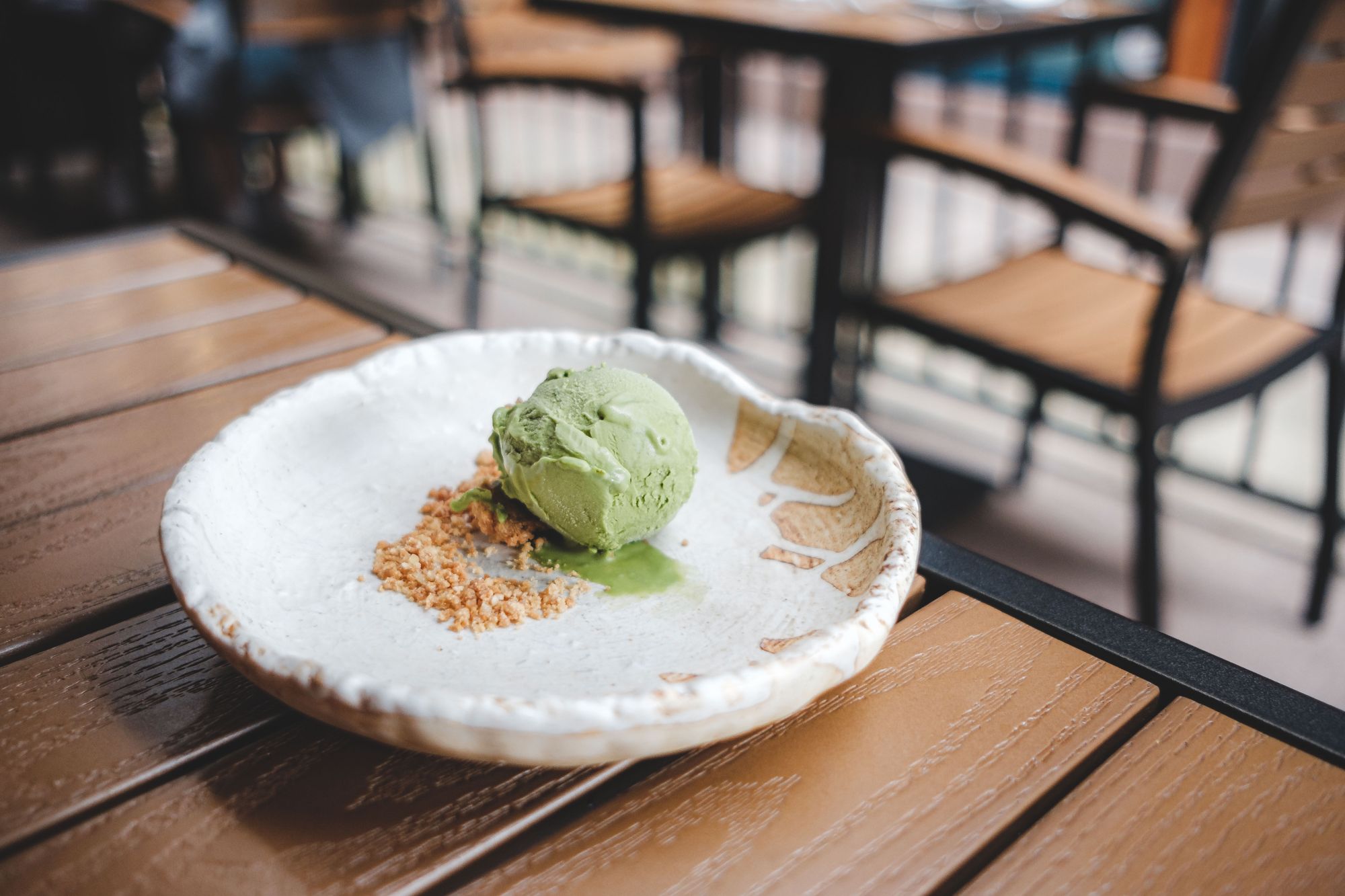 I had premeditated ordering the dark chocolate tart thinking it would be really cool if Land & Sea's pastry game was as strong as its food and expectations were completely met. In this tart, we had a satisfying texture with just the right tension to break the tart, and a band of pistachio mousse and raspberry yuzu filled out the rest of the plate. The dark chocolate was a fantastic blend with the raspberry yuzu without being too sweet, and like any good dessert, left me clamouring for more even though the meal was over.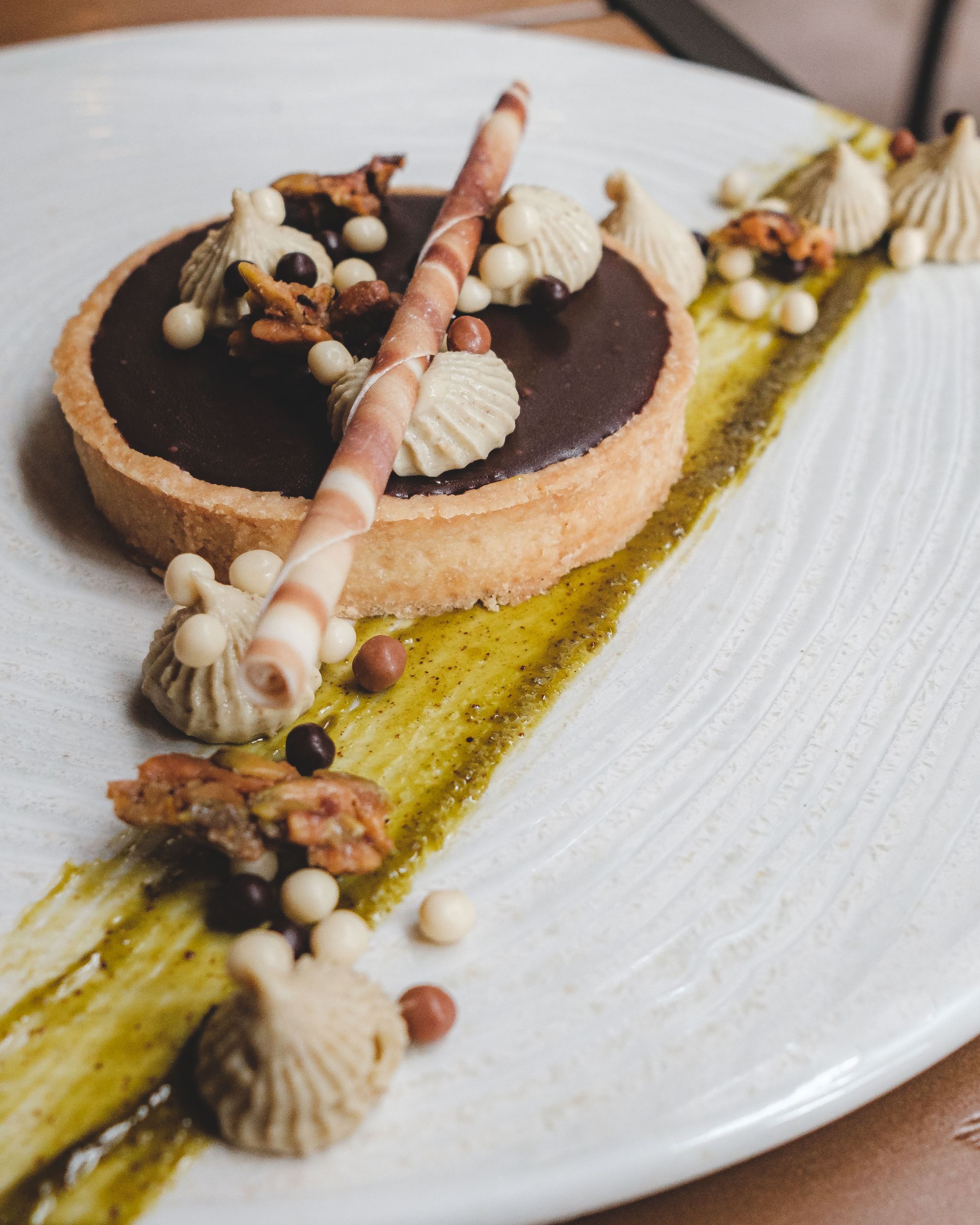 Features:
Land & Sea takes up residence in a very quiet neighbourhood south of Kerrisdale and west of the main South Granville neighbourhood (the actual neighbourhood, not the shopping district). Inside is a beautiful Italian-inspired interior with a vaulted ceiling, a long bar, and as many tables that fire codes permit putting into a space. We were seated on the patio for our session which was quiet and peaceful, fitting about 14 guests. The vibe was very relaxing out there and heating was provided by heat lamps throughout the meal.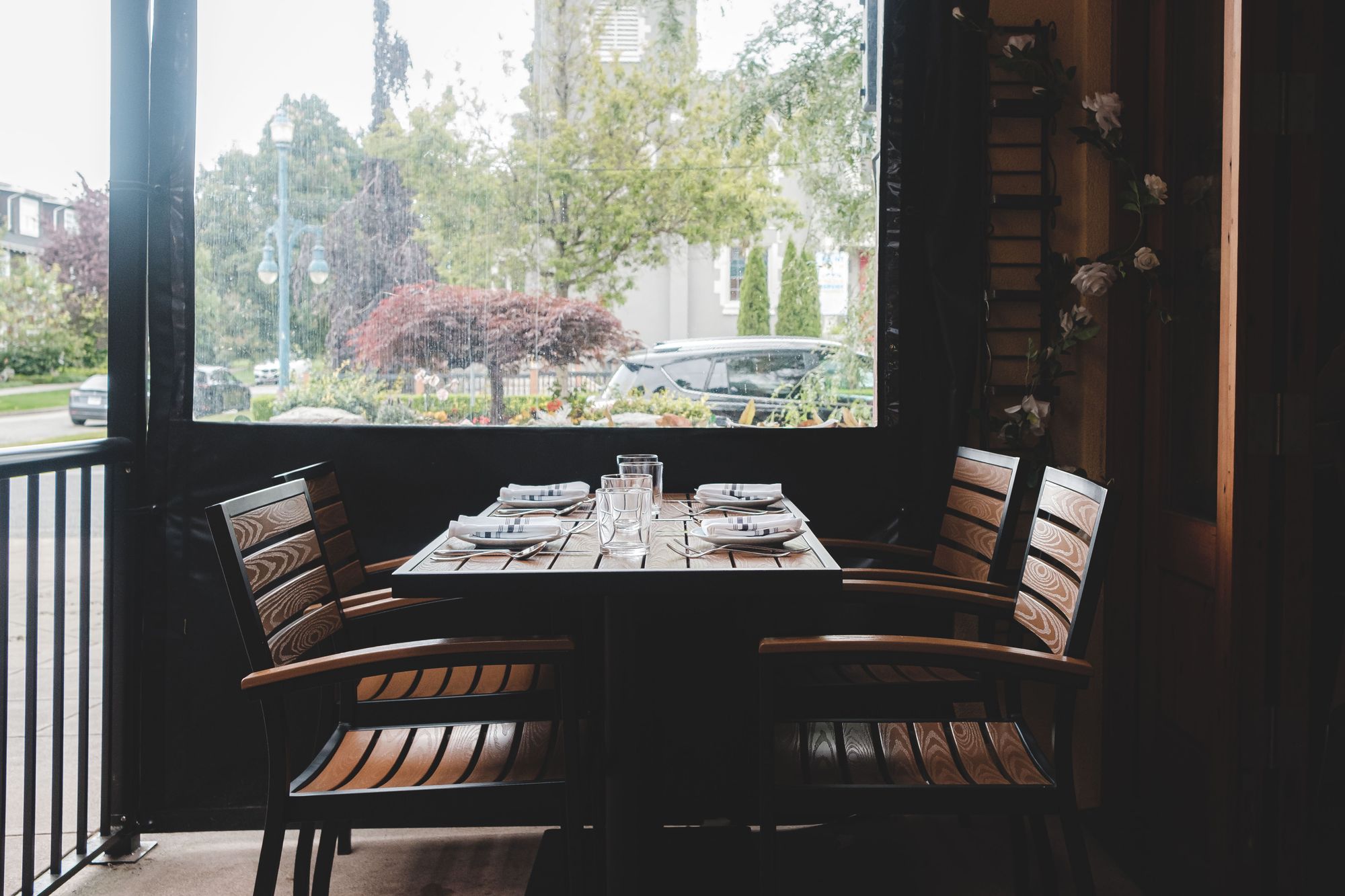 Service:
If you hadn't already guessed by the surprise champagne and dessert, service is impeccable at Land & Sea. Our server Patrick always knew exactly what was going on and made the experience all the more memorable. The Yelp reviews rave about this guy and I feel so lucky we got him too. I hope he never has to quit this gig.
We made reservations very early for this seating – a month or so in advance. I'd recommend doing the same because the first question we were asked on arrival was whether we had a reservation. The place was packed by the time we left at around 6:30pm on a Sunday.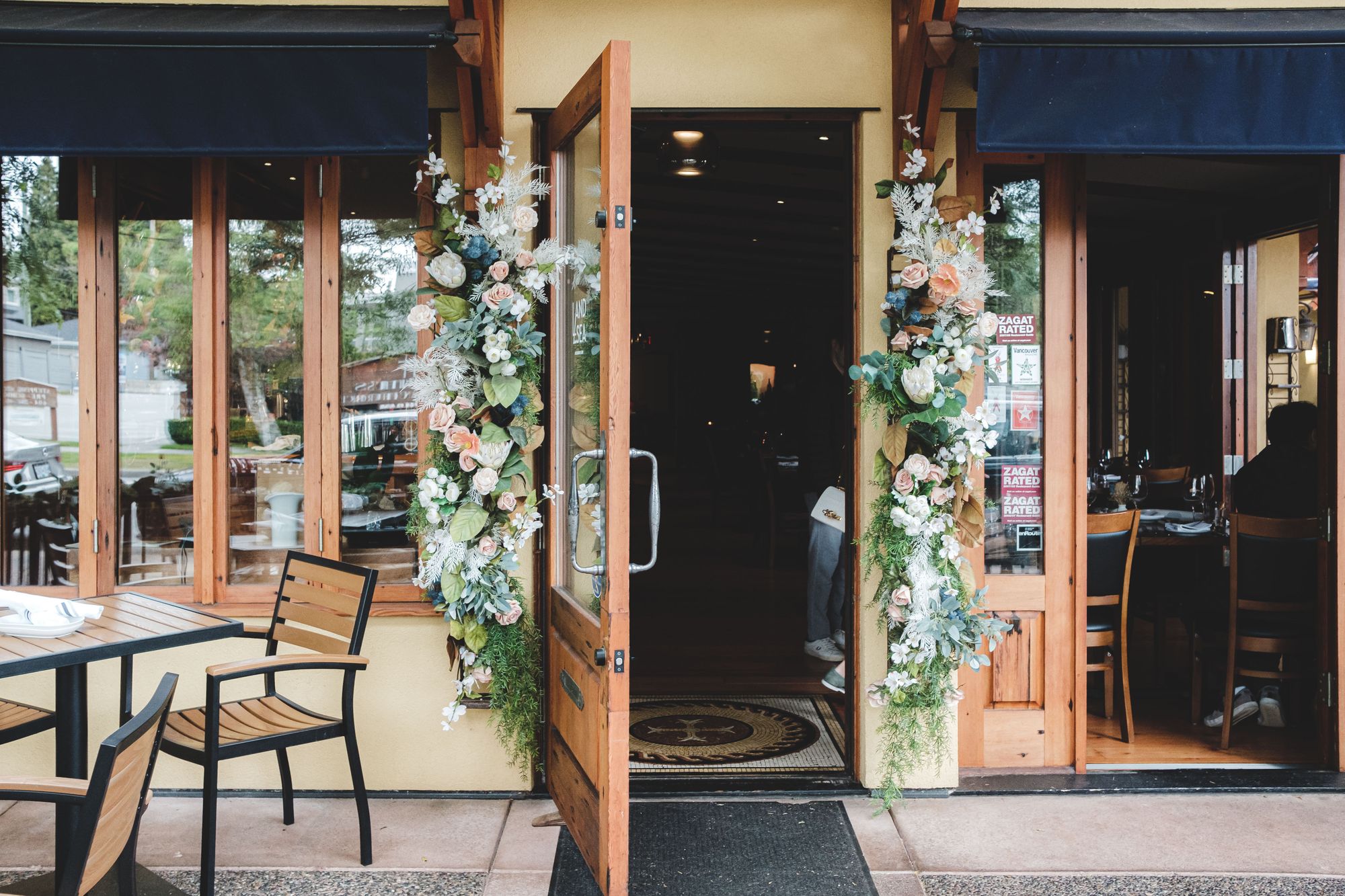 Food was also served pretty promptly, beginning to arrive around 15 minutes after we ordered, so despite the labour shortages hitting the restaurant industry in Vancouver, it feels like this restaurant is still bringing its A-game even on random Sunday nights.
Final Thoughts:
One-liner: Land & Sea is a fantastic hybrid menu that speaks wholly to what I look for in a restaurant and I can't wait to spend more money there
Highlight: Ora King Salmon Soba (do not share this!)
Price per person: $60-$100
Would I go back? Yes.