In Las Vegas, particularly on The Strip, everything is expensive. Even fast food costs more than regional equivalents if you're visiting a franchise on the strip. In general, most prices shift upwards which means the top-end has to really stand out from so many middling options that already cost more. So, I found myself at Nobu at Caesars Palace. I know most content on my blog has to do with Vancouver, but going through a $300 dinner at Nobu was such a wonderful experience that I had to document it in this blog.
Food:
Team GlueCrew came here for a Sunday dinner and while I participated in the $225 Caesars Omakase (list price), I'll list out what we had and its rough price from the a la carte menu.
Yellowtail Jalapeño ($33)
Uni Cucumber Shooter ($22 comparable)
Salmon Belly Karashi Sumiso ($60)
Toro Carpaccio with Seasonal Truffle ($120)
Black Cod with Miso ($45)
Smoked Seabass with Shichimi Amazu ($60 - exclusive to Nobu Las Vegas)
Toban Yaki A5 Wagyu ($55/oz)
Rock Shrimp Tempura with Creamy Spicy Sauce ($30)
Toro and Scallion Maki ($27)
Lobster Shittake Salad ($65)
Vanilla Miso Tart ($20)
Japanese Whisky Cappuccino ($15)
The cost breaks down fairly as you're getting a lot of food for your money though our omakase can be done a la carte with the exception of the uni cucumber shooters. We told our server that we had people who wanted to try sea urchin and so they whipped up something off-menu for us.
We started off light with a yellowtail jalapeño. This had a very neutral taste with a thin glaze and satisfying kick from the jalapeño.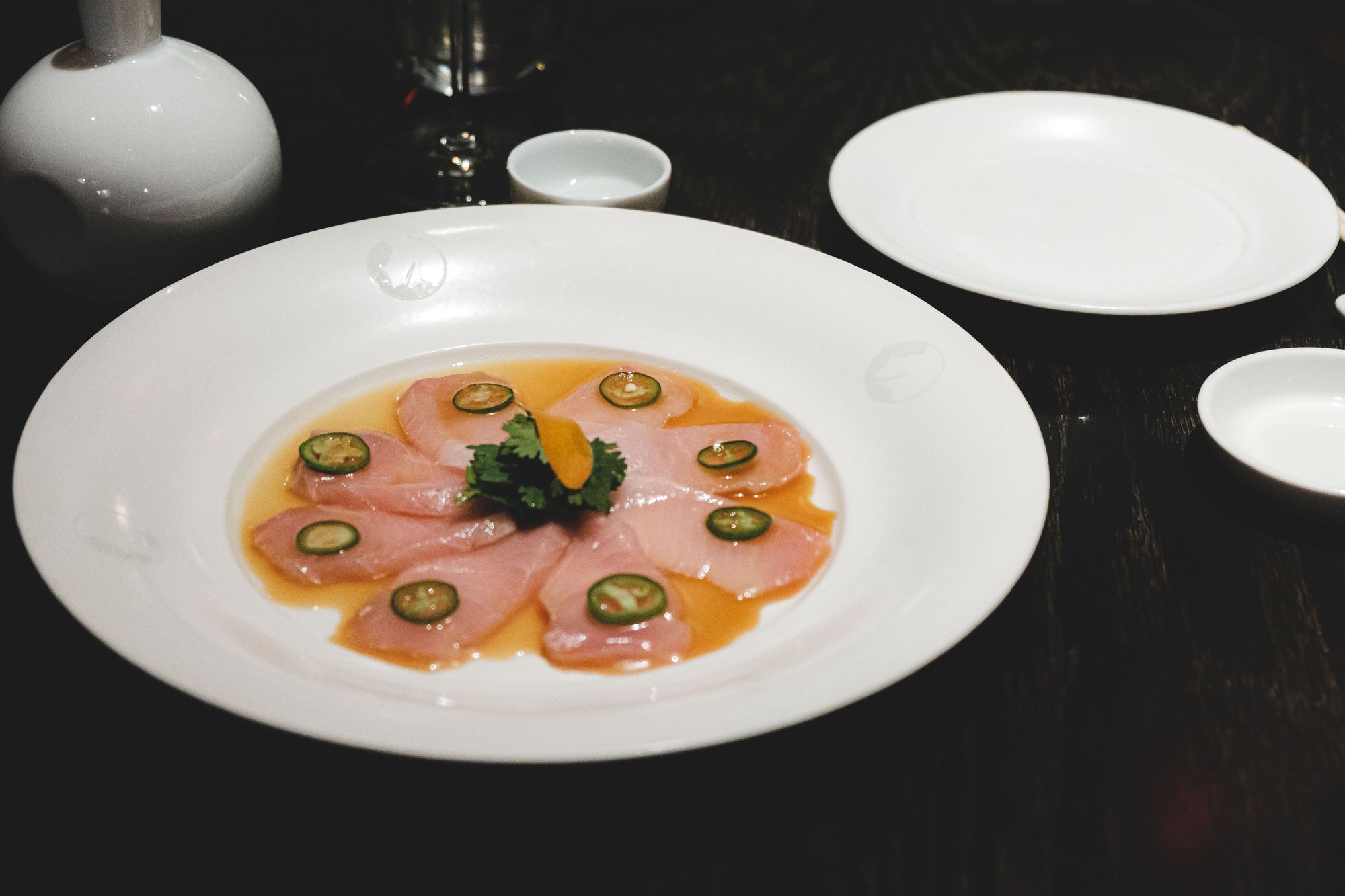 Next up were the uni cucumber shooters. This dish was more of an introduction to sea urchin than anything else but was still a fun way to continue warming up our palettes. The tobiko on top was the cutest touch.
The salmon belly karashi sumiso was my first hit of "Nobu hits different". The salmon sashimi I've experienced had nothing on the flavour profile of these pieces. Best enjoyed as a whole piece dumped into one's mouth, savoury salmon, tangy miso mustard glaze, and fresh greens all mixed together for an amazing balance of textures.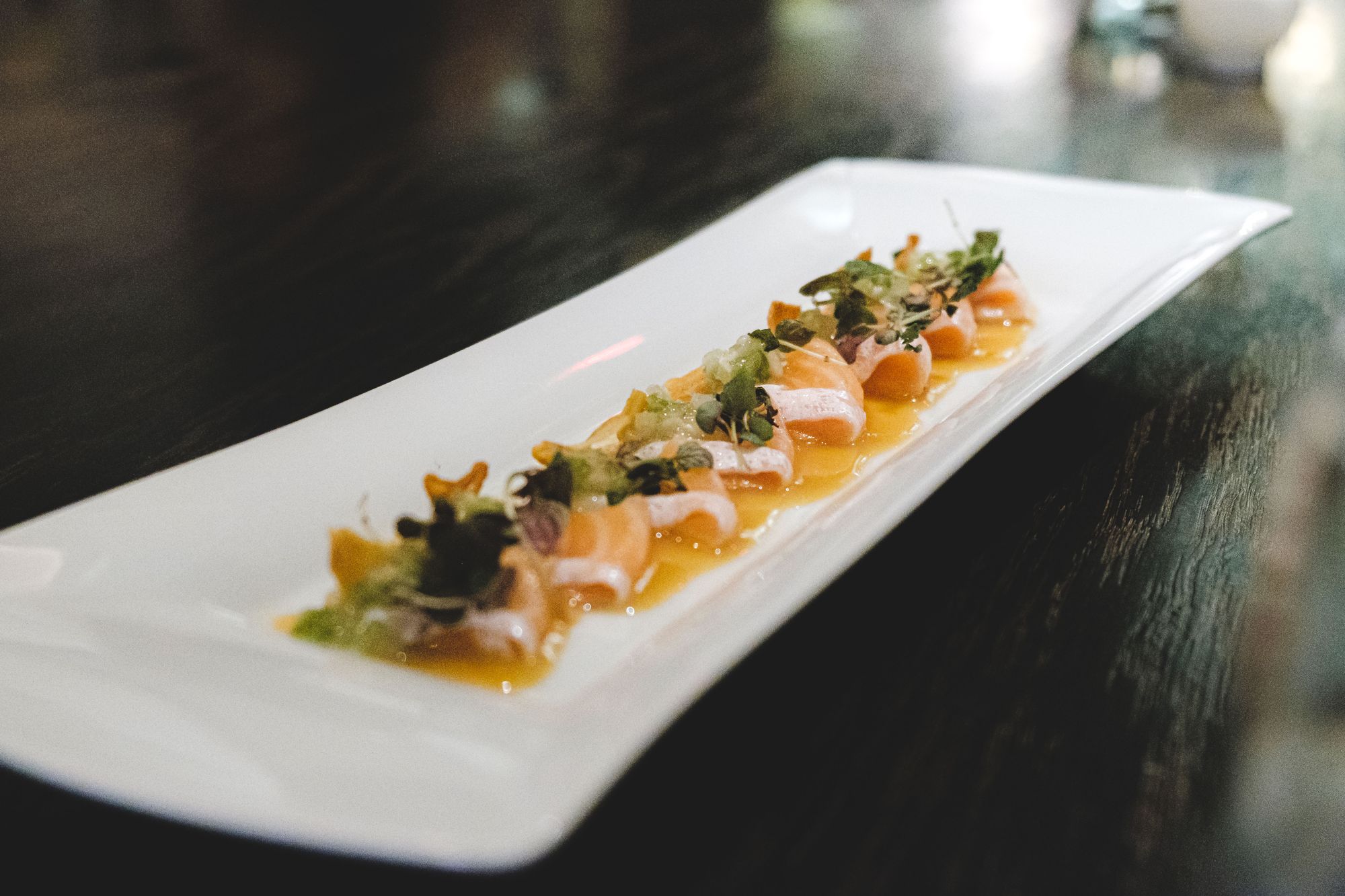 If the salmon belly was a savoury hit, the tuna carpaccio with seasonal truffle was a trip to umami town. There's nothing like the mouthfeel of shaved truffles and paired with the tuna carpaccio, made for a very intense flavour. Some people like caviar in their fine dining, but I prefer truffles.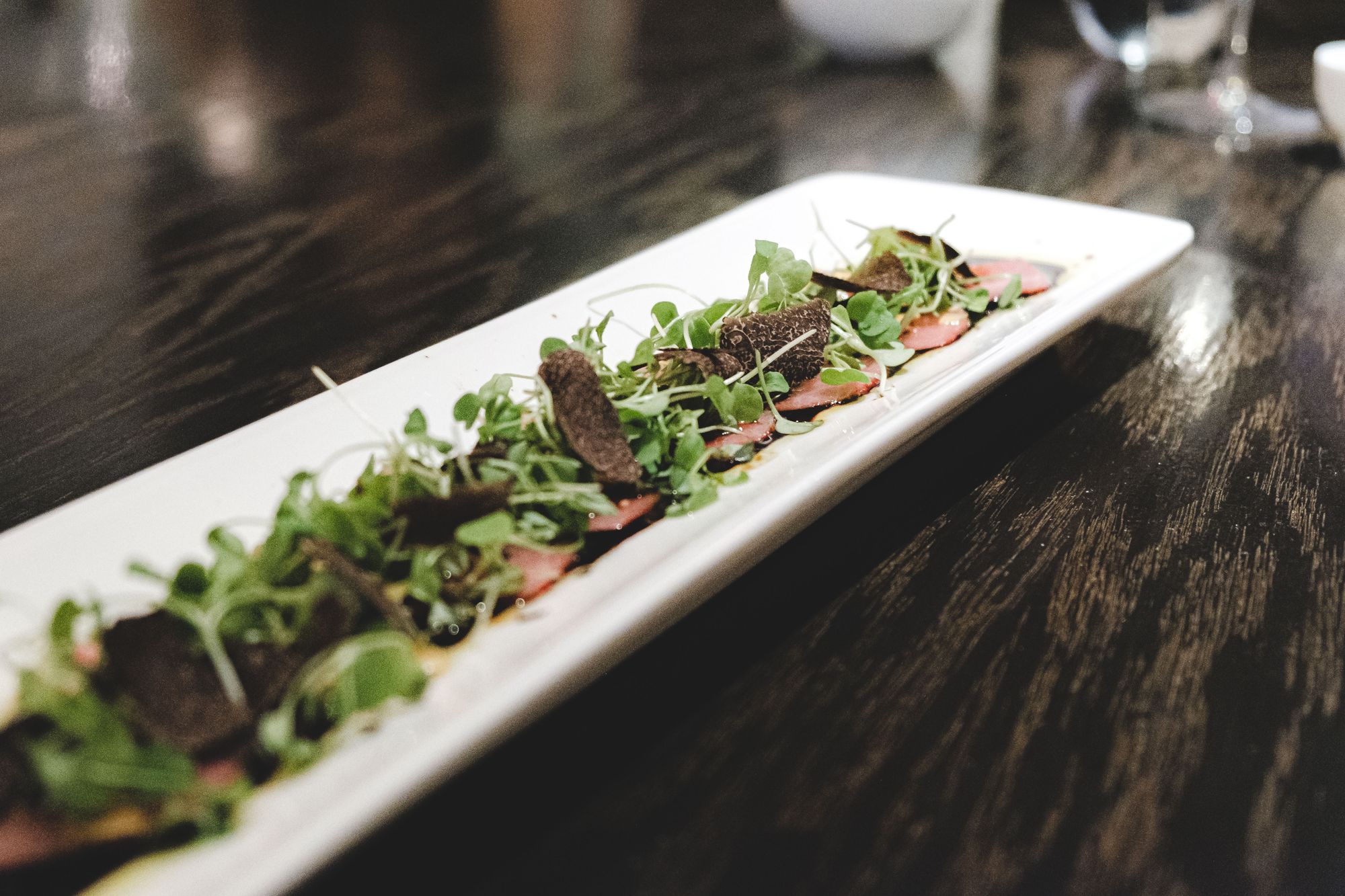 Following the appetizers, we stepped up to the big proteins. First up was the black cod with miso and boy did this deliver joy. Ling cod has a natural butteriness and this fish was cooked just right to release that savouriness. They even managed to make the main bone look elegant in the presentation. No knife was needed for this fish – it flaked off perfectly with my chopsticks.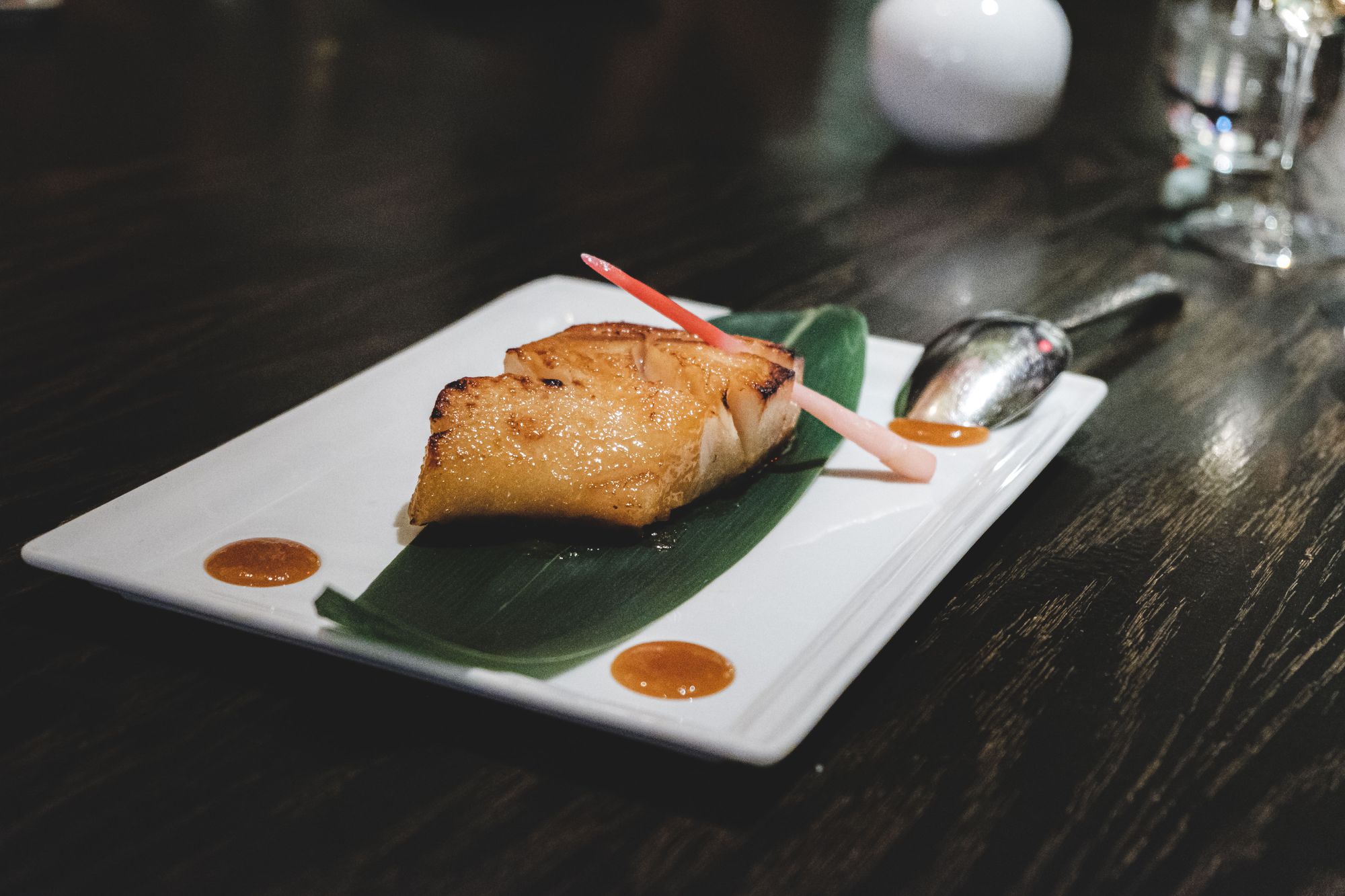 We also had the Caesars Palace-exclusive Nobu dish which was a smoked seabass with shichimi amazu. The smokiness was real as this first showed up to the table with a mysterious lid holding a grey haze. Once it was revealed, I could taste the smokiness in every bite. Just like the ling cod, no knife was needed for this fish.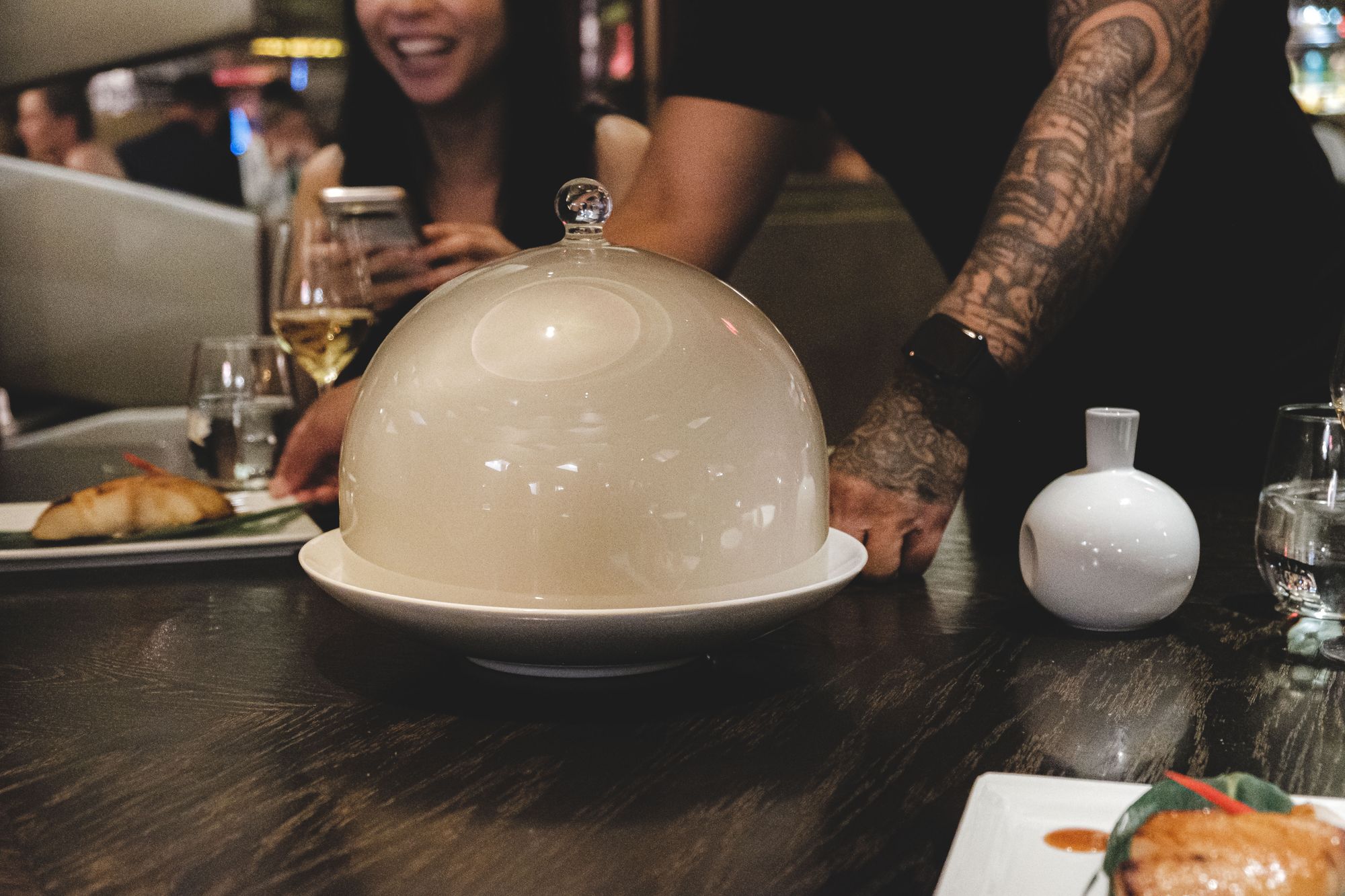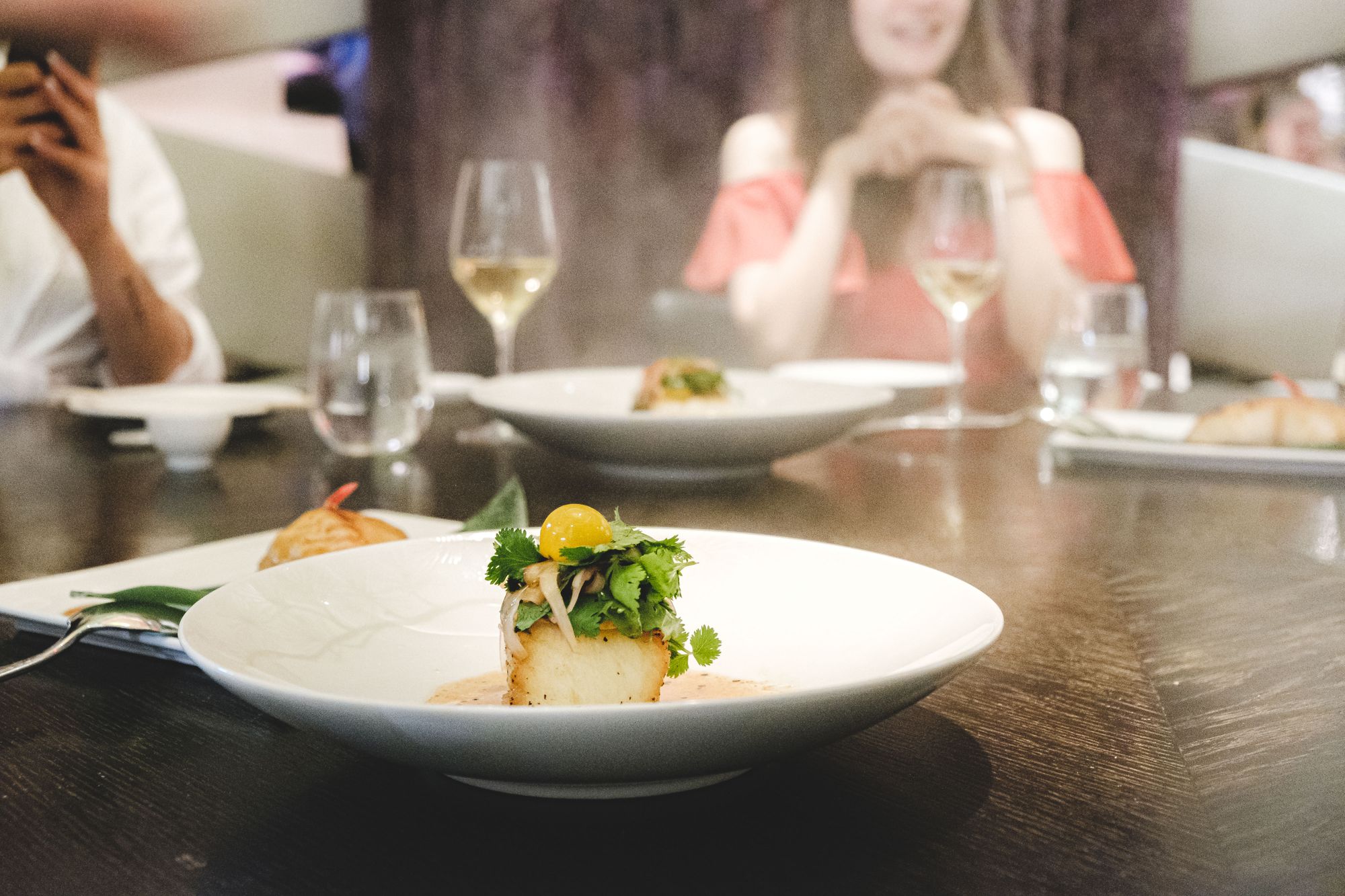 Our red meat for the night was a toban yaki-style A5 wagyu steak served with a tableside flambé. I'm guessing we got around 3oz a person, making this one of the more expensive items to receive. The flambé looked spectacular and added a sense of wonder and smokiness once it torched through. The meat was a fantastic marbling of fat and lean meat unlike any meat I've had before. I really appreciated this flavour profile and can understand why this is priced per ounce.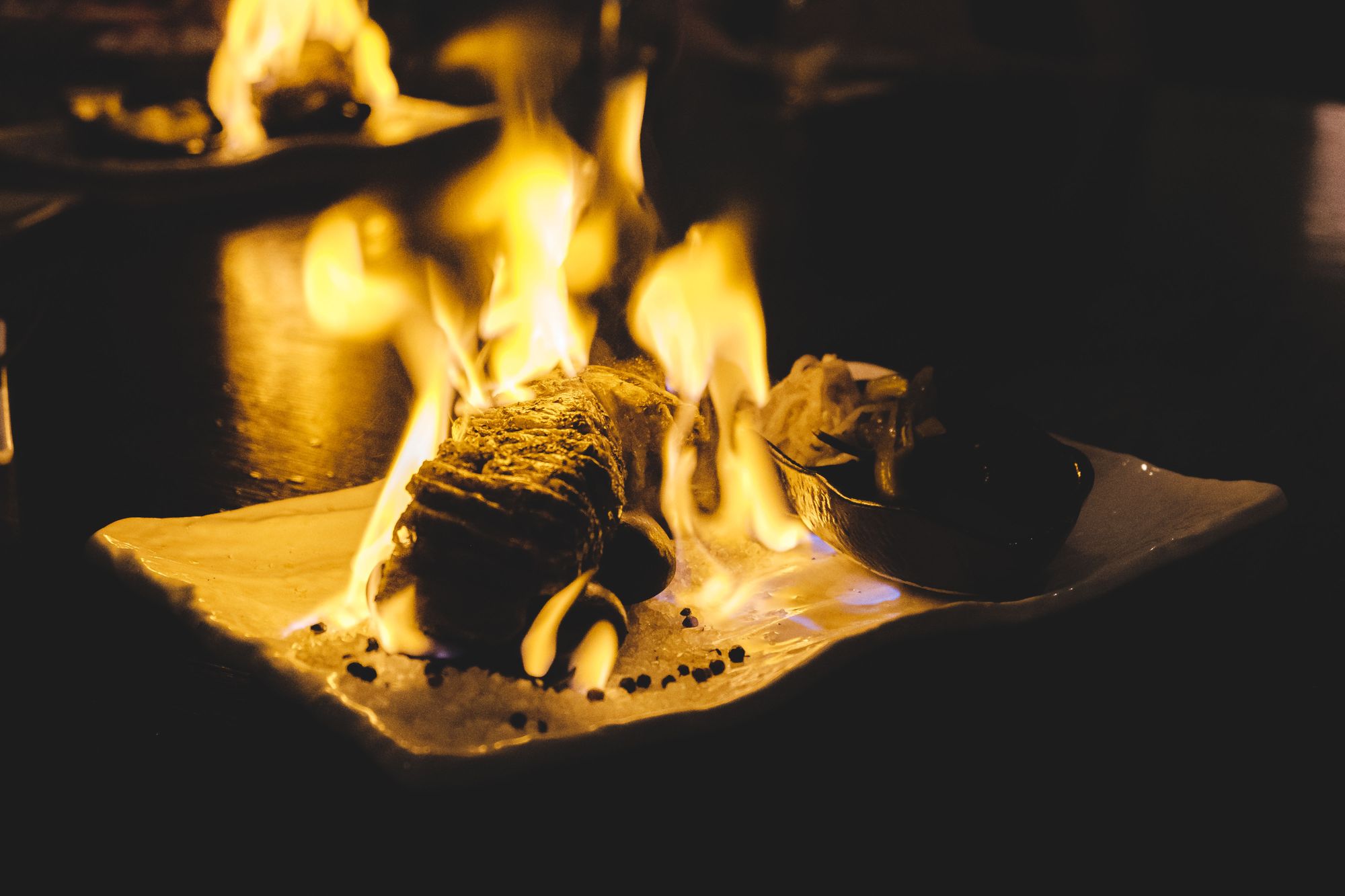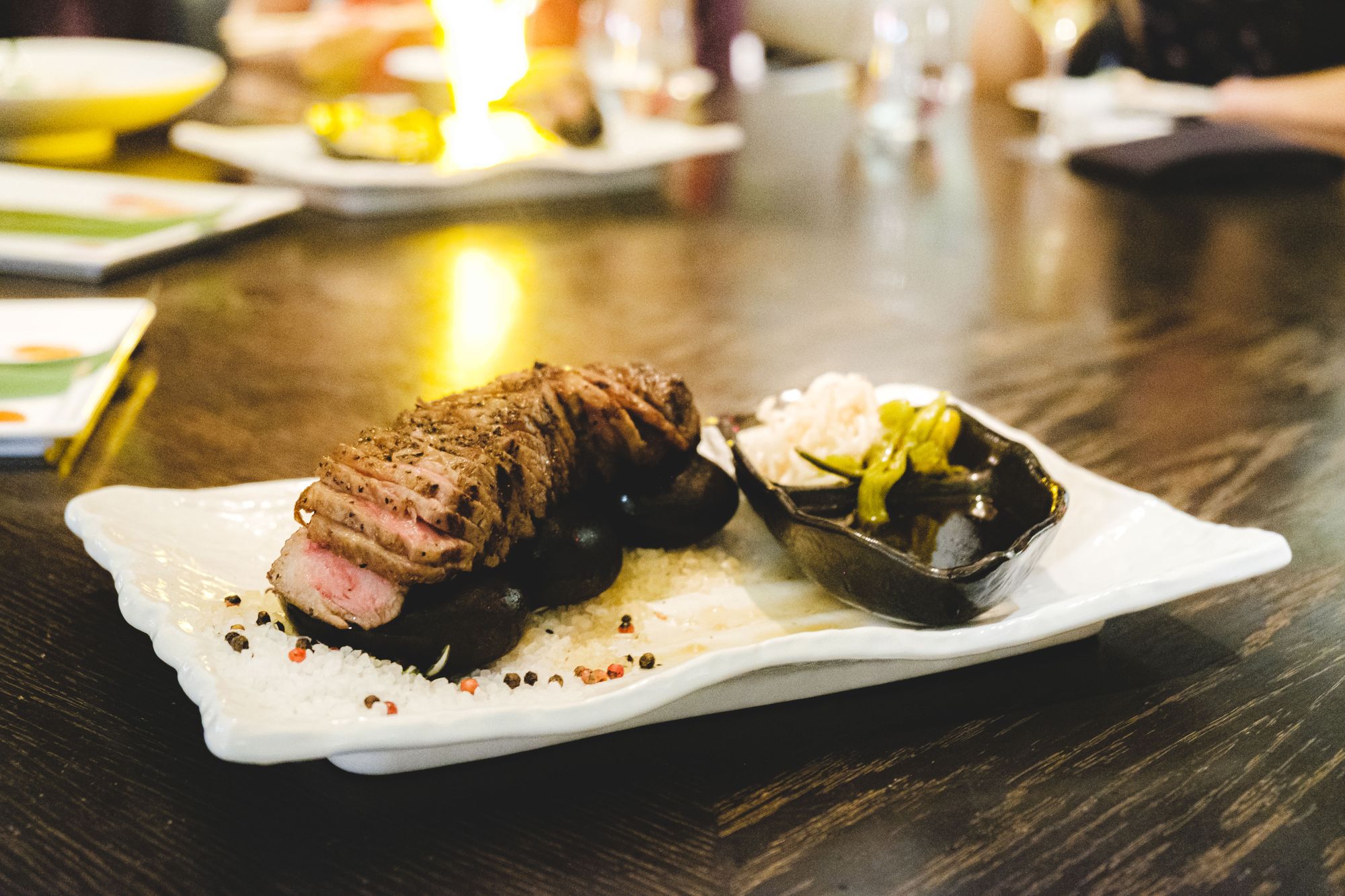 Beyond the heavy red meat, we began winding down with a rock shrimp tempura with creamy spicy sauce and toro and scallion maki. These were essentially more sides to have but both were very good. In fact, I had another rock shrimp dish at Best Friend a few days later and this one at Nobu had a much better tangy balance in its spicy sauce – not too creamy but still enough to envelope each bite. The toro and scallion maki tasted amazing with the fatty bits of tuna belly giving each piece of maki a natural butteriness.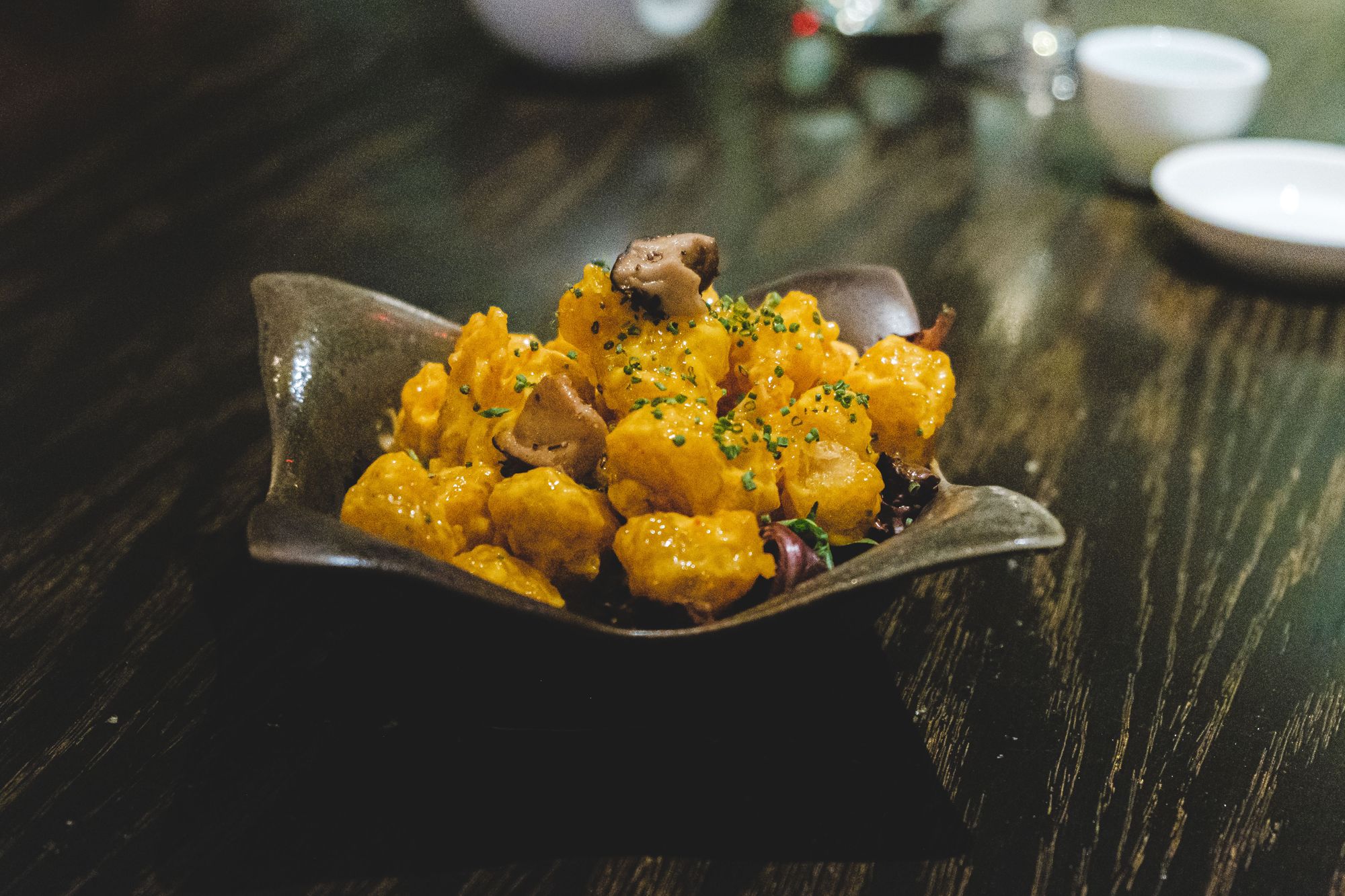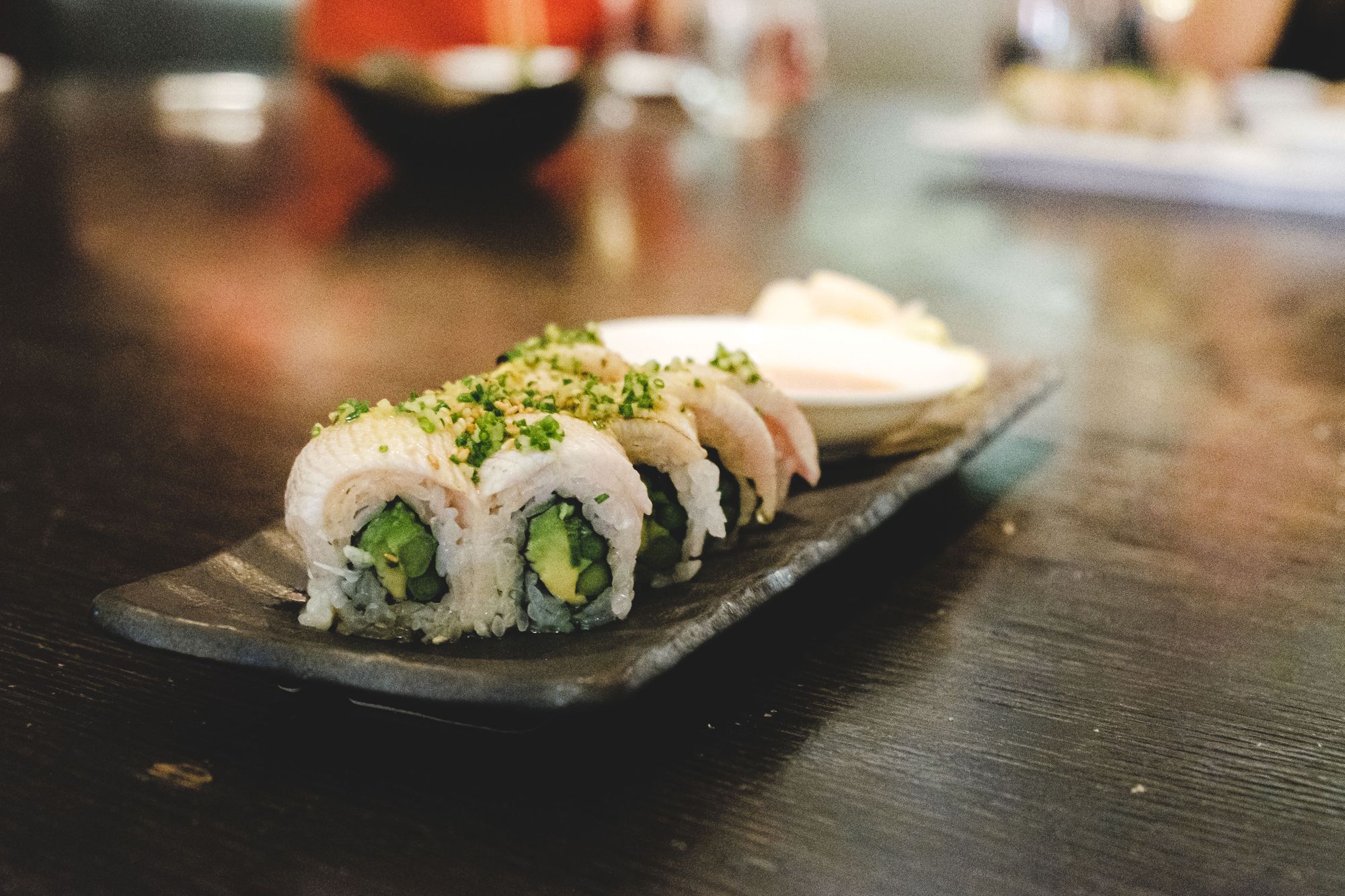 In a weird swing of things, I thought we were done with meats, but we launched right back into big proteins with the lobster shittake salad. This was an art form of de-shelling a lobster and putting it back in the shell for presentation which looked really good and meant I could use a fork to cleanly pull the lobster back off. This was served with a medley of shiitake mushroom and stir fried vegetables which were all cooked perfectly. The ordering was a little weird though – I would have expected to see this before the rock shrimp tempura since this is such a substantial dish.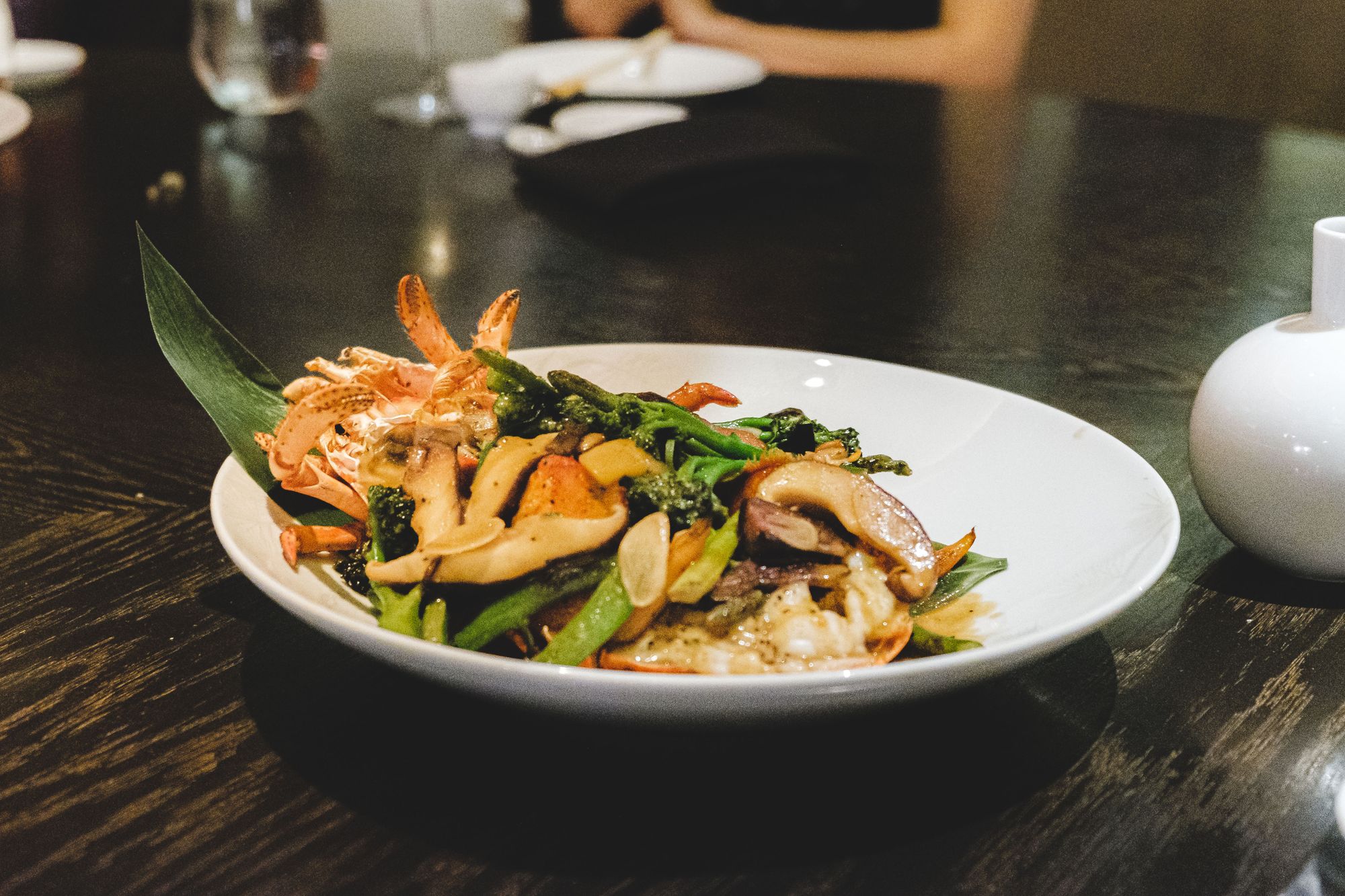 Finally for desserts, we enjoyed a plate of vanilla miso tart and Japanese whisky cappuccino. The miso tart had good structure and cleaved cleanly but the whisky cappuccino is what I'd write home about. This was the highest form of mug cake you could go with very microscopic foam that you would cleave down into a lava-like whisky flavoured sponge cake. That and after having 11 other foods tonight, the cappuccino brought me back to life for the long trek back to my hotel room.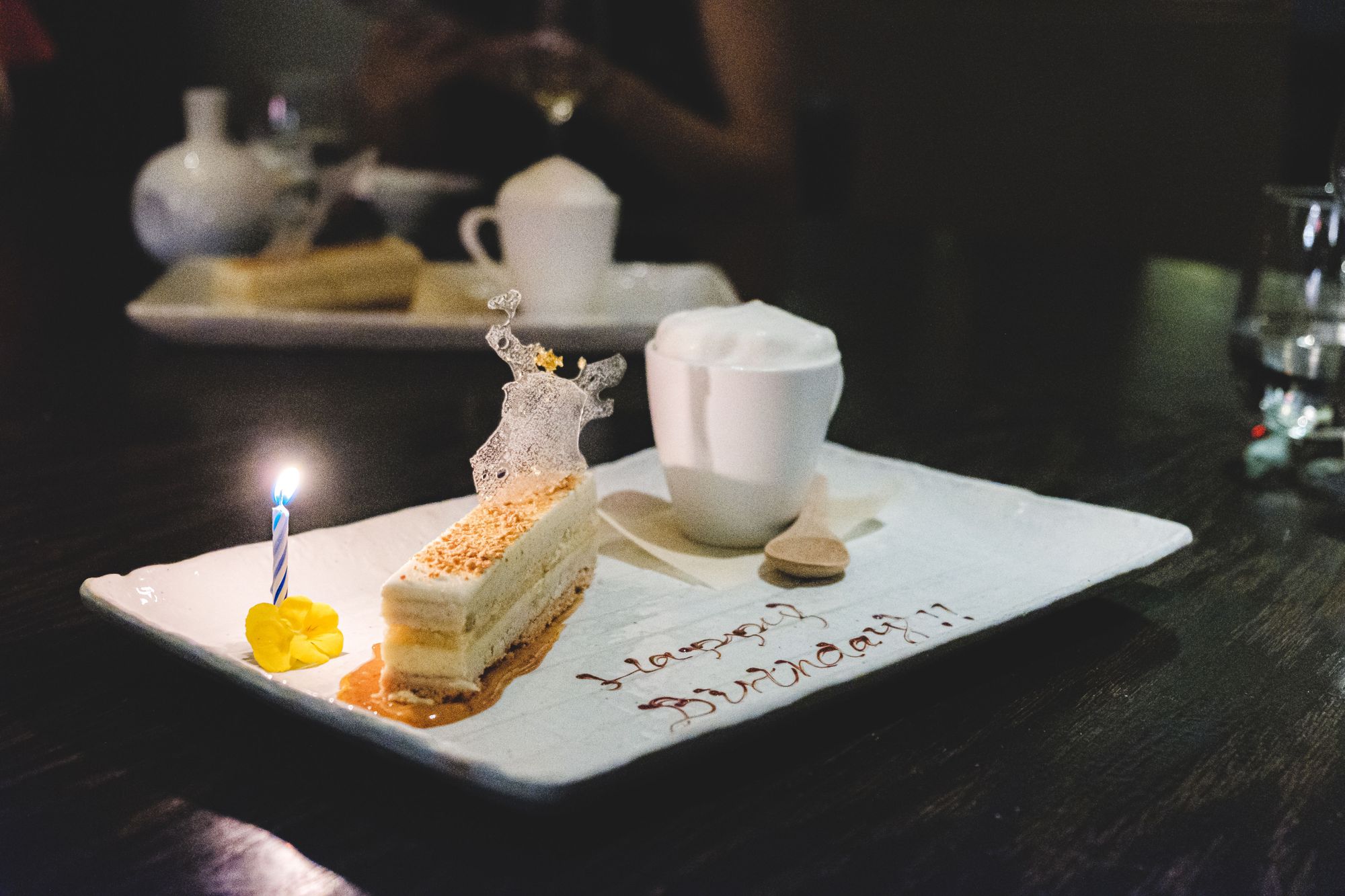 Features:
Nobu in Caesars Palace, Las Vegas is a gigantic restaurant with many seating options. For my group of 8, we were seated in a semi-private pod with excellent sound isolation. Despite being at the back of the pod, I could always hear the server above the drone of people walking through the casino behind me. I didn't get a chance to study the capacity limit but I would put this in the hundreds. The vibe was extreme Western elegance (read: really dark) and nearly everyone was dressed up in dresses and blazers.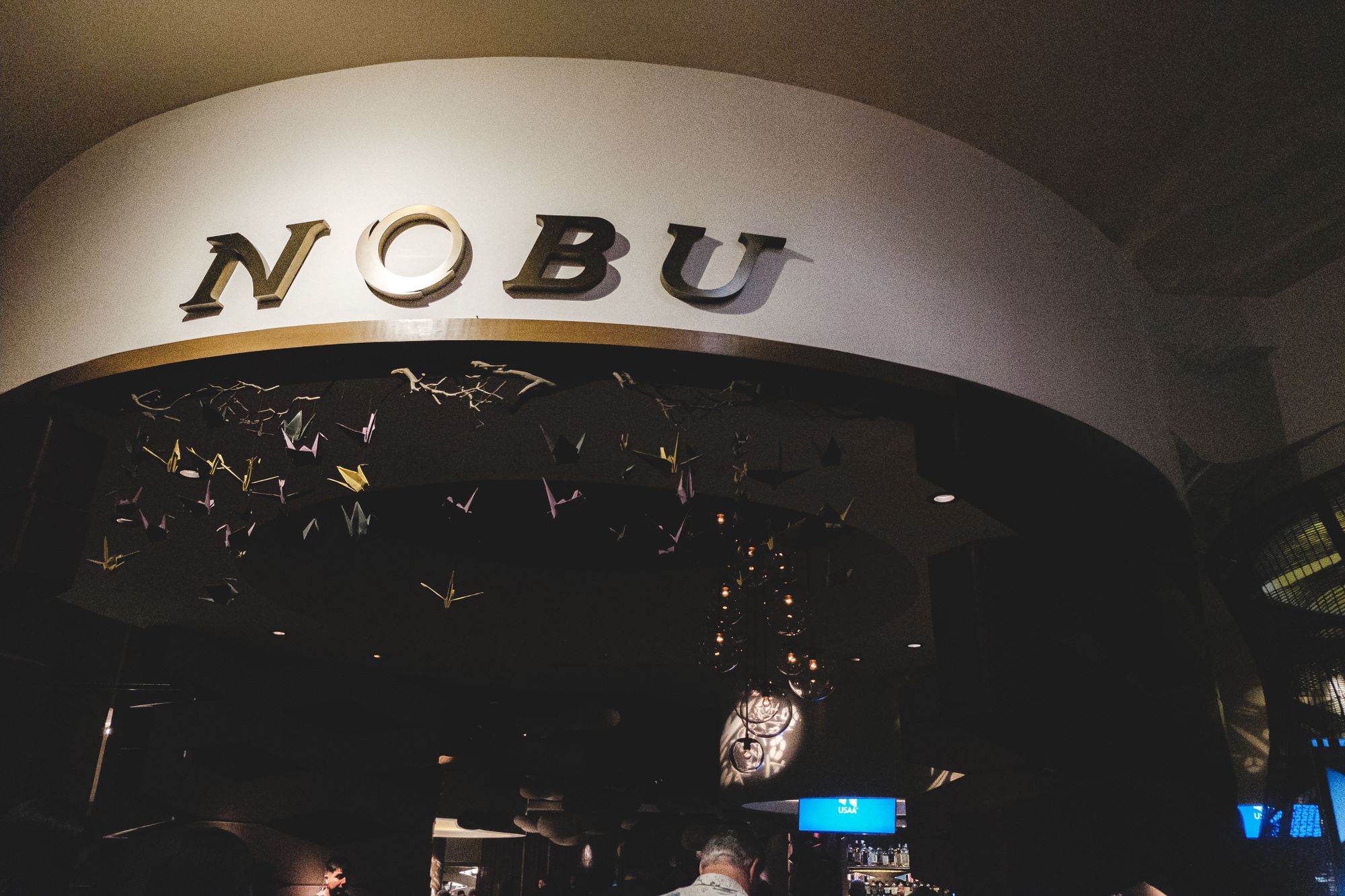 Service:
Despite being a gigantic restaurant, booking a medium-sized group at Nobu was no joke. For a Sunday night dinner, I reserved 4 weeks in advance for my group of 8 online and only had a couple of remaining dinner slots available. I reckon smaller groups will have an easier time but given how many people pass through Las Vegas, I think advance bookings are a must for anything that's not a bar.
Our service was top notch. Our main man was never far away and we had regular clean-ups of the table, water top-ups, and fast bussing of dishes. There's definitely a special operation with how promptly the omakase dishes flow out of the kitchen – my party was never caught staring awkwardly at once another, so that's something to keep in mind the price difference between here and say, the traditional bar restaurant at a casino.
At the 10th or so plate, the lobster shiitake salad, we had to tell our server no more food but I suspect they were going to stop anyway. Our guy confirmed for us the lobster shiitake salad was the finale and they would be rolling out dessert next.
Final Thoughts:
One-liner: The best Japanese food money can buy in Las Vegas, with an omakase option that will test how much you can handle
Highlight: Toban Yaki A5 Wagyu
Price per person: $150-$450
Would I go back? Yes.