As the world recovers from the pandemic, a day trip might instead be the right idea as we look for ways to explore our backyard and contribute to the local economy which has taken a hit throughout this novel coronavirus saga. I've also been to all the destinations myself so I'm not just acting as a Google proxy in my recommendations.
For this adventure, I'll be sharing an easy day trip adventure to Pender Island, accessible from Tsawwassen's Swartz Bay ferry terminal. This adventure encompasses 2 hikes, 1 giant brunch, and a visit to a local winery. It goes without saying that you'll want a car to get around these Southern Gulf Islands.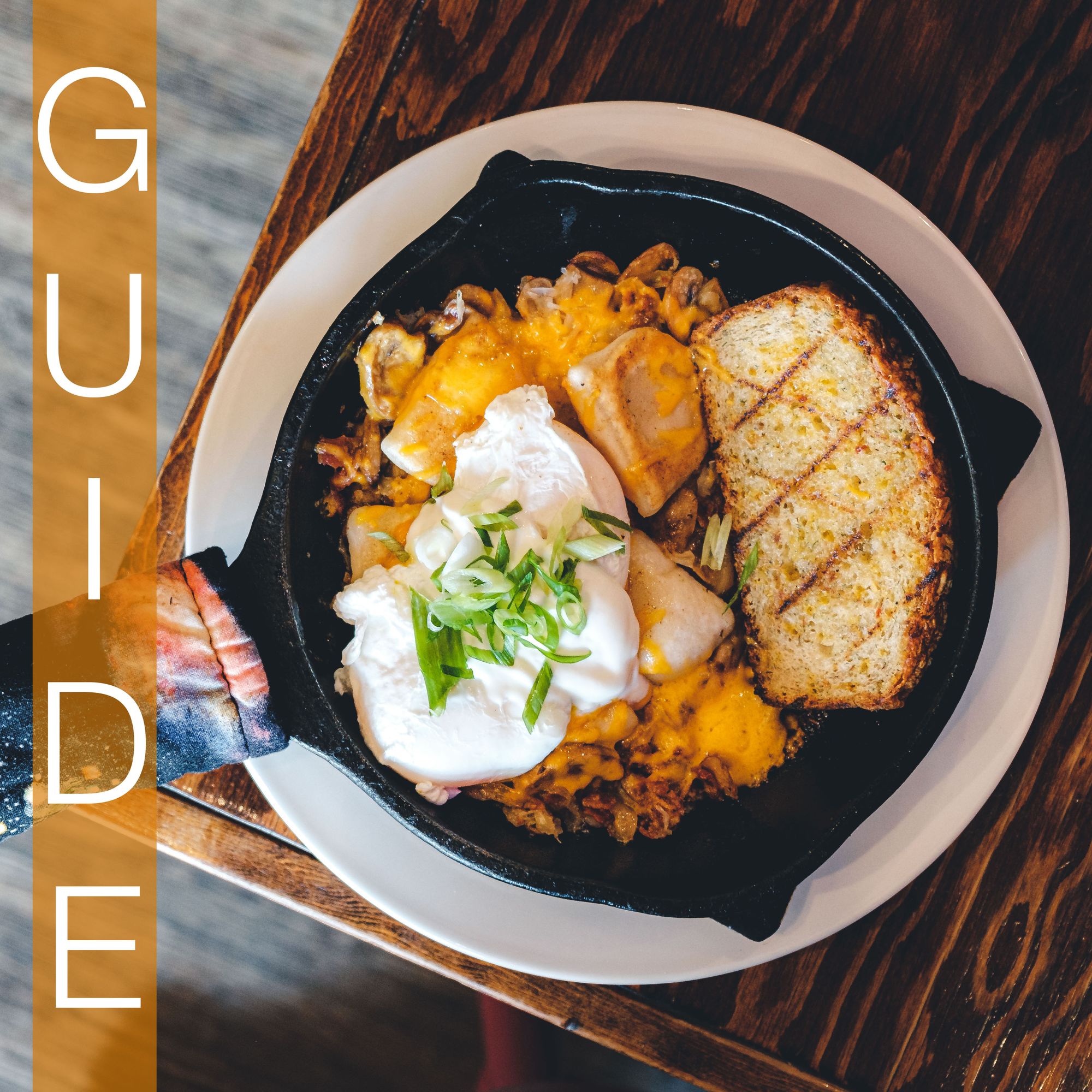 Itinerary:
Early morning – ferry ride from Tsawwassen, BC (Swartz Bay) to Pender Island, BC (Otter Bay)
Morning – Mount Norman hike
Brunch – Jo's Place
Early afternoon – Roe Lake hike
Late afternoon – Sea Star Estate Farm and Vineyards
Early evening – ferry ride from Pender Island, BC (Otter Bay) to Tsawwassen, BC (Swartz Bay)
Early Morning: The Ferry Ride
Like any day trip, the earlier you leave, the more time you can allot for leisure once you're at the destination. When your travel is constrained by a ferry schedule though, missing the first ferry often means a 4 hour wait until the next one.
I am not one to waltz into a ferry line without a reservation – that's too risky for my tastes. Whenever I travel on BC Ferries with a vehicle, I make a reservation. The morning ferry is sometimes quite early so keep that in mind when making this kind of day trip plan. My ferry for this particular trip left Swartz Bay in Tsawwassen at 8 am, meaning the car had to arrive by 7:30 am. This wasn't the worst but it meant my travel companions needed a coffee once onboard the vessel. The BC Ferries cafeteria food is nothing to write home about nor take a photo of, unfortunately. You get a plate of lifeless potatoes served with your choice of eggs or pork and that's generally a $12 breakfast for you. Take it and go.
Morning: Mount Norman Hike
Once you disembark from the ferry, it's a pretty easy journey to get to the southern end of Pender Island for hiking Mount Norman. There are only a few main roads on the island so you just need to be wary of cyclists as they share the single-lane road with cars. Eventually along Canal Road, you'll notice a janky rocky offroad shoot off to the right from the main path. There is a tiny sign indicating that this is the access road to Mount Norman and it's a little hard to spot. Pull up into the parking lot which is large enough for around 6 cars and start your hike.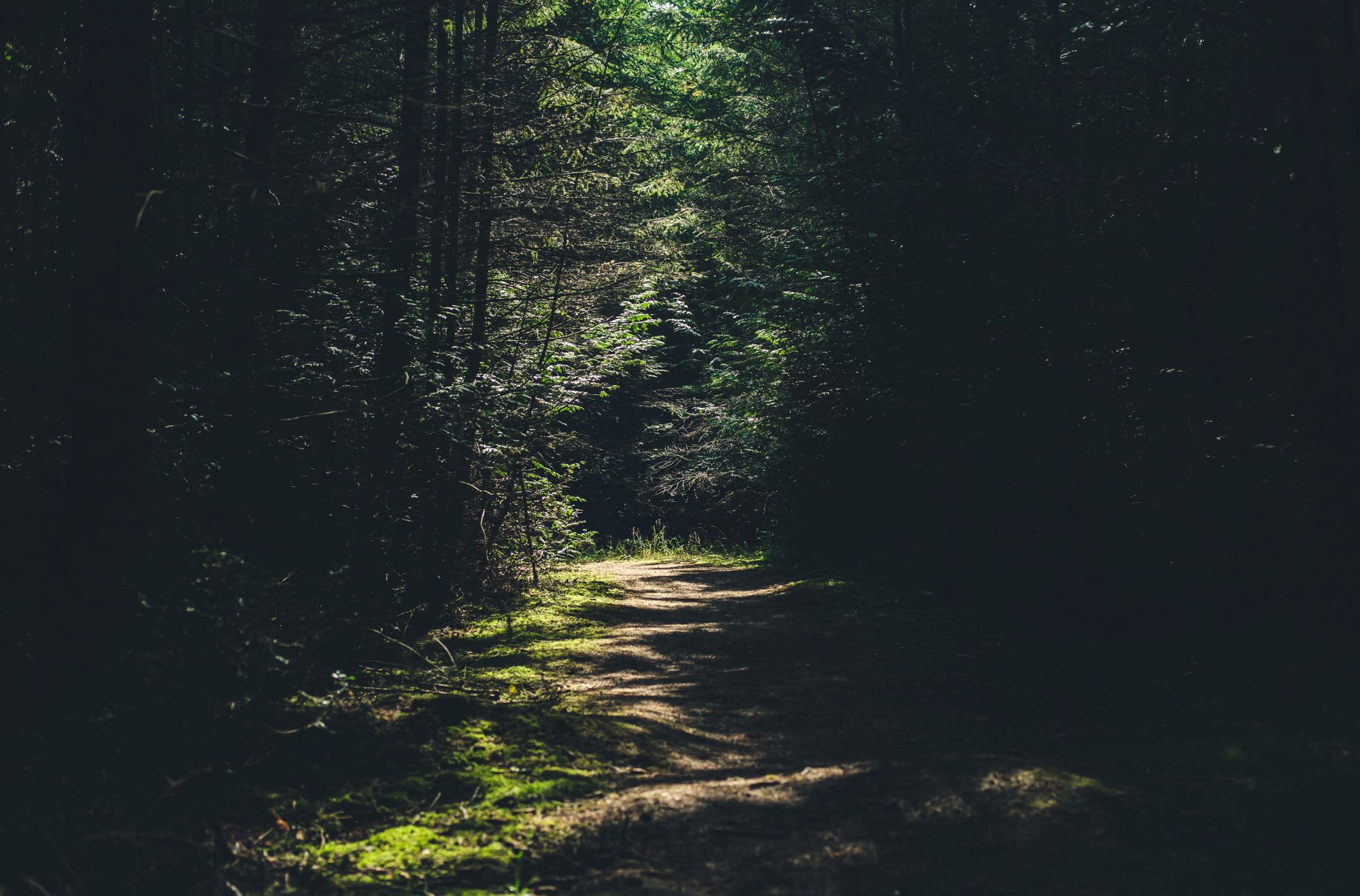 Despite being a small mountain, the hike has both uphill and downhill portions. The trip to the top doesn't have much in the way of flowers but if you love moss and beaten dirt trails like me, this will be right up your alley.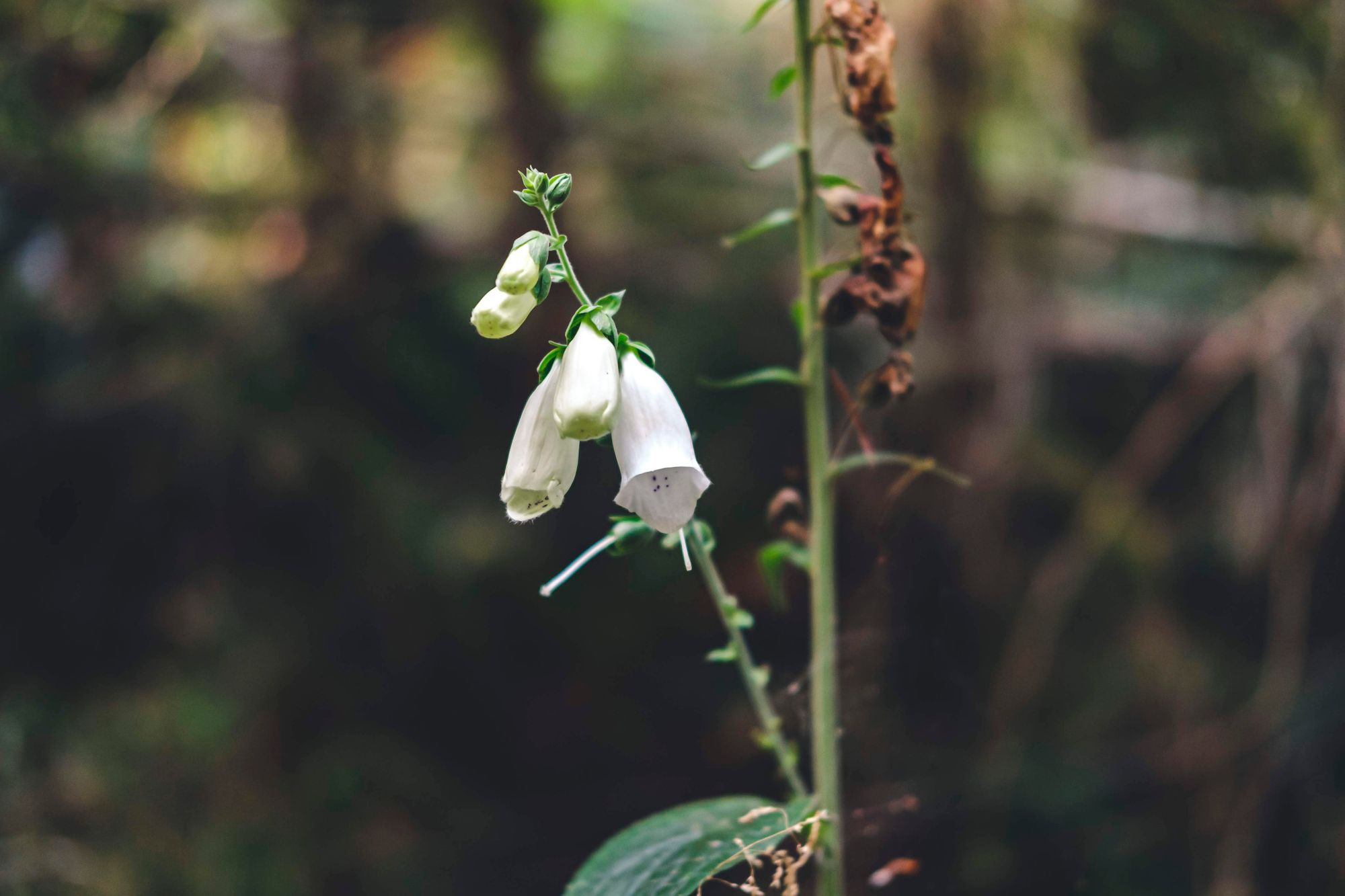 Roughly 50 minutes later, the top of the mountain offers a viewpoint of South Pender Island, some information on the local wildlife, and a free (read: free!) pair of binoculars you can look through. If you're feeling particularly crafty, you can carve your initials or a message into the wooden railing like many others have done.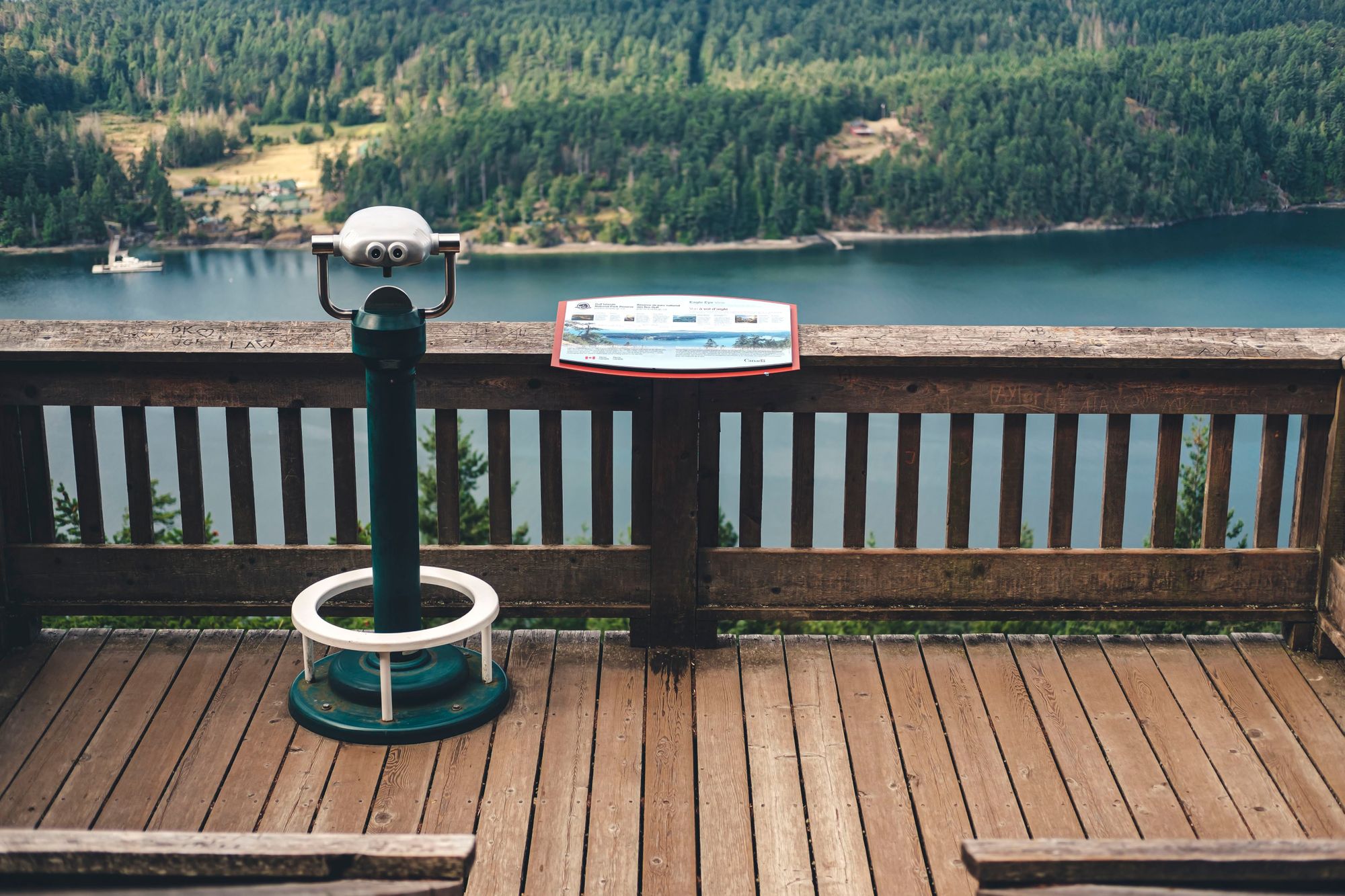 Brunch: Jo's Place
It wouldn't be a proper day trip without hitting up a restaurant, right? Once you're back in your car, head back into the main downtown area for lunch. There is a coffee shop and grocery stare if you want something casual but I am always in favour of skillet food (or q "fry up" for you Brits) after a hike. Enter Jo's Place.
This restaurant is a cozy hovel with colourful accents, wooden bones, and a whole lot of local charm run by a man by the name of Jo. You can tell from the bills and photos on the wall that Jo is a fan of movies from the 80s and 90s. Jo greeted us into his restaurant and introduced to us the specials of the day.
I ended up settling on the perogy skillet, a hot oven-mitted skillet featuring sautéed onions, bacon, mushrooms, sauerkraut, perogies, soft-poached eggs, aged cheddar, and sour cream. Call it overcompensation, but this injection of carbs was exactly what I needed after a hike. The perogies had a light char, a fun chewiness them, and being drenched in melted cheese and sour cream is always a terrific combination in my opinion.
If I had to gripe about one thing on this dish, it was that it was a little lacking in seasoning. I guess plain carbs and eggs don't naturally have a lot of salt so it was just the cheese and sparse bacon providing a slight saltiness. The savouriness though with the cheese and mushroom was spot on.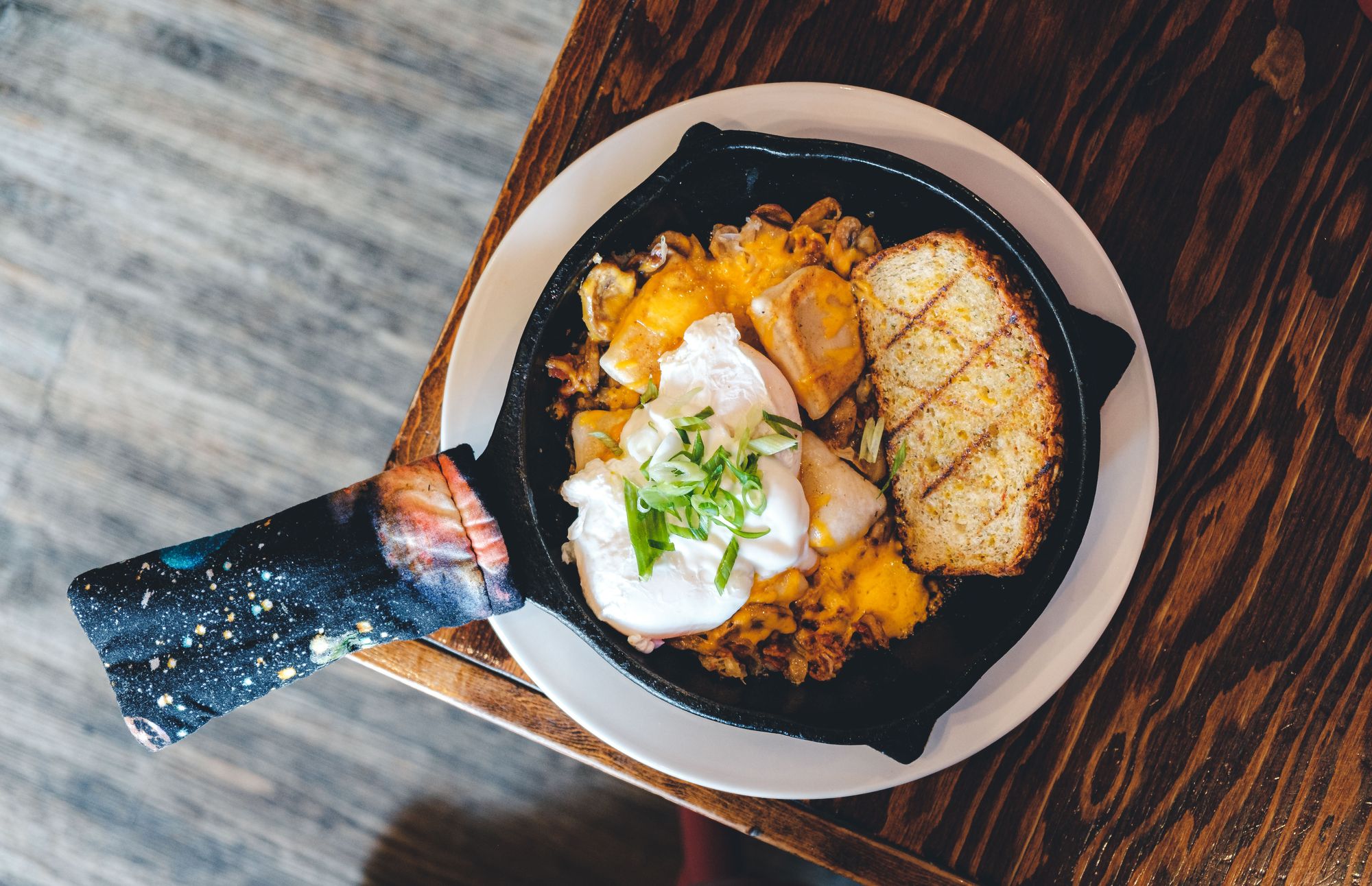 Sadly, the patio was full at our arrival (roughly 12pm) so I'd recommend you arrive at around 11:30am or 1pm if you want to satisfy your patio expectations.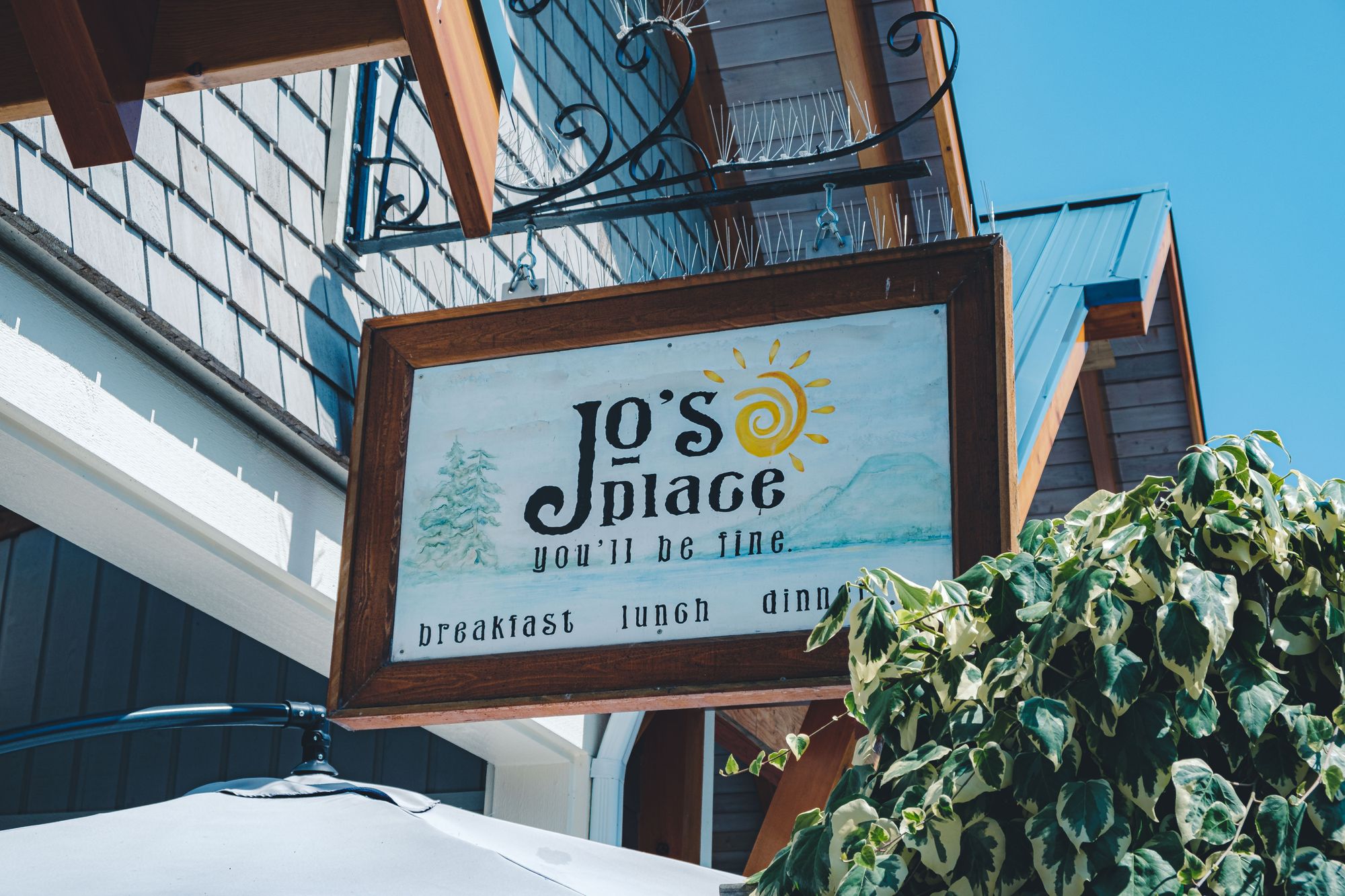 Afternoon: Roe Lake Hike
Now that lunch has been consumed and there are new calories to expend, it might be time for a shorter hike around the lake. There is quite the elevation gain for this hike and most of the gain happens in a small 100-ish metre section. Park your car at the end of Galleon Way, walk up the main trail, and turn right at the first fork to begin your hike up to Roe Lake.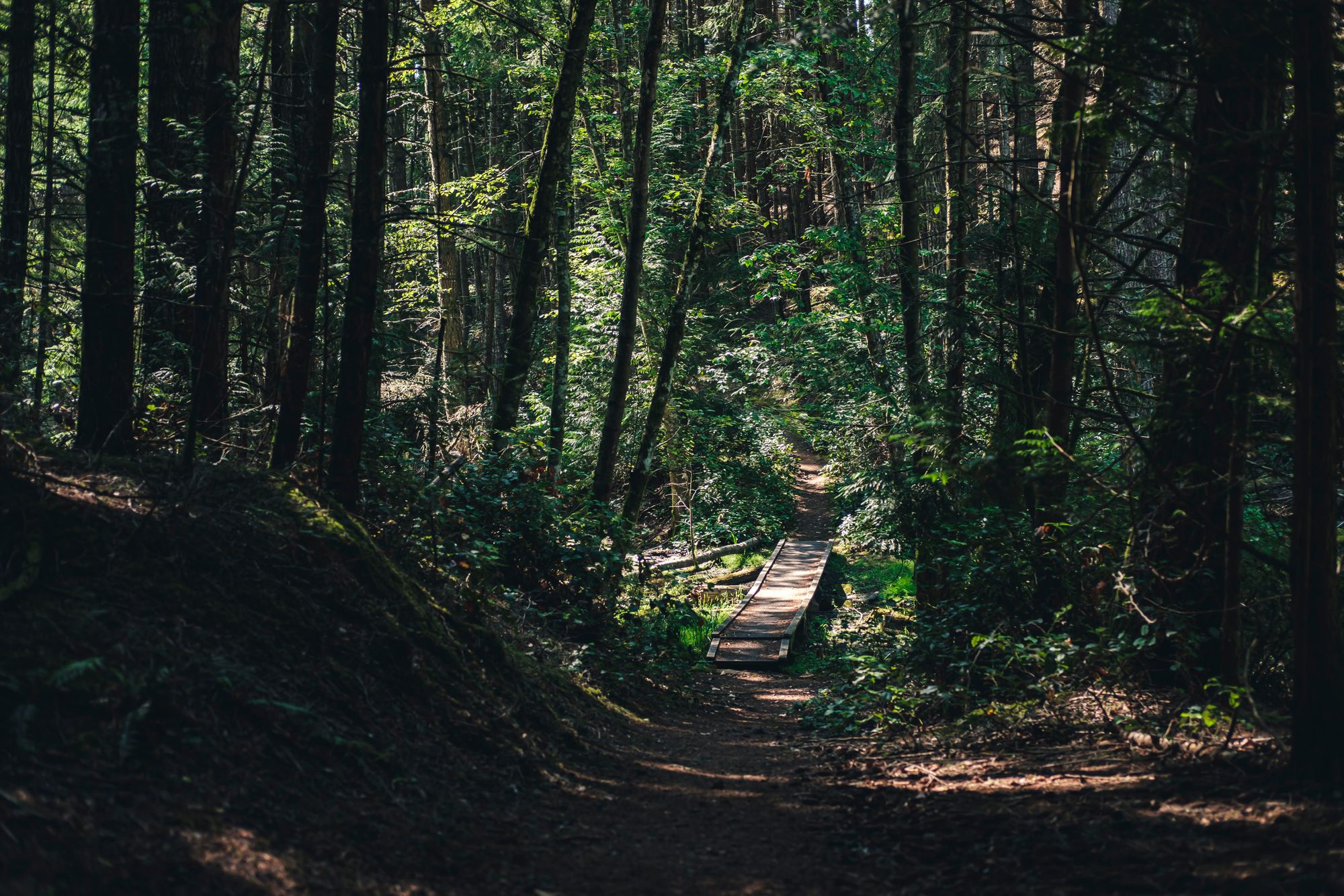 It takes about 20 minutes to get to the first glimpses of the lake and then another 40 minutes to complete the loop. The trail around the lake is poorly-marked but it is a full circuit. We travelled clockwise for our circuit marvelling at the sights of the calm lake. Towards the end of our hike, we took a couple wrong turns, following markings in the man-made path to dead ends and we scaled a very narrow slope. Pay attention to worn tree trunks to understand where other humans have been anchoring against to finish the circuit, and enjoy the tranquil journey as you observe the lake from all angles.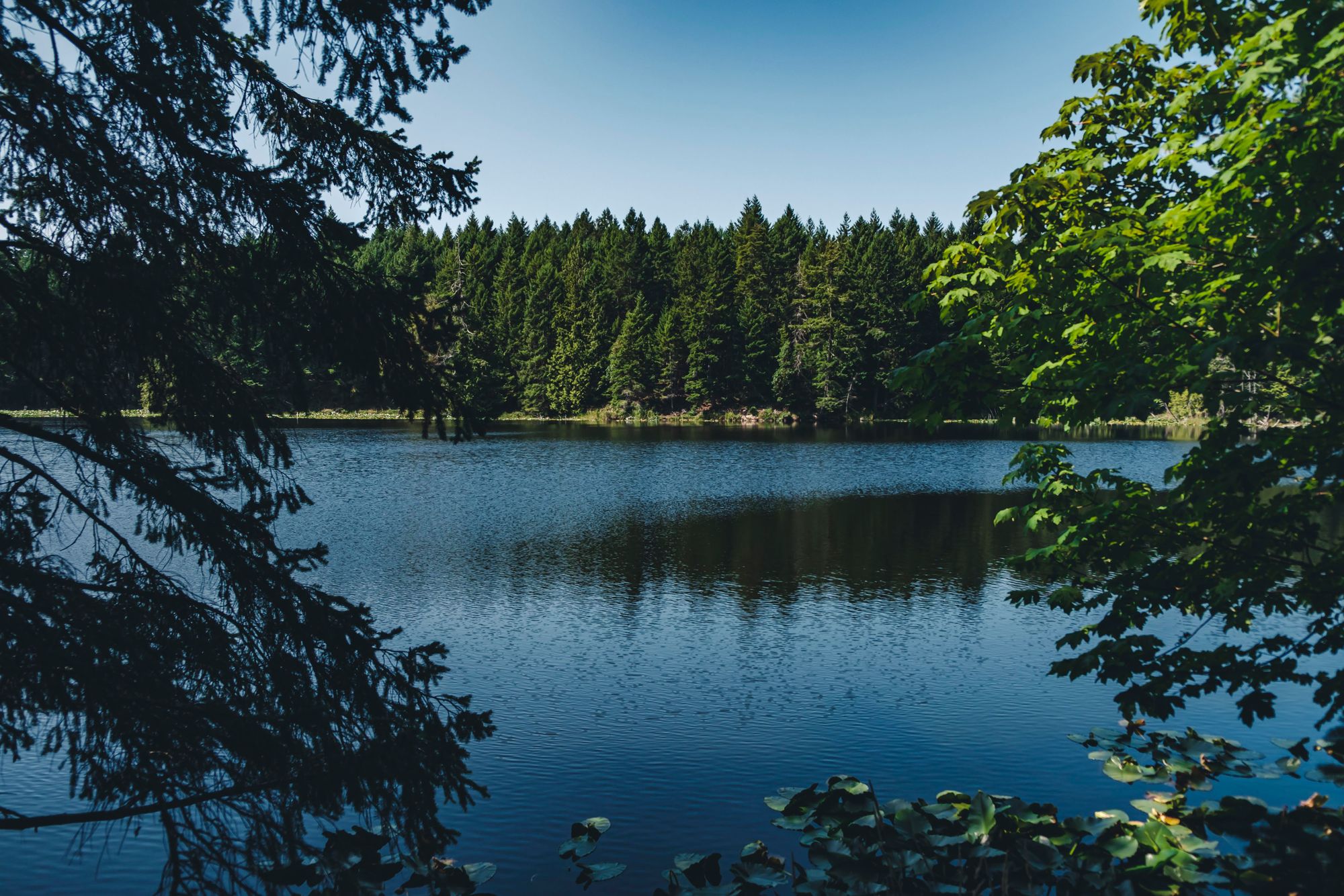 Mid-Afternoon: Sea Star Estate Farm and Vineyards
If you don't drink wine, you can still take enjoyment in Sea Star Estate Farm and Vineyards being perched near the east coast of Pender Island. With the views also come a food stand outside the winery that specializes in charcuterie boards so you can snack on meats and cheeses. If you don't feel like eating, inside the winery is also a small art museum. During our visit they had a metal wire art exhibit going on for viewing and purchase.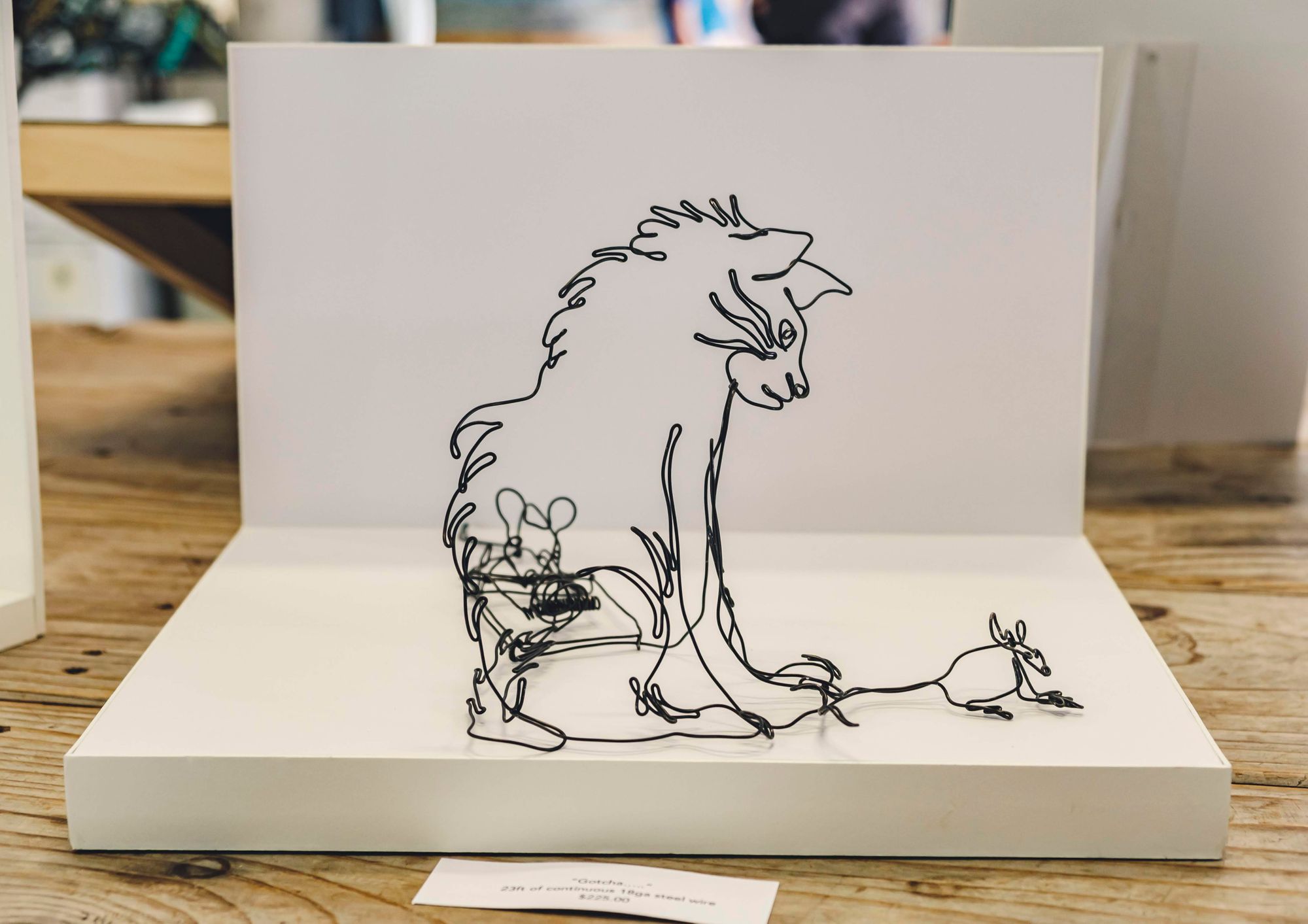 My jam was definitely in on the wine. I love supporting local businesses and I noted that BC Liquor Stores only stocks a couple of the varietals at a time, so chances are if you purchase directly from the winery, you'll be supporting the winery more than the supply chain and you'll be getting something exclusive to the producer. I opted for a rosé wine because I was headed to a cabin getaway afterwards and needed something I could be happy drinking a whole bottle of in case I was the only rosé drinker (happy to report that this was not the case).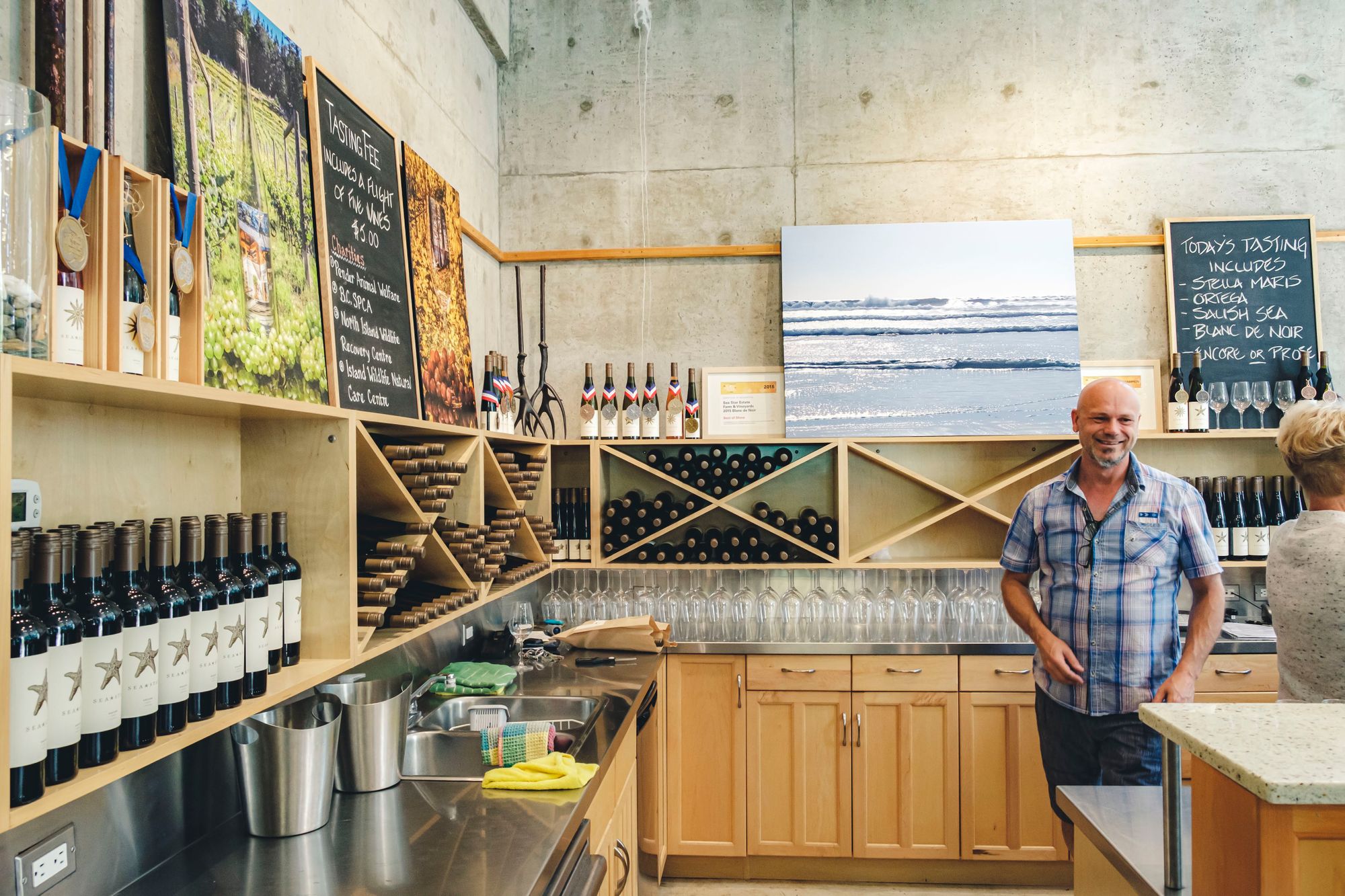 Early Afternoon: Ferry Ride Home
As with all day trips, the afternoon is when activities begin to wind down, and the same goes for ferries from the Southern Gulf Islands. Whether you're heading home to Vancouver or another lodging in the Gulf Islands, there is usually a pocket of time between 3pm-6pm where BC Ferries activities pick up passengers to transport them to the mainland or another island. Just like for the ferry ride to Pender Island, I recommend a reservation in advance to get back to the mainland.
Final Thoughts:
Thanks for reading this day trip guide to Pender Island. Note that the hikes I mentioned are probably the 2 longest hikes on the island. I'd like to go back and experience more, so this guide might change over time. If you have a recommended hike in mind, let me know in the comments or on Instagram. Hope to share more of these day trip suggestions with you!