In the vibrant culinary landscape of Vancouver, where Vietnamese eateries often don the monikers of "Pho _____" or embrace names reminiscent of Vietnamese phrases, emerges Wooden Fish — a serene enclave in the heart of West Vancouver's Ambleside neighborhood. Departing from the conventional nomenclature, this establishment derives its name from a profound Buddhist symbol cherished across various Asian cultures. If you're looking for beauty in Vietnamese food, located in a nice neighbourhood, and a hair below the prices of Anh + Chi who are now riding the wave of their Michelin Bib Gourmand designation, this might be a great spot to stop by.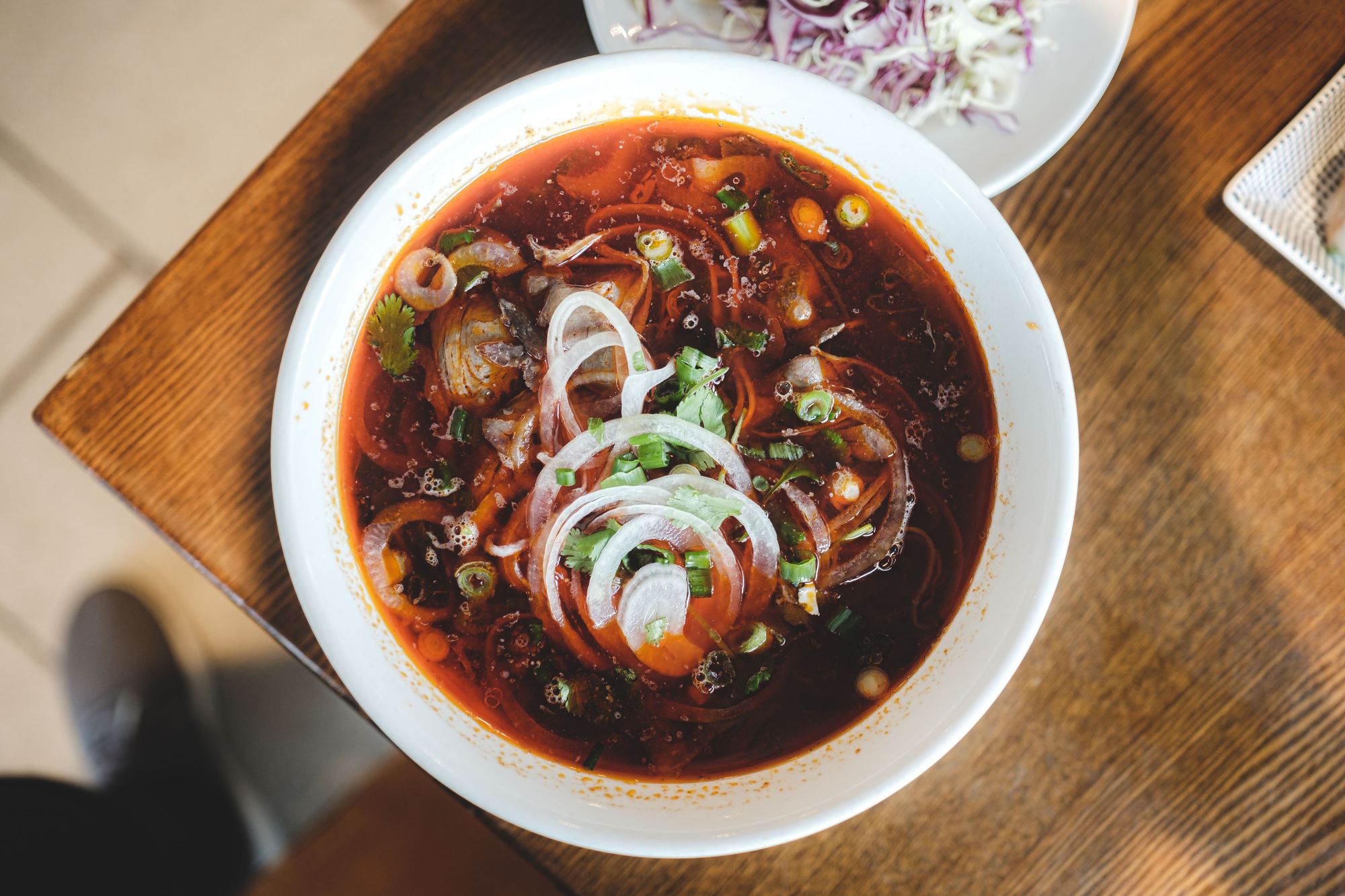 Food:
Team Do came here for a weekend lunch and I had a great taste of the following:
Fresh Roll Trio ($18)
Spicy Lemongrass Beef Noodle Soup (Bun Bo Hue) ($18)
First up – appies! Commencing our culinary escapade were the appetizers, and we opted for the Fresh Roll Trio. This trio allowed us to savor the Saigon-style (traditional), nem nuong (pork sausage), and dalat (avocado) renditions of the beloved salad rolls. Elegantly presented, the rolls exhibited a symphony of colors, with fresh lettuce leaves gently peeking through the translucent rice paper. While all three varieties held their unique charm, the nem nuong resonated as a personal favorite. Notably, the inclusion of an avocado salad roll showcased Wooden Fish's consideration for vegan and vegetarian preferences, a rarity in the Vancouver Vietnamese culinary scene. The accompanying smooth and savory peanut sauce lent an exquisite finishing touch.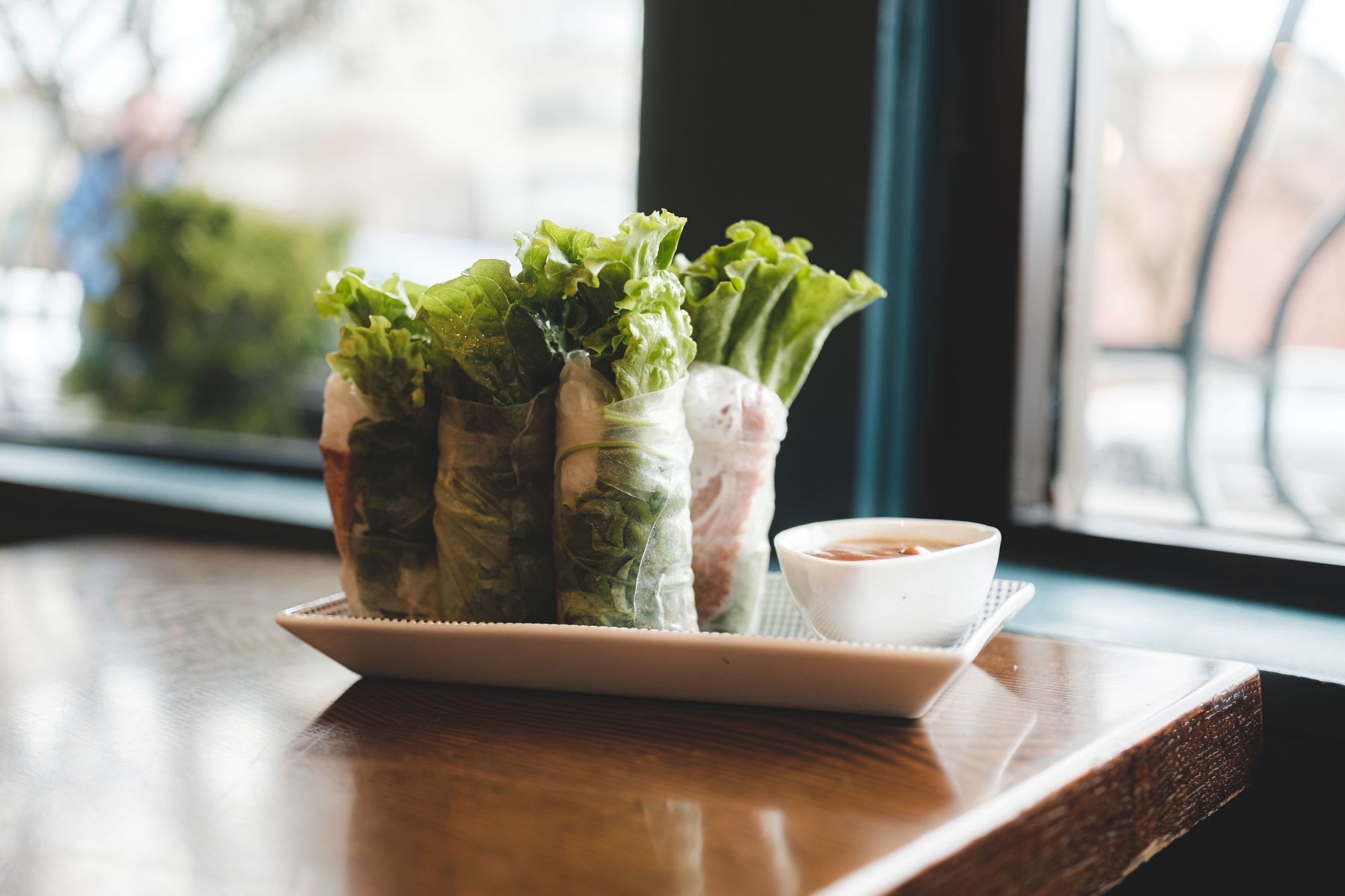 Along with the fresh rolls came a trio of extremely spicy sauces as well as a tangy fish sauce. I couldn't tell you what was in the spicy sauces because they were so dang spicy, but the restaurant sells them as sealed products for you to take home too.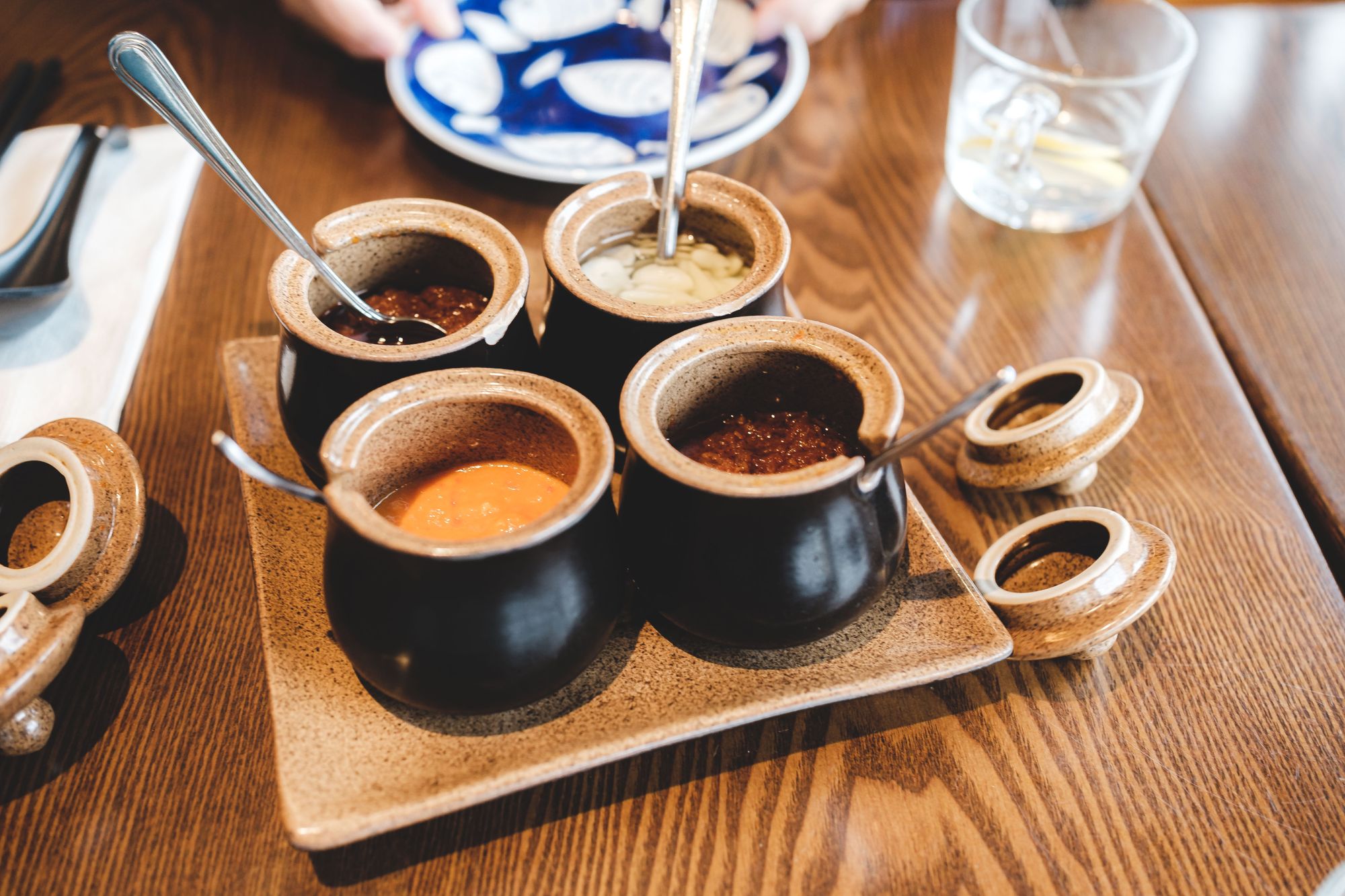 The main attraction of the meal was the bun bo hue, and it did not disappoint. The interplay of tender beef shank, hearty vermicelli noodles, and the invigorating Hue-style lemongrass-infused broth forged a harmonious symphony of tastes. Distinctively clear, the broth was a testament to Wooden Fish's dedication to presentation. The omission of chili peppers from the final presentation of the broth, while atypical of traditional preparation, embodied the restaurant's discerning approach to accommodate a broader spectrum of palates. This broth wasn't spicy at all but most people in the neighbourhood are White and perhaps it was thought a milder spice level was more appropriate.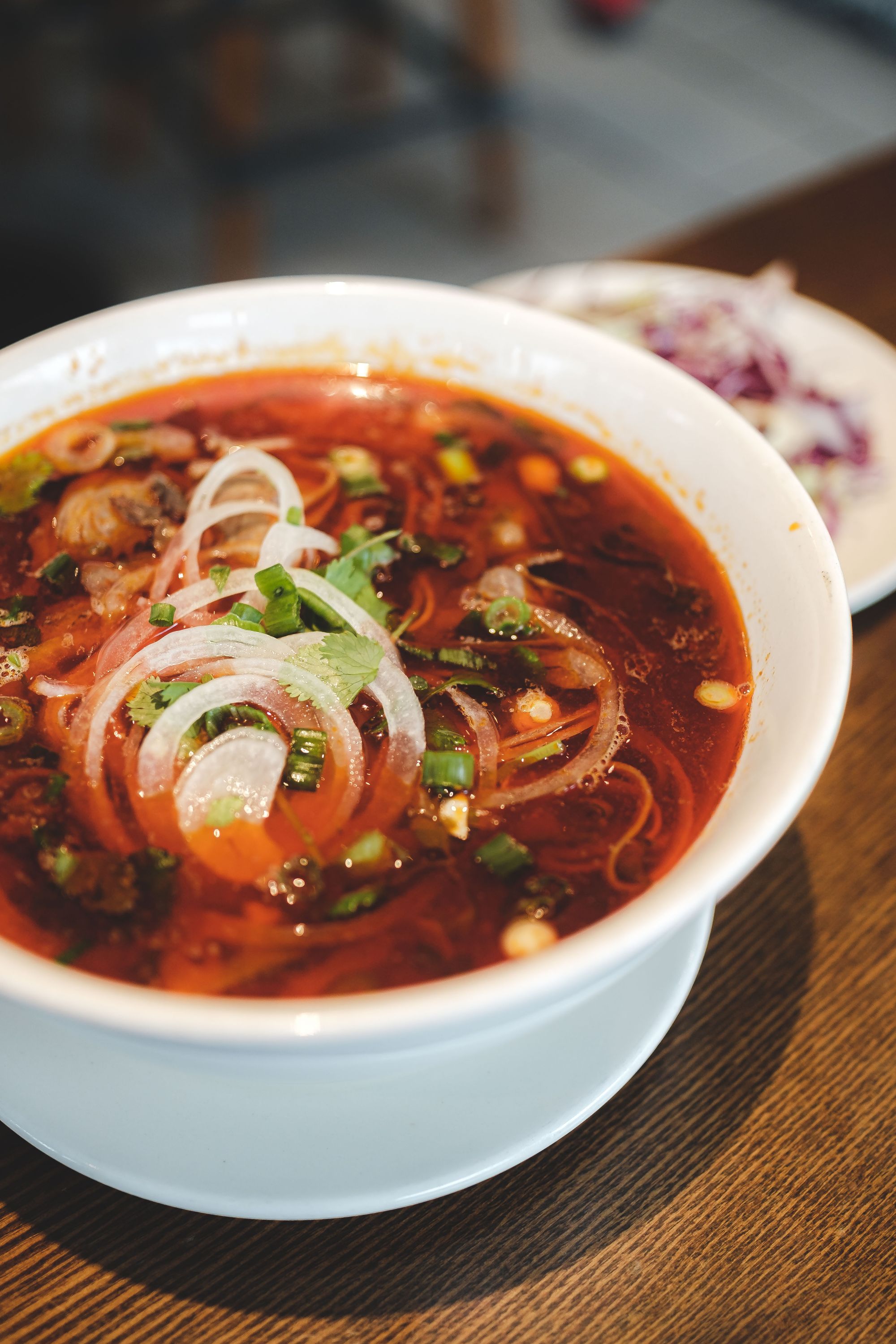 Vibes:
Stepping into Wooden Fish revealed a meticulously curated interior along West Vancouver's prominent commercial avenue. Far from merely a family-run establishment, it radiates an understated elegance. The interior exudes warmth through its meticulous design elements, while the outdoor seating area offers a serene retreat for patrons to immerse themselves in an alfresco Vietnamese dining experience. With approximately 60 indoor seats and an additional 16 outside, the venue provides an inviting space for diverse occasions. The hipster vibe resonates in the option to acquire their signature hot sauces as part of the merchandise, allowing patrons to take a piece of Wooden Fish home.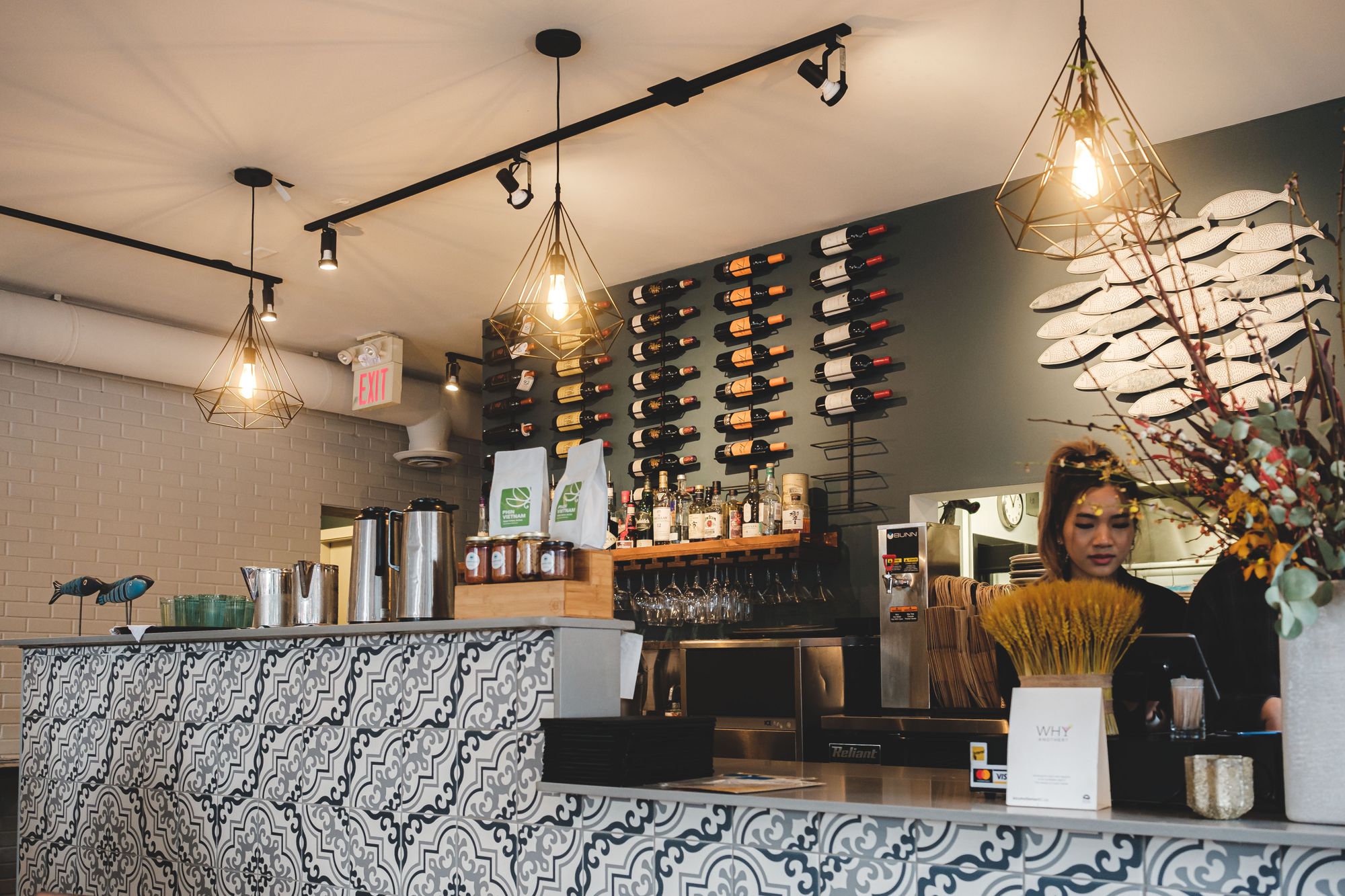 Service:
Elevating the dining experience, the service at Wooden Fish transcends expectations. Situated in close proximity to Ambleside Beach, the restaurant endeavors to maintain an elevated standard of service that befits its locale. Our attentive server ensured our comfort with frequent water refills and inquiries about our dining experience. Remarkably, our orders materialized from the kitchen within a brisk 15-minute window. While our visit coincided with a serene Saturday morning, the place got packed between noon and when we left at around 1:30pm.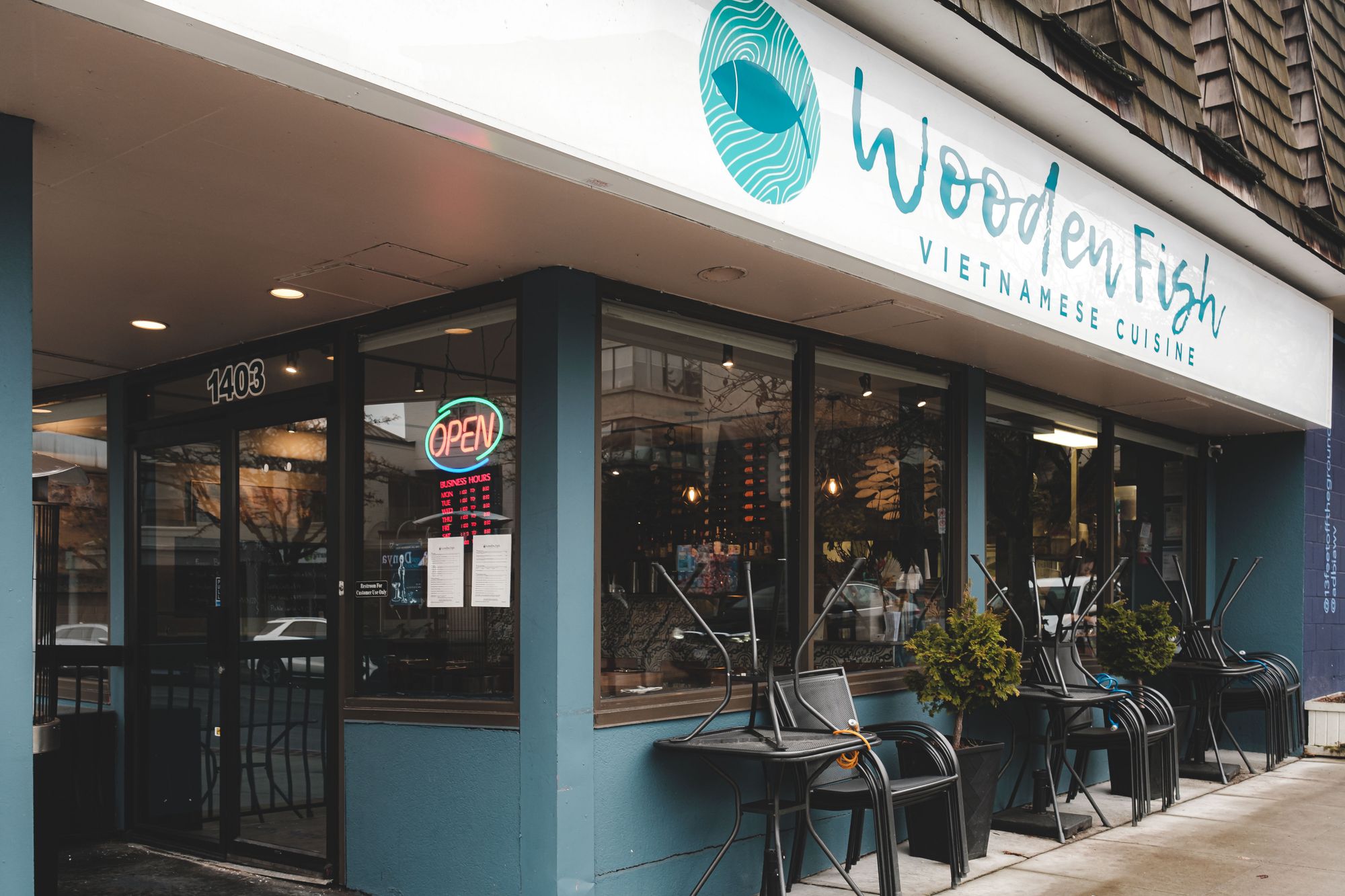 Final Thoughts:
One-liner: Elevated Vietnamese that presents a clean look to its food and offers some of the hottest homemade spices in West Vancouver
Highlight: Bun Bo Hue
Price per person: $20-$30
Would I go back? Yes for someone visiting town demanding we spend a day in Ambleside.