I visited Portland, Oregon this past March 2018 to watch my first NBA game (Trailblazers versus the Blake Griffin-less LA Clippers), but I'm pretty sure the other guys on my trip knew my ulterior motive was to eat and drink that #PDX lifestyle. This was my 4th planned trip to Portland, so I feel like I have a faint, but much better pulse on the dining scene, at least from a traveller's perspective. After 72 hours in Portland, I completed 10 stops at various eateries and cafes. I wish I could say "Wow, everything was SO good.", but some things failed to tickle my palate. I had some good, some bad, and most importantly, my own opinions on how badly a visitor needs to eat the things I ate. For this post, I'll be concluding each stop with a basketball-related conclusion. Air balls are a pass and slam dunks are a must-visit.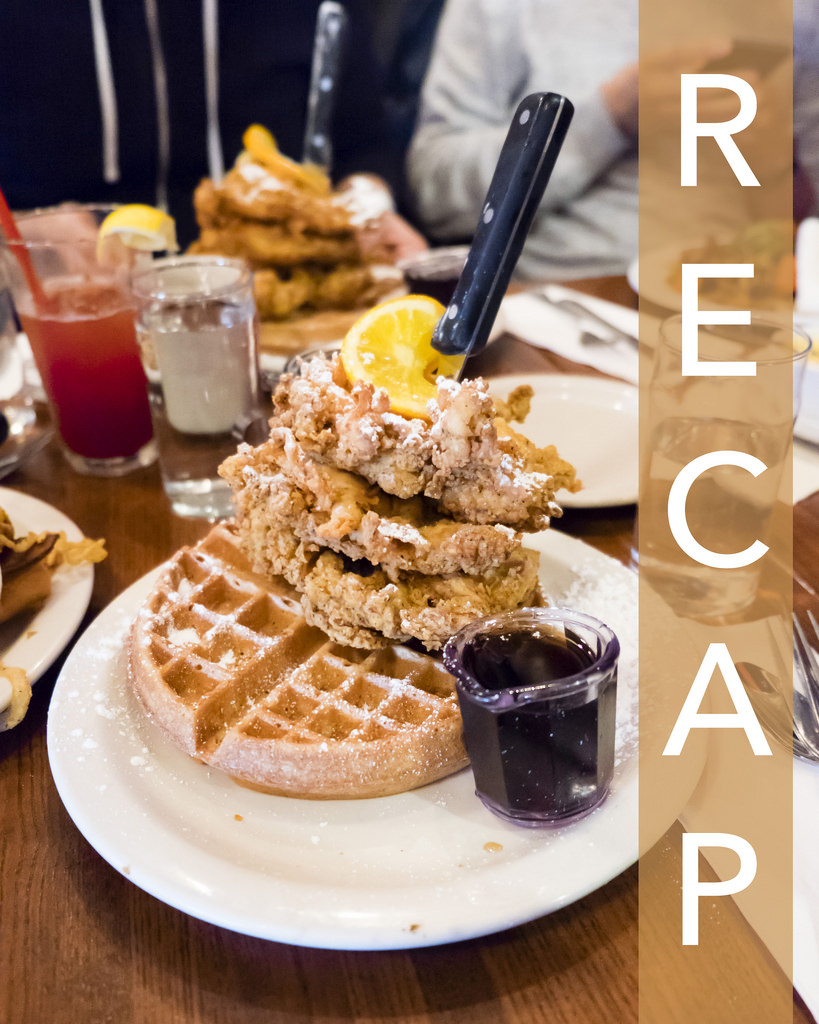 Stops:
I'll be documenting the following places:
Pine State Biscuits
Stumptown Coffee Roasters
Blue Star Donuts
Grassa
Deschutes Brewery
Lardo
Nossa Familia Coffee
Salt and Straw
Heart Coffee
Screen Door
Pine State Biscuits
Legends tell tale of Pine State Biscuits' amazing Reggie Deluxe, which to this day is still a paltry $10.50. I decided to venture out for the Pine State Club ($12) (Trio of fried grit cakes topped with fried chicken and spiced honey, pimento cheese, fried green tomato, country ham and white cheddar). One bite into these soft grits left me wishing I had some of the biscuit of the Reggie Deluxe doused in gravy. To be fair though, the fried chicken was juicy and more enjoyable than the one from Screen Door, featured later. I went to the one on Schuyler Street which unfortunately shares a space with a pizza shop which means seating is at a premium.
Conclusion: Rim shot that bounces in.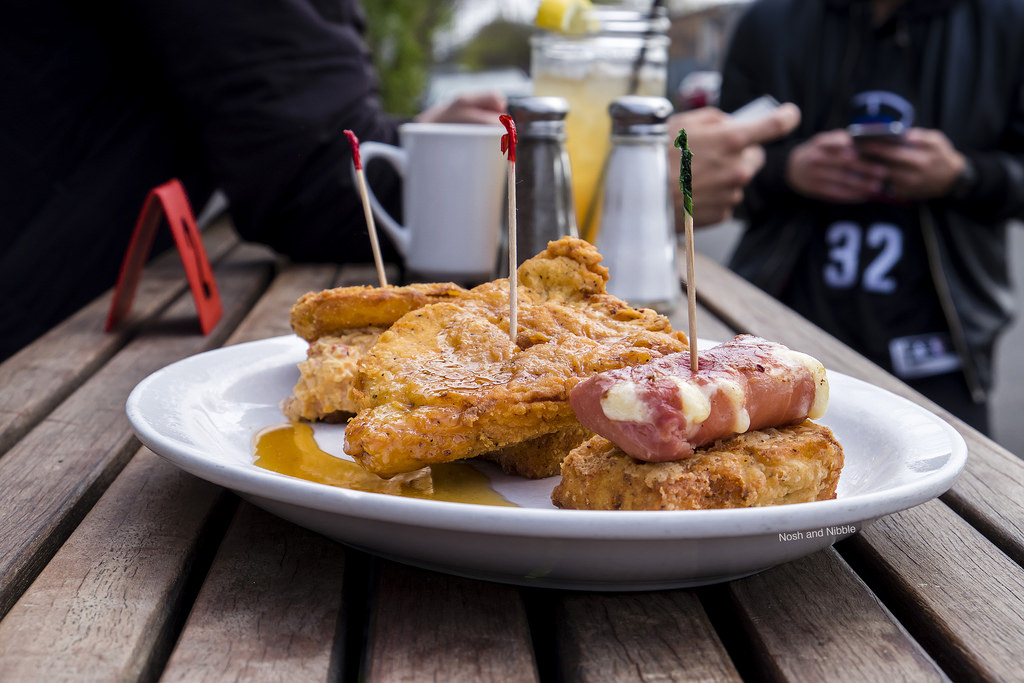 Pine State Biscuits - Pine State Club
Stumptown Coffee Roasters
If you live in the Pacific Northwest, Stumptown Coffee Roasters has enough reach that some coffee shops will actually carry the beans, which diminishes the value of visiting this cafe. If you're looking for that old-time feel though, nothing beats the vibe at the Stark St location. Latte ($4/8oz) art was on-point, as was taste, but hipsters have long since moved onto other niche beans and single origin stories.
Conclusion: Traditional lay-up.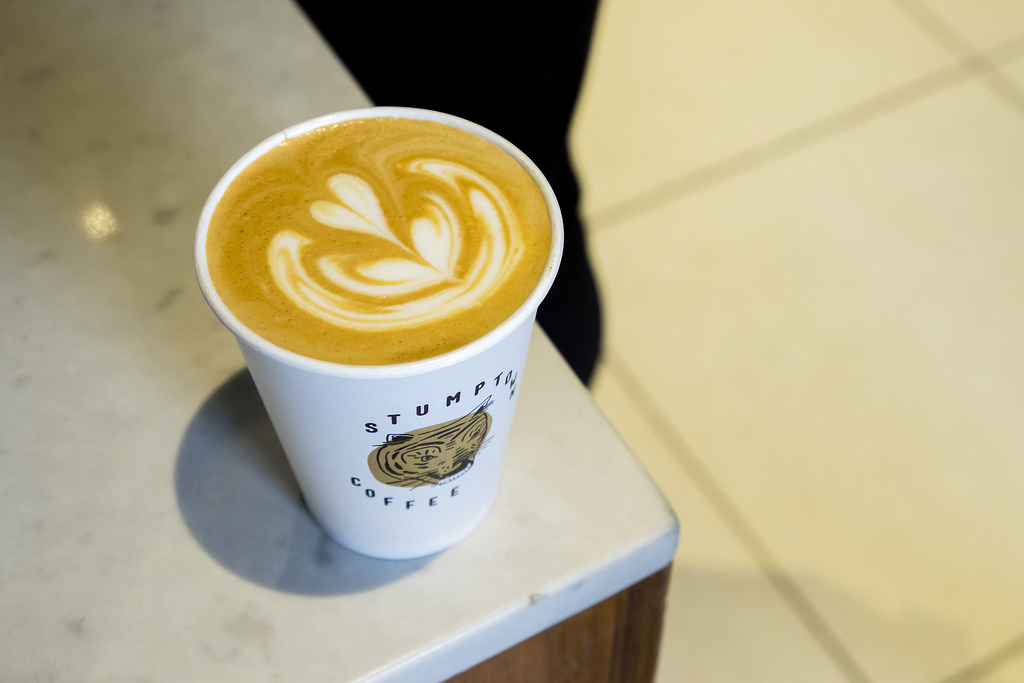 Stumptown Coffee - Latte
Blue Star Donuts
Brioche is the style of donut at Blue Star Donuts which means general excellence. The secret is butter and their kickass creative team pumping out interesting rotations like Chocolate Buttermilk Bergamot (~$3.50) which I finished in 5 bites. It was probably a good thing I only bought one as I could have spent the whole day eating donuts here.
Conclusion: Slam dunk.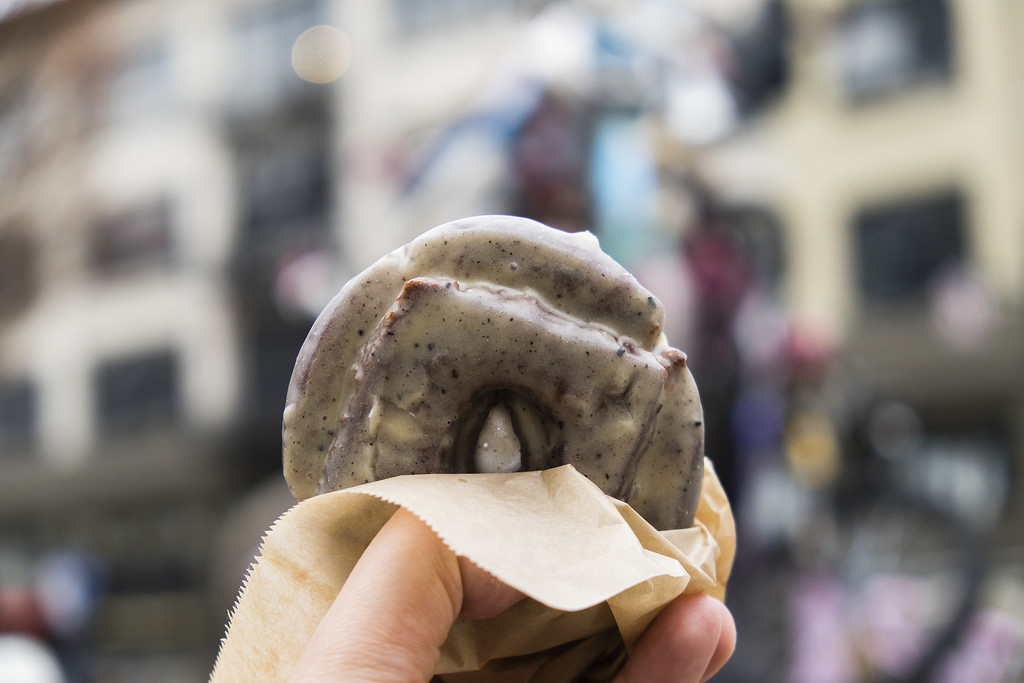 Blue Star Donuts - Chocolate Buttermilk Bergamot
Grassa
One of Portland's newer openings (at least post-2013), Grassa is a great stop for people who need to make an appointment. You'll place and pay for your order at the front, seat yourself, and your food will be brought out via number. A quick scan of the open kitchen spots a pasta maker which inspires confidence in getting a plate of fresh pasta. The cacio e pepe ($10) was as simple as it got but truffle butter was executed very well here.
Conclusion: Backboard and in.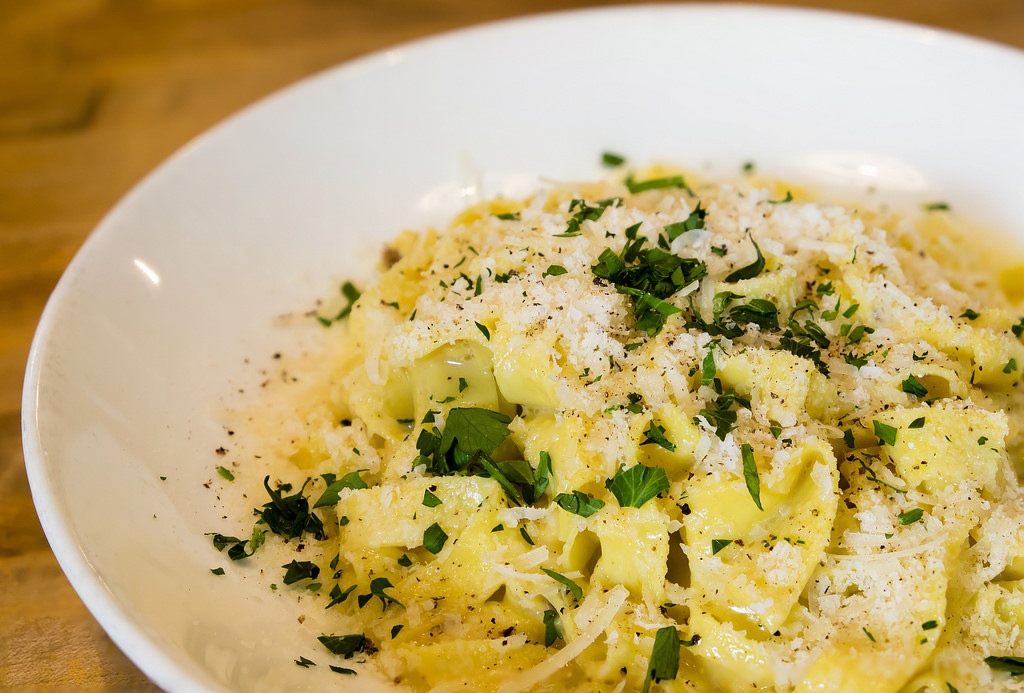 Grassa - Cacio e Pepe
Deschutes Brewery
Man this place is expensive for brews and food, but Deschutes Brewery's ambiance is amazing and the service a huge step up against the average. My root beer float ($5) had some inedible plastic bits from a freshly-opened ice cream container, so I informed our server. He not only brought out another one in a flash but waived the charge for either of my root beer floats.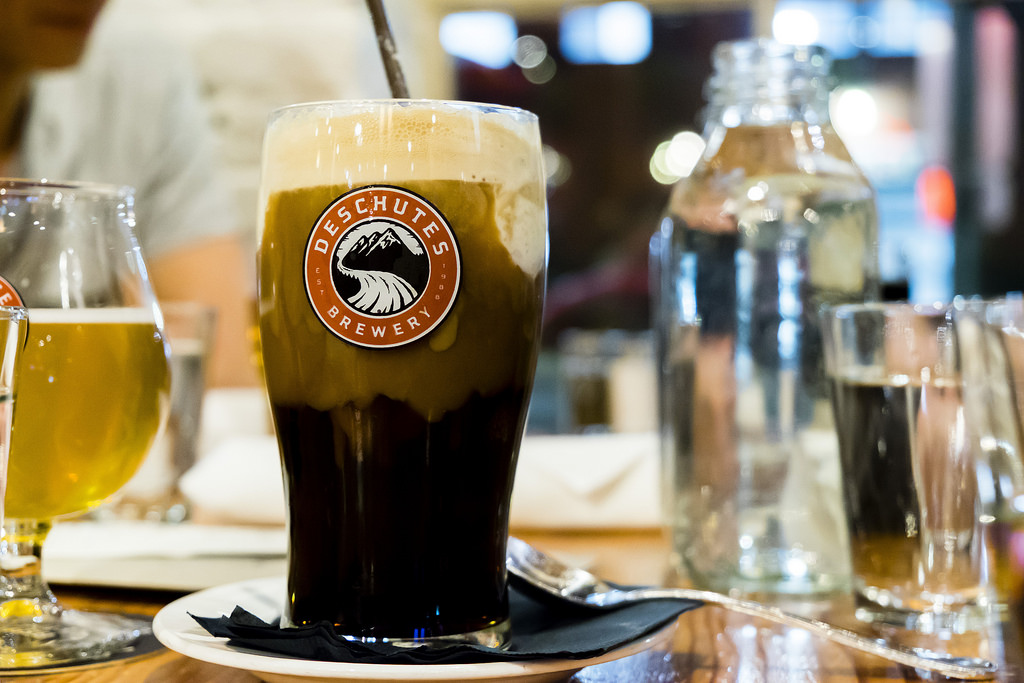 Deschutes Brewery - Root Beer Float
The black butte porter cheddar burger ($16) had a great patty but the pork belly lacked much seasoning. Bring your own pepper.
Conclusion: Assisted slam dunk.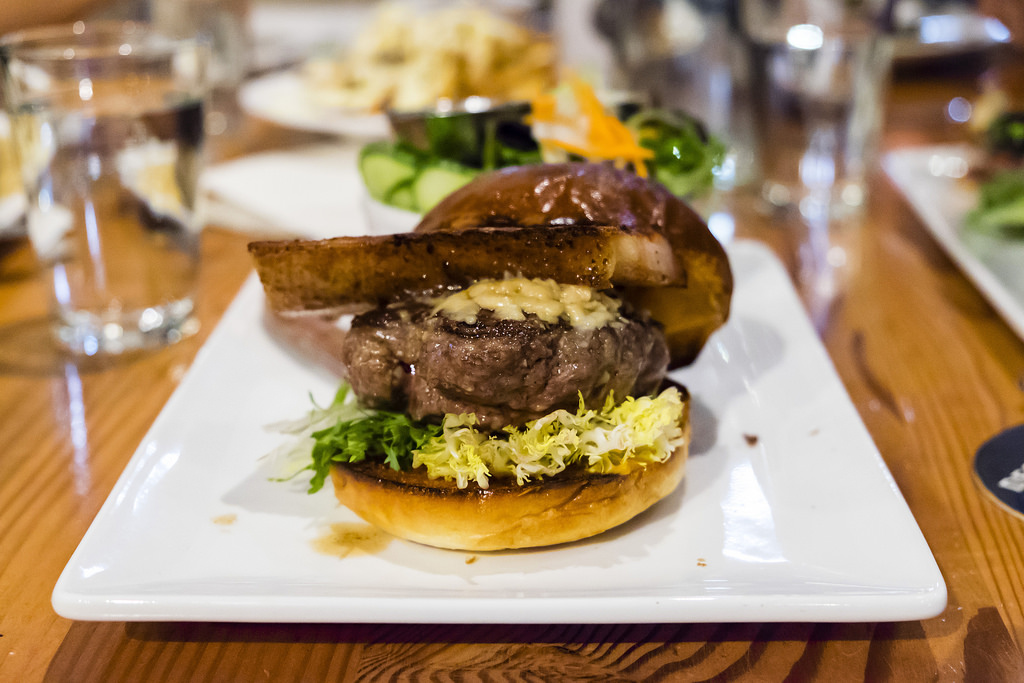 Deschutes Brewery - Black Butte Porter Cheddar Burger
Lardo
Lardo is the neighbouring restaurant of Grassa and is the sandwich version of the Italian menu next door. The egg rick muffin ($9) is an egg and sausage McMuffin classic and even comes with its own hash brown. The hash brown was KEY to a scrumptious and value breakfast. I also stole garlic fries from my friend. Portland might not have poutine, but the garlic fries are aight.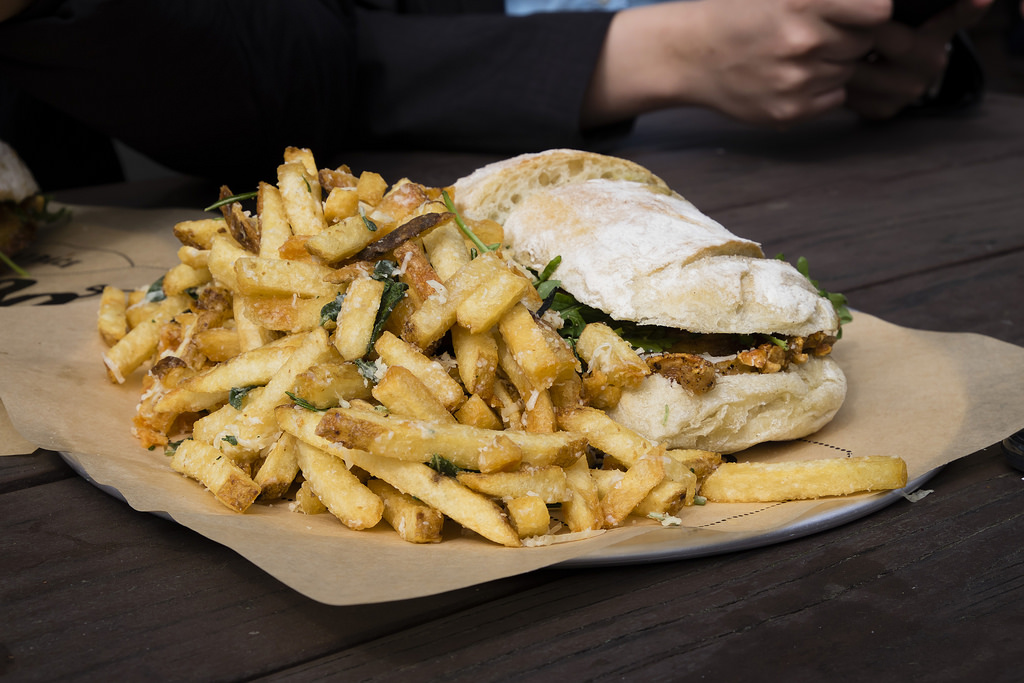 Lardo - Porchetta Sandwich and Fries
Conclusion: Slam dunk (muffin) with a swish free throw (hash brown) after.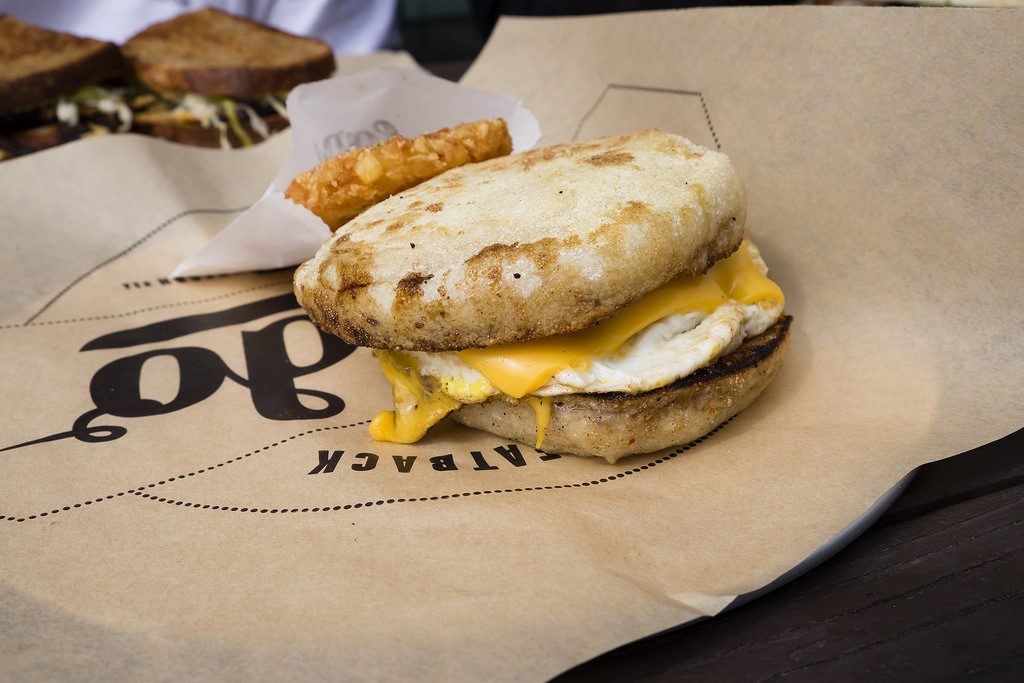 Lardo - Egg Rick Muffin
Nossa Familia Coffee
You'll hear of Nossa as a local roaster, but you'll come for the fantastic espresso bar interior. Latte ($3.25/8oz) art again delivered as did the bright Kenyan (Oreti Estate) espresso beans. Even better value than Stumptown and still full of flavour!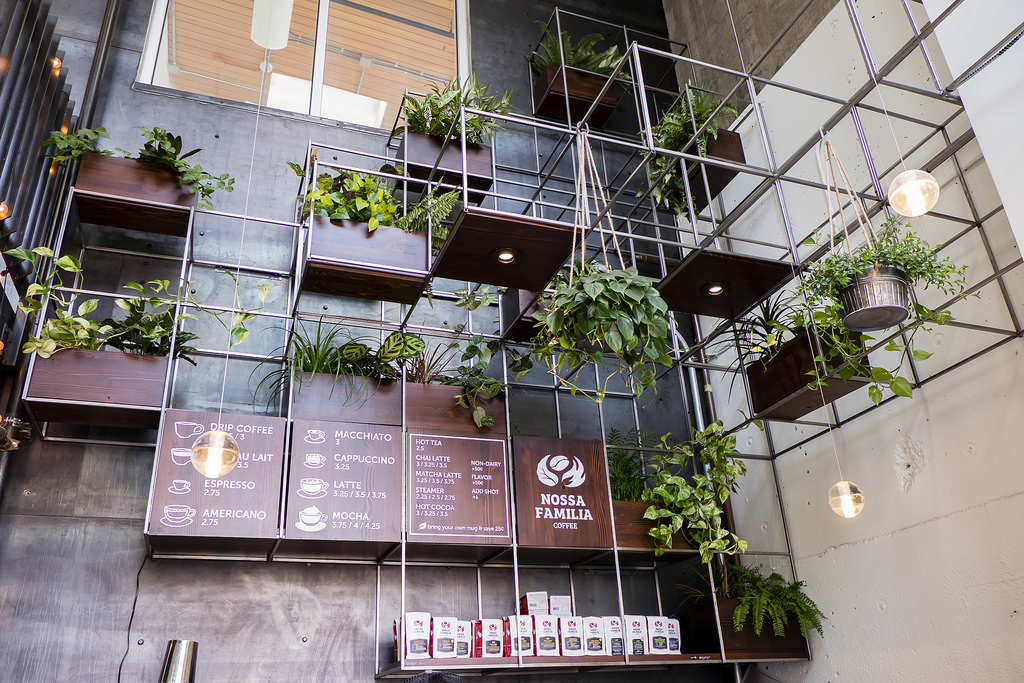 Inside Nossa Familia Coffee
Conclusion: Field goal swish.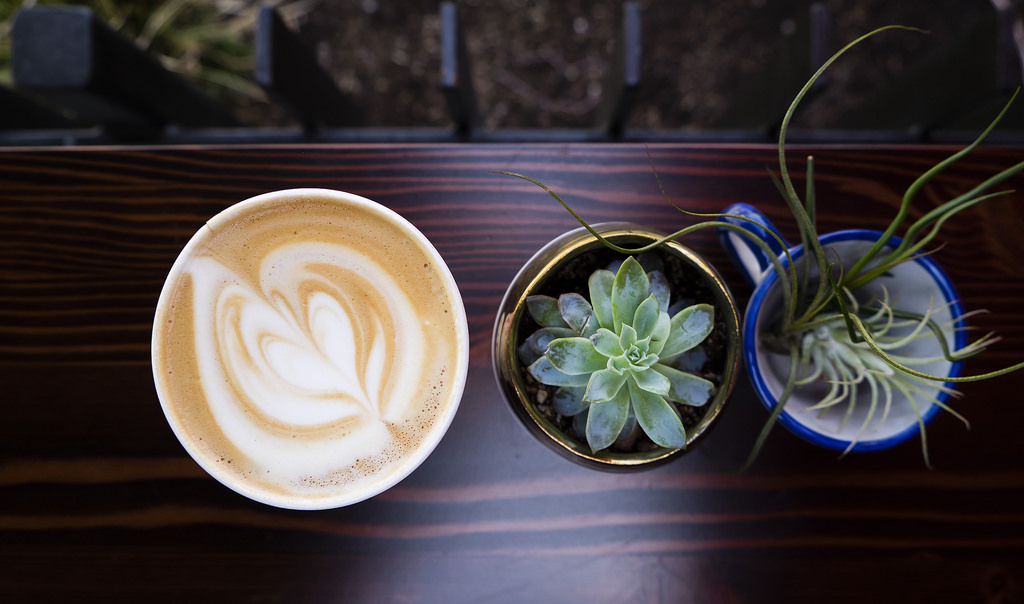 Nossa Familia Coffee - Latte
Salt and Straw
The flavours are unreal, and so are the lines. Salt and Straw has the service down pat though and allow you to try any number of flavours before having you settle for a flavour you'll love. My 2-scooper ($6.10) of double fold vanilla and gooey chocolate brownie was as basic as it gets but the flavour concentration was intense in every lick. I feel most cities have their own version of Salt and Straw (Vancouver has Earnest Ice Cream, San Francisco has Humphry Slocombe) but it's still worth a visit. Ready your body.
Conclusion: Standard, satisfying 3-pointer swish.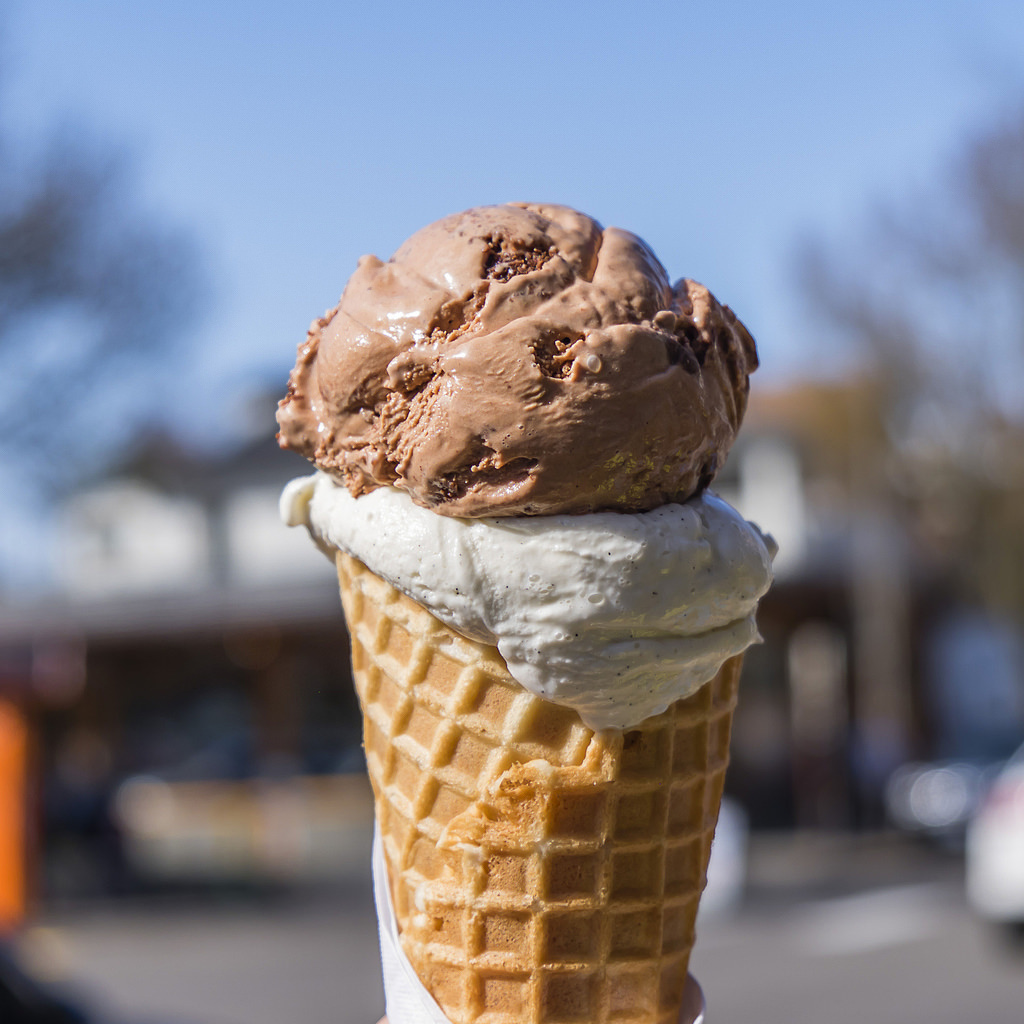 Salt and Straw - Double Fold Vanilla and Gooey Chocolate Brownie
Heart Coffee
Another local roaster, Heart Coffee had the most expensive latte ($4.50) out of any of our coffee stops. The interior was very large though and the range of beans was quite diverse, so I guess you're paying for options. Maybe if I were a bigger coffee snob I'd appreciate the difference between Heart Coffee and something like Stumptown.
Conclusion: Blocked field goal.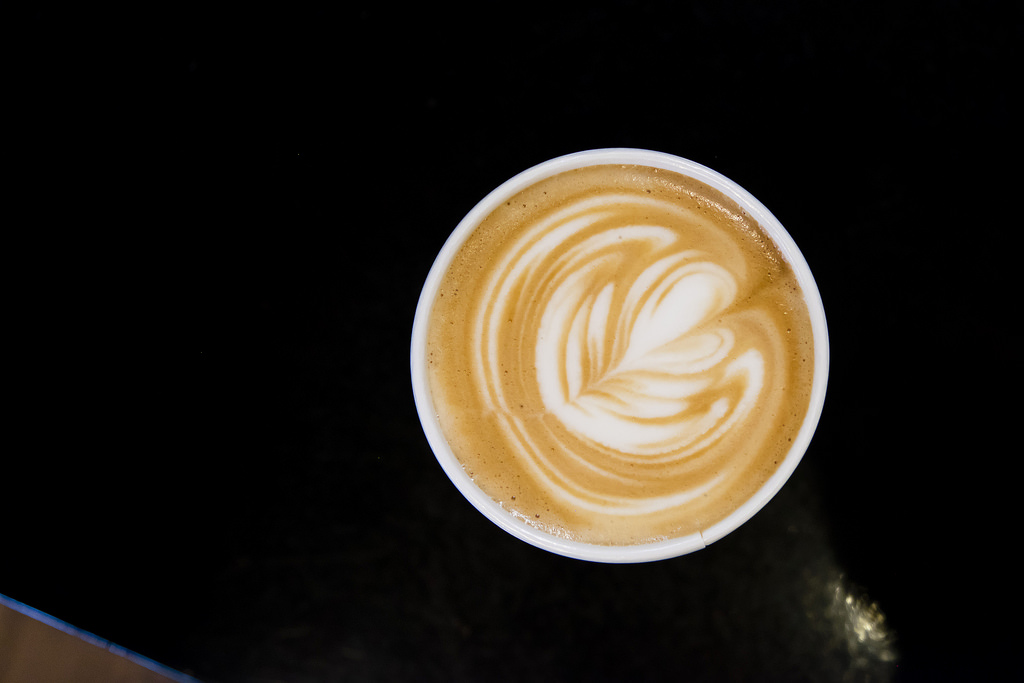 Heart Coffee - Latte
Screen Door
Blogs and magazines won't shut up about Screen Door and the famous chicken and waffles ($16/3 piece). Hate to break it to you, but other than the sweet potato waffle, this overly-peppered chicken doesn't do enough to justify a 90 minute wait. Coupled with the fact this place looks like a hole in the wall, you had better love congestion if you plan to dine here. Oh, and the praline bacon ($7.50)? I think this was a great creative take and I recommend splitting it with a couple friends. Otherwise, you're just consuming a ton of calories you're better off splitting with other foods.
Conclusion: Air ball.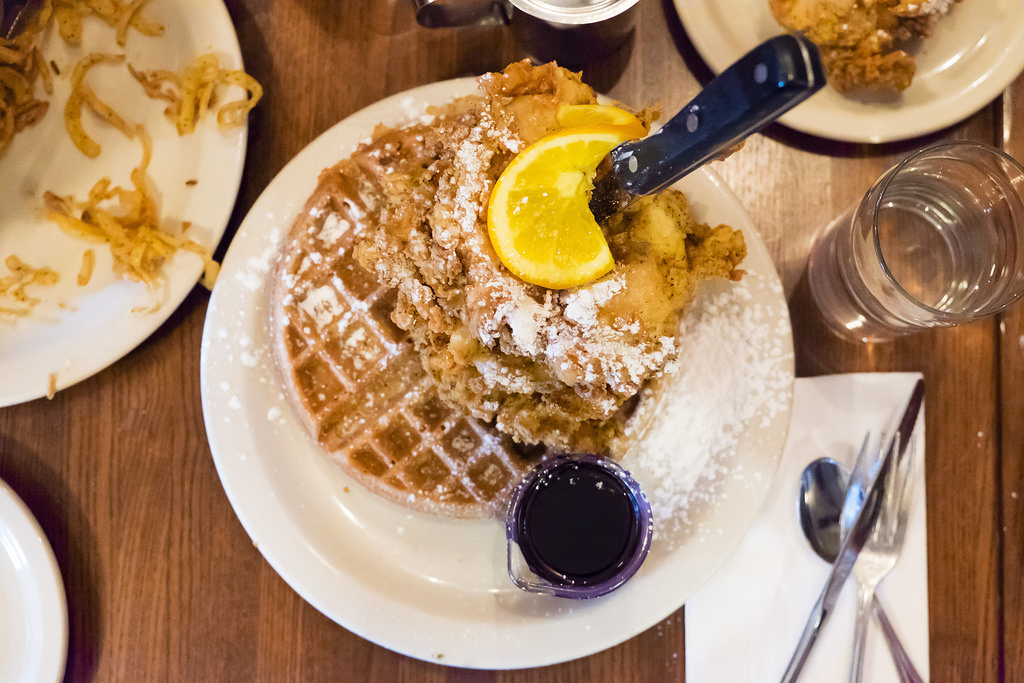 Screen Door - Chicken and Waffles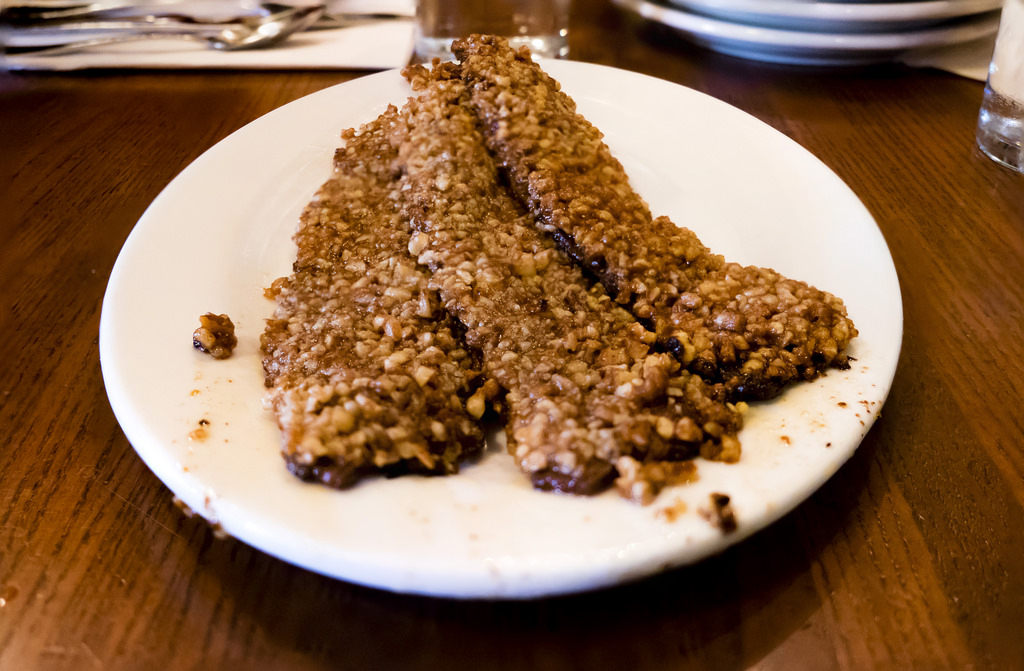 Screen Door - Praline Bacon
Final Thoughts:
One-liner: Portland has a lot of great eats with some credible places not mentioned enough, some less credible places overly published, and I hope today's blog post affirms a lot of things you'll have to try for yourself to confirm their greatness – you can skip Screen Door though.
Highlight: Lardo
Would I go back? Yes to all but Screen Door.