Ramen never ceases to appear in Vancouver's West End neighbourhood. In the ashes of what used to be the Robson Street edition of Hapa Izakaya is the second location of David Street's Ramen Koika. Newly renovated, this space also includes a dedicated space for making ramen noodles, which matches the function of the original restaurant. I was given an opportunity to taste my way through their soon-to-be-launched opening day menu.
Disclosure: This was a media tasting and all opinions are my own.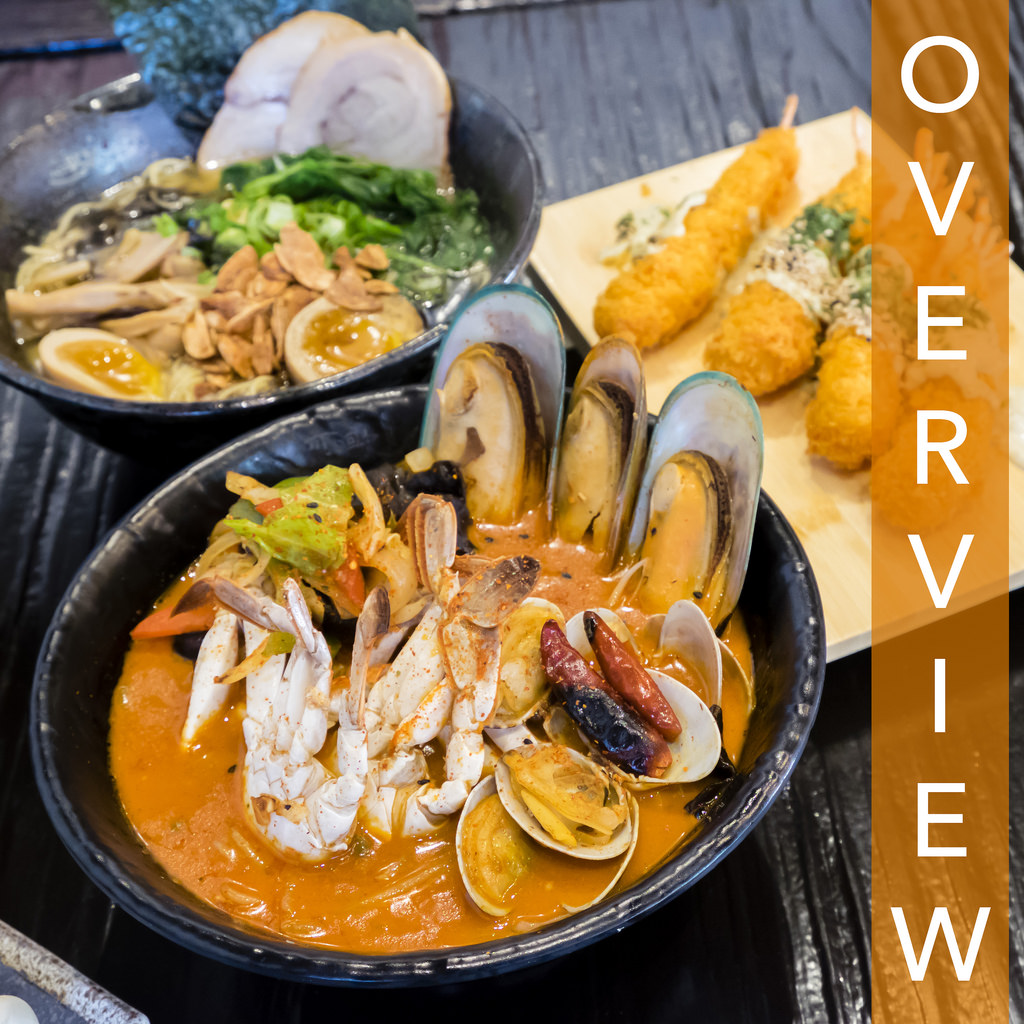 Food:
Team Pork Ninjas came here for a Wednesday dinner and I had a taste of the following:
Coco Karaage ($5.50)
Takoyaki Ball ($5.50)
Creamy Croquette ($5.50)
Golden Scallop Fry ($5.50)
Puri-Puri Ebi ($6.50)
Pork Gyoza ($6)
Ebi Gyoza ($7.50)
Pork Bao ($4)
Minions Dice ($5)
Veggie Triple Black Ramen ($12)
Tonkotsu Shio Ramen ($11.50)
Triple Black Garlic Ramen ($12.50)
Sapporo Miso Ramen ($12.50)
Queen's Ramen ($10)
King's Seafood Ramen ($16)
Chicken Tamago Ramen ($10.50)
Kimchi Ramen ($12.50)
For my top 5 items, I chose a mix of appetizers and ramen.
The puri-puri ebi was fantastic. This featured deep fried panko breaded jumbo shrimp with tartar sauce, sesame, and parsley. The sauce added a savoury touch to the crispy breading.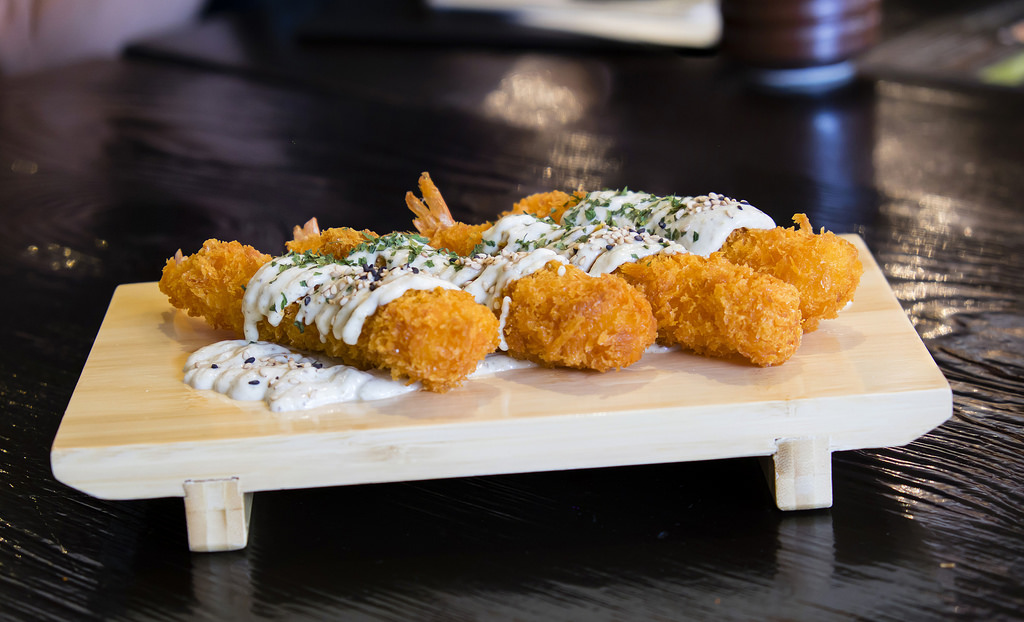 Puri-Puri Ebi
The pork gyoza were also very tasty. These homemade dumplings had a plump shell with some chew to the skin. Breaking them off was a bit of a pain but there was a good mix of stretchiness and chew in the skirt.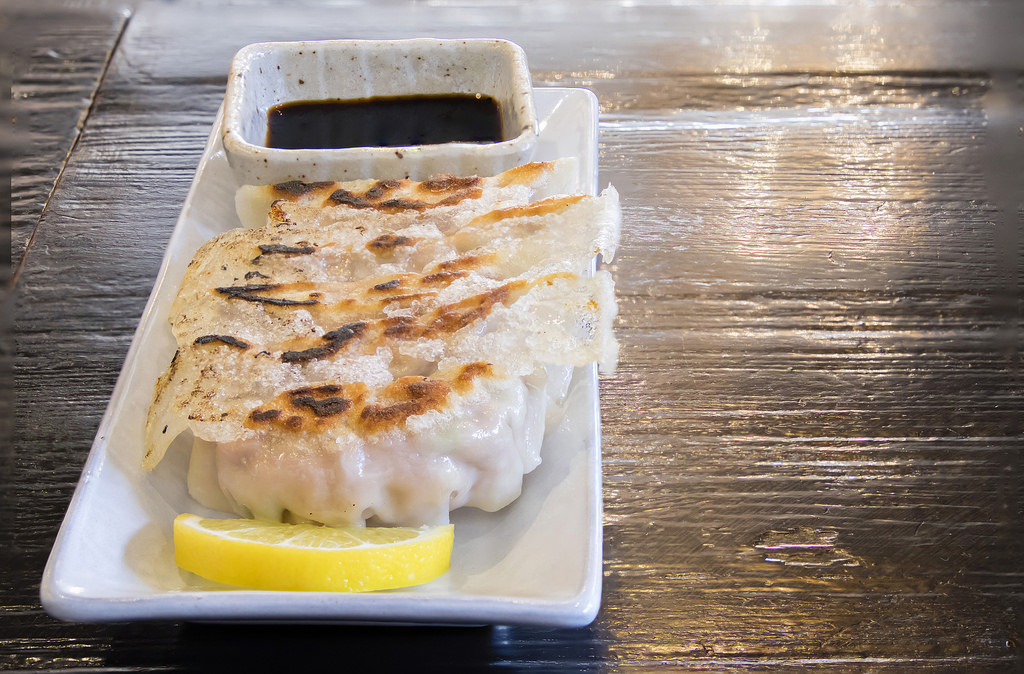 Pork Gyoza
Onto the ramens, the first mention must go to the triple black garlic ramen. With cha-shu, spinach, seasoned egg, bamboo shoot, roasted seaweed, green onion, garlic chip, and triple black garlic oil, this was a sight to behold. If you're looking to kiss someone later you might pass on this but otherwise it's full of garlic greatness which easily clung to the thin noodles.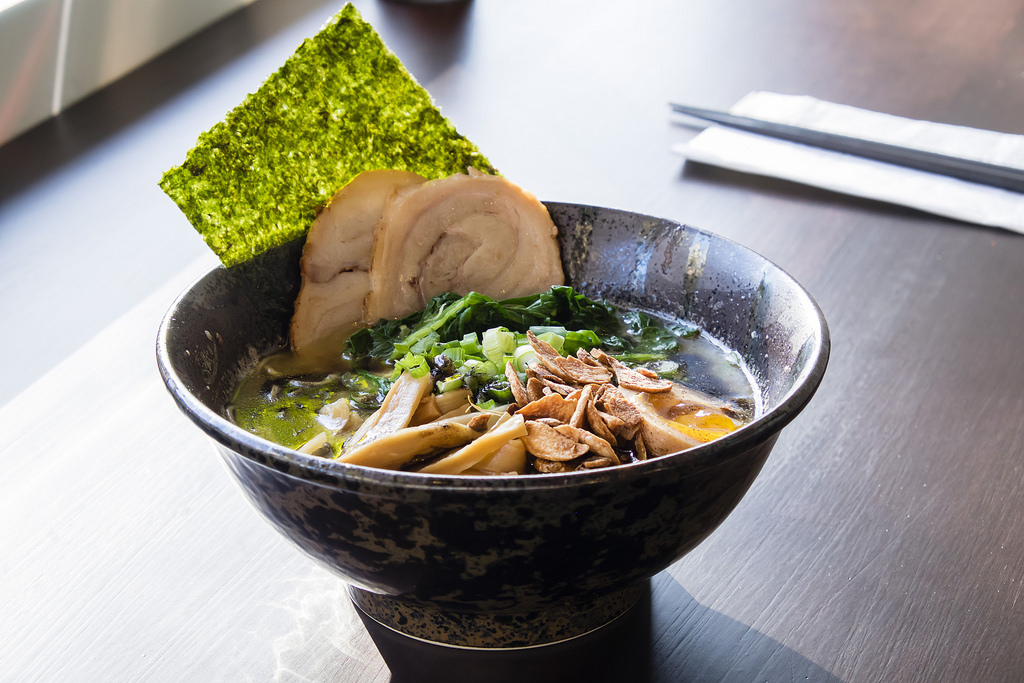 Triple Black Garlic Ramen
Another favourite ramen of mine was the chicken tamago ramen. Coming in at $10.50 makes this the second cheapest ramen on the menu and boy does it deliver for egg lovers. A whole TWO seasoned eggs are featured here along with garlic chips, bamboo shoots, and green onions for something that is marginally more expensive than the same thing at Taishoken (though Taishoken only features half an egg).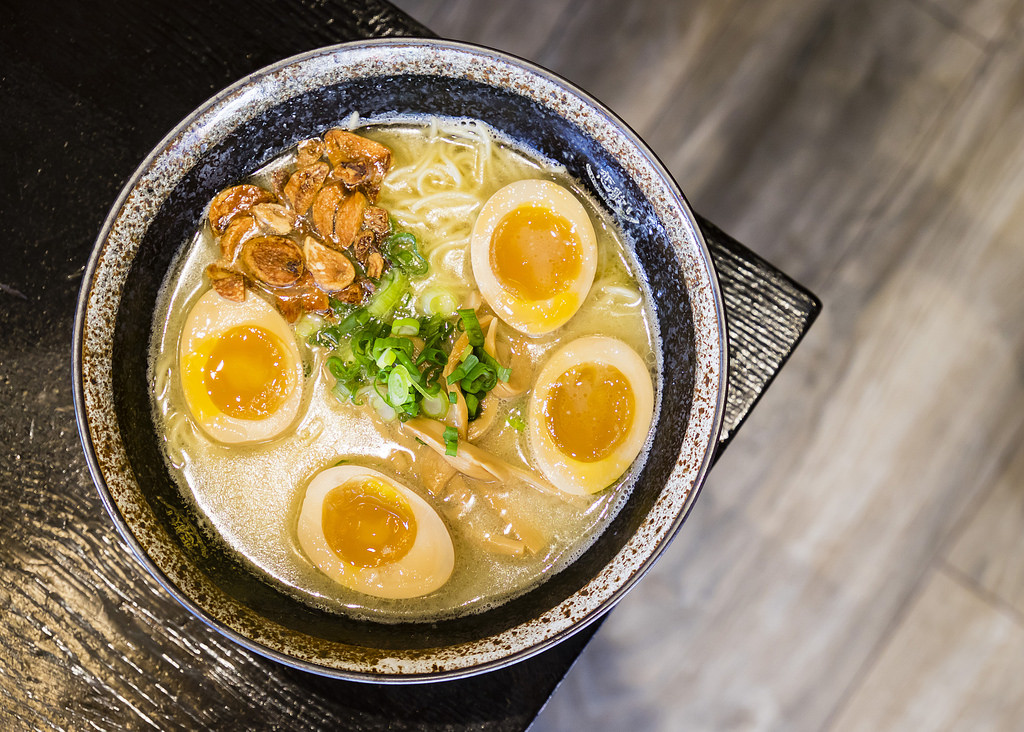 Chicken Tamago Egg
Last but not least, I'm going with a mix of two worlds: the kimchi ramen. Featuring a chicken broth, shredded pork, kim chi, mushroom, spring onion, onion, cabbage, and green onion, this was essentially the Japanese ramen version of Korean hot pot. So many flavours mingled in this aromatic dish and something about the brisk sunlight outside made me feel this was the right ramen for me (though the chicken tamago ramen is a huge sell to me too).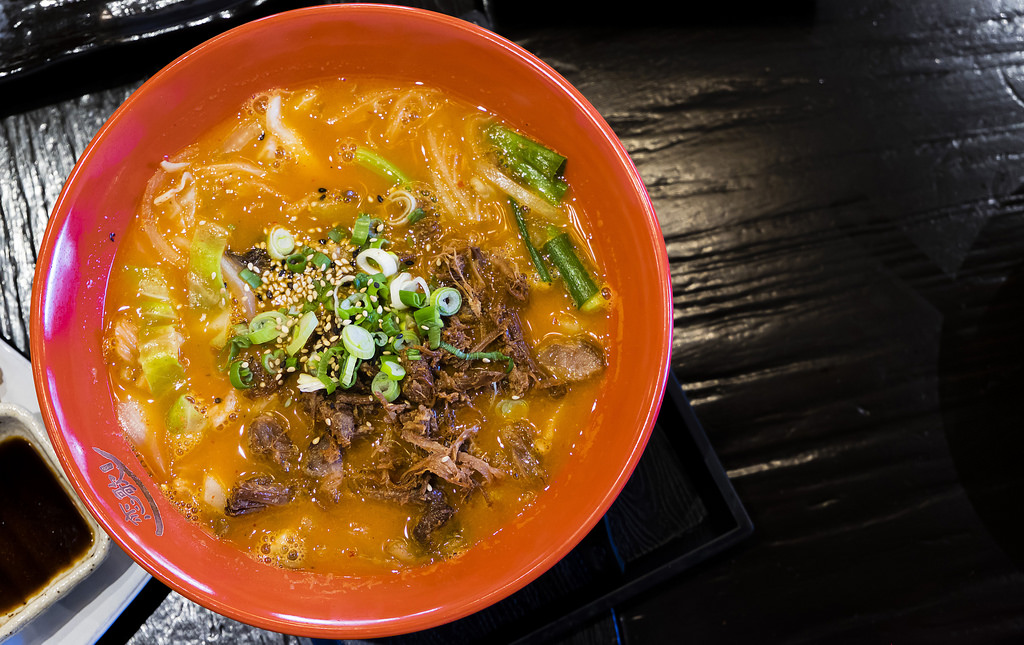 Kimchi Ramen
Features:
Ramen Koika takes residence in a part of the former Hapa Izakaya on Robson Street and is fully renovated. There's seating for about 50 guests in a homey eatery with a huge mural along the main wall and interesting light fixtures. If you look to the back you'll see a dedicated space where Ramen Koika makes their own noodles. It's a rare sight to see as few places bother with making their own noodles.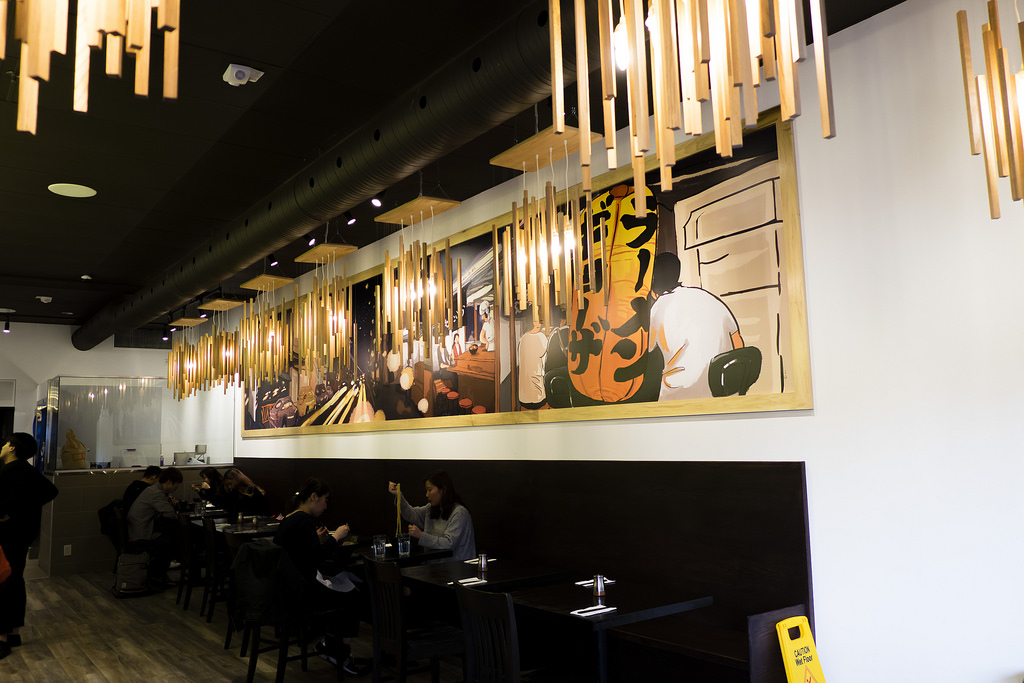 Inside Ramen Koika
Final Thoughts:
One-liner: A whole mix of different ramen styles that appeal to lovers of different ingredients
Highlight: Kimchi Ramen
Price per person: $12-$20
Would I go back? Yes.