There's been a ton of hype for The Frying Pan ever since their food truck started rolling around Vancouver. Now a brick-and-mortar location has sprung up and while I'm in tears saying goodbye to Tuc Craft Kitchen, my heart has been healed by the Korean-Nashville style of fried chicken that's available at The Frying Pan. I actually went there twice for this review and can definitively say the fried chicken sandwiches are something I'd take any of my friends wanting to try something new downtown.
---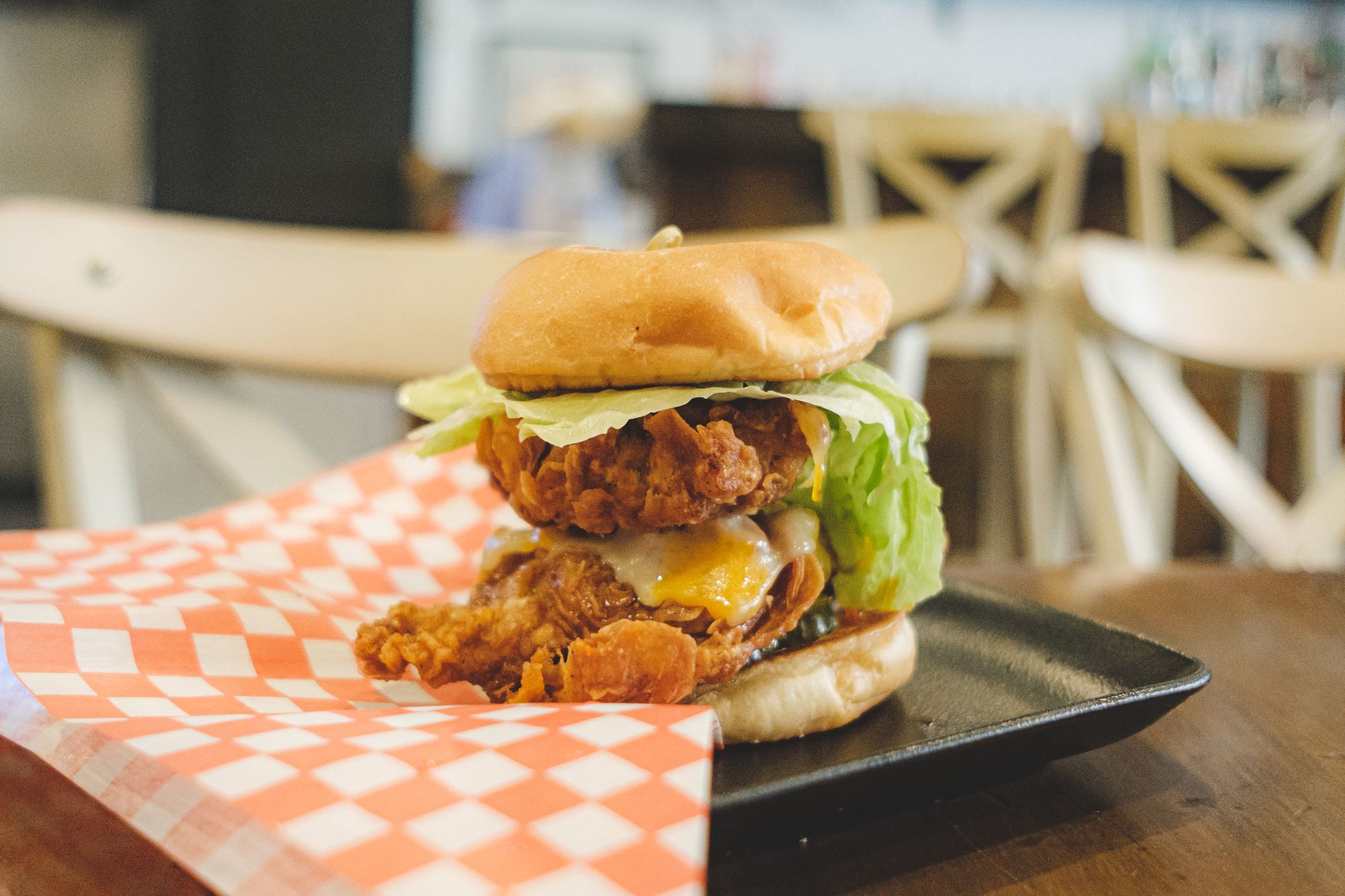 Food:
I came here for both lunch and dinner settings and had myself the following:
Dirty Hot Chicken Fries ($15.90)
Double Decker Fried Chicken Sandwich ($16.90)
Fried Chicken Breast Bowl ($15)
The dirty hot chicken fries come with waffle fries, house teriyaki sauce, spicy mayo, cheese, green onion, chicken breast, slaw and pickles. Let me explain first that the chicken breast here is cooked just right. There's a crisp layer of breading on the outside followed by a very juicy piece of meat on the inside. The waffle fries here took me back to college days when ordering fries was the cheapest way to eat while also budgeting for beer. Suffice to say, the fries here are crisp and lathered in a spicy mayo that's actually got good heat if you ask for it. The slaw and pickles are really just guests on the plate observing the delicious combination of cheese, chicken, and fries. This plate of fries is a meal on its own so it's easily shareable if you plan to get a sandwich too (which you should).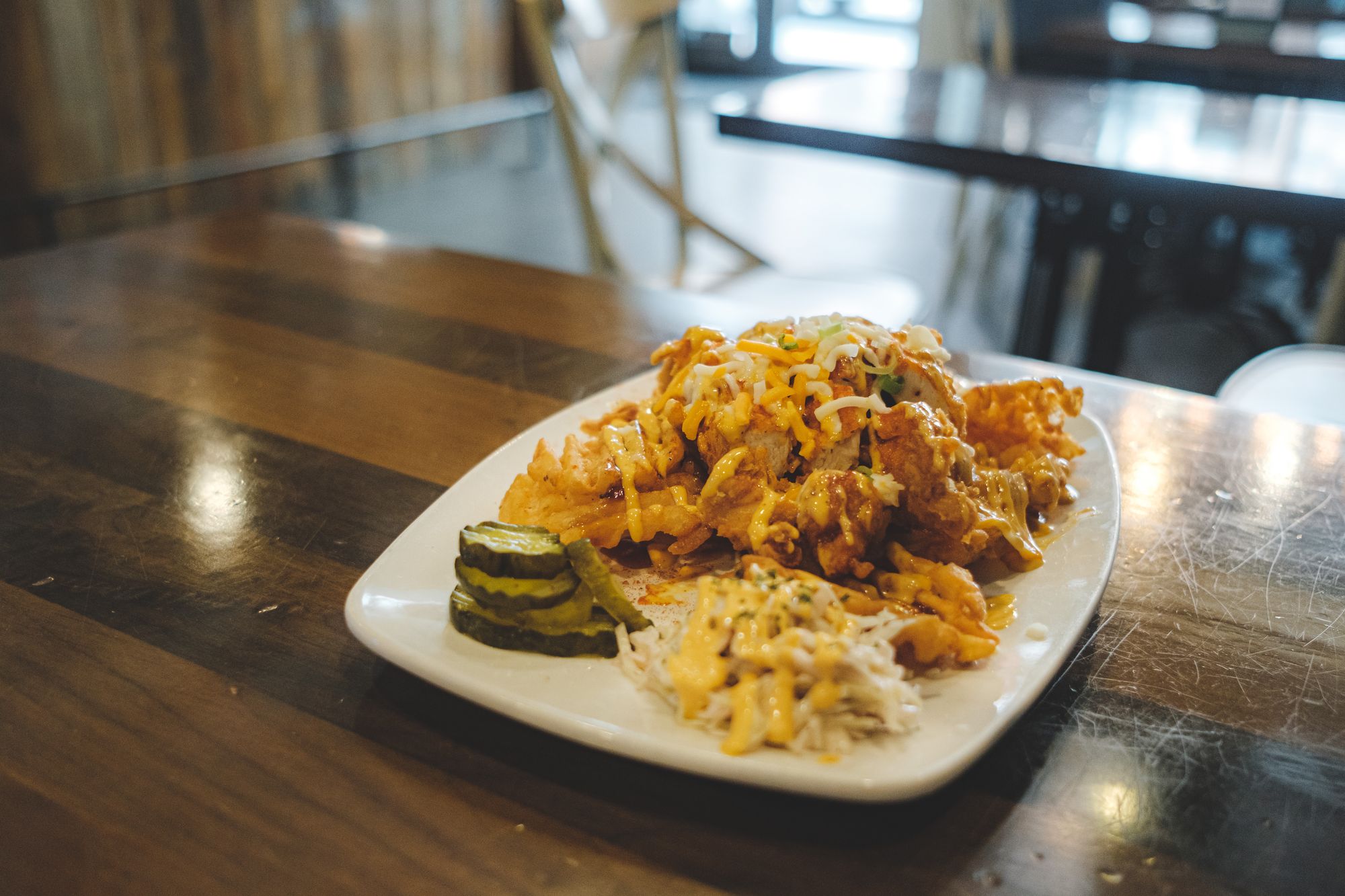 The double decker fried chicken sandwich is what I'm writing home about. This is not just a double version of a basic chicken sandwich though as it comes with its exclusive soy and yangnyeom sauce-drenched chicken thighs. The regular chicken sandwiches come with chicken breast which are still juicy but aren't as juicy as the thighs. Marbled cheese drenches the thighs and the dual sauce sings when combined with the pickle and buns.
I have to lament that the bun isn't strong enough to hold this sandwich. Because the thighs stack high, you have to compress the buns together to fit this burger in your mouth, and since it's twice as high as a regular burger, the bun will tear apart from the pressure. On the bright side, the burger is good enough to split in half and eat as an open faced sandwich. I wish there was a single thigh version of this double decker but I can settle with eating this with a fork and knife given how good the chicken thigh is.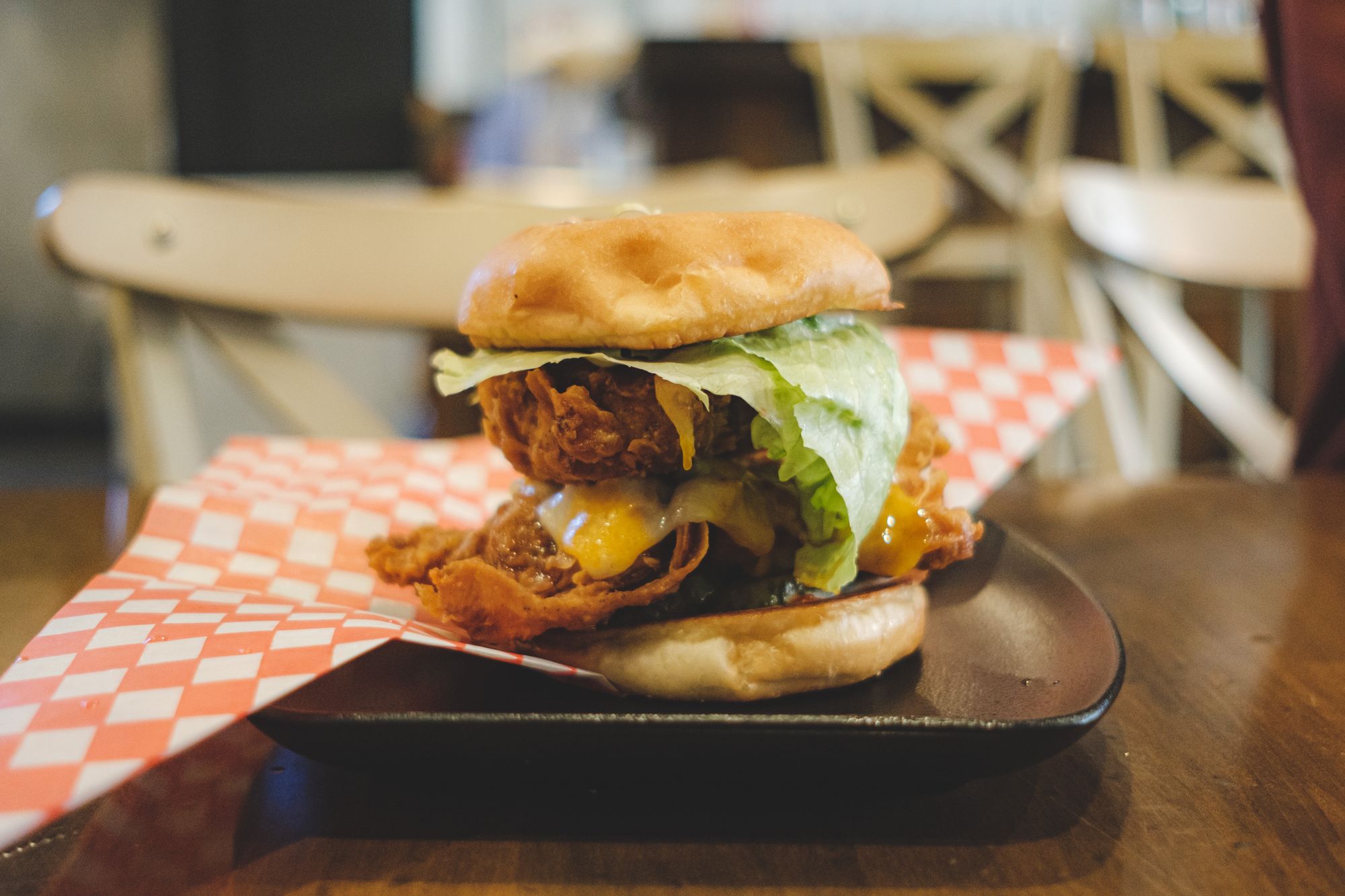 Last and kind of least, the fried chicken breast bowl is what I had on the second visit to The Frying Pan. I thought this would be fun since it is a Korean-run business and that there would be something interesting in a rice bowl. Alas, drenching fried chicken sauce over rice isn't the same experience as over a bun. The starchiness of the rice makes the flavour stick to your teeth more than I'd like. Like other chicken dishes, the chicken breast here is still very juicy and why you come to Frying Pan, but replacing the chicken sandwich bun with rice is not a winning combination in my book. Maybe this is what you'd make your friend order if they hate sandwiches but you dragged them out to The Frying Pan anyway.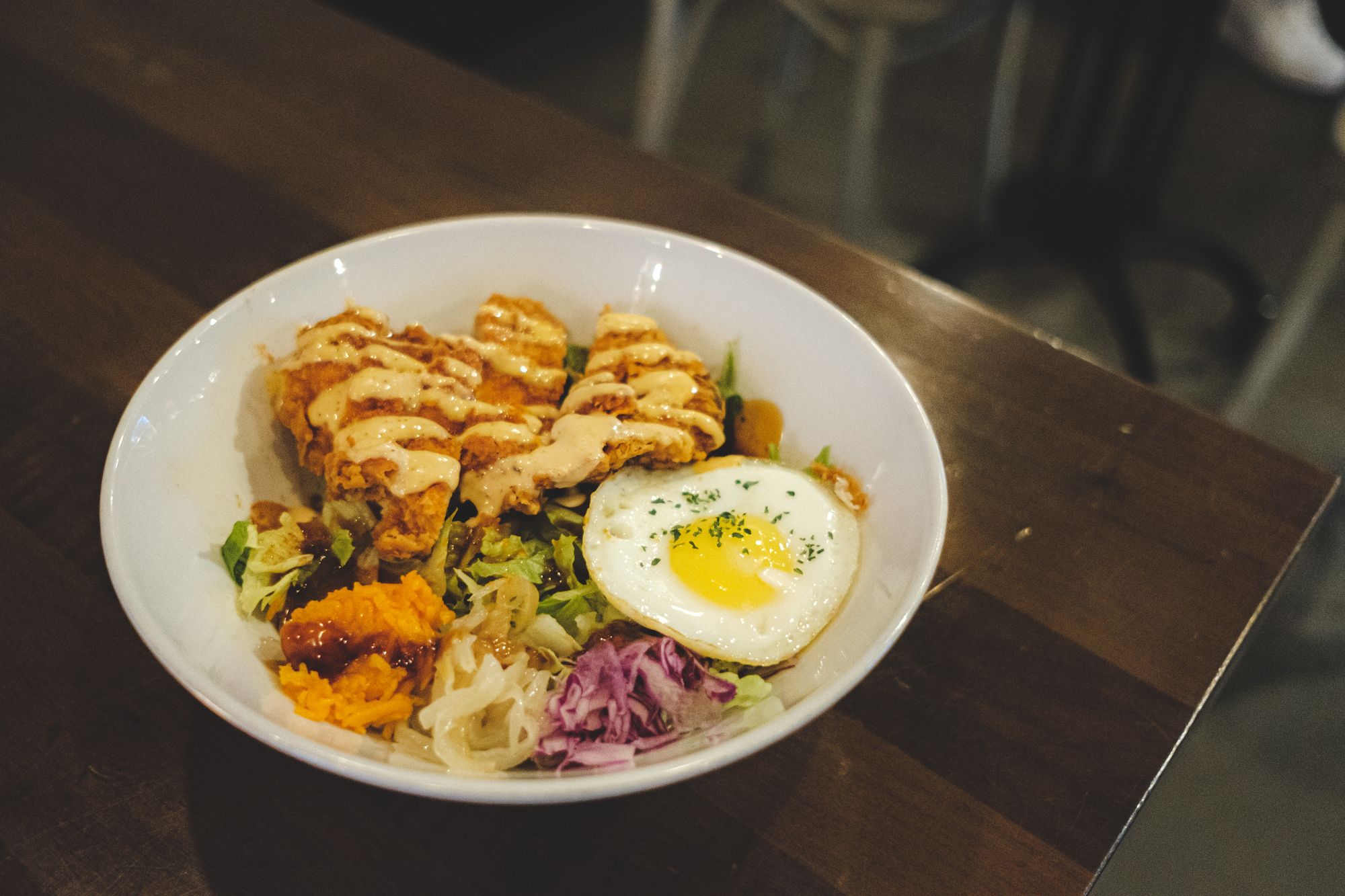 Features:
As mentioned at the beginning of this blog post, The Frying Pan takes up residence in the old Tuc Craft Kitchen. The interior remains largely the same except the booths have been sealed off in favour of more tables and chairs. Given the current pandemic, there is lots of separation between seating and vaccine passports are enforced. There is seating for about 50 guests right now.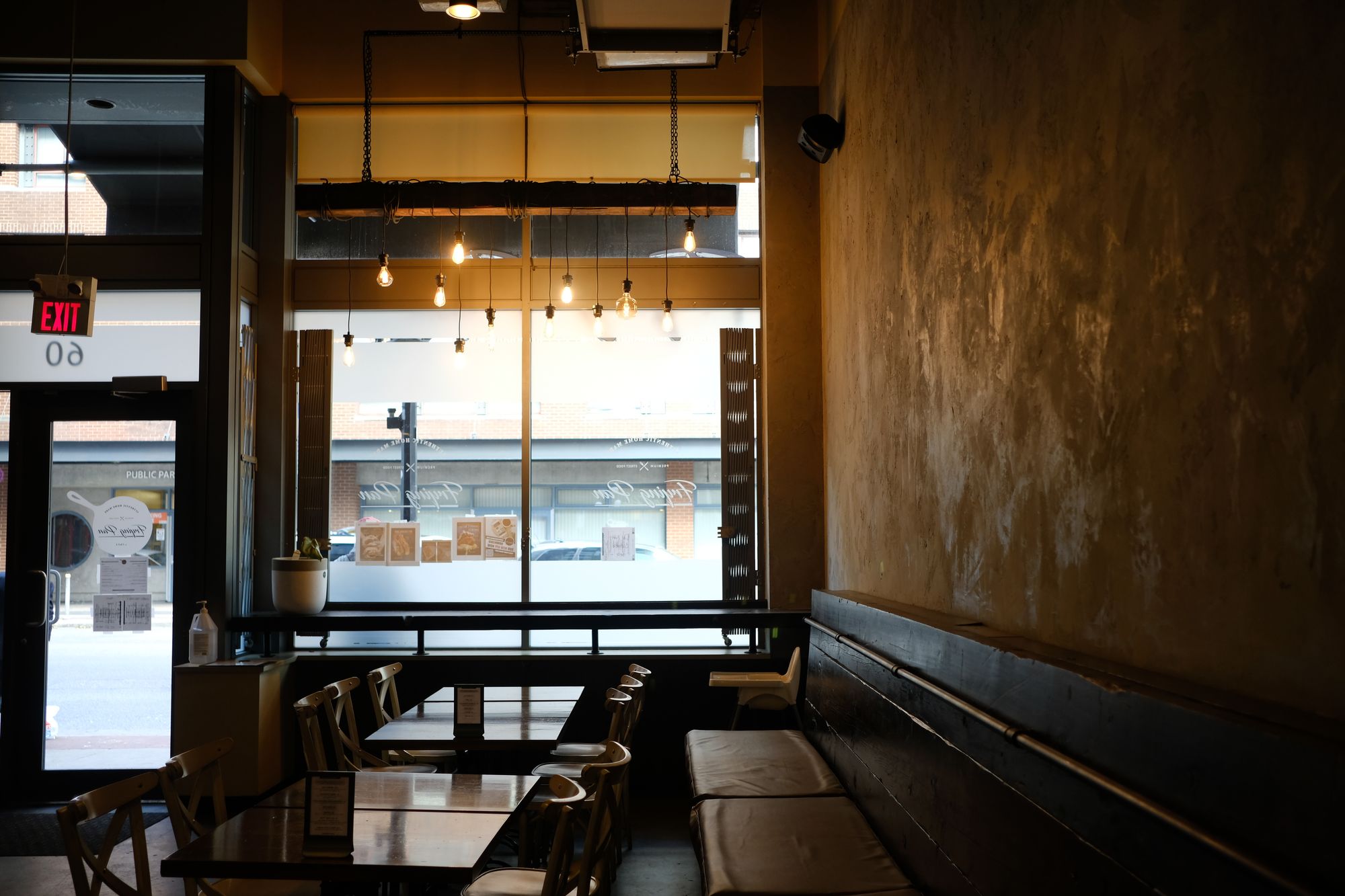 The bathroom situation is worth noting. The female washroom is located upstairs so you have to walk up a staircase to relieve yourself. If you're a male, then you get to use the main level handicapable washroom instead.
Service:
Food service at The Frying Pan gets the job done with regular check-ins and very prompt servers. The water service here is on a whole separate level though. I would finish my water and within a minute a server would notice and offer a top up. Given the average bill here, this is fine dining tier water service! I was taken care of for water so well that I had to use the washroom twice – once when finishing at the restaurant and again when I got home.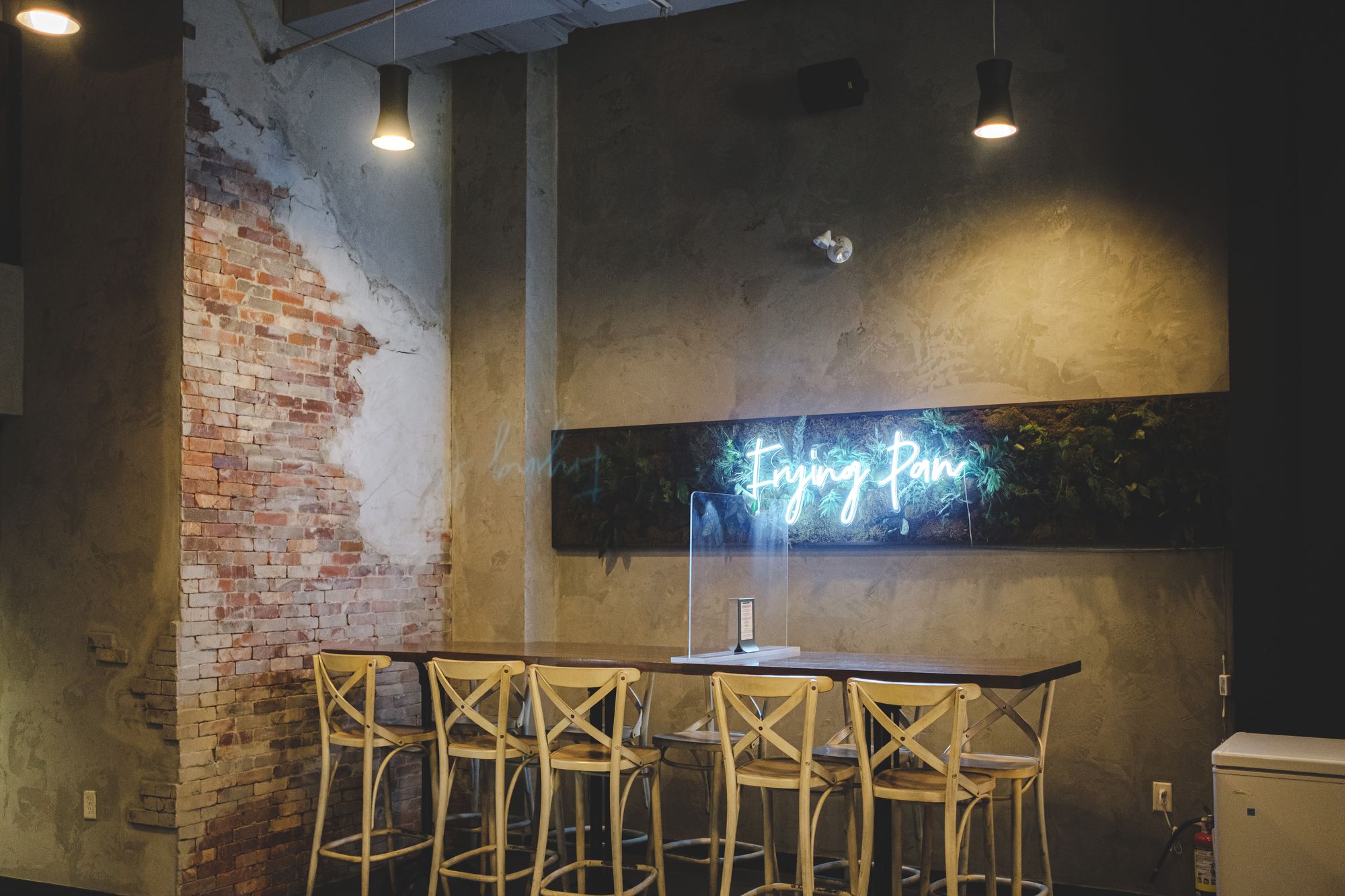 Seating-wise, on a Sunday afternoon at 12:30pm there wasn't a wait to get a table, and the same for a dinner table at 5pm. Tables max out at a capacity of 6.
Final Thoughts:
One-liner: Delicious fried chicken sandwiches with a unique take on sauce you can't currently find anywhere else in Vancouver
Highlight: Double Decker Fried Chicken Sandwich
Price per person: $18-$28
Would I go back? Yes.