Within the realm of German food (sorry vegetarians), my favourite dish has to be the pork hock. Pork hock appears in Chinese and Taiwanese cuisines too but there's something about the size and girth of a German-style pork hock that gets my saliva rolling every time. I'm used to getting a portion at the Vancouver Christmas Market, but that's only available about 6 weeks of the year. For something a little more permanent, a friend recommended we go to The Old Bavaria Haus in New Westminster and pre-order the pork hock. Needless to say, this is something worth planning ahead for.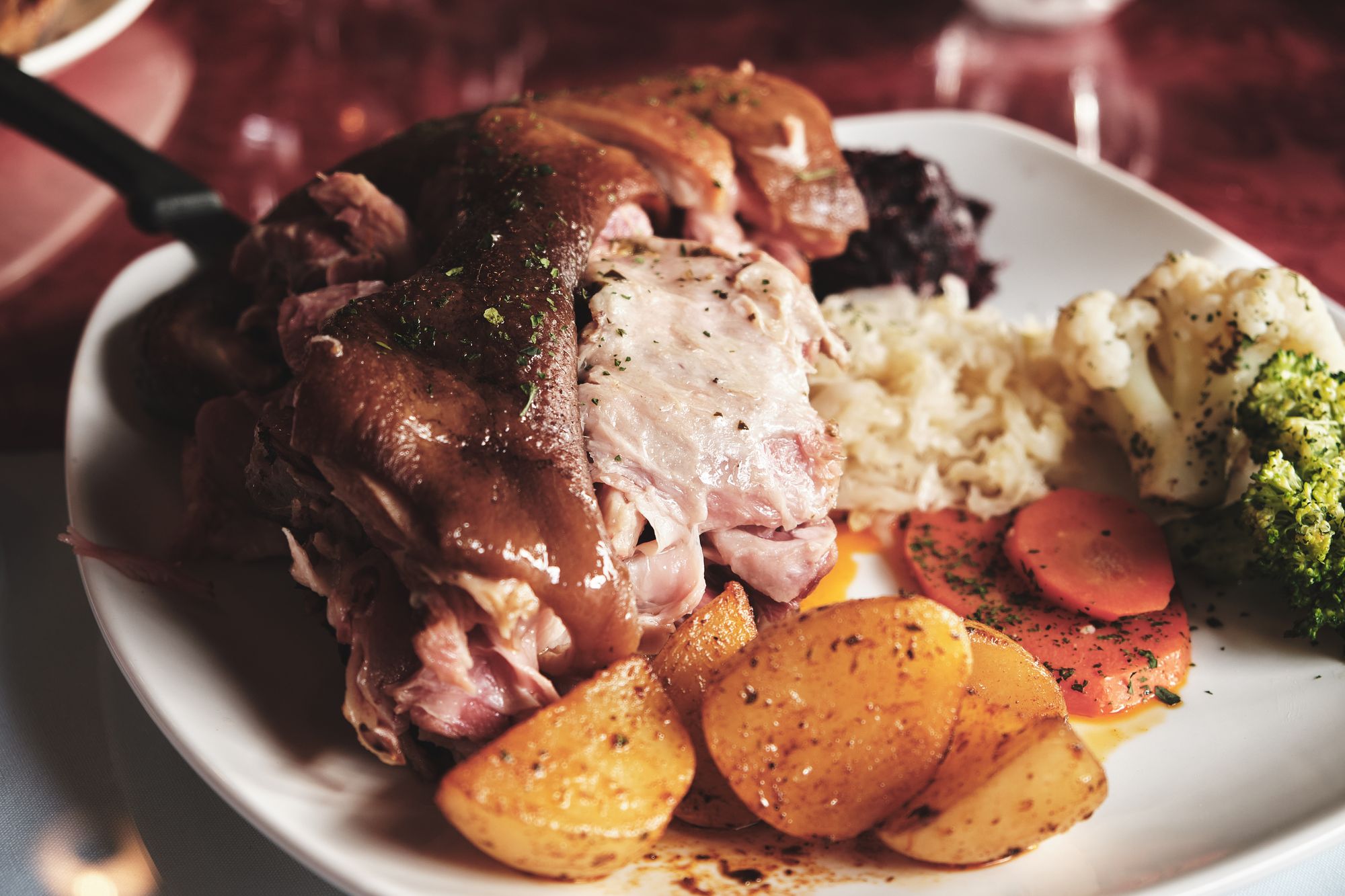 Food:
Team Arkavia and Lido came to The Old Bavaria Haus for a Sunday lunch and we all got the pork hock ($50 per portion – requires 2 days advance notice) which came with oven-roasted potatoes and two kinds of sauerkraut. At first glance, this single portion is gigantic and not something to be finished in a single meal. That's for good measure too because $50 is no joke for lunch.
The best thing about this pork hock is the fall-off-the-bone tenderness meaning you can cleave the meat with just a fork, while the skin has a nice chewiness. Granted, there is no pork crackling as this is just a roast and not like a barbecue spit like you'd get at the Vancouver Christmas Market. In addition, the seasoning leaves a little to be desired so I recommend asking for a side of mustard which appeared to be free on request.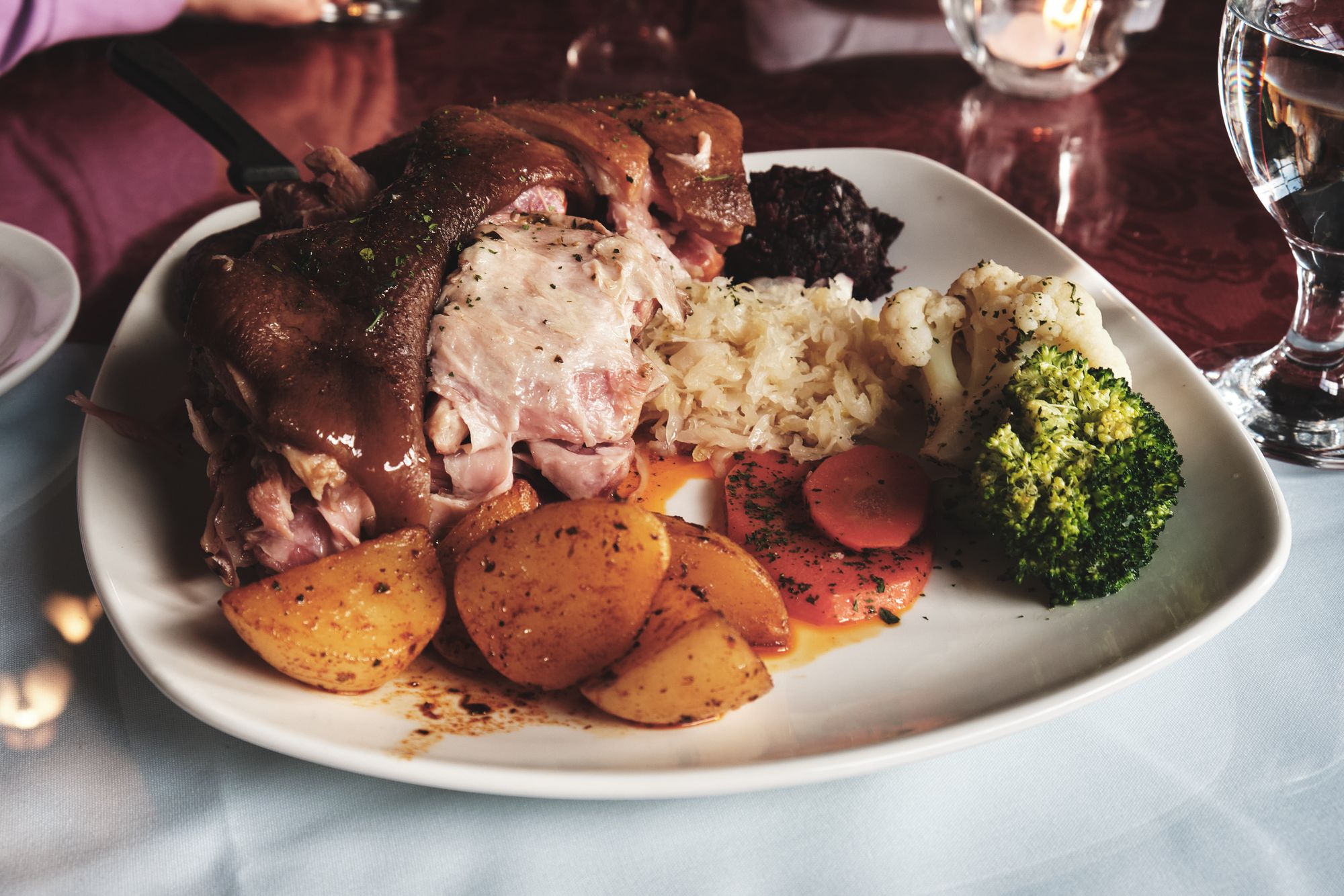 The potatoes are also worth writing home about. There really is a hominess associated with Greek and German food where I find the side potatoes are just as good as the main attraction and I'm left wanting more. Don't skip on these potatoes. I'd even prioritize them as day-old pork hock tastes better than day-old roast potatoes. The sauerkraut was a good tangy and the veggie were overall fine. I recommend lots of gravy for the vegetables.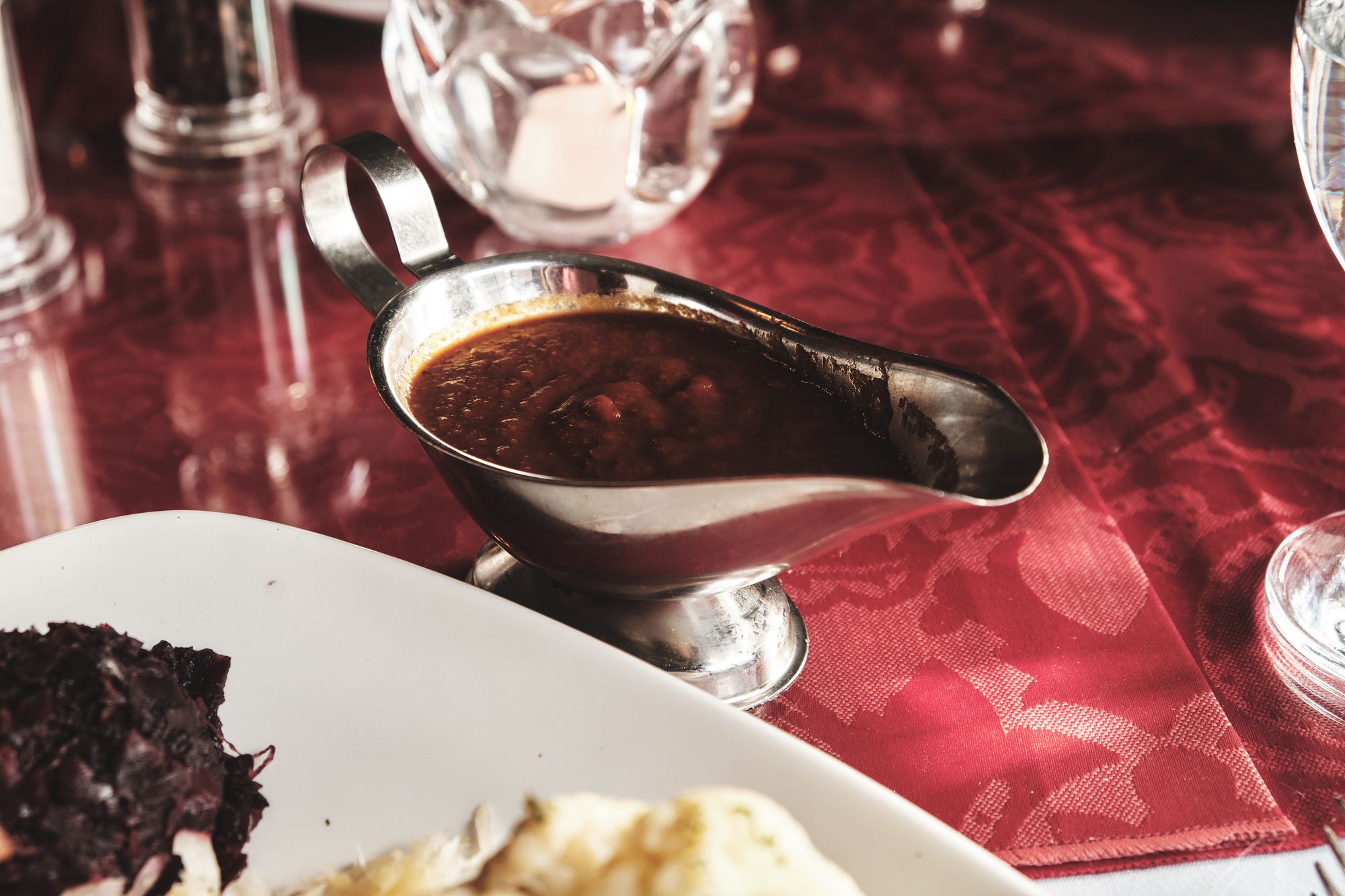 Features:
The Old Bavaria Haus looks exactly as you'd expect – brown and white trimmings on a Bavarian-style shack with a warm wooden interior and bay windows that let in a ton of light. No doubt the best table is the one by the front window but otherwise the inside is comprised of 2 dining rooms with real earthy decor like a chandalier adorned with an oak barrel. For lunch the dining room fits about 30 people but this place is somehow open at the crack of dawn for breakfast and all the way through dinnertime. The pork hock as a preorder appears to be available all day.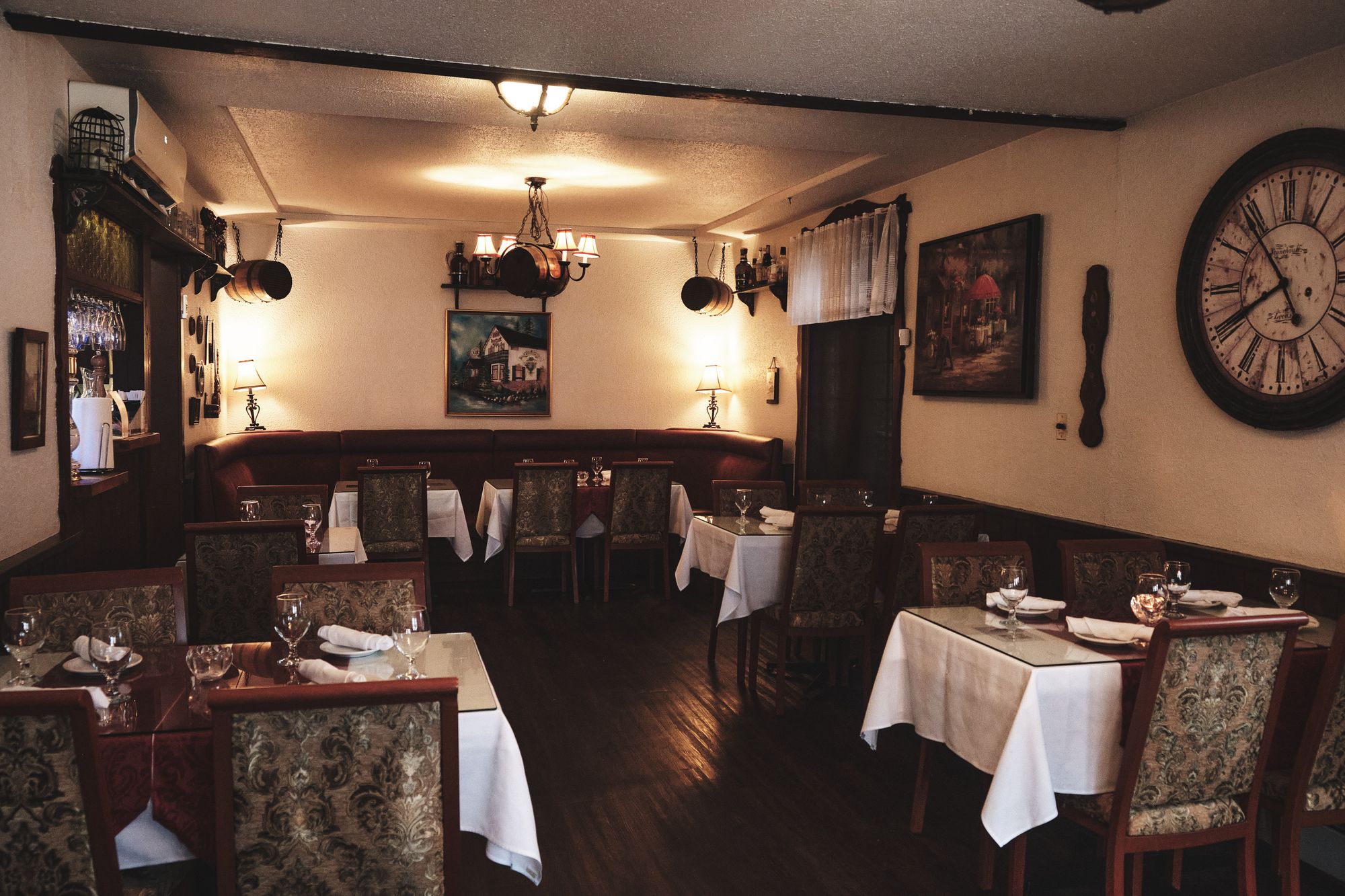 Service:
Service was fantastic for lunch at The Old Bavaria Haus. Our server had ample time to check in on us, offer us condiments, and I guess to get into the spirit of things, offered to be my model once she saw me whip out my camera. I don't take photos of people as much as I do food but it was nice to have our server be so invested in the Bavarian theme and help us have a good time.
I made my 12pm pork hock reservation over the phone with no issues about 4 days out, and even then the dining room wasn't full during our visit. I hope this place is busier for lunch but the pork hock is definitely worth visiting for.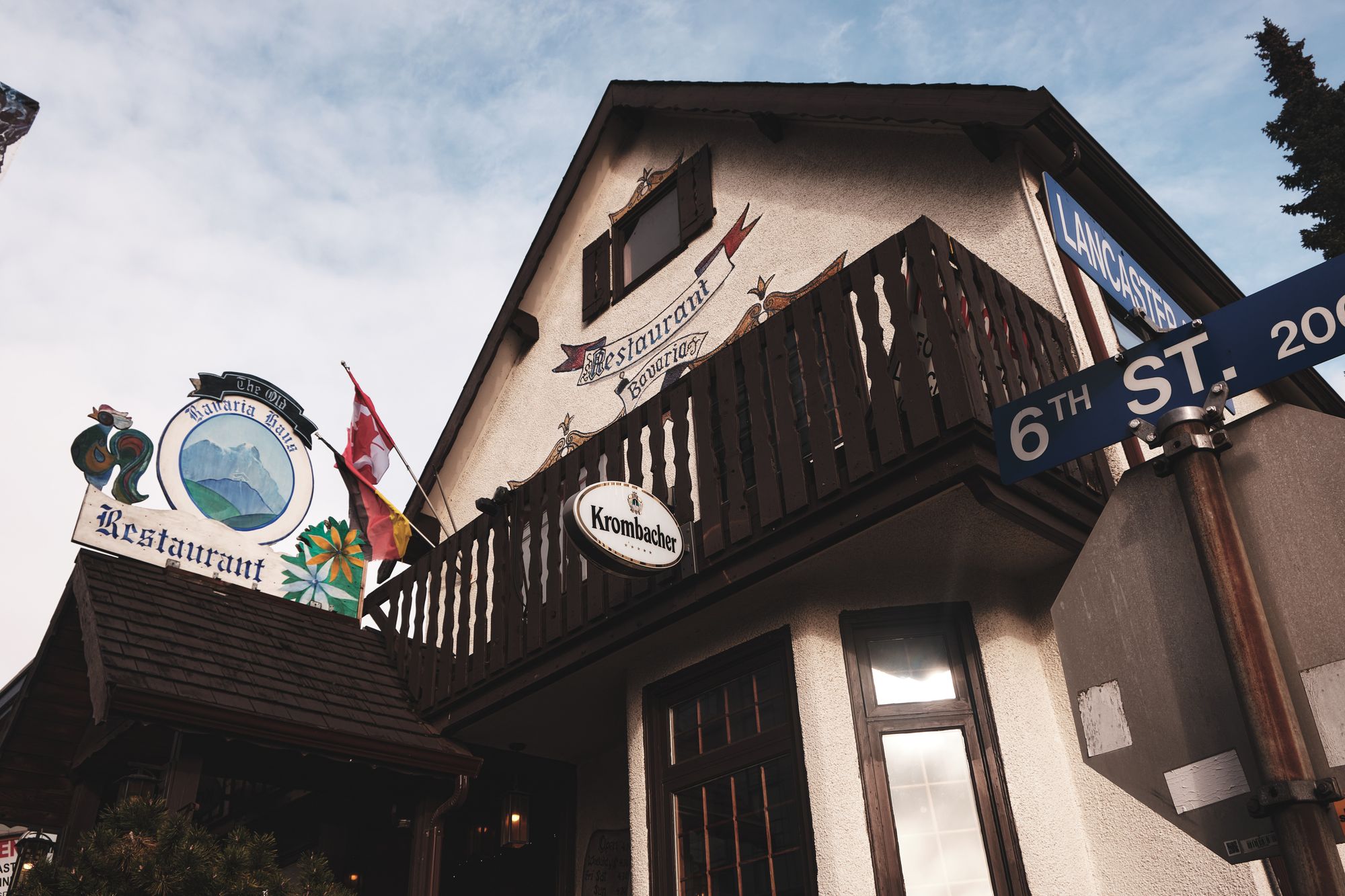 Final Thoughts:
One-liner: The best German pork hock you can get outside of the Vancouver Christmas Market until someone proves me wrong
Highlight: Pork Hock
Price per person: $60-$70 (assuming a full pork hock meal is in order)
Would I go back? Yes if I met someone craving deeply for German-style pork hock.