Despite the rain, summer has formally hit Vancouver which means the most popular flatbread restaurant in Kitsilano has refreshed its menu with summer chops in mind. Rocky Mountain Flatbread has been a mainstay in the neighbourhood for years and blends a family-friend restaurant with a sustainable menu appealing to various diets, a wide variety of seating arrangements, and educational initiatives.
Disclosure: This was a media preview. All opinions are my own.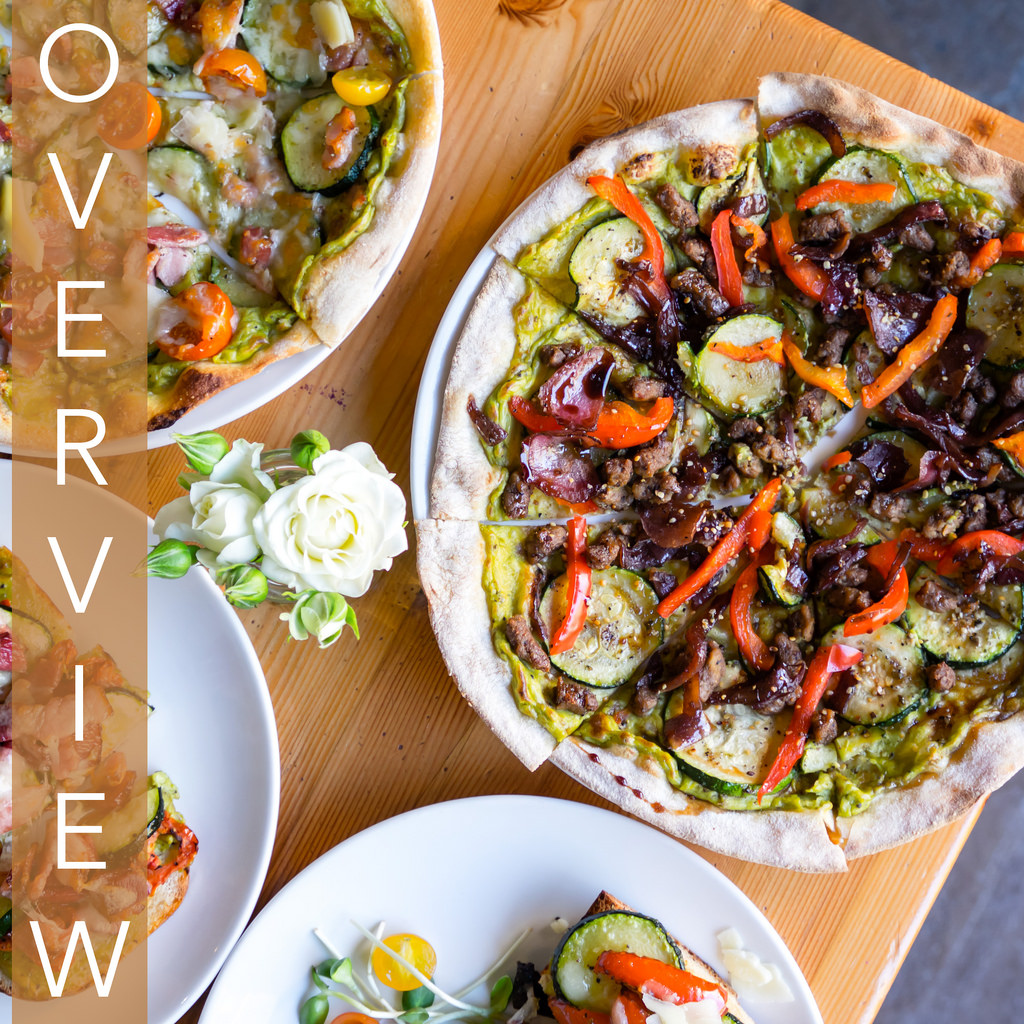 Food and Drink:
Two weeks ago I attended a summer preview event where I got a great taste of the following:
Cappuccino
Blueberry Mojito
Shrimp Bruschetta ($11)
Avocado Bruschetta (~$8.50)
Spring Greens Salad ($8.50 / $16.50)
Fig & Goat Cheese Salad ($8.50 / $16.50)
Plant-Based Summer Green Salad ($8.50 / $16.50)
Roasted Vegetable Rotini ($19)
Bacon & Heirloom Tomato Penne ($19.50)
Bacon & Avocado Open Face Sandwich ($14)
Roasted Veggie Open Face Sandwich ($12.75)
Bacon & Avocado Pizza ($18)
Fire Roasted Vegan Pizza ($18)
Beyond Avocado Vegan Pizza ($18)
The cappuccino was a standard espresso drink featuring a strong head of foam and a spoon to scoop it up with. It was served extra hot so I had to pace myself drinking it.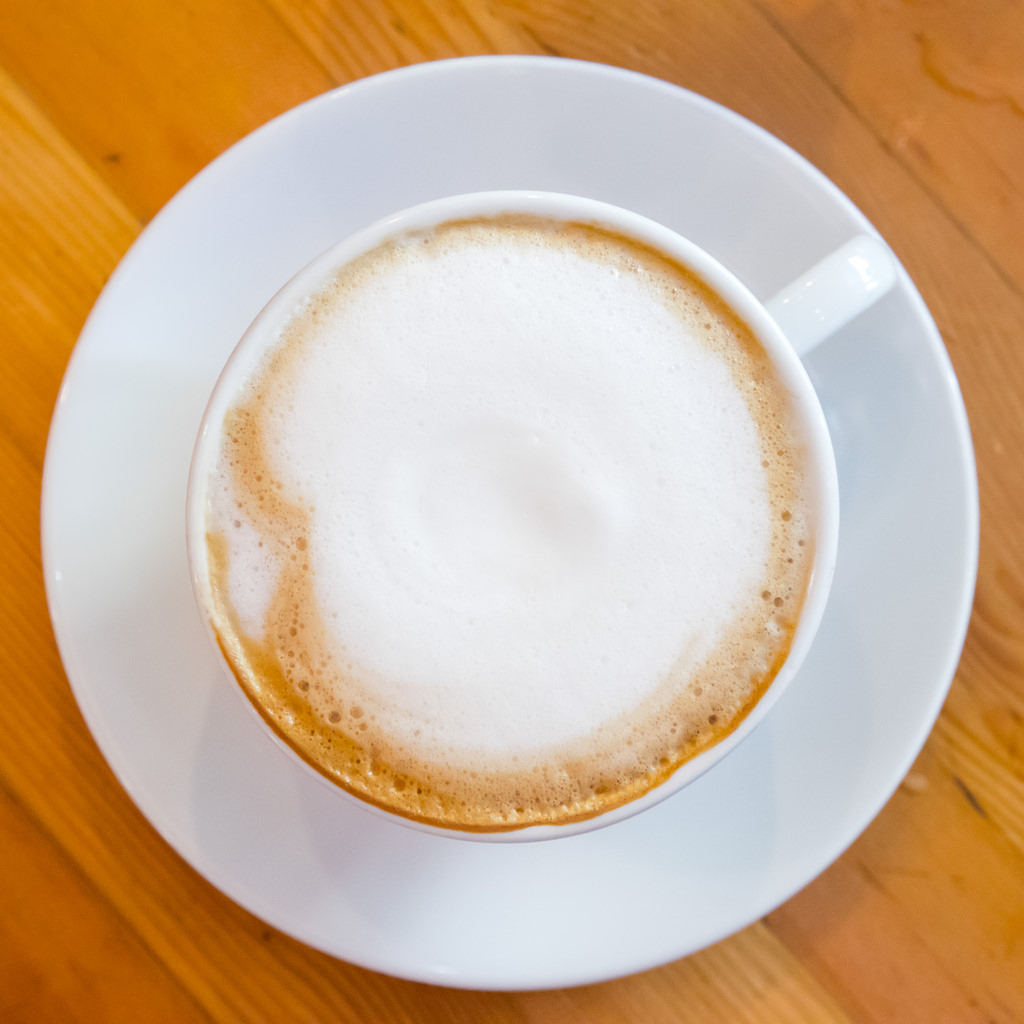 Cappuccino
The blueberry mojito was more refreshing than what I was expecting. Mixing real blueberry into the classic mojito (mint + gin) cocktail was a fun twist.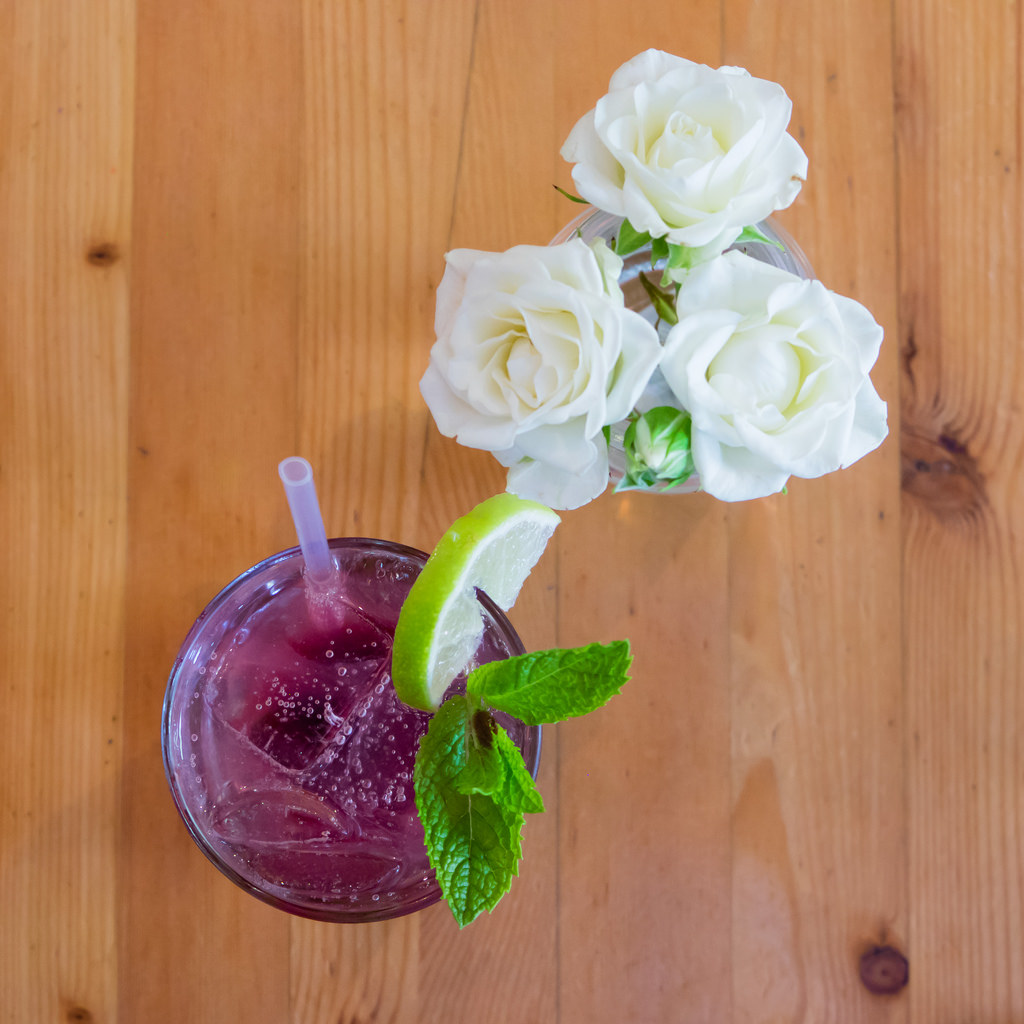 Blueberry Mojito
The avocado bruschetta and shrimp bruschetta were neat slices of toast with a hearty amount of the advertised ingredients. In particular, the shrimps were juicy and plump which was appreciated.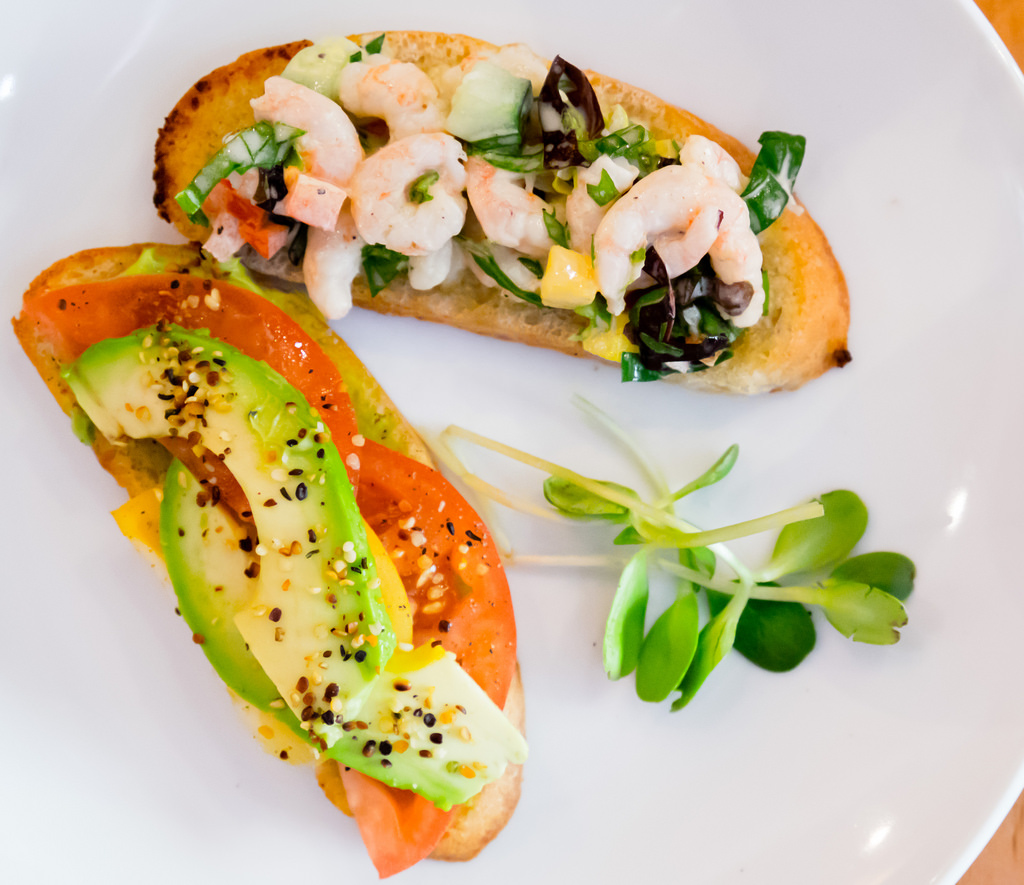 Avocado Bruschetta and Shrimp Bruschetta (Sample-sized)
Into the salad world, you can have your pick from spring greens, fig & goat cheese, and plant-based summer green, but I think the most marvellous salad is the fig and goat cheese salad. Featuring black mission figs and local sunflower sprouts, this salad had the most interesting ingredients and juicy figs in nearly every bite.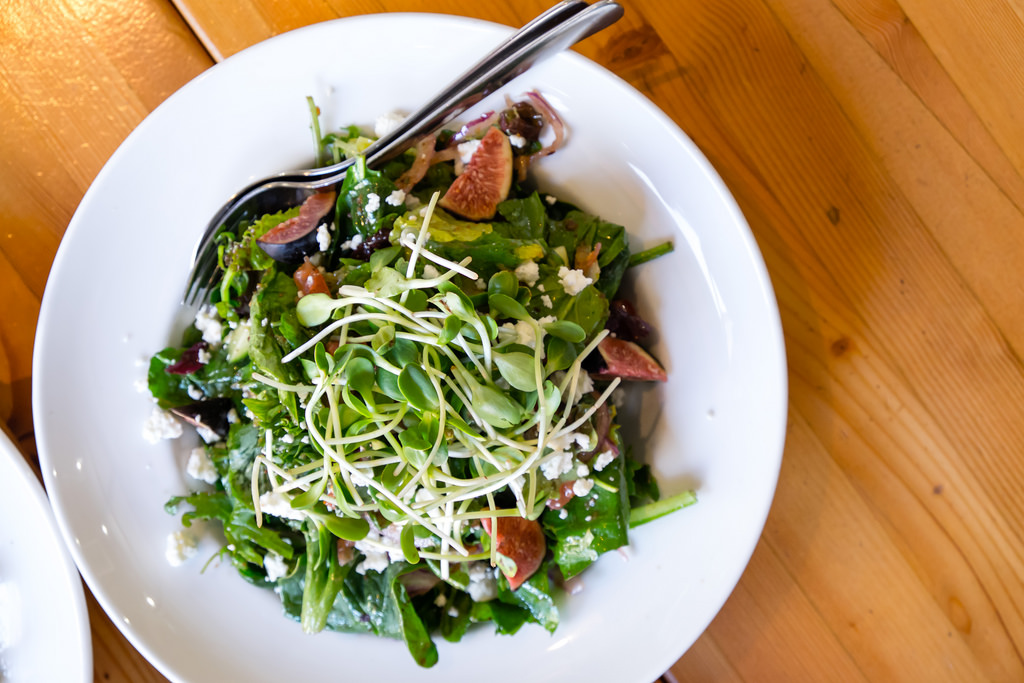 Fig & Goat Cheese Salad
Special mention though to the summer green salad which features vegan "cau" cheese, the secret ingredient used in many of the restaurant's vegan flatbreads.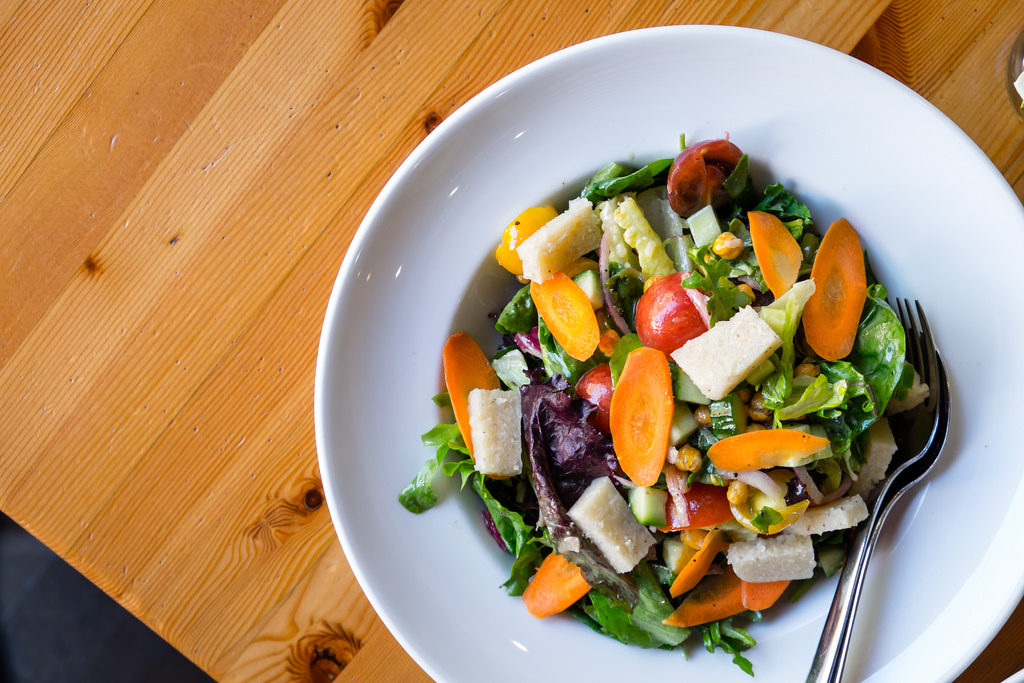 Plant-Based Summer Green Salad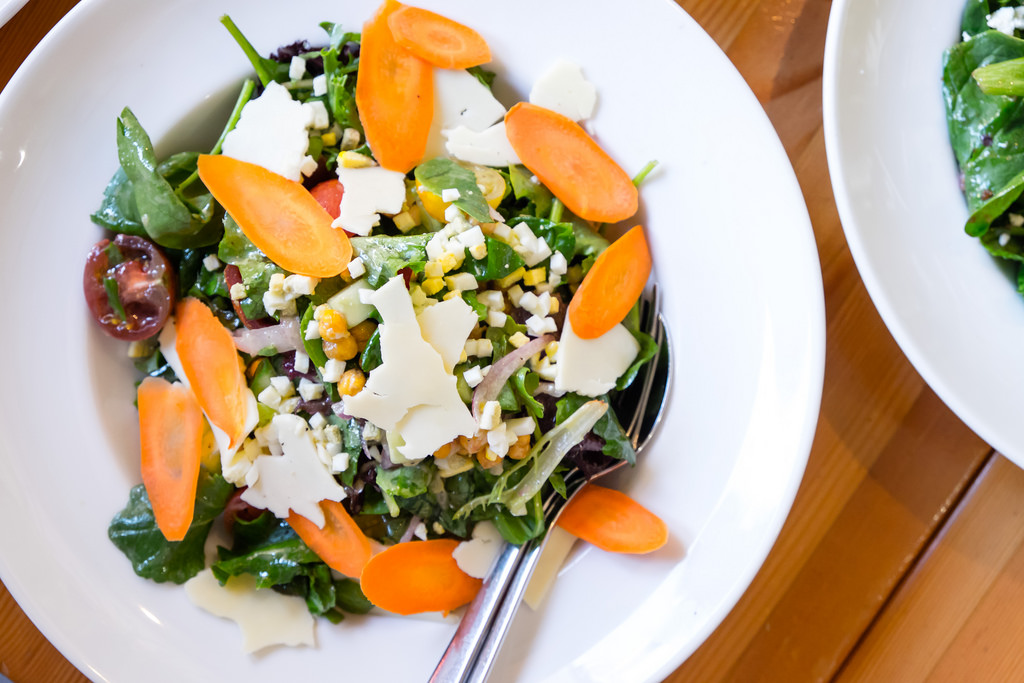 Spring Greens Salad
Of the new pasta on the menu (roasted vegetable rotini and bacon & heirloom tomato penne, I think the latter fits the bill for me. I'm a sucker for juicy heirloom tomatoes and am a fully committed omnivore, so double-smoked bacon is right up my alley. Unlike some generic alfredo sauces out there, this pasta featured a lighter cream sauce that clung to each penne noodle making it extra savoury.

Bacon & Heirloom Tomato Penne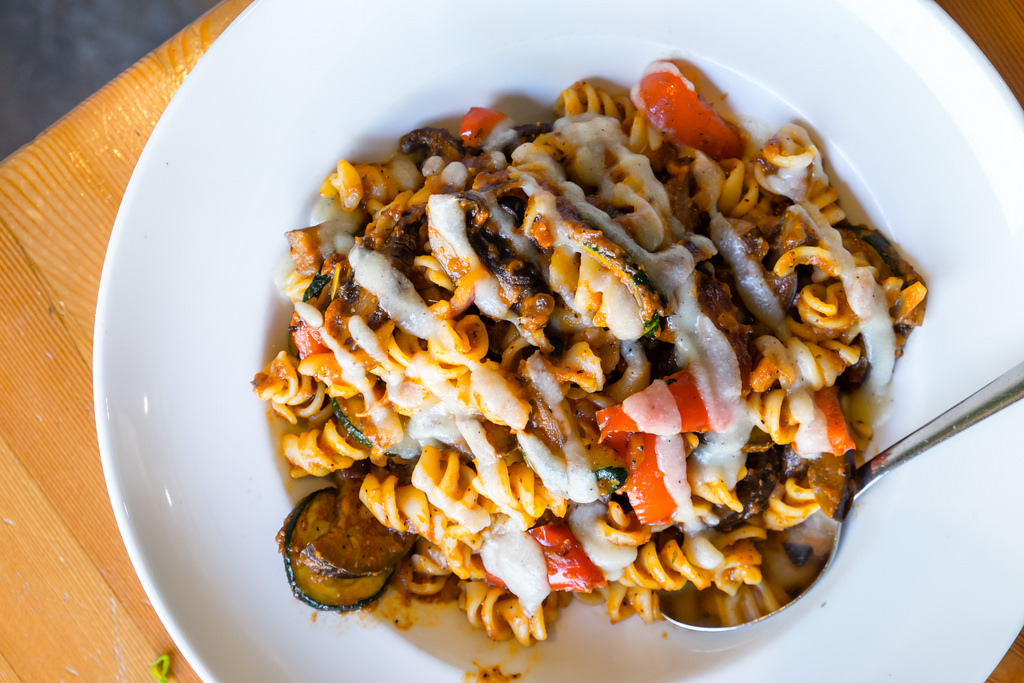 Roasted Vegetable Rotini
On the open face sandwiches, I enjoyed both the roasted veggie and bacon & avocado varieties. These sandwiches (on house-made baguette) would be great for a lunch if you're looking to enjoy an individual portion. I think in most group settings though, you can enjoy the same ingredients but have them on the flatbreads or pizzas which are more shareable.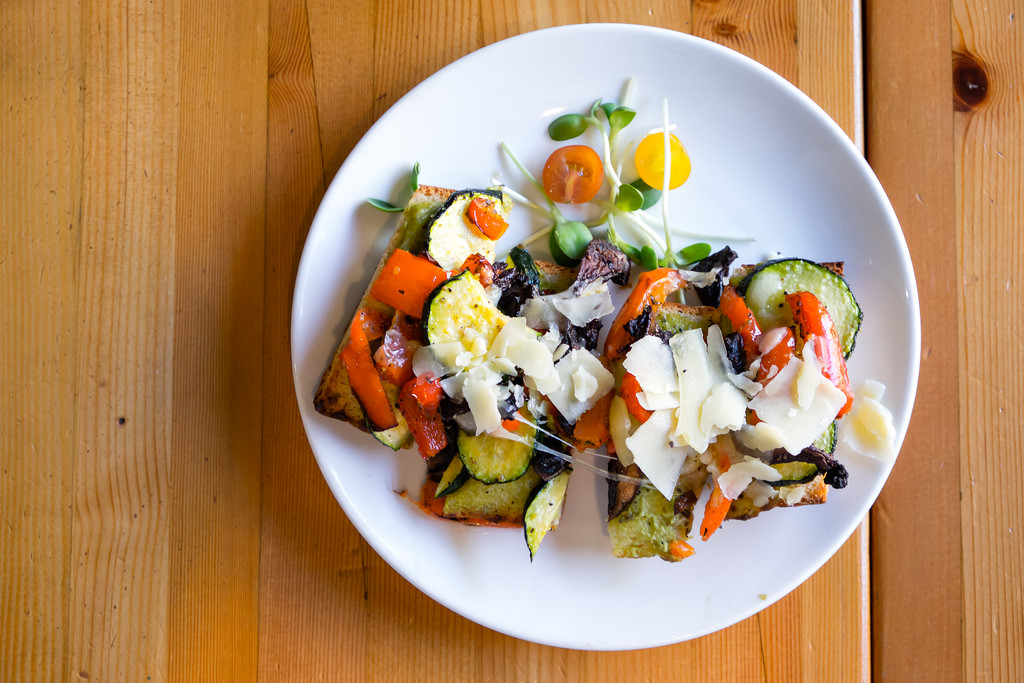 Roasted Veggie Open Face Sandwich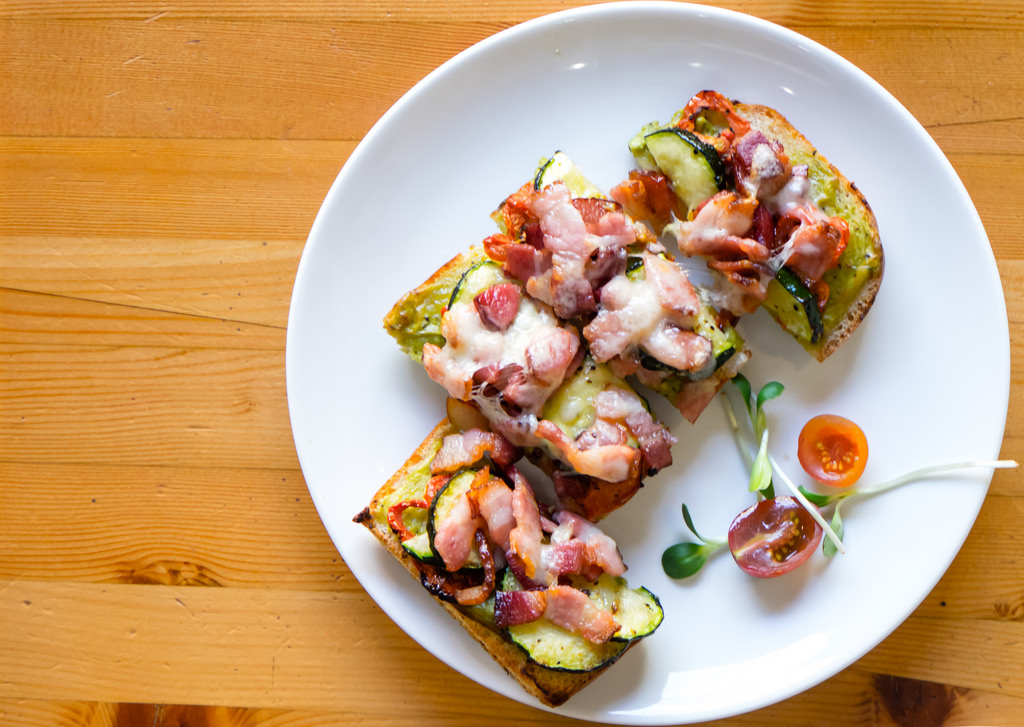 Bacon & Avocado Open Face Sandwich
The biggest draw for me on this day was the new pizzas. Ones I noted down were the bacon and avocado pizza, fire roasted vegan pizza, and beyond avocado vegan pizza. Remember how I said the flatbread ingredients were best enjoyed on a pizza? That was totally the case here with the bacon and avocado pizza which featured the same ingredients as the open face sandwich and more. Pizza's also more fun to hold.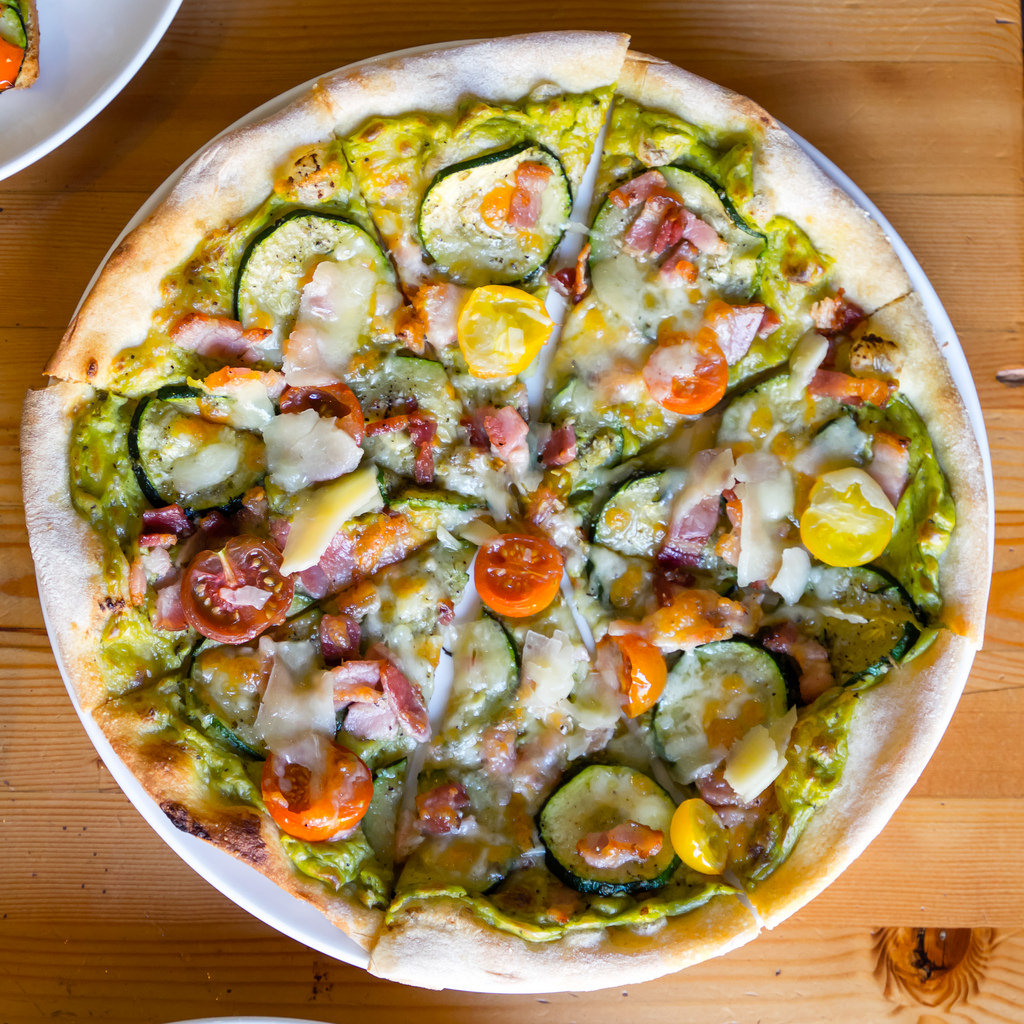 Bacon and Avocado Pizza
The fire roasted vegan pizza was a fun mix of pesto, garlic oil, zucchini, red bell peppers, eggplant, portobello mushroom, heirloom tomatoes, basil, arugula, vegan "cau" cheese, olive oil, and balsamic reduction. Holy moly was this tasty for a vegan offering. The medley of vegetables here was like a rock band supergroup coming together for a tour across my taste buds. Rock on.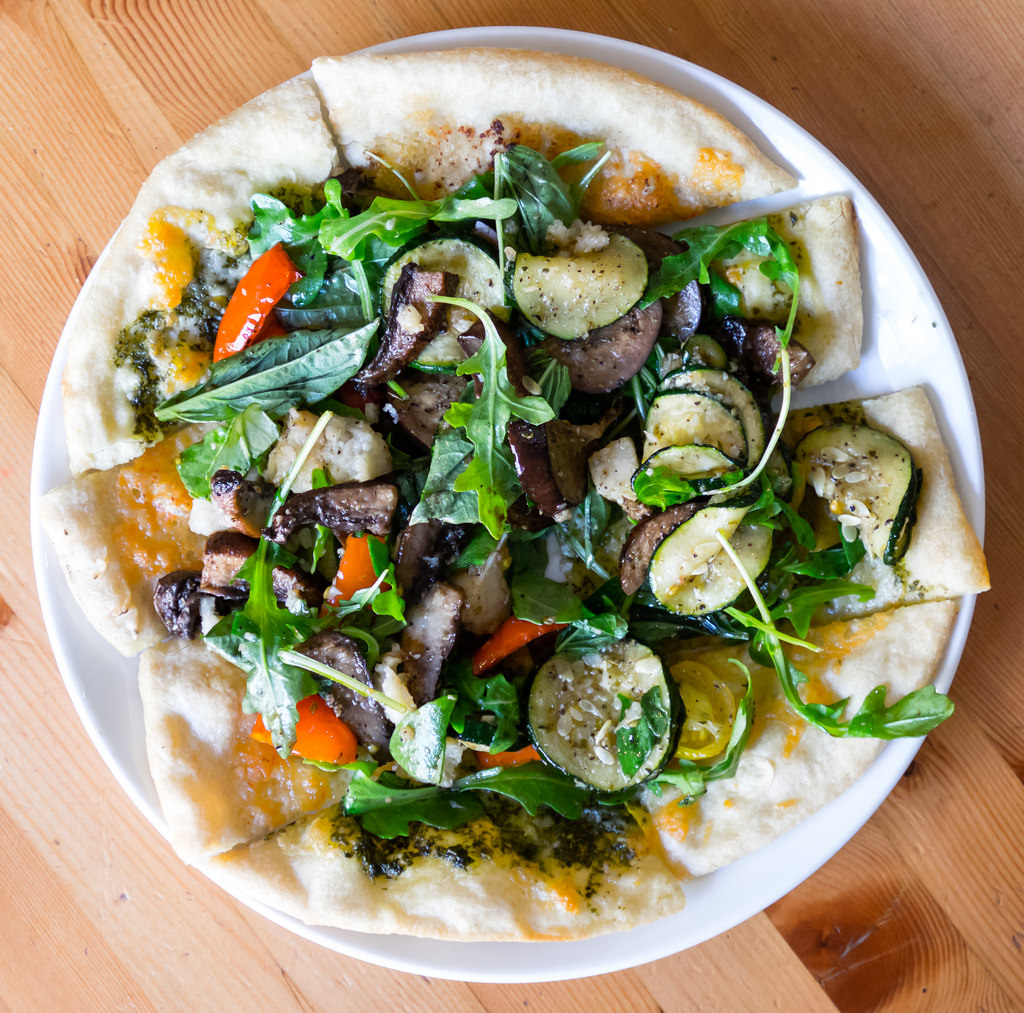 Fire Roasted Vegan Flatbread
The Beyond Avocado Vegan Pizza was a cool introduction to a vegan version of sausage. This vegan sausage had an interesting pull similar to normal sausage but from a plant protein base. You'll have to try it to understand, but I think this type of ingredient will make it easier for diners to transition to vegan diets. If you keep up with fast food news, you'll know that A&W Canada is also investing into Beyond Meat for their menu.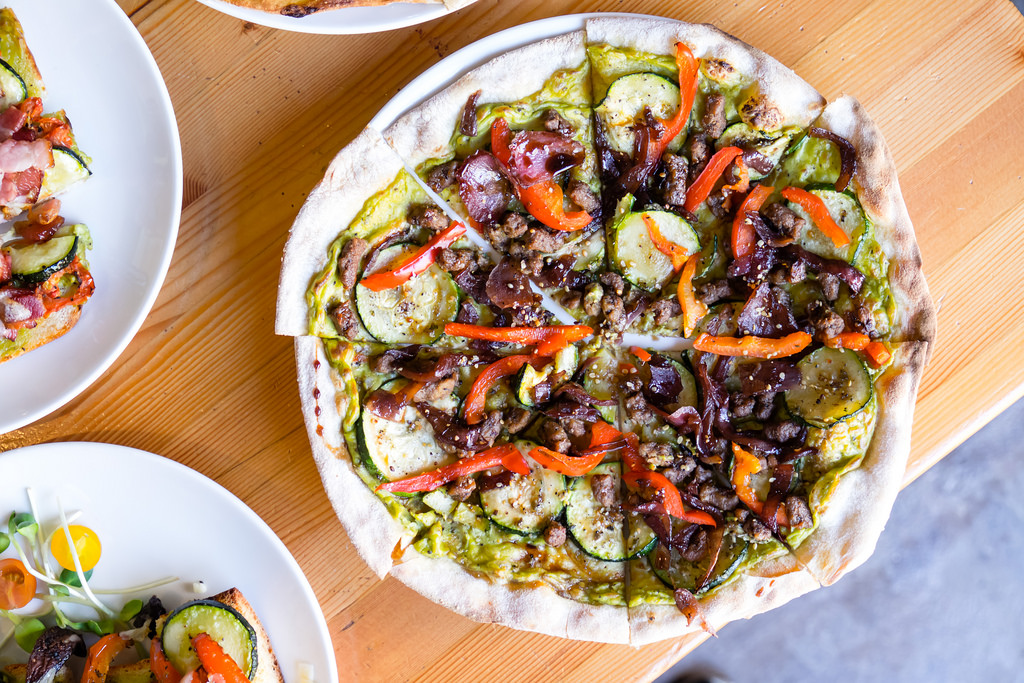 Beyond Avocado Vegan Pizza
Features:
Rocky Mountain Flatbread is a restaurant in Kitsilano that is all about sustainability and fun family vibes. Inside the eatery is a variety of seating in bar stools, booths, tables, a patio, and wait for it, a children's play place. That's right! You can take your little minions and keep them entertained before and after they eat. All in all, it's a large venue which can accommodate at least 100 guests.
The menu is also completely nut-free. For anyone with a nut allergy that's been forced out of cafes, RMF is your chance to catch up on friendships with coffee and pizza.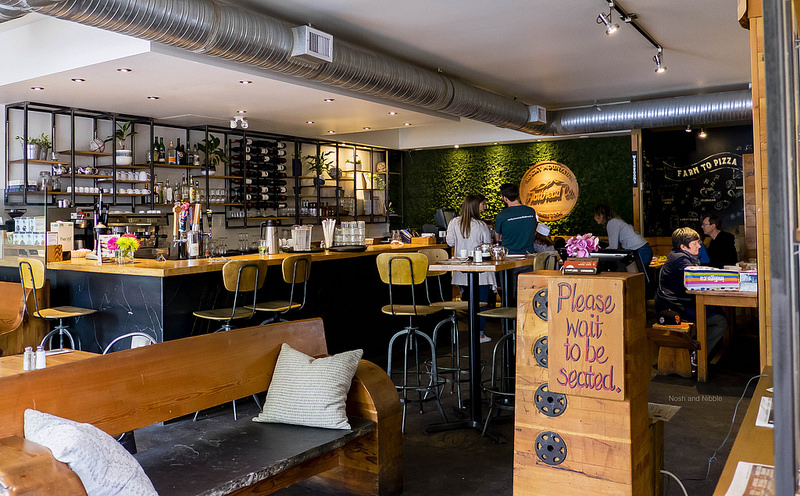 Inside Rocky Mountain Flatbread
In addition to serving up entertainment for kids, Rocky Mountain Flatbread also hosts cooking classes teaching families how to make their own pizzas. If you'd rather partake in already-made pizzas, RMF can set you up with a fundraising campaign where you'll fundraise for a charity by selling their packaged frozen pizzas that can be enjoyed at home. See their website for more details: https://www.rockymountainflatbread.ca/kitsilano/.
Final Thoughts:
One-liner: Tasty new summer menu treats including the famous vegan "cau" cheese and Beyond Meat sausage that tastes like sausage
Highlight: Bacon & Heirloom Tomato Penne
Price per person: $15-$30
Would I go back? Yes.