There's no better way to get introduced to a neighbourhood than by dining in it. The West End is one of Vancouver's best neighbourhoods when it comes to a diverse mix of small business eateries. A couple of weeks ago I had the privilege of attending Tasting Plates West End by Vancouver Foodster. With 6 stops on the tasting passport, there was much to enjoy and I'm happy to share everything we consumed.
Disclosure: I was given a complimentary media pass to this event. All opinions are my own.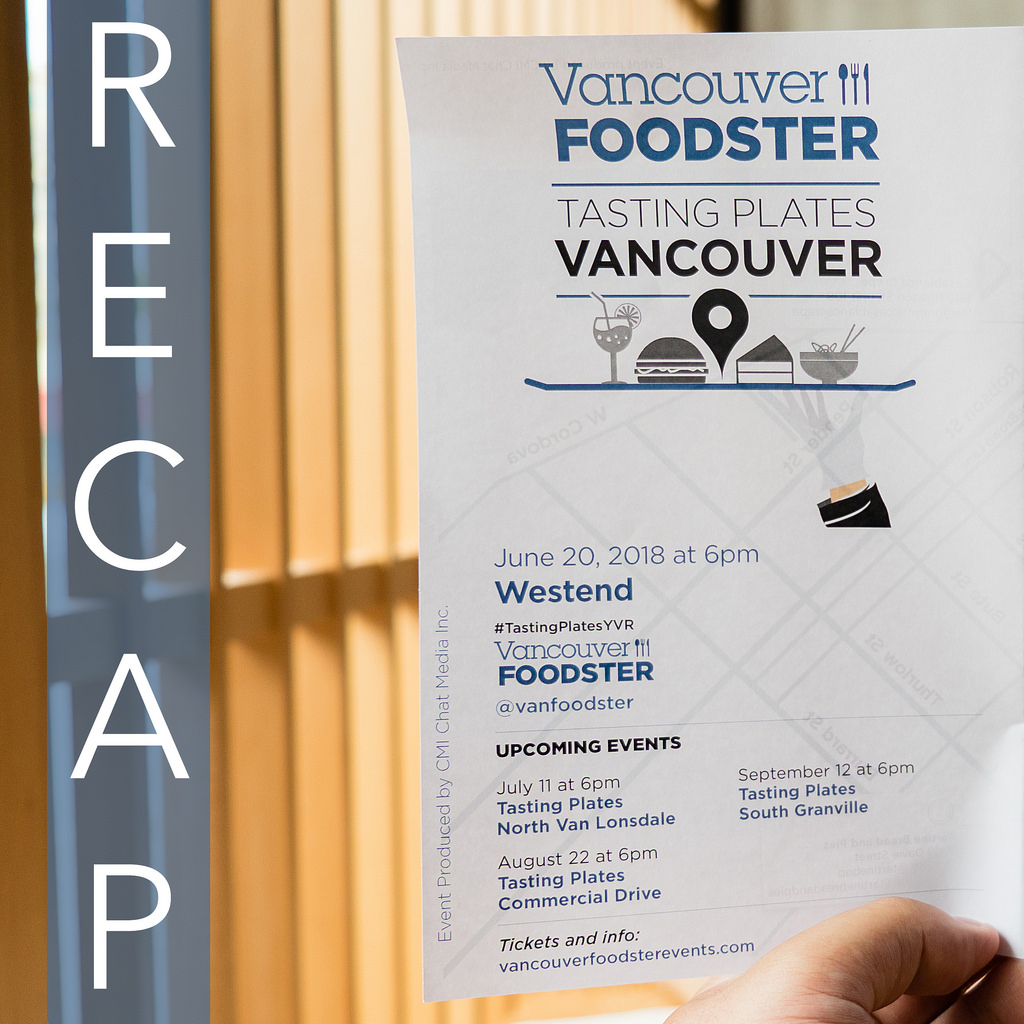 Team Tastic attended this West End crawl and I had the following:
Milano Coffee - Iced Americano
Izakaya Gon's - Sampler Platter
Casablanca Crepe - Sampler Platter
Pasture to Plate - Kombucha and Grass-Fes Beef Burger
Davie Dosage Company - Sampler Platter
Tartine Bread and Pies - Sandwich, Coleslaw, and Pie
Our first stop at Milano Coffee served as a place to check in and caffeinate prior to beginning our crawl. This espresso had a smooth taste with some hints of vanilla. Here are the tasting notes from the Milano website:
A luscious medium body, sweet and soft, with dried fruit, flowers and evocative spice in the nose.

Milano Coffee - Iced Americano
I was most looking forward to visiting Izakaya Gon's because this restaurant is a recent opening. Here we had a sampler of Aburi Unagi Oshi, Inari Sushi, Wagyu Beef Carpaccio, and Veggie Tempura. The carpaccio had a satisfying chew so that was my favourite part of this platter. A cool thing was the use of a matcha dipping "sauce" (it was more of a powder, in my opinion) that was made for the tempura.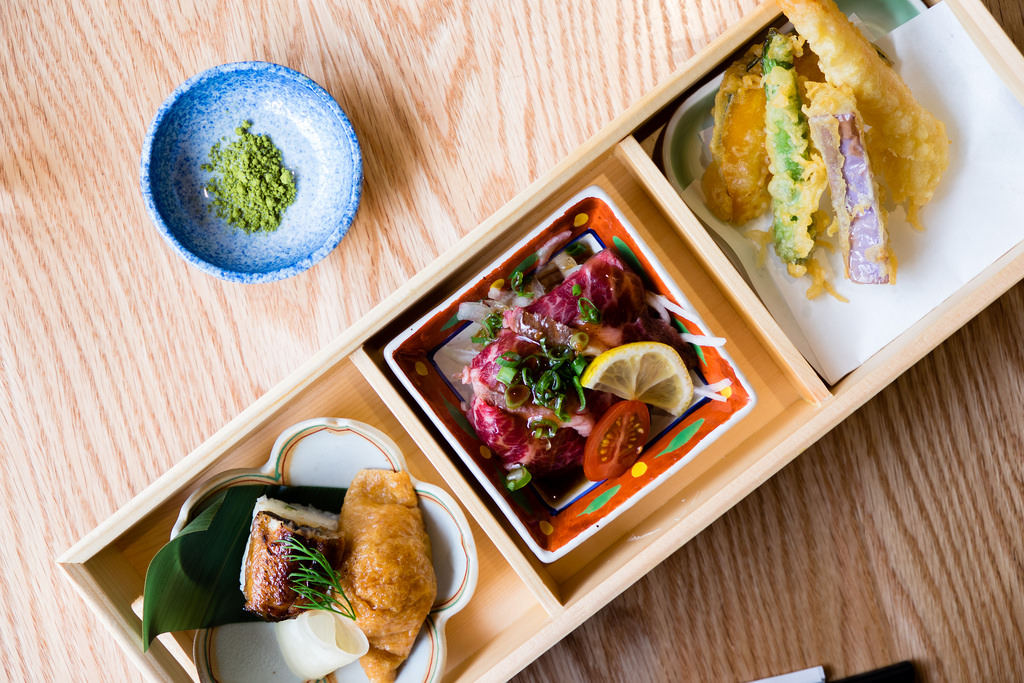 Izakaya Gon's - Sampler Platter
Stop number 3 took us to Casablanca Crepe. This small shop was serving up a sampler of Moroccan beef couscous, cheesecake crepe, macarons, madeleines, and spiced Moroccan tea. The couscous had a terrific texture and was well-complemented by the caramelized raisins. In order to keep my bladder under control, I opted to skip the tea, but I really enjoyed this stop. The restaurant doesn't look like much but had a ton of soul. I'll be back.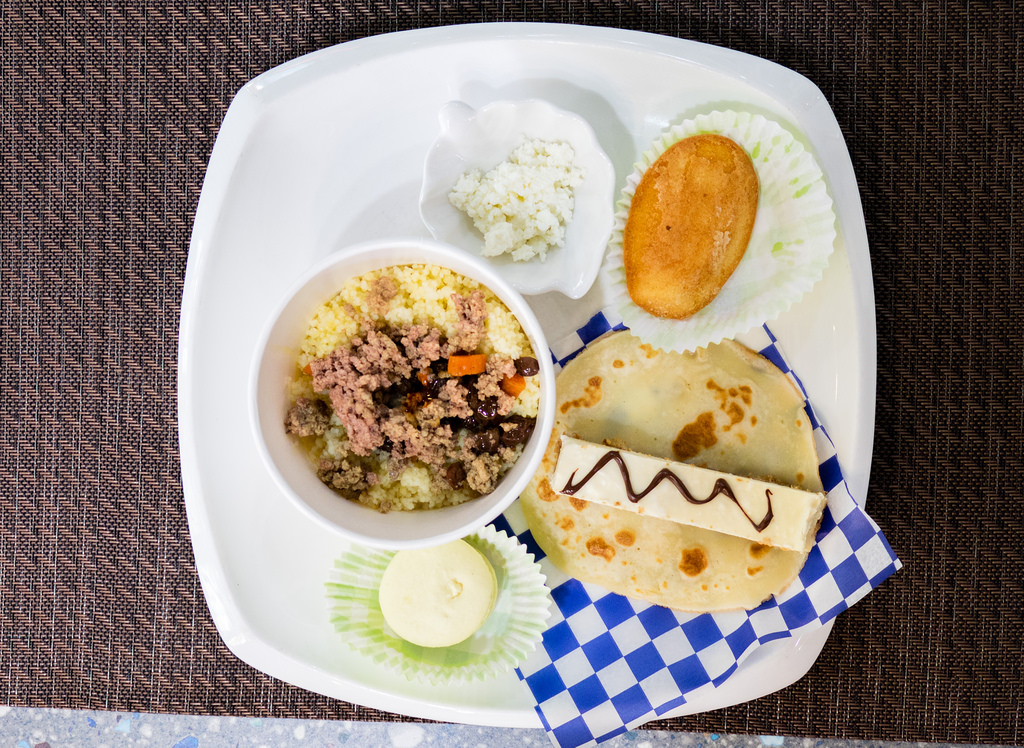 Casablanca Crepe - Sampler Platter
Stop number 4 was a grass-fed beef burger with house-made bacon served with a glass of kombucha. Pasture to Plate is a recent opening that I had my eye on that I was excited to try. Grass-fed beef indeed has a delicious taste and the only I wanted more from this burger was a heartier dollop of burger sauce as the buns were denser than what I'm used to. Thankfully, the kombucha did help with cleansing my palate between bites so I could finish the burger with ease.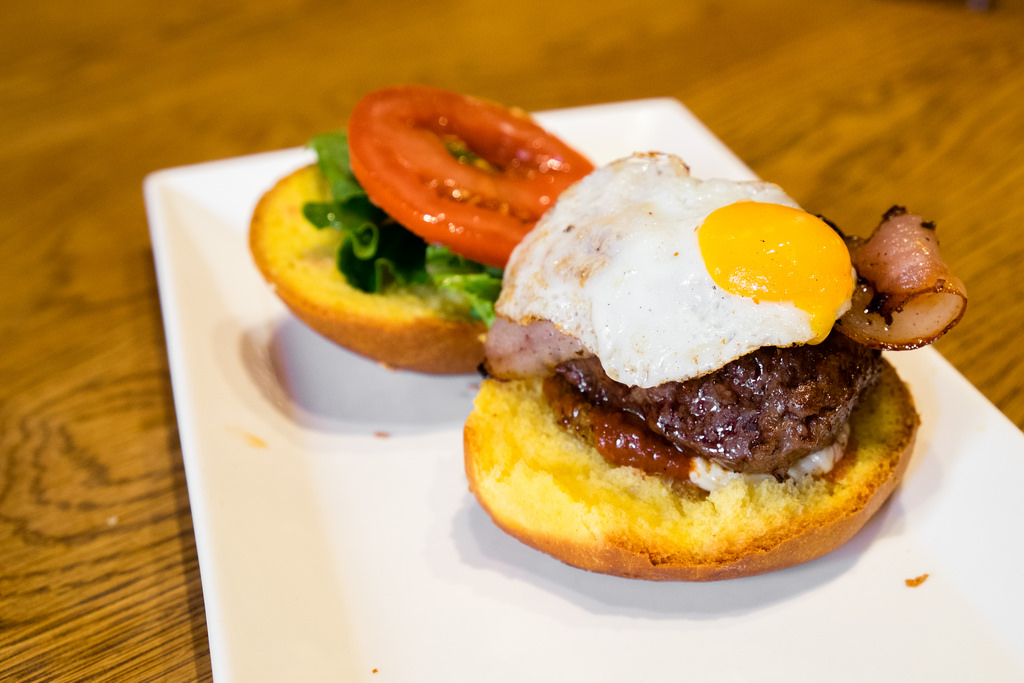 Pasture to Plate - Grass-Fed Beef Burger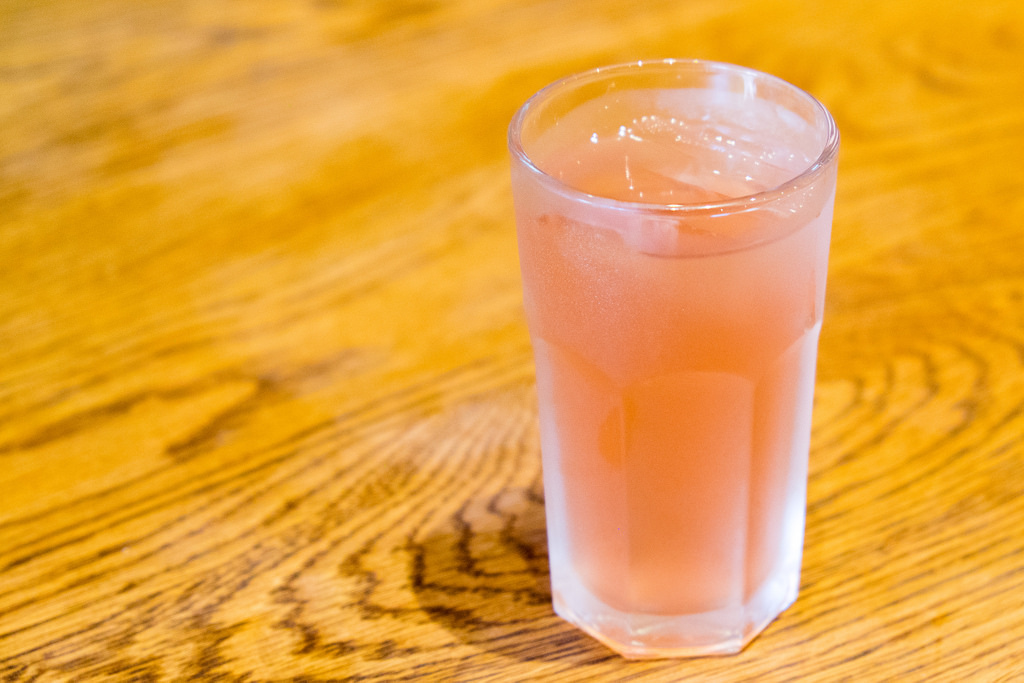 Pasture to Plate - Kombucha
Our fifth stop had us wrap around the beachfront to arrive at Davie Dosa Company where we enjoyed a sampler platter of fish pakora, cheese pakora, cottage cheese 65, and cauliflower 65. I was a big fan of the fish pakora. The skin was crispy but the fish inside was extra juicy and cooked to a flaky texture. For those who don't know, "65" refers to the origin of this particular combination of chicken, spice, and its original price of 65 rupees (equivalent to $1.24 CAD). Obviously, you won't be paying that price for this dish though.

Davie Dosa Company - Pakora and 65 Sampler Platter
Last but not least, our final stop was at Tartine Bread and Pies for some Santa Fe Club Sandwich and Rhubarb Pie. The club sandwich, served with coleslaw, was a mighty big serving compared to other things tonight and absolutely finished me off. The pie was a welcome treat to finish the meal off and paired well with the smooth vanilla ice cream side.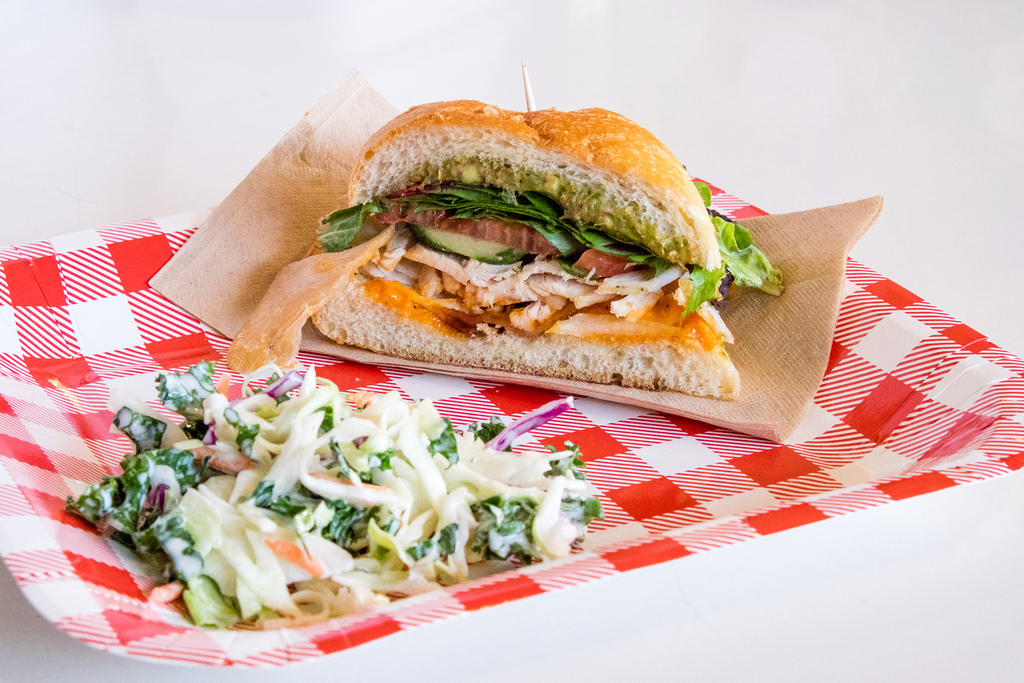 Tartine Bread and Pies - Santa Fe Club Sandwich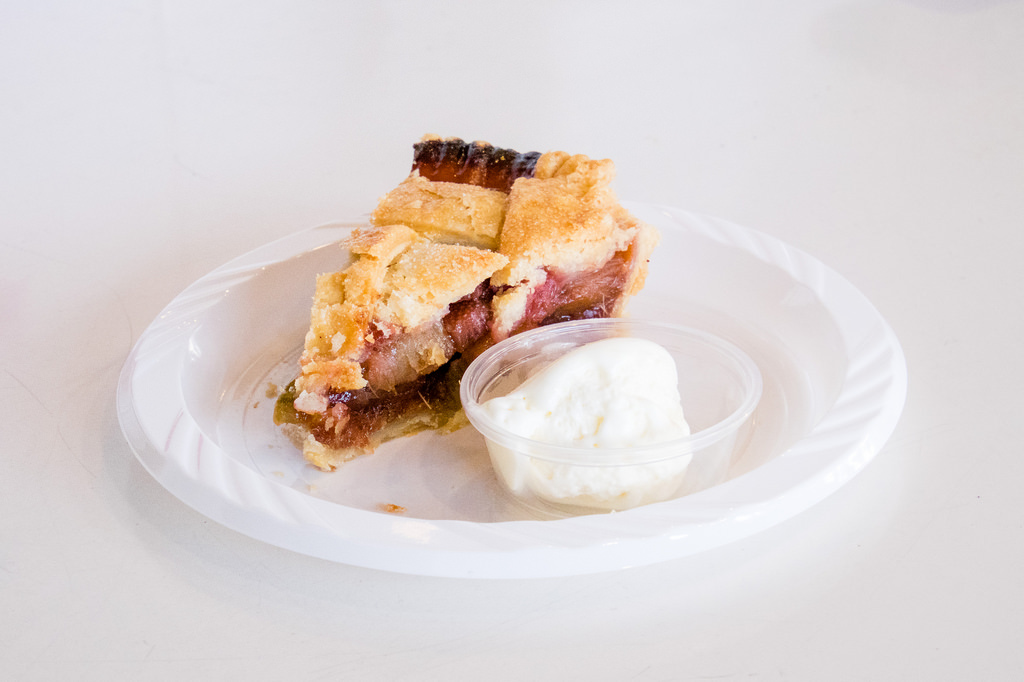 Tartine Bread and Pies - Rhubarb Pie
Final Thoughts:
For those who haven't yet heard of Tasting Plates, the benefit of these events is the ability to zip your way in and out of restaurants to try foods at your leisure. All the eateries were in walkable distance and some were even closed just for the event, adding to the feeling of exclusivity (most restaurants hate being closed).
Overall, I thought this was a fantastic food crawl and 4 of the stops were brand new to me (an uncommon occurrence, surprisingly). I most enjoyed the gem of Casablanca Crepe but I know I want to revisit Izakaya Gon's for a proper meal now that I've experienced the Tasting Plates appetizer.
One-liner: Tasting Plates is a great way to try out different foods in a neighbourhood and experience a little bit of many cuisines
Highlight: Izakaya Gon's
Price per person: $35 early bird
Would I go back? Yes.