When I go for brunch, I look for eggs on the menu. When I go to bars, I look at the burgers on the menu. When I go to cafes, I look for lattes. When 49th Parallel Coffee Roasters unveiled their new eggburgers, it was like my food worlds collided. I knew I was going to try it and what better reason to visit their new downtown location too.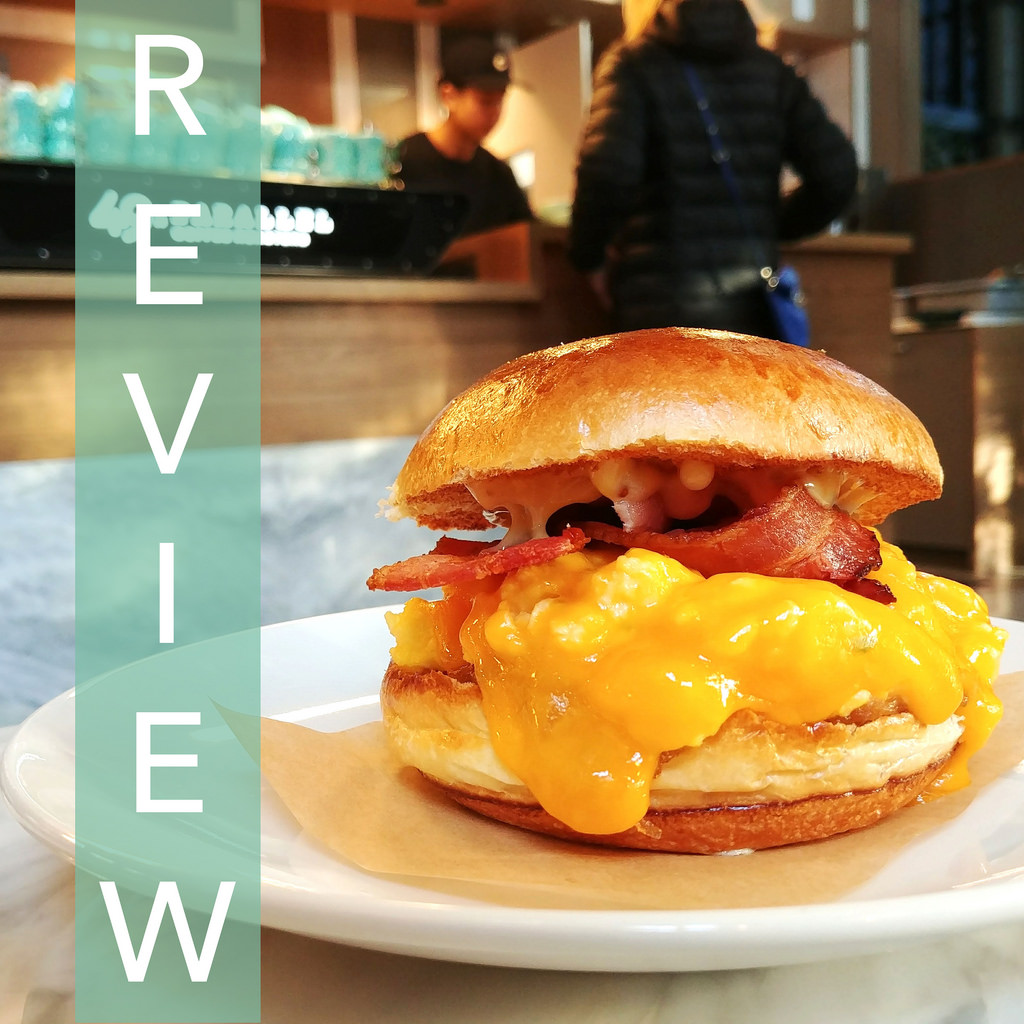 Food and Drink:
Team Tastic came here on a Saturday noon hour and I had a great taste of the following:
Small Latte ($4.10)
The Cascadia Eggburger ($9)
The Doug Eggburger ($9)
The small latte was as cute as they come. With just a little less milk than your usual latte, this had a stronger proportion of espresso flavour. With hints of floralness and a vibrant taste, this was an appropriate pick-me-up. Sadly, the hearts on the latte art were a little shrivelled and a ton of air bubbles started forming and the foam disintegrated within minutes. -I'm guessing it's harder to make good latte art when your milk vessel and volume are smaller than usual.- Update: the air bubbles on the coffee are due to the coffee being fresh. CO2 escapes through the milk causing little bubbles. With time, CO2 naturally degasses from roasted coffee, but beans may start absorbing oxygen which oxidizes the beans, introducing a rancid flavour.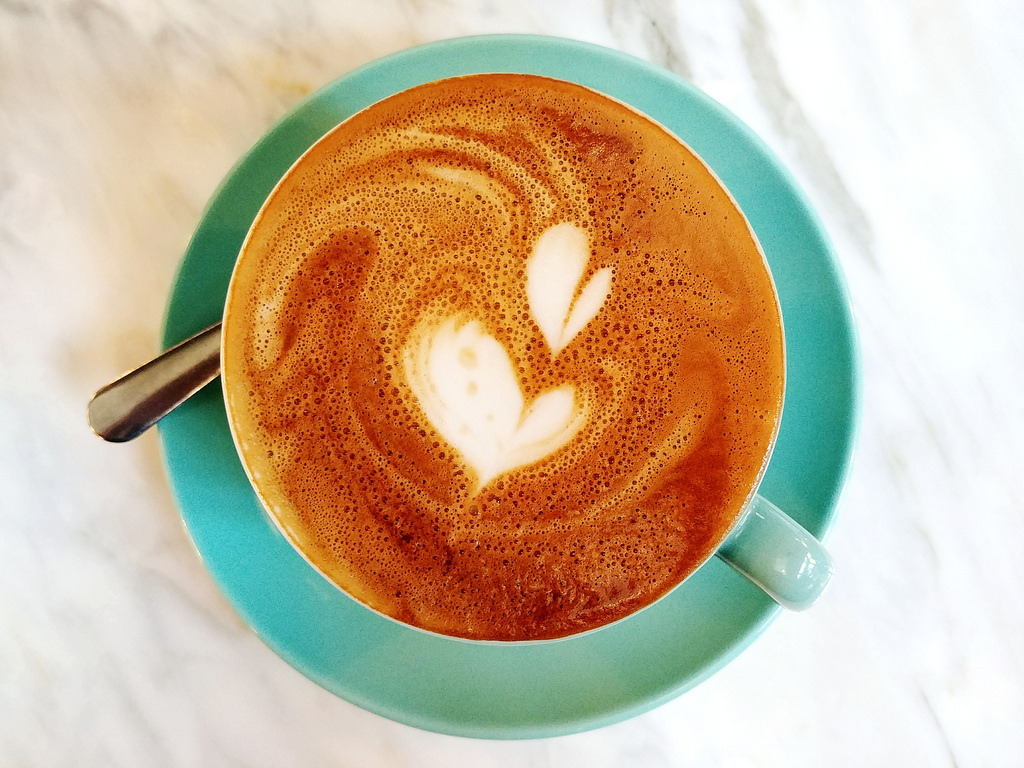 Small Latte
The Cascadia Eggburger contained egg over medium, cheese, maple bacon, and honey mustard. The egg oozed yolk upon contact so it was a little hard to keep this eating experience clean (keep your burger above your plate). However, the honey mustard added an interesting brightness. The bun was alright, but I would have preferred a more savoury spread to go on it.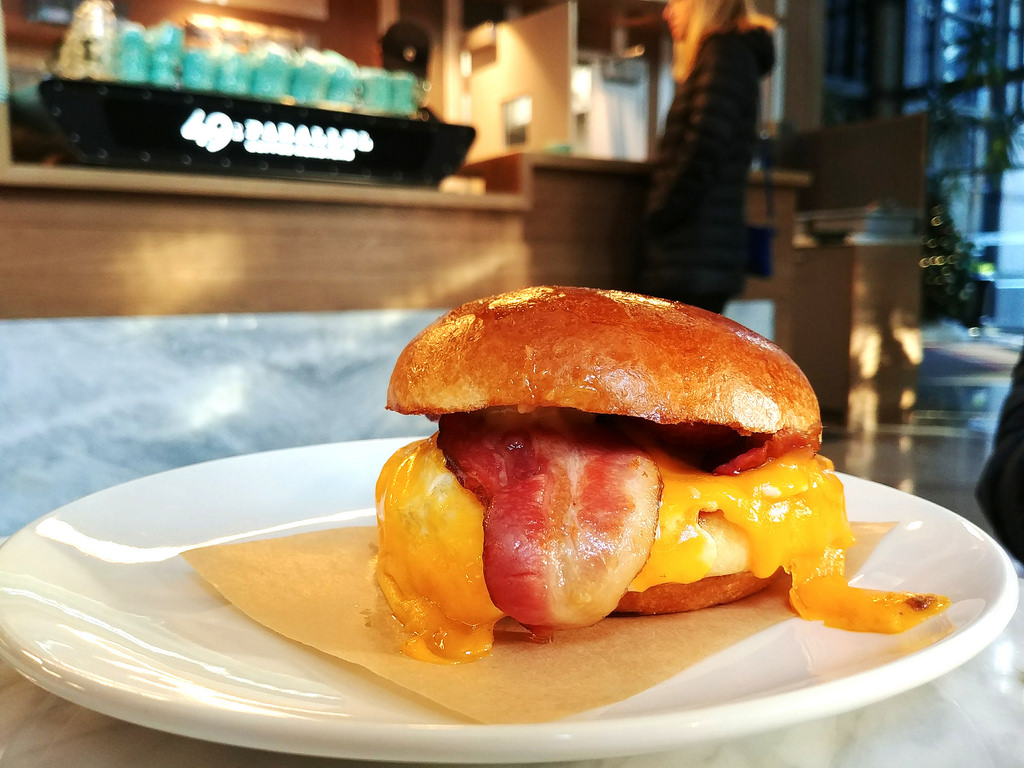 Cascadia Eggburger
The Doug Eggburger contained scrambled eggs with chives, cheese, caramelized onions, maple bacon, and garlic aioli. Out of the two eggburgers I tried, I think The Doug was the winning one. The scrambled eggs held together better in the sandwich but they were made almost as gooey as The Cascadia thanks to the melted cheese. The garlic aioli, in my opinion, was a way better spread than the honey mustard and made the buns a lot more palatable. I made less of a mess as I ate The Doug.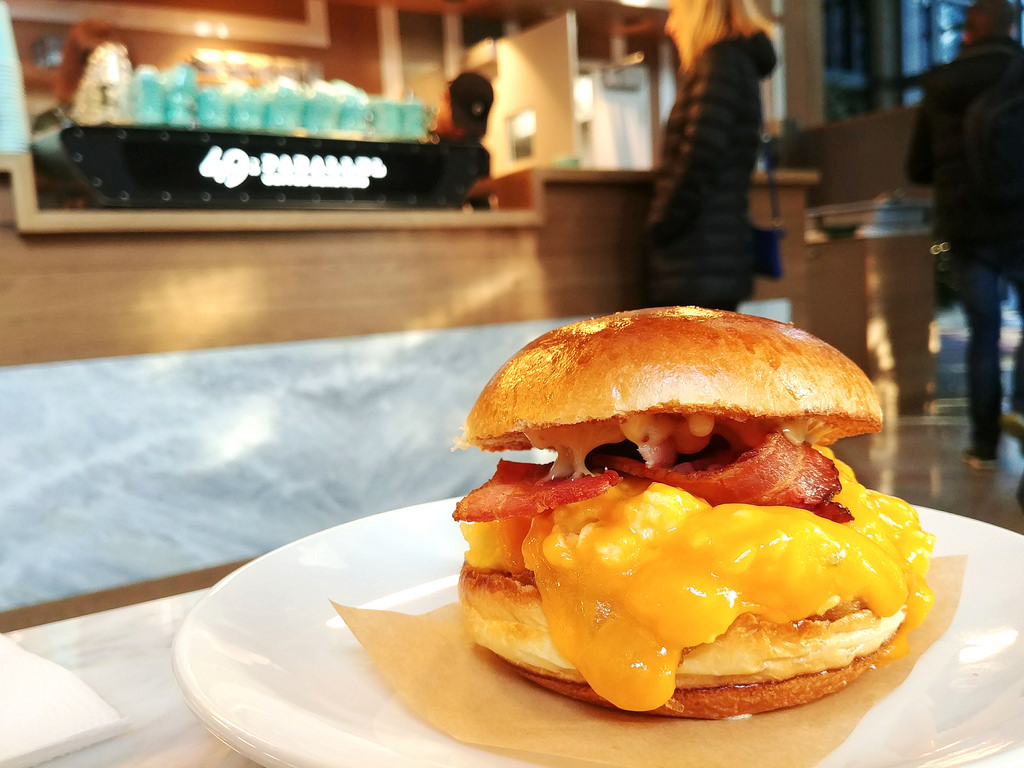 Doug Eggburger
Features:
49th Parallel's first downtown location takes residence inside a large office tower and while it's nothing hideous, the feel is much more corporate-y compared to their Kitsilano and Mount Pleasant counterparts. On the bright side, this location keeps the classic turquoise cups and fully embraces the marble countertop phase that's also seen at the Kits location. The atmosphere feels pretty chic, almost as if you're in a fancy boutique, but instead, they serve eggburgers and coffee. There's seating for about 30 guests.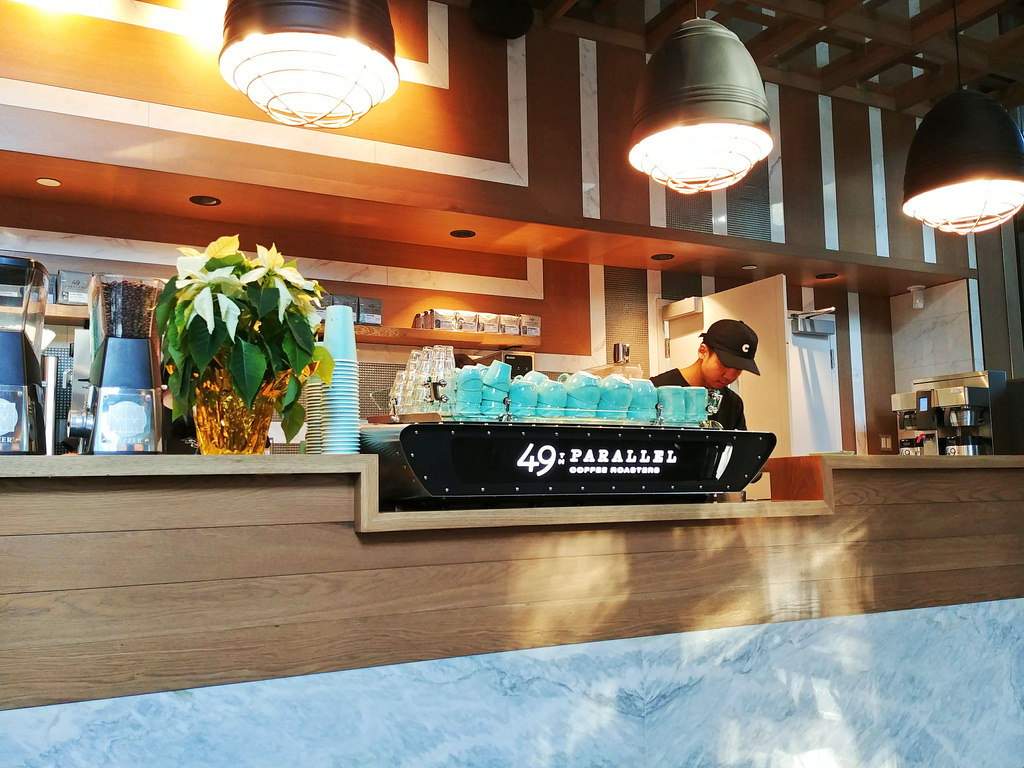 Inside 49th Parallel Coffee Roasters
Service:
Like most cafes, you'll place and pay for your coffee prior to picking it up from the counter. If you order food you'll receive a number and the food will be brought out to you. A staff member was on-hand to help clear tables so make sure you tip for the service as you're paying. It wasn't too busy on a Saturday morning which is a big difference from the other locations. Kits' 49th Parallel has a line out the door in the summertime and Mount Pleasant is almost as crazy. Thus, if you're looking for a weekend 49th experience, I think the downtown location is your best bet for timely service. Not to mention that the eggburgers are exclusive to this venue, so you'd have to come here if you want a piece of that eggburger action.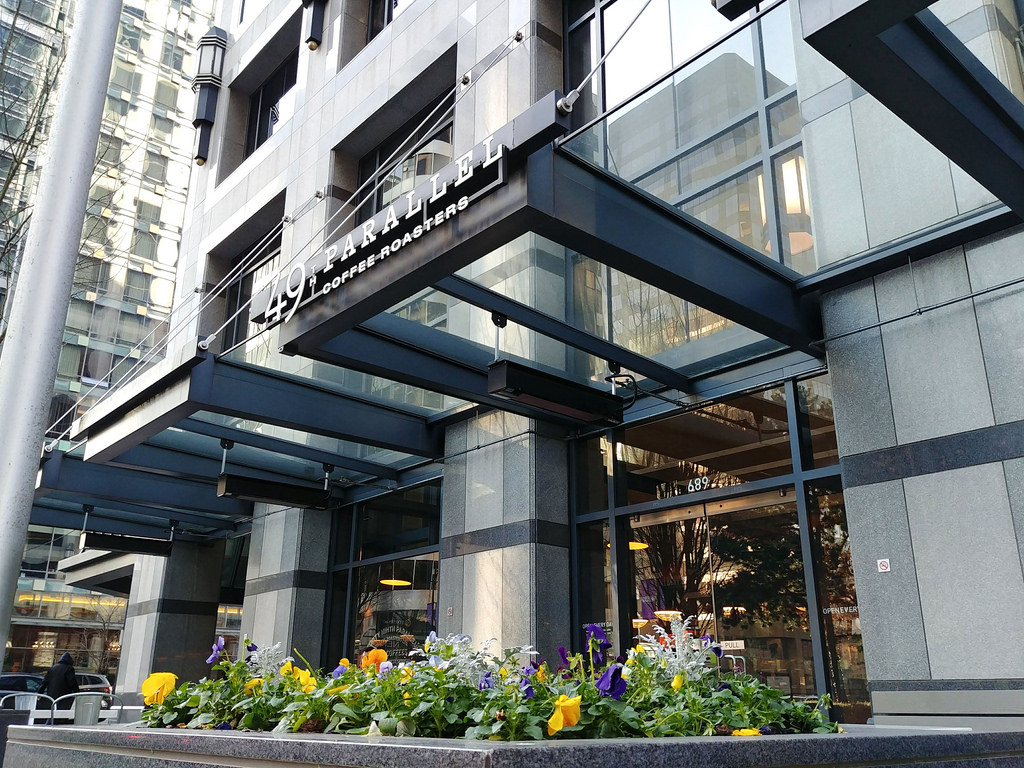 Outside 49th Parallel Coffee Roasters
Final Thoughts:
One-liner: Tasty selection of eggburgers with a classic good cup of espresso served the way you like it (they also do flat whites)
Highlight: The Doug Eggburger
Price per person: $9-15
Would I go back? Yes.