For those out of the loop, the food you consume matters. The BCPMA (i.e. BC Produce Marketing Association) represents all facets of the produce industry. Their mission is to increase the consumption of fresh fruits and vegetables. This fits in with the vision of Canada's Food Guide which suggests half of one's plate to consist of fruits and vegetables. This year, the BCPMA held its annual charity fundraiser, the Healthy Chef Competition. This healthy competition celebrated a charitable event, an $8,000 scholarship to the BC Chefs Junior Chef Program, and an auction with proceeds to the Heart and Stroke Foundation and Canadian Cancer Society. Read past the jump for my experience at this magical night.
Disclosure: I was given a media ticket to cover this event. All opinions are my own.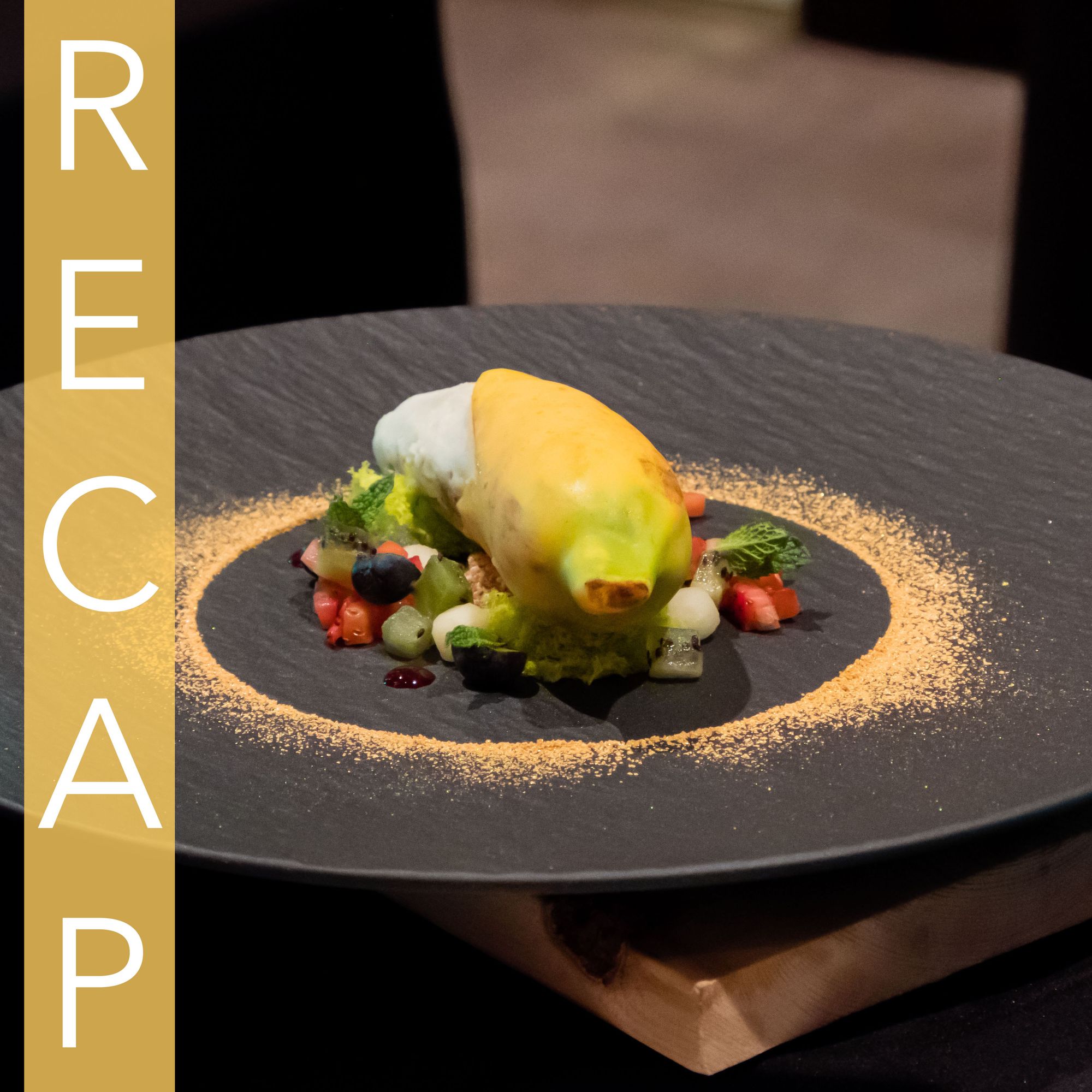 Event Recap:
The event started off with a grand banquet display inside the Hyatt Regency Vancouver. As I took a seat, I took in the sweeping views of round tables in the middle of the room and the chef's tables along the kitchen side of the hall. Each banquet seat was adorned with plush vegetables and a real pineapple.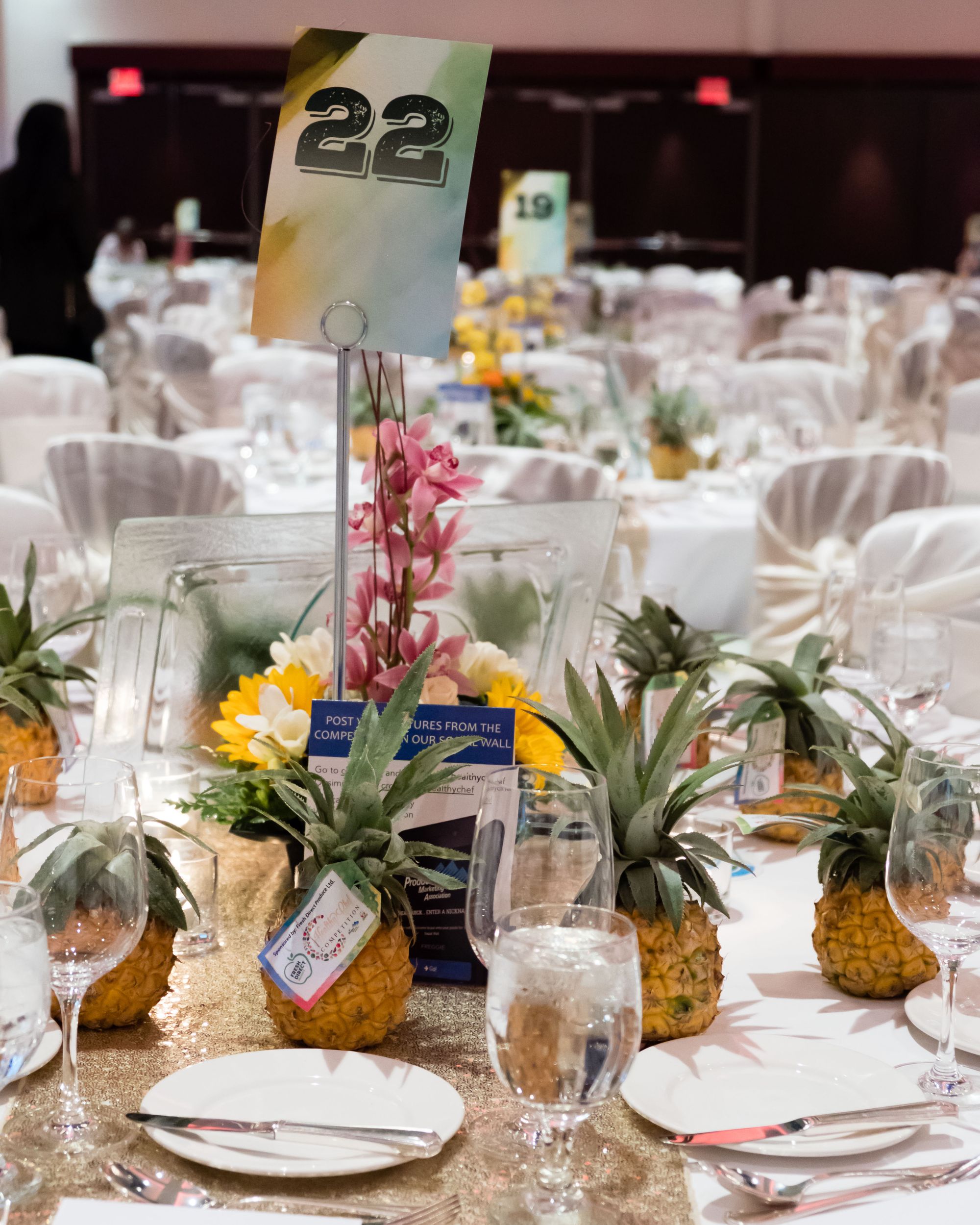 After the main seating it was time to take a look at all the chef creations in the Best Table Showcase. This year the participating restaurants included:
Hyatt Regency Vancouver
Delta Hotel by Marriott Burnaby Conference Center
75 West Coast Grill / Vancouver Airport Marriott
Beach Grove Golf Club
Acqua Restaurant / Executive Hotel Burnaby
Wild Forager Catering
White Spot
Cedar Feast House Catering
Wild Fig / Executive Plaza Hotel Metro Vancouver
Vancouver Community College
The prettiest table had to be that of 75 West Coast Grill who glued together a pasta-ful table to create a variety of bouquets. I can only guess how many hours it took to glue everything together.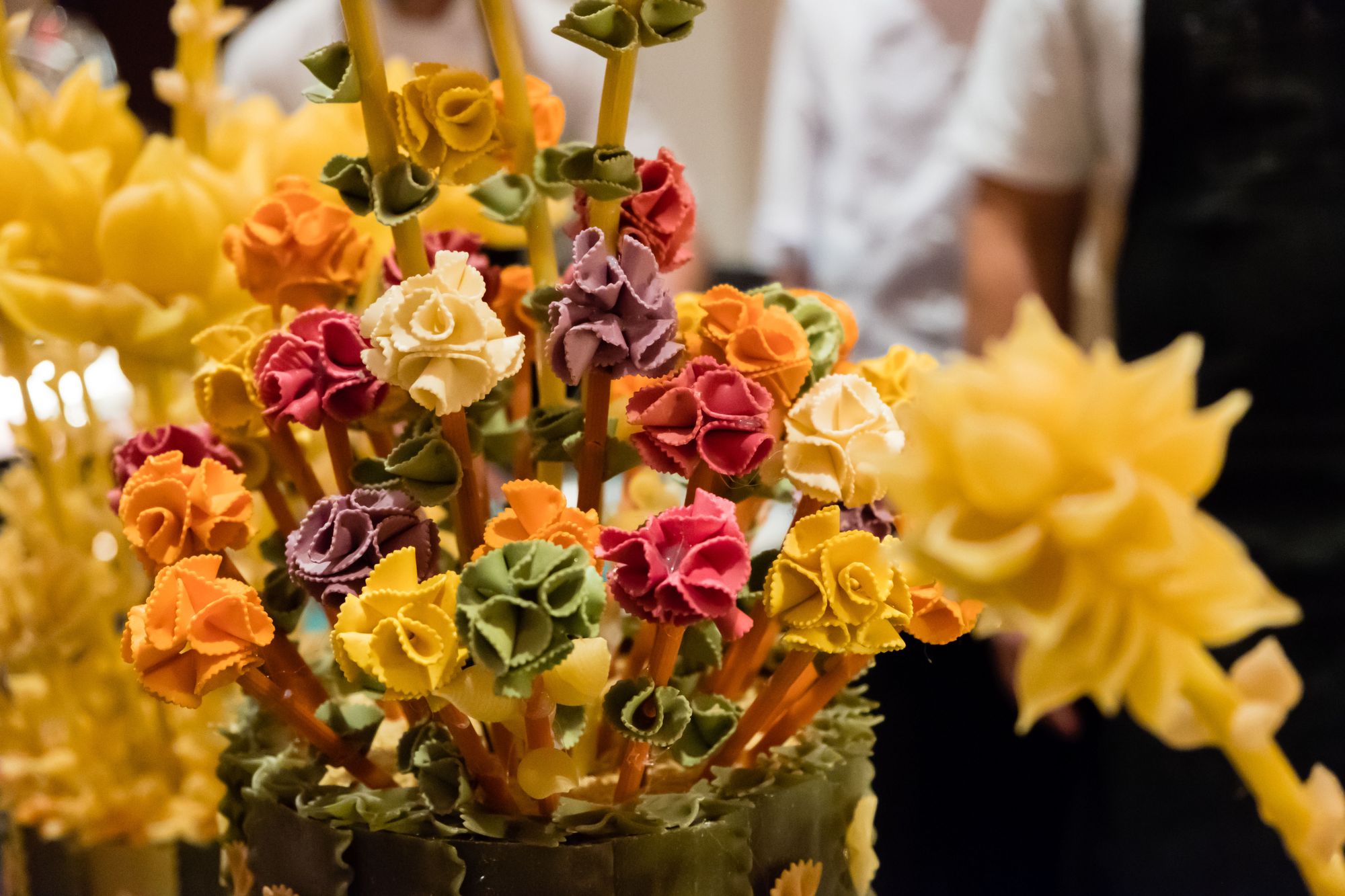 Another fun table was Wild Forager Catering's "window farm". This dessert, the BC Ambrosia Applie Pie Gelee caught my eye as it lay on a wooden board behind a makeshift window.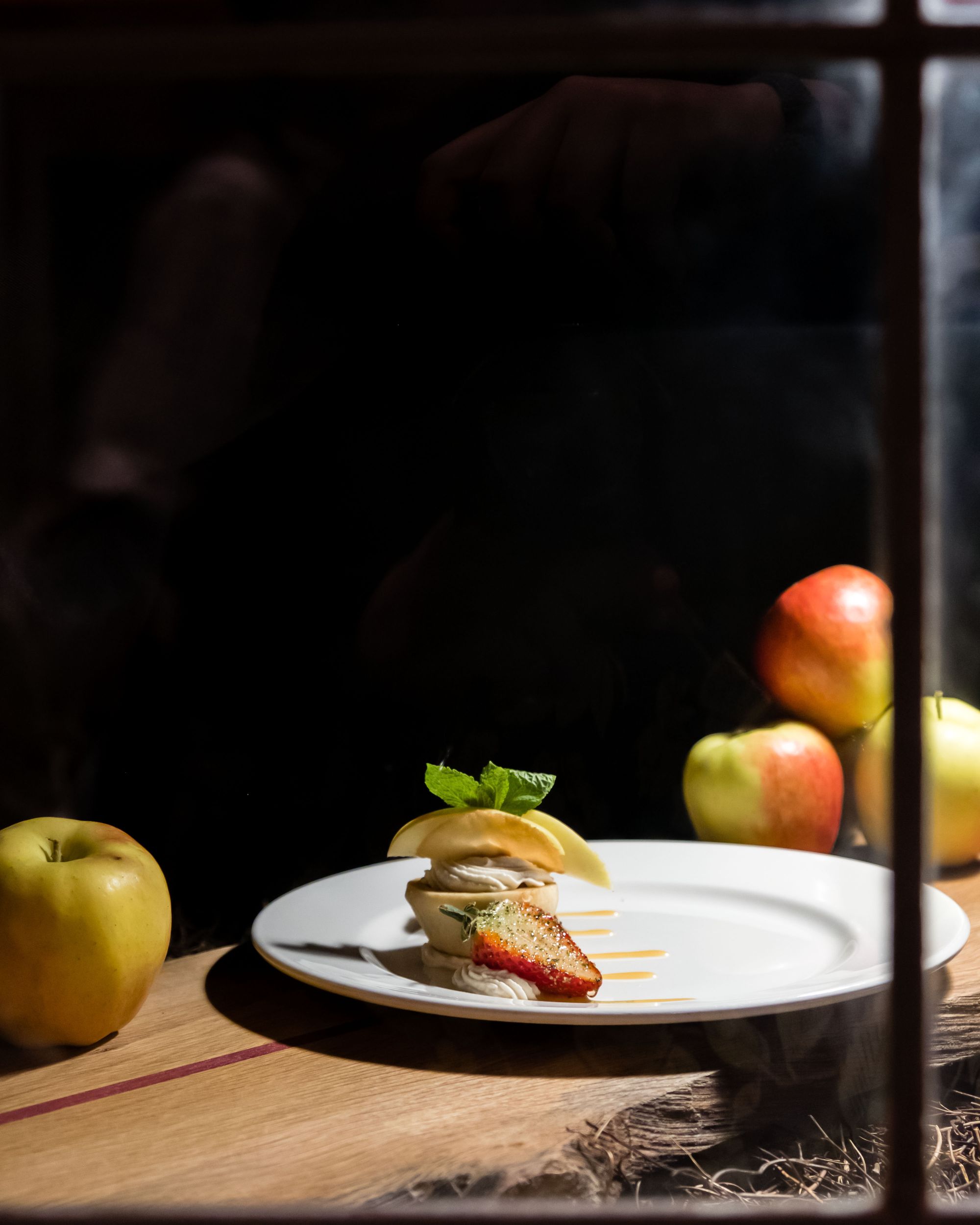 The folks who actually won the Best Table Showcase though, were the team at Wild Fig. These guys pieced together birds using banana peel and chili peppers. A little dry ice also went a long way into completing the pond picture here.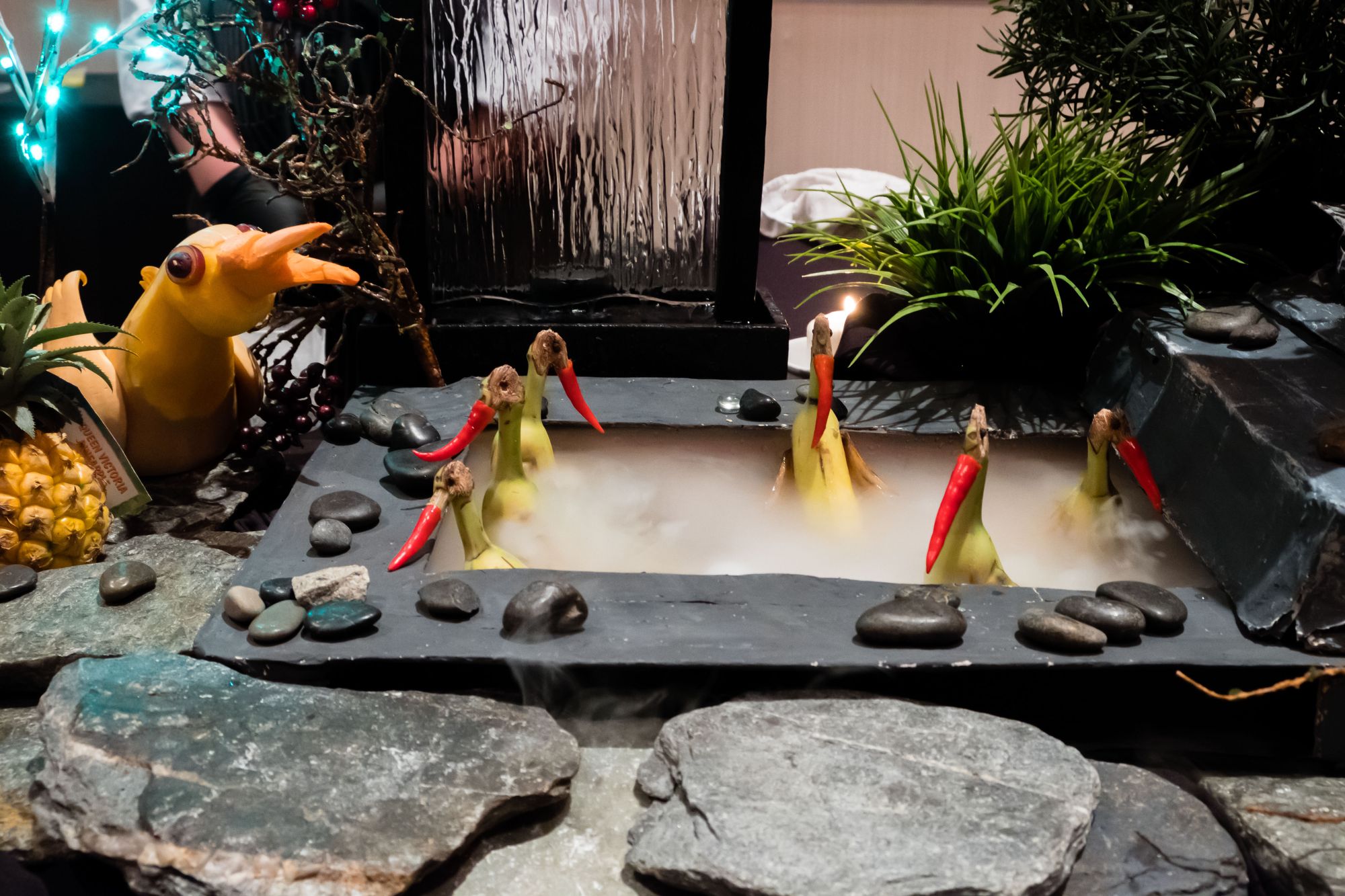 After going through the tables, it was time to eat. Everyone started off with a starter plate of kampachi and salmon sashimi. This featured scallion, apple, fingerling potato chips, sunflower sprouts, and chilled white shoyu dashi. The fish here was especially meat with lots of chew. Truth be told, I ended up with food poisoning after this event, and based on what other sick people ate, I suspect it was this dish. A shame because at the time, everything on this plate was tasty.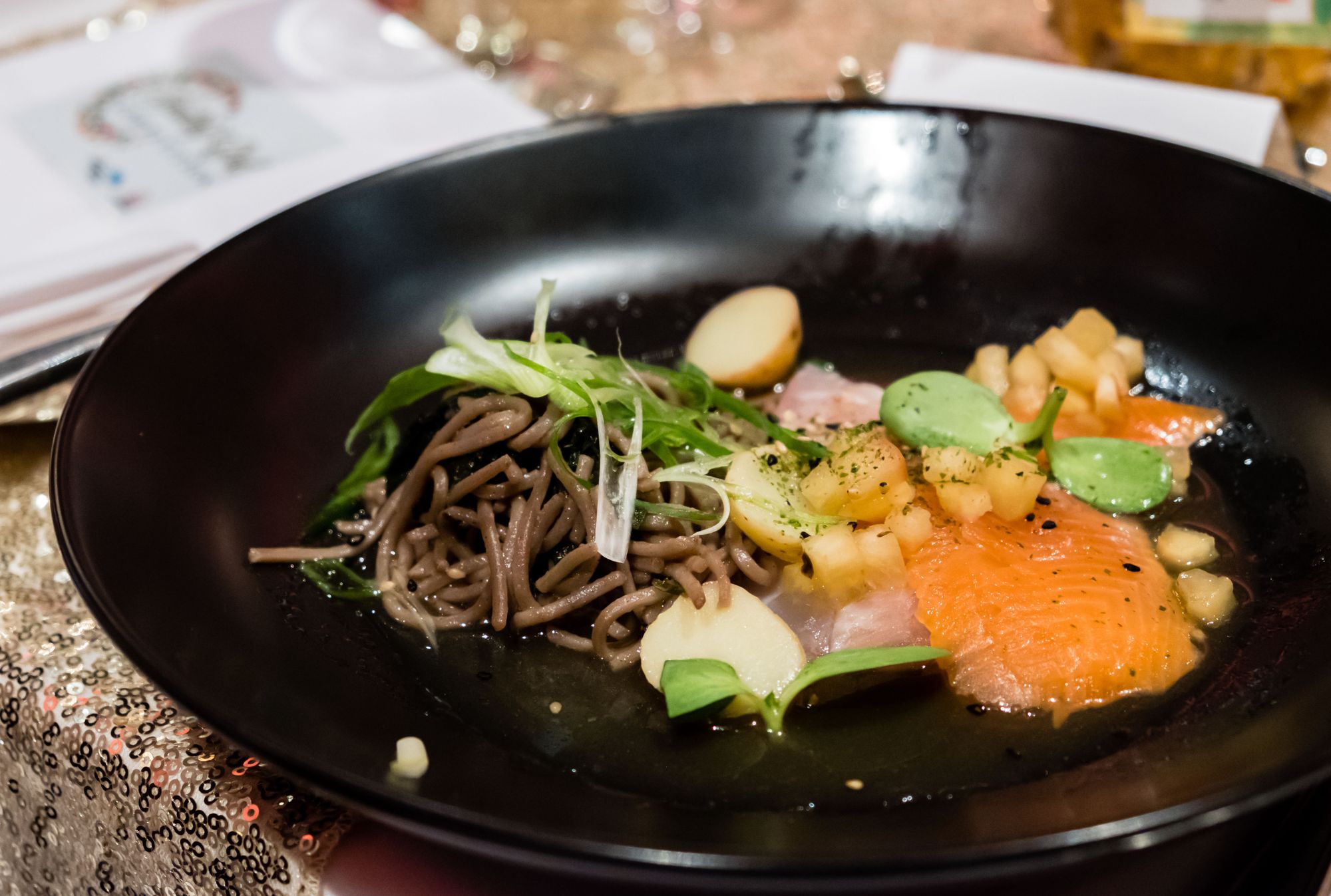 To facilitate the feeding of 500 guests, everyone was given a random entree and dessert card to direct them to the correct table to receive their dinner. I drew Cedar Feast House Catering for my entrée and Vancouver Community College for my dessert.
Cedar House offered up a maple pumpkin-crusted cod on a bed of Rapini Apple Chutney, Potato Pave, Roasted Beet, Butternut Squash, and Corn Purée. Fitting in with the theme, the fruits and vegetables were the main focus here with a side of cod. The corn purée was a joy to spread on my cod and the high proportion of surface area on the potato pave meant it could soak up a lot of flavours left on the plate. Not a drop was left behind on this plate.
If one plate wasn't enough, attendees could visit alternative stations later to try other entrées.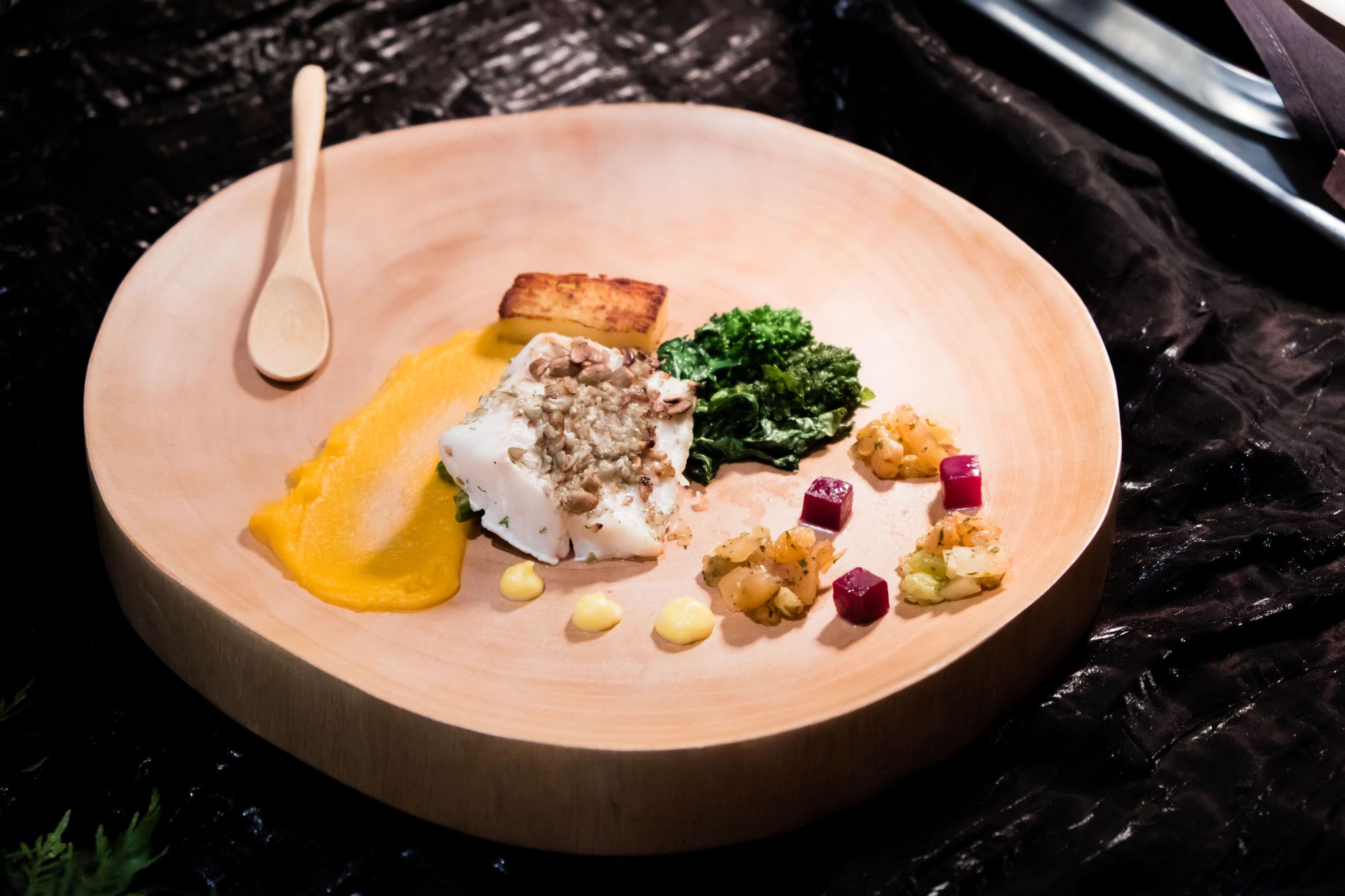 For dessert, Vancouver Community College (VCC) served up a rhubarb bar with dehydrated vanilla meringue and kombucha fluid gel. It isn't obvious visually but the kombucha fluid gel is what made this dessert so amazing. The zing and soda-feeling pop of the kombucha mixed with the laser-cut rhubarb was an amazing sensation that left me clamouring for another bite quick. Suffice to say, I could have enjoyed double the serving here, but I held back.
If one plate wasn't enough, attendees could visit alternative stations later to try other desserts.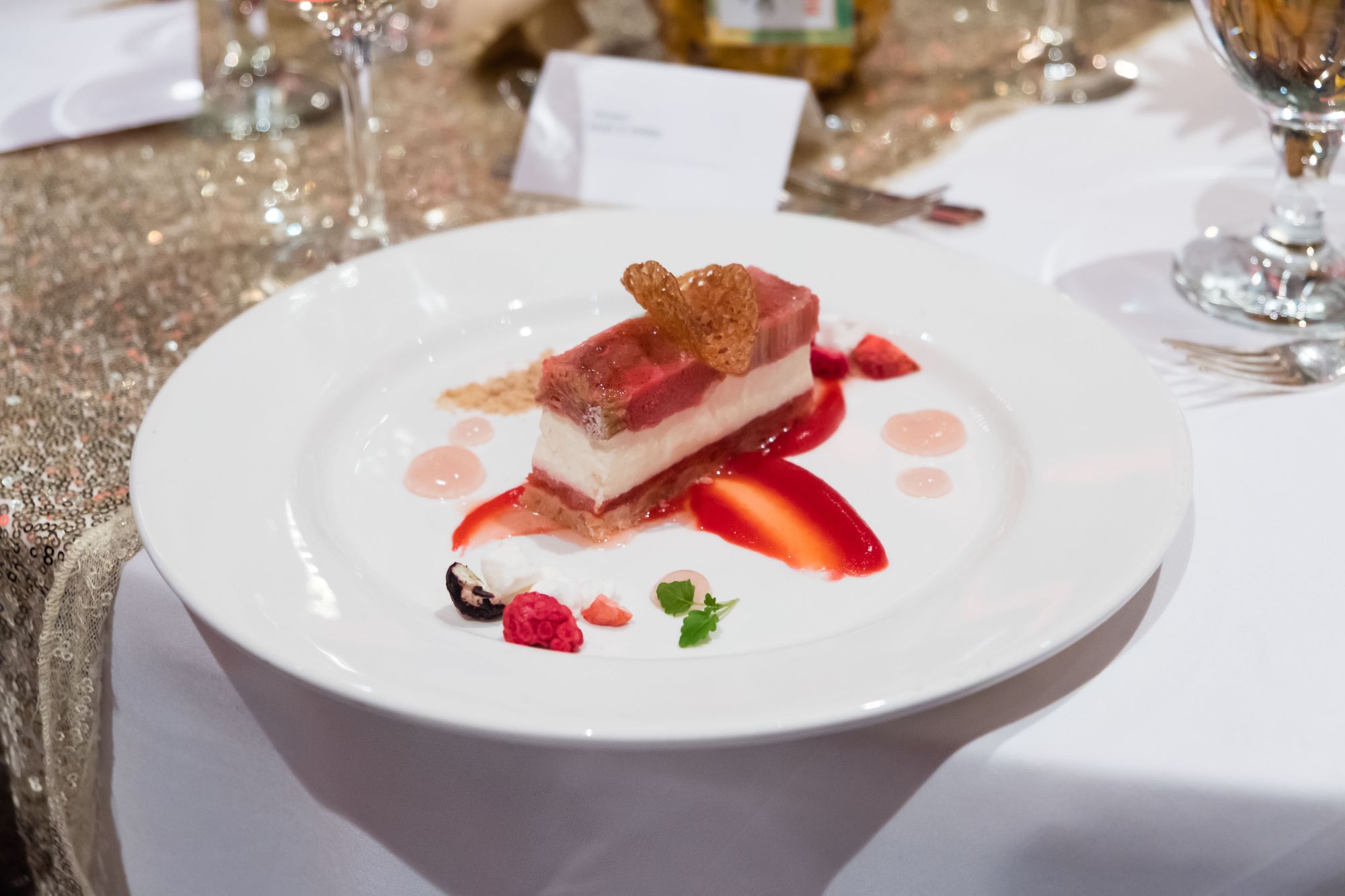 In the midst of all this eating was also a silent auction happening in a corner of the room. With proceeds going to local charities, this was a fun way to get in on a vacation or experience as the prizes were provided by sponsors for everyone to bid on.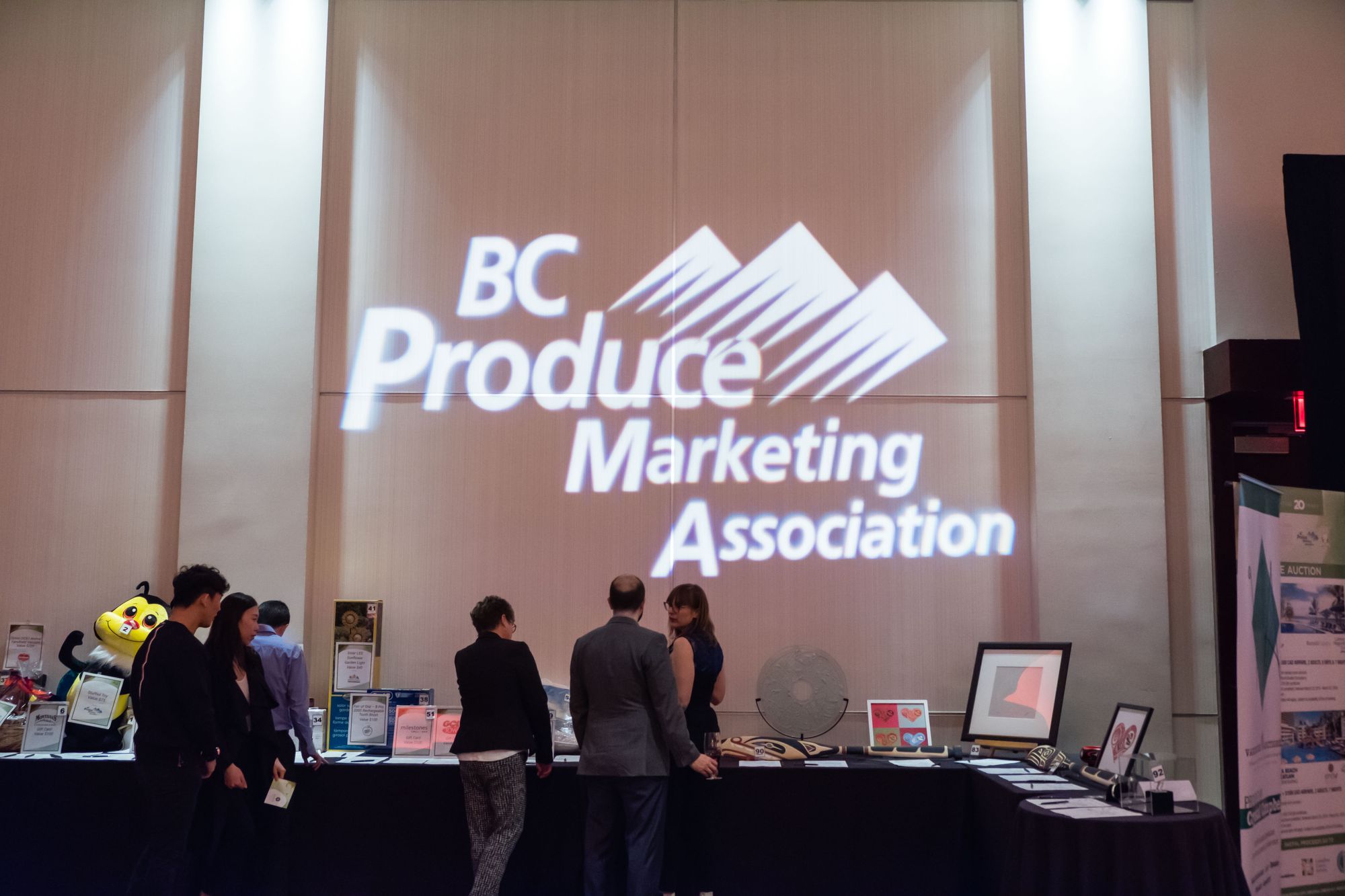 If a silent auction wasn't enough, our MC for the night was Marke Driesschen, a weather specialist for CTV Morning Live in Vancouver. He led us through the night and into the live auction.
As the night winded down to a close, the organizers directed to these giant parting gifts at the entrance. Every attendee received a bag of healthy food recipes and a box of fresh produce. I heard some people got avocados in their box. Mine had kiwis.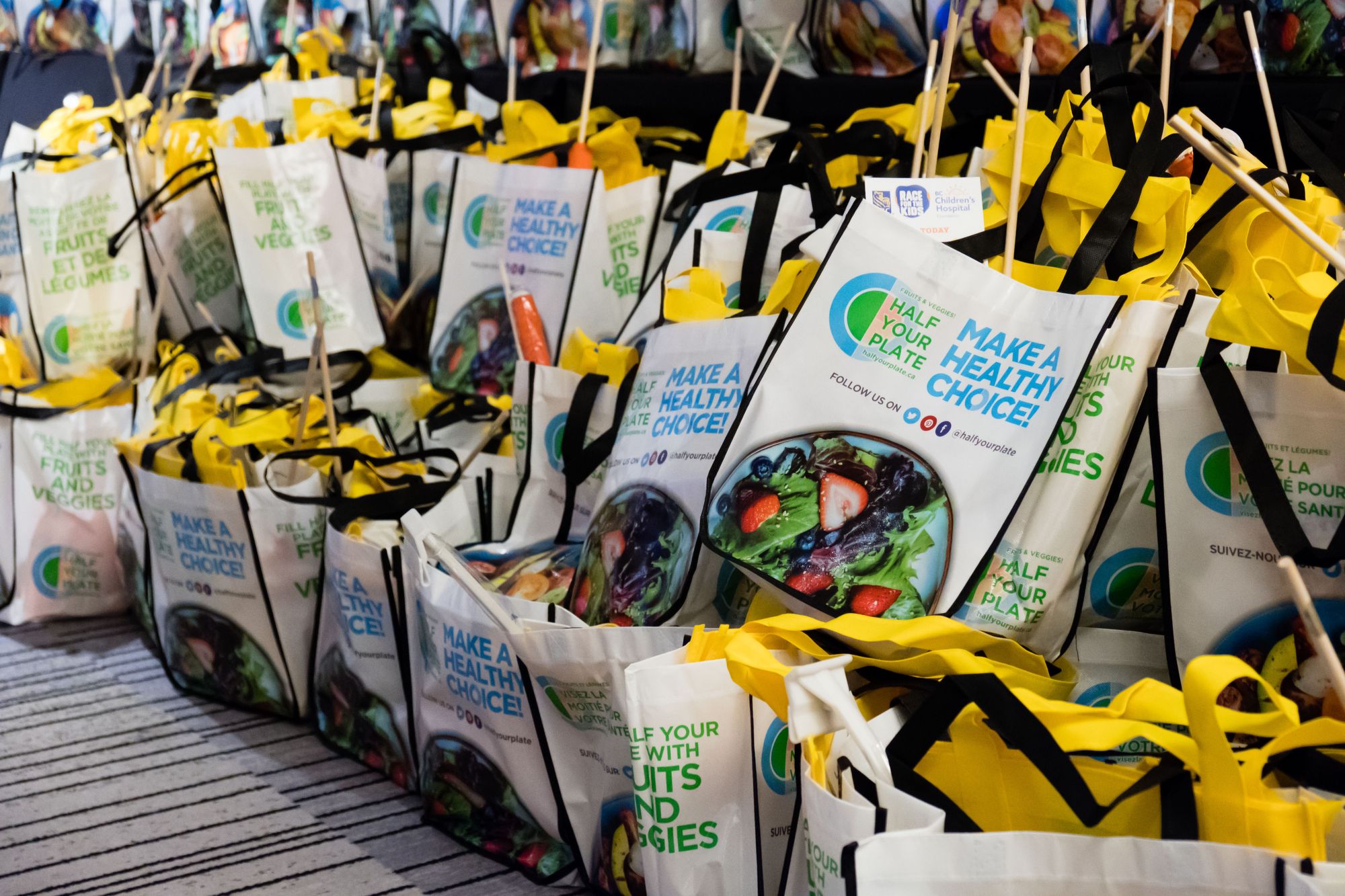 Winners:
People's Choice Winner 2019 – White Spot – Sous Vide Duck Breast in Prosciutto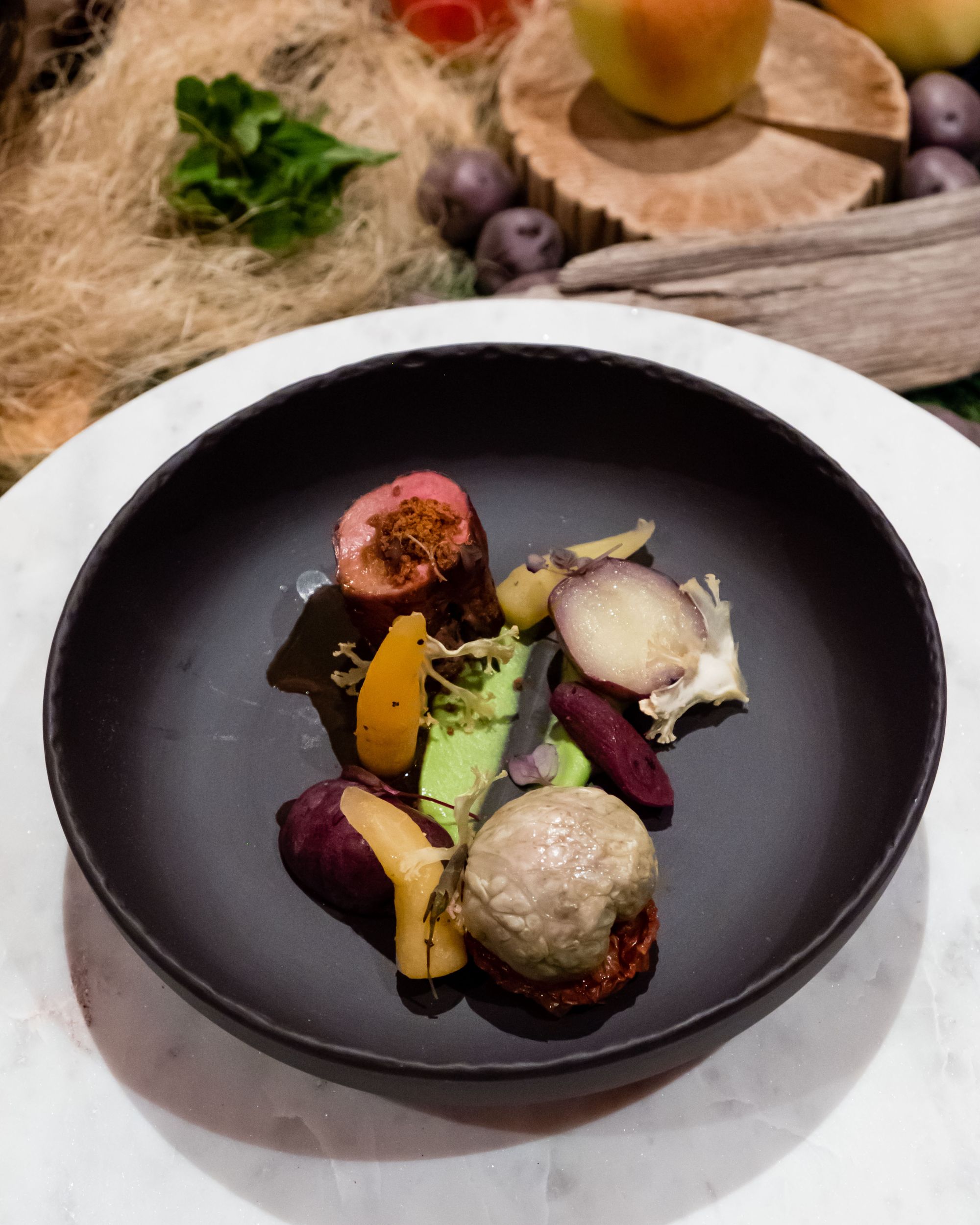 Best Entree and Best Table Showcase – Wild Fig – 35 Days Dry-Aged Hormone-Free AAA Striploin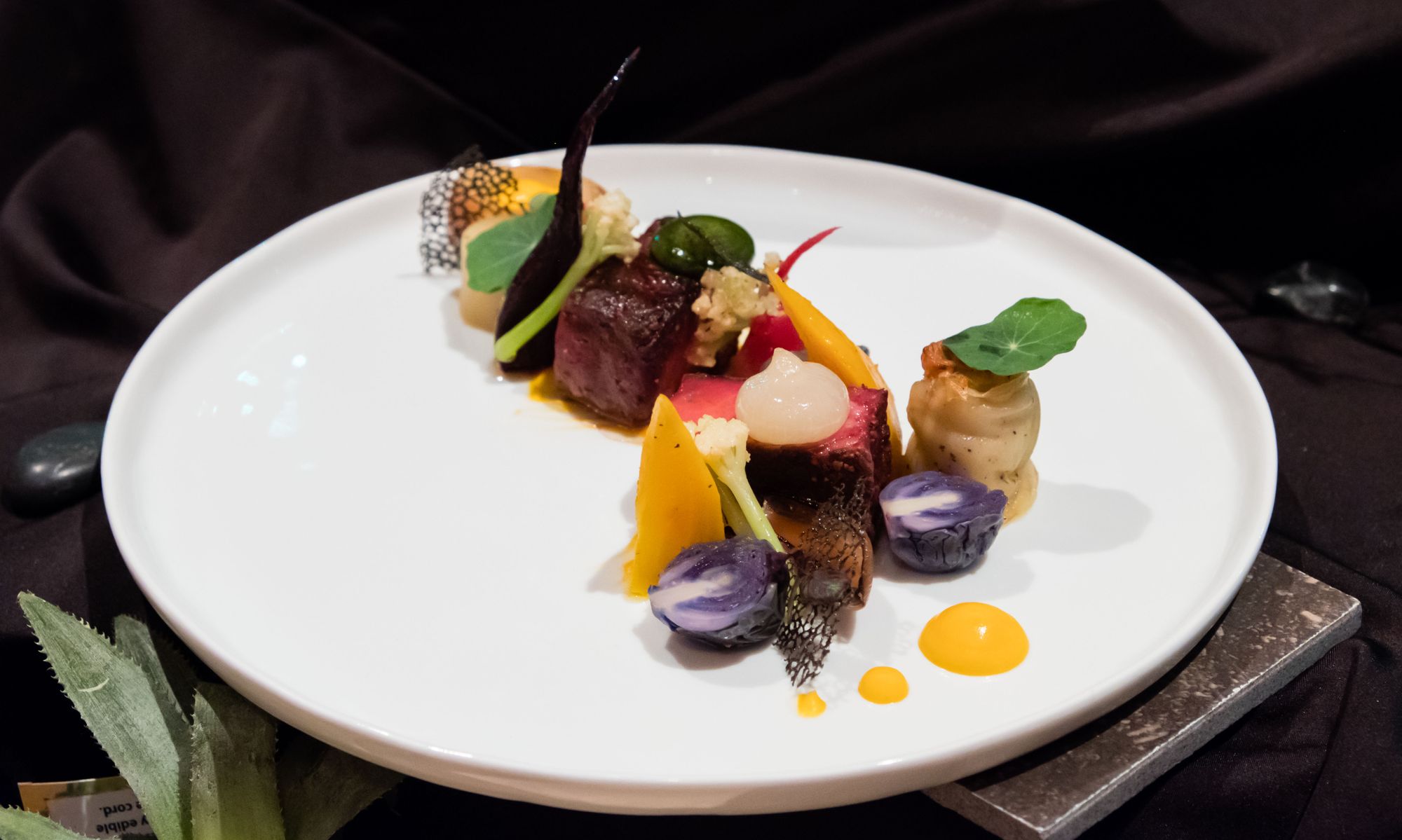 Best Dessert – Vancouver Community College – Rhubarb Bar (pictured earlier)
Final Thoughts:
One-liner: A fun dinner featuring immaculate creations by local chefs and a couple of auctions to support local charities
Highlight: Rhubarb Bar from Vancouver Community College
Price per person: $90/ticket
Would I go back? Yes.