One thing Vancouver really loves is bakeries. We've seen a few operations spring up over the years to challenge the national brands. Lift, Fife, and Bad Dog Bakery come to mind in the mid-2010s. Fast forward to 2019, and The Bench Bakehouse is now on the scene in the Commercial Drive neighbourhood. Featuring a couple that enjoyed baking more than their day jobs, this bakery is the result of hard work, love, and training in Paris, France. Last week I had the chance to experience The Bench for myself and I really enjoyed my visit.
Disclosure: This was a complimentary tasting provided in exchange for no monetary compensation and an honest overview.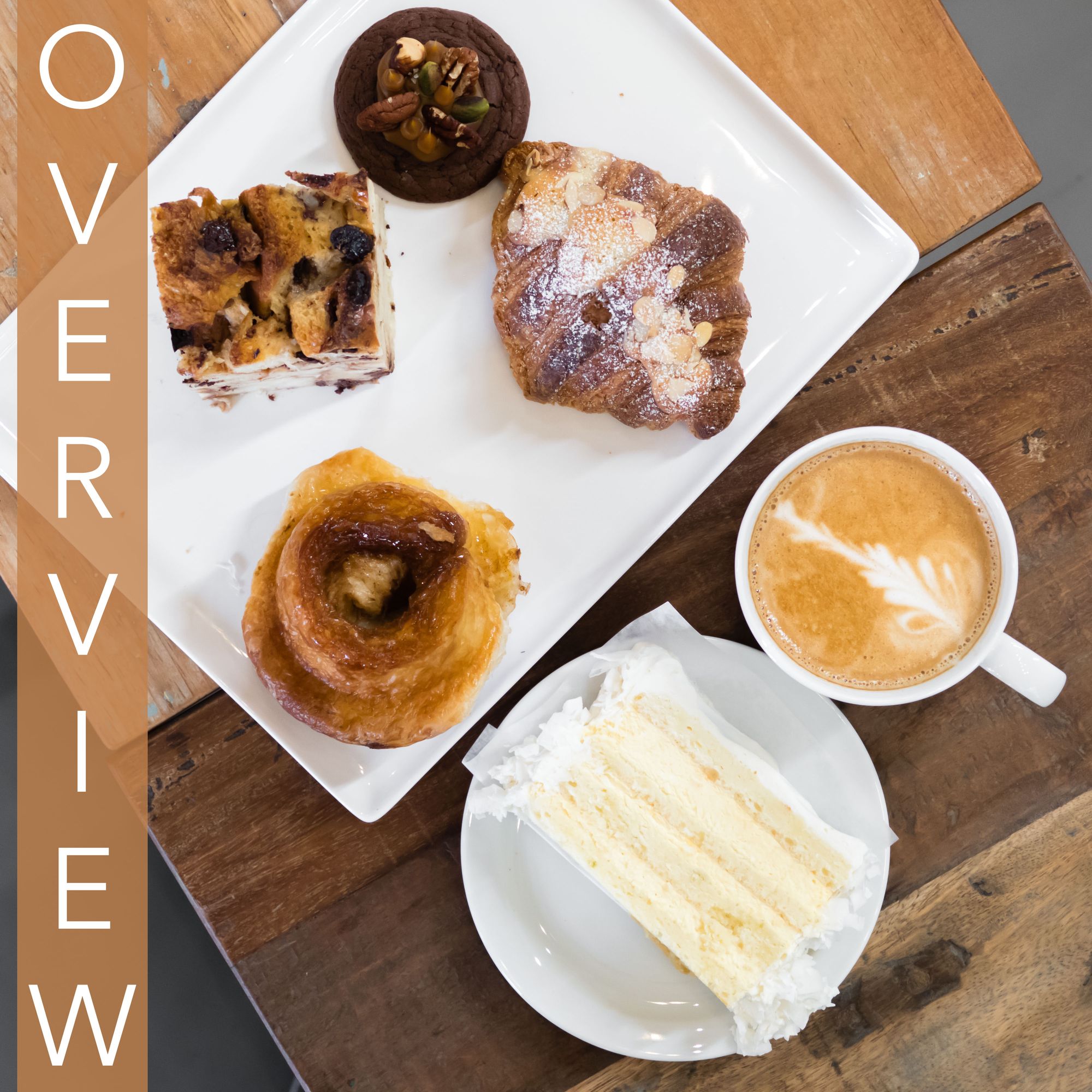 Food and Drink:
Team Tastic came here for a Sunday morning breakfast and I had myself a great taste of the following:
Latte ($4.50)
Morning Bun ($3.75)
Double Baked Almond Croissant ($4.50)
Chocolate Cherry + Almond Bread Pudding ($4.25)
Salted Caramel Rye Chocolate Brownie Cookie ($3.25)
Passionfruit Cake Slice ($4.75)
Baguette Bites ($0.80 each)
The latte, beans provided by East Vancouver's Pallet Coffee Roasters, was a standard mix of espresso with foamed milk, topped with a skinny leaf pattern. This had a balanced flavour without anything too jarring sticking out.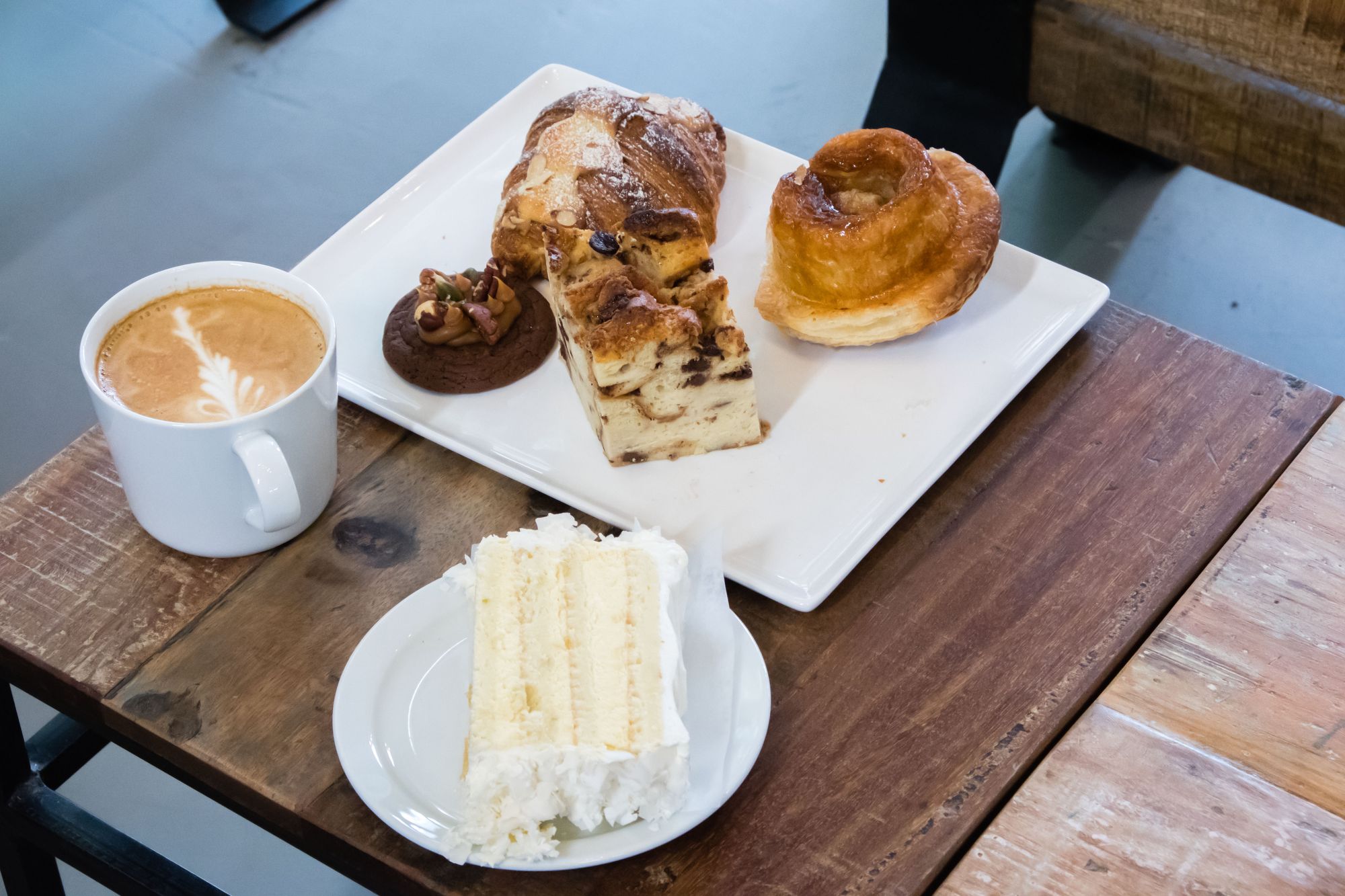 The morning bun was a treat. The name alone is enough to brighten anyone's day but this bun kept things interesting with a flaky shell with rolled notes of cinnamon and honey on the inside. If you're a fan of croissants this morning bun would be a great segue into cinnamon roll territory as it shares properties of both classic treats.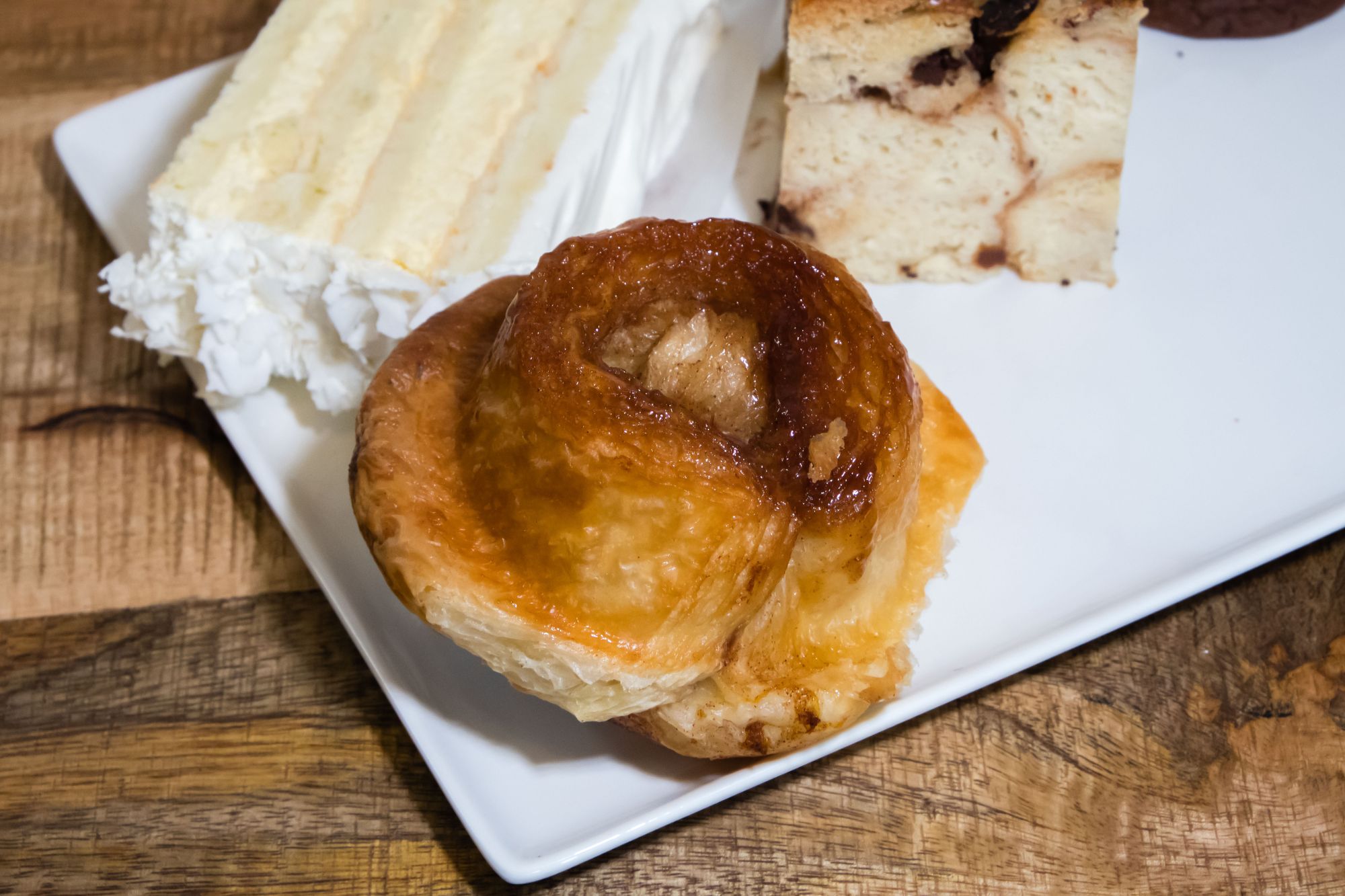 Moving on to the double baked almond croissant, the first glance was good. The bun had a ton of rise and a deep golden-brown look to go with a squiggly drizzle of almond paste. Biting in was a similar treat. The numerous layers of croissant within lent to a fluffy texture and balanced buttery goodness. I added this croissant onto my main Vancouver almond croissant guide and it ranked pretty high.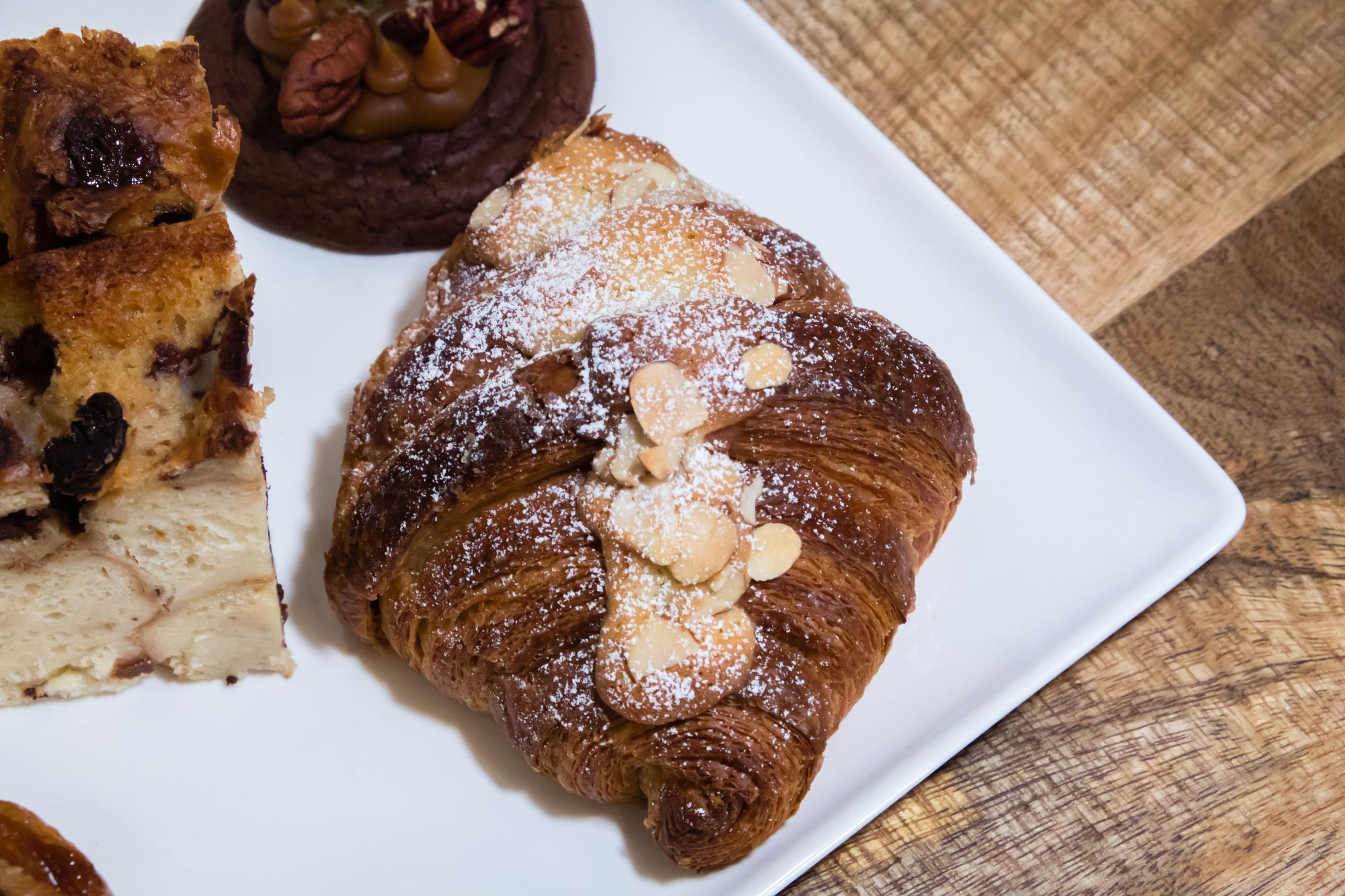 Our next baked good was a chocolate cherry + almond bread pudding. This was a cube of moist sweet bread adorned with dried cherries and chocolate. This bread pudding had a good pull to it, a firmer crust and I only wish it were a little warmer. I guess I missed it when it was fresh out of the oven so I had to take this home and microwave it to fully enjoy.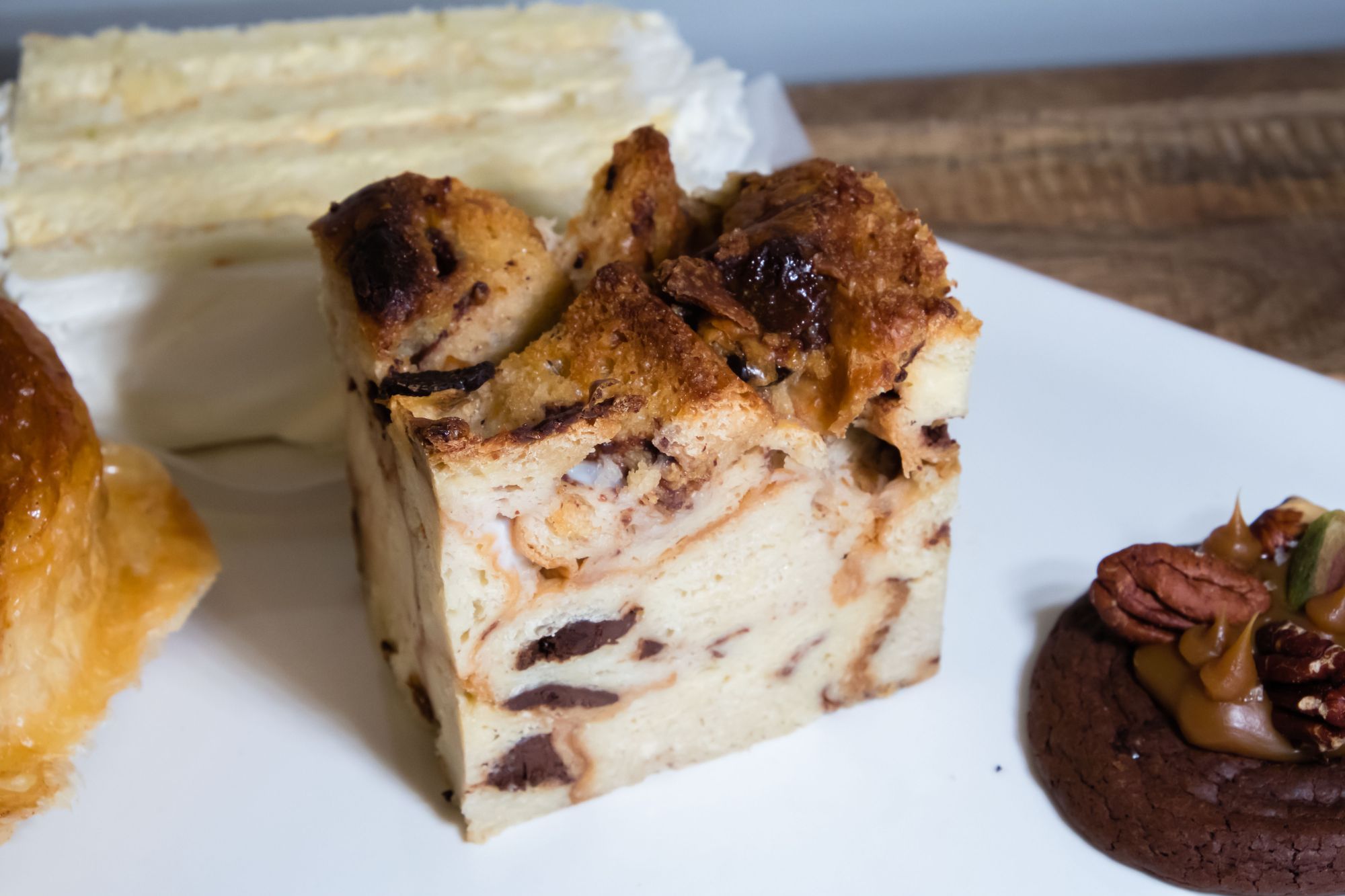 The salted caramel rye chocolate brownie cookie was a work of art. The salted caramel was applied in little drops onto the cookie and the consistency of each bite reminded me of a brownie (i.e. crisp on the shell, soft on the inside). I like to think this had a balanced sweetness that was provided by the rye and salt.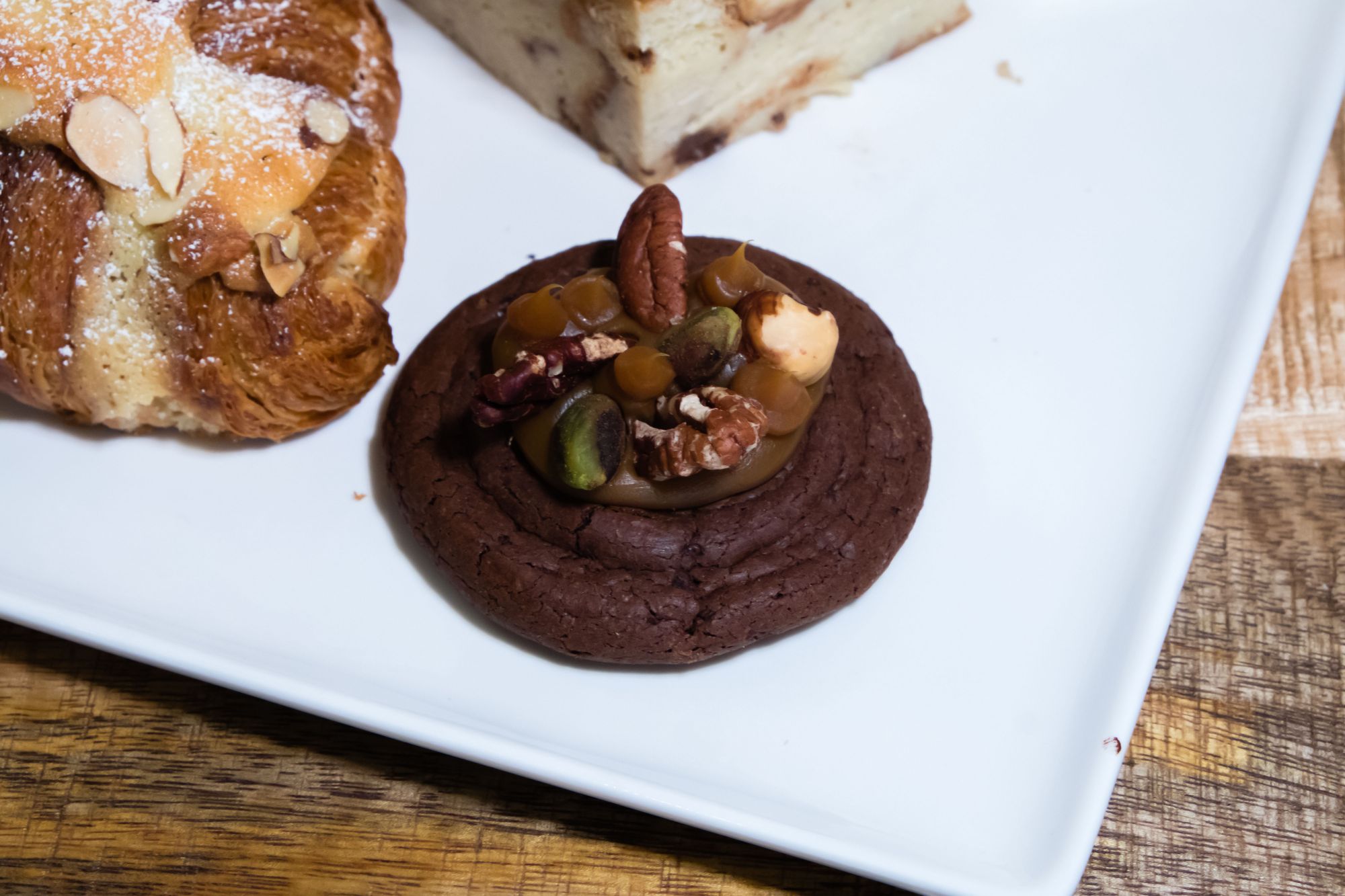 For dessert, we had a slice of passionfruit cake. This featured layers of passionfruit filling and finished with a layer of cream and coconut slivers. I loved the clean lines between the cake and filling and that everything kept itself together as I cleaved my fork in. The passionfruit filling had a fresh feeling in each bite. At $4.75, this is borderline Breka-style pricing and a great competitive price against other cakes available in the neighbourhood. I personally lean towards the more bready things on the menu when I'm in a bakery but it's great news for anyone looking for a slice (or more) of cake that they won't break the bank doing so (looking at you, Tsujiri).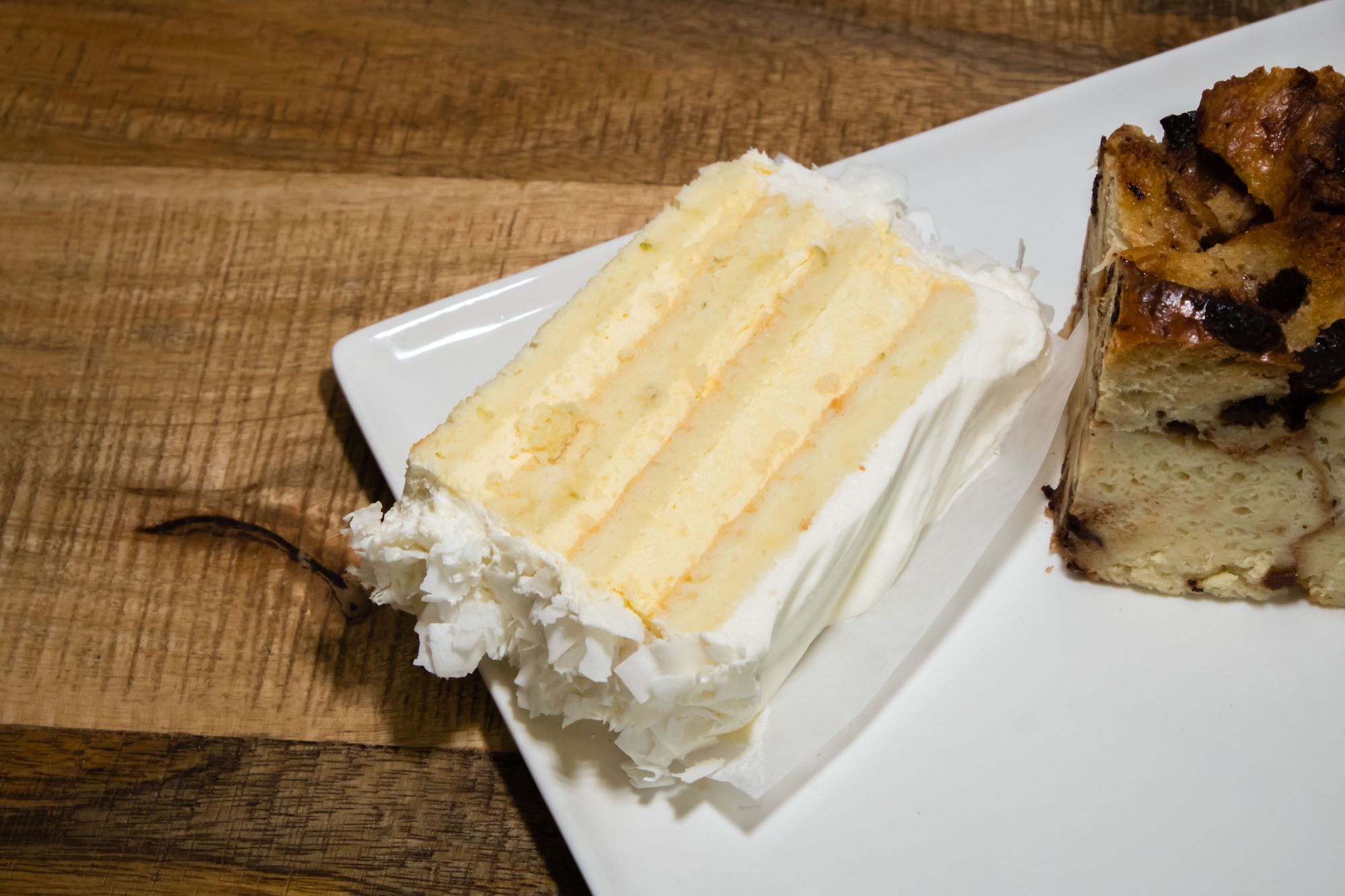 To round out our visit I had a couple of baguette bites for the road home. These were fresh-baked and boy what a difference this makes. Still spongey when I got home, these had a terrific scent and sliced open to reveal a bubbly and moist interior. I made tasty sandwiches with my baguette bites. No toaster necessary.
I guess one strategy with the baguette bites is customers are lured in by the super approachable 80 cent price tag and realize how good the baguette is. The baguette bites are also a nice option for households that don't consume as much bread on a weekly basis. Since the bread is made with all-natural ingredients with 0 additives, it's fair to expect that this bread can grow stale quicker relative to generic brands.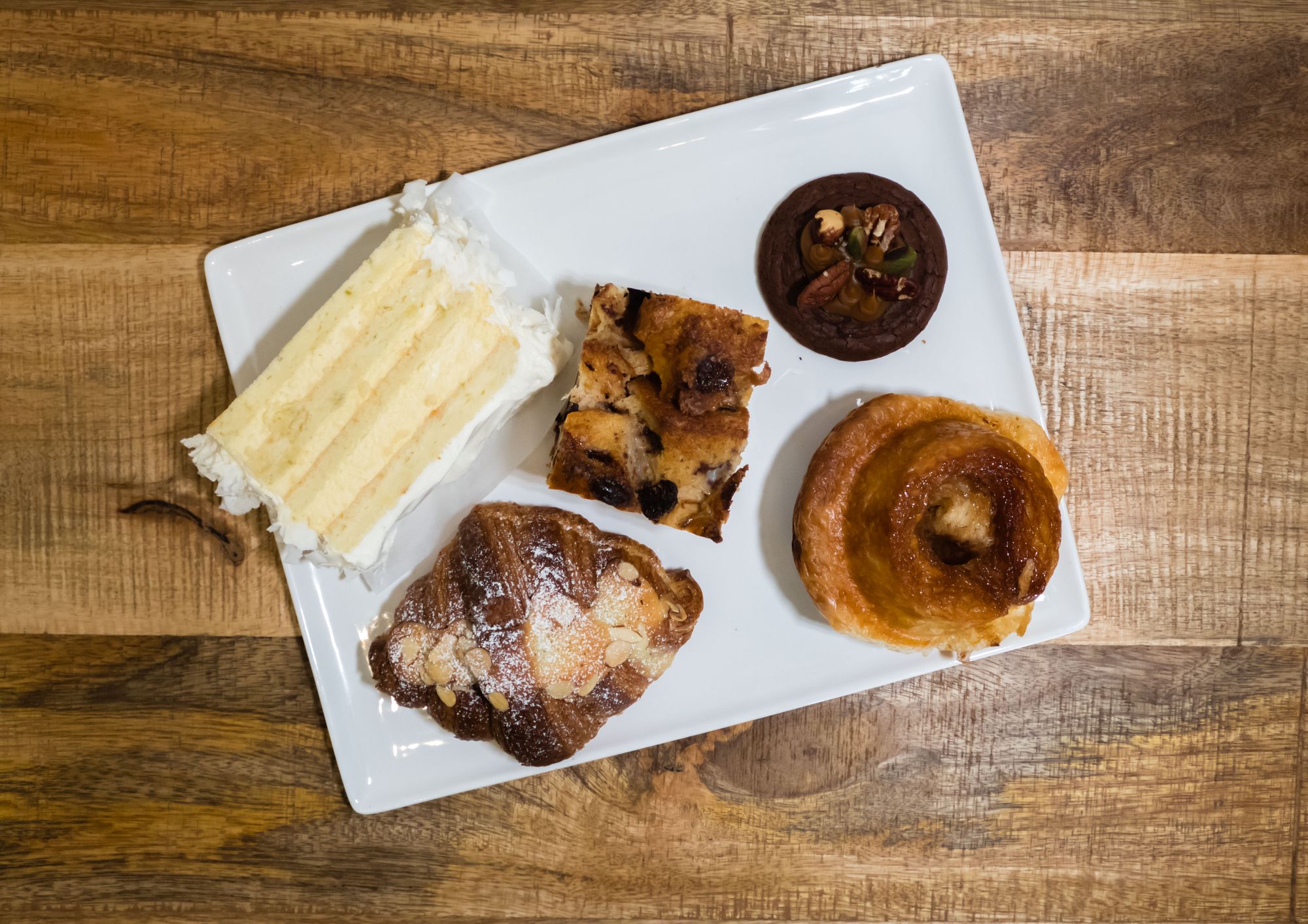 Features:
The Bench Bakehouse is a new bakery located within Il Mercato in Vancouver's Commercial Drive neighbourhood. It's a little hard to see the bakery when you're walking along the Drive but it's definitely worth the visit as the scent of fresh bread wafts out (they bake all day as opposed to just in the mornings). The Bench Bakehouse is named after the traditional workspace of a baker – a bench.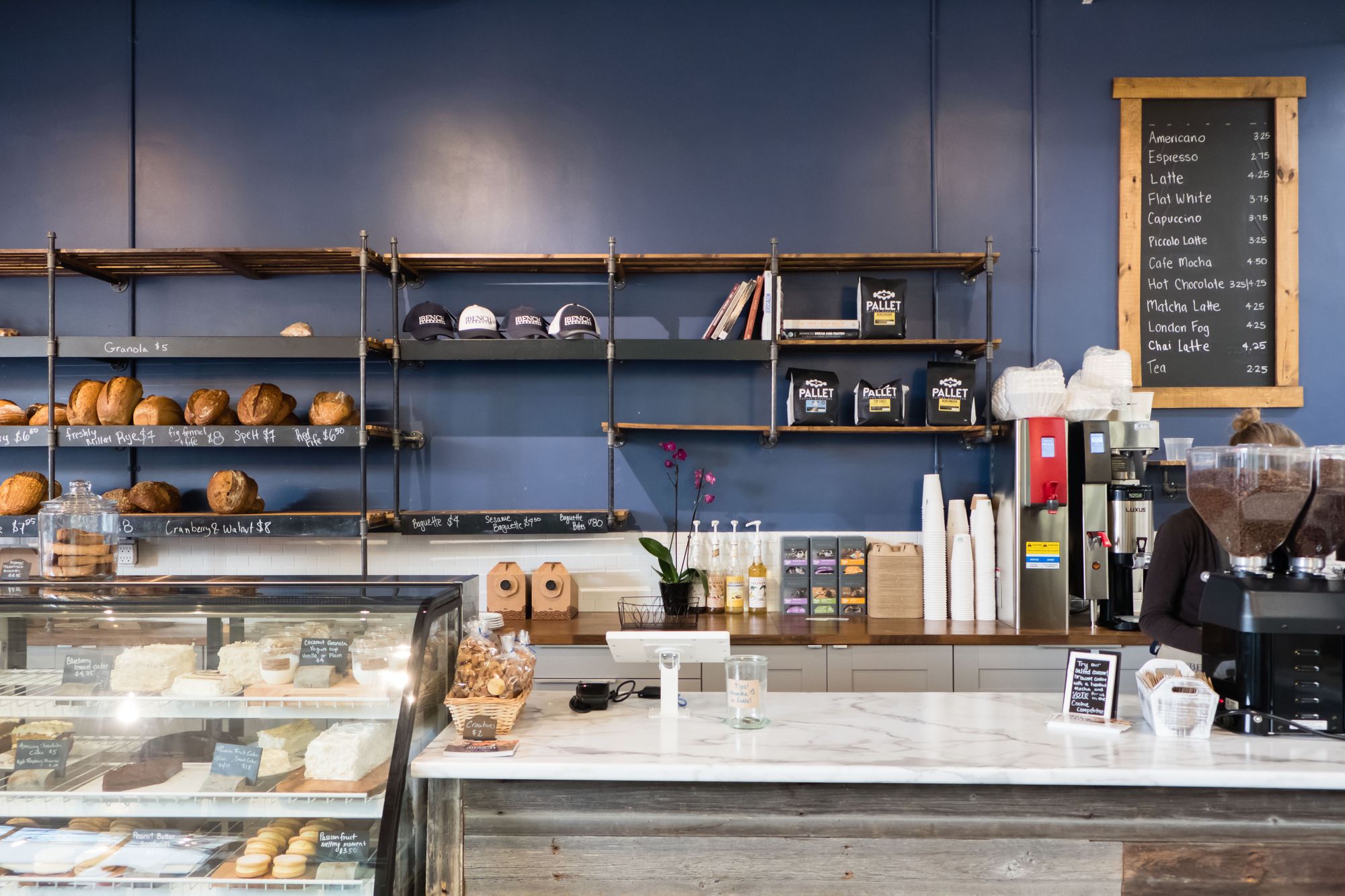 Inside The Bench Bakehouse is a small area for eating by the window and a couple of benches (very appropriate) with end tables for customers to chill at. Most of the space is occupied by the production facility and the serving area where all the pastries, cakes, and loaves are displayed. There's space for about 10 guests to be seated comfortably.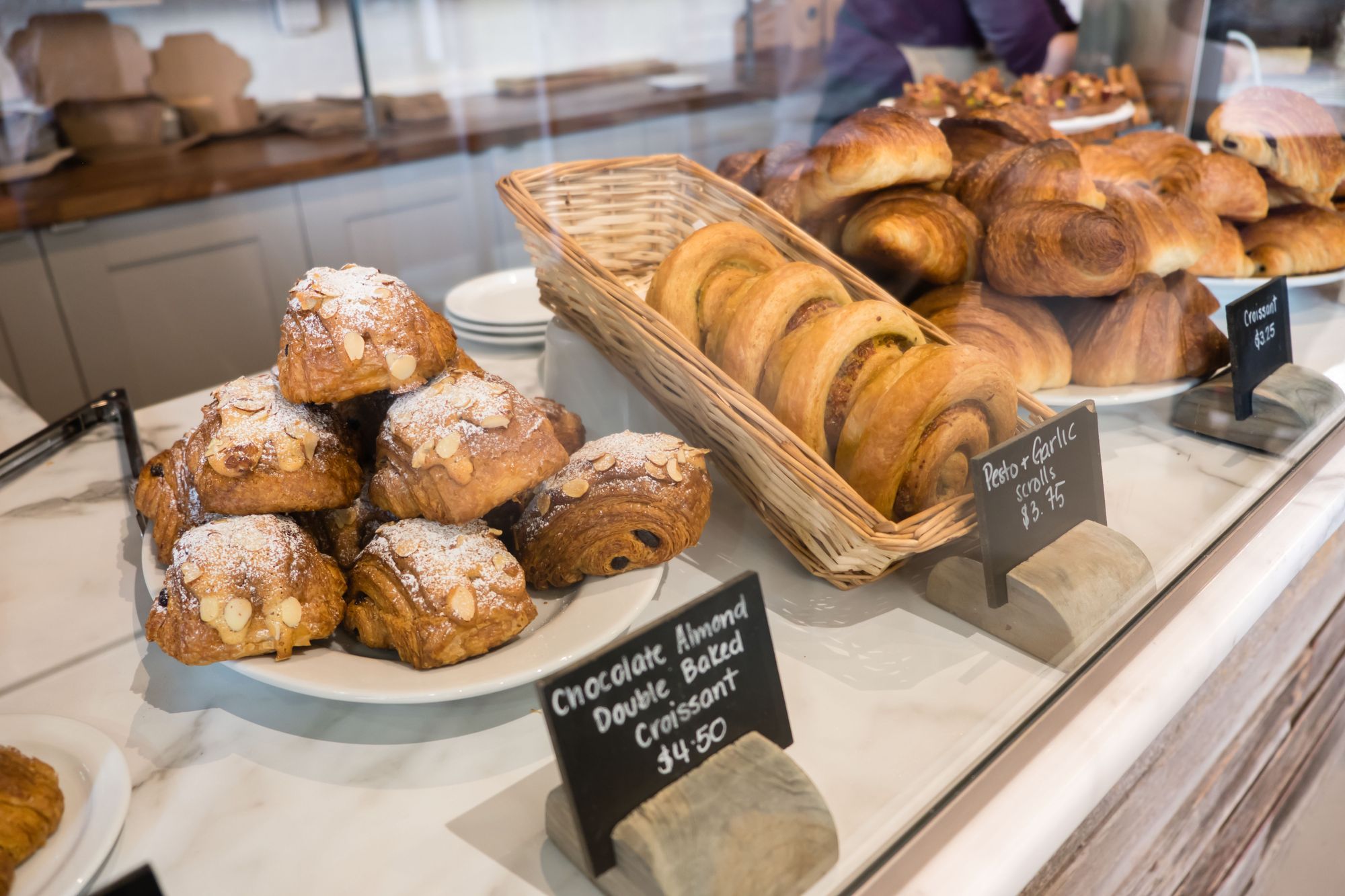 As part of its mission, everything baked is made on-premises. 100% butter is the philosophy. There are 0 substitutes (e.g. margarine, oils) for butter which I fully support. In addition, these folks even mill their own rye which is pretty fantastic. Most bakeries just buy their flour from a supplier so it's nice to see The Bench making an effort to create everything from scratch where feasible.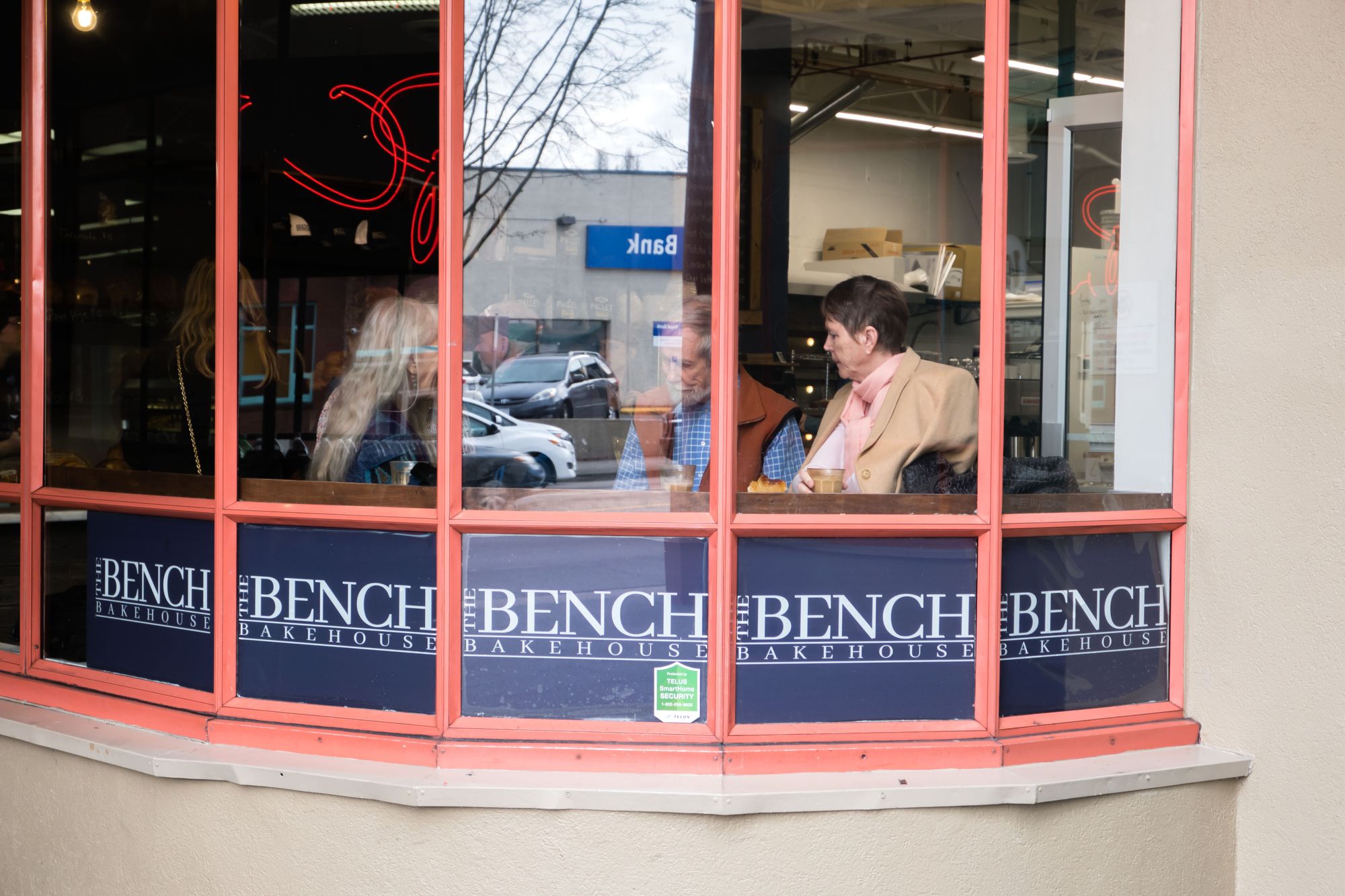 Final Thoughts:
One-liner: A French-trained bakery that makes everything fresh on the daily and is all about the natural way of creating pastries, loaves, and cakes
Highlight: Double Baked Almond Croissant
Price per person: $6-$14
Would I go back? Yes.