Taking a quick glance at Richmond's restaurant variety and you'd be accurate in a mostly Western chains, Chinese seafood restaurants, and Taiwanese snack shacks. That makes it all the more exciting to introduce a place like Beijiang Restaurant that features a halal Chinese menu. Hailing from the XinJiang region of China, some worlds collide to produce a new menu thanks to the harsh climate and traditional spices. I was invited to be part of a tasting experience of Beijiang Restaurant in Richmond.
Disclosure: This was a complimentary tasting. All opinions are my own.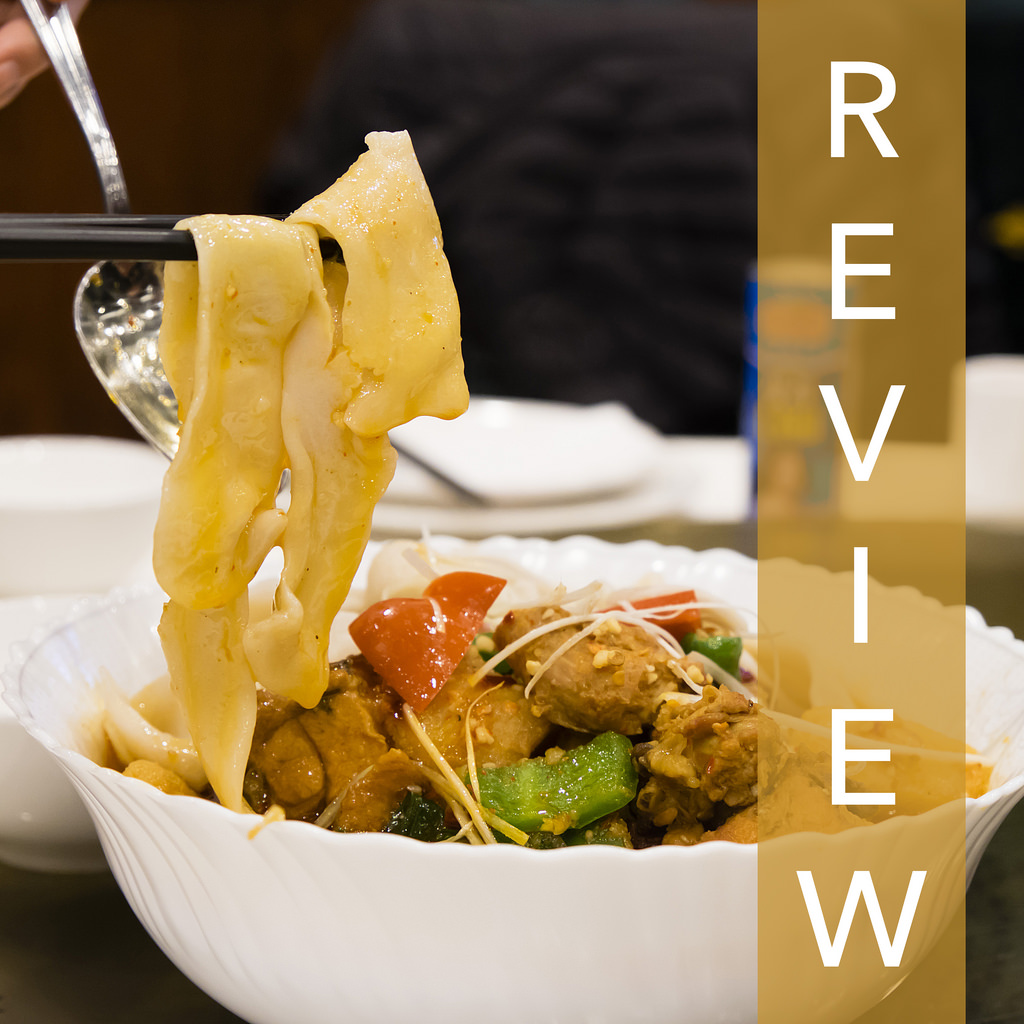 Food:
Team Foodology came here for a Thursday dinner and I had a great taste of the following:
Dapanji (大盘鸡) (medium - $26.90)
Lauan Twig Lamb Kebobs ($3.75 each)
Stir-Fried Lamb w/ Steamed Buns ($27)
XinJiang-Style Lamb Leg Shank ($12 each)
Lamb Bone Pot (small - $34)
Baked Lamb Bun ($7 for 3 buns)
Sweet Corn Pancake ($14)
We started off with the dapanji. Literally translated as "big plate chicken", this was a bowl of chicken, potato, and veggies stewed in a spicy broth. The flavour and heat were almost Szechuan-like but with none of the numbing sensation. The chicken was still juicy and I loved tearing off the skin which had absorbed a bunch of flavour. This dapanji was served with a hearty serving of housemade noodles. The noodles were wavy which helped the broth cling on, adding additional flavour to their satisfying, chewy profile.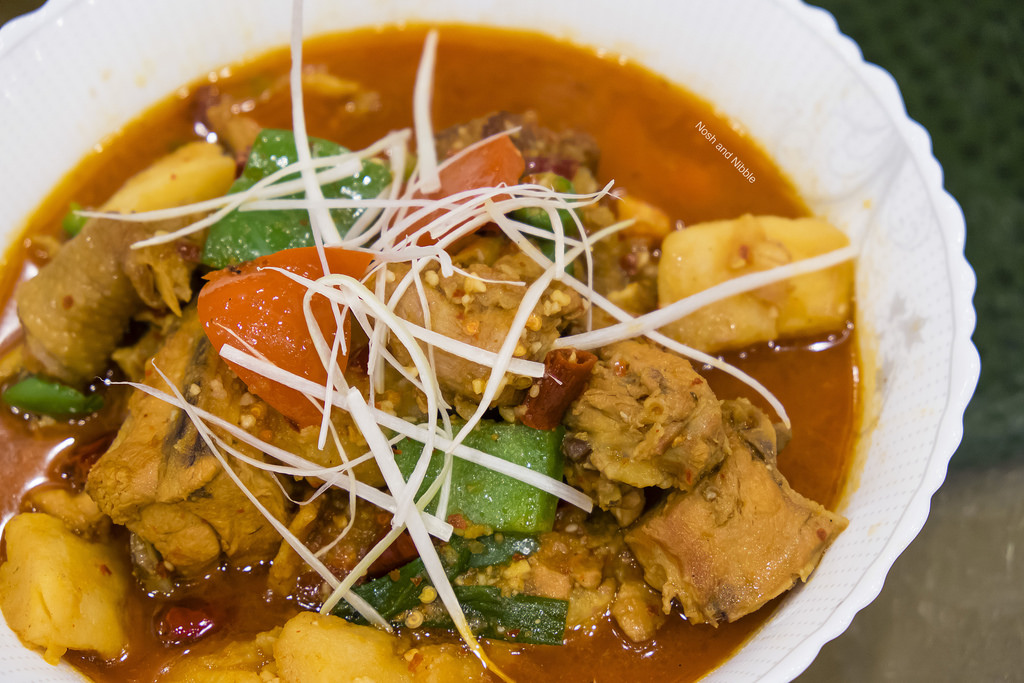 Dapanji
Next up were the lauan twig lamb kebobs. For anyone a fan of Taiwanese meat skewers, you'll feel right at home with these. The obvious draw here is that the skewer is actually a twig which made chewing the lamb off extra satisfying and made me feel like a king. The price is a little higher compared to other skewer restaurants (e.g. MYST) skewers but I believe the huge lauan twig makes a difference.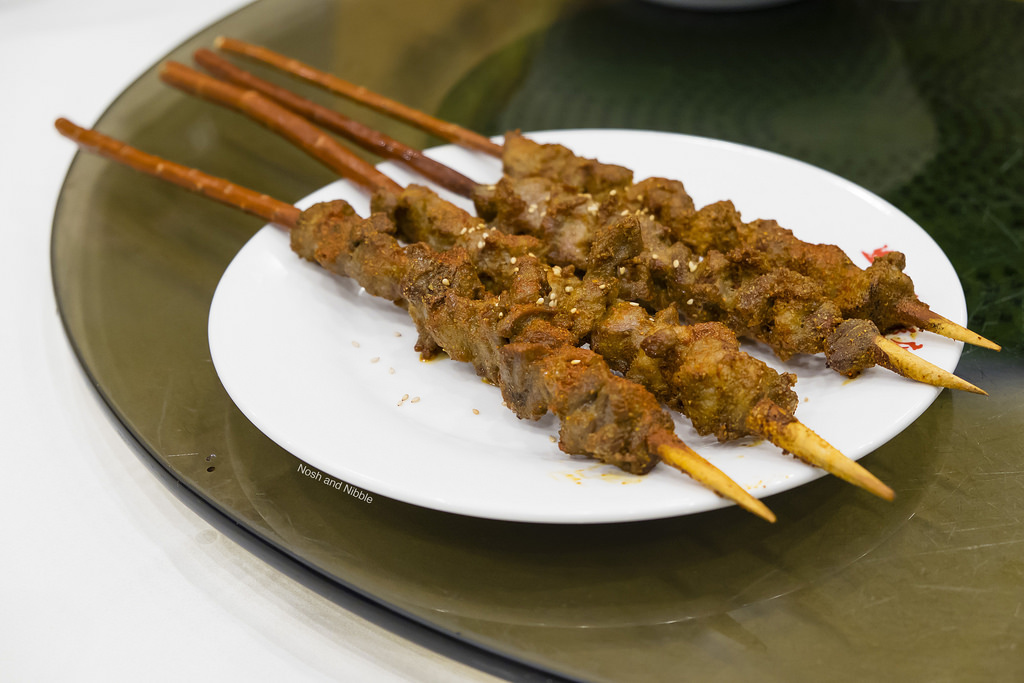 Lauan Twig Lamb Kebobs
Following this was the stir-fried lamb with steamed buns. To eat this, you split open one of the buns, stuff it with the stir-fried lamb, and chow down. This reminded me of the Chinese wraps you'd make with duck breast and hoisin sauce but obviously a lot savourier with the tender lamb.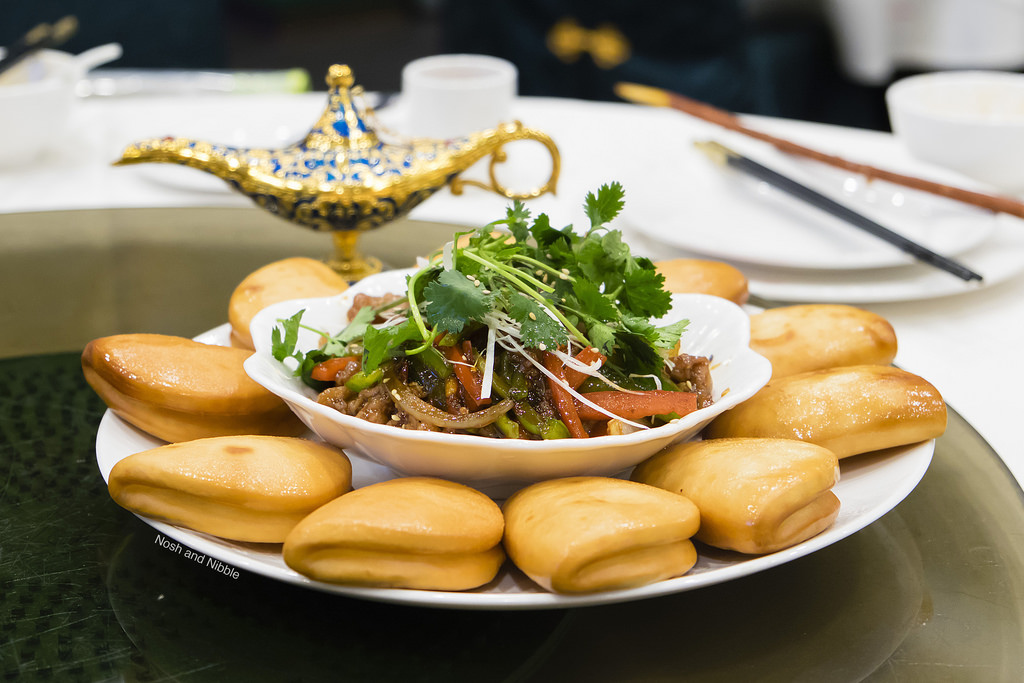 Stir-Fried Lamb w/ Steamed Buns
The XinJiang-style lamb leg shanks were an interesting menu item. Each one came in a tin foil wrap and one could either gnaw the meat off the bone or make use a knife to make smaller cuts. In either case, the seasoning gave this meat a pretty good zap of flavour. It's perfect if you've been good at the gym and need some tasty protein but for me, I think I prefer the lamb options which were juicier.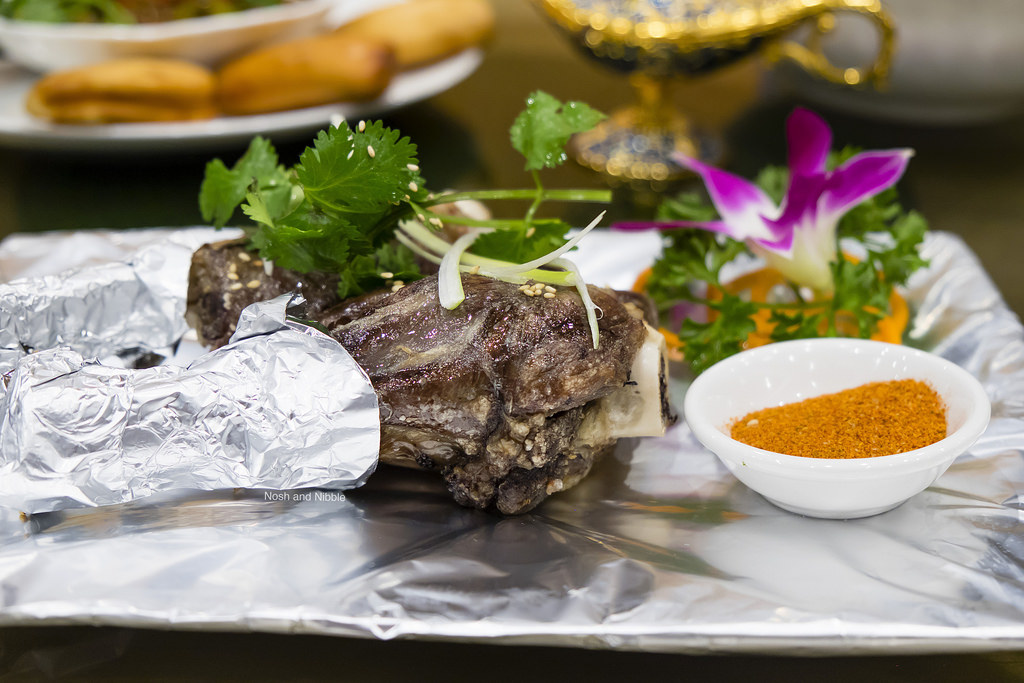 XinJiang-Style Lamb Leg Shanks
And finally, the biggest highlight of the evening was the lamb bone pot. Served atop a portable gas heater and full of bubbling hot pot justice, this was the homiest of any of our dishes tonight and the quantity finished me off. The meat literally fell off the bone and we were given plastic gloves to help eat the tender lamb. Again, house-made noodles were added to the broth to soak up the broth. I would come here just for these noodles dunked in either the dapanji or lamb bone pot broths and call it a meal.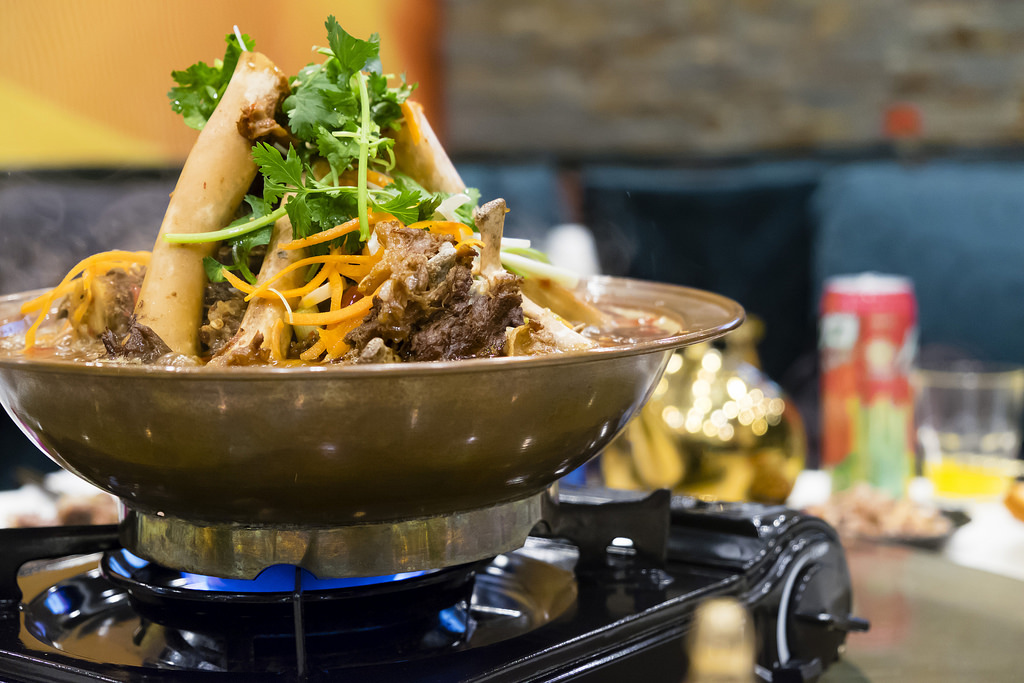 Lamb Bone Pot
To complement everything, we were also given these baked lamb buns. Similar to the dim sum variant, these were chock full of lamb and were borderline too oily for my palate. I'd recommend a sip of tea between bites to properly enjoy these.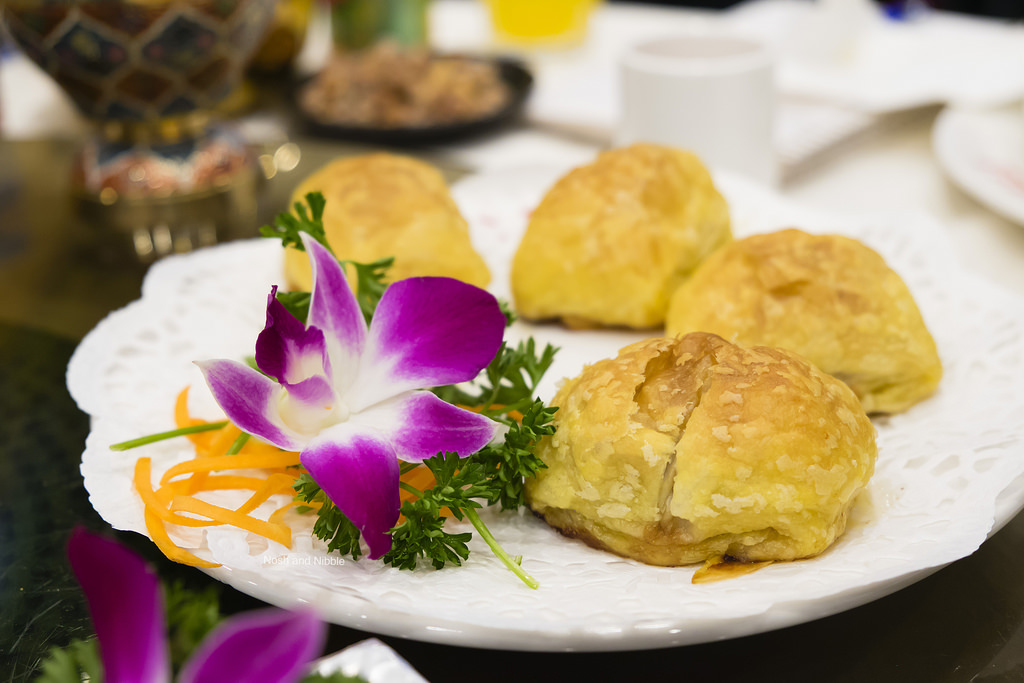 Baked Lamb Buns
Finally, for dessert, we had a sweet corn pancake. You might be wondering where the cream or cheese is, but remember XinJiang is a desert region, so this is actually kind of traditional to the climate. Each slice had a lot of texture and I enjoyed the crunchy corn. This dessert is worth trying if you've never dined in this northwestern region of China's cuisine.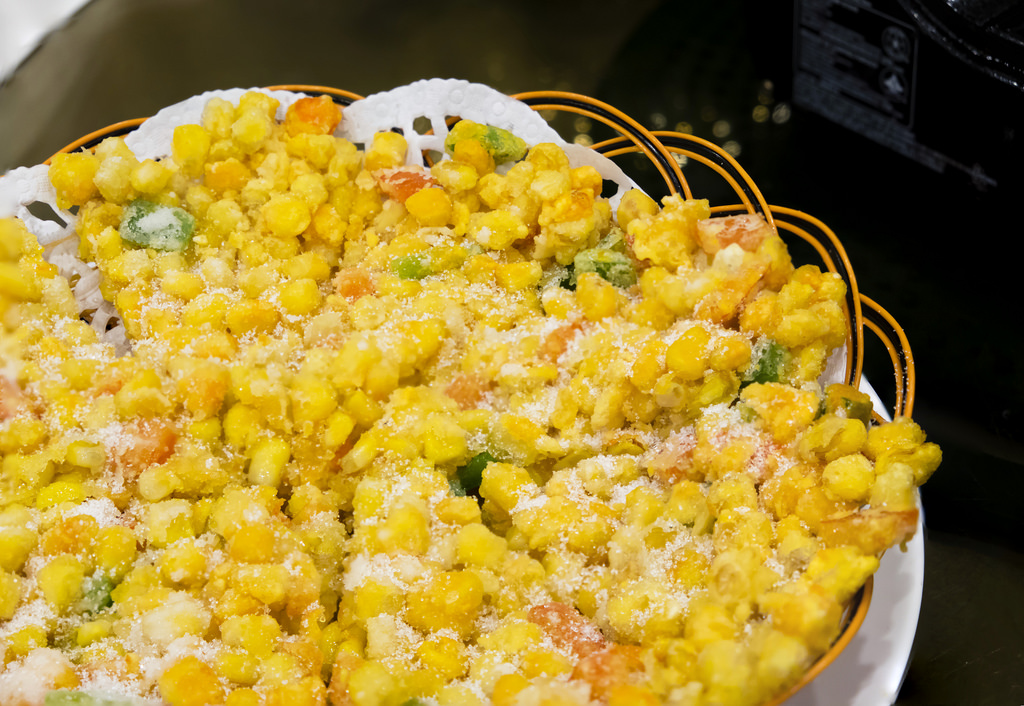 Sweet Corn Pancake
Features:
Beijiang Restaurant is a newly renovated space in Richmond. The interior is full of emerald greens, live seafood tanks, and a karaoke dinner room that can be pre-booked. Seating about 100 guests, there's certainly a spot for parties of all sizes, and the lighting is bright, making it easier to photograph your food if you're into that sort of thing. As you guessed from the title, everything here is halal, and you won't find pork on the menu. And for those who don't know, halal and non-halal meats taste the same – the only difference comes in how the animal is slaughtered.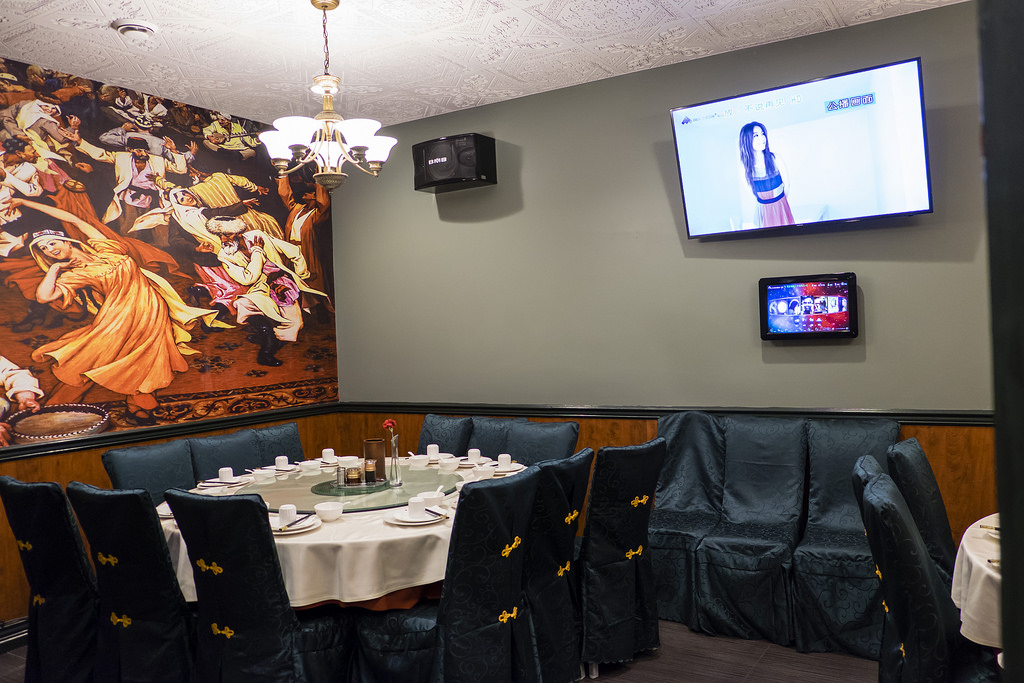 Beijiang Restaurant Karaoke Party Room
Depending on the size of your group, you'll also find half-price specials if you dine on Mondays thru Thursdays. To qualify, you'll need to spend $50 before tax on lunch, or $80 before tax on dinner. In my opinion, qualifying shouldn't be hard if you come with a group of 4 or 6, respectively.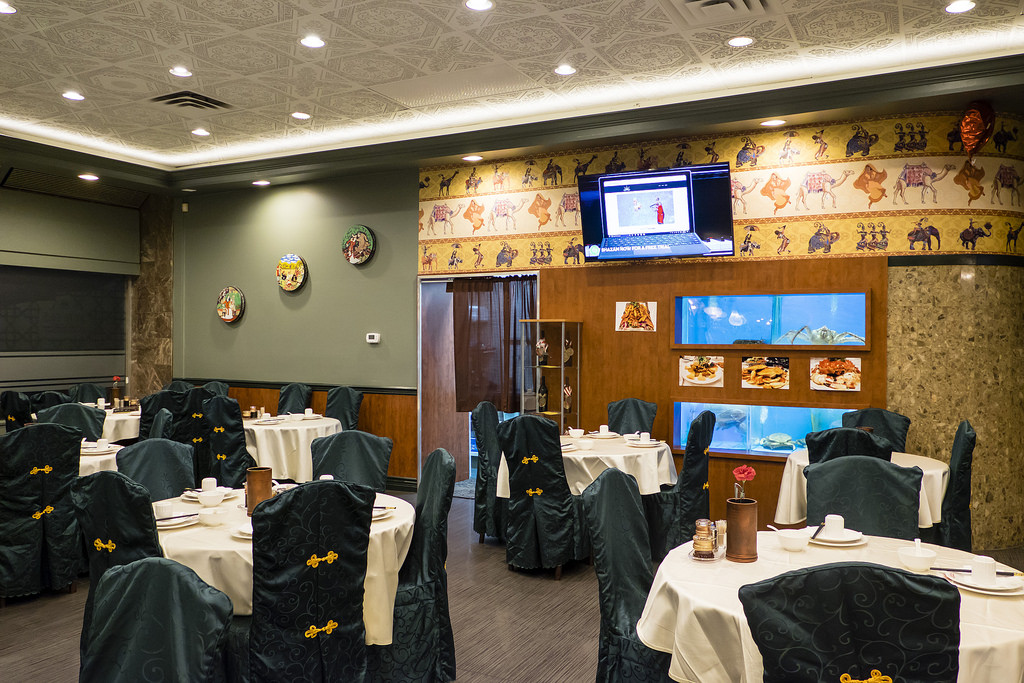 Inside Beijiang Restaurant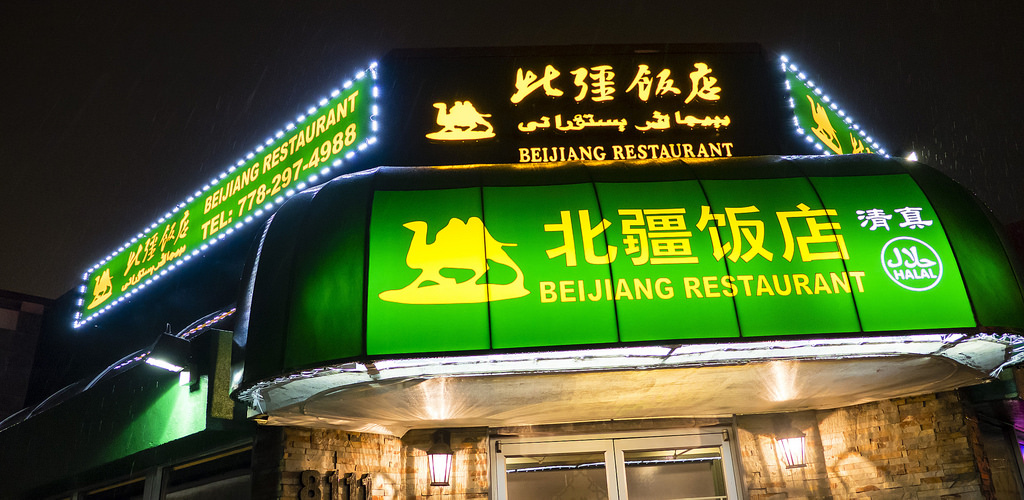 Outside Beijiang Restaurant
One-liner:
One-liner: A hard-to-find cuisine that explores Chinese northwestern region with a halal-friendly menu that will taste terrific on the palate of lamb lovers
Highlight: Lamb Bone Pot
Price per person: $20-$50 (they offer multi-course dinner packages and fresh seafood, so your price will vary)
Would I go back? Yes.