You don't survive as Napa's longest continually operating winery without strong ownership and the business wits to pivot to revitalize your product. Enter in Beringer Bros. and you have a winemaking vineyard that has introduced the world to hand-dug cellars, wine tours (actually a 20th-century introduction!), and the world's largest wine bottle back in 2004. Last week I had the chance to experience the wines for myself at Vancouver Yaletown's picturesque Brix & Mortar.
Disclosure: This was a media event. All opinions are my own.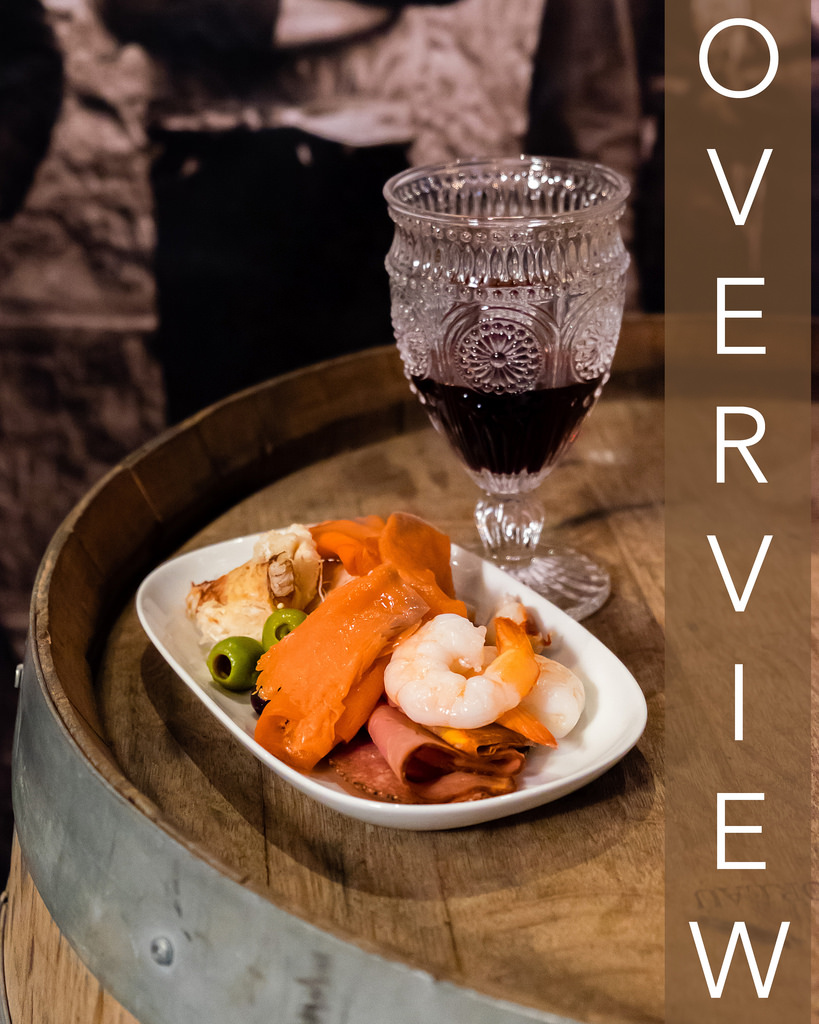 Beringer Bros. Bourbon Barrel Aged Wines
On display at this event were two key wines:
Beringer Bros. Chardonnay 2016 ($20 USD/btl)
Beringer Bros. Red Wine Blend 2016 ($20 USD/btl)
At first glance, these look like regular mid-priced bottles, but closer inspection of the bottles show a better-than-average bottle shape, and the label has a clear vintage (read: old-timey) look to it. This is a nice look that complements the storied history of the vineyards. These wines are aged for 60 days in bourbon barrels in order to pull extra flavour and buttery notes into their tasting profiles.
As far as tasting notes, the Chardonnay 2016 had ripe apricot, vanilla beam, and buttered toast.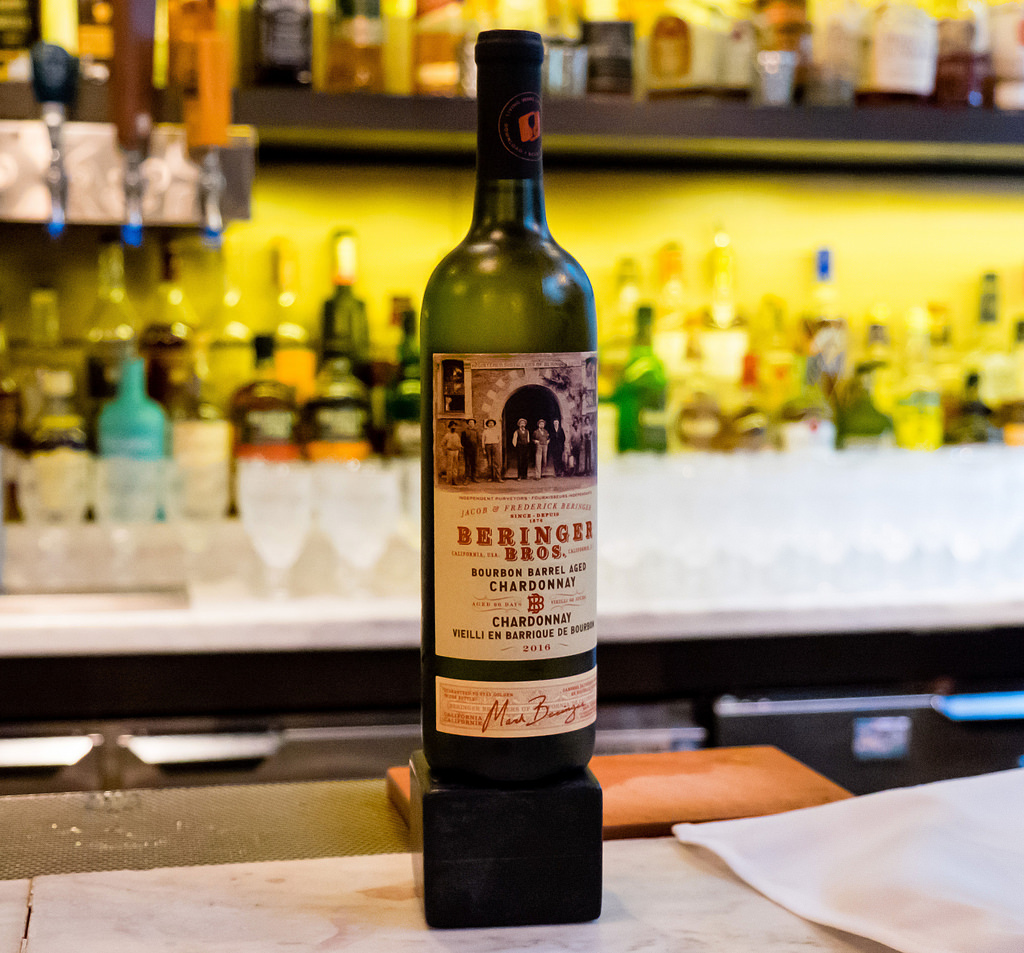 Beringer Bros. Chardonnay 2016
Let's talk about the Red Wine Blend 2016. Normally, I'm indifferent when it comes to blends because I think some wineries just try to use up leftover grapes. However, the Red Blend 2016 is a deliberate mix of reds (41% Petite Sirah, 21% Syrah, 18% Petit Verdot, 9% Cabernet Sauvignon, 9% Merlot) found through trial and error until a great combination (to again, be aged in bourbon barrels) was created. The tasting notes on this are ripe blackberries, roasted hazelnuts, and caramel.
Up until now, the caramels I'm used to usually come from tawny ports (and require 20 years of aging, at that). The Red Blend provides a similar sensation but at a quicker production cycle and at a cheaper price (as tawnys go, the older they are, the more expensive they get).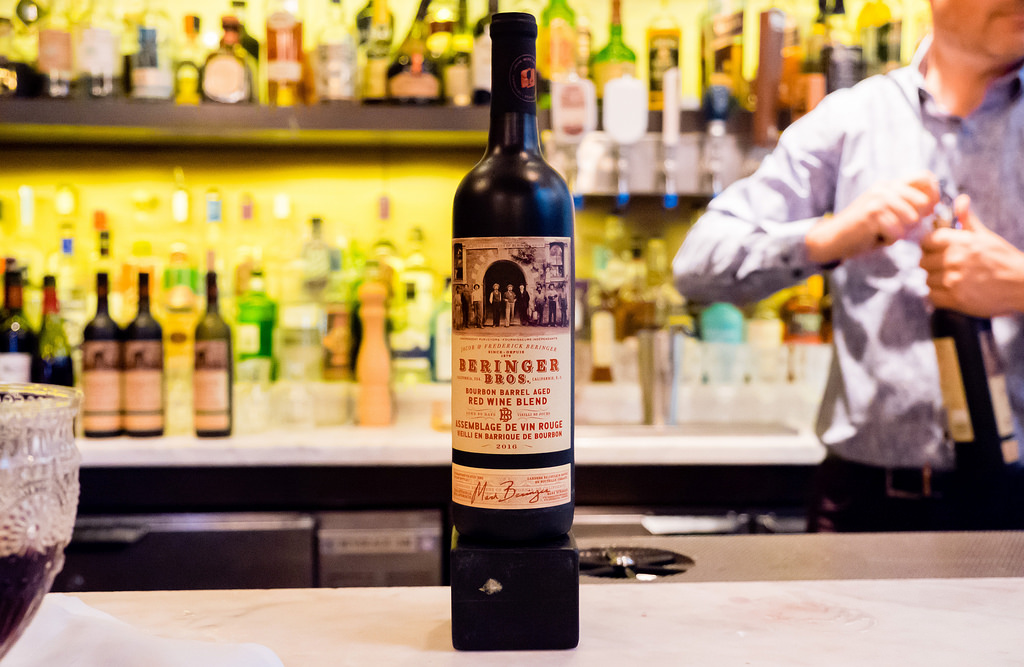 Beringer Bros. Red Wine Blend 2016
Features:
For tonight's event, we enjoyed an upscale charcuterie (we're talking seafood too) with small nibbles. I most enjoyed pairing my Chardonnay 2016 with the cocktail shrimp. The Red Wine Blend 2016, in my opinion, can be consumed straight as the caramel leaves a satisfying feeling on the palate.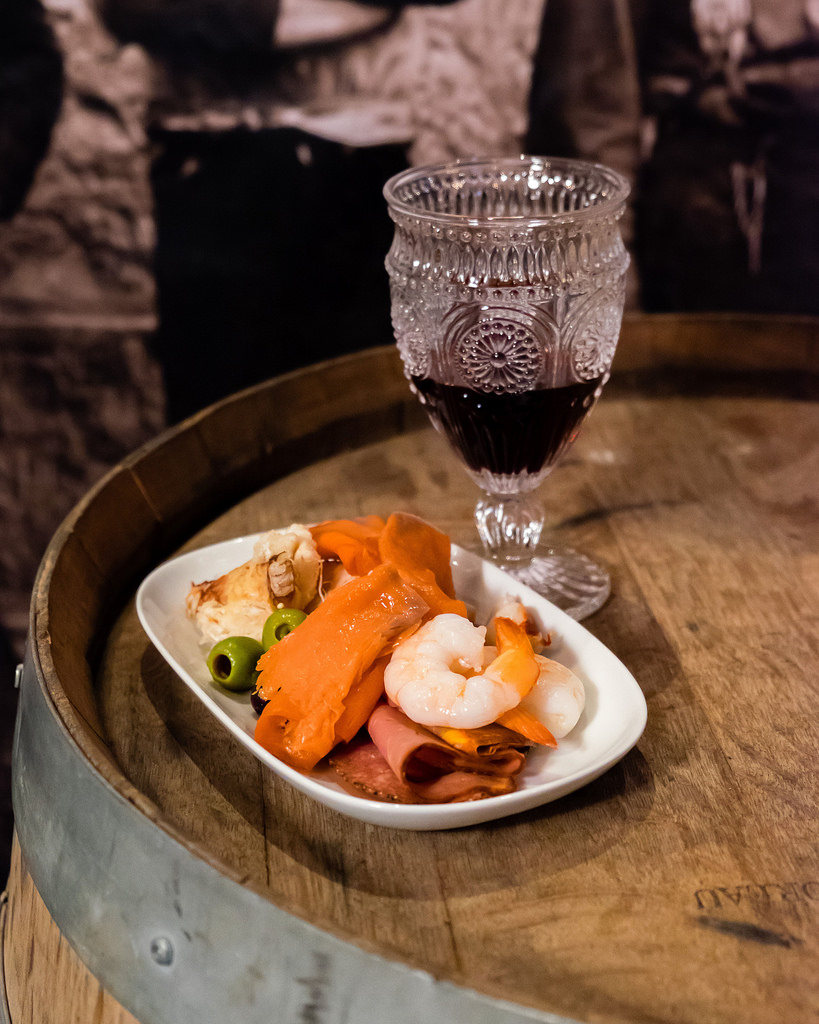 Red Wine Blend 2016 with Charcuterie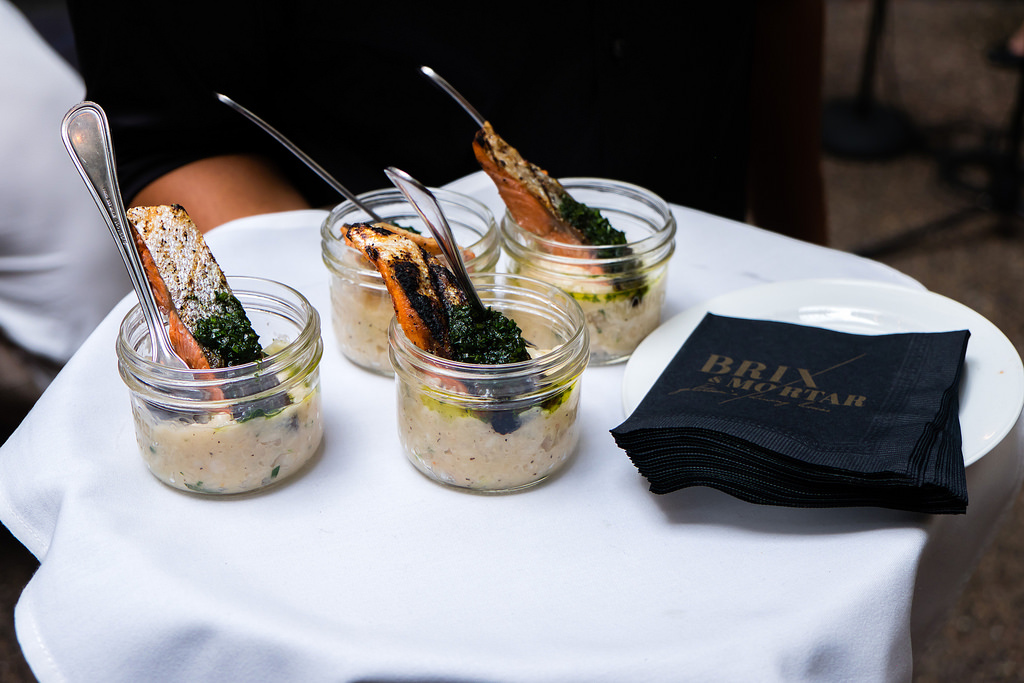 Salmon Steak
Entertainment was provided by way of a courtyard music group as well as early 20th century-themed costumes on all the servers.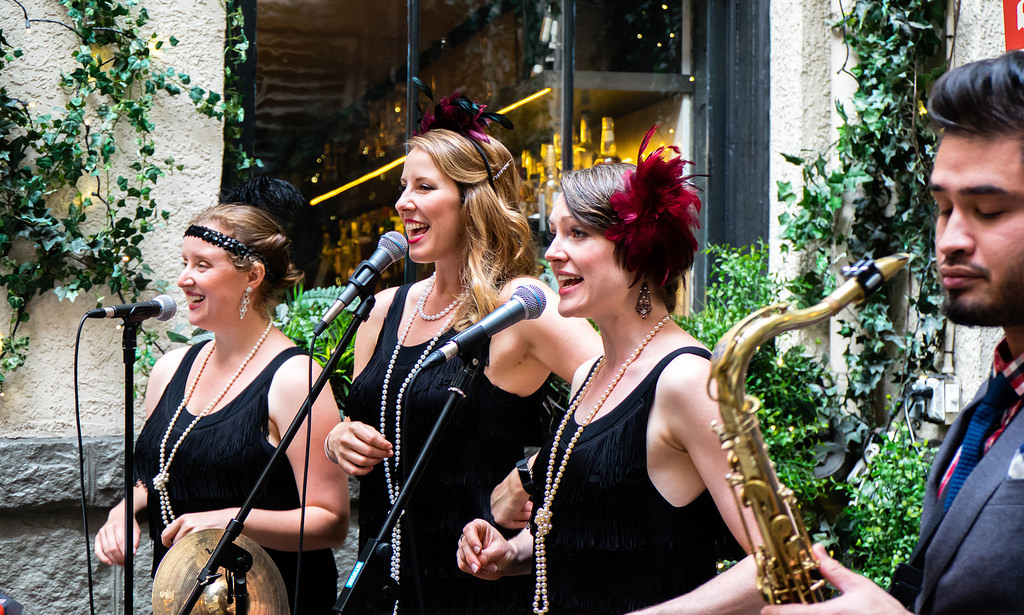 Entertainment
One more cool thing about Beringer Bros is that they are supported on the Living Wine Labels app. This means on your smartphone, you can hover your camera over a label of Beringer Bros. and watch the label come to life providing exposé and history on what you're about to consume. For anyone who's a Harry Potter fan like me, it's similar to any of the photos you'd see in the Daily Prophet.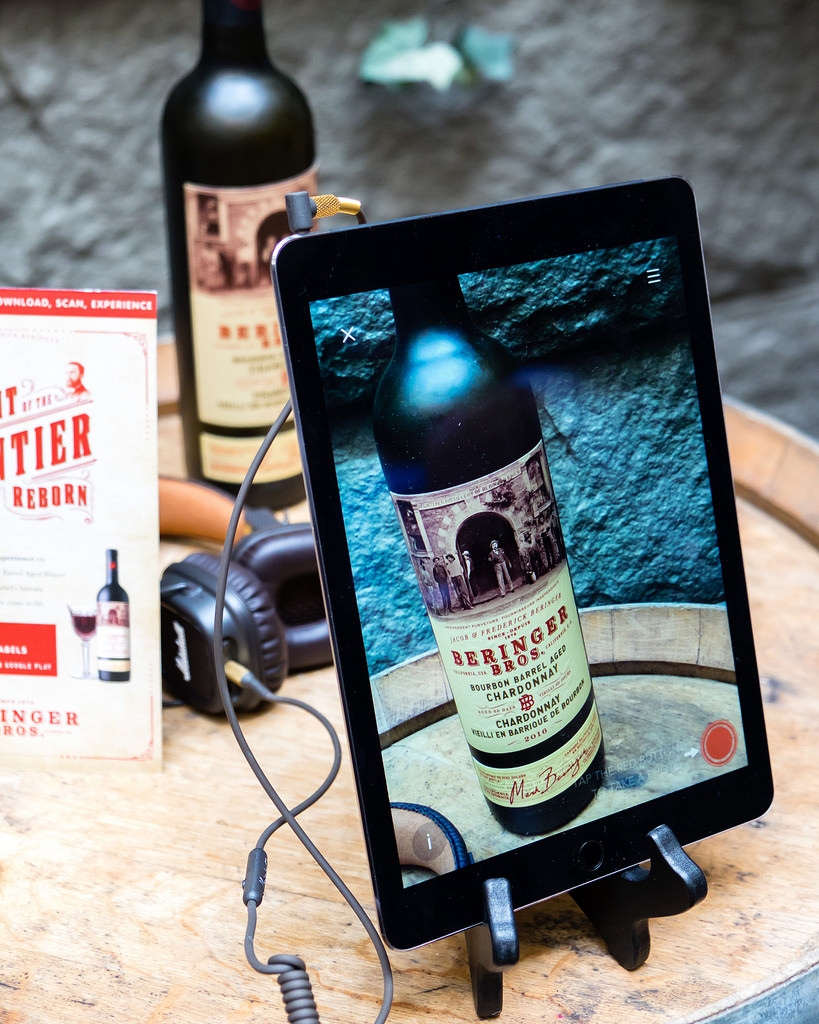 Living Wine Labels and Beringer
Brix & Mortar is a beautiful restaurant and I'd recommend setting a date to have in the courtyard if you're looking for something picturesque. It's quite often booked in the summer (read: weddings) but during offseasons, the courtyard is heated.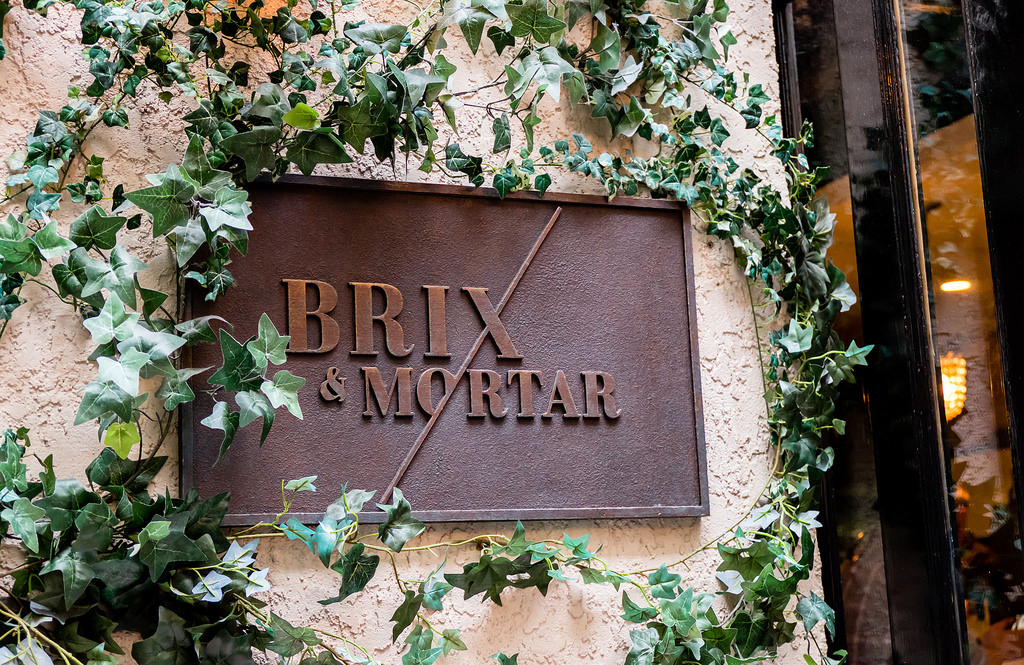 Outside Brix & Mortar
Fun Historical Facts on Beringer Vineyards:
1887 - Beringer wins their first wine awards
1920s - Beringer survives the Prohibition period by selling sacramental wine to churches
1934 - Beringer is the first winery to offer public tours in Napa
1996 - Beringer becomes the first winery to have both a #1 Red and #1 White wine chosen for Wine Spectator Magazine
2004 - Beringer gets Guiness-certified for creating the largest wine bottle (it contained 173 normal-sized bottles). It sold for $47,500 USD at a charity auction
Final Thoughts:
One-liner: Napa's longest continually operating winery innovates with their new bourbon barrel aged wines
Highlight: Red Wine Blend 2016
Cost per person: $20 USD/bottle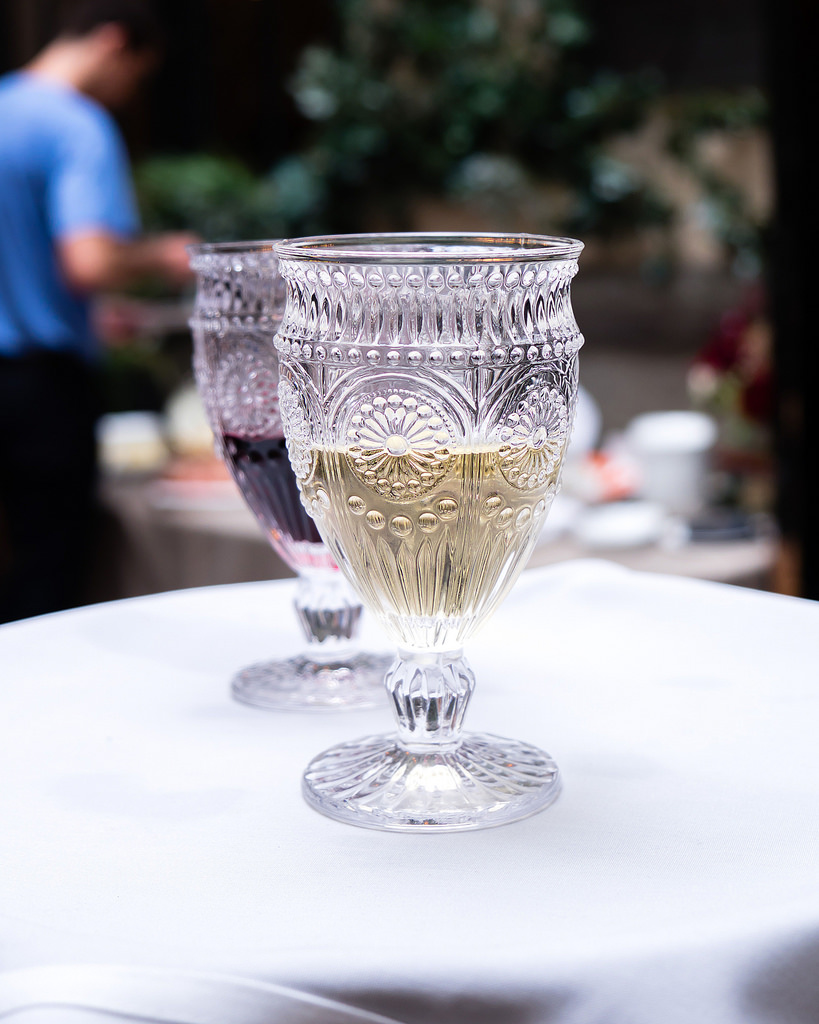 Beringer Bros Bourbon Barrel Aged Wines