As a business of the Circle Farm Tour, Hopcott Premium Meats Bistro in Pitt Meadows represents the joy of shopping local, supporting the Fraser Valley, and indulging in homey eats. As part of my journey to Harrison Hot Springs last week, I got to stop by this local farm store and learn about its best practices and bistro. I left with a greater appreciation of the farming and agriculture industry with which I'll describe in today's post.
Disclosure: This was a complimentary meal as part of a media visit of the Circle Farm Tour. All opinions are my own.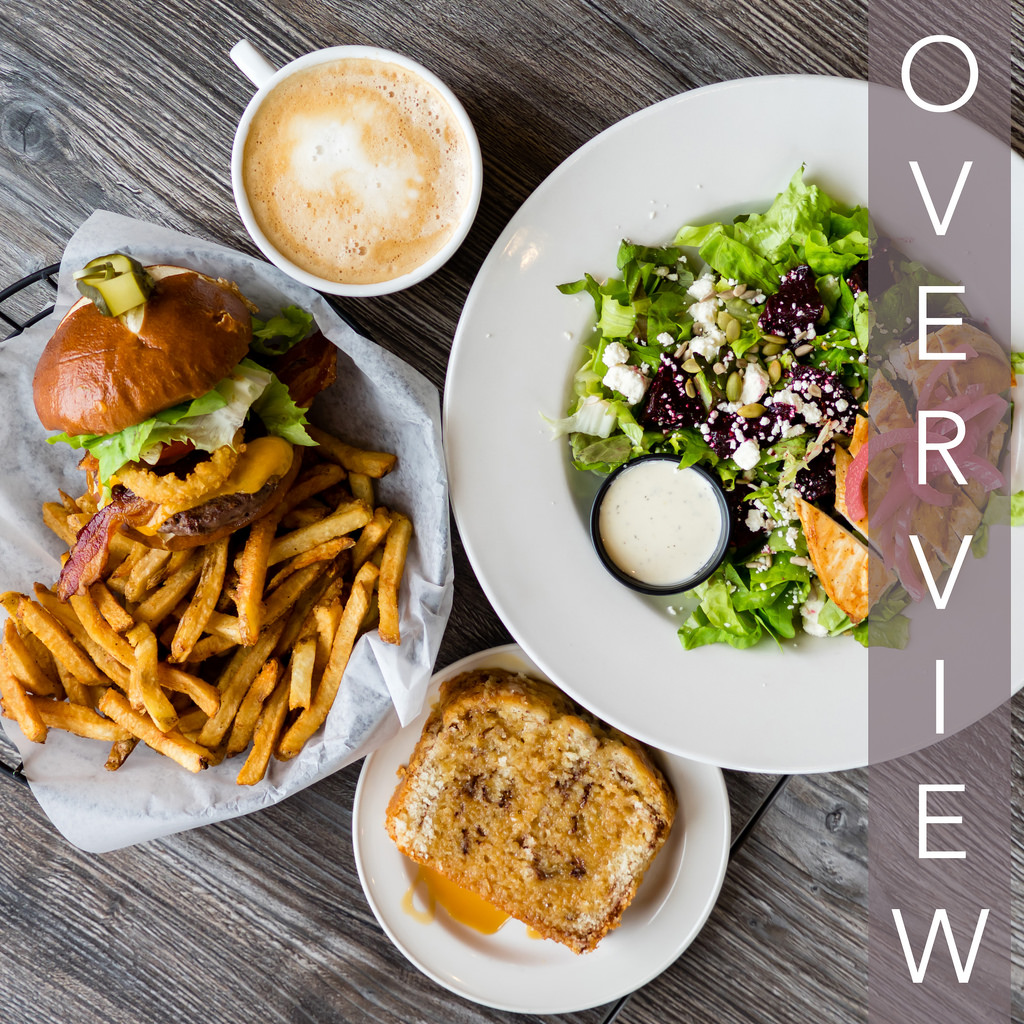 Food and Drink:
Team Tastic came here for a weekday lunch and I had a great taste of the following:
Latte ($2.75)
Farmer's Daughter Salad ($11.50)
BBQ Cheeseburger w/ Bacon and Onion Rings ($11 + $2 + $1.25)
Coffee Cake Slice ($2.95)
The latte looked like a standard latte – no latte art to speak of here. The key benefit of this latte though lay in its price. At $2.75, this 16oz pour was considered a small! This easily competes with fast food chains but trumps them in value especially given the local farmer vibe of this bistro.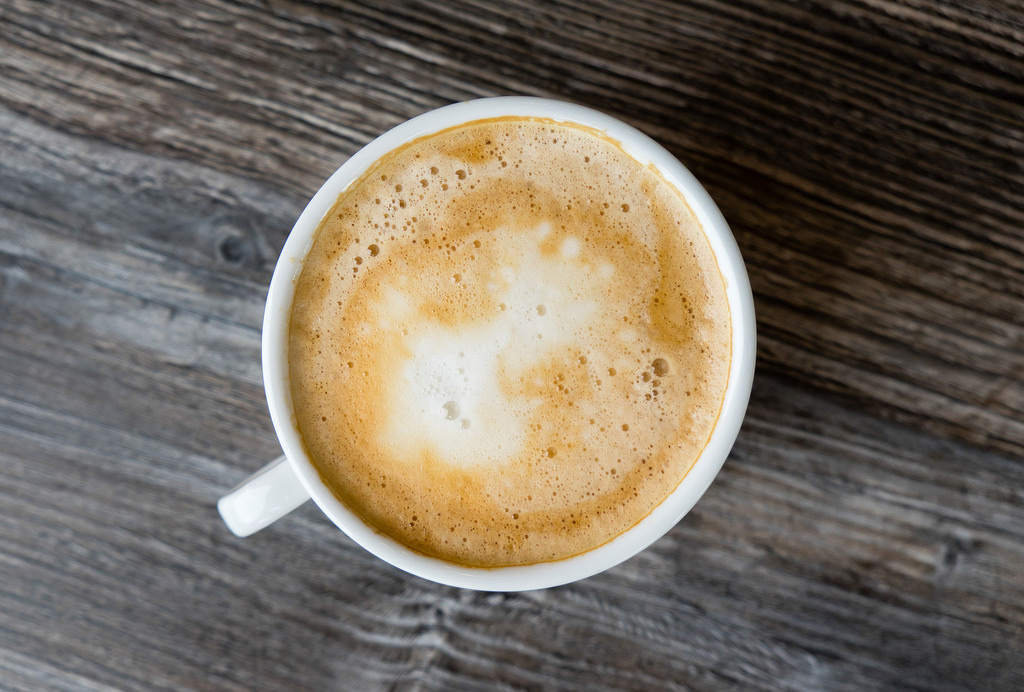 Latte
Next up was the Farmer's Daughter Salad. This was a plate of chicken breast, roasted beets, feta, pumpkin seeds, sunflower seeds, and mandarin dill dressing. The roasted beets here were the key highlight. Each beet was extra juicy and a step up in flavour compared to salads that feature simple beets straight out of the bag. I appreciated the extra effort on these beets and they were complemented well by the mandarin dill dressing for some extra citrus goodness.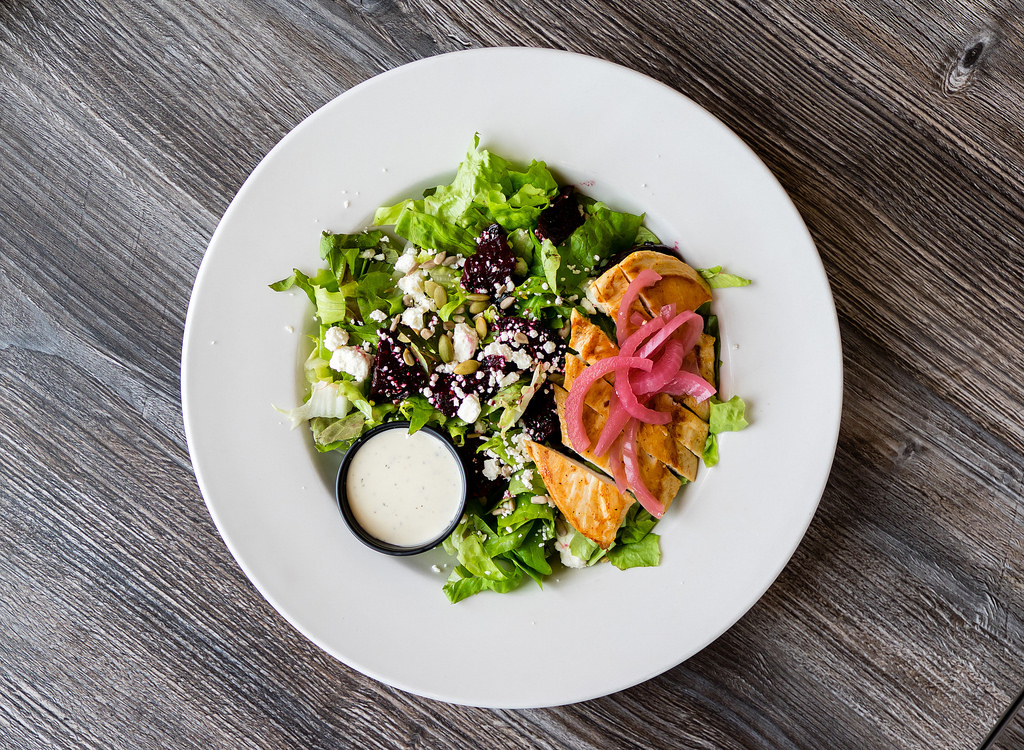 Farmer's Daughter Salad
The main reason for our visit was the BBQ Cheeseburger. With all the fixings, this was a cool $14.25 (I'm usually a fries kind of guy). This was a pretty feel-good burger with a chewy pretzel bun that compressed strips of bacon, onion ring, cheese, tomato, pickle, and BBQ sauce. The prime rib patty had a rich flavour profile (all beef at Hopcott is graded AAA or Prime) and a slight bounce in response to being chomped into. The bacon was juicy and the onion ring not too soggy.
For some context on the sourcing for the beef patty, cows are raised right outside the Hopcott grocer, slaughtered 5 minutes away, and butchered on-premises at the farm store. This is a great way to reduce carbon costs and provide a fresher burger.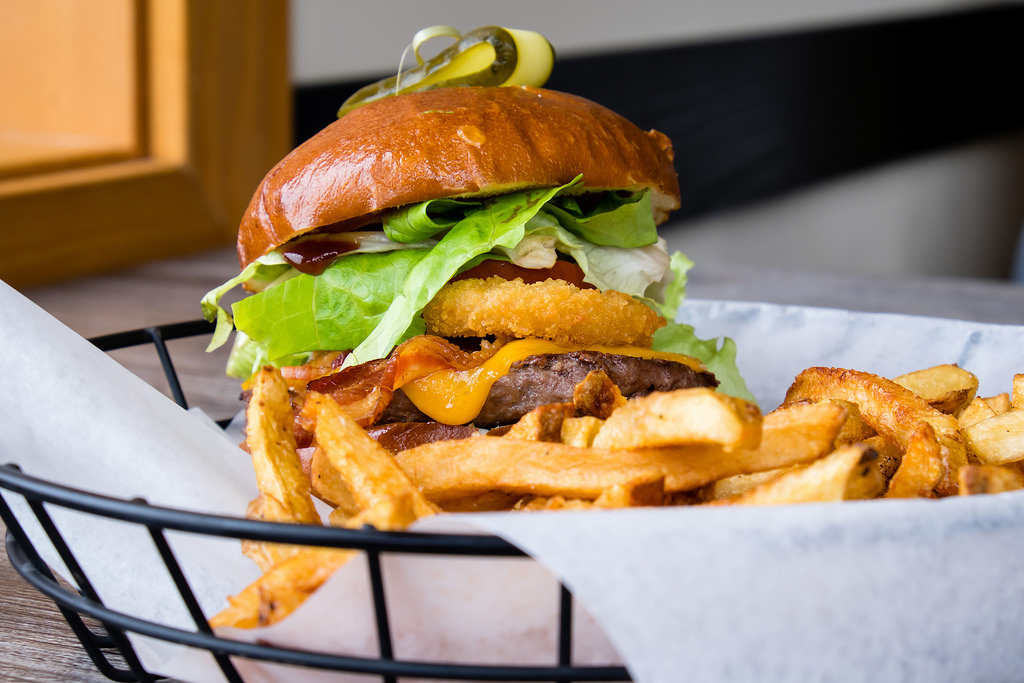 BBQ Cheeseburger with Bacon and Onion Ring
Last but not least we enjoyed a slice of coffee cake drizzled with caramel sauce. Freshness was pretty standard on this small loaf. If for some reason a burger and fries fail to fill you up, this loaf will fix that problem.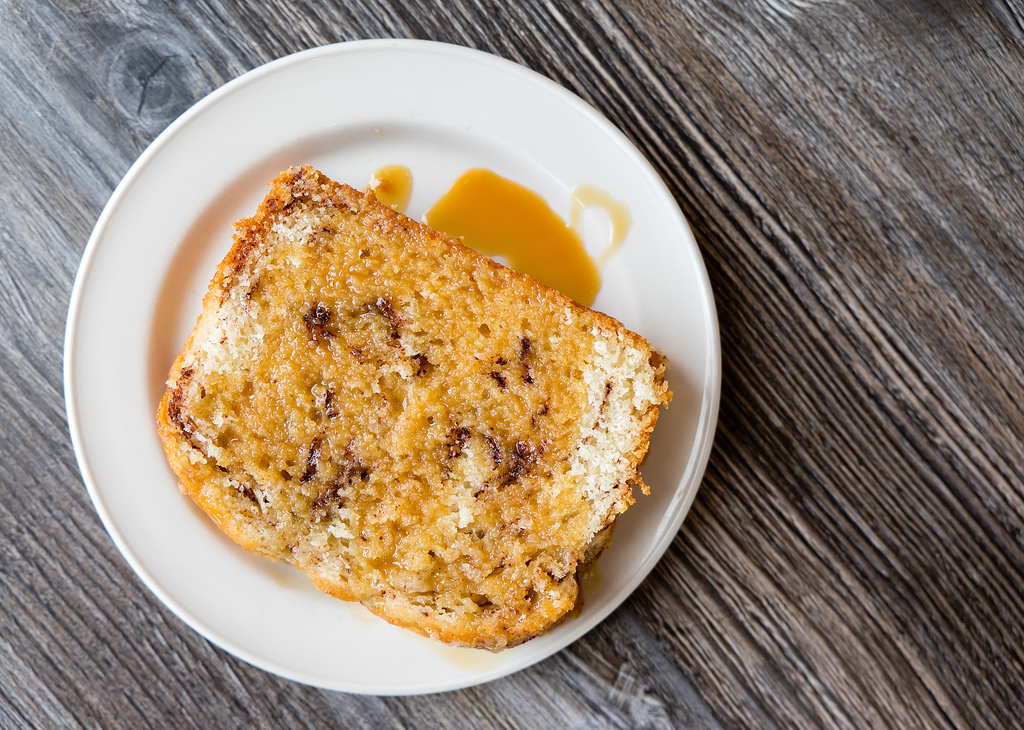 Coffee Cake
Features:
Hopcott Meats is a farm-turned-grocery store that farms cattle, cranberries, and animal corn in its backyard(s). In addition to being a full-fledged grocery, it has a farm-to-plate bistro and hosts weddings. Such a multi-faceted business has evolved from what was originally a milk farm owned and operated by the Hopcott family.
In its beef butcher service, the entire cow is butchered on-site and left to dry age in a giant walk-in freezer. This dry-aging process reduces the volume of beef but allows for greater concentration of flavour. The corn fed to the cows produces a marbling effect on the beef that contributes to its Prime or AAA score (you won't find AA or lower at this farm store).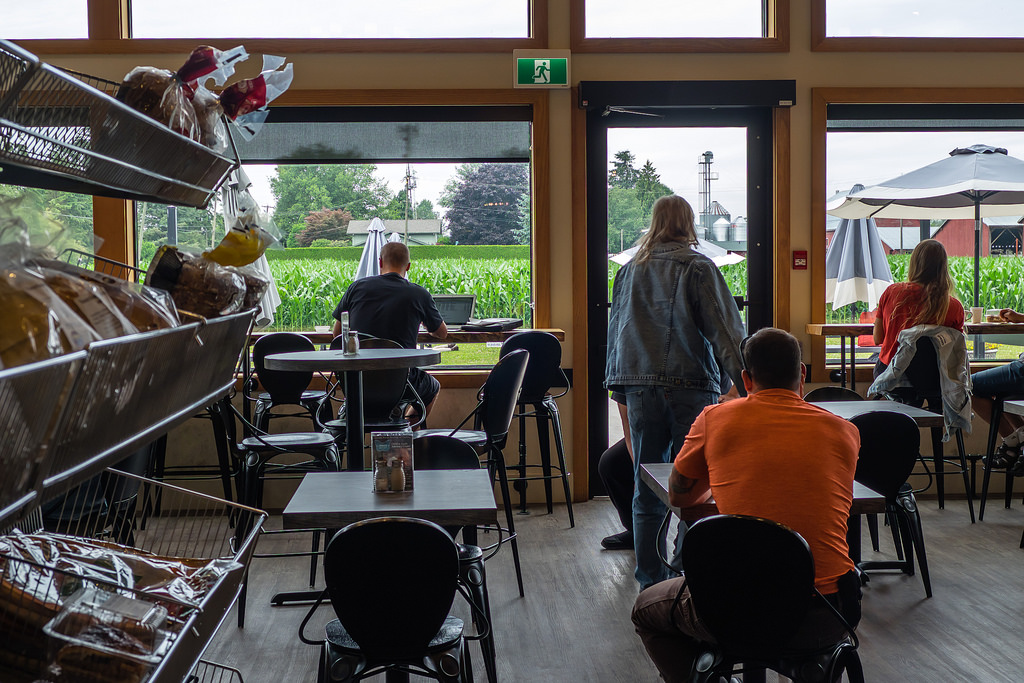 Inside Hopcott Premium Meats
The bistro is located at the west end of the grocery store and features a walk-up counter where customers can place and pay for their order prior to receiving a number. Staff will deliver orders to customers' table. In the bistro, there is seating for about 30 guests with more seating on the outdoor patio.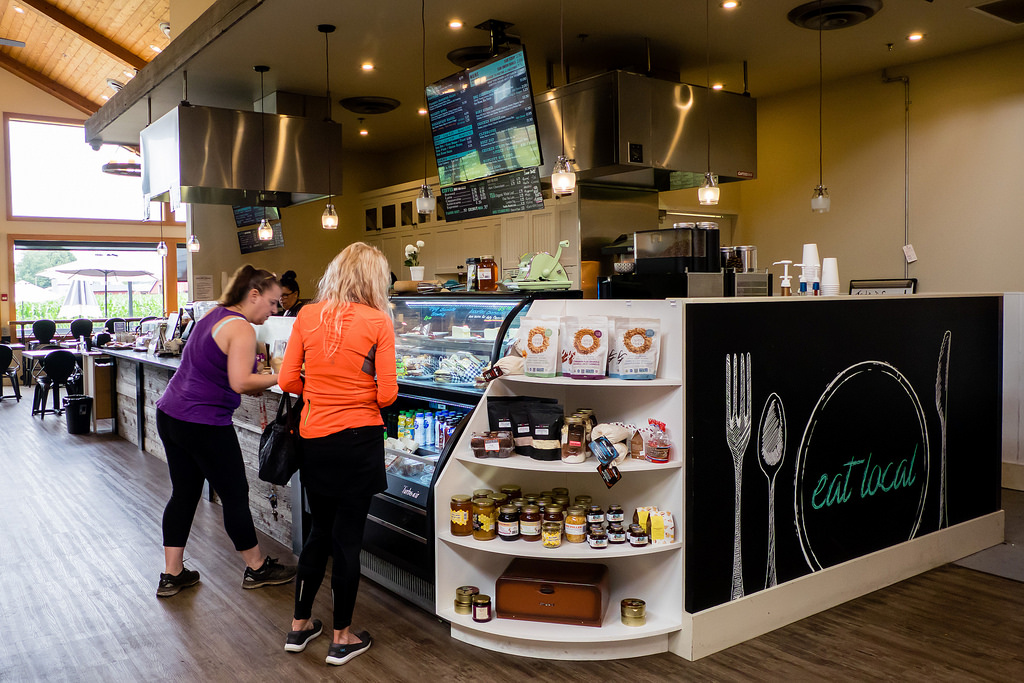 Hopcott Premium Meats Bistro
The description for Hopcott Meats as described in the Circle Farm Tour:
Specialty butcher and retail shop, offering high-quality, non-GMO, dry-aged beef. Shop for local meats, produce, dairy and gluten-free options. visit our farm-to-plate bistro. #Knowyourfarmer.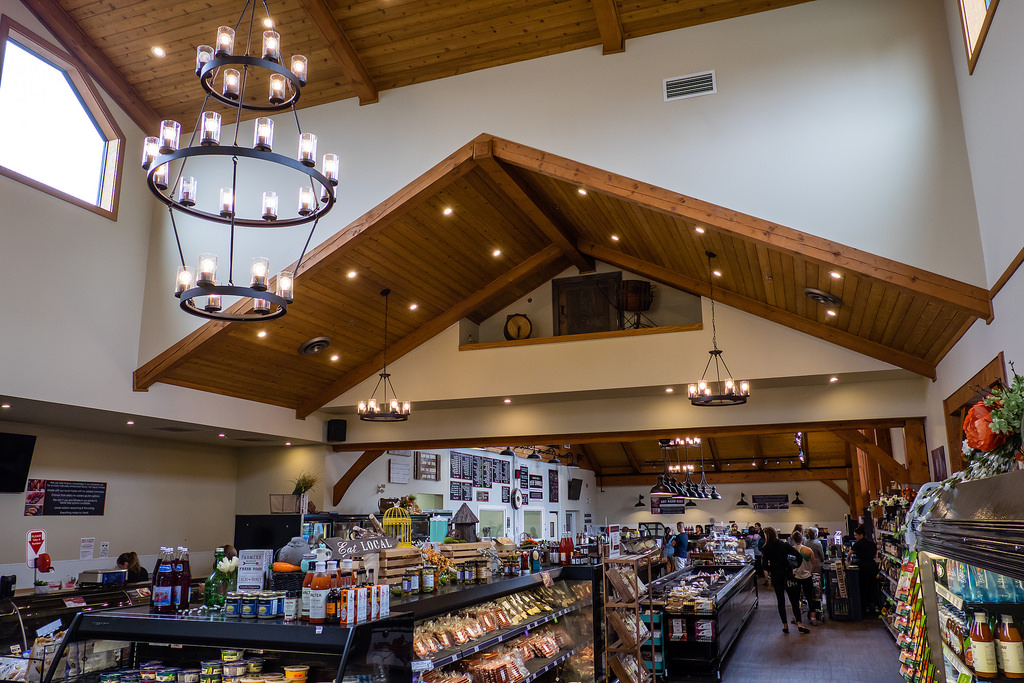 Inside Hopcott Premium Meats
Final Thoughts:
One-liner: Farm-to-plate goodness with the actual farm in the backyard
Highlight: BBQ Cheeseburger with all the fixings
Price per person: $10-$16
Would I go back? Yes.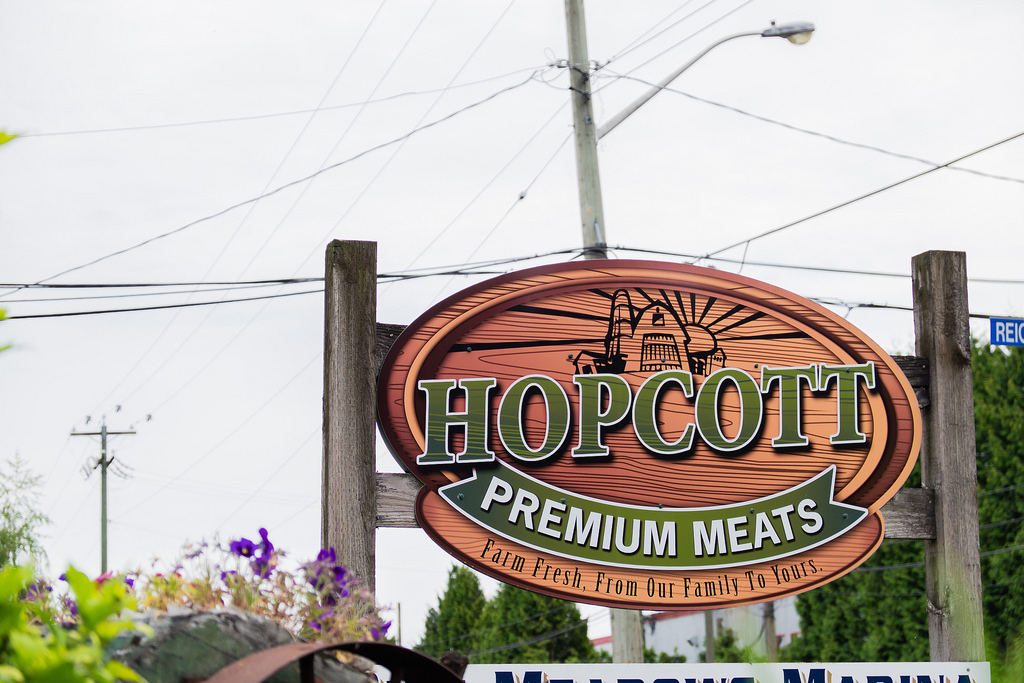 Outside Hopcott Premium Meats