It's hard to find a new cafe opening these days that fills more than the standard mission of serving the neighbourhood. In the case of Bonus Bakery though, there's an alternative mission of providing a fully plant-based menu to suit all varieties of diets. In a year where you can't hear enough about burgers with plant-based patties, it's nice to have an opening highlight the fact baked goods are also a piece of the puzzle. Last weekend, I had the chance to experience Bonus Bakery for myself.
Disclosure: This was a complimentary tasting provided in exchange for an honest overview and no monetary compensation.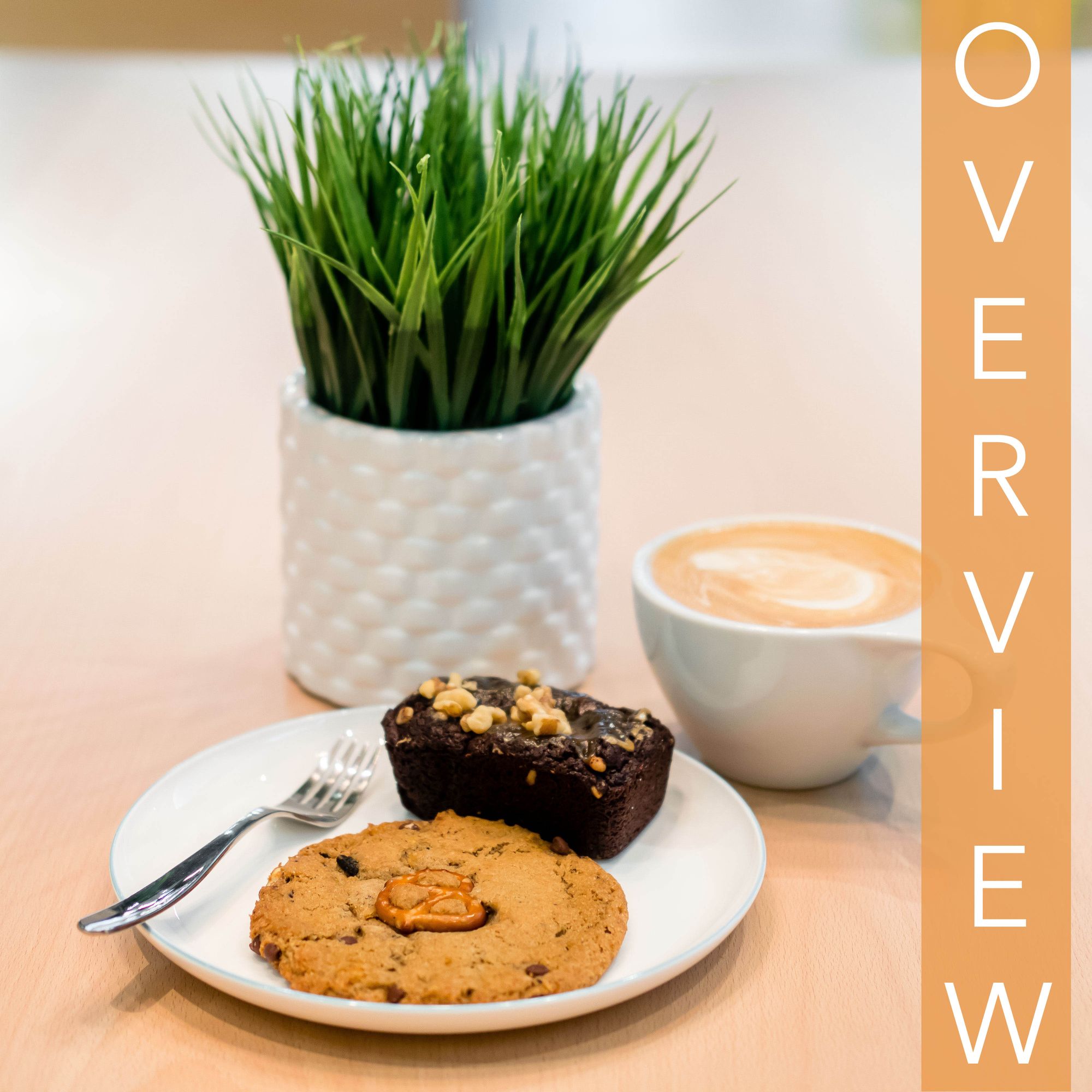 Food and Drink:
Team Tastic came here on a Saturday morning and I had myself a great taste of the following:
Latte w/ Cashew Milk ($4.50)
Bonus Cookie ($3.15)
Salted Caramel Walnut Brownie ($3.85)
The latte was made with Matchstick Coffee beans, a Vancouver-based roasting company. I was given the option of choosing between soy, coconut, almond, and cashew milk for this latte which is a huge variety. I opted for cashew as that was the least common choice for cafes in Vancouver. I was impressed with the frothiness of this cashew milk. Maybe I've just been burned in the past, but I came in with the impression that latte art would be next to impossible for nut-based milk. I was pleasantly surprised with the leaf-with-ripple pattern in my mug. Taste-wise this was pretty on point as far as Matchstick beans go. There was a pretty apparent cashew flavour but nothing as intense as a soy or coconut-based milk.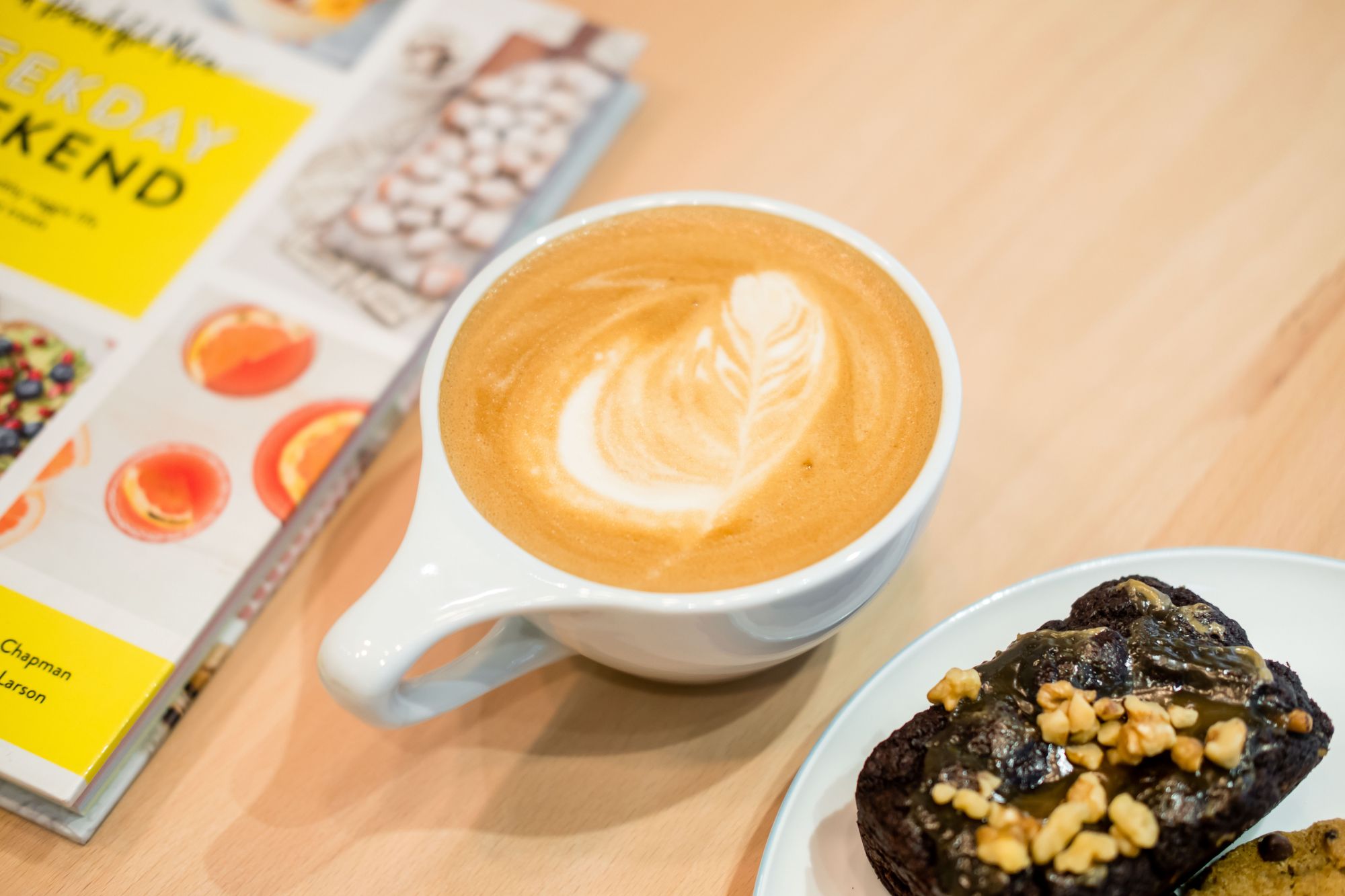 The Bonus Cookie was the namesake cookie of the cafe and it was insisted that I have one. Inside was a mix of chocolate chips, oreos, corn flakes, pretzels, and vegan marshmallows. Aside from the Momofuku "compost-style" mish-mash of ingredients, this was one chewy cookie, and that's the way I like them. Each bite contained a solid mix of the transparent ingredient list and I could eat a stack of them if I wasn't careful. I suspect the marshmallows are what gave this cookie a ton of chew.
Speaking of which, the coolest ingredient was the "vegan marshmallow". You might think marshmallows are inherently vegan, but since they contain gelatin, and gelatin is derived from the collagen inside animals' skin and bones, they are not vegan. The bonus cookie is made from scratch in-house.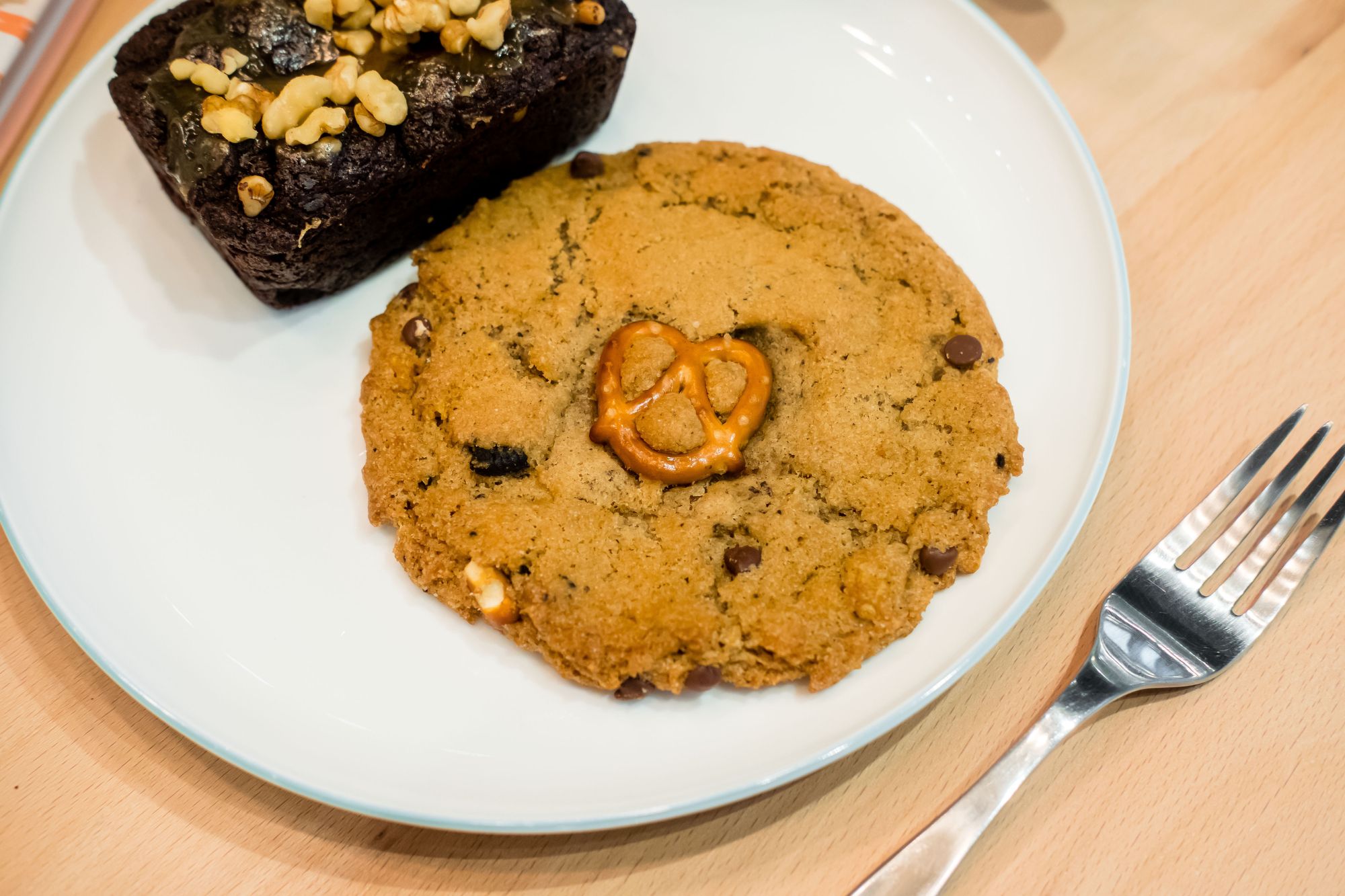 Finally, we enjoyed a salted caramel walnut brownie. I was drawn in by the plump appearance of the bar and was curious as to how moist it would taste. Butter and eggs are the usual agents of making brownies moist so I was quite happy with the moist dough and mild salted caramel (we're talking sprinkles of salt as opposed to shards). My guess is that coconut oil is a regent to making this brownie extra moist and if so, my kudos to the baker. Similar to the bonus cookie, this brownie is made from scratch in-house.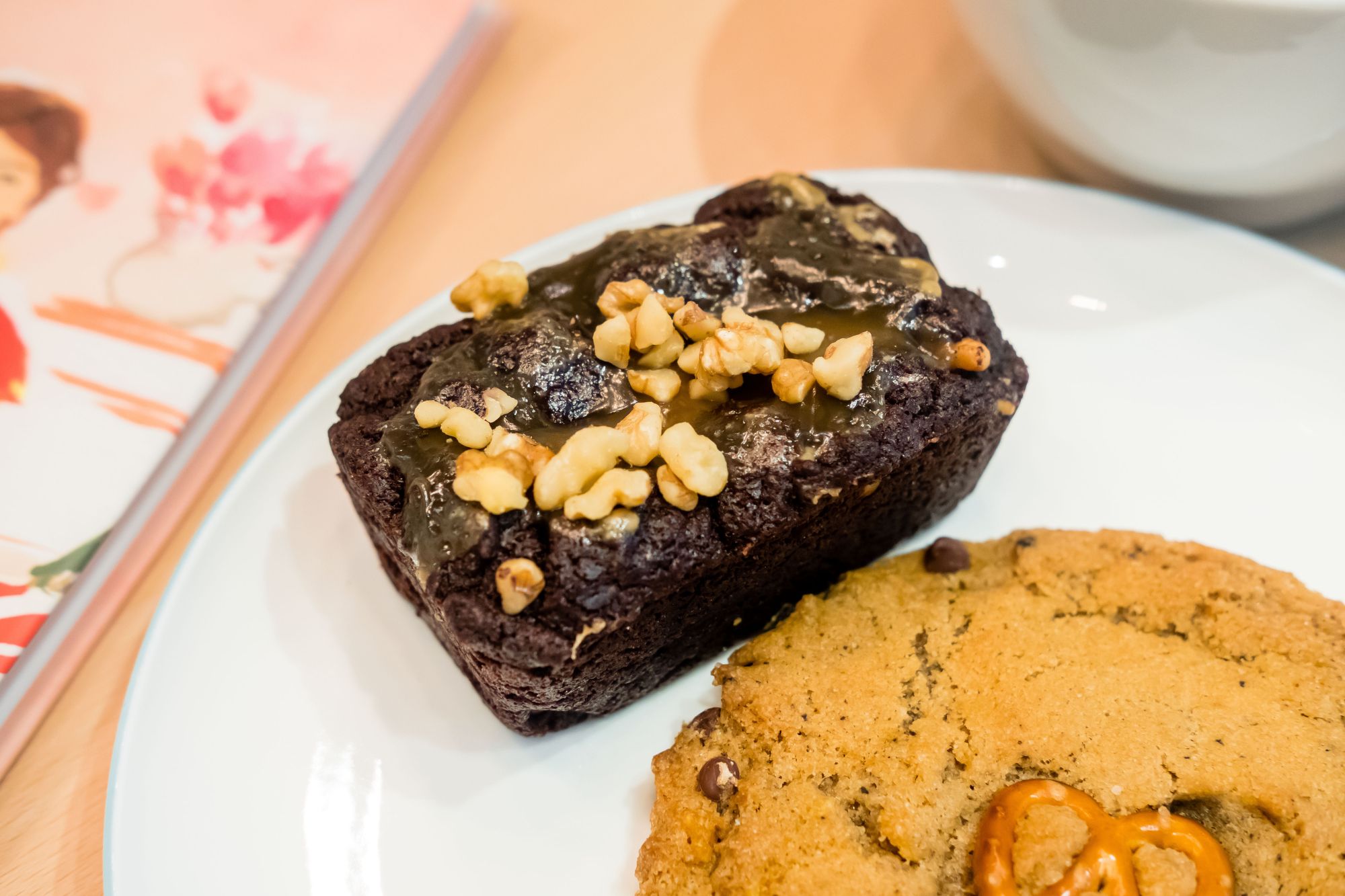 Features:
Bonus Bakery takes up residence in one-half of a Freshii location in Downtown Vancouver.
Fun fact: Bonus Bakery is co-founded by Pierre Tanguy, a marketing and sales professional of Freshii, so it feels like Bonus Bakery is a new venture incubated by the healthy food chain.
Another fun fact: Bonus Bakery is named after the goal of obtaining stars in video games. I'm sure a certain Italian plumber is smiling from somewhere in Japan.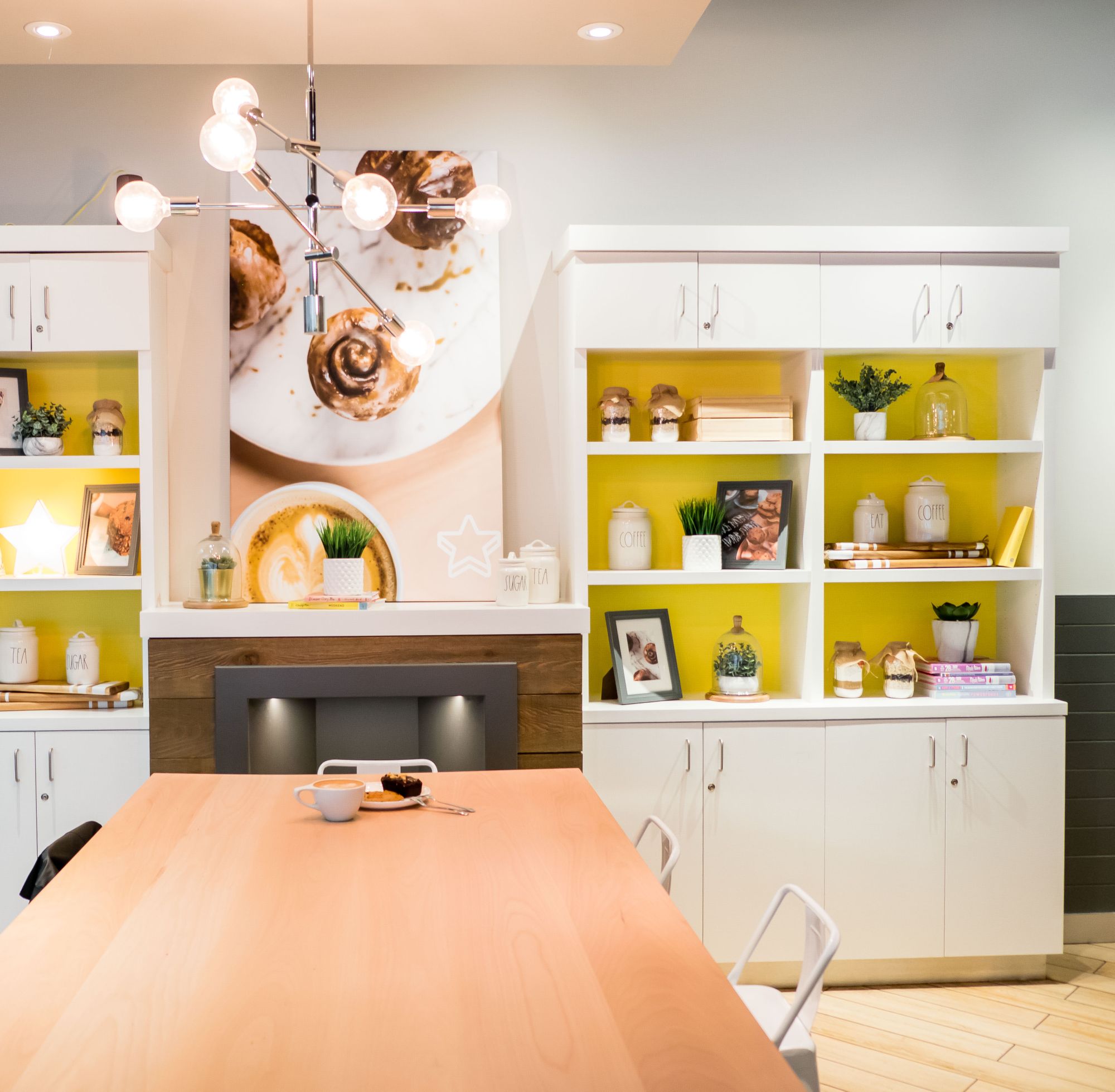 Inside Bonus Bakery is dedicated seating for about 20 guests amongst a window counter, a long bench, and a giant communal table. Contrasting against the concrete vibe of downtown is a rather homey vibe with the wooden shelves, fake plants, and books lining said shelves. I imagine the communal table could be used by students and accounting professionals for laying out textbooks and being productive.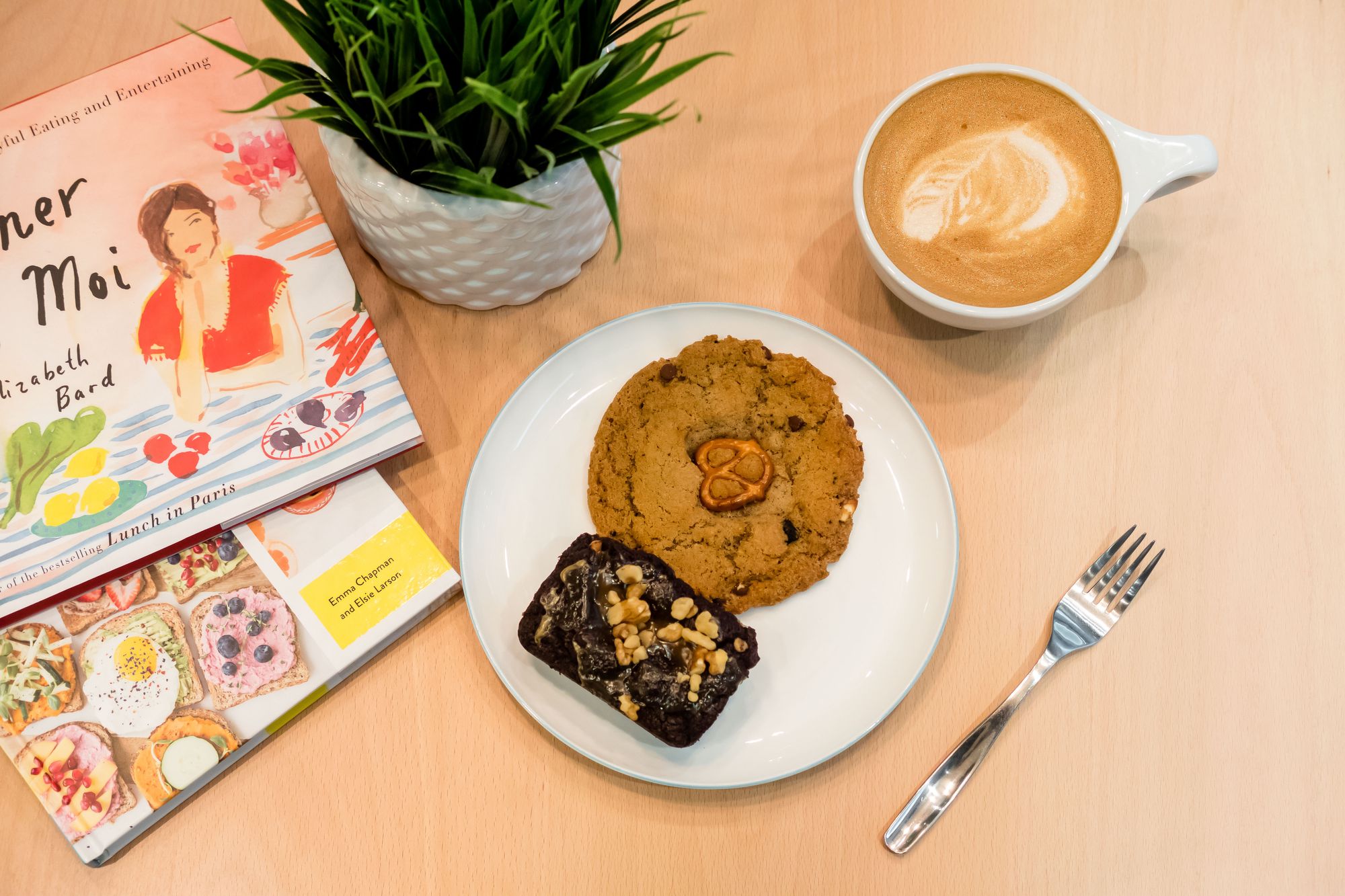 Final Thoughts:
One-liner: 100% plant-based cafe with worthy substitutes for chewy cookies and moist brownies
Price per person: $6-$15
Highlight: Salted Caramel Walnut Brownie
Would I go back? Yes.