Tea is a pastime that's a hallmark of social gatherings in Vancouver. Tea time's origins began as far back the 1840s. In the present day, the British tradition remains strong at Secret Garden Tea Company, where tea is a traditional experience that's celebrated 7 days a week in multiple tea sessions. There is some debate about the difference between high tea and afternoon tea, but Secret Garden bills their tea experience as "high tea". Last week, fresh off a Sun Run, I headed to Kerrisdale to experience the recently unveiled vegan high tea menu at Secret Garden.
Disclosure: This was a complimentary tasting provided in exchange for an honest overview and no monetary compensation.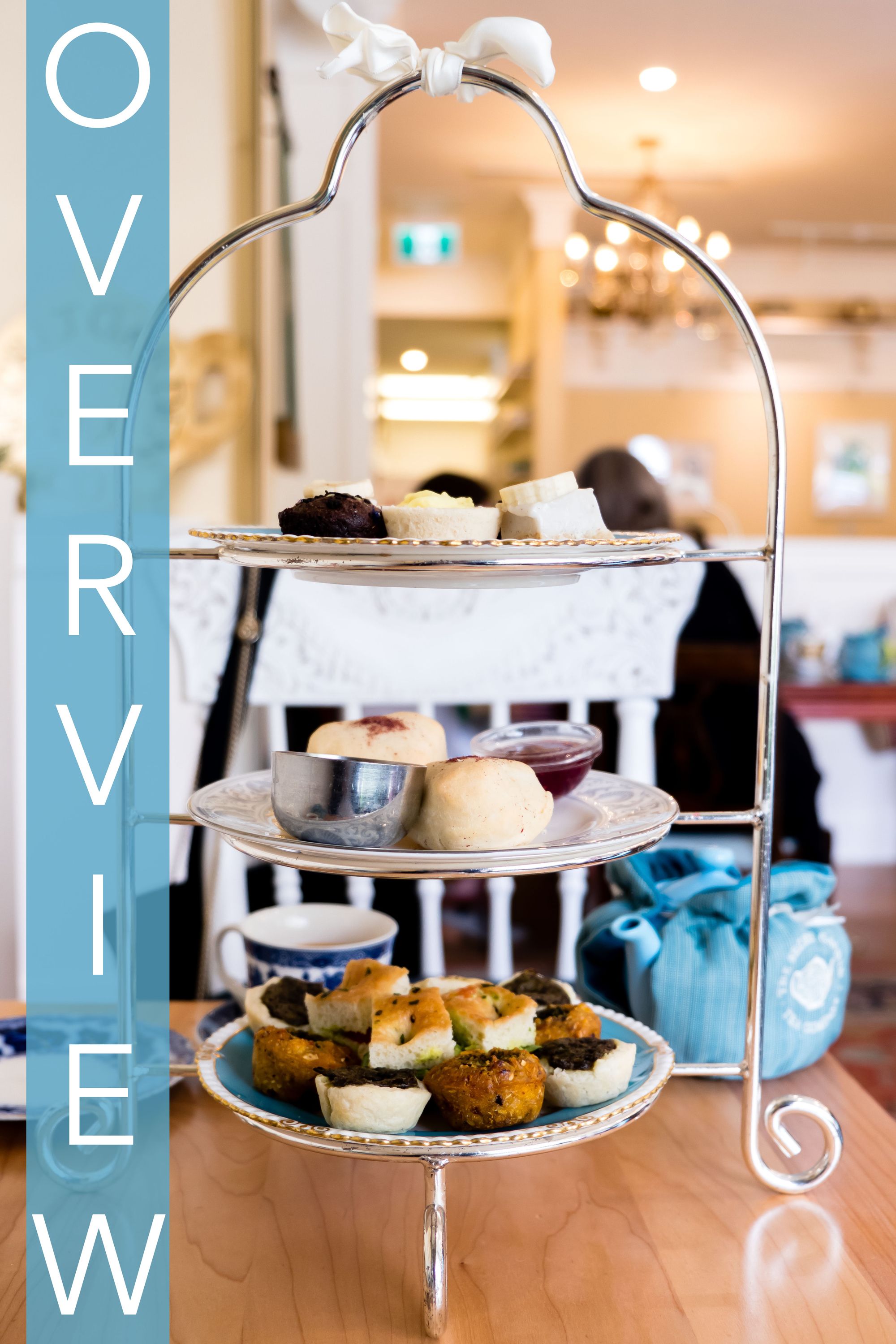 Vegan High Tea at Secret Garden Tea Company
Team Tastic came here for a Sunday noon tea session and I had a great taste of the following in the Vegan High Tea ($40/person):
Savouries
Creamy Mini Leek & Mushroom Pies
Housemade Focaccia Sandwiches with Avocado Tomato, Spinach and Green Goddess Dressing
Roasted Red Peppers & Kalamata Olives on Savoury Pesto Cornbread Muffins
Sweets
Vanilla Rose Scones with Raspberry Jam
Strawberry Viennese Whirl Cookies
Tangy Mini Lemon Tarts
Lavender Earl Grey Brownies
Coconut Banana Cream Pie
The goods above are made without any milk, cream, eggs or honey. I'm informed that the new menu item came about partially due to customer demand, and in part due to dietary changes co-owners Kathy and Erin Wyder made themselves. What's nice to note is that Secret Garden now offers regular, gluten-free, vegetarian, and vegan variations of high tea.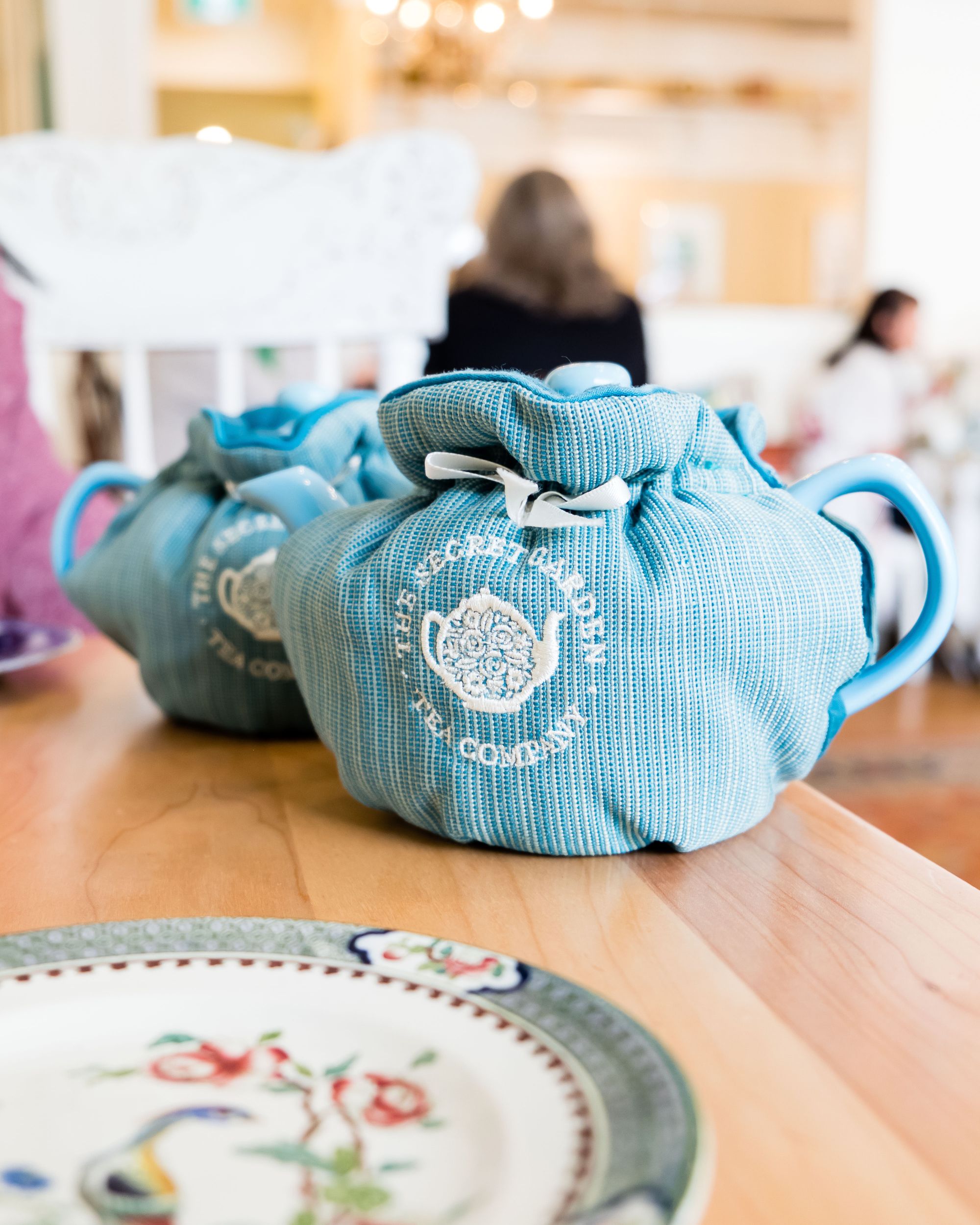 Included in every high tea is a pot of tea per person chosen from the Secret Garden Tea menu. For my tea, I opted for the Secret Garden's Secret tea which was a loose leaf black tea sweetened with grenadine. This had a traditional black tea bitterness smoothed out with the grenadine. It's a secret because grenadine is traditionally used in alcoholic beverages but here it's present in tea.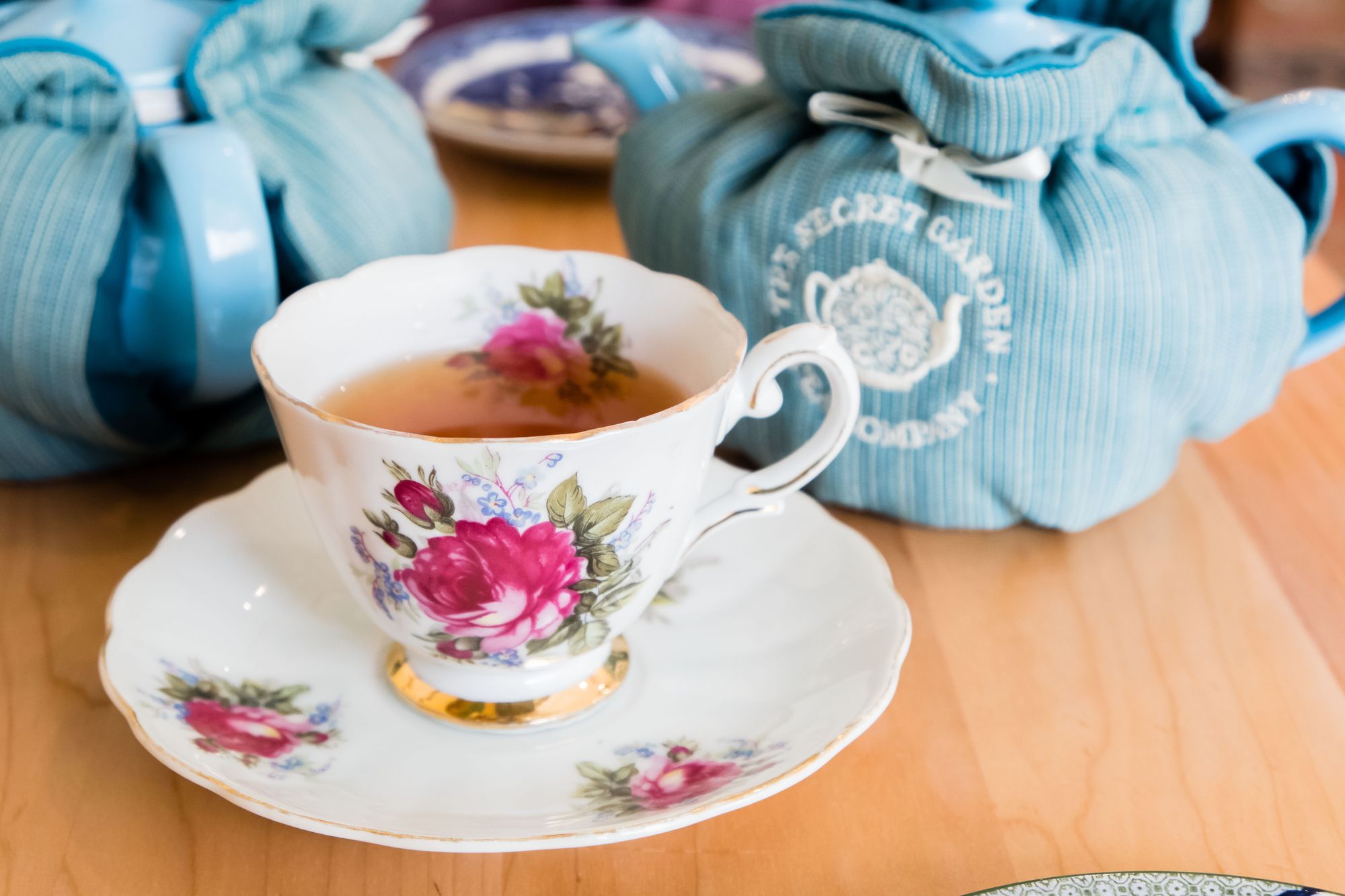 How high tea generally works is you have your bread (or vegan scones) in the bottom tier, savouries and sandwiches in the middle tier, and desserts in the top tier. I guess at Secret Garden the scones come with a sweet jam making them more qualified for the middle tier. In any case, the tea stand came as follows.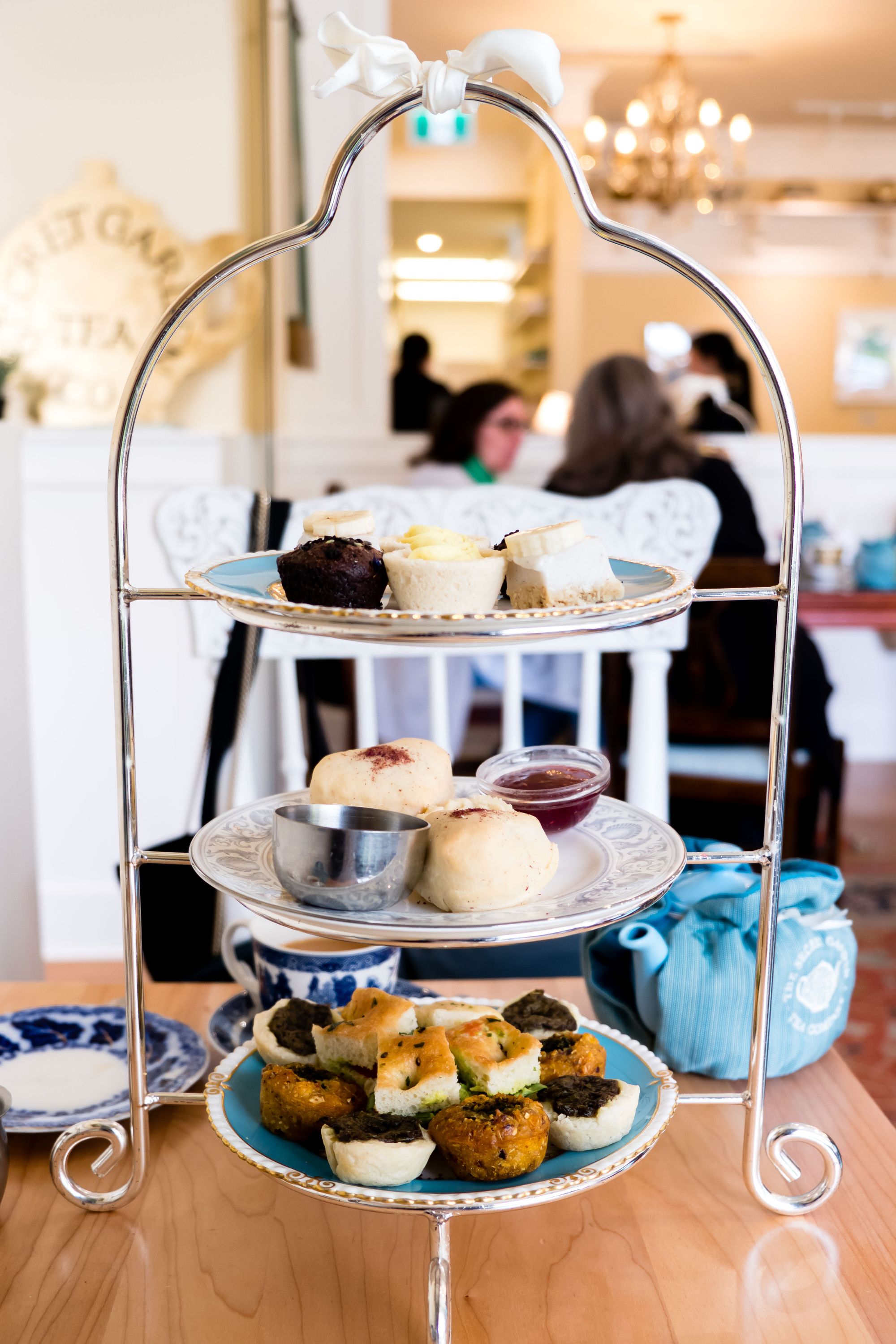 I started with the vanilla rose scones and strawberry Viennese whirl cookies. The whirl cookies were fantastic. These broke with a satisfying crisp and were filled with a fresh-tasting strawberry jam. The ridges on the cookies were strong making each bite a fun and textured one. The vanilla rose scones were a butter-free of the classic tea treat. Served with a side of raspberry jam, the best way to enjoy these were to spread a heaping amount of jam and chomping in. The vanilla dusting on top persisted quite well. I wish the rose fragrance shone through stronger in this scone.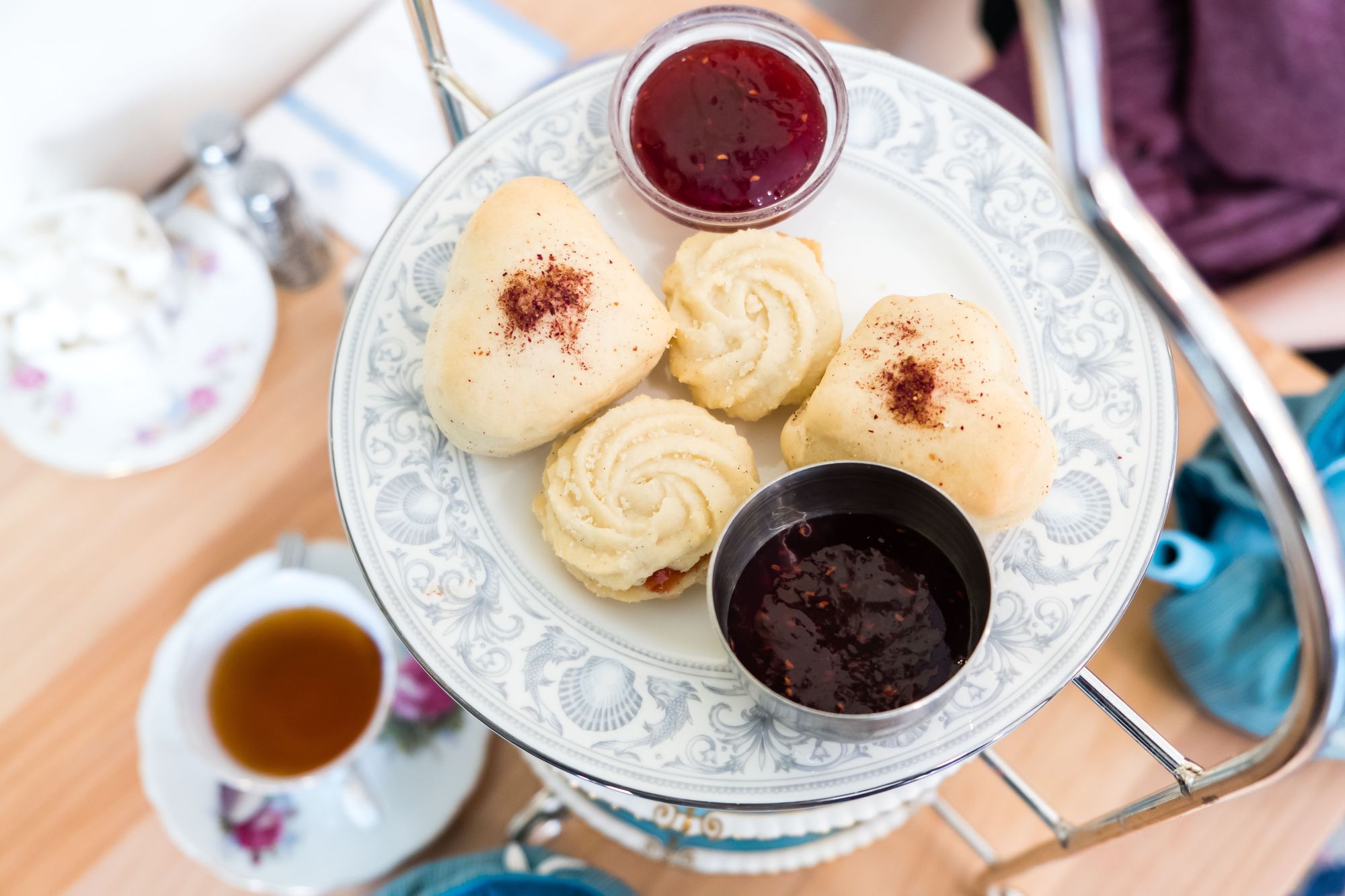 In the savoury layer, I enjoyed all of the treats. The mini leek and mushroom pie was a moist pastry and I was wondering if coconut oil was the secret butter substitute. The pie shell reminded me of a sugar tart but it wasn't too sweet.
The focaccia sandwiches were a herby blast of avocado and green goddess dressing. These were very finger-friendly and easily consumed in a couple of bites. You have to wonder if the bread is fresh at these tea sessions (it's way too easy to make a cucumber sandwich and stash it in the fridge) but thankfully this housemade focaccia was fluffy and moist in all the right places.
My favourite of the savoury treats were the cornbread muffins. As it turns out, corn makes for a tasty muffin shell! The pesto on top added an herby kick and the pressed corn made for a novel take on a buttery classic.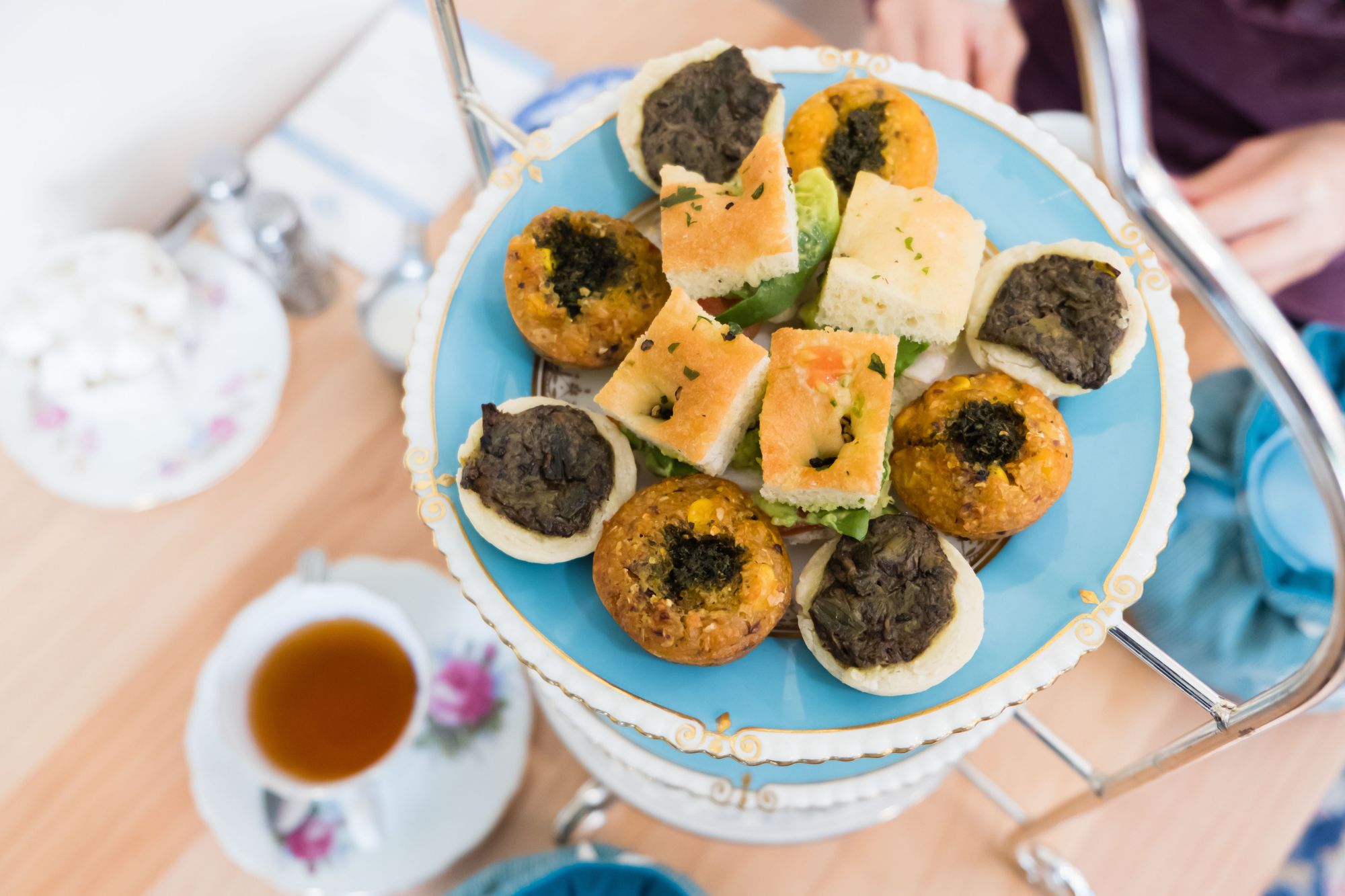 My favourite part of any tea meal is the plate of desserts on top. In particular, the coconut banana cream pie deserves special mention. These were semi-frozen (remember, no milk, cream, or eggs) pudding squares with a strong crust and just cold enough to keep their shape in the warm tea room. This was sort of like eating a sorbet tart and I'd recommend this if you're looking for a dessert but can't commit to the whole tea session.
The lavender earl grey brownies were also pretty moist despite the lack of butter. These had a small hint of lavender leaves on top so if you're less of a fan of lavender (some find it soapy), you could easily opt for a lavender-less brownie.
The mini lemon tarts were tangy as promised. The shell was good enough to hold the lemon custard on top and helped serve this as a solid one-biter dessert.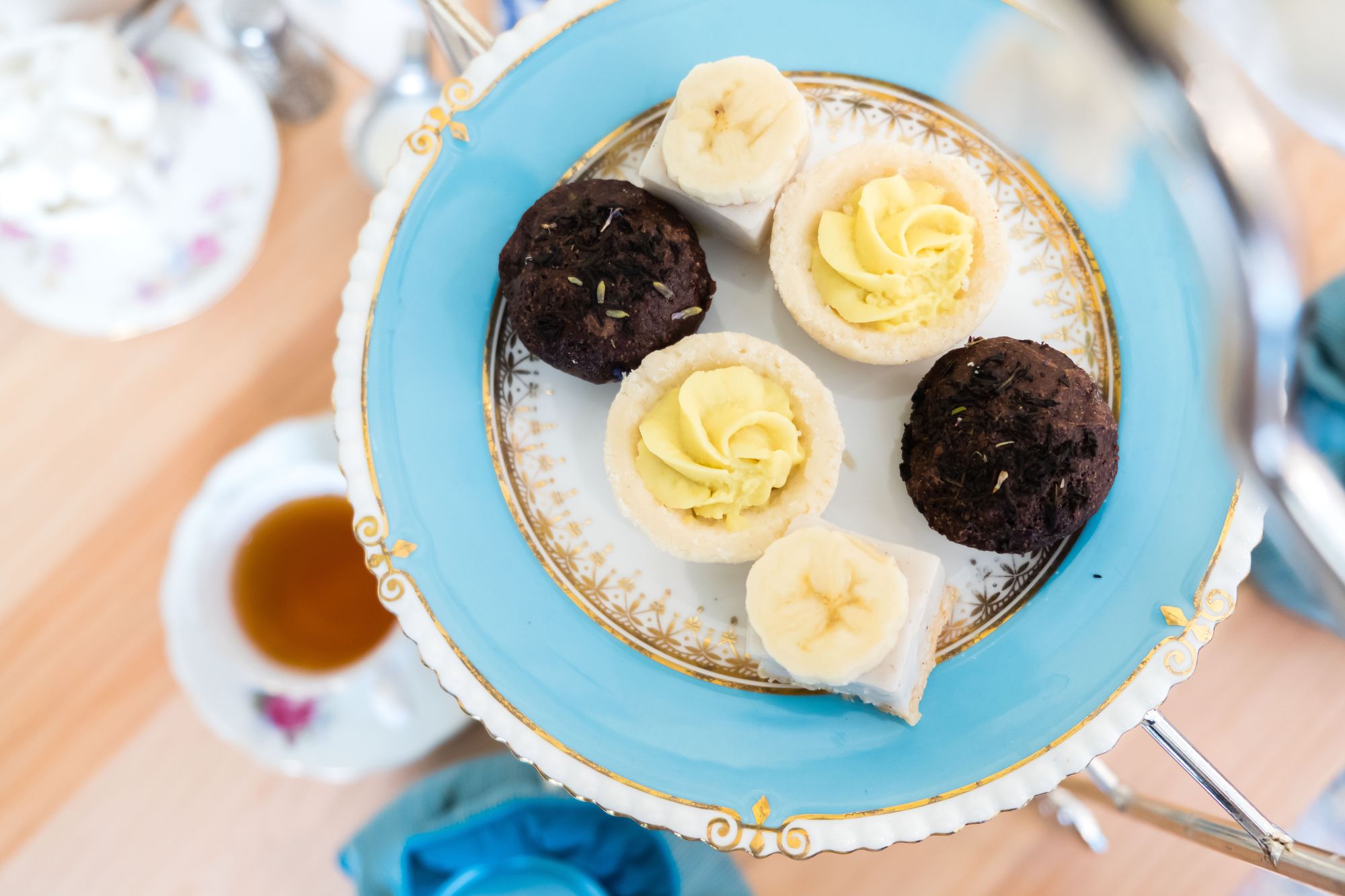 Features:
Opened in 1995, Secret Garden Tea Company is a longtime resident of the Kerrisdale neighbourhood. Inside is a takeout-friendly bakery, a tea gift shop, and the main tea room. As you might imagine, the theme is that of a heritage home with lots of rustic trim and panelling making the place look like a Victorian interior. A cool detail is the variety in seats, tables, and even plates. The two halves of Team Tastic had unmatching teaware and it was super cute. Cute treats with love are the name of the game in this teahouse with seating for about 50 guests per tea session (12pm, 2:15pm, 4:30pm).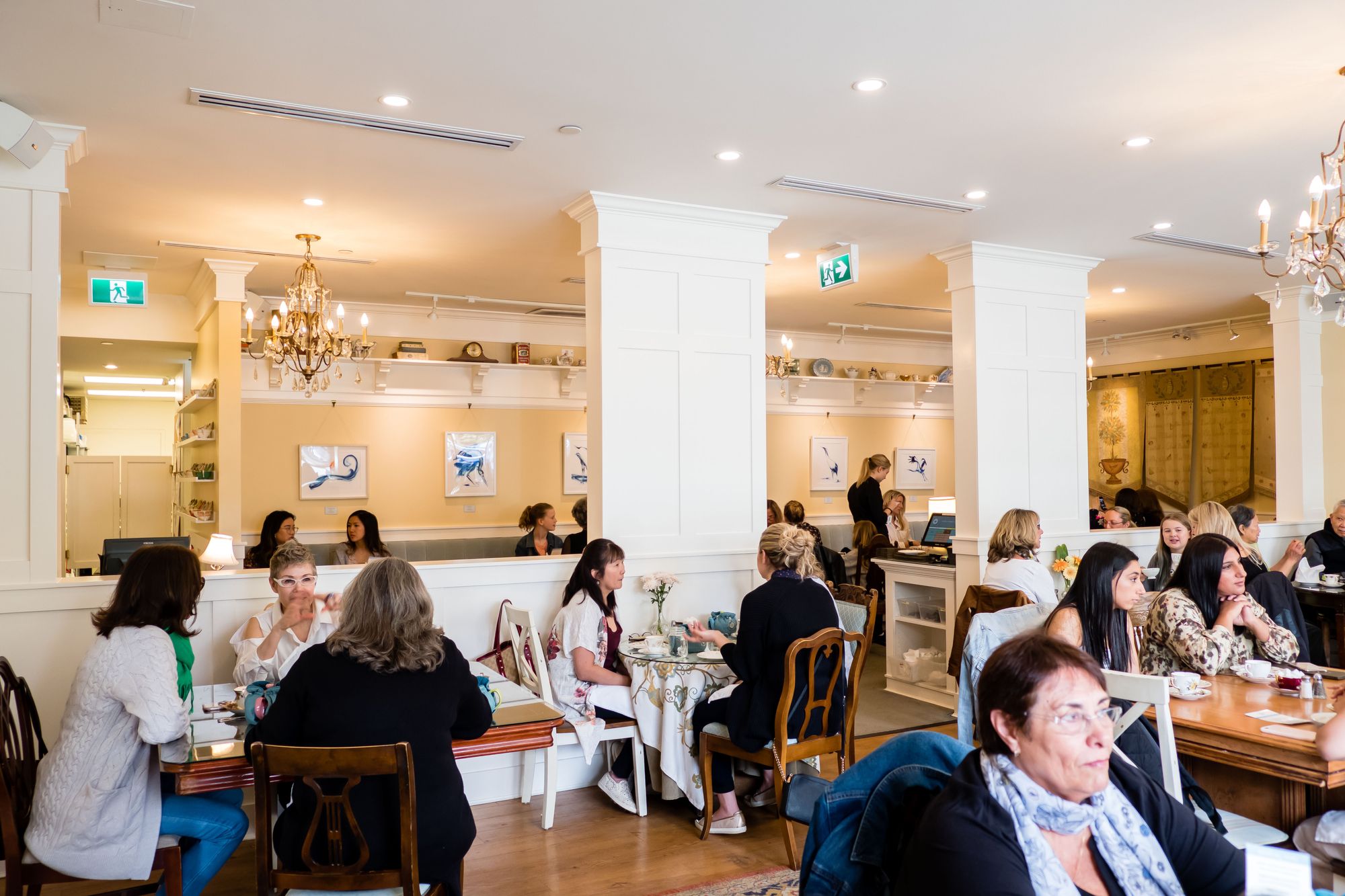 Because of the fanfare around hanging out with friends and family over high tea, it's recommended that you make a reservation in advance to get a spot. If you're coming for a weekend session, make your plans as early as possible because this place packs up quick and there's nothing worse than being turned away at the door. The website recommends reserving a week in advance for weekends.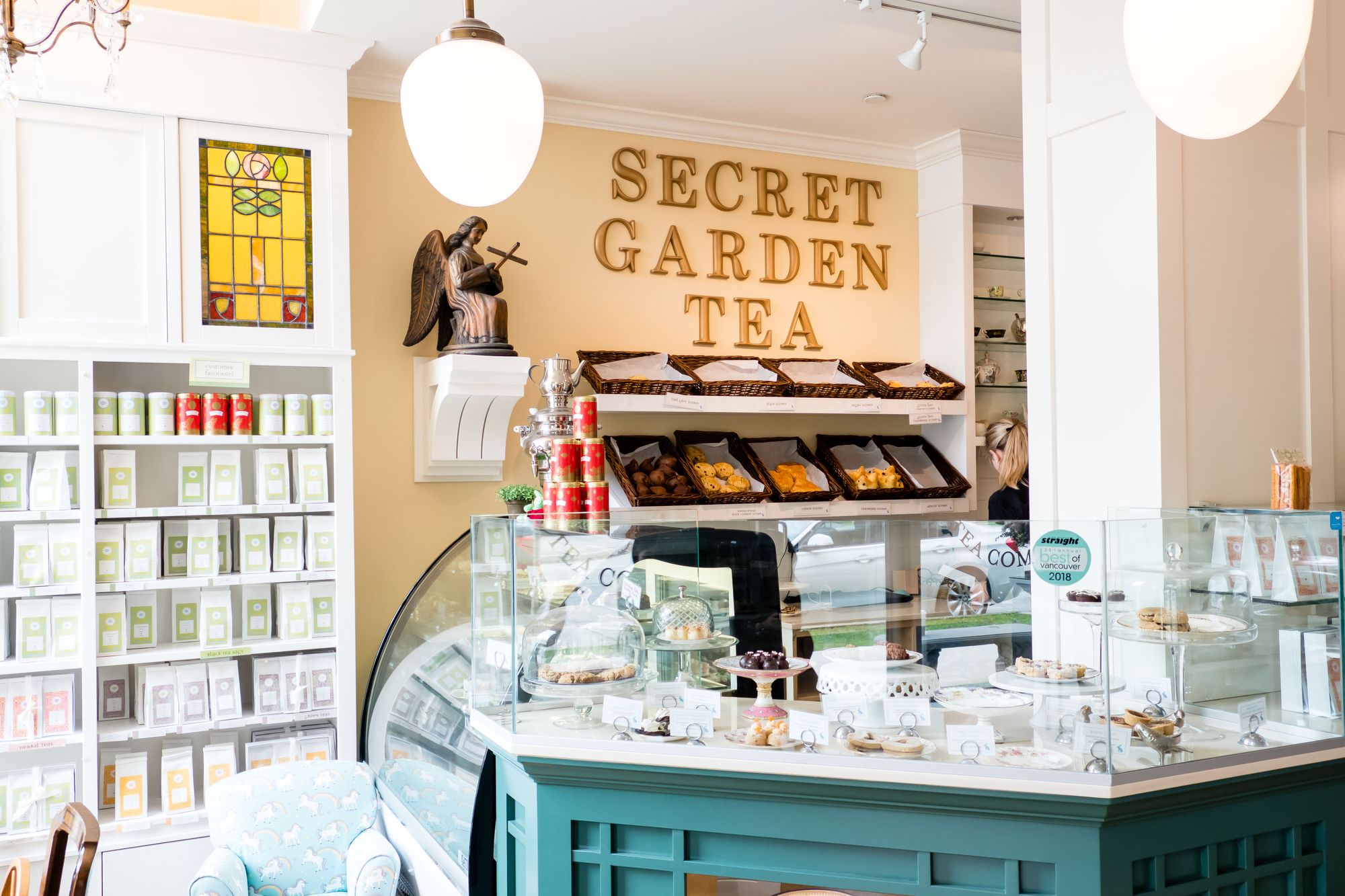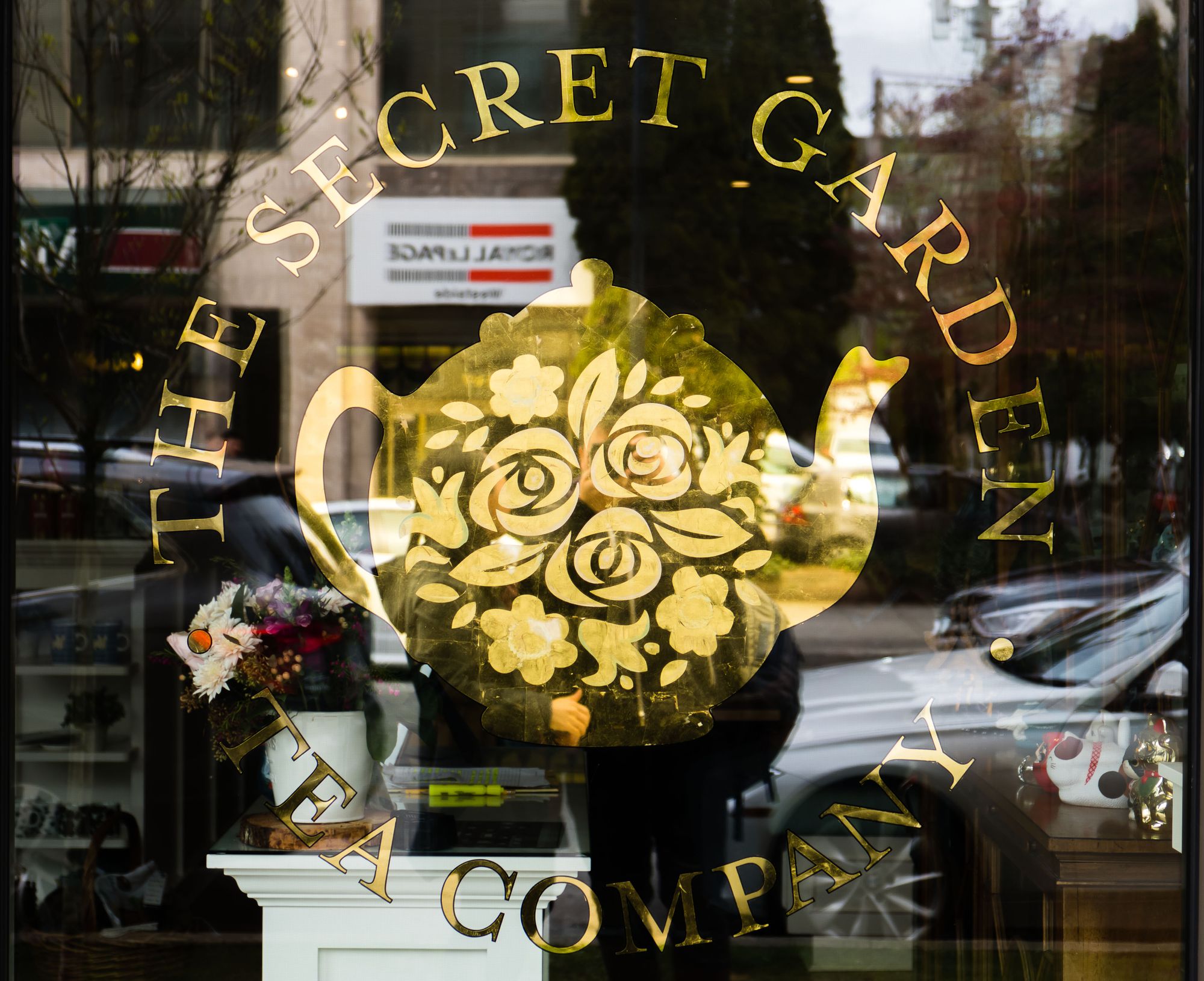 Final Thoughts:
One-liner: Vegan-friendly tea that recognizes a shift in diner dietary preferences and a brave new foray for the veteran teahouse
Highlight: Coconut Banana Cream Pie
Price per person: $40-$50
Would I go back? Yes.