Dine Out Vancouver (DOV) comes and goes in a flash because 2 weeks passes by really quickly. The hardest part is choosing a restaurant. Thankfully for me, I had that choice narrowed down to any of the Donnelly Group restaurants, which, to my delight, were not all offering the exact same menu. Many times in Vancouver, the restaurant groups (i.e. Joey, Cactus, and White Spot) only have a single menu for Dine Out Vancouver offered at each one of their locations, which really dilutes the Restaurant List on the DOV website. I opted for The Butcher and Bullock for my experience, and came away with an understanding that this restaurant is trying to do something a little different with its menu while retaining the English-style charm that Donnelly Group restaurants tend to be known for. Read on past the jump for full coverage.
Disclosure: This was a media tasting. All opinions are my own.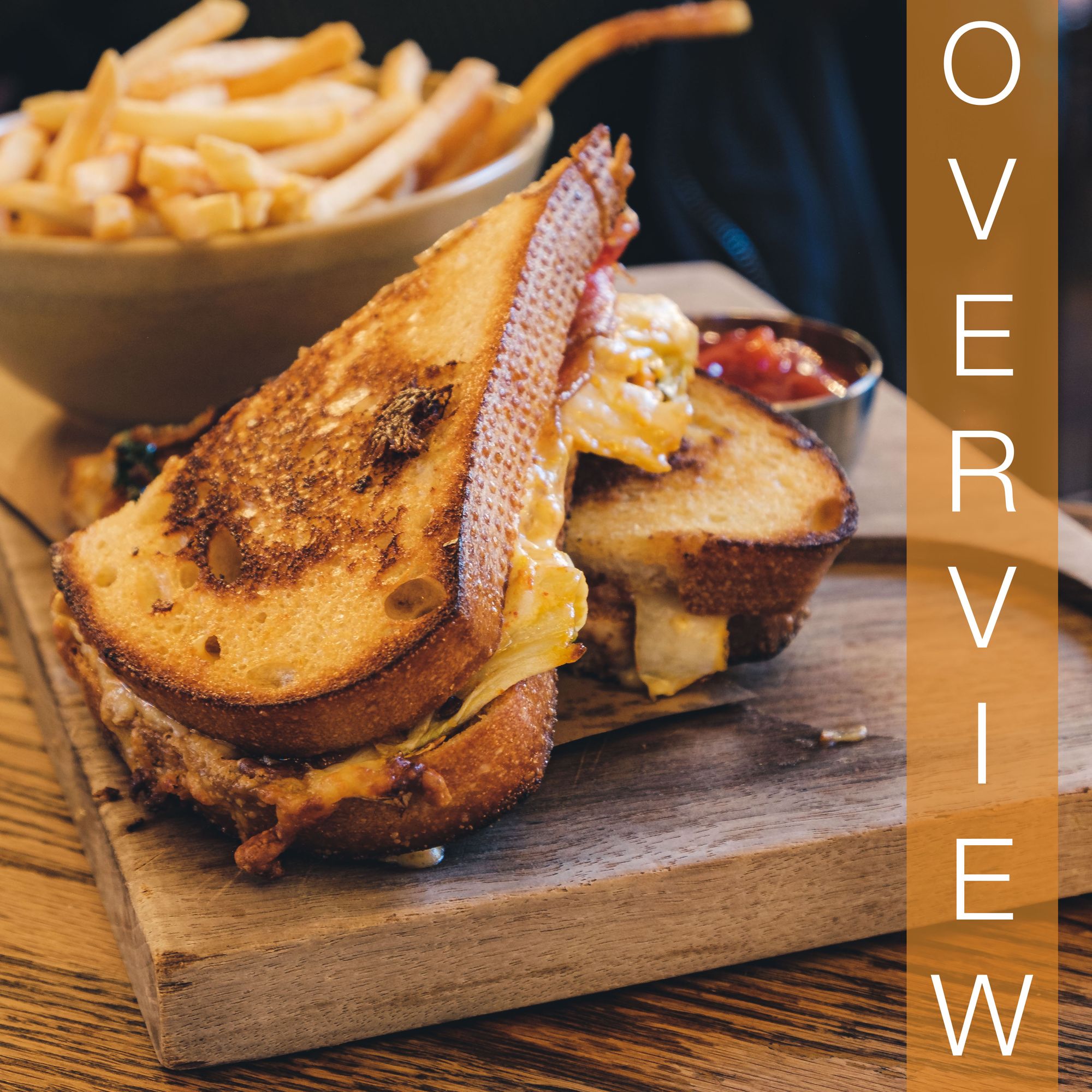 Food:
Team Tastic came here for a Tuesday evening dinner and I had a great taste of the following ($25/person):
Sausage Rolls
Roasted Beet Hummus
BBQ Lamb Sandwich
Kimchi Grilled Cheese (w/ Bacon) (+$3)
Chocolate Creme Brûlée
The sausage rolls were served in a flaky butter pastry with a side of spicy mustard. The horseradish in this mustard was hella sharp which was right up my alley. I've been burned before by diluted sauces but that was not the case here. Perhaps by design, the dipping vessel for the mustard was sized just a little larger than the sausage rolls meaning a full dip could be had on each roll.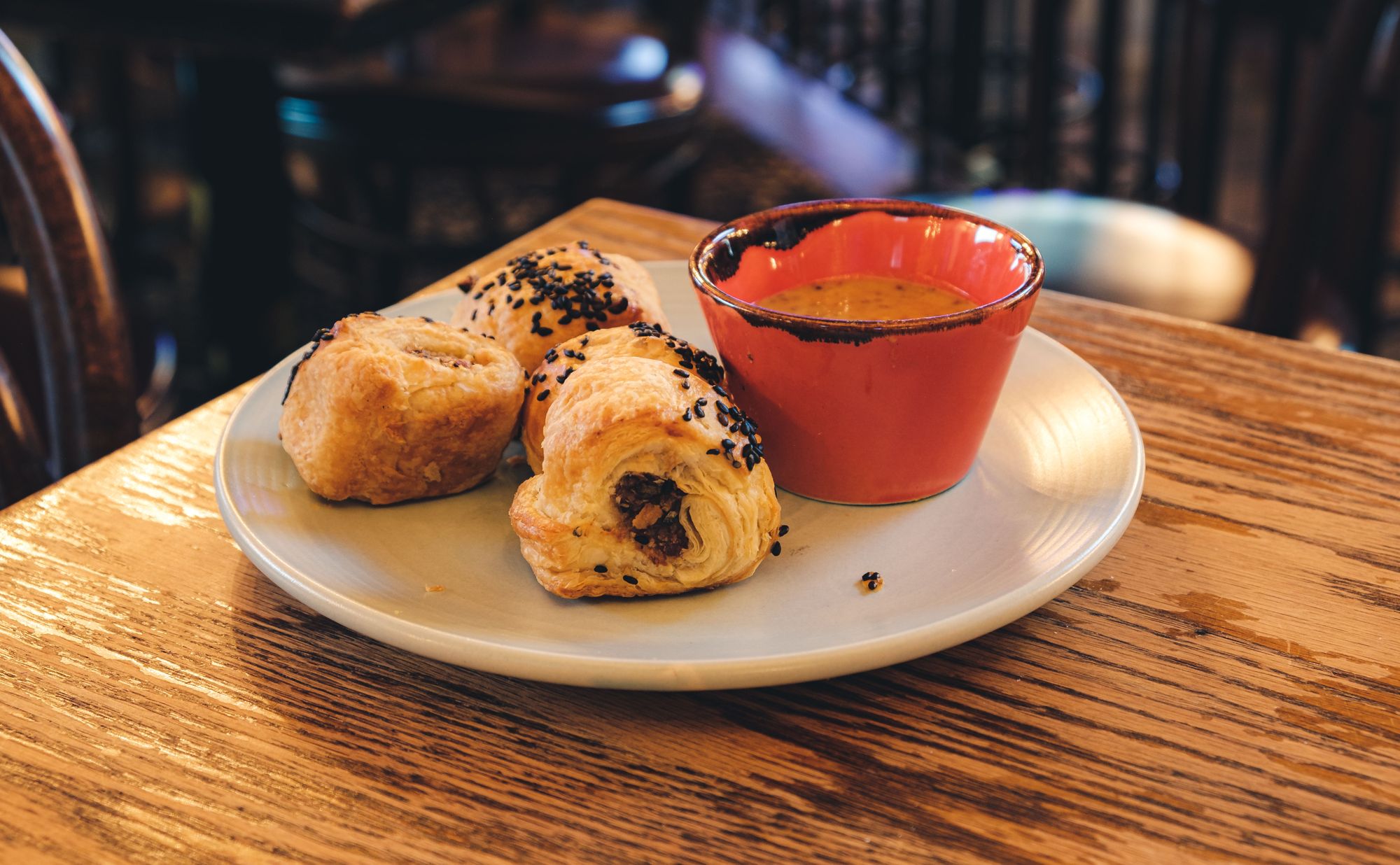 The roasted beet hummus was my preferred appetizer of the two that we had. The beet hummus had a lovely purple hue to it and was mixed in with lemon, tahini, and pistachio. The grilled bread was a little underwhelming but it was lightly toasted and laced with olive oil to give it some life. I normally take my hummus with pita chips or flatbread but I think Butcher and Bullock uses the sliced bread for other dishes too so there might be some strategic ingredient planning going on here.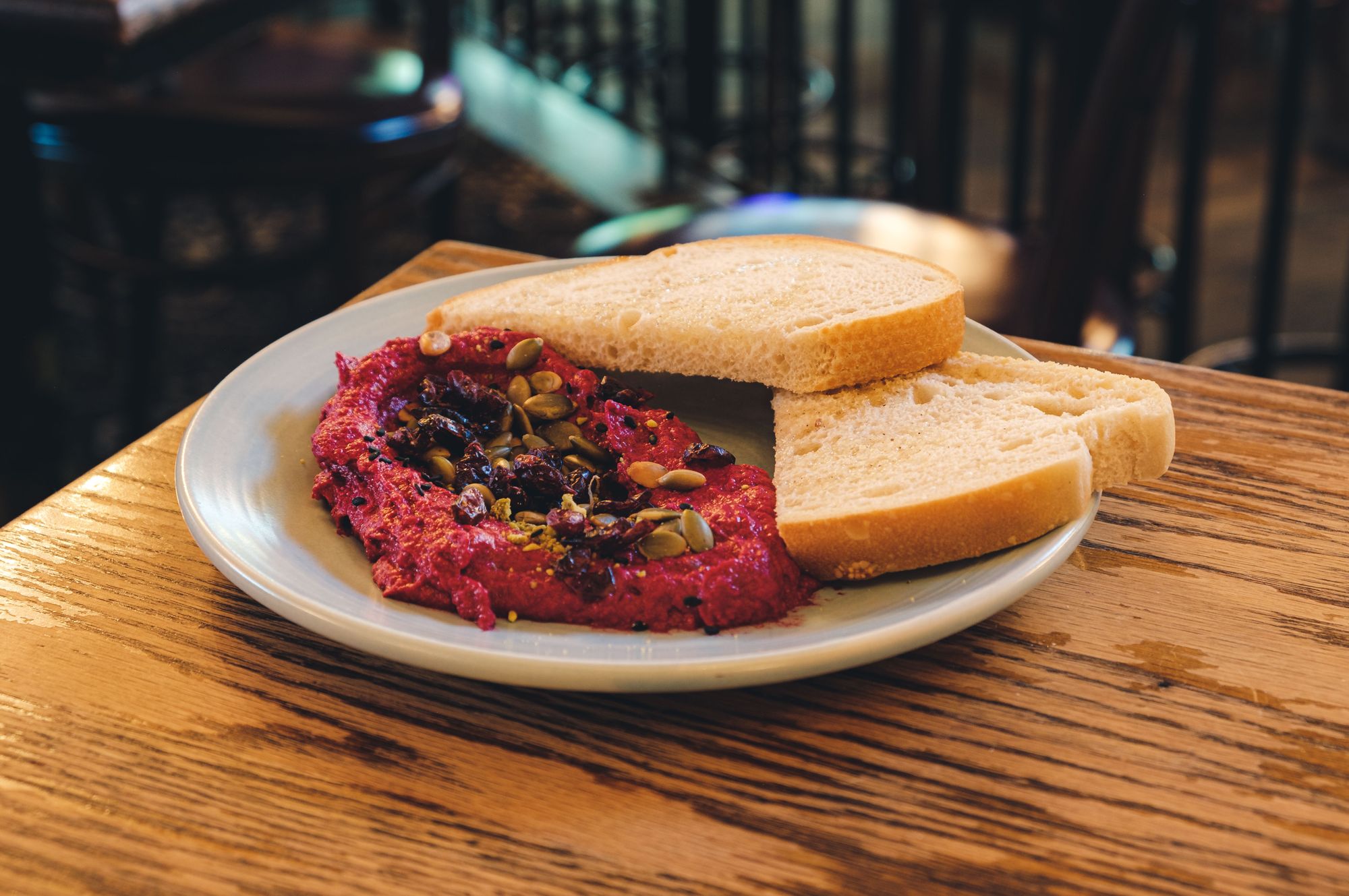 The bbq lamb sandwich was our first entree. Filled with a Calabrian chili, pulled lamb shank, and cilantro slaw, this had a fun crunch in every bite. I felt the bread here was on the thicker side so I would have liked to have seen this toasted too just to add some texture to the very voluminous serving. The tomato gravy made for a fun dipping companion, but because the bread was so voluminous, there wasn't much gravy to go around the whole sandwich.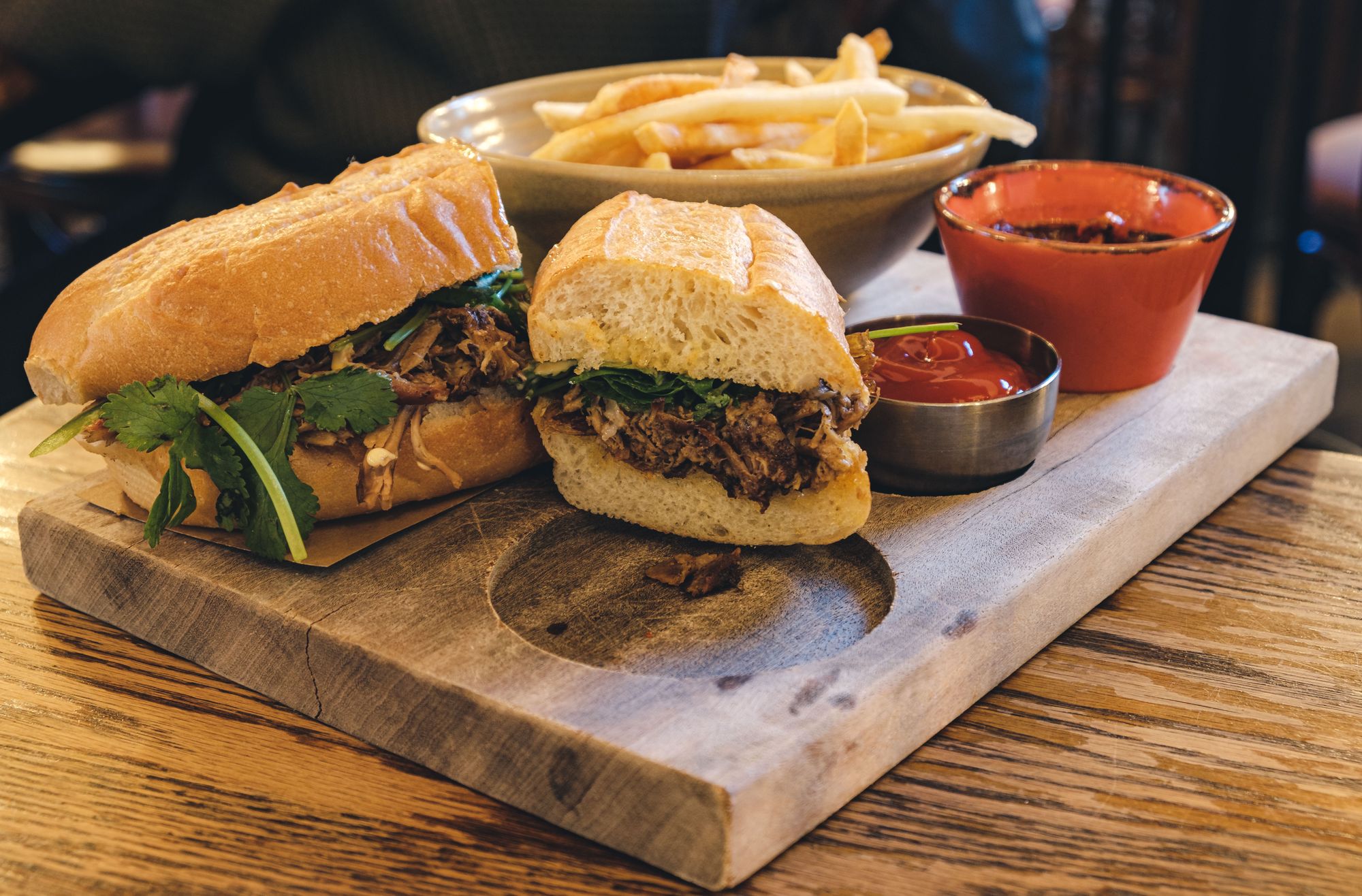 The kimchi grilled cheese though, was something to write home about. This creative sandwich put together savoury bacon with fermented kimchi to produce a crunchy and crispy experience that was accented with the gooeyness you can only get from having mozzarella cheese melted all over the insides of a sandwich. Like a proper grilled cheese, this bread was buttered on both sides, and I finished my half of the sandwich wishing I could claim the other half. Relationships are hard.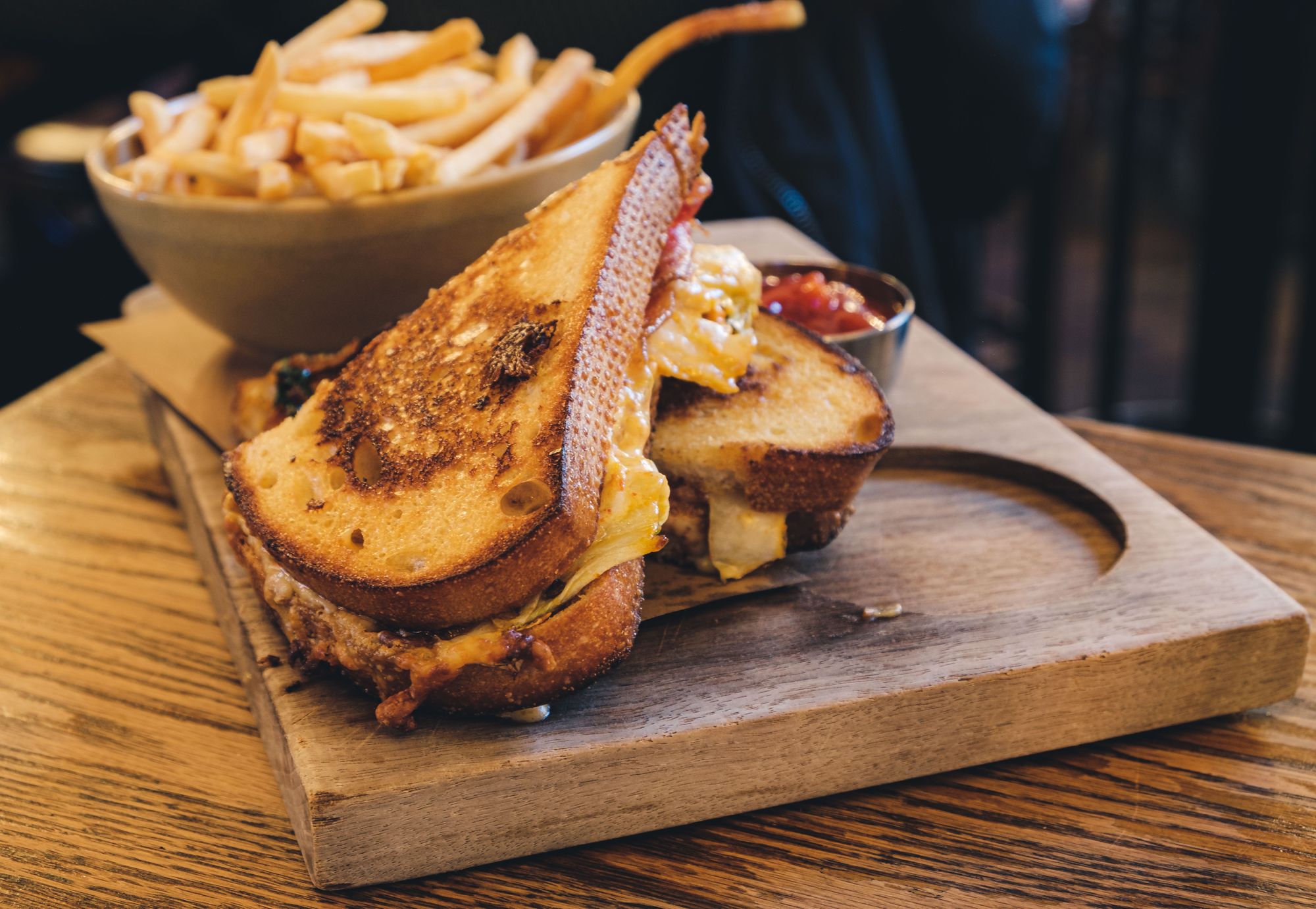 For dessert, there was only one option (sorry vegans) and that was the chocolate creme brûlée. You couldn't tell at first that this was torched, but you would put your spoon onto the chocolate creme and find that the creme had a noticeable crust to it. A little harder digging with your spoon and a smooth mousse of chocolate was found inside the brûlée. To make things interesting on the top end was a pistachio-dashed whipped cream that played wonderfully with the bitter chocolate brûlée below. For added effect, a layer of sugar was lathered onto the side of the serving bowl just to provide a little extra crunch. I don't normally look at Donnelly Group restaurants for desserts but this brûlée had my generally intrigued to investigate the regular menu more often.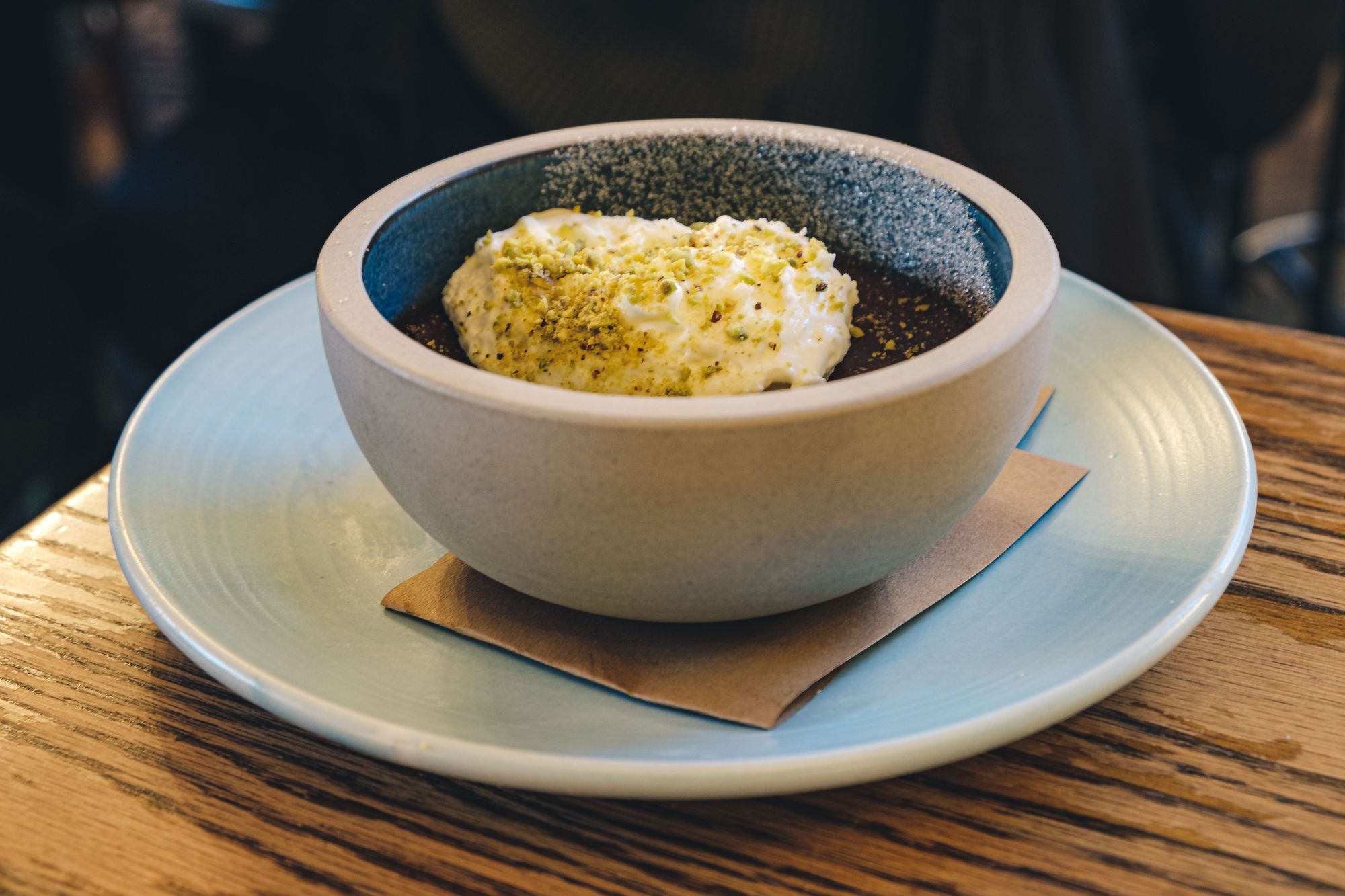 Features:
The Butcher and Bullock is a British-style pub that also functions as a sports bar and games alley. There are a few arcade games towards of the back of the venue as well as the classic skee ball to empty your spare change into. There is also a giant projection screen next to a schedule of which sports games are being aired that day at Butcher and Bullock.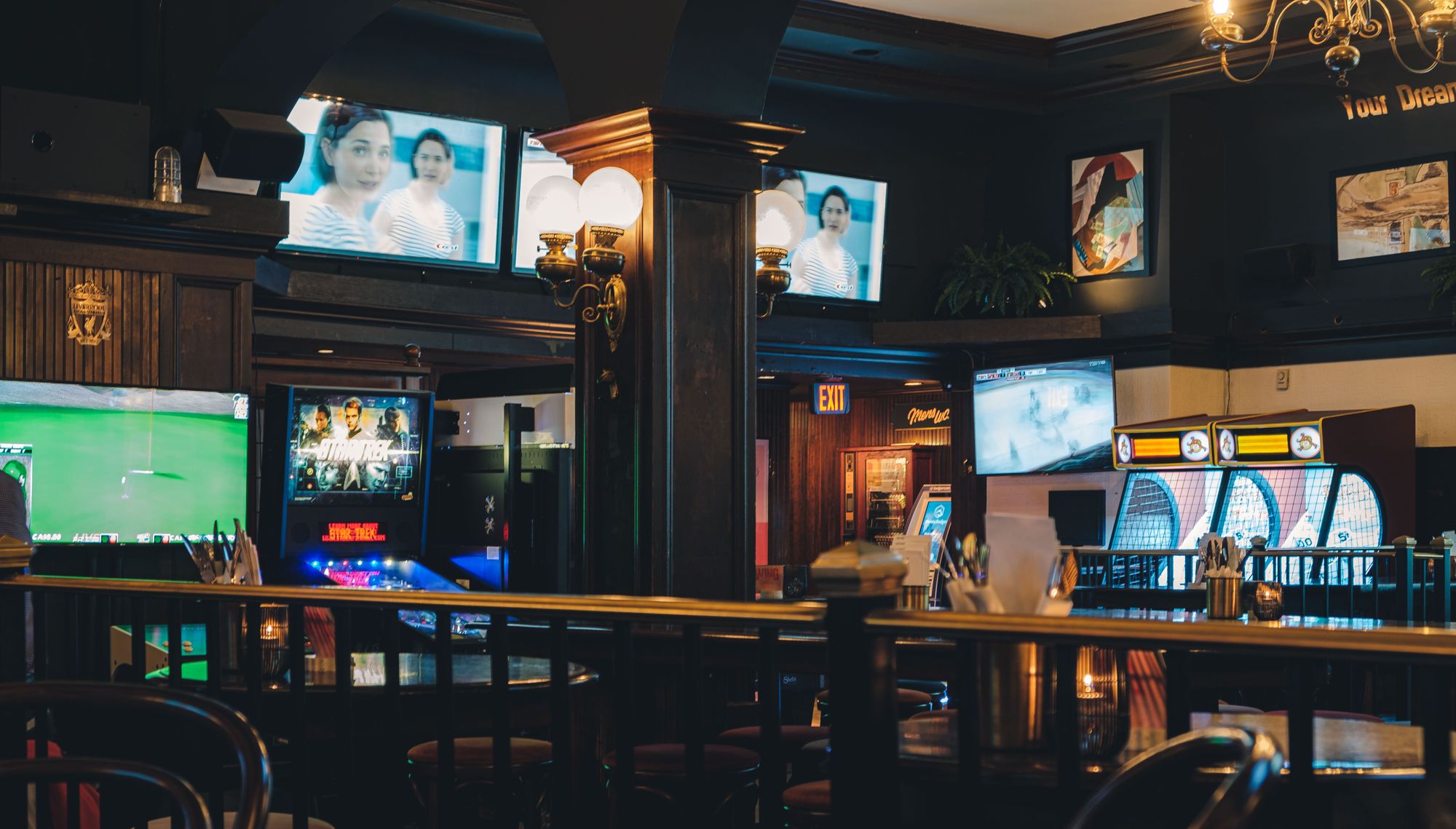 There are a few areas to note in the Butcher and Bullock. First is a main bar (with ample chalkboards and TVs displaying what there is to drink), two elevanted seating platforms, and the main alleyway of high tables. There is seating for around 100 guests in this fashion and I'm sure it gets busy for European football games as those tend to take place in the early afternoon here.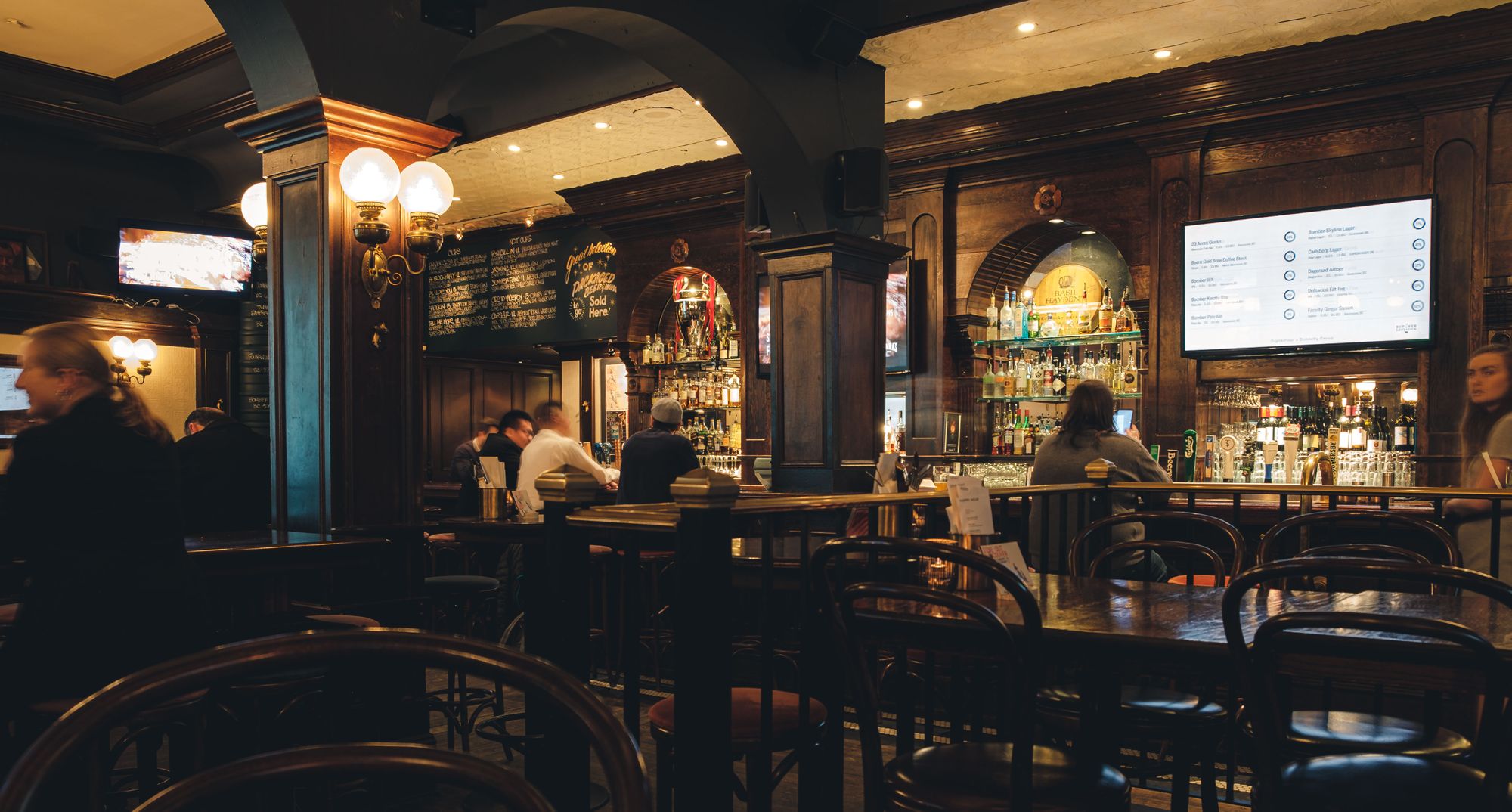 Final Thoughts:
One-liner: Cozy, British fare with a food menu that punches above "traditional pub grub" at a price point comfortable for most bar hoppers
Recommended order: Roasted beet hummus, kimchi grilled cheese, and chocolate creme brûlée
Price per person: $25-$40 (depending on how crazy you get with the drinks)
Would I go back? Yes.