Though it's widely known as a North Vancouver-bred chain, Cactus Club Cafe still finds time to make enhancements to its menu. Of note of late, the "Crispy Tofu Bowl" has made its debut for the summer season. A veggie-friendly dish, this new menu item is available at all 27 Cactus Club Cafe locations and is sure to appease tofu lovers. I had a chance to experience the crispy tofu bowl and a few other items during my visit to Park Royal's Cactus Club Cafe's patio.
Disclosure: I was given a $50 gift card in exchange for ordering the Crispy Tofu Bowl and sharing my opinion.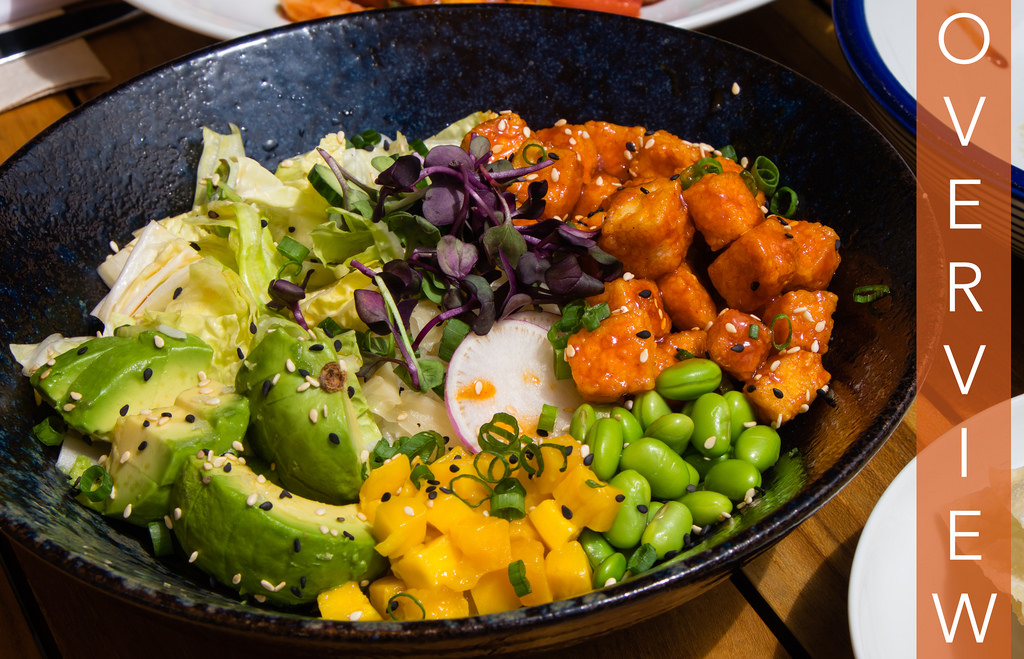 Food:
Team Tastic came here for a Saturday noon hour lunch and I had a great taste of the following:
Crispy Tofu Bowl ($18.50) soy chili tofu, jasmine rice, mango, cucumber, avocado, edamame, radish and black and white sesame seeds
Tuna Stack ($17.75) Ocean Wise™ ahi, citrus tamari vinaigrette, nori, sesame, avocado, micro cilantro, wonton chips
Jambalaya Bowl ($18.75) shrimp, chicken, chorizo sausage, vegetables, bacon, spicy tomato sauce, black bean salsa, crème fraîche
The crispy tofu bowl is Cactus Club's newest addition to its "Fresh Bowls" menu section. Unlike the number of Buddha bowls, poke bowls, and açai bowls that proliferate a number of Vancouver restaurant menus, the crispy tofu bowl is a pretty original creation. For me, the tofu was indeed crisp (for meat lovers, think crispy chicken skin) with enough sauce to carry it through as the prominent flavour.
Another thing I noticed was the ripeness of the avocado. These were slices primed to eat on this day and as such were very creamy and easily mixed in. Stirring the contents and scooping up heaping spoons of tofu and salad was the best way to enjoy this summer-friendly delight. I think a diner who wants something refreshing without going too deep into salad territory will enjoy this bowl.
The crispy tofu bowl will likely satisfy stomachs of an average fullness. I'd recommend ordering a starter or dessert to share if you want to guarantee yourself leaving full.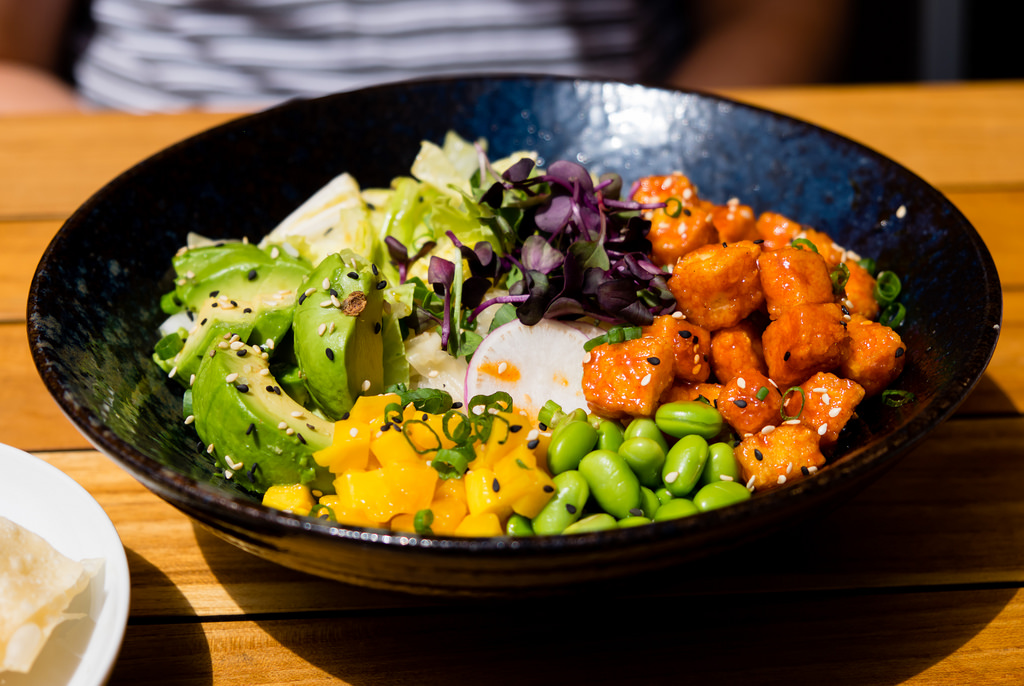 Crispy Tofu Bowl
To accompany the crispy tofu bowl, we also opted for a tuna stack. This was a beautiful appetizer. The perfectly ripe avocado made another appearance here as one of many layers arranged in a vertical stack. A vertical cleave and chomp provided an eclectic mix of refreshing crispiness and juicy cured ahi tuna. If I had to gripe about the presentation there was some vinaigrette goofed on the side of the bowl. The best way to eat this tuna stack was by taking a bit of everything and layering it on a crispy wonton chip to use as a vessel to deliver the stack into your mouth.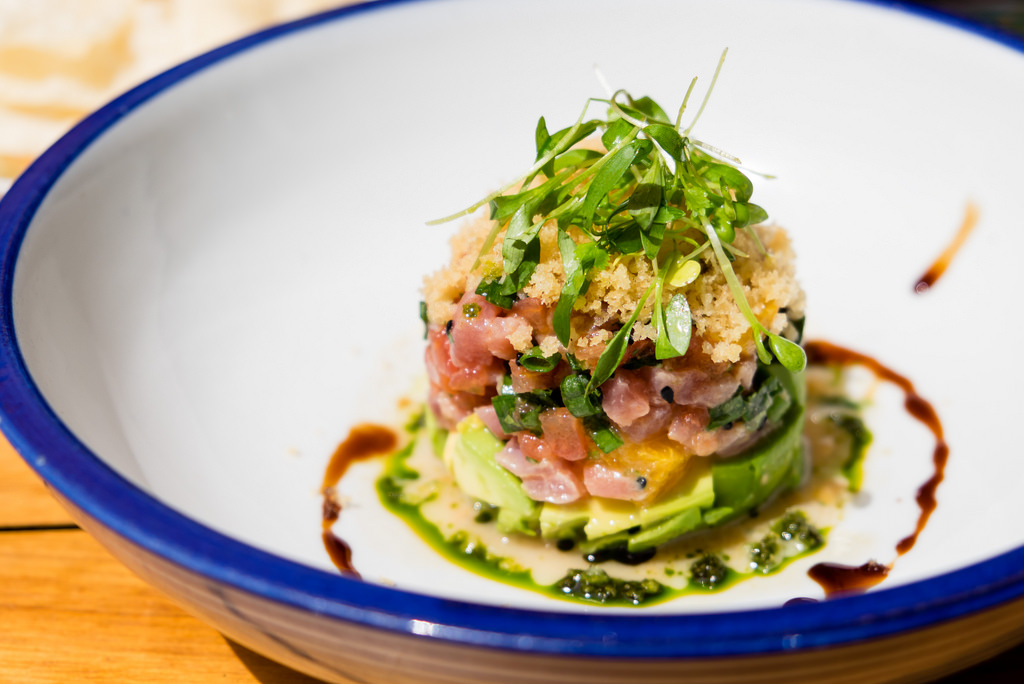 Tuna Stack
Last but not least, we shared a jambalaya bowl. My girlfriend and I love making this at home so it was a nice change to have a restaurant version of this Cajun treat.
The holy trinity of peppers, celery, and onions was replaced by peas, beans, and corn (bell peppers remained). I thought these added a nice variety though it's a bummer celery didn't make the cut (I'll chalk this up to the restaurant preferring to use veggies that can complement a variety of dishes). The meats were all still cooked very well and each bite featured a bit of a spicy kick owing to the Cajun origins of this dish.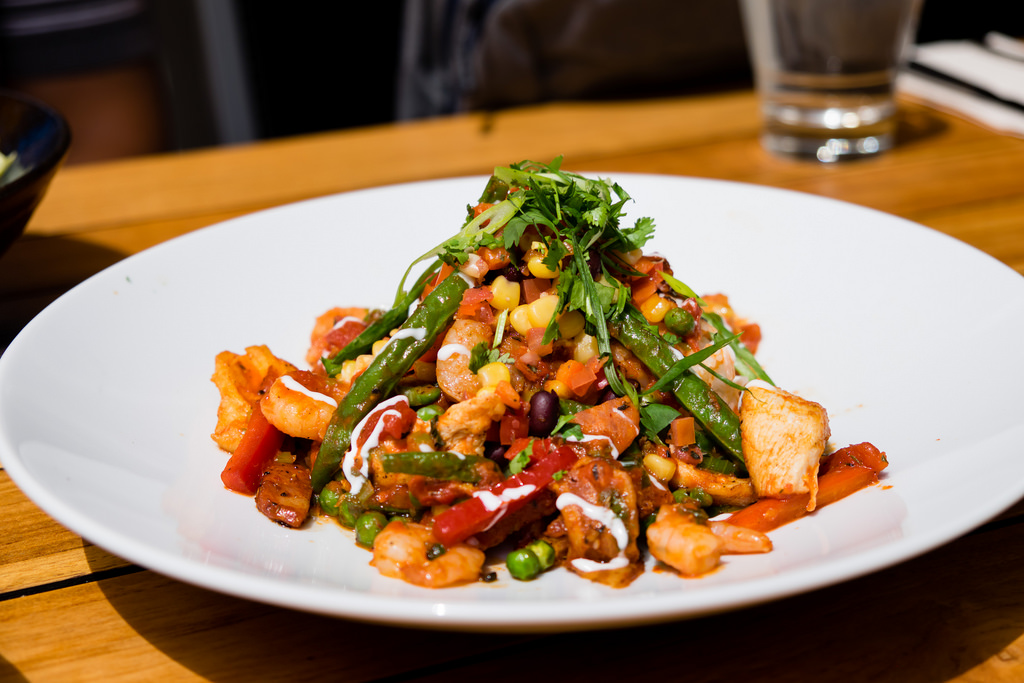 Jambalaya Bowl
Features:
Sitting outside for this Cactus Club Cafe lunch was fantastic for indulging in that al fresco dining feeling. Not a moment after we finished lunch it started raining so we nailed it. The outdoor patio features both a covered section and umbrella-laden section. In total, there are about 80 seats which are in addition to the 100+ seats inside. This is a huge Cactus Club location and fits right in with the rest of the Village at Park Royal vibe.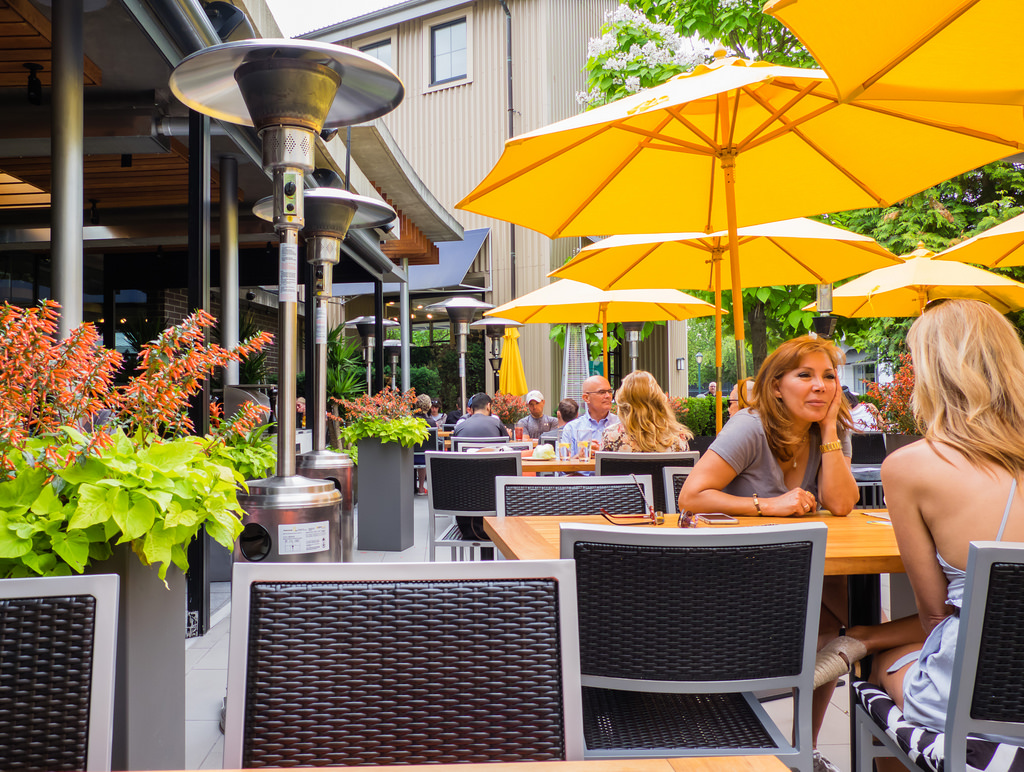 Cactus Club Cafe - Park Royal Patio
Service:
Coming in for a lunch service, I was really happy to see that there were enough staff to handle a weekend lunch hour. Our food came out at basically the same time and arrived within 20 minutes of ordering. We actually started inside but our server was kind enough to move us outside when requested.
Another note that has close to zero impact was our server asked if I was a food blogger (I was taking a ton of photos of the food). I affirmed her observation and we had a great chat about the food blogging scene in Toronto where our server moved from. It doesn't happen often but it's nice to have a friendly blogging conversation rather than the stares I know I sometimes attract when I stand up and squat for a photo.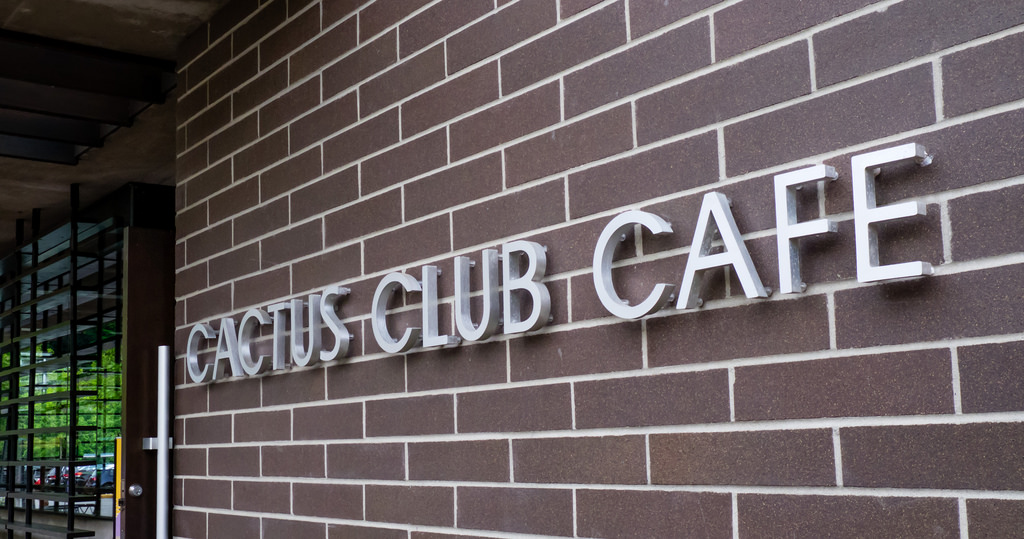 Outside Cactus Club Cafe - Park Royal
Final Thoughts:
One-liner: A new crispy tofu bowl item that bucks the current trend of fresh bowls and introduces something a little more creative
Highlight: Crispy Tofu Bowl
Price per person: $18-$30
Would I go back? Yes.