Sometimes I hear of restaurant openings and it takes me months, even years, to get my body inside the restaurant. Crowbar is one of those restaurants, and boy do I wish I came sooner. I originally pegged this eatery as another bar, but it's actually got one of the coolest menus I've seen in a Western-style restaurant. Last month I visited Crowbar with a few of my favourite food bloggers for an epic meal.
Food:
Team Blogger (well, 5 of us) came here for a weekday dinner and in our $60/person family-style tasting menu we enjoyed the following:
Farro Honey Bread
Roasted Beets
Smoked and Braised Pork Tendon
Heirloom Tomato Salad
Milk-Braised Beef Tongue
Dealer's Choice Pasta - Cheese Tajarin
Smoked Bone-In Pork Belly
Marinated Duck Hearts
Whole Roast Duck
Burger (off-menu, $25)
Brown Butter Blood Nougat
Roasted Rice Panna Cotta
At first glance, this is a ton of food for 5 people and I'm just gonna suggest this now – the tasting menu is an absolute steal if you can round up 4-5 friends. Here we got 11 courses for $60/person.
First up was the farro honey bread. This had an innate honeyness that made it extra enjoyable. I still made sure to mop up as much balsamic vinegar and olive oil though. We got 2 plates of this.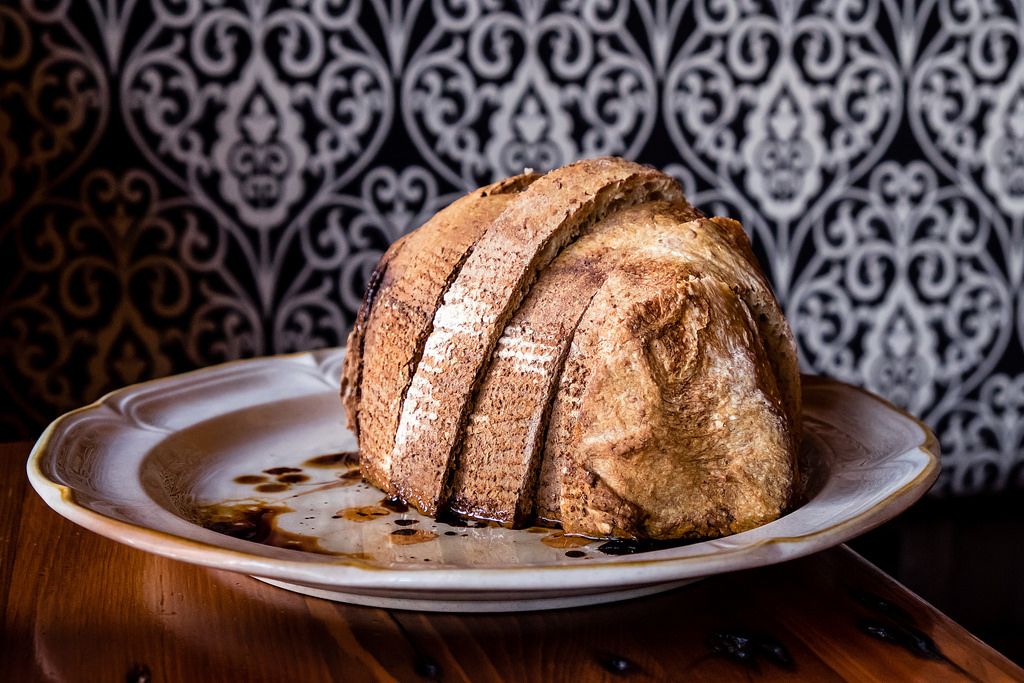 The roasted beets were doused in a squid ink so this came out a black ink-style piece of art. The beets were extra fresh and the dish tasted way better than it looked.  This was my least favourite dish of the night, but I wouldn't want a first Crowbar experience to exclude this dish – if that makes any sense. We got 2 plates of this.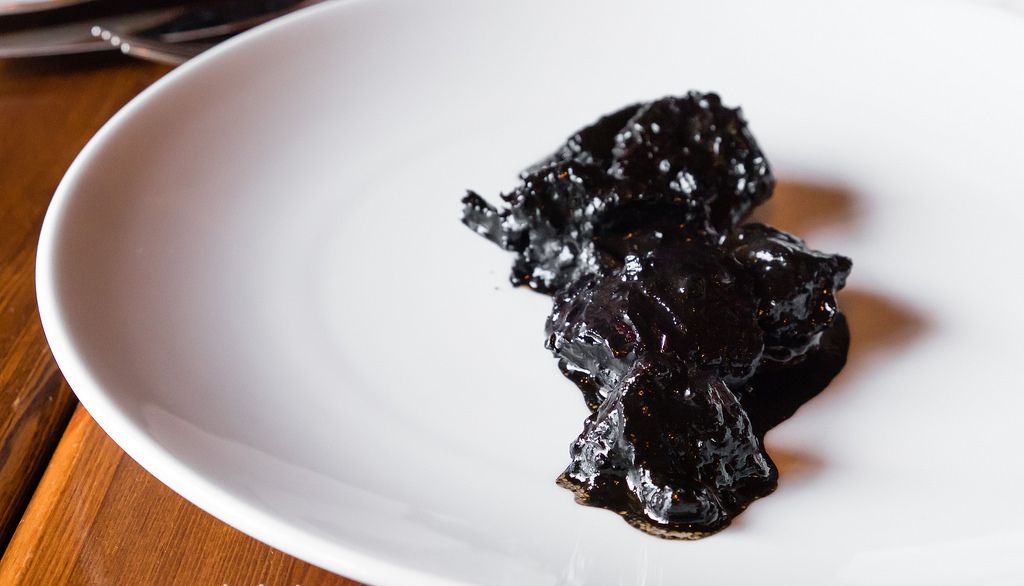 The smoked and braised pork tendon was a treat. It smelled amazing and tasted amazing too. Any fan of pho broths will feel right at home with this pork variant. The potatoes were extra tasty too. We got 5 plates of this.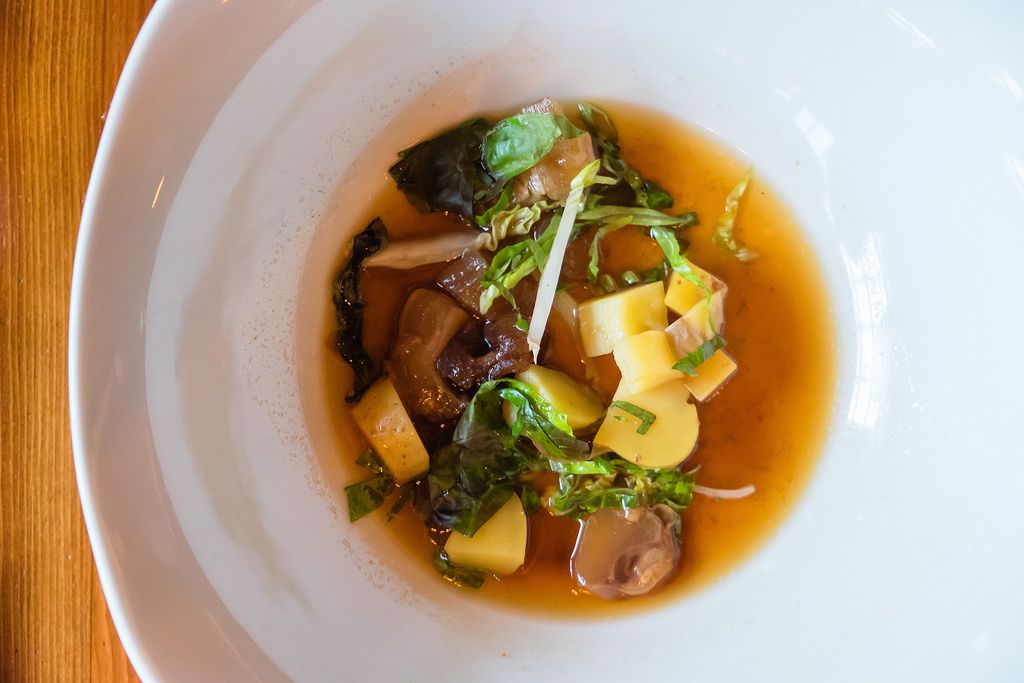 For our vegetables, we had a classic heirloom tomato salad. Anyone who hasn't tried heirloom tomatoes with cannellini bean needs to come to Crowbar. These beans provided an almost buttery finish to each bite of tomato. Coupling this sensation with classic burrata made for an enjoyable dish. We got 2 plates of this.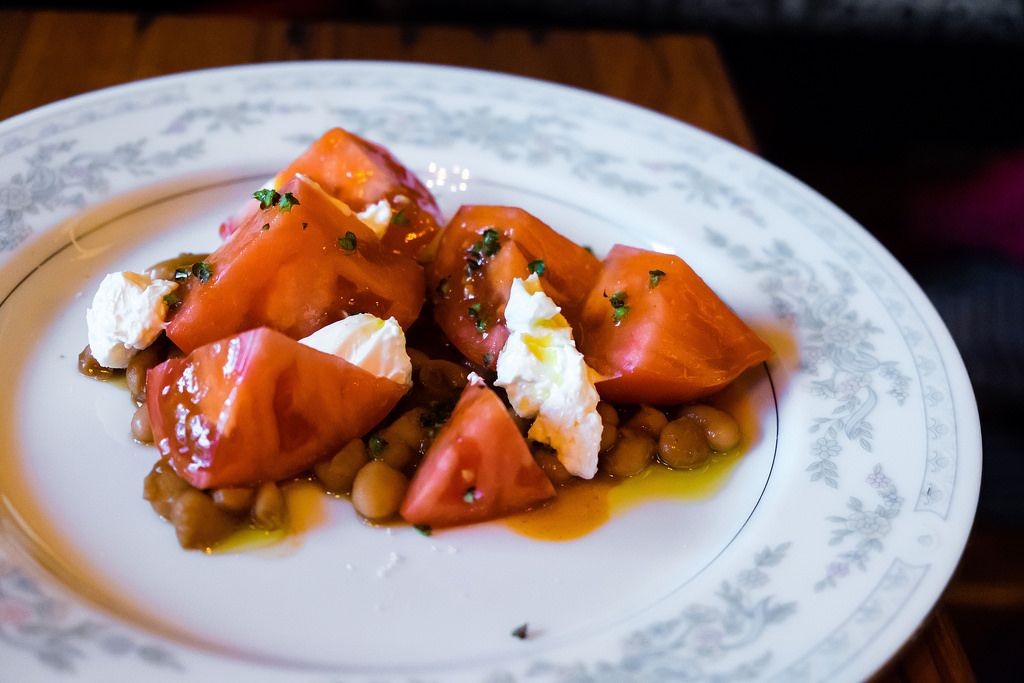 Milk-braised beef tongue was up next. This dish featured gigande beans, turnip greens, and a beef fat vinaigrette. This was extra savoury with some very interesting beans (they were giant!) and vegetables (they were crunchy!). I've never beef tongue served like this but it looks like Crowbar can help fill that niche. We got 2 plates of this.
The dealer's choice pasta gives the power to the chef to choose what he wants. In tonight's case, this was a cheese tajarin. Essentially a taste of Piedmont, Italy, this was an egg pasta with a dance of cheese on top. The carb-lover in my heart rejoiced. We got 2 plates of this.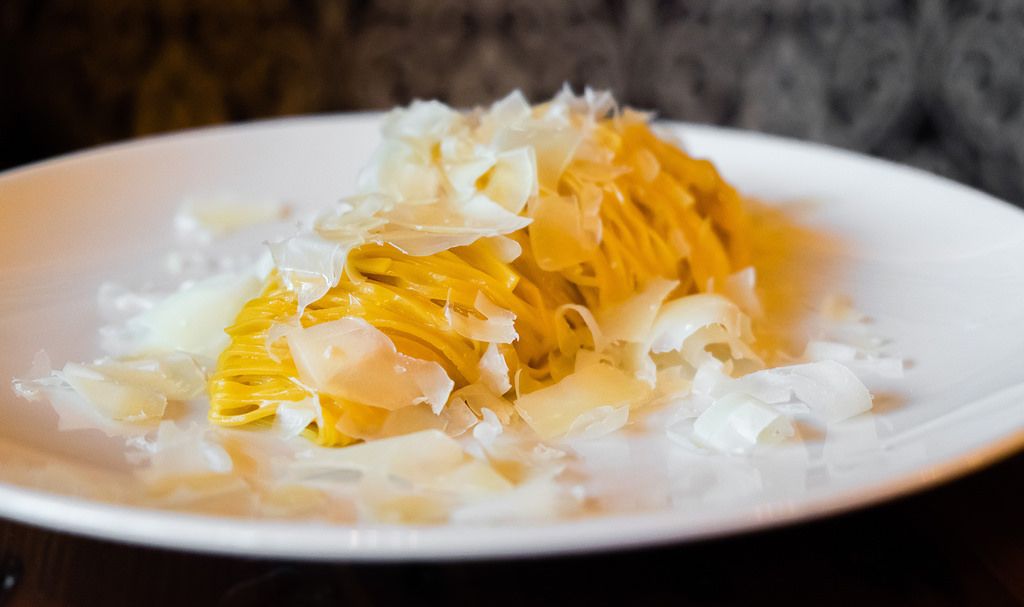 Moving onto the proteins, the bone-in 18oz pork belly was up first. Served with a Korean hyssop (mint) ink glaze and purple scallion, this was a sight to behold. Each piece we pried off was juicy and featured a ton of flavourful layers. We had to debate on who to take the best piece, the bone. I didn't win. We got 1 plate of this.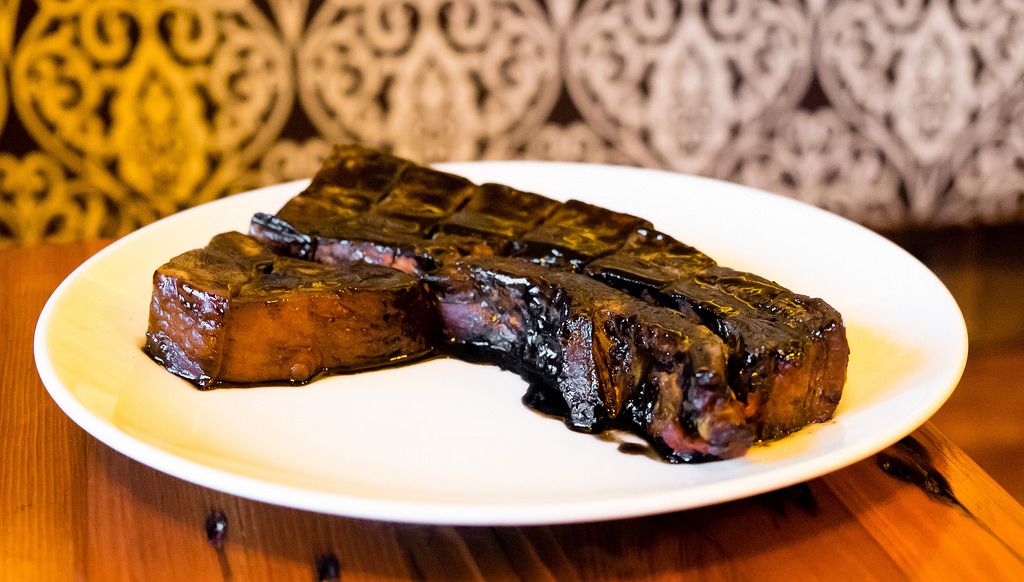 Following this was a double dish of marinated duck hearts and whole roast duck. Holy moly was this duck huge. I'm used to Chinese grocers whittling down a half duck to the bare minimum definition of "half", but tonight's whole duck was like a bodybuilding duck put into the oven. Normally retailing at $120, my jaw dropped when this dish arrived at our table. The duck was perfectly roasted and, making each bite I took extremely gratifying. Pairing it up with the marinated duck hearts (essentially a sticky rice risotto + duck) was a dream and almost worth the entire $60 experience itself. Yet, there was more.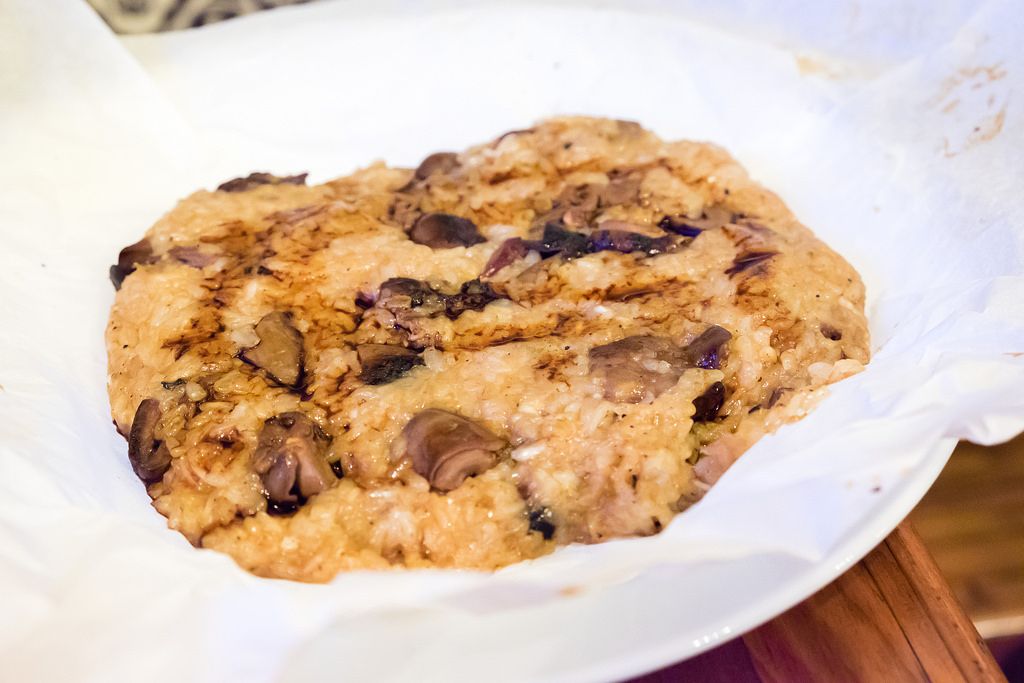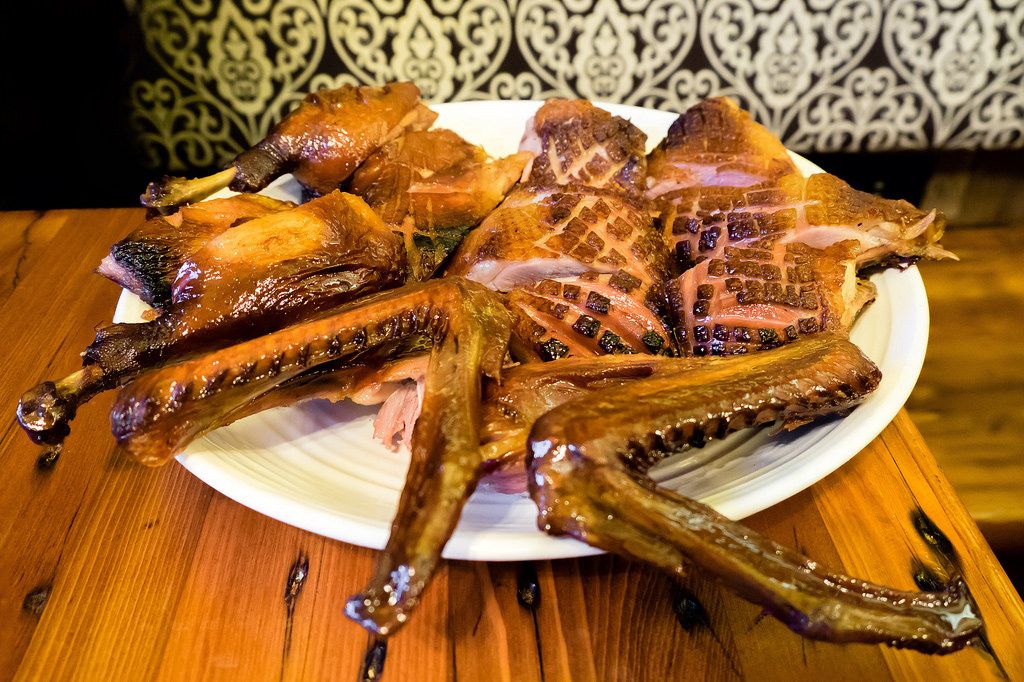 The burger was not a part of our tasting menu, but we ordered a couple anyway because we wanted to experience a 67-day dry-aged beef patty. Suffice to say, this patty was pretty intense and gamey. Despite there not being any blue cheese, I think the aging helped invoke a taste of blue cheese. I'm not the biggest fan of blue cheese so I'm unfortunately disqualified from enjoying this burger. I think it's a great idea though, and would welcome any off-menu connoisseurs to give this burger a try.
For our first dessert, we had a brown butter blood nougat. This was a very cool stick of nougat that tasted more chocolatey than bloody. I know, weird. My taste buds went wild eating this dessert (swoop into that whipped espresso butter and mmmmm) and I don't know anywhere else in Vancouver you'd find something like this.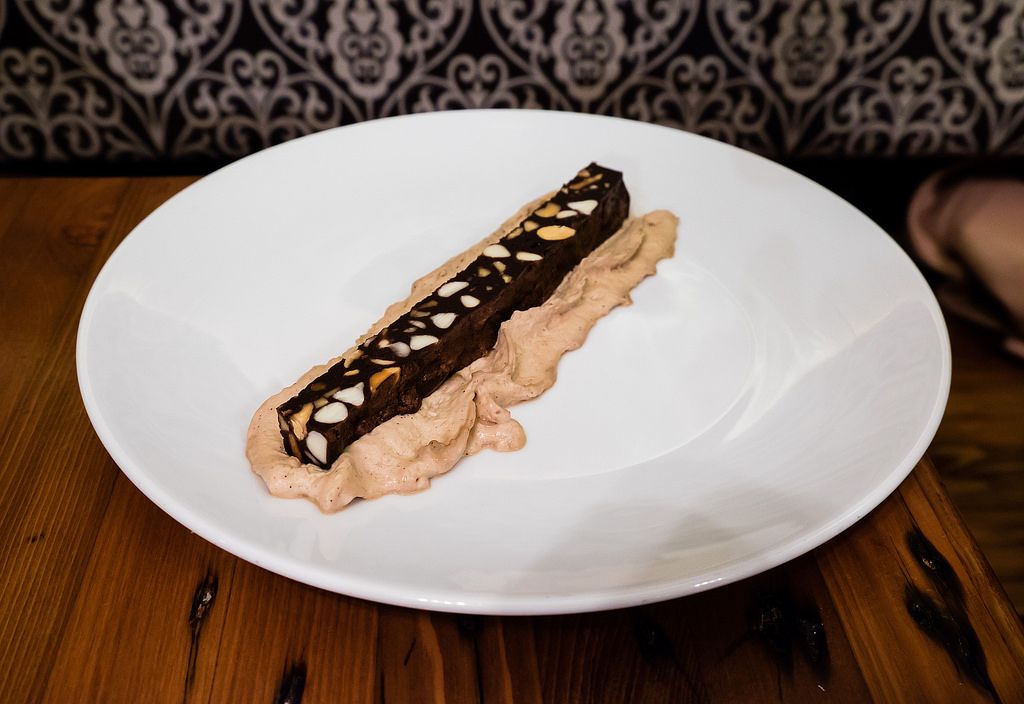 Our other dessert was a roasted rice panna cotta. Featuring slivers of melon, the roasted rice provided a neat nuttiness to the flavour of what is traditionally a pretty plain dessert. Thumbs up.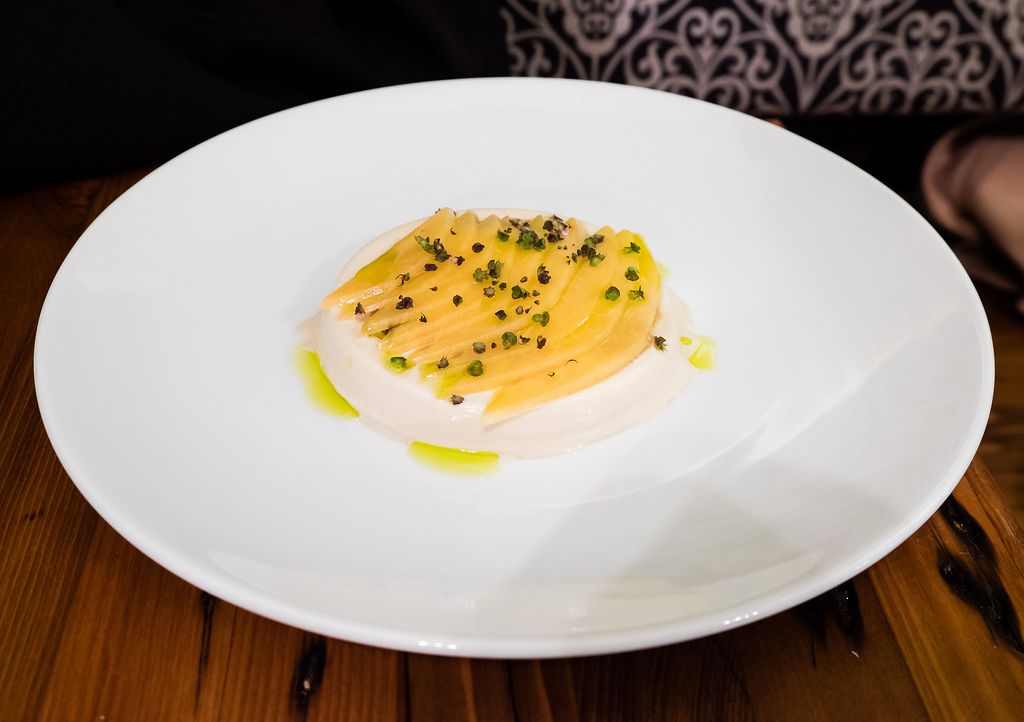 Features:
Crowbar is an aptly named restaurant (look for the framed crowbar in the kitchen) in the Fraserhood mecca that includes Vancouver smash hit eateries like Savio Volpe, Matchstick, and Sal y Limon. Inside Crowbar is a classic bar feel with lots of polished wood and stylish wooden seats. The plates are all unique, and if you opt for the tasting menu, you'll be going through a lot of plates.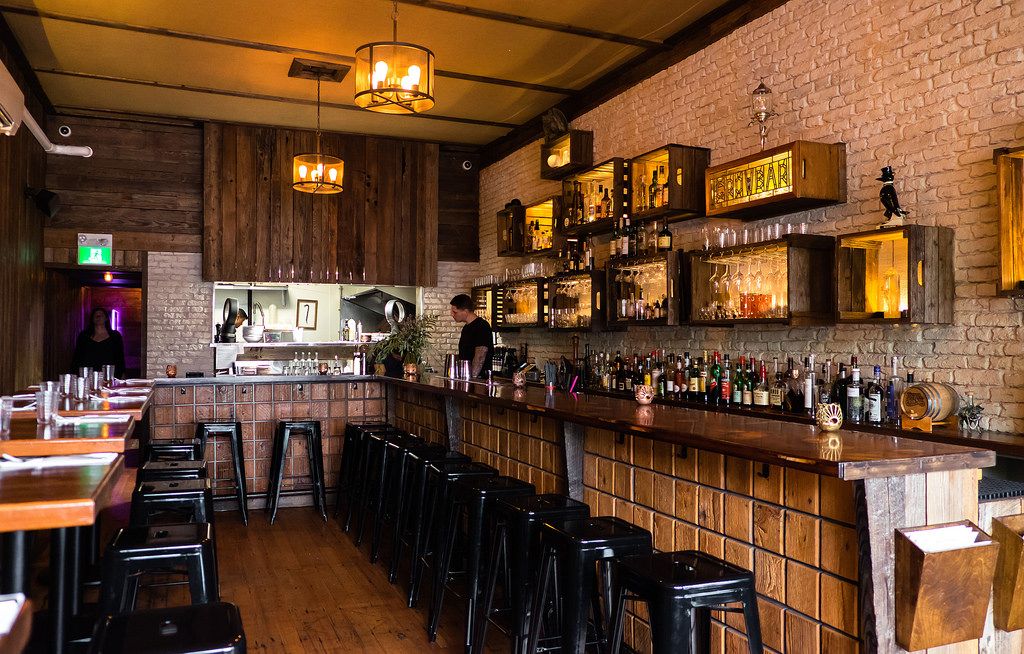 There's seating for about 60 guests amongst these high tables and the bar. The vibe is pretty chill without being too dark like an English pub.
Service:
Service was never too far to find at Crowbar which made it real easy to have a good time. Our server started by asking for any dietary restrictions (we had none) and took time to explain each dish as it arrived. Since we had 12 dishes, he had 12 explanations and executed each one with ease and confidence.
Speed-wise, I was pretty impressed. There's literally 1 person in the kitchen, the chef, who's responsible for prep, cooking, and perhaps washing too. How he managed to serve a full restaurant I wouldn't know, but he was a hustler tonight. Outside there's a bartender and a server. 3 people were running the restaurant on this weekday evening and doing a smashing job of it.
We started our dinner at 6pm, and 12 courses later, finished at just after 9pm.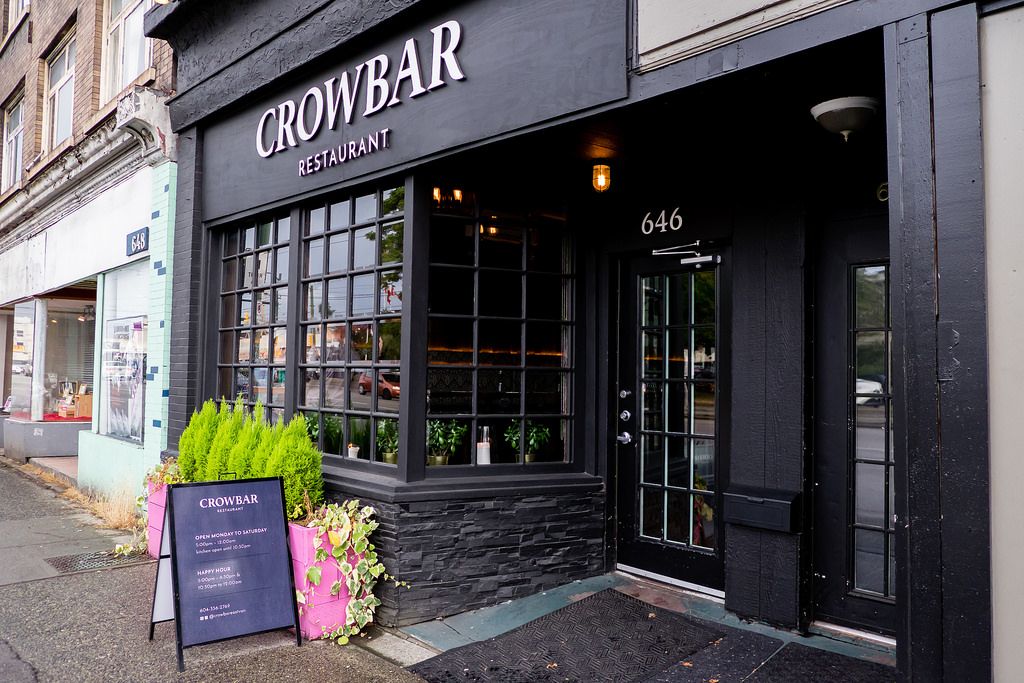 Final Thoughts:
One-liner: Excellent flavours of the Pacific Northwest, Asia, and a feeling afterwards where I wonder why it took me so long to get my butt into a booth at Crowbar
Highlight: Whole Roast Duck
Price per person: $60-$90 for the better tasting menu if you opt for a drink
Would I go back? Yes.