This is no Little Sheep, folks. The Dolar Shop was a big opening for Lansdowne Centre in 2018 and with it came an introduction to a whole new tier of hot pot (a Chinese dining experience of cooking your food in simmering pots of flavoured broth). Metro Vancouver certainly has its share of individual and group-style hot pot, but to my knowledge, none of them offer the supreme quality of service (and higher pricing tier) that I enjoyed for my family's Christmas dinner at The Dolar shop. Here's my take on this Chinese company's first expansion into Canada.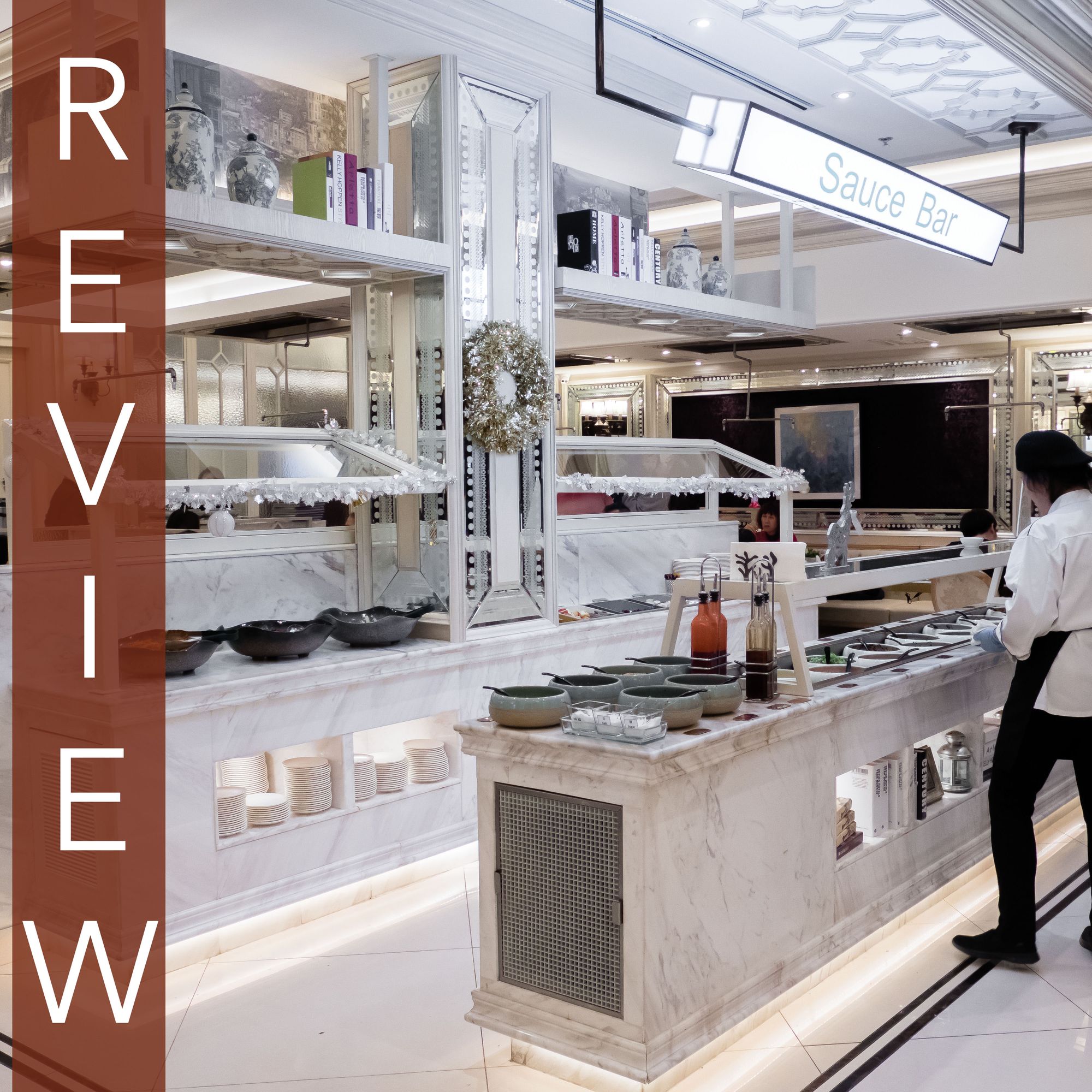 Food:
Note that at the Dolar Shop, pretty much everyone in your party with a valid stomach must order their own broth ($5-$8/person) and pay for unconditional access to the sauce bar ($4/person). Team Famjam came here for a Saturday evening dinner and I had a great taste of the following:
Pepper Pork Tripe & Chicken Broth ($6/person)
Noodle-Forming Shrimp & Fish Roe ($13)
Hand-Sliced Boneless Wagyu Plate ($14)
Beef Tripe ($10)
Beef Artery ($10)
Napa Cabbage ($5)
Tong Ho ($6)
Mixed Mushroom Basket ($14)
Hand-Crafted Noodles ($5)
Tri-Colour Hand-Crafted Noodles ($6)
Sticky Rice Cake ($5)
Pork Wonton ($7)
Deluxe Platter ($60)
Deluxe Seafood Platter ($99)
A strategy to keep in mind is that while the broths you order are on a per-person basis, the dishes you order are meant to be shared, so for best results, imagine each dish is shareable by 3-4 people, and each person should expect to consume 4-5 dishes. For our party of 6, we didn't order 16-20 dishes, but the two platters at the bottom of the list were huge.
Each person had their broth delivered as individual pots on induction stove-tops built into the table that were easy to configure hotter and cooler.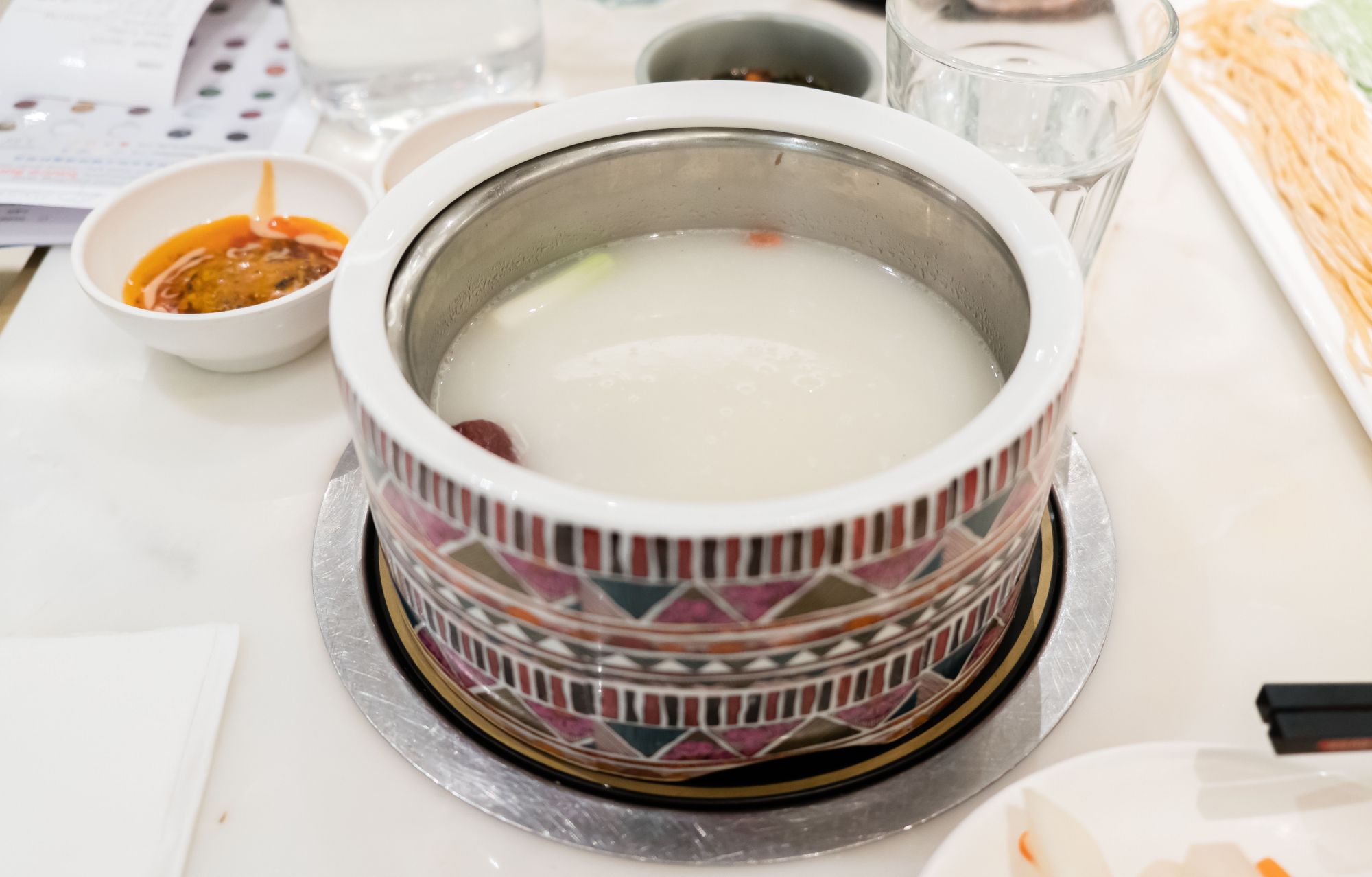 The noodle-forming shrimp and fish roe came as a tube that when squeezed produced a long fish noodle. This took some strength to squeeze but there was just enough for everyone to get a 15-20cm serving which cooked in a couple of minutes.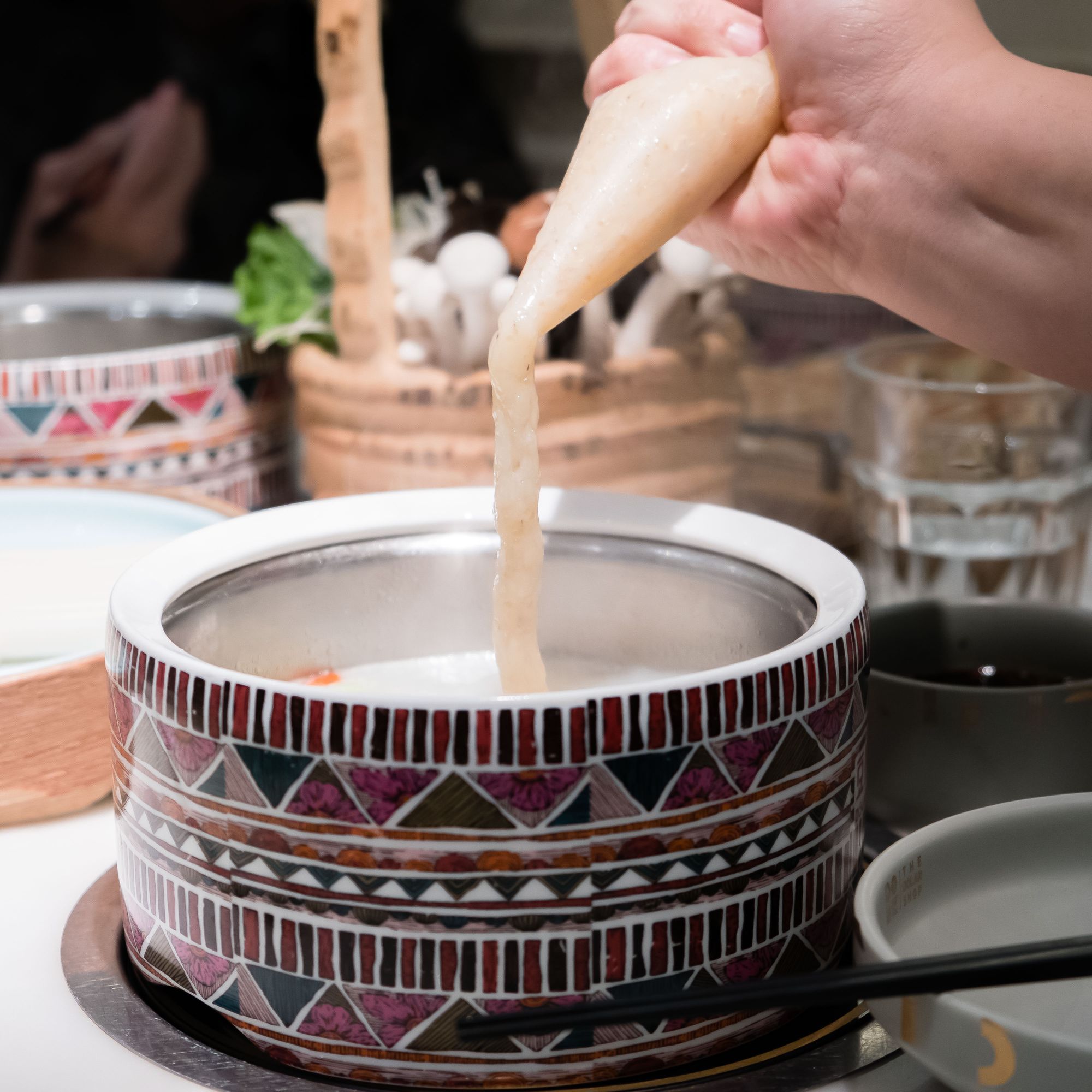 For something meatier, the hand-sliced boneless wagyu slices were a great choice. The marbling on this wagyu indicated a juicy meat and their being sliced meant that they cooked in a matter of seconds in a hot broth. I preferred these slices over the wagyu cubes in the Deluxe Platter (more on them later). For comparison to entry-level hot pot places, these wagyu slices had a juicier taste due to their higher fat content. Wagyu should be one of the reasons you venture to a place like Dolar Shop.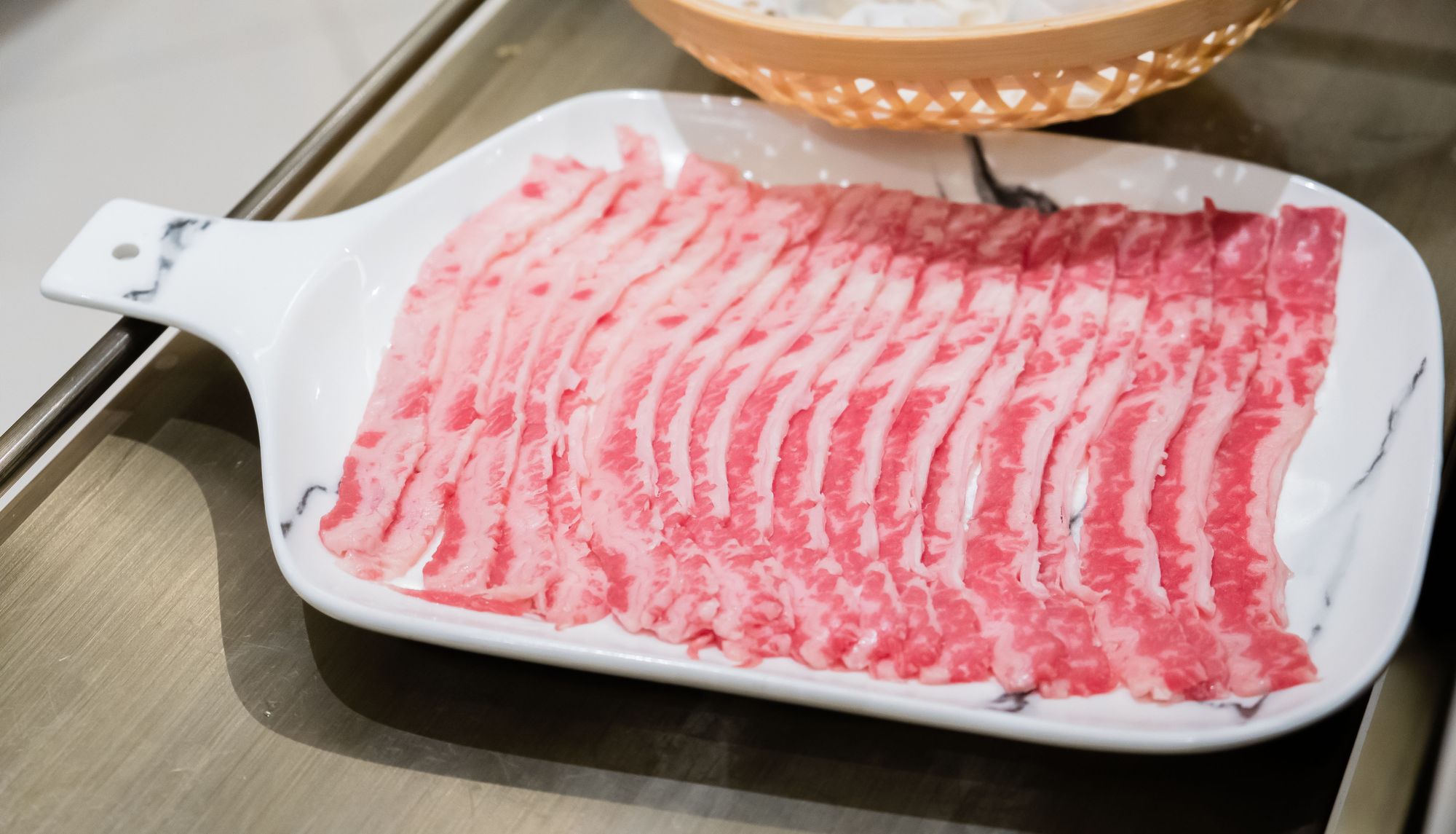 Between the beef tripe and beef artery, both were white slices of raw ingredient served atop a bed of ice. The tripe had a little more texture but the beef artery had more chew.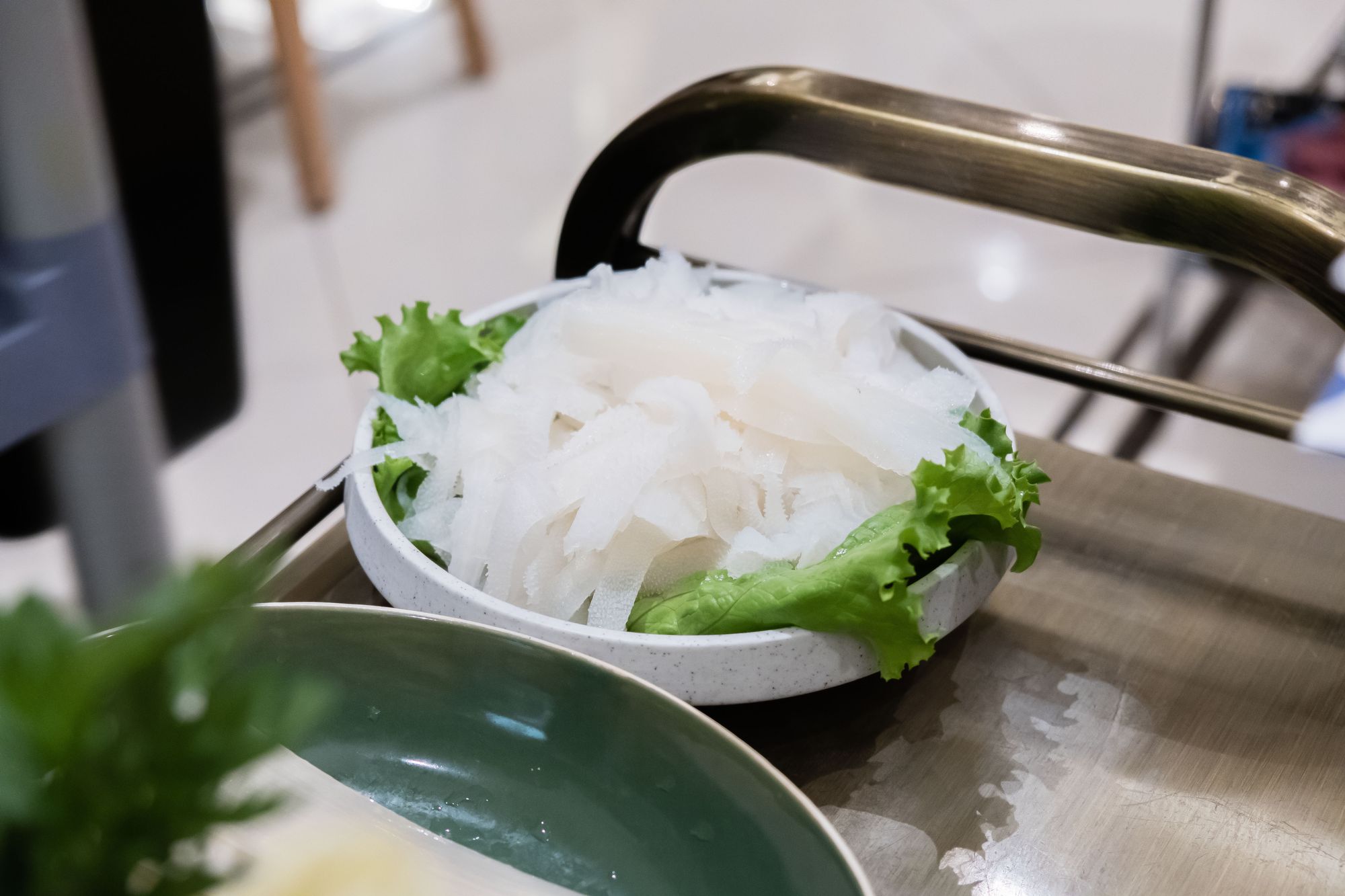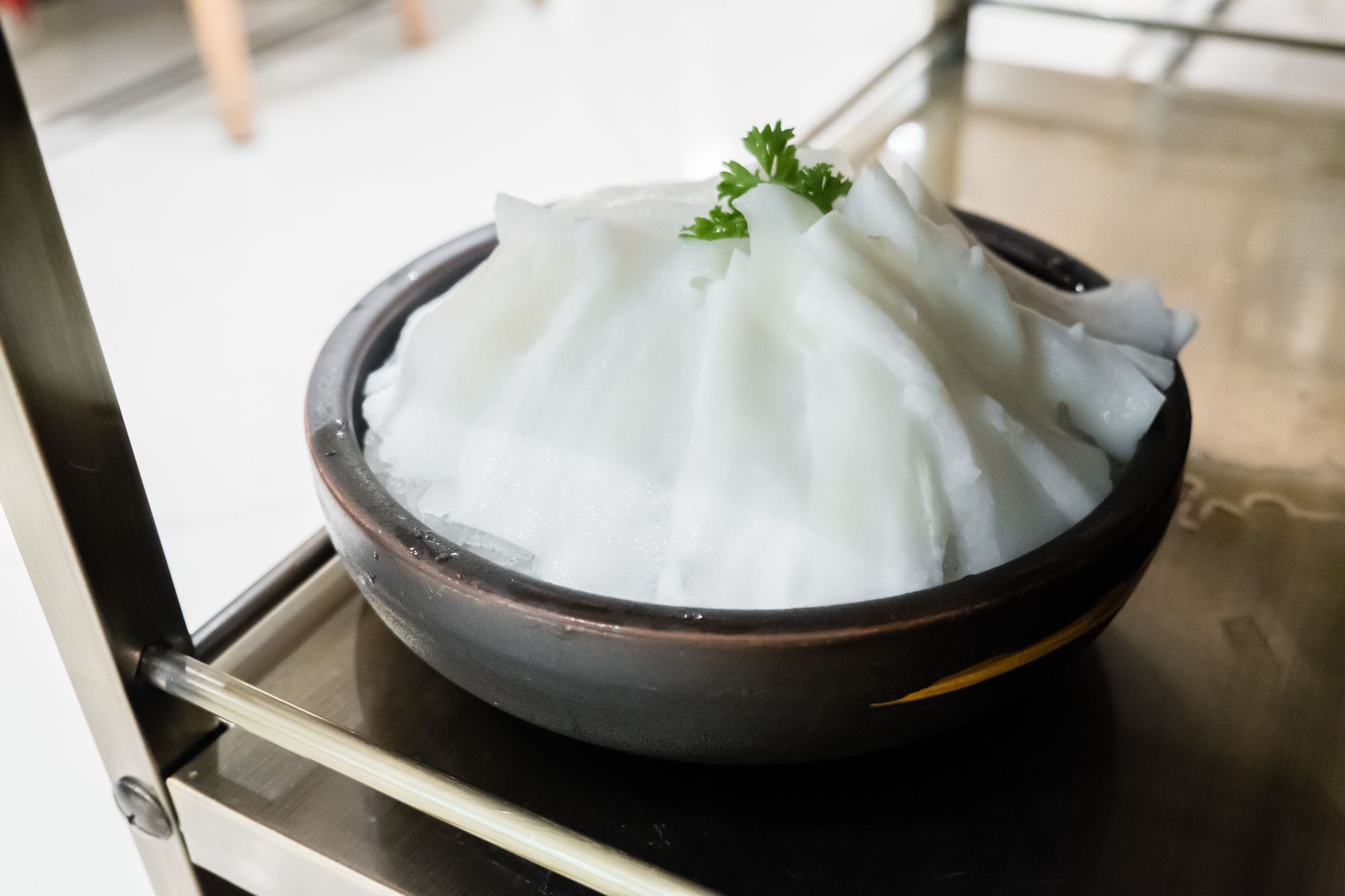 No hot pot is complete without some vegetables. Our napa cabbage and tong ho (crown daisy) vegetables were served in some neat (and heavy) dishware. I've seen these veggies at every hot pot place so just standard fare here.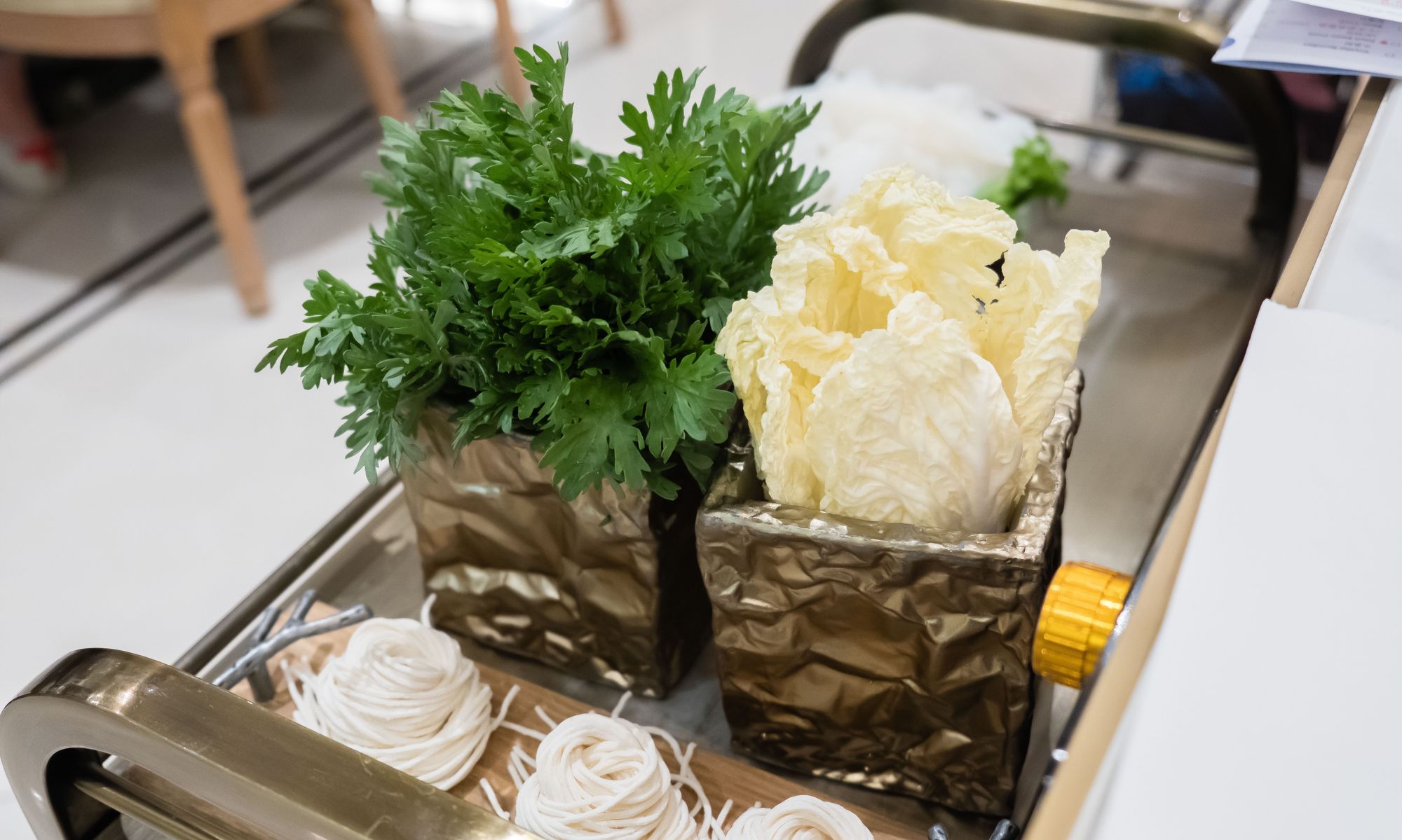 The mixed mushroom basket was a way to try multiple mushrooms in the same order. Interestingly, the basket included mushrooms that were non-existent on the a la carte fungi menu. Namely, oyster mushroom, shimeji mushroom, shiitake mushroom, and king oyster mushrooms were all included in addition to wood ear mushrooms and enoki mushrooms. Given the serving size of each type of mushroom, this basket was really meant for 2 people.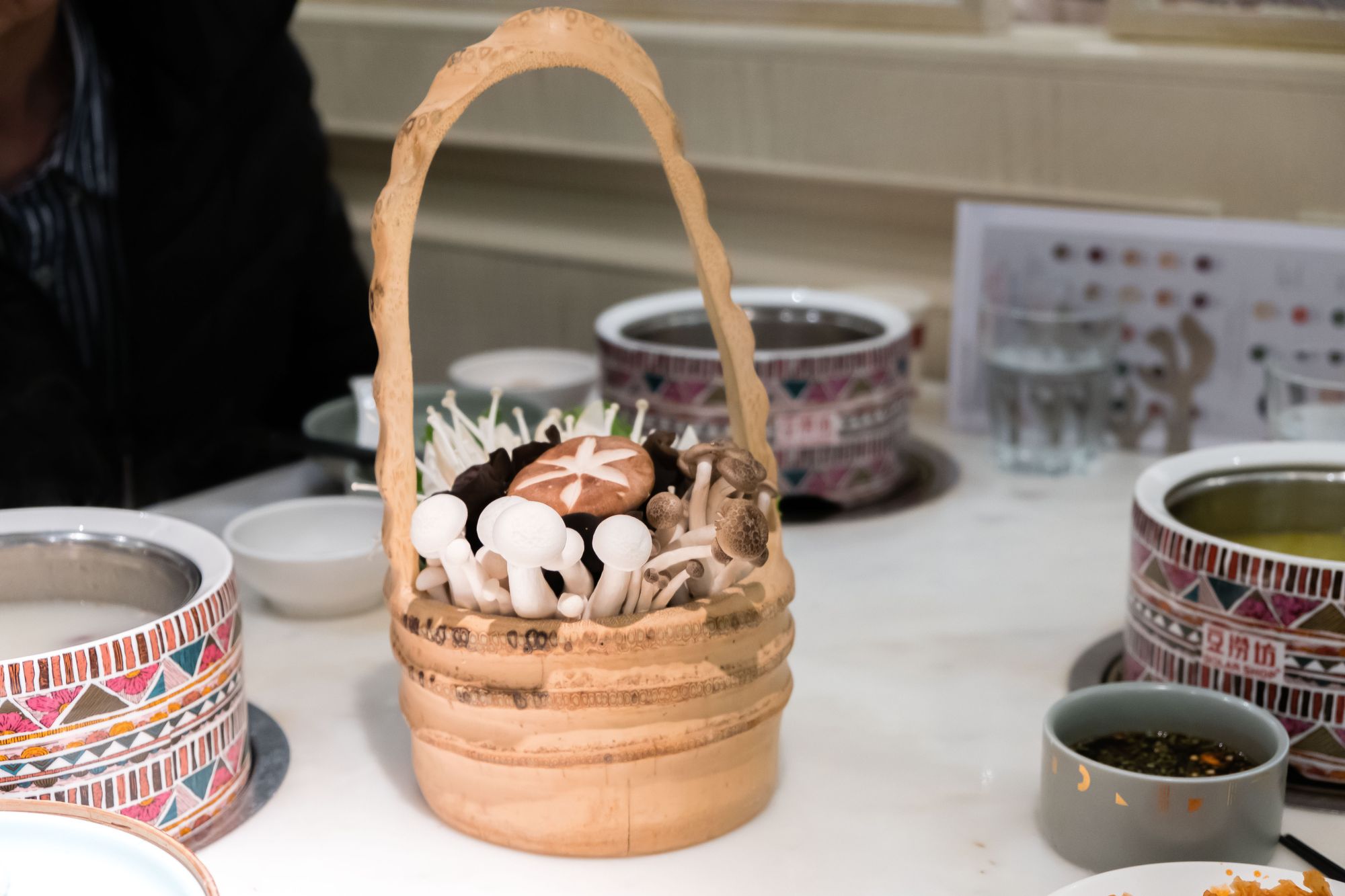 Next up were the hand-crafted noodles. Literally the only difference between these and the tri-colour hand-crafted noodles is colour. The fresh noodles are served either as rolled or flat bundles of three. Save yourself the dollar and just get the hand-crafted noodles for your starchy needs.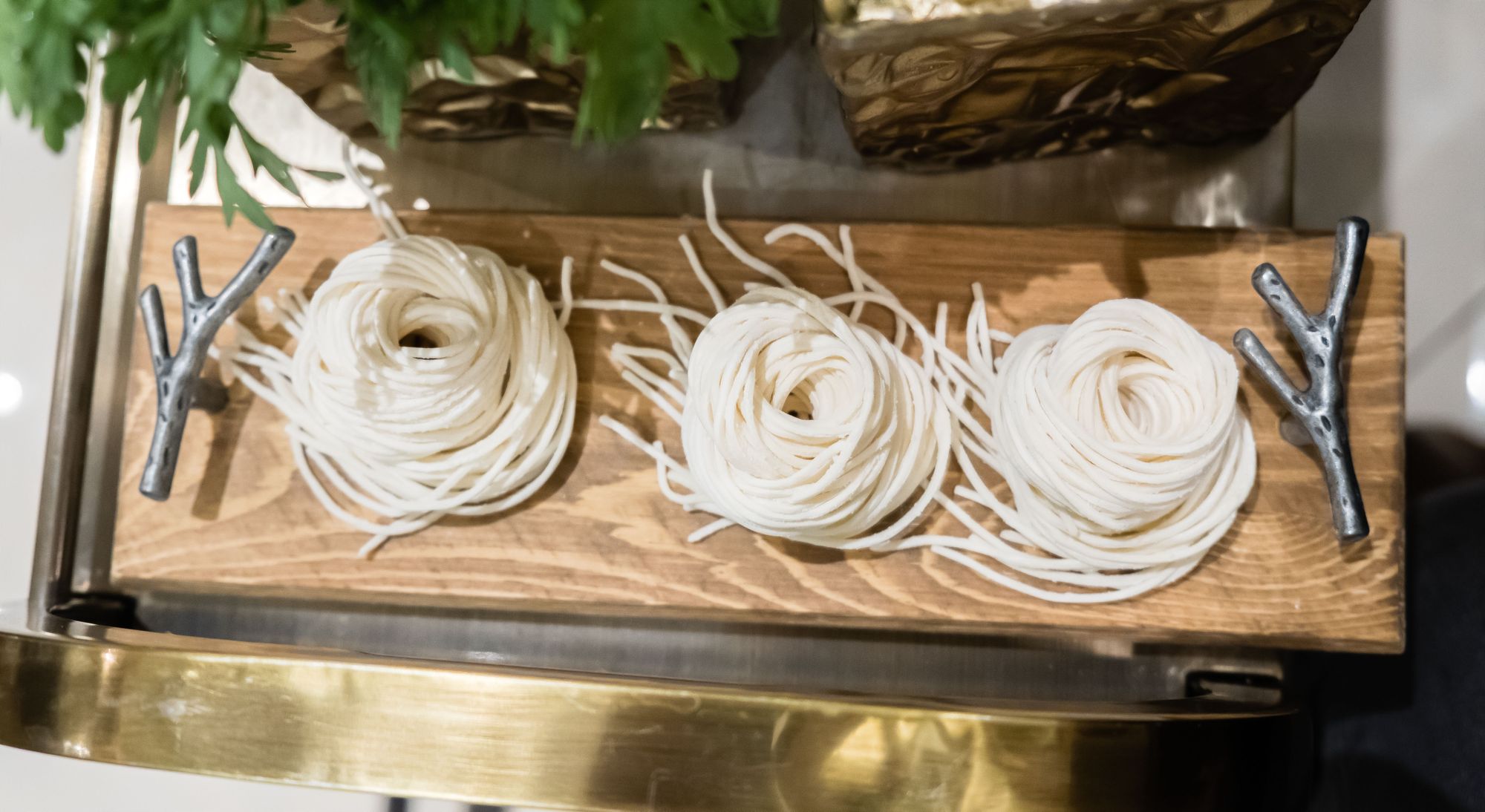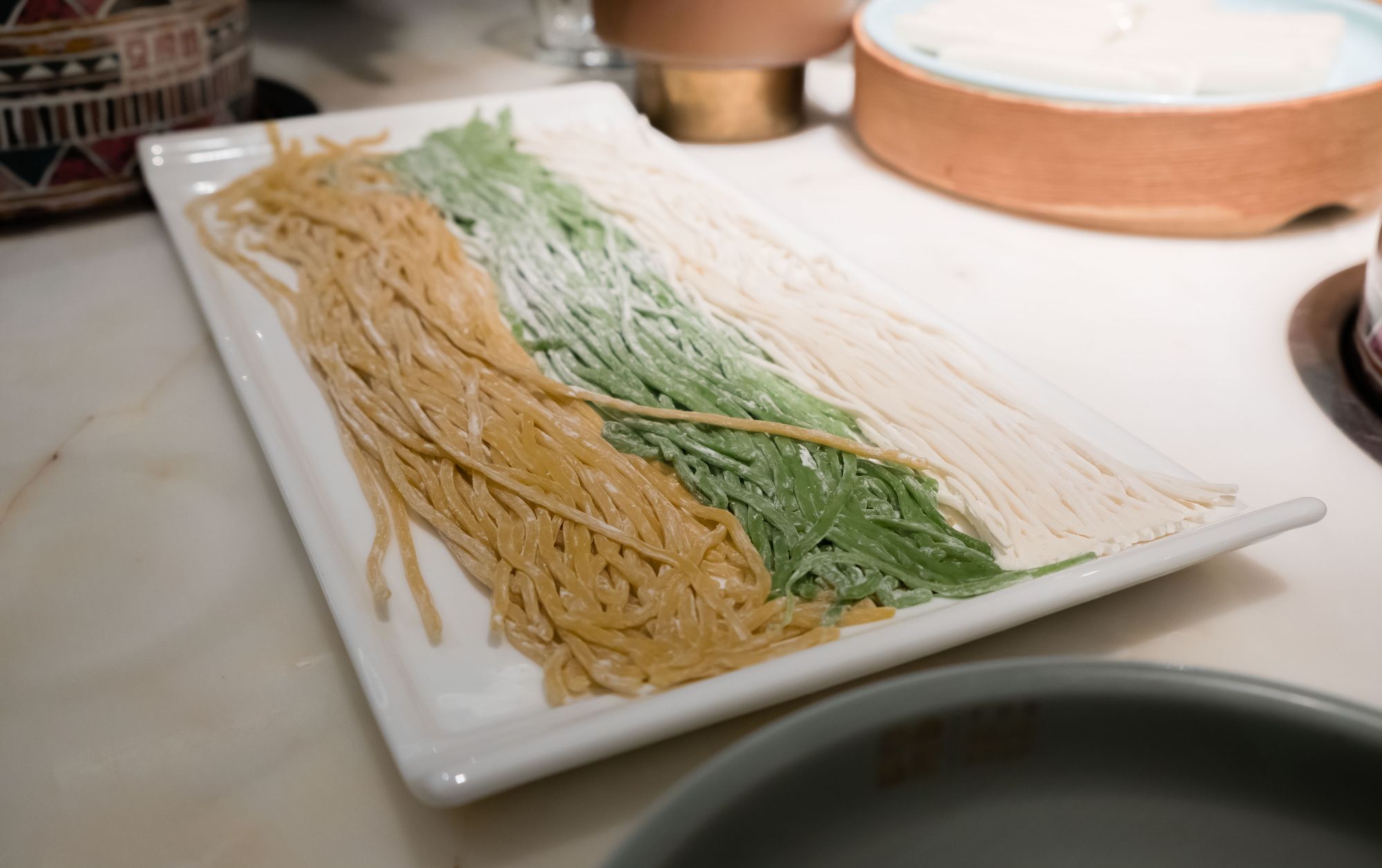 The sticky rice cake had plenty of chew and was quite a generous amount. If you haven't had sticky rice cake before, don't be fooled by its friendly appearance. These are dense pieces of glutinous rice and are more filling per cubic centimetre when compared to noodles.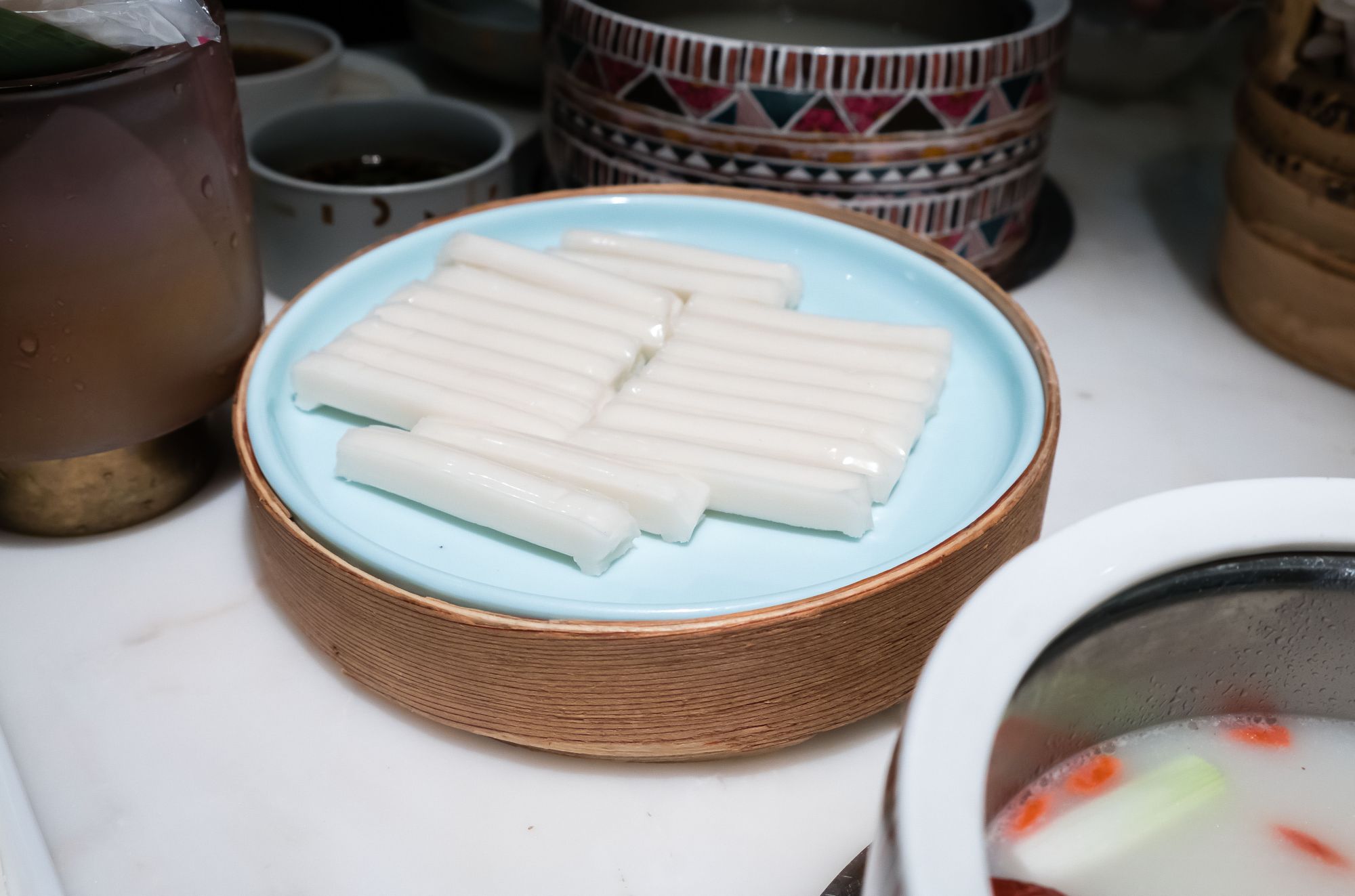 The pork wonton came as a pack of six and had some good folds. It was nice to see some attention to consistency (i.e. the folds) even for the small items, even if they were purchased and shipped frozen (unconfirmed).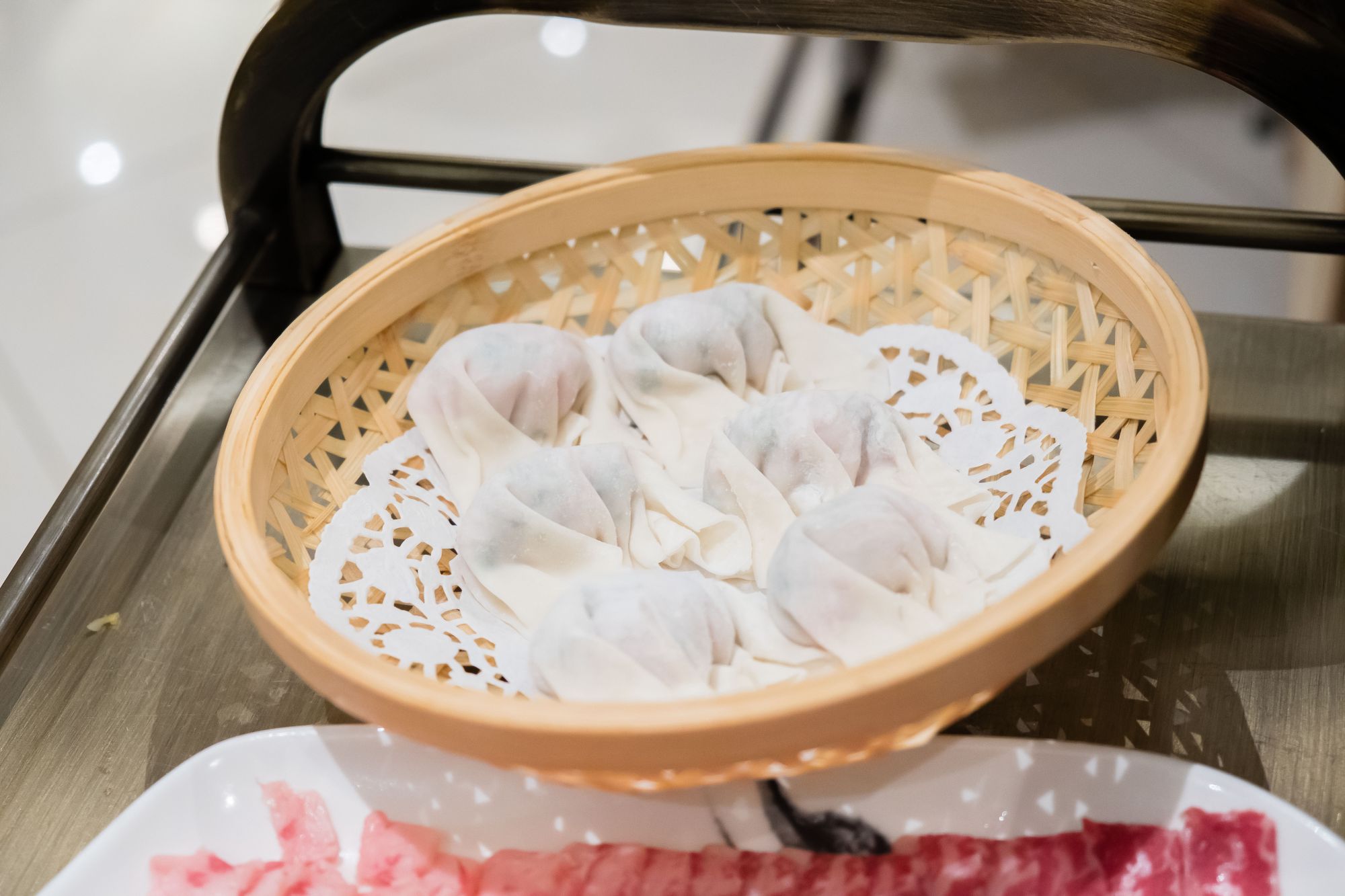 For the deluxe platter, this came with Dolar Shop shrimp pâté, jumbo scallop, wagyu cubes, blue swimmer crab, shrimp, and raw oysters. Being the smaller of the two platters, this was also on the cheaper side. The crab and wagyu cubes ended up being bummers though. The wagyu cubes were frozen solid so cooking them took way longer than the wagyu slices resulting in a dense interior if you were going for anything tenderer than well-done. The swimmer crab was just stalks of small-time crab. If you're looking at a platter, I think the deluxe seafood platter (described below) will be a better decision. The shrimp pâté was the only standout from this platter for me and that can be ordered à la carte.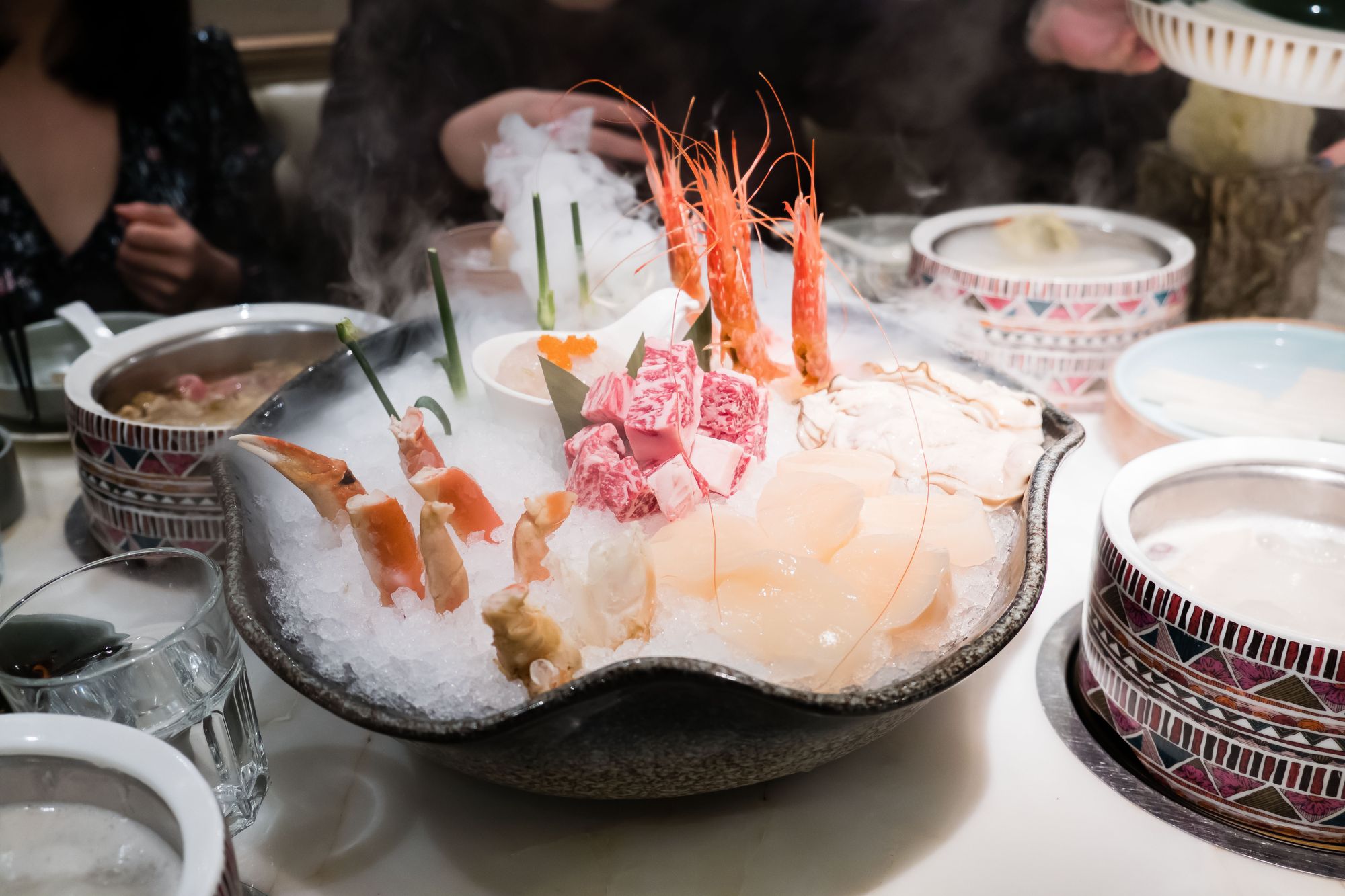 The deluxe seafood platter was a box of whole dungeness crab (claws, head, and legs), abalone, Pacific white shrimp, jumbo scallop, and raw oysters. This box essentially takes what's in the $60 platter above and ups the ante in both quality and quantity. There's enough value here that the $60 platter looks like a rip-off in hindsight (the wagyu cubes and skinny crab legs are a hassle to cook and eat). My favourite piece here was the jumbo scallops which were absolutely huge. The whole crab was a nice touch but took a lot of effort to eat. You'll likely want to ask your serve for a crab cracker to make eating this easier.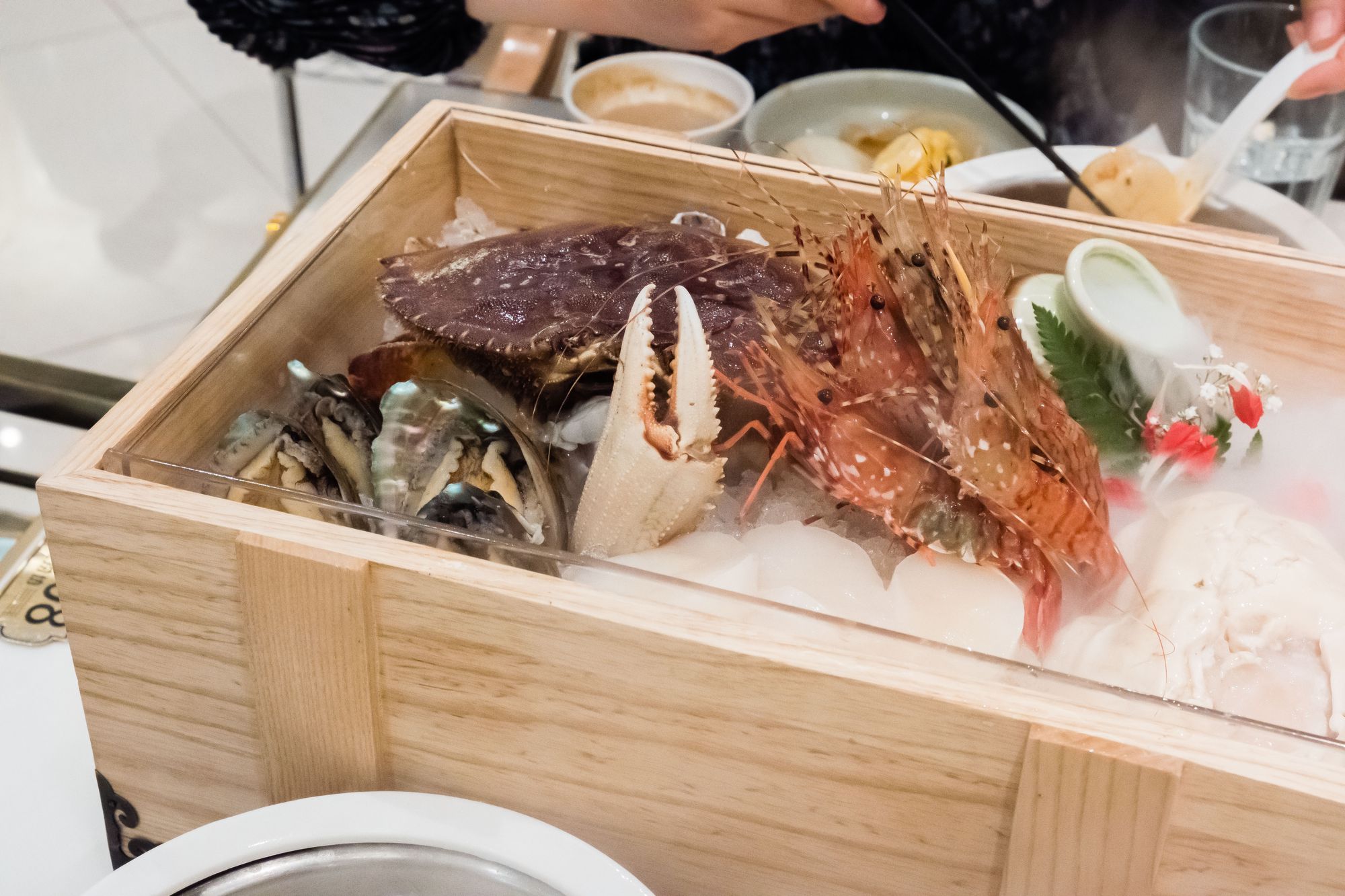 After all of this, our server came by with soft serve ice cream to finish off the meal. Nothing too special to note about this ice cream. It was a little icy and served in grocery store-style wafer cones. A nice touch, nonetheless. Where some restaurants gift you a mint, at The Dolar Shop you'll get ice cream.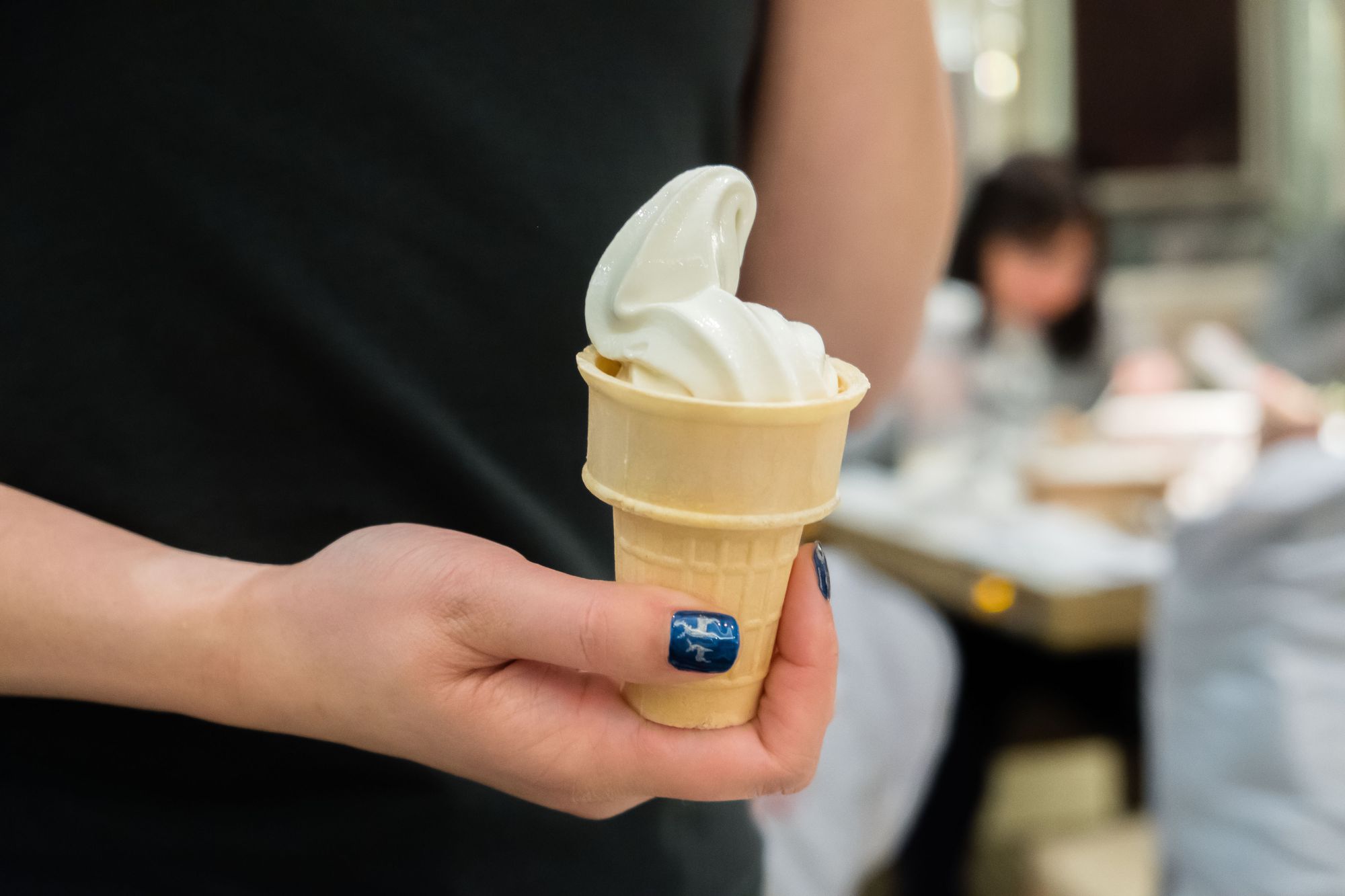 Features:
The Dolar Shop takes up residence in Lansdowne Centre, replacing Kyung Bok Palace, a Korean BBQ restaurant. Inside, the interior is completely revamped. The entrance now is a designated holding area for walk-ins and reservations (more on this later) and the navigation inside is quite tight with narrow corridors and a lot of staff buzzing around. The actual dining area is gorgeous. The wall mouldings and art pieces make it feel like you're dining in somebody's mansion. Across the designated dining areas is seating for about 100 guests, mostly in large booths and round tables.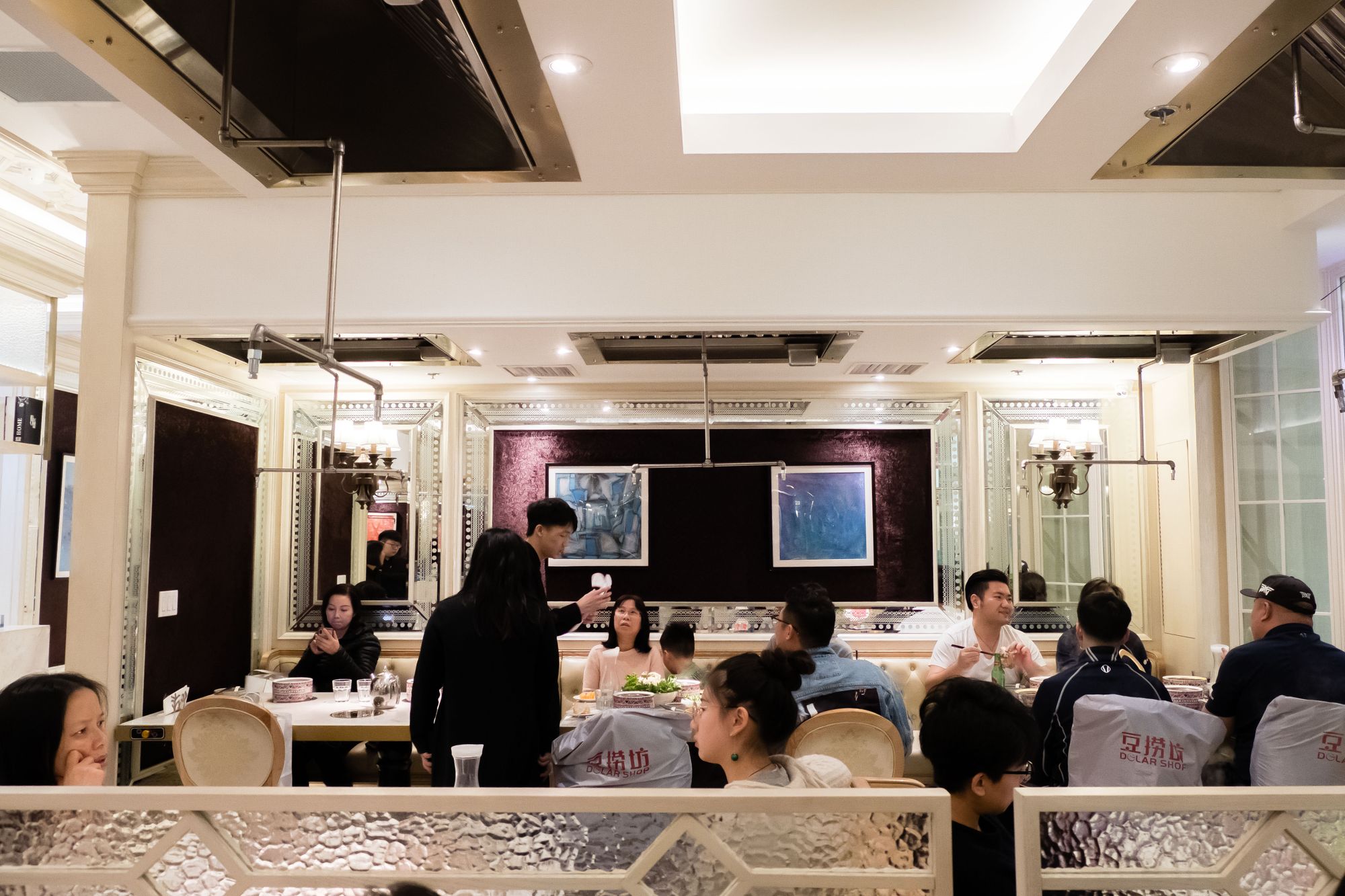 The Sauce Bar is centrally located in the restaurant which is great for logistics. Here you'll find a ton of sauces with which you can fill up your sauce bowl with. If you're unsure where to start, the menu has suggestions with which to get you started.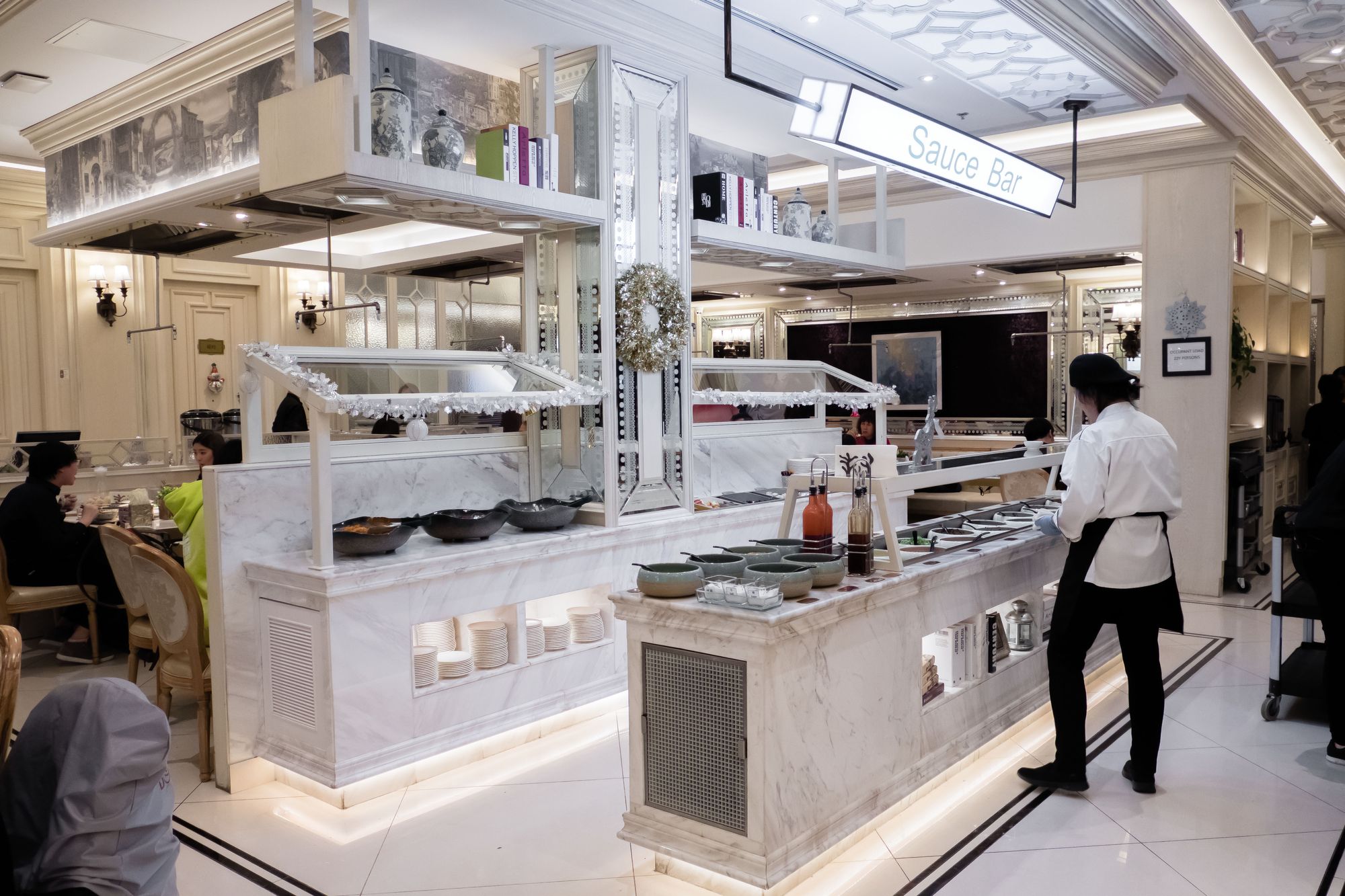 I personally enjoyed a mix of XO Sauce and Sesame Sauce. Some of the sauces have hilarious adjectives on their nameplate. Look for the "aromatic" and "fragrant" labels.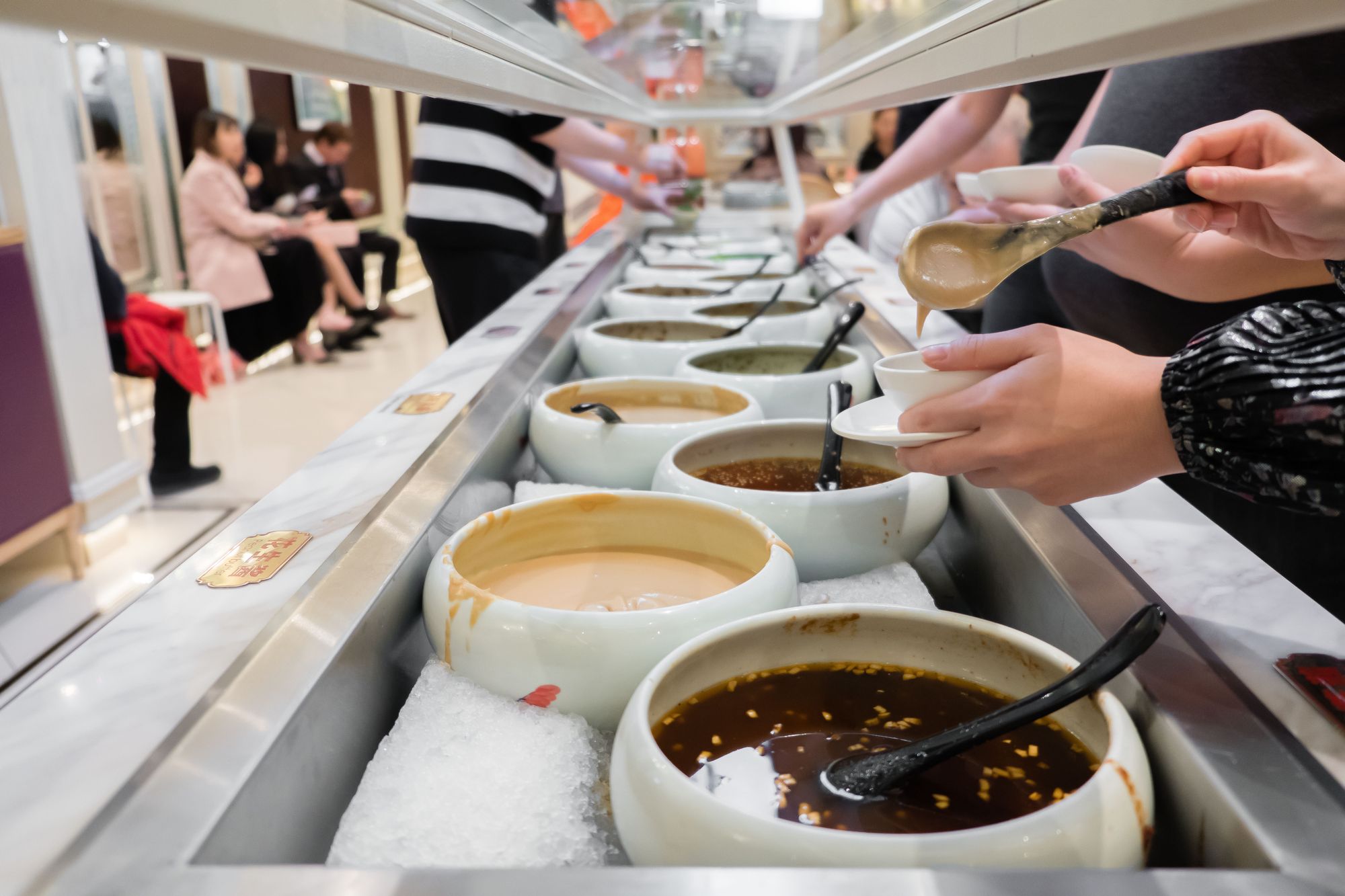 With the Sauce Bar, you also have unlimited condiments. I suggest you milk this as much as you like because everyone in your party pays $4 for having access to the Sauce Bar.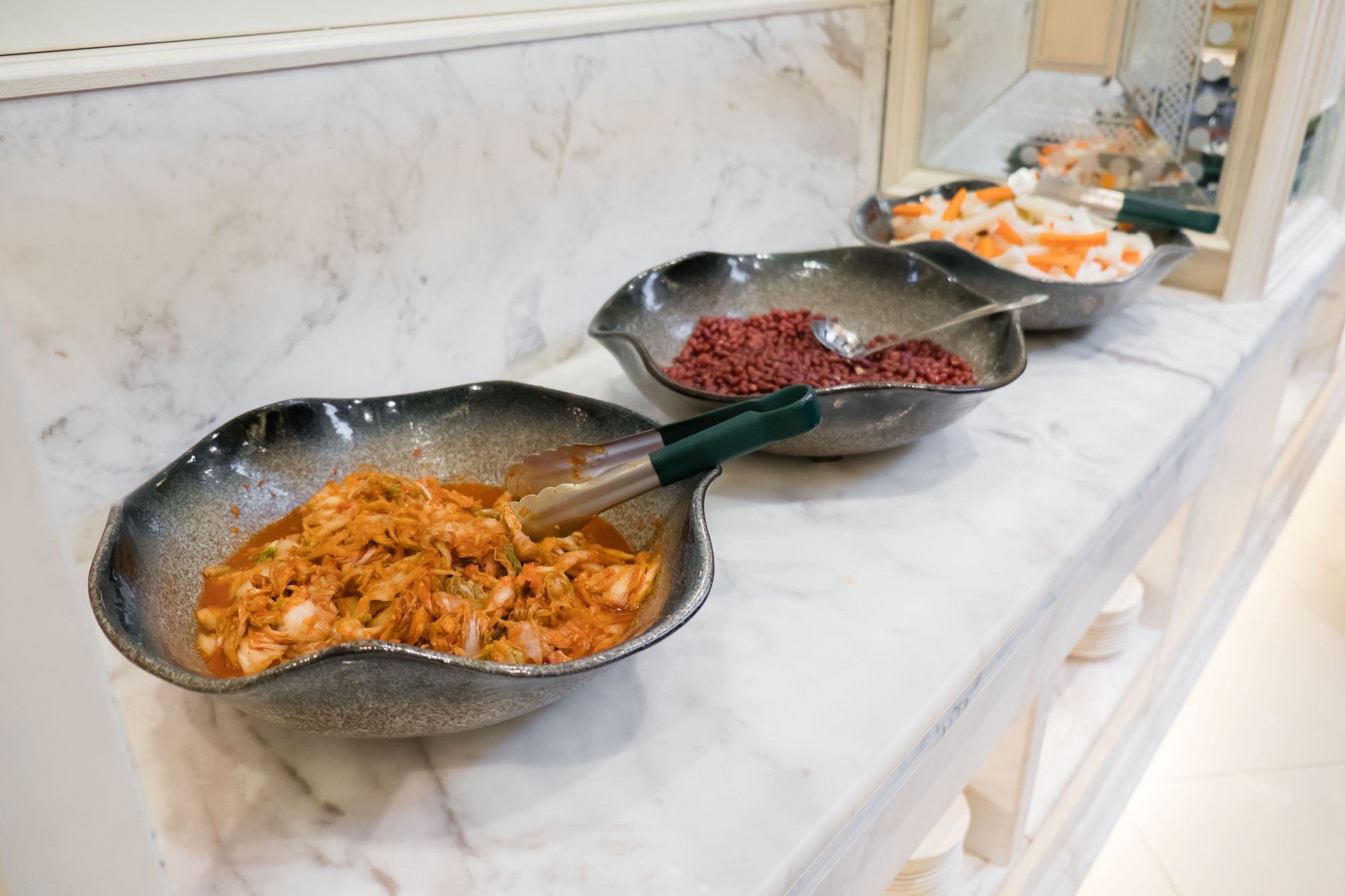 One cool practice in the restaurant was the use of seat covers to protect jackets and belongings from splatter. This was a casual reminder that I was dining in the presence of Gucci gangs and Louis Vuitton moms. Apparently in China these seat jackets are a common practice to prevent theft but I can see the argument for wanting to prevent accidental splatters onto fashion items that could cost more than the van I drive.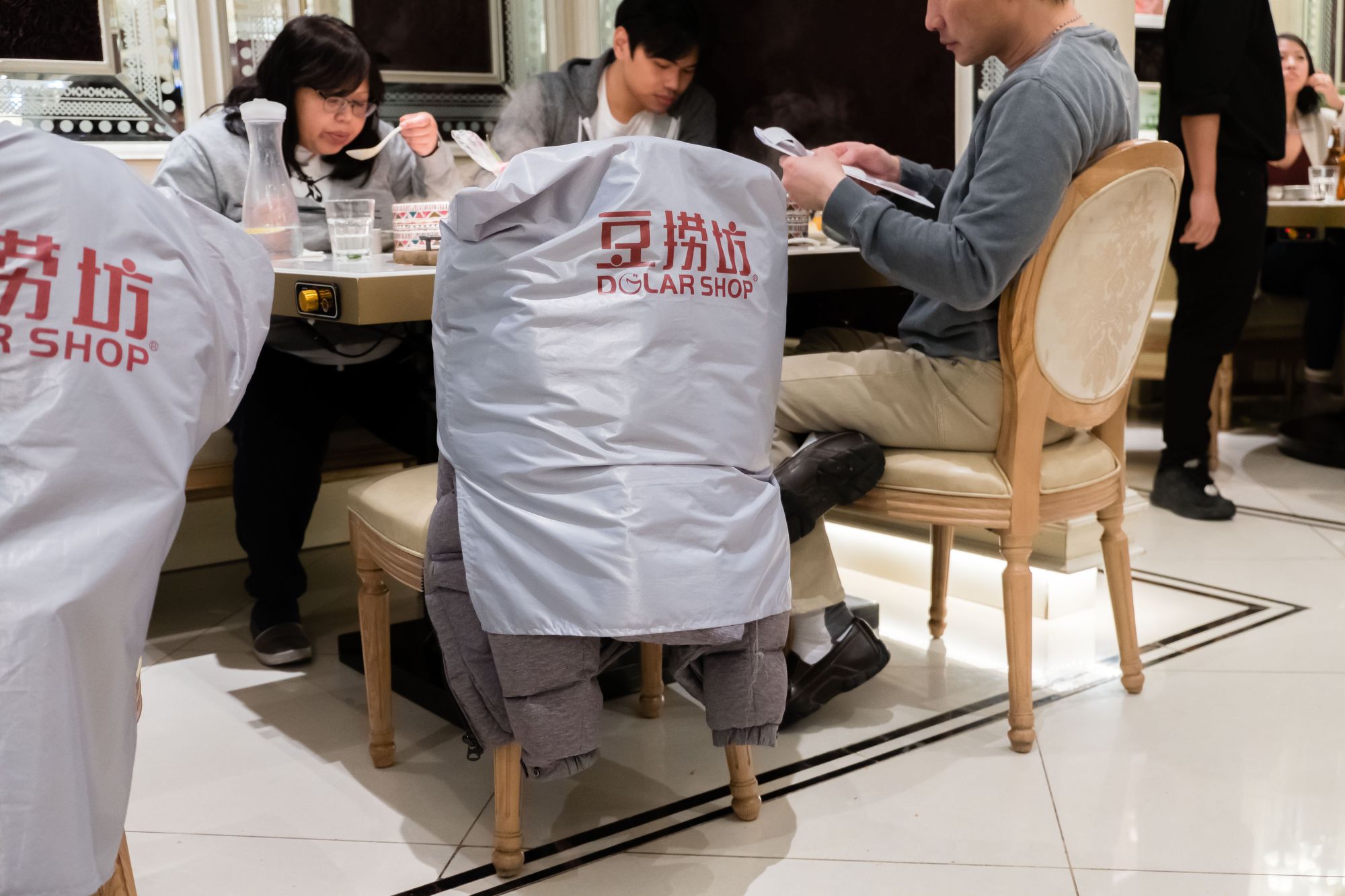 Fun fact: the restrooms at The Dolar Shop feature orange peel in their sinks. Running water through them releases a nice fragrance. Not that their washrooms stink or anything, but it was an interesting use of leftover oranges.
Service:
Service is where The Dolar Shop gets your dollars. I'll use Little Sheep as a comparison since that's really entry-level hot pot. At Little Sheep you'll be lucky to catch your server in between their 20 tables they're responsible for. At The Dolar Shop, you have a team serving your table. For our dinner service, we had a water guy, a broth lady, a serving duo, and a cleanup team. It was never hard to get help from somebody.
Walking through the narrow corridors was also surprisingly easy. The reason? If a staff member saw me walking across their path, they would slide to the side with everything they were carrying and motion for me to pass. They would do this even after motioning for somebody else to pass, making a move to continue their current task, and then just spotting me in the corner of their eye. I felt like I was an important patron on my many trips to and from the Sauce Bar.
The way into the restaurant wasn't as grand though. I originally made a "reservation" over the phone for my party, but when I got to the restaurant, I learned that really I just got myself onto a "priority wait list". Our party still had to wait about 20 minutes before getting seated. I'm a little put off by this practice (I make it a duty to show up on time for a reservation) but I'm informed this is a common practice at busy Chinese restaurants.
For comparison's sake, my sister put us down on the regular walk-in wait list at 6:10pm, and that line took 2.5 hours to be called in for a table. Your best bet is to reserve as early as you can to minimize your wait time while you're on the priority wait list. The restaurant will text you when your table is approaching readiness and urge you to chill in their waiting lounge as a holding pattern. Staff will come by with fruit snacks and if your wait time continues to exceed 20 minutes, you will qualify to play a toy claw game with marginal rewards to placate you.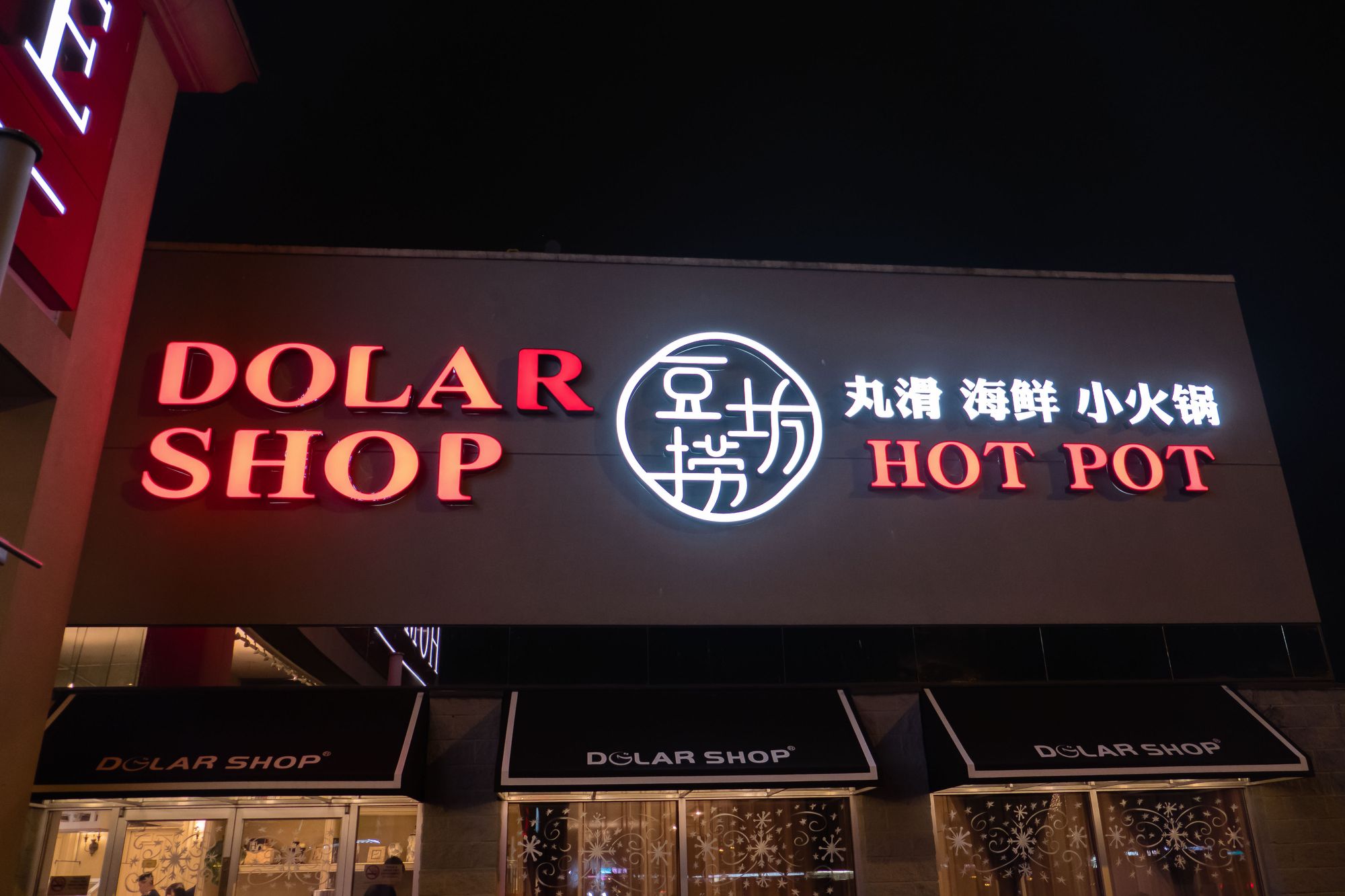 Another minor issue I had was with the primary language spoken here. The staff, unless spoken to from us first, generally assumed everyone in our party spoke Mandarin and began conversations in Mandarin. I don't speak any Mandarin. This type of exchange happened on the phone, at my checking in at the restaurant, and pretty much every time a staff member motioned me to walk on by. The motions were fine by me, but having the staff come by to take my order in Mandarin puts me in a slightly awkward spot.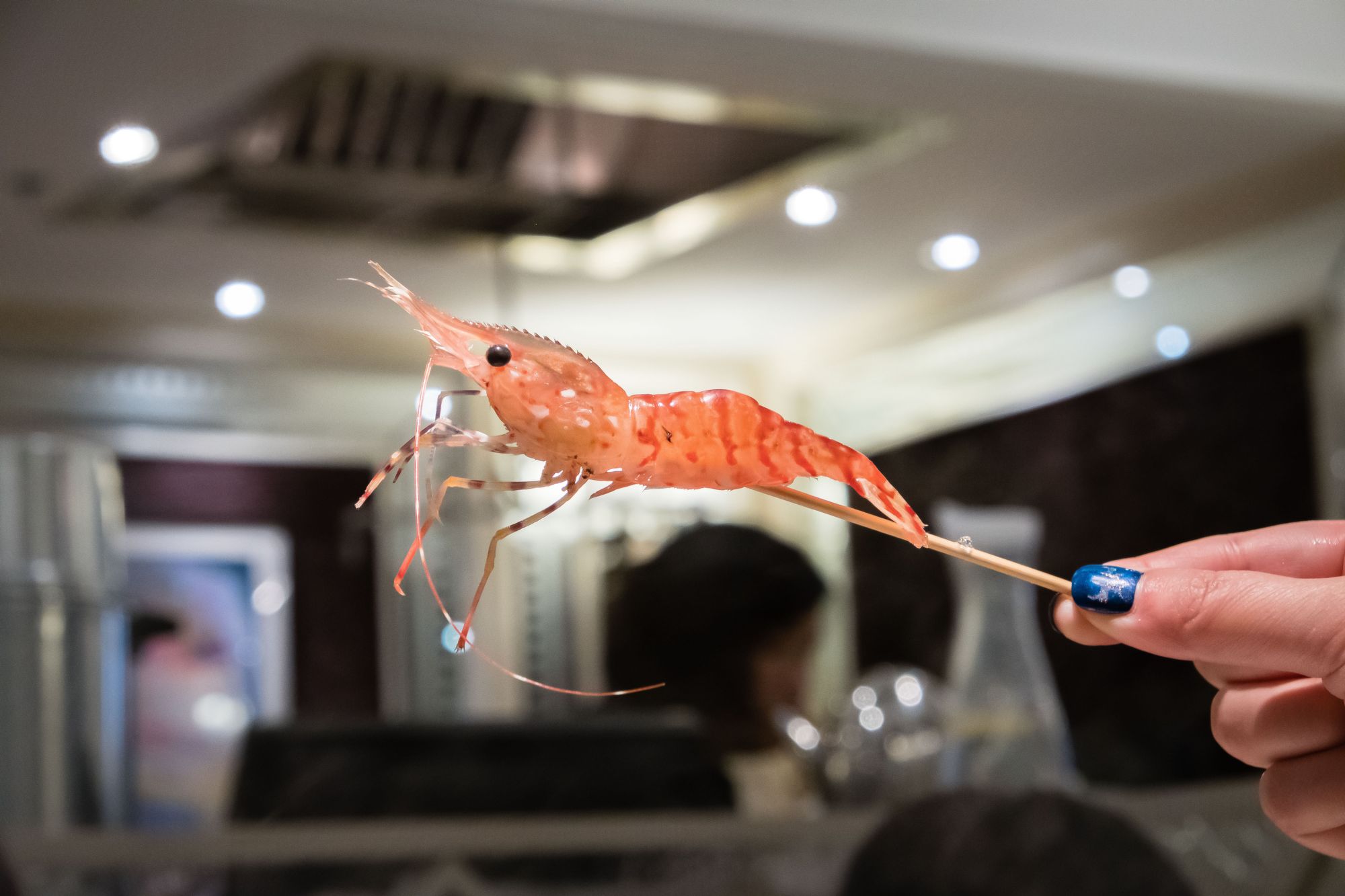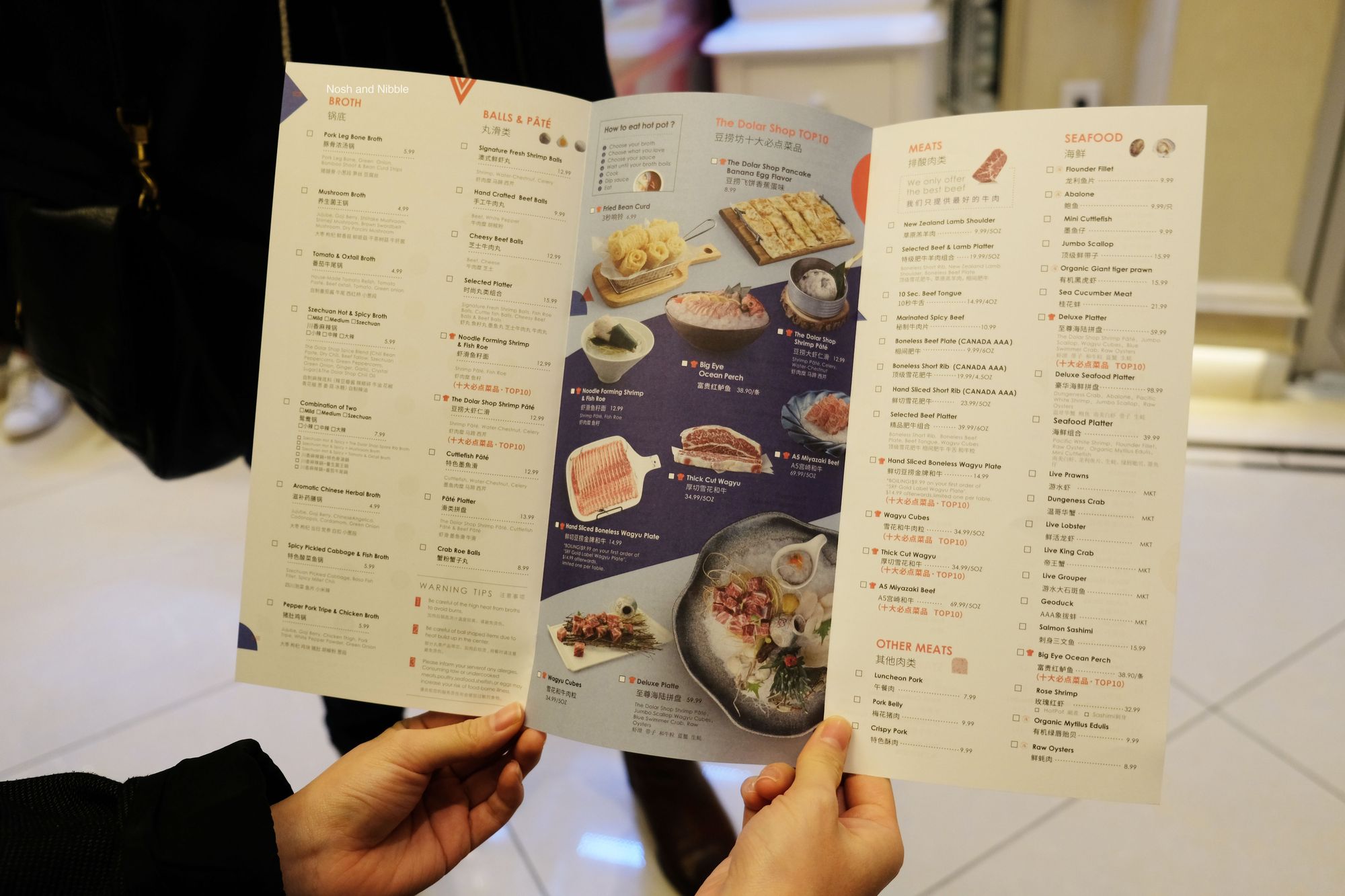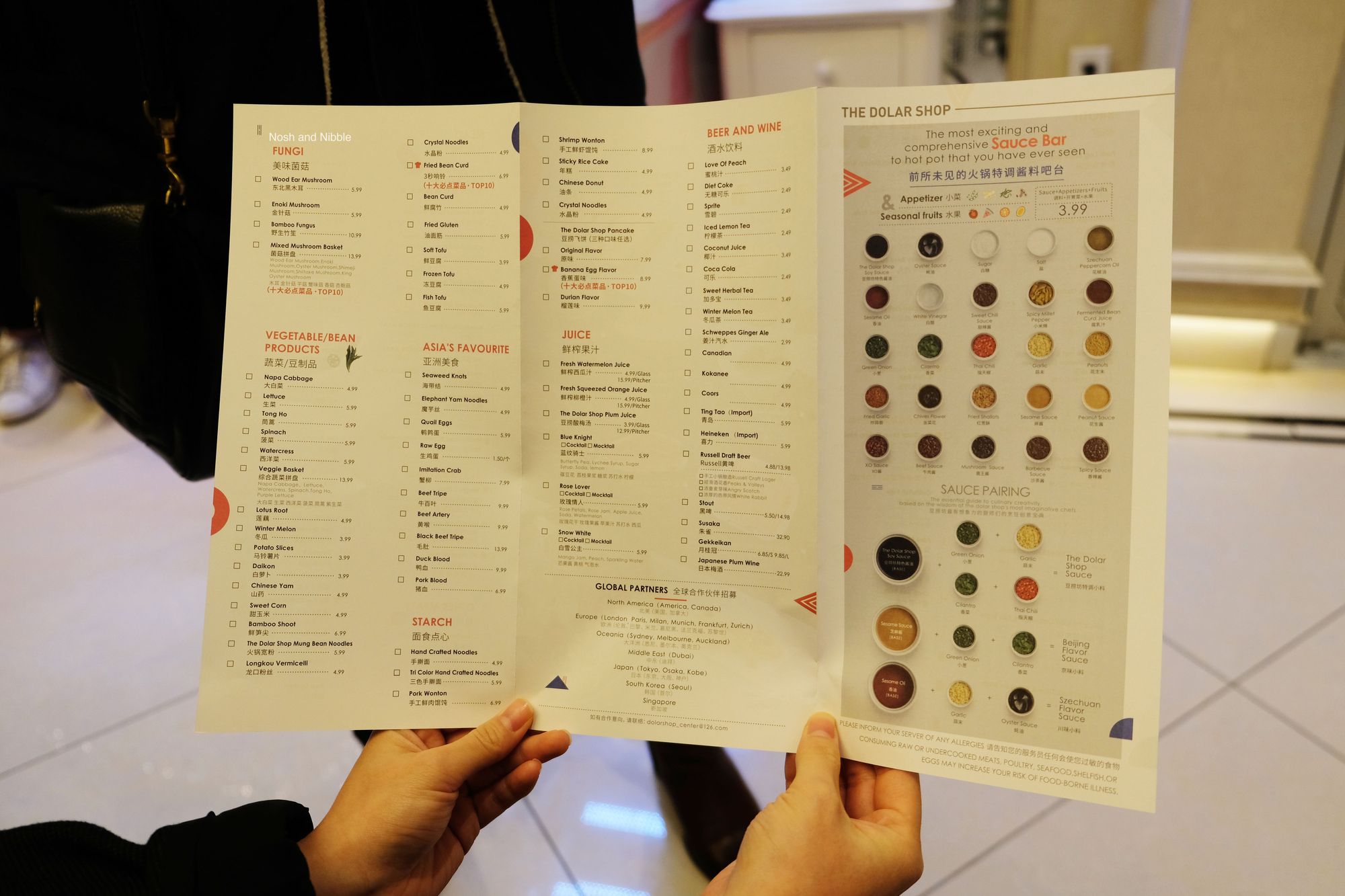 Final Thoughts:
One-liner: The fanciest hot pot money can buy (right now) in Metro Vancouver where you will be treated like royalty and charged like it too
Highlight: Deluxe Seafood Platter
Price per person: $45-$60
Would I go back? Once is enough for me.