Rising up from the ashes of the shuttered Merchants Workshop comes a new Asian Street-Style eatery by the name of Ugly Dumpling. They do not specialize in dumplings here, so you can give your drooling appetite a rest. No, this is a co-chef operation by Van Doren Chan (Le Crocodile, Hawksworth, Salt Tasting Room, and Meyer Family Vineyard) and Darren Gee (Farmer's Apprentice, Le Crocodile) who have been involved with some of the finest restaurants in Vancouver. Dining at this restaurant certainly had the feel of a finer establishment (read: dark) but yielded a lower price tag than dining at any of the chefs' former restaurants. I cover my experience after having dined omakase-style with my blogger kin Areta, David, and FoodNerdGirl.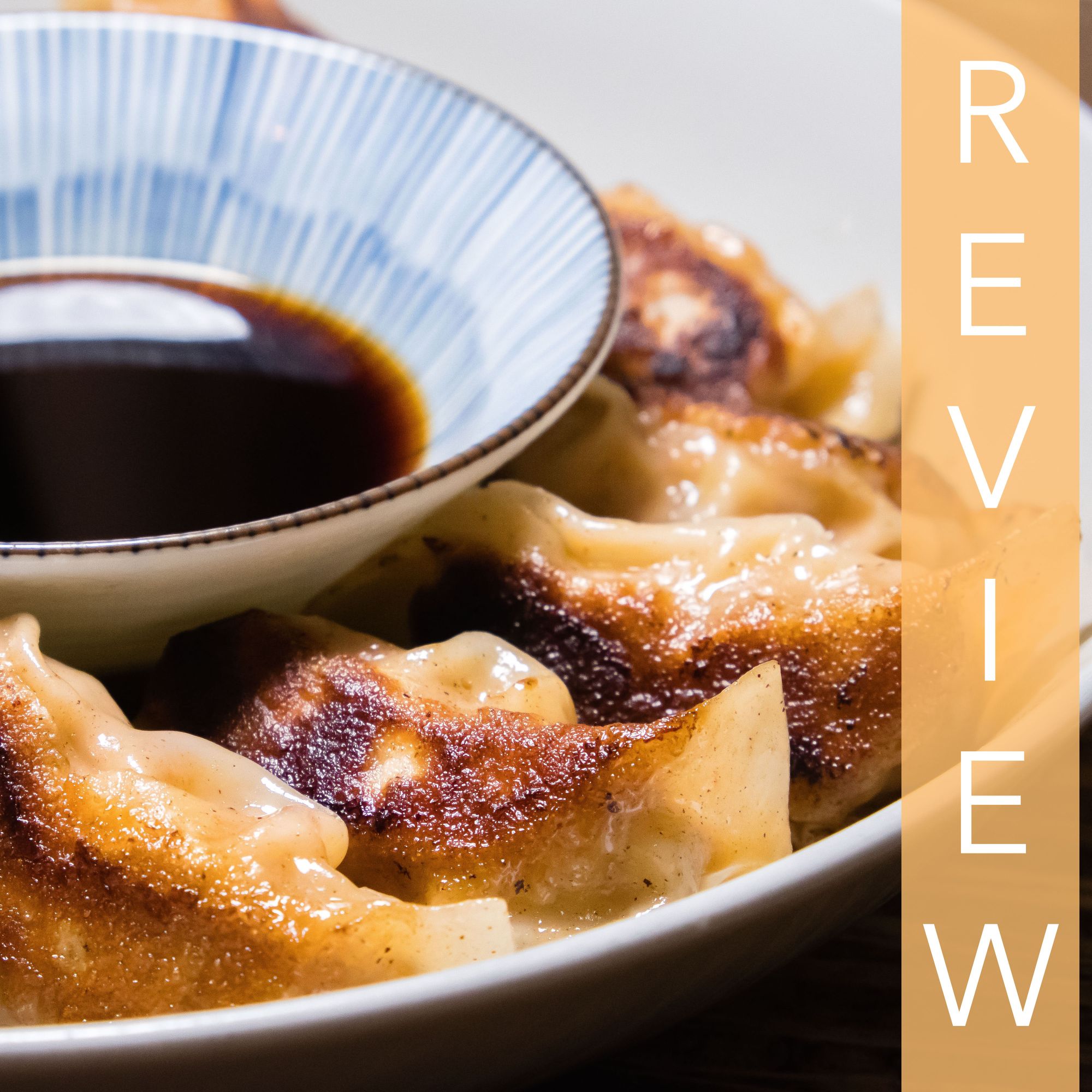 Food:
Team Blogger (well, 4 of us) came here on a Friday evening and I had a great taste of the $60/person 10-course omakase which included:
Homemade Pickles
Spicy Marinated Burdock Salad
Marina's Gold Oysters
Pork, Duck, and Mushroom Pate
Steamed Tofu and Shirako
Winter Greens Salad
Steamed Radish Cake
Daily Dumpling
Tamarind-Glazed Whole Lemon Sole
3-Week Aged Whole Quail
TanTan Ramen
Steamed Black Sesame Cake
Red Bean & Yuzu Marble Cheesecake
There are 13 items above but just consider the homemade pickles as an amuse bouche and the two desserts, which were served simultaneously, as a single course.
The homemade pickles, served as a pair of plates, were crunchy and full of tang. Pickled vegetables would become a recurring theme during this dinner.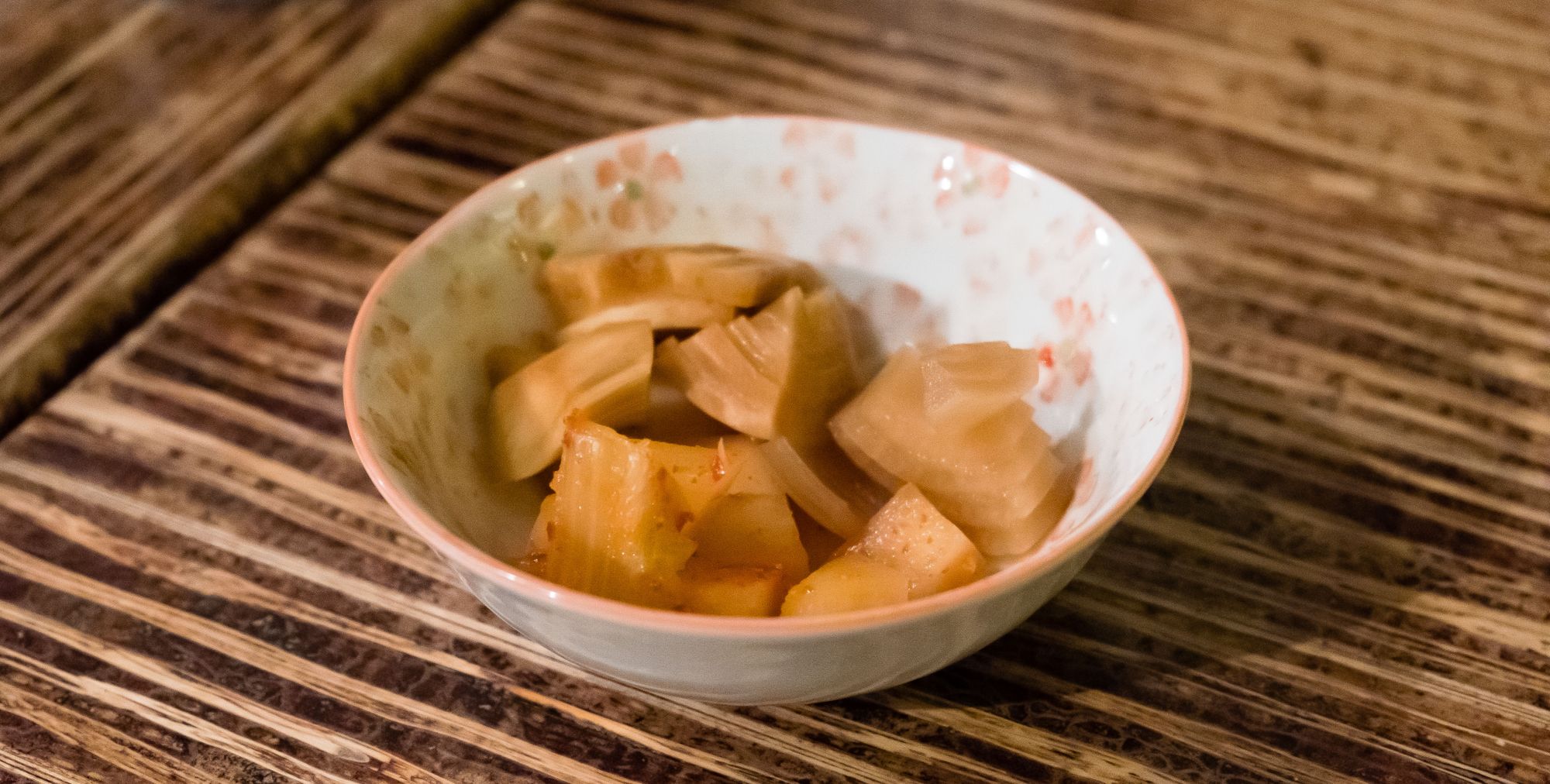 The spicy marinated burdock salad was one of the cooler dishes of the night. The burdock was crunchy and served as a great snack to munch on while waiting for other things to arrive. Due to the spice I couldn't eat too fast so the slow-paced chewing was great for me. I'm not sure where else in Vancouver you could find a burdock salad like this so I think this might be a great unique find at Ugly Dumpling.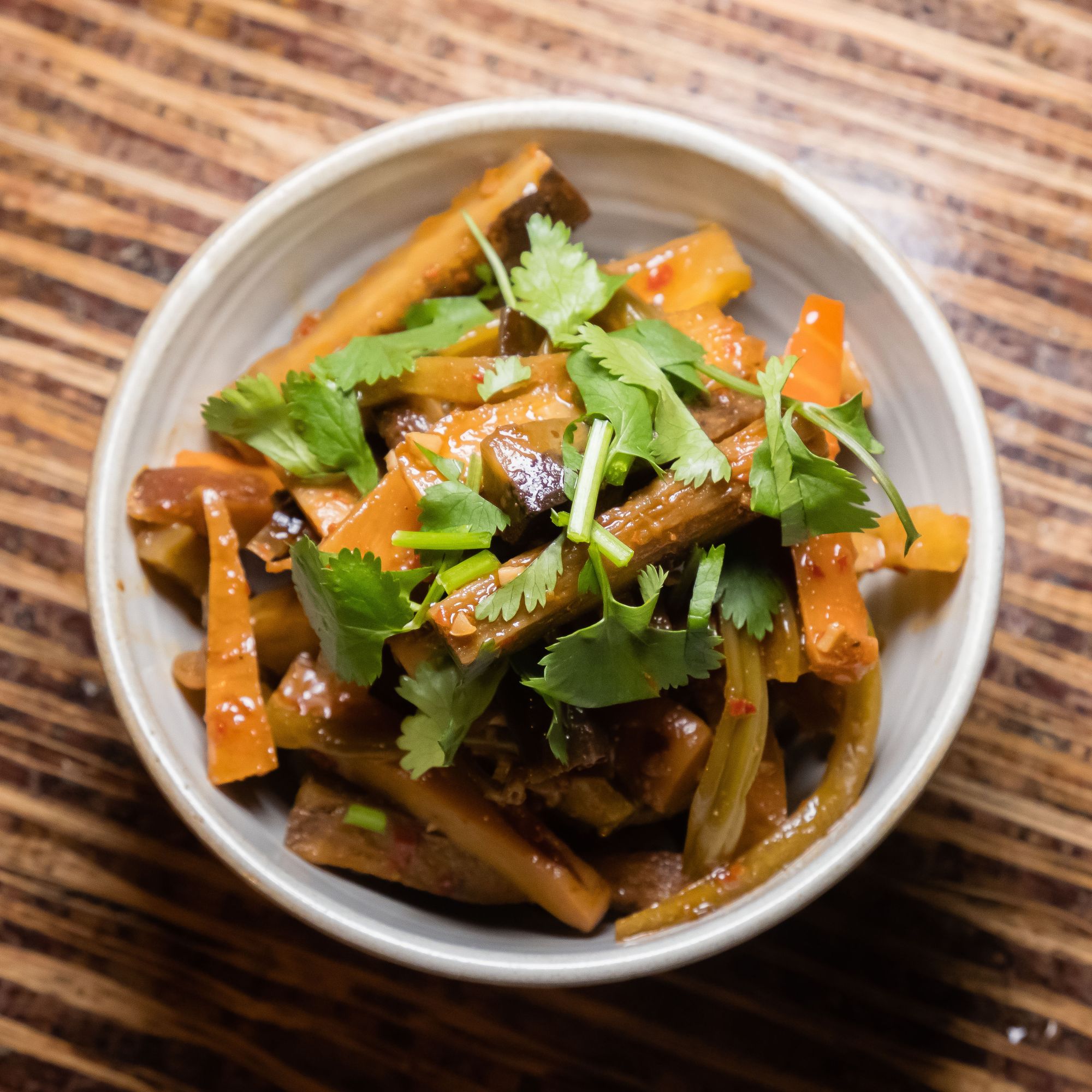 On the Marina's Gold Oysters (served as a foursome), these were served with a pickled grape and fresh horseradish. The senses tingled with this refreshing oyster and like most restaurants that serve them, the oysters were served on comically high piles of sea salt.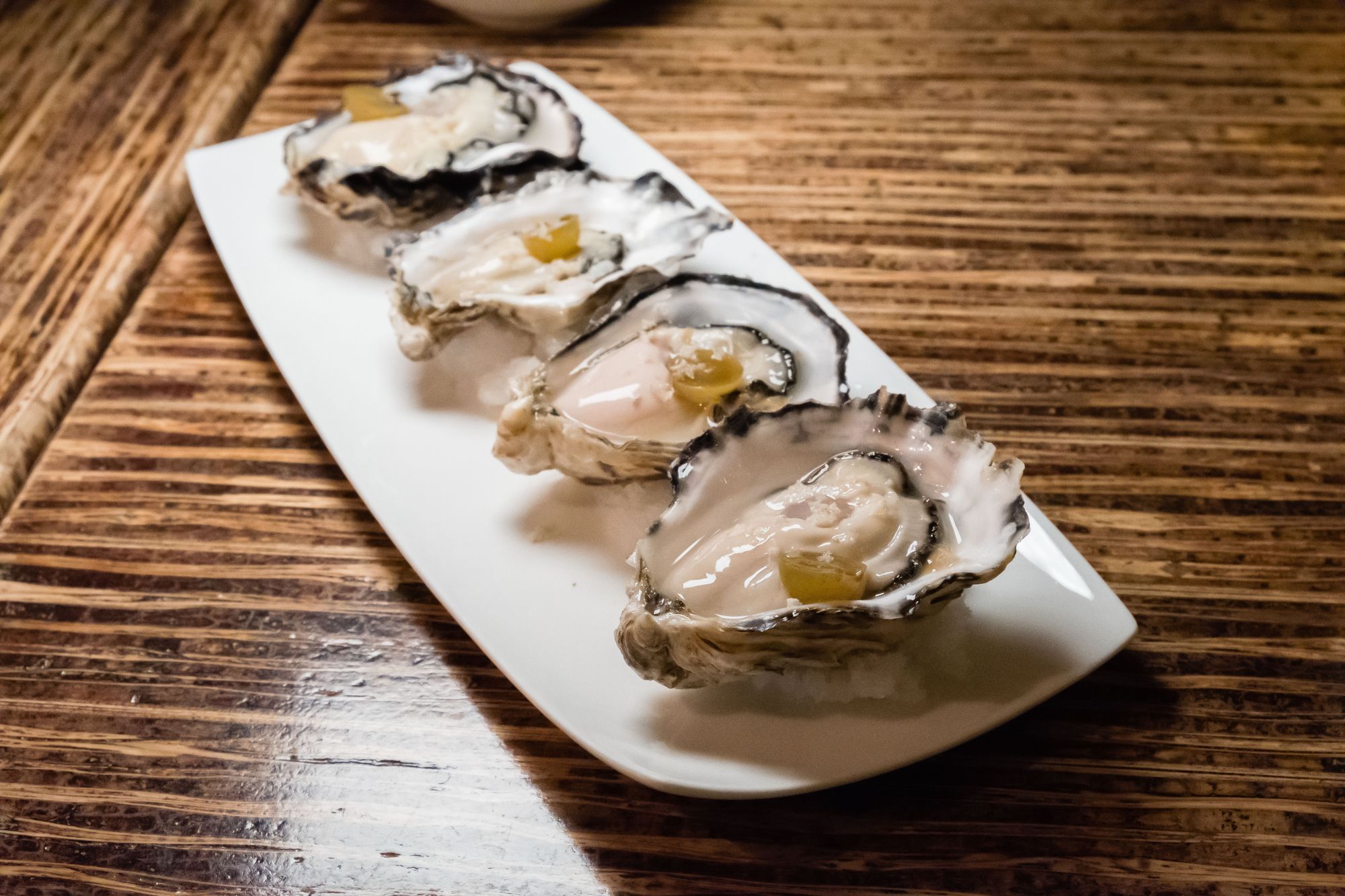 The pork, duck, and mushroom pate was up next and this was served with a persimmon relish. These were fairly large cubes and made for an interesting combination with the persimmon relish. The persimmon had a honey-like flavour and I was all for this delicious flavour combination.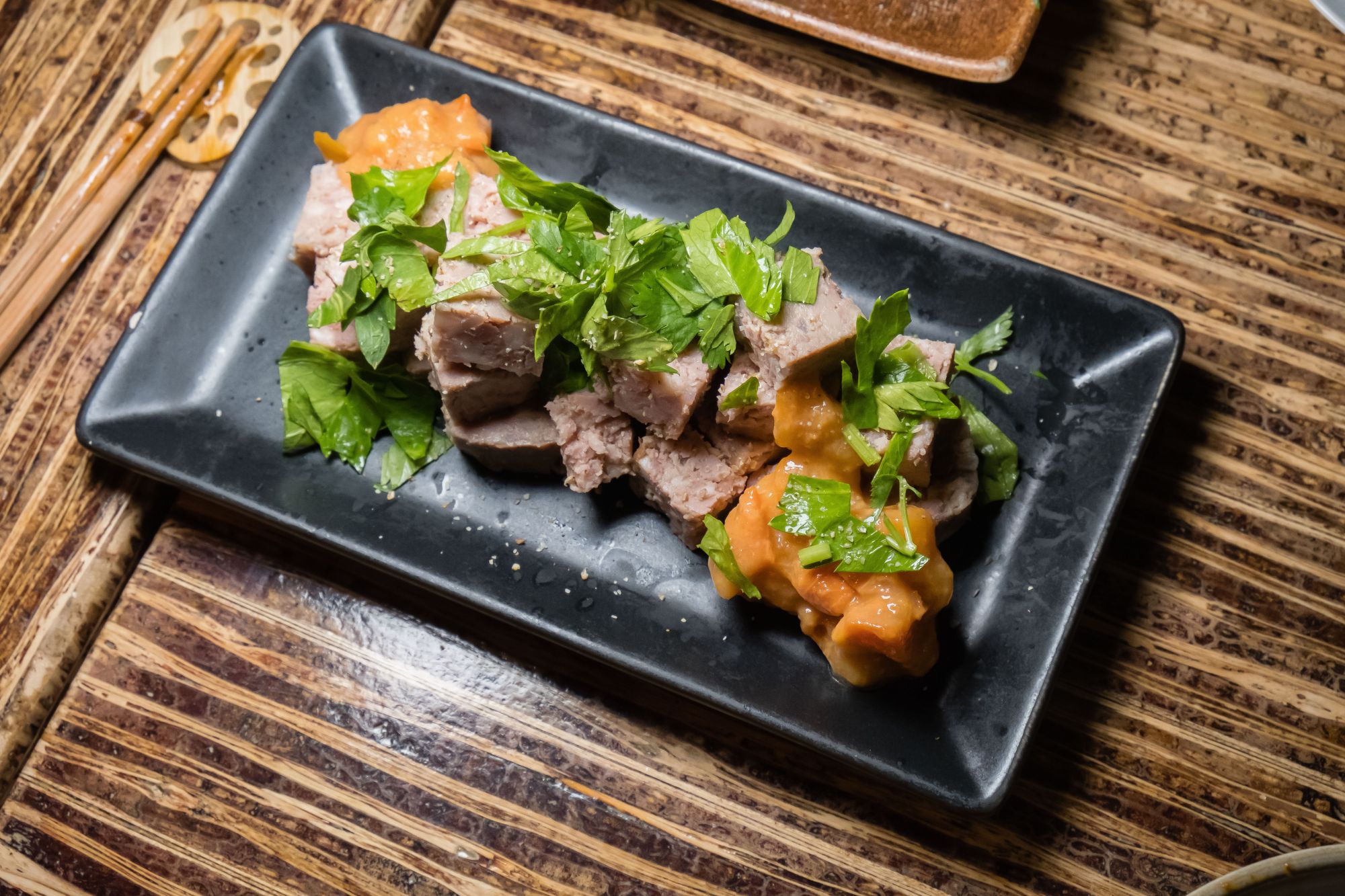 On the steamed tofu and shirako, the XO sauce was king in this dish as it was mixed into a smooth sauce that could be drinkable on its own. It was terrific being able to swish my tofu through the sauce bite after bite. The shirako was the big attractor on the dish. Aptly translated to "fish sperm sacs", the shirako tasted of a combination between oyster mushroom and beef liver. I might not have nailed the flavour profile but these were very palatable and demonstrated a risky choice by the restaurant that went over better than what expected as the dish was first presented.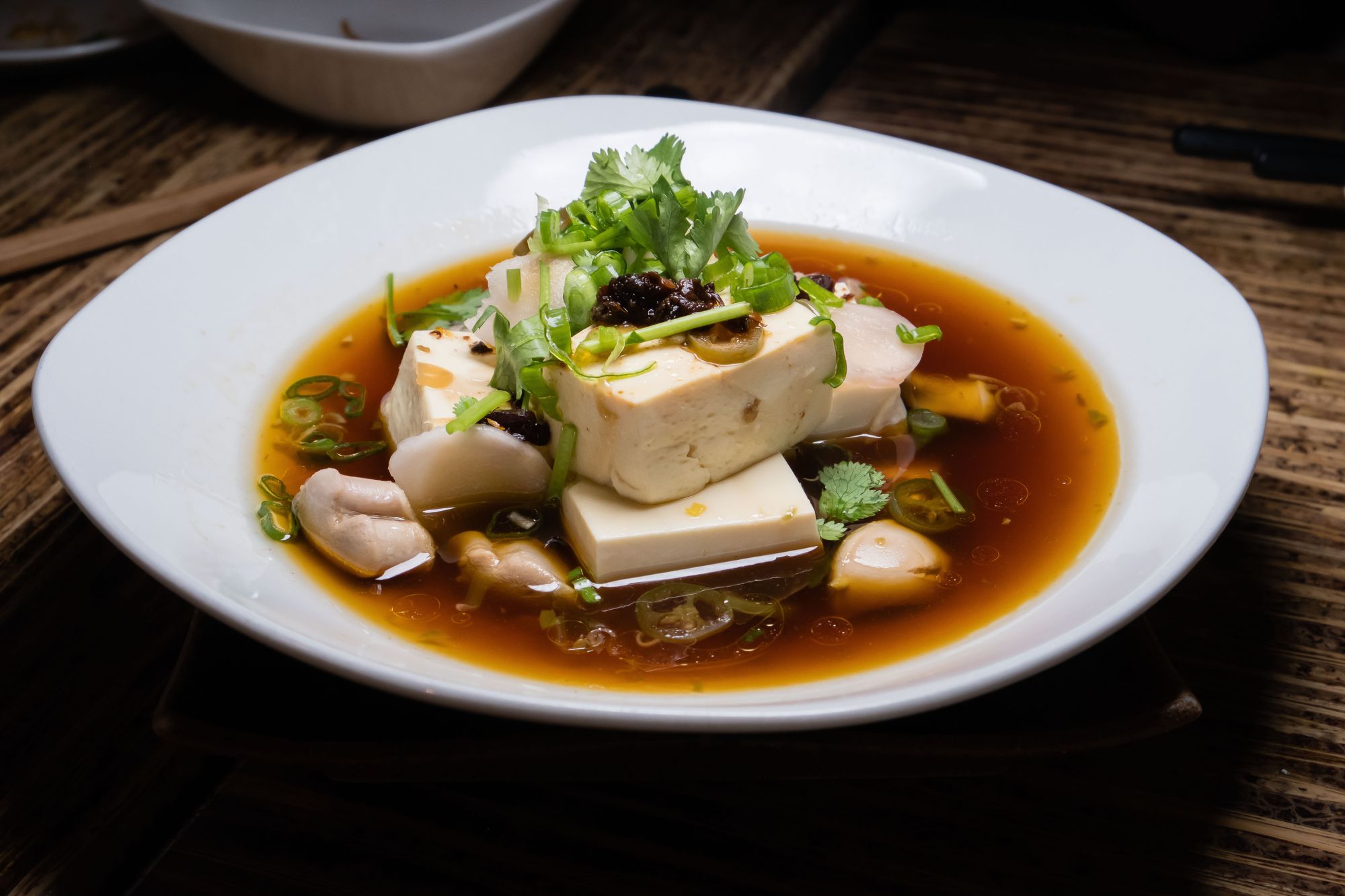 The winter greens salad was served with Asian pear, pickled radish, and bonito. More pickles! This was an unconventional salad and the first dish I've had with bonito flakes (normally reserved for takoyaki). It was also the second salad of this meal and I think salads as a course had already been fulfilled at this point. I'd choose the burdock salad over this winter greens salad if I had to choose a preference.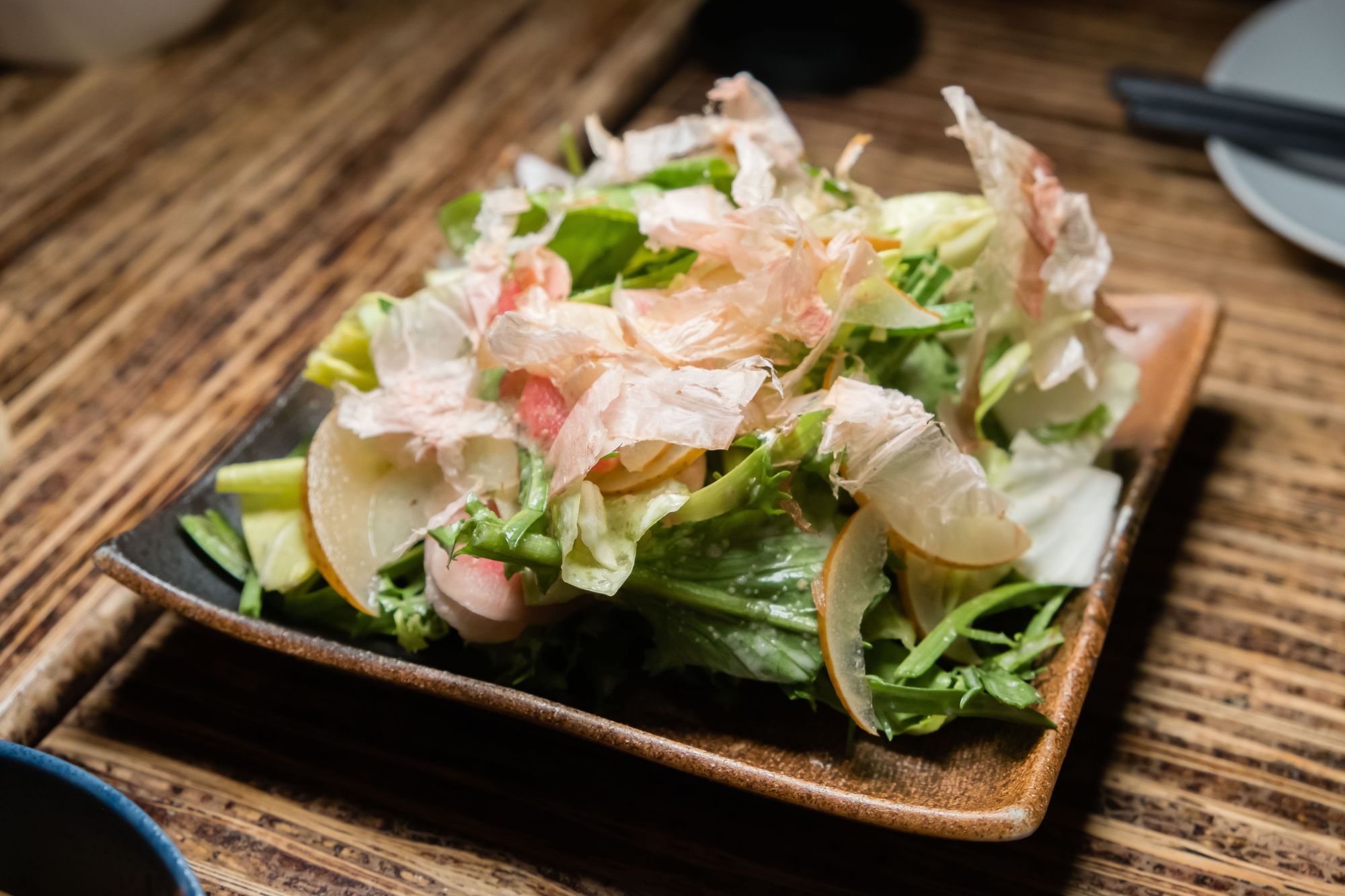 The steamed radish cake was also a lackluster course on my palate. Though it was embedded with soy bacon and pickled cabbage (more pickles!), the cakes were largely devoid of much flavour. I get that traditional radish cakes are served with a tangy vinegar sauce and the cabbage here was meant to serve the same tang, but holding the tang in a crunchy vessel meant I spent the most time trying to chew out enough tang from the cabbage for my serving of radish cake.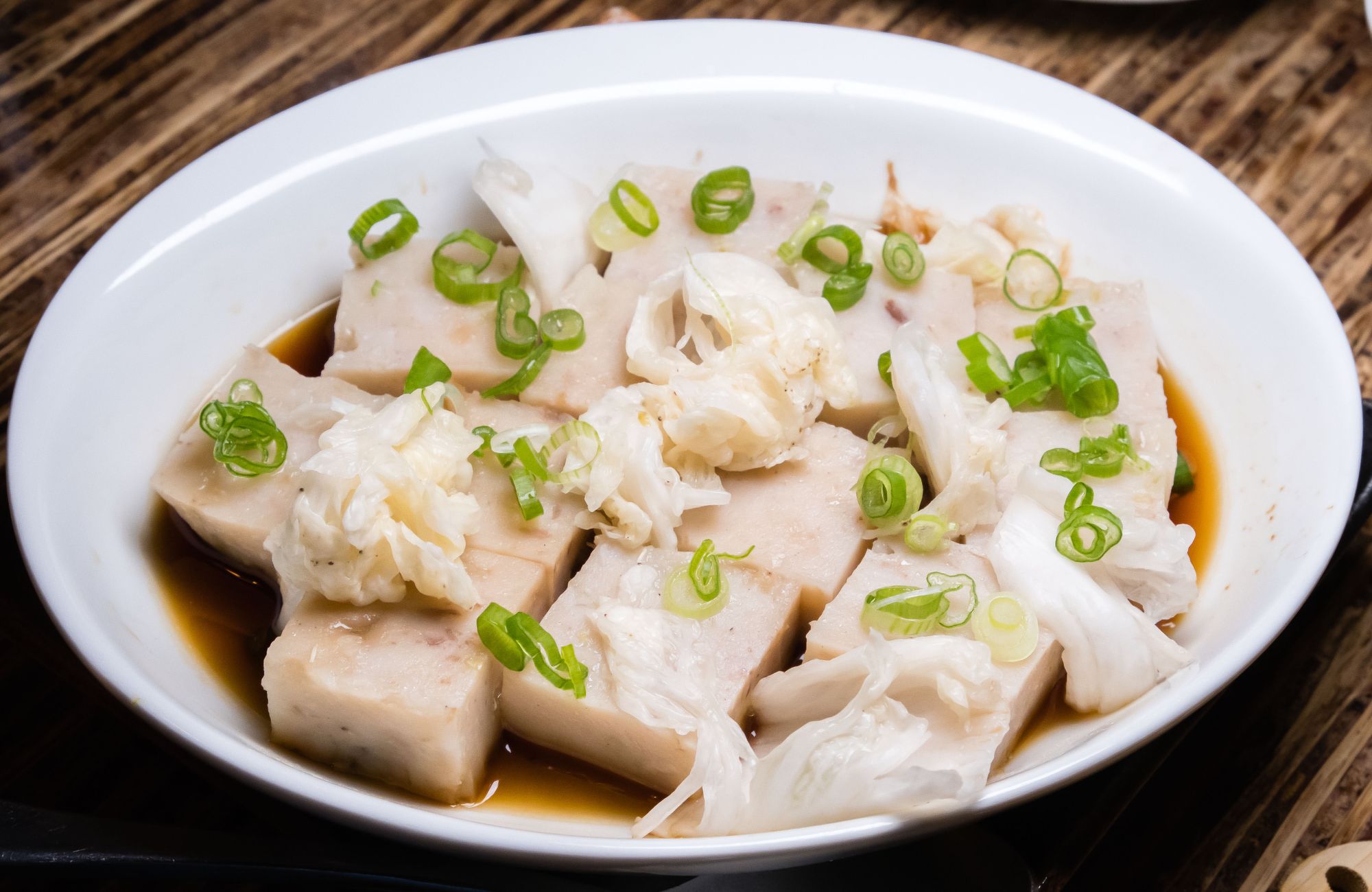 Wouldn't it be a quirk if it turned out the one item the restaurant strived not to be known for, ended up being one of the best dishes? The daily dumpling, which in tonight's case was a pork and spicy cod roe with cheese dumpling, checked off all the checkboxes on my dumpling criteria. The dumplings looked plump, the crimping firm on each fold, and featured a beautiful sear on each front indicating crispiness. Ugly Dumpling is not a dumpling restaurant, but at least the one daily dumpling offering is a home run.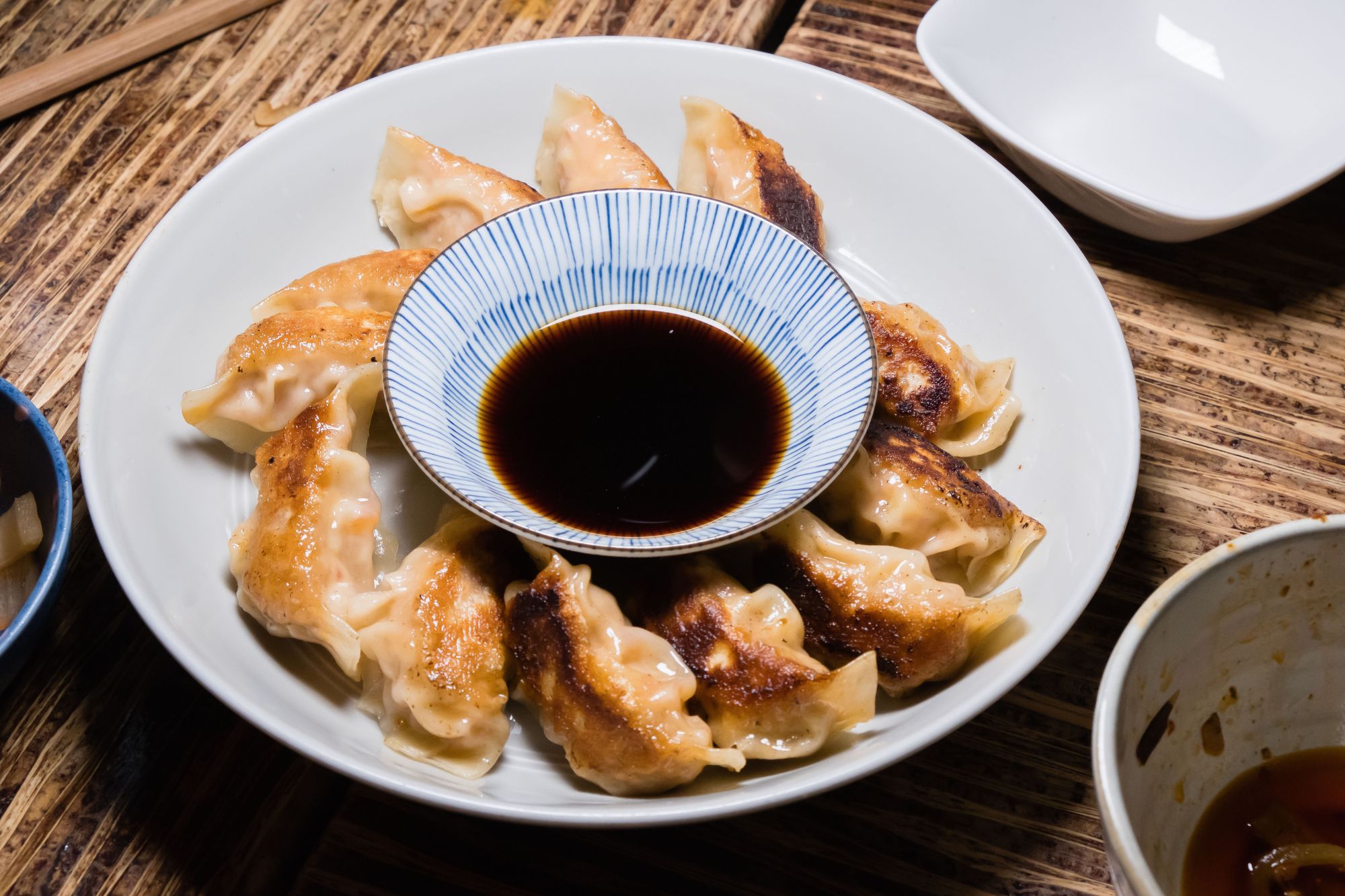 The tamarind-glazed whole lemon sole was a beautiful flat fish served with the stalks of Japanese spinach (komatsuna). The fish had a great taste yet it was a whimsical chore prying the fish from the bone here. Luckily we had a fish master at our table, Picky Diner, who managed to separate much of the fish meat from bone in a couple of minutes. The fish was cooked just right, providing lots of meatiness in its thin profile.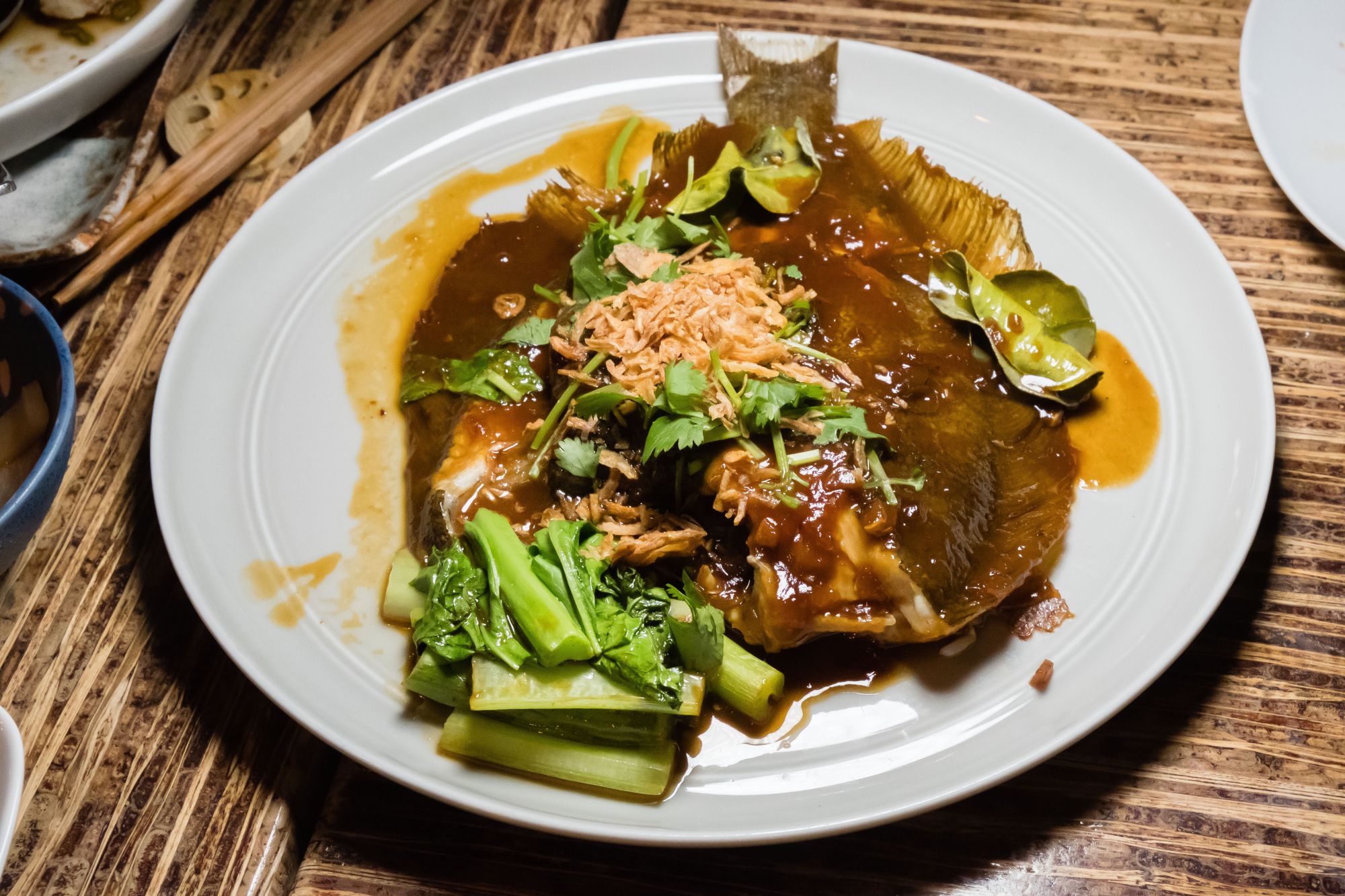 Our other main was the 3 week dry-aged whole quail. I've been to enough lackluster Dine Out Vancouver menus to expect the tiniest quail to be served. To my surprise, our quail(s) were anything but tiny. Served with pickled turnip (the 6th and last pickles of the night) and ginger scallion, this was a flavour explosion with lots of dry age concentration on the quail meat. Each piece had a wonderfully crisp skin, layer of buttery fat, and an intense wedge of meat that had hints of blue cheese (though nothing as insane as 67-Day Dry Aged Burger from Crowbar). I'd had quite enough of pickles by this point but it was fun biting into the giant chunks of pickled turnip.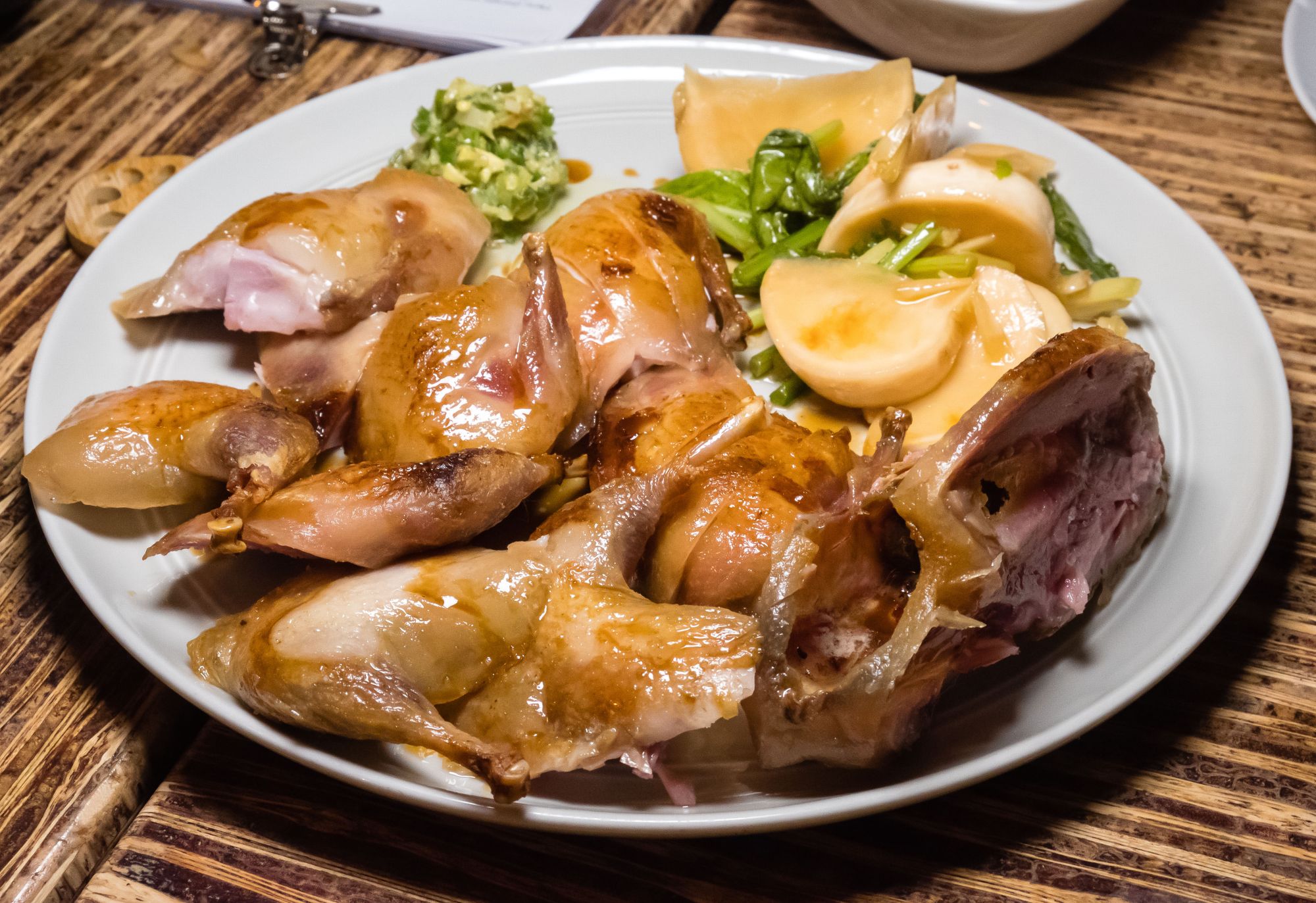 We finished off dinner with a carby plate of homemade tantanramen. This was a hearty plate of noodles served with chili sauce, onion, and scallion. A staple of some Chinese diets, this wasn't too spicy given how thick the sauce was, so I wish there was a way to add more spice. The noodles were a little mushy, possibly because of all the sauce, so this was far from my favourite dish of the night. At this point I'm feeling mostly partial to the quail, the burdock salad, and pate dishes.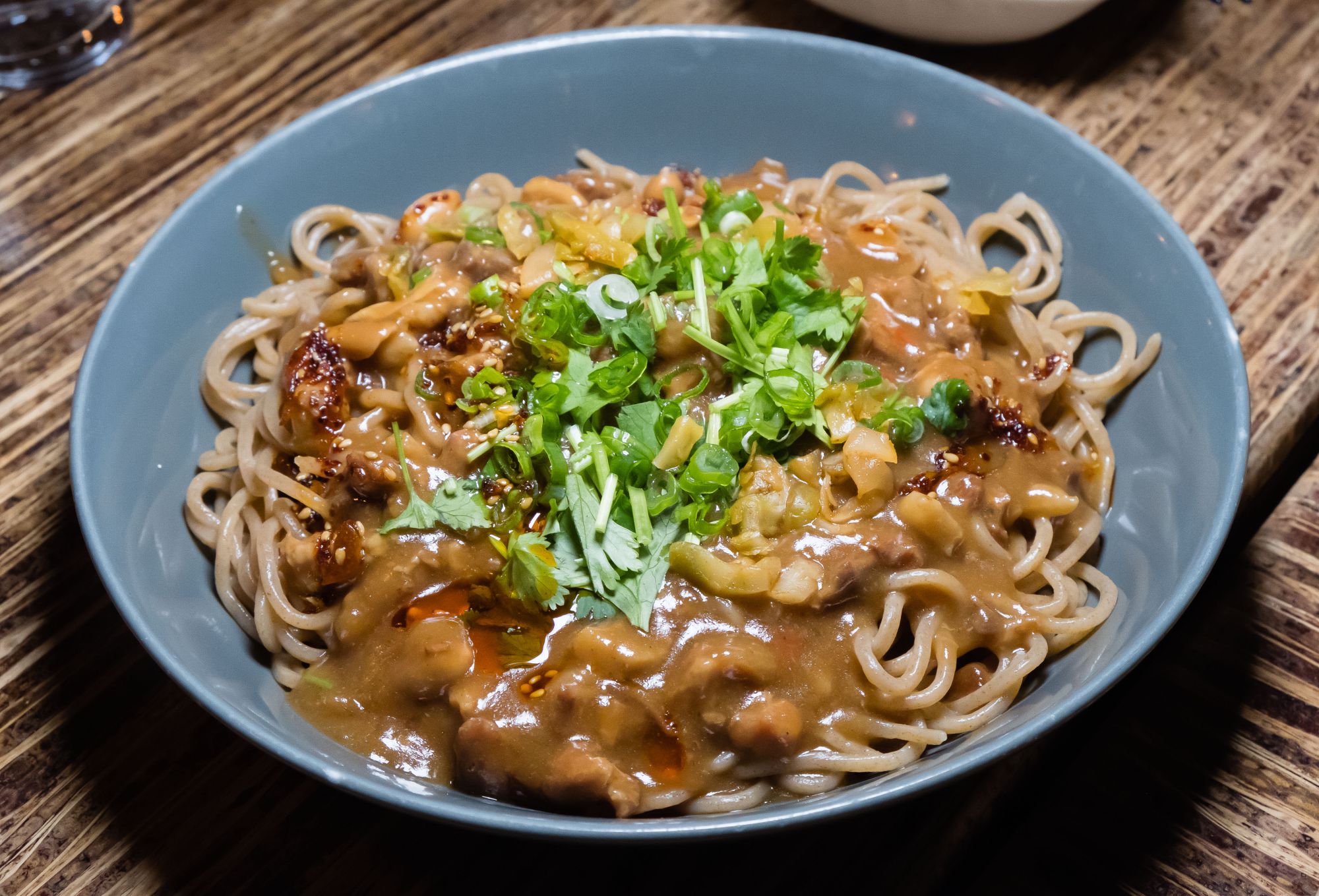 For desserts, we were simultaneously served two sets of steamed black sesame cake and red bean & yuzu marble cheesecake. I loved the matcha milk served with the sesame cake but wish it was more intense. The cake was wonderfully moist and I'd recommend it out of the two desserts.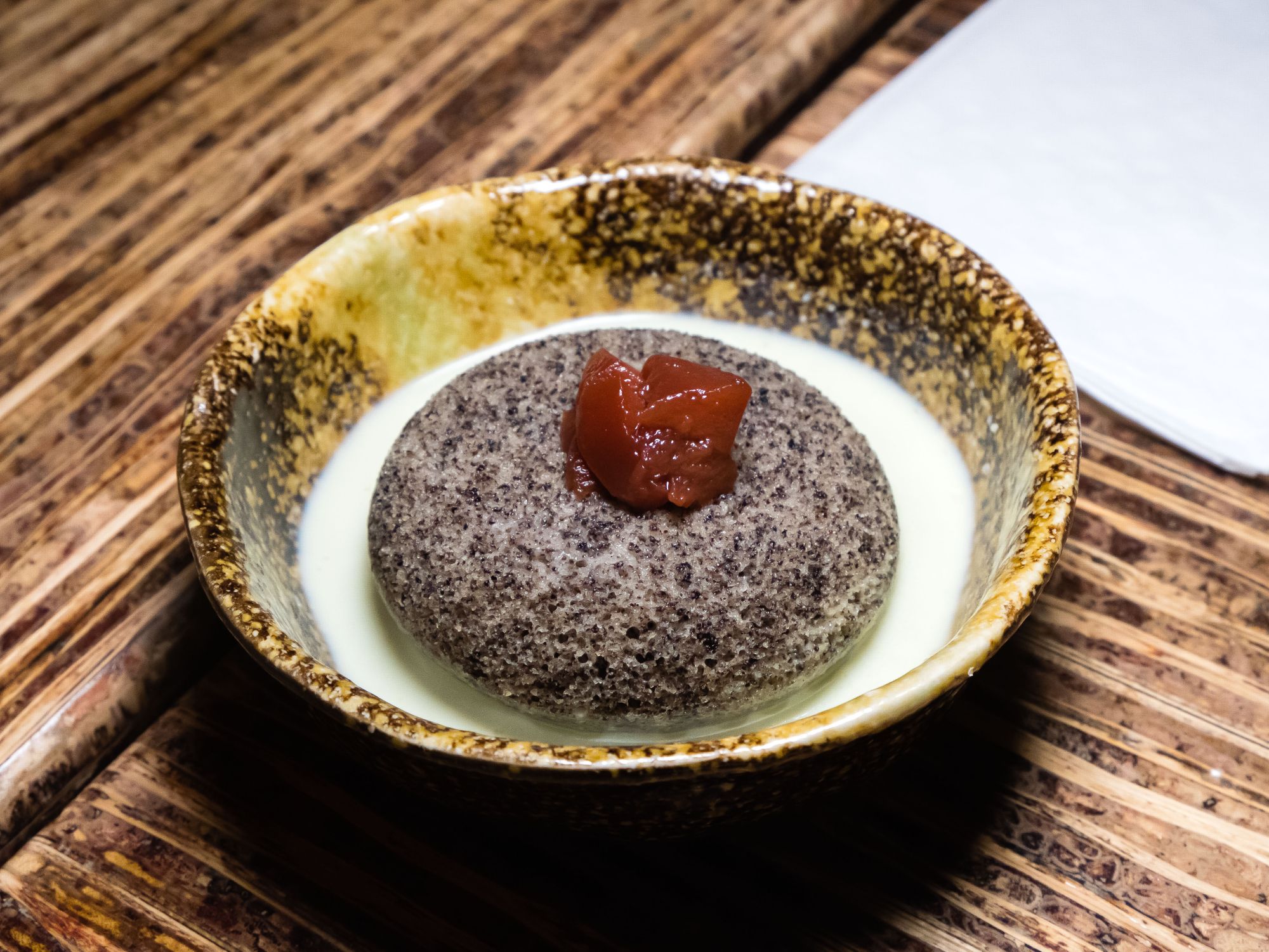 I loved the crusting on the cheesecake but wasn't a fan of the yuzu making the red beans taste extra sour. Perhaps some sweetening could have helped on this cheesecake. On that note, if you're a fan of desserts of the lowest possible sweetness, both desserts at Ugly Dumpling had what felt like the lowest amount of sweetness in order to qualify a dish as a dessert. Unfortunately, that's not my preference and it's a bummer neither dessert fit my palate.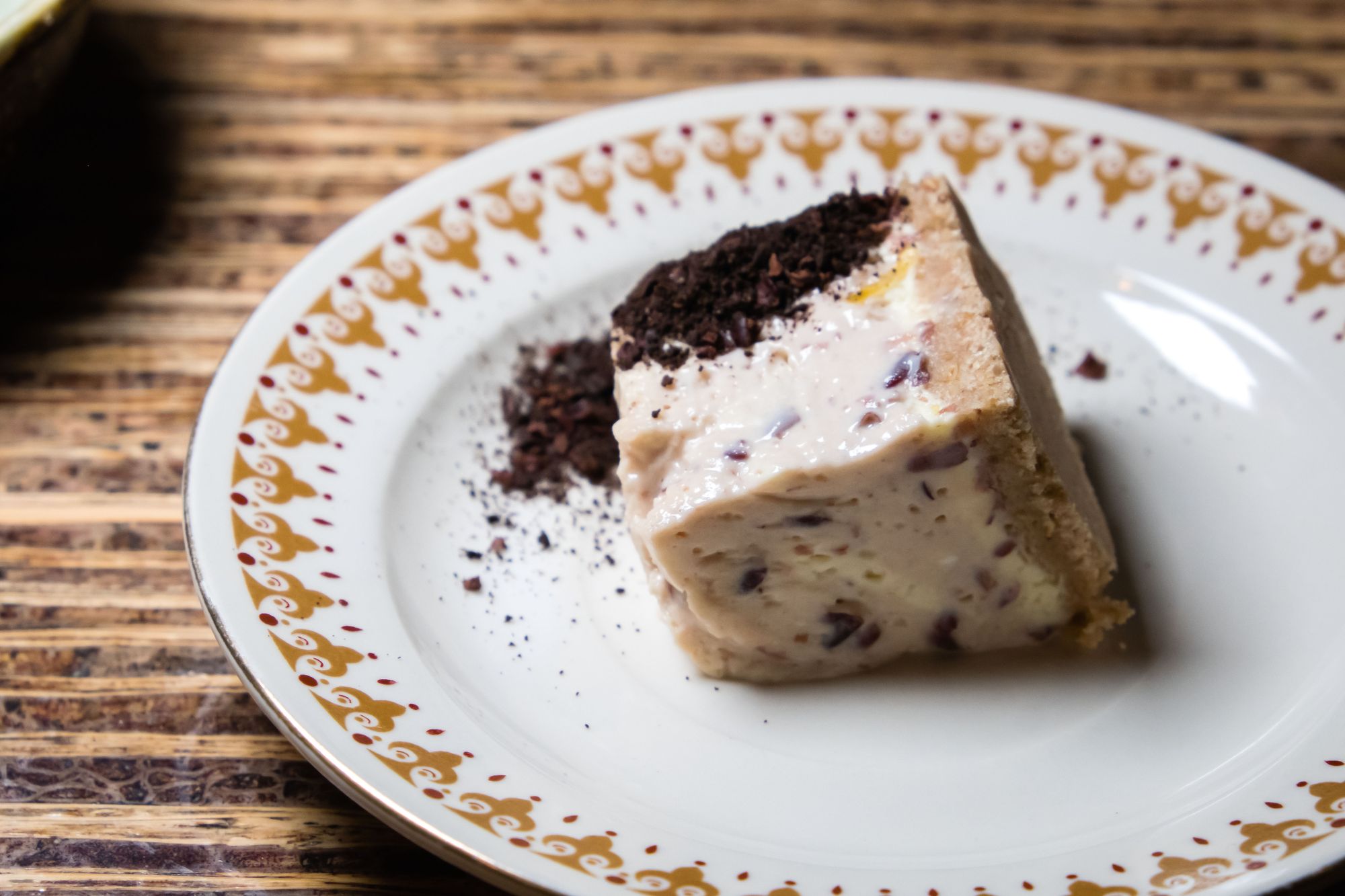 Features:
Ugly Dumpling takes up residence where the former Merchants Workshop lived until it closed. During the winter month when we visited, it looks like the patio was closed. Inside, the lighting is dim and the vibe is a mix of both relaxed and higher class (see all the wine, sherry, and sake bottles behind the bar). There's seating for about 60 guests at the bar and at dinner tables. The blinds are all shut inside so people watching (and the reverse) is not much of an option during winter.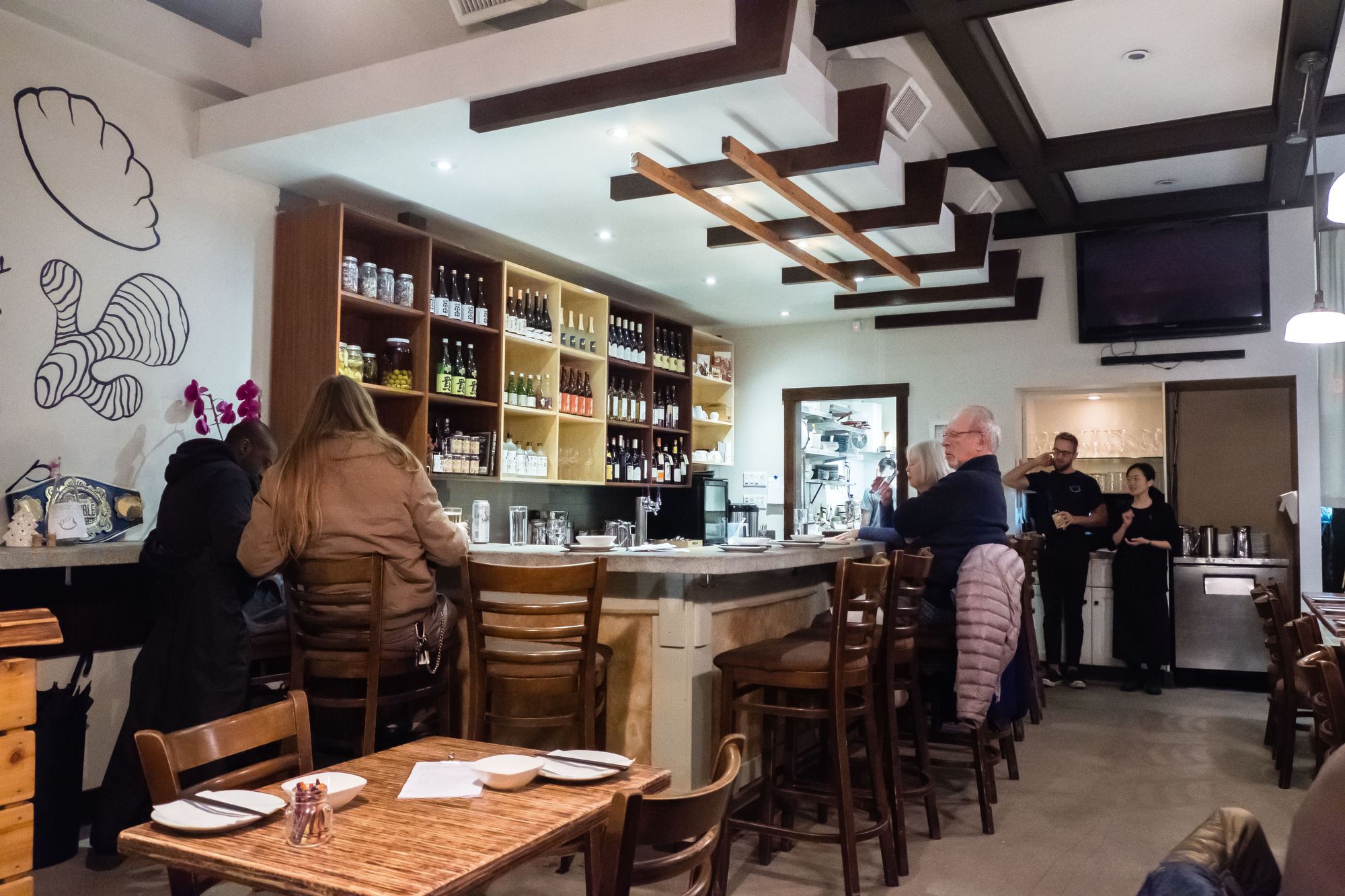 Service:
Service started off great at Ugly Dumpling though finished a little weak. Our server was on point with describing all of the dishes as they came to us and kept us informed on how many dishes were left in our itinerary. Towards the end the gaps between courses widened and I could feel myself getting complacent. The restaurant was also getting busier at this time so it would appear load was a limiting factor for the kitchen this night. It took us roughly 3.5 hours to finish our 10-course omakase that started at 5:30pm.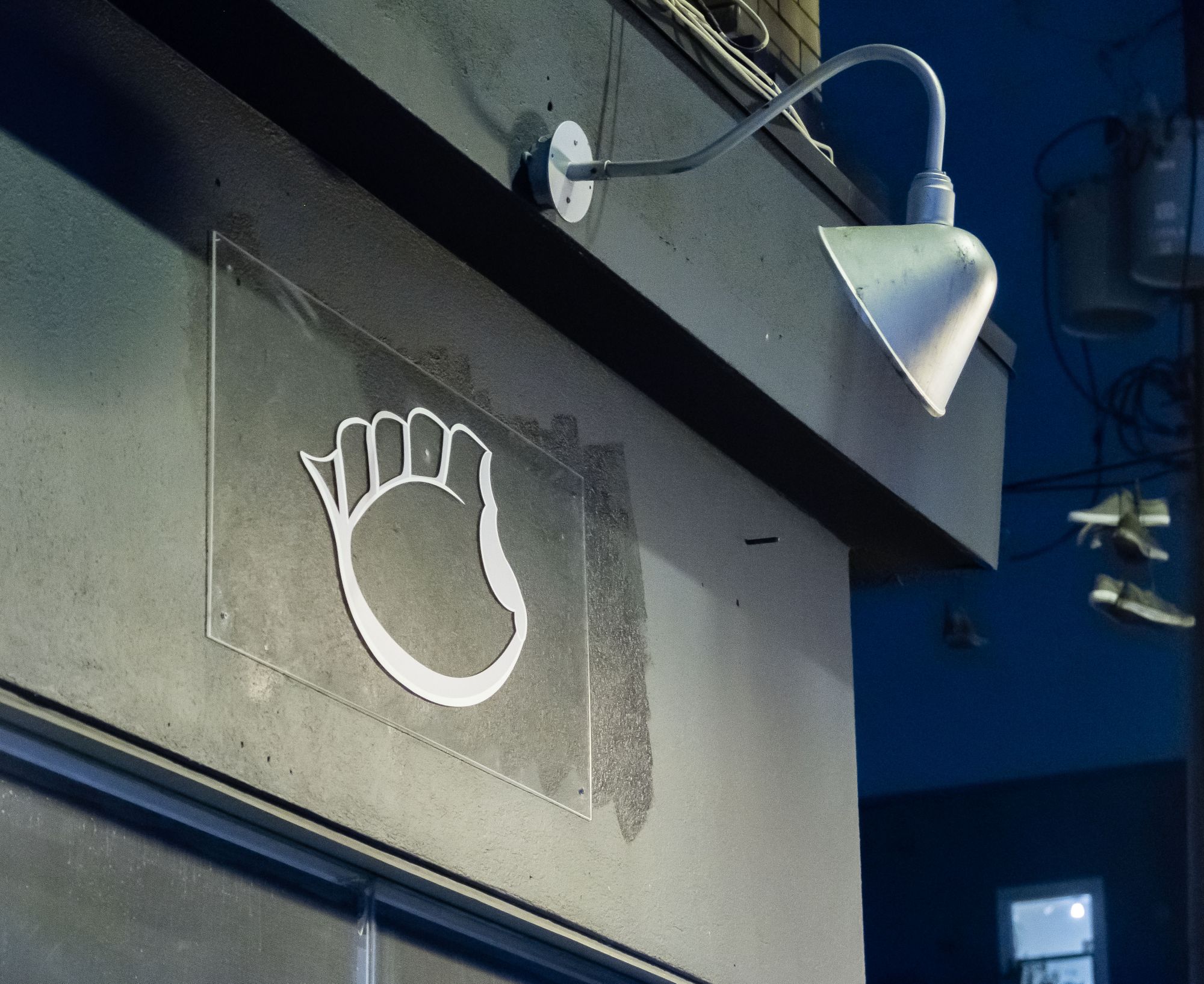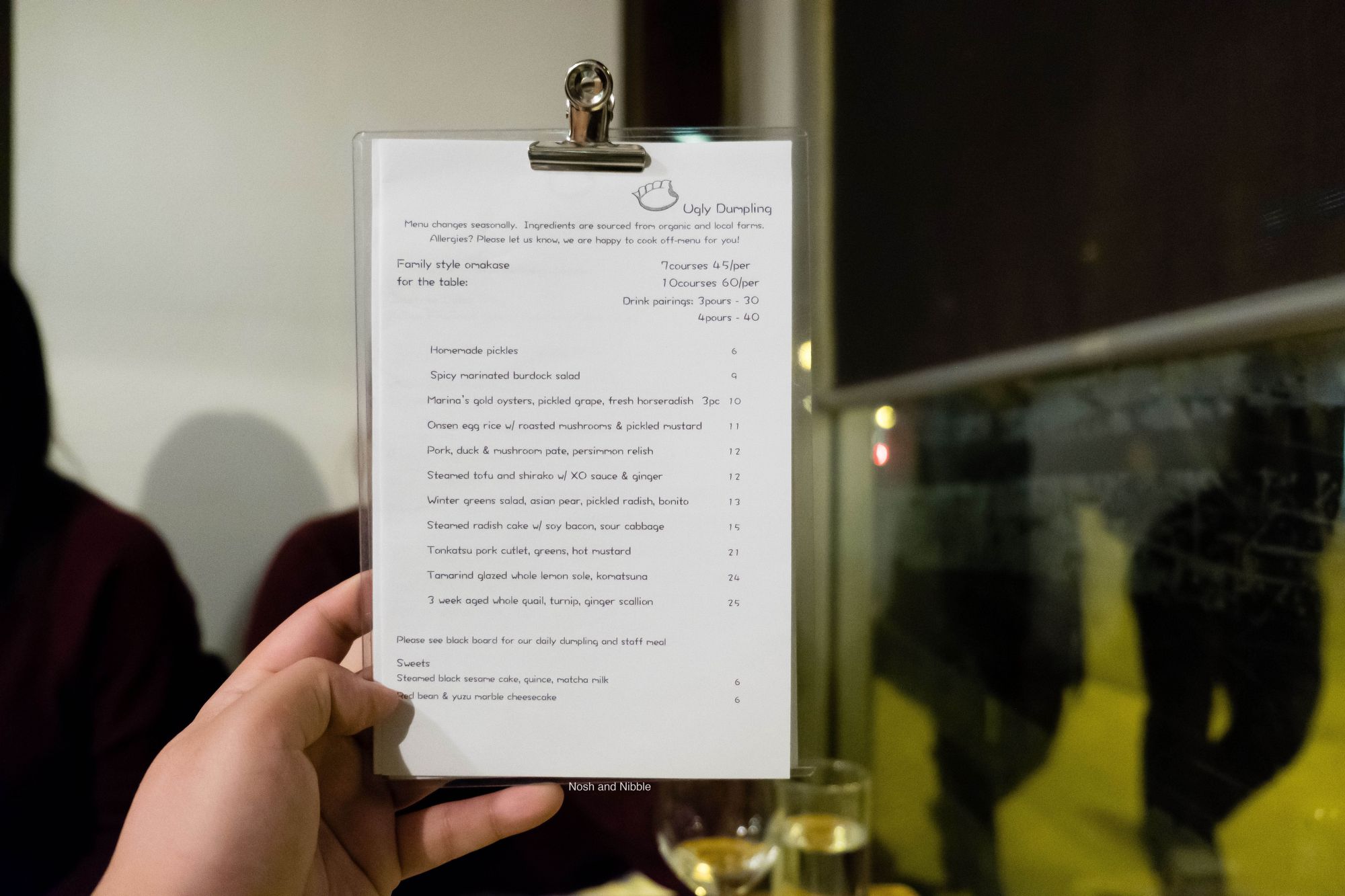 Final Thoughts:
One-liner: A middling 10-course dinner that's in the right budget for the neighbourhood and takes creative risks on dishes which, in an omakase meal, just reveal the 3-4 dishes you would be better off ordering a la carte so you can finish dining in a reasonable amount of time
Highlight: 3 Week Dry-Aged Quail
Price per person: $40-$85
Would I go back? No.