When it comes to choosing a restaurant for a birthday, I'm in the camp that appreciates a fancier restaurant for this joyous occasion. For my girlfriend's birthday, we opted for The Victor, a steakhouse in the same complex as the Parq Vancouver casino. Featuring a 6th-floor view and ample dining space, this visit certainly fit the bill for both ambiance and price.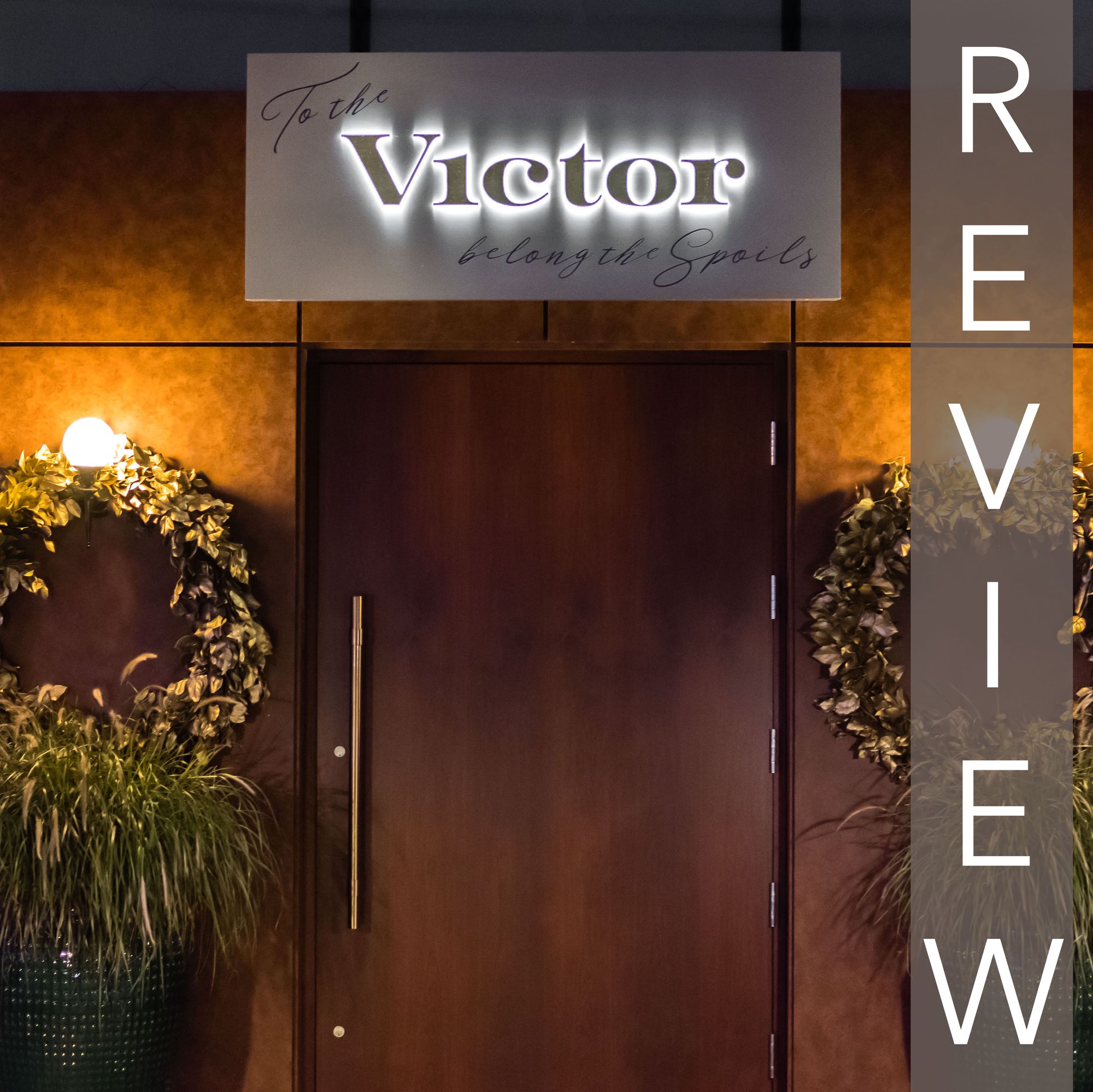 Food:
Team Tastic came here for a Monday night dinner and I had a great taste of the following:
Uni Tacos ($17)
Brussels Sprouts ($10)
Triple-Cooked Fries ($10)
Mac & Cheese Waffle ($12)
Ribeye ($69)
Semifreddo ($12, but free)
Like any good steakhouse, there was plentiful selection on the seafood side of things and the uni tacos jumped out as an interesting option. Served with crispy nori, guacamole, cucumber, and yuzu kosho (Japanese chili paste), these tacos were a sight to behold and had enough structural integrity to be picked up and chomped into. The crispy nori had a light, crispy batter that worked well with the buttery uni.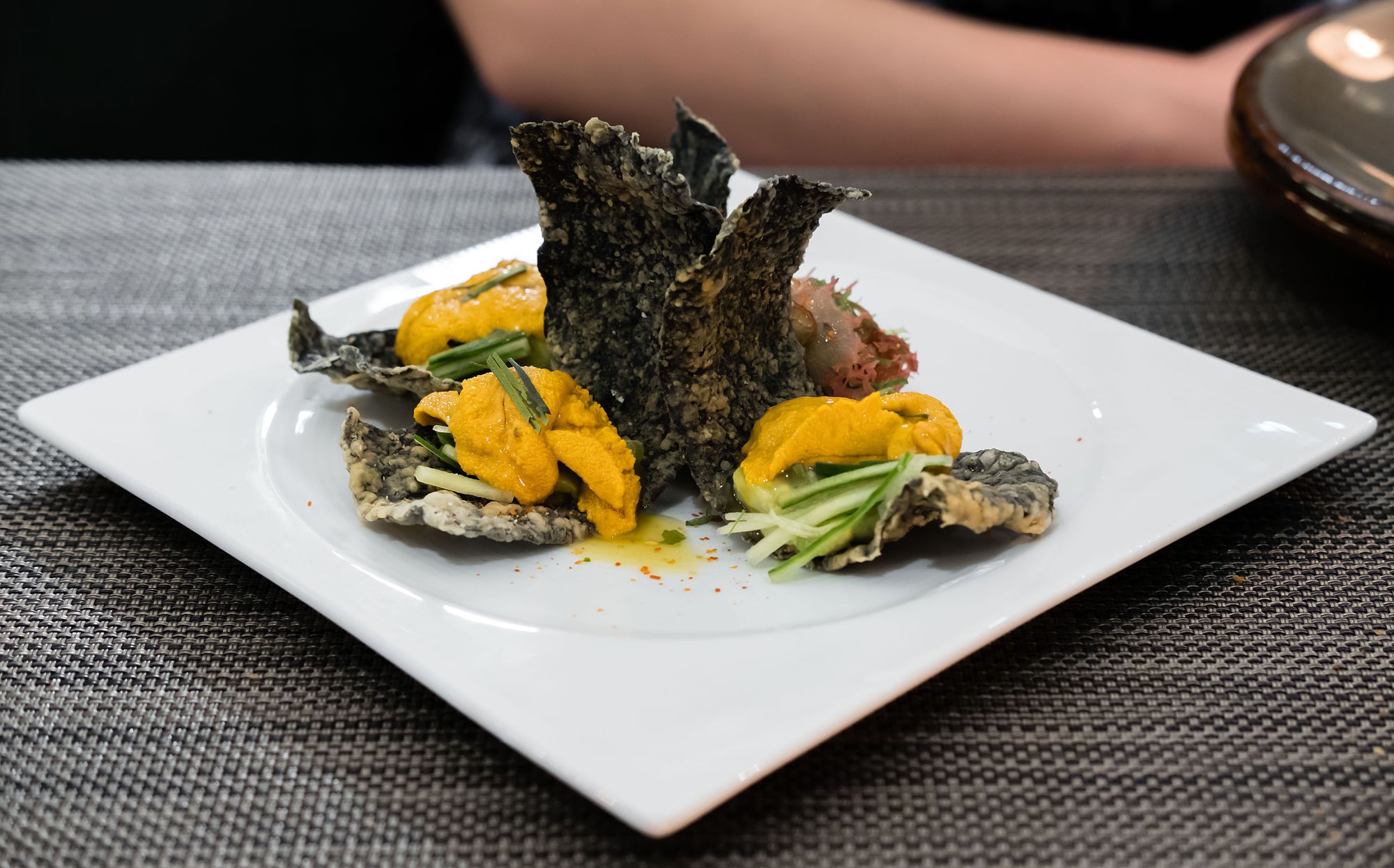 The brussels sprouts were a long tray served with sautéed onions and chunks of crispy bacon. While crispy in most places, there were a few sprouts that tasted soggy either due to being covered up long enough or being roasted unevenly. Maybe we got unlucky.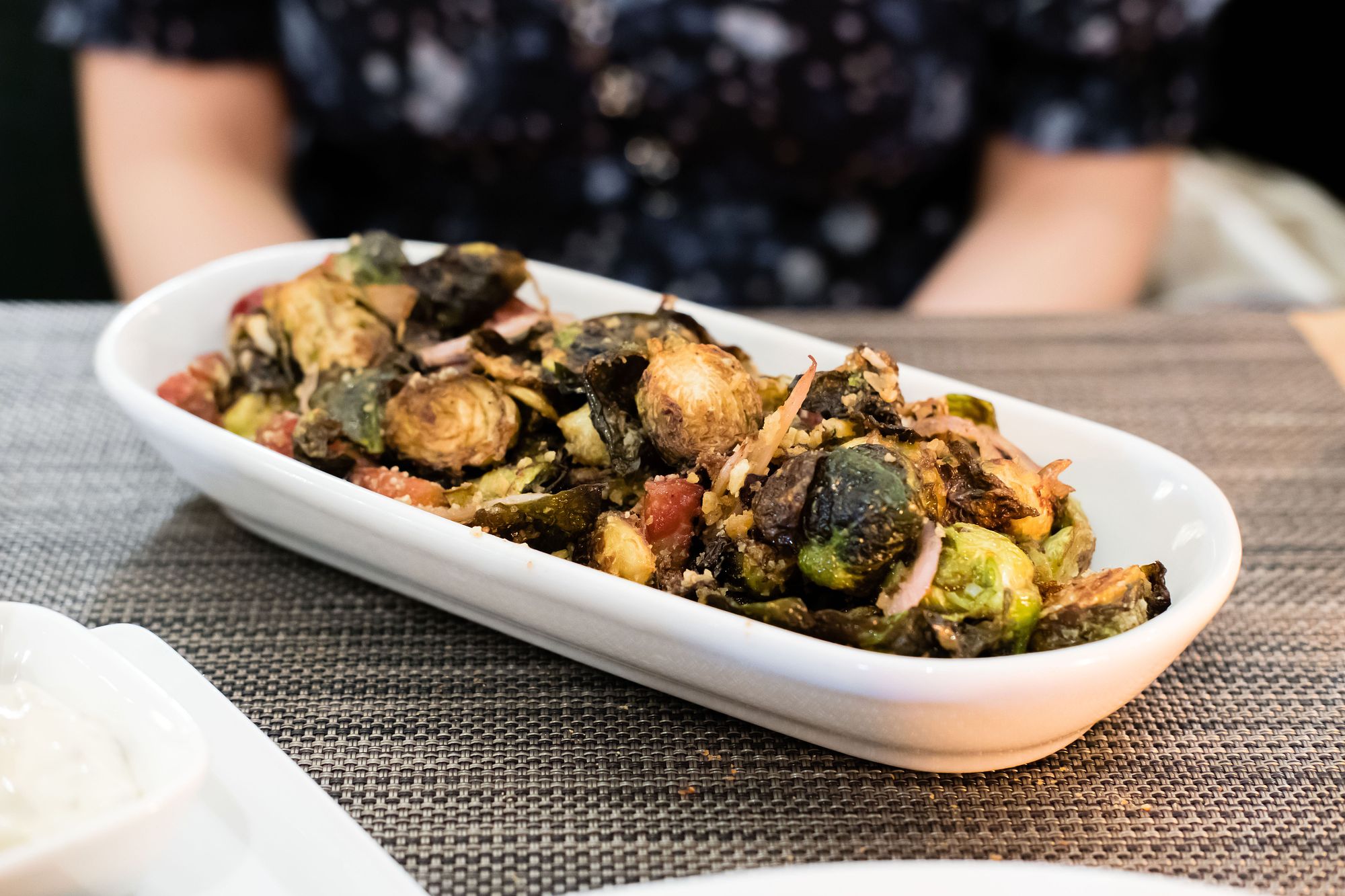 The triple-cooked fries were a sight to behold. Rather than the usual kennebec-style fries, these were long and thick vertical wedges. I don't ever recall seeing potatoes this long but it happened at The Victor. Accompanied with sides of ketchup and a truffle chive aióli, this was a massively satisfying side to have. Each fry had obvious heft to it and a thick shell that was quite fluffy on the inside. I'll be on the hunt for similarly styled fries in the future, but right now it looks like The Victor takes the cake in this fry contest.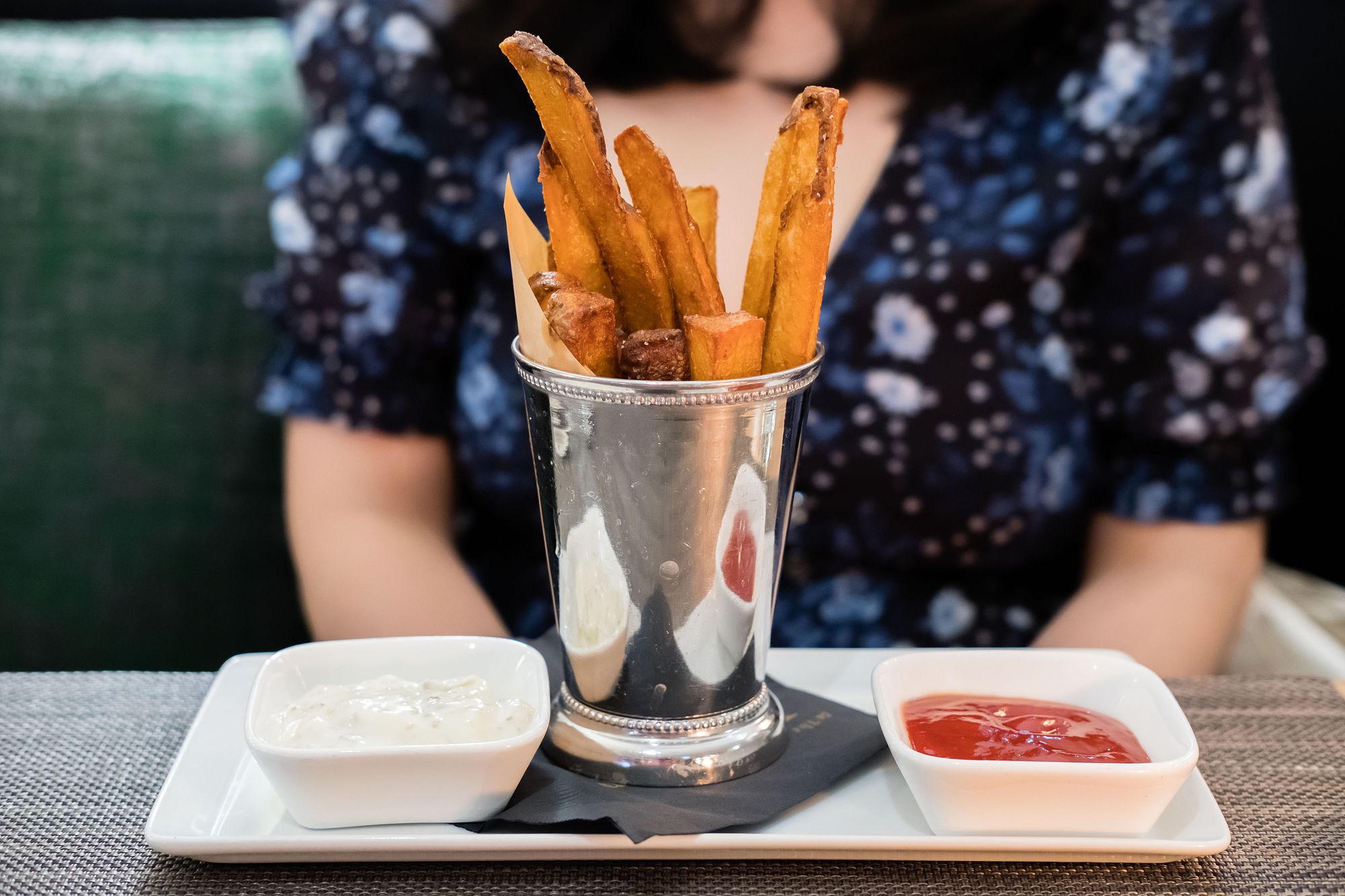 My favourite side of the evening was the mac and cheese waffles. Caked with a five-cheese blend and served with a cheese fondue, this was an intense cheesy dish. Lactose intolerants, you've been warned. Within each cheese-battered waffle was a filling of macaroni pasta. On its own, this was a pretty filling side and a very novel concept compared to the usual steakhouse suspects in Vancouver (can confirm Hy's Steakhouse didn't have anything like this mac and cheese waffle).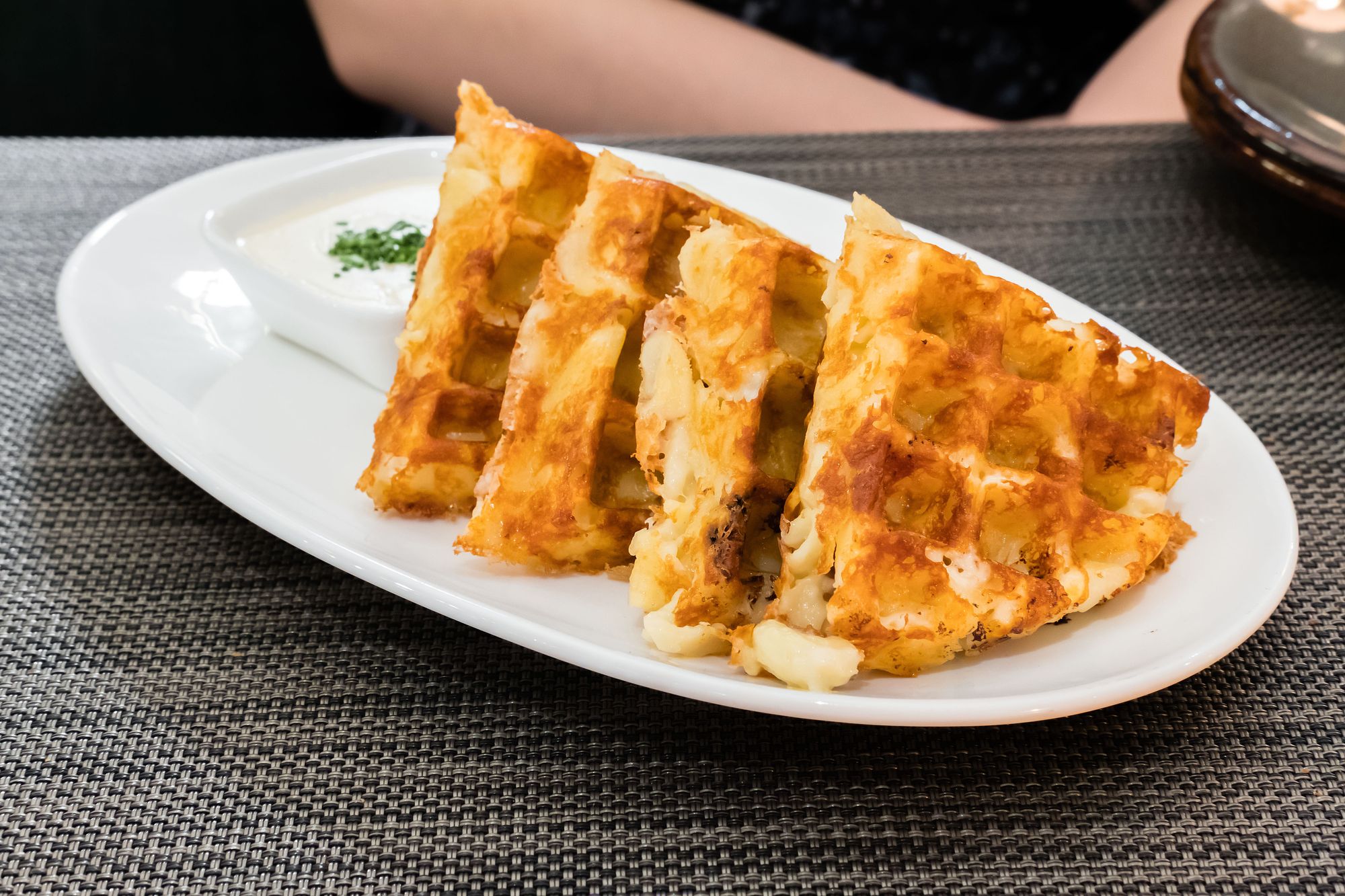 Our steak of choice tonight was a 12oz. ribeye sourced from Snake River Farms. Huh, an American Wagyu (和牛) option! Wagyu just means "beef" in Japanese but is used to refer to specific breeds of cow that are reared specifically to produce a lot of marbled meat.
In any case, our ribeye was a hefty steak with an evenly seared exterior. There was some serious height on this steak which I loved. The knife we were given was also up to the task of cleaving through to the juicy medium-rare internals. I should have taken a photo of the interior but you'll have to trust me that it was cooked perfectly. True to its name, this wagyu had an innate butteriness that was flavoured perfectly with the classic salt and pepper. We did order get a bearnaise sauce side for $2.50 but it was unnecessary for a steak of this calibre.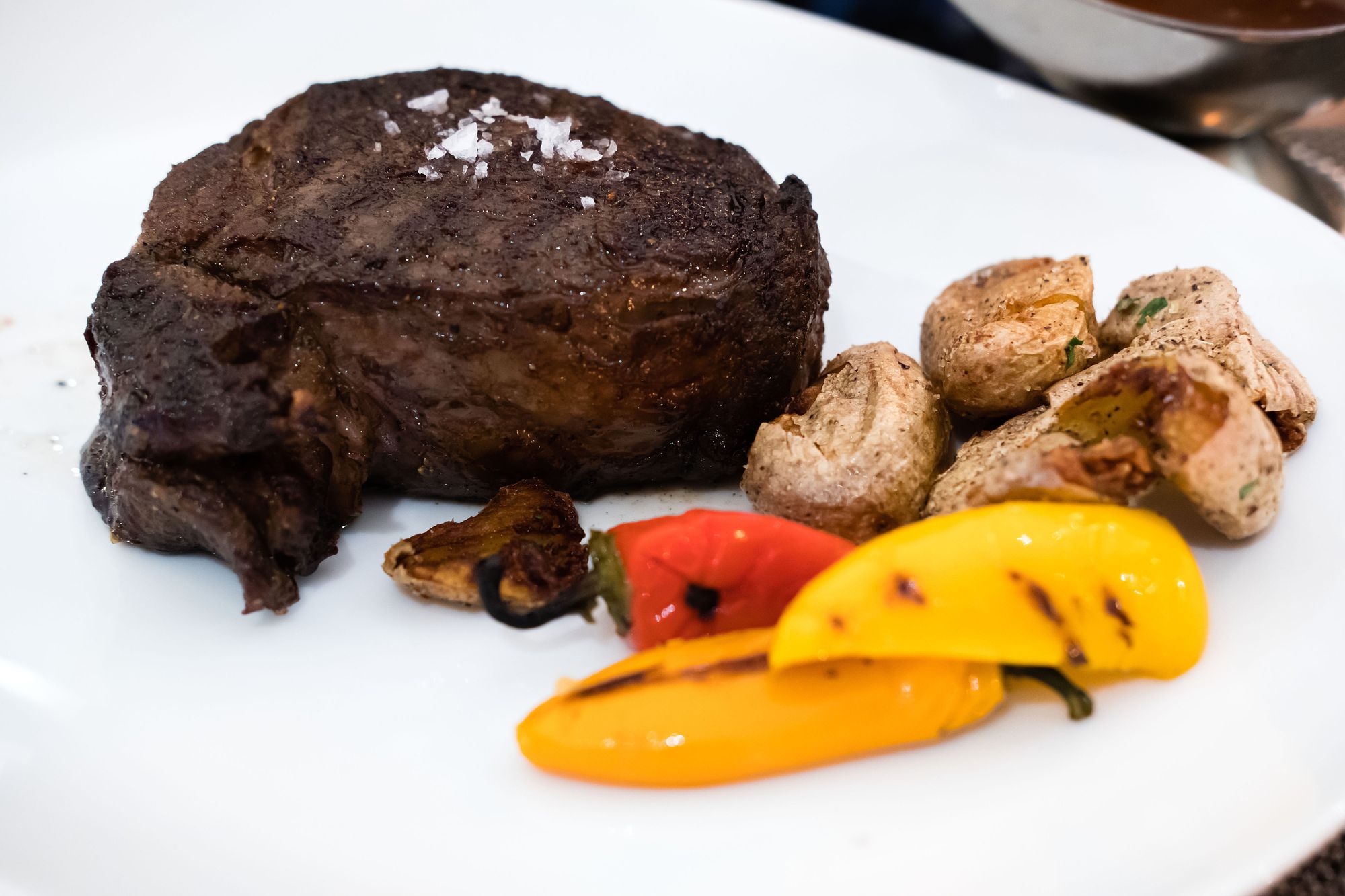 At this point, we were ready to call it a night, but our server nudged me into ordering dessert. We opted for a semifreddo which was a semi-frozen mousse with dark chocolate flakes, espresso sponge, and mission figs. While this sounded exotic on paper, the mission figs topping were a very powerful flavour for this dessert. Probably a bit too powerful for my tastes. While I love coffee and dark chocolate flavours, I found the figs to be incompatible. In fact, maybe I don't love figs as much as I thought I did when I ordered this dessert. Execution and presentation of this dessert were great, just not the taste for me, it seems.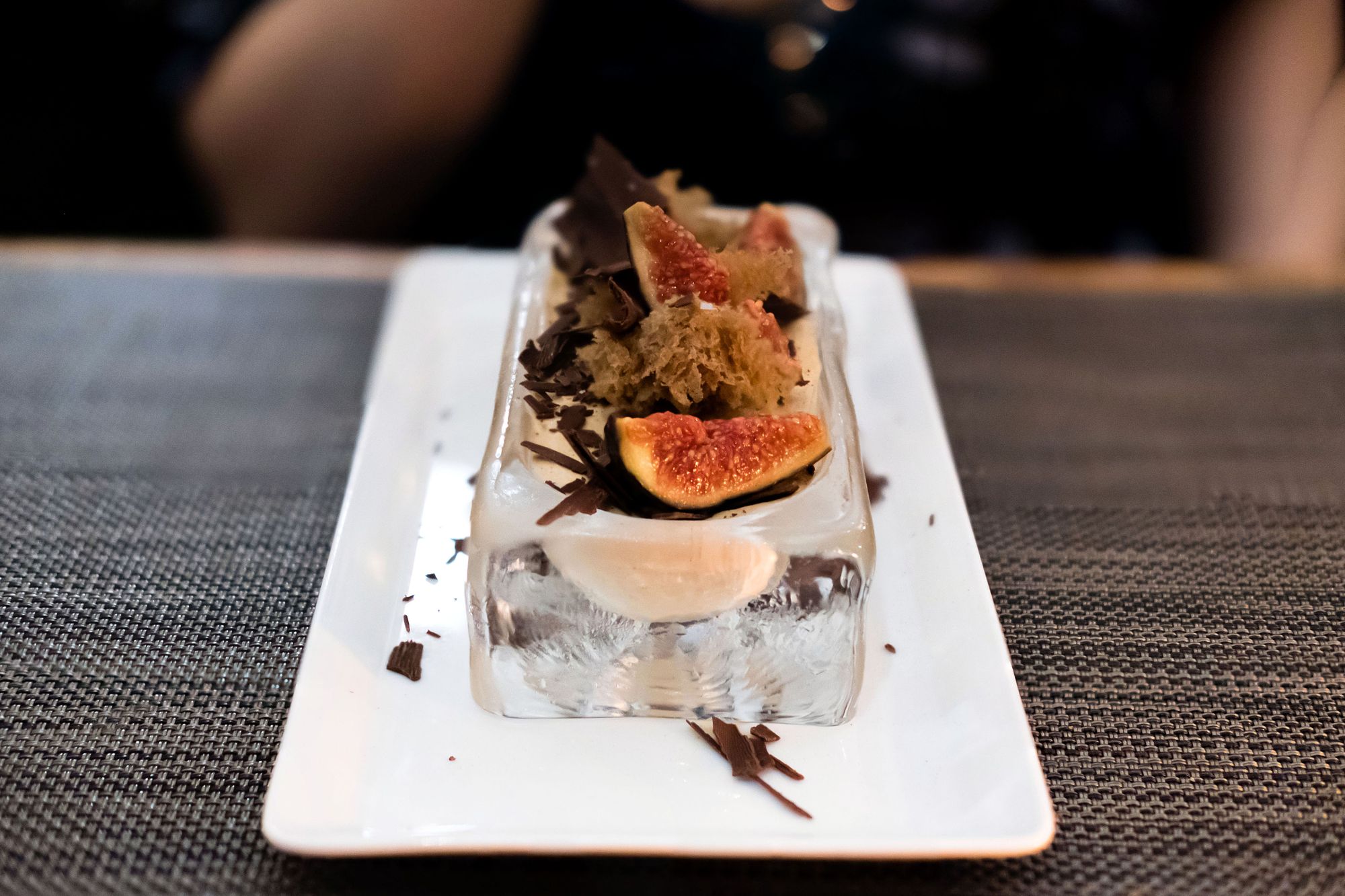 Features:
The Victor is a steakhouse restaurant in the Parq Vancouver complex. Situated on the 6th floor, there's actually a decent view of False Creek through some of the windows. The vibe of the restaurant is certainly on the fancier side of dine outs. Since it's a newer restaurant, everything looks and feels newer than steakhouses like Hy's.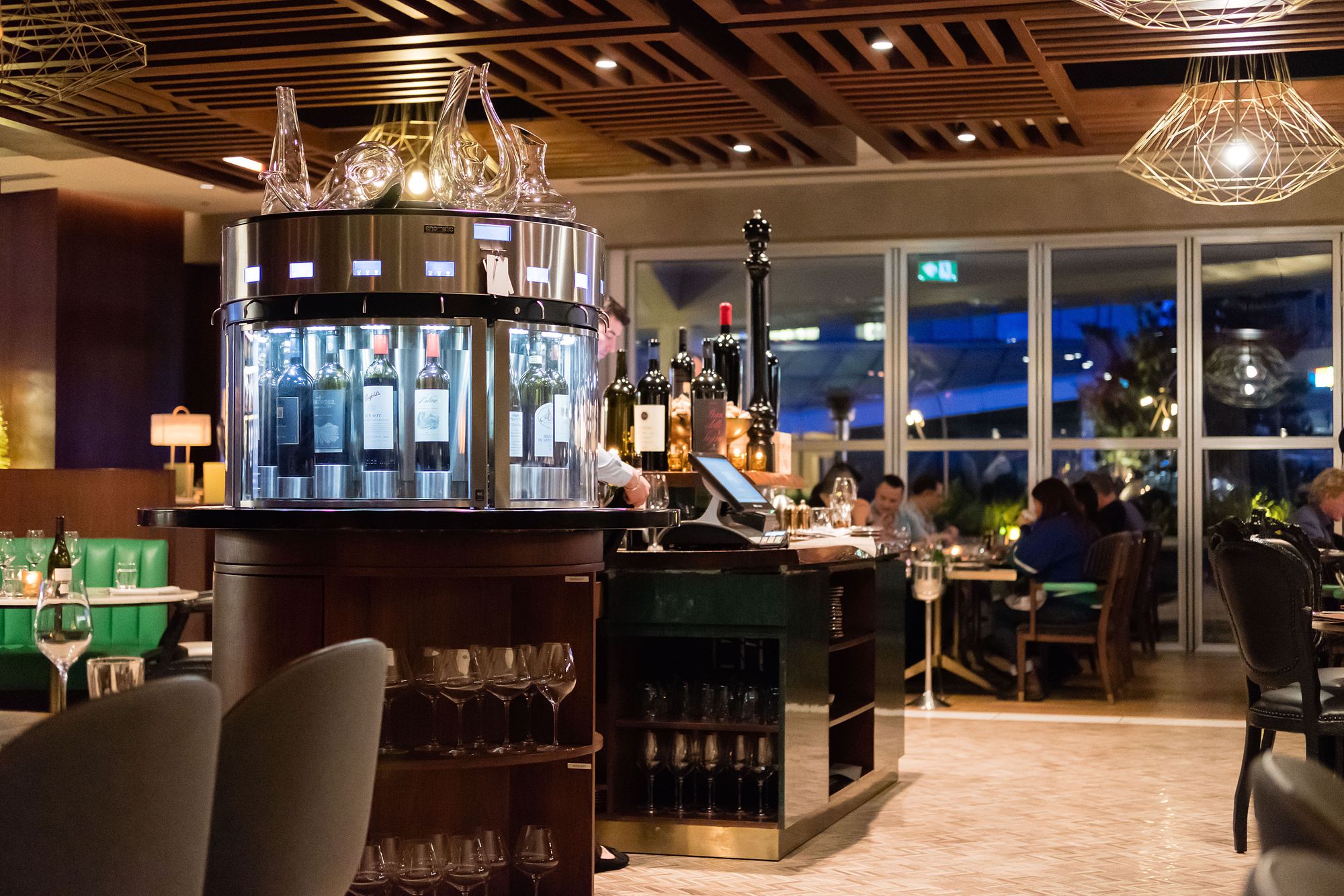 Inside is a spacious dining room and bar that easily seats more than 150 guests. In addition, there are private dining areas for hosting events. A fresh seafood kitchen is out in the open where you can watch sushi chefs work their magic and wine is essentially served from the tap in stations in the middle of the restaurant.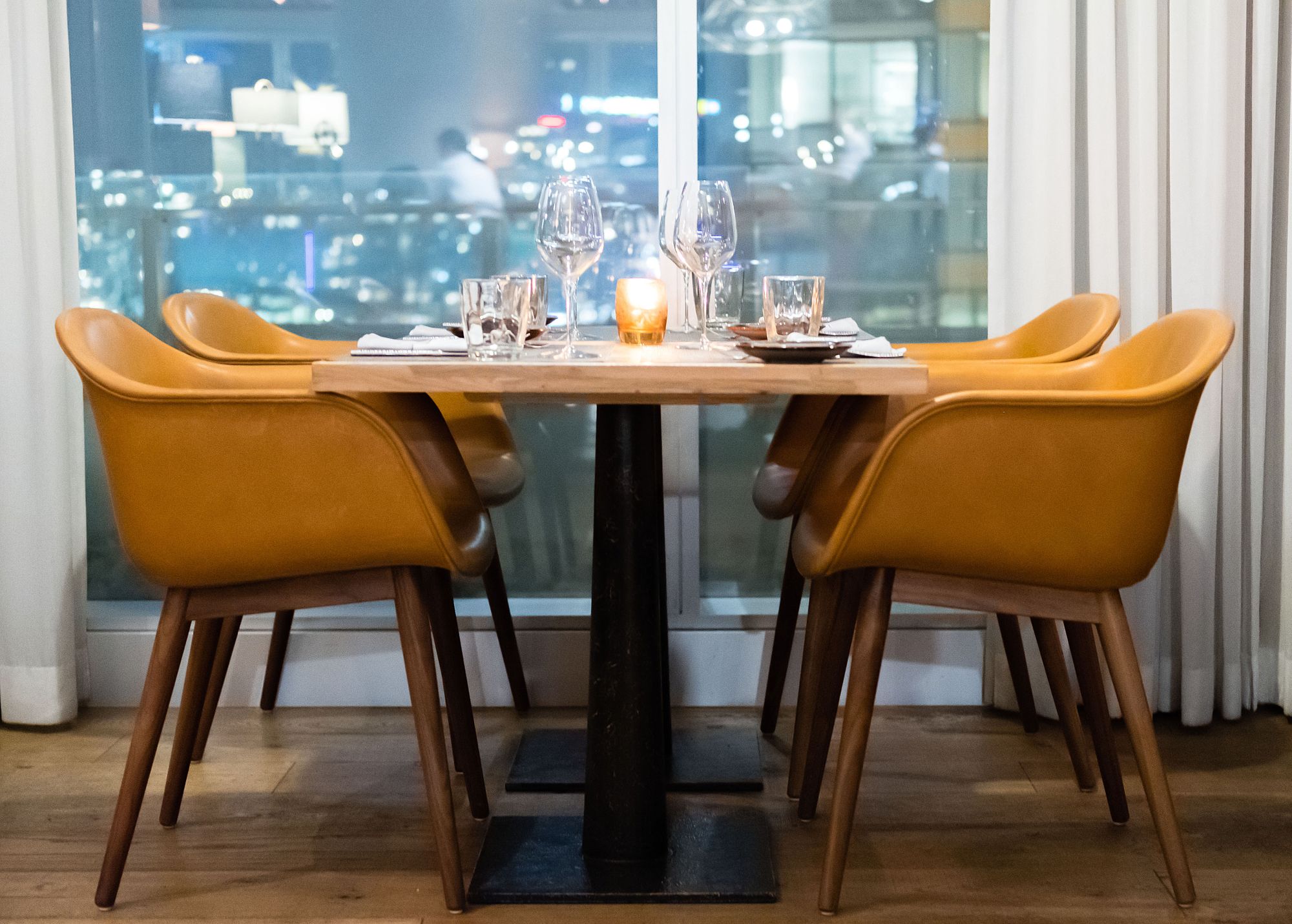 Service:
When you're dining at upper midrange to finer restaurants, it's natural to expect the level of service to scale way up. At The Victor, this appears to hold true. At the door, I was asked if I wanted my coat stowed away. At our table, my girlfriend was given a congratulations on her birthday. In fact, when I say I was nudged to order a dessert for us, the restaurant gave us the dessert for free which was a very nice gesture. I only wish I ordered a dessert better for my personal palate. Our server came by a few times during the meal to check in on us and top our waters.
Food was well-paced throughout the evening, with no more than a 10-minute gap between courses. On this Monday evening, the restaurant was about three-quarters full. I think you could do with walking in with your group of 4-6 and reasonably expecting a table. However, if the restaurant knows you're celebrating something, you can note this in your reservation and see if the restaurant deems you worthy of a  free dessert.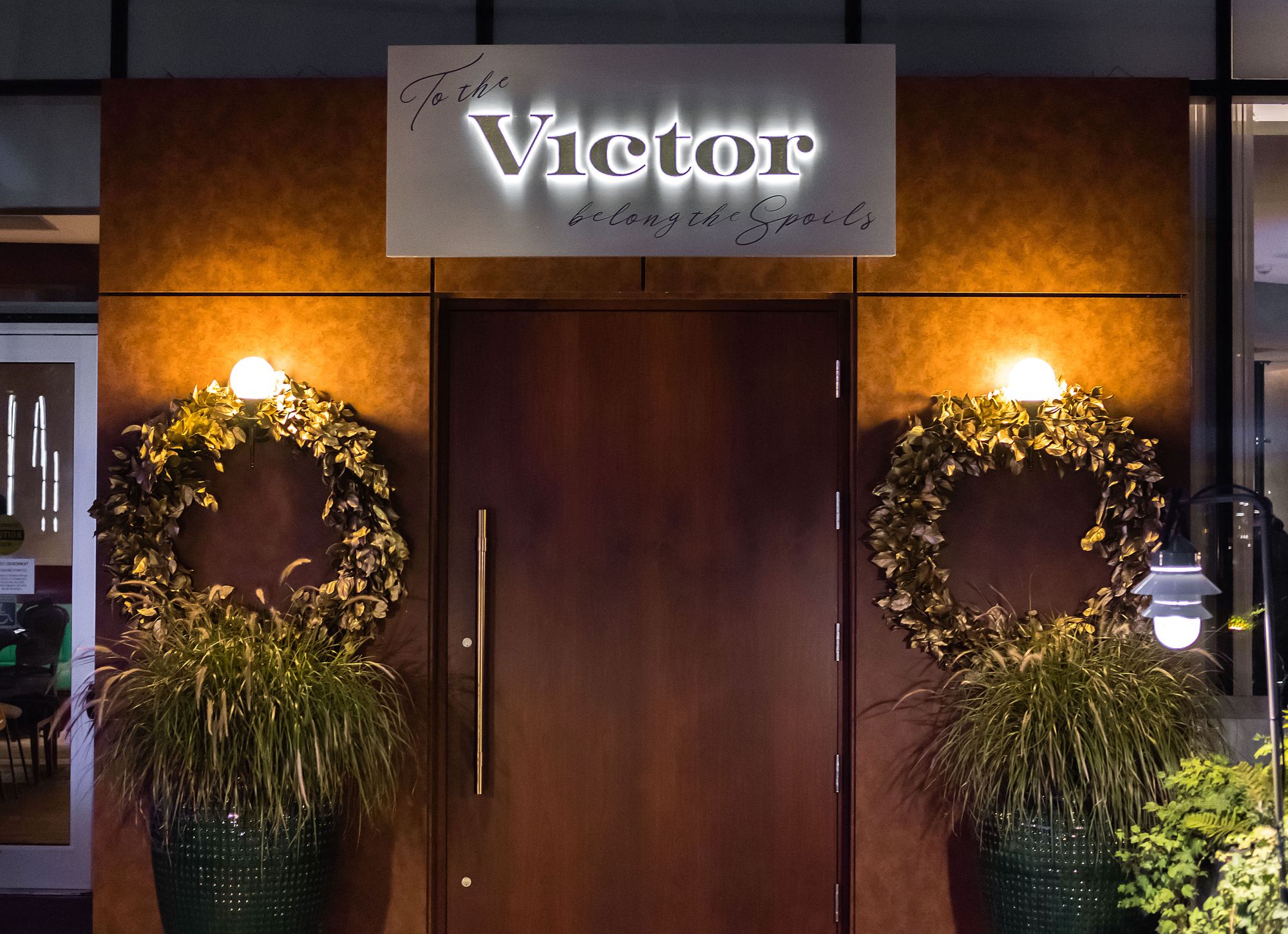 Final Thoughts:
One-liner: Finer foods meet finer service in a 6th-floor escape that is paced well, delivers quality meats, and was more than happy to accommodate a free dessert for the occasion we were celebrating
Highlight: Ribeye (medium rare)
Price per person: $60-$150
Would I go back? Yes.