Commonly known as "The Mission", the Mission District in San Francisco is home to many restaurants, bars, and nightlife events. While the age-old "dinner and a movie" date is still prevalent today, few venues (apart from drive-in theatres) manage to capture its essence quite as well as Foreign Cinema.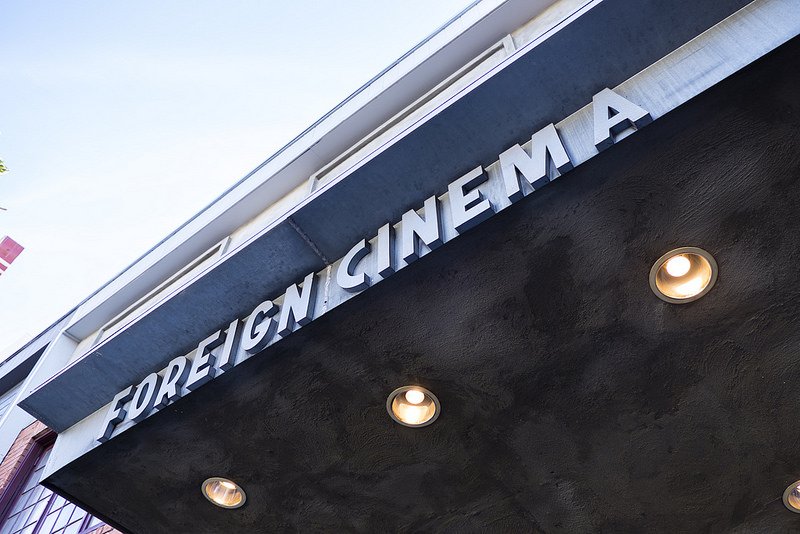 Outside Foreign Cinema
Food and Drink:
Feature film: The Princess Bride
Team Domah came here for an early dinner and I had a great taste of the following:
Bordatto Etxaldea 'Basandere' Cider ($6)
Omelet for Supper ($16)
Beef Sirloin Carpaccio ($17)
Lavender-brined Pork Chop ($29)
Four Peppercorn Duck Breast ($28)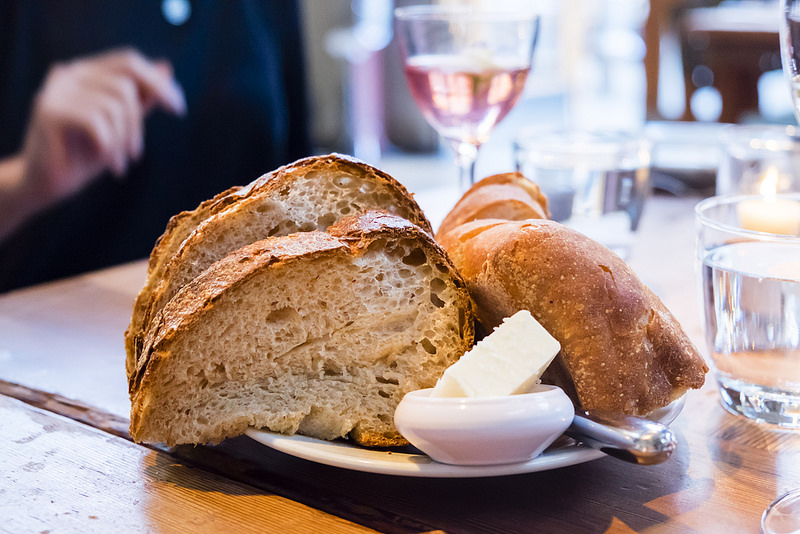 House Starter Bread
Named for the "wild woman" of Basque mythology, the Basandere was a light yellow cider with light foam. It had a dry finish, medium bubbles (e.g. less than standard champagne), and lots of apple and tannin flavour. I'd drink this again.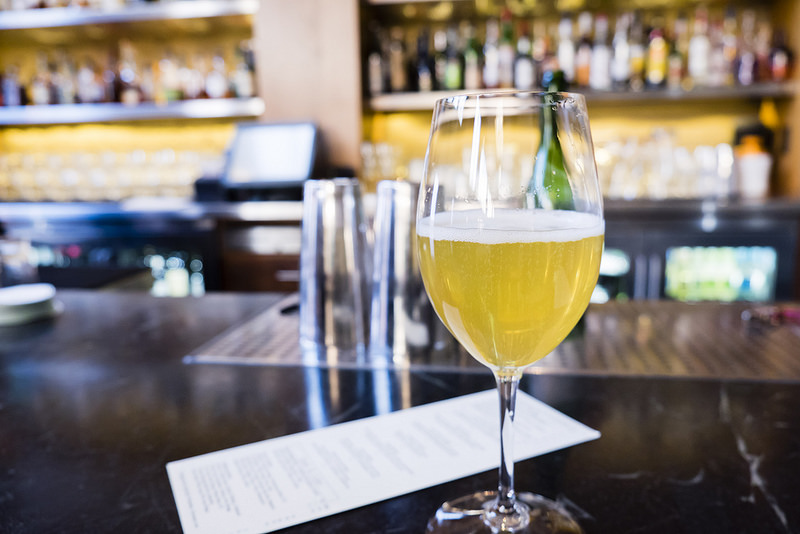 Bordatto Etxaldea Basandere Cider
Next up was the omelet for supper. Pictures don't really do this omelet justice because the magic was all in the truffle. Cooked with raclette cheese, lager, and herbs, this both smelled and tasted amazing. I never think much of ordering omelettes at restaurant but I'm confident I'll be hard-pressed to find one as good as the one I had here. Take me out for this omelete (if it ever reappears on the menu) and I'm there.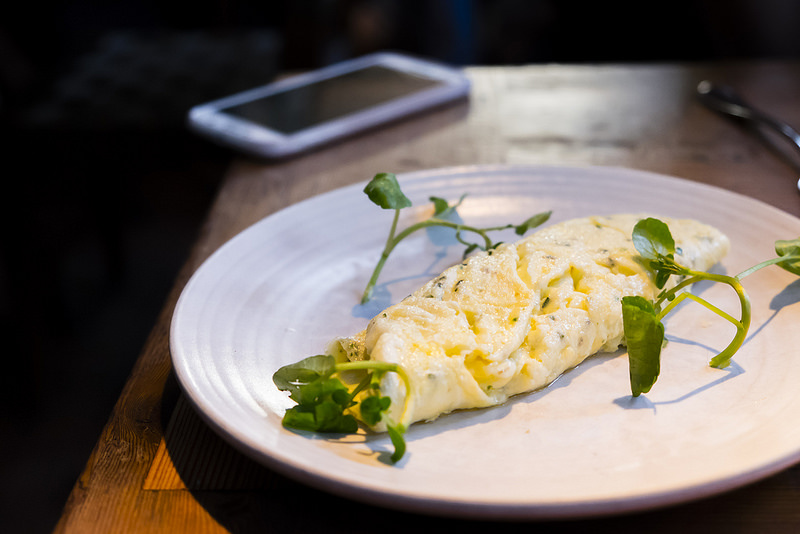 Omelet for Supper
The beef sirloin carpaccio looked like a hot mess despite being served with a harissa aioli, shiso, Seka Hills olive oil, waffled potatoes, and Manchego. It was, however, delightfully saucy and the waffled potatoes were my favourite shape of chip – ruffled.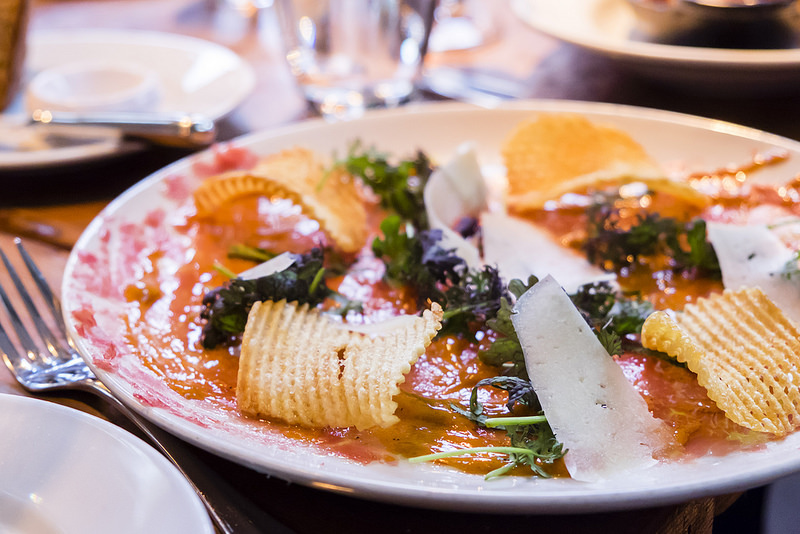 Beef Sirloin Carpaccio
Moving onto some entrées, I mainly had the lavender-brined pork chop. Served with Tunisian spices, Umbrian farro, broccoli rabe, grilled Nardellos, and olio nuovo, this was a very hefty entrée. This was some of the juiciest pork I've ever had. While I loved the spices and the hint of lavender infused into the medium-cooked pork, the broccoli rabe was served a little too charred for my personal preference and had a distinct charred taste. The grilled Nardellos peppers though, were a terrific sight and a juicier bite. Size really does matter.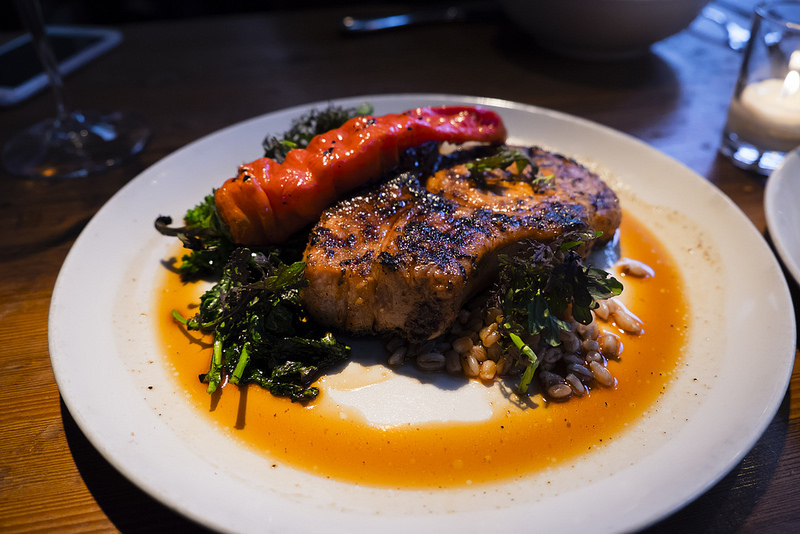 Lavender-Brined Pork Chop
The four peppercorn duck breast was served with an English pea purée, baby carrots, shiitakes, sauce vert, caramelized duck jus, and tapenade toast. The presentation was fantastic but the duck breast was the star. Each bite was as juicy as the last and swirling the duck into the puree was pure joy.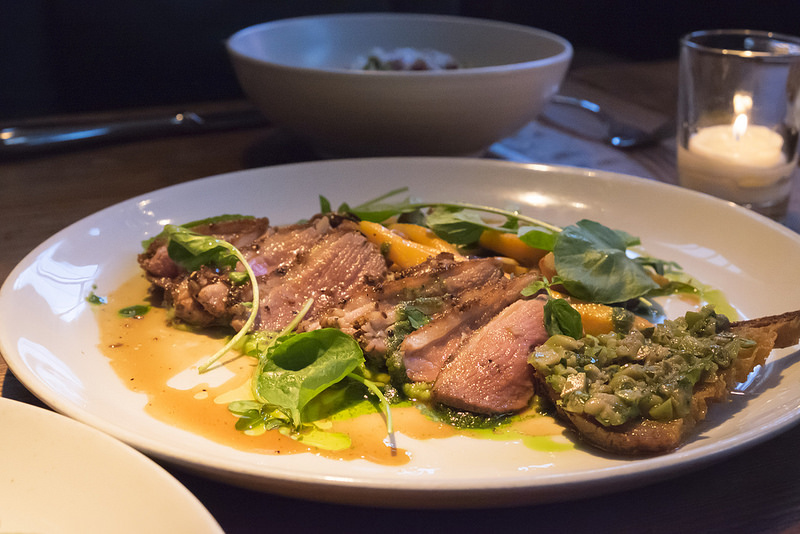 Four Peppercorn Duck Breast
Features:
The premier feature of Foreign Cinema is that they play films nightly. These films are chosen by the chefs and appear to rotate every 3 weeks or so. The film tonight was "The Princess Bride" (1979).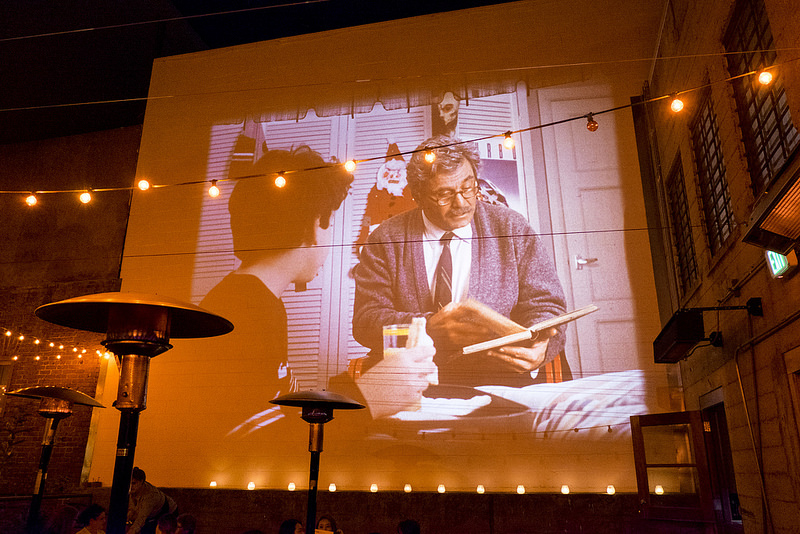 Feature Film
As a testament to this restaurant's prowess in the Mission district and beyond, in recognition of 15 years of distinctive service and community stewardship, September 18th is proclaimed "Foreign Cinema Day" in San Francisco.
Inside, there is seating for about 100 guests inside a large space (perhaps a former warehouse?) and an enclosed courtyard where the film of the evening plays after sundown. The vibe is pretty exciting with lots of chatter and a ton of light through the double height windows.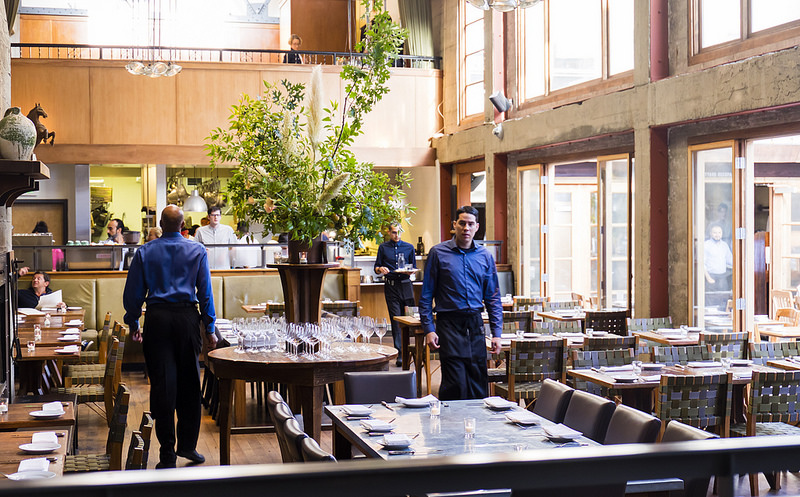 Inside Foreign Cinema
Service:
Service was excellent at Foreign Cinema. Our server made time to visit us often and was a reliable way of getting answers (e.g. they don't split bills 5 ways but they do allow you to dictate how much to be charged on your card). Our server was prompt in allowing us to read the menu, order drinks, order food, and came back at an appropriate time to offer a dessert menu. It's a pretty fine dinner service as there was a dedicated water topper and plates and cutlery were cleared between courses. The folks at Foreign Cinema take reservations but they fill up really quickly. If you don't have a reso at least a week in advance, you'd best arrive at 5:30pm sharp to snag a table for any size group.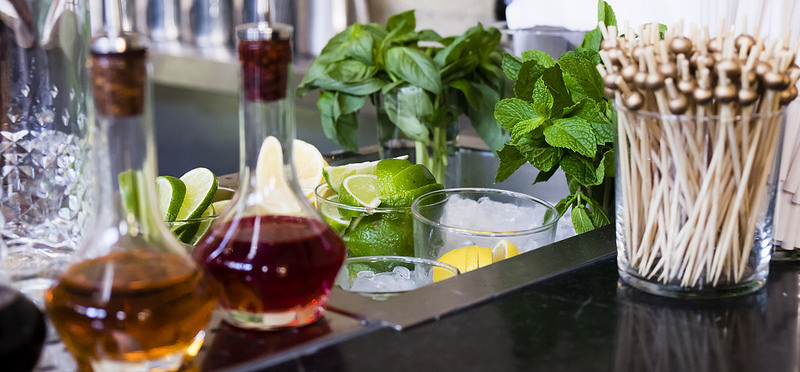 Bar
Final Thoughts:
One-liner: Fine farm-to-table cuisine with the quality of service to match and a cult classic film to boot
Highlight: Lavender-brined Pork Chop
Price per person: $30-$50
Would I go back? Yes.