After a year hiatus, Harvest Haus is back on in Vancouver. With its return, Harvest Haus moves to the PNE Fairgrounds and expands to include a new component in Harvestland, an array of Bavarian-inspired activities targeted for families and outdoorsy enthusiasts. Yes, Oktoberfest technically starts in September in Germany, but you know it'd be much easier to market Oktoberfest to Vancouverites by staging it in October closer to Thanksgiving.
Last week I had a chance to attend the grand opening of both Harvest Haus and Harvestland.
Disclosure: I was given a media invitation to attend this event. All opinions are my own.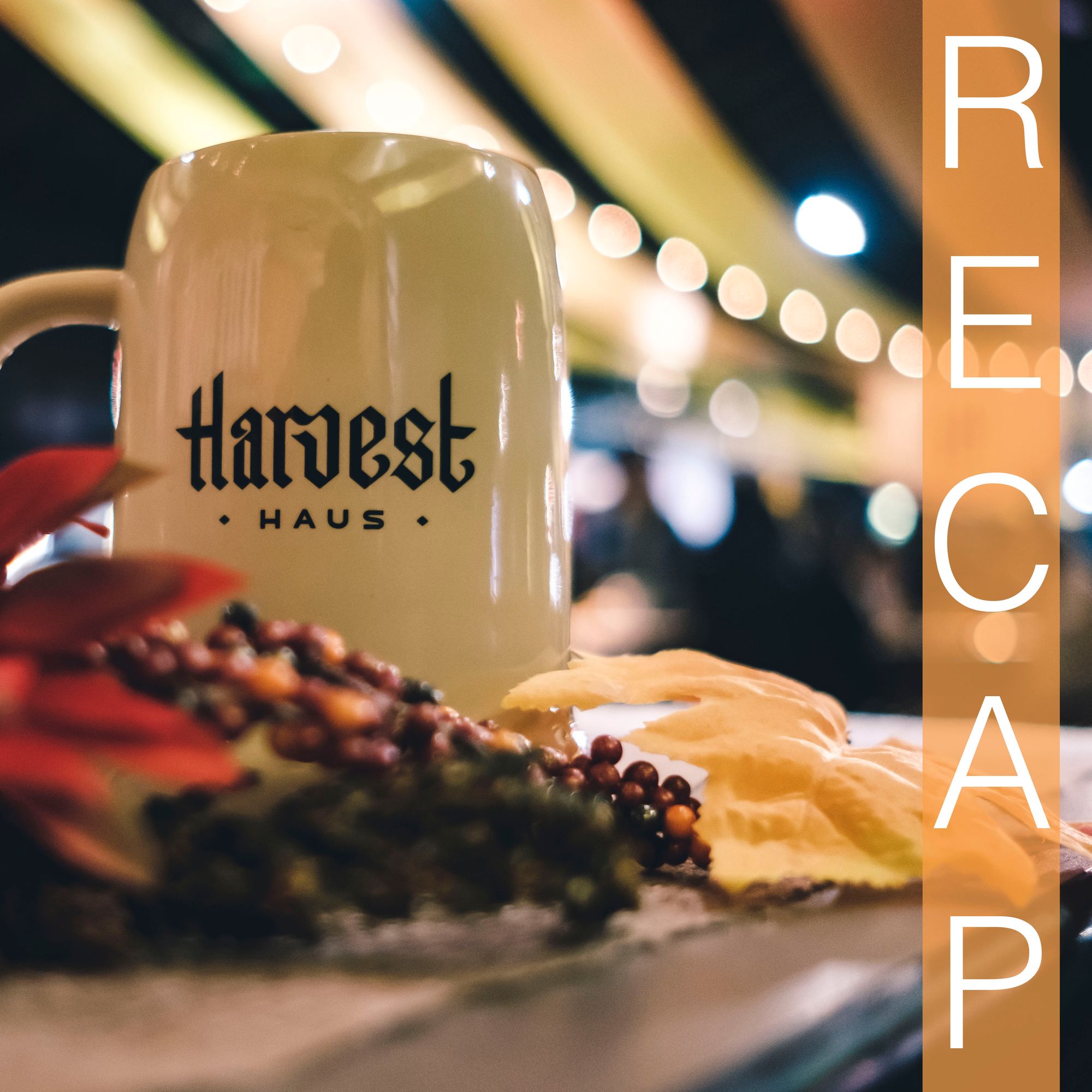 Harvestland:
Harvestland is open every weekday until the 20th and a ticket can be purchased separately if you want to abstain from Harvest Haus. Everything in this section is a part of Harvestland. The entrance for both is in the same place.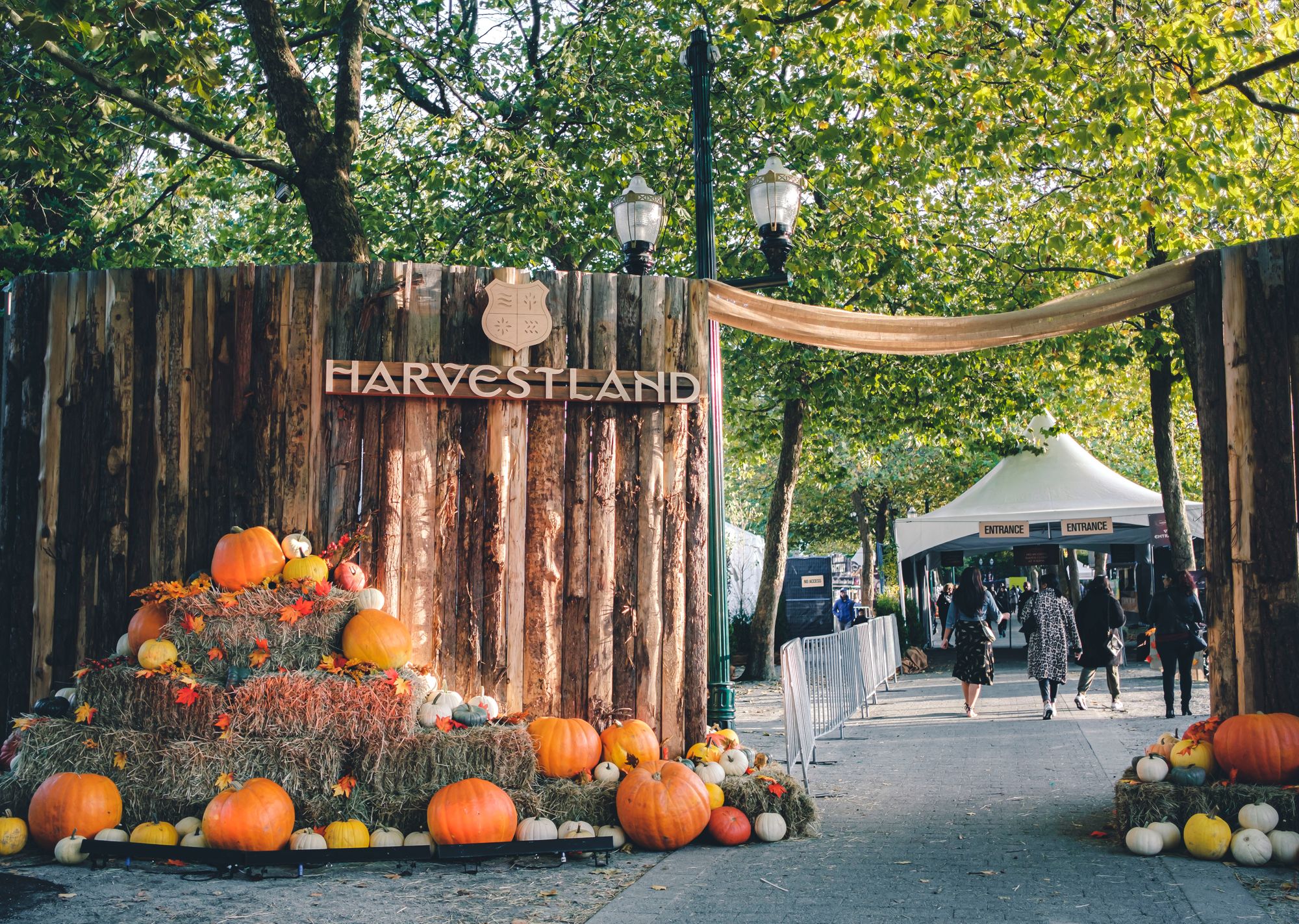 I wanted the full experience so either I or my guest partook in the following Harvestland activities:
Woodland Maze
Axe Throwing (8 gulden for 3 throws)
Lumberjack Show
Kinder Discovery Farm
Bavarian Village Pumpkin Slinging
Bavarian Village Archery (7 gulden for 3 arrows)
Bavarian Village Lettuce Cutting (5 gulden for 1 lettuce)
Pork Hock ($12.50)
The woodland maze was a series of fences set up to guide wanderers into a giant Christmas tree at its center. If you wandered deep enough, you'd also stumble onto the cranberry crushing farm where you could don some public boots and get crushing.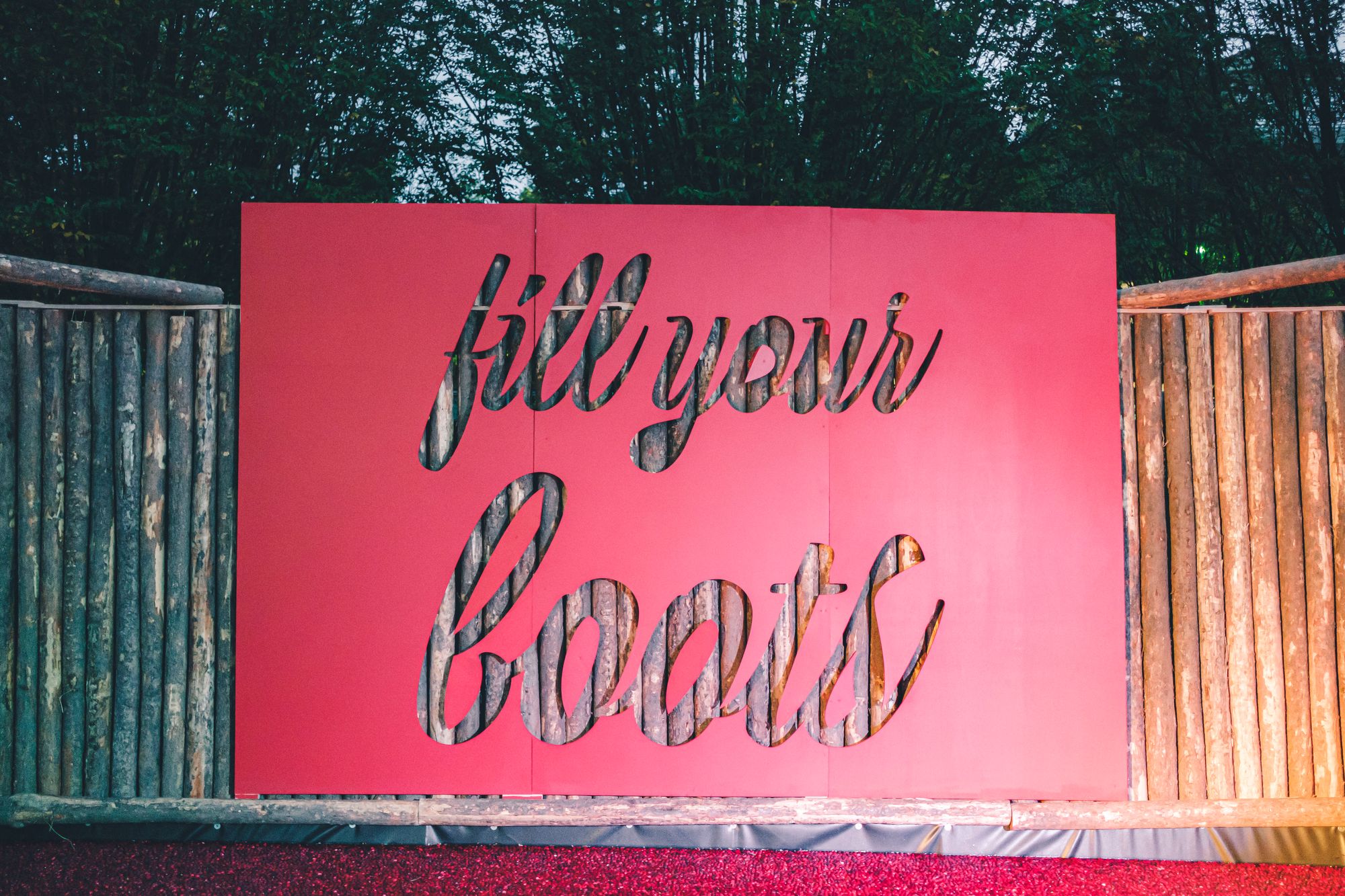 Next up was axe-throwing, my favourite activity from 2017's Harvest Haus. Here, 8 guldens (more on this later) or $8 could be spent to get you 3 axe throws and a guided lesson in throwing. Here's a photo of an axe-throwing master showing how it was done. My throws were not as glamourous.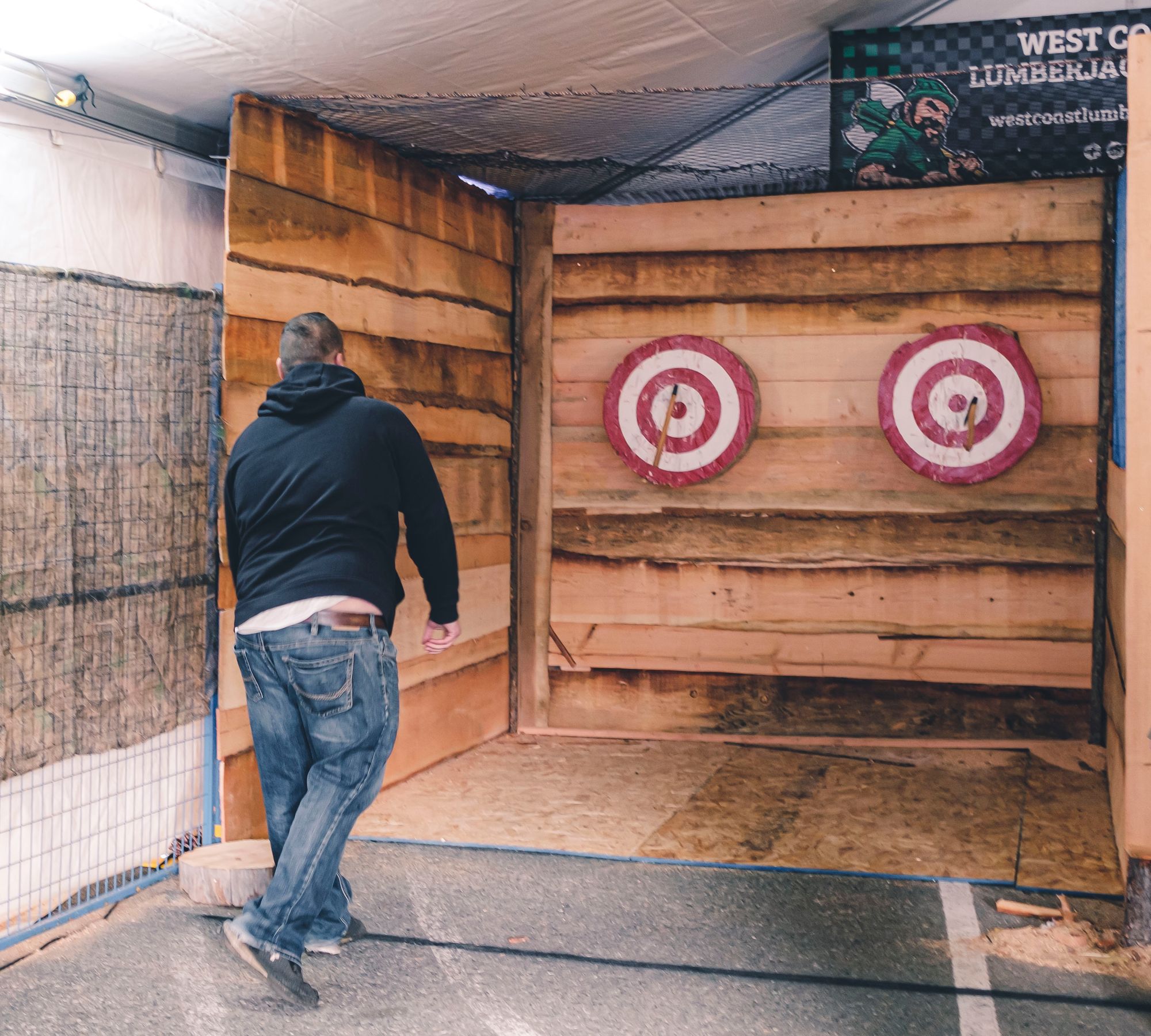 To get gulden, you just had to visit a gulden booth located near the Vertigo ride. Gulden are used for activities and rides, and nothing more. You needn't worry about saving gulden for beer inside Harvest Haus because nobody inside accepts gulden.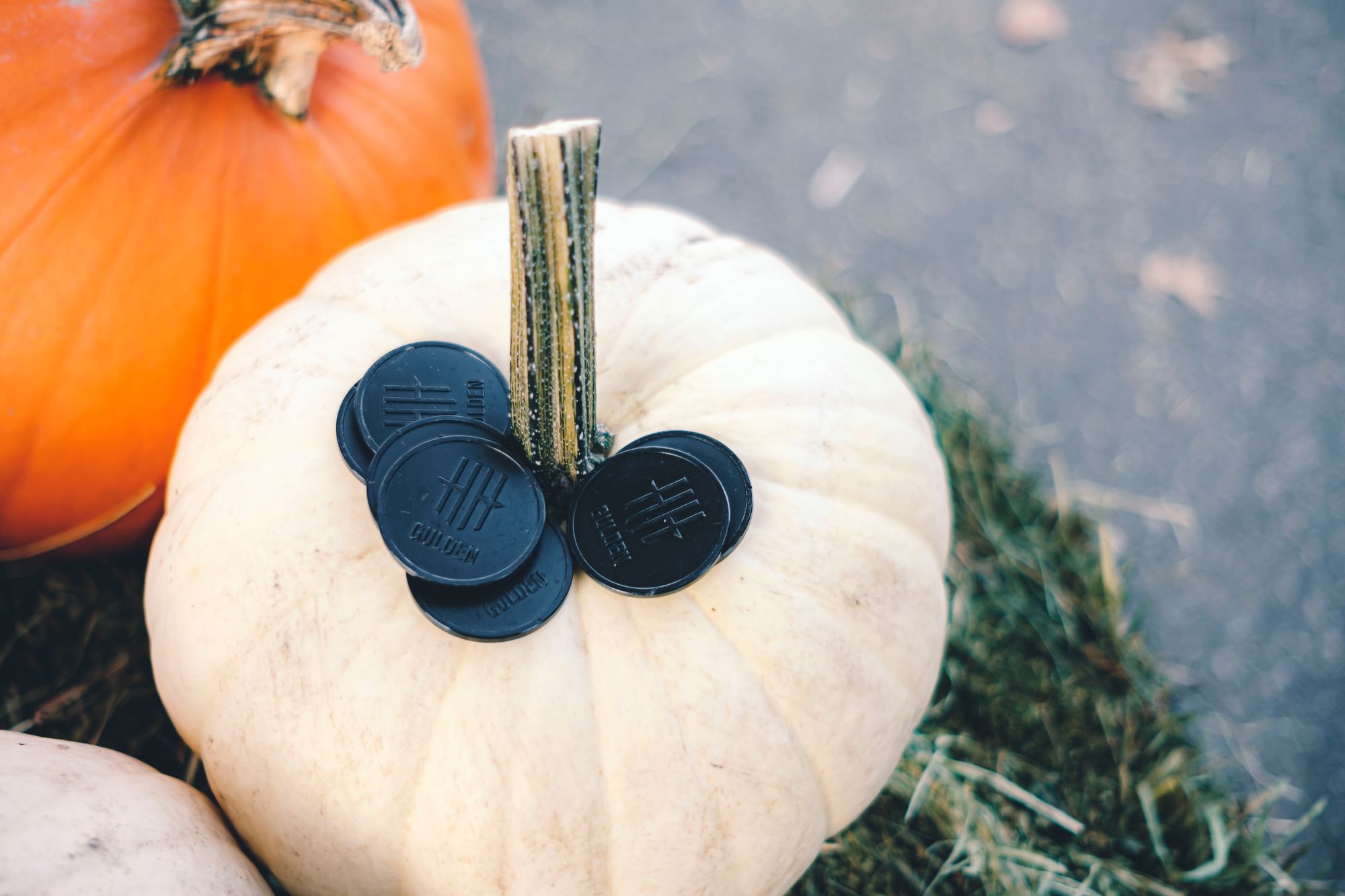 6pm marked the start of the lumberjack show, open to all Harvestland attendees. This was a full-on 45-minute lumberjack competition with cheering for either the red or green team depending on which side of the viewing area you were in. The tree-climbing and wood-splitting were the most exciting activities and I wish there was a way to experience these activities myself at Harvestland.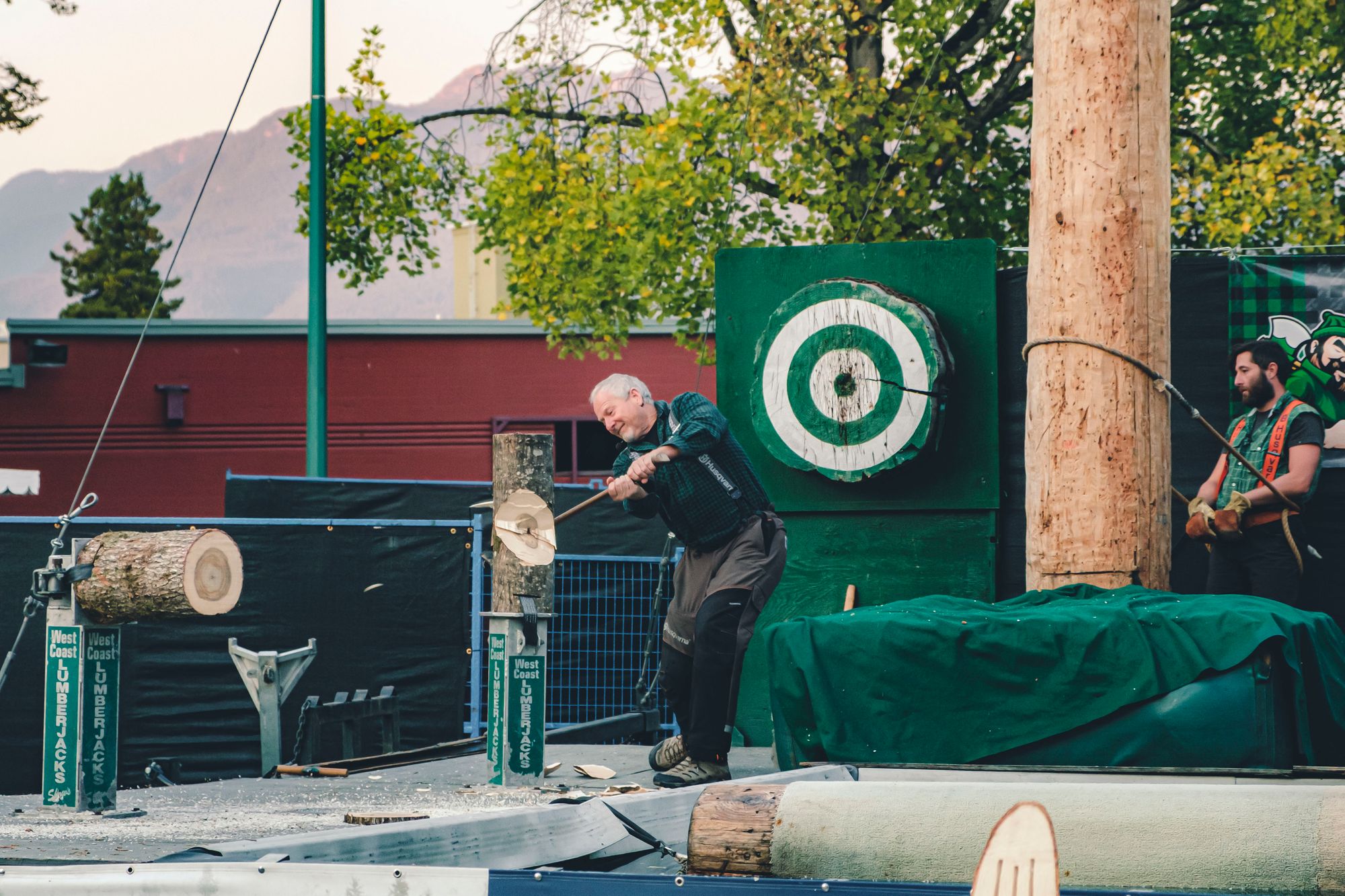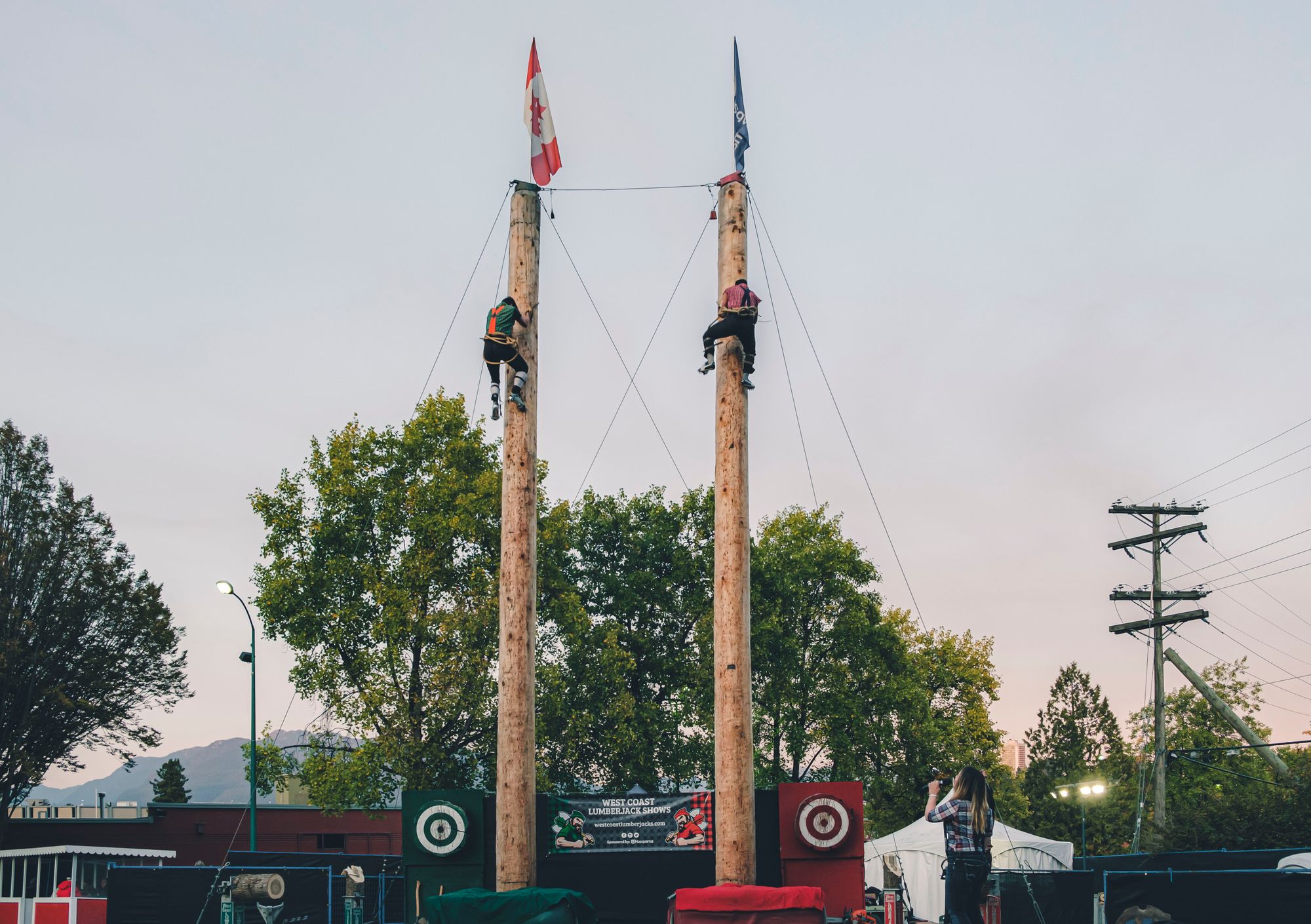 For the kinder (German for "children), the discovery farm was the place to be. Goats, donkeys, rabbits, ponies, and baby chicks were on hand for kids to learn about and see up close. You could also pay some gulden to ride a pony.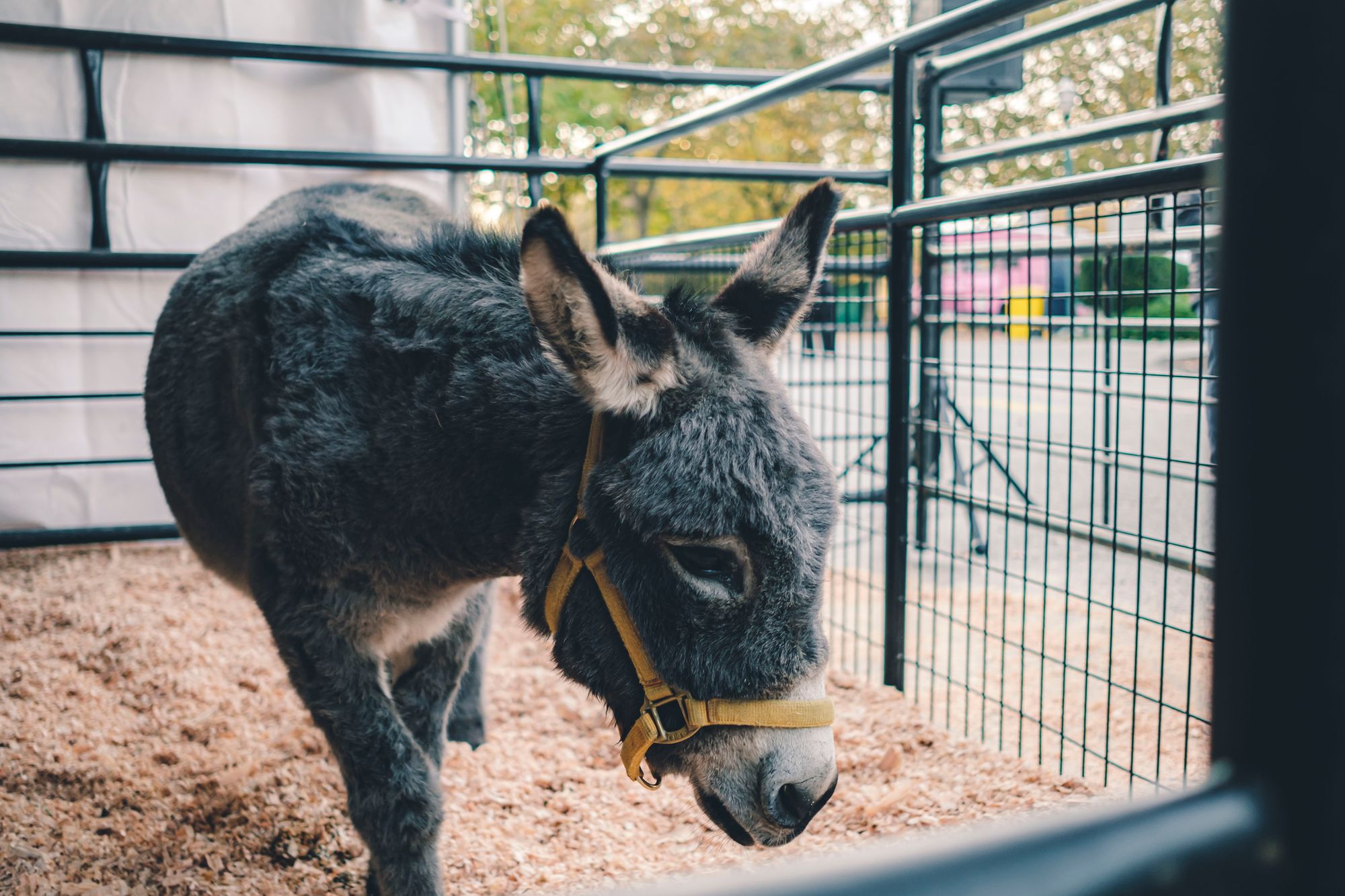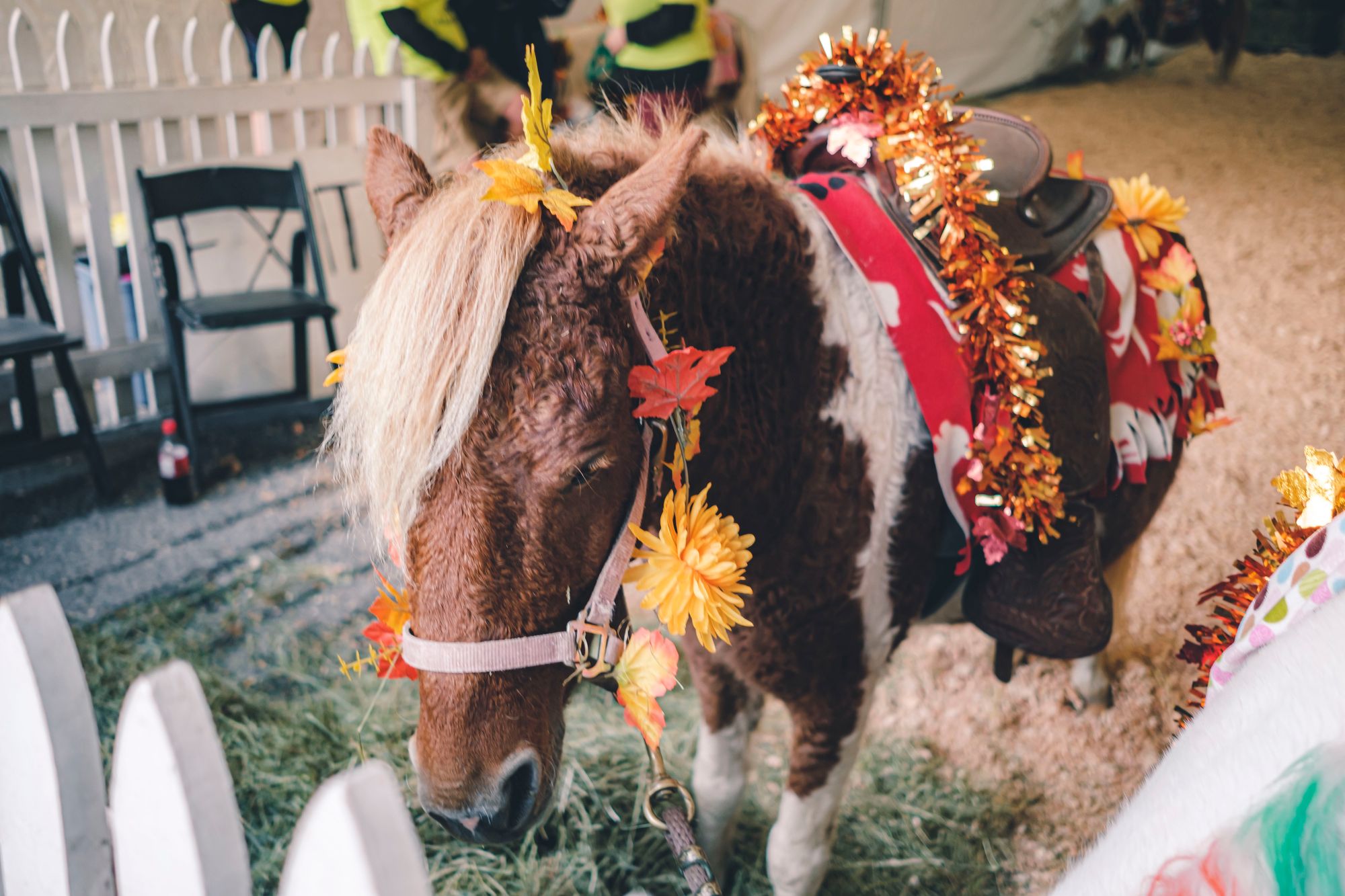 Also directed to children, pumpkin slinging in the Bavarian Village had participants deposit some gulden to sling a tiny pumpkin as far as possible.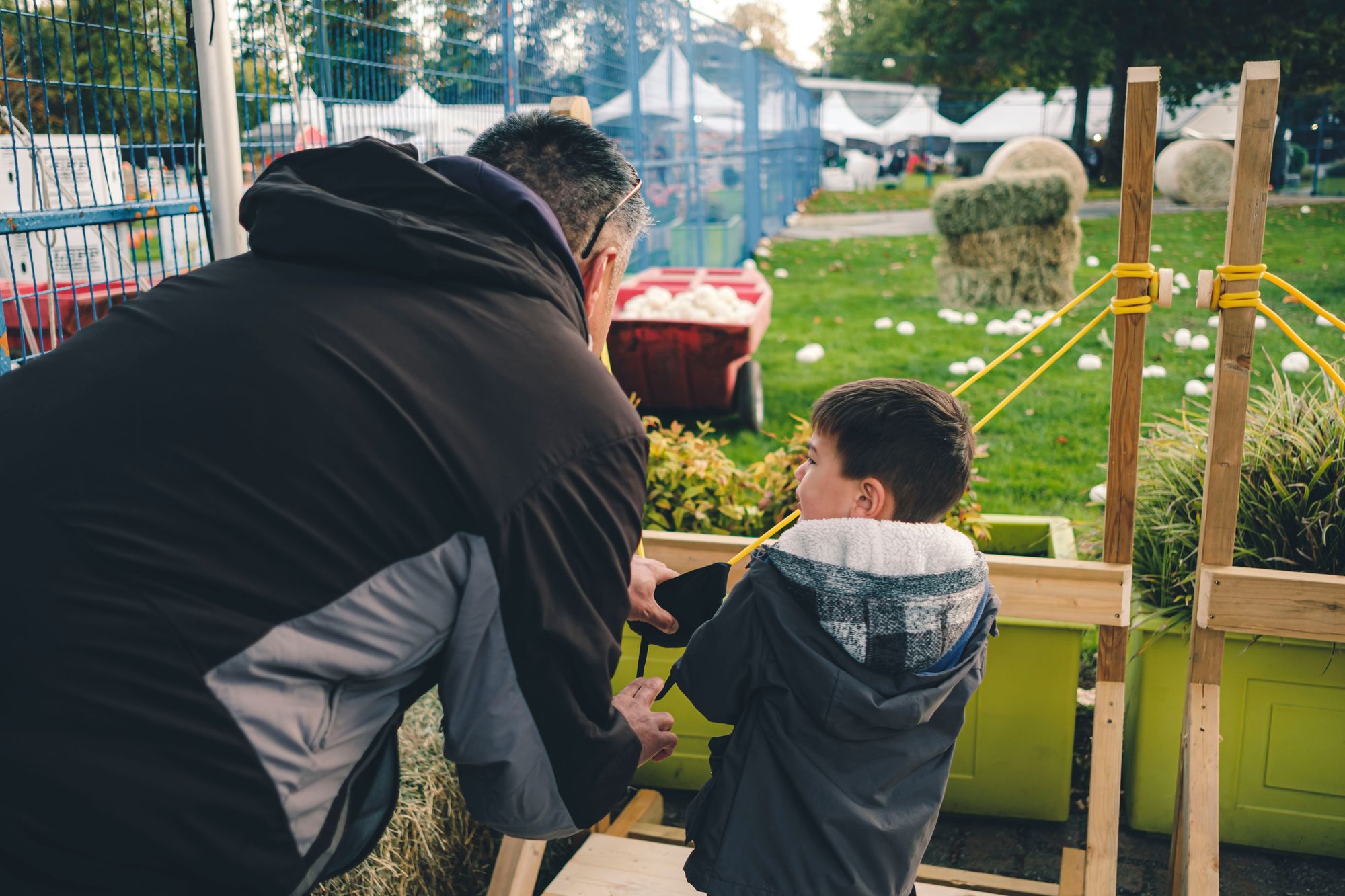 But if you were me, you would be more interested in walking around the pumpkin patch looking for the biggest one.
I also took part in archery, paying 7 gulden to learn how to hold a bow, draw an arrow, and miss horribly. I managed to hit my target on the final attempt but it was nowhere close to the center. The instructors were very encouraging though (and probably laughing at how bad some people like me are at archery).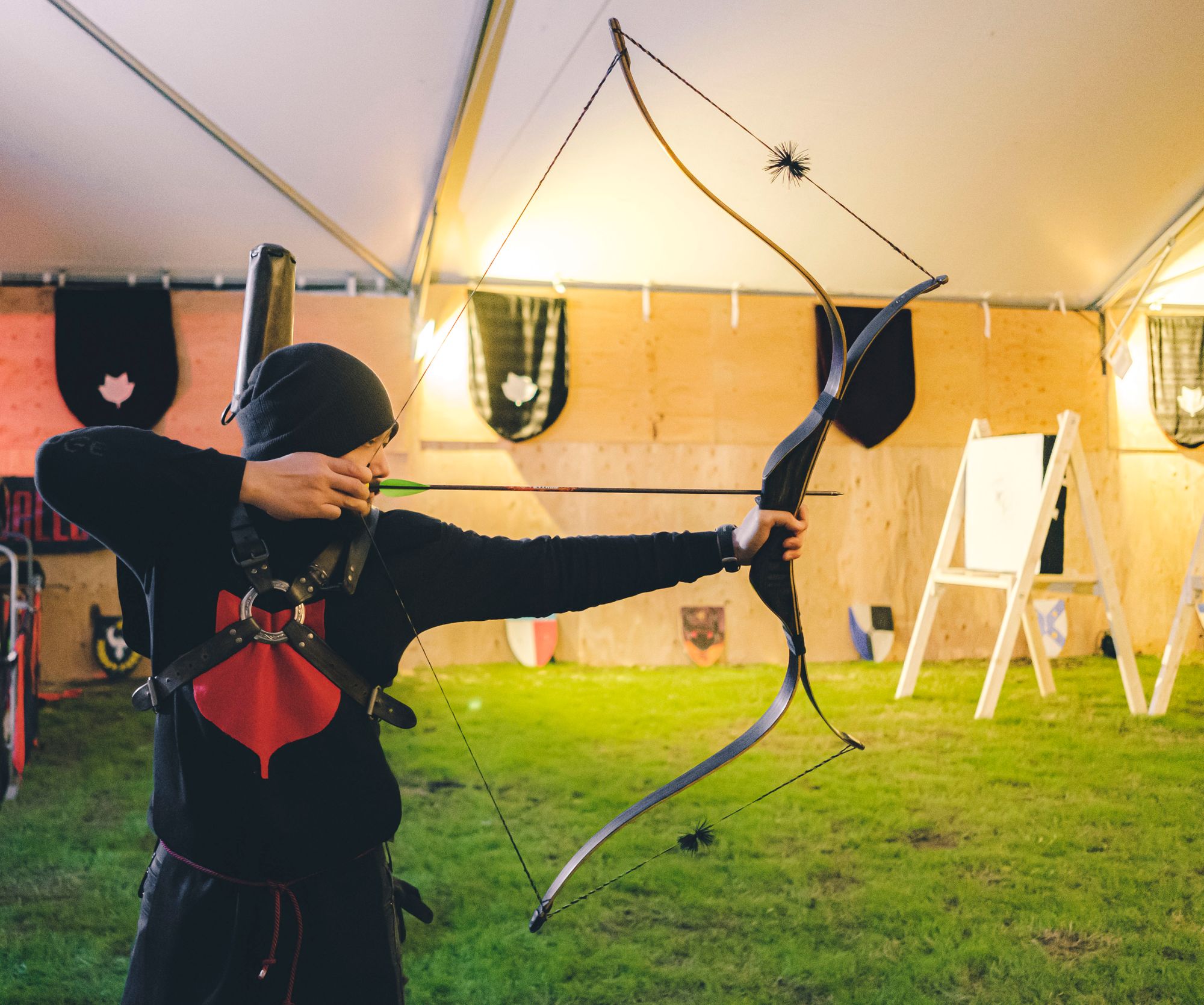 For something therapeutic, one could buy a head of lettuce for 5 gulden and make their way over to the lettuce cutting station. These swords were sharp enough and cleaned through the heads of lettuce without a hitch, as seen by my guest cleaving through his lettuce. Pumpkins were also an option if you wanted something harder to cut.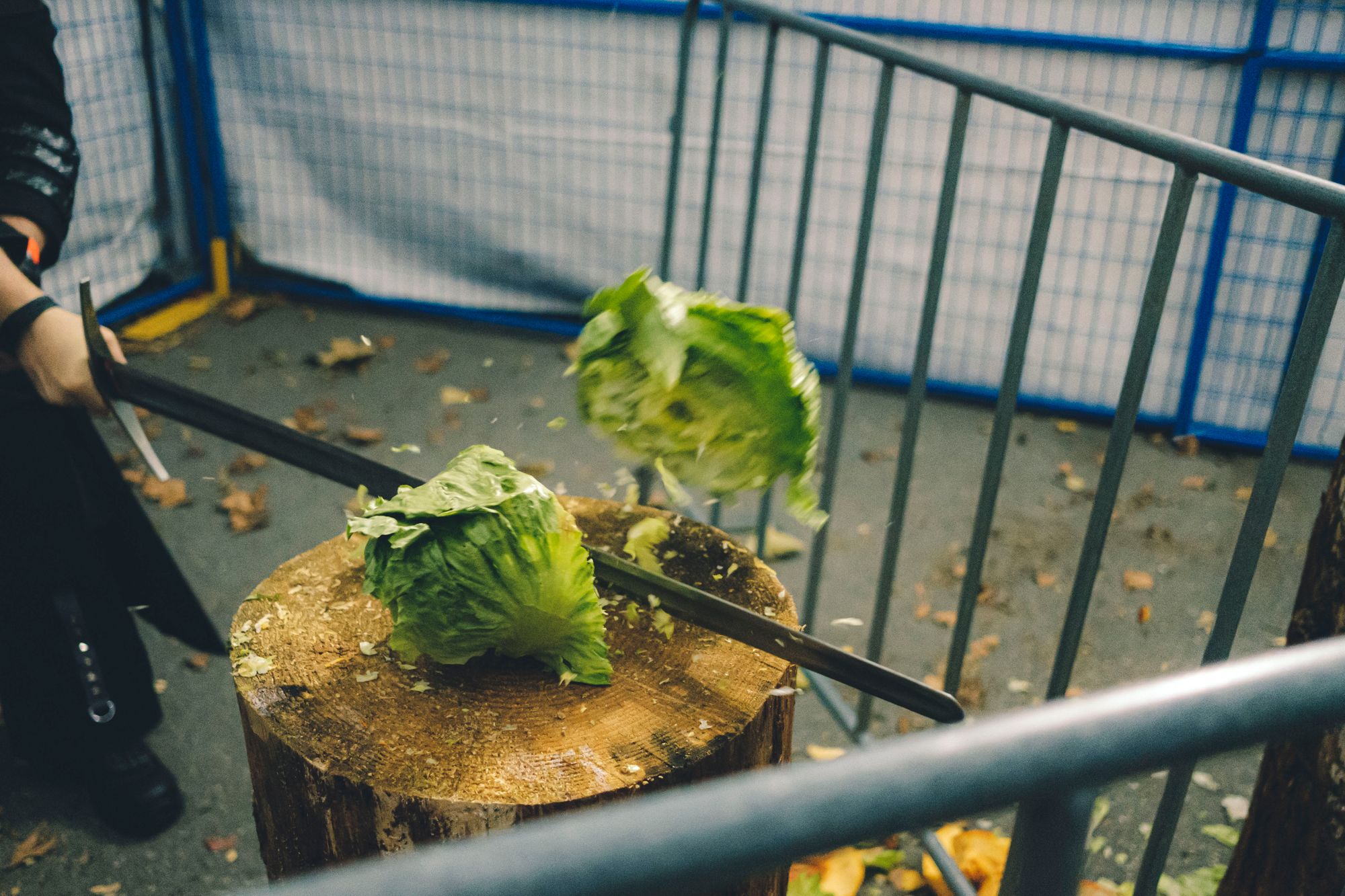 A door led into the PNE Forum where there were other classic fairground rides and a number of vendors where you could buy lederhosen, yoga pants, and alpaca scarves.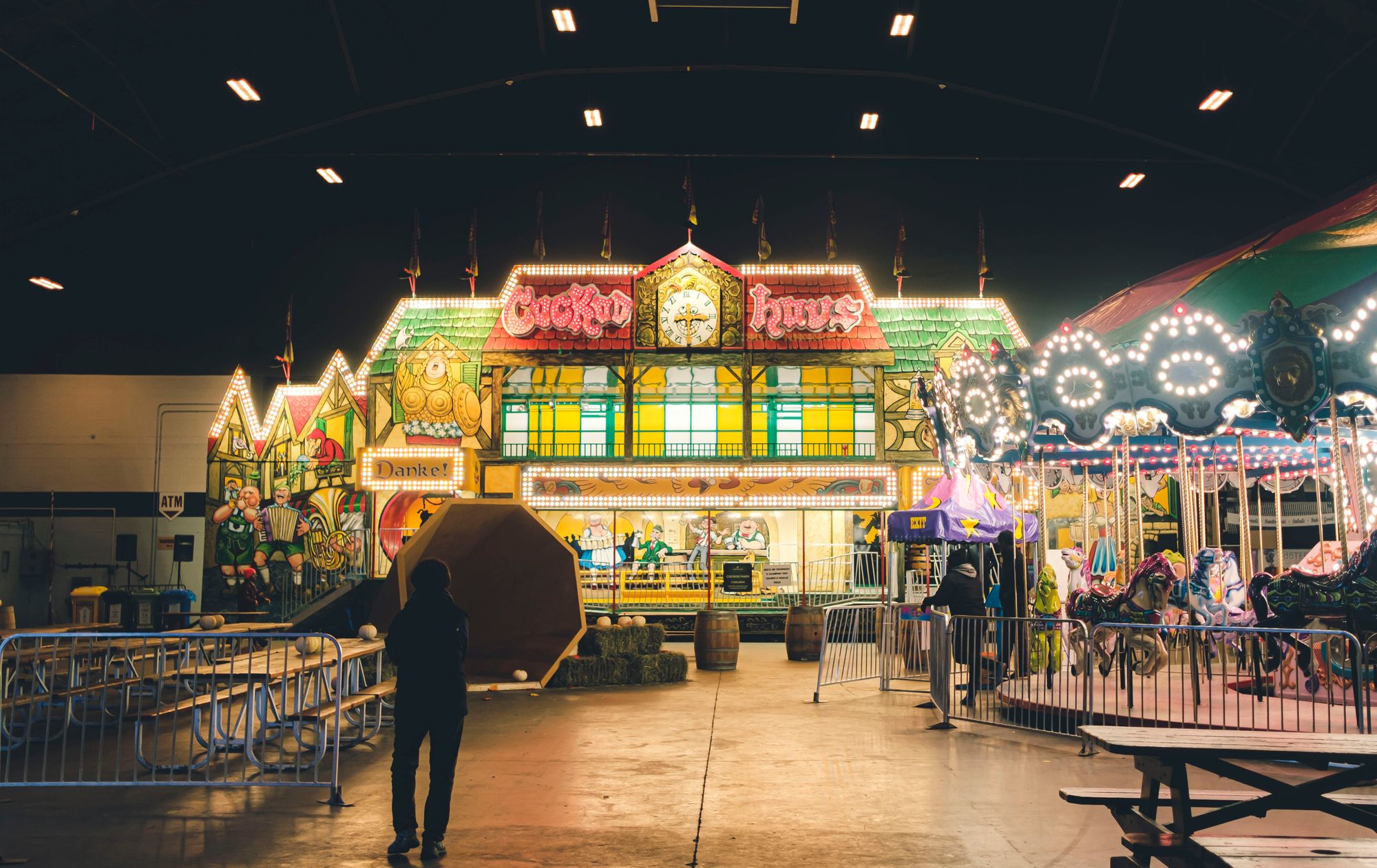 While not officially an activity, I realized pretty quickly once inside Harvest Haus that all of the food options sans pretzels were located outside. We quickly made our way back out to go to the pork hock stand outside and each ordered a half pork hock with sauerkraut. On the side of the stand were these udder-shaped condiment dispensers for mustard and ketchup that were very satisfying to use.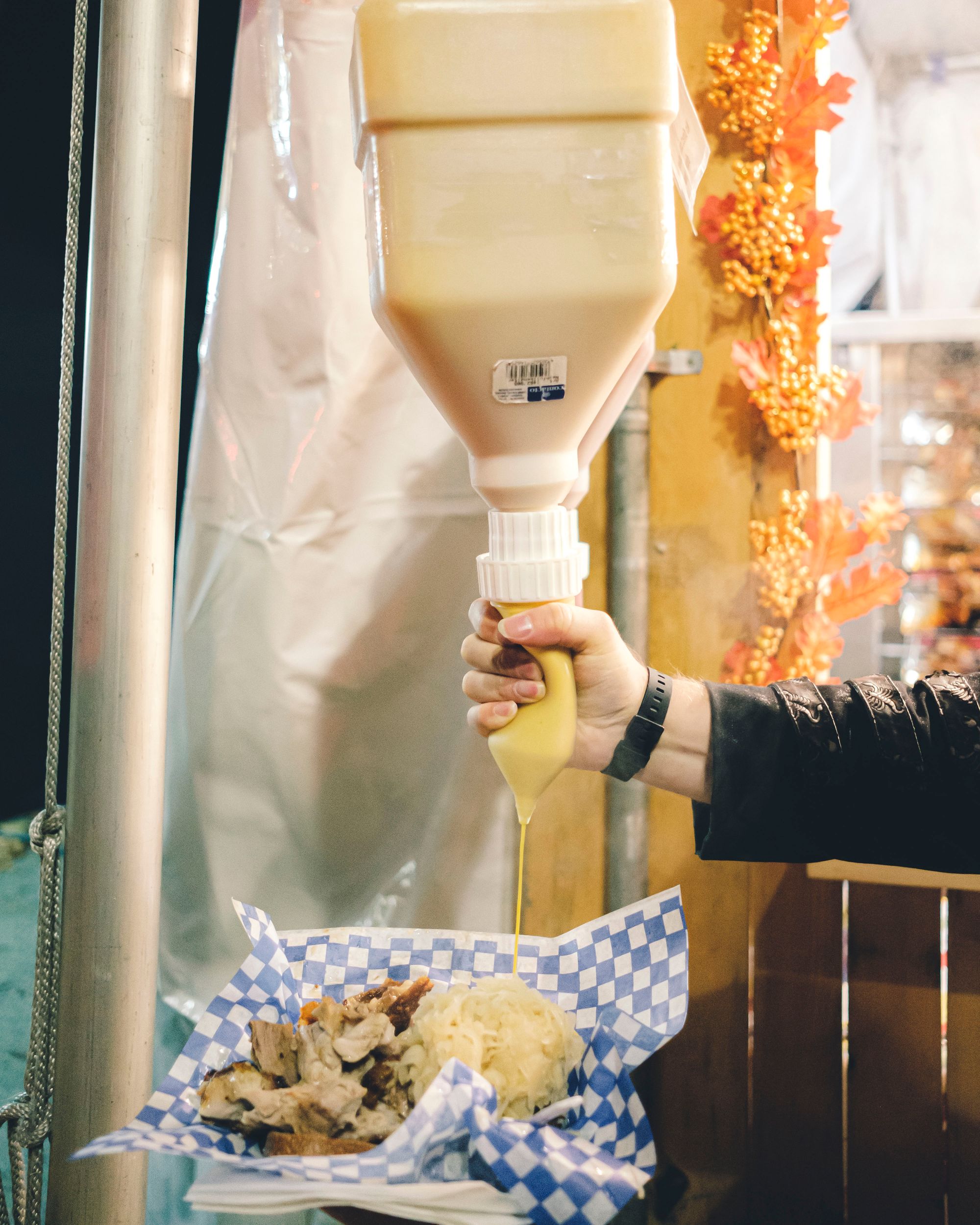 Once we had our food, we ventured back into Harvest Haus.
Harvest Haus:
In my opinion, Harvest Haus inside the Halle is where the real heart of Harvest Haus is. Inside is a ton of German immersion and the vibe is bustling once the music gets going. Some points of interest included:
Bavarian-style hall longtables
Theatrical keg-tapping
Lederhosen-clad professionals
Live Bavarian Beatles cover music
Pretzels
Clinking. So much stein-clinking.
We brought our pork hock into the venue, got some beer from one of the many bier stalls, and found ourselves a seat at a longtable shared with some other humans. Finally, we clinked steins, and proceeded to chow down.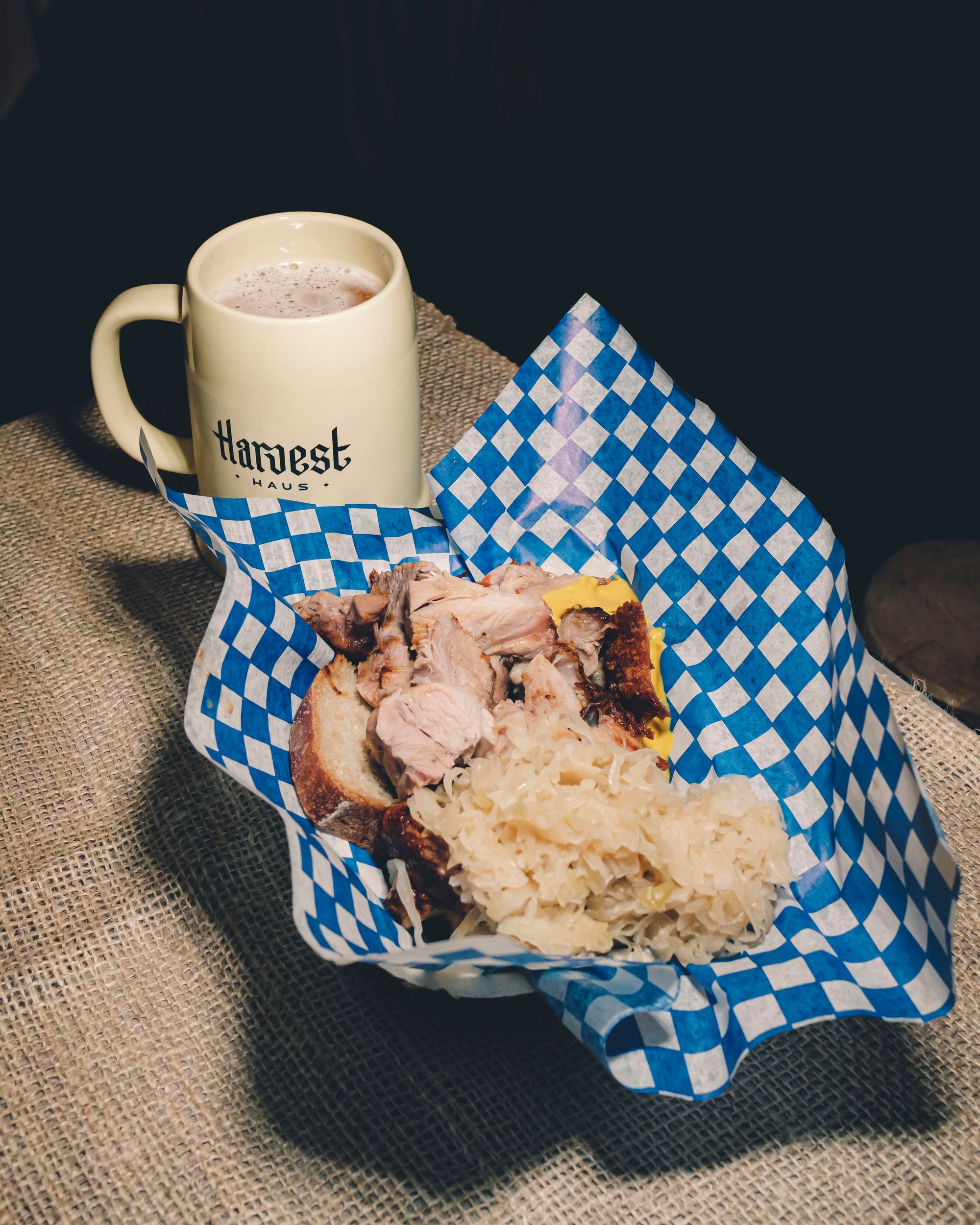 The pork hock was good at retaining its heat so this was still delicious. The sauerkraut had a balanced sourness and the crackling on the pork was still crispy. The bread was thoughtfully inserted at the bottom of the pork hock so it could soak in the pork juices for me to munch on later.
I found the Schofferhofer Hefeweizen Grapefruit Bier to be on the sweet side so I had to down it quickly and get myself a drink with more body to it. The immersion was still real though. We drank. We clinked. We were merry.
Next, it was onto the dance floor.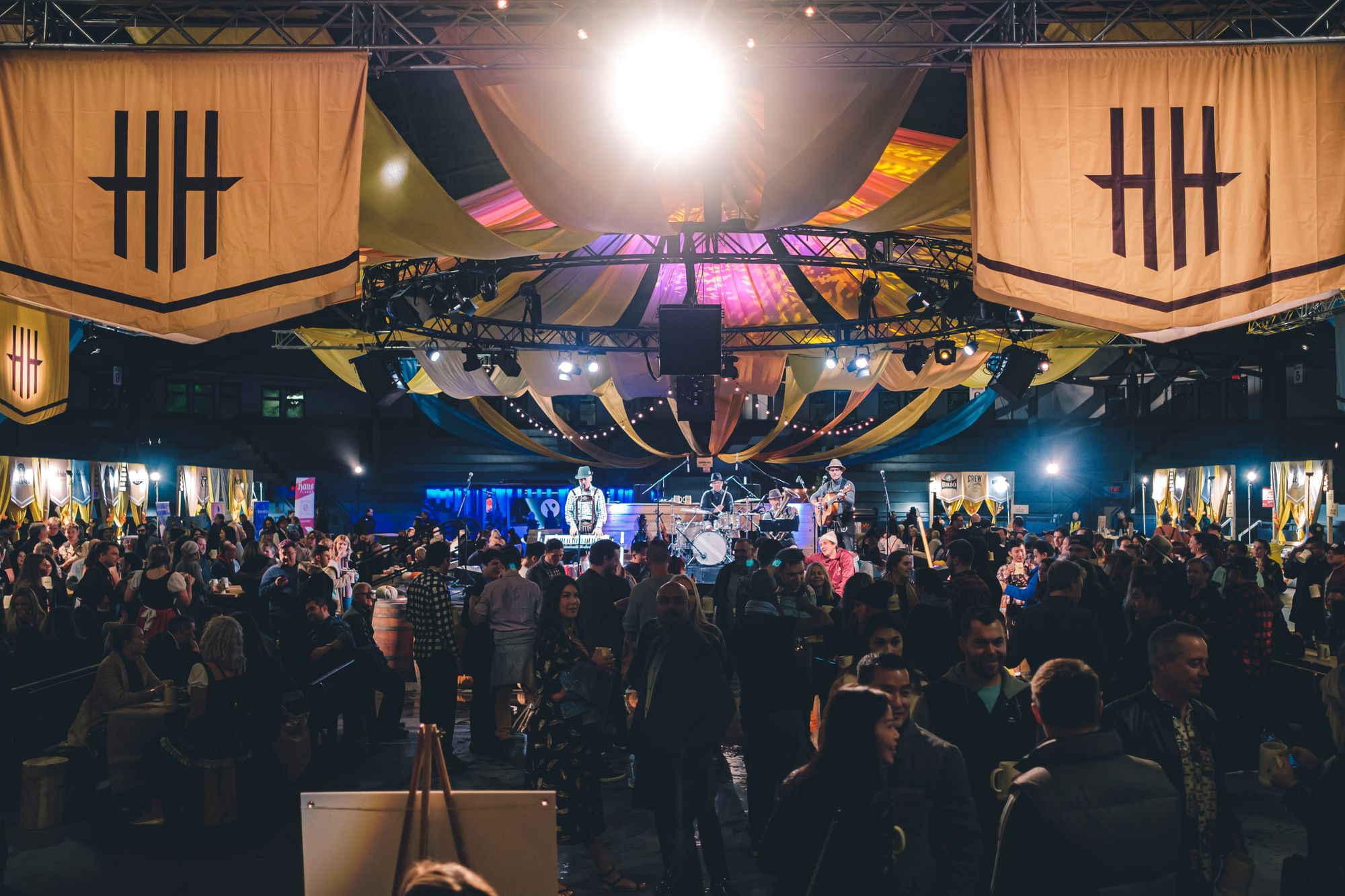 The house band played up some classics and sung them in German, so while I had no idea what the lyrics were, I always recognized the tunes (a mix of Beatles and more modern hits). The in-house staff had the best job of living their best lives and jamming to the music regardless of who was watching. I appreciate an attitude like that.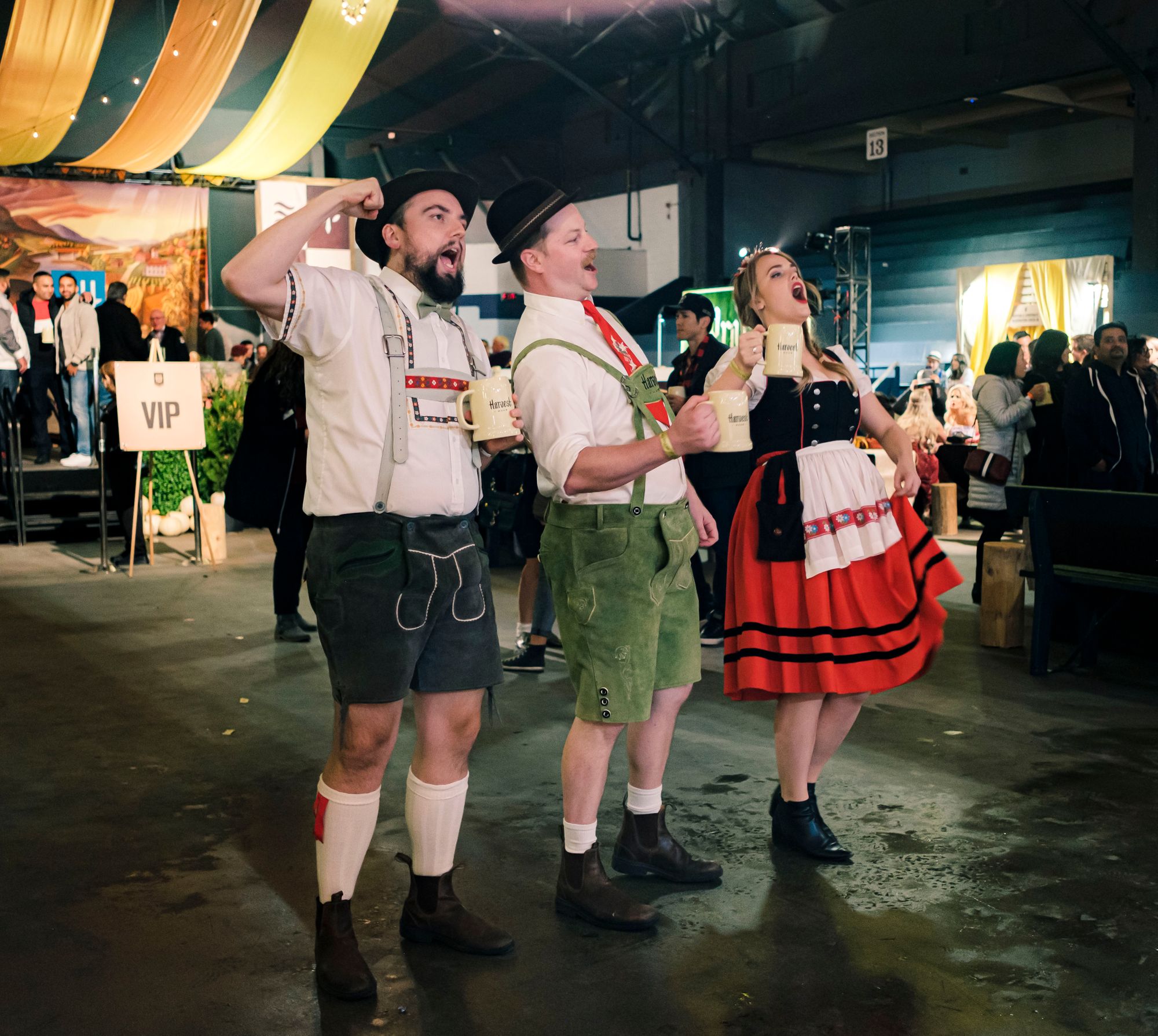 Eventually, the burgermeister himself came out to welcome all to Harvest Haus and we clinked steins in unison.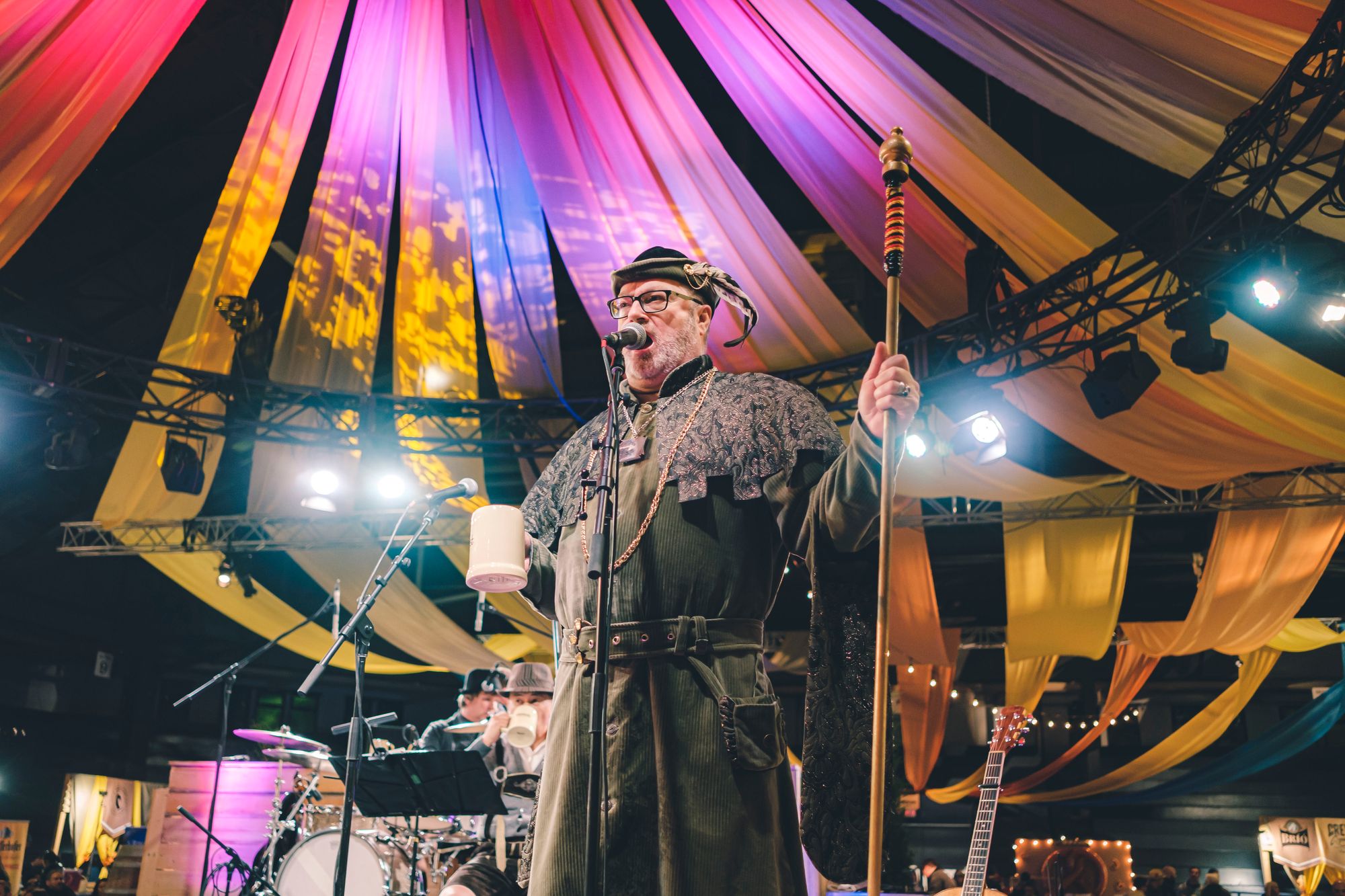 Final Thoughts:
For me, I love the immersion that Harvest Haus provides. Sure, it takes place inside the PNE Forum venue, and could have used a lot more pumpkins in my opinion, but the decor is pretty thoughtful and the programming is very on-theme. Bring the right people, your Bavarian habits, and Harvest Haus could be the most fun you have all weekend.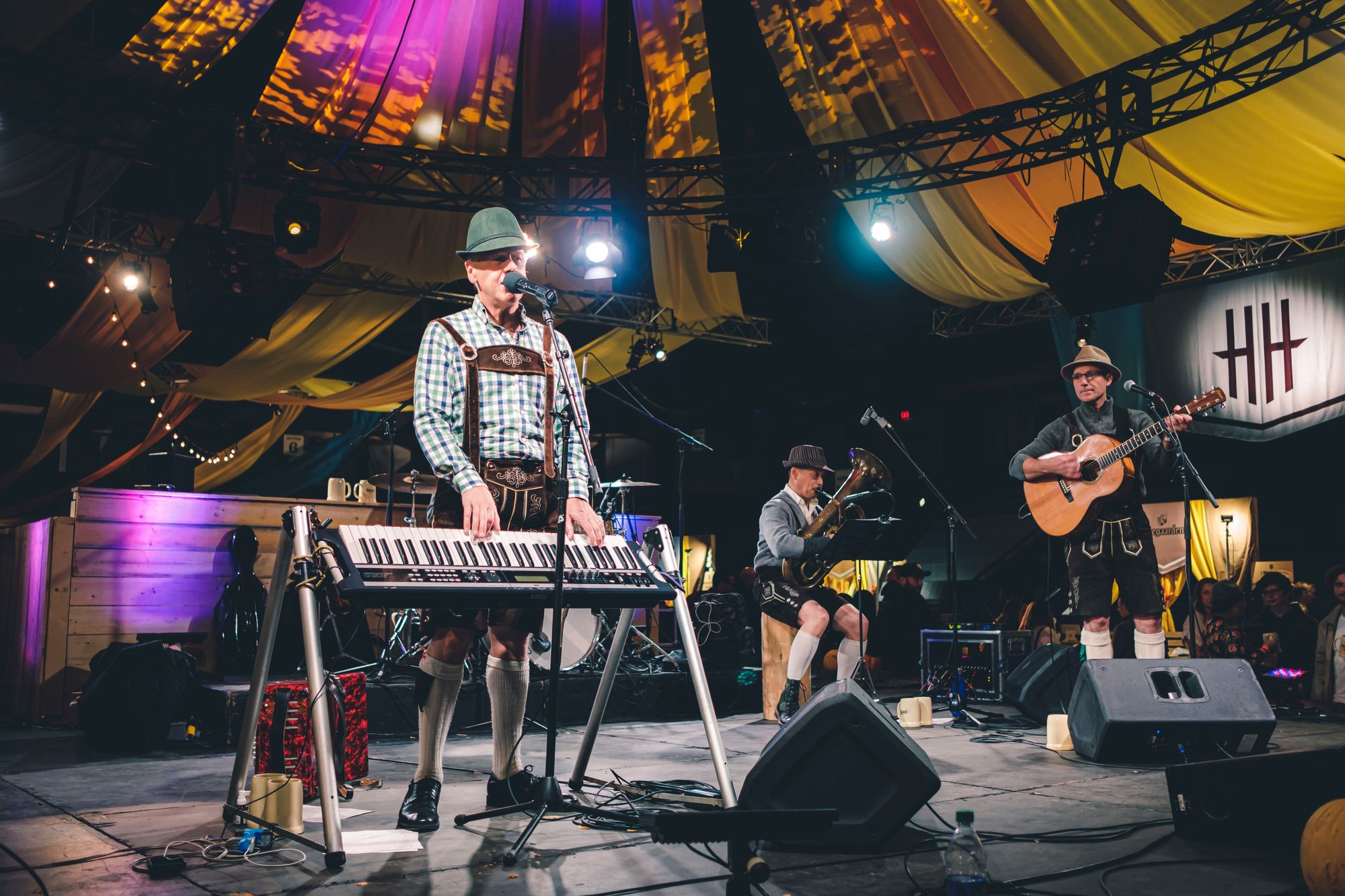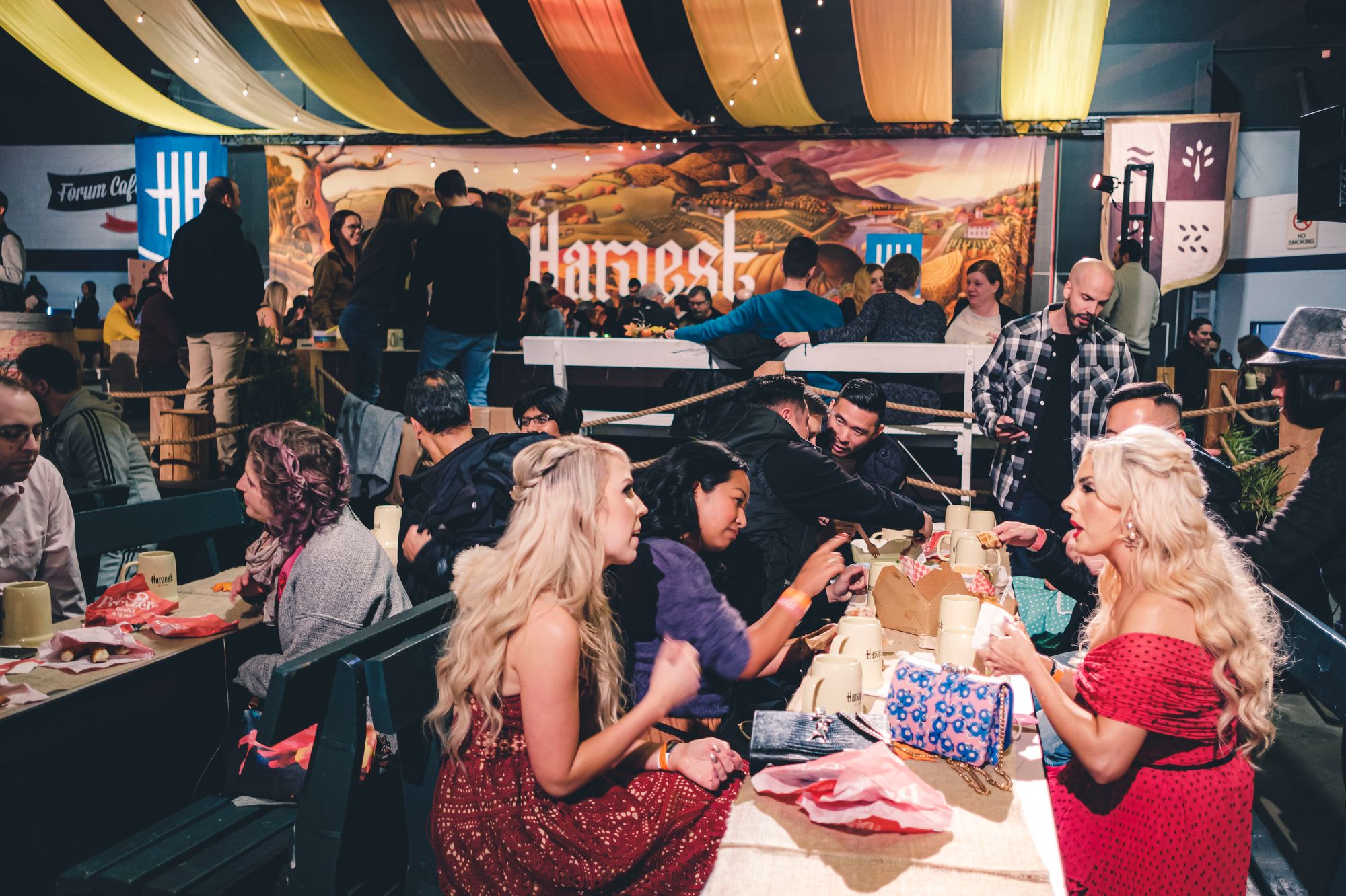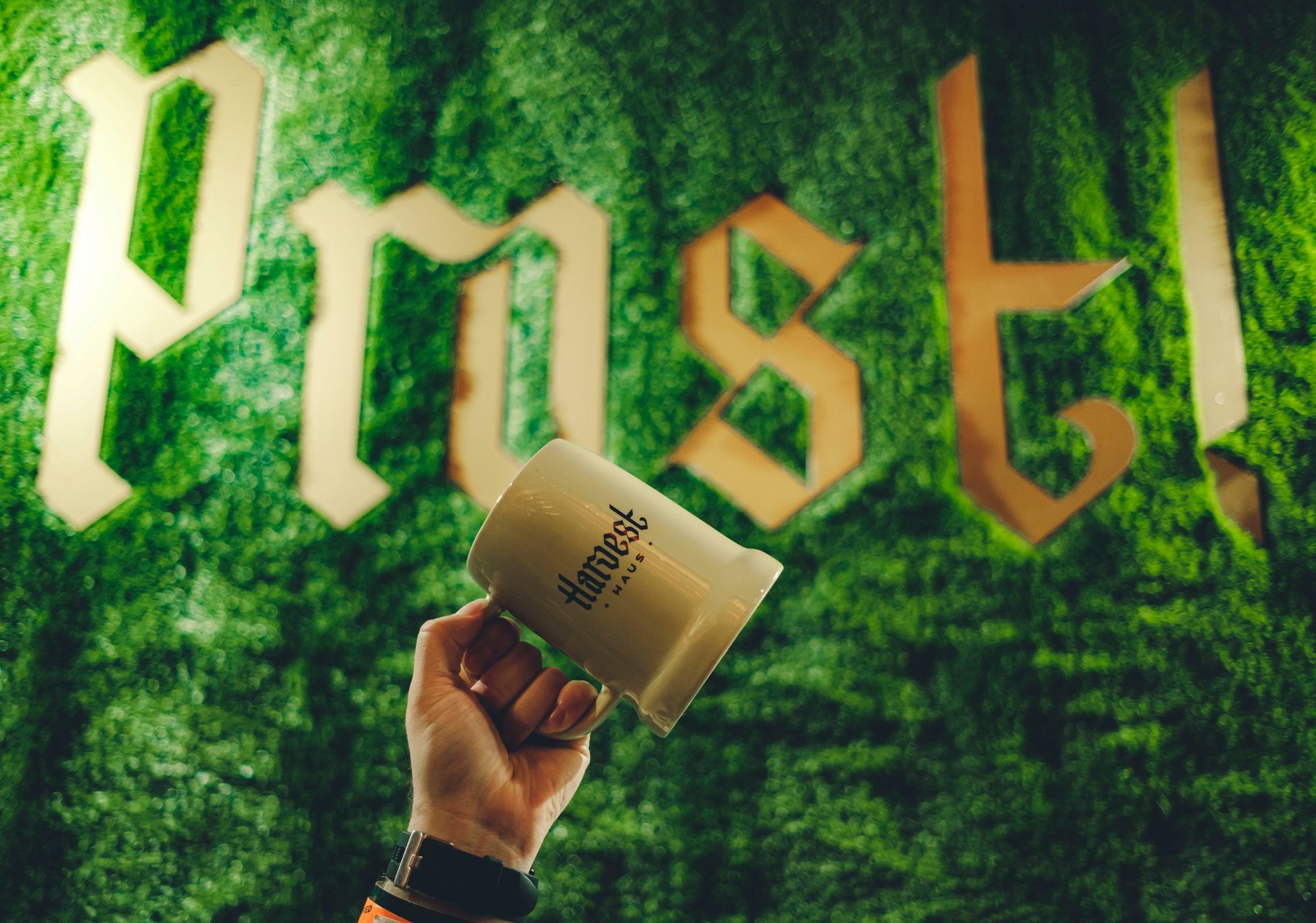 Every night (or day) at Harvest Haus has a different theme, be it stein games, couples nacht (night), or an epic dance party. To know what's coming up for the rest of the Harvest Haus season, check out https://harvest.land/haus/ for all the details and ticket information.
One-liner: Bavarian-style beer and dancing (inside) mixed with family-friendly games and activities (outside), all included in a single afternoon or evening
Highlight: Pork Hock and clinking with The Burgermeister
Price per person: $60-$80 (inclusive of ticket, some activities, some beer, and some food
Would I go back? Yes.