In the world of drunken nights and top-notch company, there really is a drink for everyone. In the case of the beer, cider, spirit, or wine afficionado, last weekend's 22nd Hopscotch Festival at Vancouver's PNE Forum was a small part of a big night for many industry professionals and casual consumers. With over 123 vendors, guests in the Grand Tasting Hall sipped and nibbled their way through a ton of entertainment.
Disclosure: I was given a complimentary media ticket and all opinions are my own.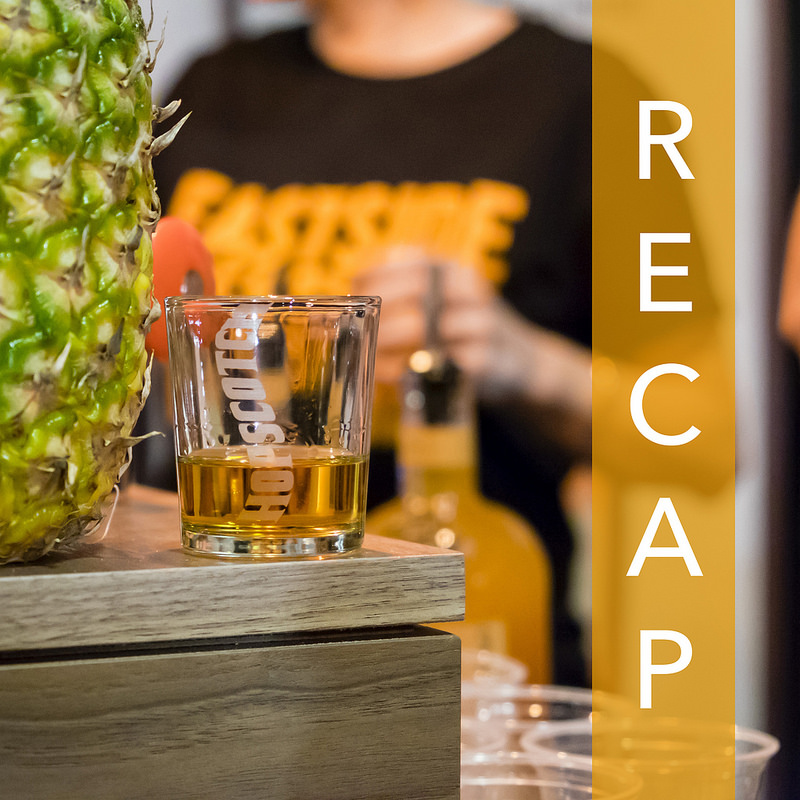 Whiskey:
I don't drink whiskey often, but can spot my way around a scotch aisle. I stopped by Monkey Shoulder whose team had a sweet booth and their scotch (3 tokens) featured a blend of Glenfiddich, Balvenie and Kininvie. This tasted of mellow vanilla with spicy hints and finished extra smooth.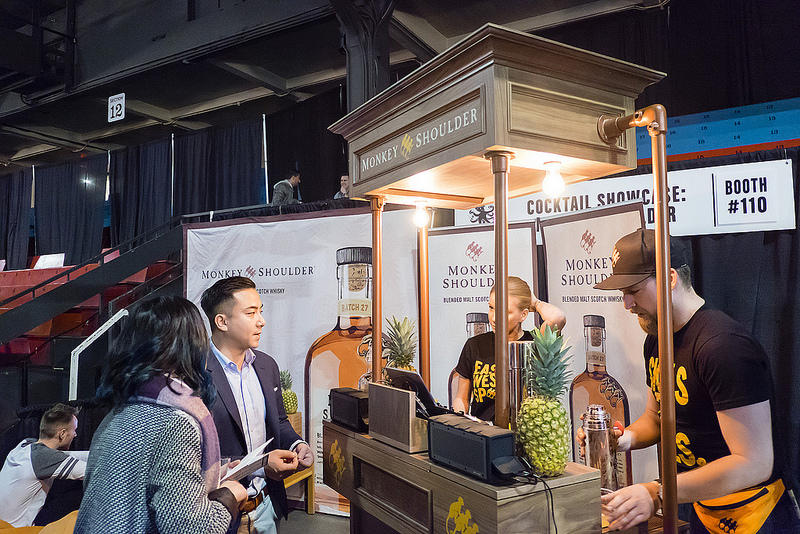 Monkey Shoulder Booth
Wild Turkey (bourbon) had a pretty intimate tasting booth which was different from the rest.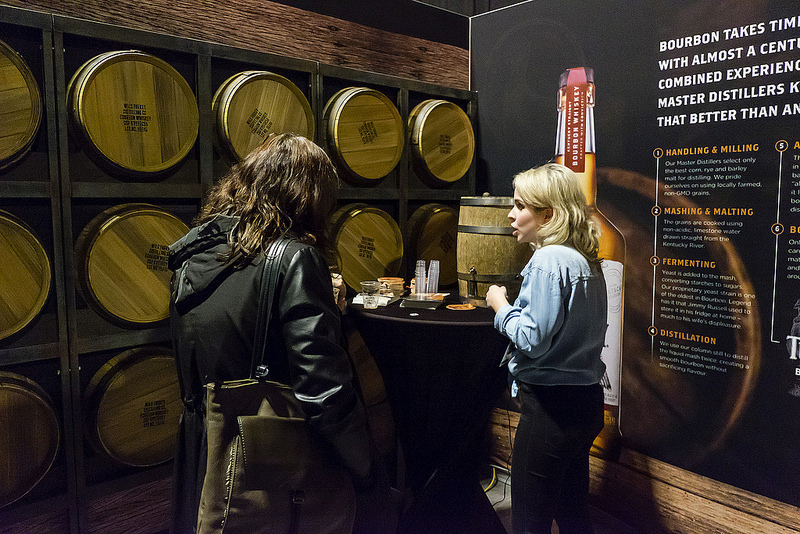 Wild Turkey Bourbon
Japan was also represented at this event and there was a huge crowd at any Japanese booth, including Nikka Whisky.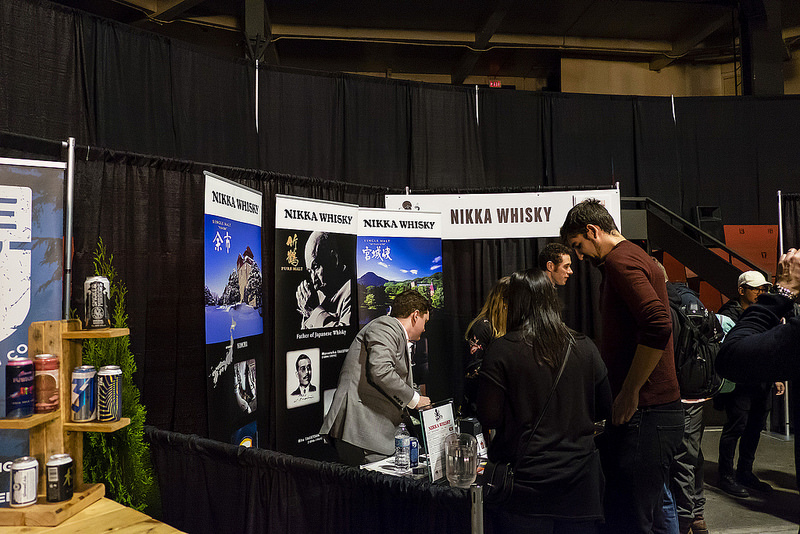 Nikka Whisky
Eigashima Shuzo, the first licensed whisky maker from Japan was also on hand with their White Oak Akashi Blended Whisky (4 tokens). This tasted of cherry bakewells and walnut loaf. It had a long sweeter finish compared to the Monkey Shoulder.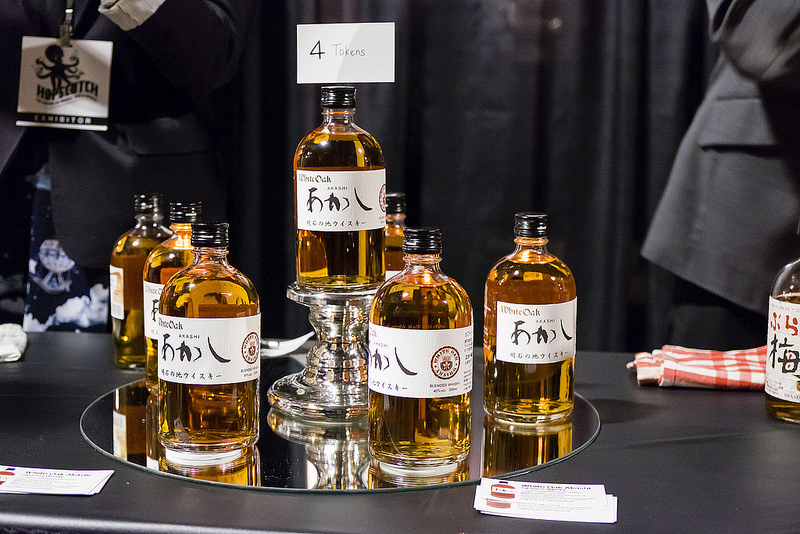 Eigashima Shuzo – White Oak Akashi
It wasn't just midrange and local spirits here. Huge brands like Johnnie Walker were also present offering some of their most exquisite malts like the Blue Label.

Johnnie Walker
Gin:
I only made one gin stop and that was for Bohemian Spirits. Hailing from Marysville, BC, these folks were offering what was likely the most value spirits of the evening, charging a single token per tasting. I had a taste of the Colossal pink gin which packed a ton of juniper amidst a pretty florally finish. Don't let the pink fool you – this packed a punch!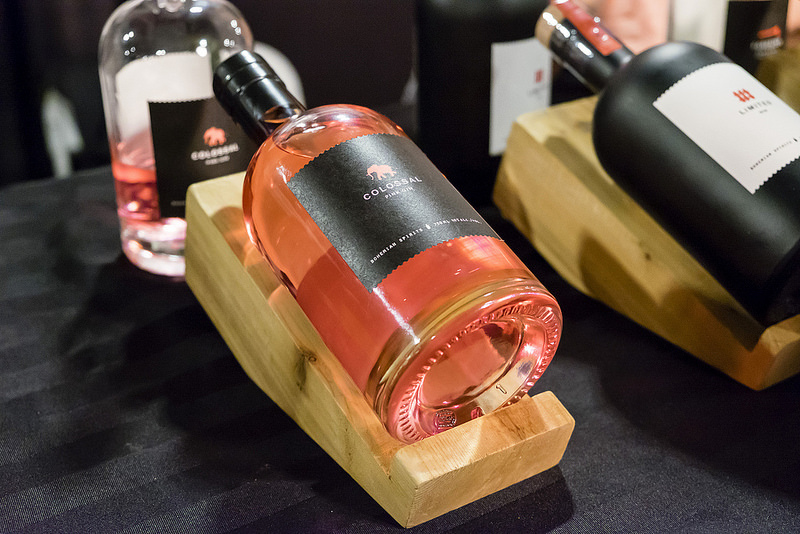 Bohemian Spirits – Colossal Gin
Food:
The food was a huge proponent for me as I hate drinking on an empty stomach. I get drunk way quicker and can't focus as much on the tasting experience. I started with the chicken and waffle (3 tokens) from Steel Toad Brewery. The chicken had a terrific sauce but the waffle was sadly a bit too cakey – I suspect they were producing this en masse as the cold room made this harder to chew.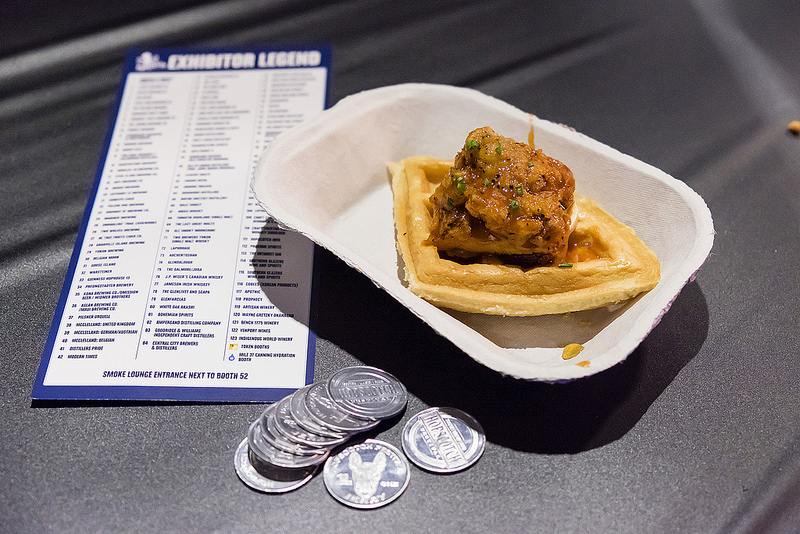 Steel Toad Brewery - Chicken and Waffle
Next up was a haggis and mash (3 tokens) from a Scottish Haggis booth. This was a bowl of sheep's heart, liver and lungs, and stomach served with mashed potato and sweet potato. This was probably the best value of savouriness out of any of the booths tonight and was a joy to mix around and munch.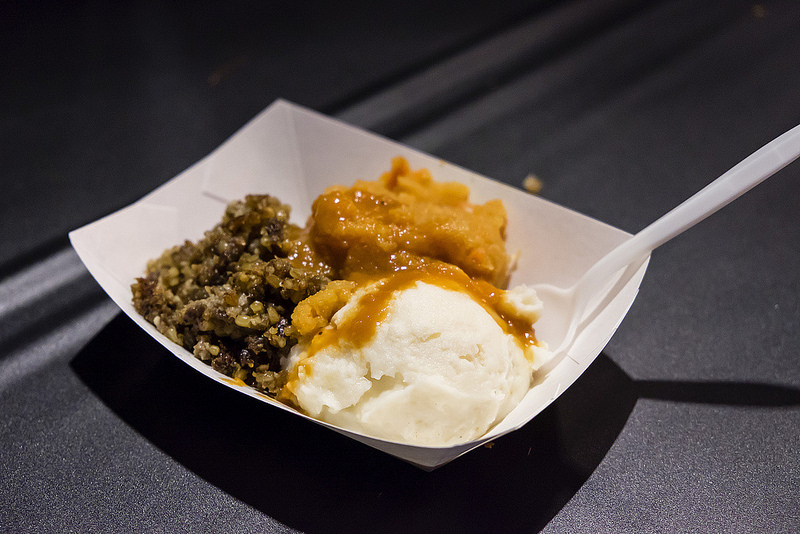 Haggis and Mash
My last morsel was a BBQ Plate (6 tokens) from Dixie's BBQ with a side of coleslaw. It's hard to beat fatty brisket when downing spirits and their chili even featured some pulled pork! Great interlude whiskeys.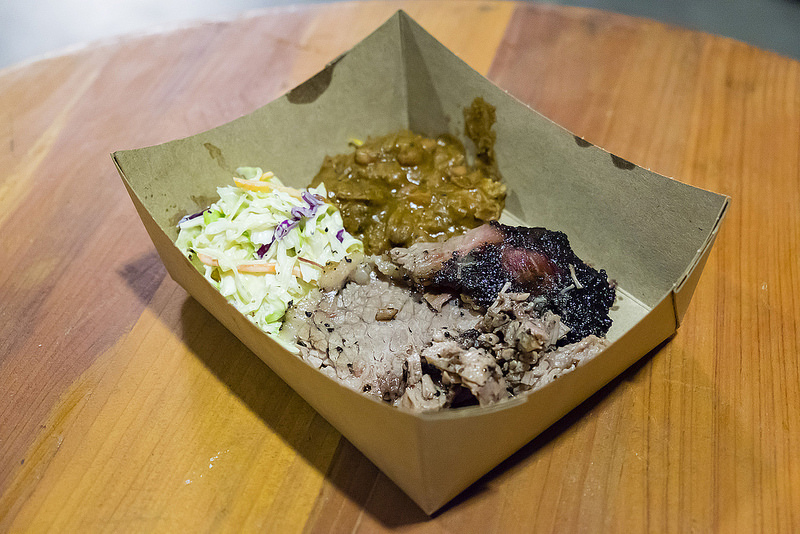 Dixie's BBQ - BBQ Plate
Features:
Hopscotch Festival took over the PNE Forum (most commonly known as the PNE's Marketplace) in Vancouver. With every square inch filled with booths and/or booze, one only needed a few steps to purchase tokens (roughly $1 each) which were needed to purchase samples of booze. Pricing was pretty average given each serving was about half a shot but the real value was being able to interact with professionals at each booth. At least for the booths I visited, the staff were knowledgeable and professional.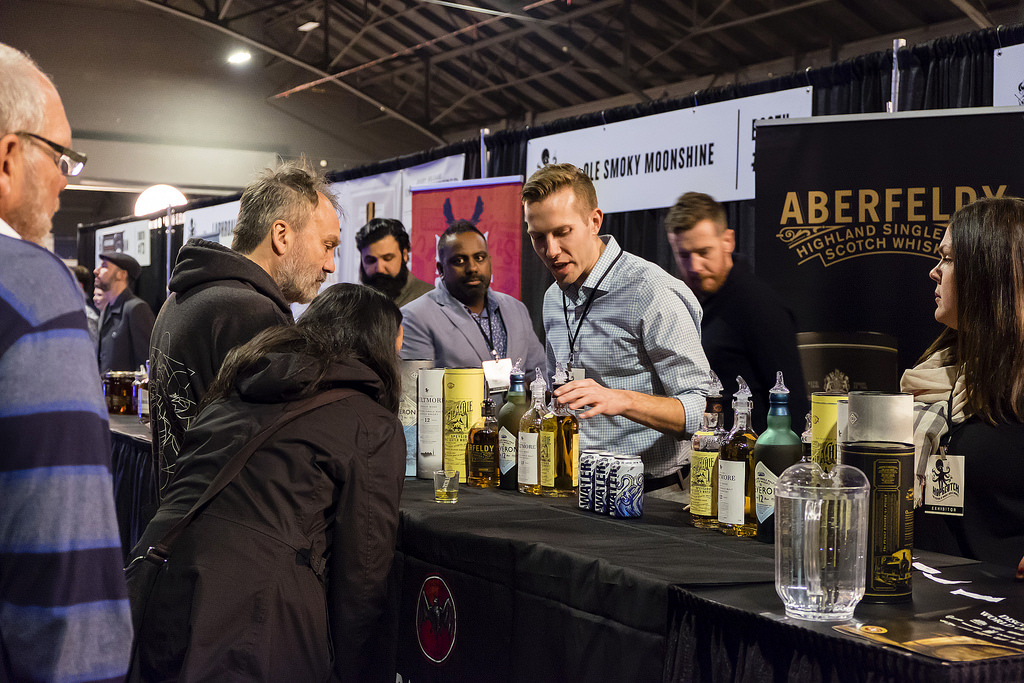 Aberfeldy Distillery
There was also live music provided to help amp up the jolly atmosphere.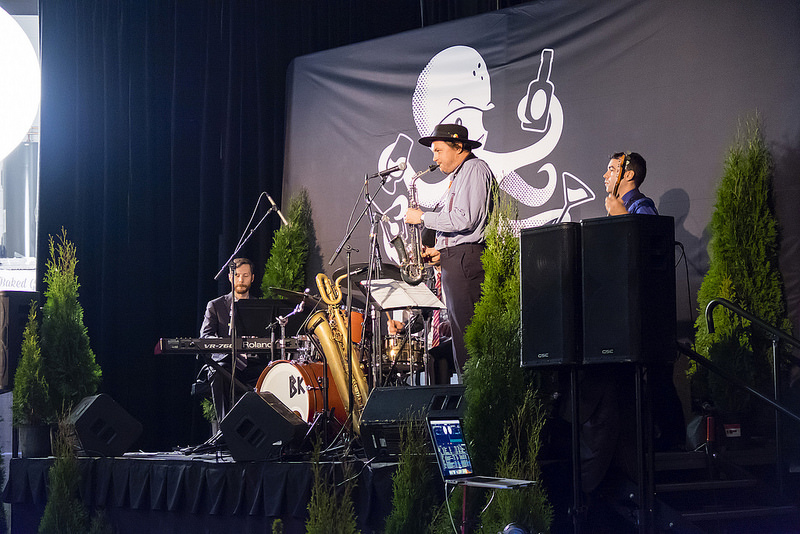 Hopscotch Festival Band
Final Thoughts:
Overall, I think this was a great event for those interested in trying out a ton of spirits, with a particular focus on whiskeys/bourbons/scotch. There was a brewery section too with a ton of local brands but I think most of these are easy enough to get to. It's the international brands and spirits in general that rarely have representation in Vancouver that made for the best reason to visit. Thankfully, there was a ton to see both locally and globally.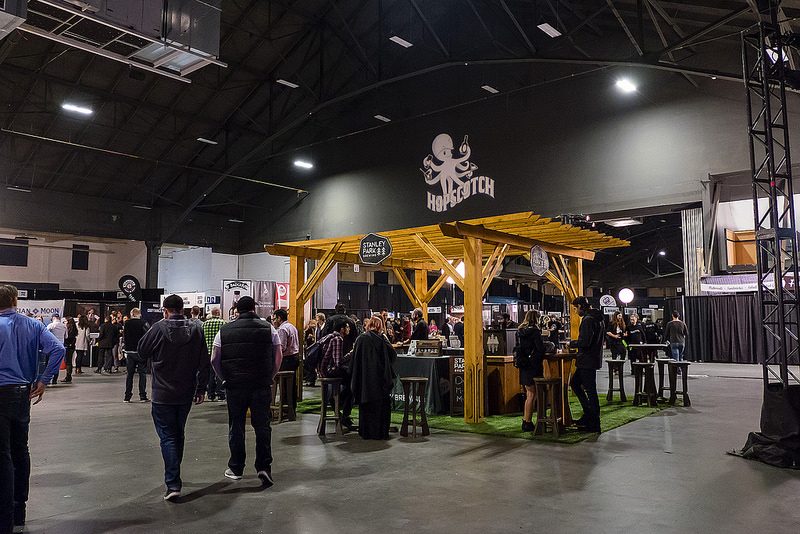 Inside Hopscotch Festival – Grand Tasting Room
One-liner: Booze for days with professional ambassadors and a ton of choice in beer, cider, spirits, and wine
Highlight: The wealth of whisky/bourbon/scotch booths
Price per person: $45 (+ token money)
Would I go back? Yes for a bourbon-focused night.