2017 is not over yet, so the poke craze continues. Recently sprouting up in the western edge of Kitsilano in Vancouver is The Pokéman Kakigōri Café and Poké Shop. Boasting the highest number of accents on its lettering, The Pokéman offers a variety of fresh poké bowls in addition to custom bowls and some house-made sides.
Disclosure: This was a complimentary tasting provided in exchange for an honest review and no monetary compensation.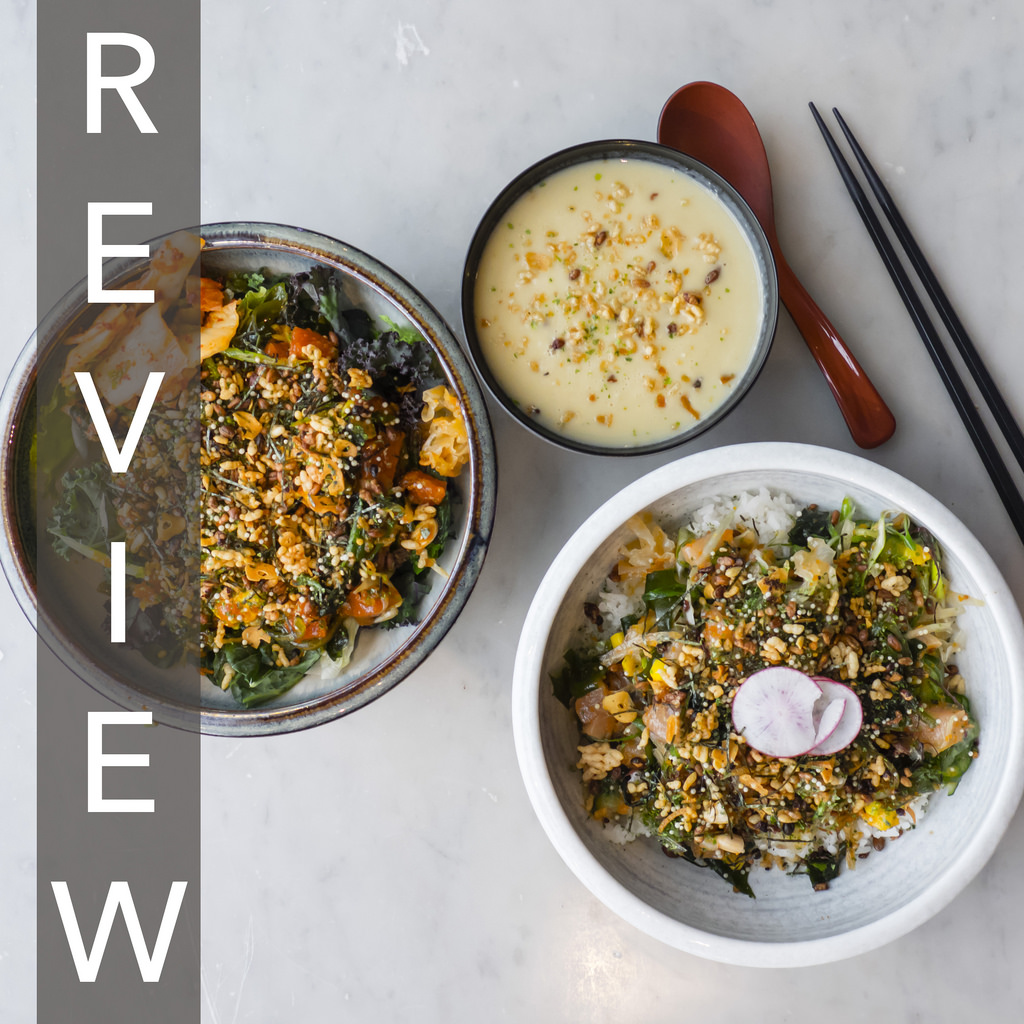 Food:
Team Tastic came here for a late Saturday lunch and I had a great taste of the following:
Kame-Hame-Ha Tuna Poké Bowl ($13)
Salmon and Avocado Yukka Poké Bowl ($15)
Celery Root Soup (~$4)
Harkening to the roots of Hawaii (and fans of Dragon Ball [Z, GT, Super] ), the kame-hame-ha tuna poké bowl featured local tuna, standard toppings (being scallion, sweet cucumber, seaweed salad, and supercrunch), masago, mango, nuts, and classic aloha (sweet onion shoyu) sauce. The best thing about this bowl was the classic aloha sauce. It added a ton of sweet and savoury in each bite of fresh-tasting tuna. Special mention goes towards the supercrunch which a sort of puffed rice I have yet to see in other poke shops in Vancouver. The seaweed salad was also very satisfying with a variety of different seaweeds providing different textures mixed into the poke. I had this with white rice but there were brown rice and mixed green options for the base.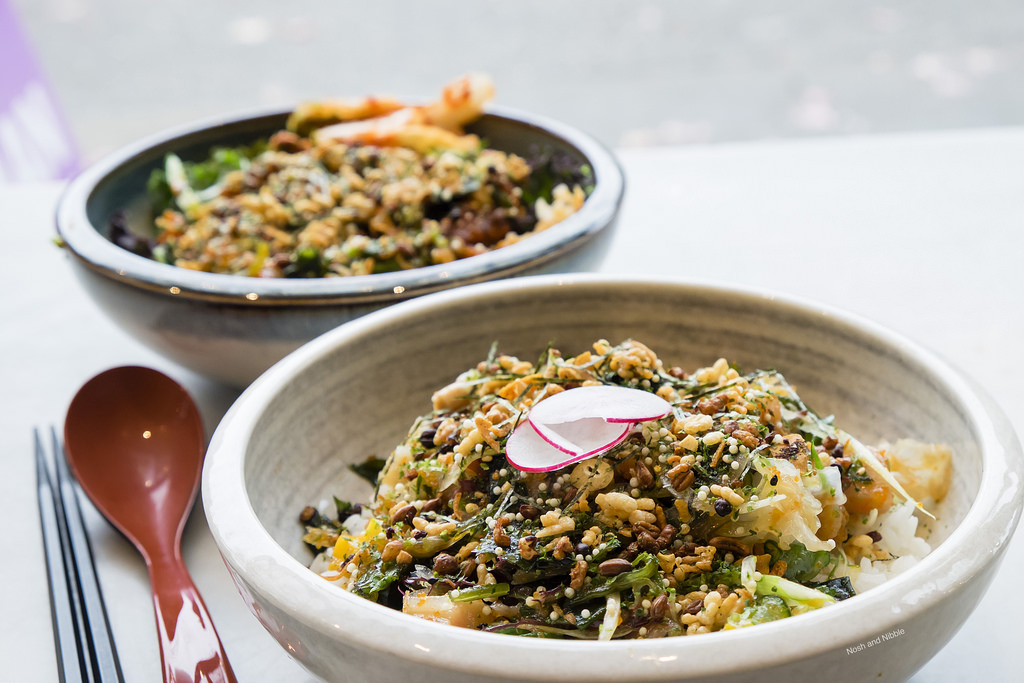 Kame-Hame-Ha Tuna Poké Bowl
The salmon and avocado yukke poké bowl featured sockeye salmon, standard toppings, avocado, nuts, kimchi, and Korean Baby (sesame and gochijian) sauce. For those who want a spicier bite, this poke bowl featured a boost from the kimchi and Korean Baby sauce. We opted for mixed greens in this bowl and the kale added some literal bite to each bite being tough in nature to chew through. Again, the supercrunch made a huge difference in texture and I left feeling the supercrunch singlehandedly made each bite of the poke superb.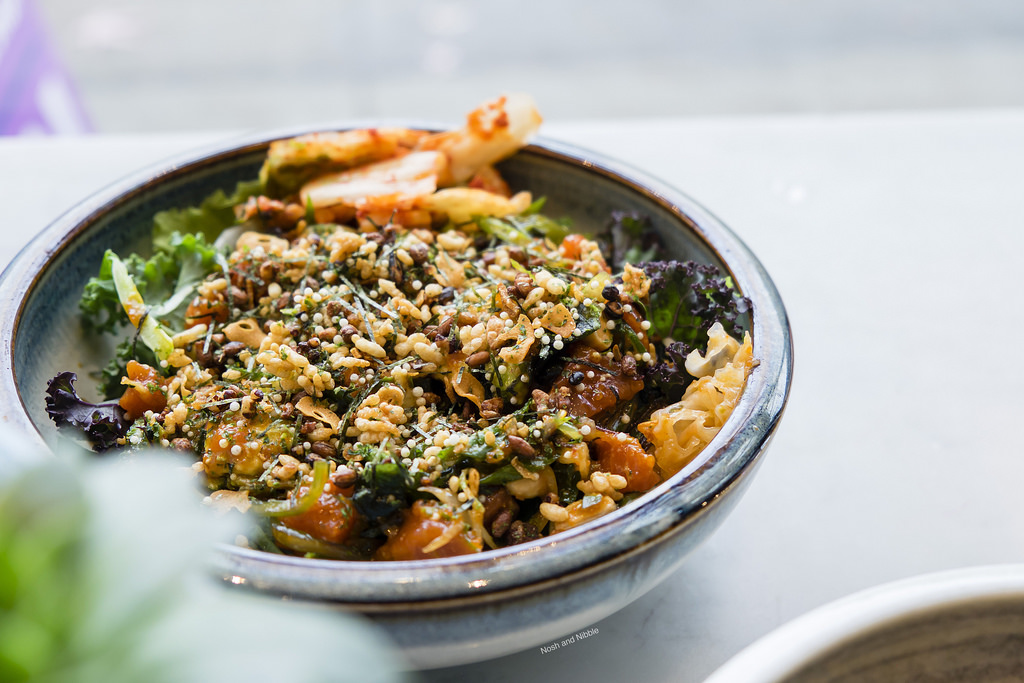 Salmon and Avocado Yukke Poké Bowl
As a seasonal offering, the celery root soup may not last on the menu, but boy was this good. Made with a potato base and soupified with root vegetables, this celery root soup provided a homey feel in each scoop. The supercrunch love continued here with a few chunks on top to keep things crisp and still tasted good as the pieces soaked up the soup.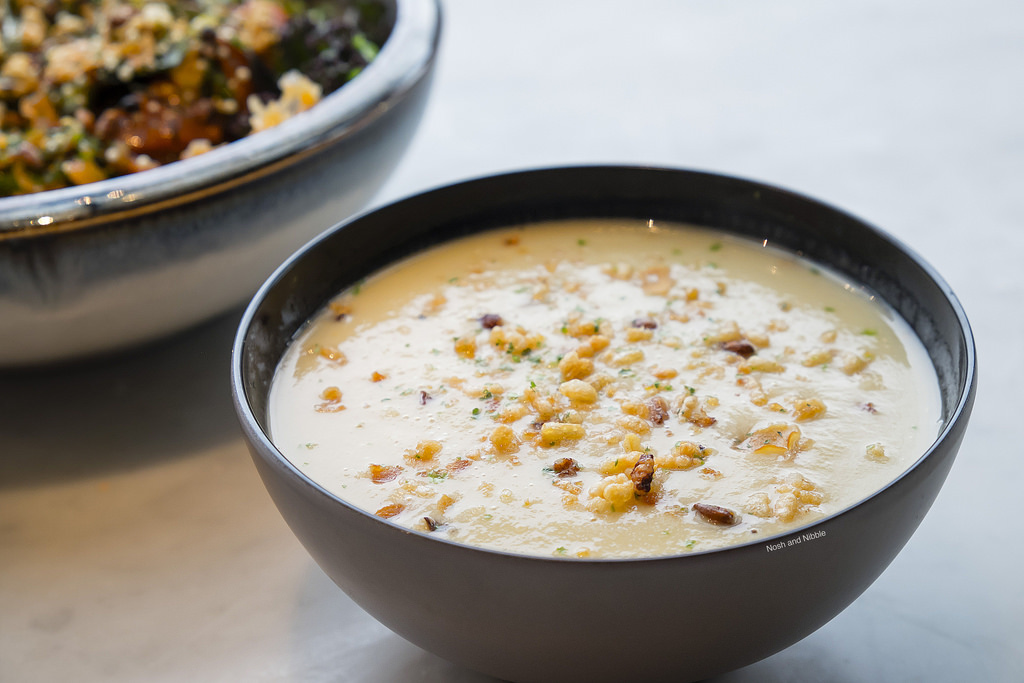 Celery Root Soup
One last note about the poké bowls. I absolutely loved having them served in actual dishware as opposed to the plastic and cardboard bowls you see at so many other places (e.g. Pokerrito, Poke Time). Dishware is important in a restaurant experience especially if you're eating in vs doing take out.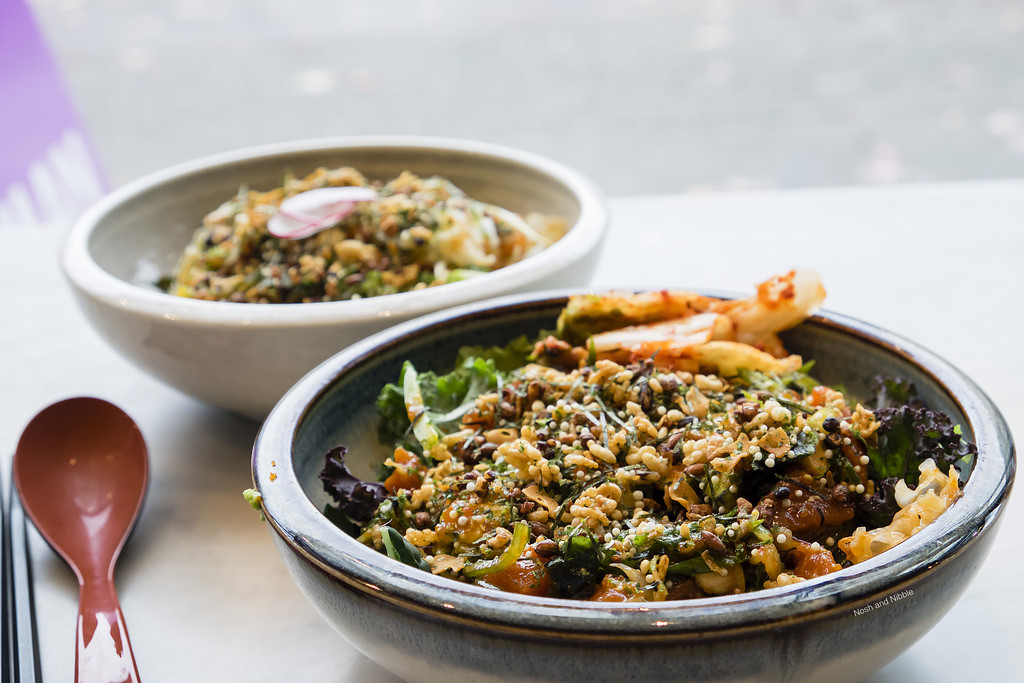 Poké
Features:
The interior of The Pokéman is quite inviting with a long hallway providing the way for a lineup spilling onto the long dining table. Overall there's room for about 13 guests. The vibe inside is pretty chill with the warm pink and the hand-coloured wall done by an owner's mother. How's that for local talent?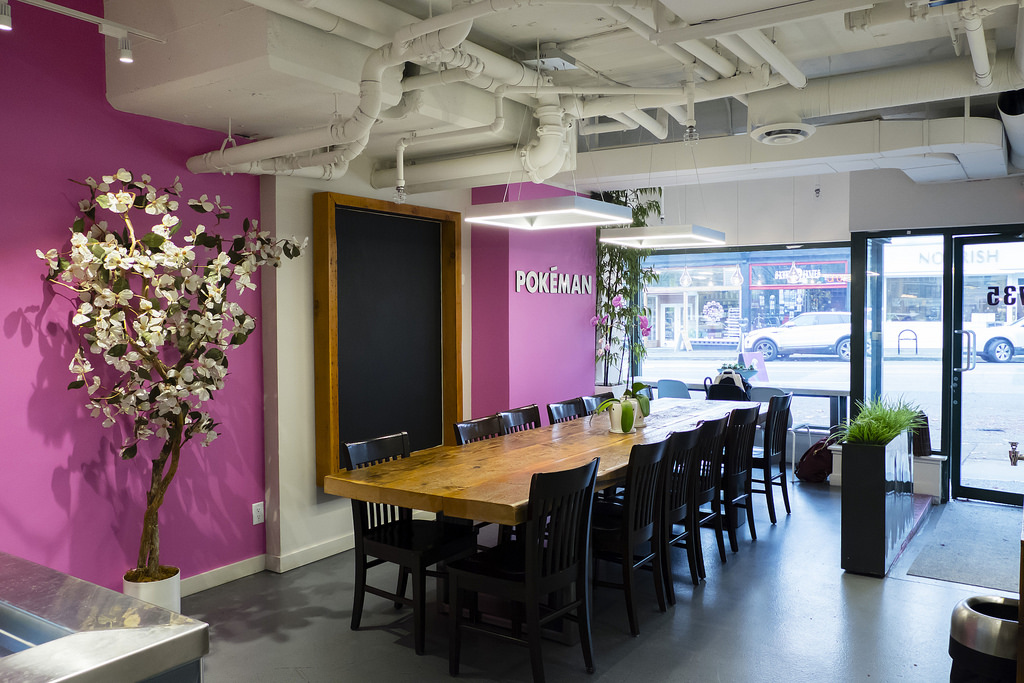 Inside The Pokéman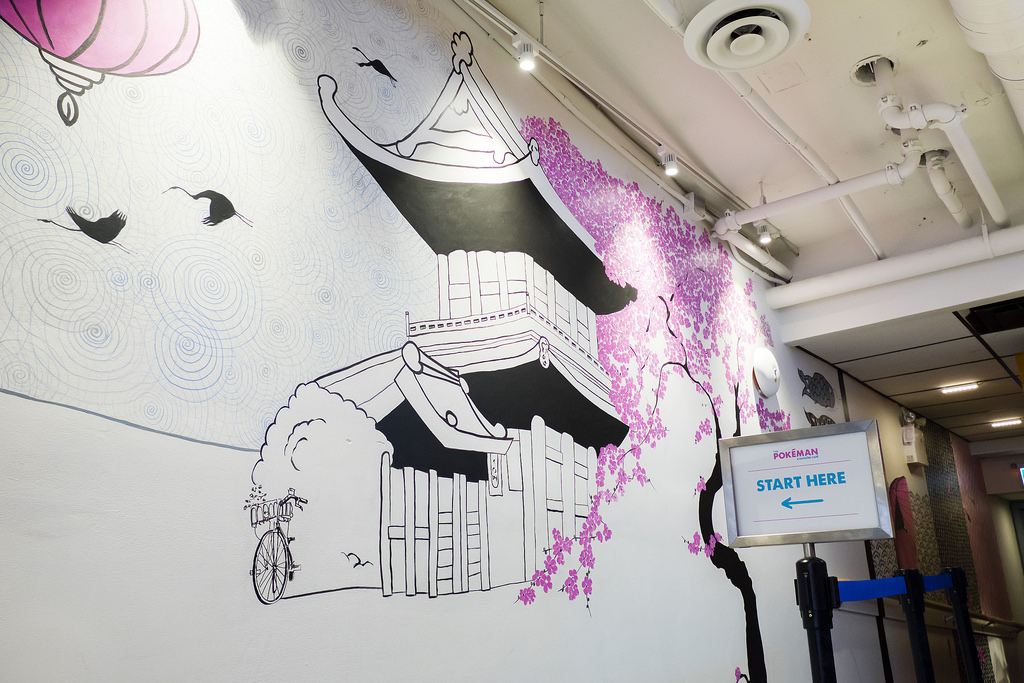 Main Wall
My only gripe about the serving experience is the tall sheet of glass separating the customer from the staff. The glass, while providing sanitation, can also obstruct a person's voice making it harder for soft-spoken people like me to place an order. If you're quiet, be prepared to shout out your order.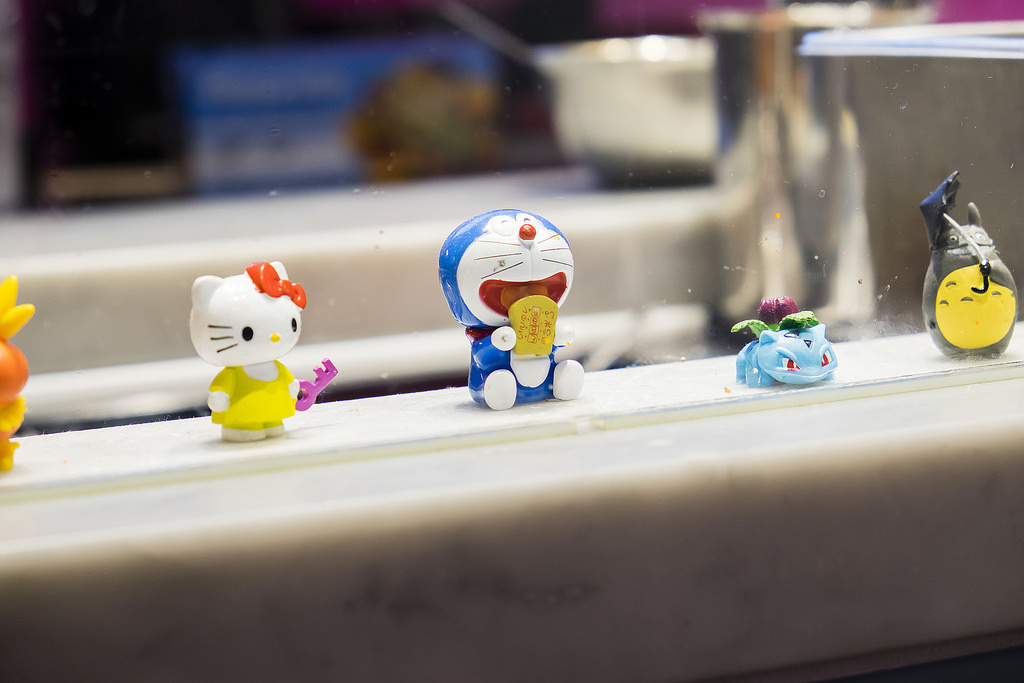 Inside The Pokéman
Service:
As with any poke shop in Vancouver, you'll place and pay for your order prior to picking it up from the counter. As you'll be ordering with the staff, your poke is ready instantly if you order just the one. It wasn't too busy for a Saturday lunch but I saw a lot of guests coming and going with takeout orders. You shouldn't have too much problem coming here with a group of 4 and chowing down after or before an exam as the location is 3 stops from UBC via the 99 B-Line.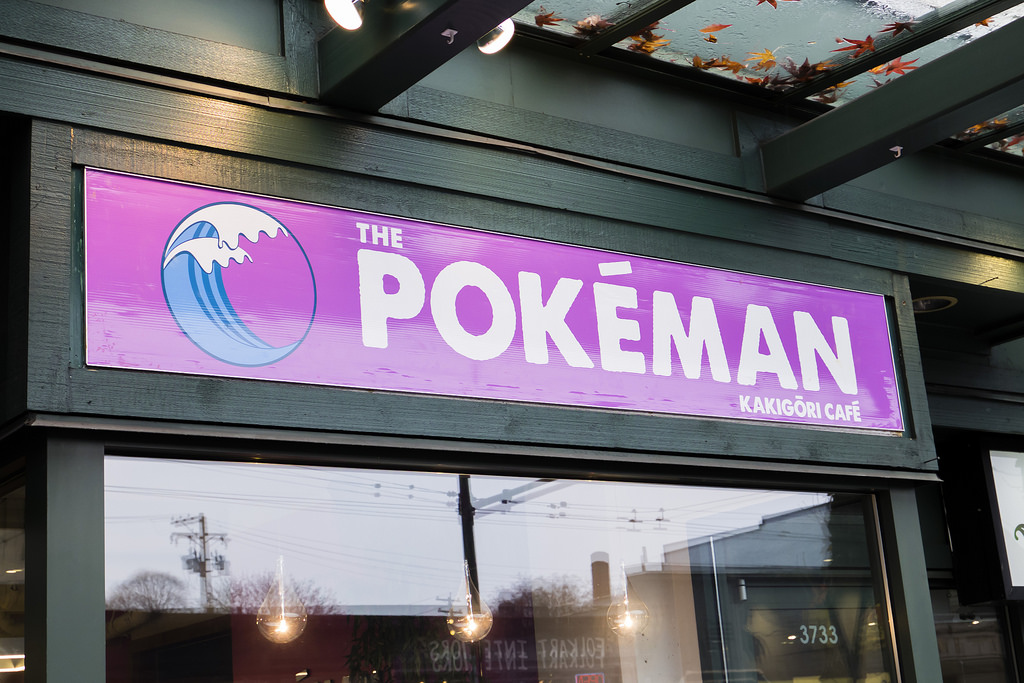 Outside The Pokéman
Final Thoughts:
One-liner: Tasty poke dishes presented with care and a ton of satisfying supercrunch
Highlight: Kame-Hame-Ha Tuna
Price per person: $13-$20
Would I go back? Yes.