Welp, the news is out there that ACME Cafe owners have sold their homey-feeling restaurant to a new owner looking to open a new concept. With that being said, I thought this a last chance for me to say some things about this Gastown eatery and share some parting words.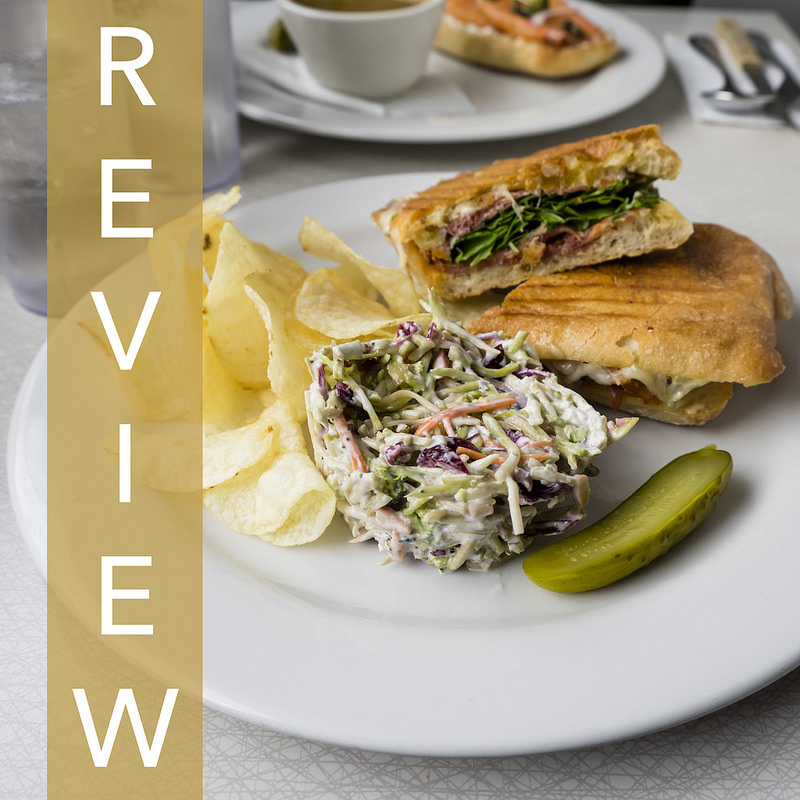 Food and Drink:
On two separate occasions, I came here for lunch and had a great taste of the following:
Latte ($4.25)
Baked Eggs Benny ($14)
Blueberry Mango Pie ($6.75)
Italian Panini ($15)
All the espresso drinks at ACME are double shots of espresso, so that automatically puts the $4.25 latte in a good place, offering double the caffeine at a cheaper price than most nearby coffee shops. Artistically though, this latte art was pretty mediocre with few words to describe it other than "abstract". Taste-wise though, this potent latte will have you buzzing for hours after consumption.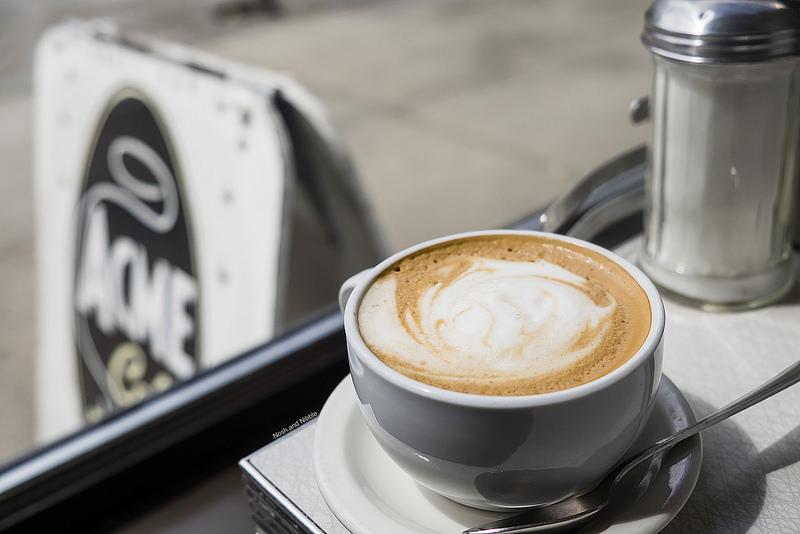 Latte
The baked eggs benny was layers of English muffin, free-range eggs, ham and cheddar, oven baked and topped with hollandaise sauce with shredded redskin potatoes. As ACME lacks a traditional grill (will the new owners change that?), this benny is baked, and as such, offers little in the way of yolkporn. The side salad was a pretty laughable effort so I think one will need to pony up the $4 for some bacon or sausage to give this poor excuse of a benny some justice.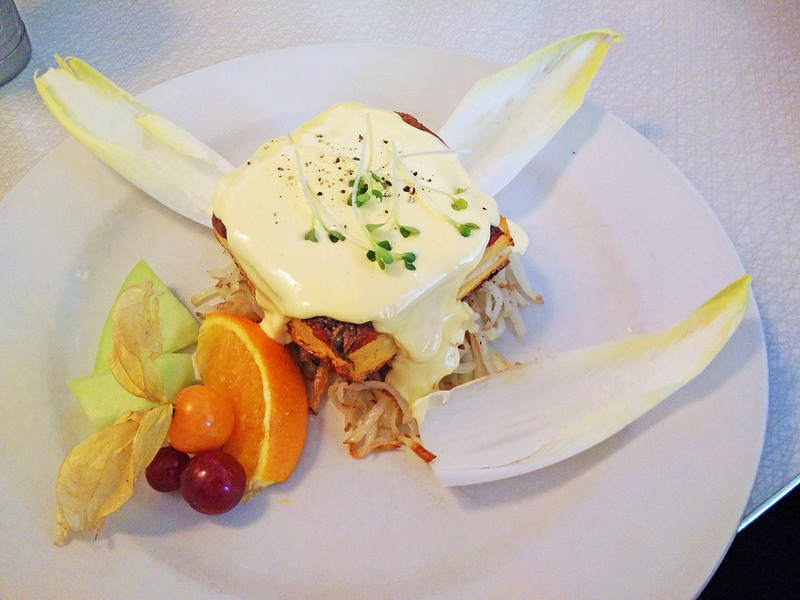 Baked Eggs Benny
ACME also encourages saving room for pie, so I did just that on my first visit. Opting for the blueberry mango pie, this had chewy bottom crust to blend with some strong fruit flavour. The blueberry flavours were so strong, that in fact, the mango was basically lost. Did they skimp on the mango chunks or hold back on some puree? I wouldn't blame you if you were window-shopping and thought this was a blueberry pie.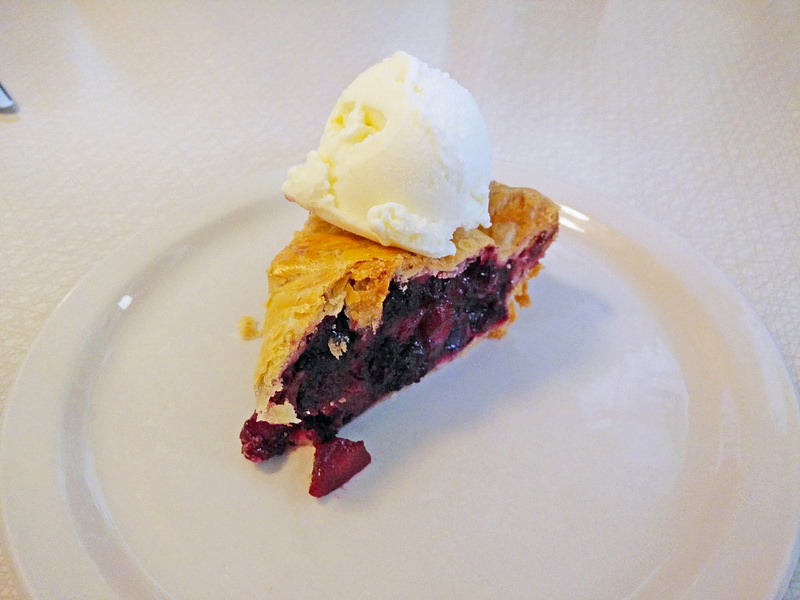 Blueberry Mango Pie
Despite pooping on the last two items, I did enjoy food from ACME Cafe in the Italian Panini. Made with salami, capicolla, provolone, banana peppers and basil mayo, I opted for potato chips as my side. The grill lines were the final piece of validation for a very loaded panini and the melted provolone cheese added a savoury gooeyness to make each bite extra satisfying. Unlike the benny which was served with a very questionable side salad, this was a solid coleslaw with enough sauce to be enjoyed on its own.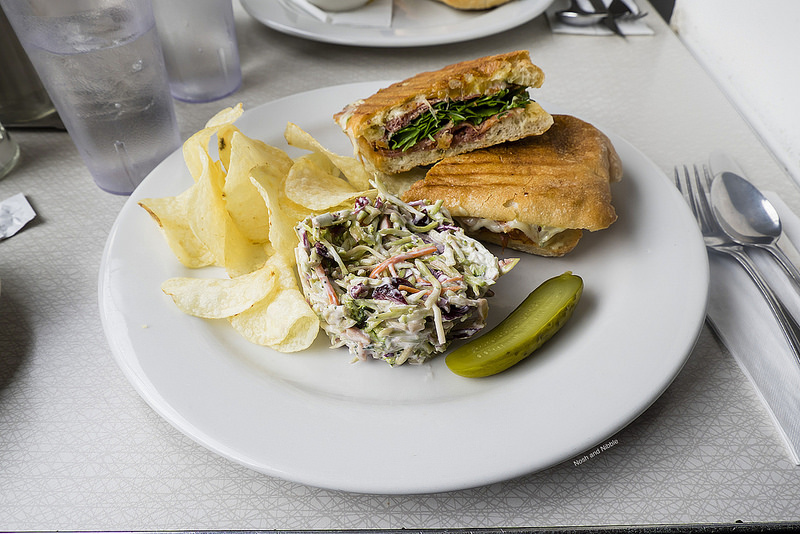 Italian Panini
Features:
ACME Cafe's interior is its biggest highlight. The open kitchen and bakery stretches along an entire side of the dining space, stretching into a semi-circle of diner seats and a big collection of booths. Seating about 36 guests, it's an intimate experience highlighted with a split-ceiling height offering a complex atmosphere with all the decor. On my second visit I was bestowed the front window seat and this was the bomb! Super cozy and a fun lunch spot for 2 and no more.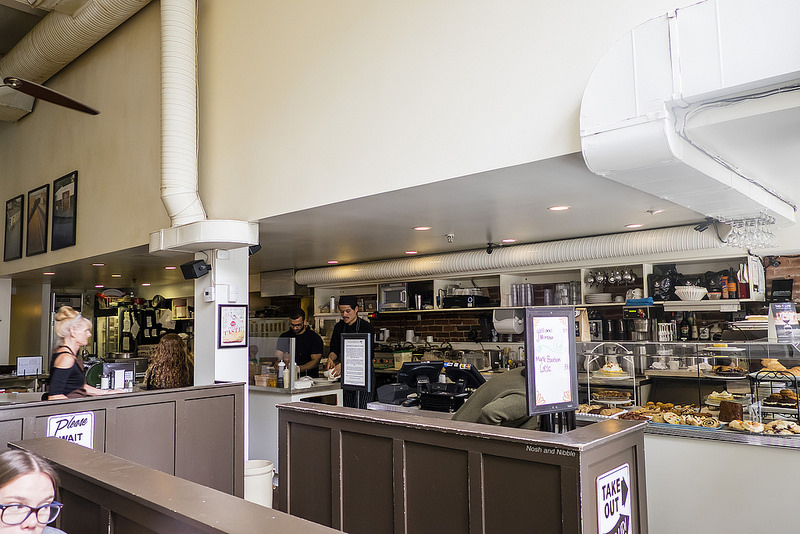 Inside ACME Cafe
Service:
The staff on my two lunch visits were extra courteous. I can't speak for how the vibe must feel for the last few days of service, but on my two visits, the servers had time to check up on us and offer water top-ups. The lunch crowd gets insane here around lunch though. If you want to come for a weekday lunch, be prepared to arrive no later than 11:30am and be prepared to wait a while should you be unfortunate enough to arrive after 12pm.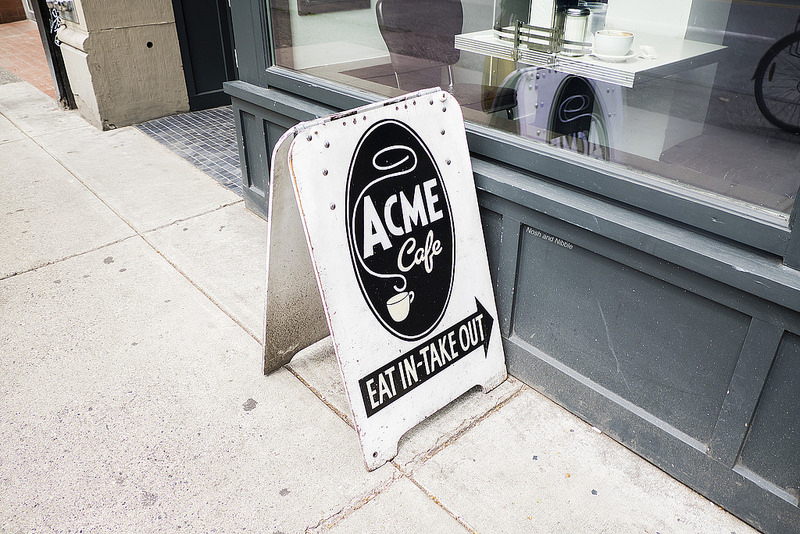 Outside ACME Cafe
Final Thoughts:
Despite not being the most amazing experiences I've ever had, the interior really is the highlight of ACME Cafe with a really cool vibe that's truly represented in all the reviews you'll find in other blogs or on Yelp. It'll be sad seeing a local business shutter down but hopefully the owners are proud of what they've accomplished and send their staff onto bigger and better things. Farewell, ACME Cafe.
One-liner: Tasty sandwiches served with all the fixin's in a chic space open til November 28th, 2017
Highlight: Italian Panini
Price per person: $15-$25
would I go back? For one last hurrah.