You know things are about to get real pricey when the restaurant is French or doesn't put a menu up online. Such is the case for L'Atelier de Joël Robuchon in the MGM Grand hotel in Las Vegas. Allow me to take you on a sensory journey through the renowned $225 tasting menu of all that is Joël Robuchon, one of the founders of fine dining on The Strip.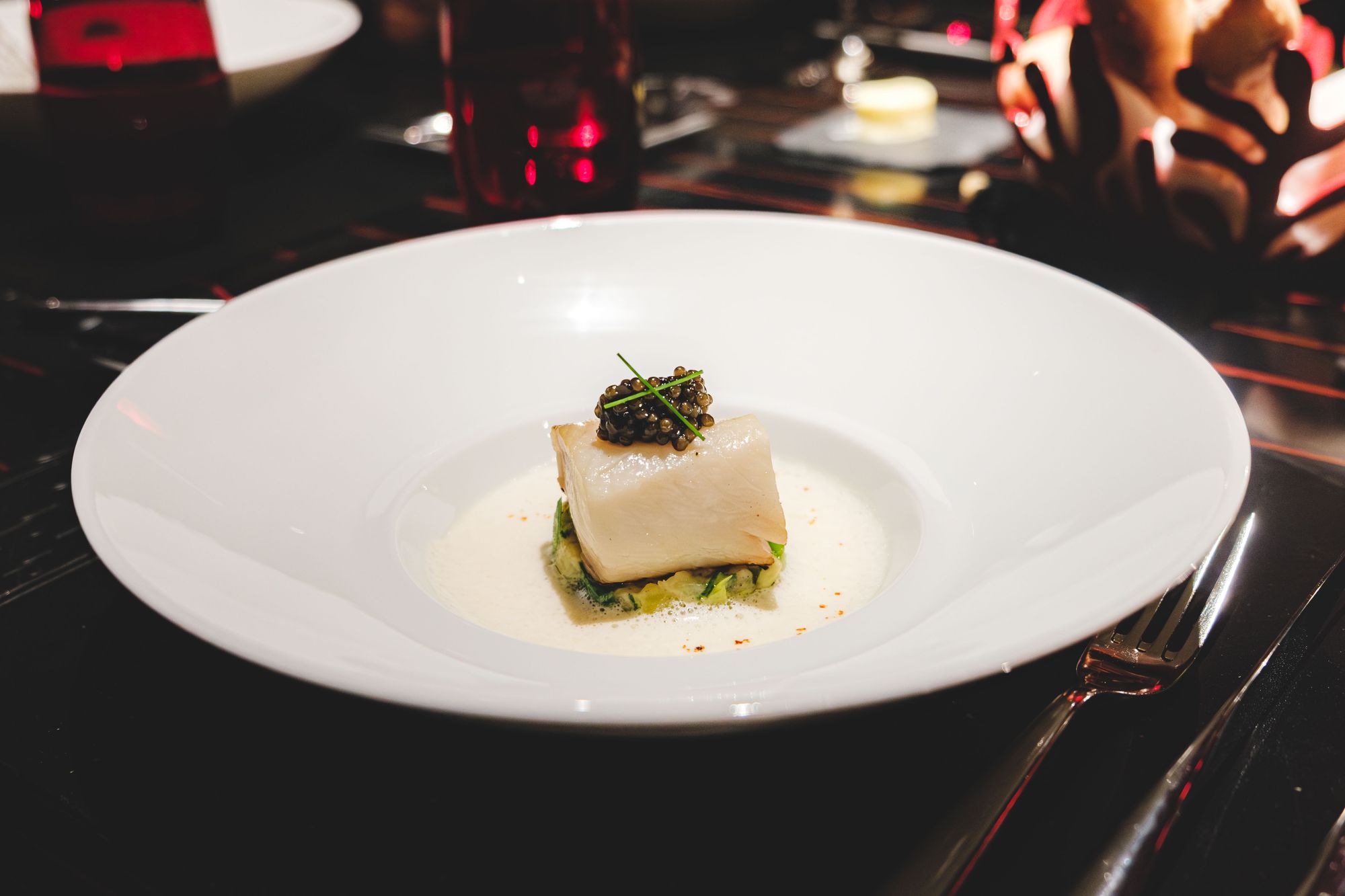 Food:
My visit to L'Atelier de Joël Robuchon revolved around the Tasting Menu, a gastronomic adventure priced at $225 per person. It was a delight to savor the following exquisite dishes:
Starter Bread
Amuse Bouche
Les Huitres (Oysters)
Le Hamachi
Le Ravioli
La Saint Jacques (Scallop)
Le Cabillaud (Cod)
La Caille (Quail)
La Muroise (Coulis)
L'Orange Sanguine (Namelaka)
Macarons
The French truly understand the importance of bread, and here at L'Atelier, they deliver. The star of the show, however, was the butter, enticingly spreadable and accompanied by an assortment of delectable wheat varieties in the bread basket. It was impossible to resist the temptation to indulge.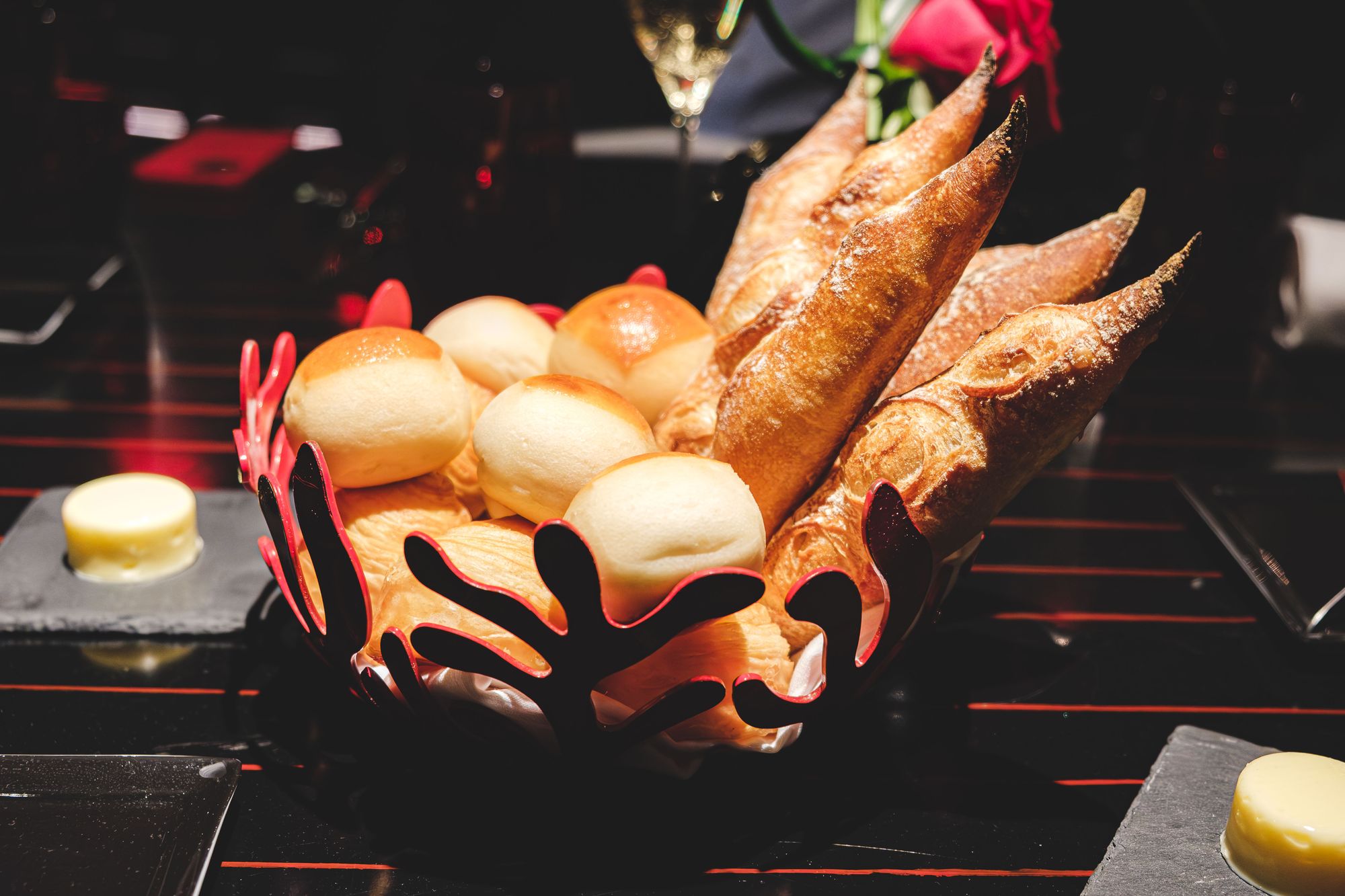 Another accompaniment I had was the Monkey 75 cocktail, a Robuchon take on the classic "French 75" which was originally created in 1915 at the New York Bar in Paris. So that was a nice reversal of roles. Monkey 47 is some of the driest of gins, meaning a ton of herbal botanicals fill your nose and mellow out any other flavours you might be holding in the crevices of your mouth. This was a stiff drink and I had to stop at 1.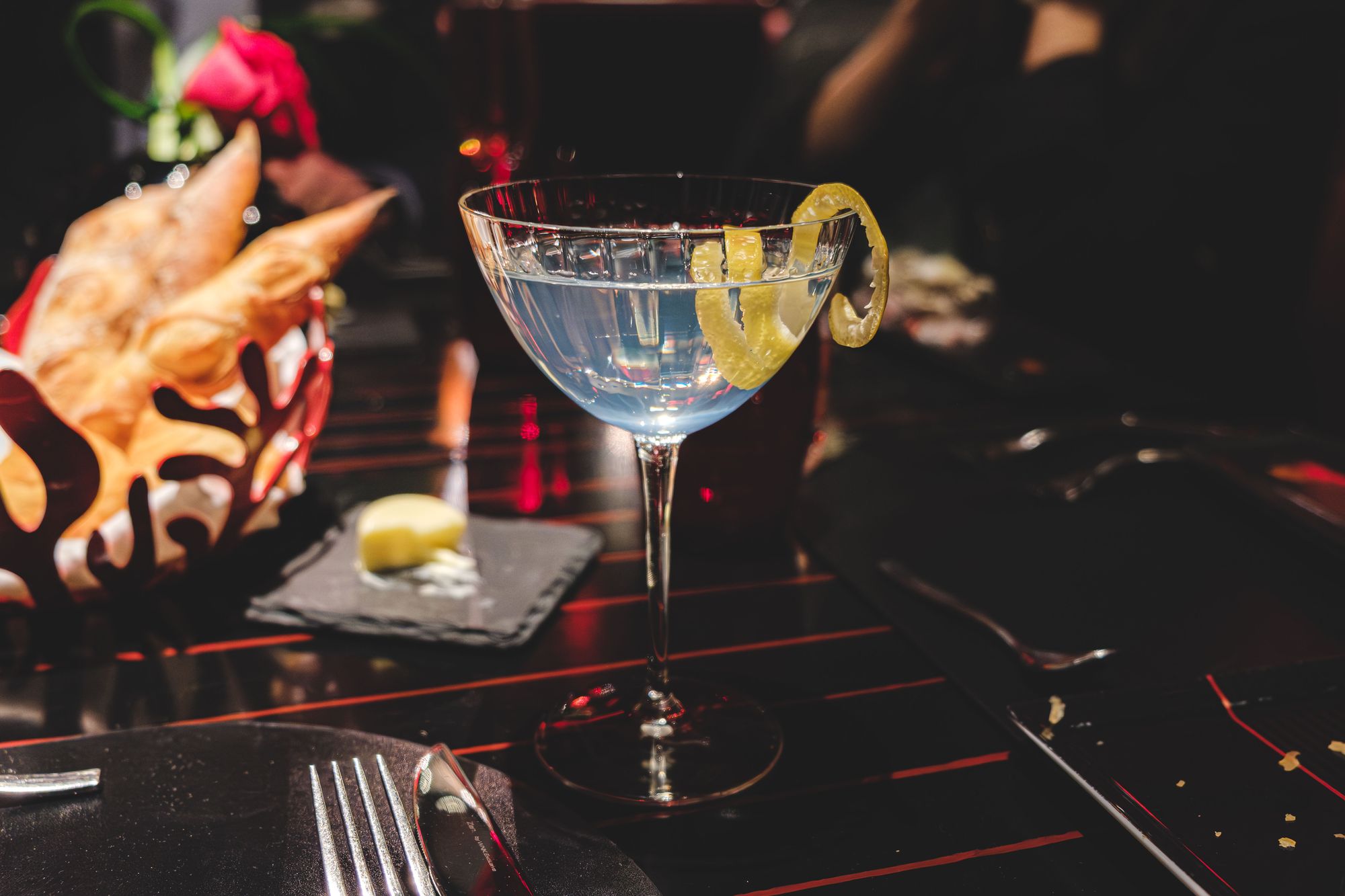 The Amuse Bouche was a mysterious shooter drink, originating from an unknown source, and offered a refreshing and minty flavor reminiscent of a Caesar or Bloody Mary, sans the alcohol. A perfect prelude to the culinary delights that awaited.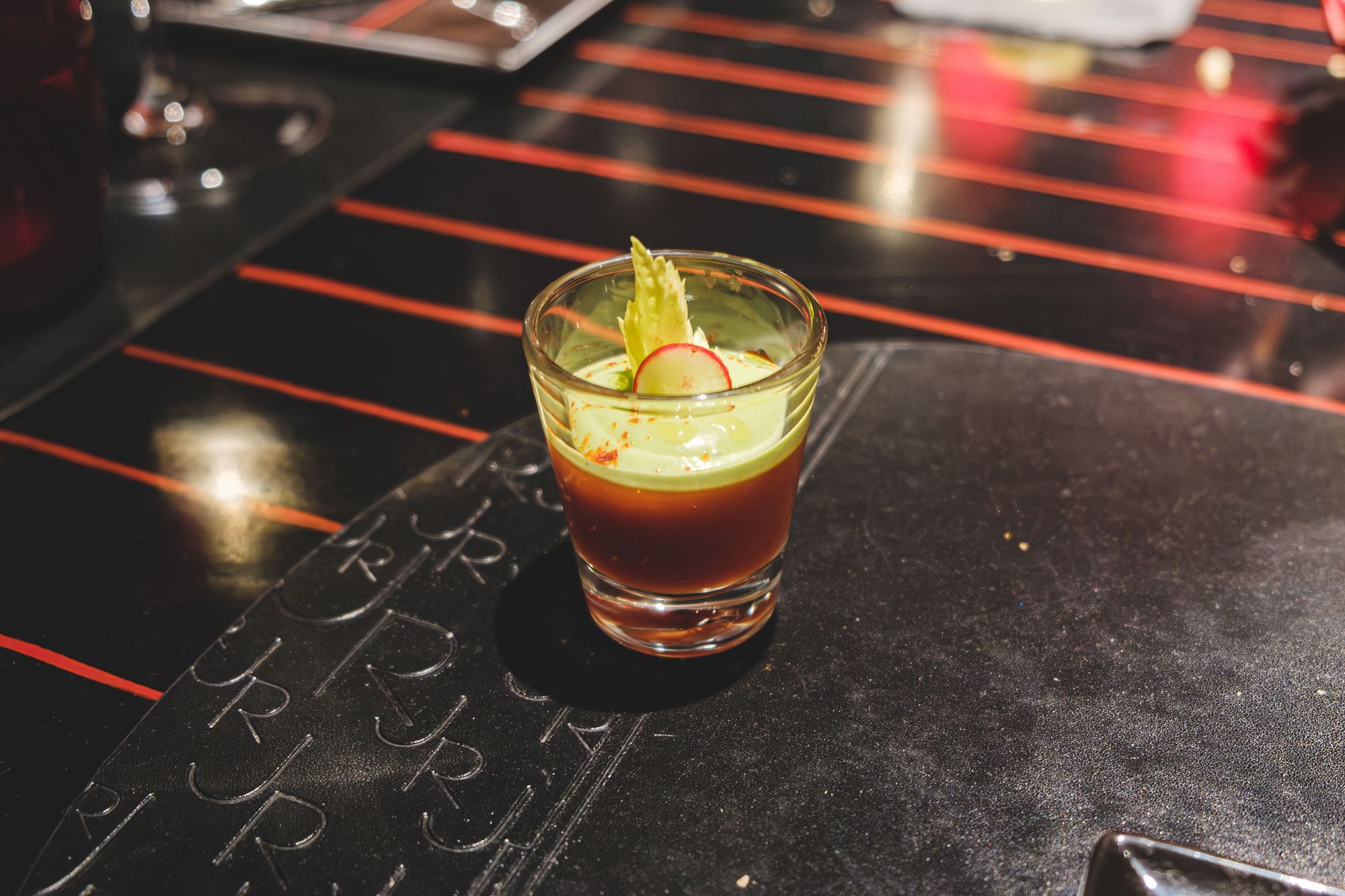 For Les Huitres, these freshly shucked baby oysters, adorned with a white wine mignonette sauce, delivered a tantalizing zing. Their meaty texture and satisfying brininess left a lasting impression.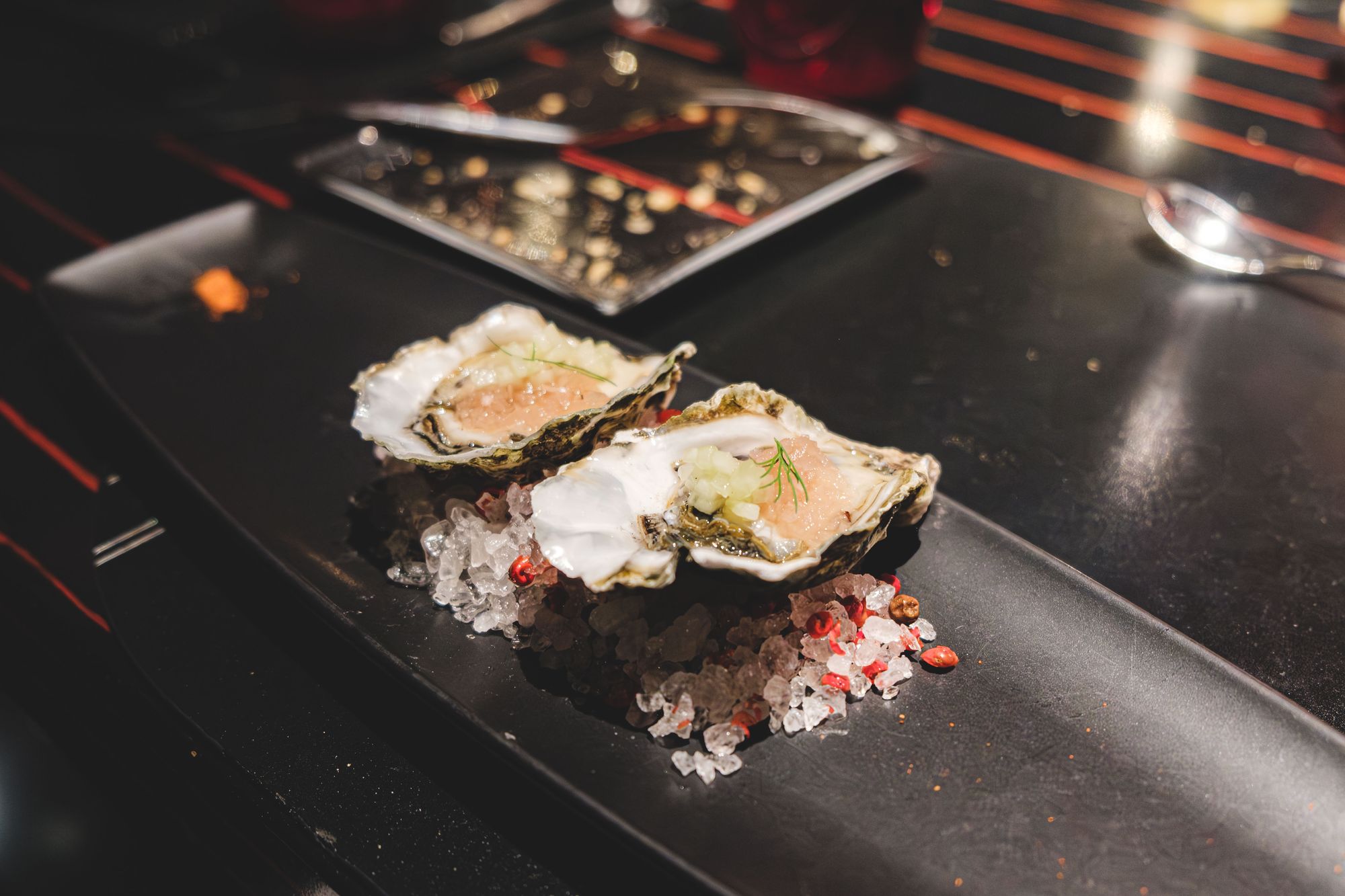 For Le Hamachi, which doesn't look like proper French conjugation, this was a hamachi crudo topped with uni and caviar. This was a tremendous flavour bomb, even despite the ocean butteriness of the caviar. The crudo had a terrific balance of chewability and meatiness which under the citrus vinaigrette made the flavour sing.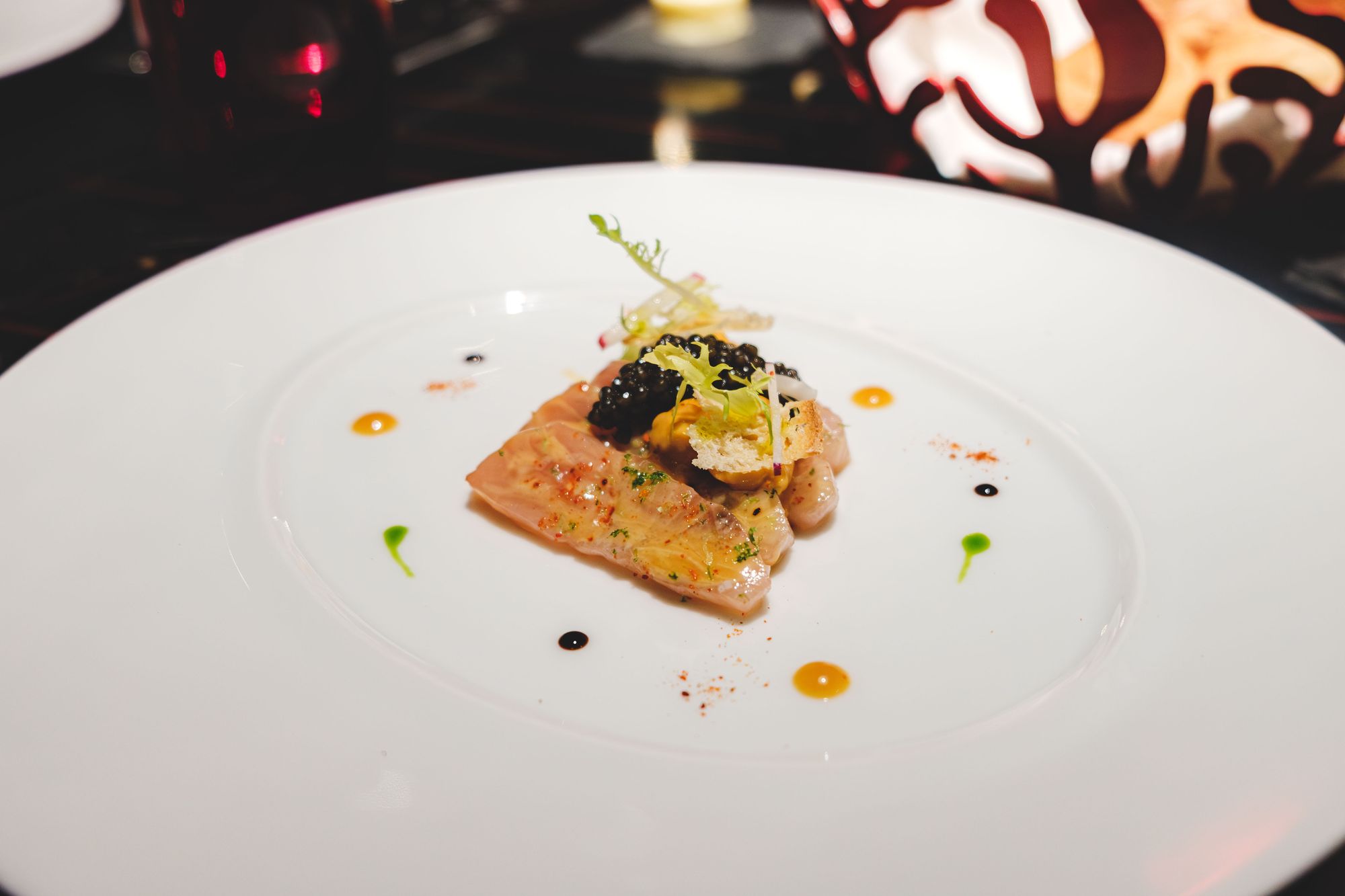 For Le Ravioli, this was a foie gras ravioli submerged in a soup of chicken consommé. Where the traditionalist would put a dumpling or ravioli on the cheaper end of the pasta spectrum, Joel Robuchon goes all out with stuffing ravioli with foie gras (read: butter). This did not look as impressive as the other main courses but it packed a ton of flavour.
For La Saint Jacques, this was an imported Hokkaido scallop perched in the most beaufitul plate and in the middle of an orange gin sabayon. Sabayon is traditionally a creamy dessert, and well, this was not a dessert. It was creamy but actually made with a potato base. If you're wondering how can potato turn into cream, the answer, like so many others in this tasting menu, is butter. The scallop was incredibly tender and invited many swirls into the creamy potato sabayon.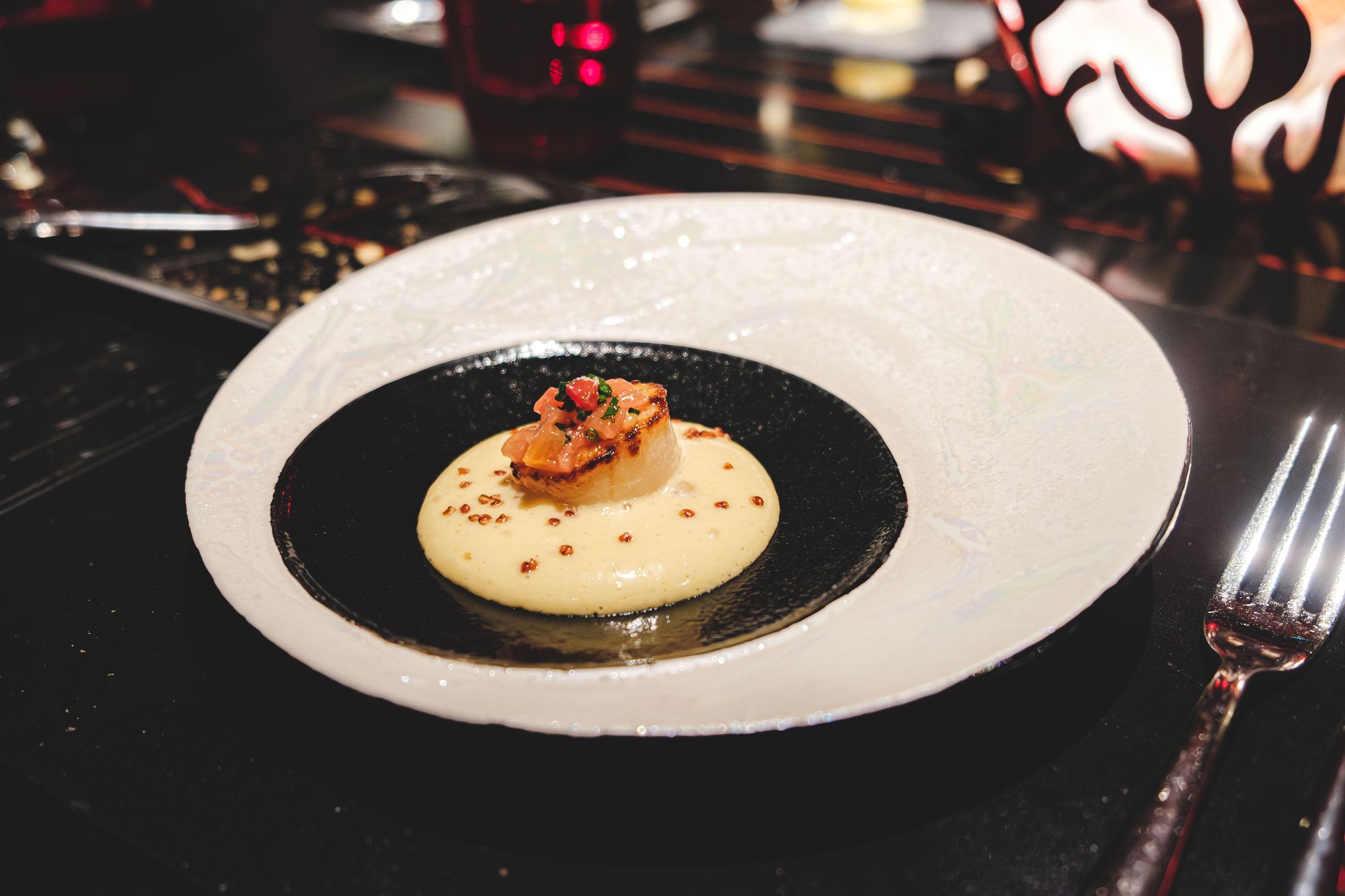 For Le Cabillaud, this was one of the most tender pieces of roasted cod I've ever had. They didn't offer us a knife for this course and it's obvious why. A fork was all that was needed to flake off the cod and dunk it into the champagne sauce. Caviar made another appearance for this course and added a buttery and oceanic blast to every bite. I'm still dreaming about this cod because it was so good.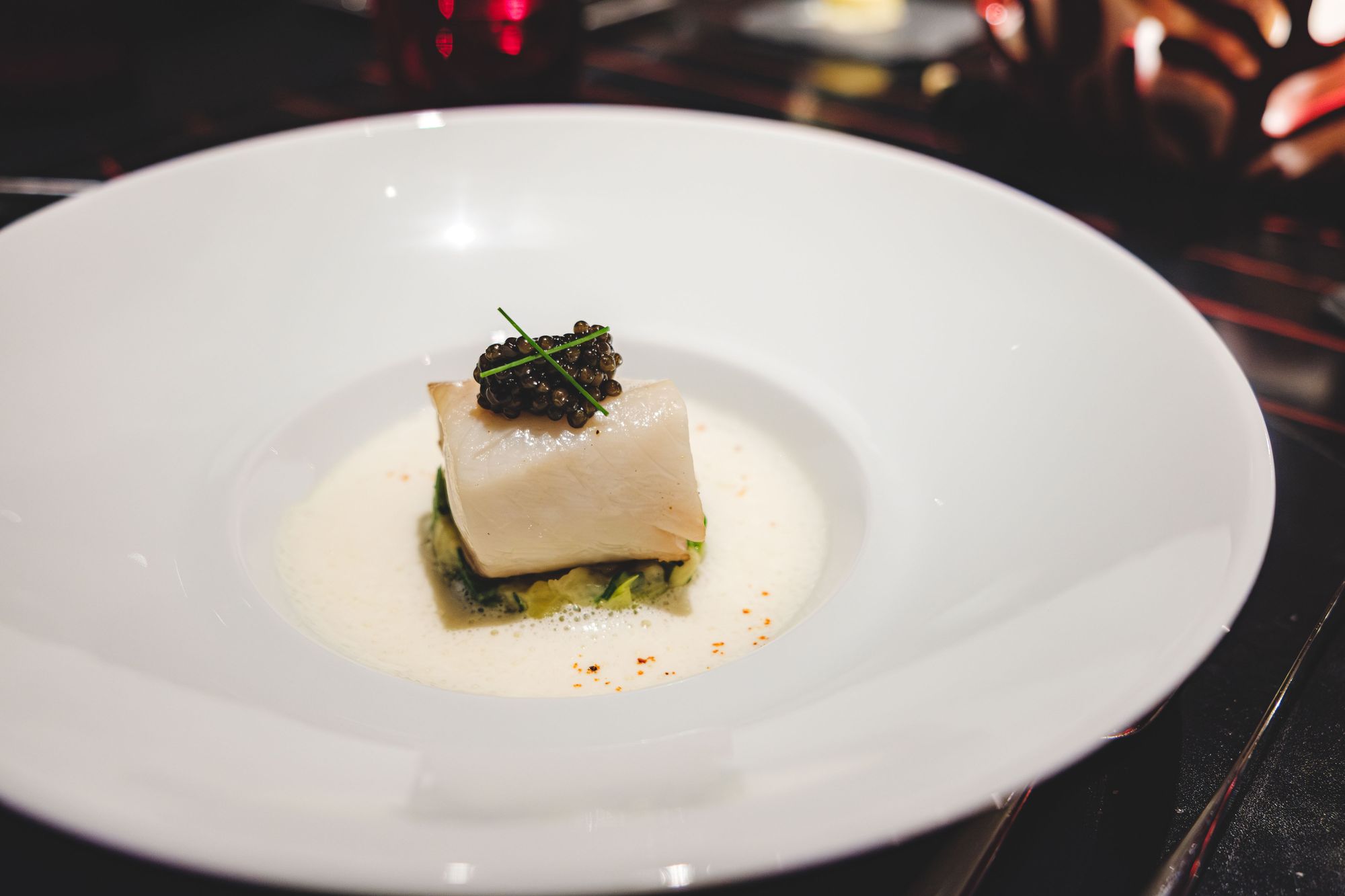 For La Caille, this was one of two options, the other being lamb. It feels like the caramelized quail was the answer though. The thin skin evoked a ton of flavour especially with the foie gras stuffing (read: butter) and bed of potato purée (read: more butter). Fingers were welcome to help gnaw on the tiny drumsticks and made this course a delightful one.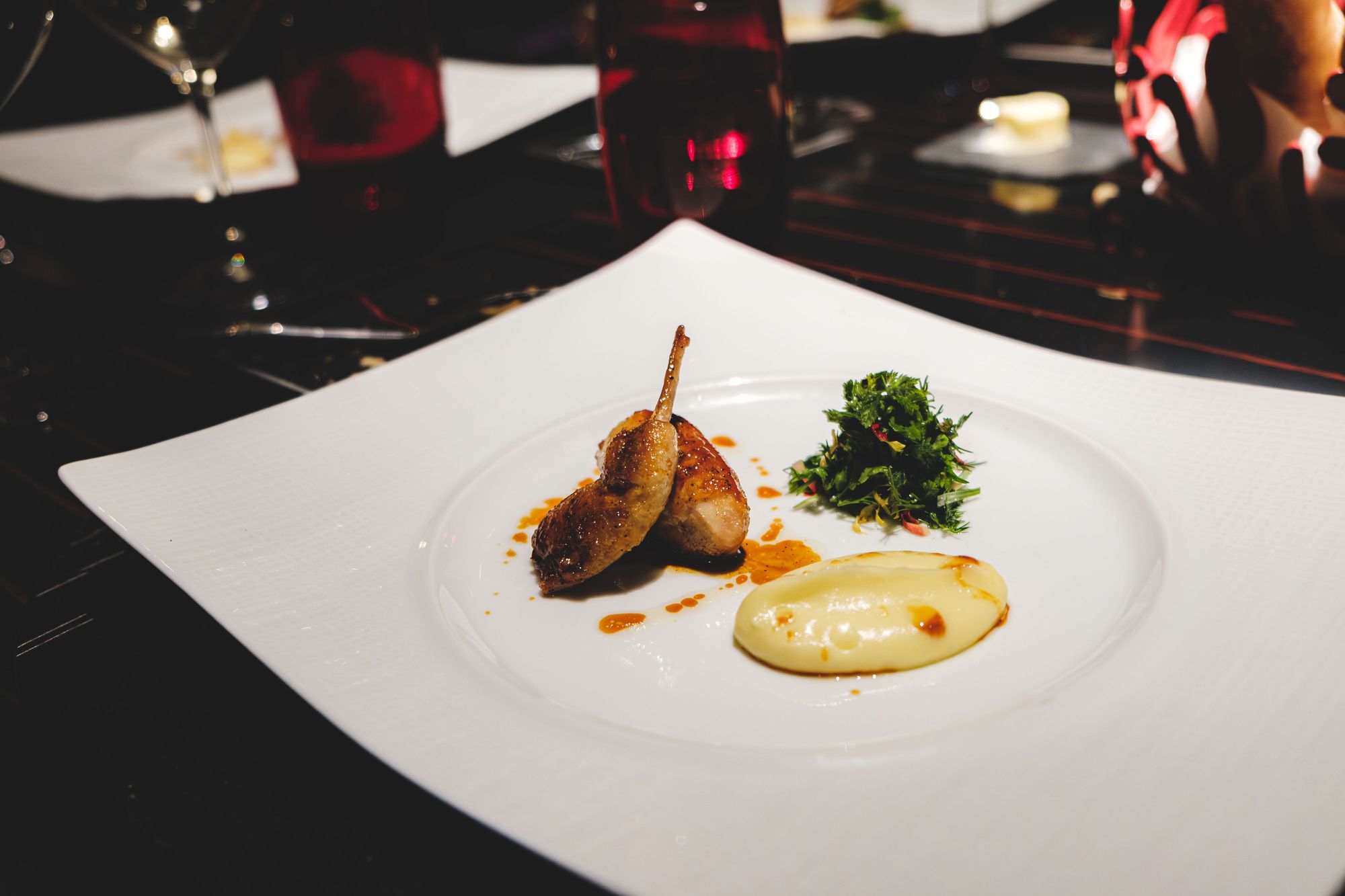 Moving onto dessert, first up was La Muroise, which was a tayberry coulis with a fragrant kalamansi mousse and limoncello granita. This had a light, delicate expression and some of the finest ice to crunch into.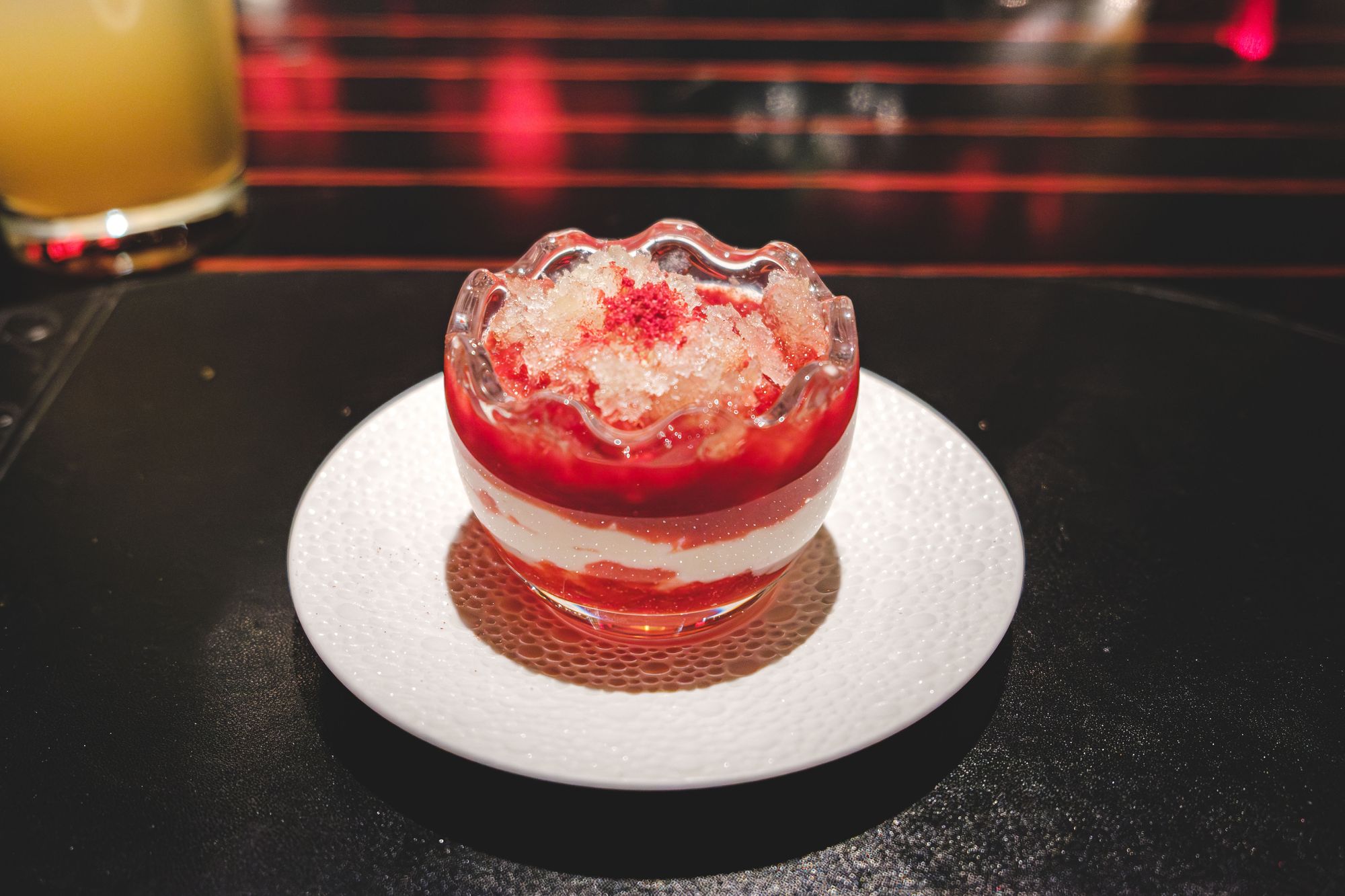 Our other dessert was L'Orange Sanguine. This was an elevated (literally!) dessert with a Ghanaian namalaka holding up a spoon of citrus ice cream drizzled with a caramel raspberry gelée. Ice cream is always a fun way to end a meal and this one invited repeat spoonfuls, including one to eat the flower because I'm a monster.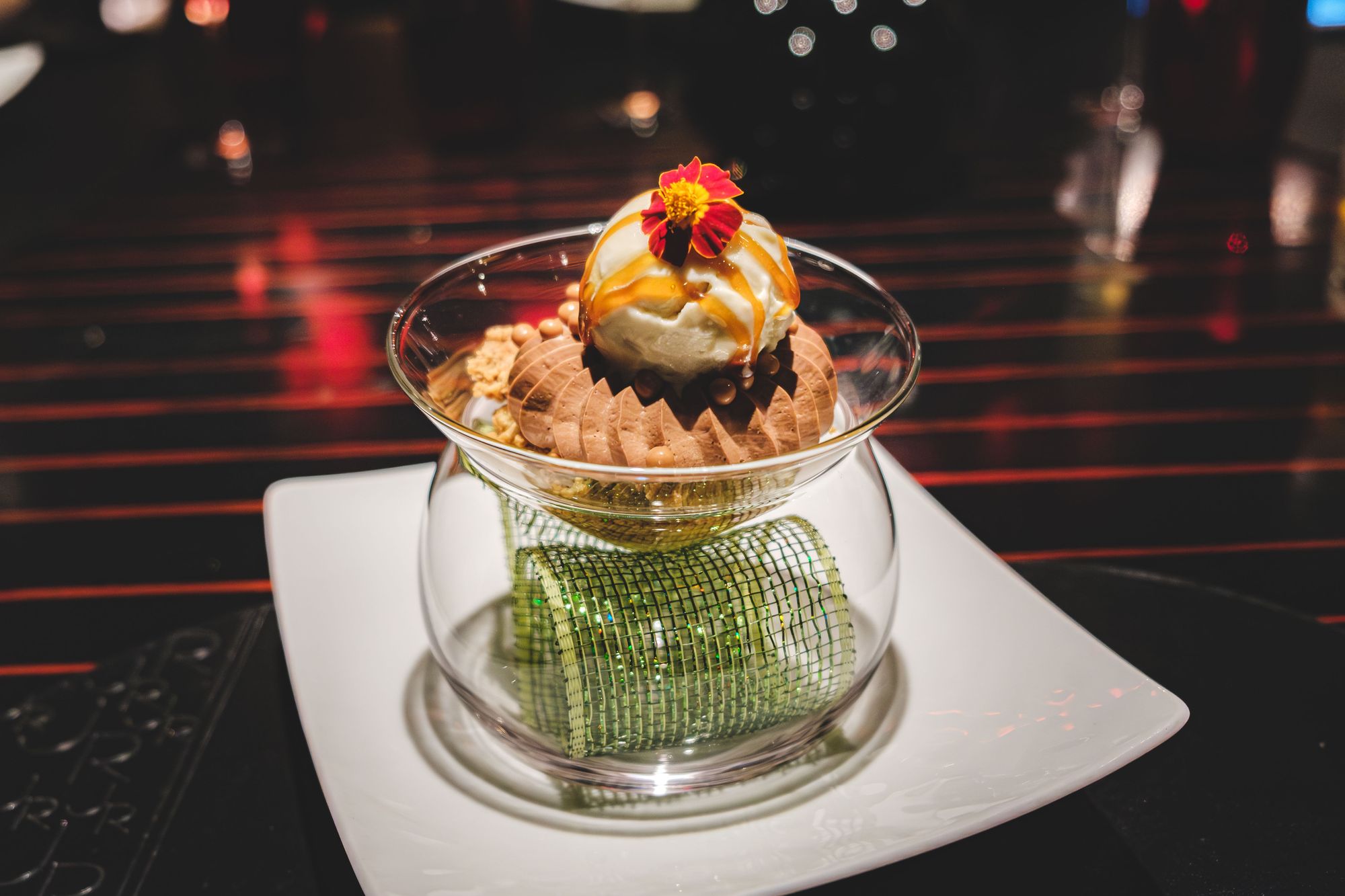 And just when we thought our journey had concluded, the bill arrived with a set of macarons. These airy confections, reminiscent of the finest French-style bakeries, provided a perfect sweet note to conclude the evening.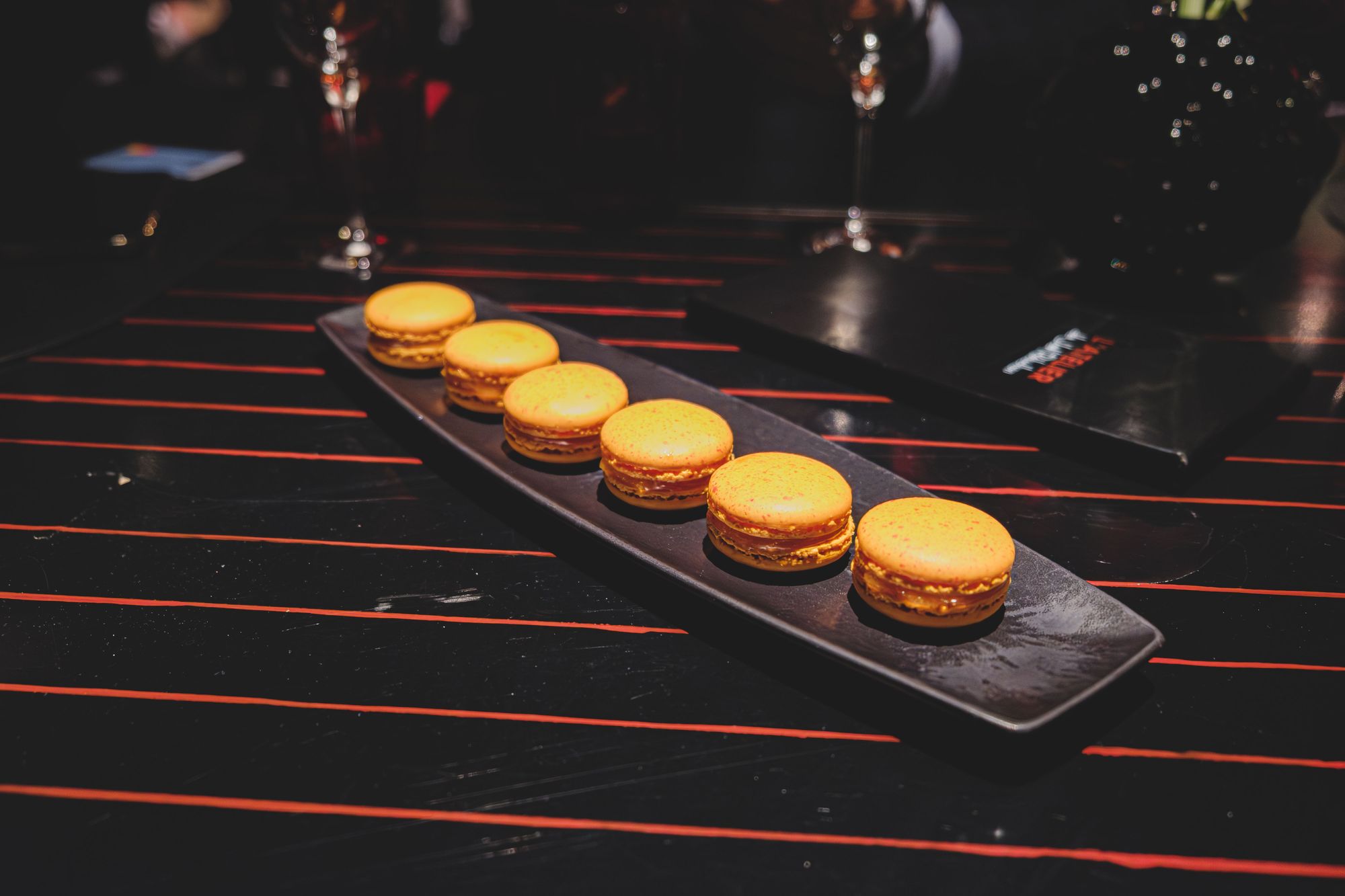 In summary, the food at L'Atelier de Joël Robuchon is undeniably exceptional, featuring creative accents that leave a lasting impression. While the presence of caviar and foie gras twice within the tasting menu may evoke a desire for more variety, one must appreciate the undertaking of a 10-11 course culinary journey. So, repetition is to be somewhat expected, even for the discerning palate.
Vibes:
From the moment you enter L'Atelier de Joël Robuchon, the experience captivates all your senses. The staff greets you with grace and elegance, donning uniforms that exude a sense of refinement. The plush chairs beckon you to lean back and enjoy the expertly crafted cocktails. The high-contrast red on piano black color scheme permeates the space, creating an ambiance akin to outer space, with the bar and kitchen emanating a magical glow as culinary wonders unfold.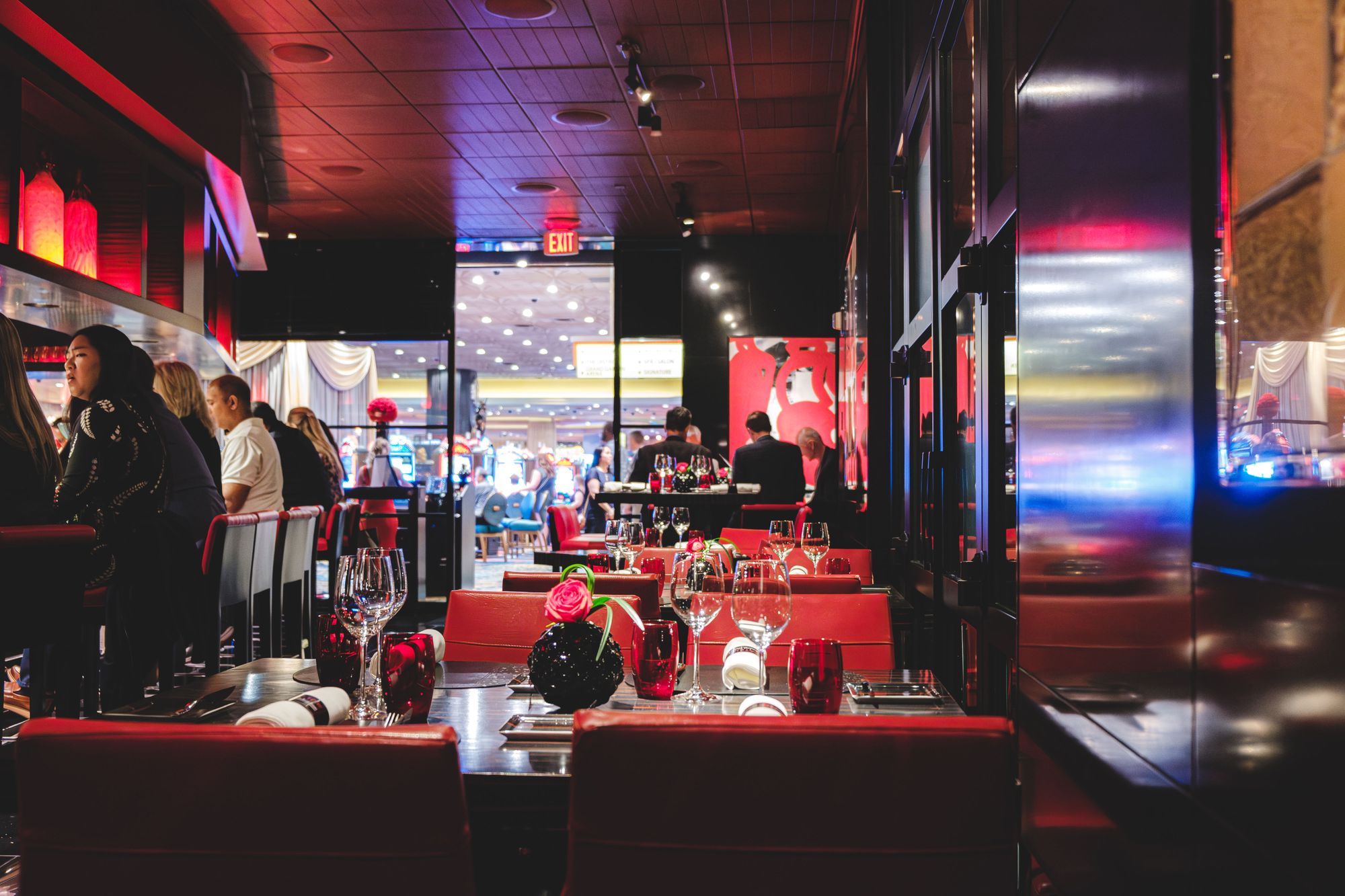 Service:
Rest assured that a visit to L'Atelier de Joël Robuchon guarantees the utmost respect and impeccable service. The sommelier is a true connoisseur, skillfully curating wine pairings that perfectly complement the culinary creations. By sharing your preferences and dislikes, the sommelier can offer expert recommendations. Some suggestions were so outstanding that fellow diners requested to photograph the bottles for future reference.
Seating approximately 80 guests, L'Atelier de Joël Robuchon offers an intimate dining experience. The seating arrangement alternates between sumptuous dining tables and a lengthy bar, which seems particularly suitable for couples seeking a closer connection.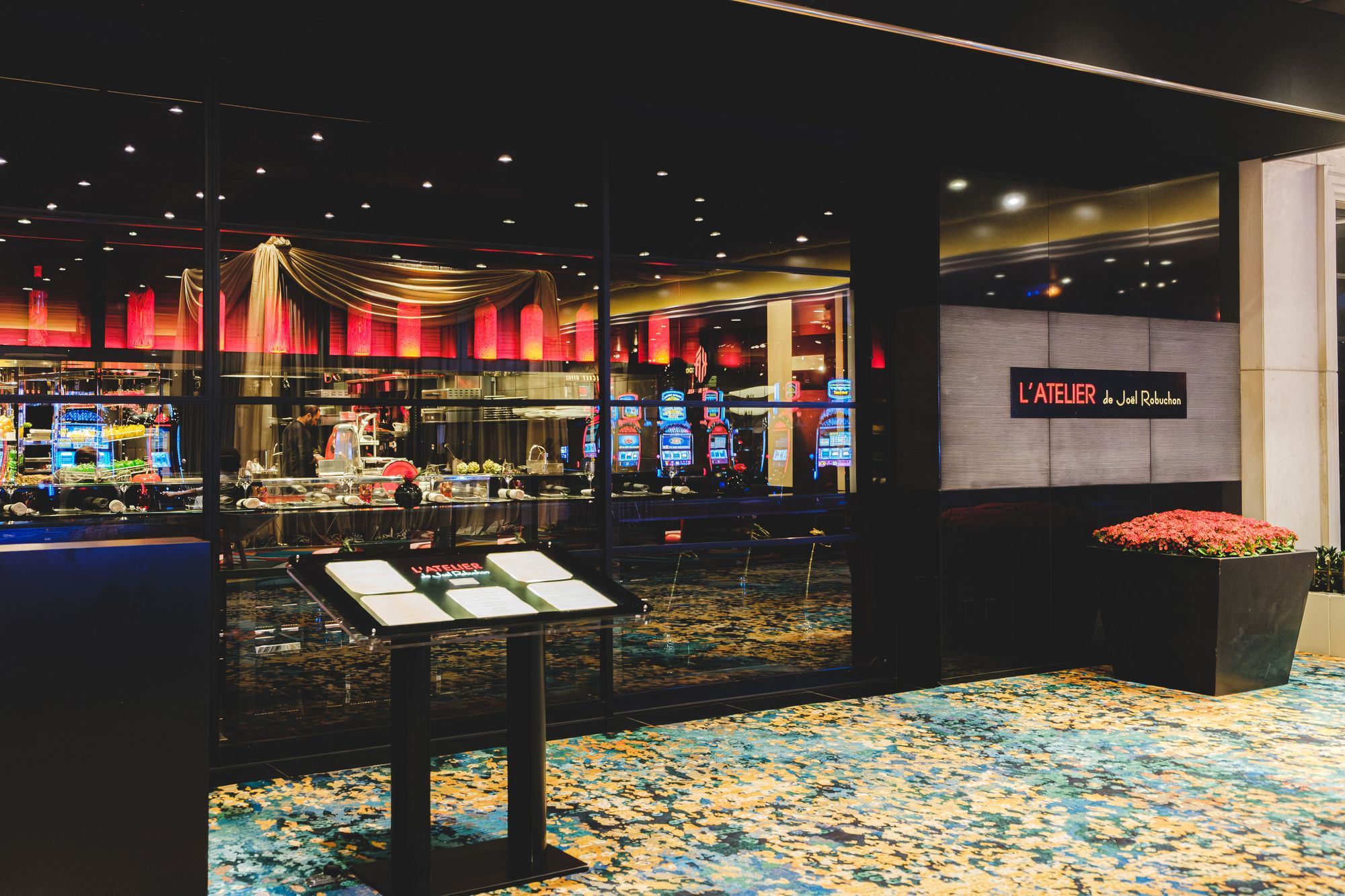 Reservations are not always necessary on weekday nights. During our visit on a Monday evening, the restaurant was approximately half full. While L'Atelier provides an opportunity to acquaint yourself with Joël Robuchon's culinary artistry at a more accessible price point, it serves as a prelude to his Michelin-starred establishments, including the adjacent Joël Robuchon Restaurant.
Final Thoughts:
One-liner: Elevated, if pricey, French dining that gets you through the door of one of the world's most Michelin-decorated chefs
Highlight: La Cabillaud (Cod)
Price per person: $275-$400
Would I go back? Yes.