If you're seeking a dim sum experience that transcends trends and focuses on authentic flavors rather than flashy presentation, then Sun Sui Wah in Vancouver is a dining destination that will whisk you away on a nostalgic journey. Stepping into this long-standing establishment, you'll find yourself surrounded by the charm of tradition, with shabby bamboo steamers and a capacity-focused dining space. While Sun Sui Wah may not boast sparkly clean and polished dining rooms, it tells a story that has captivated dim sum enthusiasts time and time again. As we delve into the delightful feast we savored and explore the restaurant's unique features and service, you'll discover why this time-honored gem remains cherished by dim sum aficionados.
---
Food:
Team Lido came here for a weekend dim sum and I had a great taste of the following:
Tea and Water ($2/person)
Steamed Crystal Prawn with Asparagus Dumpling ($8.85)
Chicken Feet with Black Bean and Sesame Oil ($8.85)
Steamed Beef Balls with Bean Curd Sheet ($7.85)
Beef Tendon and Tripe in Special Sauce ($8.85)
Steamed Rice Rolls with Prawns ($9.85)
Deep Fried Eggplant with Shrimp Paste ($8.85)
Deep Fried Taro with Minced Pork, Dried Shrimp, Scallop, and Tobiko ($11.25)
Deep Fried Tofu with Spicy Salt ($11.25)
Glutinous Rice ($15.25)
It's hard to escape a tea and water charge at dim sum. I think you can ask for cold tap water but anything coming in a tea pot will qualify you for a $2/person charge.
The Steamed Crystal Prawn with Asparagus Dumpling was an artful name for sure but this was your run off the mill prawn dumpling, essential to any dim sum section. However, a slightest twist of recipe includes asparagus in these dumplings and presumably helps justify categorizing this dish as a "large" and charging as such.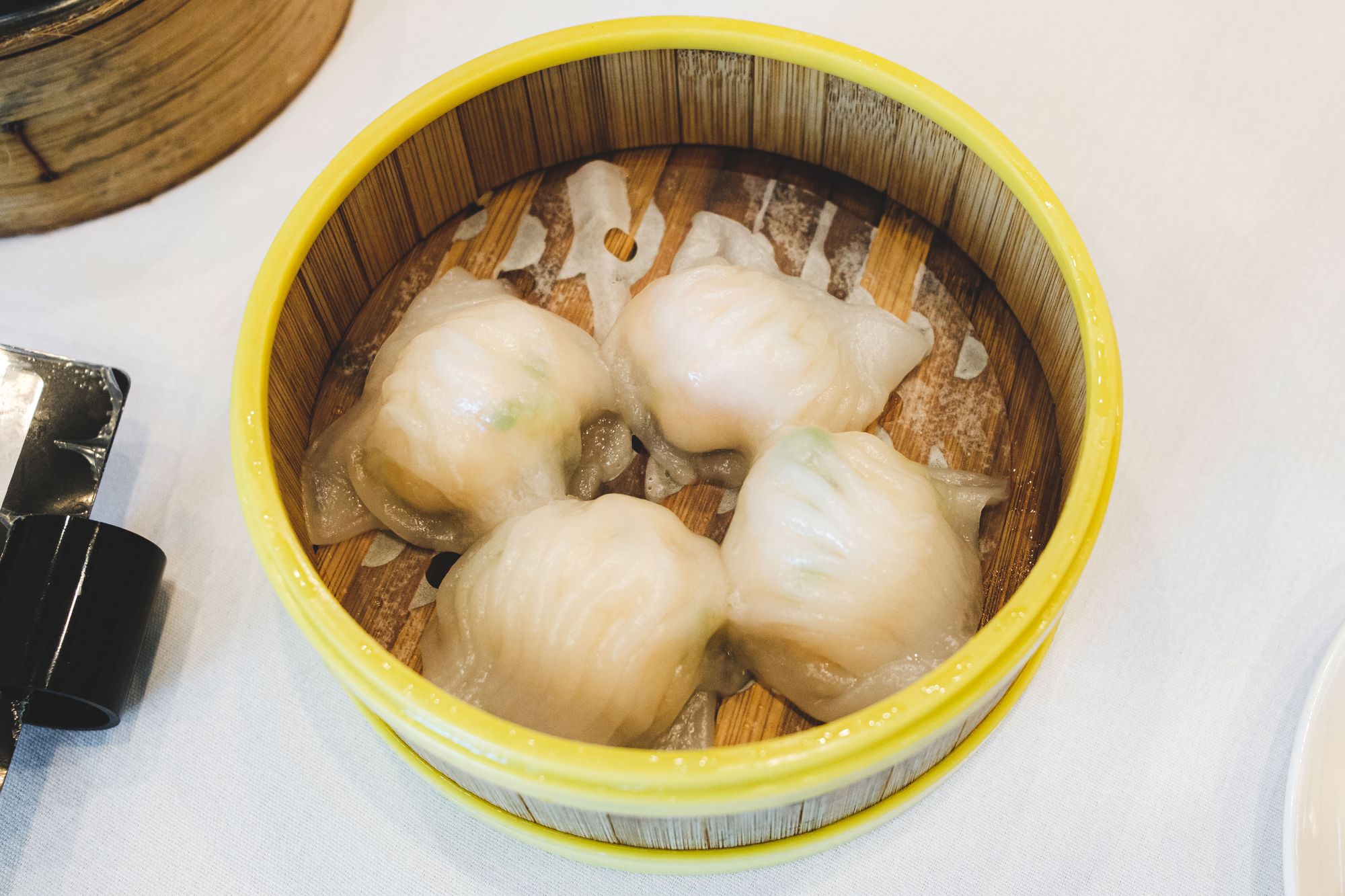 The Chicken Feet with Black Bean and Sesame Oil had a ton of flavour and a ton of chew. If you've never had chicken feet before, you basically gnaw at the little talons to peel off the skin, tendon and cartilage, then spit the bones onto your plate.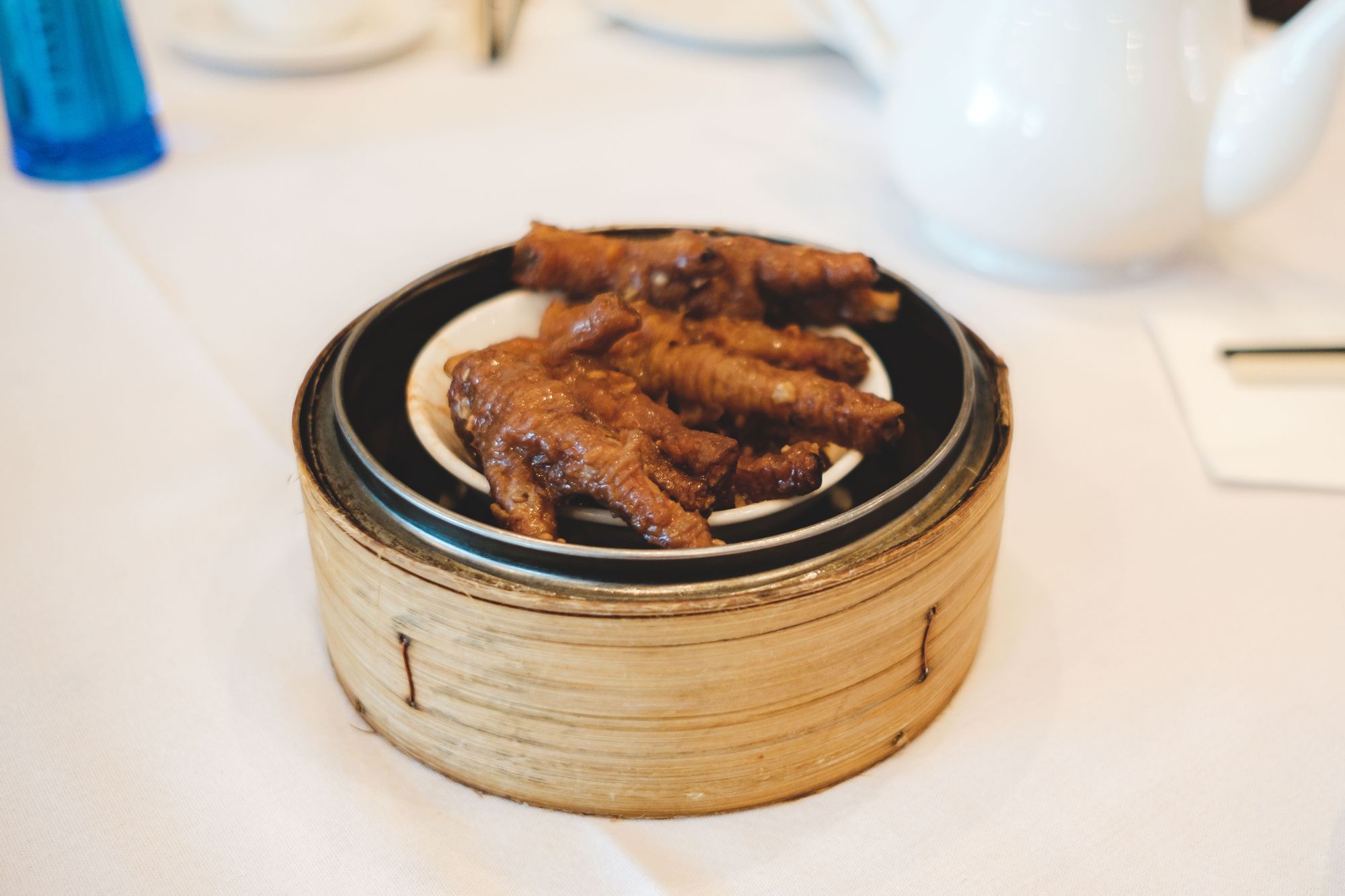 Next up was the Steamed Beef Balls with Bean Curd Sheet. Unfortunately, this medium-priced dish left us wanting more. The bean curd sheet lacked finesse, and the aftertaste was somewhat medicinal.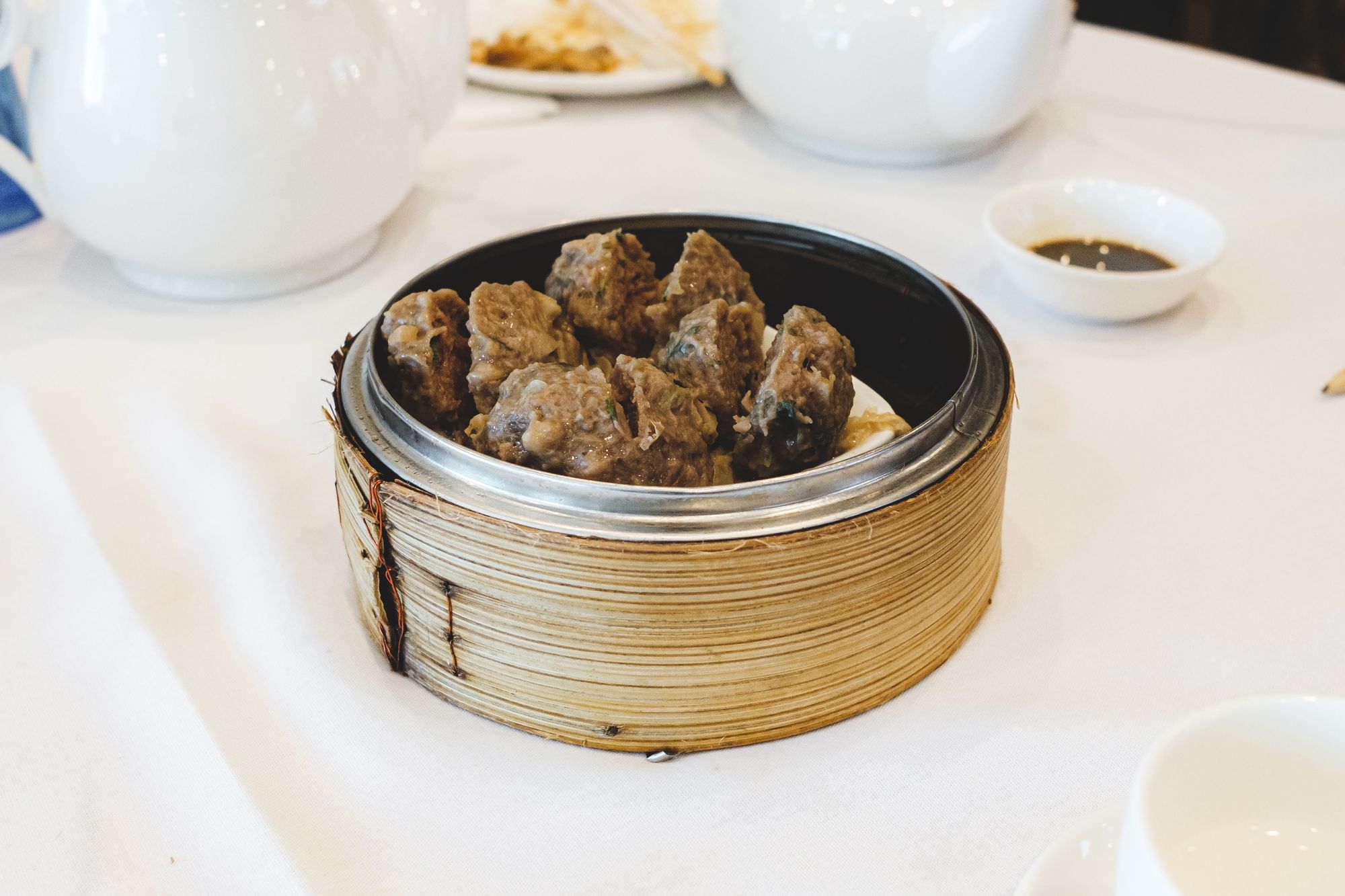 Something I would order again is the Beef Tendon and Tripe in Special Sauce. It is an acquired taste that we loved! The tender texture of the beef tendon and tripe combined harmoniously with the rich, spicy soy-based sauce.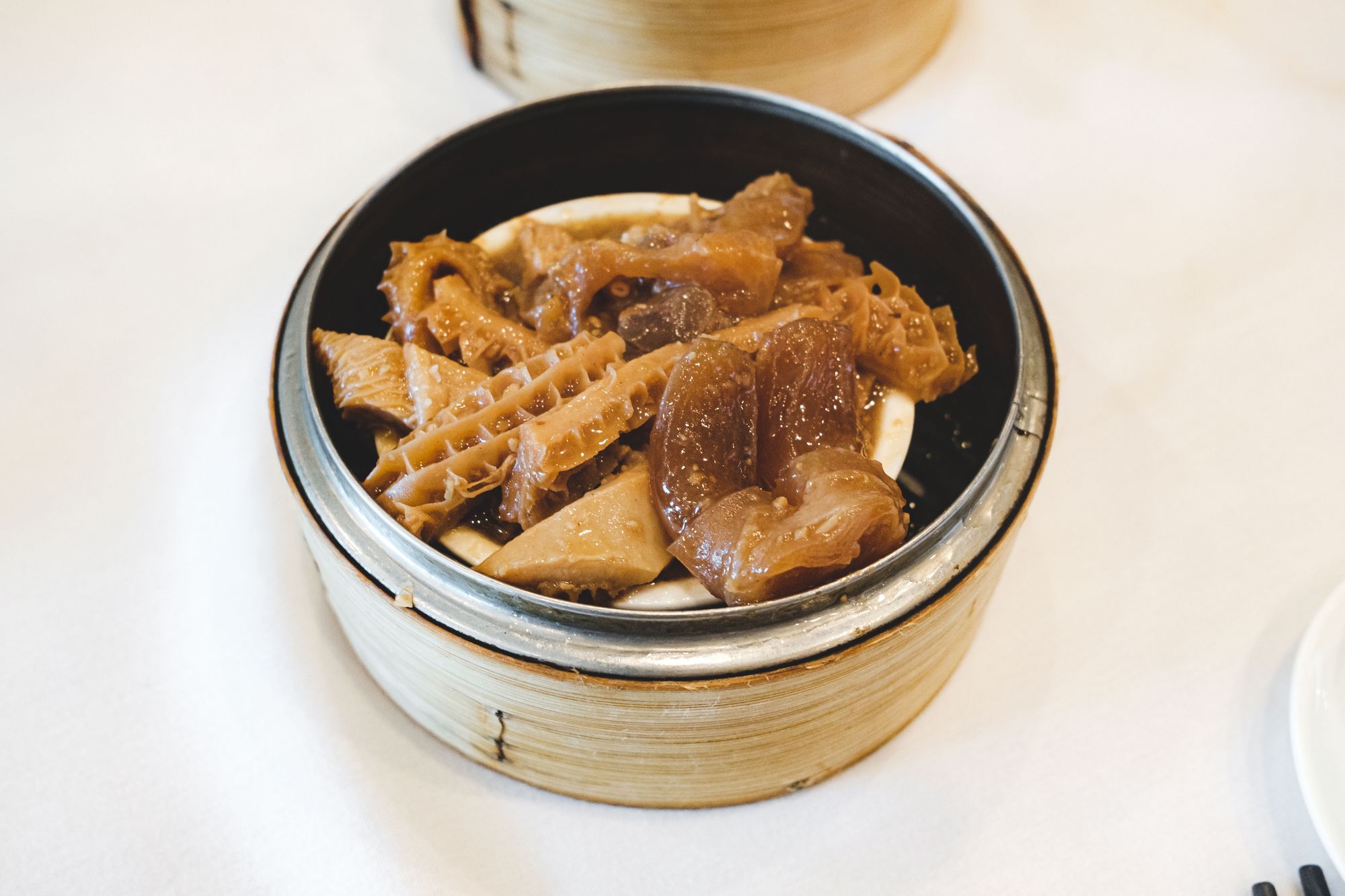 Another classic dish for dim sum is the Steamed Rice Rolls with Prawns. The highlight of our meal! Bouncy shrimp, perfectly textured rice rolls, and a drizzle of soy sauce created a delightful combination.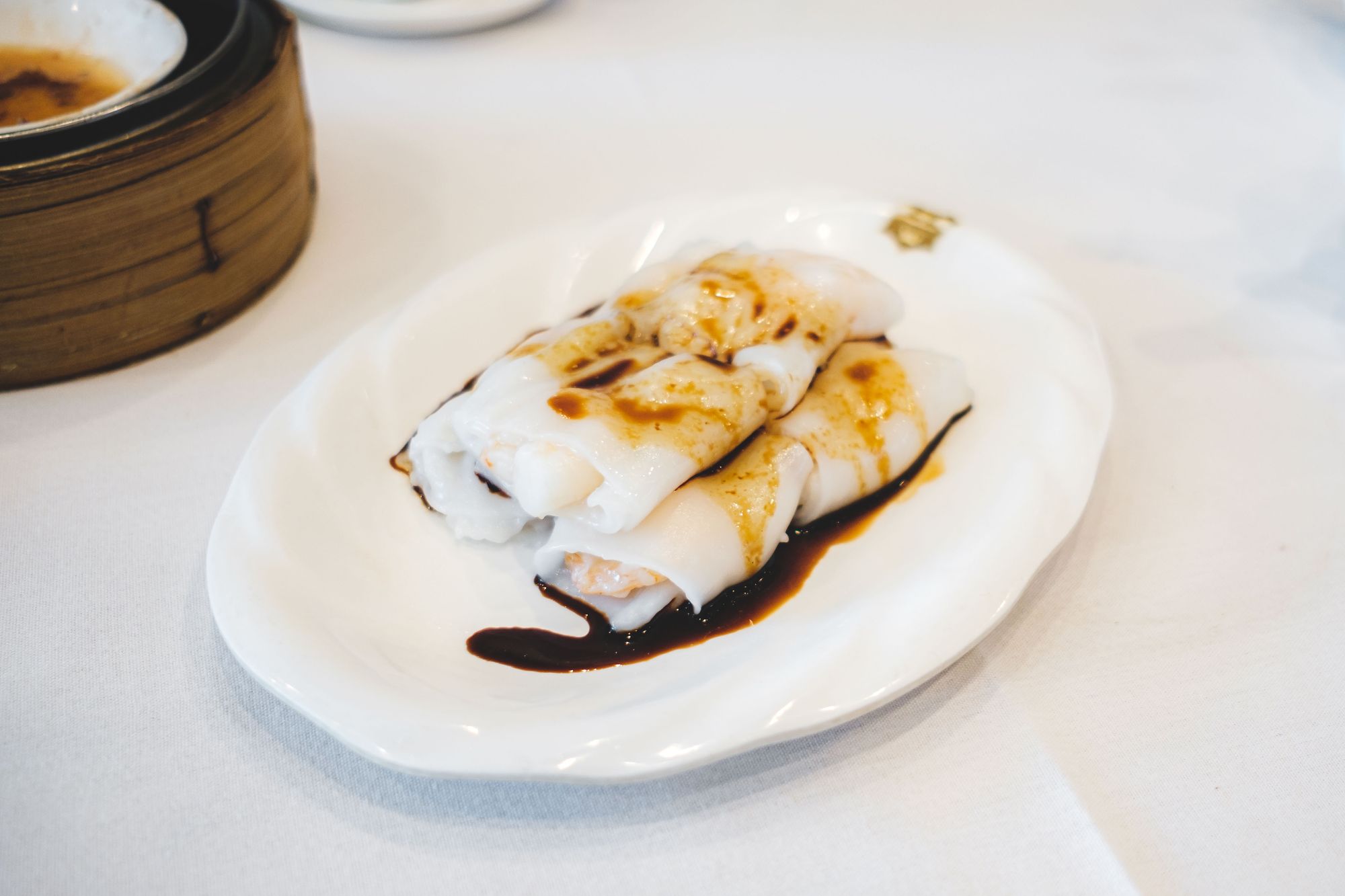 The Deep Fried Eggplant with Shrimp Paste was another standout dish. Despite the menu item stating it is deep-fried, this wasn't totally fried and I prefer it that way. This dish is an excuse to feel healthy at dim sum and I am here for that sentiment. This is another dish I'd order again in a heartbeat.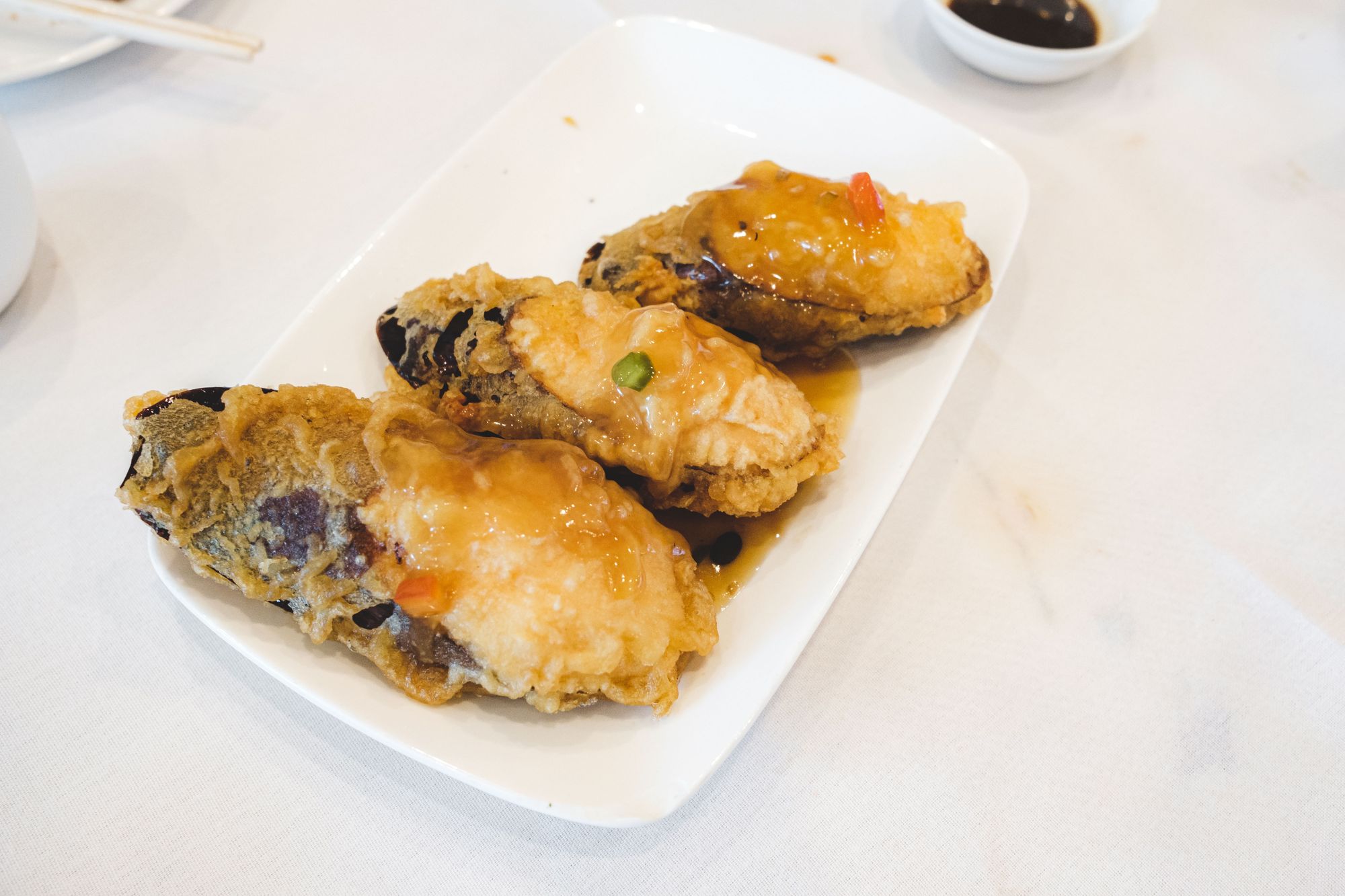 The Deep Fried Taro with Minced Pork, Dried Shrimp, Scallop, and Tobiko is another special dish you can only get at a few restaurants. Most will have some variation of deep fried taro dumplings but what's inside is up to the chef. The combo of minced pork, dried shrimp, scallop, and tobiko was a treat and featured a ton of crunchy umami.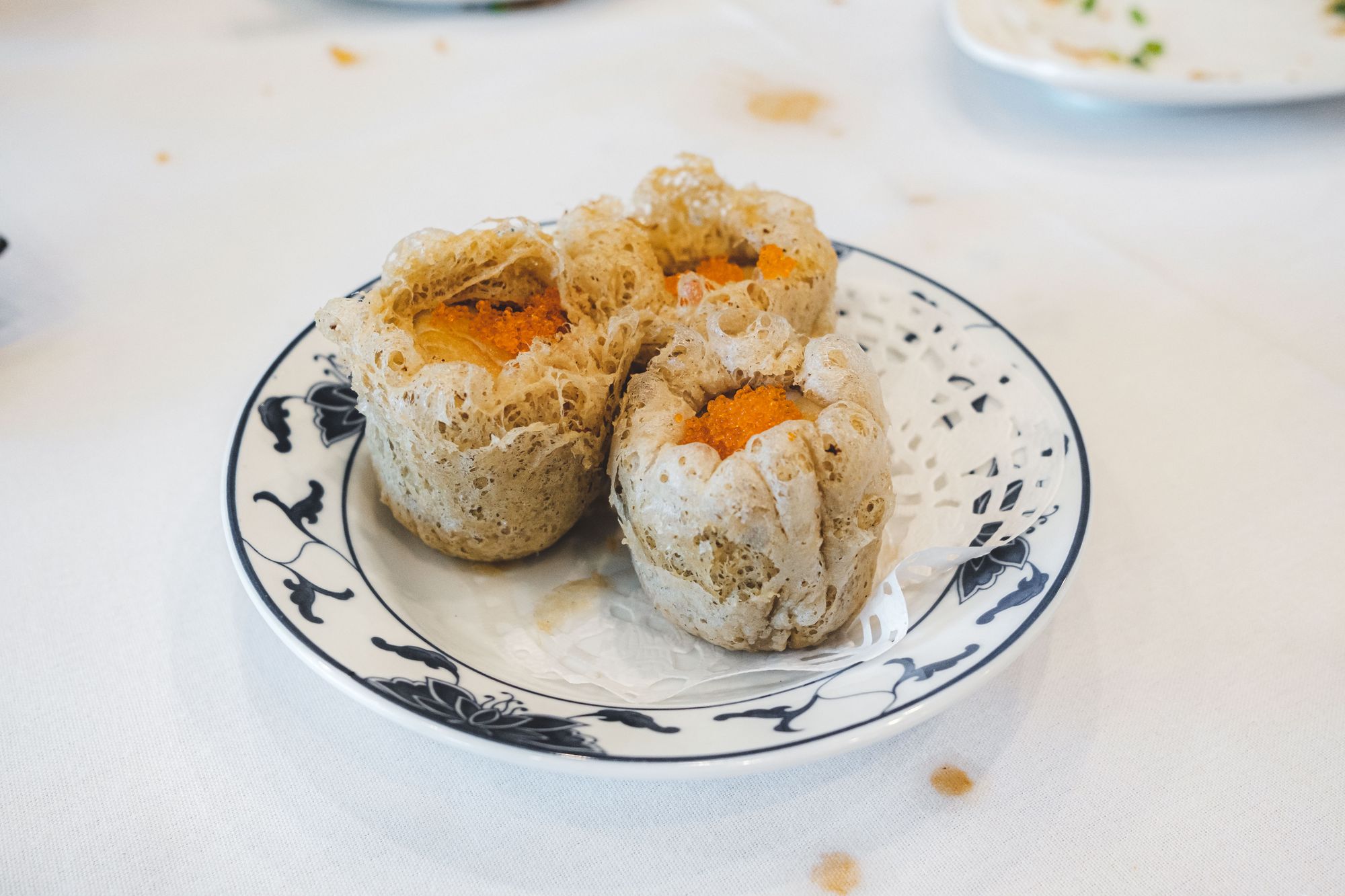 The last of the deep-fried items was the Deep Fried Tofu with Spicy Salt which took the crown for most deep fried-ness. Thus, the tofu skin was crispy but the inside was still smooth and silky. The seasoning was on the more intense side for this tofu though.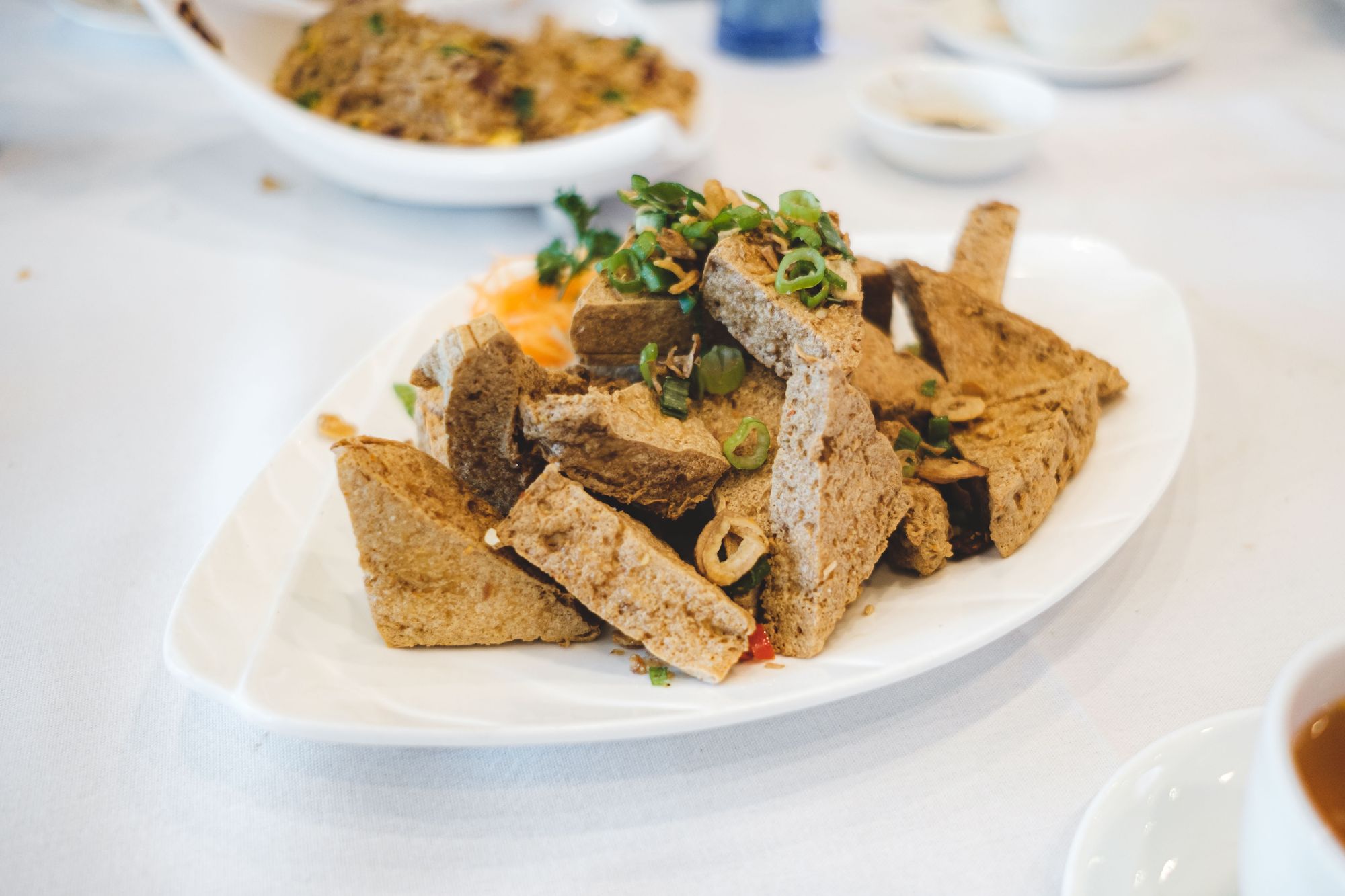 Last but not least, to ensure we left feeling full, we had the Glutinous Rice. A nostalgic comfort, despite being on the looser side. The green onion, egg, and sausage added the perfect touch.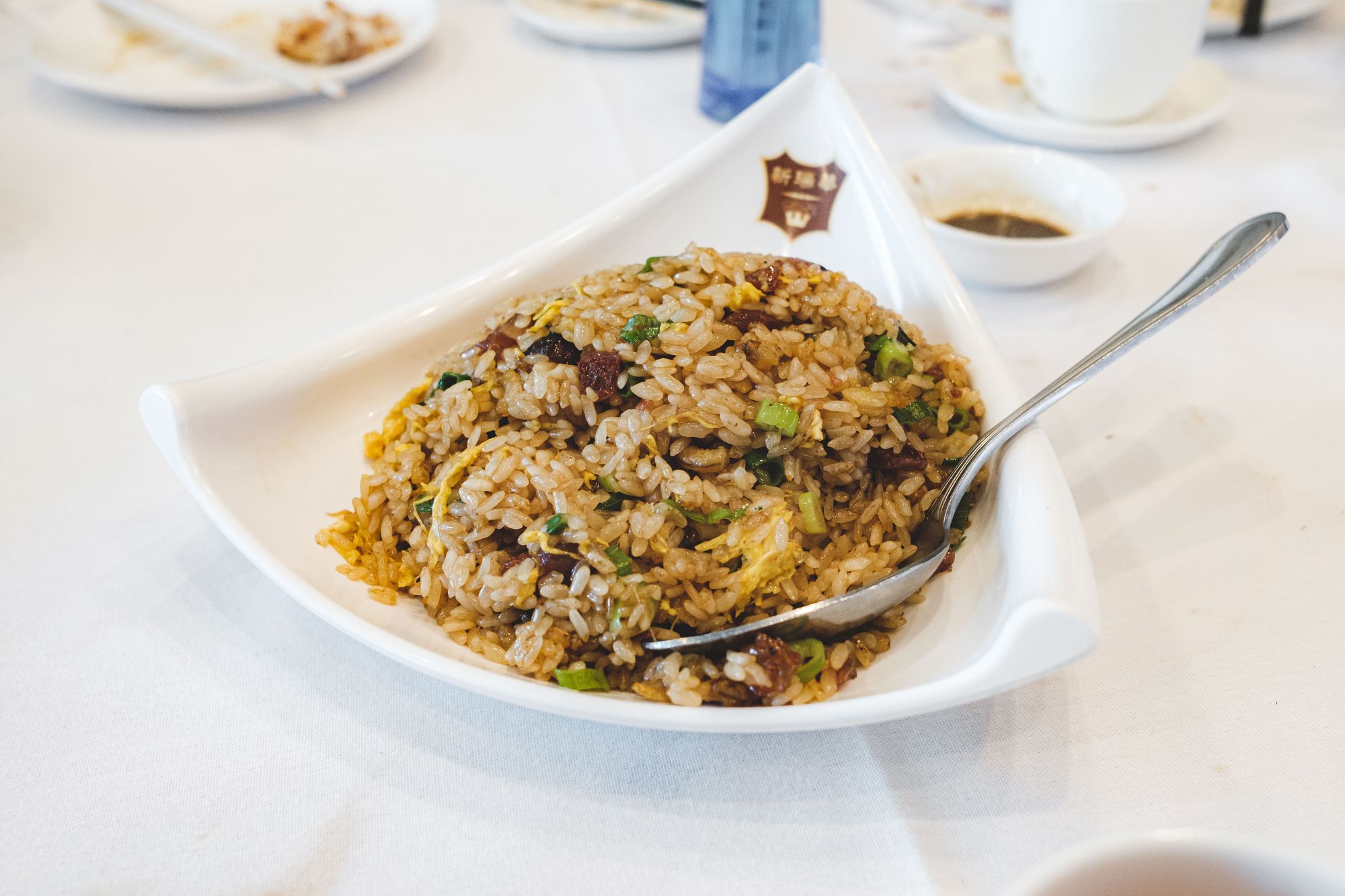 Features:
Sun Sui Wah's spacious interior, originally designed for hosting weddings, welcomes a large number of guests with ease. While the decor may not be their defining feature, the restaurant's capacity to accommodate over 300 people ensures an inviting atmosphere for gatherings of all sizes.
Dim sum is meant to be messy. Despite having brunch/lunch on white tablecloths, soy sauce will drip, spring rolls will flake off, and this is all part of the experience and another reason I love coming out for weekend dim sum.
Service:
Service at Sun Sui Wah was as good as you might expect at a Chinese restaurant. You are given a sheet of paper to fill out your order, ticking off the items that you want. Conveniently, there is no eraser on the pencil, so any mistakes you make will have to be corrected by furiously crossing out your pencil marks. Gods be with you if you need to correct a 2 into a 1 though.
Dim sum is faster than most restaurant food because much of it is pre-steamed and kept warm, especially for the more popular dishes. That also means the food can come out as fast as you can order it, which is a great benefit to service. The staff have service down to a science. Need a booster seat? They'll give you two. Your friends forgot to make a reservation? No problem – they'll squish two other parties closer together, grab a spare table from the back, and your four will squish into a 2-top.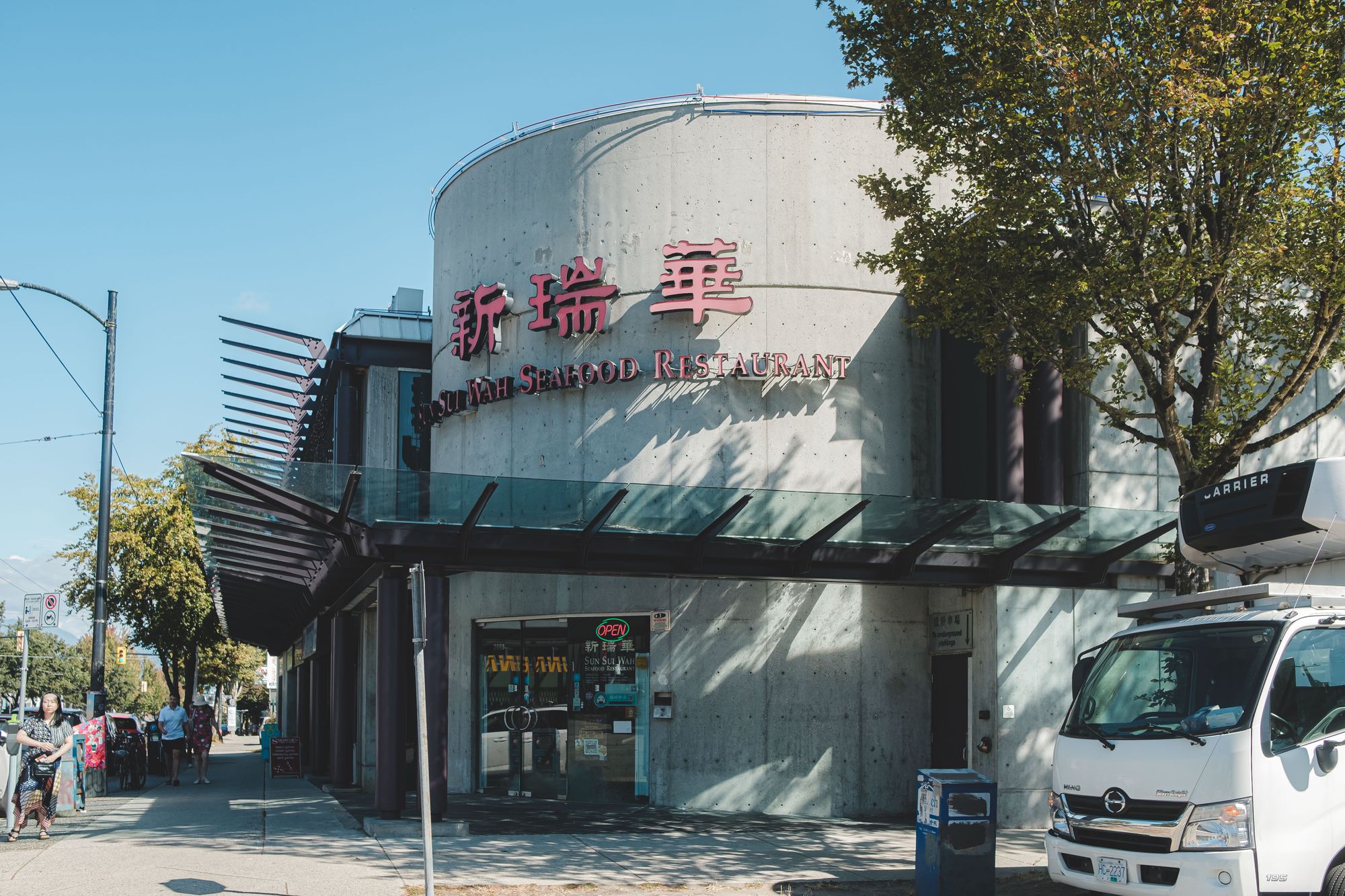 That being said, you should still make a reservation to reduce the chance of disappointment. A reservation is less of a guarantee and more a heads up to the restaurant of how many people they will seat. Our 10:30am reservation saw guests outside the door waiting for the restaurant open and they rushed in to "claim" their reservation spot.
Final Thoughts:
In the landscape of modern dining trends, Sun Sui Wah remains a beacon of timeless dim sum tradition in Vancouver. While lacking the glitzy appeal of opening under a new condo development establishment, it compensates with cherished flavors and an atmosphere reminiscent of traditional Chinese brunches. While there is an abundance of excellent dim sum spots in Vancouver, a pilgrimage to this culinary legend is a must-try at least once. So gather your friends and family, make a reservation, and embark on a journey through the heart of authentic dim sum at Sun Sui Wah.
One-liner: A really old dim sum restaurant that fits all the traditional vibes of Chinese brunch in Vancouver and nearly none of the bells and polished whistles you'll find opening up at the ground floor of new condo developments
Highlight: Steam Rice Rolls with Prawn
Price per person: $25-$35
Would I go back? Probably not for a few years because there is so much good dim sum in Vancouver, but this is worth a one-time try.