Claimed to be Vancouver's first micro-distillery, Long Table Distillery holds a unique distinction. It's still in operation today which helps demonstrate the love for locally distilled liquors. A few weeks ago, I was bestowed a couple of tickets to attend a one-off dinner event with Curtis Luk (of Top Chef Canada, Fable, and Mission fame) serving up an apothecary-inspired dinner set to the cocktail pairings by Tarquin Melnyk (Head Bartender of Long Table). Check out all we enjoyed in this 5-course dinner.
---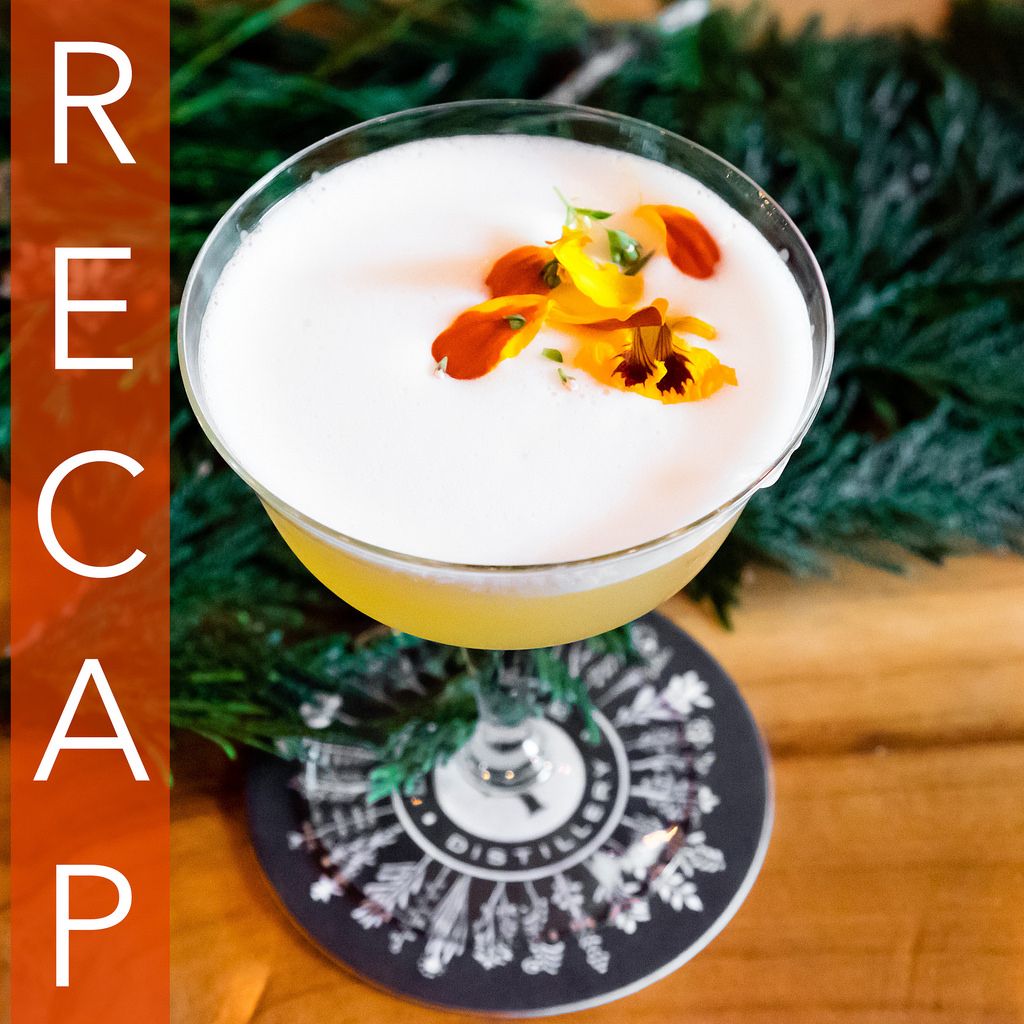 Food and Drink:
I invited Maggi along for the ride ($99/ticket) and we enjoyed the following:
Appetizers paired with "Mare Nostrum Tonic" (Long Table Cucumber Gin, Ms. Better's Cypress Bowl Bitters, citrus oregano syrup, Fever Tree Mediterranean tonic, garnished with Castelvetrano olive & garden fresh oregano)
First Course Mussels paired with "Rosa Súrr" (Long Table Långbord Akavit, lemon juice, rose marigold syrup, Ms. Better's Smoke & Oak Bitters, vegan foamer, garnished with garden fresh blossoms and petals)
Second Course Salad paired with "Armistice" (Long Table Bourbon Barreled Gin, Punt E Mes, tomatillo honey water, Ms. Better's Orange Tree Bitters, soda water, garnished with eggplant skin)
Main Course Pork paired with "Amargo Amuse-bouche" (chilled Long Table Amaro Linnaeus, sweetened barley tea, Bianco vermouth, Ms. Better's Elderberry gastrique and Trans Canada Bitters
Dessert Course Posset paired with "Tsukuba Sidecar" (Pairs of Pears brandy, Long Table Bourbon Barreled Gin, lemon juice, yuzu syrup, Cointreau, Ms. Better's Mt. Fuji Bitters, garnished with lemon peel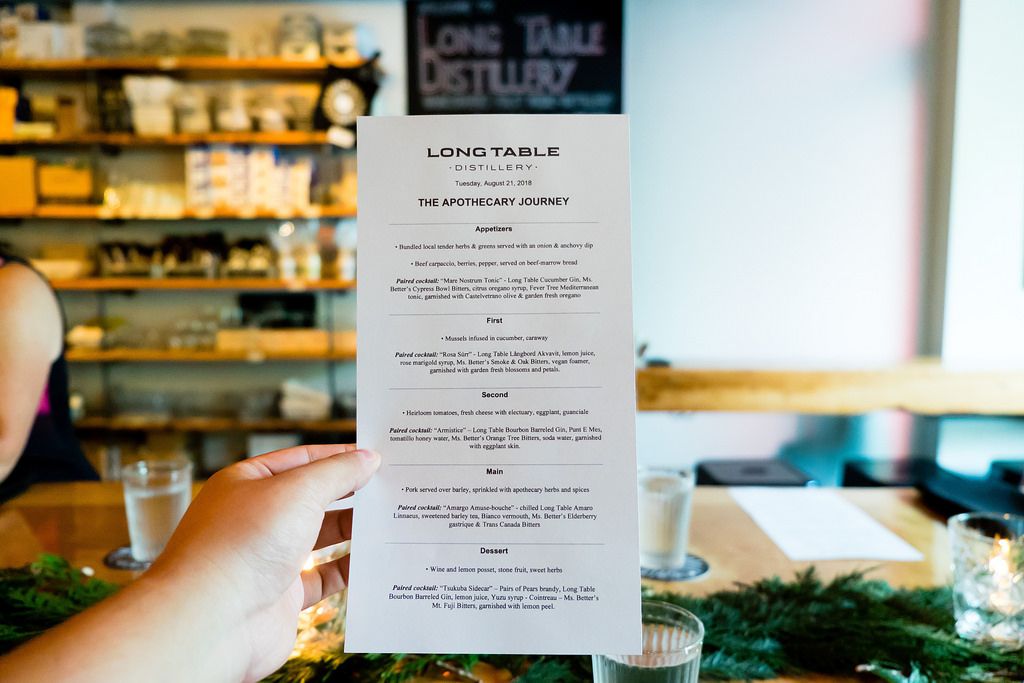 Appetizers:
To start us off, the appetizers were a duo of bundled herbs and greens (served with an onion anchovy dip) and a bone-marrow bread of beef carpaccio, berries, and pepper. The highlight for me here was the anchovy dip which went well with everything on the board. This was just a small zap to get the salt receptors on my taste buds going.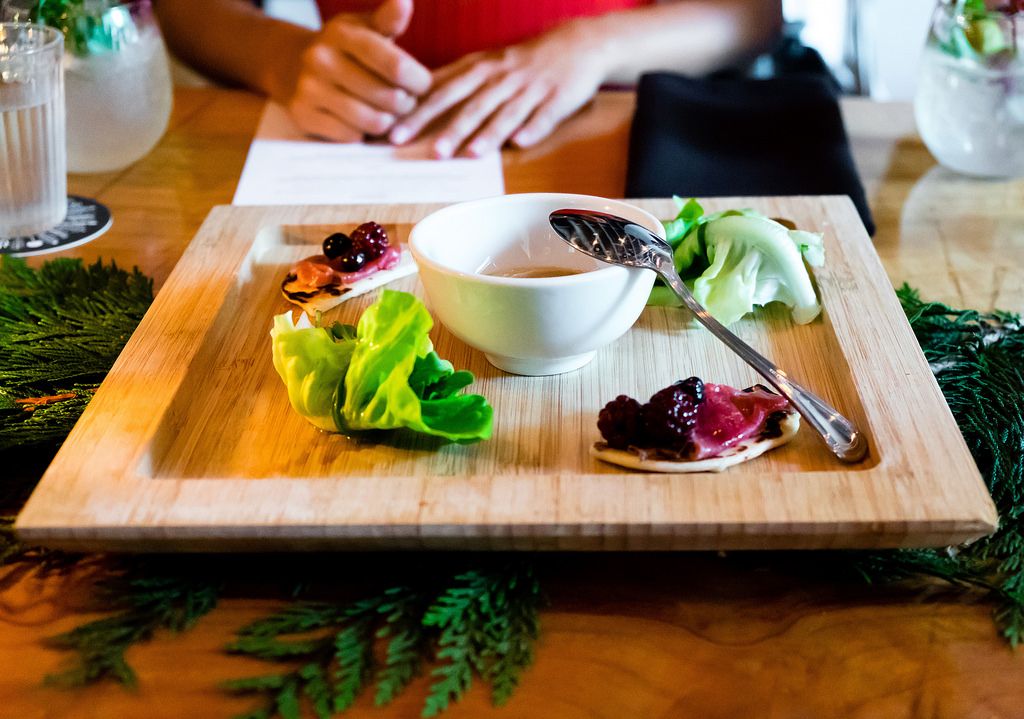 With fresh saltiness comes a hankering for a gin and tonic starter, the Mare Nostrum Tonic. This, however, was jazzed up with a herby (i.e not minty) freshness that got me excited for the next course. I finished this cocktail.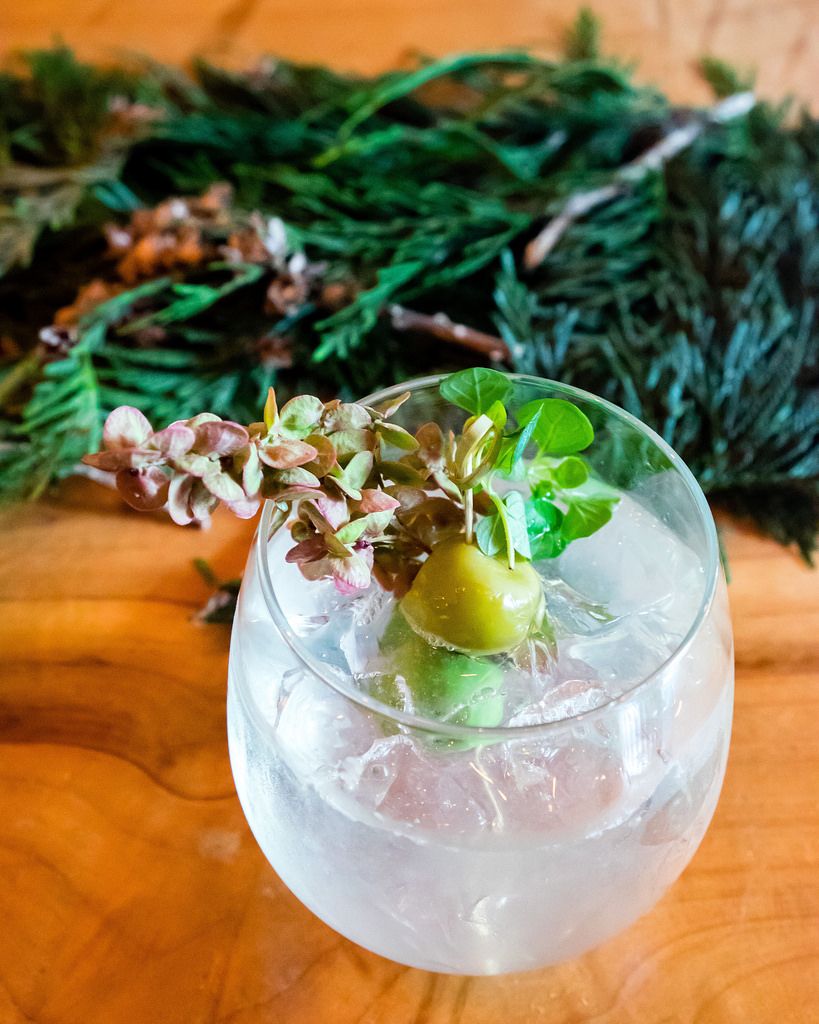 First Course:
Course numero uno was a plate of mussels infused in cucumber and caraway. Caraway, fully referred to as Caraway fruit oil, is also used as a fragrance component in soaps, lotions, and perfumes. I thought it was a cool addition to add an olive oil-esque flavour to these mussels. I'll note some mussels were plumper than others, but this was an enjoyable dish.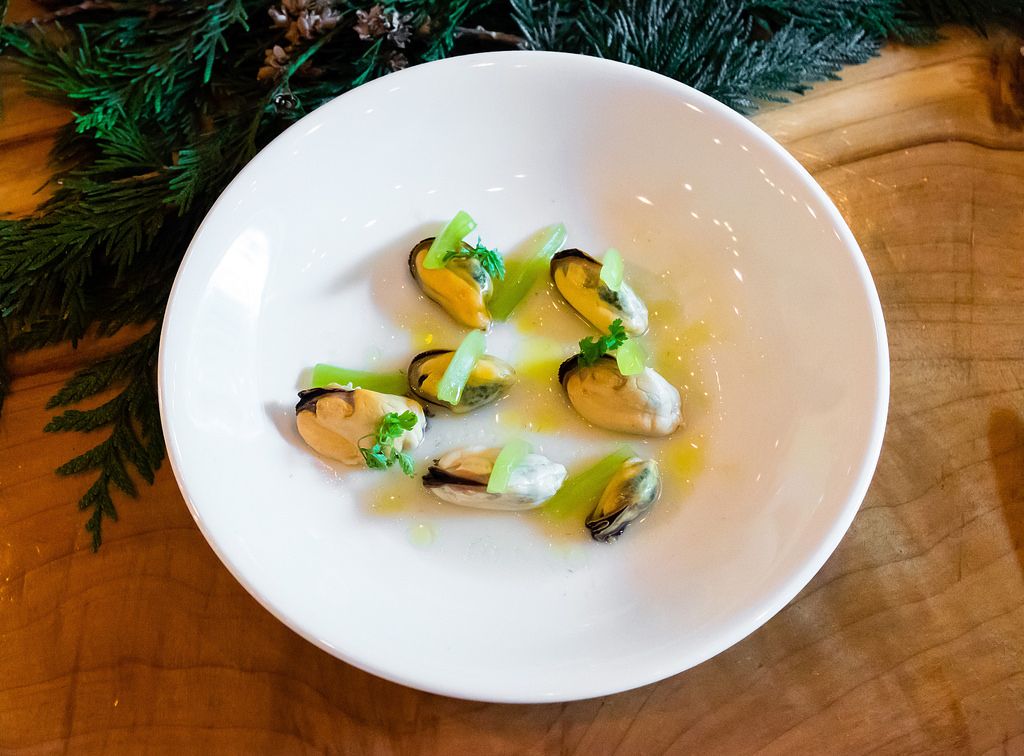 The paired cocktail was the Rosa Súrr, but I prefer to remember it as "the work of art". The vegan foam here tasted very similar to foam made with eggs which was thematically impressive. On future visits to Long Table Distillery, I could sit at the bar and pound these back easily. Needless to say, I finished this cocktail.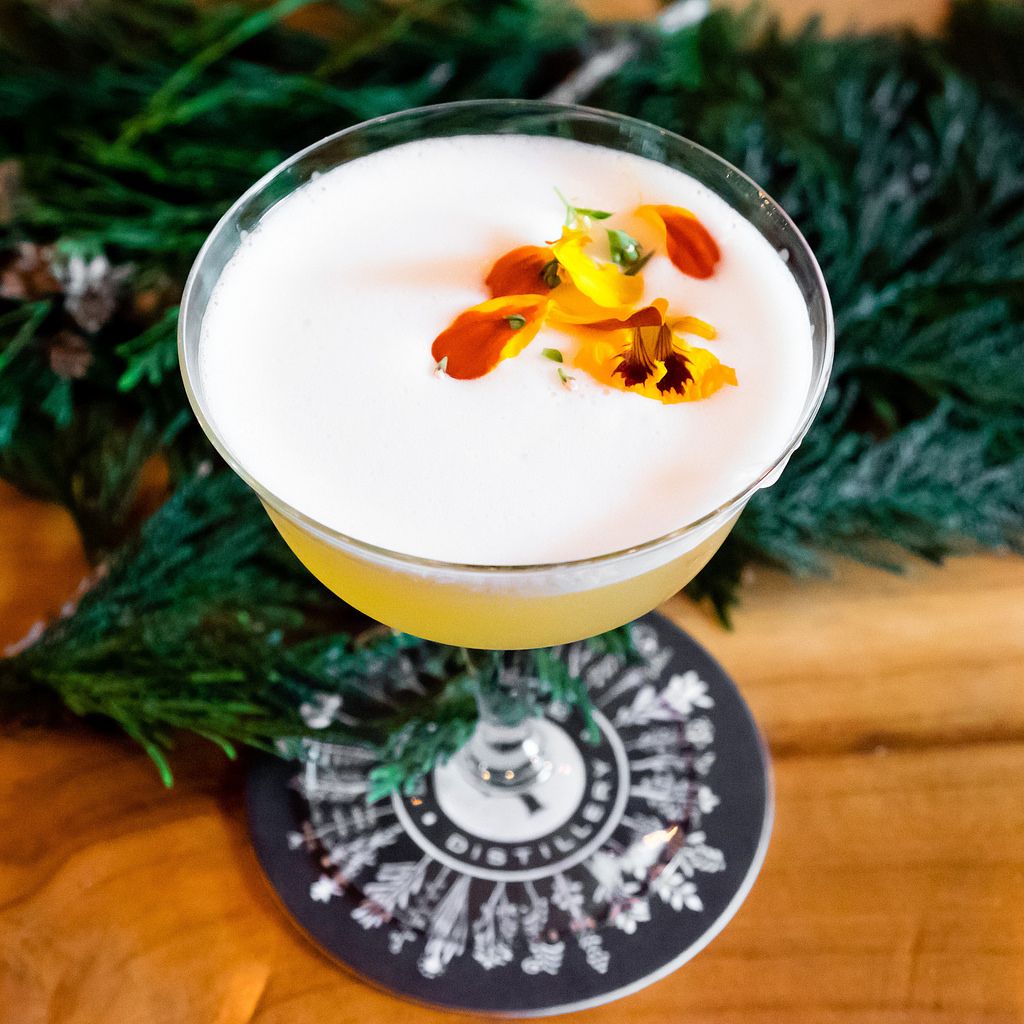 Second Course:
Next up was the salad portion, a plate of heirloom tomatoes, fresh cheese with electuary, eggplant, and guanciale. Any plate of heirloom tomatoes is a good sight for me, so I liked this from the start. The mashed eggplant added a cool secondary flavour which was held together with the electuary.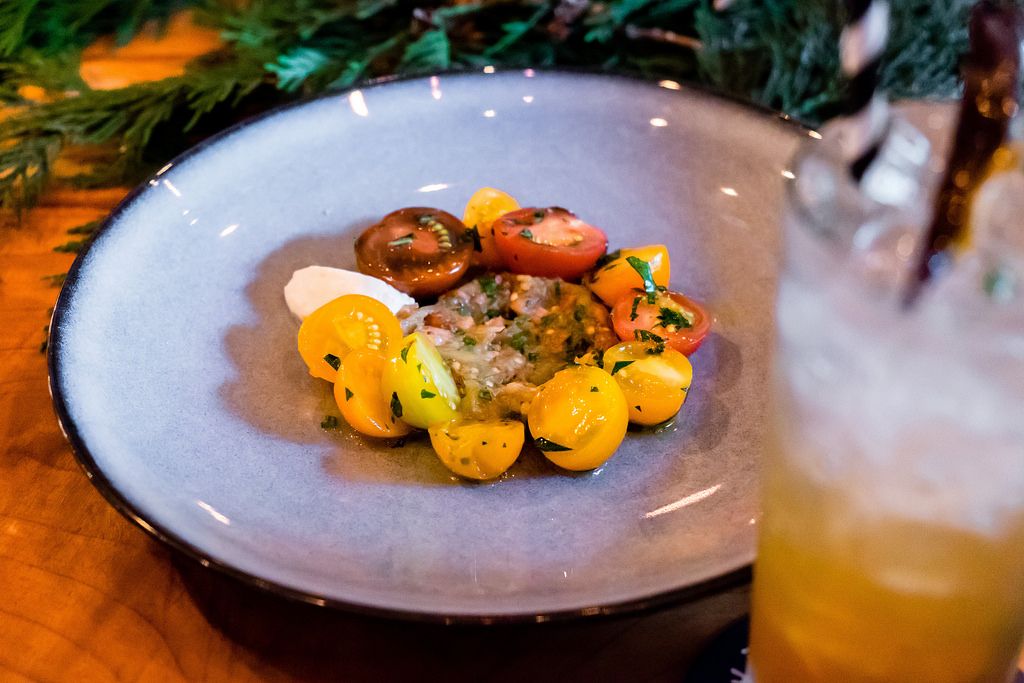 This paired cocktail was the Armistice. Coolest part of this was using leftover eggplant from the plated dish and candifying it to use as a garnish. This was a boozy honey-flavoured drink and reminded me of a jazzed up Long Island Iced Tea. I've no problem finishing sweet drinks, so I downed this cocktail too.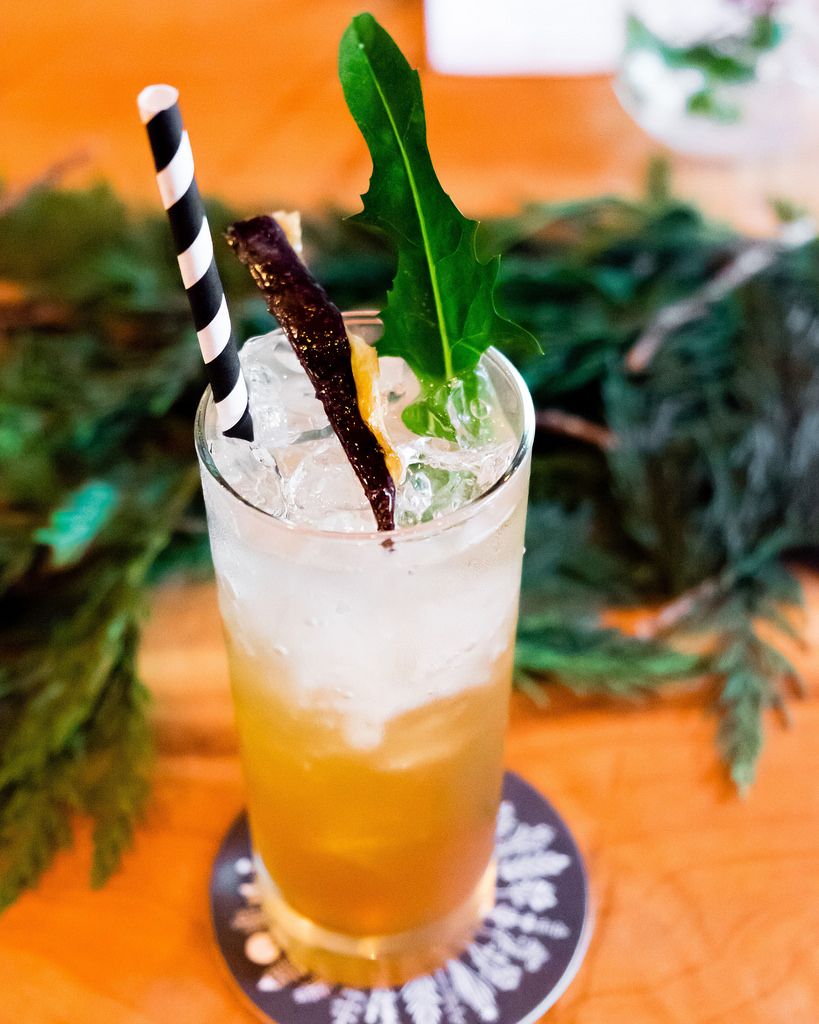 Main Course:
The main attraction was pork served over barley, sprinkled with apothecary herbs and spices. The pork was cooked just right, making it a tasty blend of meaty flavour and taste bud stimulating mystery herbs. The barley was also cooked just rice, resulting in a nice blend of chew and risotto-ness.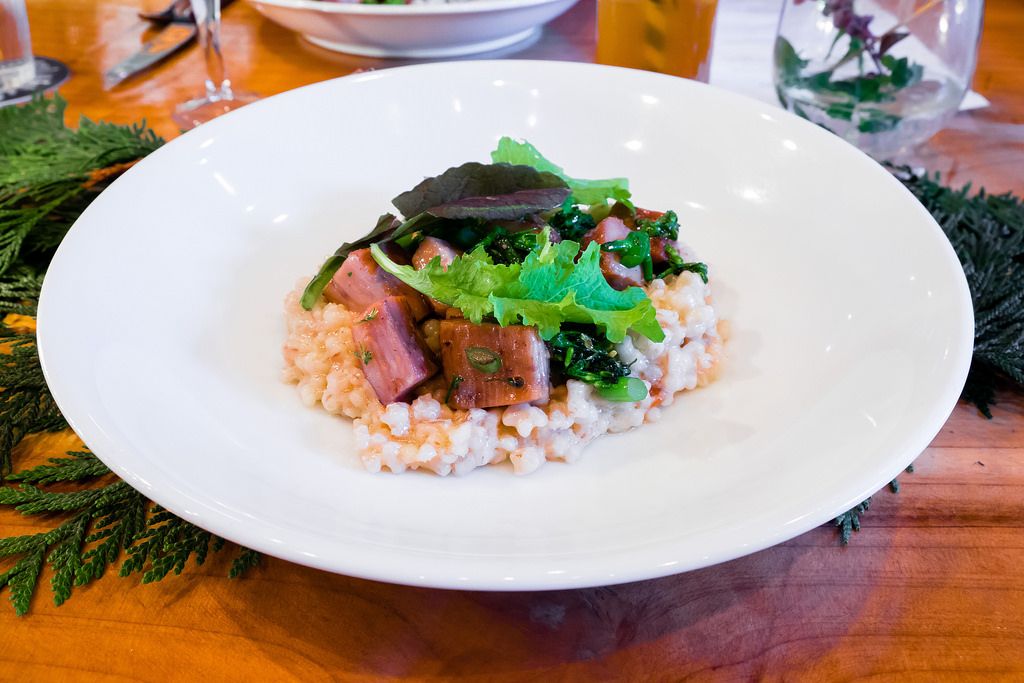 The paired cocktail was an Amargo Amuse-bouche. As if to reduce the amount of volume we were drinking, this was a tall, skinny drink. Such a low volume meant one thing, this drink was stiff. The elderberry bitters added a ton of body to an already boozy cocktail. Technically, an accurate pairing (pork is considered a 'heavy' food, hence a heavy pairing), but I couldn't finish this cocktail.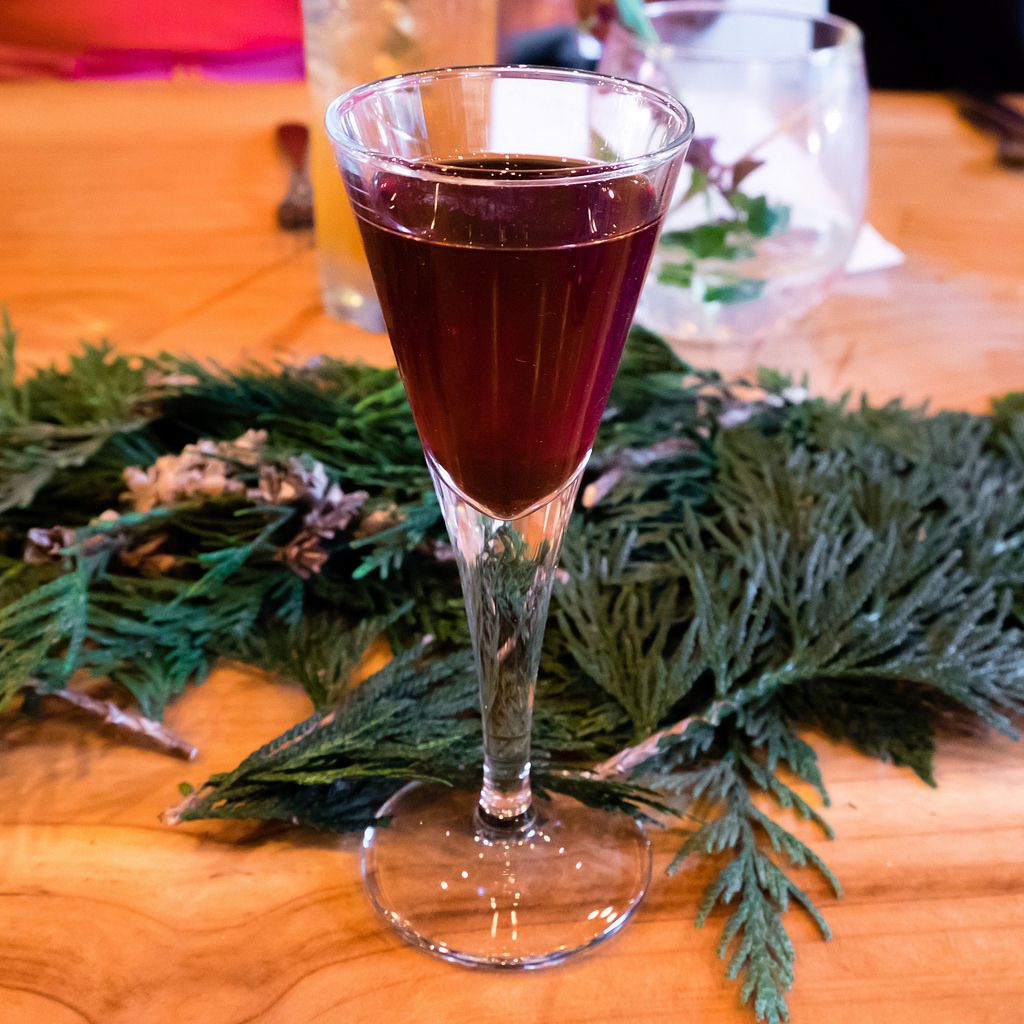 Dessert Course:
For dessert, we enjoyed a wine and lemon posset decorated with stone fruit and sweet herbs. This was essentially a wine and lemon infused pudding with peaches on top. I loved the sweet and sour vibe going on in this dessert. I don't know many Vancouver restaurants serving up posset so this was a nice change from the norm.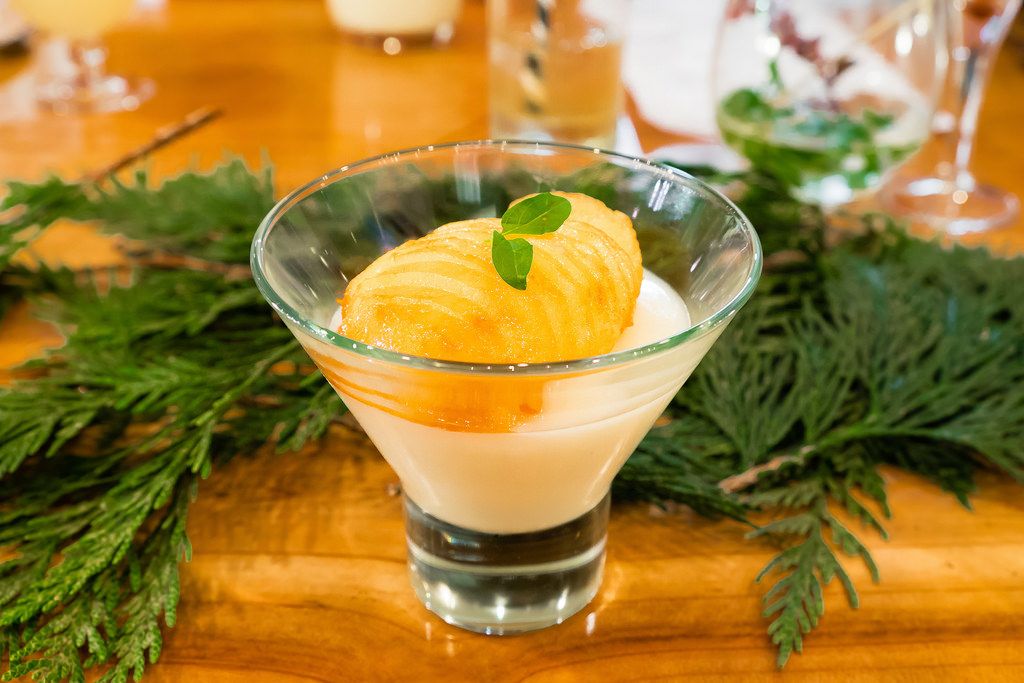 The drink pairing here was a Tsukuba Sidecar, basically the liquid version of the dessert with equal parts of sweet and sour. I personally felt the dessert was already sweet and sour enough, but the cocktail had to include bourbon barreled gin, so it added a smokiness to the cocktail that did not sit well with me. I had to pass on finishing this cocktail too.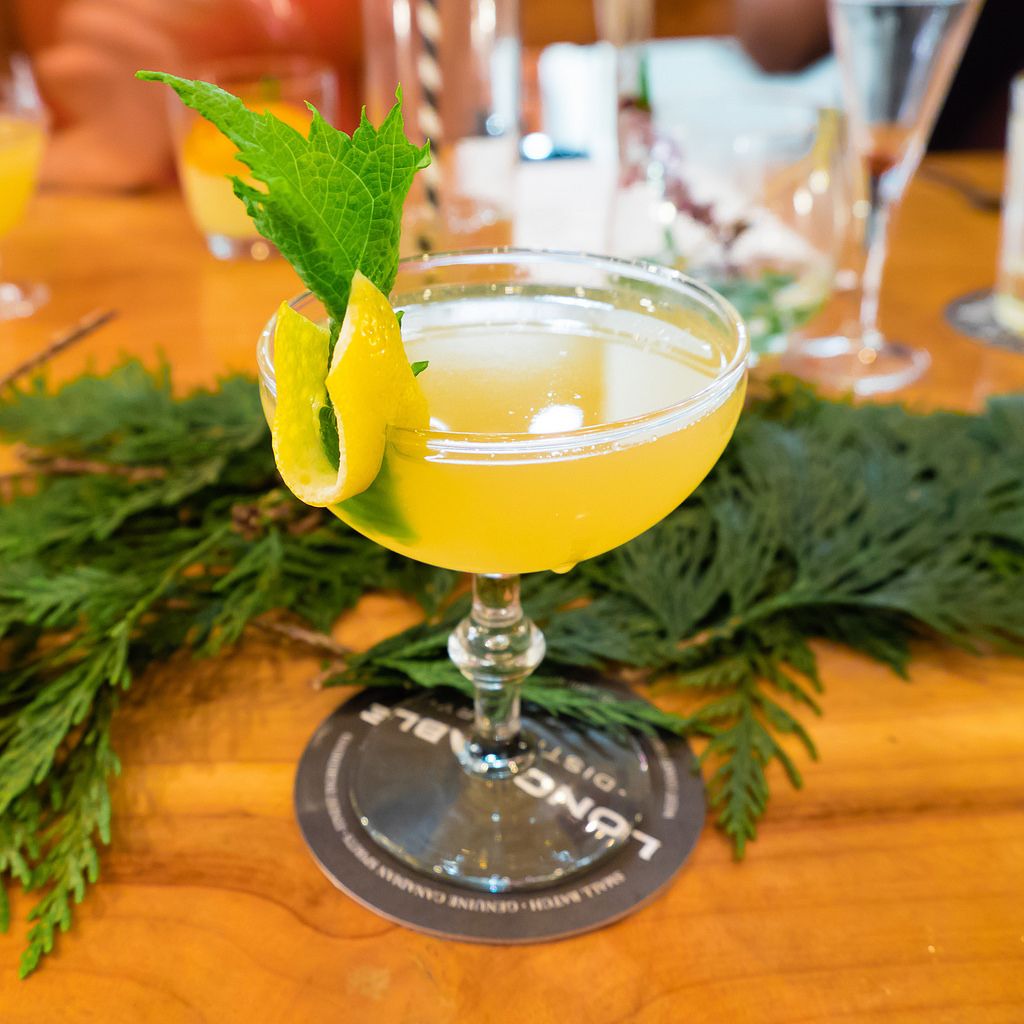 Final Thoughts:
Though I couldn't finish every single cocktail, this was still a very cool dinner. Long Table doesn't have a regular food menu but they managed to squeeze in a kitchen for one night, invite a fabled (pun intended) chef, and make the evening an intimate one by limiting seating to 12 guests. I appreciated the outside-of-the-box ingredients used in Curtis Luk's menu and loved the sweeter cocktail concoctions by Tarquin Melnyk.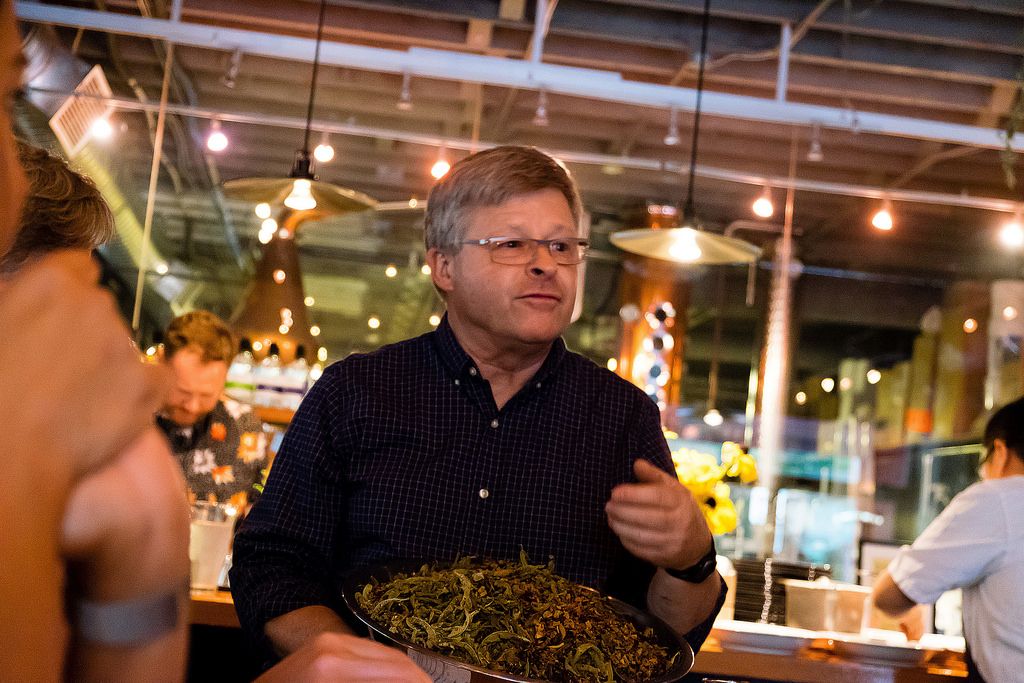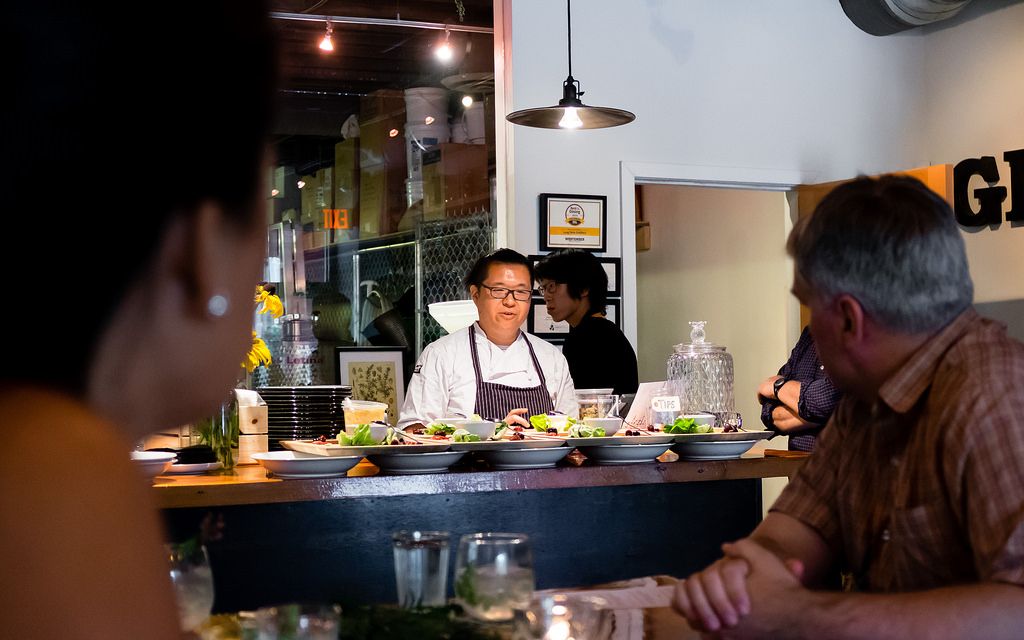 The best thing about these special dinner nights (i.e. the ones where you pay in advance) is the proximity to the creators and higher-level dining you tend to enjoy.  You also get to enjoy more of the menu for a little less than if you ordered a la carte. This helps with finding what you like and dislike. I know these dinners aren't everyone's cup of tea but hopefully this recap served as a glimpse into what kind of dining happens when you pre-book your ticket in. Looking forward to what's next for Long Table Distillery!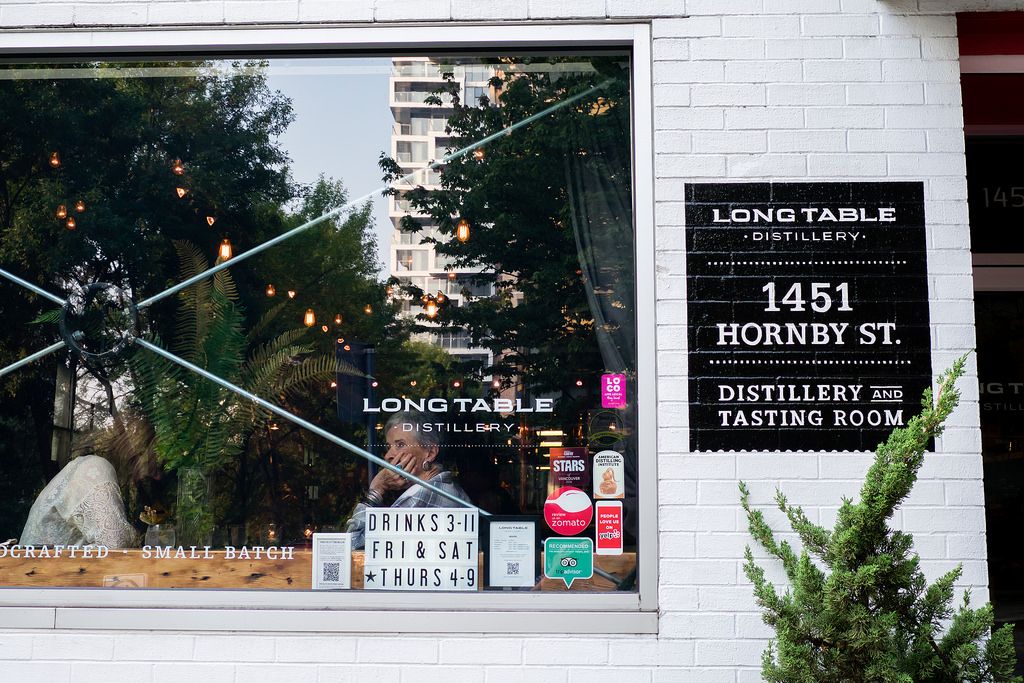 One-liner: The mastery of Curtis Luk and Tarquin Melnyk for one night, and one night only
Highlight: Mussels with Rosa Súrr Cocktail
Price per person: $100
Would I go back? Those sweet, sweet, cocktails, yes.