After the much-maligned Steel Toad Brewing closed its doors, many wondered what would take up residence in the giant brewery left behind. Another local business, Tap and Barrel, scooped up the permits and opened a new eatery and concept: Brewhall. Last week I had the chance to experience the ideas and goals of this local-friendly craft brewhall.
Disclosure: This was a complimentary tasting provided in exchange for an honest overview and no monetary compensation.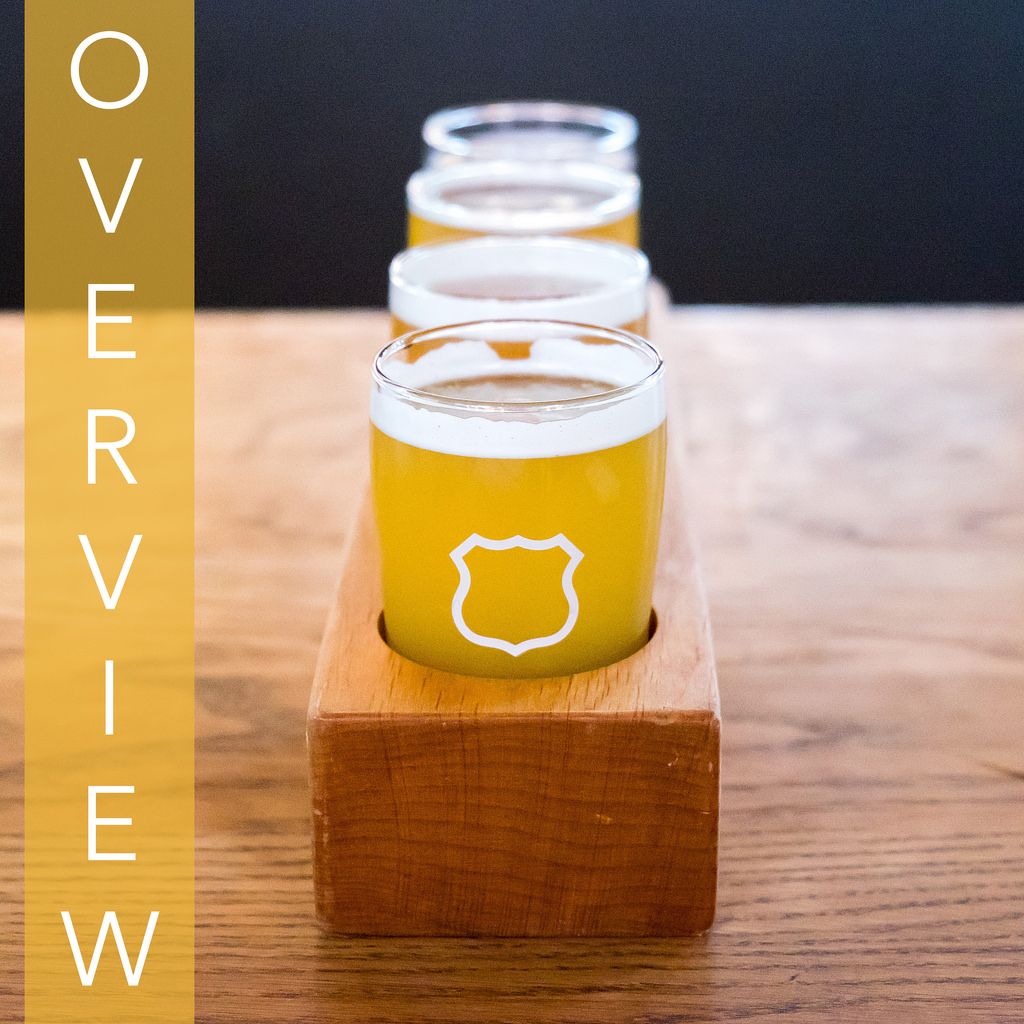 Food and Drink:
Team GlueCrew came here on a Thursday evening and I had a great taste of the following:
Beer Flight (~$8)
Skillet Corn ($7.75)
Sticky Beer Chicken ($9.50)
Extra Dirty Cheesy Fries ($7.50)
Cheeseburger ($8.50)
Chicken Burger ($10)
Green Goddess, Ahi Tuna, and Greens (build your own bowl) ($15)
Party Cone ($3)
Strawberry Shortcake Sundae ($7)
For my beer flight, I had the Brewhall brews, a Neon Lights Pale Ale, Hallpass IPA, a craft tap, a Beere Brewing Company Berliner, and a collaboration brew, Brewhall x Superflux Skål Nordic Pale Ale. I'm personally a big fan of fruity beers and saisons, so the Beer Brewing Company Berliner was right up my alley with its bright finish. Hops lovers would look no further than the Hallpass IPA.
Overall though, this was a classic option and the best way to try a variety of beers. I don't know of many breweries that rotate collaboration brews as often as Brewhall. They claimed to rotate anywhere from every day to weekly, dependent on supply.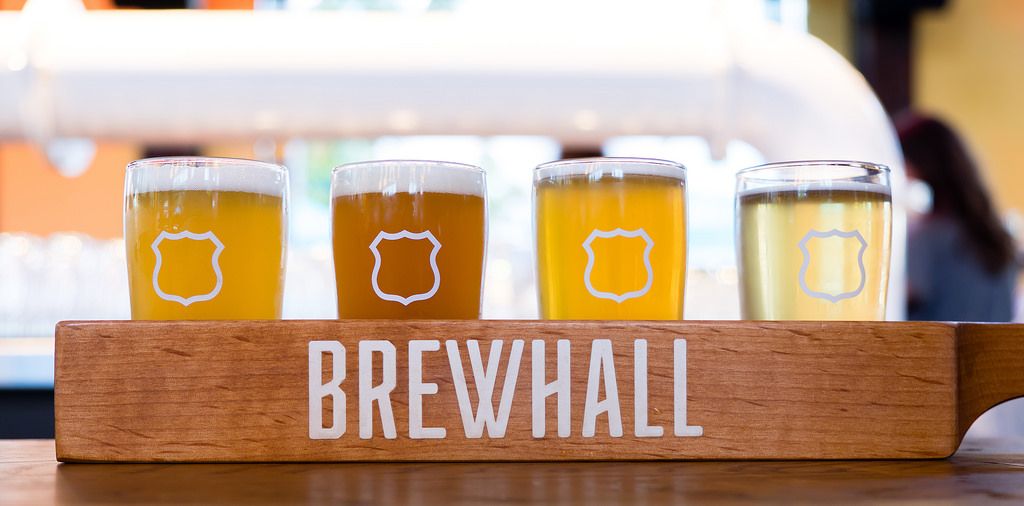 Moving onto some food, we saw the usual pub grub, which we'll go over in detail.
First was the skillet corn, which featured the two most important ingredients you can put on corn: butter and salt. The corn was extra juicy and charred just enough to round out its flavour.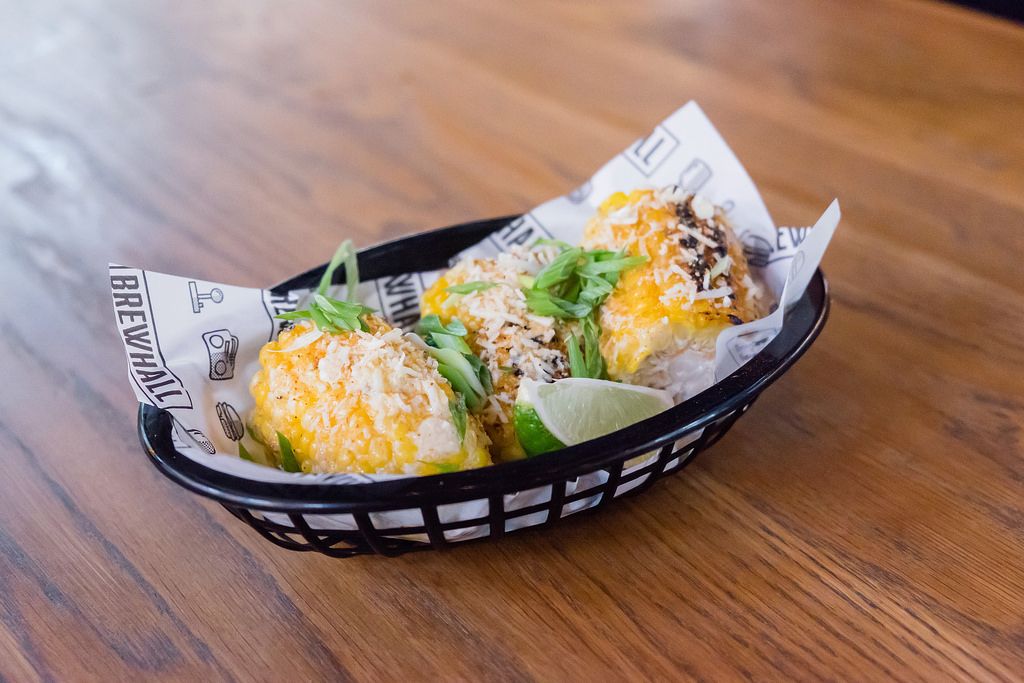 Next up was the sticky beer chicken, which was a fried chicken dish featuring a beer infusion of pale ale sticky sauce. This was topped up with some scallion, cilantro, and pickled vegetable, so it reminded me of something Bao Down (rest in peace, original Bao Down) would serve. Very cool concept and appropriate given the setting.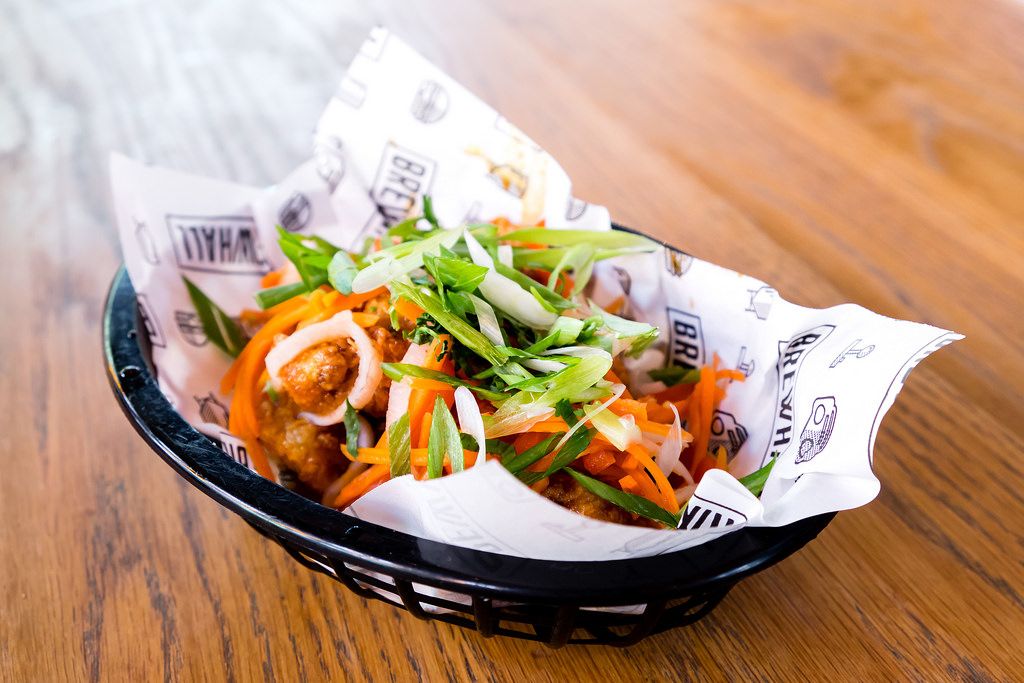 The extra dirty cheesy fries featured something I never thought I'd see outside of Church's Chicken land – wavy fries. Complemented by a cheesy mayo sauce, this finger-friendly tray would be a good complement to any of the burgers on the menu.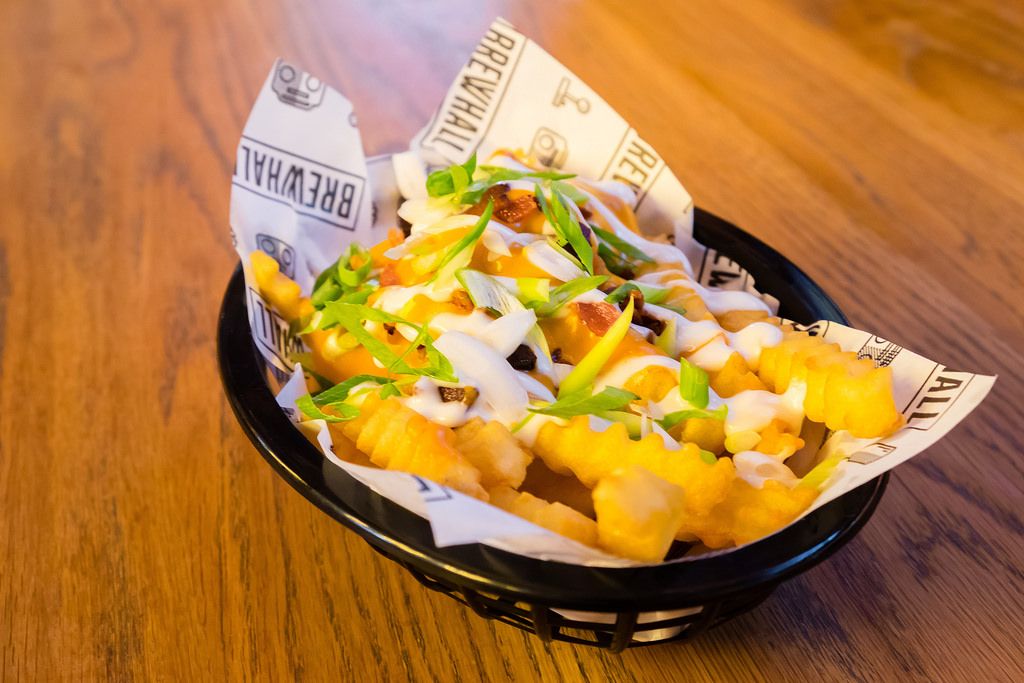 Speaking of burgers, let's talk about the cheeseburger. You won't find many $8.50 burgers in a restaurant, but the concept of Brewhall where you order your food at a counter makes this possible. Filled with certified angus beef, secret sauce, american cheese, and the usual suspects, I was glad to see some proper leaf lettuce in use on this burger. Most counter-service places, unless you're a corporate giant, are shredded lettuce shops.
I thought the secret sauce here was the best part. It tasted something like the sauce on the dirty fries but with a cheesier flavour. It wasn't real cheese, mind you, but a suitable substitute for an $8.50 burger. For the calorie counters, you probably won't be full with just a burger and beer, so you should get something extra.
My favourite burger of the night has to be the chicken burger. Crispy goodness and a wicked sauce made this the McChicken I wish the golden arches had. Thankfully, the truth can be found at Brewhall.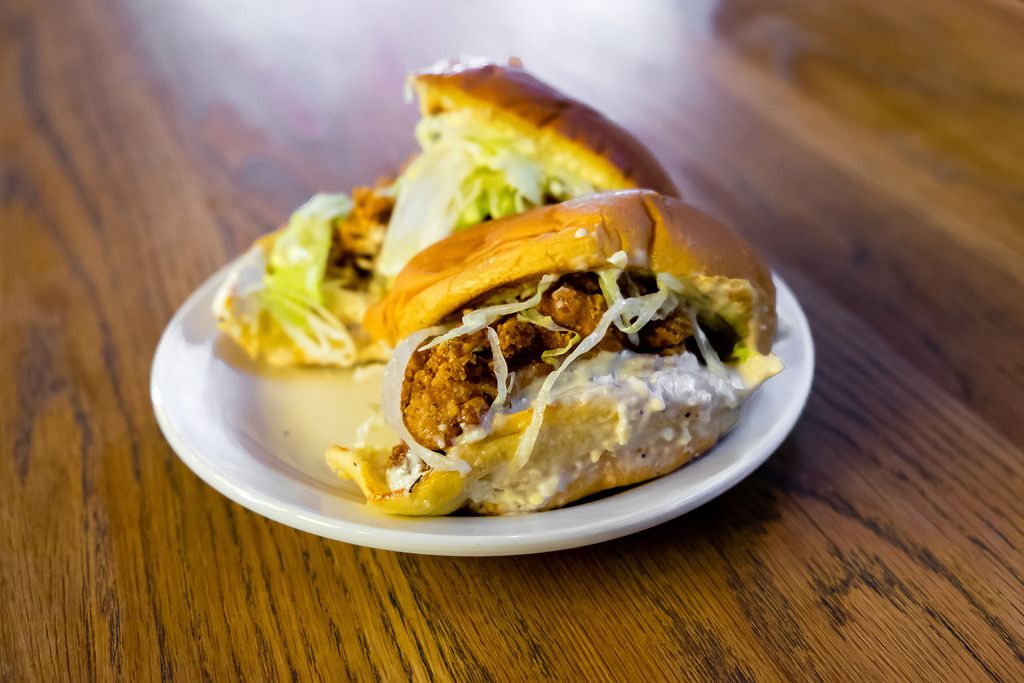 The biggest surprise of the night was the build your own bowl. When dining at a brewery, healthy food is usually the last thing on my mind, but with Brewhall offering this difference, I think this is a place I can take my parents too since they don't love burgers and fries as much as me. This was a very sizeable bowl for the price ($15 in our case) and would be a great option for those health-conscious diners out there.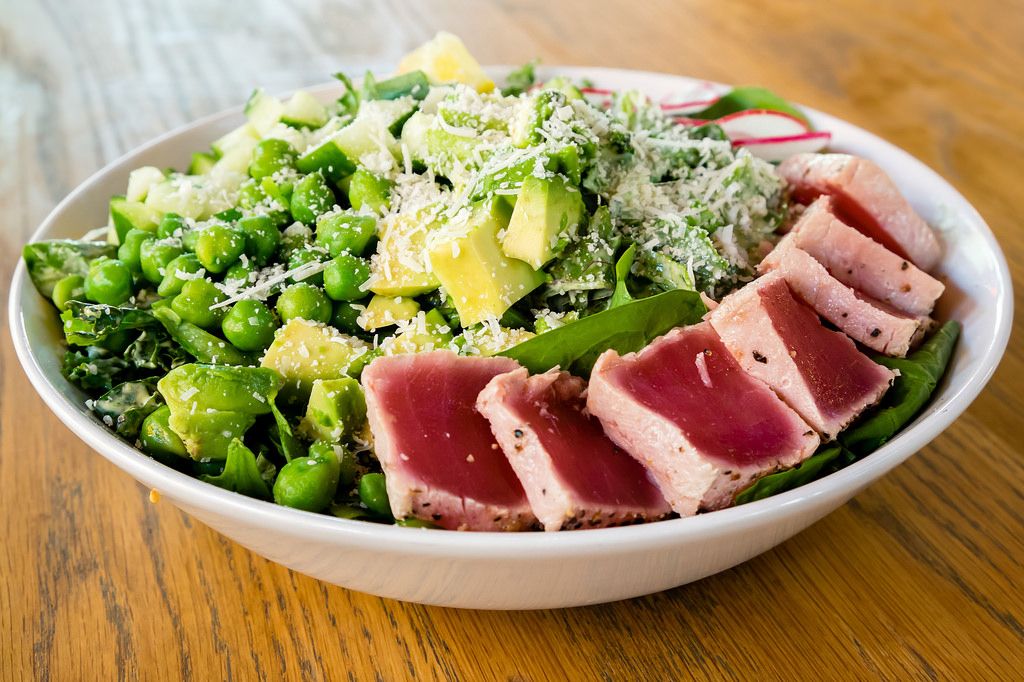 Moving onto dessert, I knew I wanted to experience the $3 party cone. The party cone turned out to be a soft-serve cone drenched in sprinkles. Nothing groundbreaking here in terms of creativity – you could get real ice cream at Purdy's for about the same price, but I don't know of any other restaurants offering this.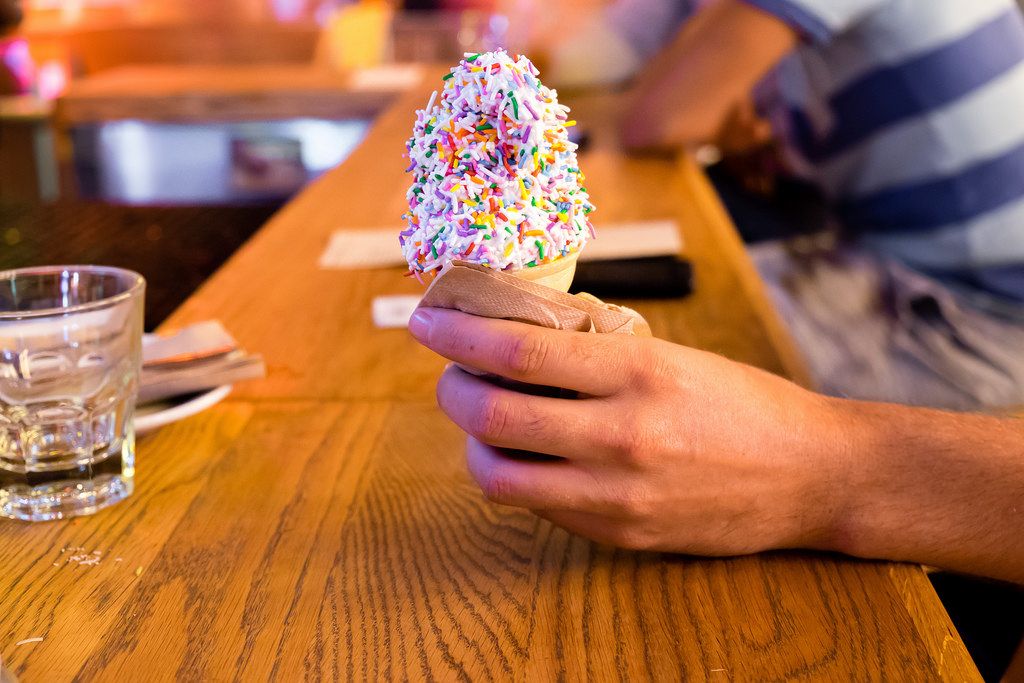 The strawberry shortcake sundae was much more interesting to me. Featuring the same soft serve ice cream, this time it was served in a glass, and had some chewy shortcake bits to enjoy alongside a strawberry pop tart. Needless to say, strawberry lovers will enjoy this dessert. Note: purchasing this sundae will also donate a meal to someone in need.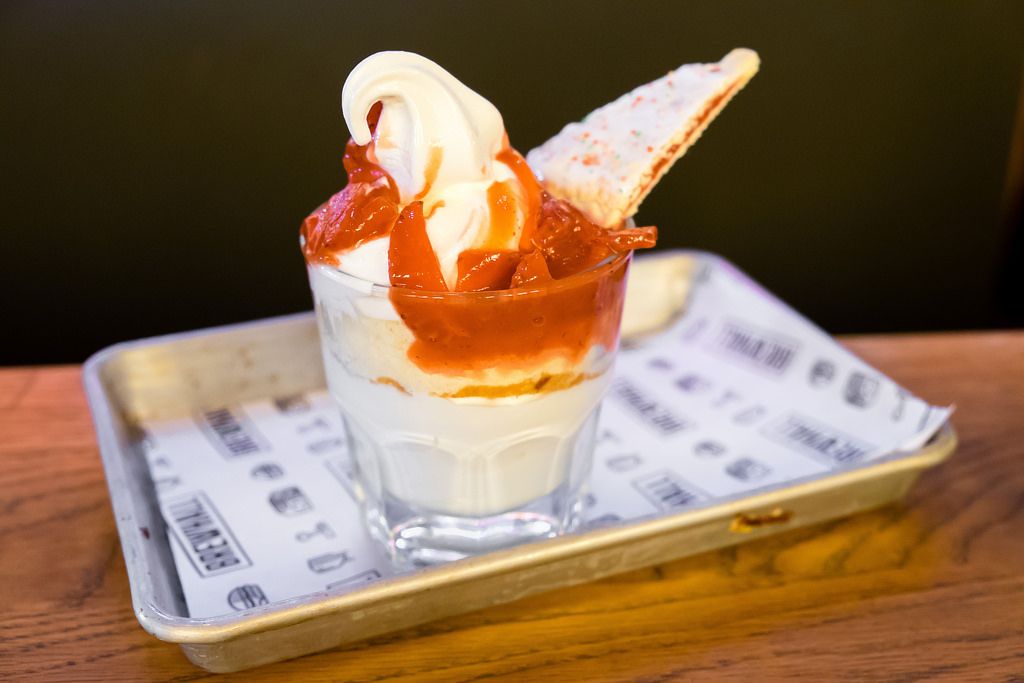 Features:
Brewhall takes up resident in the former Steel Toad Brewing's space, and with it inherits the brewery. There are a couple of taps for beers brewed on premises, but Brewhall does a number of collaboration and guest taps – all local craft breweries. These guest taps rotate weekly, and sometimes multiple times at that.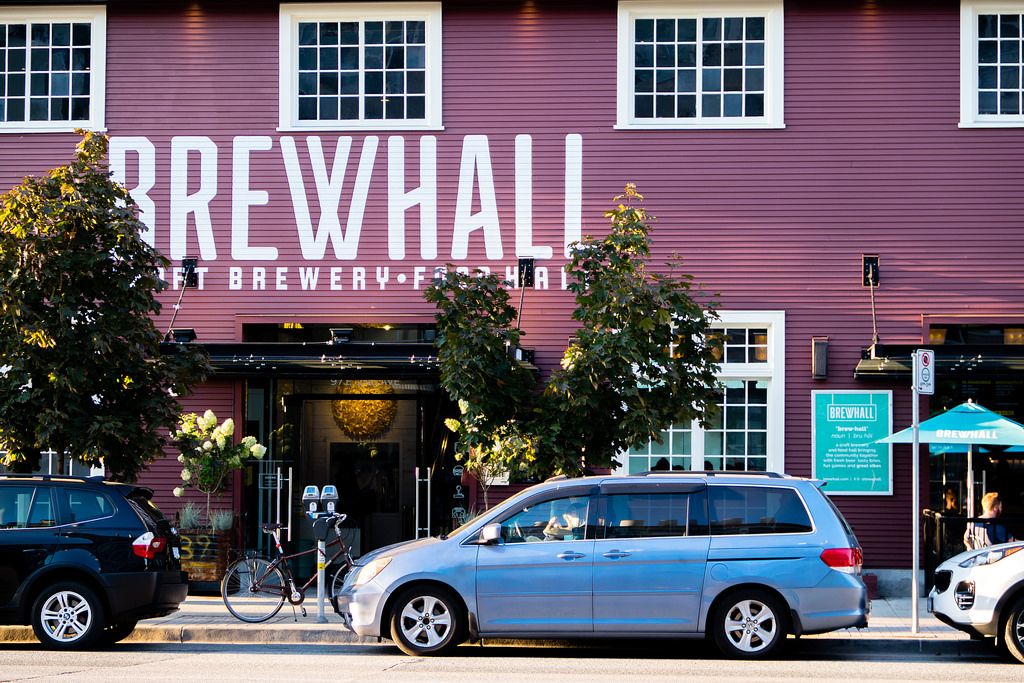 Brewhall is a new concept by Tap & Barrel. The entire food menu is available from opening to close and is totally different from the menu you'd expect at Tap & Barrel.
Another feature is the style of ordering. You'll place and pay for your order prior to receiving a number for which the food will be delivered to. Drinks are taken care of at the bar. If you've ever been to The American on Main Street, you'll be familiar with the process at Brewhall.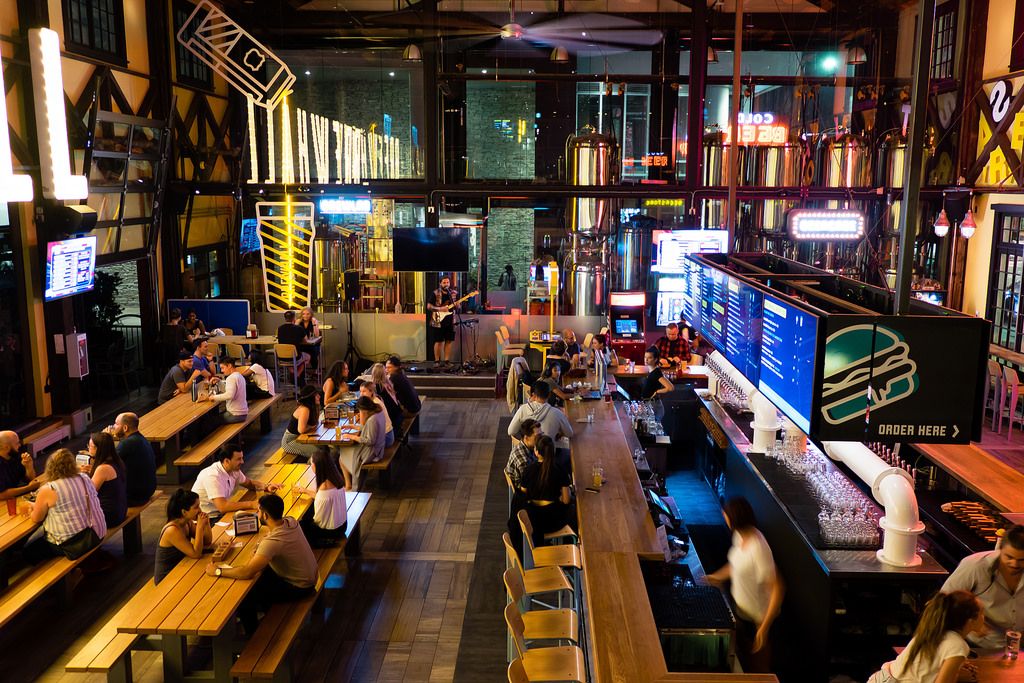 A new addition to Brewhall is the inclusion of a whisk(e)y bar on the second floor. There you'll find 35+ whiskeys (including local options – hello Odd Society) and a chiller vibe than the rest of Brewhall. Reservations are also taken up here.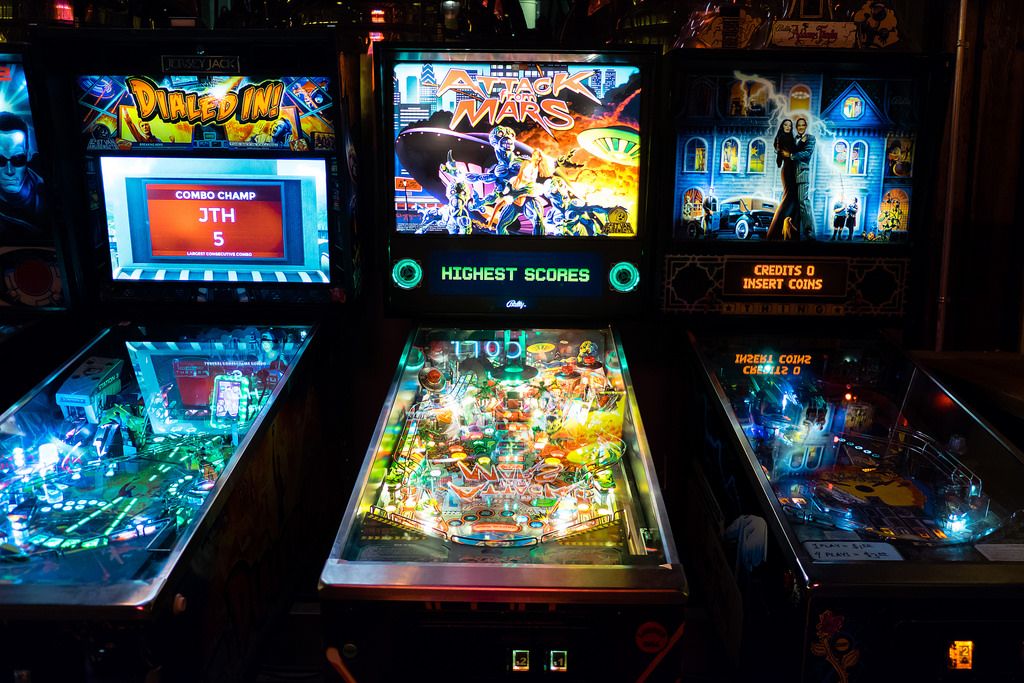 The main hall features long benches so you can get to know your neighbours and have a communal time. An arcade (games and pinball) and performance stage round out the activities available in the venue. There's seating for at least 200 guests, and probably more, in the benches, the window counters the front patio, the backyard patio, and the upstairs lounge.
On Thursdays, as we visited, live music is performed at 8pm.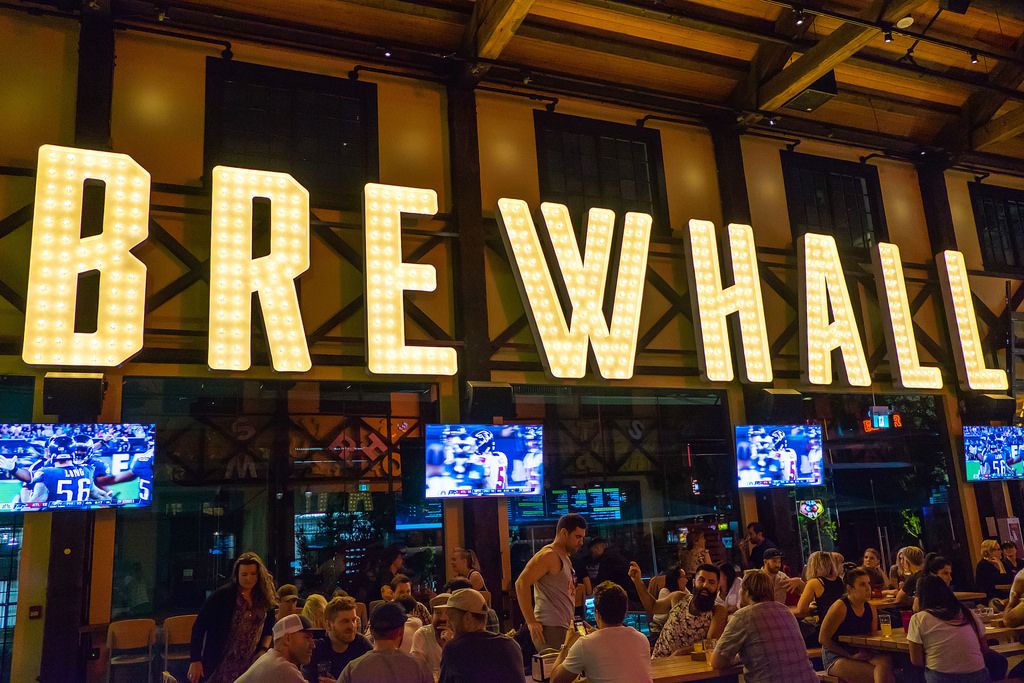 Final Thoughts:
One-liner: A local-brewed business that promotes collaboration on the daily and an open door policy to bring staff, guests, and new friends of guests, together in a huge venue
Highlight: Chicken Burger
Price per person: $15-$30
Would I go back? Yes.