Anyone who goes out for dessert with me knows I love matcha, i.e. green tea-based, desserts. I'm a big fan of the contrast between bitter tang and sweet refined sugar. When I heard that Matcha Cafe Maiko, a Hawaiian-based cafe dedicated to the joy of serving Japanese green tea desserts, I knew I would eventually have to visit. It was a little harder than I thought to find, but I managed to get my foot in the door, order the most expensive dessert they had, and chow down inside. This will be a short and sweet review of a fun dessert option in Richmond, BC.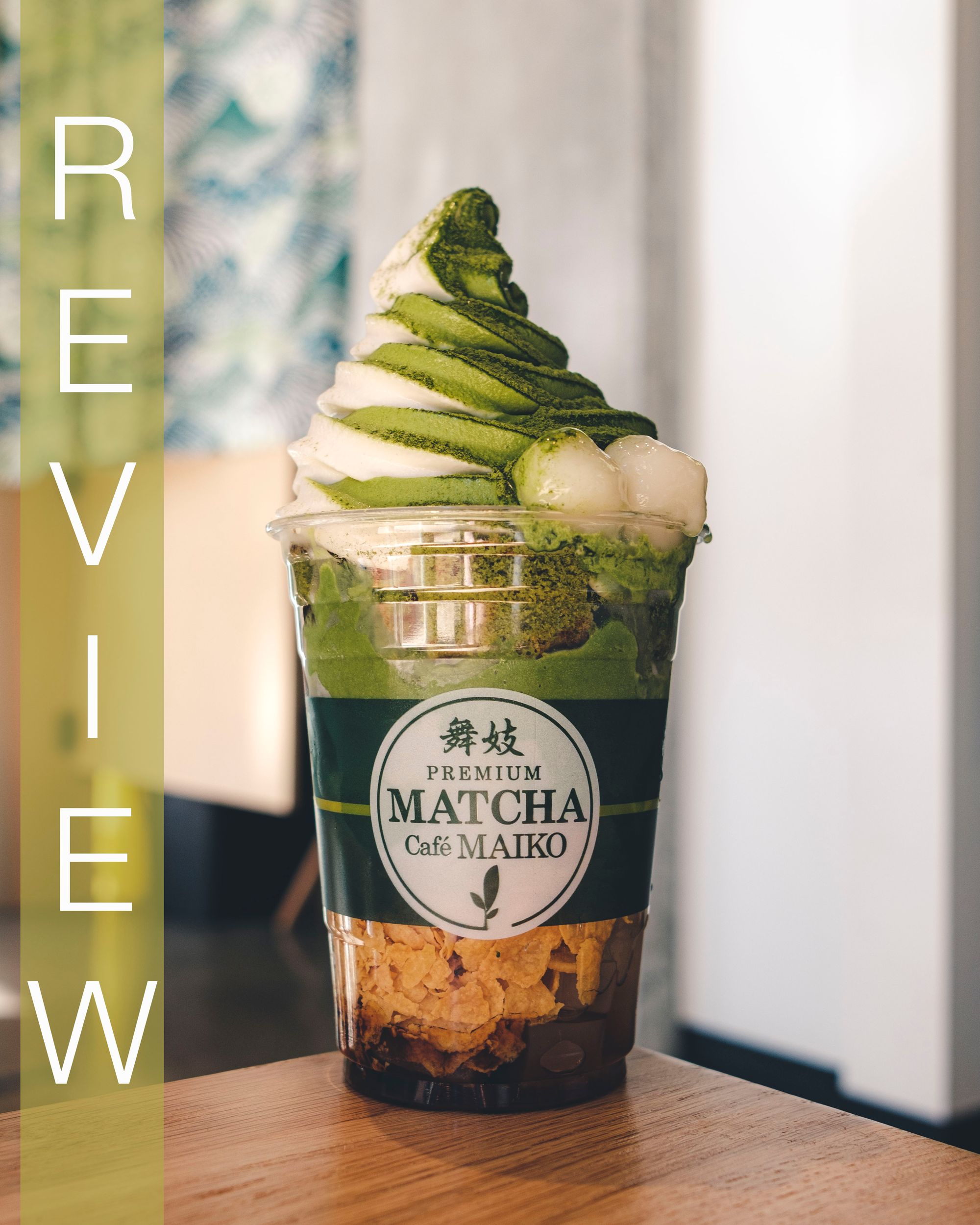 Food:
Team Tastic came here for an afternoon dessert and I had a great taste of the mix maiko special ($12.85). By choosing mix, we were opting for a soft serve consisting of both regular vanilla and matcha flavours. To make this a parfait, matcha chiffon cake, mochi (shiratama), corn flakes, agar jelly with kuromitsu, Japanese chestnut, and azuki beans are all a part of the mix for you to dig into. Presentation was gorgeous here with deliberate layering separating the ingredients and intentional swirling of the ice cream. Having dispensed soft-serve myself in the past, I'm a fan of anyone who can swirl it as well as what we got.
Of note was the matcha chiffon cake. There is no better complement to matcha than more matcha and the chiffon cake was wonderfully moist. Each bite had a slight chewiness to it and in between scoops of ice cream I was always looking for more chiffon to chomp into. The mochi (shiratama) and chestnut were also cool additions to the ice cream. These were a little more glutinous and nutty, providing something other than pure sweetness invading my tastebuds.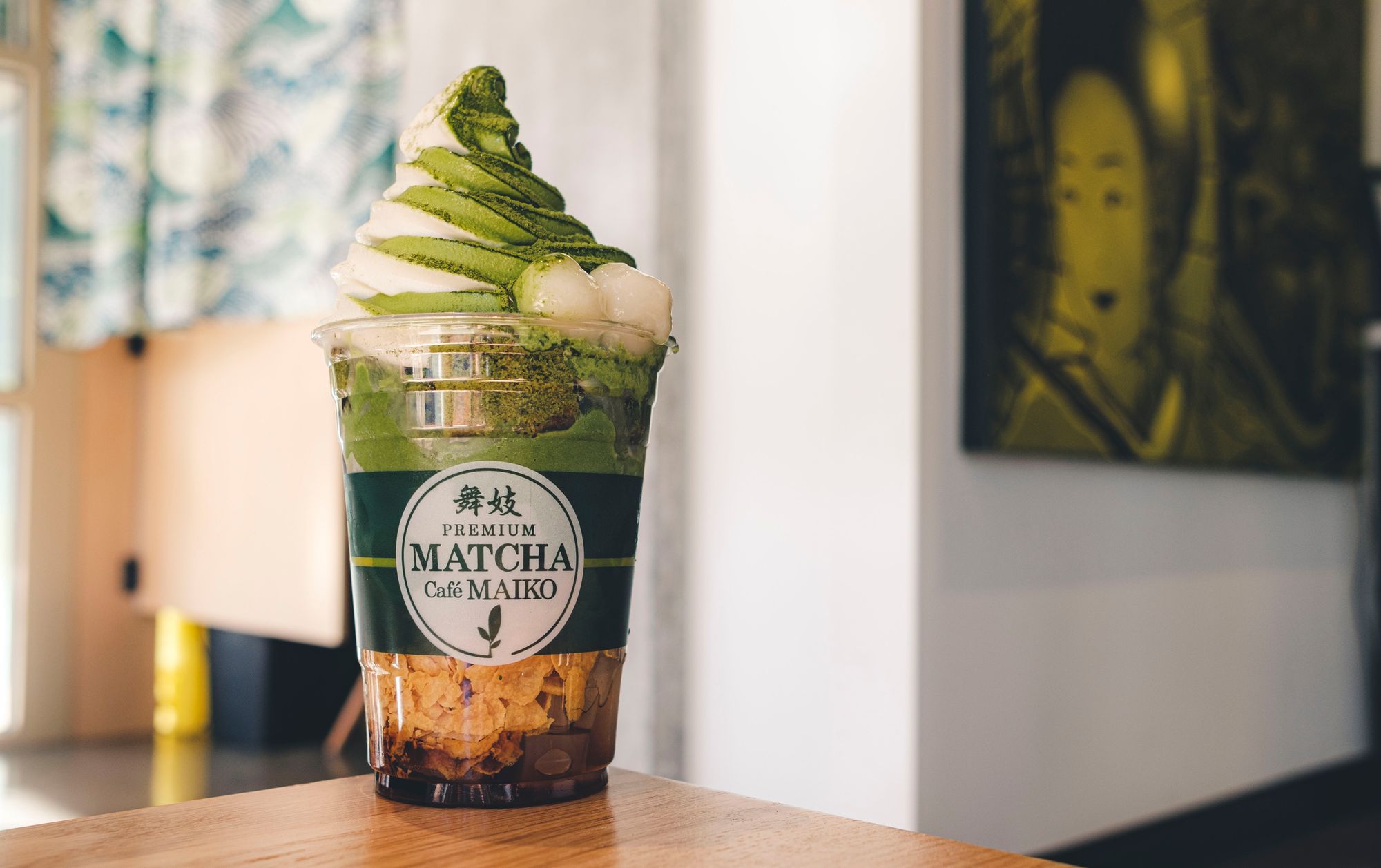 Apart from the matcha, which is shipped in from Uji, Japan, everything is made in-house at Matcha Maiko Cafe, so you shouldn't need to worry about asking who their supplier is.
This parfait could dessert-ify two people but I know there are days I'm greedy enough where I'd want this all to myself. If you're hardcore about matcha it's best you avoid the mix and go hard on the matcha (and maybe twist someone's wrist to shake you some extra matcha powder on top).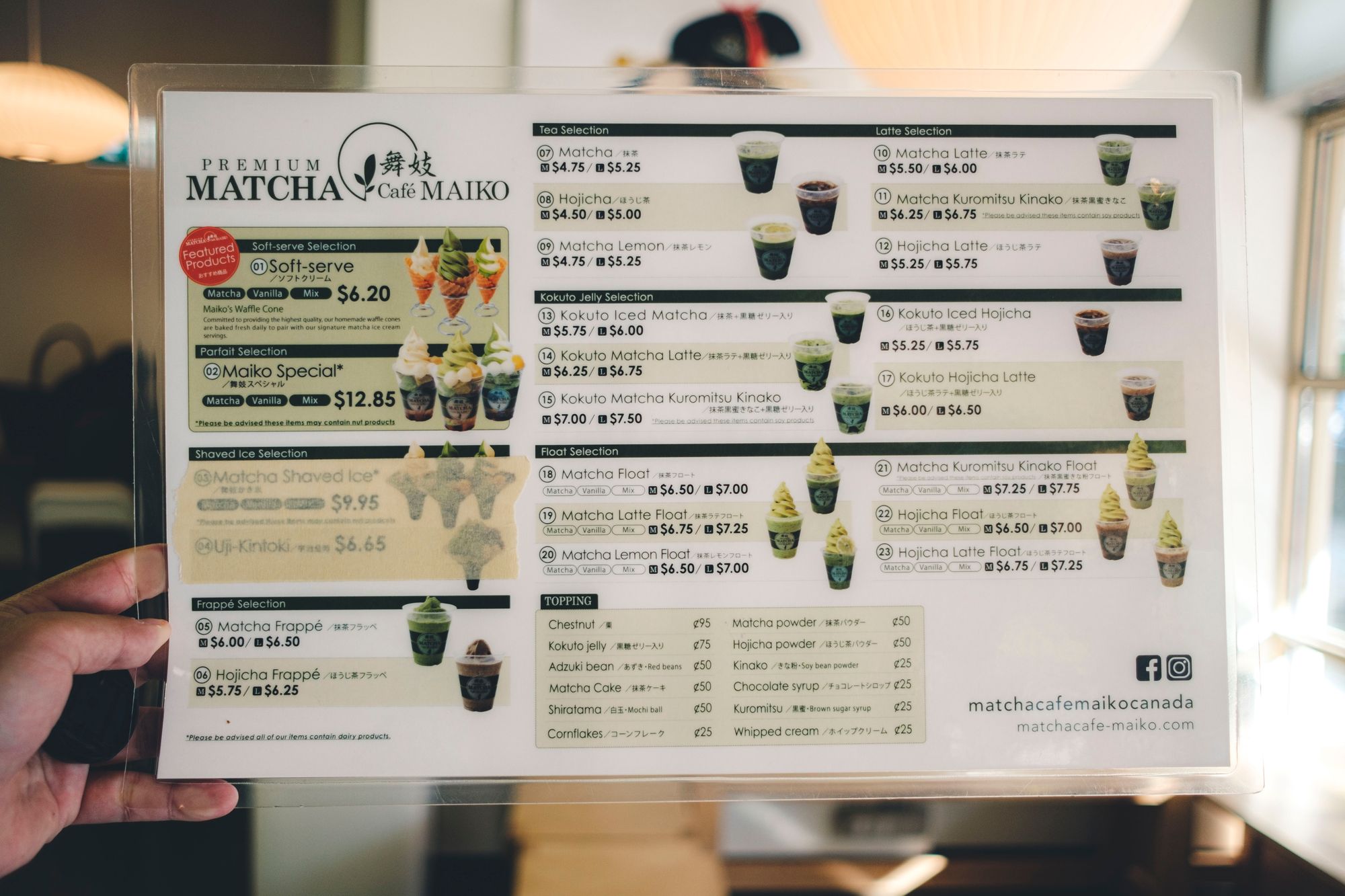 Features:
Matcha Cafe Maiko is a small cafe located near the Richmond Public Market. It's easy to miss this place if you're driving by but look for the deep green sign as a visual indicator. Once inside, you'll notice the interior is a clean woods, Japanese cafe kind of feel. There are seats for about 6 guests formally and benches for maybe 12 more. Be prepared to take your desserts elsewhere if it gets busy.
If you're familiar with the vibe of Nana's Green Tea or Tsujiri, this place is much smaller and less cozy. Matcha Cafe Maiko is really better suited for a grab-n-go type of  visit.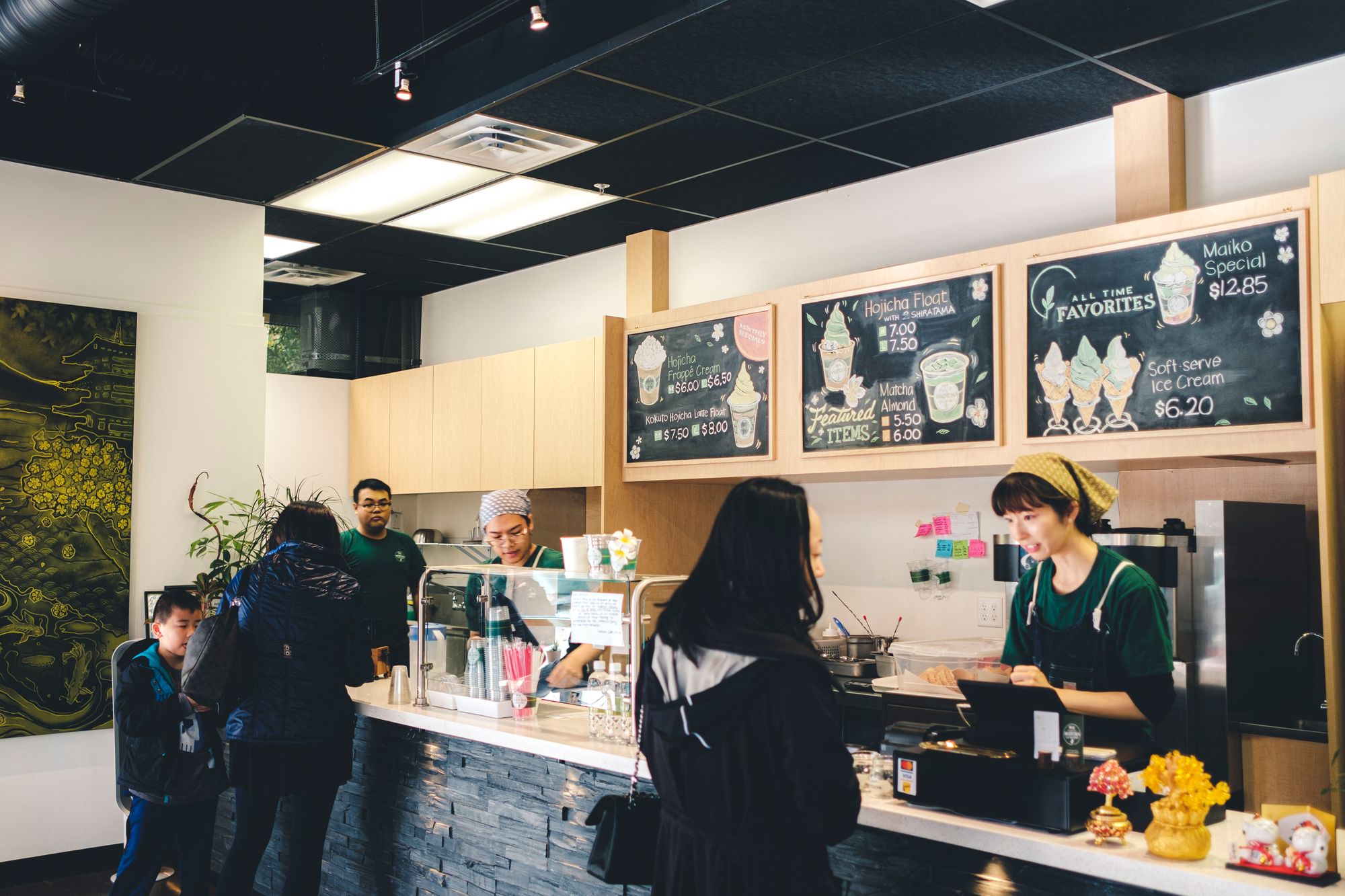 Service:
At Matcha Cafe Maiko, you'll place and pay for your order prior to picking it up yourself. It's all counter-service. Once you're done with your food, it's best to dispose of your containers yourself. It wasn't very busy when we went on a Sunday afternoon at around 3pm. I wouldn't recommend coming here with a group larger than 3 because the place is really tiny. The staff inside during our visit were pleasant and happy to help during our quick transaction.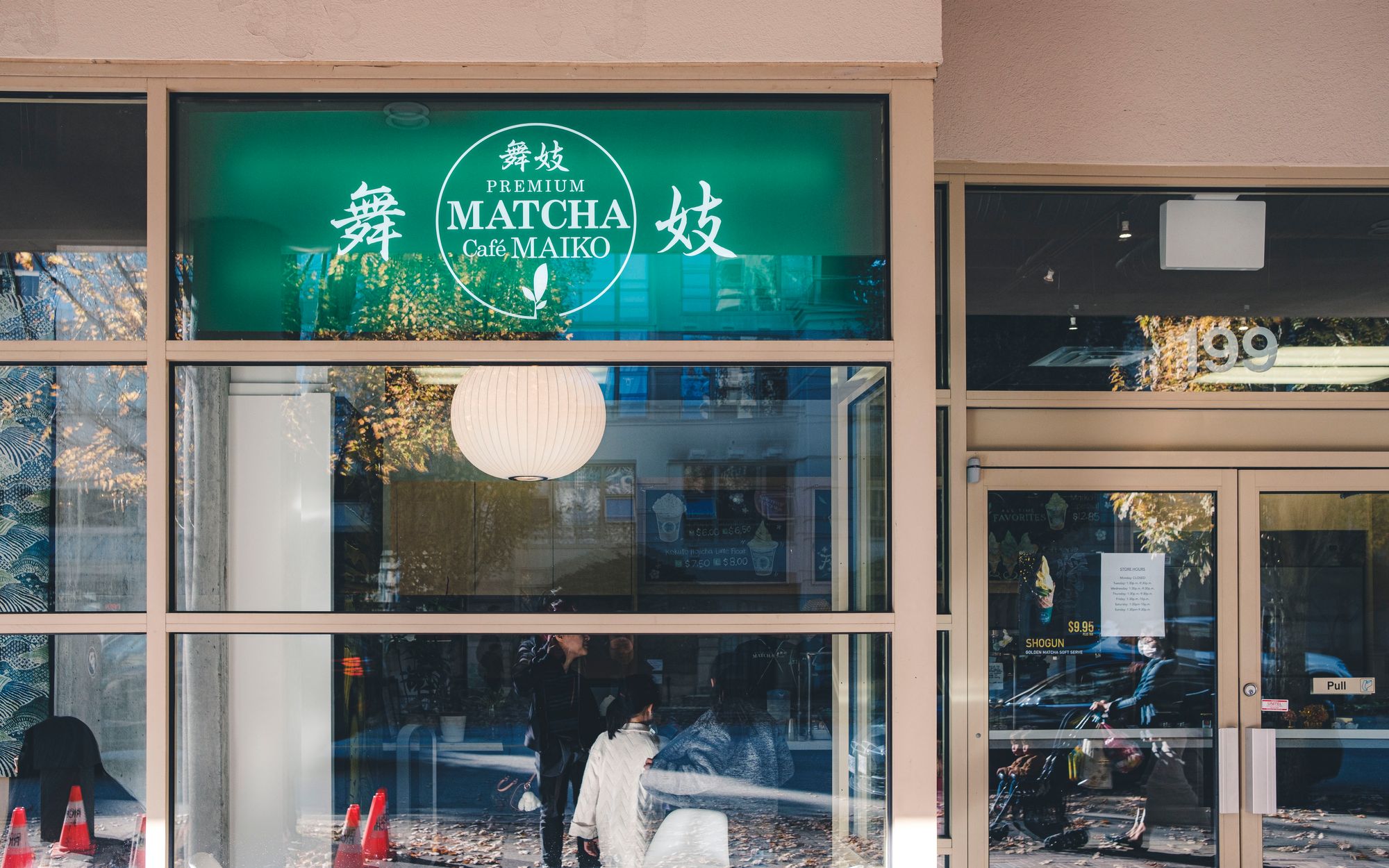 Final Thoughts:
One-liner: Holy matcha, this cafe is the gospel of green tea goodness
Highlight: Mix Maiko Special
Price per person: $8-$20
Would I go back? Yes.