Vancouver's 3rd annual celebration of pastry took place as one of the marquee events of EAT! Vancouver (in its 18th year). Known as "EAT! Pastry Day", this event had some of Vancouver's finest pastry chefs and chocolatiers bring their A-game to a sugar coma-inducing afternoon of dessert heaven. Coffee and tea were provided to cleanse palates but you'd be hard-pressed to try every station unless you knew what you were doing. I think I knew what I was doing, so in today's blog post, I'll be recapping every dessert from every vendor as well as sharing tips on how you can also indulge your sweet tooth in some of Vancouver's best confectionaries and pastries.
Disclosure: I was given a media ticket to attend this event. All opinions are my own.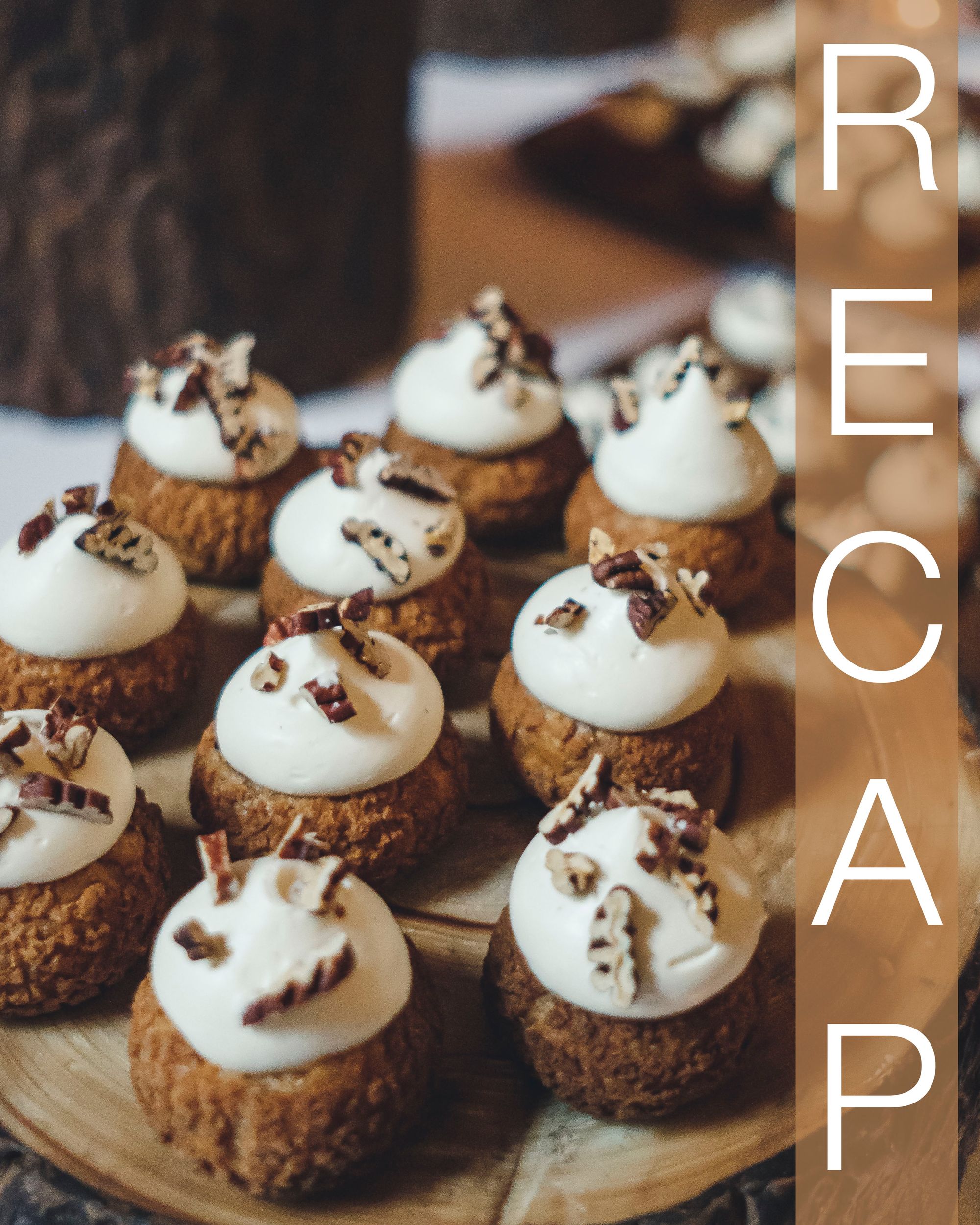 EAT! Pastry Day
Team Survivor came here for the afternoon grand tasting event and I had a great taste of the following work from the following pastry chefs and chocolatiers:
Adam Chandler – BETA5 – Cream Puffs
Anup Chaubal – Fairmont Whistler – High Note Trail
Betty Hung – Beaucoup Bakery – Croissants and Panna Cotta
Christophe Bonzon – Chez Christophe – Tarts
Danny Capdouca – Okanagan College – Cake
Dominic Fortin – Fairmont Empress – Rocher
Eleanor Chow – Cadeaux Bakery – Tea Cake
Elena Krasnova – Mon Paris Patisserie – Chocolate Figues
Greg Hook – Chocolate Arts – Bonbons
Kevin Young – Xoco West Coast Chocolates – Chocolates and Nut Clusters
Mark Burton – Pacific Institute of Culinary Arts – Mont Blanc
Ned Bell – Vancouver Club – Vegan Chocolate Pumpkin Taco
Peter Fong – Ganache – Chocolate Hazelnut Lollipop
Steve Hodge – Temper – Éclair
Thomas Haas – Thomas Haas Chocolates – Ganache
BETA5's been at EAT! Pastry for 3 years now so it was no surprise to see them back with a new set of seasonal cream puffs for this year's event. This time the flavours offered were apple cinnamon and vanilla pecan cream. These mini cream puffs had a textured cookie shell to go along with fresh cream infused with the flavour of choice.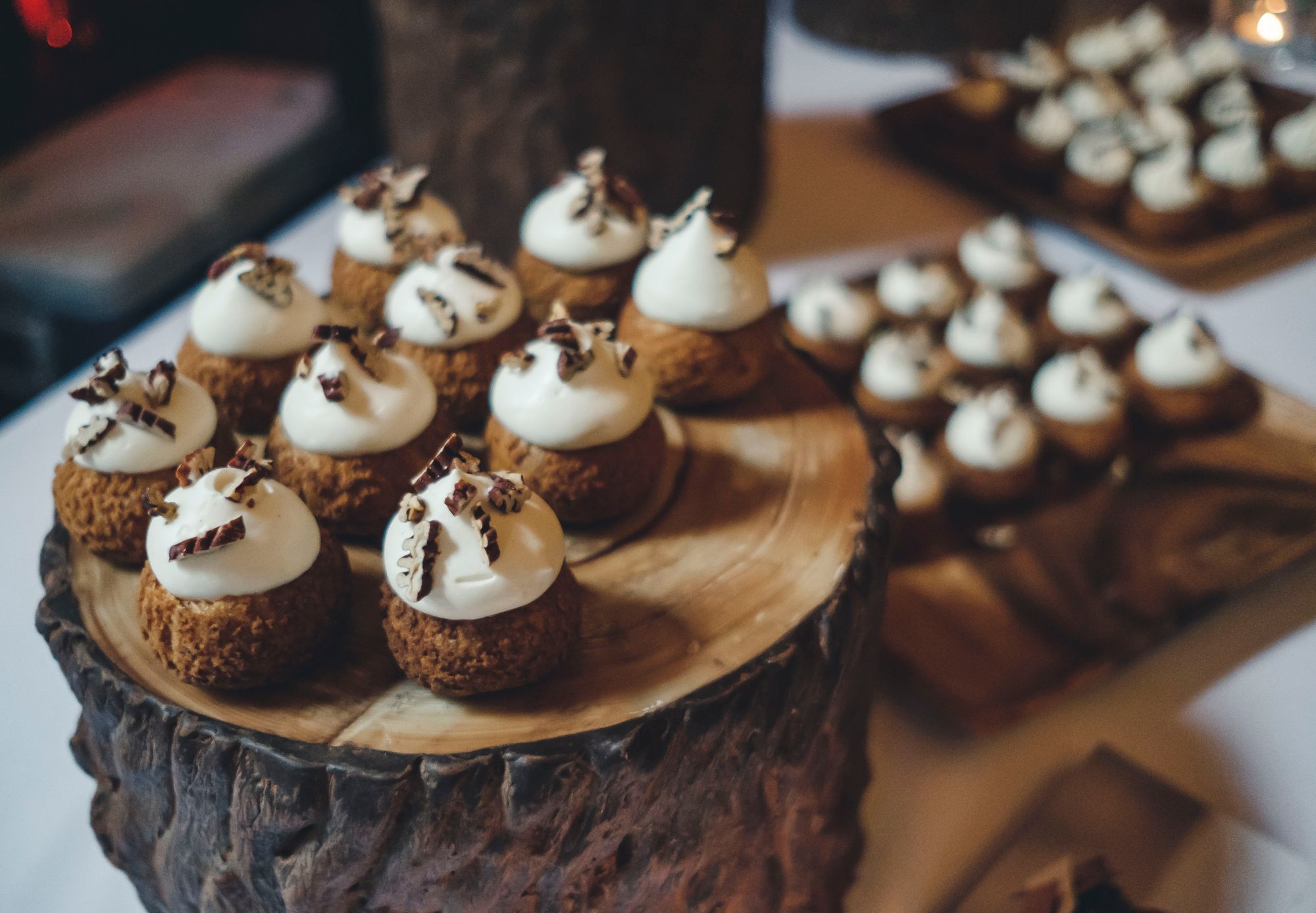 Fairmont was represented twice at this event. First up was Fairmont Whistler with a gorgeous tray called the High Note Trail. This was a wooden board filled with whimsical chocolates and sweet creams ordaining what looked like a mystical mushroom forest. Between the autumn cake shrubs and the chocolate spotted mushrooms, this dessert tasted as good as it looked. This was easily the best-looking dessert of the afternoon.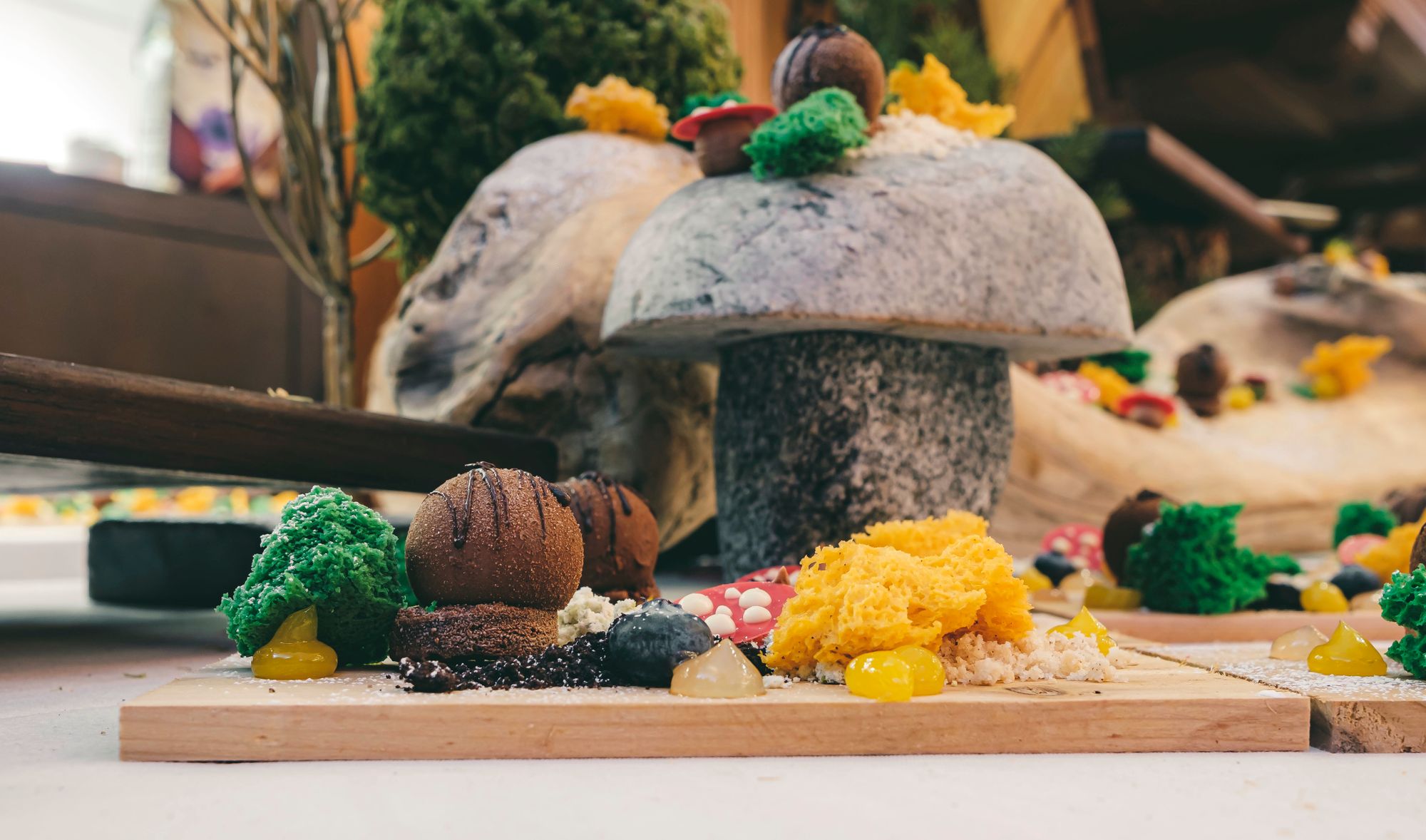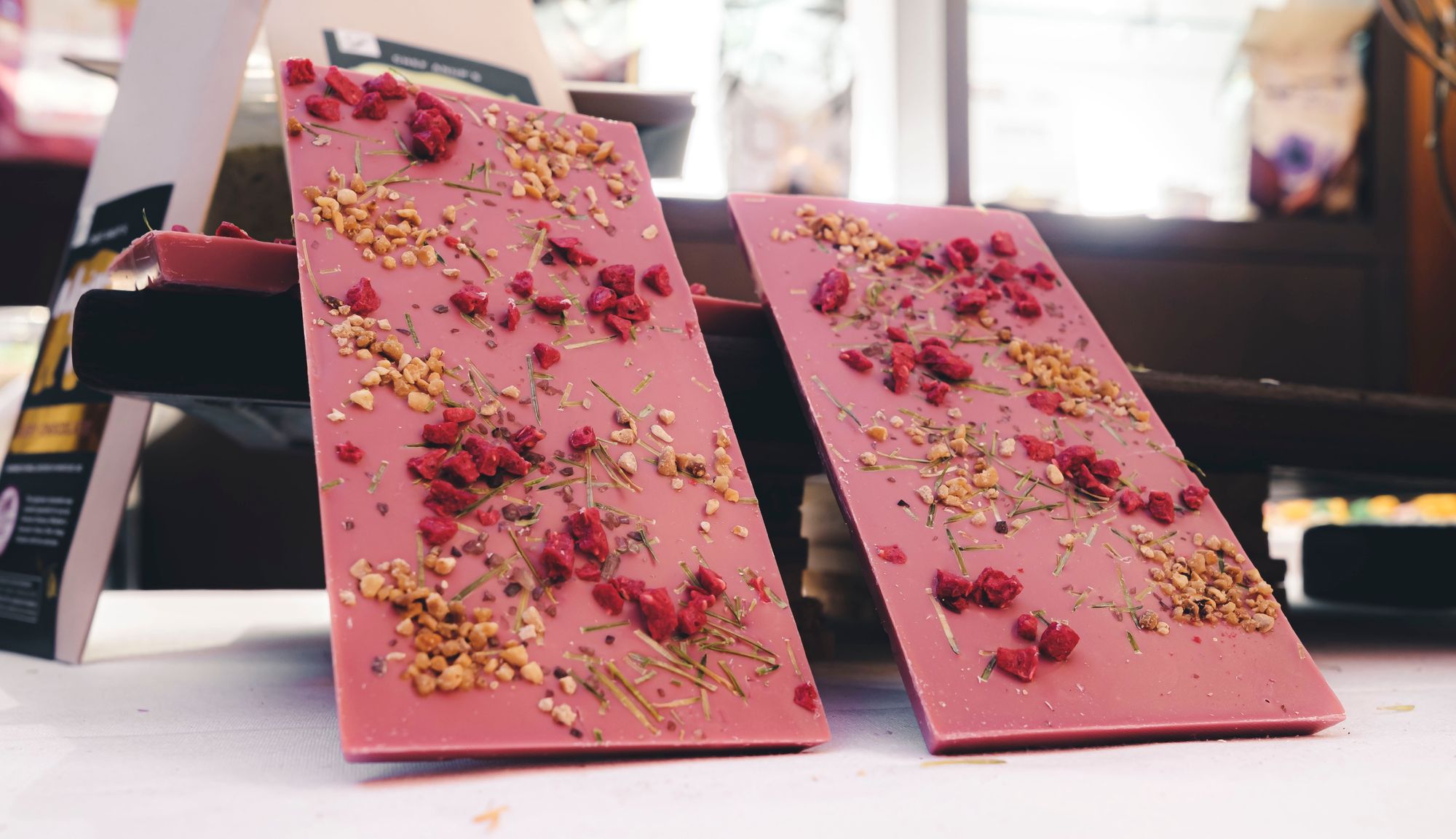 Beaucoup Bakery was also back for its 3rd year and thus back with their mini chocolate almond croissants. They were a treat last year as well as this year. Accompanying the croissants was a sake panna cotta with honey-spiced pears. This was a smooth cream pudding that gave the tongue a slight tingle on every honey-spiced slurp. Beaucoup, in general, is a great place to visit for pastries. I've featured them in my Vancouver almond croissant guide and was happy to see them back for EAT! Pastry Day.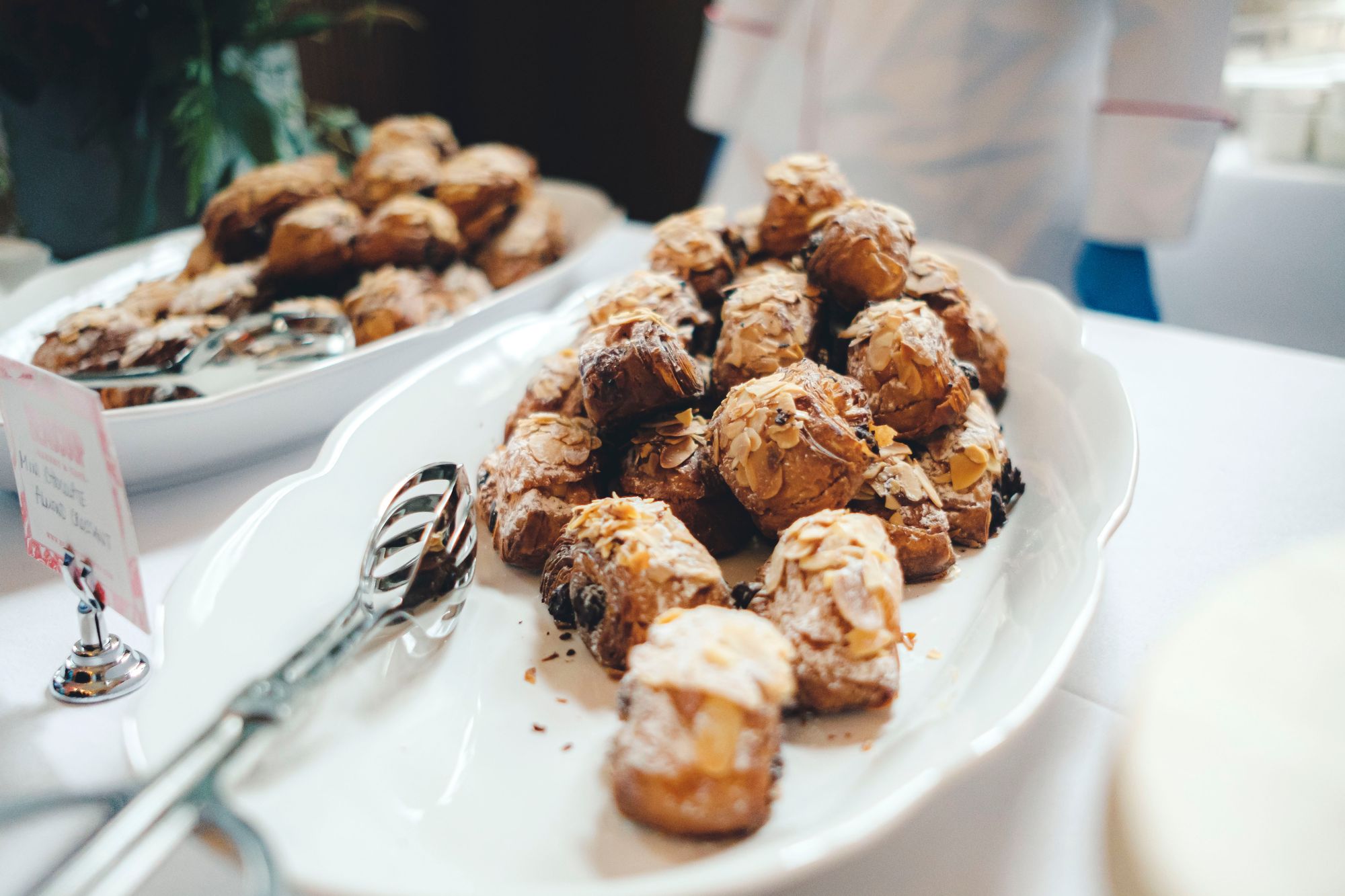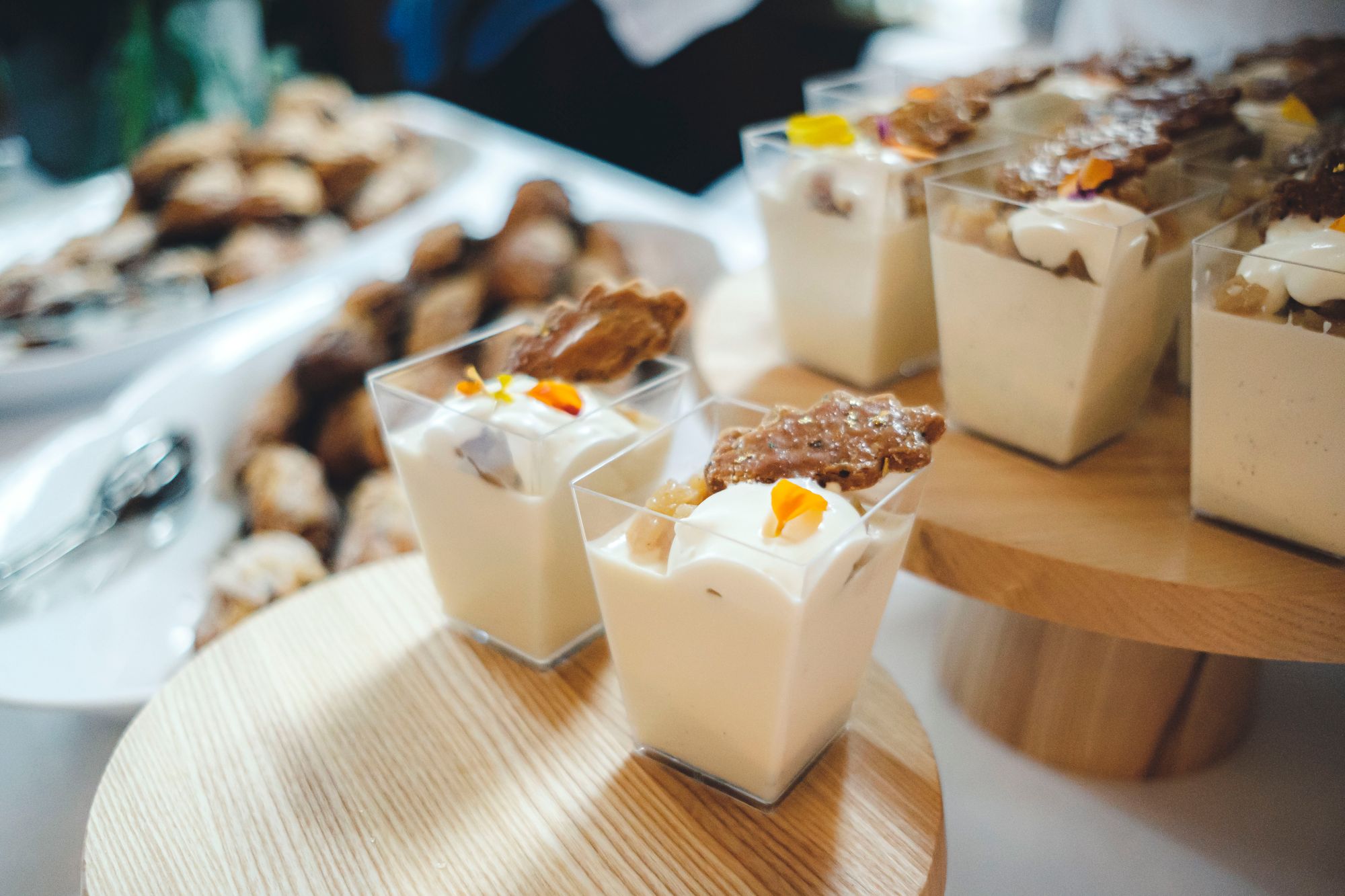 Chez Christophe is Burnaby's best-known bakery and for EAT! Pastry they had a duo of chocolate tarts and yuzu lemon tarts. These tarts had a firm bite to them which was a great complement to the silky smooth spheres on top.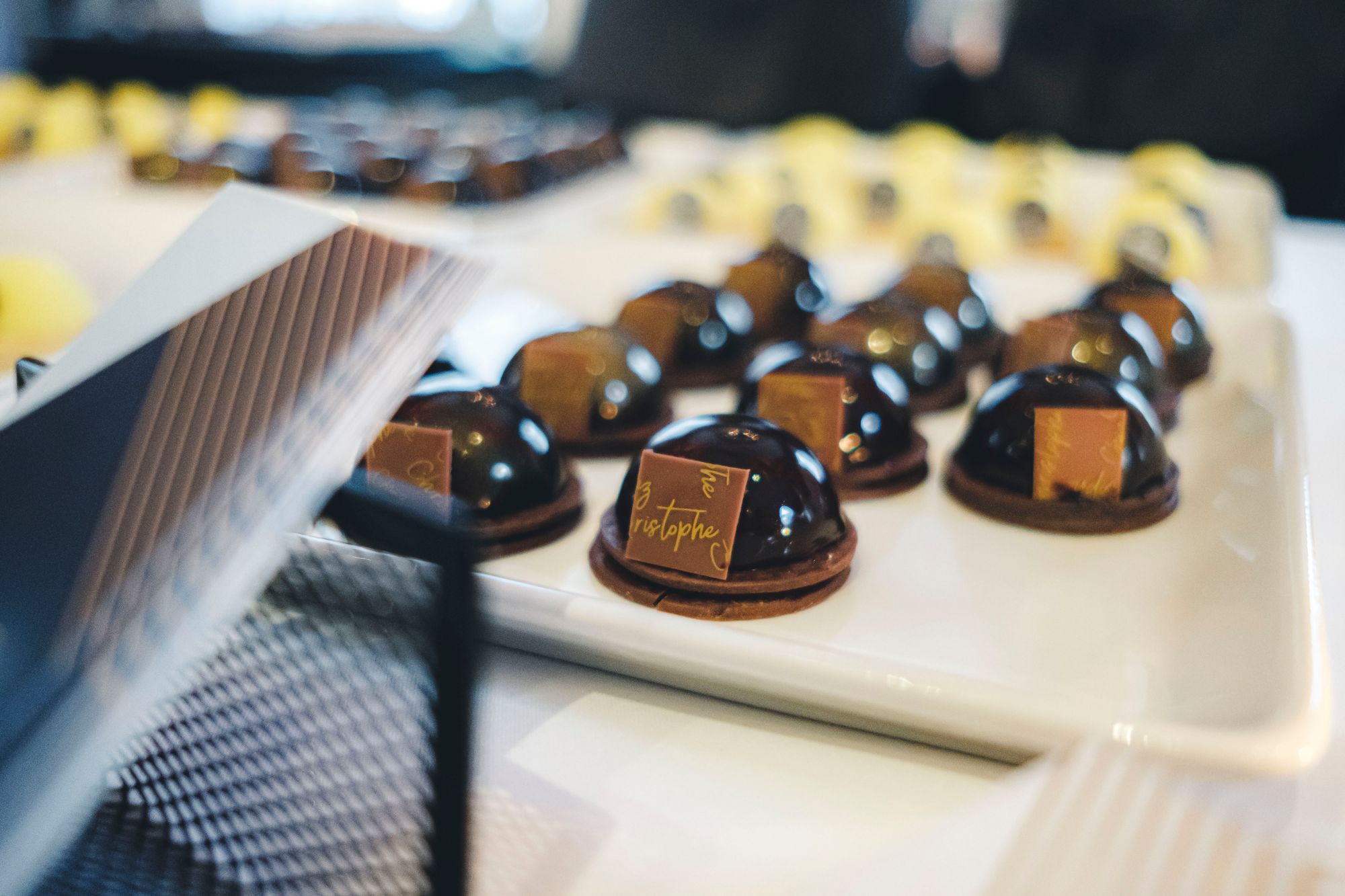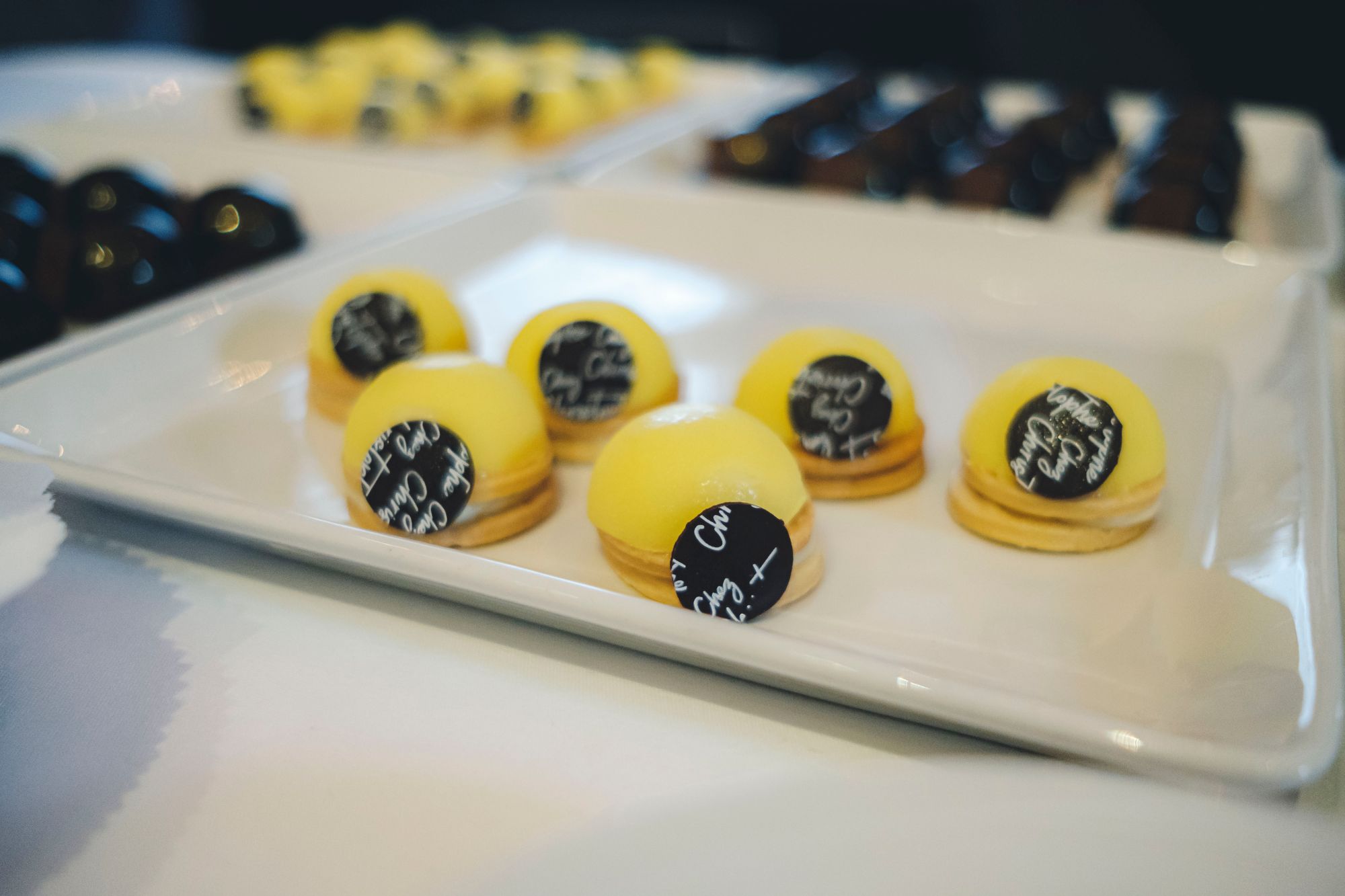 Hailing from Kelowna, the team at Okanagan College dazzled with their brown butter pear and hazelnut cake. These were essentially the most glorious chocolate bar you could order in a restaurant but in mini form.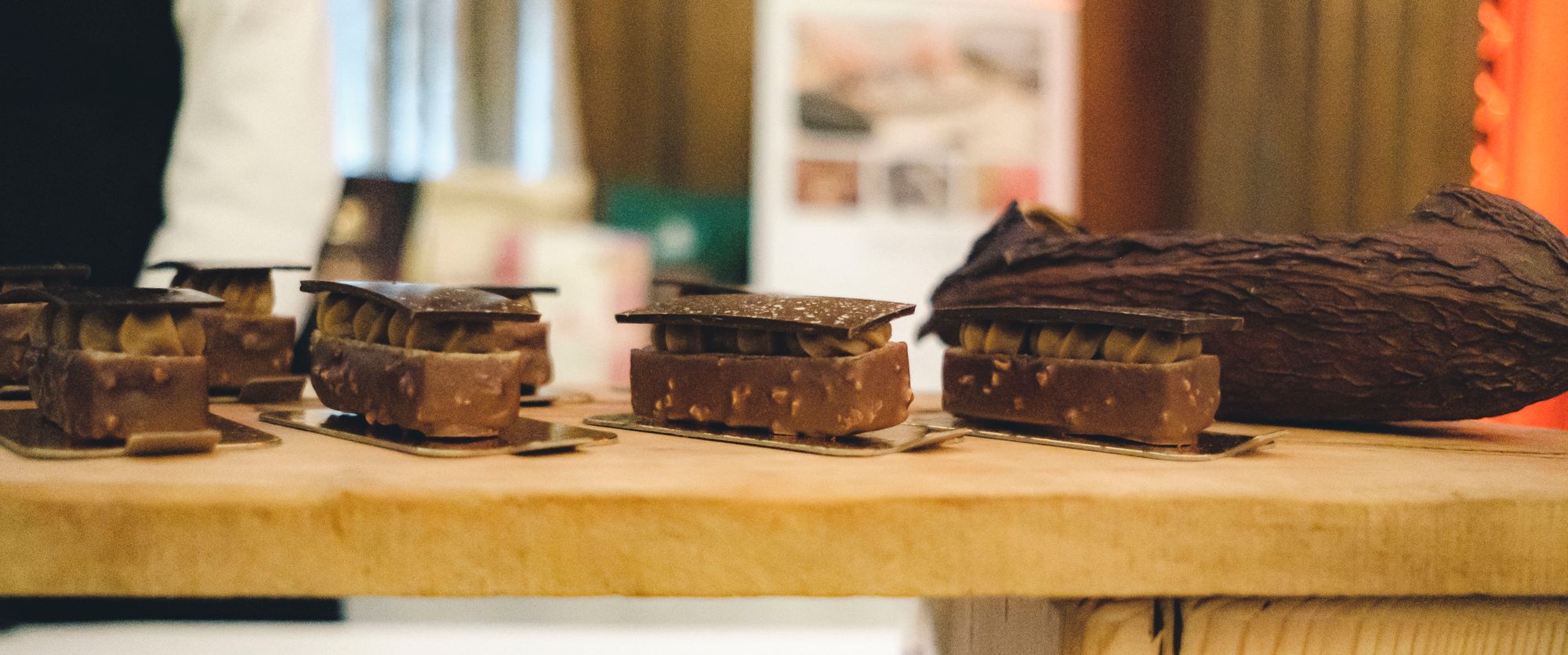 The other Fairmont entrant was Fairmont Empress from Victoria. This demonstration took the classic Ferraro Rocher look and added their own spin to create a zephyr caramel chocolate and banana rocher. This was a decadent and very sweet sphere of chocolate and banana goodness. I bit through the soft chocolate shell to find a sweet banana filling.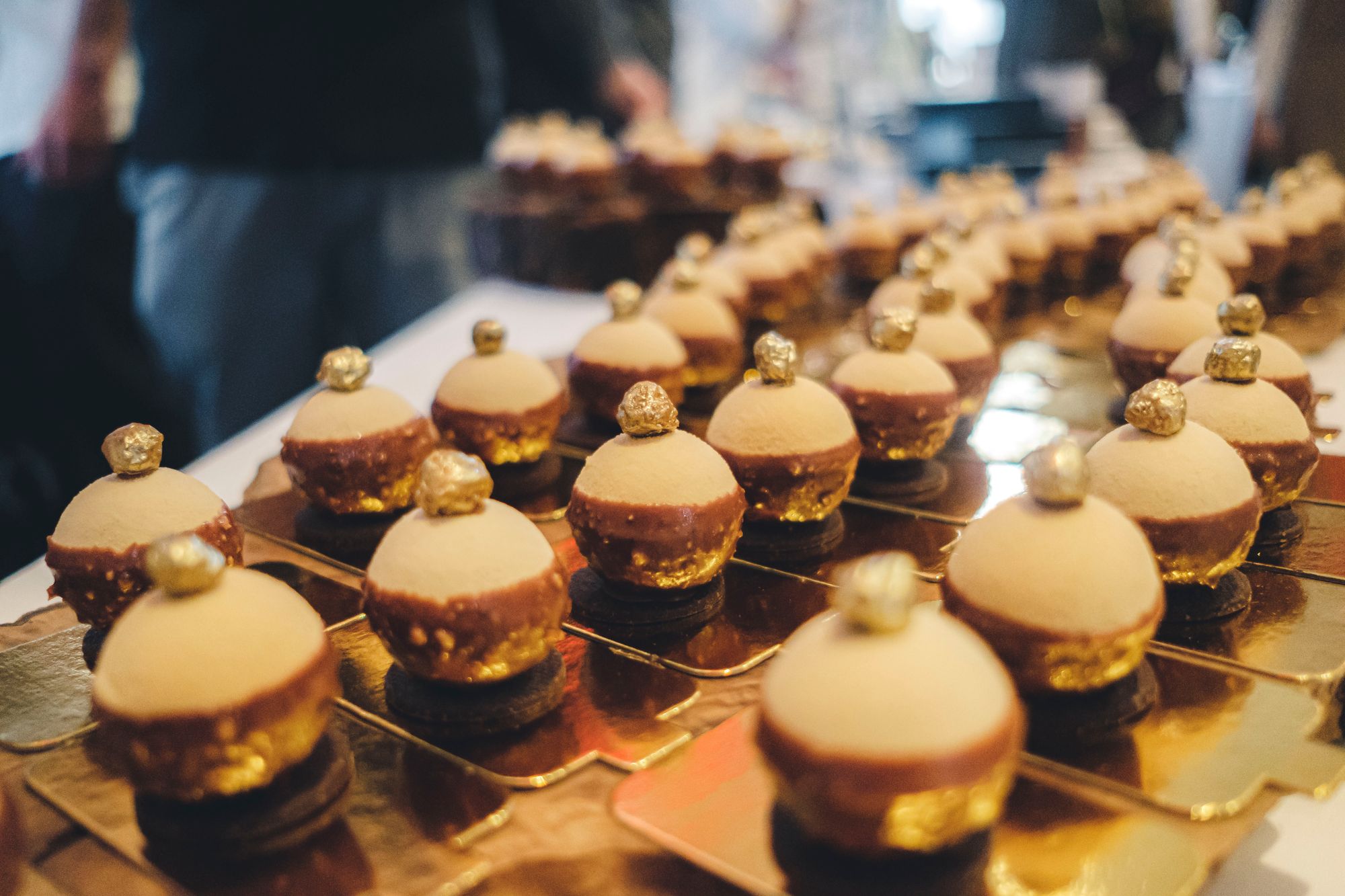 Cadeaux Bakery was on deck with their signature autumn tea cake. I loved the little layers of cake and the drizzle of chocolate on top held it all together like a candle that's cooled.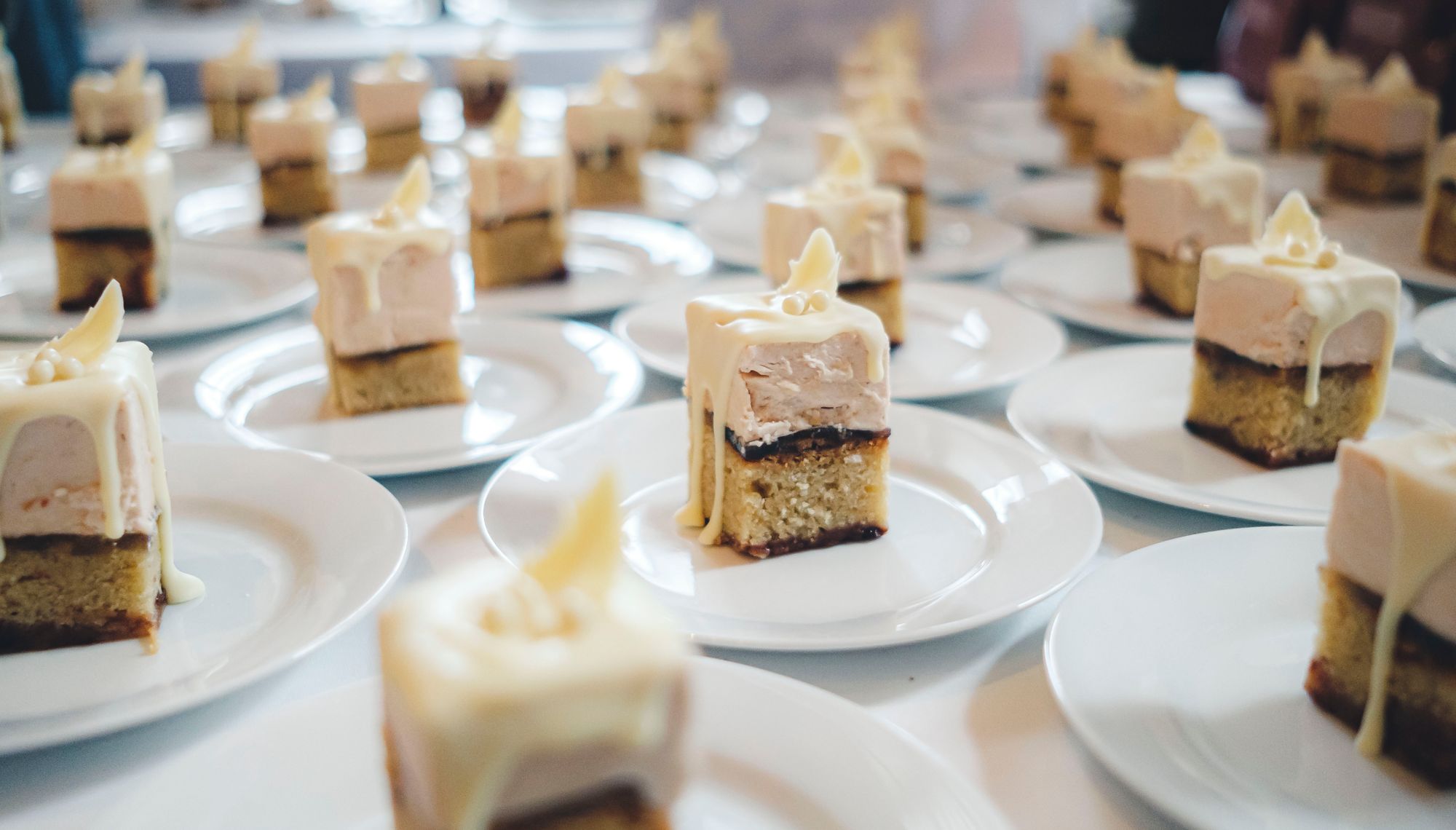 Mon Paris Patisserie, another bakery in Burnaby, had the most creative treat seen at the event: a duo of figues aux chocolat in either mint dark chocolate or raspberry ruby chocolate. Ruby chocolate's been making a few waves this year with Purdy's jumping on the trend so it's no surprise EAT! Pastry Day provided another opportunity to try out this new chocolate that slots in between white and milk chocolate. Mon Paris Patisserie and Fairmont Whistler both had some sort of ruby chocolate on premises.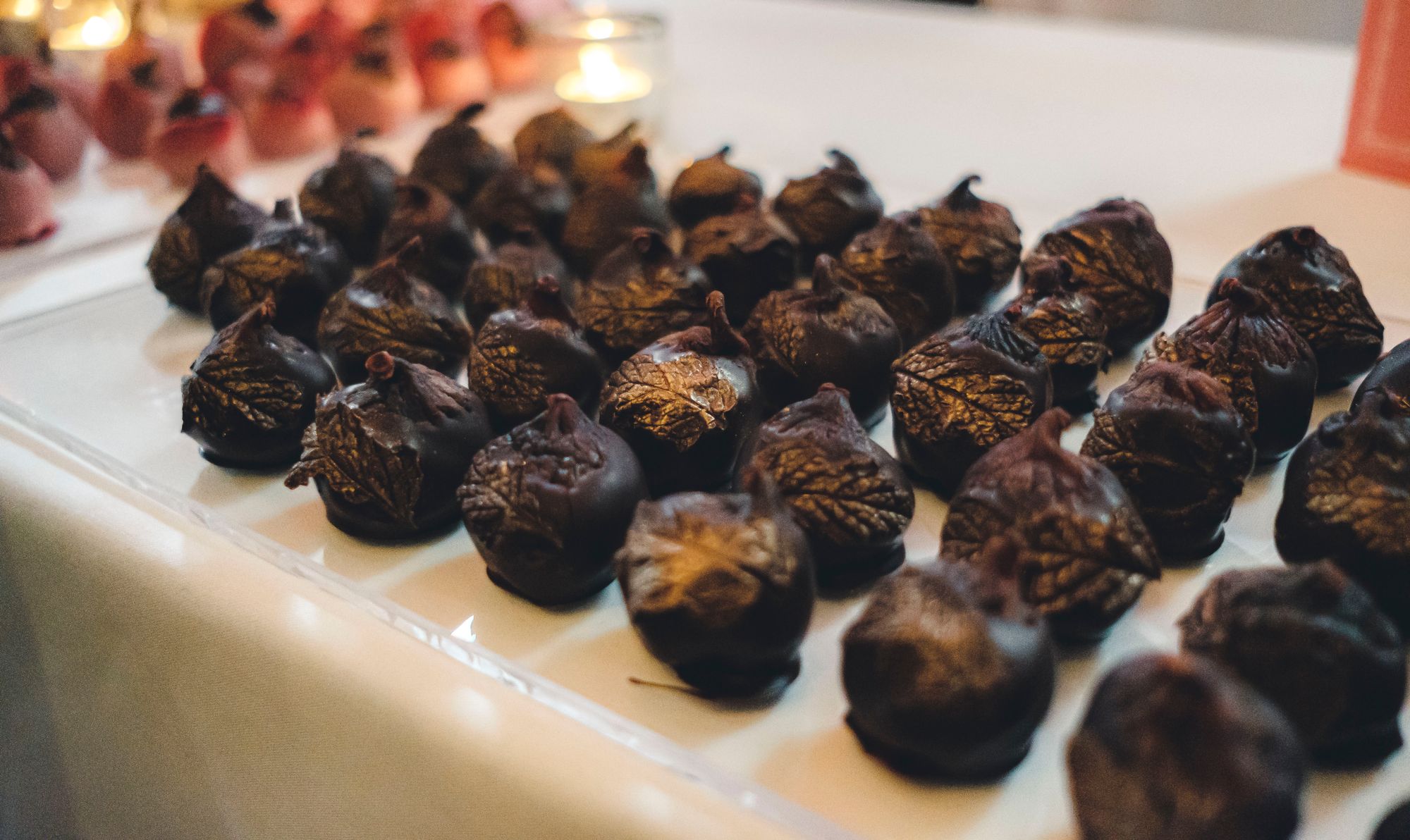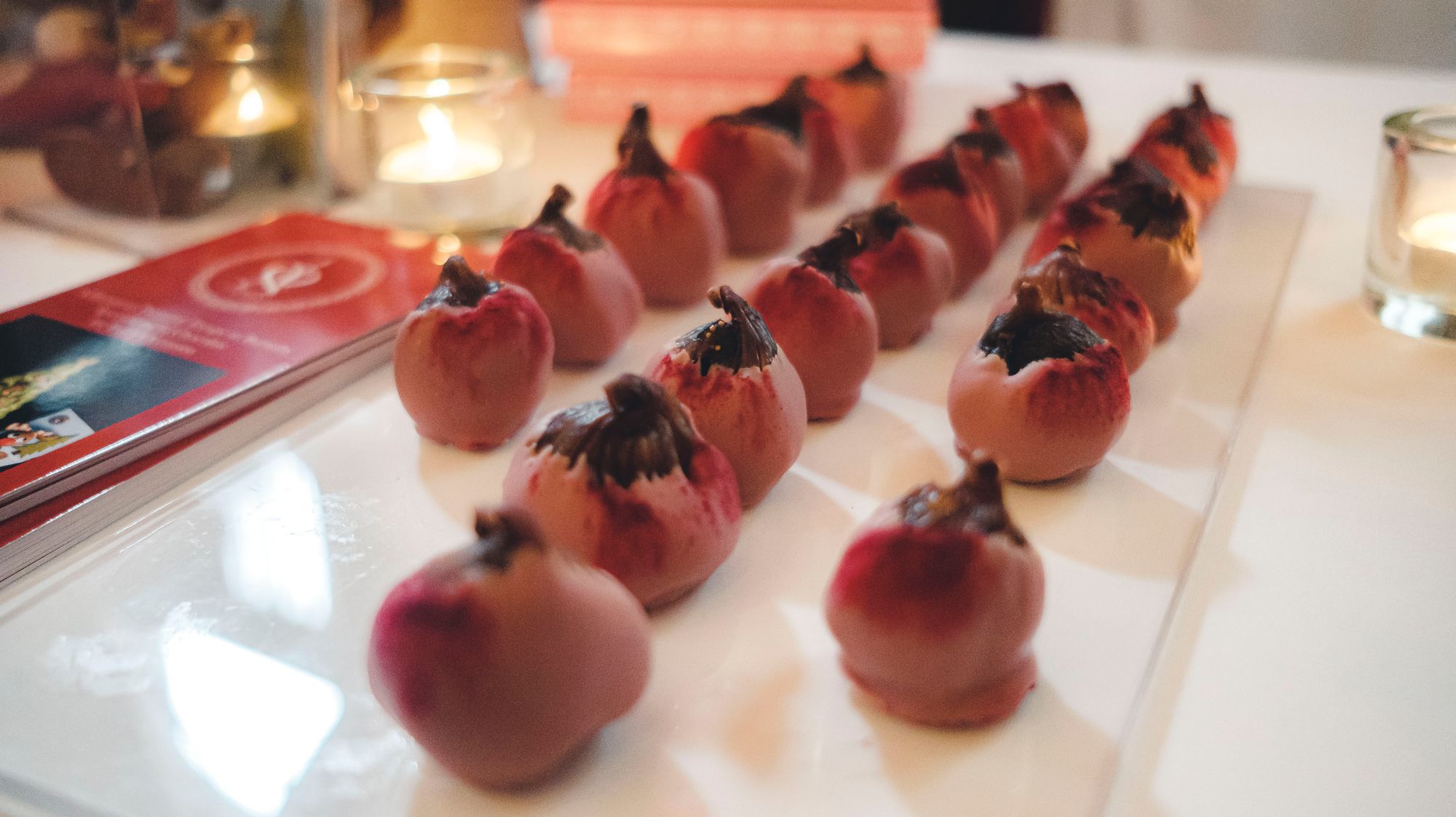 Chocolate Arts is a longtime chocolate cafe in Vancouver and they of course had a selection of chocolate for EAT! Pastry Day. The cinnamon and oat bonbons were my favourite out of the two with a little texture on the outside and a lot of flavour on the inside. The other bonbon option was lime and allure.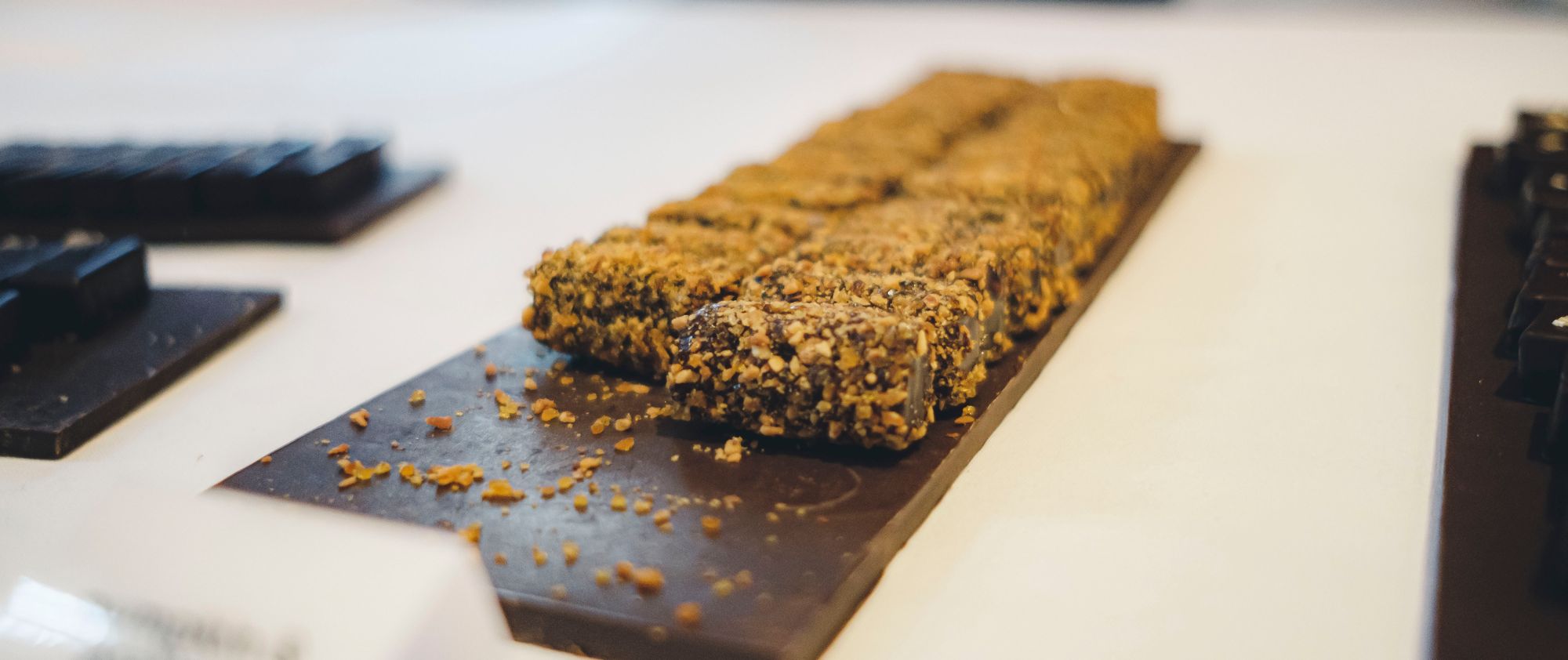 Squamish, BC was also represented in this event in the form of Xoco West Coast Chocolates, who showed up with moulded chocolates and chocolate nut clusters. The moulded chocolates were beautiful to behold and even better to eat.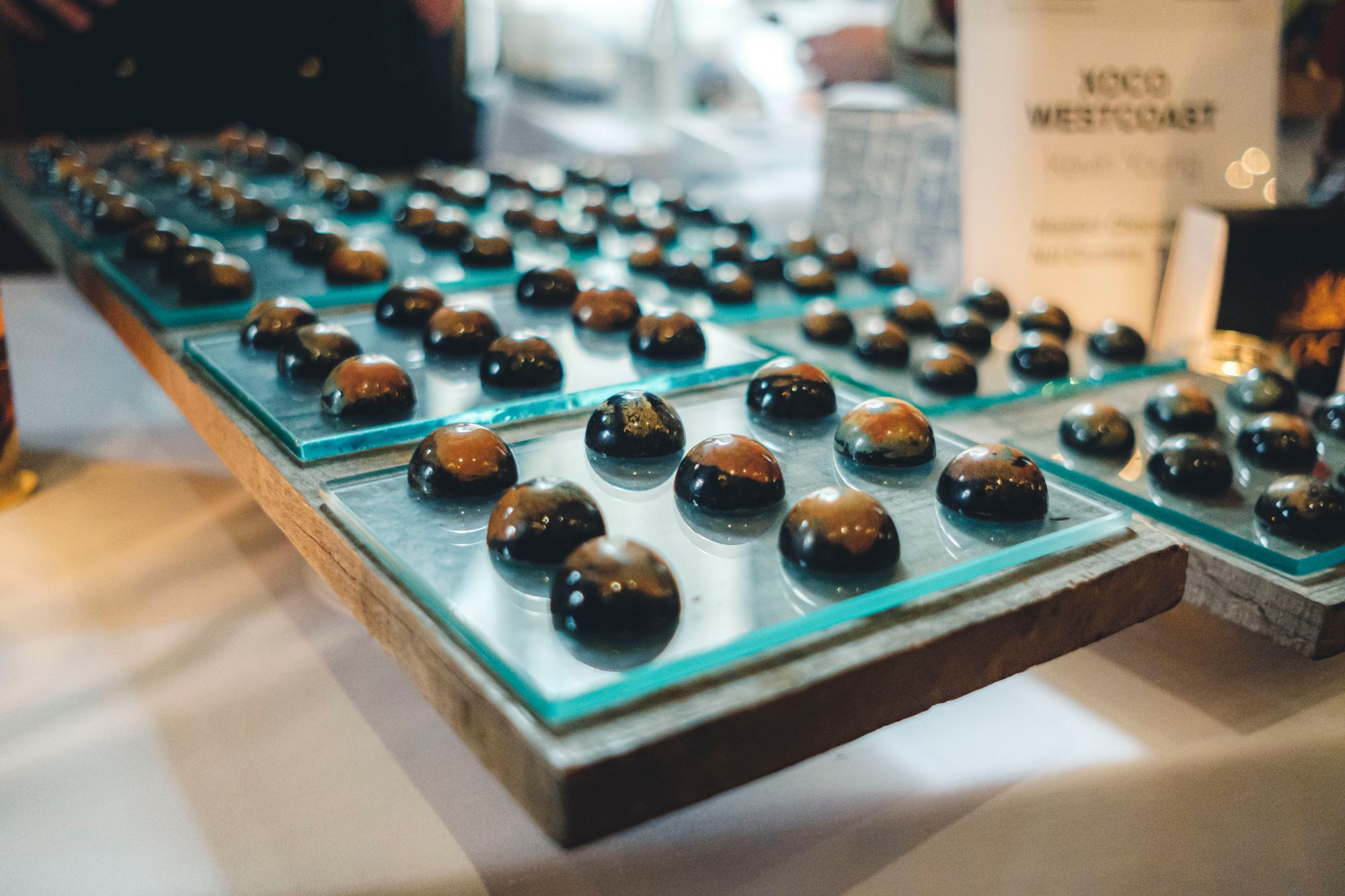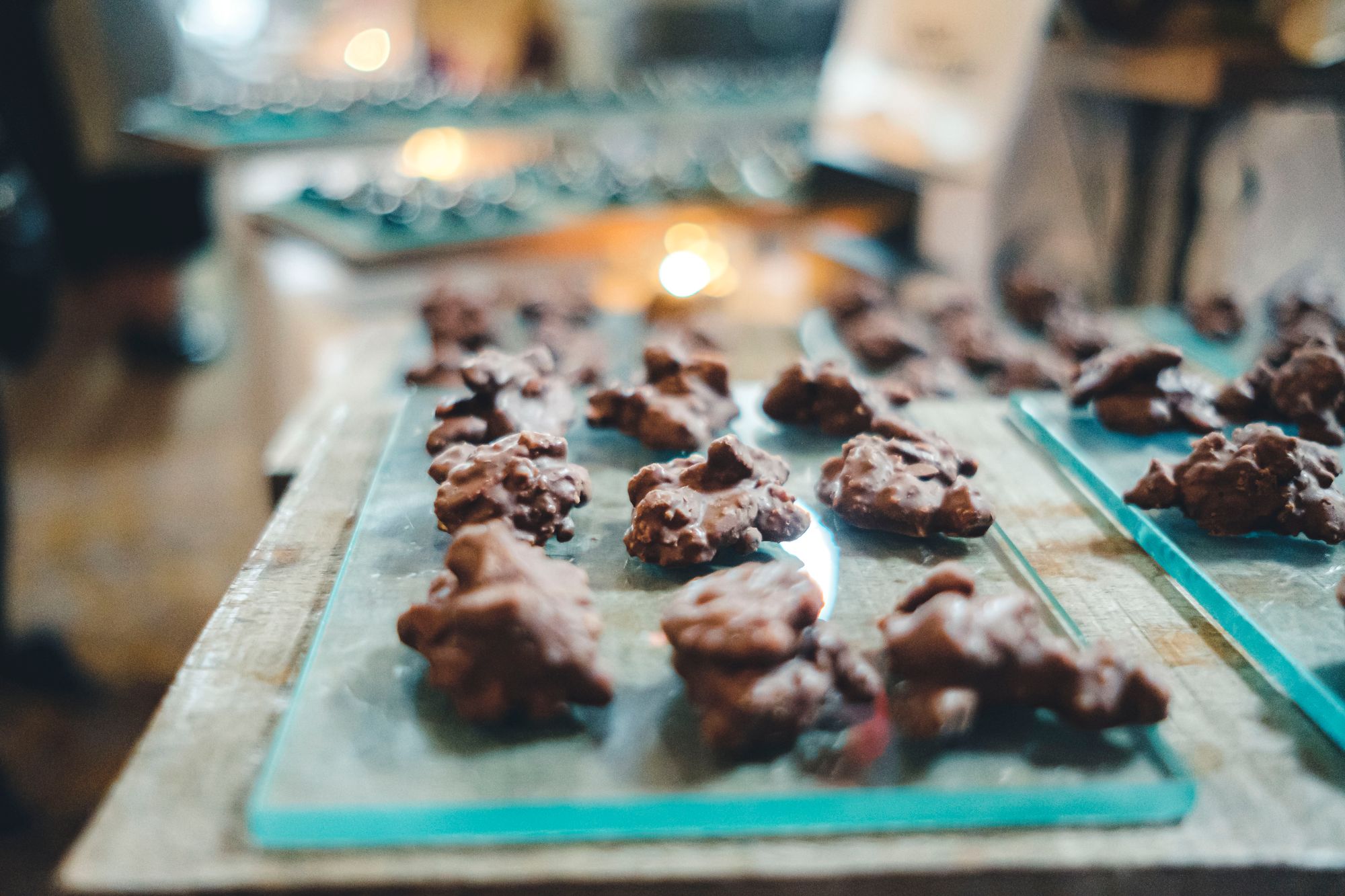 From Vancouver's most popular cooking school, the Pacific Institute of Culinary Arts (PICA) came out with a yuzu and chestnut mont blanc. Mont blanc was hugely popular during my trip to Tokyo this year and these looked simply decadent at EAT! Pastry.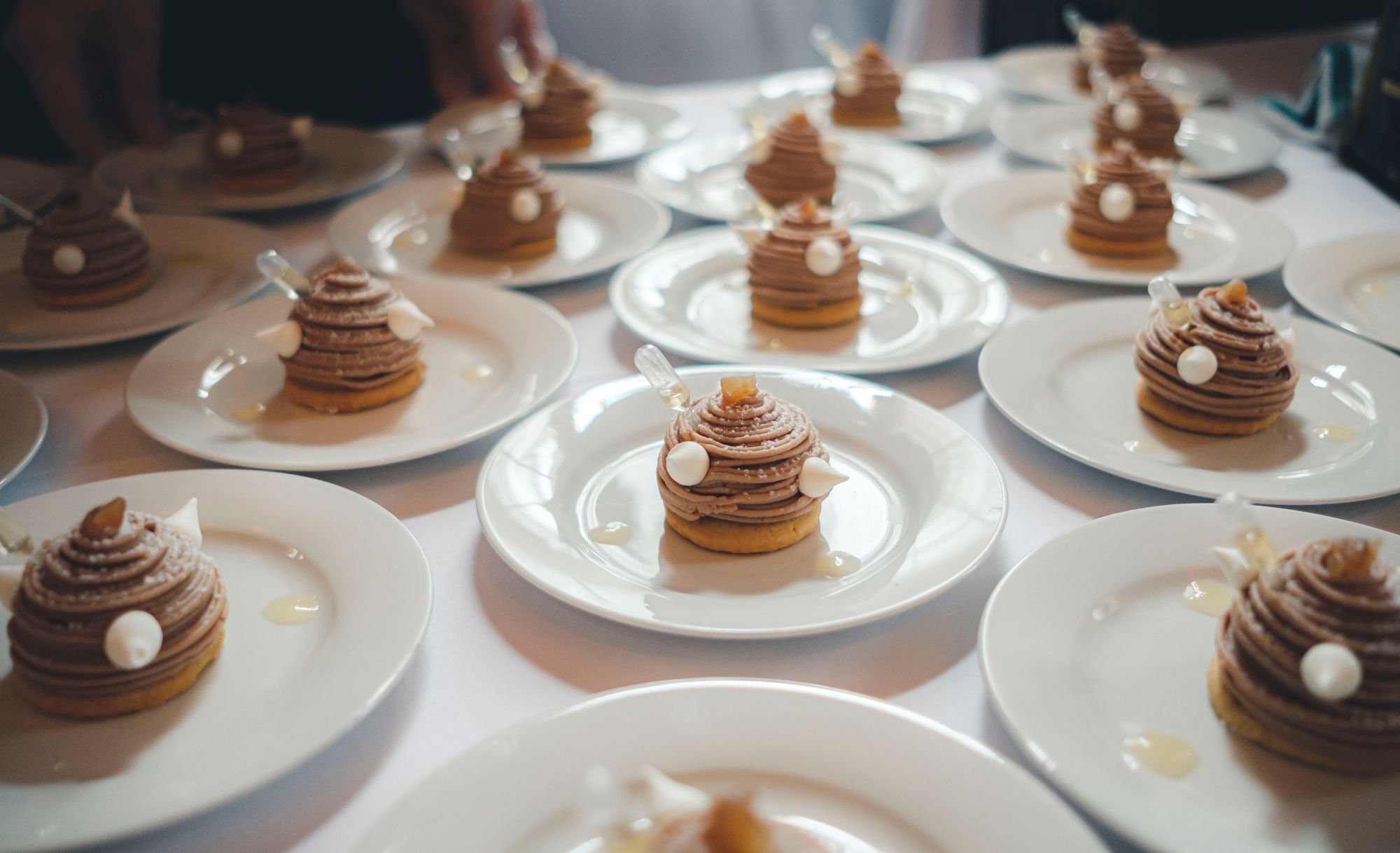 From the host Vancouver Club came an offering of chocolate pumpkin tacos. This dessert had the distinction of being the only vegan option at this event. I wouldn't spend $89 just to enjoy this vegan dessert but I do like the inclusion and found that I enjoyed just as much as I would a fully un-vegan chocolate pumpkin taco.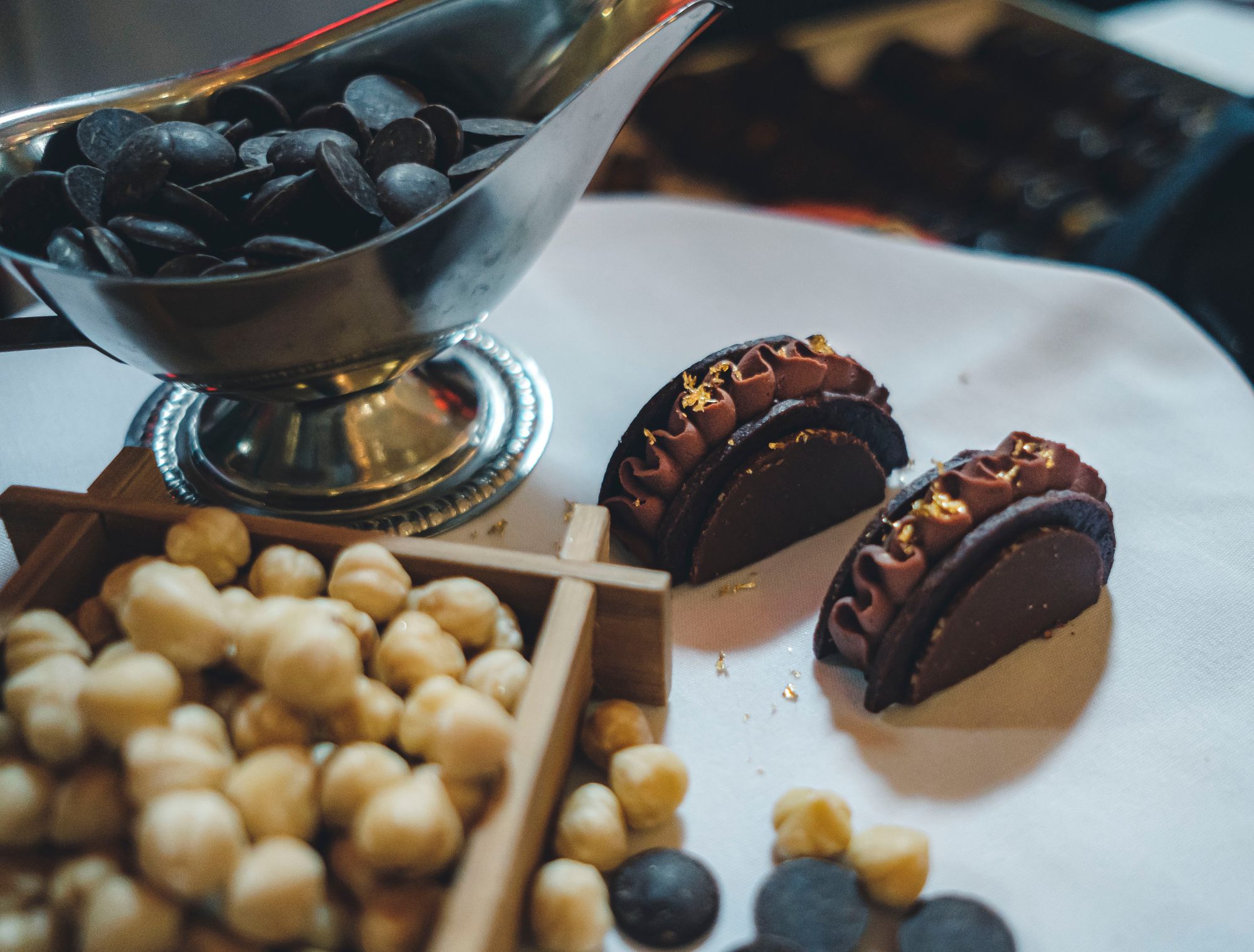 Ganache had a cool dessert that had to be assembled per guest. Peter Fong would grab a lollipop and adorn it with a hojicha sauce and chocolate before handing over the complete hojicha chocolate hazelnut lollipop. Despite the name, Ganache also produces baked goods in Vancouver so it's a slight bummer they weren't baking anything for EAT! Pastry.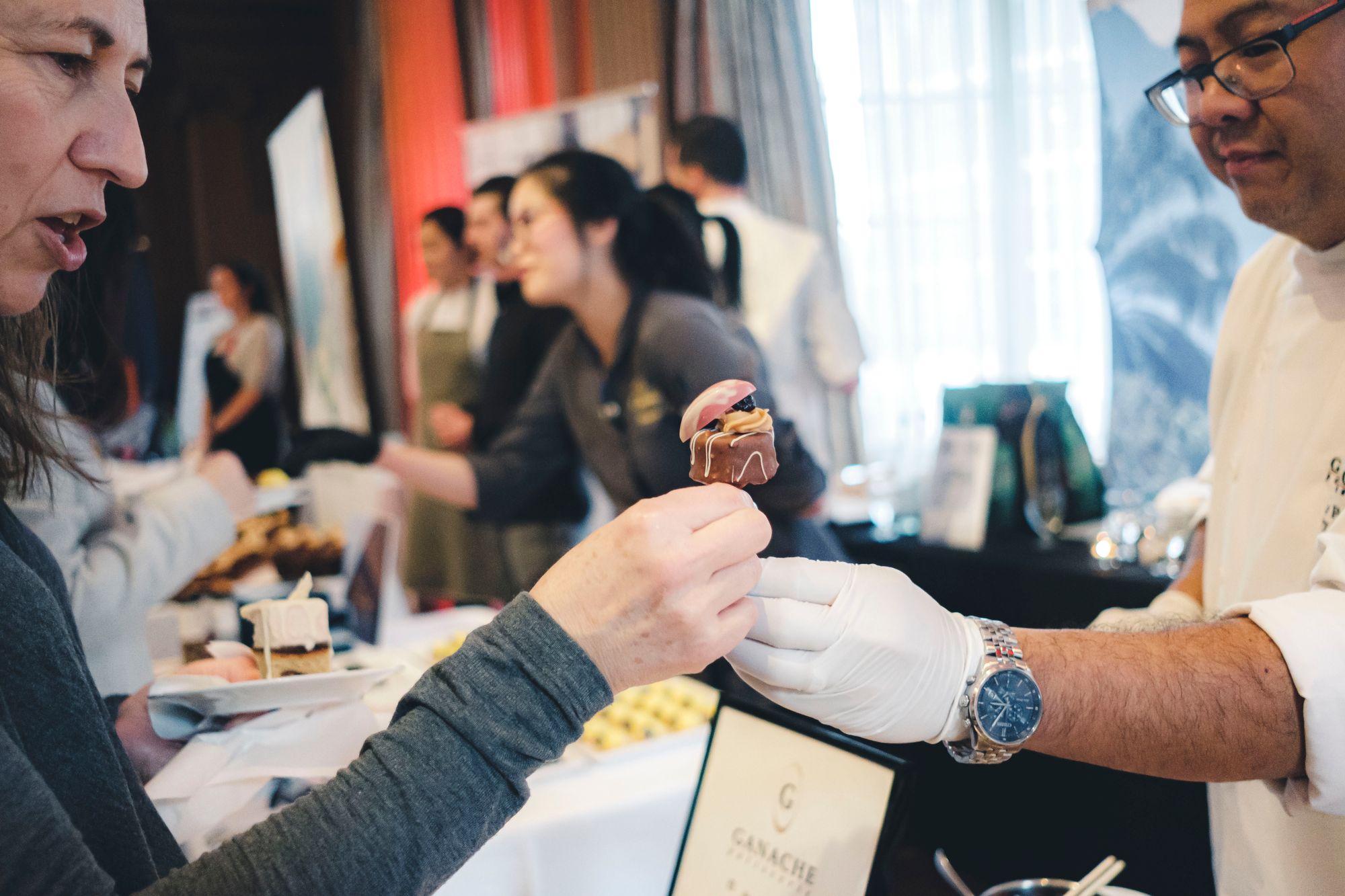 Temper is probably West Vancouver's most famous bakery. For those looking for a local story, owner Steve Hodge grew up in the Dundarave neighbourhood which is where Temper is located but he also had a stint with Thomas Haas in Vancouver before opening his own shop. The chai-spiced caramelized banana éclair was a treat to look at and had just enough flakiness on the éclair to have me coming back for another.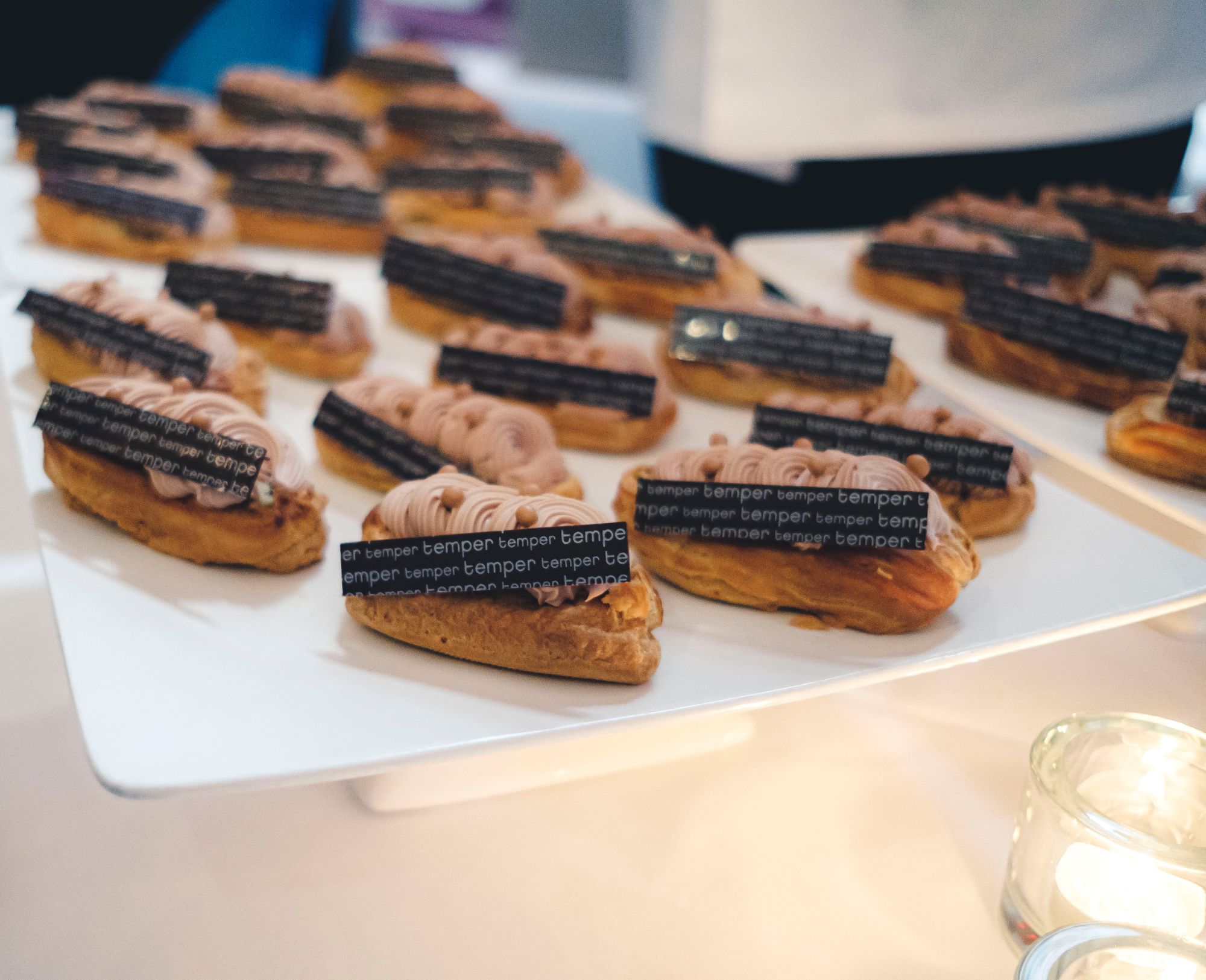 Last but not least, the legend himself, Thomas Haas, was in the center of the tasting room serving up his blak 10.0 sablé breton with cocoa nib ganache and passionfruit confit. In English, that translated to a very decadent truffle with a little bit of passionfruit zing to cut through the dense cocoa.
Features:
The EAT! Pastry Day event I went to had a central tasting room that featured all the dessert vendors in a decorated ballroom inside the Vancouver Club. Once I checked my coat in, it was a short walk upstairs into the lavish interior. This was a swanky place that was much nicer than the EAT! Pastry Days of old in the Pinnacle Harbourfront Hotel. Coffee, tea, and water were provided as needed for guests to hydrate. Despite the pretty room though, table space was at a premium and in the first hour I often had to hold my plate to eat off of it.
Guests could visit the vendors in any preferred order and sample as little or as much of the desserts that they liked. Having attended this event twice now, I knew the best strategy was to enjoy a fresh bite of what I could at the event and stash the rest into a takeaway container I had brought with me. I noticed a lot of guests just leaving their leftovers on the table to be trashed and I wish the messaging of bringing a reusable container could be better communicated (sadly, not everyone in Vancouver reads up on my strategies for EAT! Pastry). I understand it's a lot of calories to consume in one evening so I hope next year brings a better game plan to help guests experience everything they can at EAT! Pastry Day.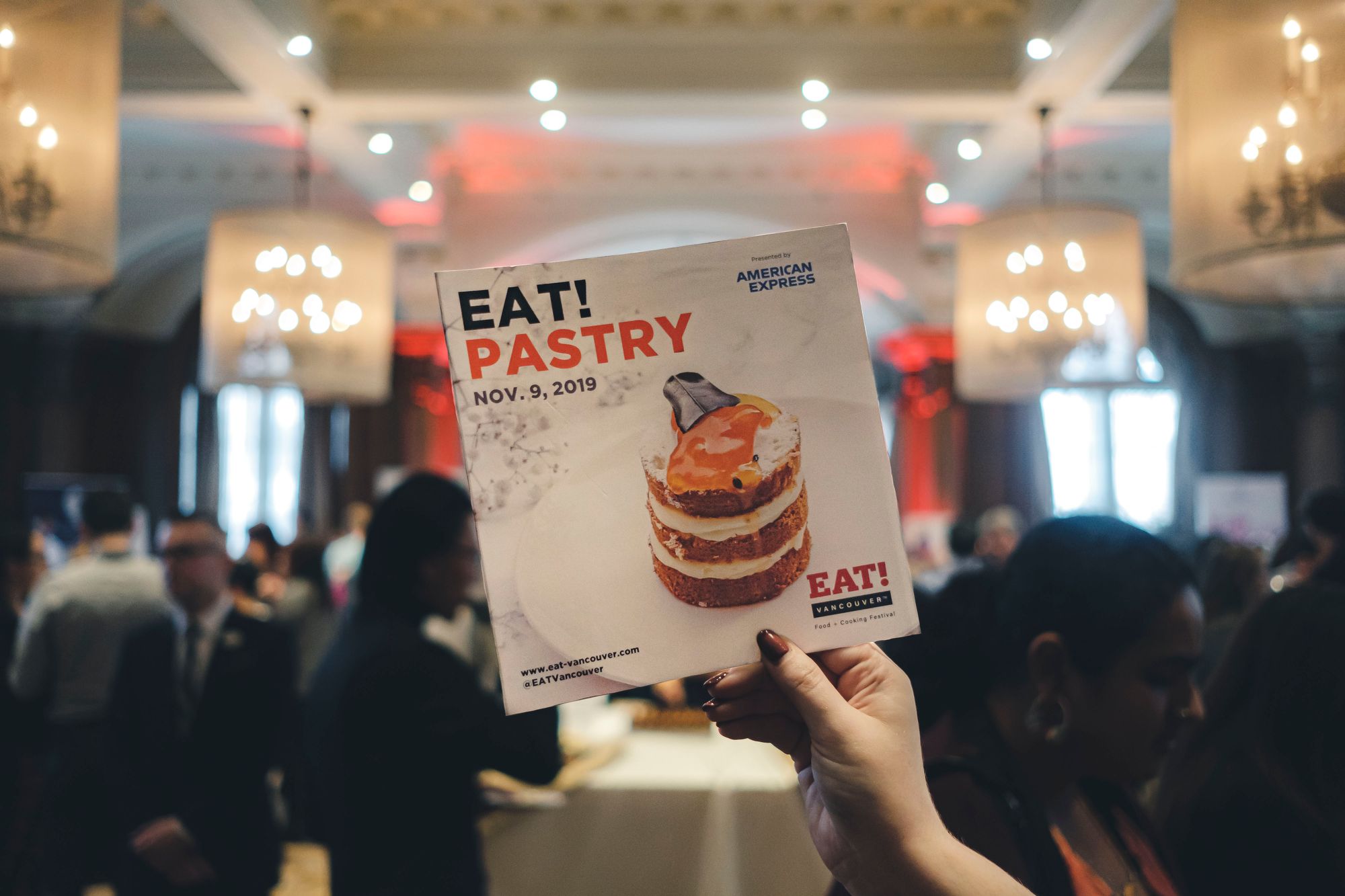 At 2 hours long, this event was just the right amount of time for me to visit with each vendor, hear their story of what behooved them to join an EAT! Vancouver event, and learn more about EAT! Vancouver's charity partner, the BC Cancer Foundation. If you were wondering why this event costs $89/person, it's because proceeds support a local charity.
Final Thoughts:
One-liner: 15 desserts from 15 vendors in a sugar-packed afternoon offering a wide variety of treats and some of the best-known bakeries that support the same local charity
Highlight: Being able to traverse a world of desserts representing Vancouver, West Vancouver, Squamish, Victoria, Kelowna, and Whistler
Cost per person: $89
Would I go back? Yes.