One of my favourite things to do in December is visiting the Vancouver Christmas Market. Having been a steady visitor for 8 of its 10 years of operation, I'm always excited for the food vendors that pop up each year and how they play into the whole German Christmas vibe that gets talked about in the general media. This year was no different as I went in a couple times before today to eat my way through the market and share my thoughts.
Disclosure: I was given free admission for my visit and have marked the foods I paid for with an asterisk below. All opinions are my own.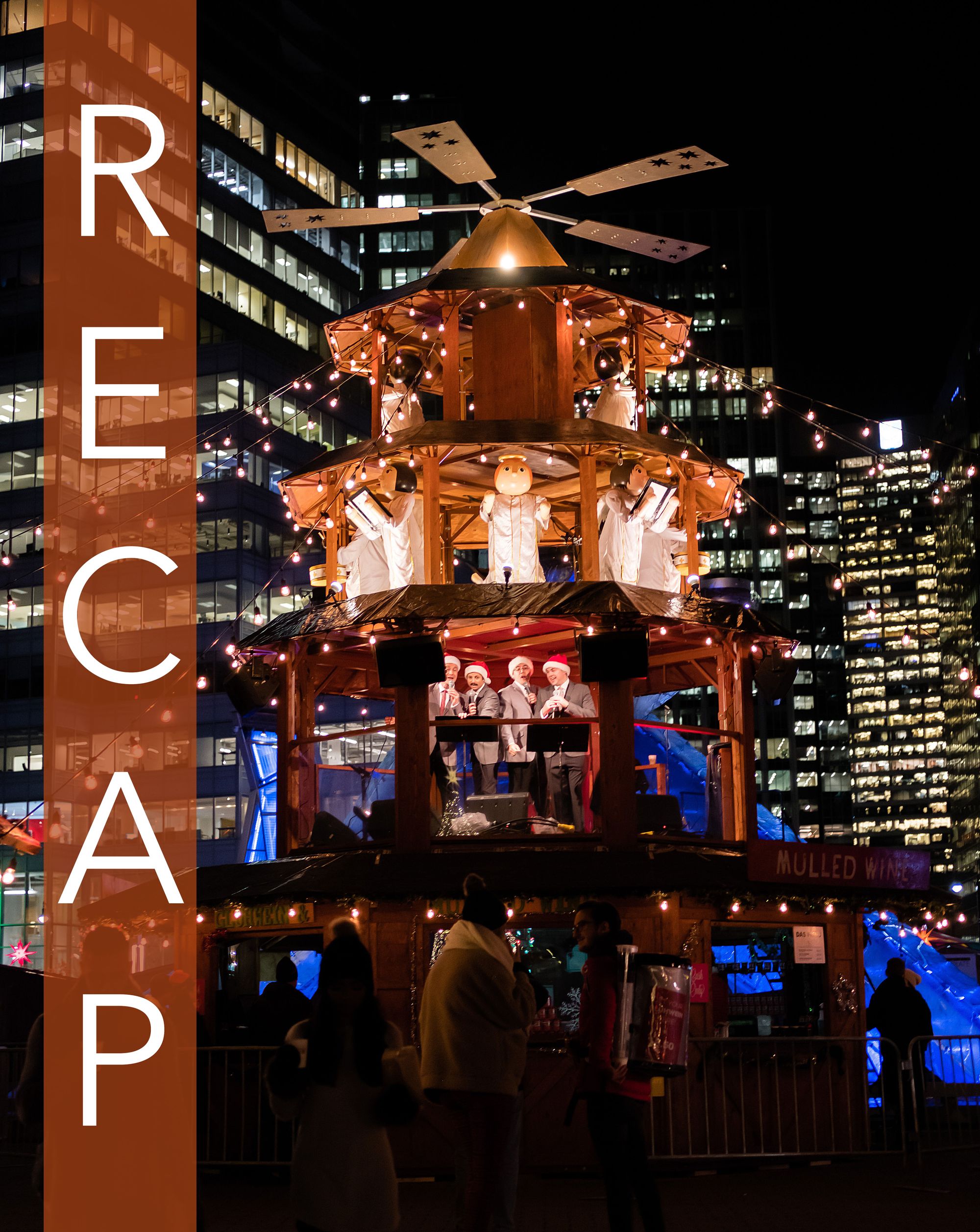 Food:
Over my two visits to the Vancouver Christmas Market I enjoyed the following:
Feuerzangerbowle ($8.50)
Glühwein ($8.50)
Swiss Raclette ($13.34)
Cream of Wild Mushroom Soup ($10 small)
Bratwurst - Das Brat ($8)
Salted Pretzel ($6.30)
Traditional German Spätzle ($12)
Chimney Cake ($8.50+)
Beef Goulasch in a Bread Bowl ($15)
Poffies ($12)
Hotcake with Vanilla Ice Cream ($8)
Wünderbar Scrooge Sour Cocktail ($8.50)
Whole Pork Hock ($24.76)*
Jager-Schnitzel ($20)*
Both the feuerzangerbowle and glühwein were available at any drink vendor, the biggest of which was under the main performance stage.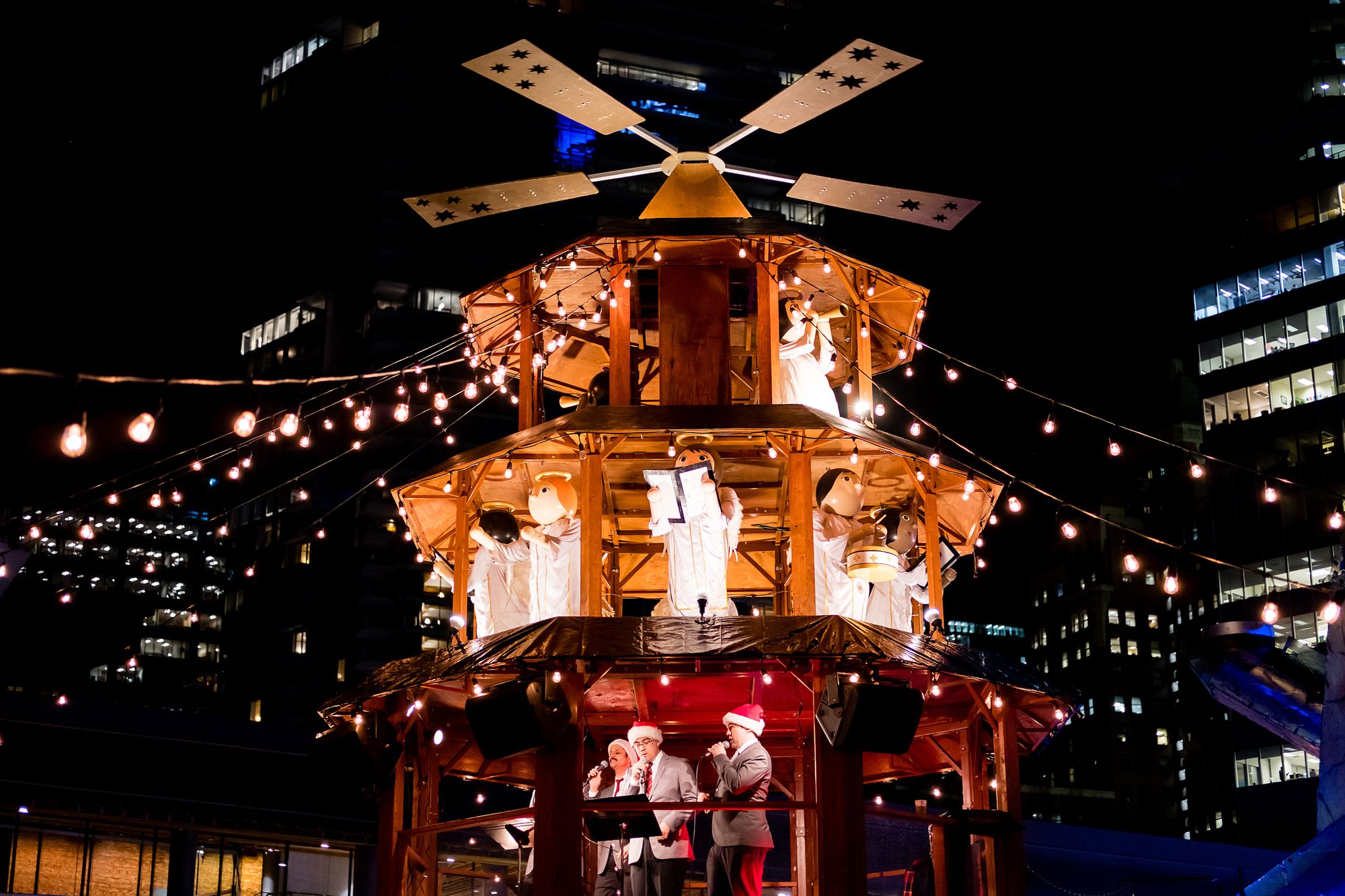 Literally translating to "fire-tongs punch", the feuerzangerbowle, available at all drink stalls and the Wünderbar, is a drink mix of red mulled wine with rum. Traditional preparation requires the use of a sugarloaf (or zuckerhut if you're German) soaked in rum and set on fire atop a container of mulled wine using a grate or tongs to hold the sugarloaf in place. By the time the feuerzangerbowle reaches your lips, the intense aroma might be enough to warm your soul. If you've had mulled wine and want to kick things up another notch, feuerzangerbowle might be the best prescription.
For those looking to abstain from rum-soaked sugarloaf, a hearty and spiced glühwein (mulled red wine) is a tried and true recipe of the Vancouver Christmas Market. Pony up a few extra dollars and you'll get to enjoy the drink in a collectible mug that gets a new design every year.
Moving onto something extra traditional, we had raclette from Cheese Me Raclette. Taking a semi-hard wheel of cheese, the vendor heated up an entire side of the cheese until the point of melting. A knife was used to push the semi-melted cheese onto a plate of pickles and potato with lots of steamy goodness.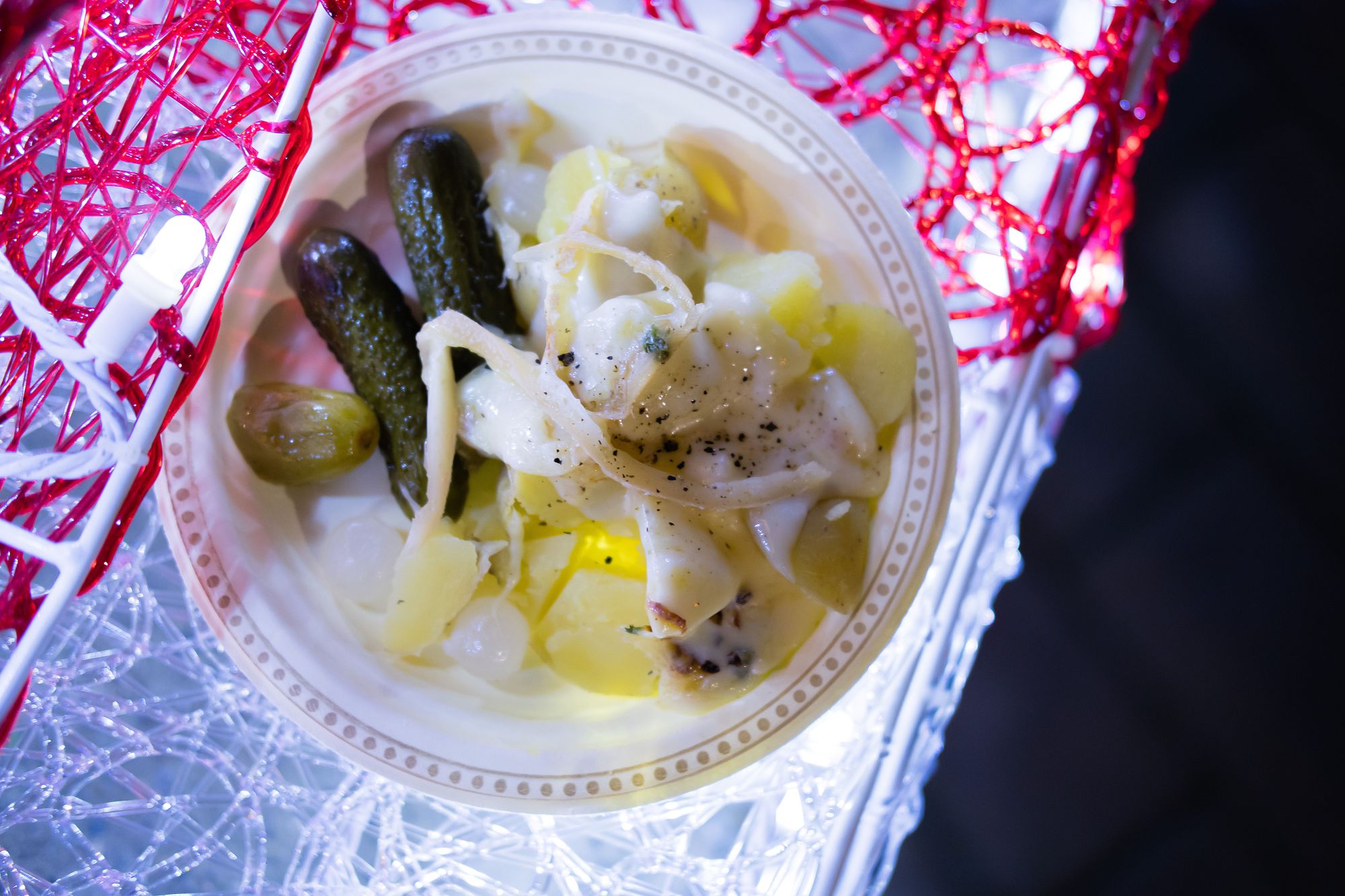 Something super hearty was the cream of wild mushroom soup from Taste the Wild. This had a huge aroma scent and even more mushroom flavour within. If you're used to the Campbell's stuff and like it, this will take you on a flavour ride.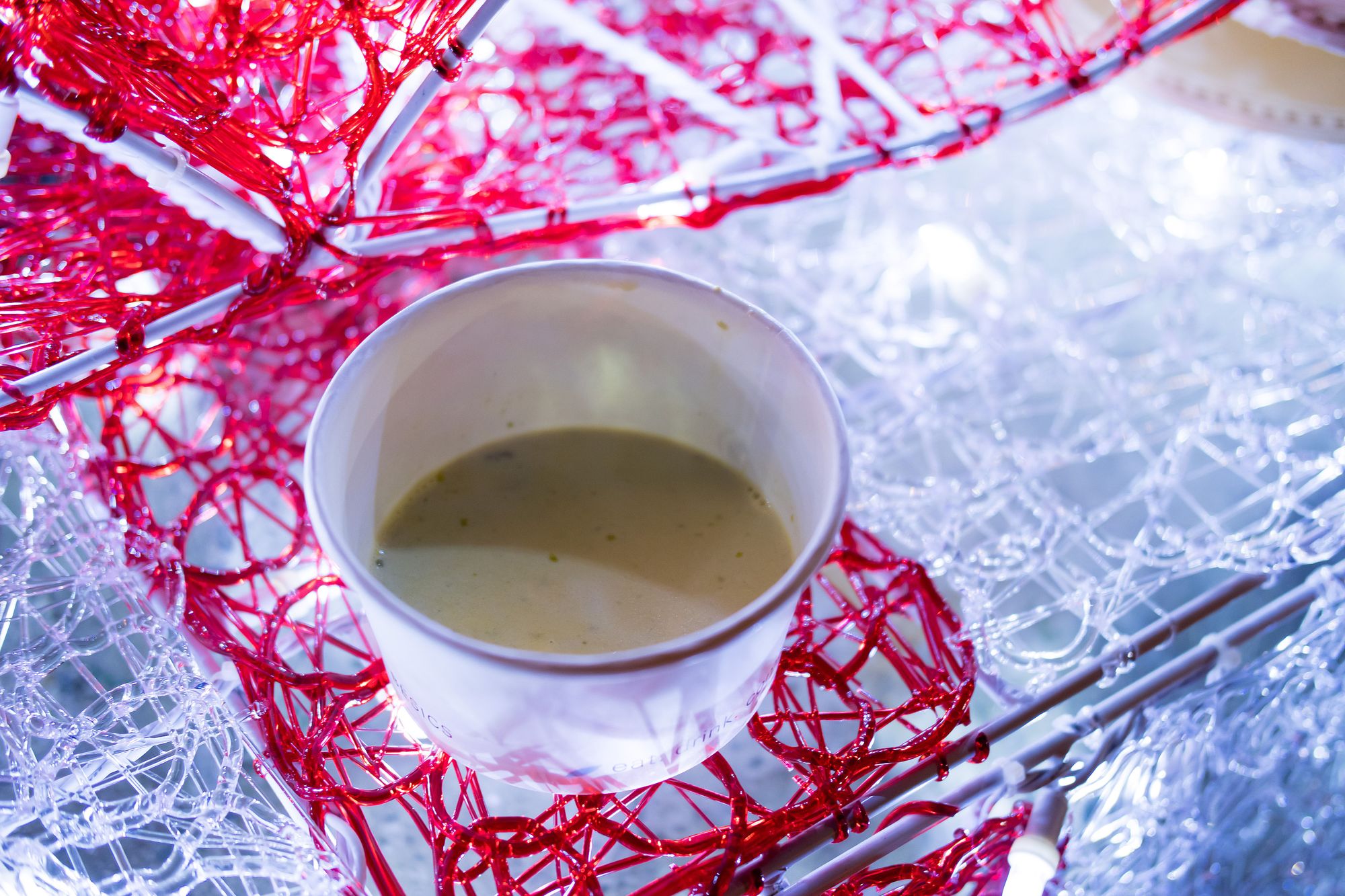 For something more handheld, the das brat from Freybe Brat Haus fit the bill. Each bite into this thick sausage had the right amount of pop and flavour to fill my mouth.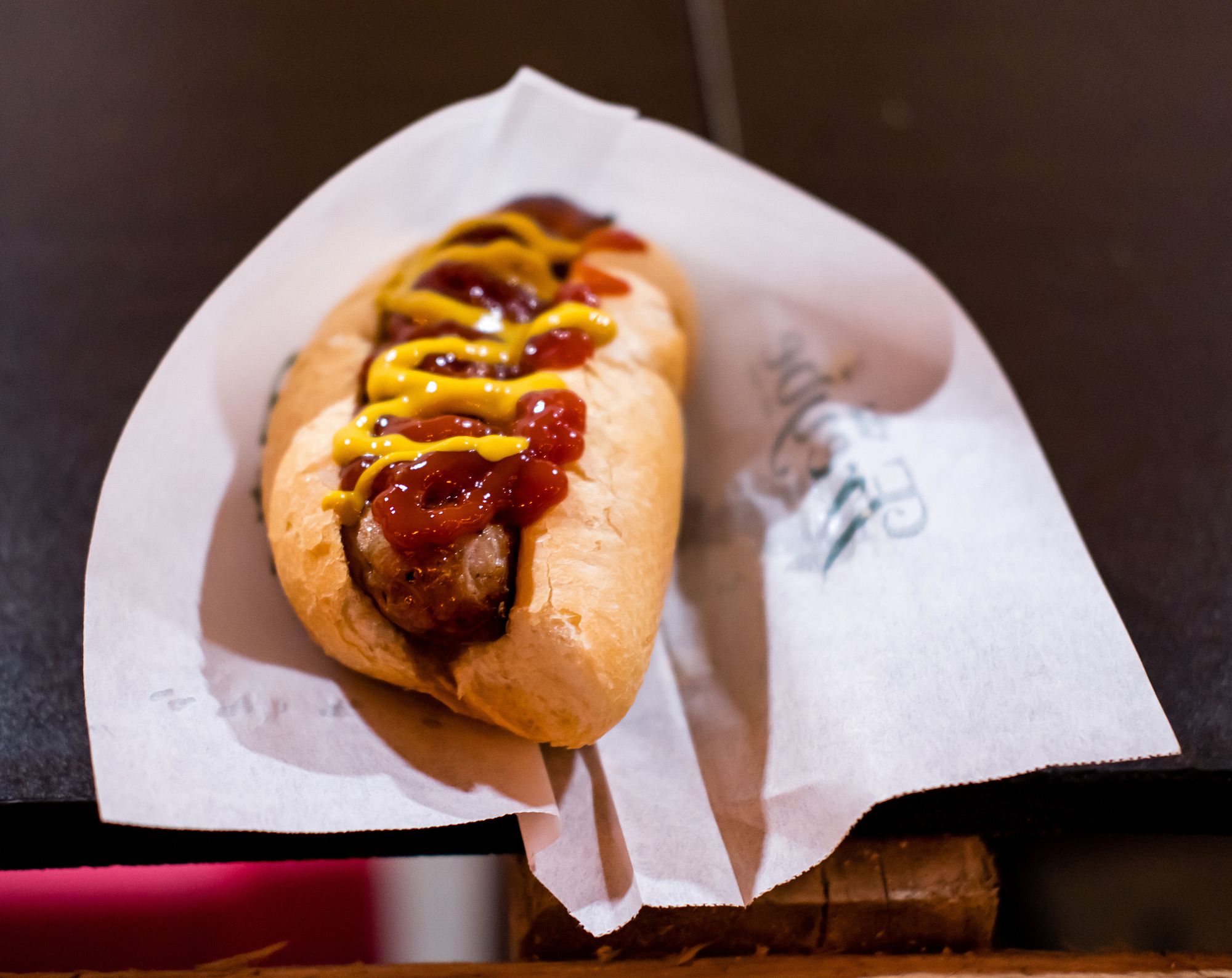 Fun fact: one companion I visited with claimed that all she needed to be full was pretzel and glühwein. Crazy how these European diets work, eh? In any case, the pretzels from Mr. Pretzels were a doughy weave of happiness. Each bite was extra savoury and chewy – way different from the pretzels you'd get at sporting events. This is definitely $6.30 you need to spend. The stall is so busy that the pretzels have to come out fresh. If you love thick salt crystal, this one's got them real thick.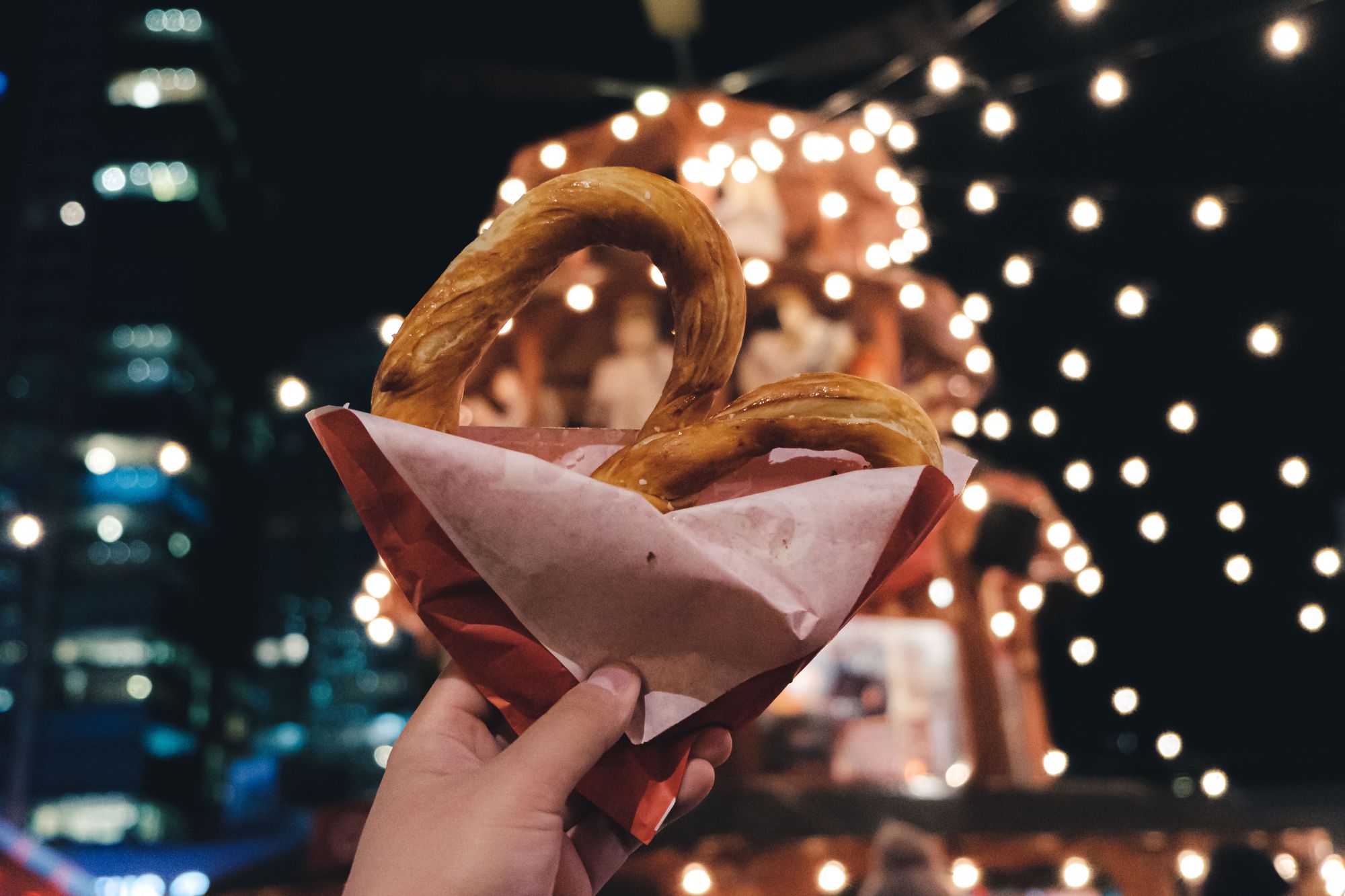 Another annual favourite would be the spätzle from Das Spätzle Haus. This German egg noodle was served with cucumber salad, cheese, caramelized onion, and had a delicious chewy texture.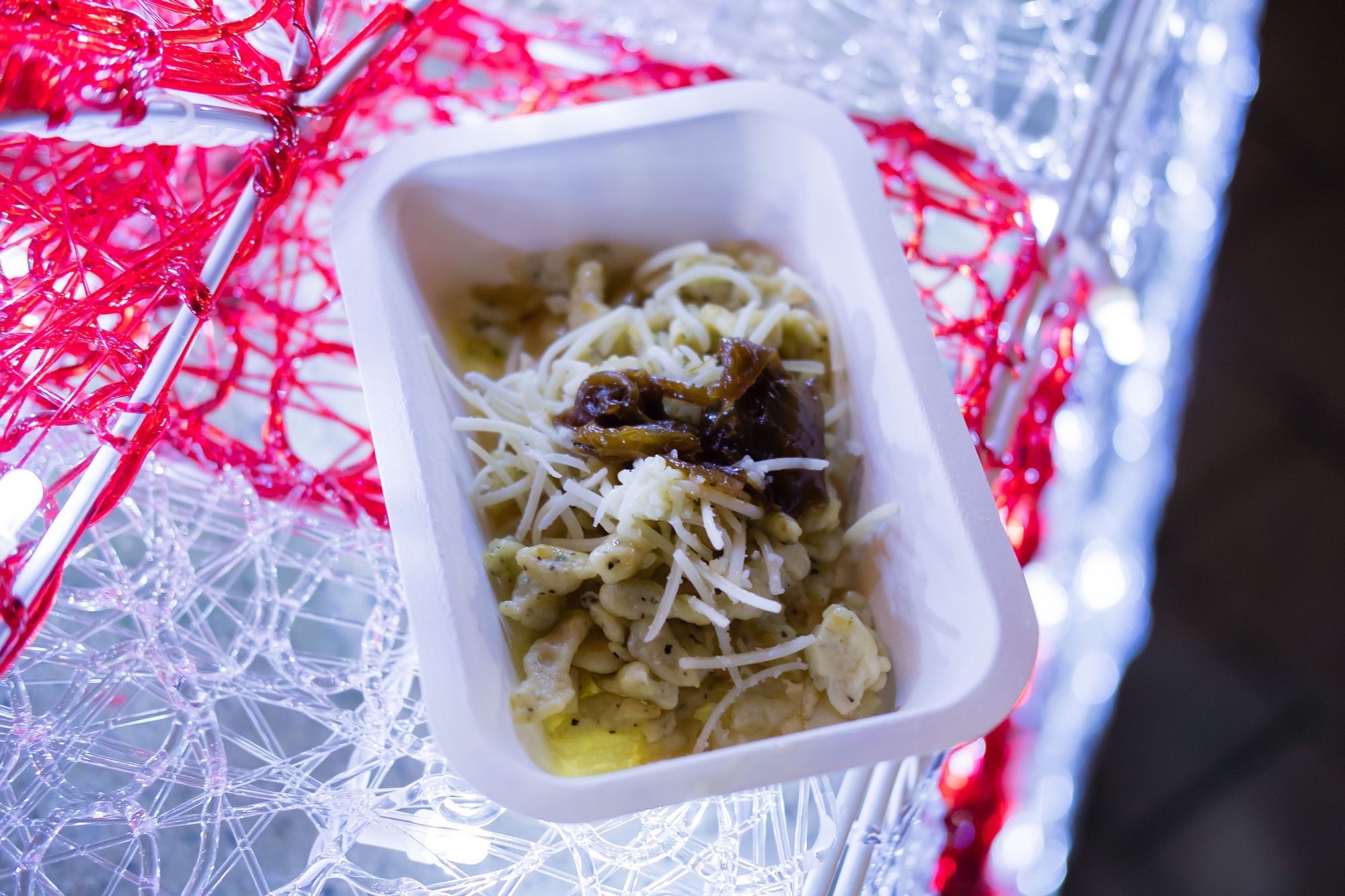 Chimney cakes are some of the most popular desserts to come out of eastern Europe but they're in full force at the Christmas Market at Transylvanian Chimney Cakes. I loved tearing off the coils of bread and biting into the sugar and cinnamon clinging onto the dough.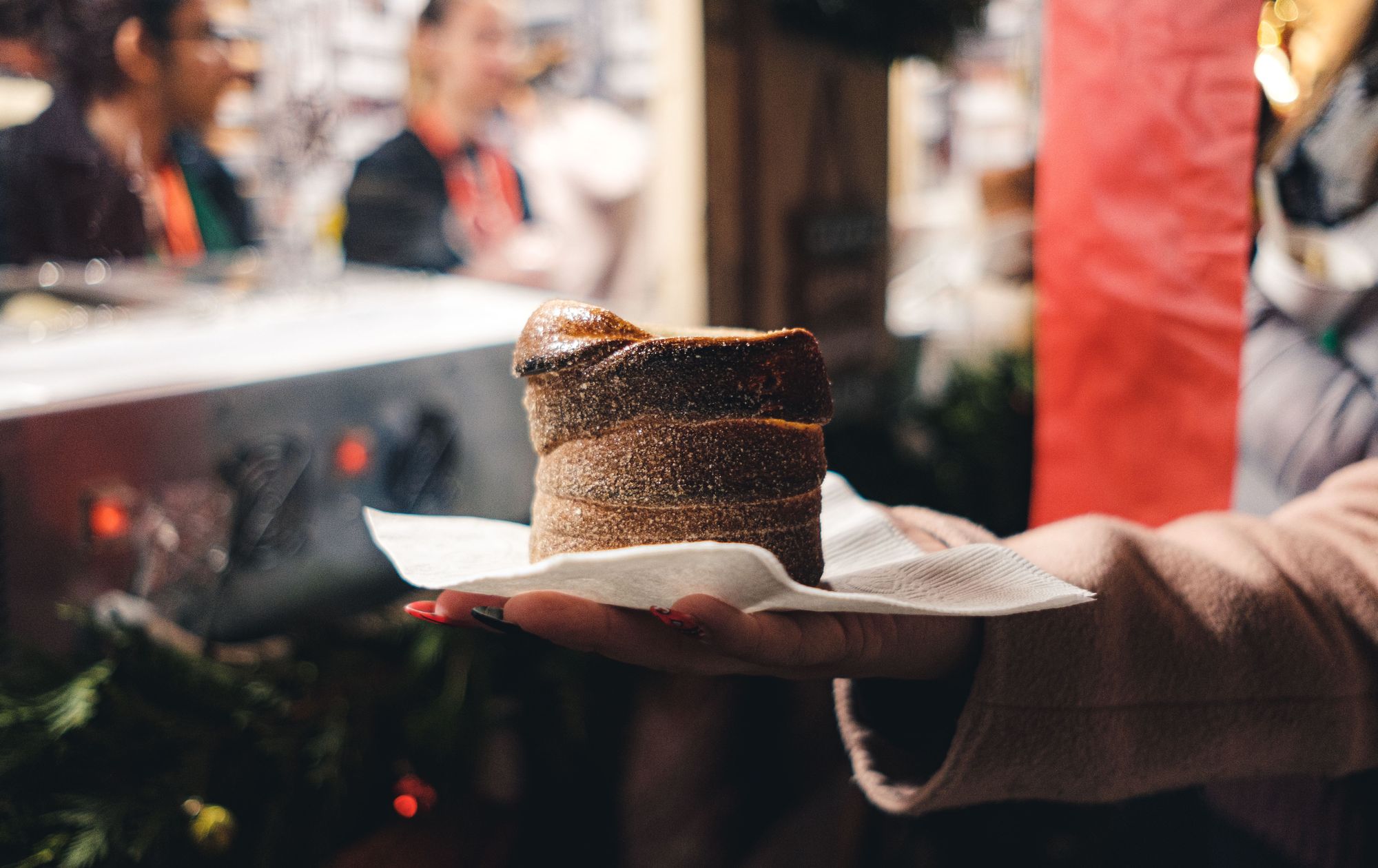 For a warmer feeling in the soul, Das Gulasch Haus is an aptly named vendor serving up hearty stews (beef and vegan gulasch) and you even have the option of eating it out of a bread bowl. This kind of stew takes me back to my Tim Hortons childhood but with a little more love in the stew.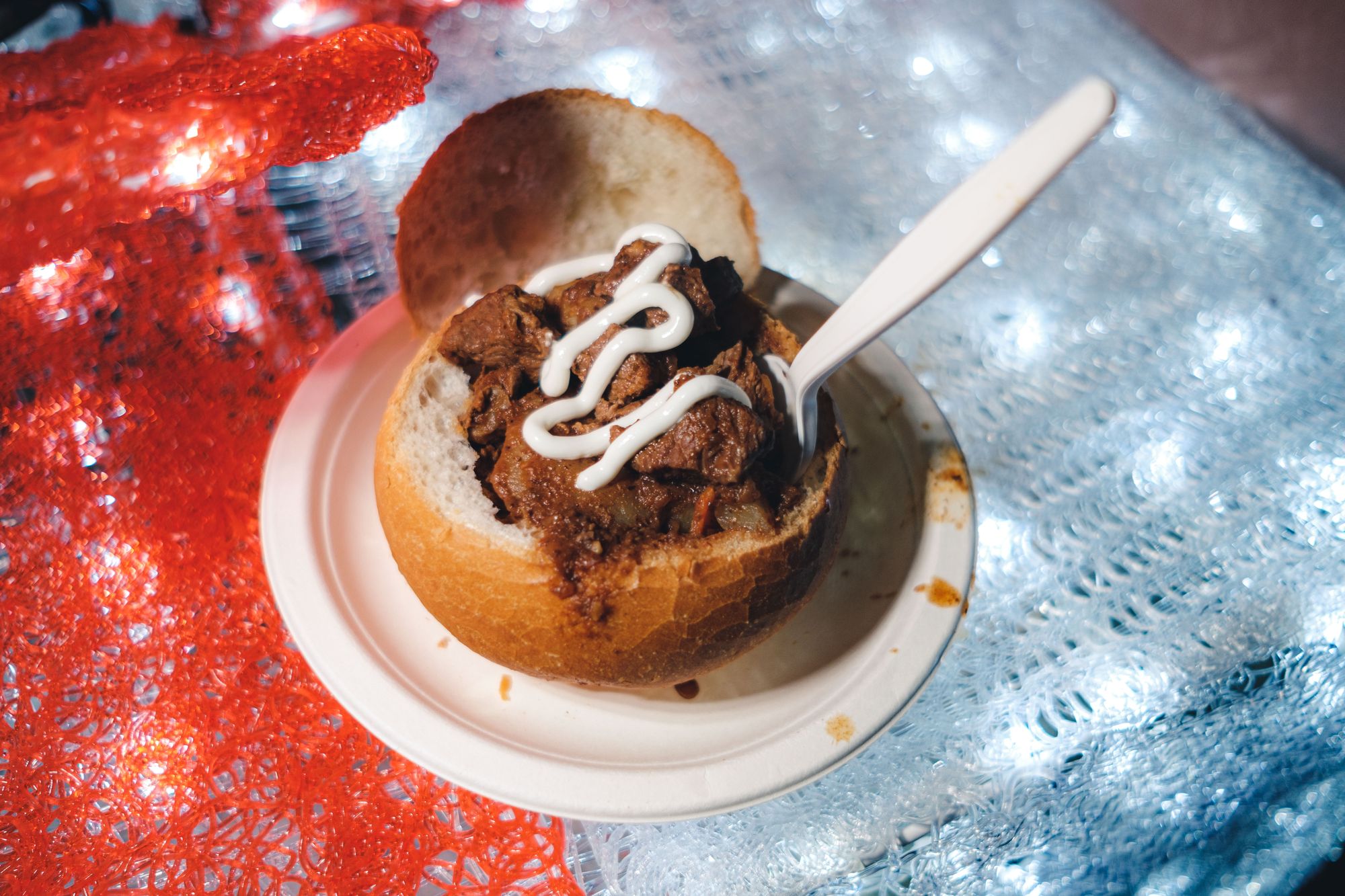 Poffies had a strange disappearance when the Vancouver Christmas Market moved into Jack Poole Plaza but I'm elated to see them back at Two Sweet Elves! These are doughy pieces of joy served with your choice of toppings and whipped cream. You can go nuts with the candy but I was sitting pretty happy with strawberries and condensed milk.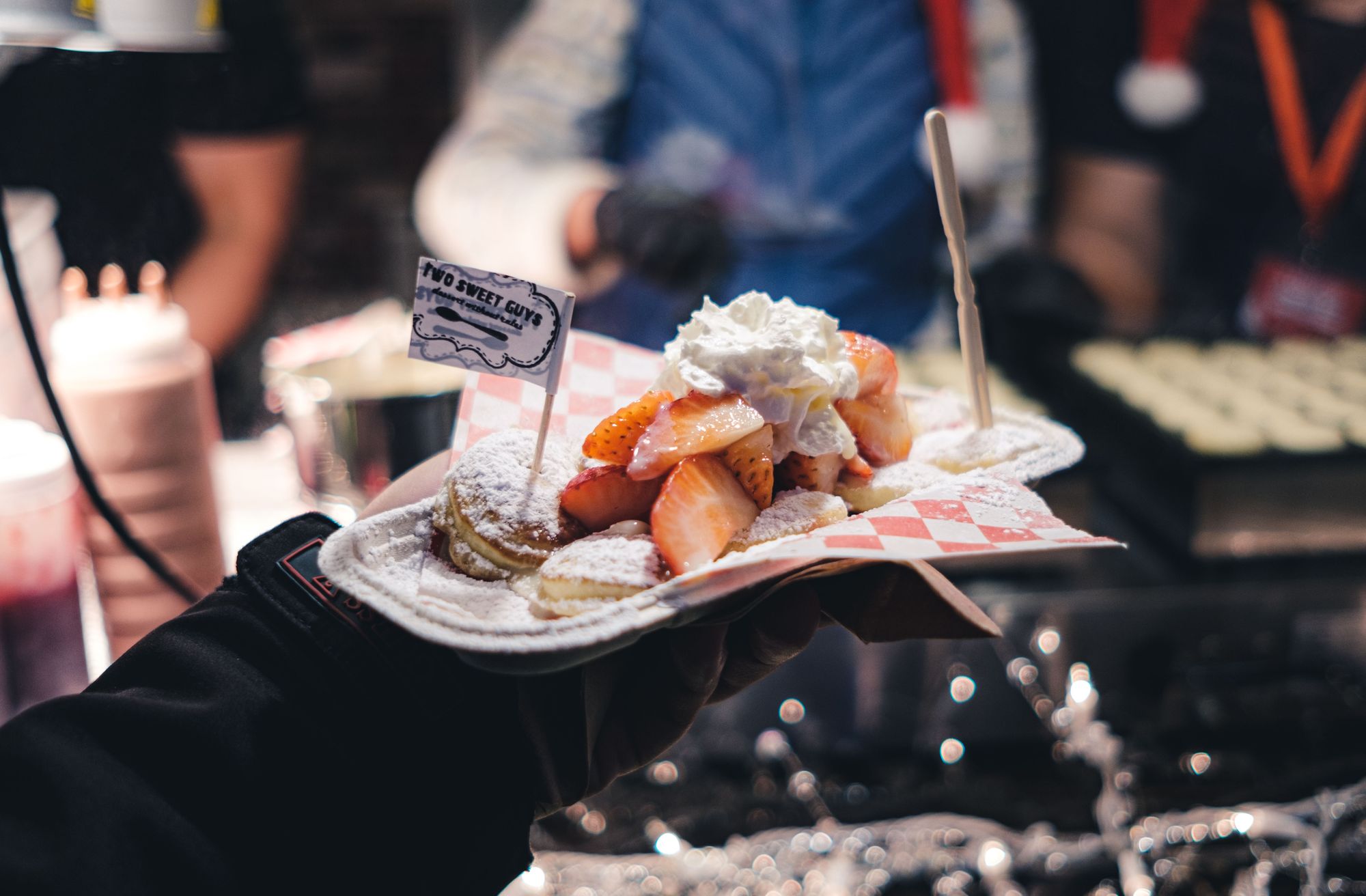 Now here's a cool treat to be had. At Mr. Hotcakes, you can order their signature hot cakes which are savoury pancakes meant to be paired with a sweet treat. In my case, I had the original hotcake with vanilla ice cream. The contrast between sweet and savoury was pretty good here and at $8 I think this is one of the best value foods you can buy at the Christmas Market.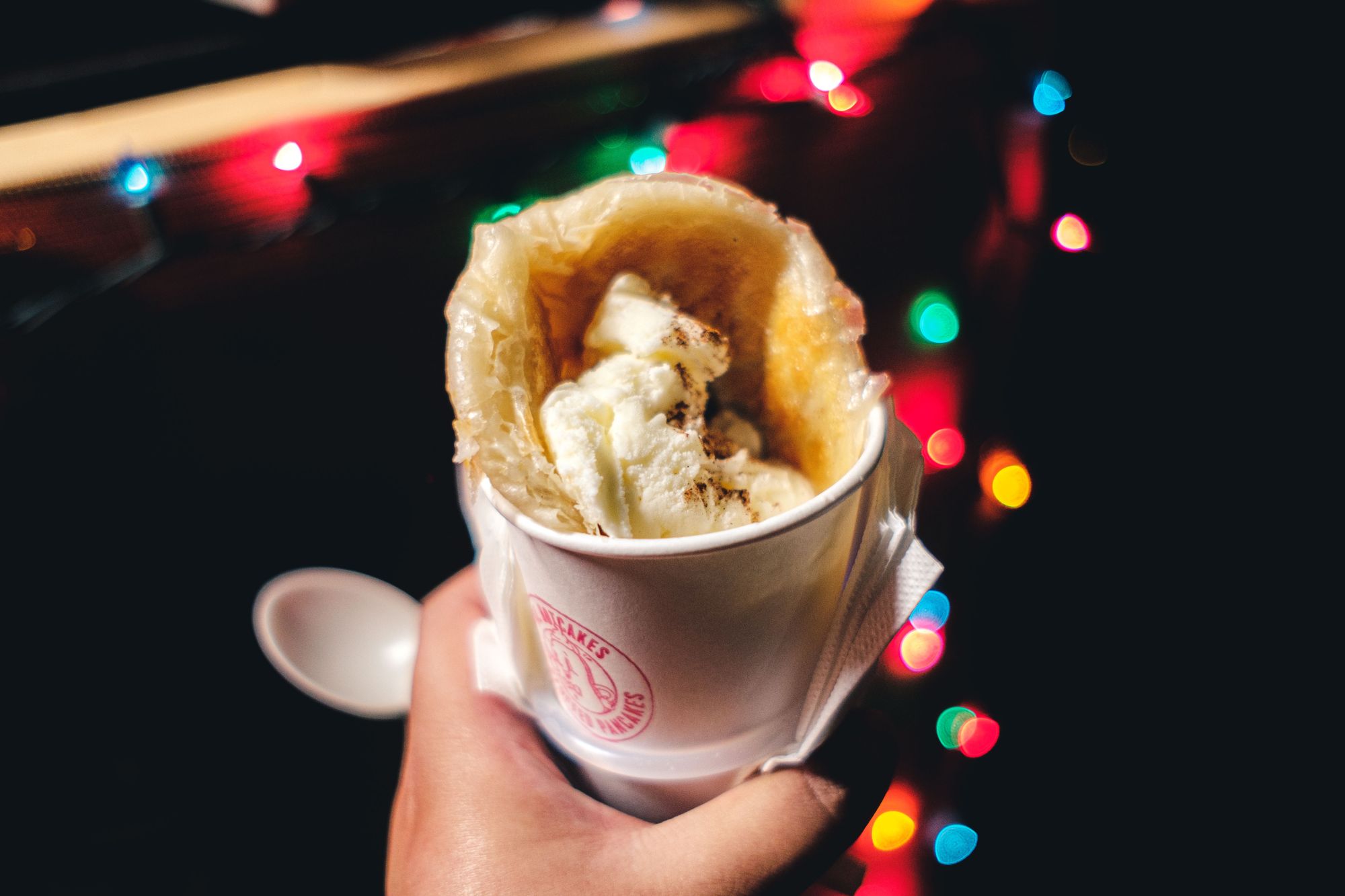 Inside the Wünderbar (age 19+ required) you can sit down for a drink and enjoy a board of charcuterie. The drinks here are the same price as the drinks outside but since they're alcoholic you have a little less volume to compensate. I had a whiskey sour which went by the name of Scrooge Sour and it came with this neat little light built into the glass.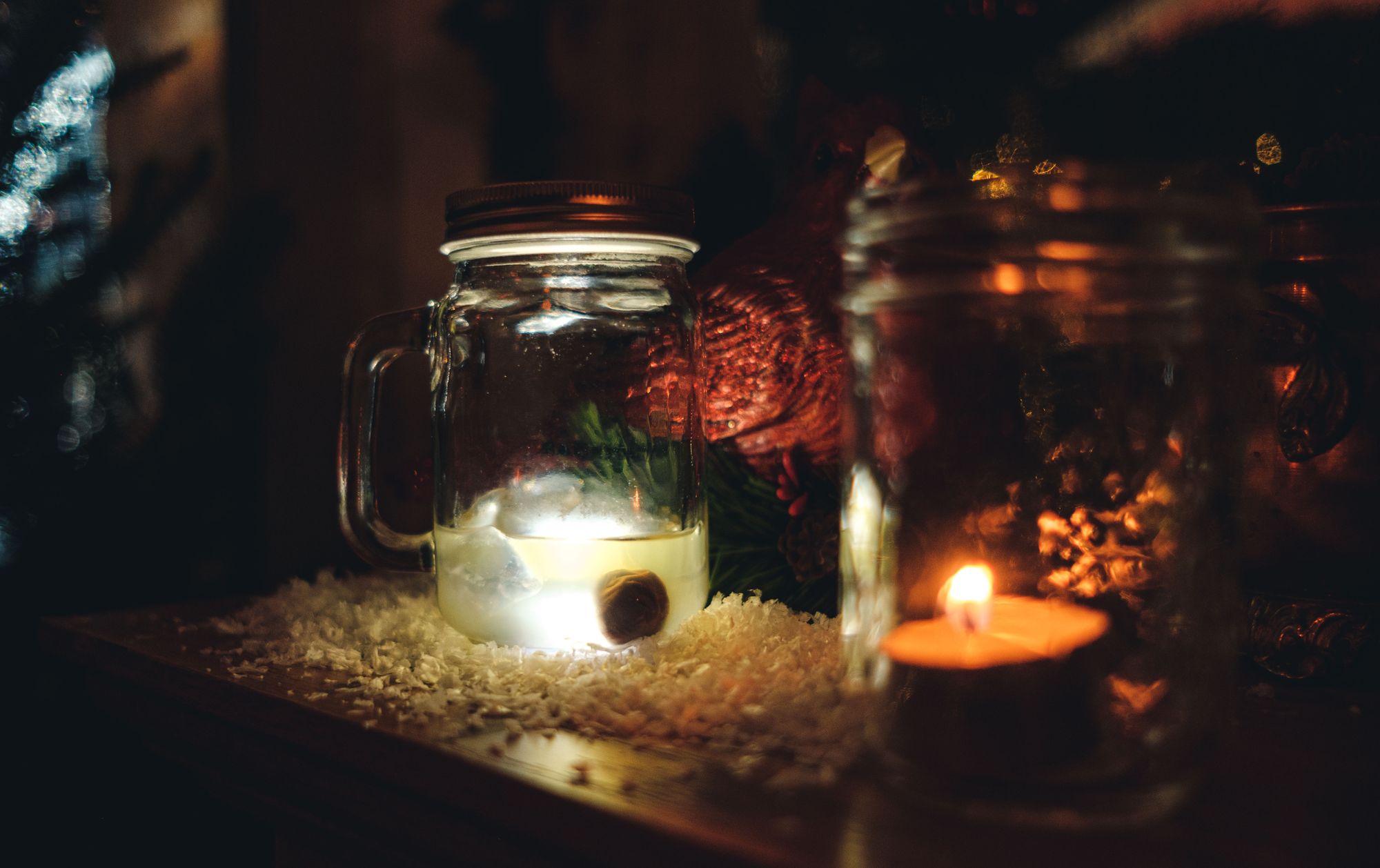 One place that's never included on the media tour and one I'll always visit is Haxen Haus who serve up rows of pork hock. Pork crackling and Chinese-style roast pig are other common names for this delicacy. Fresh off the spit, a roast is cut up for your enjoyment. Each bite had a delicious blend of chewy fat and lean pork. To round out the meal, sauerkraut and bread were served as sides.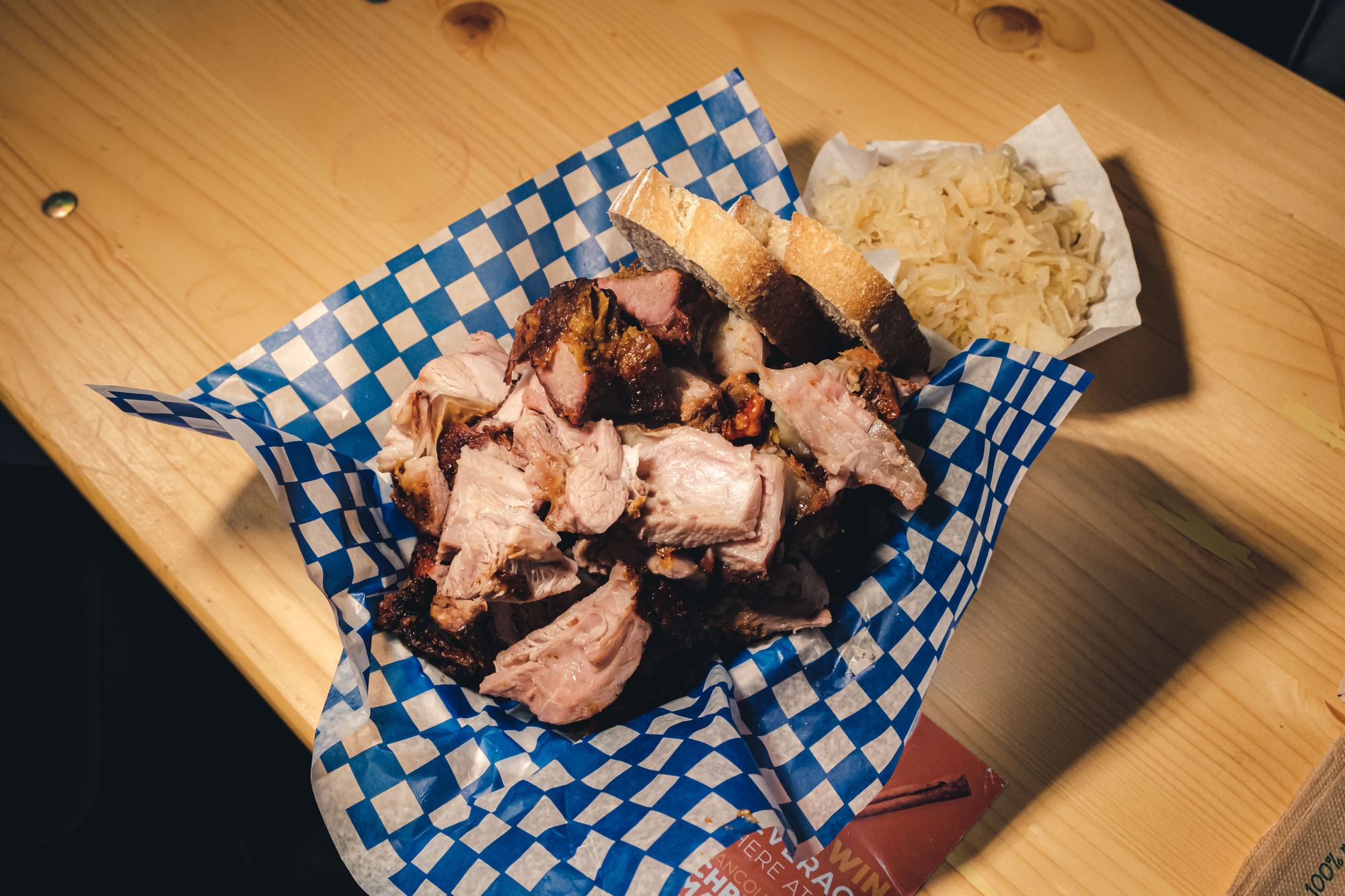 The pork hock is probably the most expensive food item in the market but it's absolutely worth it. I'm pretty sure this stall alone is proportionally responsible for the success of the Vancouver Christmas Market.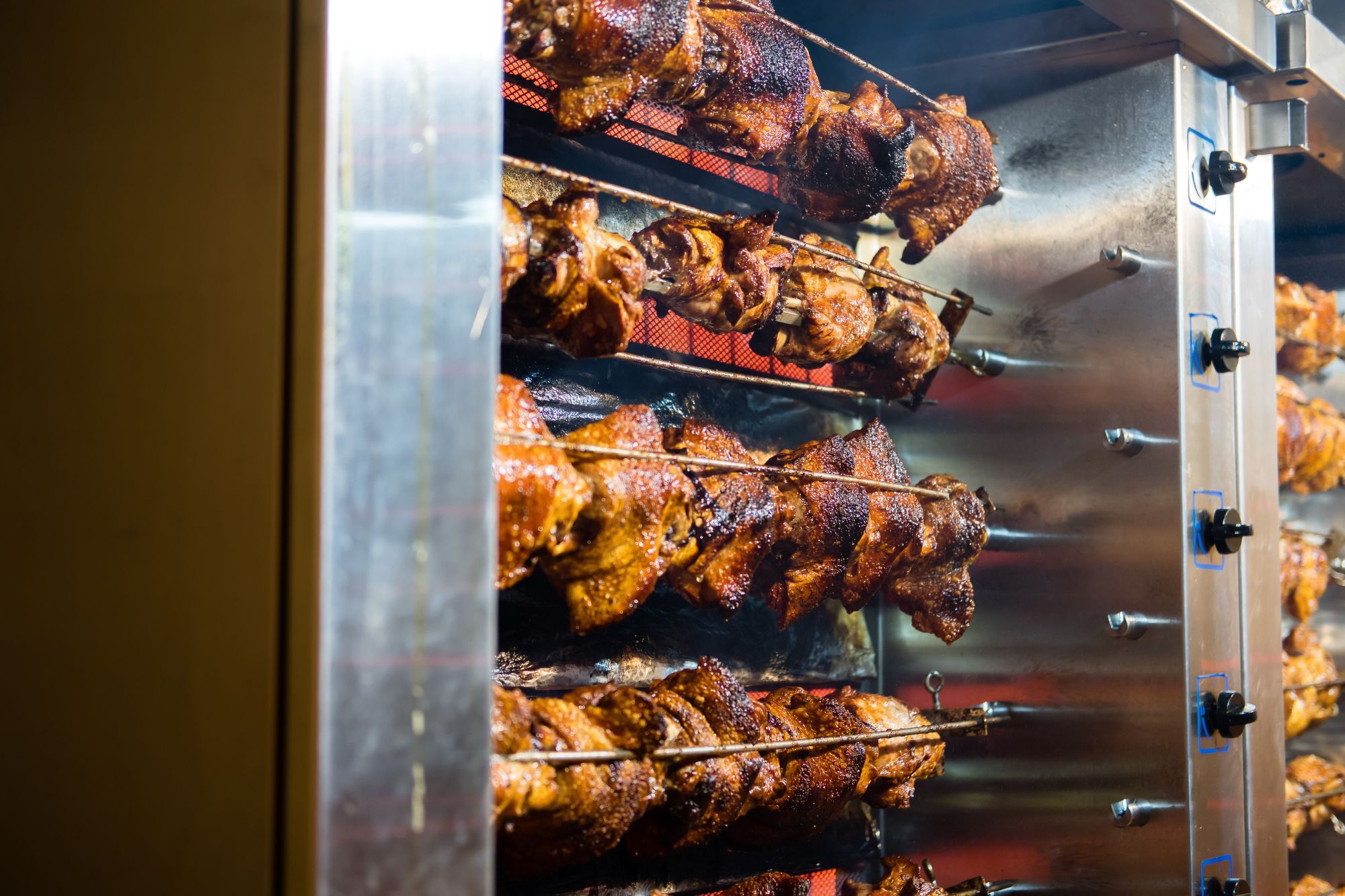 Another mainstay of the market that's been around for as long as the market is jager-schnitzel from Das Schnitzel Haus. Pounding a slab of pork never goes out of style and the breading on these schnitzels is supreme. Each one is fried to order ensuring you get a fresh one for your $18.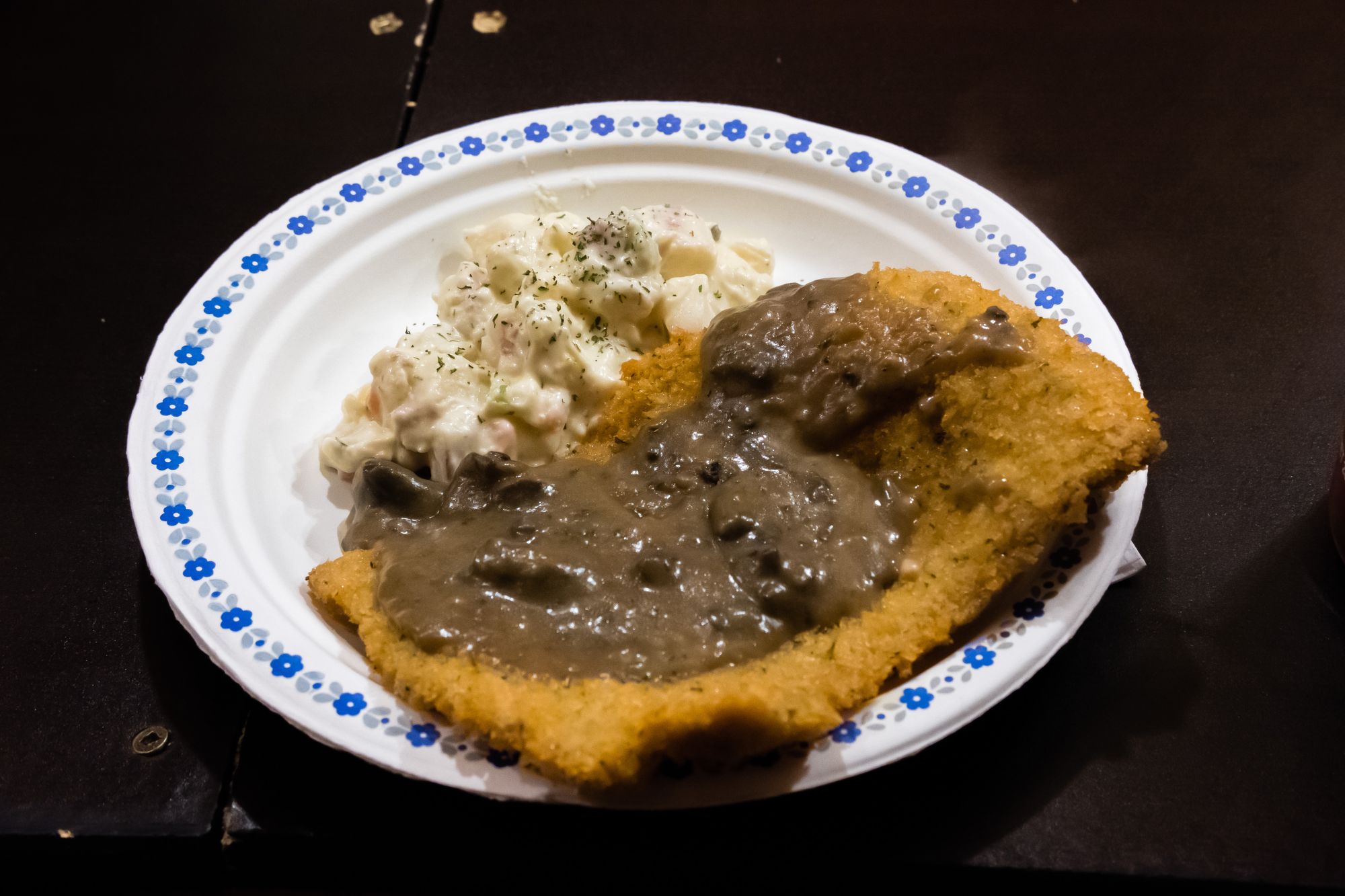 Price-wise, the price of food has stayed relatively constant, with nothing rising as astronomically as last year. My sources of reference are what I wrote during my previous visits in 2017 and 2016.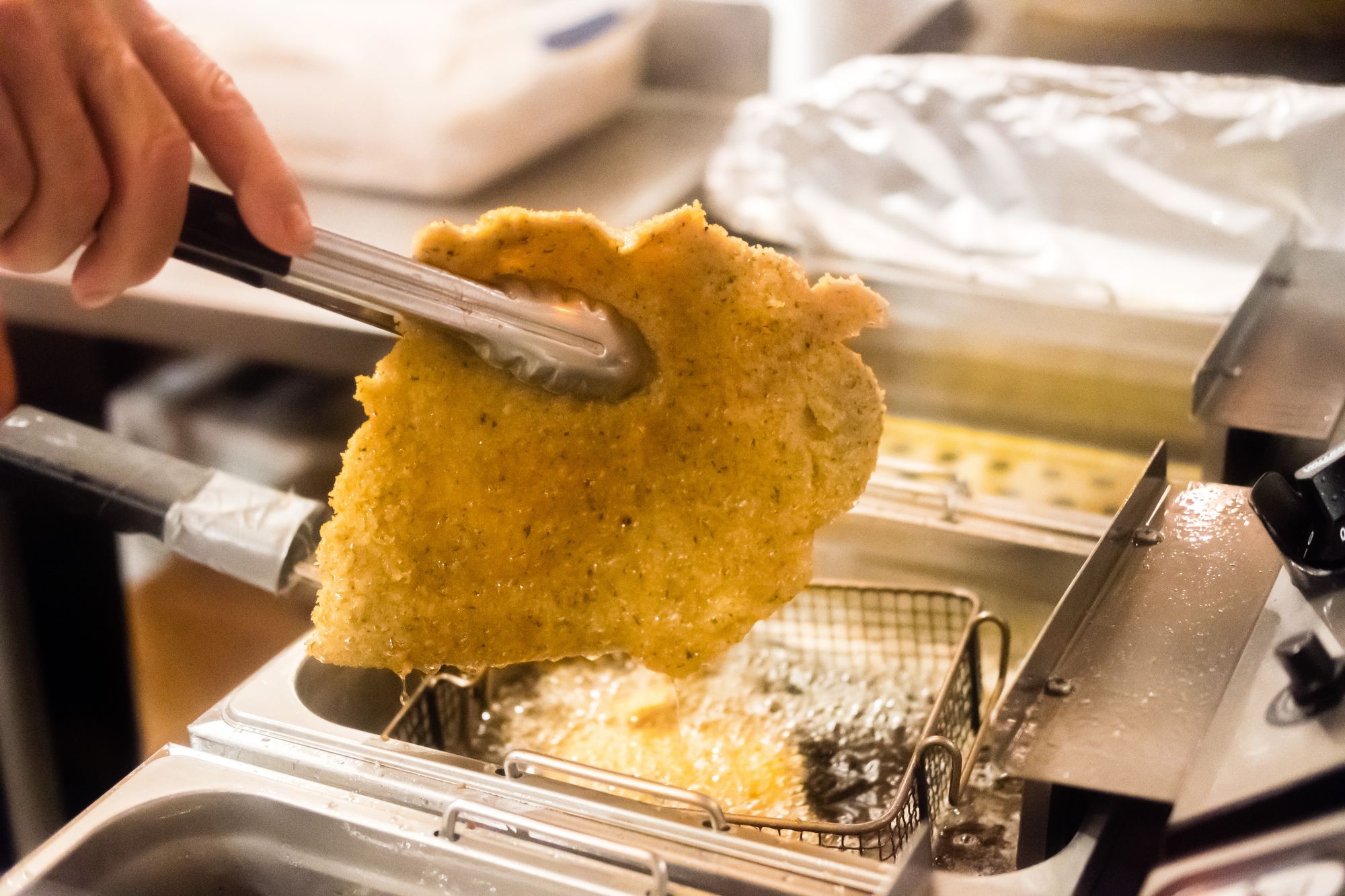 Features:
The theming and immersion factors of the Vancouver Christmas Market are fantastic. To validate this opinion, I visited with my co-worker who commented that the look was exactly what she was used to in Germany with the only difference that the Vancouver market was situated in an extremely urban environment.
The various stalls are home to an assortment of goods. If you're not here for the food, I kind of question your morals, but I can get behind some of the other fine features of the Vancouver Christmas Market which I'll share some photos of below.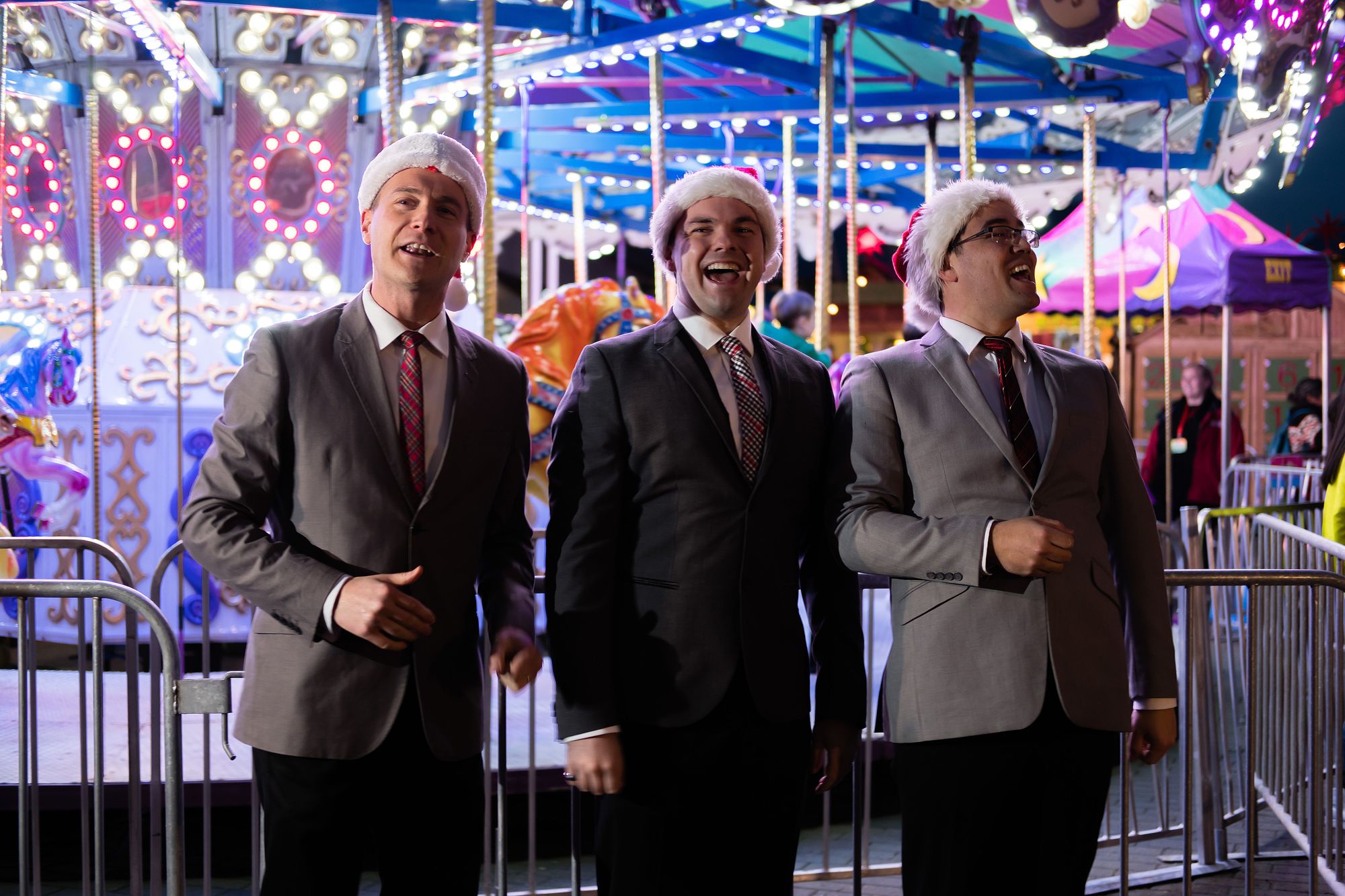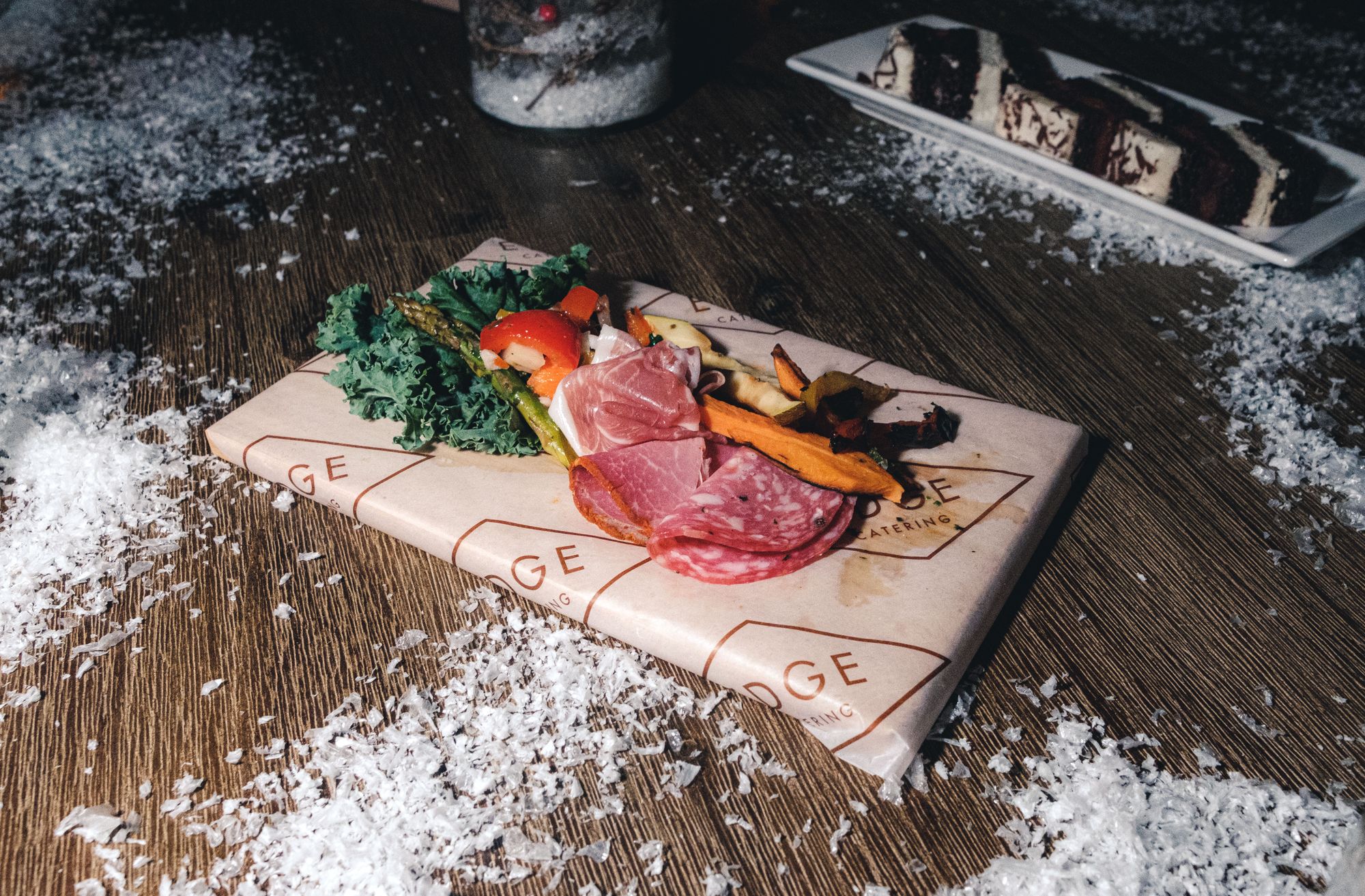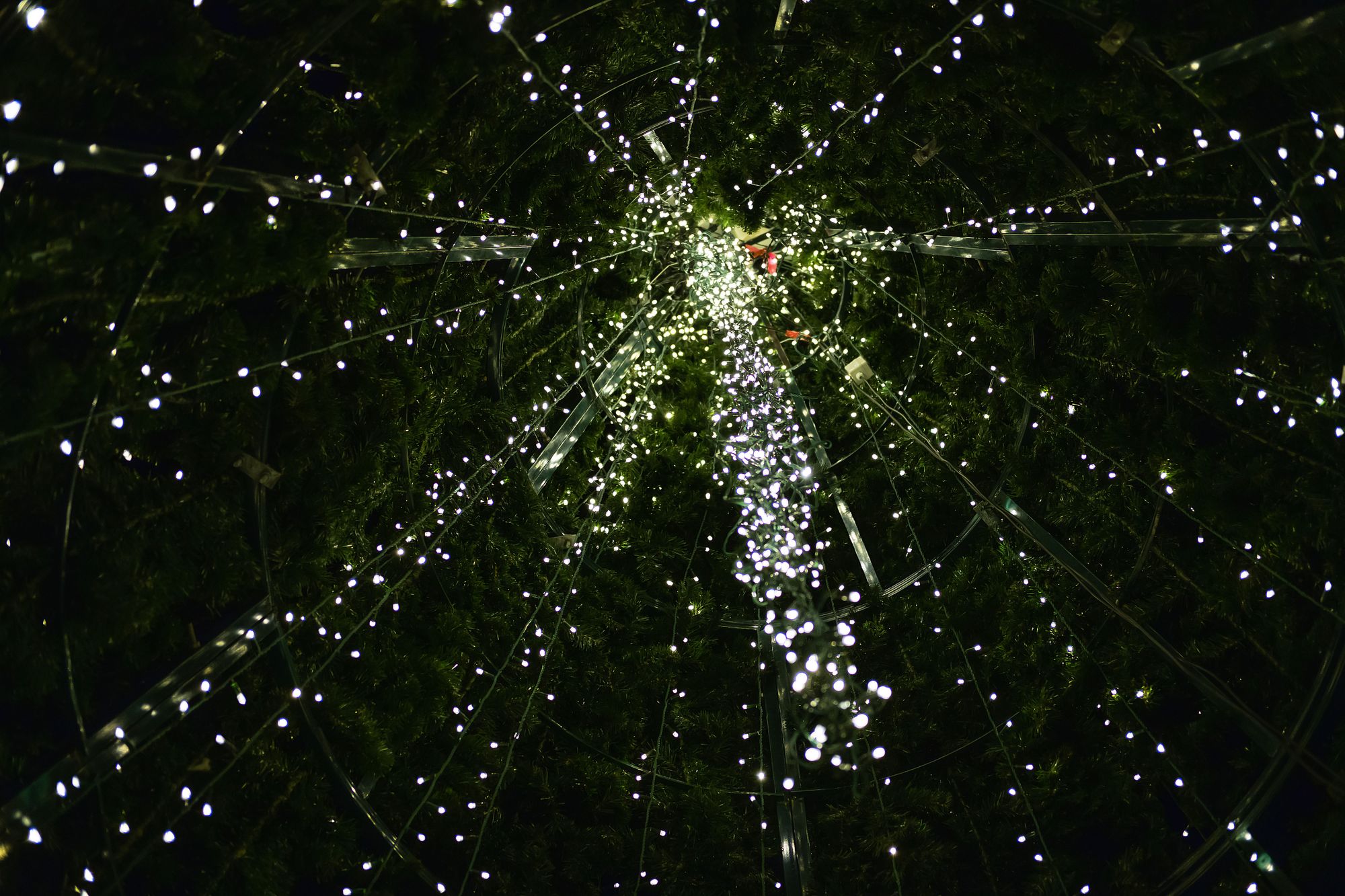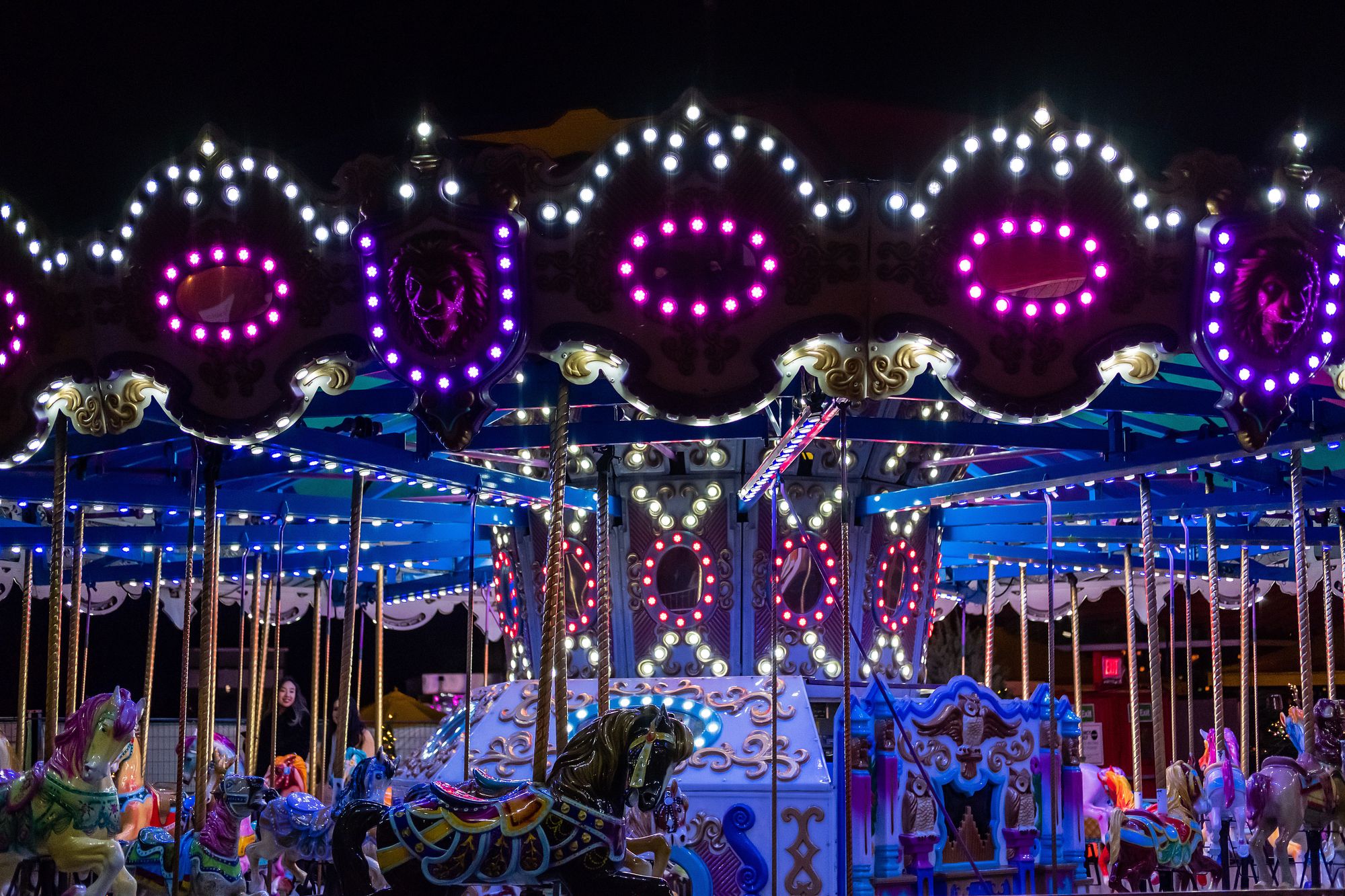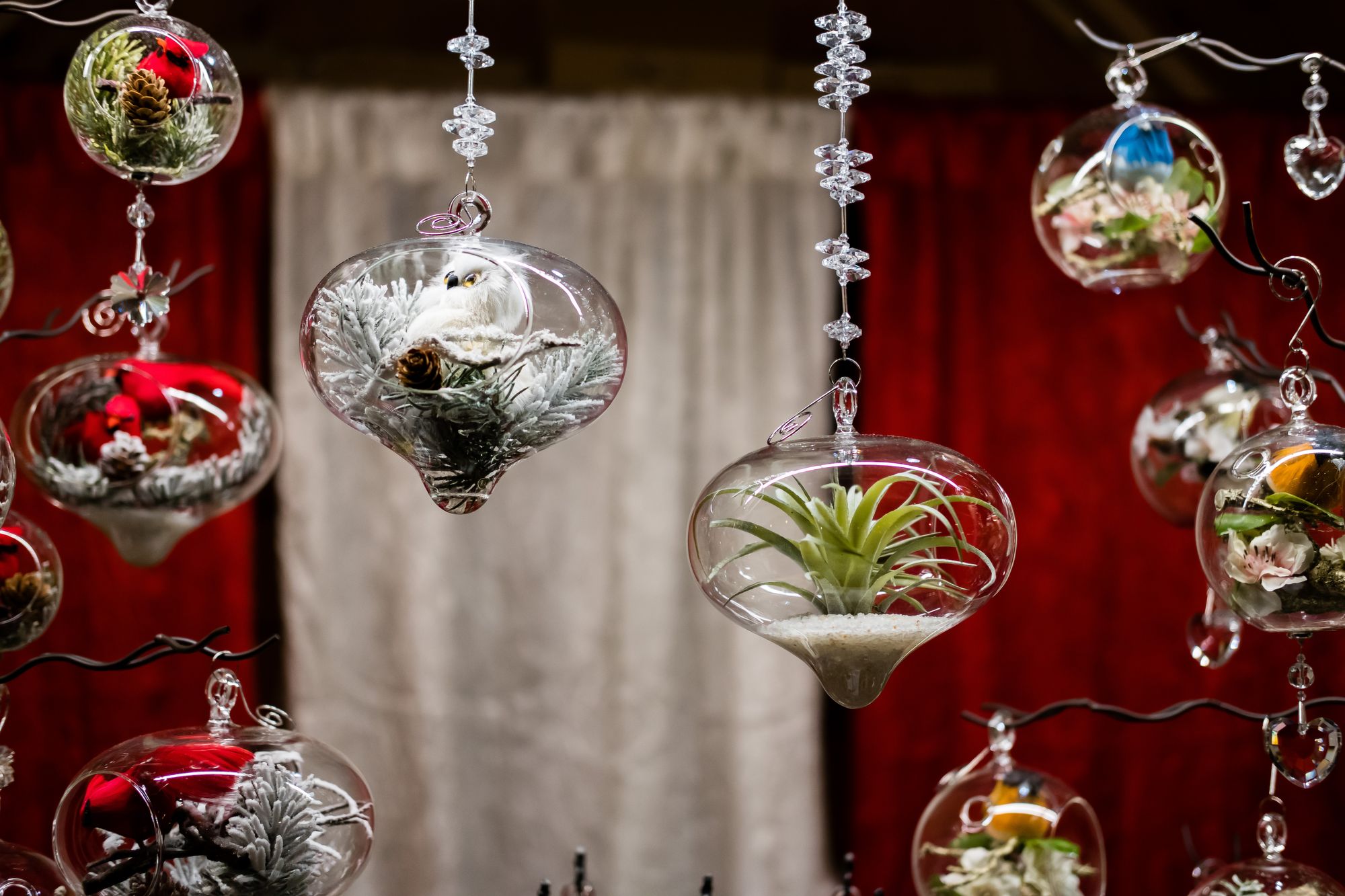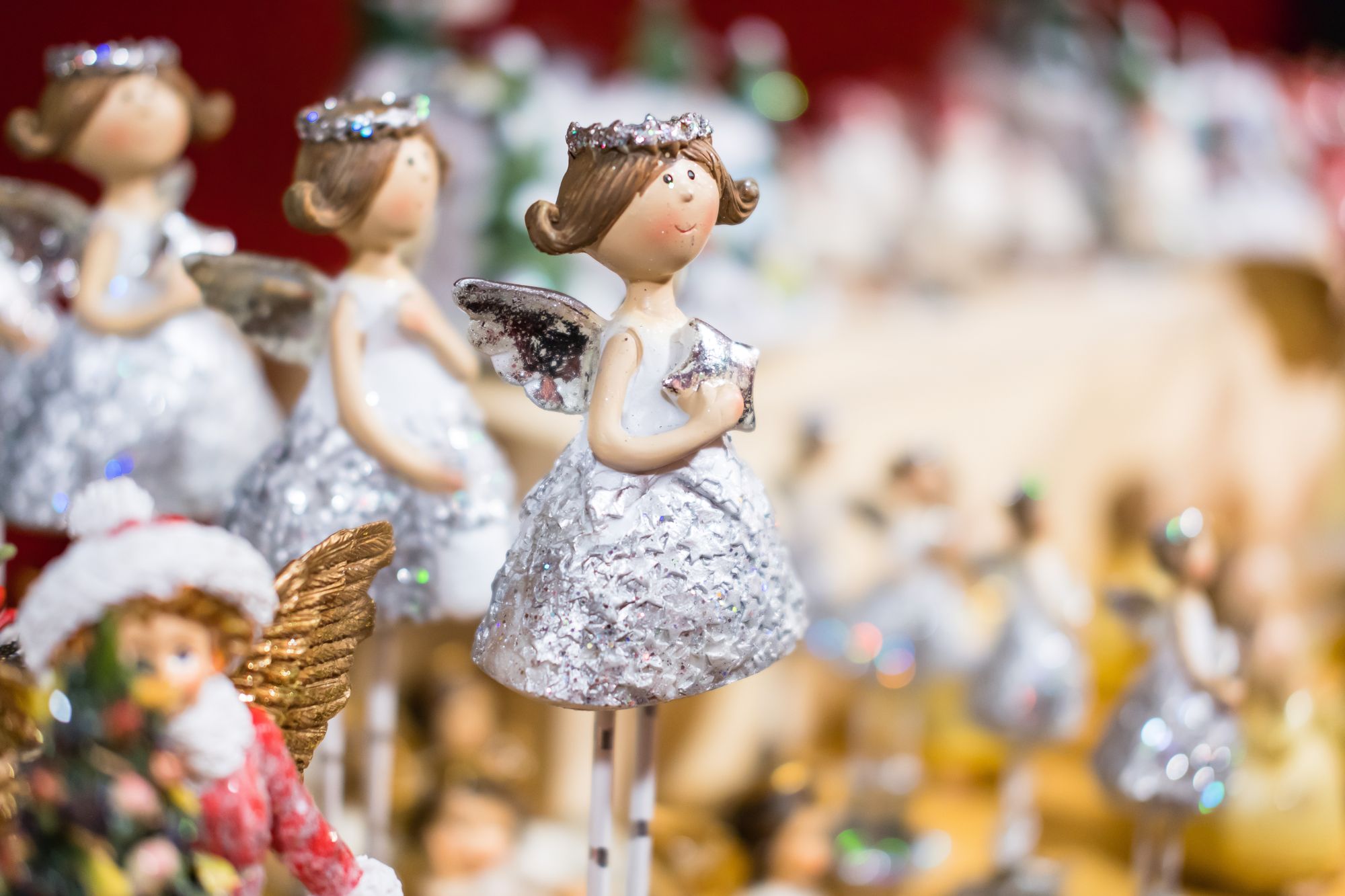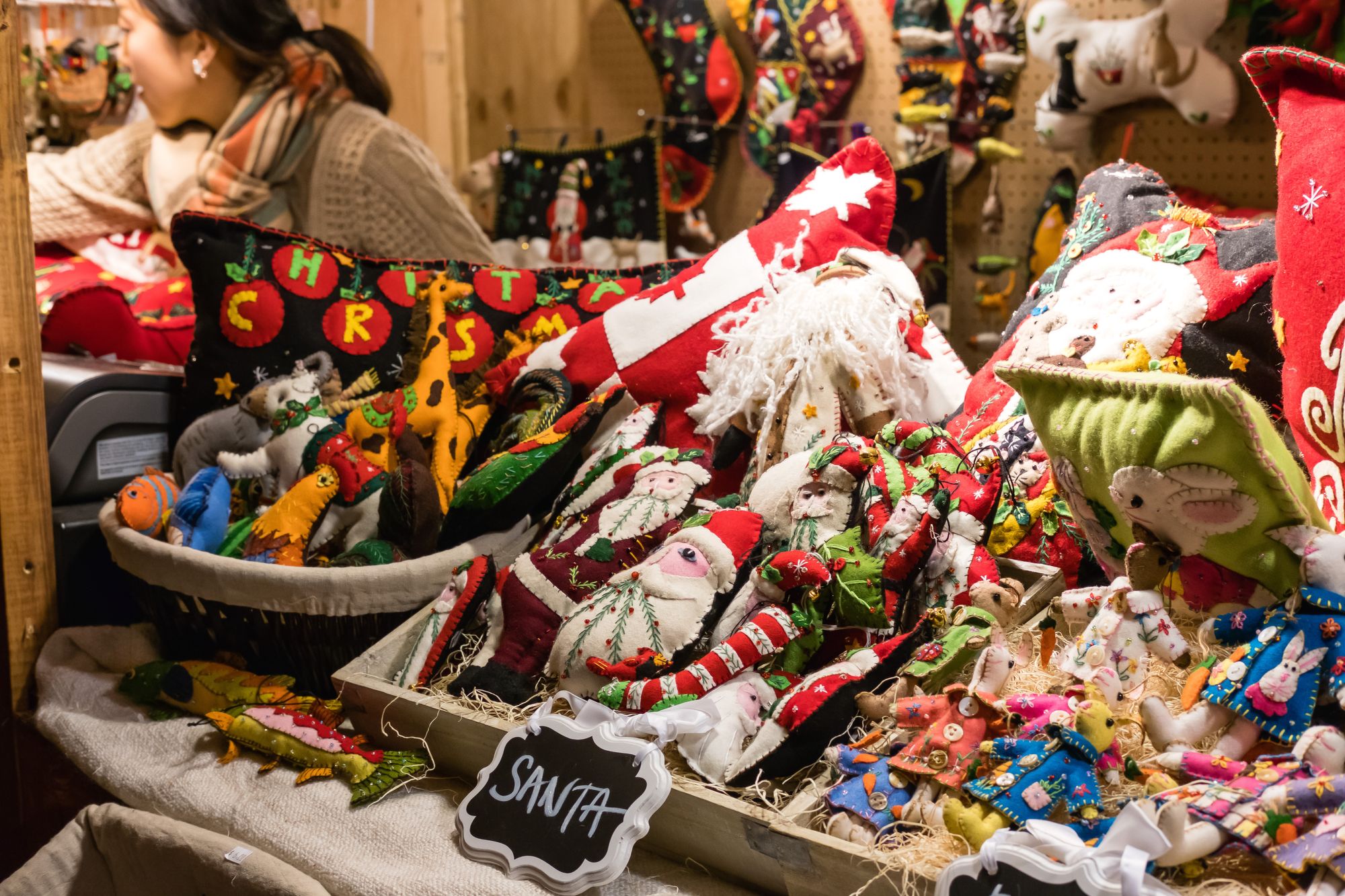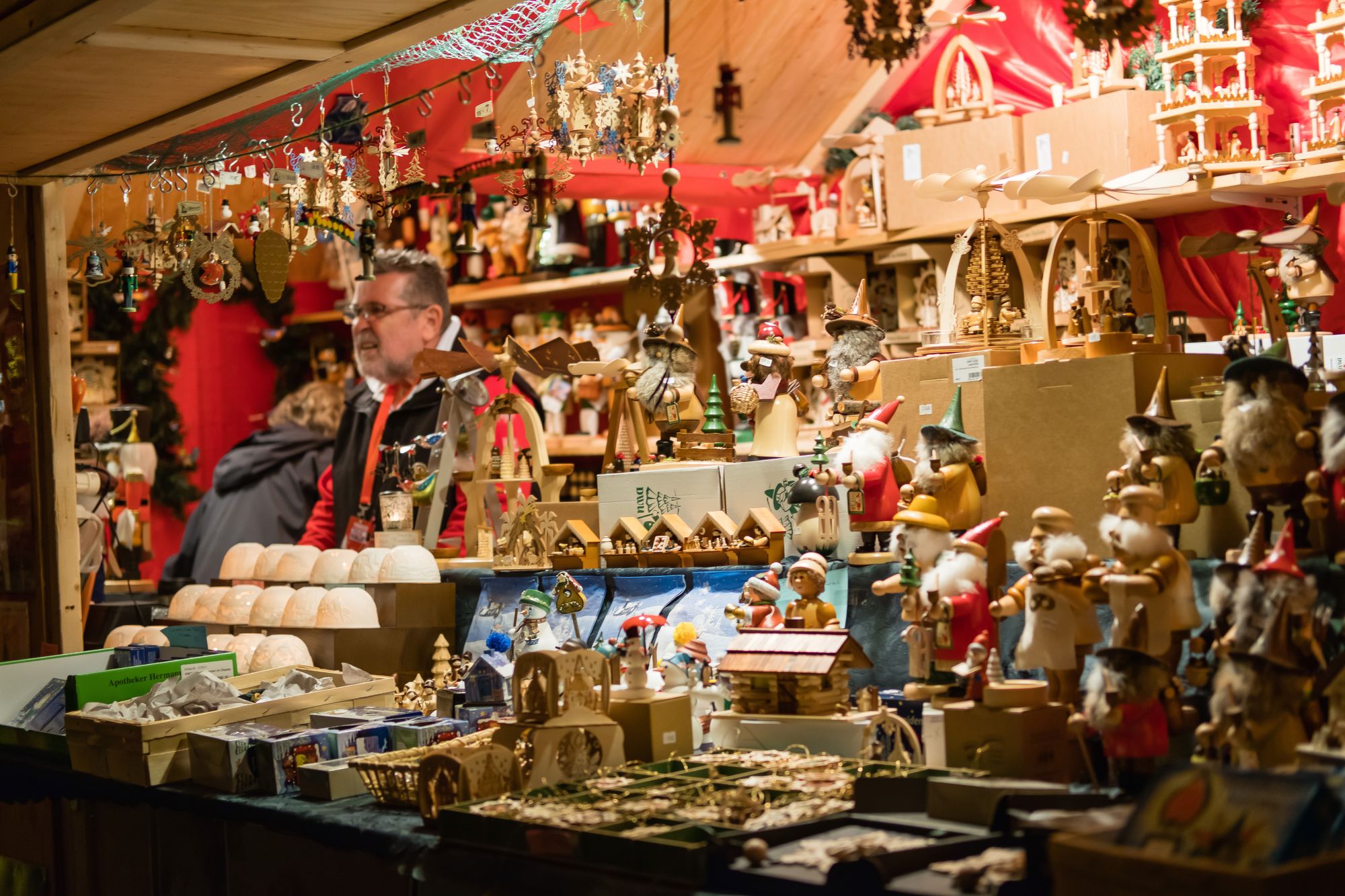 FlyOver Canada:
Not directly related, but FlyOver Canada was also a part of my media experience. Here we were guests of a 25-minute 4D experience that strapped us in on a simulation flight across Canada. We're talking about flying through the so-called centre of Canada, "Toronto", and swooping through the Winter Rockies and Okanagan and arriving in Vancouver and Santa's home. The immersion was surprisingly real with rain pelting my face on the waterfalls and the scent of gingerbread as we flew to Kringle Works in the North Pole. My mom was so thrilled she could only handle keeping her eyes open for about 70% of the ride. FlyOver Canada was themed in Christmas lights to keep with the season and served as a great segue from the Vancouver Christmas Market.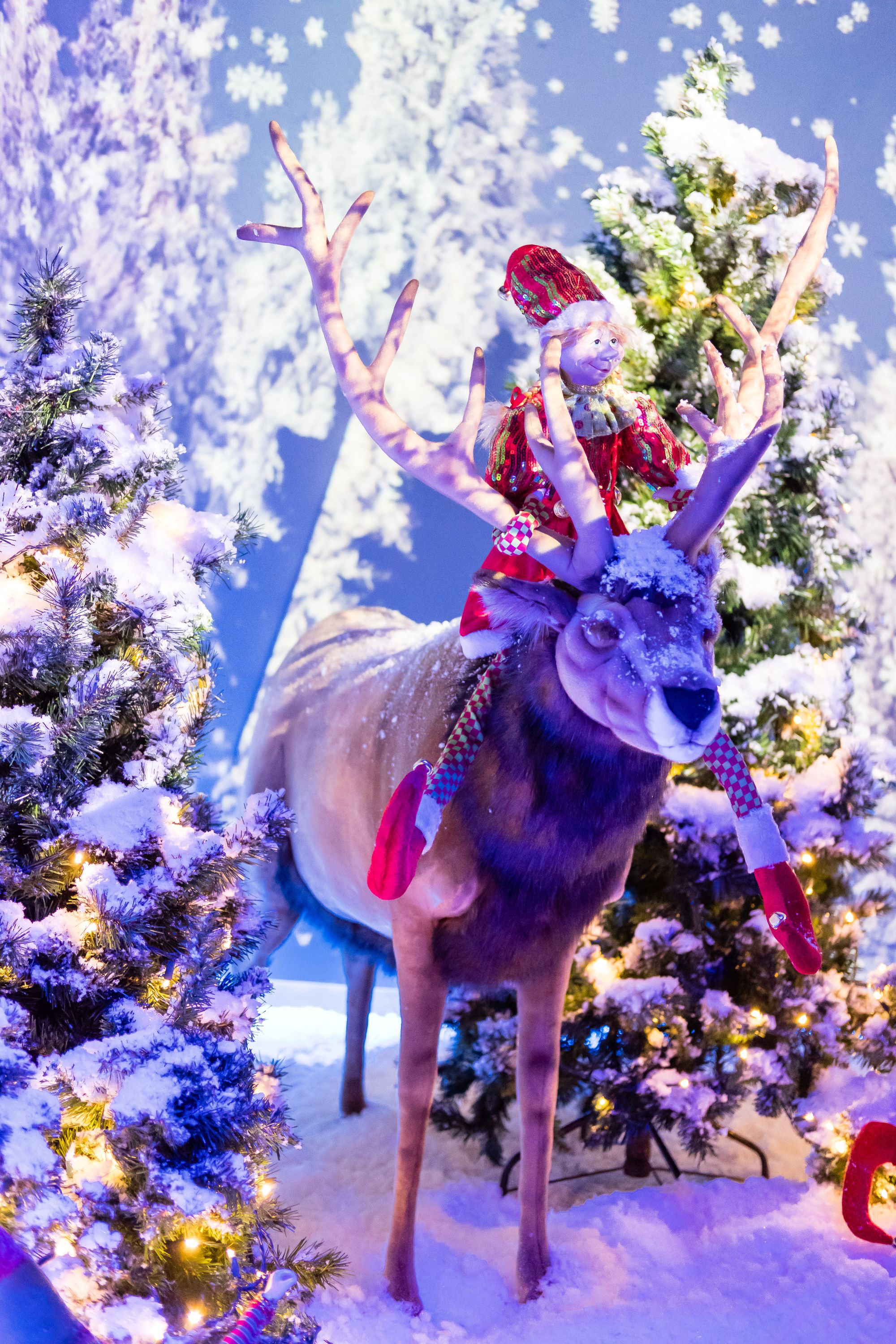 Final Thoughts: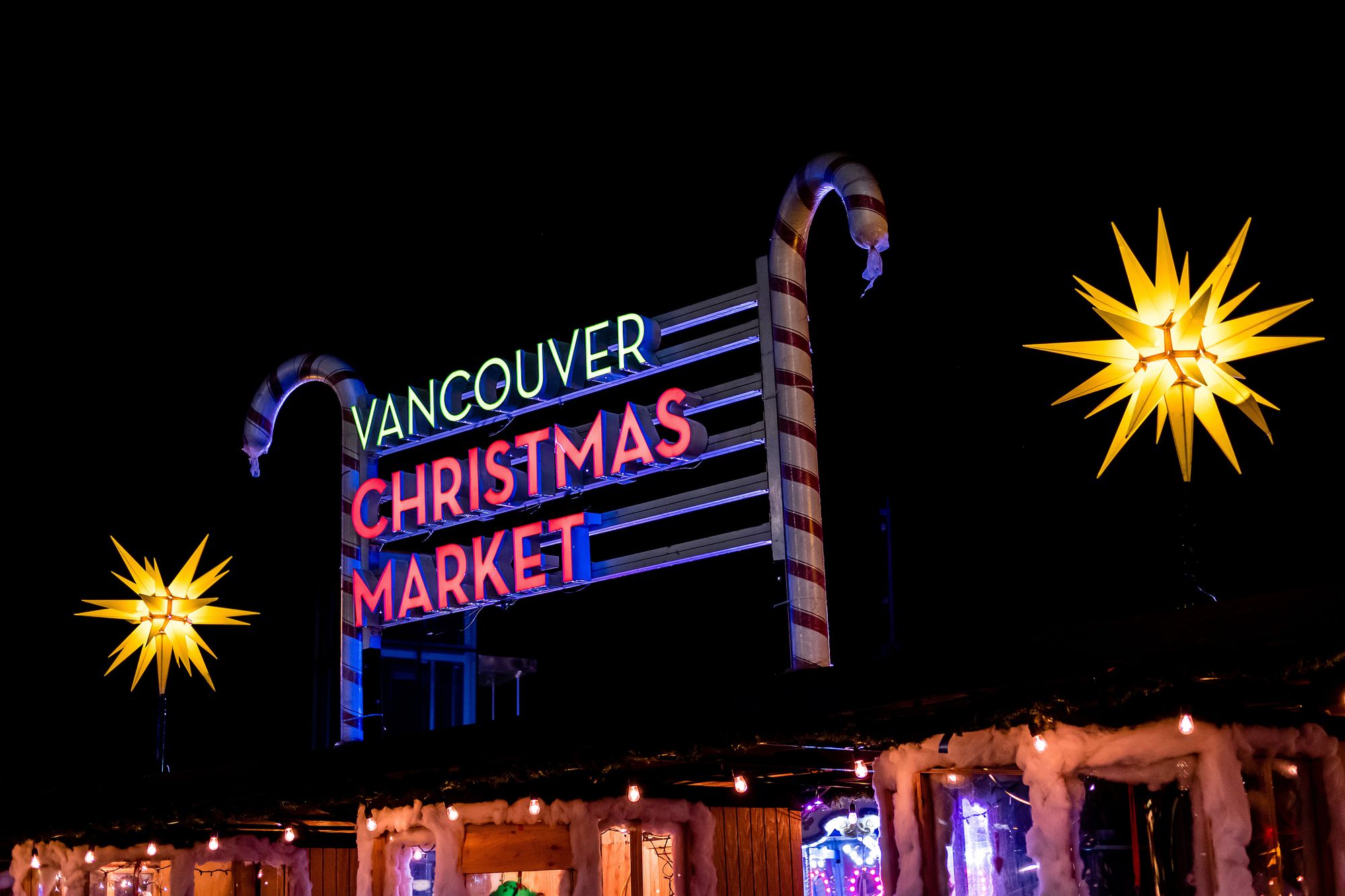 The Vancouver Christmas Market runs every day until Dec 24th and admission tickets can be purchased either at the front entrance or on their website (tickets are cheaper online).
One-liner: Vancouver's best Christmas market for German-style immersion and one-of-a-kind food vendors
Highlight: Haxen Haus Pork Hock
Price per person: $20-$30 (what you'd expect to spend to leave the market feeling full)
Would I go back? Yes.