I struggle when it comes to visiting new spots as soon as they open. So many things can go wrong as a new team gets its operations smoothed out, but I'm also a fan of the umbrella of Kitchen Table Restaurants. Ask for Luigi, Giovane, Di Bepper, Farina are all great places in my experience. It's likely that Mercato di Luigi, the latest addition, will fall in line with greatness in time, but at least for the opening weekend, service, ambiance, and service left a lot to be desired.
I know there are some folks out there who have seen this story before and would never recommend a person visit an eatery on its opening weekend, let alone write about it. In my rebuttal, I'm just a guy who likes to spend money in cafes and I follow the news/marketing stories when these places open.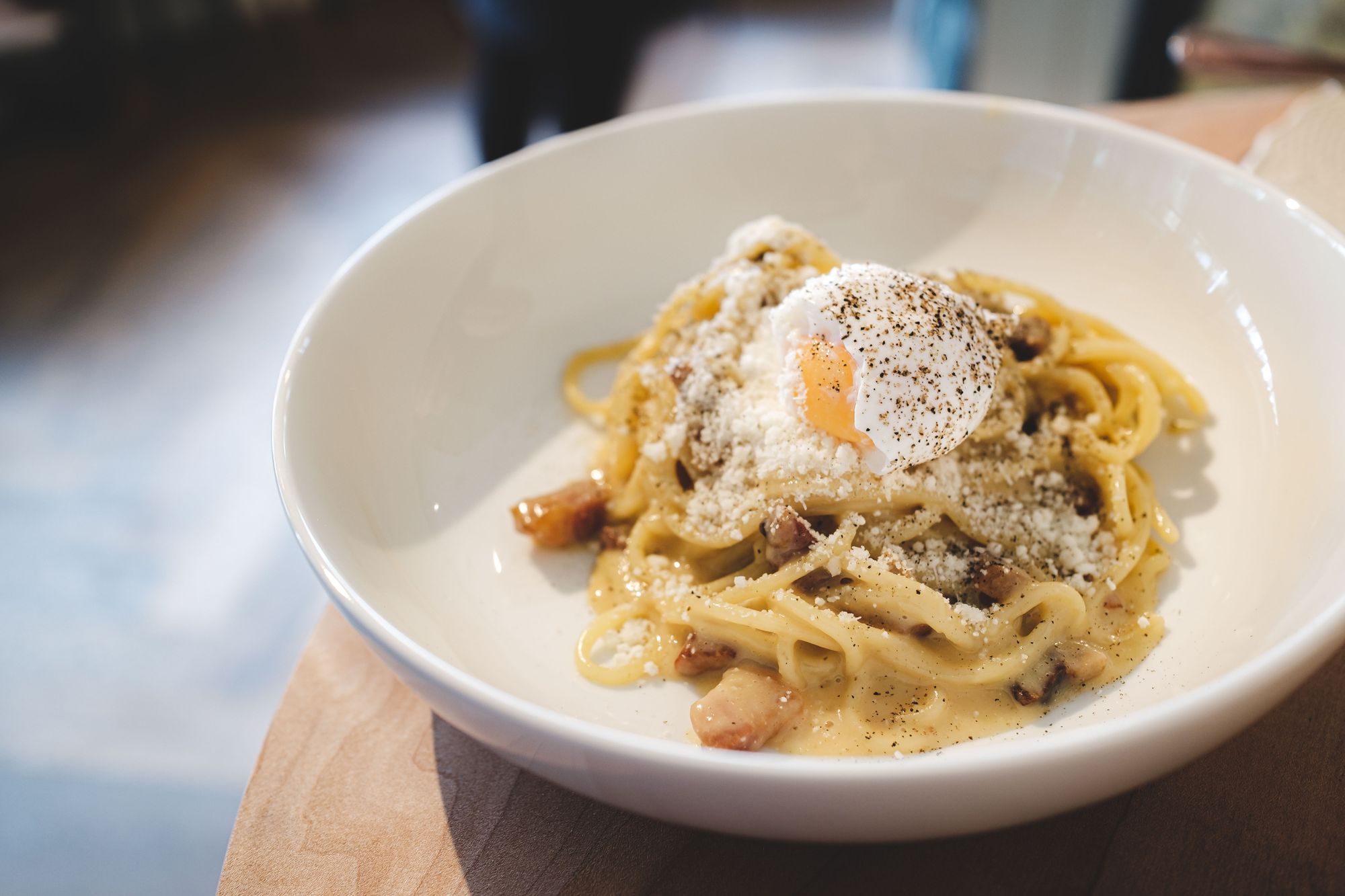 Food
Team Tastic came here for a Saturday lunch and I had a great taste of the following:
Trecce al Pesto ($21)
Carbonara di Luigi ($23)
We would have ordered more but at this time (roughly 2:30pm on 2023-Mar-04), they were out of the breakfast sandwich and soon they were also out of pasta.
The trecce al pesto was served with potatoes, green beans, and poached eggs. This was the better of the two pastas with a fresh pop on the green beans and a fun chew on the trecce-shaped pasta which held a ton of pesto. One benefit of a place like Mercato di Luigi is that you get a taste of the "real" pastas from Ask for Luigi without paying as much for it. $21 is a lot to fork over for counter service pasta but it's still cheaper than Ask for Luigi.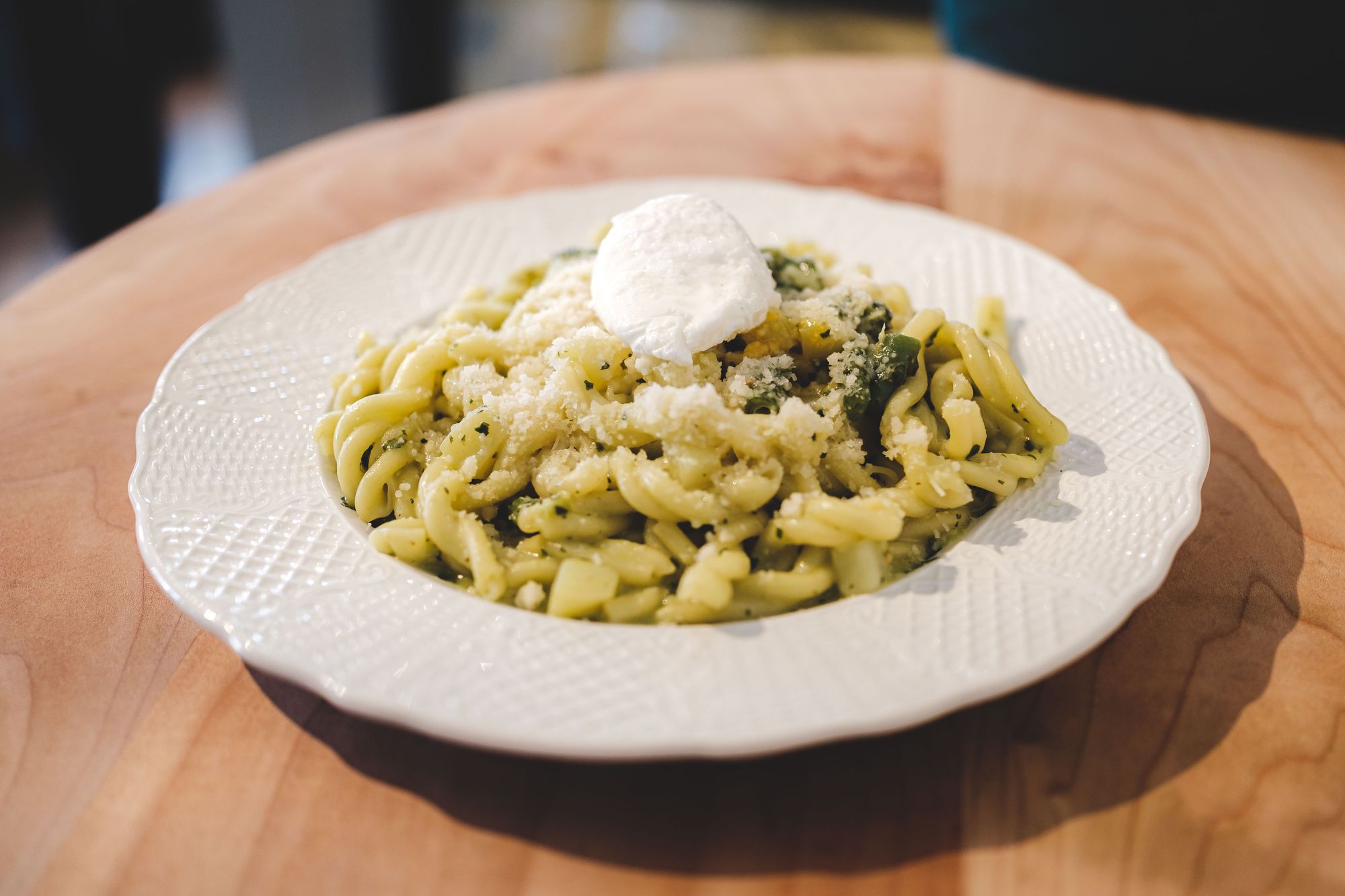 The other pasta we had, the carbonara di Luigi, was a disaster. This was the saltiest carbonara sauce I've ever had. I'll speak to how the service was down below but it was obvious this sauce was not checked on its way onto multiple plates of carbonara. This is an easy problem to fix but today just wasn't that day. We asked for a glass of water to calm things down because this was that salty. Even the pieces of guanciale were seasoned less than the carbonara sauce.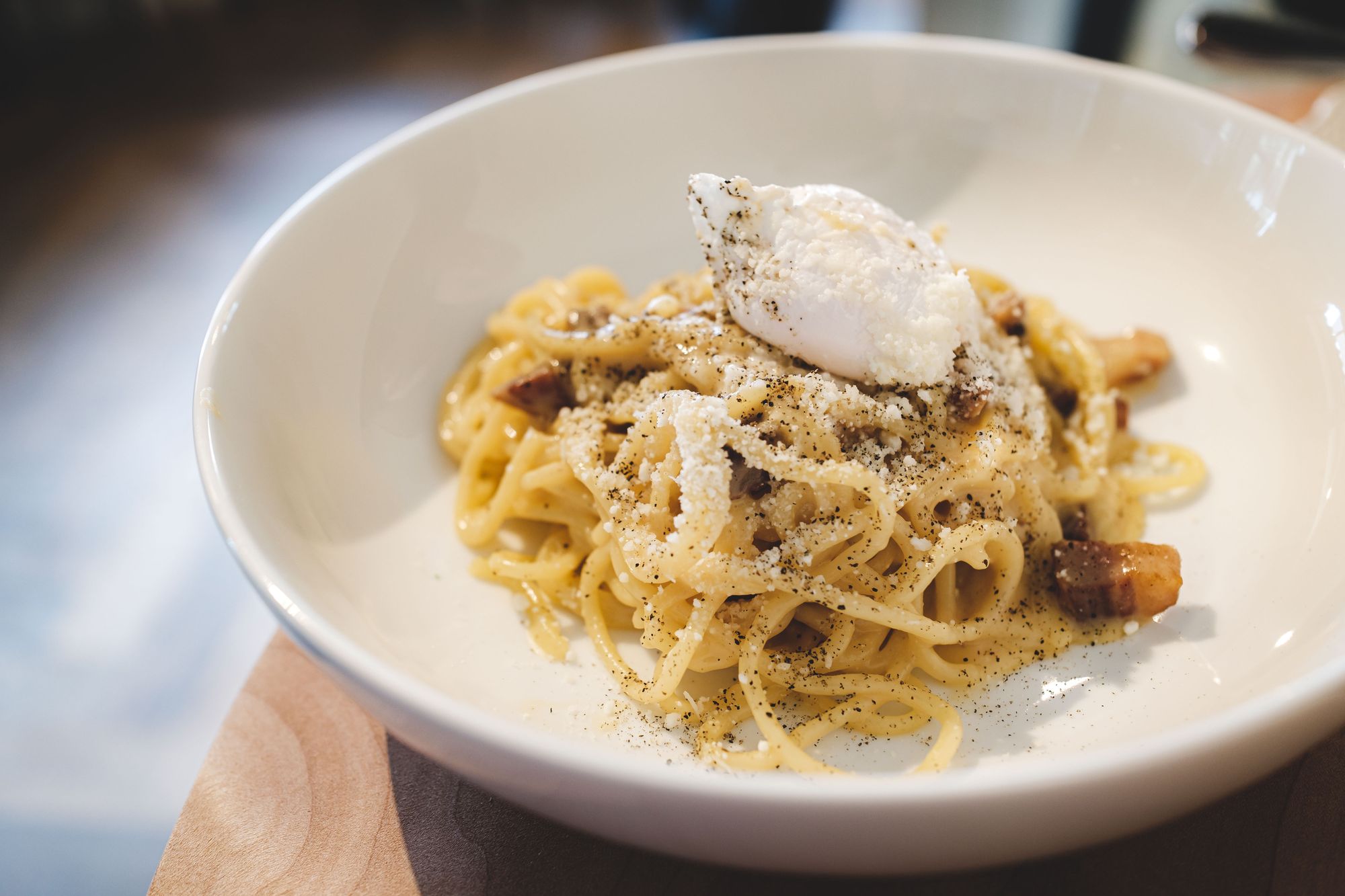 Ambiance
Taking up residence in the former Oh Carolina, Mercato di Luigi is an instantly recognizable name in the neighbourhood. The deep green colour makes this grocery/cafe stop look extra approachable which is honestly a vibe that Vancouver needs. There is seating both inside and outside though the outside is al fresco with no heating.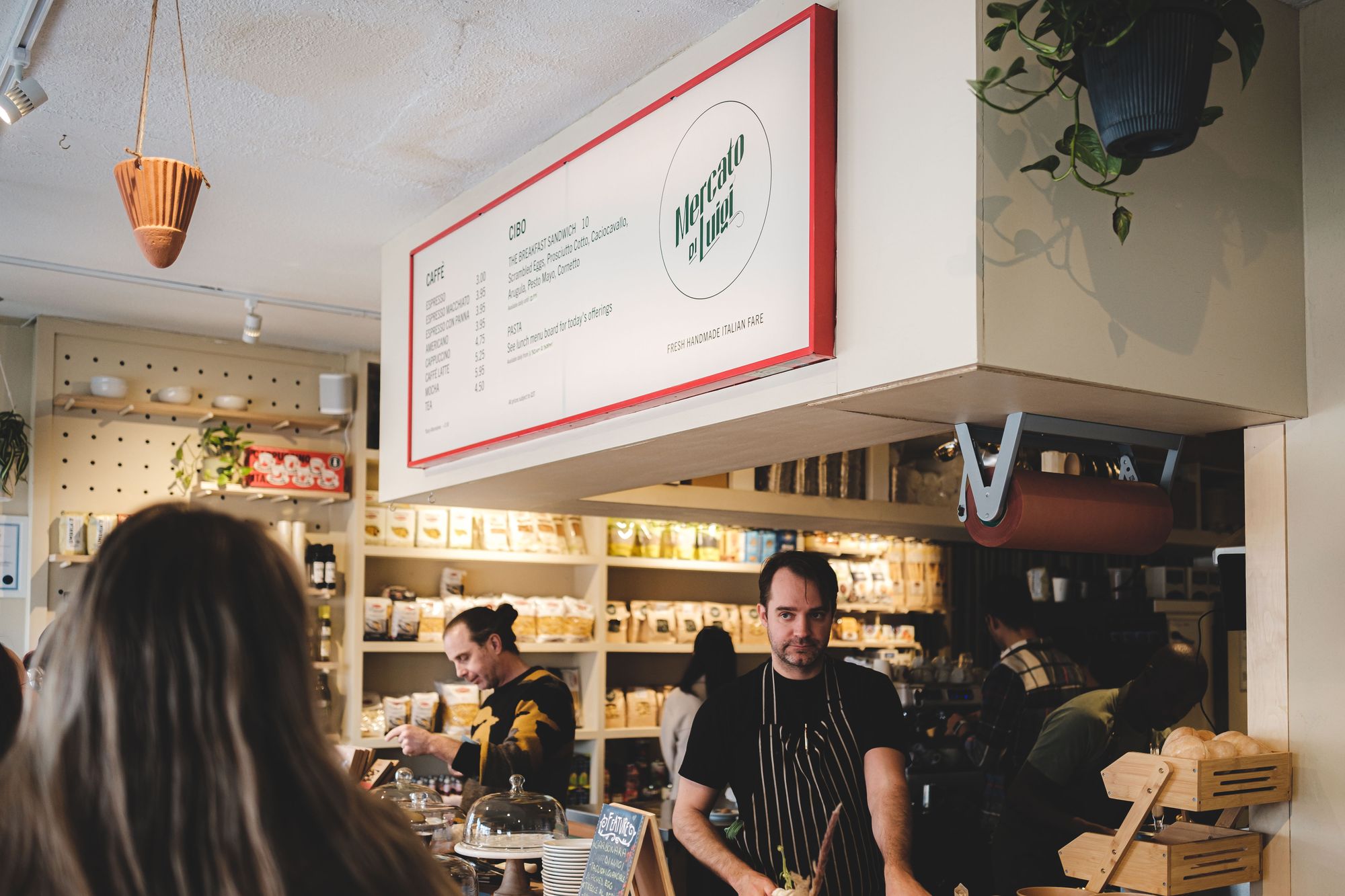 Eating inside leaves much to be desired. While there are 3 or 4 tables, the space is tiny and the high table is squished right up against a cooler, meaning it can be claustrophobic while folks are lining up while you're eating next to them. If you're eating inside, be prepared to have other customers in your personal bubble as the line wraps around the tiny space and out the one door. I get this is something that's not gonna change so you'll need to keep this vibe in mind if you decide to eat inside. There's seating for about 30 guests with 8 chairs inside and the rest of the space packed with humans.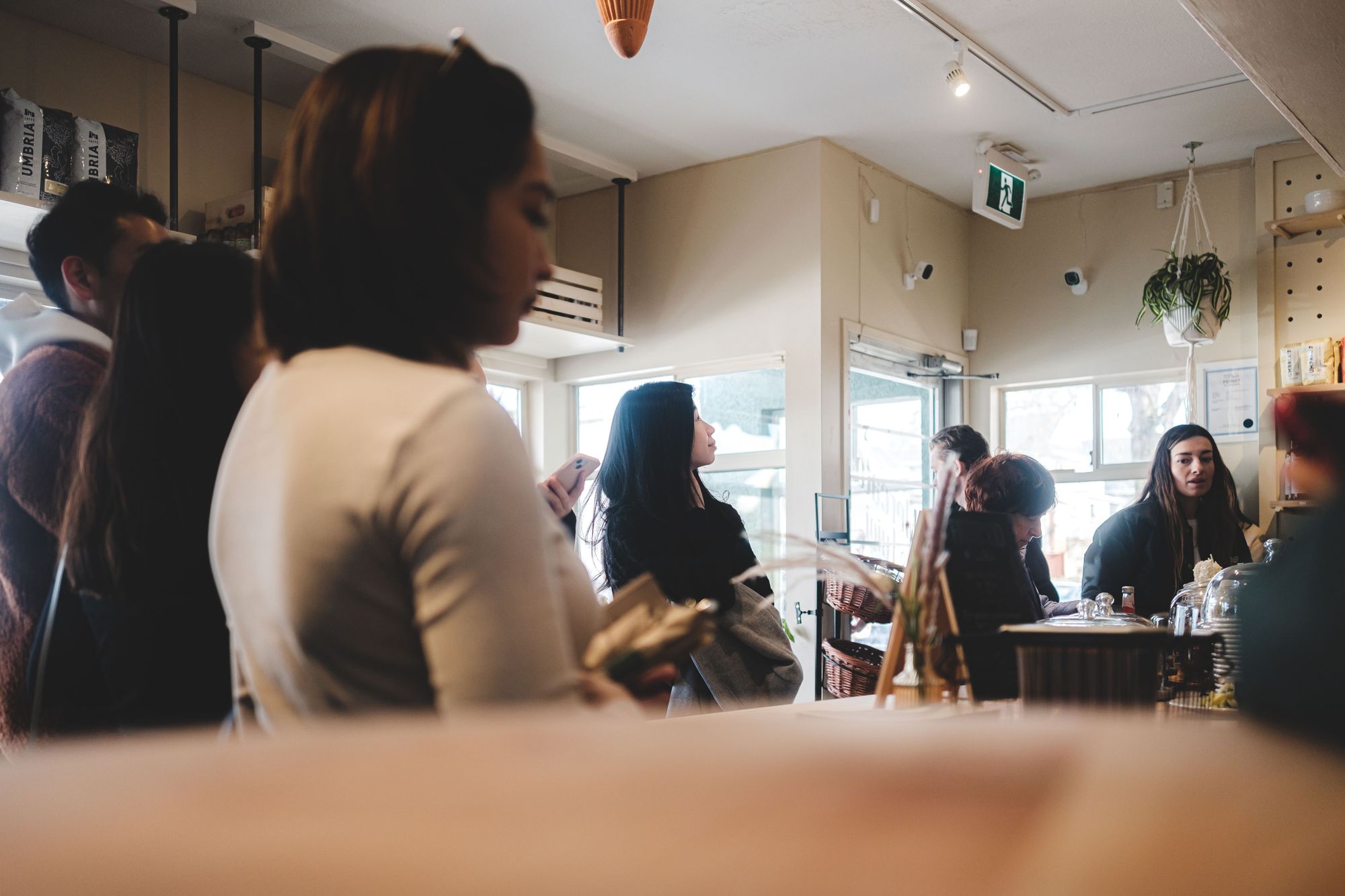 As with all neighbourhood counters, there are products for purchase – mostly Italian staples like pasta, tapenades, and cheeses. I even spotted the kitchen staff running over to the cooler to grab ingredients so it's pretty cool to see Mercato di Luigi dogfooding through its own supplies for its menu.
Service
Service was a huge letdown on this sunny Saturday. Again I preface that this was the first weekend they were open so this is a recount of the opening pains. For a neighbourhood spot, there was little to no effort shown at the counter when taking our order – the staff kind of just turned towards us waiting for us to speak first. After taking our name and money, no instructions were given as to what to do next – the staff turned around to refill some bakery goods, so we left to sit at our table.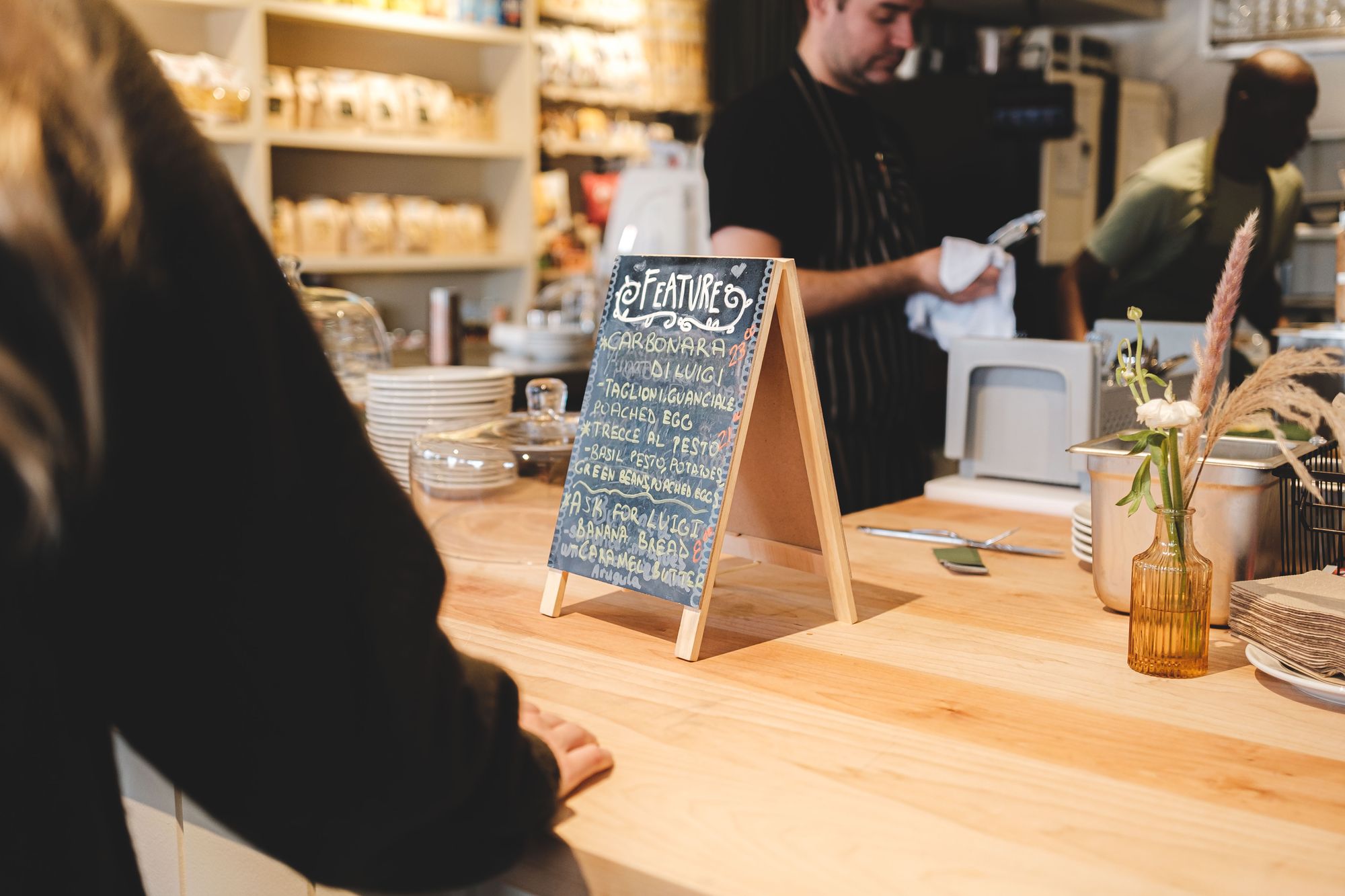 Once our name was called, we picked up our food at the counter, but we weren't given or directed to any cutlery. We had to ask for our cutlery and it was clear that the staff were struggling to keep up. They looked annoyed when we asked for a glass of water, they had to hunt down the recipients of food if the customer was outside, and on multiple occasions, they were telling the people in line they were out of pasta while the sandwich boards advertising pasta were still outside. These inefficiencies point to a classic case of opening weekend pain and clearly Kitchen Table is not immune.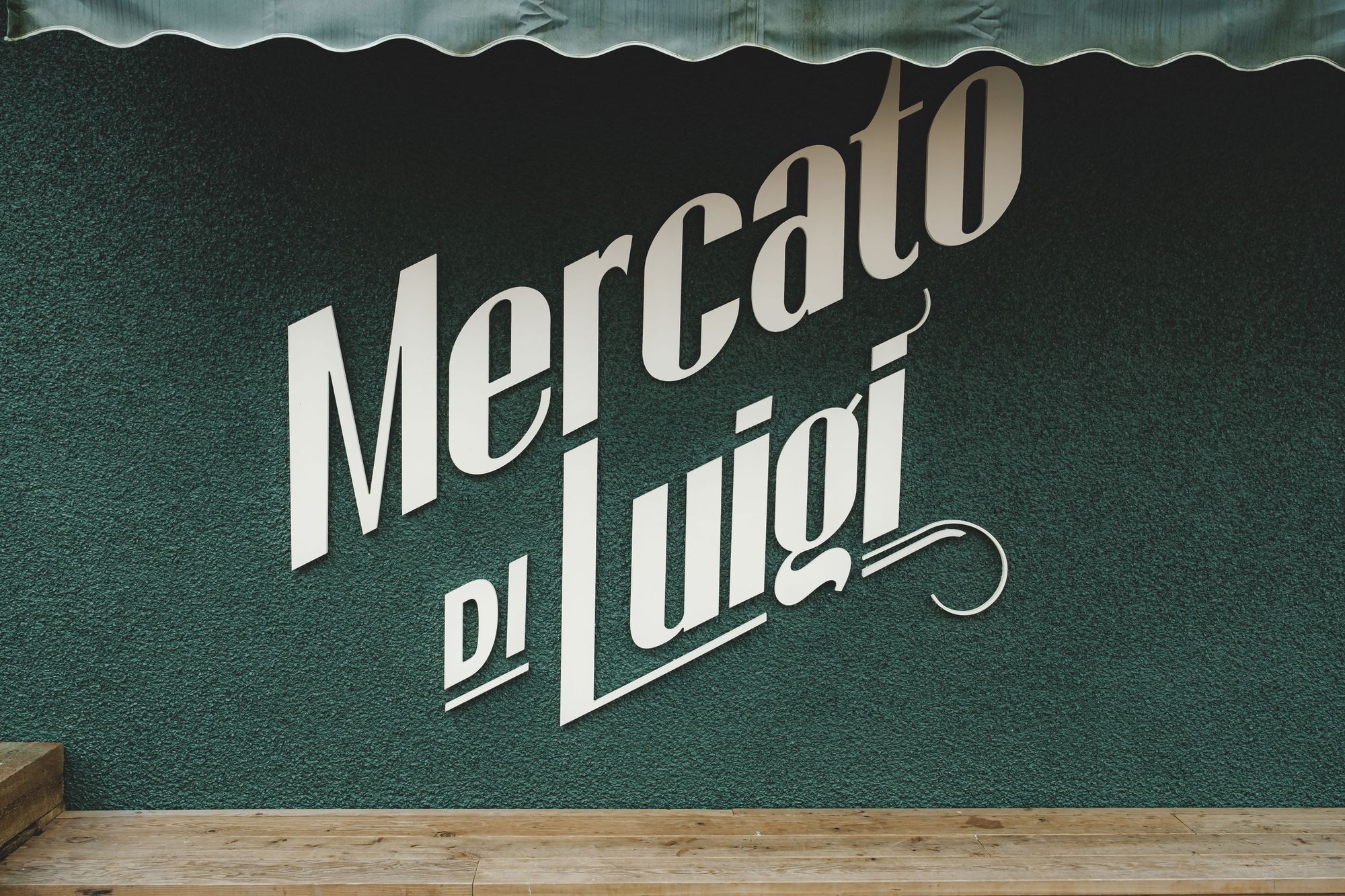 Once again, judging an eatery during its opening weekend isn't going to offer the most standard of experiences, but it doesn't make my visit and disappointment any less valid. Your mileage may vary.
Final Thoughts:
One-liner: The cutest, yet tiniest and densely-packed Italian grocer and cafe with the saltiest carbonara in town
Highlight: Trecce al Pesto
Price per person: $20-$30
Would I go back? Yes once everything smooths out.